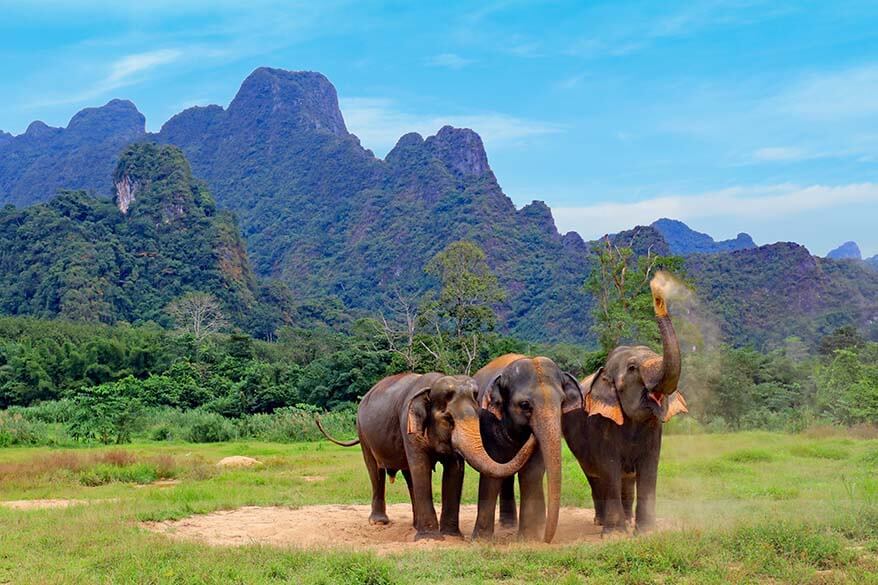 Are you looking for a truly unique travel experience in Thailand? Something different than the busy cities, crowded markets, ornate temples, or popular vacation islands… Or maybe you stumbled upon our website when looking for sustainable tourism or ethical animal experiences in Thailand? On our recent trip to Thailand, we discovered a place that ticks all these boxes. Find out!
When researching our Thailand trip itinerary, we were also looking for a bit more unique, yet typically Thai travel experience that would make our vacation more memorable. We were looking for something really special and offbeat, but had no idea what exactly… Till we stumbled upon Elephant Hills Resort in Khao Sok National Park.
No matter whether you are looking for beautiful nature or animal encounters, whether you are interested in an exclusive honeymoon getaway or a very unique family trip… you'll find it all at the Elephant Hills luxury resort. Find out!
Disclosure: We received a discount for our stay at Elephant Hills, but this article wasn't part of the agreement and is not sponsored. It's a place that we fell in love with, the best experience of our 2-week trip in Southern Thailand. I want to tell you all about it, because I think it is one of the absolute best things you can do in Thailand!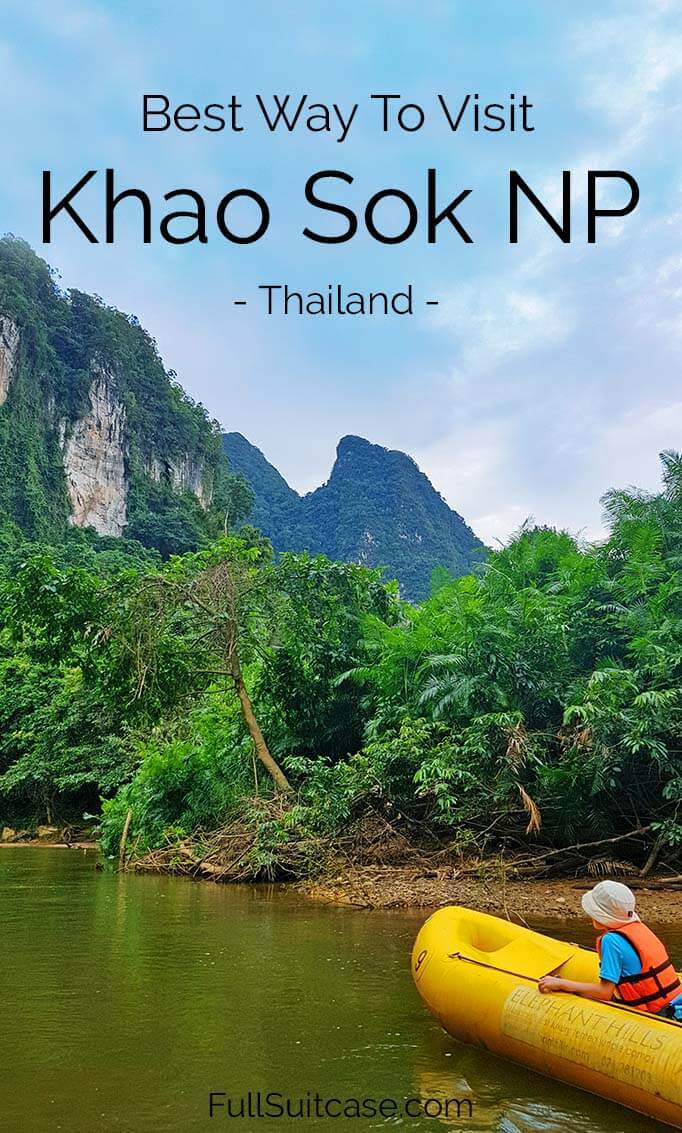 Khao Sok National Park – what to expect
Planning a trip to Khao Sok might look a bit overwhelming at first. After all, this National Park is nothing but a giant rainforest; hundreds of square kilometers of jungle. You will find untouched nature, stunning scenery with mountain formations typical to Asia, and rainforests that are home to more animal species than you could ever imagine…
There are many ways to discover Khao Sok National Park, including lake tours or organized day trips from Khao Lak. But if you take the time to look at the map, you'll see that this place is huge, so in one day you'll hardly scratch the surface…
If you only have the time for a short day trip to Khao Sok, then by all means, book a day trip. It will be worth it! However, if you have a few days to spare, consider staying inside the Khao Sok National Park and getting to know this unique place a bit better.
For the most unique experience in Khao Sok National Park, I strongly suggest that you look into one of the different tour options offered by Elephant Hills. All you have to do is show up; they will take care of all the rest. Below you can read all about our experience at the Elephant Hills. It's a full review of our 3-day Elephant Hills tour Jungle Lake Safari with kids and I'm sure it will give you a good idea of what to expect. Find out!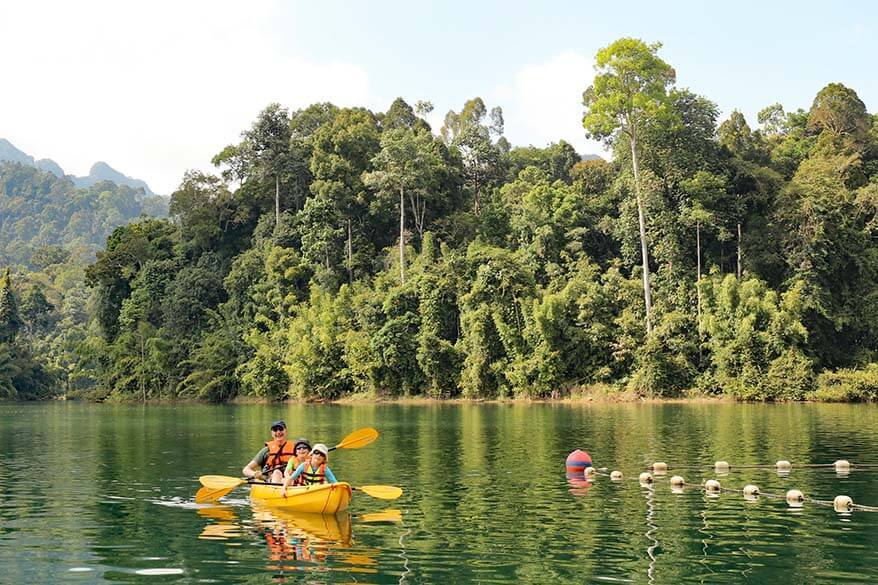 Elephant Hills luxury resort – the gem of Khao Sok National Park
Our trip to Elephant Hills resort started in Krabi where we were picked up for a 2,5 hr transfer to the Elephant Hills luxury camp. All Elephant Hills tours include transfers to/from the wide surroundings, including places like Phuket, Khao Lak or Krabi, but also from Khanom, Surat Thani, or Don Ak Pier (with direct access to Koh Samui). From the moment they pick you up till the minute they drop you off again – everything is thought of and extremely well organized.
The trip we booked, Jungle Lake Safari, is probably the most varied of all the Khao Sok itineraries offered by Elephant Hills. The entire trip was just 2 nights/ 3 days, but variation of activities and accommodations made it feel much longer. We spent one night at the Elephant Camp and one night in the Rainforest Camp – luxury floating tents on Cheow Lan lake.
Our first introduction to Khao Sok National Park was the main lodge of the resort, Elephant Camp. It's located in such a spectacular setting and reminded us of safari lodges in Africa. And just in case you get worried, this place isn't a camping, more a wonderful glamping experience.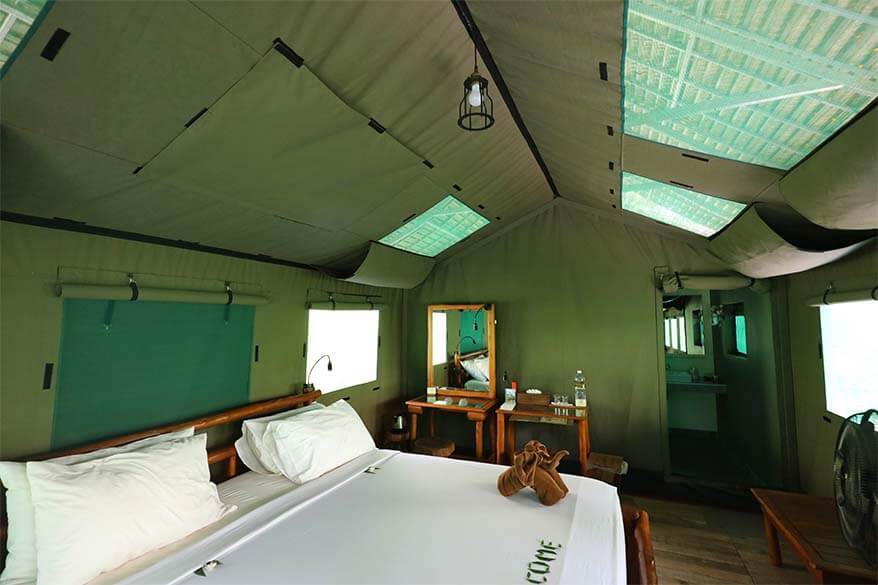 Elephant Hills tented accommodations are really luxurious. They have comfortable beds, private bathrooms, and even terraces with chairs and hammocks. In addition, there is a big main area with a restaurant, bar, souvenir shop, and also a small swimming pool.
After checking-in into our luxury tents and a plunge in the pool, we had the whole afternoon for some amazing activities in Khao Sok National Park.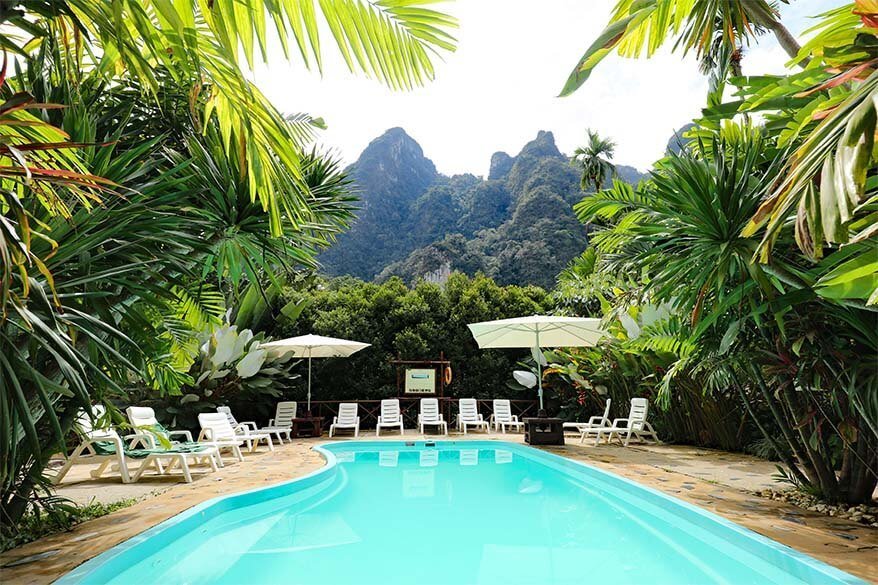 Ethical elephant experience in Thailand
Without a doubt, one of the main highlights of the stay at the Elephant Hills is meeting the elephants. Elephant Experience includes a short introduction to Asian Elephants and the history of elephants in Thailand. This is followed by interaction with Asia's largest wild animal: feeding and washing the elephants.
In the past elephants were mainly used to transport heavy logs. However, when elephant labor was forbidden in Thailand in 1989, thousands of animals were left homeless. As you can imagine, the cost of keeping an unemployed domesticated elephant that eats some 250 kg of food and drinks 200 liter water per day is just too high…
We were told that tourism helped to preserve Asian elephants from extinction. However, even nowadays, many elephant sanctuaries in Thailand keep their elephants chained and offer elephant riding experiences to tourists. Elephant Hills is very different!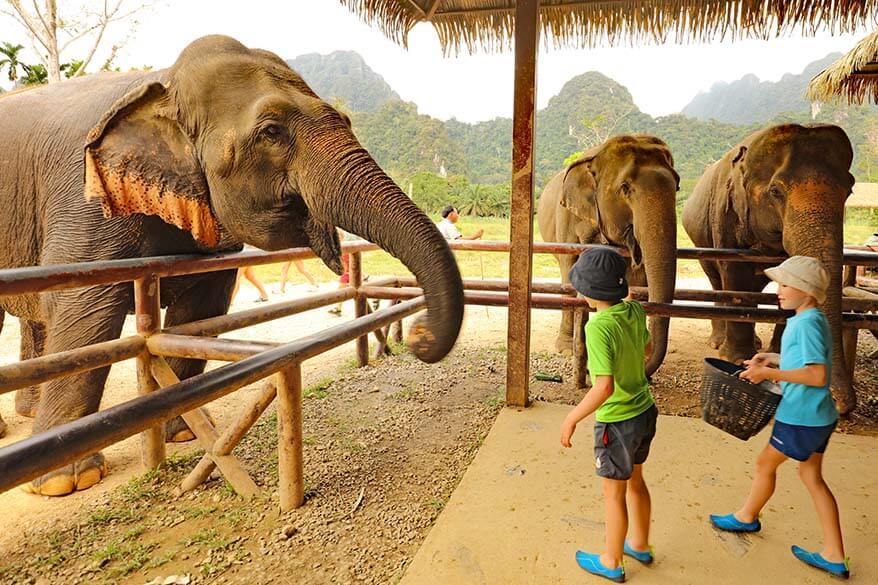 The 12 elephants that live here are mostly domesticated animals that have been adopted when their owners couldn't keep them anymore. The oldest elephant is 75 years old and the youngest just 13.
Elephant Hills has won multiple awards for sustainable tourism and animal welfare. From everything we saw and read about this place, they seem to take pride in how they treat the elephants. The animals live in a big protected area in the middle of Khao Sok jungle, where they roam freely.
Of course, you have to remember that these are domesticated animals in captivity and not in the wild. There will definitely be moments when they would rather do their own thing than be washed by tourists… But you have to keep in mind that none of these elephants would be able to survive in the wild and tourism money helps to preserve Asian elephants from extinction.
After meeting the elephants and watching them bathe, we went on to prepare some food for them. Kids loved feeding the elephants! And boy, they do eat… Buckets of pineapples and bananas were empty in no time.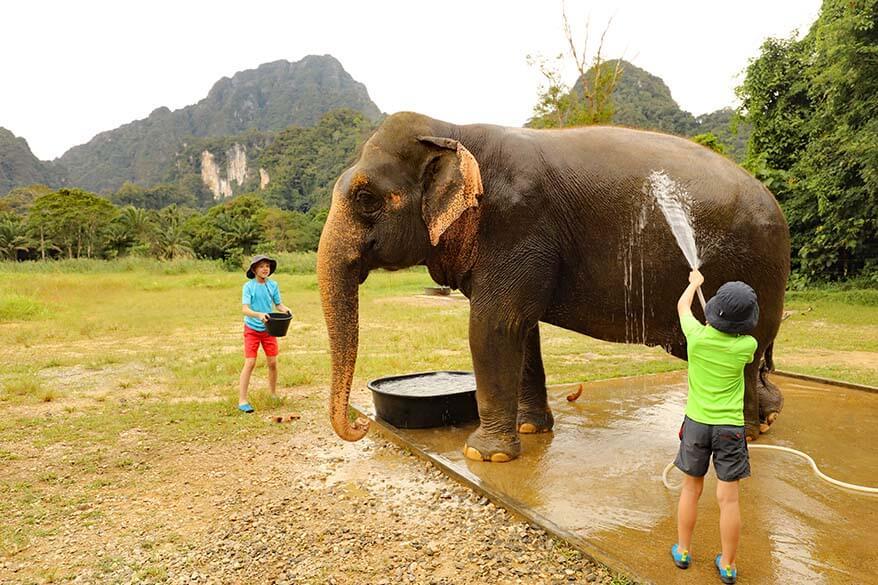 The most special experience for me was washing the elephants. Scrubbing an elephant's trunk while standing eye-in-eye with her was a surreal experience, one I'll never forget. This is such a wonderful way to interact with the elephants, a thousand times better than sitting on an elephant!
So if you are looking for an ethical elephant experience in Thailand, now you know where to find one…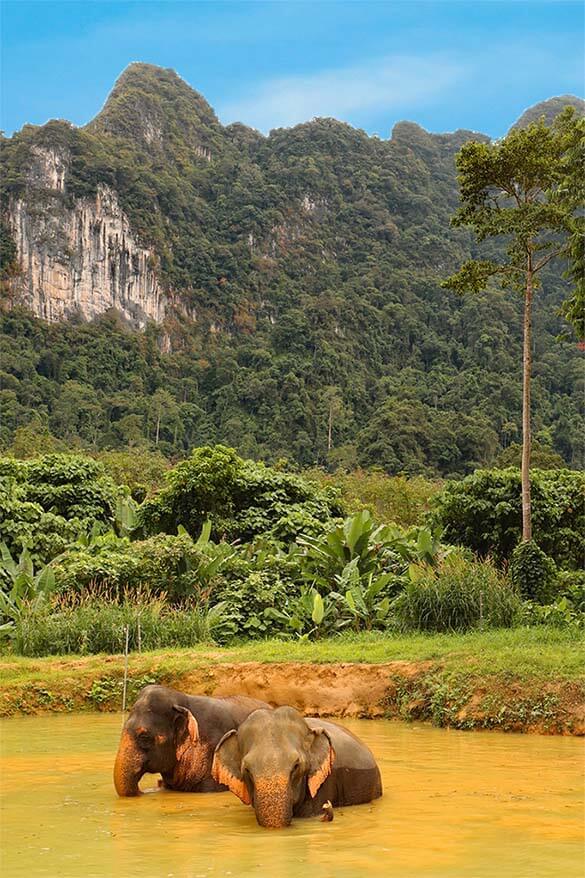 Canoe safari through the jungle of Khao Sok NP
Our second activity at the Elephant Hills was a canoe safari on Sok River. It's a real jungle with snakes lying in the trees and all… I was really glad we had a local guide to do the paddling for us. In the meantime, we could enjoy the scenery without having to worry about bumping into any snakes along the river shore.
I didn't really know what to expect from this canoe tour, but the scenery blew us away. Completely different than anything else we have ever seen! And so untouched, that it's almost surreal.
I don't think I have ever been to a place that felt as remote and at the same time full of life as Khao Sok National Park. You almost feel as an intruder in this untouched jungle. You're constantly surrounded by so many animals, but most of the time you can't see or even hear them. And yet, you are very well aware that they are there…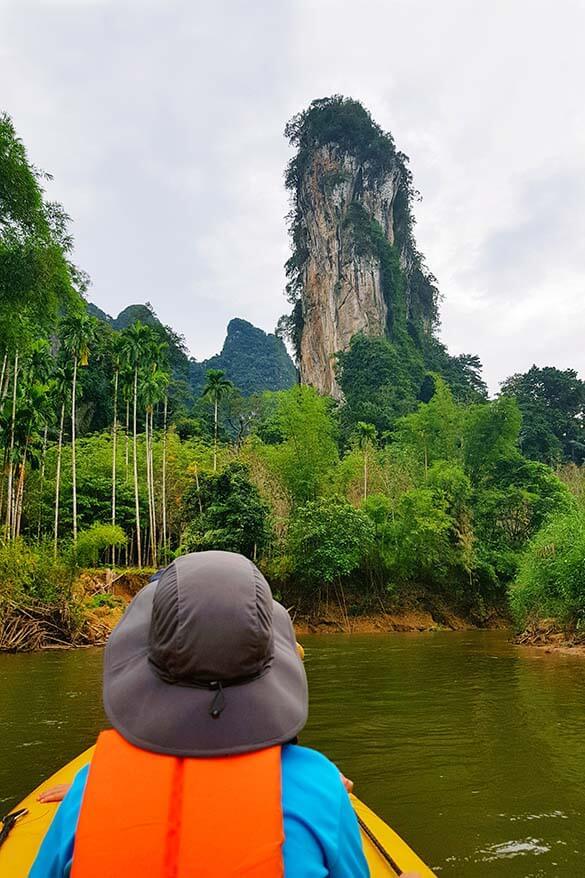 New Year's Eve at the Elephant Hills
Our first evening at the Elephant Hills was the 31st of December and we had no idea what to expect. I mean, the jungle isn't really a place where you'd find loud parties and fireworks…
There was also a short movie about the Elephant Hills, a Thai cooking demonstration, and girls from a local school came to perform a few traditional dances. If I understood it right, this is something you'll experience at the main camp of Elephant Hills every evening. It's their way of giving back to the local community – the children that are performing here all get paid. It's a great way for the kids to earn some pocket money and also to practice their English.
The resort really did their best to turn it into a special evening for all the guests and staff. There were beautiful food buffets decorated for New Year and all kinds of little details that made the dinner more festive. They even let the bar open past midnight, whereas it normally closes at around 10 pm. And yes, there were fireworks, but not organized by the resort – they said they'd never do it as it scares the jungle animals to death. However, there are quite some local villages nearby and so also fireworks in the jungle…
To tell you the truth, we never made it till midnight since the kids were exhausted from all the activities. On top of that, there was another very active day waiting for us the next morning…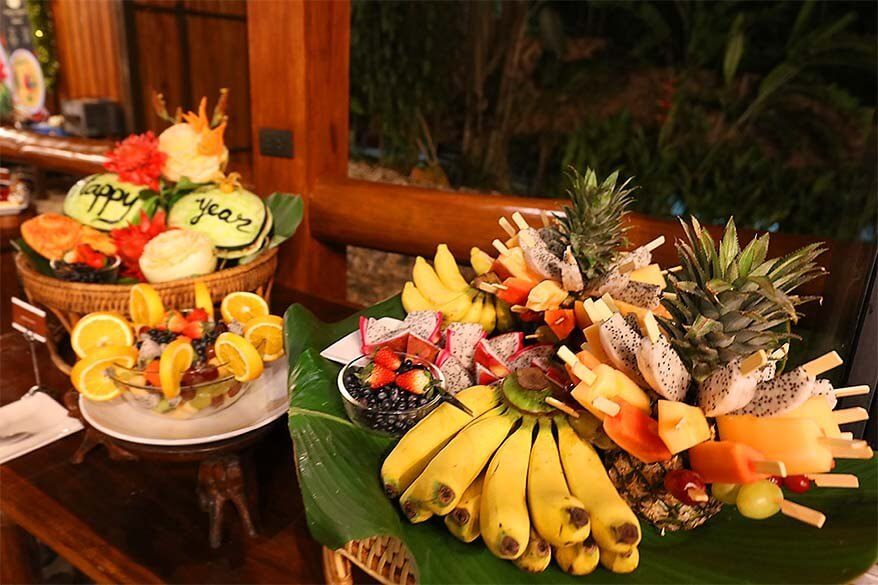 Waking up in the jungle
Luckily, we went to bed somewhat in time the previous night, because the jungle really wakes up at dawn!
The gibbons seem to be up first and they are loud! So we were also wide awake around 4am. I quickly got used to the sounds of the jungle and could still get some sleep, the kids didn't even notice anything, and my husband went on to finish reading his book…
If you are looking for peace and quietness in its literal sense, then the jungle is probably not the best place to be. But if you are looking for a unique place where you can escape from the hustle and bustle of your everyday life and busy tourist destinations, then you'll love staying in Khao Sok National Park!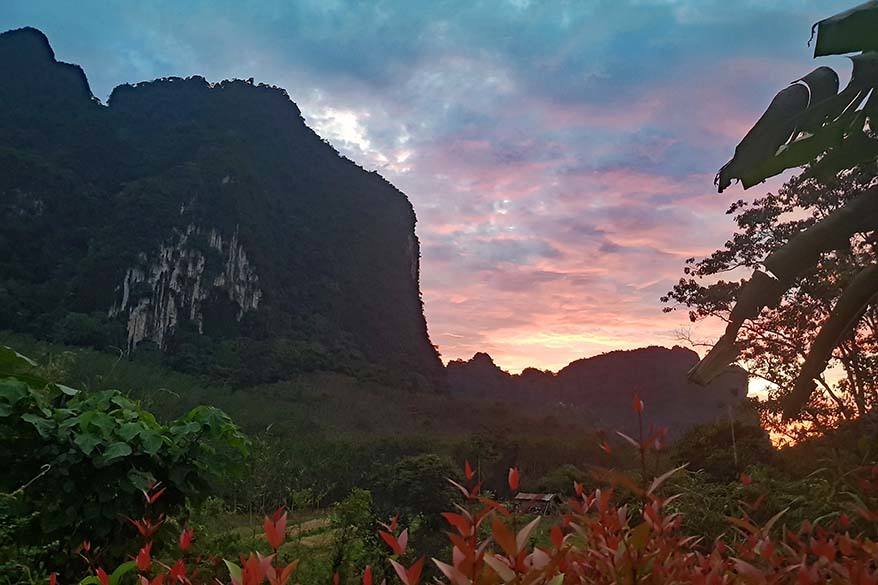 A visit to a local market
On the second day in Khao Sok National Park, we were set to drive to Cheow Larn Lake. As I said, the park is huge and the lake is quite far from the main lodge. So to break the long drive, they stopped for a short visit at a local market in Takhun.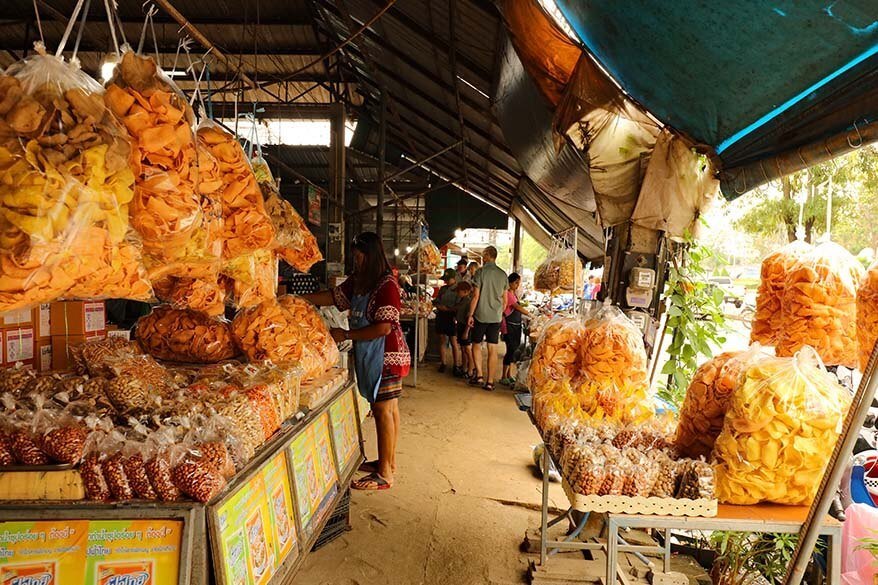 It was quite fun to see a truly local market. Our guide bought one of those pink 'hundred-year' eggs that there for sale everywhere here, so we could try one.
From what I understood, it's kind of marinated and the egg turns completely black inside and pink on the outside. The taste was something in between jelly and pickles… Let's just say, we didn't immediately feel the need to rush and buy some pink eggs ourselves.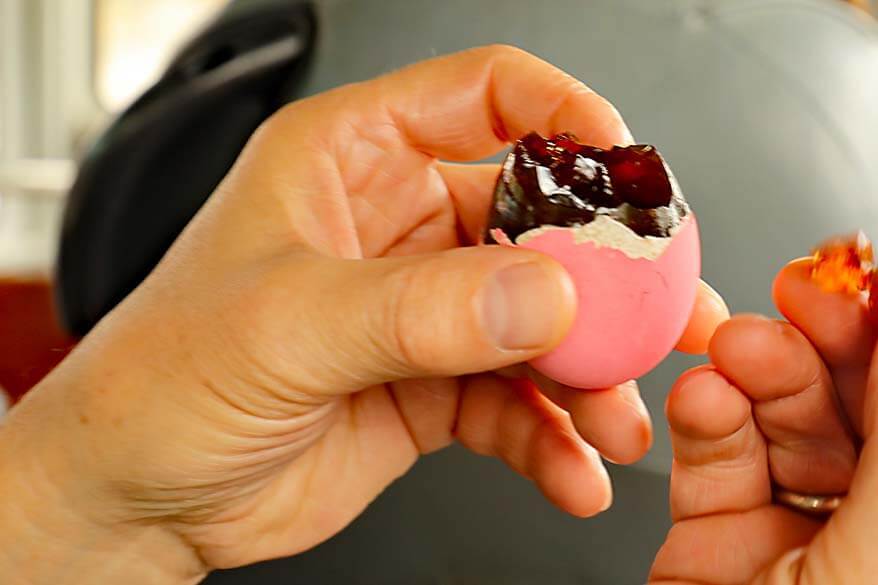 Cheow Lan Lake
Cheow Larn Lake was formed after building a dam and it's huge (185km2 (71 sq mi)! The scenery here is really beautiful, you'd never think it's a man-made lake…
The little harbor at the Cheow Lan Lake (sometimes also Cheow Larn lake) reminded me of any other touristy place in Asia. There were big busses and tour groups of people coming for a boat ride on the lake. It felt like the most touristy place in the entire Khao Sok National Park and it was hard to believe that this place is a gateway to a beautiful remote glamping experience we were expecting to find…
But the moment we stepped into a long-tail boat and took a somewhat different route than most of the other boats, we were back in the untouched jungle.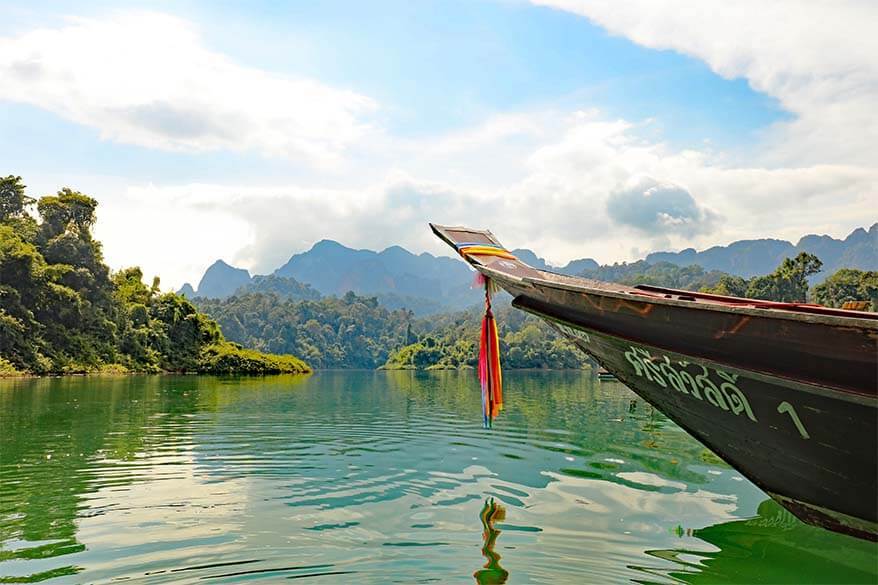 Rainforest Camp – Elephant Hills' floating tents accommodation
Deep in the jungle, along the shores of the lake, was our accommodation – Elephant Hills Rainforest Camp. It's not like any lodge we have ever stayed at – this luxury tented accommodation is floating on the lake! It was love at first sight – one of those places that are so special that you know you'll remember it for years to come.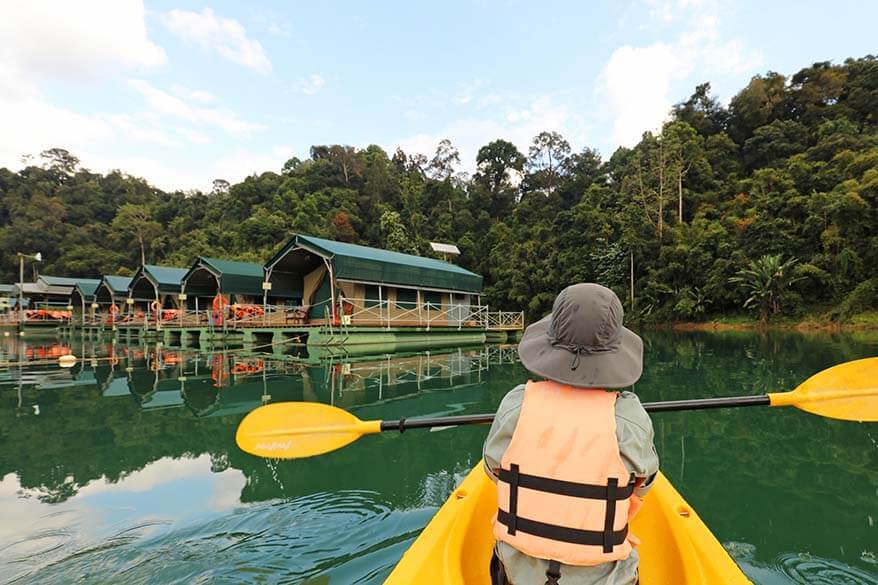 There are 20 tents at the Rainforest Camp, each with a terrace with incredible views. It's glamping at its absolute best! Every tent is equipped with a double bed, a shower room, and a toilet. If needed, they can put an extra bed and accommodate 3 people in a tent, so we had two tents for our family of 5.
There isn't all that much to do here, but that's exactly what makes this place so unique. No TV, no radio, no Wi-Fi – so you can really unplug and just enjoy the moment… They do have a restaurant with a bar and some board games in case you get bored.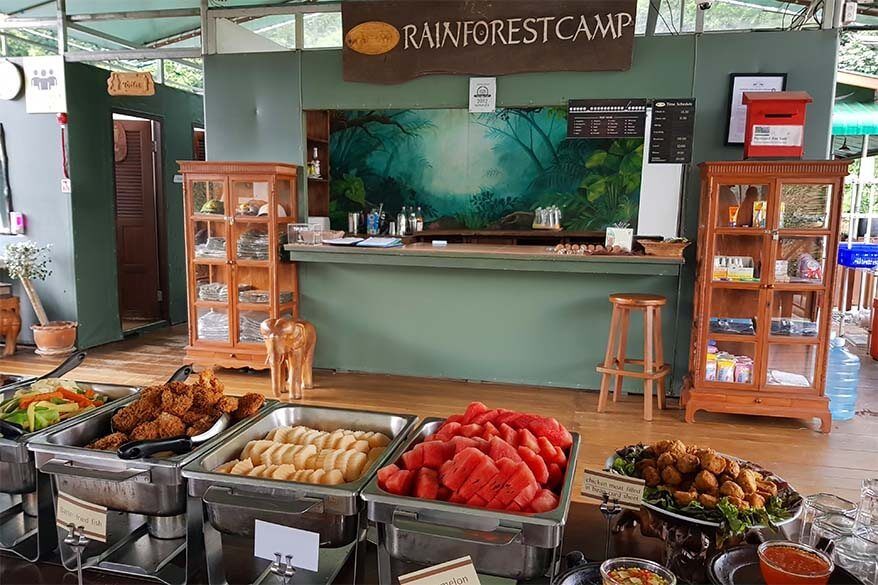 We spent hours kayaking on the lake and spotting monkeys in the jungle. You can also jump right into the lake straight from your terrace and go for a swim.
The lake is swarming with huge fish and the kids just couldn't resist feeding them. Afterwards they would jump into the water trying to catch the fish with their bare hands… Kids had so much fun here – our twins spent the entire afternoon feeding the fish and swimming among them…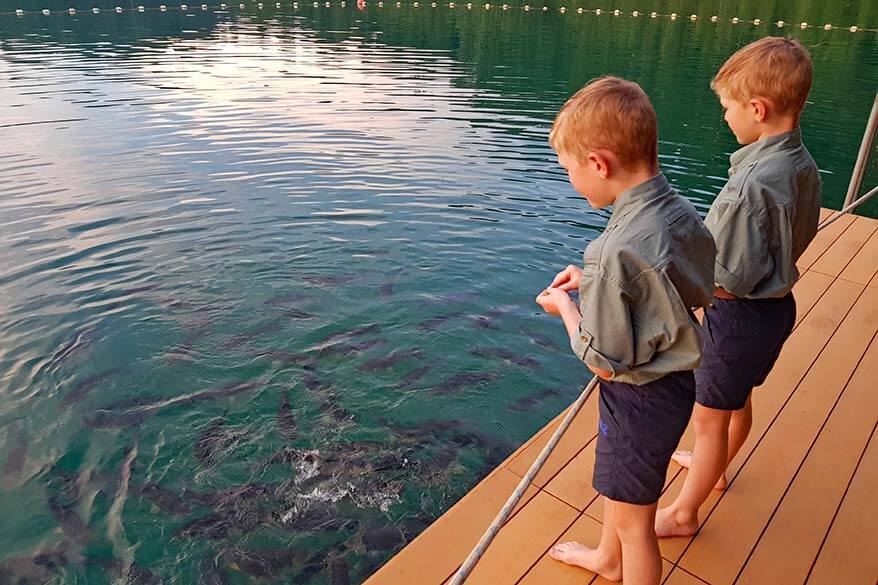 Jungle trek in Khao Sok National Park
Next on the program was jungle trekking, deep in the rainforest of Khao Sok National Park. Since there was no way we could get the younger boys out of the water, my husband stayed in the floating camp with them. And he was happy to relax and do nothing :).
In the meantime, my older son and I decided to join an organized jungle trek with our guide and a couple of other guests.
A long-tail boat brought us to a hiking trail not too far from the Rainforest Camp. Two local guides joined us on this jungle walk and gave us some explanation of the plants and the animals we saw around us.
Most jungle animals actually sleep during the day, so we didn't see any monkeys or bigger wildlife here. But we saw frogs, spiders, some birds, and a big variety of very interesting plants. We were also deafened by the noise of cicadas and other animals – there was no doubt we were in the rainforest.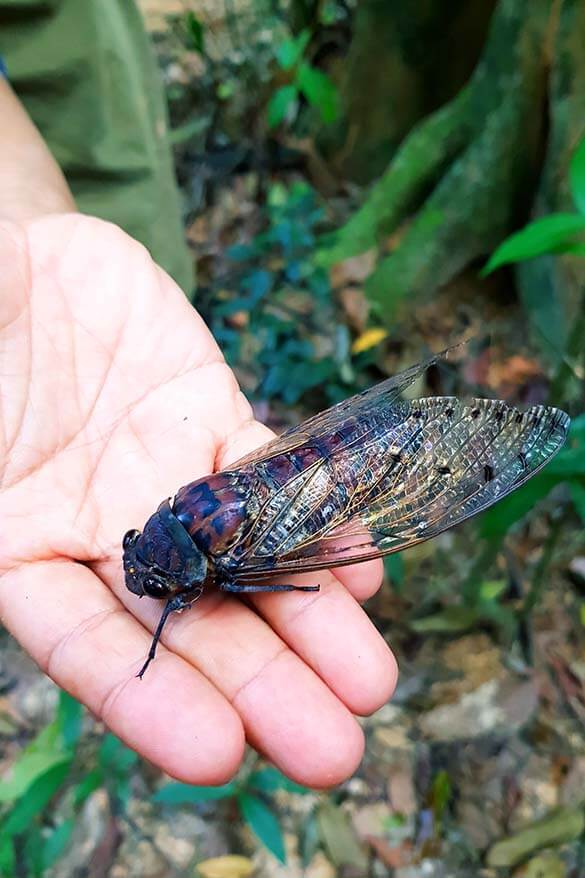 The short but rather steep hike ended at a huge cave. We had seen many stalactites and stalagmites caves all over the world before, but visiting a cave in the wilderness was a totally different experience.
There were no explanatory panels or lights here. We were each given a small pocket light and went deep inside the caves. It's quite slippery here, so you really need to wear shoes with a good grip.
The last cave we visited was pitch dark and full of bats. We switched off the lights and stood in complete darkness with shrieking bats all around us… It's difficult to describe how it feels to explore a place like this; it's something you really have to experience for yourself!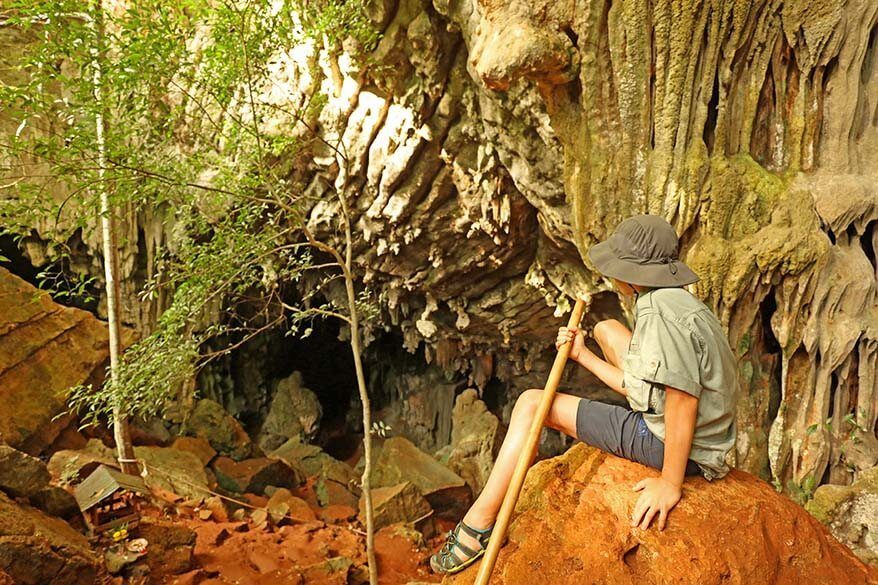 Glamping at its best
Probably the best moment of our stay in Khao Sok was waking up to the most spectacular sunrise at the Rainforest Camp. The jungle was wide awake and we could hear gibbons in the distance, but the lake was completely quiet. Like a mirror, reflecting the beautiful morning light and the stunning scenery around us.
Sitting there on the terrace of our tent watching the world quietly wake up – it's as good as it gets!
We skipped the morning shower and jumped into the lake instead. I could definitely get used to mornings like this…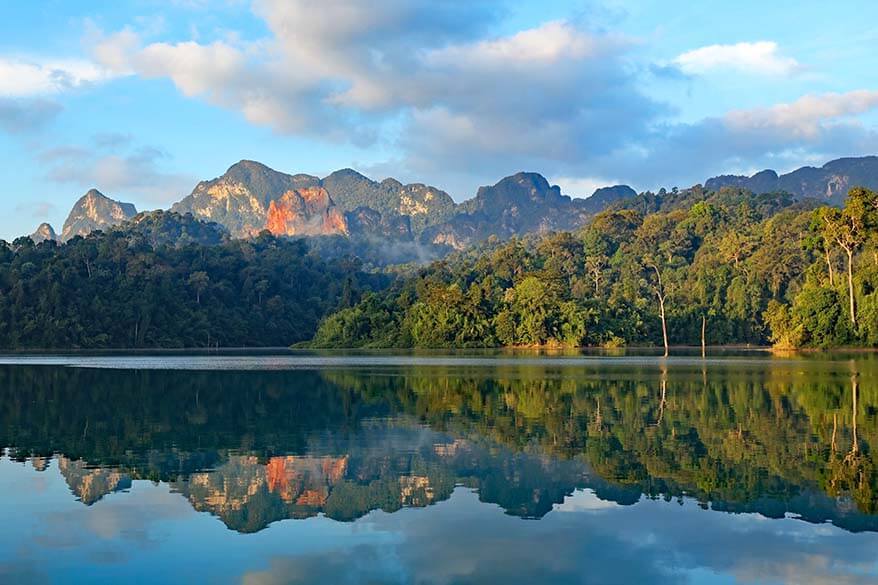 Kayaking and wildlife
After breakfast, we took kayaks once again and set to explore the lake and the jungle on our own. We didn't see many animals that morning, but back at the camp, we saw a couple of monkeys playing on the lakeshore.
Just before we left, we also saw a couple of gibbons swinging from tree to tree just next to the Rainforest Camp. That's how it often goes with wildlife – you find it when you least expect it…
I also regretted I didn't take my zoom lens, so I only have this picture of a monkey, taken from our kayak, just next to the camp.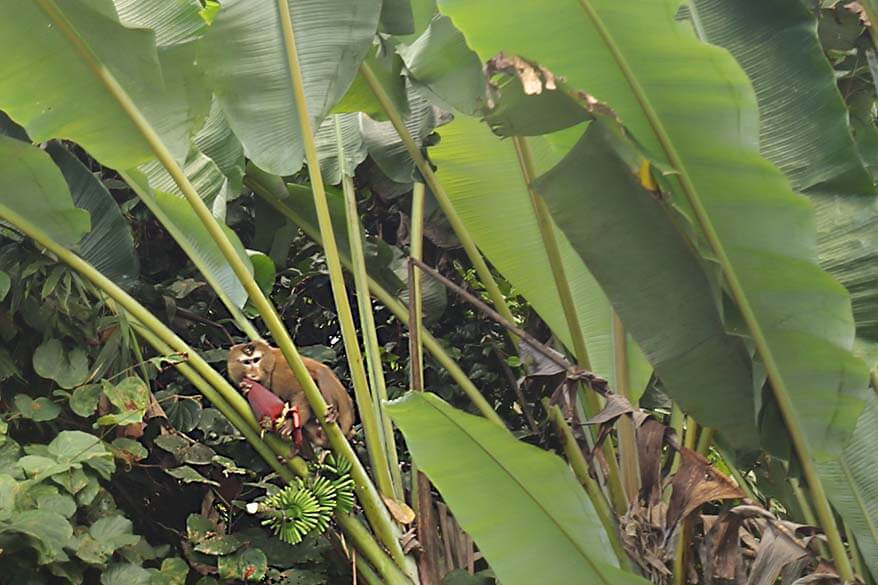 Saying bye to the Rainforest Camp and the Elephant Hills
The Jungle Lake Safari package we booked at Elephant Hills included just 2 nights/ 3 days and so the morning at the floating Rainforest Camp was also the last one of our stay… Despite the fact that we had to leave in the afternoon, everything was so well organized that the morning felt like a vacation day rather than 'pack your bags and and get out of here in time for check-out' experience.
As I said, we had a very relaxing morning, followed by a quiet breakfast and kayaking. Afterwards we still had plenty of time to go for another swim in the lake, take a shower, pack our bags, and have lunch.
After lunch, a long-tail boat came to pick us up and bring us back to land, where there was a minivan waiting to bring us to Phuket.
We spent just two nights at the Elephant Hills, but it felt as a real vacation in itself. These three days were the absolute best of our two-week stay in Southern Thailand. A unique place and an experience we will never forget.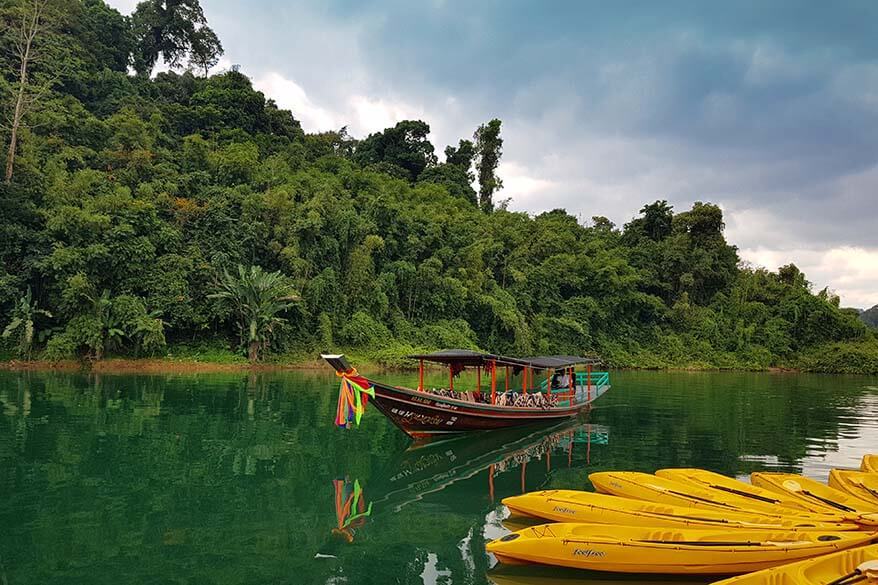 Elephant Hills with kids
In case you wonder if Elephant Hills is the right place for a family holiday, I hope that our experience already convinced you that it definitely is. Your kids will absolutely love unique tented accommodations and all the fun activities here.
Elephant Hills is a very family-friendly place, but it's also a place in the jungle with lots of outdoor activities, therefore they don't allow kids under 4 years.
Please also note that children have to be at least 7 years old if you want to stay at the Rainforest Camp. A floating tents camp in the middle of the jungle is definitely not the best place to bring a young child.
If you want to stay at Elephant Hills with younger kids, you can choose from two other tours that they offer, which don't include a stay at the Rainforest Camp. Here you can find all the practical information about the available tours.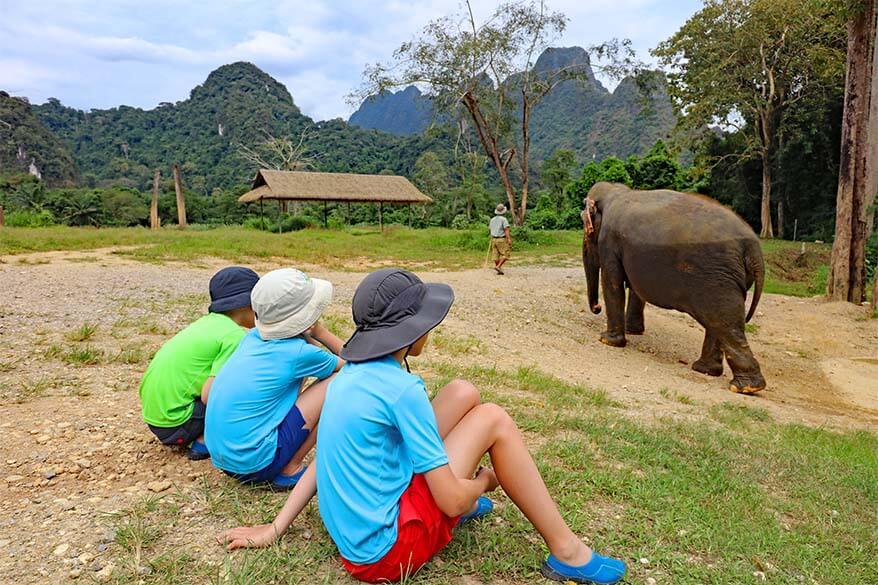 What to wear and what to pack for Khao Sok National Park
We wore shorts, t-shirts, and trekking sandals all the time. It was perfect for pretty much all activities.
Water shoes or flip-flops are really handy for kayaking, elephant washing, etc.
UV t-shirts are nice to have for kayaking and swimming, especially for kids who stay in the water for a long time.
You should always pack your swimwear, sun hat, sun glasses, and a rain poncho or a light rain jacket as well.
For the jungle trek, it might be nice to have long pants (just remember that it's HOT) and walking shoes. We hiked in shorts and sandals and it was just fine.
Don't forget sunscreen lotion and mosquito spray.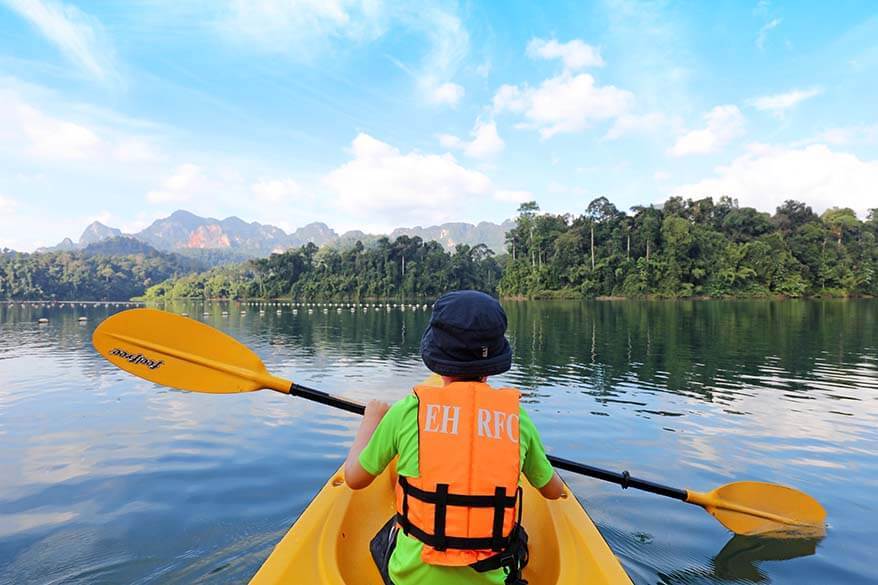 Practical information for visiting Elephant Hills in Khao Sok National Park
It rains a lot in Khao Sok National Park – it's a real rainforest. The park is at its wettest in the heart of the rainy season, between June and November… Probably the best season to visit is from January to April, but you can expect rain any time of the year. We had dry weather all three days, but apparently, it's more an exception than the rule.
If you are traveling in high season, especially around New Year, you have to book your stay at the Elephant Hills months in advance.
Please keep in mind that all the activities you do at the Elephant Hills happen in a small group of 15-20 guests and local guides. For the rest, there is nothing around you, just an endless rainforest.
We expected to find many mosquitoes in Khao Sok NP, but were positively surprised that there were fewer mosquitoes here than on some of the islands we came from. Still, we used mosquito spray all the time.
There is no ATM at Elephant Hills and they don't accept credit cards for on-site payments. So make sure you bring some cash for drinks and souvenirs. Food and all activities are included in your stay rate. Drinks and souvenirs are quite cheap, pretty much as in most mid-range hotels in Thailand.
Here is a beautiful video of the Elephant Hills resort in Khao Sok NP. Take a look – it will give you a good idea what to expect.
TIP: Wondering how to plan a trip to Thailand, but are not sure where to start? Here you can find our 2-week Thailand island hopping itinerary. It covers all the must-see islands in Southern Thailand and, of course, the Elephant Hills. Take a look for tips and inspiration on how to plan your own dream trip to Southern Thailand!
If you enjoyed reading this post, please share it with your friends. Are you on Pinterest? Pin this image!