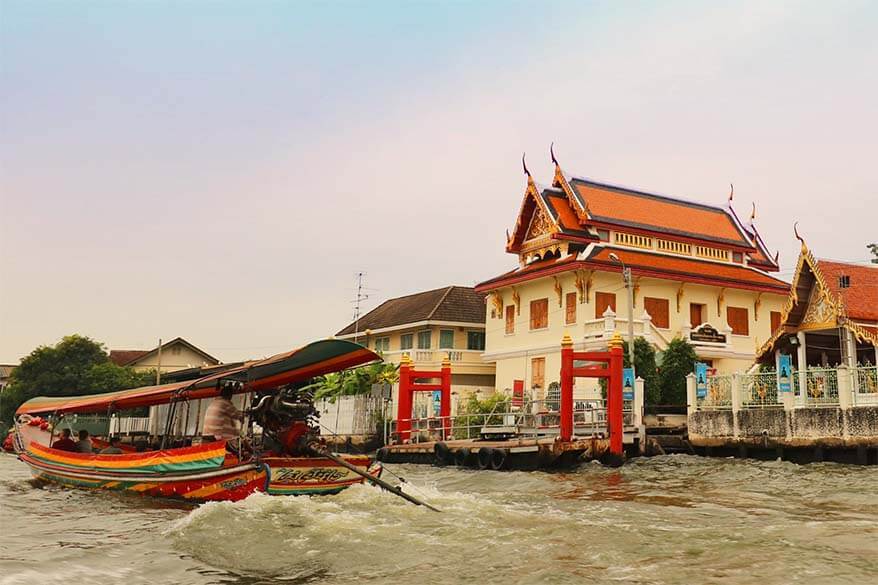 No visit to Bangkok would be complete without experiencing its authentic canals (khlongs). One of the best ways to do it is by taking a private long-tail boat Bangkok canal tour.
In this post, I am sharing our experience so that you know what to expect from your Bangkok canal tour. At the end of the article, I also include some practical information to help you plan your time in Bangkok and explore the canals.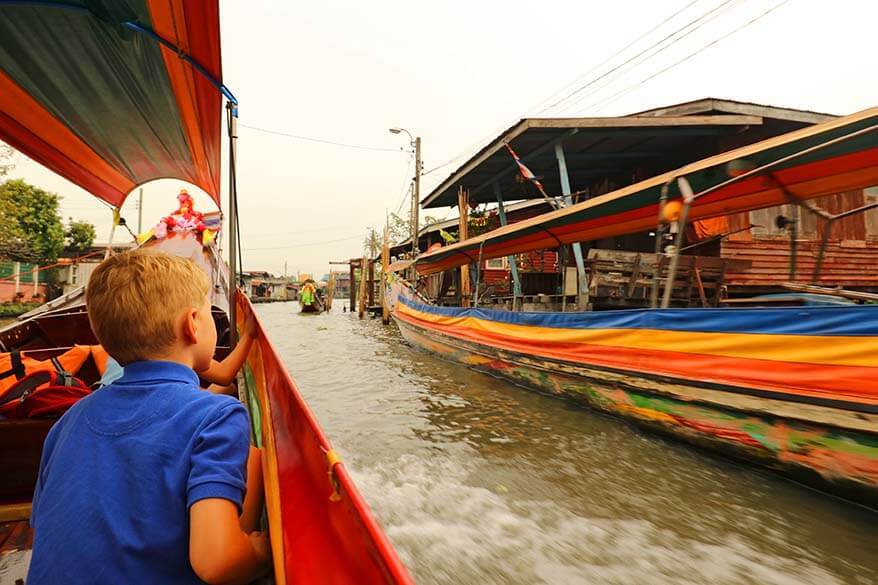 Bangkok canals – some history
Bangkok's first canals were dug in the late 18th century when Rattanakosin (now Bangkok) became the capital of Thailand. King Rama I decided he wanted to live on an island. Rattanakosin Island, home of the Grand Palace (both built in the same period, around 1782), was created by digging a wide canal linking the Chao Phraya River.
Later, more canals followed. As the city grew, canals became more and more important not just for defense purposes, but also for irrigation, drainage, trade, and of course transportation. In the 19th century, Bangkok developed a big canal network with hundreds of kilometers of waterways. It is during this period that Bangkok became known as the Venice of the East.
In the 20th century, the city expanded further but shifted its focus to building new roads rather than canals. Some canals were filled again and turned into roads. But even though the canals are of less importance nowadays, they are such an indispensable part of Bangkok, so definitely worth a visit. Find out!
Bangkok canal tour – where to go
As mentioned, Bangkok has hundreds of kilometers of canals. So your experience will probably differ depending on which canal you explore.
Khlong Saen Saeb, for example, is a busy canal in Bangkok's center. This canal is served by a public motorboat and if you have the time you could explore it by hopping on and off the boat. You'll find everything here from street markets to design shopping, and from street food to modern cafes.
Since our time in Bangkok was limited, we didn't visit this part of the city. Therefore, I cannot compare this canal to the ones that we did. From everything I read, it sounds and looks like a very different world than the canals that we visited (and recommend). Read on!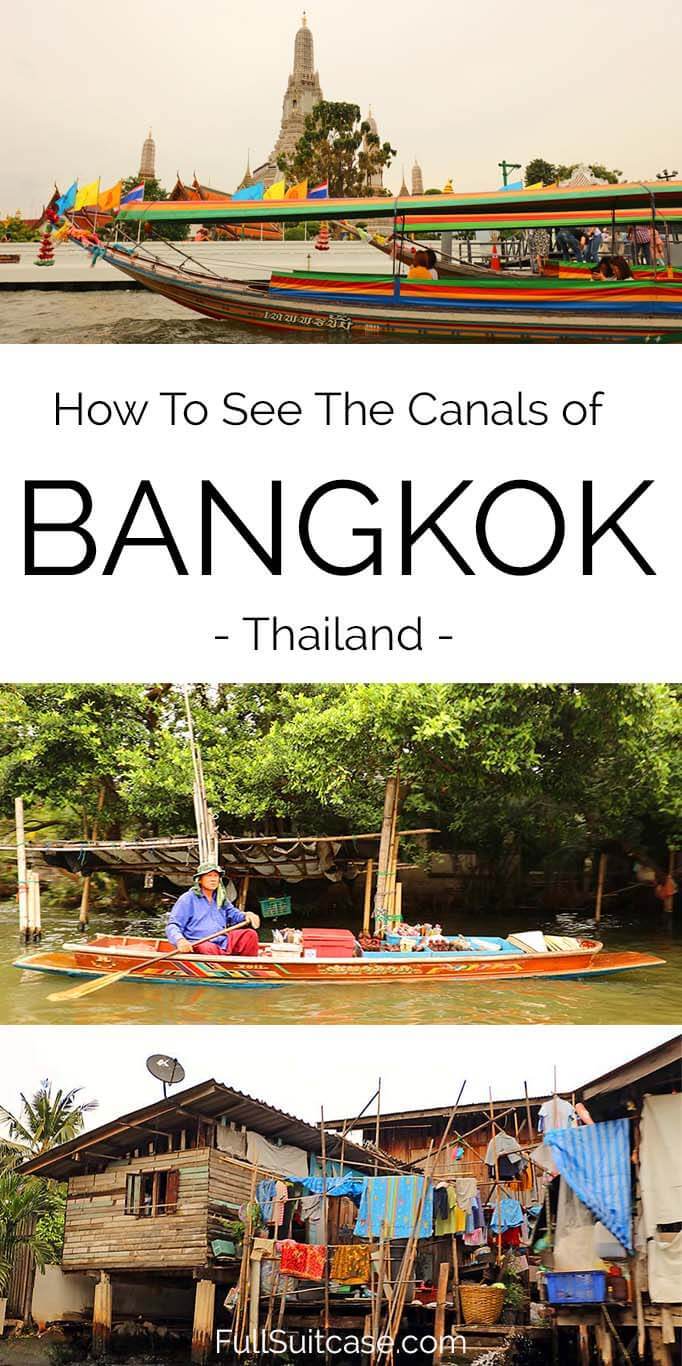 We took a long-tail boat on the river from a pier near the Grand Palace and explored the canals of Thonburi area. This area, west of Chao Phraya River, is probably best known for the famous Wat Arun, the Temple of Dawn. Thon Buri is the oldest area of Bangkok and exploring it is a bit like taking a journey back to Bangkok's past.
The long-tail boat canal tour will differ a bit depending on what you agree upon and where exactly you start. We did the southern part of the neighborhood. Alternatively, we could have done the part a bit more north, but our local guide made it sound like it didn't really matter that much – it's still just as interesting.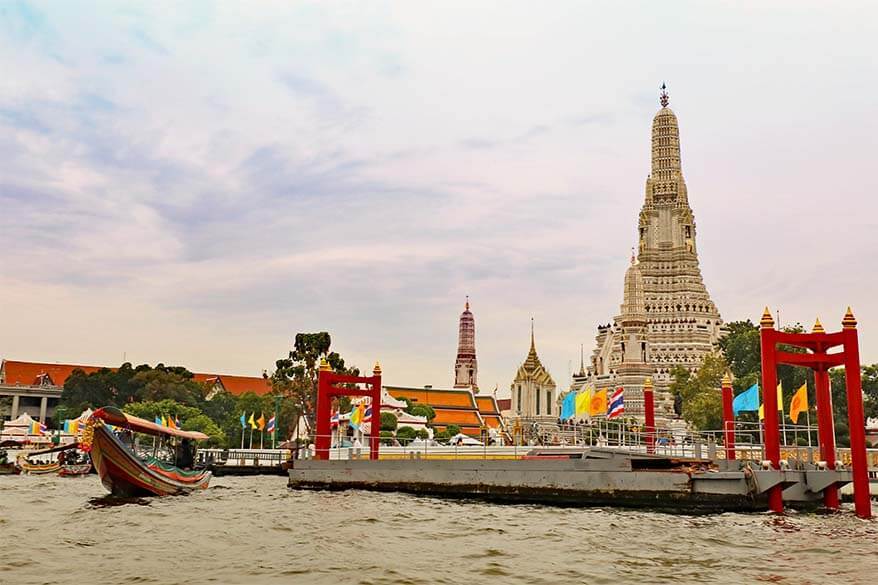 Bangkok canal tour in Thonburi area – what to expect
We started our canal tour by – literally – jumping on a long-tail boat at Tha Tien pier. We then sailed Khlong Bangkok Yai, Khlong Mon, and ended at Wat Arun (Khun Mae Pueak Cross River Ferry Pier) – see the image below for the exact location or check the map here.
This Bangkok river boat tour took us 55 minutes. But your Bangkok canal tour can be easily expanded by covering a bigger distance.
You could opt to visit places like the Royal Thai Barge Museum, an Orchid Farm, or – on the weekends – Taling Chan floating market. Unfortunately, we didn't get to see this market, but we were told that it's one of the more authentic markets of Bangkok where vendors cook and serve fresh seafood directly on the boats.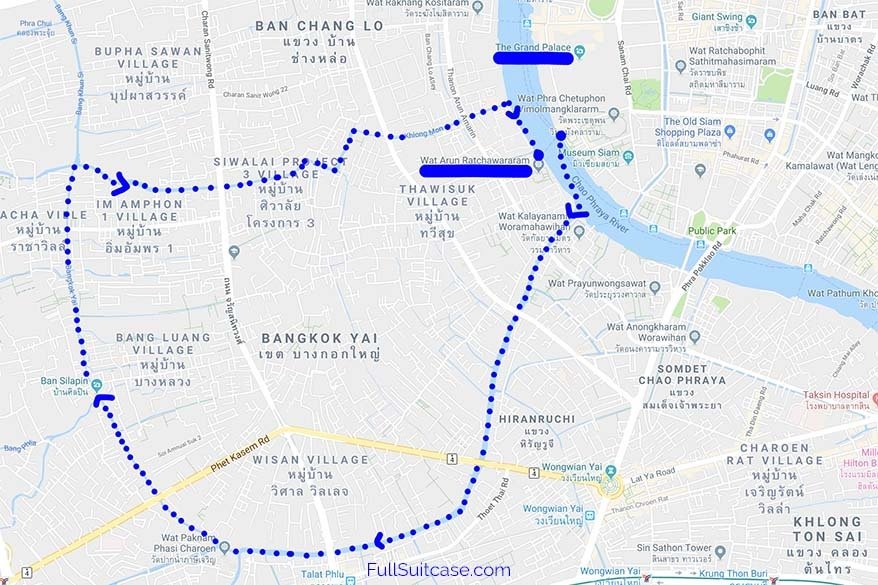 The moment you leave the Chao Phraya River, you enter a different world. It's even separated by a lock, since the water level of the canals is lower than in the river.
Taking a canal tour through this old part of Bangkok showed us a very different part of the city. So close and yet a world apart from the hustle and the bustle of the busy streets in the city center or the modern skyscrapers you see in the distance… This part of town had such a peaceful atmosphere. Sometimes it felt as if the time stood still here.
As we sailed Thonburi's canals lined with trees, we couldn't believe the huge contrast around us. Tiny teak houses built on stilts above the water and shabby constructions stand side by side with impressive private properties and beautiful ornate temples…
In most countries in the world, there is a clear separation between the areas where the rich or the poor live. Our local guide said that it's not really the case in Thailand. We have never seen this more clear than here, next to one of Bangkok's oldest canals.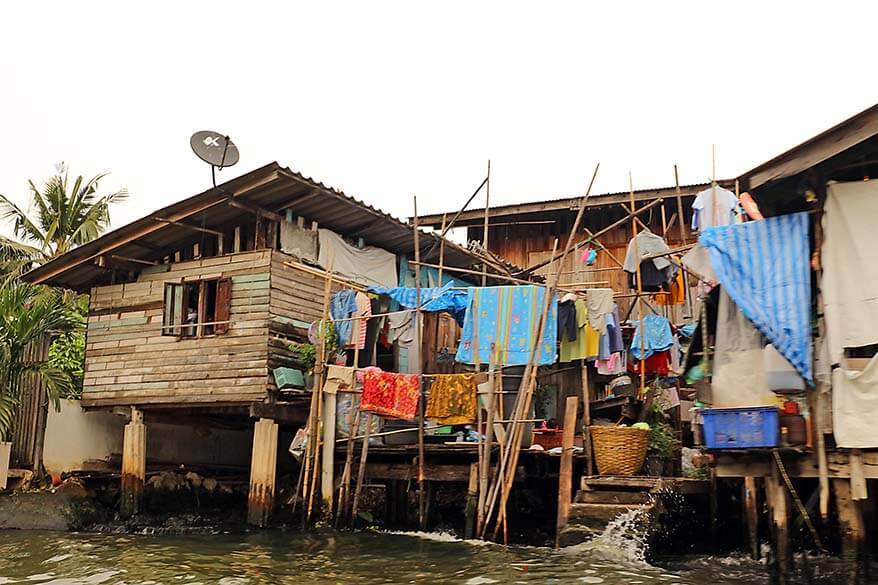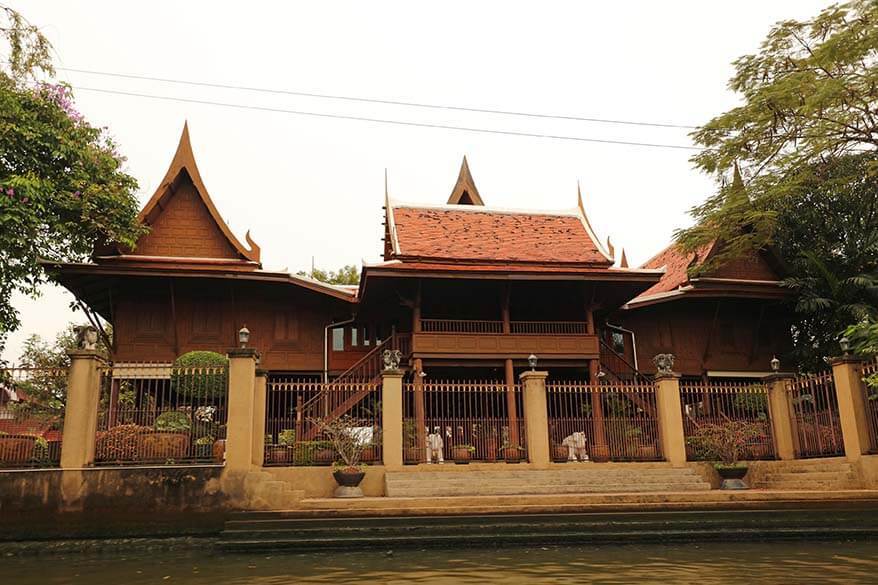 We could get a glimpse of how locals live here. Elderly people sitting on the chairs on the wooden docks of their tiny homes overlooking the canal, women hanging laundry to dry, men fishing, children jumping into the water and swimming between the giant fish…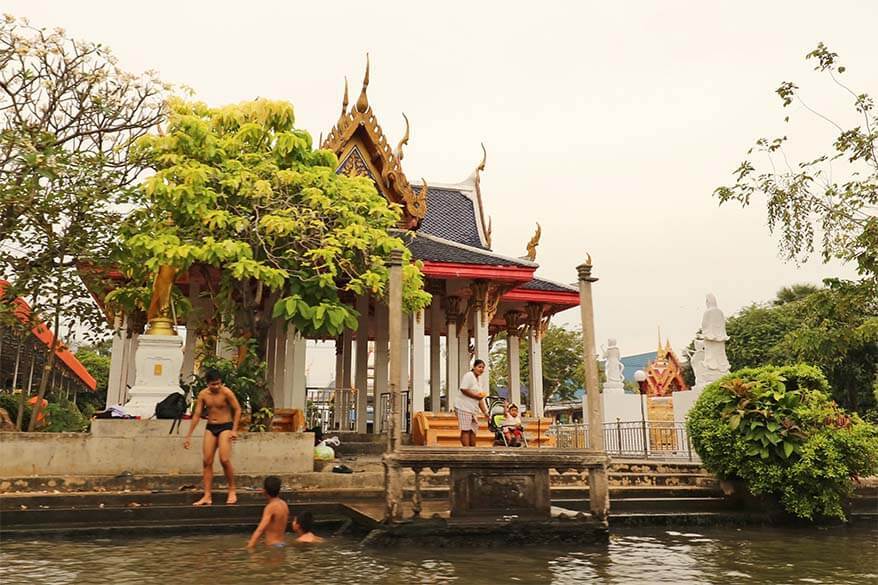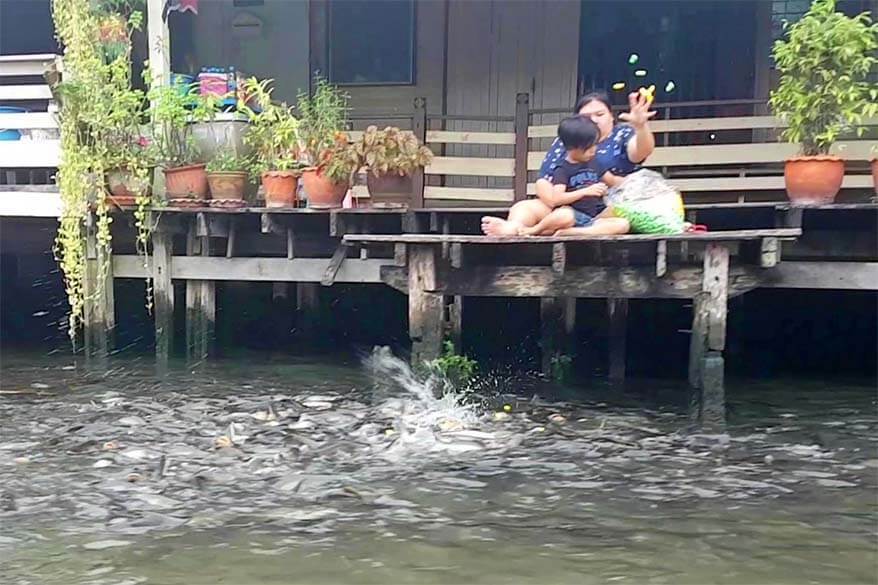 We saw local vendors in their wooden boats loaded with all kinds of merchandise from fruit and vegetables to souvenirs and household appliances…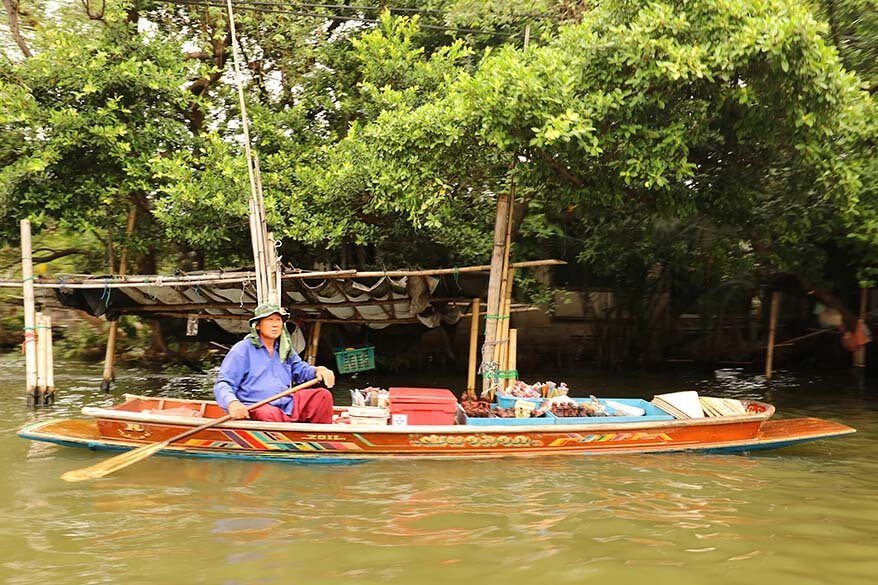 We were also surprised to see so much fauna in and around the canals. From a variety of birds and fish to huge water lizards quietly lying by the water… No way I'd dare go for a swim in those waters…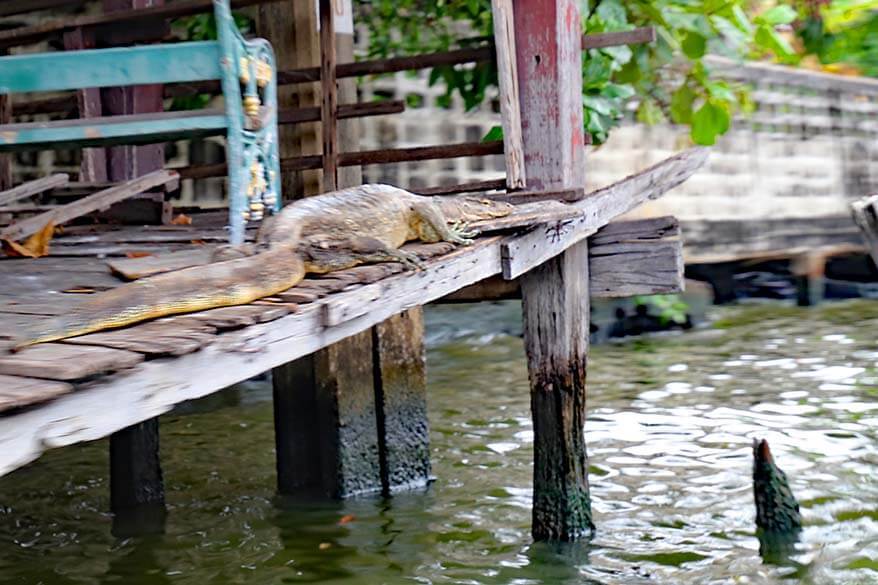 One of the highlights of our Bangkok canal tour was a short stop at a temple where our guide bought some freshly baked bread from the Buddhist monks. Our kids could then feed the bread to the fish. In no time our boat was surrounded by hundreds of fish and the kids had the time of their life!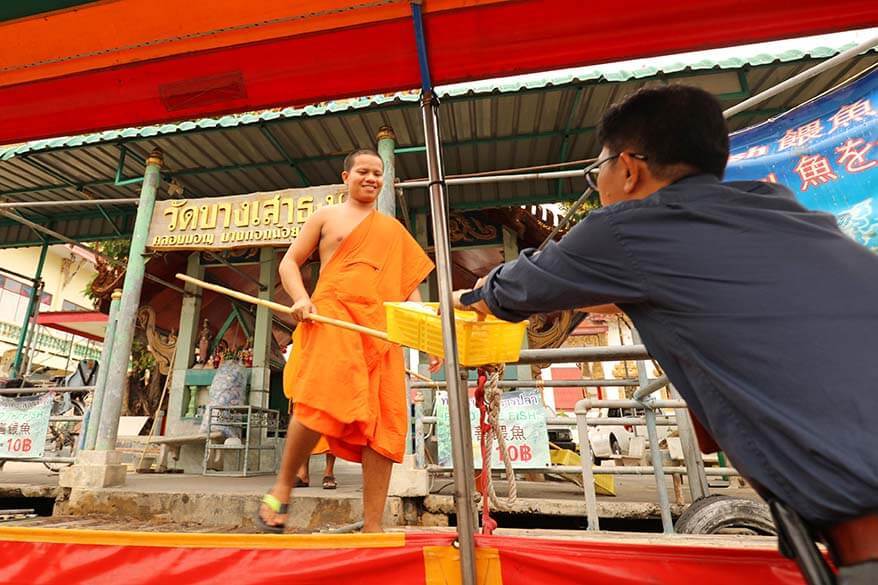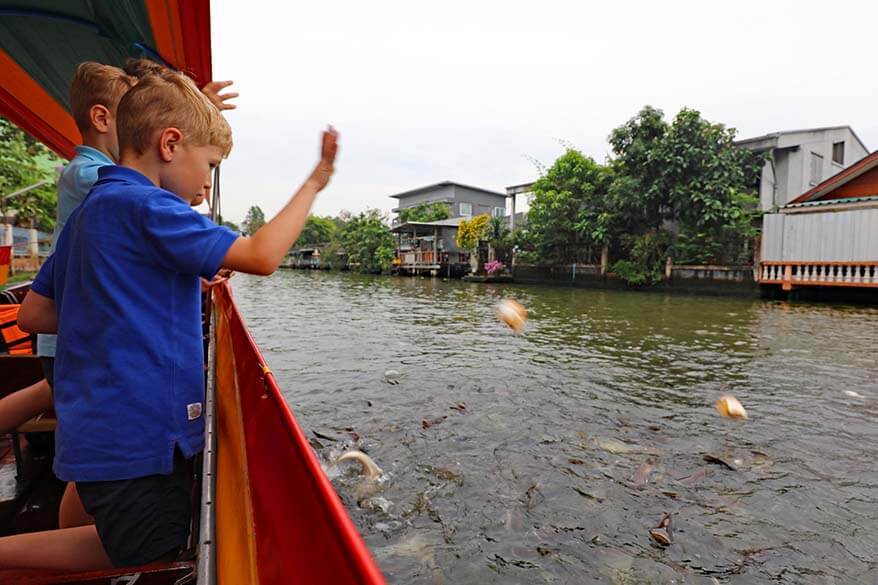 How to do Bangkok canal tour
There are probably many ways to do a Bangkok canal tour or a river boat tour: with a local guide or on your own, with an organized tour or by hiring a private boat.
You could potentially just go to one of the piers (e.g. Tha Chang pier, Tha Maharaj pier, or Tha Tien pier, or Thonburi Railway Station Pier and inquire there), get the boat and set on tour. However, this only sounds easy on paper.
Once you get there, you realize that it's more complicated than that. First, the piers in central Bangkok are crowded. Second, it's not at all clear where to go or who to ask for a private tour (everyone stands in line waiting for a public ferry to cross the river). And third, very few people speak English, so it might be tough to explain what it is that you're looking for.
It's not like on the islands in the South of Thailand where you just go to the beach and talk to any of the long-tail boat drivers. The river in Bangkok is so busy and there are no boats or drivers waiting by the pier. So you have to ask the right person who knows how to 'catch' one for you…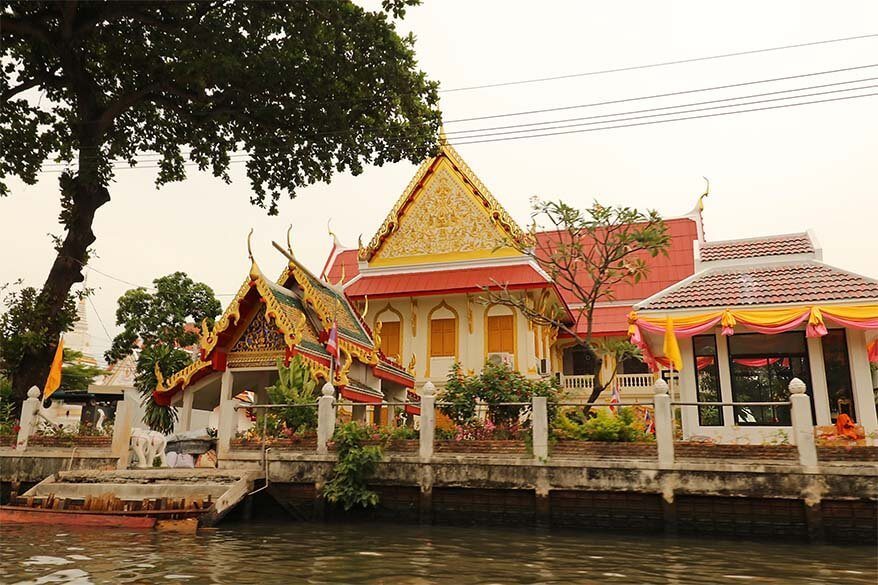 We did this Bangkok canal tour with a local guide, as a part of a private guided day trip in Bangkok. When one of the piers couldn't get long-tail boats to dock due to the water level, our guide took us to the next pier and arranged the long-tailed boat there. We just followed him through all the chaos, feeling thankful that we didn't have to try to sort this out ourselves.
Exploring Bangkok with a local guide who speaks English really well makes your trip so much more comfortable! Furthermore, you get interesting insights and information about the places that you visit.
We crafted our own itinerary for a day in Bangkok with the help of a local guide. We also asked for a private minivan since our trip started and ended at the airport. This was a great way to explore Bangkok with the locals and saved us so much time!
We could have never seen so much in so little time on our own. The price you pay is for the guide for the day. Then, depending on what you want to see and do, you pay entrance fees as you go.
So, in case of this Bangkok private canal boat tour, our guide arranged a private long-tail boat for us and we paid 1,500 TBH (+-40EUR) for it. From what I understood, the price was the same for up to 8 people.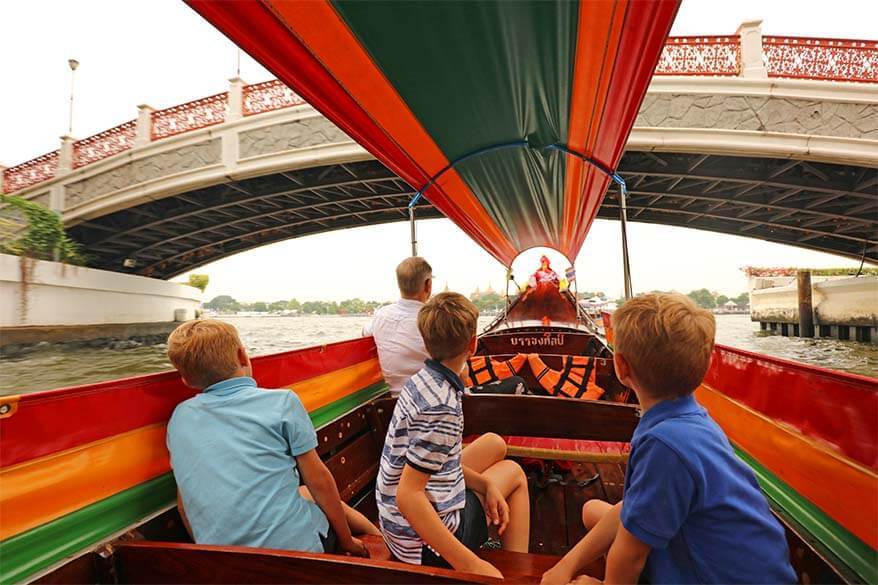 Bangkok canal tour – conclusion
If you are looking for something unique to do in Bangkok, then I really recommend a long-tail boat canal tour. It's a wonderful way to get a bit off the beaten path, escape the crowds, and see a more authentic part of the city.
We visited Bangkok with children and they were really happy to have a break from the temples and do something different for a change. All in all, a great tour that I highly recommend to all first-time visitors to Bangkok.
If you have any questions that I forgot to cover, don't hesitate to leave a reply and I'll try to help. Please keep in mind that I'm not really an expert on Bangkok travel, however, so I can only answer questions directly related to this canal tour.
READ ALSO: How to see the best of Bangkok in one day
More tips for your trip to Thailand:
If you found this post useful, don't forget to bookmark it and share it with your friends. Are you on Pinterest? Pin this image!