When it comes to Thailand island hopping, there are countless options and hundreds of possible itineraries. So if you are looking for just one right answer or ultimate guide to island hopping in Thailand, you might be disappointed. However, if you are looking for ideas for an epic island hopping experience in Thailand and are not sure where to start, then you've come to the right place!
Our 2-week Thailand island hopping itinerary covers many of the must-see islands, such as Phuket, Krabi, Koh Phi Phi, and Khao Ping Kan (James Bond Island). It also includes the amazing less touristy Koh Lanta and the tiny Koh Lipe, often called the Maldives of Thailand.
At the end of our trip, we also visited a wonderful place that you won't find in many south Thailand itineraries – Khao Sok National Park. It's not an island, so technically doesn't belong in an island hopping itinerary. However, it has become our absolute favorite place in Thailand, so it would be a shame not to tell you about it.
We had just two weeks in Thailand and decided to spend all our time visiting the most beautiful islands in the South of the country. What we try to do on every trip is to make the best of the short time that we have and see all the best places that are worth the trip the most. This 2-week Thailand island hopping itinerary reflects exactly that.
We made this trip with our three children (age 8, 8, and 10) and so it has a good mix of relaxing beach time, fun family-friendly activities, local culture, nature, as well as (ethical) animal encounters. This is a family-friendly trip, but it will also appeal to most travelers seeking to see the best of southern Thailand.
For the sake of giving you more available options than what we did, I adapted our itinerary here and there in order to show you what's possible if you want to fill each and every day with sightseeing. You could also extend this trip by adding other popular places like Ko Samui or Khao Lak, or maybe visit the less known islands like Ko Yao Yai or Ko Yao Noi, and others. Langkawi island in Malaysia is so close to Koh Lipe that it's also a nice place to consider if you have even more time. The possibilities are endless…
So please keep in mind that there are 101 ways to plan an island hopping trip in Thailand, and this is just one of them. Use this as an inspiration to make your own perfect island hopping itinerary. It might look a bit overwhelming to plan a trip like this on your own at first, but it's actually really easy to do. Our practical tips and information will help you to plan and book your own dream trip. Find out!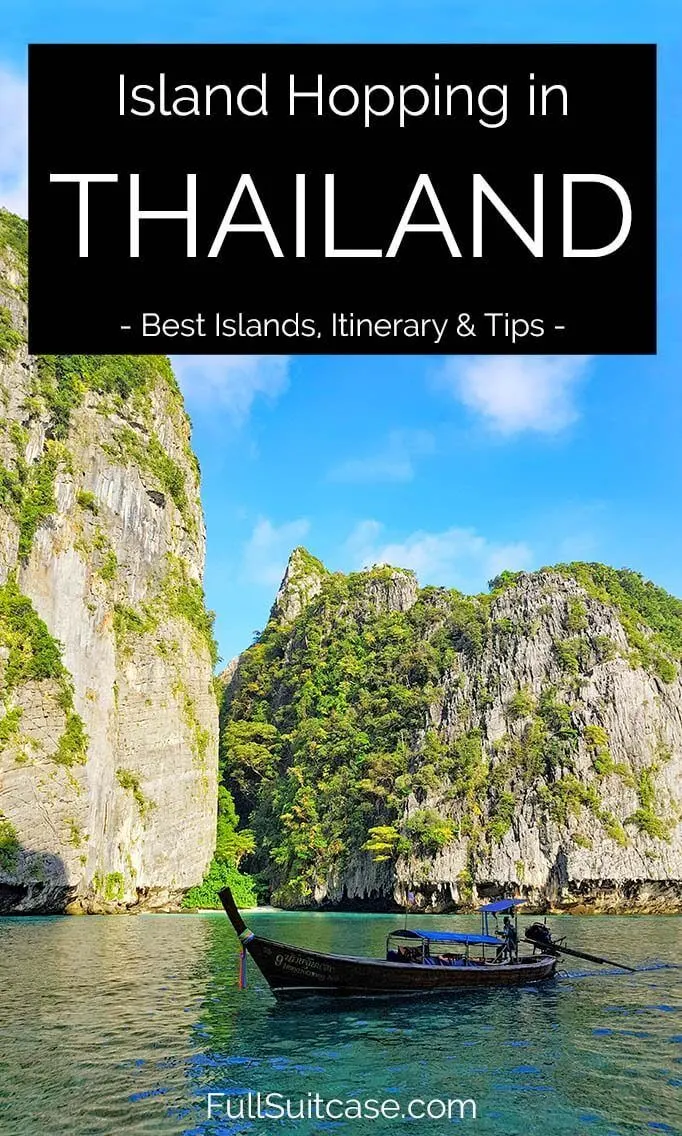 Island hopping in Thailand: 2-week itinerary and map
We started and ended our Thailand island hopping trip in Phuket, since it has an international airport with lots of flight options. For us it was cheaper to buy tickets to/from Phuket rather than try to fly out from a different airport, so we made this into a round trip.
It would have been possible to end the trip in Krabi, Koh Samui, for example. Which, luckily, we didn't do as that coast was hit by Storm Pabuk just at the time we would have been there… But just before you get scared, this was a once-in-68-years type of storm, so the chances of you encountering a similar storm are pretty slim.
Our 2-week Thailand island hopping itinerary – overview:
Here is the map indicating all the main places mentioned in our island hopping itinerary. It will give you a better idea where everything is located and hopefully will make your trip planning easier.
How to use this map: Use your computer mouse (or fingers) to zoom in or out. Click on the icons to get more information about each place. Click the arrow on the top left corner for the index. Click the star next to the map's title to add it to your Google Maps account. To view the saved map on your smartphone or PC, open Google Maps, click the menu and go to 'Your Places'/'Maps'. If you want to print the map or see it in a bigger window, click on 'View larger map' in the top right corner.
Below you can find our day-to-day itinerary for south Thailand. I also indicated our accommodation choices for each place that we visited. Obviously, you can find other accommodations on the same islands and make this trip as expensive or as cheap as you like.
Our trip was on a more expensive side – we aren't fans of hostels or guest houses. When we had several nights in one place, we opted for more luxurious resorts. Whereas when we were just passing by, we chose good price/quality accommodations that had big family rooms and the most convenient location for our transfers.
At the bottom of this post, you can find more information about boat transfers in southern Thailand and other practical information for planning an island-hopping trip in Thailand.
Without further ado, here is how our Thailand island hopping itinerary looked like. It contains additional options, suggestions, and tips for your trip. Read on!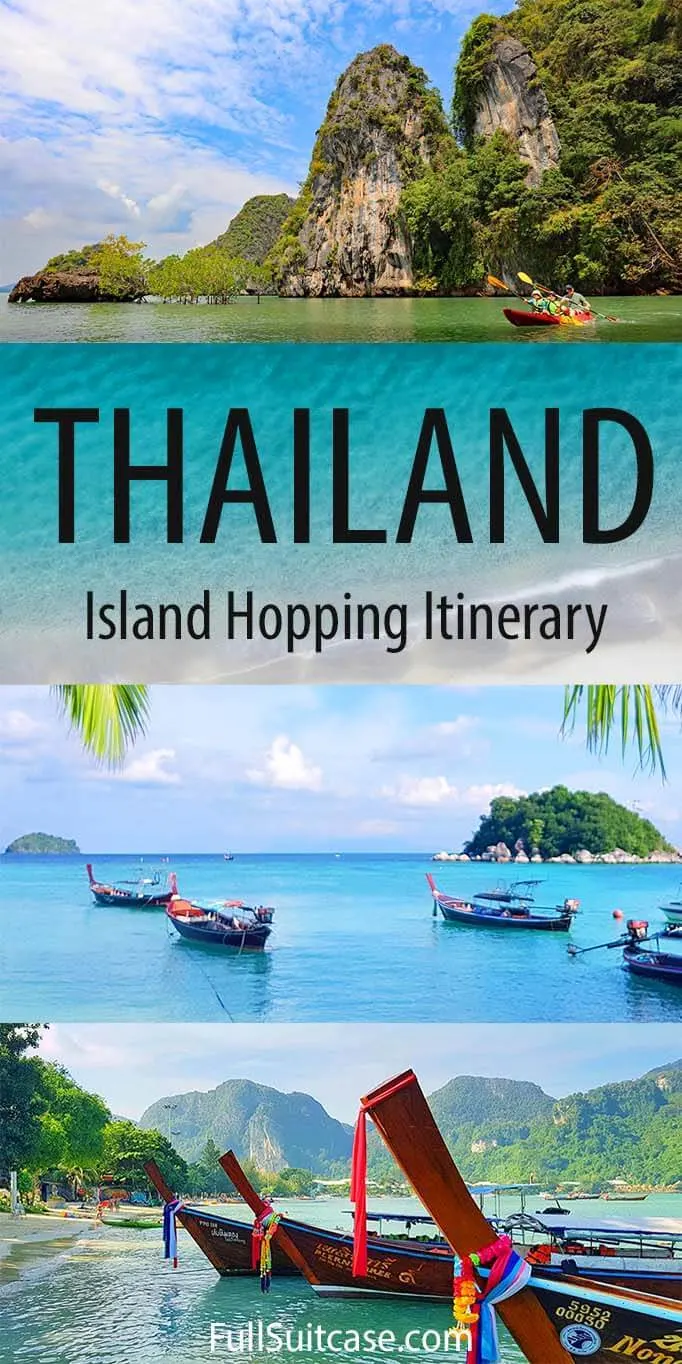 Day 1: Phuket: Coconut Island
We always heard that Phuket island is busy, crowded with tourists, and all in all maybe not the best place for people who like to avoid the crowds at all costs. But, as I said, it was the best place for us to fly to. On top of that, Phuket is very well located for a variety of day trips and excursions in the area. So we decided to do some research and see if we could take advantage of its location, without having to sacrifice on our travel experience.
We traveled to south Thailand during Christmas – New Year, which is by far the busiest and the most expensive time of the year. Accommodations get fully booked months in advance and already expensive hotel prices surge even more a few months before the travel dates. Luckily, we planned our trip 7 months in advance and still had plenty of choice of available accommodations at somewhat affordable prices.
So here you go, if you thought Thailand is cheap, it's not always the case. Yes, you can still find a place to sleep for 5 EUR a night, but if you want a really nice accommodation for your family holiday, you'll quickly pay hundreds of euros per night.
After a lot of research into all types of accommodations in and near Phuket, we found a beautiful place to stay that ticked all the boxes for us – The Village Coconut Island Beach Resort. First, it has an excellent location – close enough to the airport and the main piers (for excursions and transfers), but far away from the crowds. This resort is located on Coconut Island, just 5 min by boat from Phuket, and is the only resort on this island. Second, it has a beautiful private beach, water sports, kids club, and a huge choice of family villas (many with a private pool) for various budgets.
Compared to huge hotels with thousands of guests located on the most popular beaches of Phuket, Coconut Island looked like a paradise. And it really was – we loved every minute of our stay here.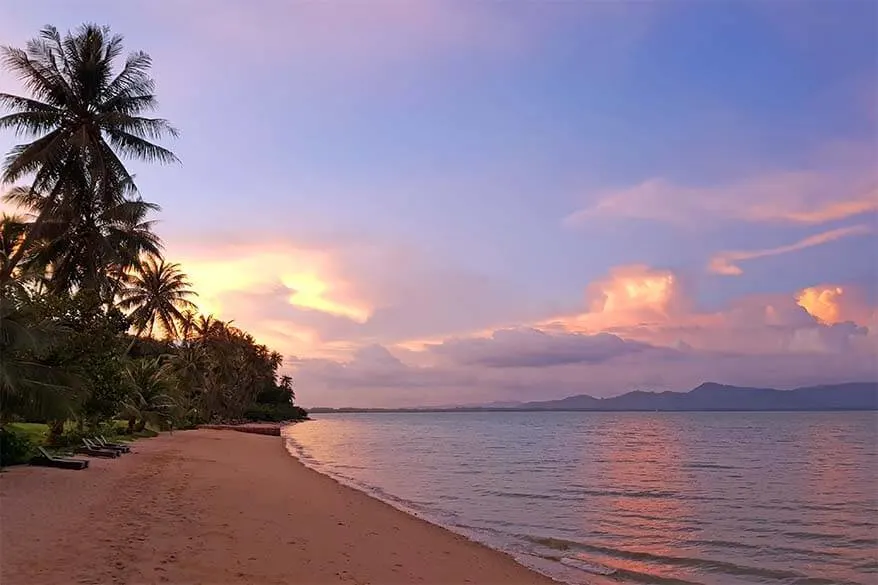 After hours spent traveling on planes, cars, and a boat, we immediately felt on vacation here. Sunshine, beach, and cocktails… Our jet lag was gone before it started.
Kids spent the whole first day testing all the swimming pools and water slides of the resort, while we enjoyed the private pool of a magnificent beachfront villa that we got upgraded to. We never wanted to leave!
Accommodation: 4 nights at The Village Coconut Island Beach Resort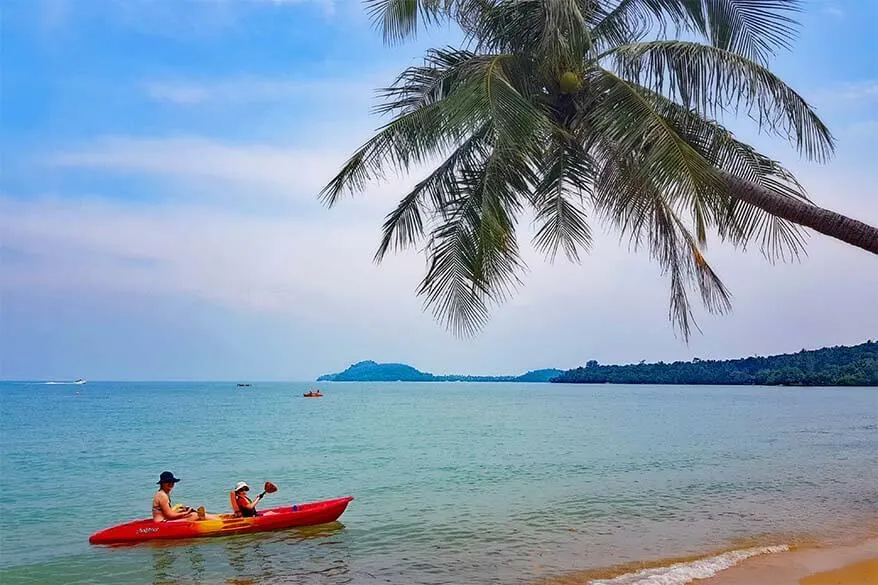 Day 2: Phuket: Day Trip to Phi-Phi Islands
We woke at dawn the next morning for a sunrise cruise to the Phi-Phi islands. These magnificent islands are really a must when island-hopping in Thailand!
We considered staying on Phi-Phi Don and visiting the islands on a boat tour from there, but after some research, we decided it's better done as a day trip from Phuket. Hotel prices were completely insane in Phi Phi at Christmas. We also heard that this tiny island has a reputation for being a party island, so not our thing at all.
There are quite some tours from Phuket to Phi-Phi islands, not even mentioning the tours offered by hotels (which tend to be about 50% more expensive). After a lot of research, we opted for this sunrise Phi-Phi islands tour, which also includes a walk to the viewpoint in Phi-Phi Don. Sunrise and fewer crowds make it worth getting up a bit earlier.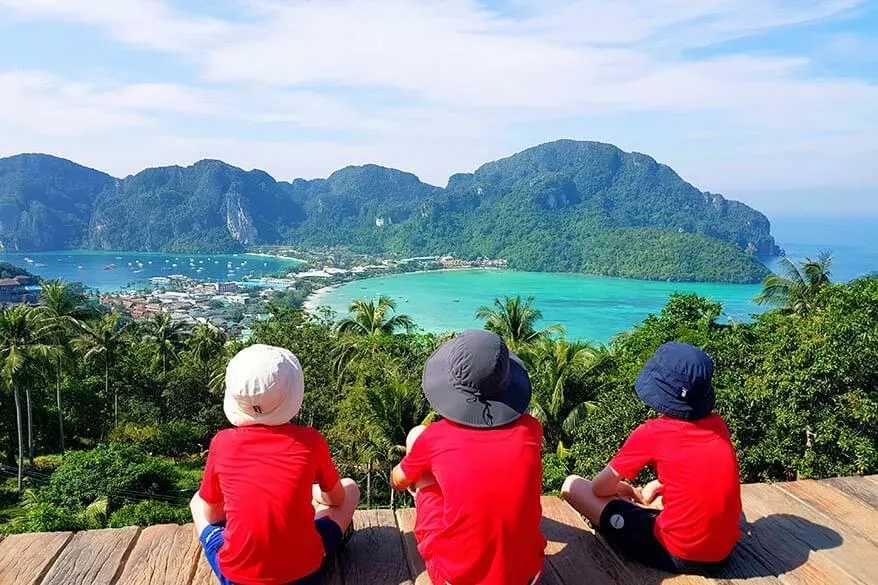 All the tours in Phuket offer complimentary hotel pick-up. However, since our hotel was on an island, we were a bit worried to book early morning tours. We shouldn't have worried! The hotel boat brings you to a nearby hotel (see map), which is just a 5-minute boat ride away, so you can ask the tours to pick you up from there.
All the tours to Phi-Phi islands offer pretty much the same itinerary. We chose this one since it explicitly mentioned a walk to the beautiful viewpoint on Phi Phi Don (and it was well worth the short but steep hike).
Our first stop was at Phi Phi Leh, with its beautiful Maya Bay. The popular beach has been closed by Thai authorities, so now the boats just make a short photo stop at the entrance of the bay. We also stopped by the Viking Cave and the monkey beach and had several snorkeling stops in different locations. The final stop was on the white-sand Bamboo Island, where we had lunch and plenty of time to swim and relax.
We knew that this tour was the most popular island hopping trip from Phuket, so we expected it to be extremely busy. It was busy, but it somehow didn't disturb much as there was plenty of space. It might have also helped a bit that we went early in the morning. Although, I have the feeling that sunrise trips are even more popular than regular day trips. Another advantage of taking such an early morning tour was that we still had plenty of time to relax at the beach of our hotel in the afternoon.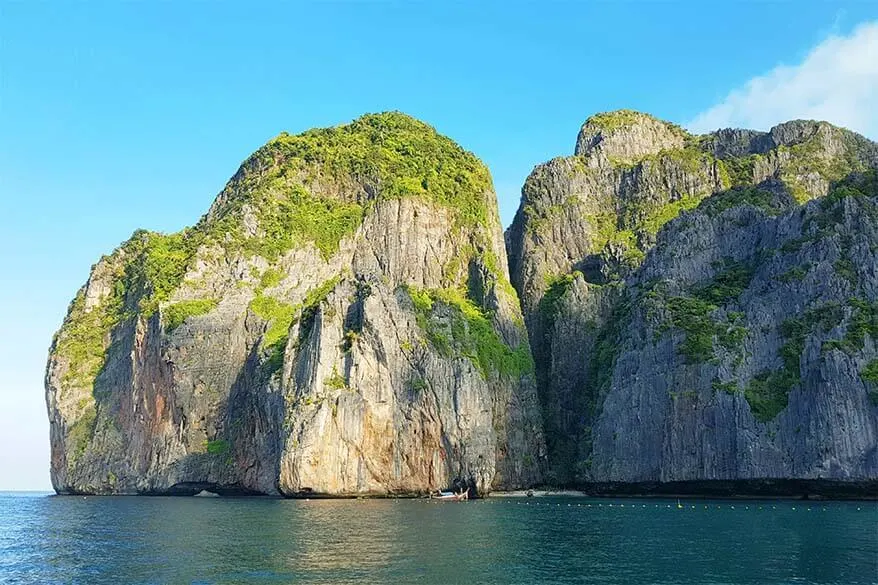 Day 3: Phuket Tour, Snorkeling, or Beach Time
For the third day of our Thailand vacation, we were debating whether to go to town, make a beach trip to a sister island directly from our hotel, or just stay on Coconut Island. The kids chose for the latter, it's a vacation after all.
We took the bikes offered by our resort and explored a nearby local village on Coconut Island by bike. It was our kids' first encounter with local life in rural Thailand. They were definitely impressed.
We spent the rest of the day swimming, kayaking, playing on the beach, reading, and sipping cocktails. Vacation can be as simple as that!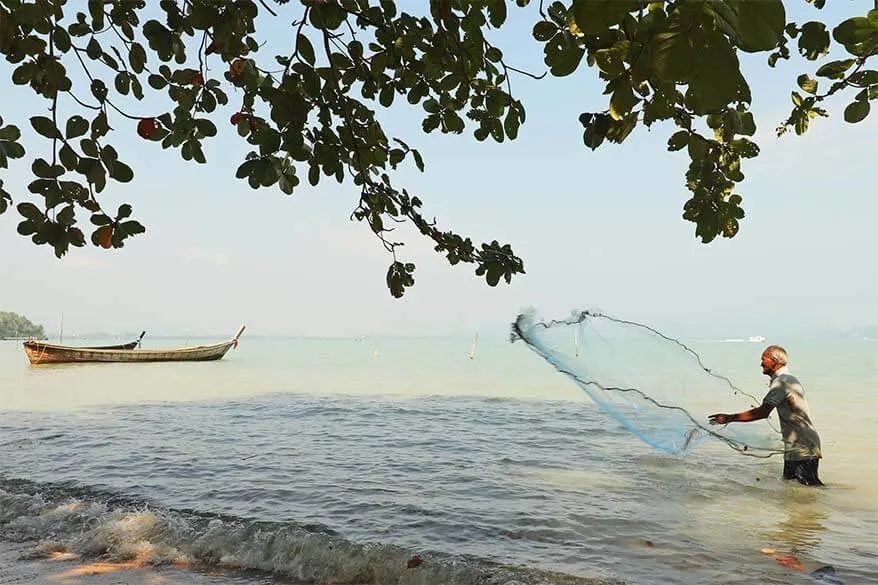 If you rather do more sightseeing, there are countless options in Phuket. Here are some of the best Phuket tours that I had shortlisted for our trip:
Phuket highlights small group tour. Includes the famous Phuket Big Buddha marble statue, Buddhist temple of Wat Chalong, best viewpoints, and more.
Ethical elephant park tour. We didn't do this in the end since we had another elephant encounter planned later during the trip, but otherwise, it's something that can be really nice to do in Phuket. Especially if visiting south Thailand with children.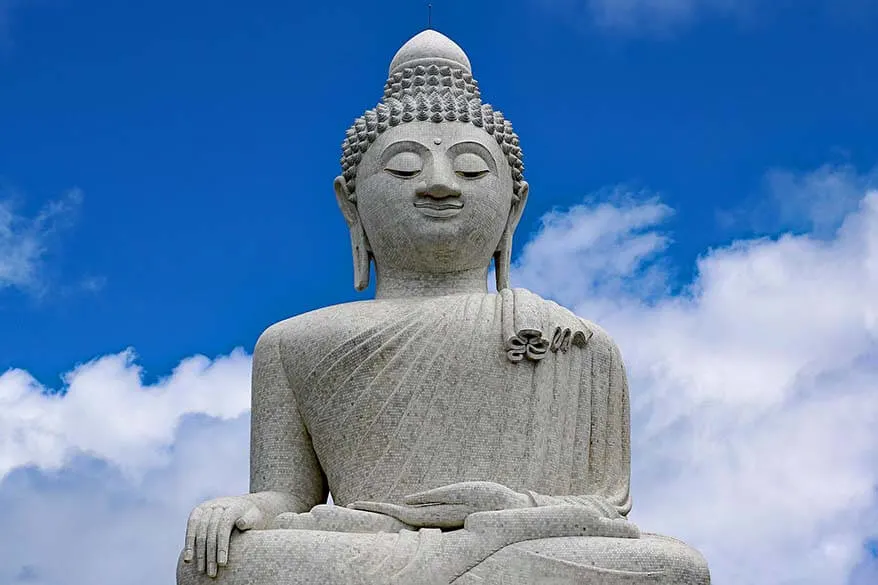 Phuket might have beautiful beaches, but if you want to dive or snorkel, you will have to visit one of the nearby islands that have better reefs. There are several options. From everything I read, it seems that Similan Islands and Koh Racha Yai are by far the best places for diving and snorkeling near Phuket.
Similan Islands are famous for the white sandy beaches and crystal clear waters, with colorful coral and sea life including many sea turtles. Here's the best-rated day trip to Similan Islands that I was able to find.
Racha Yai is much closer to the Southern part of Phuket. So depending on where you stay, it might be a better option with less time wasted on transfers and more in the water. Here you can find tours that go to Koh Racha Yai.
READ ALSO our complete guide to island hopping from Phuket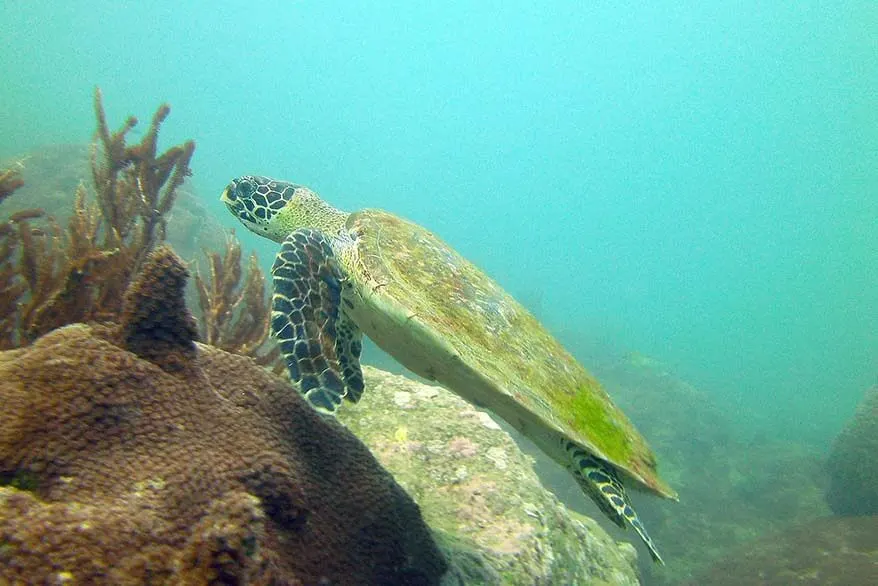 Day 4: Phuket: Day Trip to Phang Nga Bay (James Bond Island)
Every trip has its regrets. The biggest regret of our Thailand island hopping trip was that we didn't make it to Phang Nga Bay, or the James Bond Island. We had planned this amazing sunrise trip at the end of our trip, but we should have done it on day 4, thus I mention it here.
At the end of our trip, a major tropical storm, Pabuk, was on the way to the area. All the boats were ordered to stay ashore for three days. Since those were our last days in south Thailand, we never made it to the famous James Bond Island.
So my advice to you is doing the things that are at the top of your island hopping list as soon as you can. You never know how the weather will be, or what else might happen. At least, if you plan it in the beginning, you still have a chance to reschedule in case anything happens. Lesson learned.
Anyway, I'm sure you'll have better luck (tropical storms like Pabuk are really rare in Thailand). This Phang Nga Bay: Early Bird Tour is the best-rated James Bond Island tour from Phuket.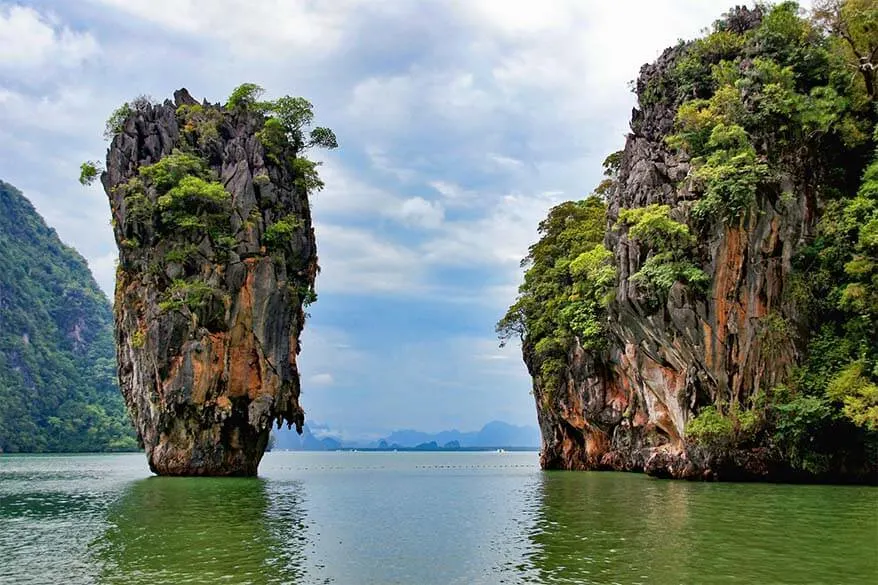 Day 5: Phuket to Koh Lanta
After acclimatization on Coconut Island and some short day trips, it was time for some real island hopping! We left our hotel for a 20-min drive to Rassada Pier for our transfer to Ko Lanta.
So glad we opted for a speedboat trip from Phuket to Koh Lanta! It took just 1,5hrs (compared to 4hrs by ferry). We left Phuket around noon and two hours later we were sipping cocktails and shakes by the pool of our hotel in Koh Lanta. The views from the pool were amazing and the sunsets – out of this world!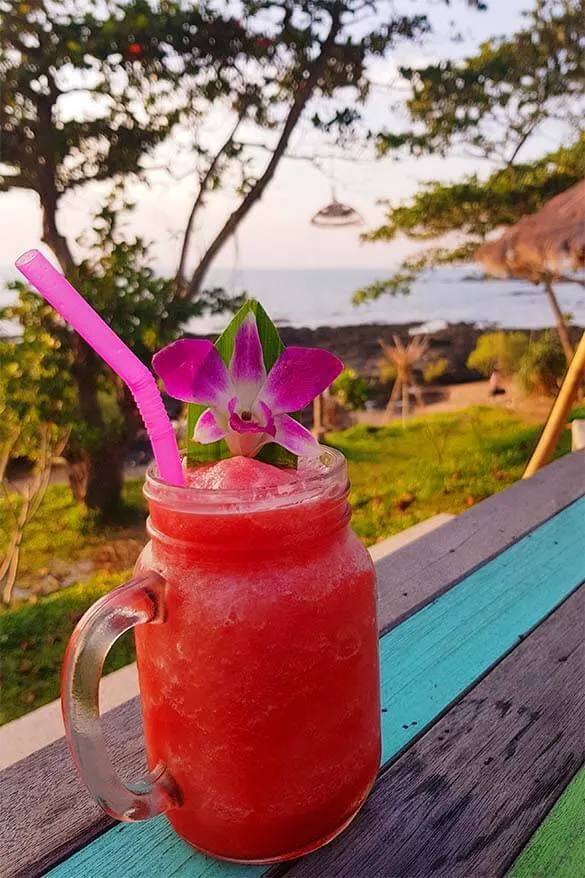 Of all the islands that we visited on this trip, Koh Lanta is the only one that we left with a feeling that we should have stayed longer. It felt more authentic, more green, and less touristy than Phuket, Koh Lipe, or Krabi.
We checked all the tours that you can do in Koh Lanta and had a tough time choosing just one for the next day. If you have more time, you can rent a car or a motorbike and explore the island on your own. If you have a day or two extra when planning your Thailand island hopping trip, I really recommend that you spend it in Koh Lanta!
Accommodation: 2 nights at Coco Cape Lanta Resort.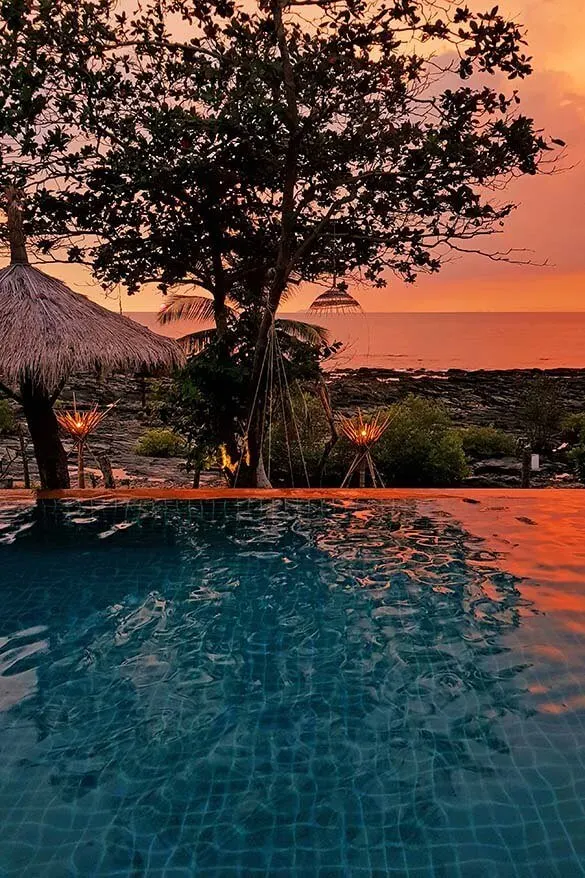 Day 6: Koh Lanta
Having just one day on the island meant that we had to be very careful what we chose to do in Koh Lanta. Before our trip, we heard that one of the absolute best things to do in Koh Lanta is taking the tour of the 4 Islands and Emerald Cave. If we had two days in Koh Lanta, we would have definitely done this trip, but instead, we chose something else that involved a bit more adventure and variety.
We visited Koh Phee (The Skull Island), where after some really adventurous climbing we explored the impressive caves that open up to the sea through the 'eyes of the skull'.
Afterwards, we visited Talabeng Island where we swam and kayaked in the most spectacular landscape, including Talabeng sea cave.
The tour also passed mangroves where there was an obligatory stop to feed fruit to the wild monkeys that live there. I'm not really sure how to feel about feeding wild animals, but the children had the times of their lives!
There are various tours in Koh Lanta that go to Talabeng sea cave, they all offer somewhat similar itineraries and always include mangroves and monkeys. We really enjoyed this half-day tour; it was one of our top-3 experiences of the 2-week Thailand island hopping trip.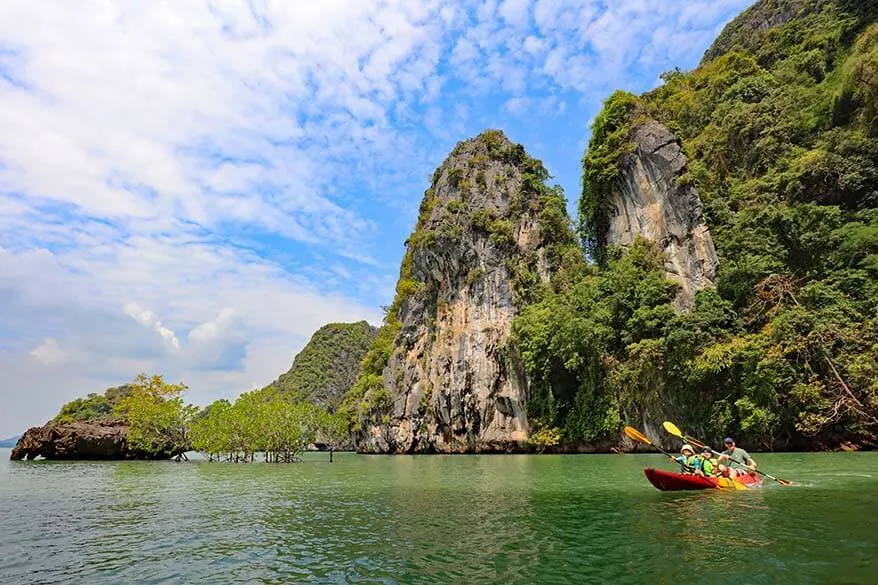 Other suggestions in Koh Lanta include visiting Mu Ko Lanta National Park. However, it's really far on the southern tip of the island, so it's best done if you have the whole day for it.
Before our trip, I was really unsure what there is to see and do in Koh Lanta, but our experience shows that you could easily spend 3-5 days exploring this island and the nearby places. We felt sorry to leave so quickly!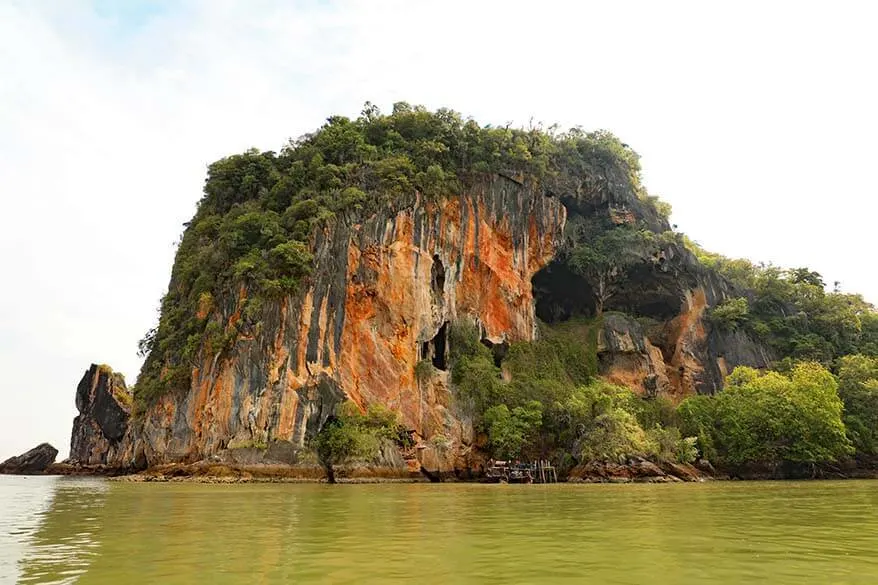 Day 7: Koh Lanta to Koh Lipe and Beach Time
No matter where you come from, getting to Koh Lipe requires a really long trip. Speedboats from Koh Lanta to Koh Lipe take about 3 hours – really long, considering that you have to sit still all the time. We were lucky with the weather, so all in all, it was a very smooth journey, but we were all so happy to finally feel the ground under our feet!
Koh Lipe island, often referred to as the Maldives of Thailand, is part of a National Park. So the first thing you have to do upon arrival is to pay the National Park fees. At the moment, it's 200 TBH (5,5 EUR) for adults and 100TBH (2,8 EUR) for the children (fees for Thai residents are much lower).
We planned three nights/ 2 full days on Koh Lipe in our itinerary and we felt that it was enough. The island has become extremely busy and touristy in recent years; it was not really the paradise that we expected to find… But yes, if you are looking for white sand, clear blue water, snorkeling directly at the beach, and laid back atmosphere, you'll find it all in Koh Lipe.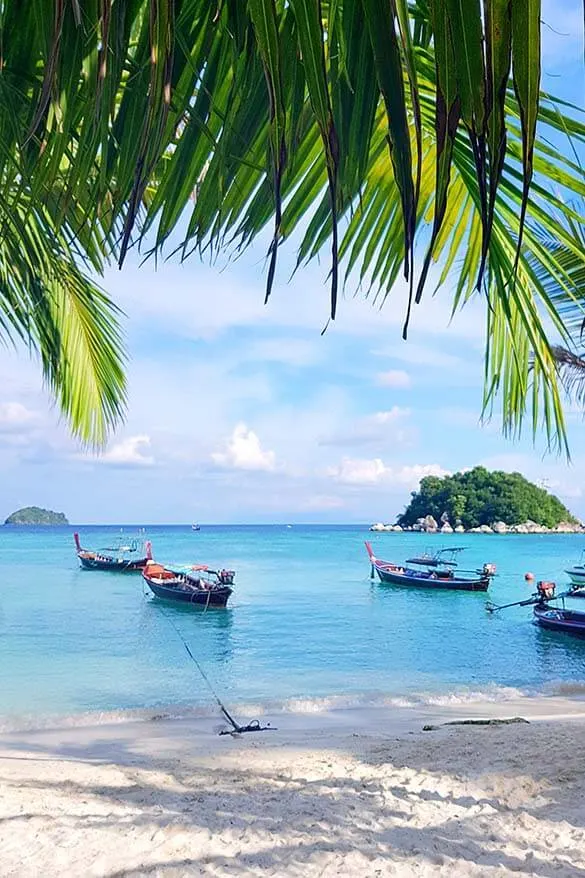 I can't say that we didn't like it here, it was really nice, but just too busy to be paradise. We stayed at one of the most luxurious resorts on the island, with direct access to Sunrise beach that is known as the best snorkeling location in Koh Lipe itself. So we could escape the crowds when we wanted to, but still…
There were so many long-tail boats in the water at the beach that you had to navigate between them if you wanted to go snorkeling. It just didn't feel very safe and we were constantly on the lookout for the boats.
So if you want to go snorkeling in Koh Lipe, it's safer to join one of the organized tours or hire a private boat to bring you to one of the nicest snorkeling sites nearby.
Accommodation: 3 nights at Mali Resort Sunrise Beach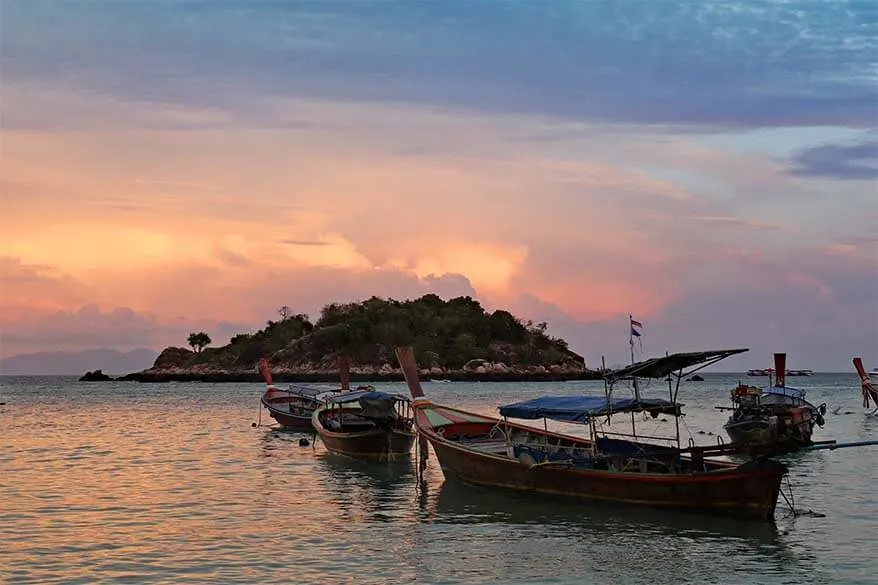 Day 8: Koh Lipe: Snorkeling Day Trip
As I mentioned, there are many possibilities to go snorkeling or diving from Koh Lipe. The most popular day trips that you can book on the island are the so-called A and B trips. Everyone we asked recommended B trip, so that's the one we chose.
We booked a private long-tail boat for this tour and it cost just 2,500 TBH (67 EUR) for the five of us for the whole day. We visited many small islands around Koh Tong and spent the whole day snorkeling at various locations.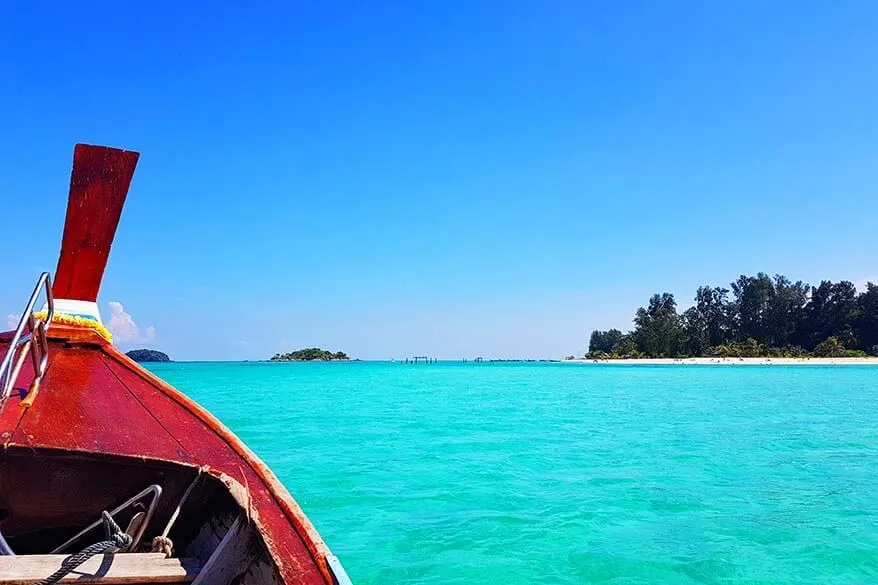 We saw stunning white sand beaches and little islands dotted in the azure blue water, beautiful coral and lots of colorful fish. However, I have to be honest with you – we found snorkeling in Thailand much less impressive than in most other places that we had visited in the past.
That being said, snorkeling in Koh Lipe was by far the best compared to any other location of this island hopping trip in Thailand.
We didn't have an underwater camera, but here is the best image I found from snorkeling in Koh Lipe. It looks pretty much like the snorkeling locations that we visited. Most coral isn't colorful, with a few exceptions, and some colorful fish. If you want more colors, you'll have to go diving.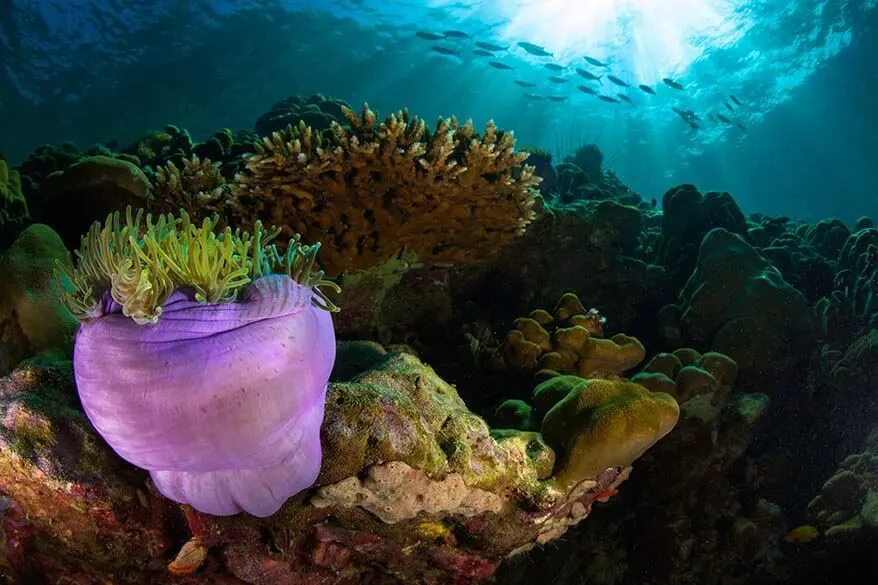 Day 9: Koh Lipe
If you just can't get enough of the underwater world, you could opt for one more snorkeling day trip from Koh Lipe. There are lots of diving courses and diving day trips available as well.
We chose to snorkel at the Sunrise Beach just next to our hotel, followed by lots of time by the pool.
In the afternoon we set to explore the Walking Street of Koh Lipe – a busy pedestrian road lined with restaurants, street-food stalls, shops, Thai massage parlors, and pretty much any other imaginable business you find in any town in Thailand.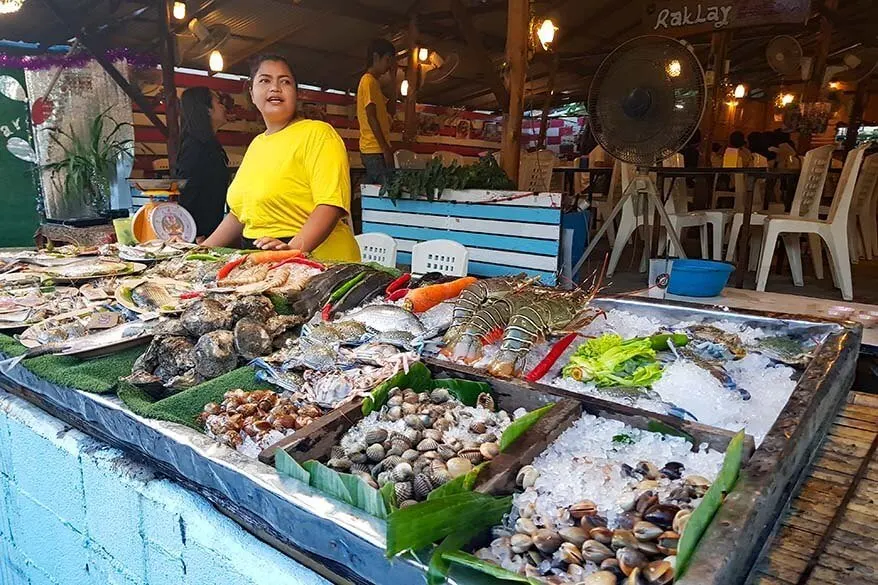 In the evening we visited the famous Sunset Beach of Koh Lipe, which looked more like Woodstock festival terrain than a beach. We ended up renting a long-tail boat for a short sunset trip back to our hotel, located on the other side of the island.
Sunsets in Koh Lipe are amazing, but if you don't like the crowds, I'd stay clear from the Sunset Beach.
We preferred the Sunrise Beach by far – it was amazing at sunset as well and is just a much nicer place to be. There are lots of restaurants on this beach and also a couple of quirky bars with fun entertainment, like this fire show in the picture below.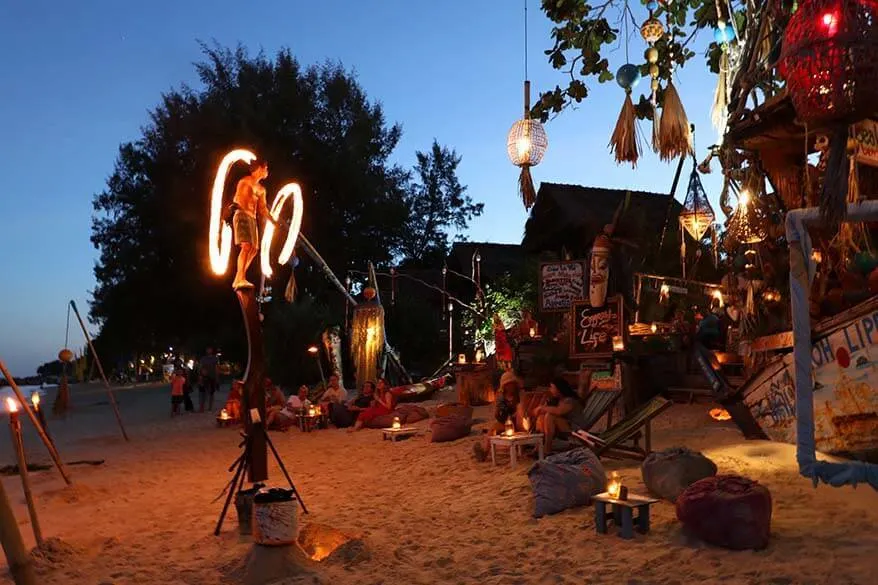 Day 10: Ko Lipe to Krabi and Railay Beach
Traveling from Koh Lipe to Krabi was the longest travel day of this Thailand island hopping trip. Just as the previous boat transfers, we got this booked through Phuket Ferry. We took a 9.30 AM boat from Koh Lipe to Pak Bara Pier (1,5 hrs), followed by a minivan transfer to Krabi (4,5 hrs).
It was a long drive, but we were glad that the boat trip was just 1,5 hours. It's so much more comfortable in an air-conditioned van than on a boat! Also, about halfway through our drive, we stopped to stretch our legs and get some lunch, so all in all the transfer went well.
We're glad that we included Koh Lipe into our trip itinerary and we all agreed that we would have regretted it if we hadn't. But if I were to visit South Thailand again, I'd skip Lipe and stay in Lanta a few days longer. It's just such a long trip to get there and back…
We had just one night in Krabi, so we booked the hotel close to the famous Ao Nang Beach. After check-in and a quick dip in the pool, we headed to the beach from where we took a long-tail boat to Railay.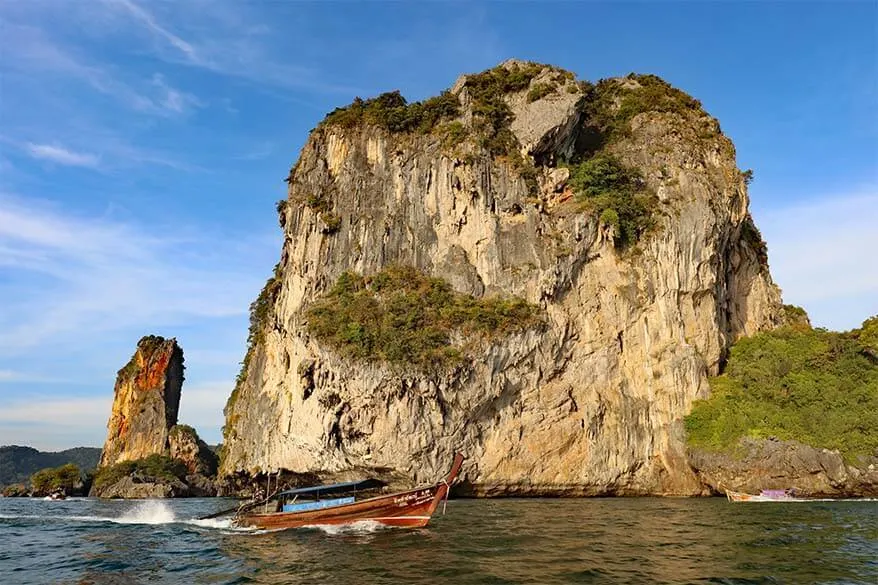 Long-tail boat from Ao Nang Beach to Railay Beach takes just 15-20 minutes and is an absolute must when in Krabi! The coastline here is amazing and the famous Railay beach is also really picturesque.
Railay Beach is probably the most beautiful beach we visited in Thailand. However, just as Koh Lipe or Koh Phi Phi, it was extremely busy.
If you have more time in your island-hopping itinerary in Thailand, I'd recommend staying in Railay for a day or two. But if you're short on time as we were, now you know that it's possible to visit Railay Beach in just an hour or two as well.
Accommodation: 1 night at BlueSotel Krabi AoNang Beach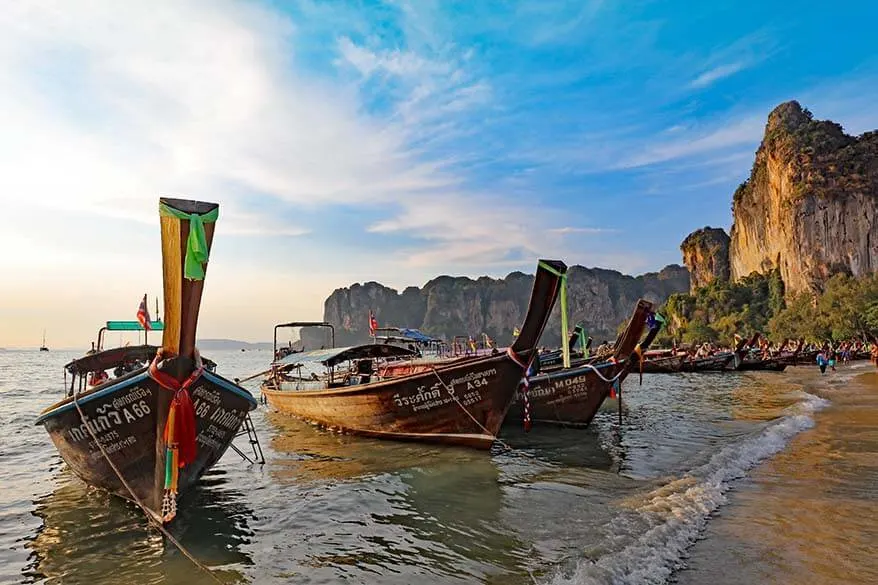 Day 11: Khao Sok National Park
We started our 3-day adventure in Khao Sok National Park with a pick-up and transfer from our hotel in Krabi to Elephant Hills, a luxury tented jungle camp in Khao Sok NP.
When researching Thailand island hopping itinerary, I never saw Khao Sok mentioned as a possible option. It's so close to Phuket, Krabi, and even Ko Samui, so it's strange we never heard about this place.
We learned about Elephant Hills by coincidence, from somebody who described it as 'the best experience ever'. We were just starting to research the itinerary for this trip, so it was perfect timing! I checked the Elephant Hills website and was sold. It looked like an amazing place that we just had to include in our itinerary!
Disclosure: We contacted Elephant Hills to arrange the trip and were offered a discount in exchange for a mention in this article. However, we would have done this trip regardless! It turned out to be our absolute favorite place in southern Thailand. Read on!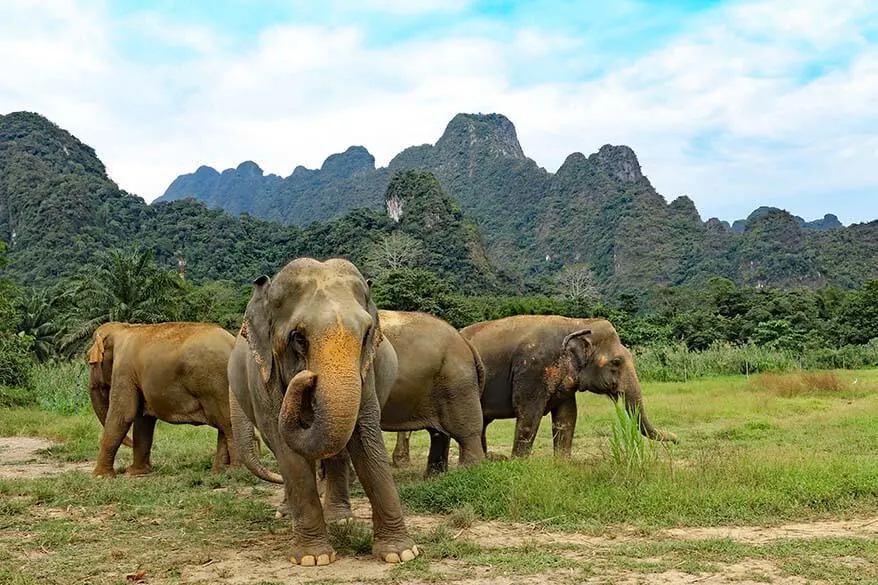 We booked a 3 day/ 2 night Jungle Lake Safari tour. It's probably the most diverse tour they offer, in terms of activities, as well as accommodation.
Upon arrival and check-in in our luxury tents (with beds, showers and all), we went to meet the elephants. There are 12 elephants at the camp at the moment, the youngest is just 13 years old, the oldest – 75. Most elephants here are all domesticated animals that were left homeless after elephant employment in the logging industry has been forbidden in Thailand a few decennia ago. You won't find elephant riding here; only ethical experiences.
We could meet a couple of elephants, see them bathe, prepare the food for them, feed these magnificent animals, and even wash them. There was also a short documentary that gave us a better insight into the history of elephants in Thailand.
In the past, they were used for labor and people could justify the cost of keeping an animal that eats over 250kg of food per day. However, when the elephants were not allowed to work anymore, many of them were left homeless. The tourism industry took care of this problem by starting to use elephants for tourism entertainment, rides, etc.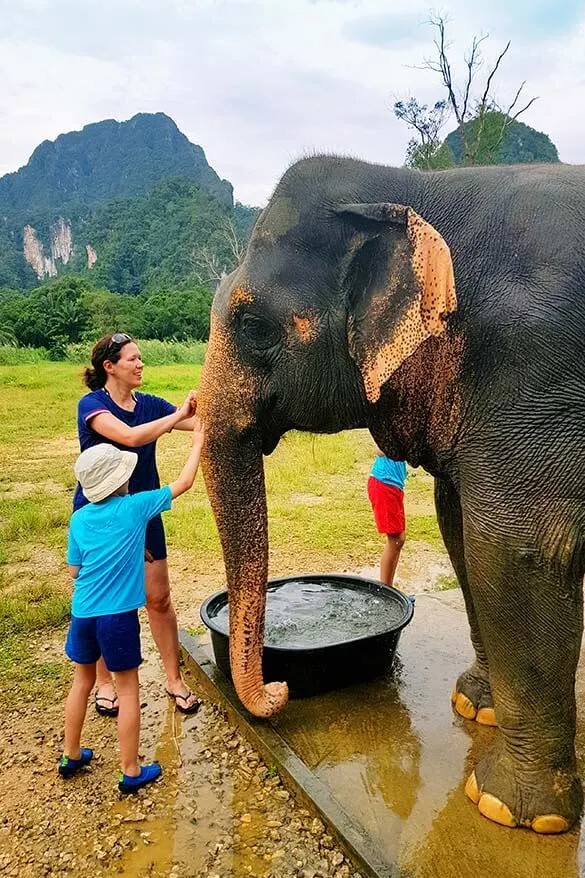 Nowadays, more and more places in Thailand seem to realize that responsible tourism and ethical animal experiences are the future. However, in every single town and every single hotel during our trip, we saw plenty of brochures promoting elephant riding tours. So it won't go away, as long as tourists keep paying for that kind of experiences. But now that you know that there are more ethical ways to interact with elephants in Thailand, I really hope that you'll avoid elephant riding experiences…
From everything we have read and witnessed, Elephant Hills is a place that treats their elephants well. They have won numerous awards for sustainable tourism and animal welfare and we never saw any signs that animals would be mistreated.
Of course, these are still animals in captivity and not in the wild, and I'm sure there will be moments when they'd prefer to roam around freely rather than do what's expected of them. At the same time, tourism money helps to preserve so many elephants that are not capable of living in the wild.
After meeting the elephants, we set on a canoe tour on Sok River. The scenery here is simply spectacular and the canoe trip was a real jungle experience – we even saw a couple of snakes hanging in the trees!
Accommodation: 1 night at Elephant Hills Camp.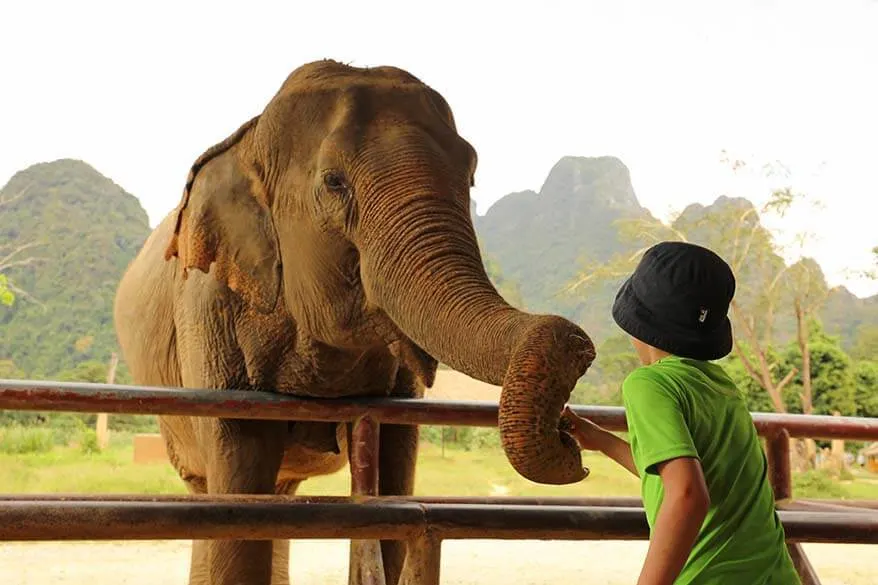 Day 12: Khao Sok National Park
Our second day in Khao Sok started with a short visit to a local market, on the way to Cheow Larn Lake. Our accommodation for the night – Rainforest Camp – is a floating tents camp, located deep in the jungle of Khao Sok National Park. We fell in love with this place!
The tents are beautiful and each has a terrace overlooking the lake. You can jump in for a swim straight from your tent and our younger kids spent hours doing just that! They were feeding the fish, then jumping into the lake trying to catch them with their bare hands…. In the meantime, I took our oldest kayaking.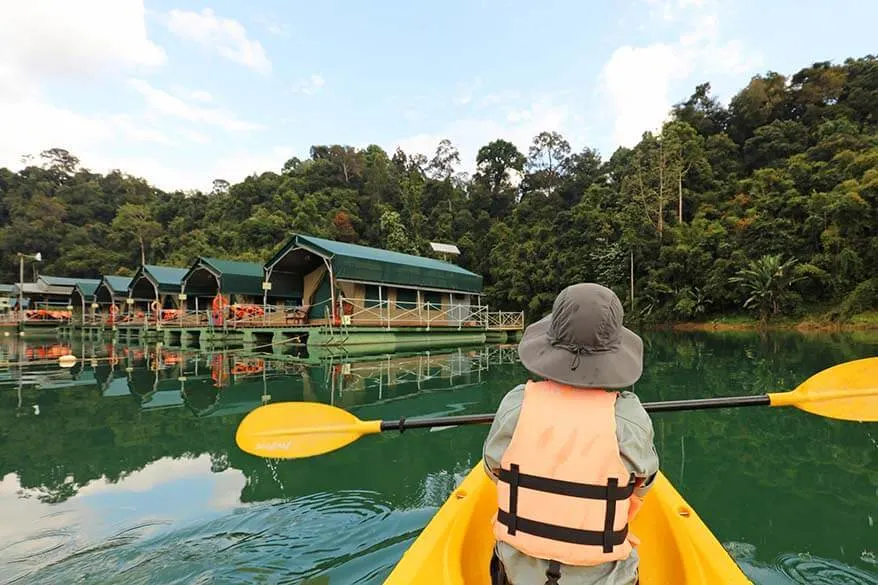 In the afternoon, we went for a jungle trek that ended with a visit to a huge stalactites and stalagmites cave where we also visited a bat cave. Keep in mind that you do all these activities with local guides and just a small group of other visitors. For the rest, there is nothing around you but an endless rainforest…
We saw spiders and birds, monkeys and gibbons, and were deafened by the sound of cicadas and other wildlife. If you are looking for quietness in the literal sense of the word, then you won't find it here – the jungle is a very noisy place. But if you are looking for an unforgettable experience, waking up in the middle of the lake at sunrise with the sounds of wild gibbons around you, then you'll love it here!
Accommodation: 1 night at Rainforest Camp (Elephant Hills) – glamping at its best!
READ MORE about our stay at Elephant Hills in Khao Sok NP
Day 13: Khao Sok National Park and travel to Phuket
We woke up to the most amazing sunrise in the morning. The water of the Cheow Larn Lake was like a mirror, reflecting the stunning scenery… We skipped the morning shower and went swimming in the lake instead – an unforgettable experience!
In the morning we could take the kayaks again and set to explore the lake and the jungle on our own. Despite the fact that we had to leave this place in the afternoon, it didn't feel rushed at all. Not like the usual hotel with an early check-out. We could kayak and swim the whole morning, then take a shower, pack our bags, and have a nice lunch…. When the long-tail boat came to bring us back to civilization, nobody wanted to leave…
Elephant Hills arranged our transfer back to Phuket. A couple of hours later we checked in at our last hotel, close to Phuket airport.
Accommodation: 2 nights at Dewa Phuket at Nai Yang Beach.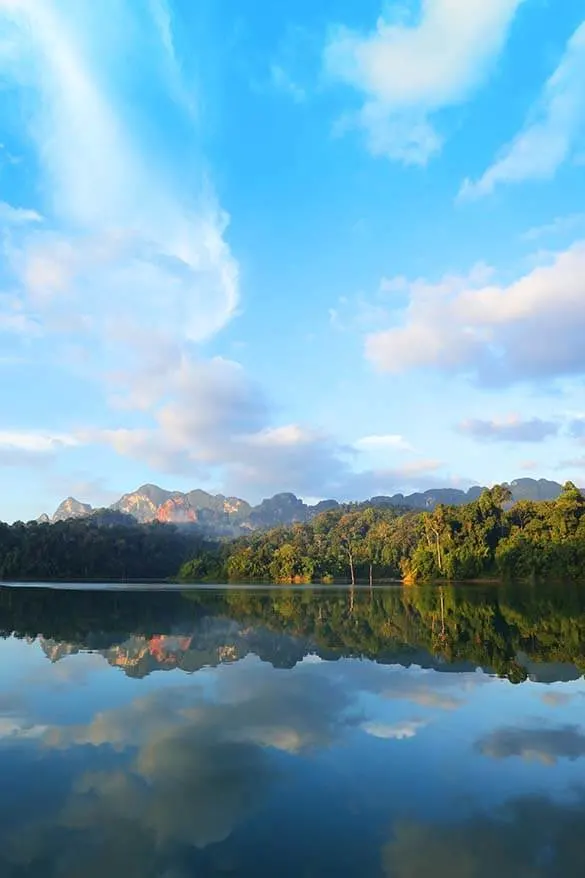 Day 14: Phuket: Excursion or Beach time
We had planned to spend our last day in Phuket by visiting the James Bond Island (see day 4 above for suggestions). However, due to the coming storm, our trip was canceled. We only found out about it in the middle of the night, when it was too late to arrange anything else for the day.
We ended up booking an overpriced short tour from our hotel and visited Wat Phra Tong, the Temple of Buddha that emerges from the ground.
We also visited a local gibbon sanctuary and Bangpae waterfall. It was a simple local tour, but I'd much rather have done something more special, like the James Bond Island or one of the tours we had shortlisted for our trip (see day 3 for suggestions).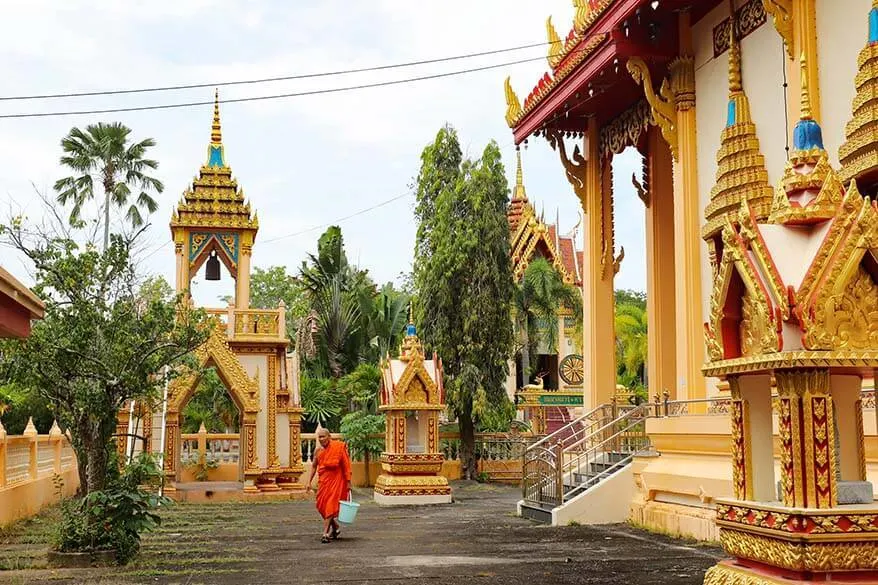 Our hotel was located just by the beautiful Nai Yang Beach, part of Sirinat National Park. So we also went for a sunset walk there. We were told that Nai Yang Beach is one of the best places to watch the sunset in Phuket and I have to agree with this. The sunsets here were out of this world! The whole sky and sea colored red – incredible!
This was the perfect way to end our amazing island hopping adventure in Thailand. At the same time, we were really worried about the coming storm, so it was hard to enjoy the sunset and our last evening in Thailand. We kept checking the weather forecast hoping that our flight would be able to leave before the storm the following day.
In the end, all went well and we left Phuket just hours before the storm hit the area. Luckily, the storm was a bit less strong than predicted and all in all the damage to the local communities was not too bad.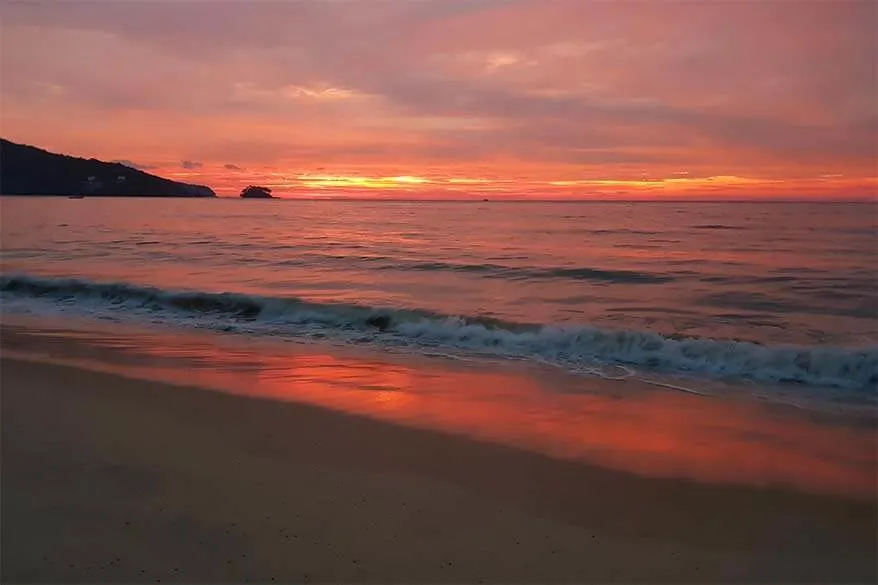 Day 15: Departure from Phuket and Bangkok Day Trip
Our flight back home went via Bangkok, where we had a 12-hour layover. Despite having just a day in Bangkok, we managed to see so many of the city's highlights. We visited the Grand Palace and the Emerald Buddha Temple, Wat Pho, Wat Arun, Bangkok canals, a flower market, and Khao Sarn Road.
Here you can find our tips on how to see the best of Bangkok in one day.
If you are visiting Bangkok and want to get a bit off the beaten path, then don't miss its canals! Here you can read about our Bangkok canal tour and why we think it's a must in Bangkok!
READ ALSO: Bangkok Neighborhood Guide & Insider Tips on Where to Stay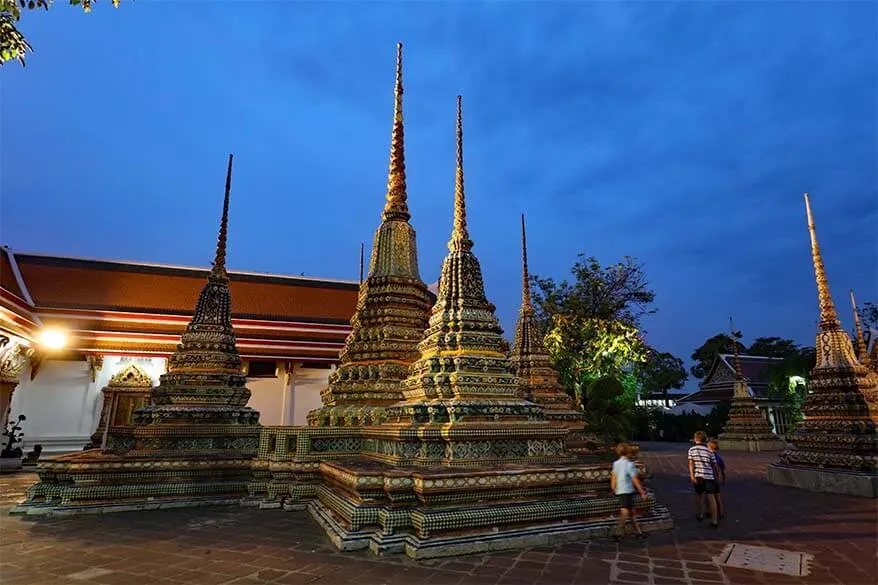 Island Hopping in Thailand: Practical Information and Tips
As I said, there are many ways to organize your Thailand island hopping trip. I hope that our itinerary will give you a good idea of what there is to see and how to do it. Here are some more practical tips and advice to help you plan your island-hopping adventure:
Decide if you want to stay on different islands or stay at fewer places and make day trips to the nearby islands. Some places like Phuket, Koh Phi Phi, or Krabi are an excellent location for day trips, so you can explore many islands without having to change hotels.
If your travel dates are fixed, if you are traveling with a family, or visiting Thailand during a busy season, make sure to book your accommodations well in advance. We traveled to Thailand during the Christmas – New Year period and booked everything in May (7 months before the trip). Many hotels were fully booked already months in advance. The ones that were still available a month before our trip, had doubled in price.
Book your boat transfers in advance. I recommend Phuket Ferry as a one-stop-shop for all the boat connections for your Thailand island hopping trip. See below.
Book your tours online or hire a local driver if visiting a place nearby. Most hotels charge you so much more for the same trips. We used and recommend GetYourGuide for all day trips and excursions in Thailand.
We didn't use them, but motion sickness pills are good to have if you encounter rougher seas on your trip.
If you are making a real island-hopping trip and staying on many different islands, it might be easier to pack a travel backpack rather than a suitcase. We used Thule Guidepost 65l travel backpacks (sponsored by Thule) for our trip and managed to pack really light with just 2 of these backpacks for our family of 5.
We did take a couple of smaller backpacks for electronics, cameras, and e-books as well. Before our trip, we were wondering what kind of luggage is best for an island hopping trip. Based on other travelers' recommendations decided to take travel backpacks. However, we did see many people with huge suitcases on the boats in Thailand as well. As long as you don't have to carry them anywhere (and have hotel shuttles pick you up and drop you off right where you have to be), suitcases or wheeled duffels are also ok.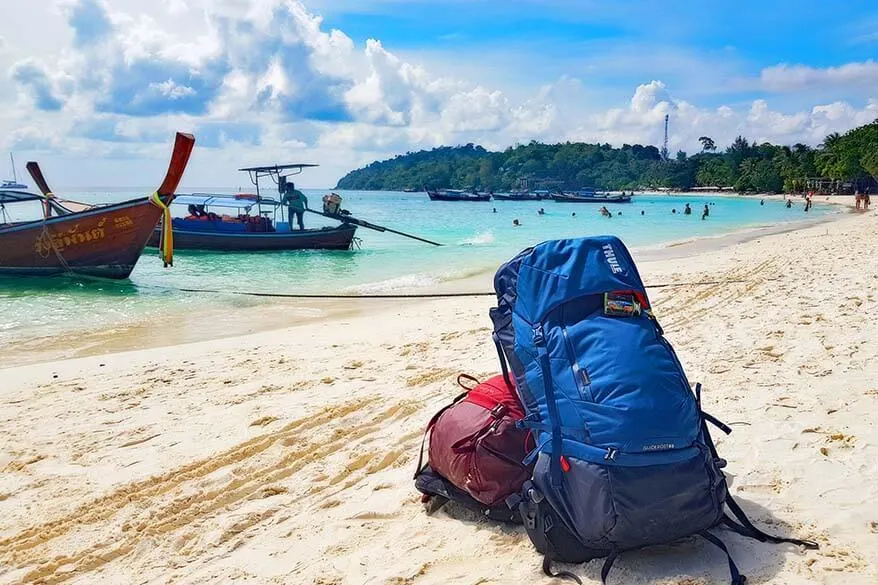 Boat Transfers: Phuket to Koh Lanta, Koh Lanta to Koh Lipe, and Koh Lipe to Krabi
When planning any Thailand island hopping itinerary, you will inevitably find yourself looking for boat transfers in southern Thailand.
Boat transfers were my biggest worry when researching our Thailand island hopping trip. I spent hours reading about every single ferry company in south Thailand. Each and every one of them had some really frightening reviews…
There were also so many websites in broken English that made it impossible to figure out what exactly it was you were trying to book, where or when the boats would leave, and why in the world the same trip would take 4 hours and cost 15 EUR here and 1,5 hours and 20 EUR somewhere else… Complete chaos.
Luckily, there was this one website that kept popping up in the search – PhuketFerry.com. It has good reviews on Google and on Facebook. Their multi-lingual website was actually understandable and extremely easy to use. In no time I found all the boat connections for our trip and had a much clearer picture of what was offered and where the price differences came from. The prices were in line with what you pay when booking directly with the boat companies, but the ease of using their website and the trust factor were incomparable.
So I contacted Phuket Ferry. I shared my concerns and all the horror stories that I heard about boat transfers in Thailand. They said that they only work with companies that have a proven record of reliability, good service, and safety. All the people I talked to were extremely professional and so I told them we'd love to work with them and share our experience with boat transfers in Phuket – Krabi – Koh Lanta – Koh Lipe area with our readers.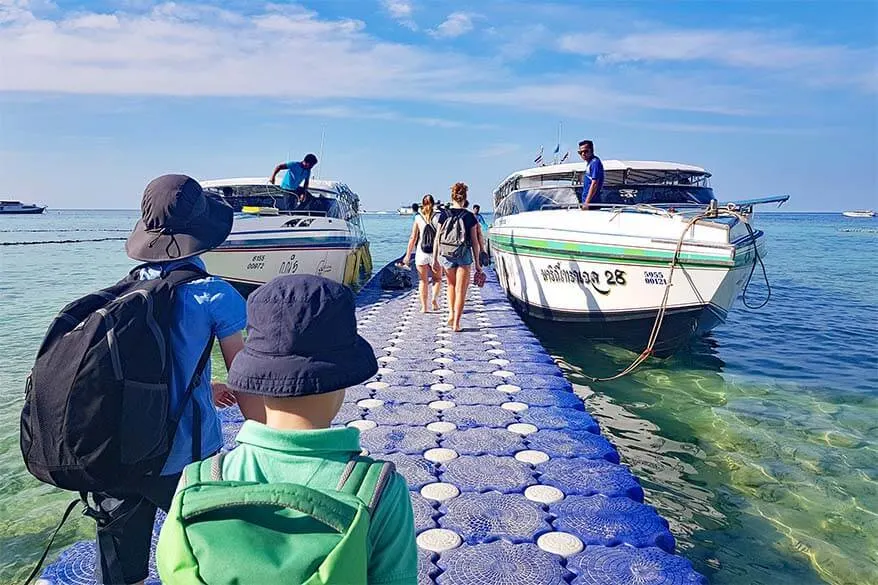 We ended up booking all our boat and van transfers for our Thailand island hopping trip through the Phuket Ferry website (sponsored). The booking process was simple and quick. We were given vouchers with very clear information for each part of our journey.
What's even more important, is that everything went very smoothly. The boats were on time or had a very slight delay (and once it left earlier since everyone was already there anyway), they were in a very good condition and felt safe, our luggage arrived together with us, and nobody got seasick.
I have to add that we were extremely lucky with the weather and relatively smooth seas. We all get seasick very easily, but in Thailand, we didn't even use any of the pills that we brought. Not once. So, at least in our case, boat transfers in southern Thailand went really well.
TIP: If you are planning an island-hopping trip in Thailand, I strongly suggest that you book your boat transfers in advance. All the boats were fully booked when we traveled.
If you travel in the off-season, without children, and have more flexibility, you can also just wait and look for boat connections as you go. But if you have your trip dates and accommodations fixed and don't want to waste hours looking for suitable boat transfers, just do it from the comfort of your seat at home.
It's not cheaper to book directly at the harbor (if not more expensive), and you can choose the boats and the travel times that best suit your itinerary. And yes, I really recommend using PhuketFerry.com for all your transfers when island-hopping in Thailand. They've got all the major destinations covered and make your trip planning so much easier!
If you have any questions about our experience with boat transfers in Thailand, don't hesitate to leave a reply below and I'll try to help.
READ ALSO: Phuket Island Hopping: 15 Best Islands to Visit from Phuket
If you found this post helpful, don't forget to bookmark it and share it with your friends. Are you on Pinterest? Pin this image!