Visiting Bangkok in Thailand and wondering where to stay? In this guide, you can find an overview of the best Bangkok neighborhoods, what to expect, and local's tips and advice that should help you pick the best area to stay in Bangkok.
Good to know: This guide is written by Robert Schrader, the founder of Thailand Starts Here. He's lived in Thailand for 13 years and has traversed the Kingdom countless times. Although he's visited more than half of Thailand's provinces, Bangkok is his absolute favorite place in the country. In this guide, he shares experience-based tips and advice for the best neighborhoods to stay in Bangkok. Find out!
Understanding the neighborhoods of Bangkok can be a difficult task. It's taken me over a decade of visiting Thailand's sprawling capital, including nearly three years living there, to be able to truly make sense of it.
In this guide, I've condensed more than a decade of experience and knowledge into a guide that will take you only a few minutes to read.
Some of you reading this will be visiting the city for the first time, and want to know where to stay in Bangkok. Others are moving here for work or study, and can't decide on the best area to live in Bangkok. No matter which group you fall into, this guide should give you a good idea of what to expect and hopefully, help you choose just the right place for your needs. Find out!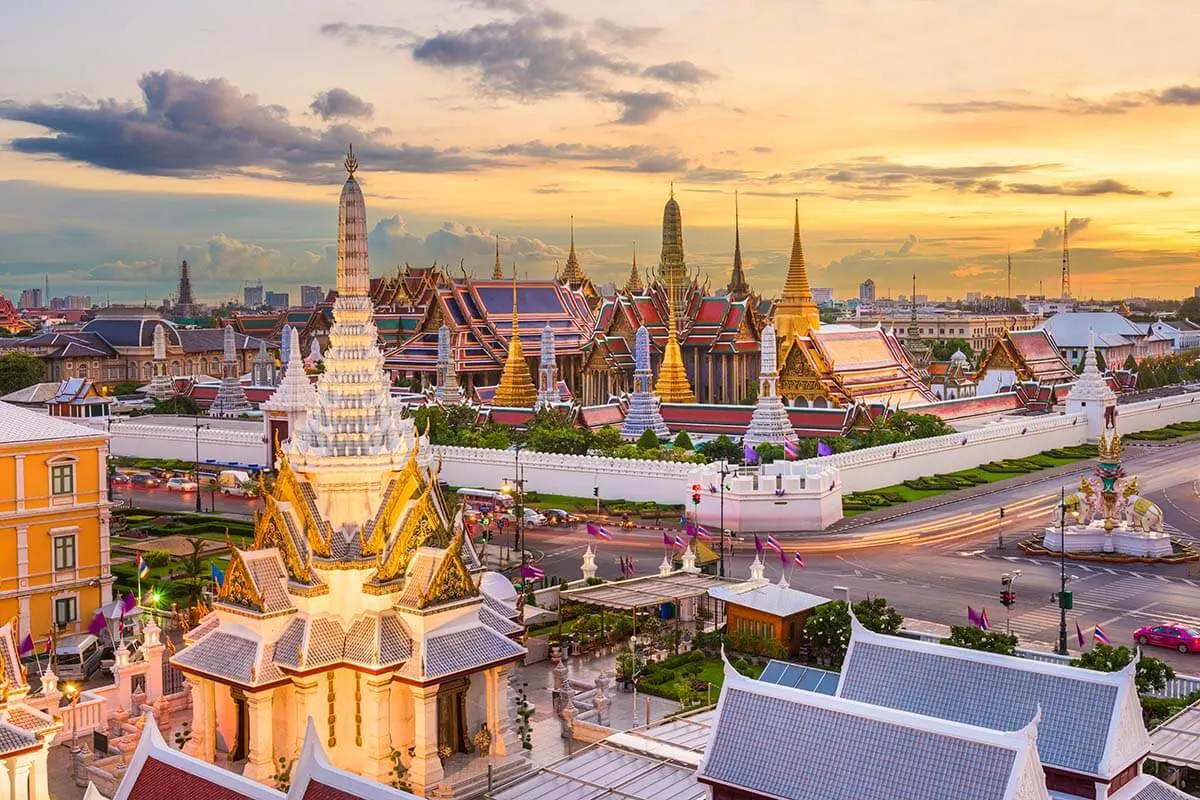 Good to Know: How Bangkok is Bifurcated
Before I delve into specific neighborhoods of Bangkok, known in Thai as Krung Thep Maha Nakhon ("City of Angels"), I thought I'd explain the broader geography of the city.
Roughly speaking, Bangkok has an "old" city and a "new" city. The old city, which is further split into Rattanakosin and Thonburi by the Chao Phraya River, is located in the western part of Bangkok's bustling core. This is where you'll find many of the city's temples, palaces, and other historical sites.
The new city, divided roughly into the Siam, Sukhumvit, Silom, and Sathorn areas, fans out around lush Lumphini Park (Bangkok's answer to Central Park) in the city's center-east. Although these districts are home to many high-rise condos and hotels, they're far from being simply residential. This is where many of Bangkok's top shopping malls (such as Siam Paragon and CentralWorld) are located.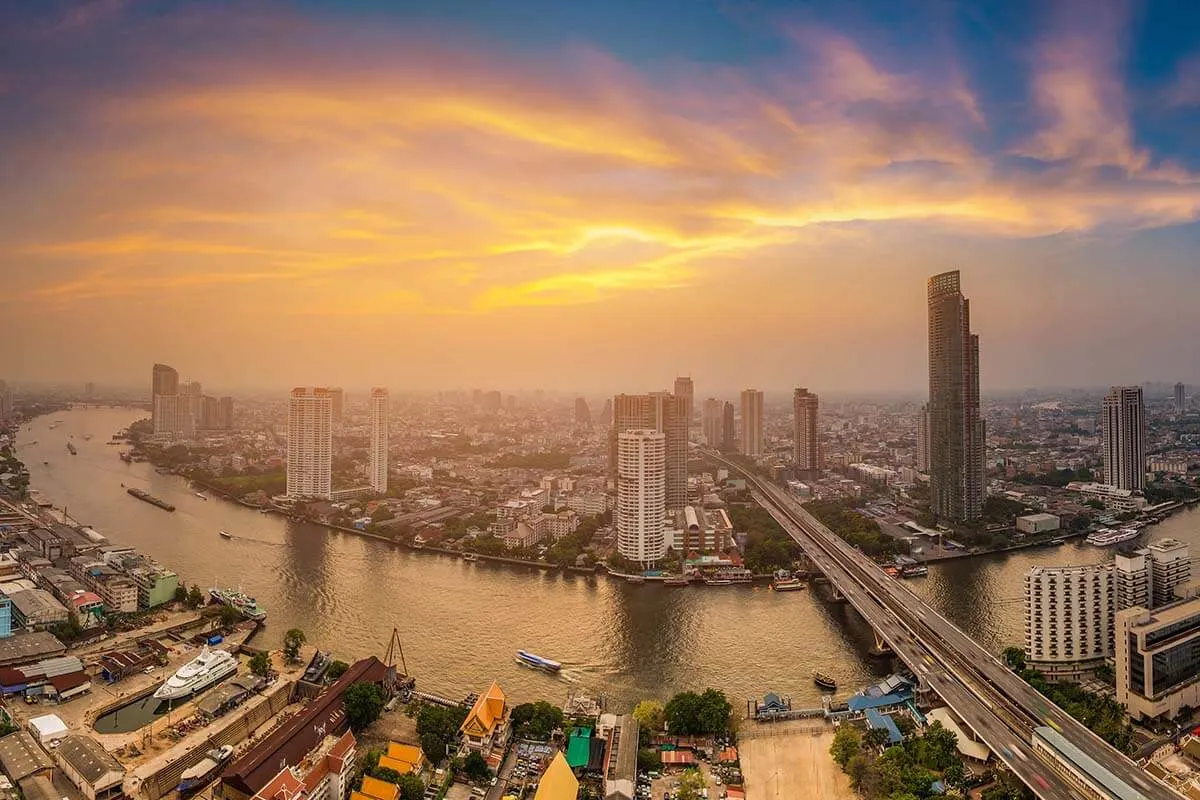 Here are my favorite Bangkok neighborhoods – the best areas to stay in Bangkok:
1. Asok
Stay here for a wide array of shopping and nightlife options at Bangkok's most convenient public transport interchange.
No matter what brings you to Thailand, Asok (also known as Asoke) is sure to be one of your favorite Bangkok districts. This is the heart of Bangkok, with great transport connections, cozy cafes, bars, and great shopping – in other words, everything you need for a perfect stay in the city.
Terminal 21 Mall towers right above the busy Asok interchange, where Bangkok's BTS SkyTrain and MRT rail networks meet. Asok is also home to Soi Cowboy, an infamous bar street where literally anything goes.
Walking northwestward along Sukhumvit Road takes you to Nana, where men can have suits made for pennies on the dollar (among other purchases). Heading southeastward takes you to Phrom Pong, home to the glitzy EmQuartier shopping mall/ lifestyle complex.
This area is also a great place to stay for everything in Bangkok. In general, hotel and accommodation prices here offer really good value too. Depending on your travel dates, you can get a lot for your money at some really nice hotels.
Here are some of the best-rated hotels in the Asok neighborhood in Bangkok: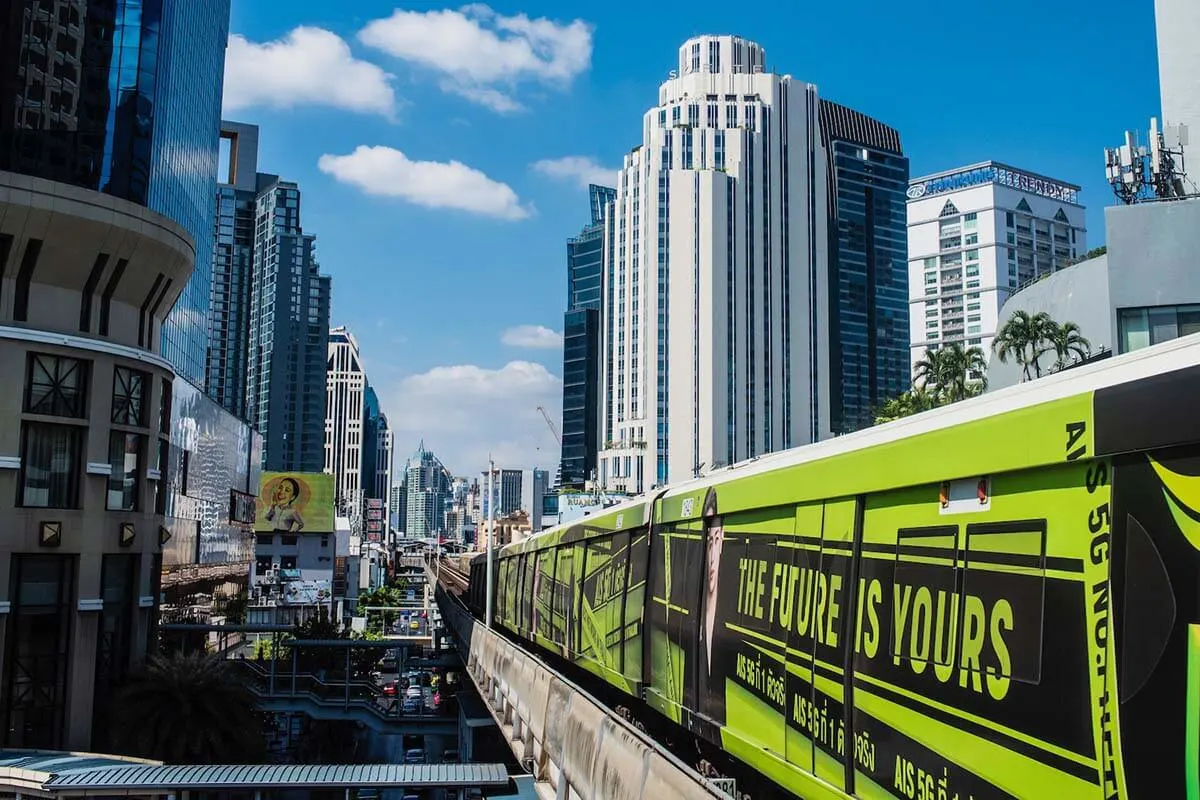 2. Phra Nakhon
Stay here for sightseeing. Some of the most famous historic Bangkok attractions like the Grand Palace and Wat Pho are just a short walk (or an even shorter tuk-tuk ride) away.
Rattanakosin's "sacred city" of Phra Nakhon is the historic old town of Bangkok. If you want to stay in a neighborhood that's home to the most popular tourist attractions in Bangkok, Phra Nakhon is your best bet.
Whether you stay at a luxury riverside hotel like Riva Arun or a cool urban guesthouse like the Old Capital Bike Inn, you'll be just steps from the most popular sights and landmarks. Places like the Grand Palace, Temple of the Emerald Buddha, Wat Pho, Giant Swing, and Golden Mountain, are located in this area, among many others.
There are numerous nice places to eat here too, for all tastes and budgets. You can choose between no-name street food stalls, Michelin-starred restaurants like Raan Jay Fai, or anything in between.
While no metro stations run under the biggest part of the old town, you can beat Bangkok traffic by riding a public boat into the city center along the Khlong Saen Saeb canal. And if you stay more southwards (most of the hotels in our selection below), you can easily walk to the Sanam Chai metro station too.
Good to know: The nicest hotels in this area are located by the river, offering very good value, easy connections, and some also amazing views. Whereas in the heart of the old town, you'll find lots of great-value mid-budget hotels and also low-budget accommodations.
Here are some of the best-rated hotels in Phra Nakhon: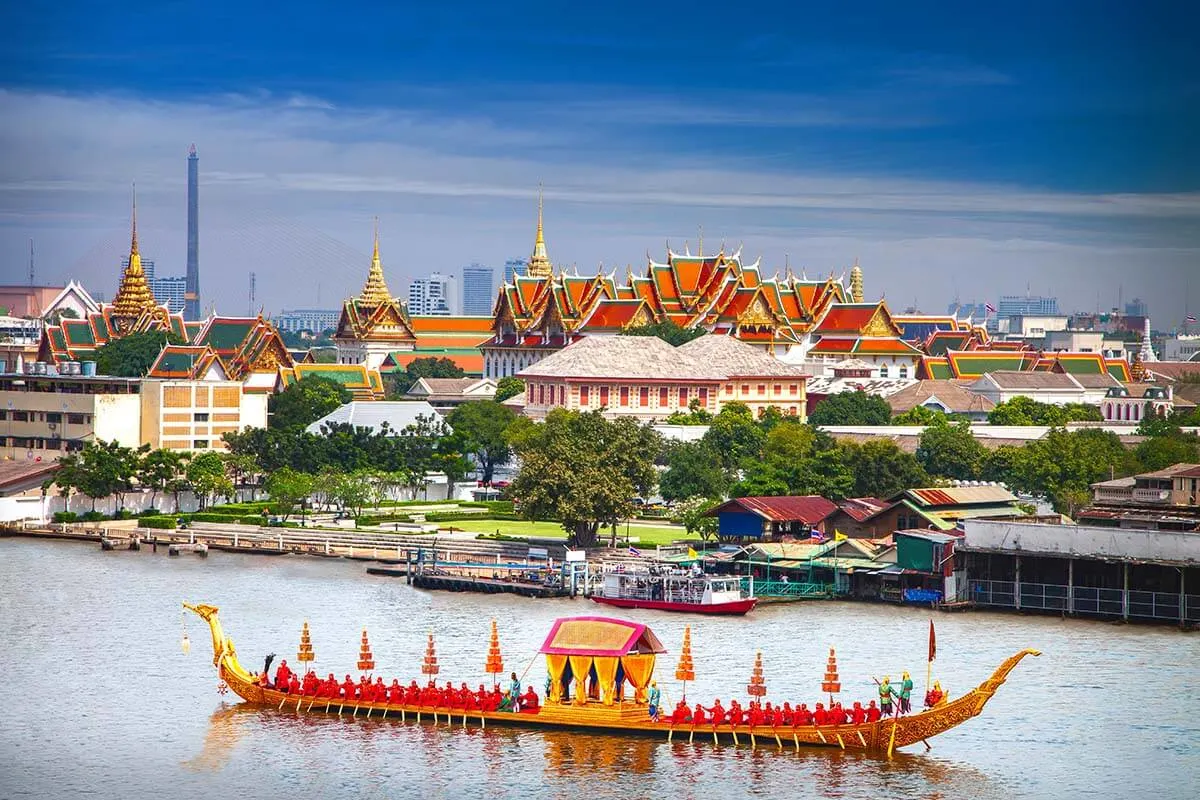 3. Lang Suan (Lumphini)
Stay here for luxury, five-star hotels, shopping, and world-renowned dining on a quiet street just steps from Lumphini Park.
In the Lumphini area centered around Lang Suan Road, "high" is the operative word. This Bangkok neighborhood is characterized by high-end high rises, where apartments and hotel rooms often come at an admittedly high price. This is the area where you'll find lots of embassies, including that of the United States.
The value proposition is high at Lang Suan, though. Staying here means that you'll be within walking distance from both Lumphini Park and Bangkok malls like Centralworld and Central Embassy, not to mention two separate BTS SkyTrain stations: Chit Lom on the dark green line and Ratchadamri on the dark green line.
Lang Suan is also home to some of Bangkok's best rooftop bars, including Speakeasy at Hotel Muse.
In general, this is one of the most expensive areas to stay in Bangkok. The good news is that some high-end hotels offer very affordable prices when demand is low. So if you're looking for a nice luxury neighborhood to stay in the heart of Bangkok, be sure to check if there are any good deals available in this area for your travel dates.
Here are some of the best-rated hotels in the area centered around Lang Suan Road: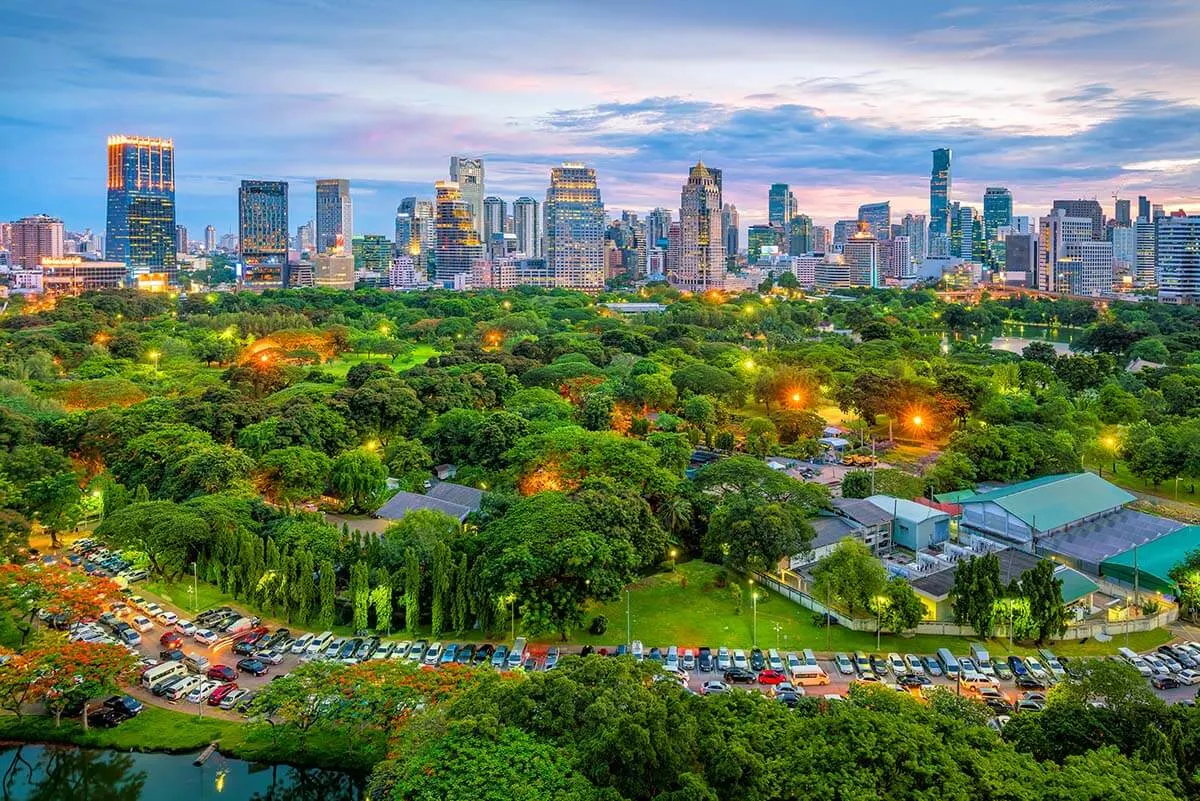 4. Suan Phlu
Stay here for a vibrant community where locals intermingle with just the right amount of expats, and some of Bangkok's best street food.
Suan Phlu – which sits just south of Sathorn Road between Rama IV and Narathiwat roads – is my personal favorite neighborhood in Bangkok. I'll admit: I'm a bit biased about Suan Phlu, which used to be my home.
With this being said, this neighborhood is objectively awesome. It's also one of the best places to stay in Bangkok for foodies. You'll find lots of amazing restaurants here for all tastes and budgets.
If the street food in the alleys around San Phlu Market alley doesn't strike your fancy, the rooftop Vertigo restaurant and Moon bar, at the Banyan Tree Hotel, will do it for you.
Suan Phlu is also a popular expat area in Bangkok, with plenty of nice apartments for rent. You'll find some amazing (and good value) five-star or boutique hotels in the vicinity, but there are some excellent-value low-budget accommodations in this area too.
Here are some of the best-rated hotels in this neighborhood: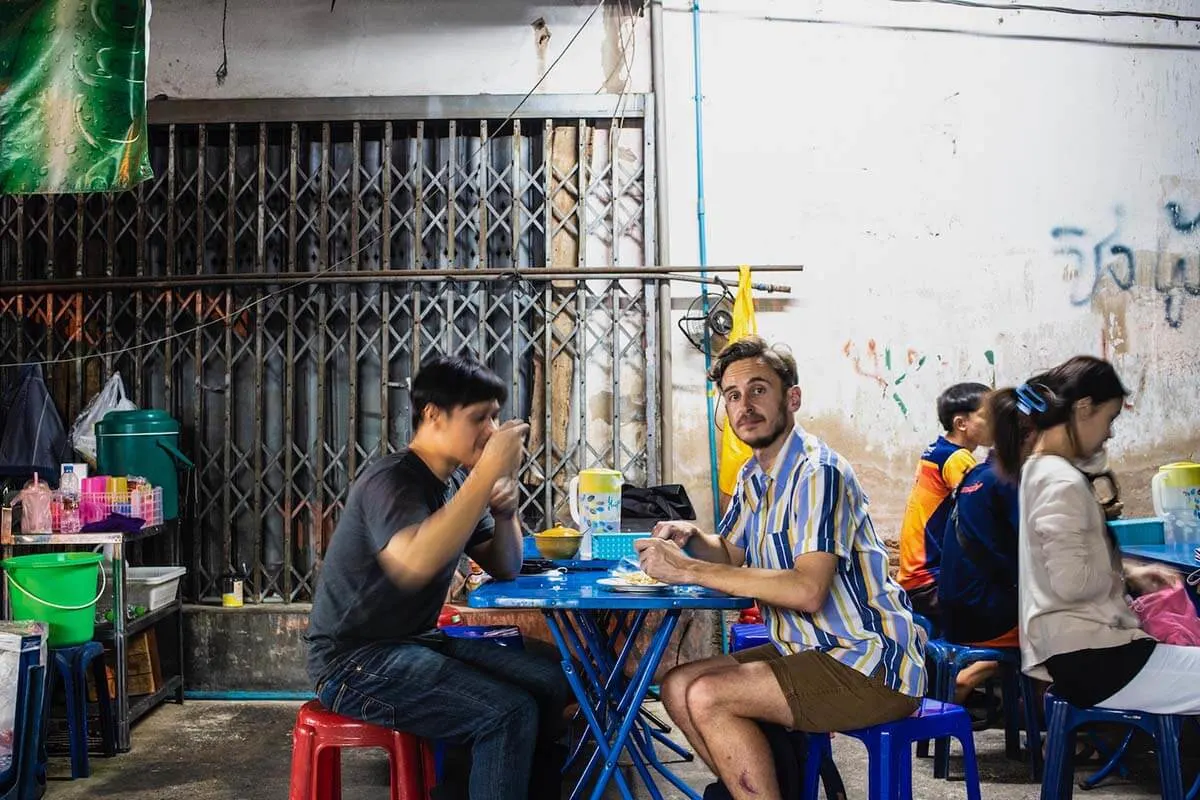 5. Sala Daeng
Stay here for posh vacation rentals set amid lush greenery in the beating heart of Bangkok's gay community.
Located along Silom Road near the BTS SkyTrain station of the same name, Sala Daeng has a lot going for it. High-end condo buildings tower above either side of the lush road, which is lined at street level with street food stalls, coffee shops, and clinics for cosmetic dentistry and surgery.
The Silom Soi 4 alley just north of the station is the nucleus of Bangkok's gay community, while Silom Complex shopping mall is a melting pot for all walks of life.
Sala Daeng hosts several boutique hotels, as well as good quality budget accommodations.
Here are some of the best-rated hotels in this area: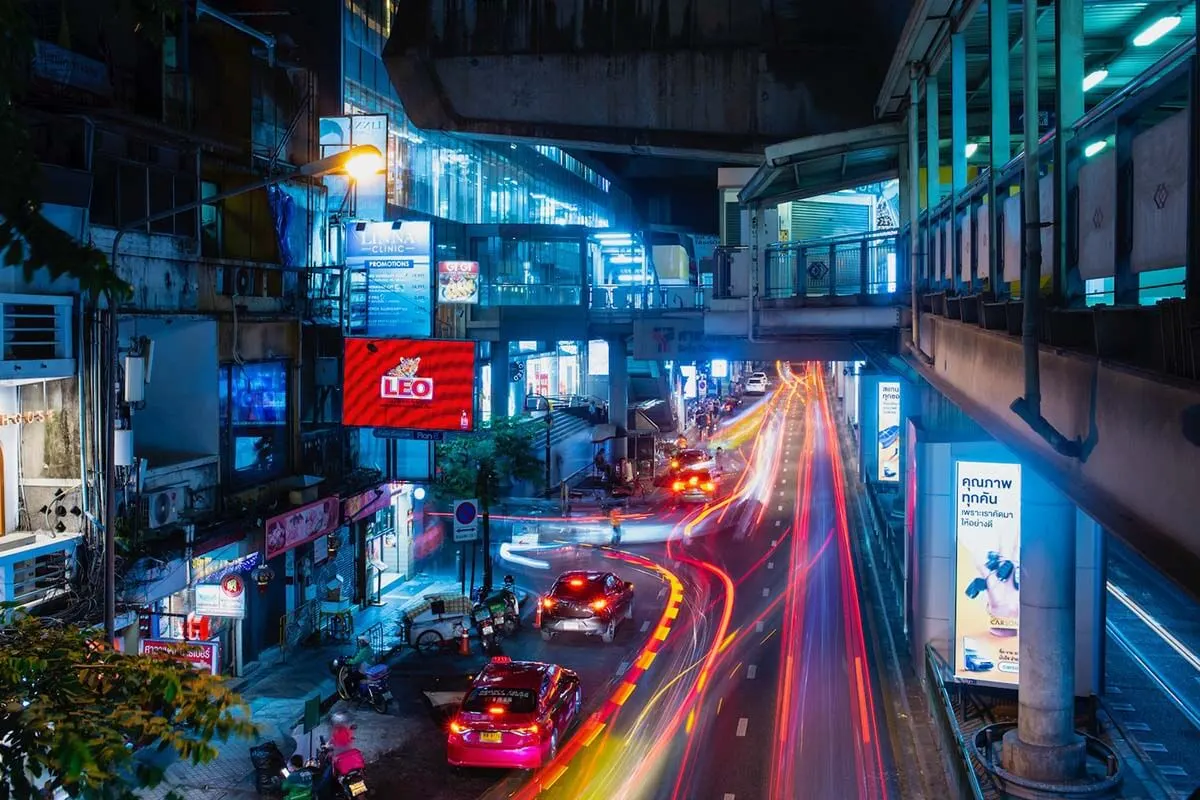 6. Bangkok Noi
Stay here for the local feel. This area has the same ancient energy as Phra Nakhon, but without the crowds and with lower prices to boot.
Although the boundaries of this huge Bangkok neighborhood are somewhat loosely defined, you can think of Bangkok Noi as the area west of the Chao Phraya River, north of Wat Arun, and south of Thonburi Railway Station.
Apart from Wat Arun (the famous Temple of Dawn), this neighborhood is a paradise for local discoveries. After shopping your way through Wang Lang Market, you can head to the famous Supatra River House, a riverfront restaurant whose views are as delicious as its high-end Thai food.
Bangkok Noi is also a popular place to visit on a Bangkok canal tour, which gives you a glimpse into this fascinating local neighborhood.
TIP: If you want to take in what may be Bangkok's best view, ascend to the top floor of the parking garage at Siriraj Hospital after night falls.
There aren't that many hotels in this part of Bangkok, but if you are looking for a nice local neighborhood to stay in, you'll find some quite affordable options.
Here are some of the best-rated hotels in the Bangkok Noi neighborhood: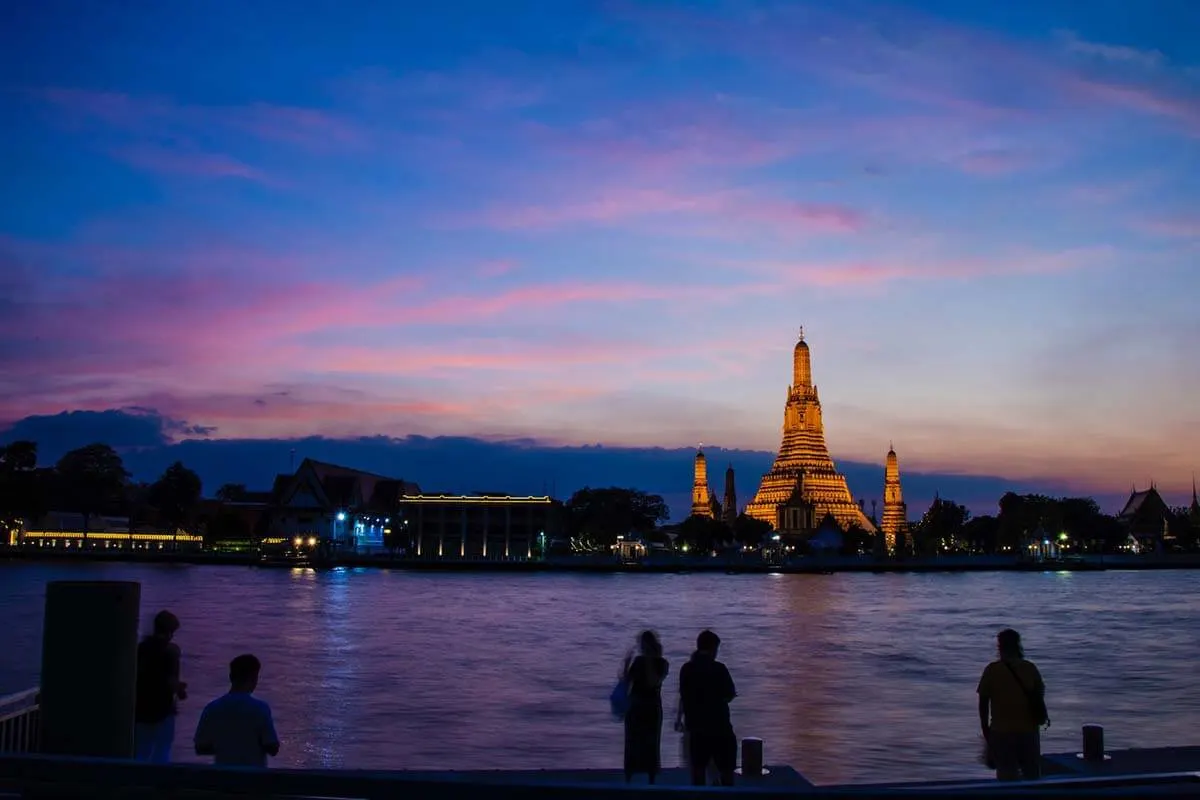 7. Yaowarat
Stay here for street food, Chinese-style shophouses, and neon signs just a stone's throw from some of Bangkok's most beautiful temples.
Bangkok's Chinatown, Yaowarat is located southeast of the Phra Nakhon neighborhood (historic old town) and west of the main railway station in Bangkok.
This area offers delicious Chinese cuisine (I personally love the pa tong go donuts served with sweetened condensed milk), but it has so much more than that! By day, you can enjoy sights like the Wat Traimit (Marble Temple) and the famous Pak Khlong Talat Flower Market, one of the world's largest flower markets.
At night time, a seemingly endless row of neon signs lights up above countless street food stalls. Even better, the recently-extended MRT Blue Line conveniently runs under Yaowarat Road. If you choose to stay here, you can zoom off to almost anywhere in the city via Wat Mangkon station.
Good to know: Accommodations here are significantly cheaper than in the other central neighborhoods of Bangkok, and there are lots of low-budget options.
Here are some of the best-rated hotels in this neighborhood: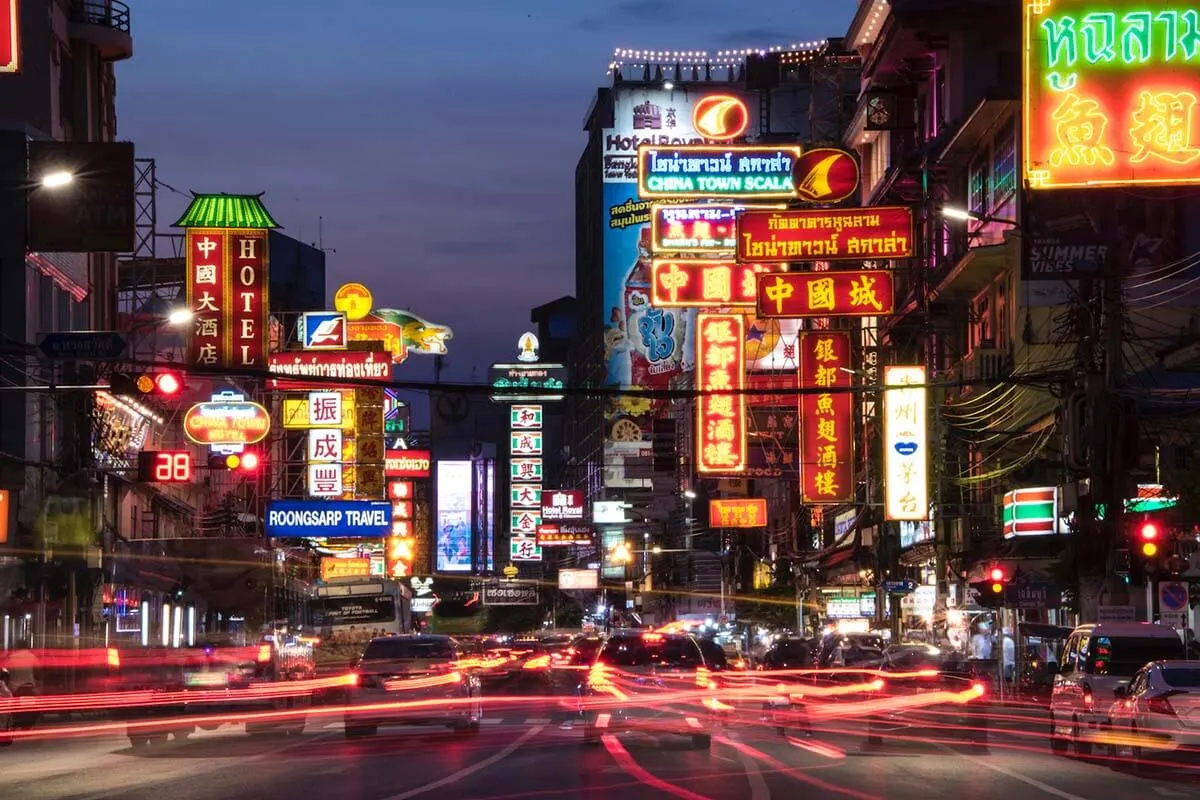 More Amazing Bangkok Neighborhoods
Bangkok has more distinct neighborhoods than you could possibly list in one article, or even an entire guidebook!
With this being said, I do want to share some other nice areas in Bangkok that didn't quite make the list of my very favorites:
Other Bangkok neighborhoods are popular, but more infamous than famous. The main one I'm thinking of is the Khao San Road backpackers area, just north of Rattanakosin. While this is a great place to head for a drink, it's about as far from authentic as you can get in Bangkok. So we do not recommend staying here.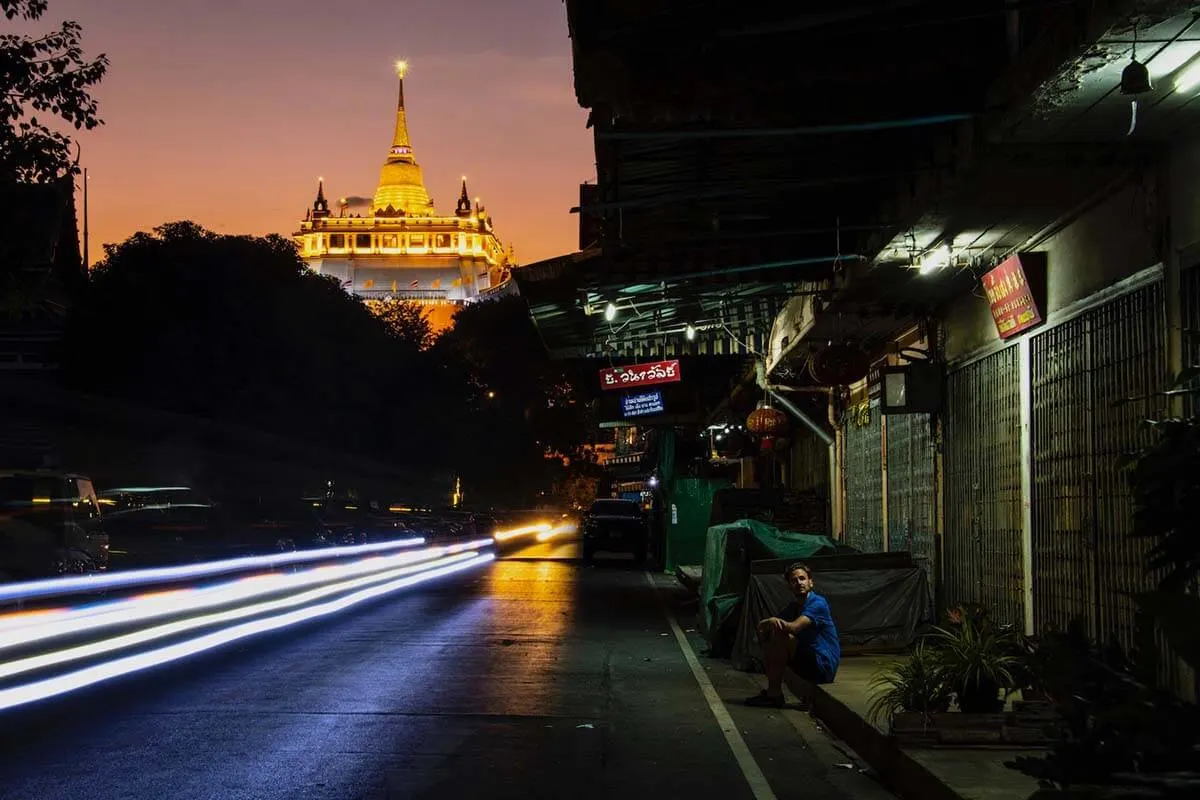 Bangkok Neighborhoods FAQ
What is the best part of Bangkok to stay in?
Personally, I prefer staying in modern areas of Bangkok, from upmarket Sala Daeng in the Silom district, to more local areas like Suan Phlu in Sathorn. If you do stay in the Old City of Rattanakosin (Phra Nakhon neighborhood), aim for riverfront accommodations near landmarks like Wat Pho (Temple of the Reclining Buddha).
Where do most foreigners live in Bangkok?
Foreign expats live all over Bangkok but often choose their locations depending on where they work, or where their kids go to school. Consular staff, for example, live in areas of Lang Suan and Witthayu roads, which are convenient for the nearby embassies. Teachers, on the other hand, often live in outskirt areas where lower living costs better suit their salaries (places like Sukhumvit's On Nut area and the Thonburi side of the river).
Where do Thai celebrities live?
Many Thai celebrities live (or at least hang out in) Thong Lo, due to the large number of trendy restaurants and high-end shops you find there (see hotels in this area). Lang Suan is also becoming a popular destination for celebrities in Thailand, particularly the new Velaa Mall, which is one of the top places in Bangkok to "see and be seen."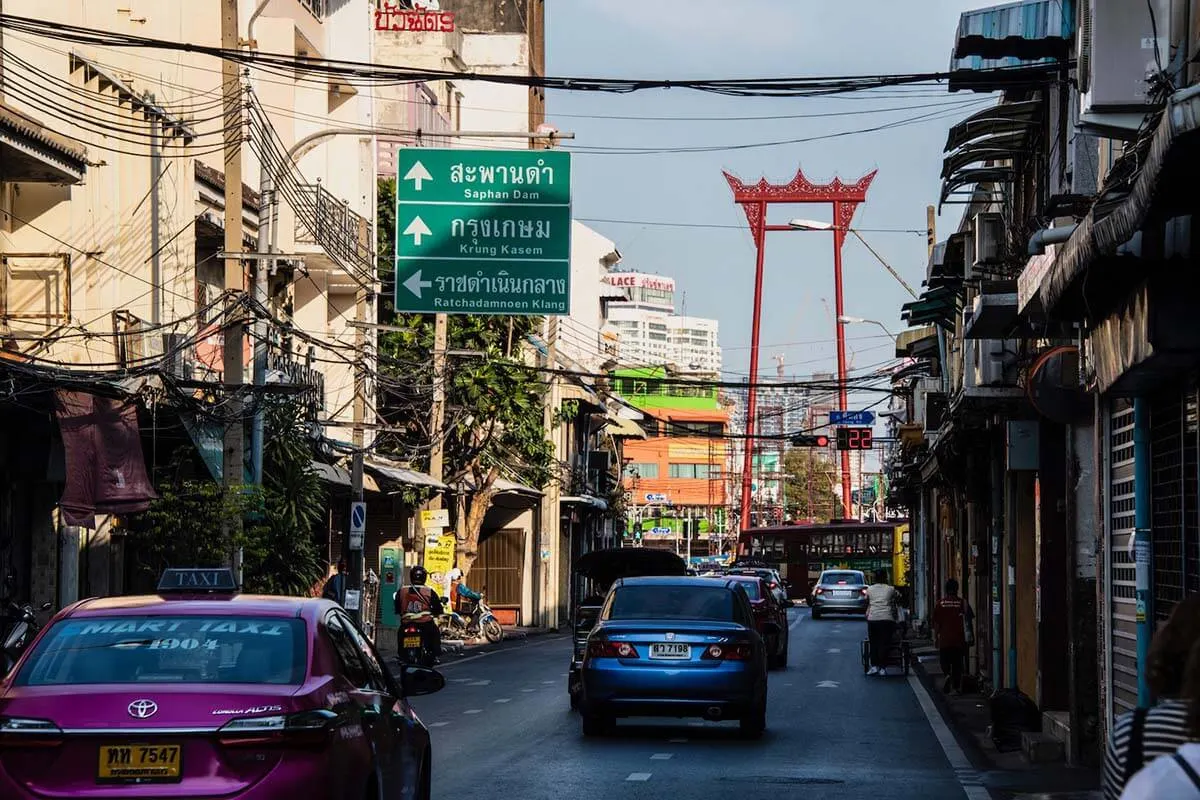 Where to Stay in Bangkok – Conclusion
Like any huge city, staying in Bangkok is less about choosing just one particular neighborhood, and more about experiencing as many of them as you possibly can during your trip.
You might decide to stay in leafy Lang Suan or chic Sala Daeng but dine or drink in Thong Lo or along Soi Suan Phlu.
Likewise, if you plan to visit Thailand more than once in your life—and most people do—you can endeavor to stay in a different part of Bangkok on every trip.
So, this sums up our guide to Bangkok neighborhoods. We hope that it gives you a better understanding of the nicest areas of Bangkok and helps you choose a nice place to stay in the city – whether you are visiting for a few days or staying for a longer time.
Check out our other travel guides to Thailand:
If you found this post helpful, don't forget to bookmark it and share it with your friends. Are you on Pinterest? Pin this image!