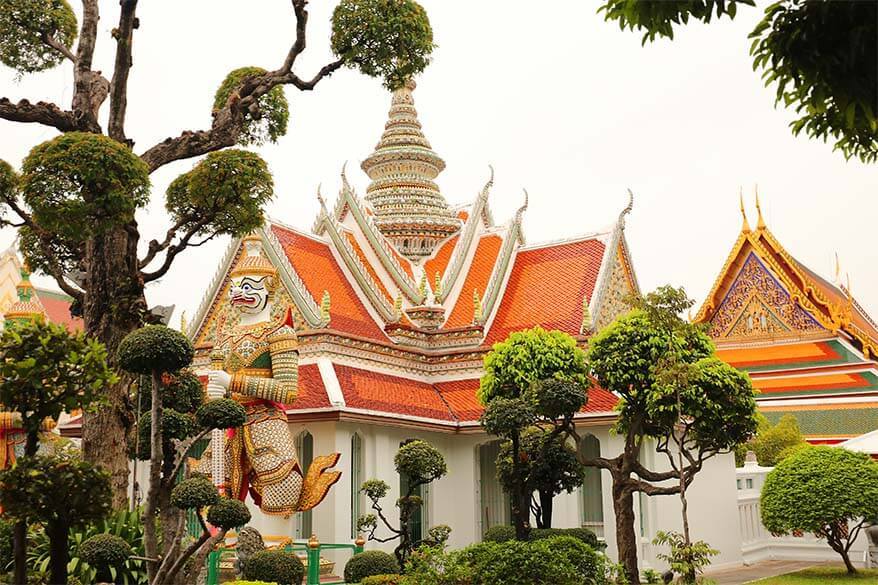 Are you considering a stopover or a layover in Bangkok, but are not sure if it's worth it? Or maybe you are wondering if it's possible to see the highlights of Bangkok in one day? You came to the right place!
Whether you have a 12 hour layover in Bangkok Suvarnabhumi airport (BKK), a short stopover in Bangkok city, or any other reason that gives you just one day to visit Bangkok, I want you to know that you can see a lot more of Bangkok in a day than you might think. Find out how!
12-hour layover in Bangkok – our experience
When we learned that the best flight deals for our Thailand island hoping trip included a long layover in Bangkok, we were really disappointed. What in the world can you do in a city like Bangkok in just 12 hours?! Not to mention that we were traveling with three kids in tow…
But then we looked deeper and realized that BKK airport isn't that far from the city, that there are options to hire a private guide with a car, and that it might be possible to spend the day sightseeing in Bangkok rather than sitting at the airport.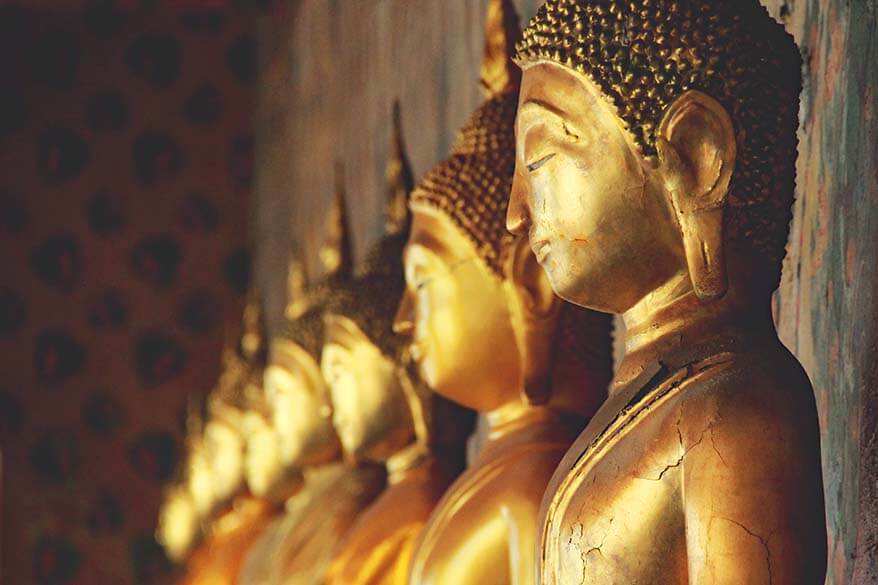 Everyone was telling me that one day is not enough to see Bangkok. I don't argue that; it certainly isn't. However, one day in Bangkok was all we had. So, true to our travel style and slogan 'make the most of every trip', we set on a quest to find out how to see the very best of Bangkok in one day.
I'll spare you all the details of the extensive research I did. The logistics of seeing the best of Bangkok in one day on our own were just too overwhelming…
In the end, we ended up booking a private guide and it was the best decision we made. Having a local guide who understood exactly what we wanted and knew the city really well, made it possible to actually see the best of Bangkok in one day.
TIP: If you have just one day in Bangkok, hire a local guide! We looked at several possibilities and chose this highly-rated private Bangkok tour. We could tailor the tour completely to our needs and knew exactly what we paid for what. They were flexible with what time they picked us up and dropped us off at the airport, which allowed us to maximize the use of our limited Bangkok layover time. Also, having a private van for the day meant that we didn't have to worry about our luggage, not even to mention all the rest.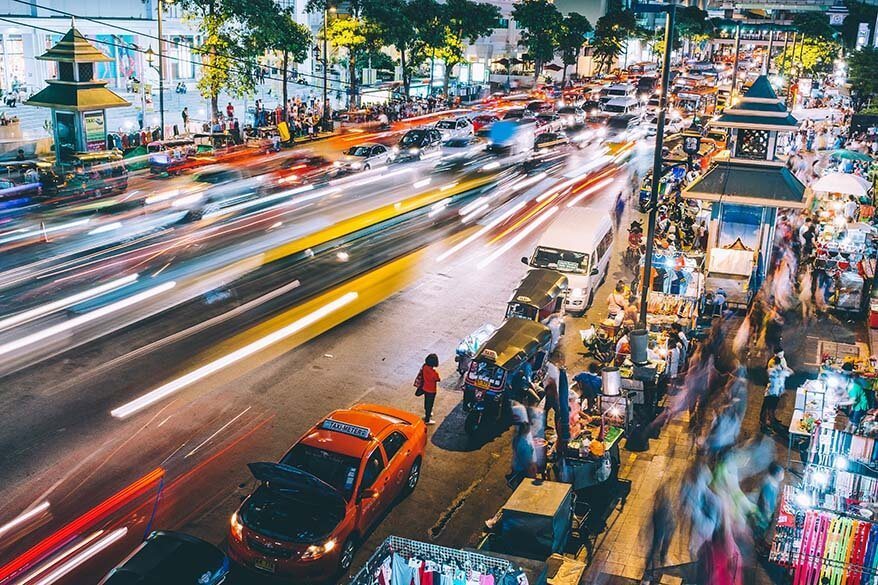 At the end of this article, you can find more information about the practical side of arranging a day tour like this. I also include a breakdown of all the costs that we had.
I know quite some people who visited Bangkok on their own. Most of them saw less of the city in 2-3 days than what we saw in 1 day. So believe me, taking a local guide is really the best way to see Bangkok, no matter how much time you have.
In the end, this dreaded Bangkok layover turned into an amazing day. Not only did we see the main highlights of Bangkok, but we also caught a glimpse of many different sides of this fascinating city. We left Bangkok with a feeling that we really made the absolute best of the time that we had.
Below you can read about all the places that we visited in Bangkok in a day. I hope this article will inspire you to make the best of your short time in Bangkok as well. Find out!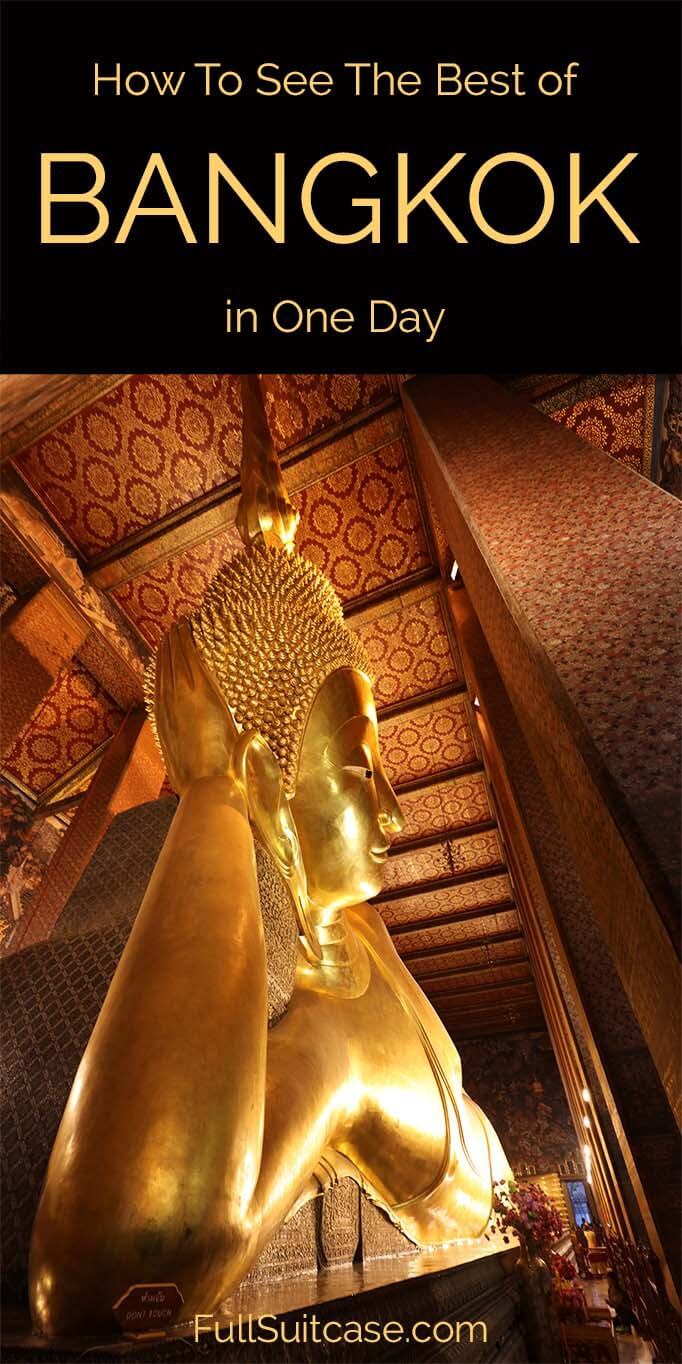 One day in Bangkok – what to see
It turns out that one day is more than enough time to see some of the main landmarks of Bangkok! We could visit the Grand Palace with the Emerald Buddha Temple, Wat Pho with the reclining Buddha, and Wat Arun, The Temple of Dawn.
We also found that no visit to Bangkok would be complete if we didn't get to experience at least some of its local life as well. So we researched what other places could be included in our one day Bangkok itinerary.
People suggested floating markets, but there weren't any close enough to the city center on the day that we visited. Instead, we could do a Bangkok canal tour, visit a flower market, and maybe even explore the famous Khao San Road.
12-hour Bangkok layover meant that we had +-8 hours of time outside of the airport: from 1 to 9 pm (our flight came in a bit past noon and our departing flight was at midnight). We had no idea if we could actually visit all the places that we wanted to see in these 8 hours. A lot would depend on our incoming flight, the traffic between Bangkok airport and the city center, and the opening times of the main landmarks…
In the end, we had a very full program with not much time to spare, but yes, we could see everything that we had planned. Below is a list of places that we visited in Bangkok and our practical tips for your visit. Read on!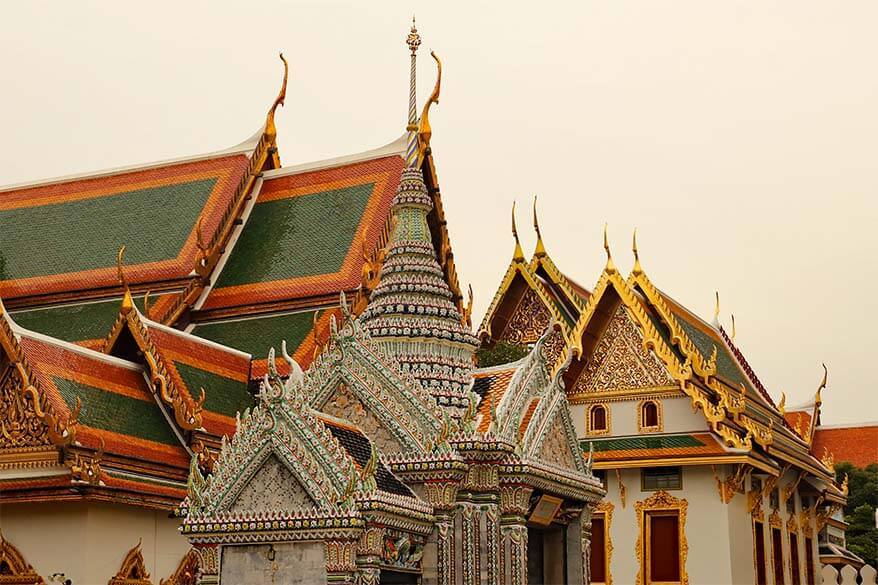 Here's what to see and do in Bangkok in one day:
1. Grand Palace and The Emerald Buddha Temple
If there is just one place you visit in Bangkok, make it the Grand Palace. Built at the end of the 18th century and home to Thailand's kings for over 150 years, the Grand Palace is not just the heart of Bangkok, but of all Thailand.
The Grand Palace complex in the center of Bangkok contains many buildings, each more impressive than the other. You could spend several hours or even a whole day here and still not see everything. However, if you are short on time and know where to go, you can see the main highlights of the Grand Palace in just 1-2 hours.
We spent a bit more than an hour inside the Grand Palace and were impressed by the ease in which our guide lead us through the crowds and right to all the main highlights. No way could we have seen even a small part of the Palace in so little time on our own! Not to mention the fact that we wouldn't have even known where to start. There were 36!!! points of interest on the map that we were given at the entrance…
The most famous building at the Grand Palace is Wat Phra Kaew, the Emerald Buddha Temple. It's the most important temple in Thailand and a sacred place for all Buddhists. The 14th century Emerald Buddha statue is carved from a single piece of jade and is much smaller than you'd expect. The clothes of the Buddha are changed several times a year, depending on a season, and it's a very important ritual. This is the only place that you aren't allowed to photograph, so you'll just have to go and see it for yourselves.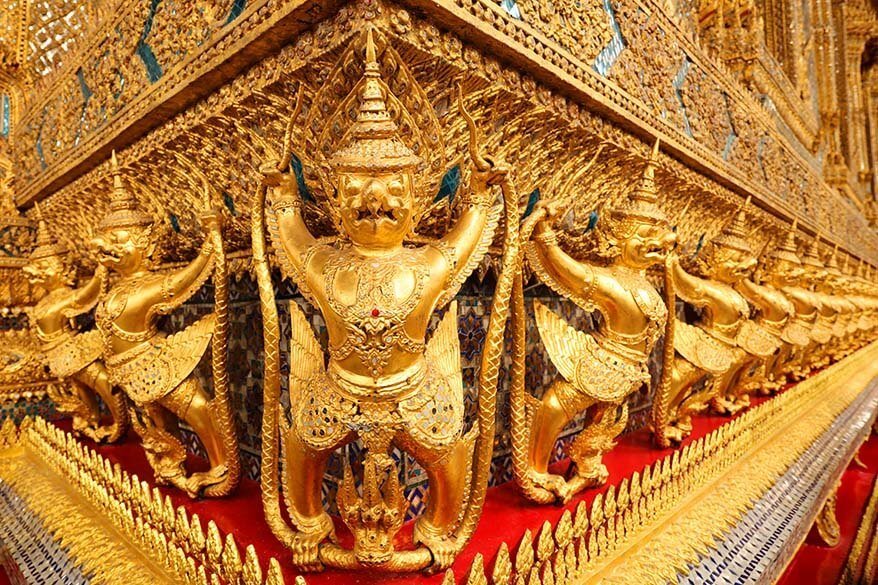 Other points of interest include the Demon Guards, the Royal Pantheon, the golden stupa Phra Siratana Chedi, the mural paintings containing Ramakien story (recognized as the world's longest painting), and the building in which the kings used to live – Chakri Maha Prasat Hall.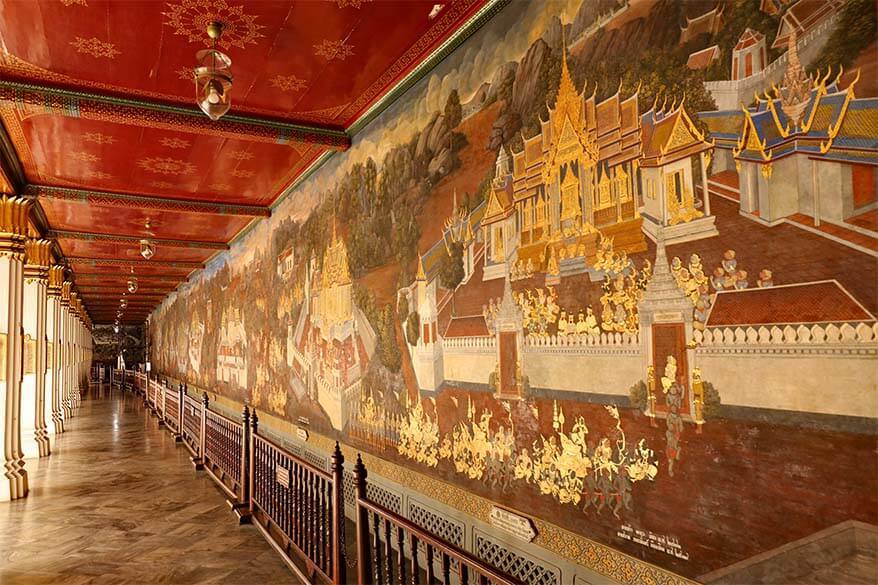 Practical information:
Opening times: daily from 8.30 AM-3.30 PM. No matter what time you come, it will be really busy inside. Overwhelming, if you don't know where to go and what to see. We visited in the busiest time of the year (first week of January), around 2.30 PM. I have to say that it was really busy, but not nearly as bad as I read and expected it to be. So coming an hour or two before the closing time might not be such a bad idea.
Entrance fee: 500 TBH (14 EUR) per person. Kids under 120cm (+-4ft) height are free of charge. They do measure!
Strict dress code at the Grand Palace requires that men and women cover their legs and shoulders. No leggings allowed. You can rent a long skirt or pants at the entrance or just buy it. There are plenty of street vendors selling sarongs for women and long pants for men by the entrance. The right price to pay is 100 TBH (2,5-3 EUR). Don't worry that you'll look funny – most tourists are walking around in colorful pants with little elephants (and the ones in jeans are really suffering in those tropical temperatures). I also read something about having to wear socks, but it wasn't the case when we visited – most people wore sandals. Also, our children (boys age 8-10) were not required to cover their legs either.
Minimum time for a visit: 1-1,5 hrs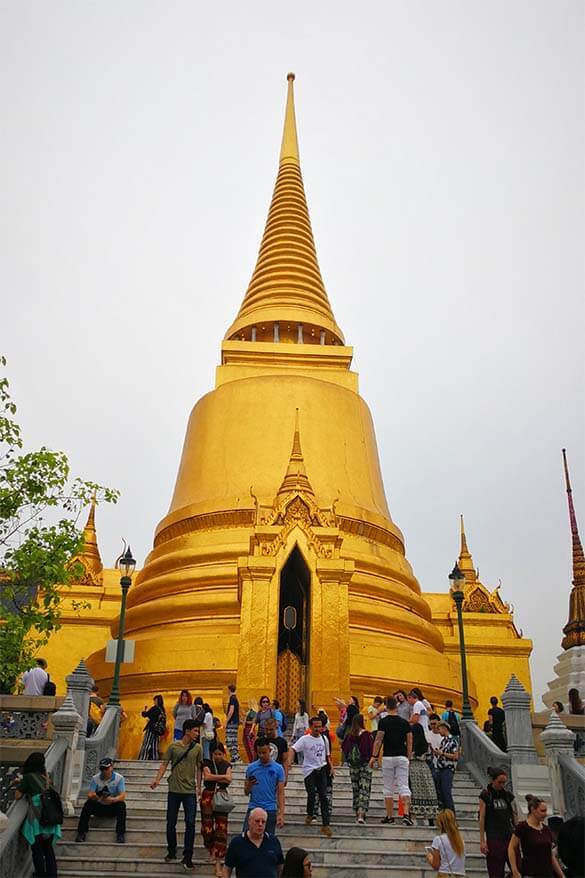 2. Bangkok canal tour
After visiting the Grand Palace, we headed to the nearby Tha Chang pier where we would take a private long-tail boat for the canal tour. However, the water was too high and for some reason it was impossible to get a long-tail boat to safely dock there, so we had to head to another pier.
Once again, we would have wasted hours just trying to figure out what the problem was or where to go instead. In the meantime, our guide quickly called the driver who was waiting nearby. He came to pick us up and just a few minutes later we were at Tha Tien pier where we could get a boat, just as planned.
We had no idea what to expect of Bangkok canals and were not sure if it was worth doing if you have just one day in Bangkok. In the end, we were so glad that we decided to give it a try. The canal tour through Thonburi neighborhood gave us a completely different insight inon the city, its history, and also how locals live there today.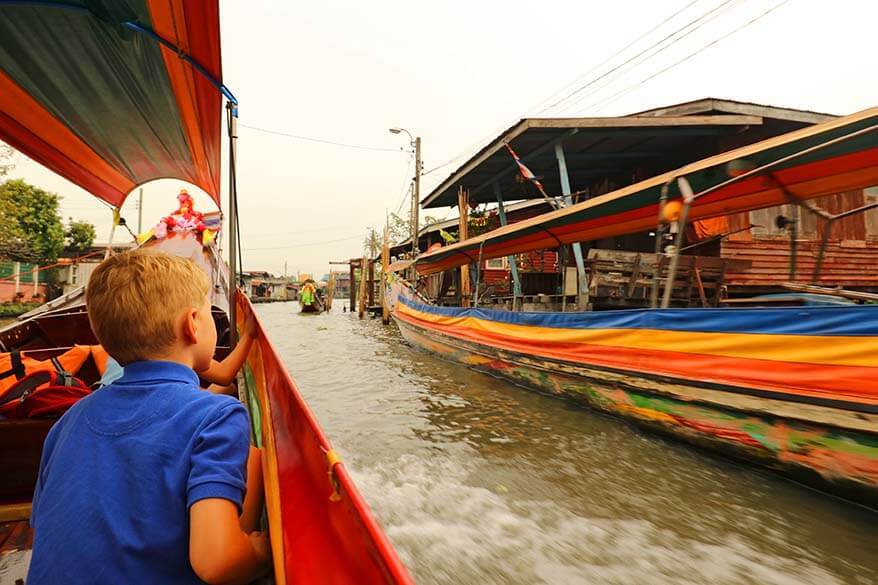 The Long-tail Bangkok canal tour was a truly unique experience that made our short visit to Bangkok even more memorable. Below you can read all about our experience with Bangkok canal tour and why we think its' a must in Bangkok. In that article you will also find more practical information about visiting Bangkok's canals. Take a look!
LEARN MORE: Bangkok canal tour
Practical information:
Private long-tail boat tour costs about 1,500 TBH (42 EUR) (price per boat).
Minimum time required: +-1 hr.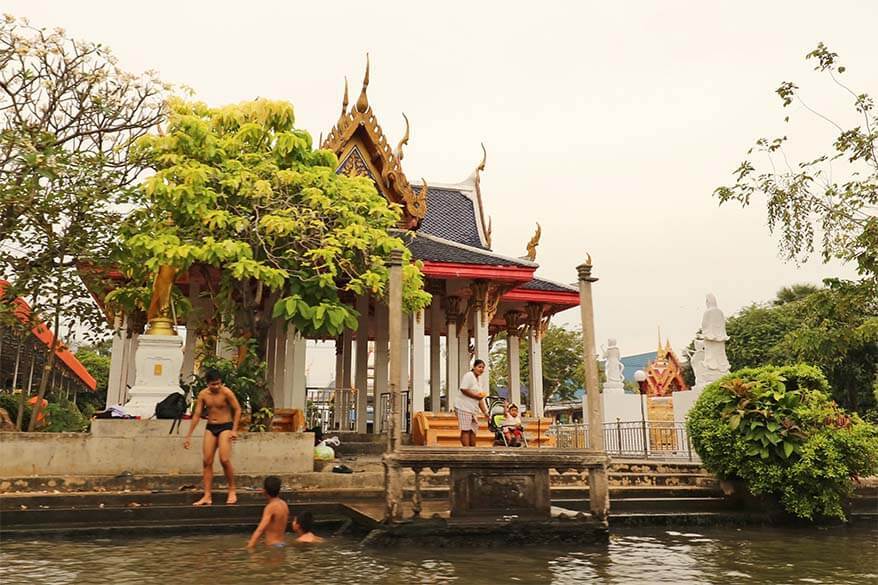 3. Wat Arun, The Temple of Dawn
Wat Arun, also known as the Temple of Dawn, is one of main landmarks of Bangkok. Due to its proximity to the Grand Palace, it's really easy to include it into your Bangkok one day itinerary as well. Wat Arun is located on the other side of the Chao Phraya river, so you need to take a local ferry to get there. Our guide arranged that our long-tail boat dropped us off at the temple, which saved us quite some time and hassle.
Wat Arun's history dates back to the Ayutthaya Kingdom, the early origins of Bangkok city and the kingdom of Thailand. The temple that stood here back in the 17th century was called Wat Makok, named after the village, Bang Makok (the village of wild plums). It's not hard to see that this is where Bangkok's name originated from.
This temple was restored by King Taksin after he saw its beauty at dawn. It was also the original home of the Emerald Buddha that is now located inside the Grand Palace.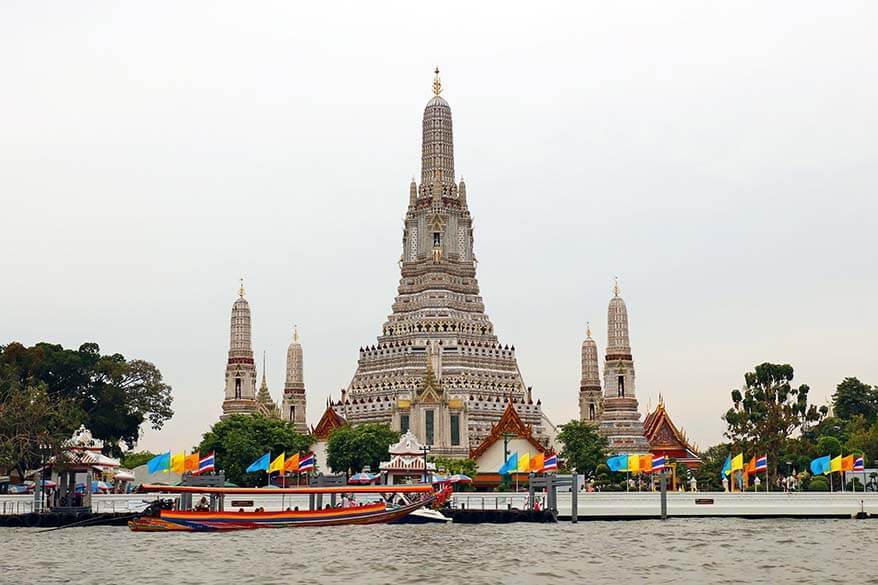 Wat Arun is a rather small temple and doesn't require a lot of time to visit. It's not a building where you can go inside, but a stupa-like pagoda, a concrete structure with no interior. However, its exterior is really nicely decorated in white porcelain and you can admire it from close by.
You can also climb the stairs about halfway to the top and walk around the pagoda. The stairs are extremely steep, but not that long at all. So it so can be done by anyone in reasonable physical shape.
Also worth a short visit is the Ordination Hall (ceremony hall), just next to the temple. It's guarded by two huge Demon Guardians – you can't miss it!
Practical information:
Opening times: daily from 8 AM-5.30 PM. Early morning hours are supposedly the best time to visit, but if you have just one day in Bangkok, I wouldn't worry about it. We were there around 4 PM and it wasn't crowded and the light for pictures was ok as well.
Entrance fee: 50 TBH (1,5 EUR). Kids under 120 cm (+-4 ft) free of charge.
Minimum time required: 30min.
Dress code at Wat Arun isn't as strict as at the Grand Palace. Most men were wearing shorts; women were expected to wear a long skirt (or a sarong). From what I understood, as long as your shoulders and knees are covered, you're ok.
If you are coming from the city center, you'll need to take a local ferry to Khun Mae Pueak Cross River Ferry Pier. Ferries run non-stop and cost just 4 TBH (10 ct) one way.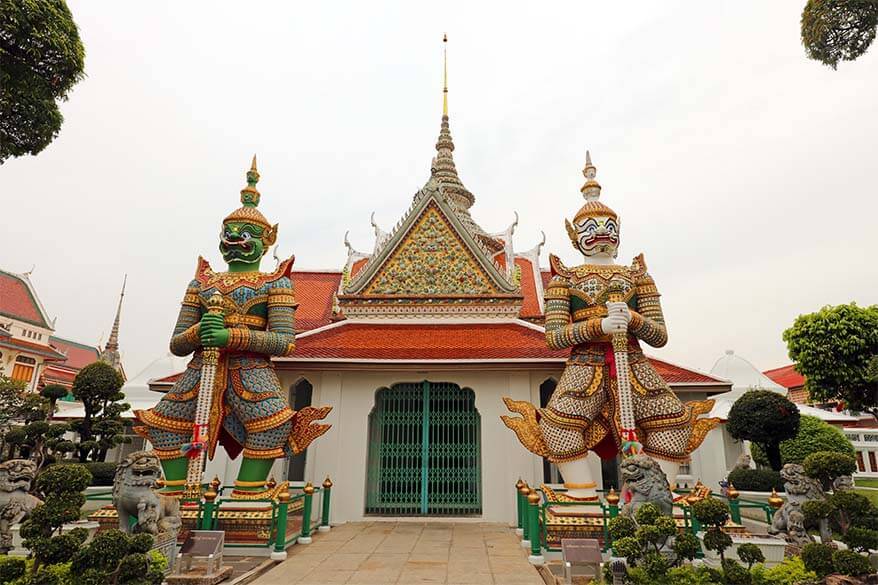 4. Wat Pho, The Temple of The Reclining Buddha
The last temple we visited on our Bangkok one day tour was Wat Pho, also known as the Temple of the Reclining Buddha. It quickly became our favorite place in Bangkok!
Wat Pho is one of Bangkok's oldest temples, best known for the reclining Buddha – a 46m (150 ft) long gold-plated statue of the reclining Buddha. In addition, it houses the largest collection of Buddha images in Thailand.
Wat Pho is also considered the first public university in Thailand and the birthplace of Thai massage. There are many images, statues, and inscriptions that show instructions for Thai massage. This way the knowledge wouldn't get lost and could be transferred from one generation to the other.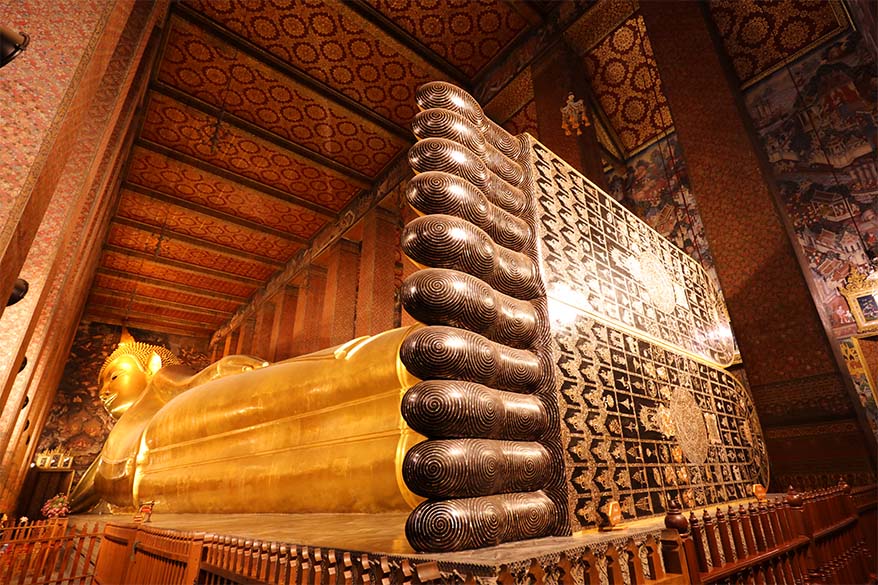 There are 91 small stupas inside Wat Pho, plus four great chedis, two belfries, a bot (central shrine), a number of viharas (halls) and other buildings such as pavilions, as well as gardens and a small temple museum (*source Wikipedia).
I can't really say what exactly it was about this temple, but we loved being here. I think it has to do a lot with the fact that we had the whole place practically to ourselves. We visited Wat Pho temple complex just before closing time, so it was really quiet with just a few other tourists inside. Also, seeing all the beautiful buildings lit up at dusk was truly magical. Even if you have just one day in Bangkok, Wat Pho is a must!
Practical information:
Opening times: daily from 8 AM-5 PM. However, we were here much later and could still see the Reclining Buddha and walk around the grounds. By the time we left, it was 6.20 PM and the place was closing down.
Entrance fee: 200 TBH (5,5 EUR). Kids under 120 cm (+-4 ft) free of charge.
Minimum time required: 30 min.
Dress code: same as in Wat Arun.
Massage. You can get a Thai massage or foot massage at Wat Pho, additional fees apply. From what I understand, massage is possible until 6 PM.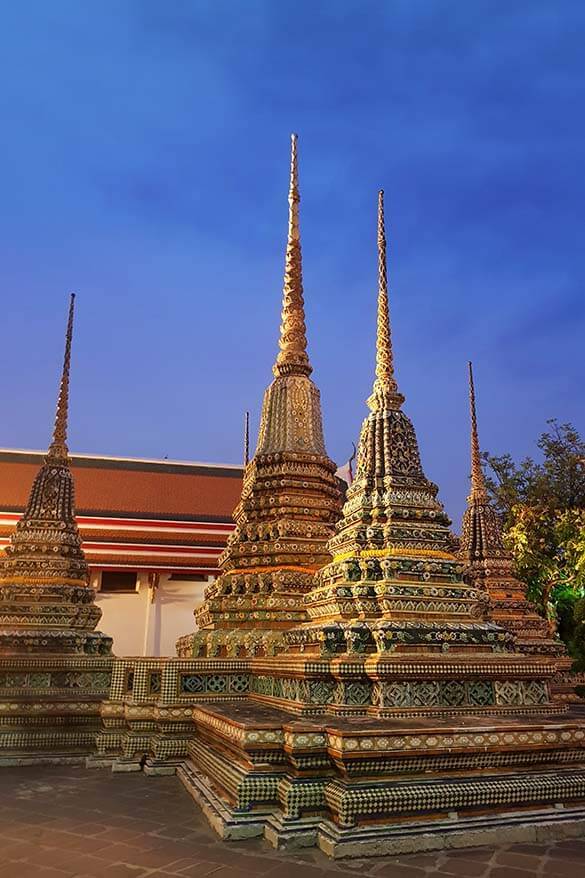 5. Bangkok flower market – Pak Khlong Talat
We couldn't have spent a day in Bangkok and not visit a market! As I mentioned before, there was no floating market that we could easily include in our one day Bangkok itinerary on a Friday, but our guide suggested a nice alternative.
So our next stop was the Pak Khlong flower market, the biggest wholesale and retail fresh flower, fruit, and vegetable market in Bangkok.
The history of this market dates hundreds of years ago. Our guide told us that there used to be a fish market here in the past. Till one day the king passed the place and wasn't impressed with the smell. It was then decided to move the fish market away. Instead, vendors selling flowers, fruit, and vegetables overtook the area.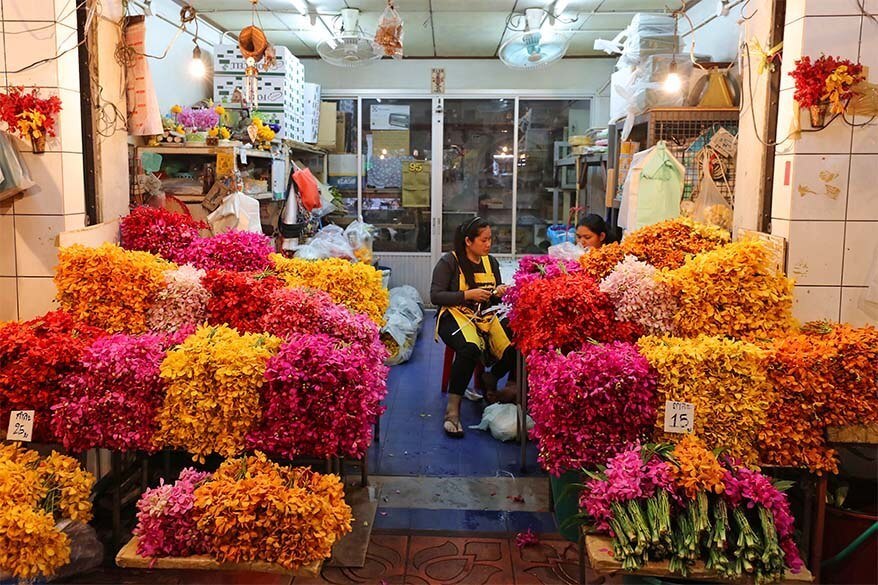 Nowadays, this is one of the biggest markets in Bangkok, a bustling place that is open 24 hours a day.
It was an impressive sight to witness all the hustle and the bustle at the Pak Khlong Talat market in the evening. Huge bags of flowers and fruit being loaded on trucks, pushcarts, and even motorbikes. Thousands of market stalls selling any imaginable types of flowers that we didn't even know the name of. And a huge variety of exotic fruit and vegetables, many types of which we had never seen before…
No matter how much time you have in Bangkok, or what time of the day you visit, Pak Khlong Talat flower market is a really interesting place to see. If you don't have the time to see all the places mentioned in this post in one day, you can also skip the market. But if you have at least half an hour to spare, it's really worth a short visit.
Practical information:
Opening times: non-stop.
Entrance fee or dress code: none.
Minimum time required: 15 min.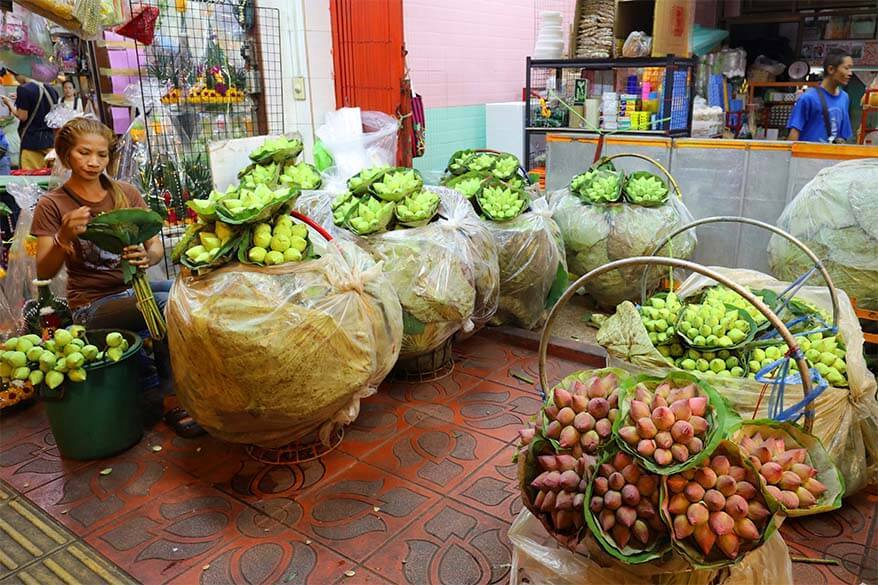 6. Khao San Road
Made famous by the book and the movie The Beach, Khao San Road is known as the 'center of backpacking universe'. This short pedestrian street of just 400 m (0,25 miles) was recommended to us as one of the must-see places in Bangkok. I don't even know how to describe it. It's an explosion of sounds, smells, and tastes; a place that is exactly as I imagined Bangkok to be.
Imagine a street packed with cheap guesthouses and hostels, restaurants, cafés, Thai massage and tattoo parlors, and countless shops and market stalls selling pretty much anything you can imagine.
Then add hundreds of street-food vendors selling anything from fresh fruit smoothies, chicken sate, and Pad Thai to roasted crocodile or scorpion on a stick…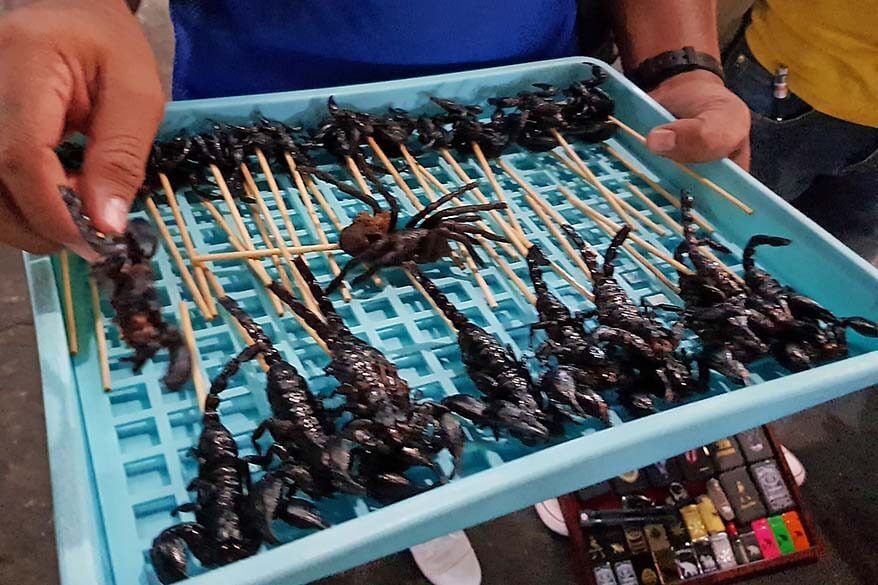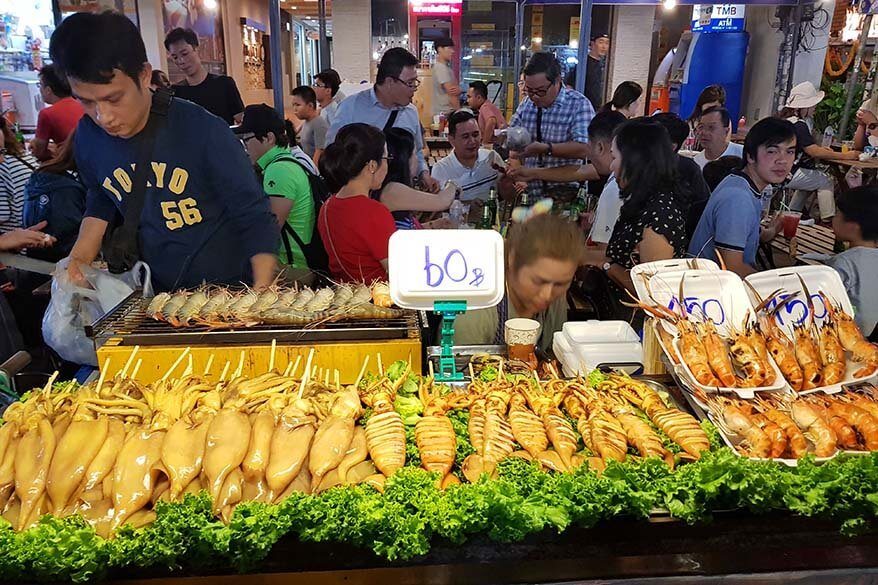 If you want to do any shopping in Bangkok, wait till you get to Khao San road. You can buy any Thai souvenirs including the colorful Thai pants with little elephants that everyone wears at the Grand Palace for a fraction of the price here. In addition, you will find 'Polo' shirts, 'Calvin Klein' underwear, 'Fjällräven' backpacks, and anything else your heart desires.
Prices are really low and if you are willing to negotiate, you can find some really good deals here. We stayed clear off all the fake designer stuff, but kids bought some souvenirs for less than half the price of other places.
If you are brave enough to taste all the special food that you heard you can find in Thailand, then Khao San Road is definitely the place to be. If you can't find what you are looking for here, it probably doesn't exist…
Practical information:
Best time to visit is in the evening when you can truly appreciate what Khao San Road is really about.
Minimum time required: 30 min.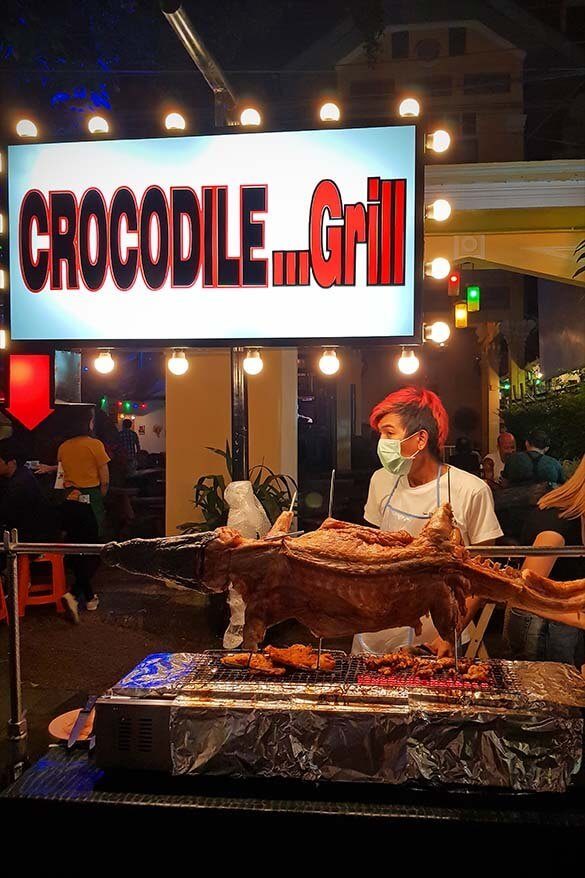 How to see the best of Bangkok in one day – practical information and private tour cost
As you can see, we managed to see quite a lot in just one day in Bangkok. Please note that we only spent 8 hours in Bangkok city, including transfers from the airport and back. So if you have a longer Bangkok stopover and are staying in the city, you could see and do even more in one day. At the same time, I also realize that we wouldn't have been able to see even half as much if we had attempted to visit Bangkok on our own.
If you are short on time and want to see the best that Bangkok has to offer, I really recommend you look into booking a private tour. A local guide will save you hours of time, lots of guesswork, and will provide invaluable information about the places that you visit.
As already mentioned, we booked this highly-rated private Bangkok tour and then customized it. The private guided Bangkok day tour cost around 90 EUR. In addition, we had to pay the same amount for the hire of the private driver with a van and about 16 EUR for fuel, toll, and parking fees. So hiring a private guide with a van and a driver for 8 hours cost 196 EUR for 5 people.
We could have just opted for public transport, but we wouldn't have been able to see as much in such a short time. Furthermore, a 12 hour layover meant that our bags were not checked-in for the entire journey and we had all our luggage with us. Hiring a big van meant that we didn't have to worry about any of that.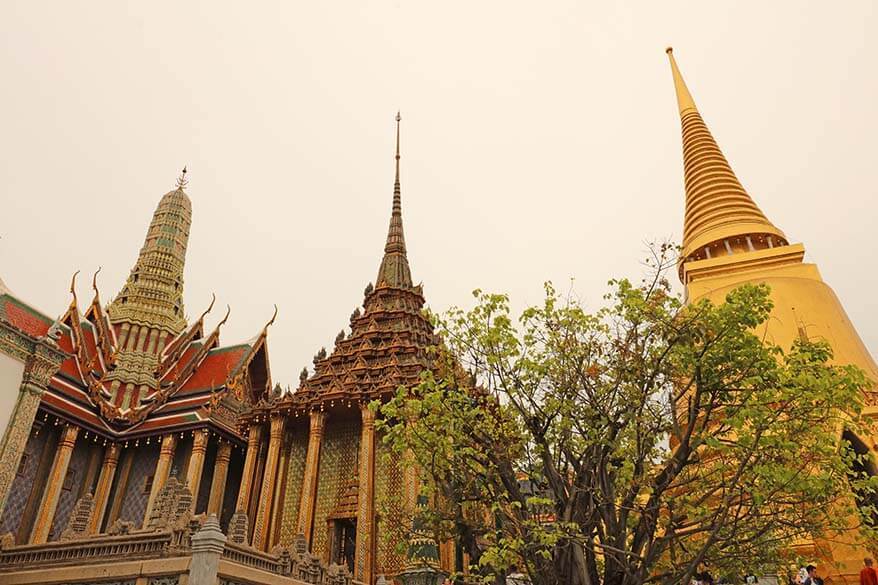 In addition to the fees for the guide, the car, and the driver, we also paid entrance fees for the temples (local guides enter free of charge) and for the long-tail boat hire. Since our kids are all taller than the maximum height requirement, we had to pay adult entrance fees. Entrance fees and the boat hire amounted to a total of about 5,300 TBH or 146 EUR for 5 people.
This one day in Bangkok cost us a grand total of 342 EUR, or 68 EUR per person, all in. It's definitely not cheap for Thai standards, but we found it totally worth it. After all, we saw the best of Bangkok in a day without having to spend any money on accommodation or paying extra for the flights.
If you want to book the same private guide for a day in Bangkok as we did, click here and choose your travel date and the number of people. You'll then see the price for the guide for your group. The system will also ask you to choose the starting time of the tour. Just pick the one that fits best, but don't worry about it too much if you want your tour to start later. You can afterwards send a message to the company and arrange all the details. If you need a car, airport pick-up, or anything else, you can ask for it after you reserve the guide.
There are obviously many more private guides and companies that can arrange your private day tour in or near Bangkok. I read lots of reviews and shortlisted four different companies. We ended up booking this private tour because on their flexibility, attention to our wishes, and very competitive rates. We'd do it again and recommend it to everyone who wants to see the best of Bangkok in one day.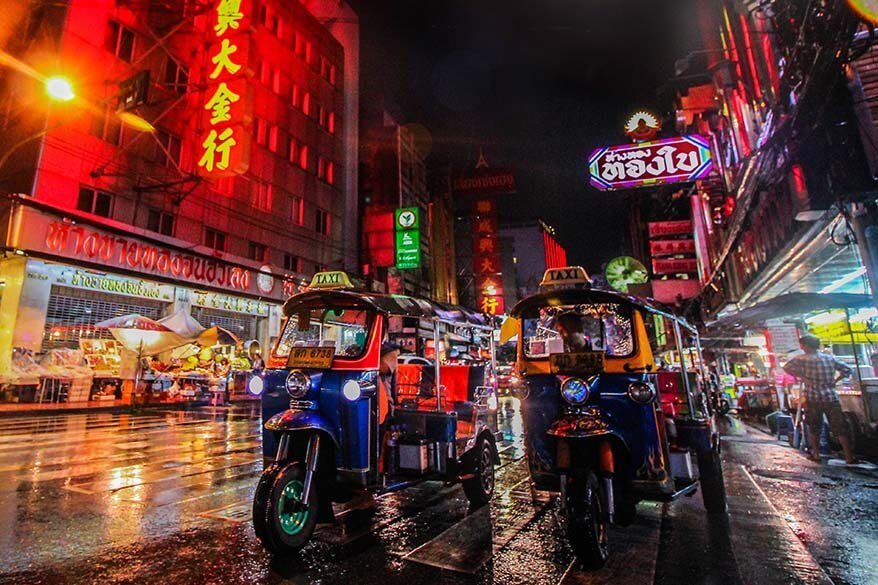 Planning Bangkok layover tour – what to know
There are several factors you have to consider that will determine if it's worth leaving the BKK airport on your Bangkok layover. That will also make it easier to decide where to go and what to see in Bangkok if your time in the city is really limited. Read on!
1. First and the most important is the duration of your layover. I would only consider visiting the city if your Bangkok layover is at least 8 hours, ideally more. A lot also depends on what time your flights are. If it's in the middle of the night, you may better book a room at an airport hotel and get a good night's sleep…
Keep in mind that it takes some time to get out of the airport. Furthermore, it will take you at least 30-40 min to drive to town (even more during rush hours), plus the same amount of time to get back to the airport. Also, you really need to plan to be back at BKK airport at least 2-3 hours before your international flight.
Traffic can be worse than expected. Bag drop, security checks, and passport control can easily take over an hour. It took us over 1,5 hours, plus the time to get to the gate – a total of 2 hours. We hardly had time to get dinner and spend our last cash…
TIP: Check-in for your ongoing flight online. The line at the check-in desks at BKK airport was really long when we came back from the city, in the meantime there were just a handful of people at the bag drop.
2. Second, if your Bangkok layover involves you entering Thailand for the first time during this trip, make sure that your travel documents are in order and that you don't require a visa for Thailand.
3. Third, consider what will happen with your luggage. We flew from Phuket to Brussels via Bangkok with Thai Airways and hoped that our bags would get checked in for both flights at once. Nobody could tell us in advance if that would be the case and it turned out that it wasn't.
So we had to pick-up our bags in Bangkok and check them in again for the next flight. Luckily, we anticipated that this could happen and booked a big van that would fit 5 of us and all our luggage.
4. We also read that in the past you had to pay a fee for leaving the airport transit zone to visit Bangkok. This fee is now collected by airlines, at the time of booking. I have no idea if they check this when you come back to the airport after your layover. I also don't know if you can avoid this fee, but it's so small that it's really not worth the hassle.
We informed the airline that we would leave the airport to visit Bangkok during our 12-hour layover and they charged us an additional fee of 5,22 EUR per person. Nobody ever asked if we paid, but at the check-in for our flight to Bangkok they asked us several times if we'd leave the BKK airport. I guess they could see in the system that we had paid.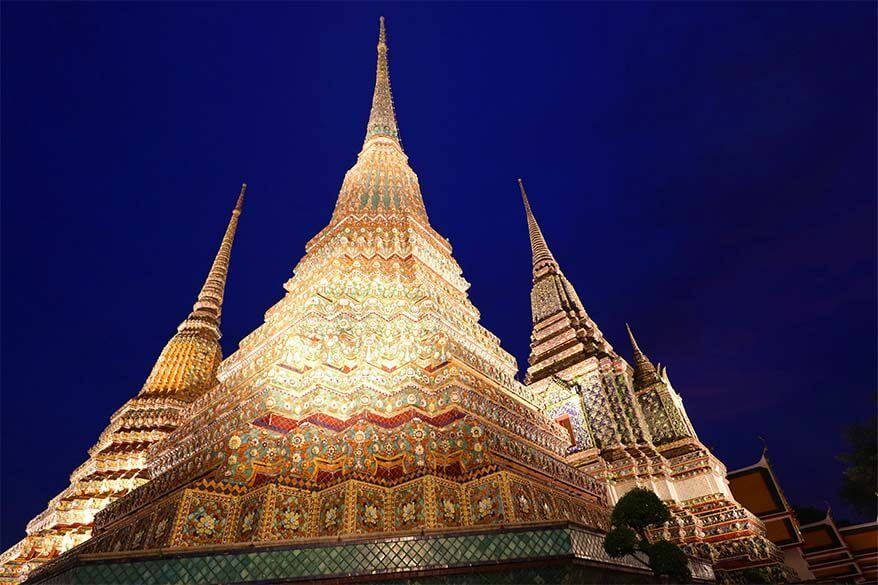 So, this is our guide to the best things to do and places to see in Bangkok in one day, and how to see it all even if you are just on Bangkok layover.
Have you also visited Bangkok in one day and have any tips to share? Or maybe you have a question in regards to an upcoming trip? Feel free to leave a reply below.
More travel inspiration for Thailand:
If you found this post useful, don't forget to bookmark it and share it with your friends who are thinking of Bangkok layover or stopover. Are you on Pinterest? Pin these images!