It took me a long time to decide whether I could name this post the best things to do in London with kids. There is simply so much to do in London with children that no list could possibly ever include all of them!
Also, who has the time to see and do everything that London has to offer for families… Most tourists won't have the time even for all the main attractions… So if you are also visiting London with kids for the first time and just want to see the very best of the city with your children, this list will give you more ideas than you'll probably be able to do! In this article, we feature only the very best of London for kids!
What you will choose to see and do in London with your family will depend on the age of your kids, your interests (and those of your kids), your budget, time of the year, duration of your visit, queues at the major attractions, and even the weather…
We visited London for three full days in spring and had amazing weather all the time. Therefore, we limited our time indoors to the hottest hours of the day and only visited indoor attractions that were very high on our list.
This list shows what we chose to do in London with our three boys (age 6-8). I hope it will be a good source of inspiration for your family trip to London.
At the bottom of this article, you can find even more inspiration and suggestions for all those other things we wish we had more time to see and do in London with kids.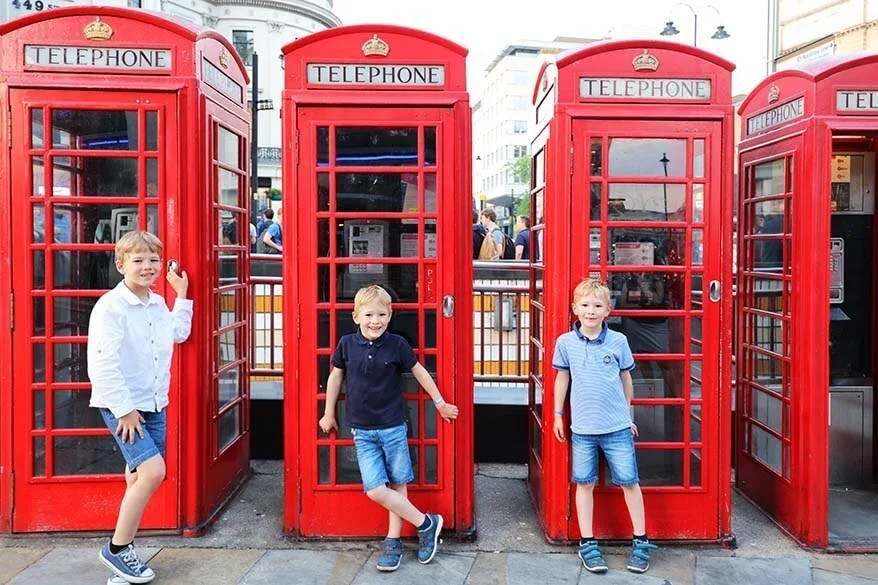 I asked my kids to sort this list of London attractions, landmarks, and family-friendly activities based on what they enjoyed the most. It wasn't easy to do as we visited so many places, one more impressive than the other. My boys really couldn't say what they liked best or second best, and there wasn't one single activity they didn't enjoy.
So – in random order – this is our selection of the best things to see and do in London with kids. For a different perspective, I also included a short kids' commentary for each of the attractions.
Disclosure: We were guests of some of the tours and experiences mentioned in this list. However, we chose all of these activities ourselves, based on our interests and what we thought would be the best things to do in London for our family. We think that this is a great selection of things to do when visiting London with kids for the first time. Find out!
READ ALSO: London Travel Tips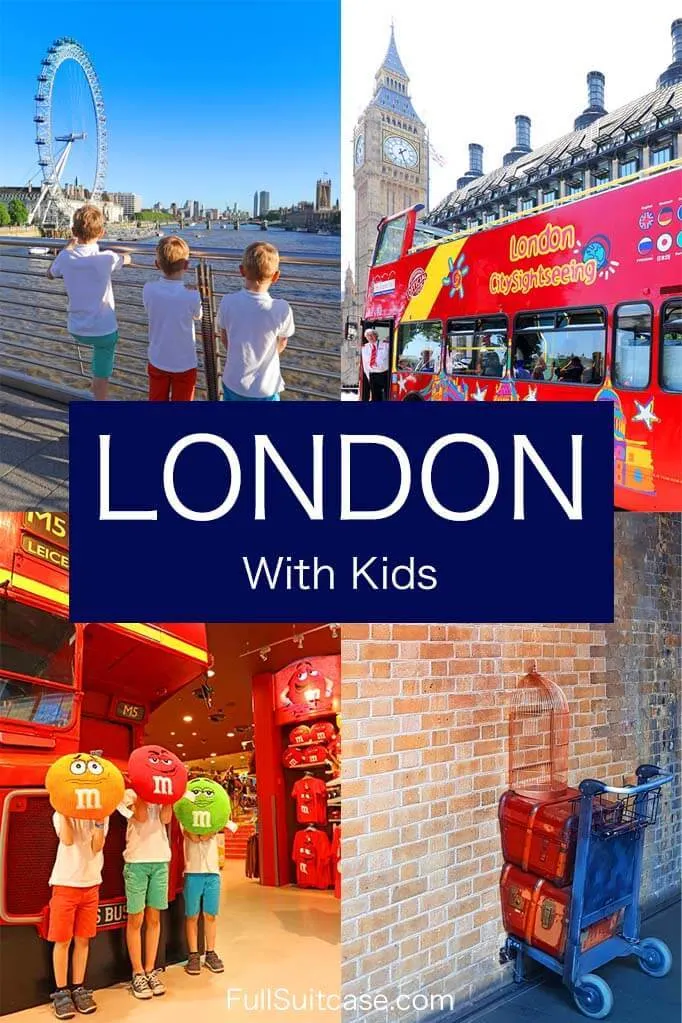 These are the best things to do in London with kids:
1. London Eye
The London Eye is one of the absolute musts in London, with or without kids. The views are amazing, especially around sunset when the light is really beautiful. Kids will definitely love riding Europe's tallest Ferris wheel!
They also have a 4D movie that is included with your ticket. It's short, but really nicely done. I don't want to spoil the experience, but you can expect some snow and other fun effects as well!
In the past known as Coca-Cola London Eye, it's now called lastminute.com London Eye. It is probably one of the most popular attractions in London, so expect long queues. I strongly recommend buying your tickets online in advance (it's so much faster and it's cheaper).
TIP: If you can afford it, fast-track tickets are really worth it (you can book them for a specific time slot or – at a slightly higher cost – with a flexible entry during a chosen day). With fast-track tickets, we passed a 2-3 hour queue in just a minute. It saved us so much time and frustration because the kids were already tired after the whole day of sightseeing so it was great to be able to go up right away.
For the best rates and availability, book regular and fast-track London Eye tickets on the official site.
TIP: If you are planning to visit several London attractions from Merlin Entertainments Group (Shrek's Adventure! London, Madame Tussaud's London, Sealife London Aquarium, The London Eye, and The London Dungeon), it's best to buy a combination ticket that includes several sights. It will save you A LOT OF money.
These multi-attraction tickets only include standard entry (so no fast-track) and you also have to prebook timed entry slots at most places, so it's a bit more hassle and you'll need more time. But they offer a really good value. Depending on the size of your family and the places you opt to visit, it can save you several hundred pounds.
TIP December 2023: If you are visiting London during this Christmas season, you may want to know that the London Eye is nicely decorated as never before and there are some other Holiday specials. Families with younger kids can meet Shrek Santa at Christmas Shrektacular Experience.
Let's hear from the kids: The London Eye is the tallest Ferris wheel we have ever been on, almost like being on top of Burj Khalifa in Dubai. From the highest point, people looked like ants. Just wonder why we had to get off after only one ride.
READ ALSO: Where to Find the Best Views in London
2. London Bus Tours for Kids
A nice family-friendly way to explore London is with this Tootbus Kids Tour.
This open-top bus tour of London's highlights is specifically designed for families with children, with engaging commentary and fascinating stories, and the duration of this tour is perfect for kids. It's also very correctly priced for London. Check it out!
In the past, we recommended London Duck Tours (see below). However, they were obliged to sell the land that was used to enter/exit the Thames River, so they cannot do the splashdown in the river anymore. They still operate, but only as land-based bus tours…
London Duck Tours was one of the most unique ways to see London with kids. You step aboard a distinctive yellow amphibious WWII vehicle (made by GM Motors for the D-Day landing) and set on a true adventure through the streets of London.
We did the Classic Sightseeing Tour that brings you past all the main landmarks of central London, coupled with live commentary. We were a bit concerned about whether the kids wouldn't get bored on this ride, since they don't speak or understand English, but we translated some of the stories for them and they didn't seem to be bored for a second.
The best part of the tour was of course the splashdown onto the Thames. We spent more time on the water than I had expected and went all the way from MI6 to the Houses of Parliament and Big Ben Tower.
What makes the Duck Tours even more fun for kids is that you have to quack loud every time you see another yellow bus.
Let's hear from the kids: The Duck bus was really fun. Especially going in the water, so cool! We also won the 'quacking' game against the other buses twice! When I told the kids at school about a bus that is also a boat they all wanted to go to London!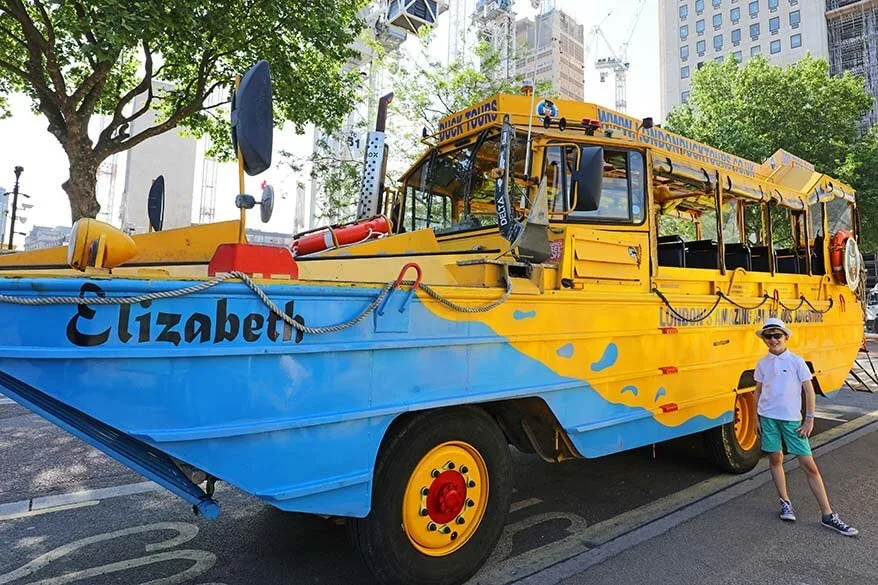 3. Madame Tussauds
I have to admit that visiting Madame Tussauds was an adults' choice rather than the kids'. Our boys are rather young and they are not familiar with famous Hollywood actors, singers, or the British Royal Family.
At first, the kids were not very excited about the wax figures. However, it quickly changed when they recognized a couple of people, like Donald Trump or Barack Obama. And when we came across their football hero Ronaldo, their day could not go wrong anymore.
From then on it got better and better. We saw Shrek and King Kong, and the boys could even take a picture on a bike with E.T.! We then hopped into a famous English black cab for the Spirit of London Ride, learning about the darker chapters of London's history, and the recovery after the Great Fire.
But the best was yet to come. I don't think I can find the right words to describe how much the kids enjoyed the 4D Marvel Super Heroes movie.
And the Star Wars experience was like the cherry on the cake at the end of our visit. You could co-pilot a spaceship with Chewbacca, fight against Darth Vader with a real lightsaber of Luke Skywalker, or take a picture with BB8 (or Princess Leia for the dads ;)). The kids wouldn't stop talking about our visit to Madame Tussauds for the rest of the day!
So, based on our experience, I would definitely recommend Madame Tussauds as one of the nice things to do with kids in London. It's also a great place to visit with children in London if the weather is bad.
TIP: Madame Tussauds is an extremely popular attraction, so it's best to book in advance. It will save you lots of waiting time as well. You can check availability and book your tickets on the official website. Also here, a fast-track ticket is available and – despite a higher price tag – we found it really worth it. The queues can be very long, especially during the high season and bank holiday weekends.
If you want to make the most out of your visit to London with kids without them getting exhausted and grumpy, fast-track tickets are a real lifesaver.
Let's hear from the kids: Seeing Ronaldo was top, as well as James Bond. Sitting in a London cab was fun too. And… The wind and the water made the 4D experience so special. And… I wish I could have taken that sword home with me.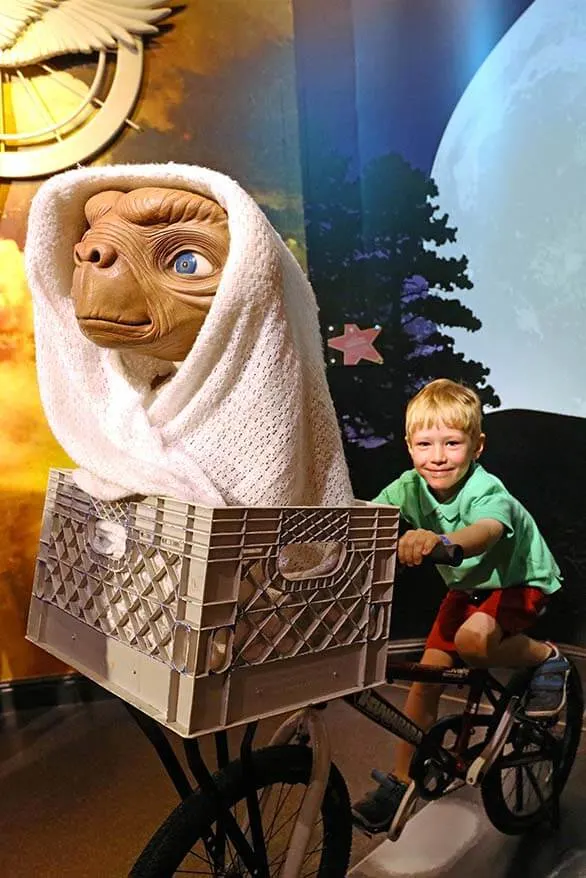 4. The Royal Mews
I first heard about the Royal Mews when researching things to do in London with kids. Since Buckingham Palace is closed for visits during the biggest part of the year (open in summer) and Windsor Castle requires a whole day trip from London, I thought that visiting the Royal Mews might be a good way to introduce the kids to the Royal side of England.
We visited the Royal Mews without knowing what to expect, and we were really glad we did. We all loved it!
It's a rather short visit, so perfect with kids. Also, it's very affordable by London standards (you can find the prices and book the tickets here).
We saw the stables and a couple of horses, but the most impressive were of course the Royal carriages. Especially the eight-horse-drawn Gold State Coach that has been used at every coronation of British monarchs since the late 18th century. You can also see the Glass Coach, one of the principal and most used coaches of the British monarch. The most recent addition – the Diamond Jubilee State Coach – dates from 2014.
Royal Mews is a great attraction for any family looking to show the Royal side of London to their kids.
Let's hear from the kids: That golden carriage was really impressive. And… The queen's Rolls-Royce is huge!
TIP: If you are visiting London between late July and the end of September, don't miss the chance to see the State Rooms of Buckingham Palace from the inside. You can reserve your tickets here (only available for bookings in the summer season). Make sure to book in advance!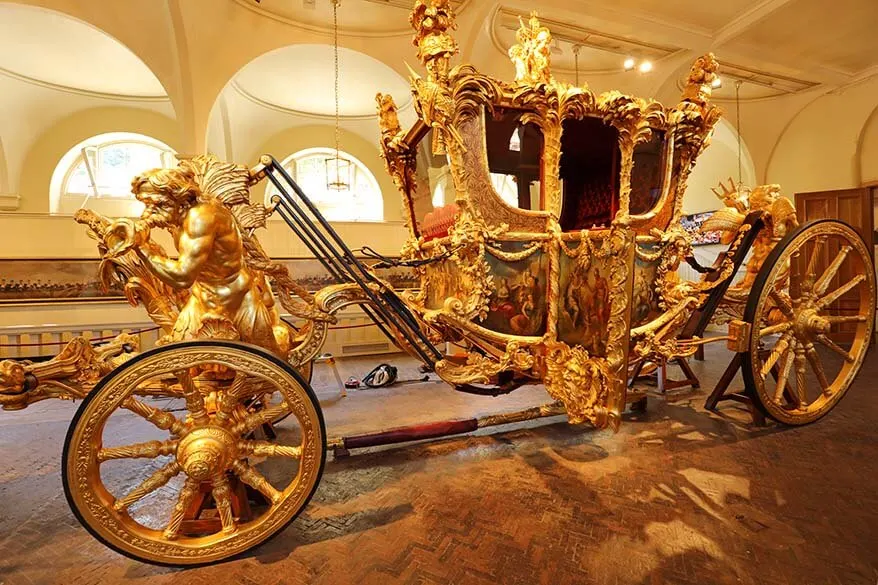 5. SEA LIFE London Aquarium
SEA LIFE London Aquarium is located just next to the London Eye, in the County Hall building. In the same building, you can also find Shrek's Adventure and the London Dungeon.
We were looking for a kid-friendly experience and chose SEA LIFE as it looked like the best choice for our family at that time. From what I read, the London Dungeon is really not suitable for young kids (but is great for teens from 12+). And Shrek's Adventure looks really fun but is not ideal if your kids don't understand English (which our kids didn't at that time).
So we decided to visit SEA LIFE and it was a good choice! Kids loved the aquariums, especially the one with the sharks, interesting exhibits, and interactive games.
SEA LIFE London is not very big, so you'll only need an hour – an hour and a half to visit, and it also means that kids don't get bored for a second. It's a really nice place to visit with young children, one they will truly enjoy.
To be honest, I find the regular SEA LIFE ticket a bit too expensive compared to other family attractions in London. But in combination with the London Eye and other attractions from the same group, it's a great deal and definitely worth visiting with kids.
TIP: On the official website, you can see all the tickets and multi-attraction deals that include SEA LIFE.
Let's hear from the kids: The best part was the sharks and the 'pancake fish' (stingrays) that has an 'electric tail'. And…Remember where we could put our heads between the penguins?! And.. Also that game where you could make your own jellyfish was really fun, I had over 40 of them in the water at one time!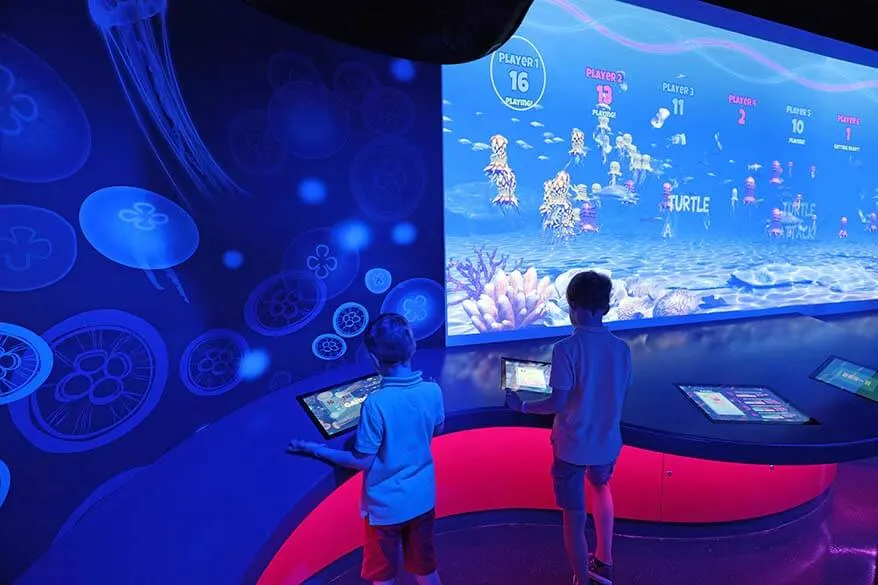 6. Hop-on Hop-off Bus
Hop-on hop-off busses are probably the best way to see a big city with kids. First, it saves you (and the kids) a lot of walking. On top of that, you learn a lot about the landmarks and the less known places along the way. You can hop off at the places you like to explore more, and then hop back on again.
In London, we chose the Tootbus hop-on hop-off buses (previously, Original Tour). They have five different routes that cover all the major highlights of central London. Some buses have live commentary which was entertaining and really good. The others are equipped with an audio guide that is available in 10 languages, and also offers a special 'Kids Club' commentary (only in English).
Talking about kids, they also offer a free Kids' London activity pack that was handed to us by the driver of the first bus we stopped on. I don't know if all buses have these though. Otherwise, you might want to pick one up from their Visitor Centre.
We also took a river cruise (included in the 24hr ticket) and seeing London from the water was another highlight of the trip. If you have more time, you can also join one of the walking tours that are offered by the Original Tour.
My only regret was that we didn't get the 48hr ticket. It would have given us more time to explore London and to really take advantage of this very convenient hop-on hop-off system. Longer-duration tickets also include a river cruise to Greenwich, which is another really nice place to visit with kids.
TIP: Save time and book your hop-on bus tickets online in advance. They now also have a special family-oriented kids tour (it's just 45 minutes, so not comparable to the traditional hop-on/hop-off system).
Let's hear from the kids: It was fun that we could sit on top of the bus, you could see everything! The guide on the river cruise was really funny, he said not to forget your favorite kids when leaving the boat, because he was left behind and has been on that boat since he was 8.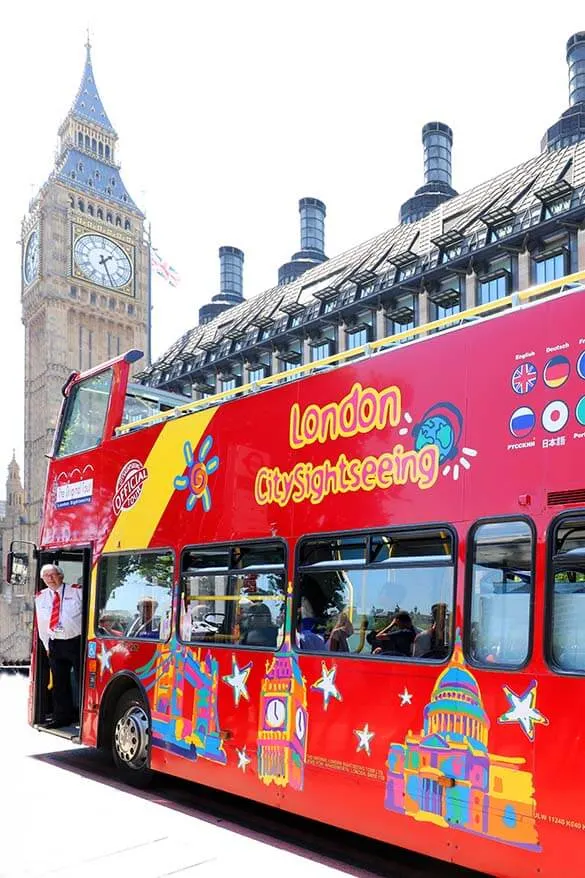 7. Kid-friendly Afternoon Tea
Having a traditional English afternoon tea was a really nice experience for the whole family. There are countless places where you can have afternoon tea in London (see here for some of the most popular options).
We opted for a kid-friendly afternoon tea at St. Ermin's Hotel. They did it all right: from stylish and delicious treats for adults to special menus for kids, accompanied by a visit to see the hotel's bees. Here you can read all about our afternoon tea experience in London with kids.
TIP: Nowadays, there is a very nice new offering – Paddington Afternoon Tea Bus Tour. It's perfect for families visiting London with kids. It's a nice way to combine sightseeing, riding a traditional double-decker bus, and a family-friendly Paddington-themed afternoon tea experience in just 2 hours!
For Harry Potter fans, check out this highly-rated walking tour with Magical Afternoon Tea.
No matter which one you choose, these family-friendly afternoon tea experiences will make your visit to London even more memorable for the entire family! It's well worth it.
Let's hear from the kids: I wish I had a double portion of the sweets (he never would have been able to eat it all, we already had to ask for a doggy bag for some scones ;)). And… I couldn't believe how they got so many bees in this place, it's in the middle of the city center.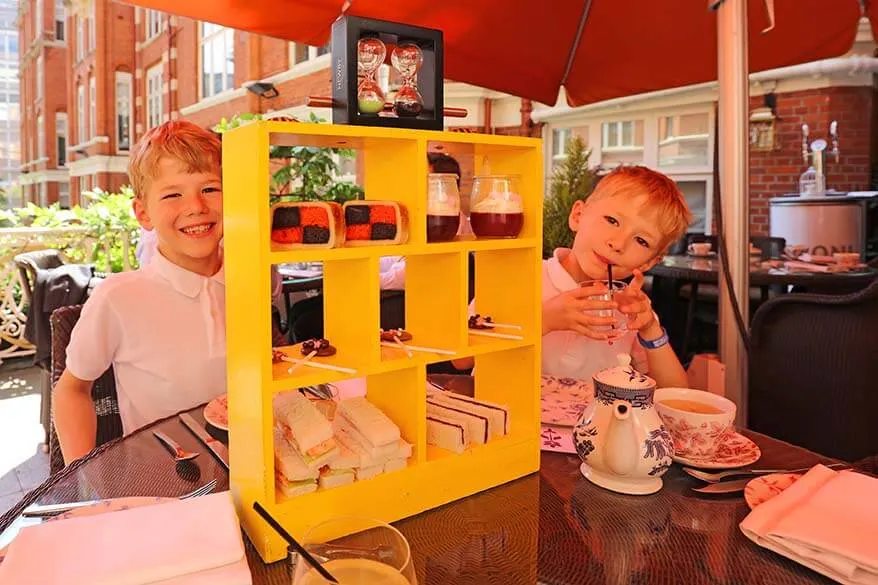 8. The Main Landmarks of London with kids
No guide to London for families would be complete without its most famous places. Of course, you also have to see the main landmarks when visiting London with kids!
Tower Bridge, Big Ben, Westminster Abbey, St. Paul's Cathedral, Buckingham Palace, Trafalgar Square, Piccadilly Circus, Tower of London, the Royal Guards… Below are our kids' favorites.
Our boys were super excited to see the Big Ben Tower for the first time. However, it was Tower Bridge that left the biggest impression on them.
They also enjoyed watching the Royal Guards. When one of them started to march, our boys would march next to him. I don't how the guard managed not to laugh (I guess they are trained for that), but everyone else found it hilarious.
Let's hear from the kids: I'm glad I finally saw my tower (Ben)! And… I can't believe we couldn't make those guards laugh, not even a smile. And… I wish they had those red phone booths here in Belgium – I just picked up the receiver and someone was talking to me on the other side of the line.
LEARN MORE: Top London Attractions (The VERY BEST Things to Do in London)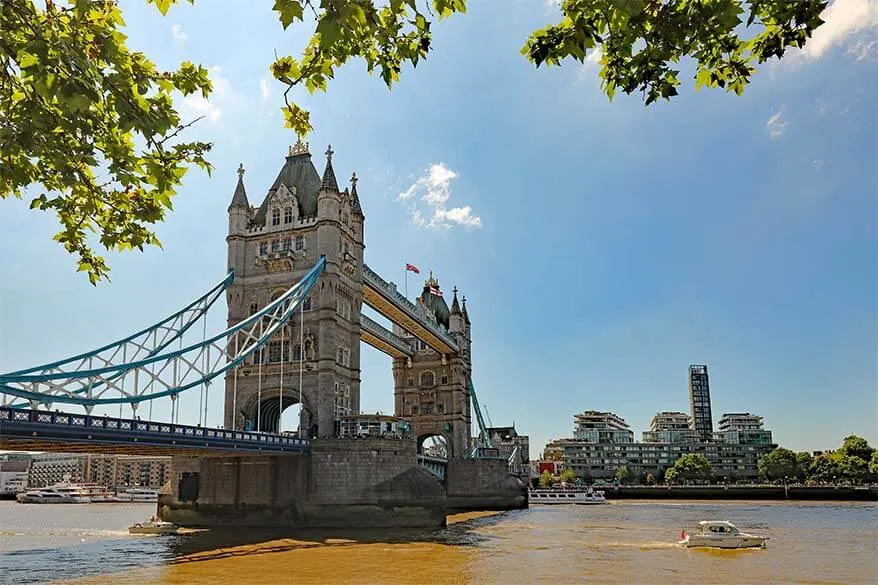 9. Toy Stores of London
London has so many stores that are an attraction in itself. You really should try and visit a couple of these shops with kids! Our kids loved the LEGO store and the M&M's store (both on Leicester Square); they could spend hours there!
Another favorite was the toy department at Harrods. However, all of us were just as much impressed with the Harrods' fish and fruit departments, Egyptian escalator, and their luxury elevators.
One more store that children will love is the 6-floor high largest and oldest toy store in the world – Hamleys. Hamleys is said to be the only store that sells the Playmobil or LEGO Royal Guard figurines (although I think it might have changed now as I found them on Amazon UK
too ;)).
Even I found all of these London shops really worth visiting; needless to say, our kids were beyond excited! There is so much action there, especially in the toy departments, that it's really something you should do when visiting London with kids!
Just try to agree on the budget before you go! We managed to go home with just a sword from Star Wars
and a LEGO racing car
each so not too bad considering how much fun you get in return.
Let's hear from the kids: There were way too many toys, could never choose what to buy (luckily for mom and dad!). In the Lego store, we could build our own Lego and then have a Star Wars fight using swords made of Lego blocks. Oh, and that colorful m&m's wall – never seen so many sweets in my life! They said it was the world's biggest candy wall.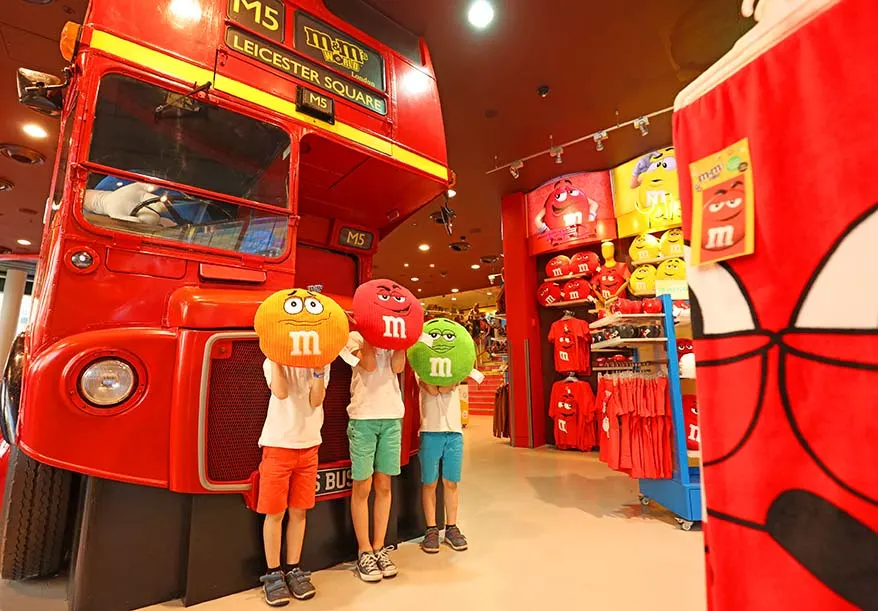 10. London Parks and Playgrounds
London has many parks and playgrounds that offer perfect opportunities to relax for the whole family. Our kids' favorite was the Jubilee Gardens playground at the foot of the London Eye (and close to our fantastically located hotel).
Another great park in central London is St James's Park, close to Buckingham Palace.
The nicest area of Hyde Park is probably the area around Serpentine; you can even go boating there.
Let's hear from the kids: The parks were great, as it was too hot in the city. And… Remember that squirrel that ran away with a piece of my cake!!! And… There were so many ducks everywhere, we also saw seven baby swans. And… That playground at London Eye had so many spider webs to climb, some parts were really challenging.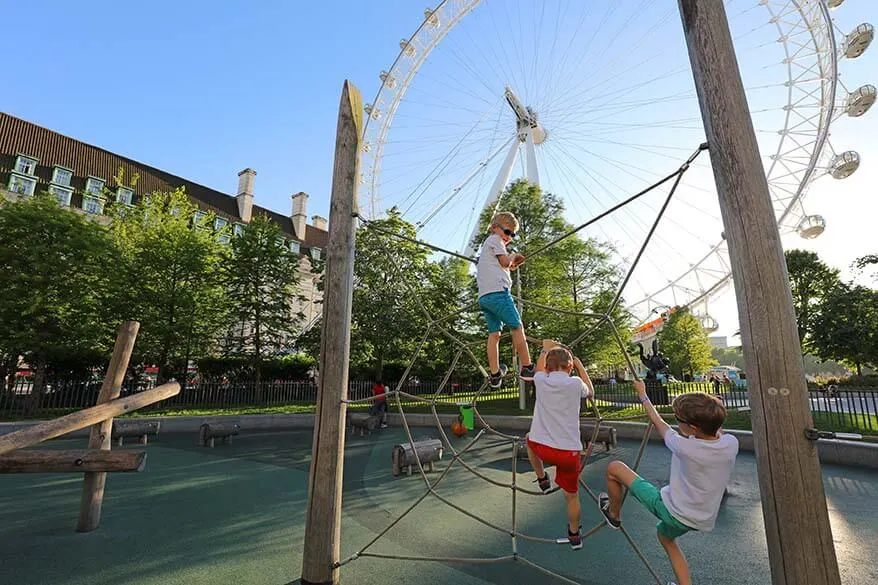 11. Family-friendly Musicals
Going to see at least one musical is a must in London, with or without kids. We always enjoy it a lot!
Some of the best family-friendly musicals running in London at the moment are Lion King, Aladdin, and Matilda.
TIP: Book your London musical tickets in advance, that way you can choose seats and show times that suit your family best. Via this link, you can also see up-to-date information on which musicals are running during your visit.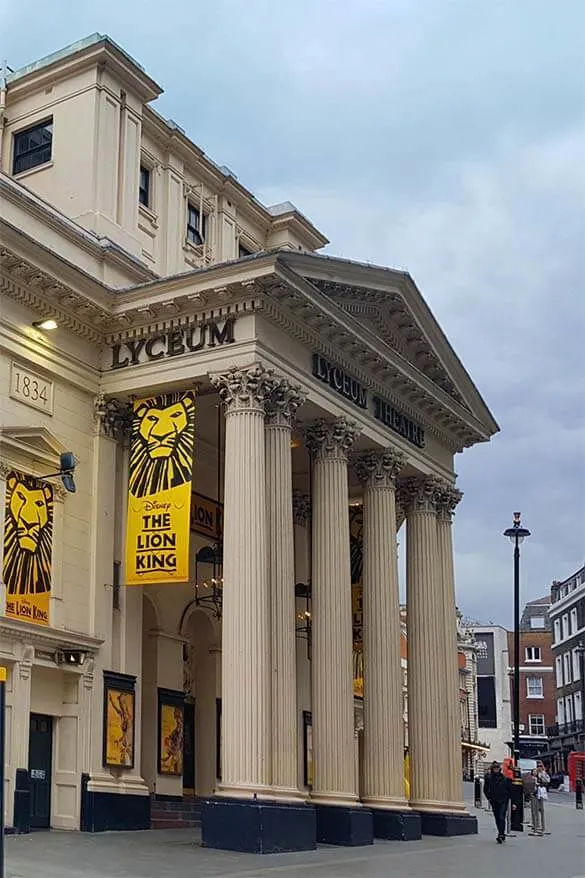 12. Harry Potter Filming Locations & Studio Tour
This is one thing we didn't get to do in London with kids because they were simply too young for Harry Potter at the time of our visit. Also, they didn't speak English yet…
However, if you are in London with somewhat older kids, I really think that visiting at least some of the Harry Potter filming locations would be the highlight of their trip!
There are Harry Potter filming locations walking tours in the city and also bus tours that cover all the main Harry Potter sights in London.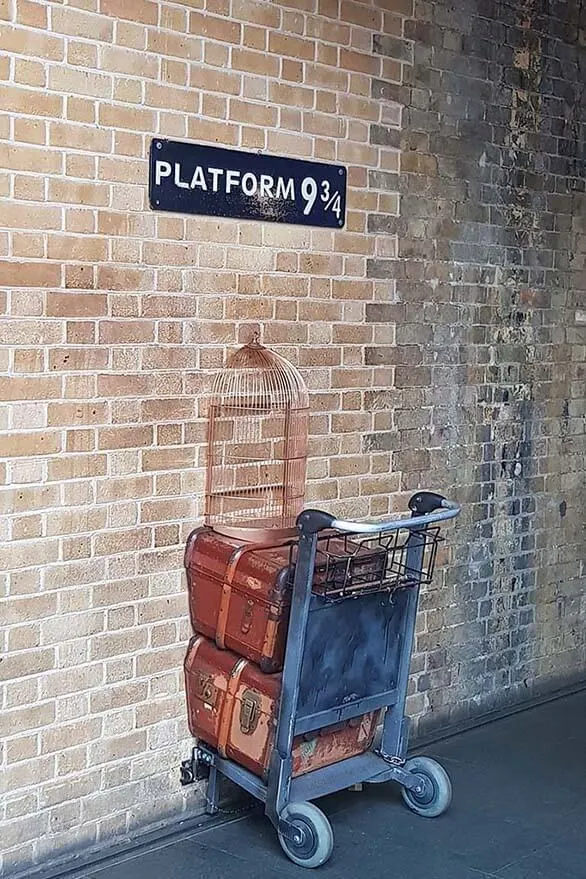 However, if you have a day to spare, by far the best thing you can do is take The Making of Harry Potter at Warner Bros. Studio Tour near London. The studios are located just outside the city, but most tours include bus transfers.
This highly-rated Harry Potter at Warner Bros. Studio Tour departs from Victoria Coach Station in the city center. There is also a tour departing from King's Cross.
Now that our kids are older and have seen all the Harry Potter movies endless times, this is the first thing on our list when we go back to London with kids next time!
Everyone I know who's done this Harry Potter studio tour in London said that it was an amazing experience for the whole family, and is well worth the time and the money.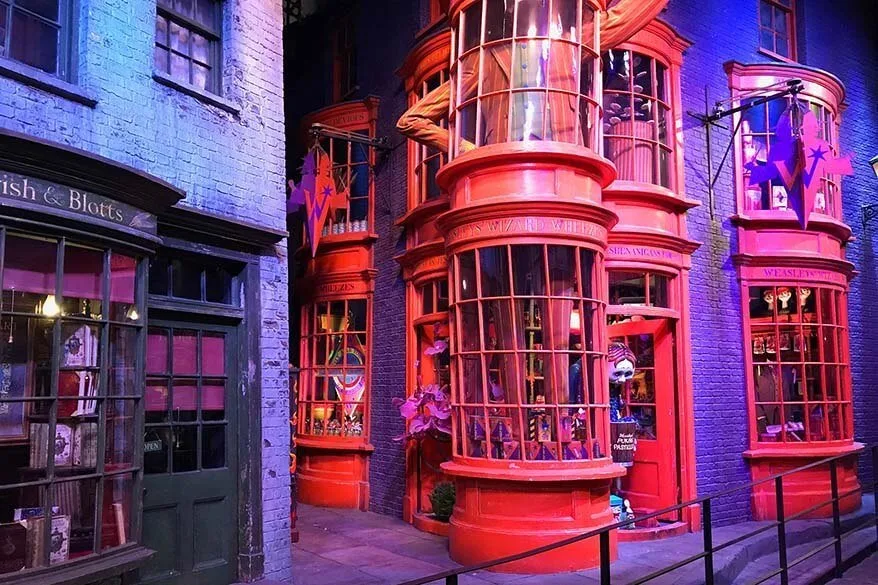 12+. More ideas for things to do in London with kids
As I said, London has so much more to offer for families with kids than we included in this list. You could stay here for a month and still not see everything that you want to…
Here are some more ideas for the things we really wanted to see and do in London with kids but didn't have the time for. Take a look – maybe you'll find some additional inspiration for your family trip to London!
But also the other London attractions that are away from the city center (but rather easy to get to):
READ ALSO: How to See the Best of London in 2 Days
Where to stay in London with kids
In order to get the most of your family vacation in London, it's best to stay in the city center, within walking distance to the main attractions.
We recommend Park Plaza Westminster Bridge London for families visiting London with kids. This hotel has an excellent location close to the London Eye and Westminster Bridge which is perfect for exploring London with kids. It also has really spacious family rooms for up to 4 people (some with views of Big Ben) and even an indoor pool. Also, the price is usually very reasonable for London, definitely for the location and the quality that you get in a 4-person family room.
Other good choices in this location are:
READ ALSO: Where to Stay in London
TIP: Using the map below, you can compare various accommodation options all over London. Simply insert your travel dates and family size, and you'll quickly see what's available for your travel dates and budget. Check it out!
So, this is our guide to the best of London for kids and families. Hope you found it useful! Make sure to also read our guide to London off the beaten path (incredible hidden gems!) and tips for visiting London for the first time.
More travel tips and inspiration for all over the UK:
READ ALSO: Best Traditional British Food. You definitely have to try some local dishes when visiting London with kids!
If you found this post useful, don't forget to bookmark it and share it with your friends. Are you on Pinterest? Pin these images!