With so many National Parks to choose from in the United States, how do you know which ones are best suited for a family trip… To help you decide, I asked fellow travelers to share their experiences visiting some of the best USA National Parks with kids; I also included a few of our family's favorites.
In this post, you will find information about family-friendly hikes, fun activities for kids, wildlife spotting, but also the best places to stay, and other practical tips to help you plan your family trip to some of the best American National Parks for families.
We listed 16 National Parks across the United States that are a great choice for an active outdoor vacation with your family. Each park is unique, just as every family has different ideas of what they expect from their visit. Therefore the national parks in this selection are sorted alphabetically because I really couldn't rank them based on the scenery, activities, or how family-friendly they are.
In my opinion, each single one of these great National Parks is worth a visit and will make for an unforgettable vacation for the whole family. Find out!
READ ALSO: Best National Parks in the USA
PRO TIP: If you are planning to visit several National Parks, get an annual America the Beautiful Pass. It is valid in all National Parks and 2,000 federal recreation sites across the United States for one year from the month of purchase. If you visit more than two National Parks in a 12-month period, this is cheaper than getting passes for each park individually.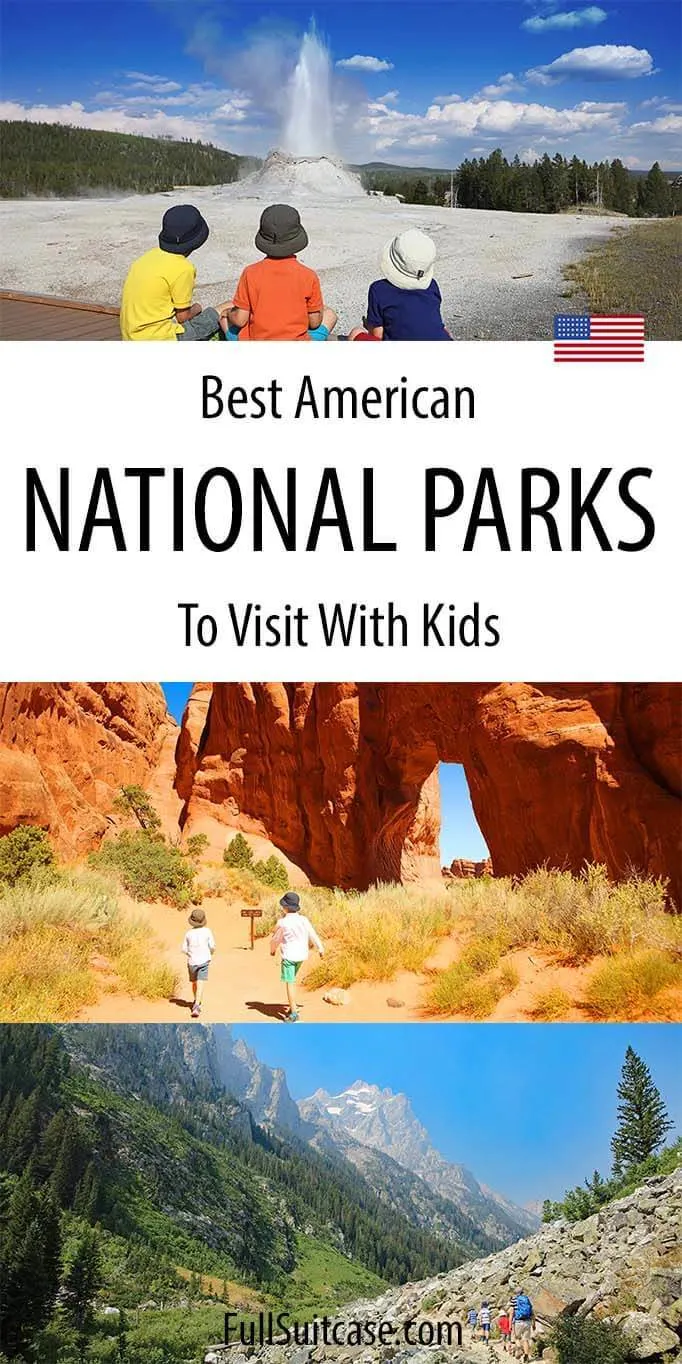 Here are some of the best National Parks to visit with kids in the USA:
1. Acadia National Park
Old-fashioned leisure at its best: whatever you choose to do, that's what you'll find at Acadia National Park along the Atlantic Coast in Maine.
Whether you're going for a drive along Park Loop Road, munching on a popover at Jordan Pond House, admiring the views from the top of Cadillac Mountain, or watching the sunset from Bar Harbor Lighthouse, Acadia is home to some of the best ways to relax among US National Parks.
This makes it an ideal park to visit with kids: plenty of easy strolls are available, and the park's main destinations are very well connected by Park Loop Road. No long hikes are required to visit the bulk of Acadia's most memorable spots.
Though plenty of great hikes are available (try the Beehive Trail if your kids are older and not scared of heights!), Acadia is less focused on adventure and long hikes than most US National Parks are.
It's more focused on simple ways to enjoy nature: carriage rides, sunset spots, and picnics are all on the menu here. Perfect place for a family vacation on the East Coast!
TIP: Book your family stay in Acadia in advance. Here you can find the best accommodation deals for Acadia NP.
LEARN MORE: Acadia National Park Itinerary & Travel Tips
Acadia is one of the top-10 most visited national parks in the U.S. and is recommended by Kate from Our Escape Clause.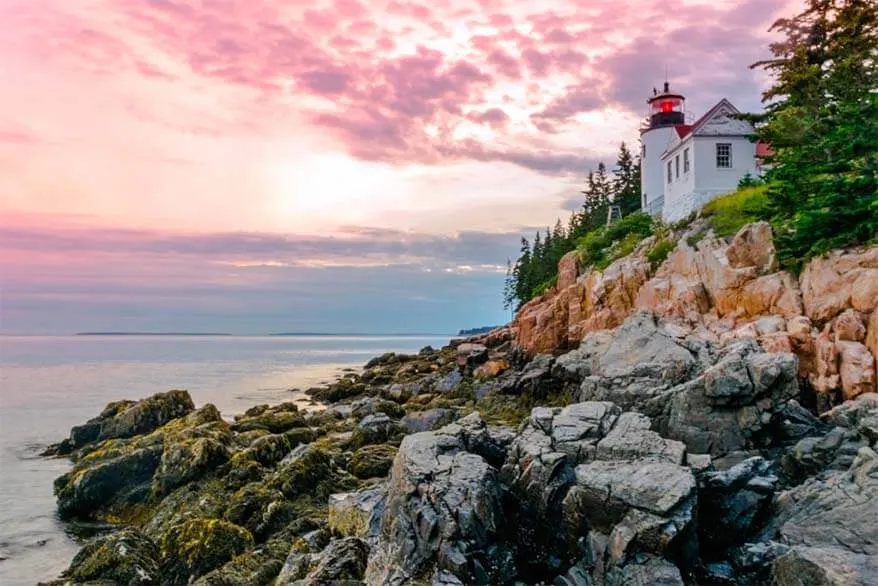 2. Arches National Park
Arches National Park surprised us beyond any expectations and the whole family fell in love with this park. Spectacular landscapes, most scenic drives, and epic hikes make Arches one of my top 5 must-see National Parks in the U.S.
It's very easy to visit Arches with kids of any age as many landmarks are located close to the road or require just a very short hike. Don't miss the easily accessible Balanced Rock, the Windows, and Double Arch. If your kids are good hikers, we highly recommend the most epic hike of the park – the Delicate Arch trail, as well as the hike to the Landscape Arch.
If you are lucky, you may even spot some wildlife; we saw some lizards, squirrels, and a cute little rabbit – kids loved it!
Another big advantage for families is that Arches National Park can easily be visited in any season. If you go in summer (like we did) it's really hot to do any hiking during the day, but you can see a lot just by driving the Arches Scenic Drive and stopping at the best viewpoints.
LEARN MORE: Best Things to Do in Arches National Park
We highly recommend a family-friendly rafting trip on the Colorado River near Moab. You can even jump into the water for a short swim – one of the best memories of the trip for our children!
TIP: Stay in Moab, close to the entrance of the park. This allows you to easily drive up and down and spend the hottest hours of the day in the swimming pool of your hotel and explore the park in the morning and then again in the evening. Here you can find our selection of the best Moab hotels near Arches NP
Arches National Park is one of our family's personal favorites.
READ ALSO: Best Things to Do in Arches NP with Children
Good to know: A visit to Arches NP can easily be combined with that of the nearby Canyonlands NP. Here you can read our suggestions on the best way to visit Arches & Canyonlands in just a day.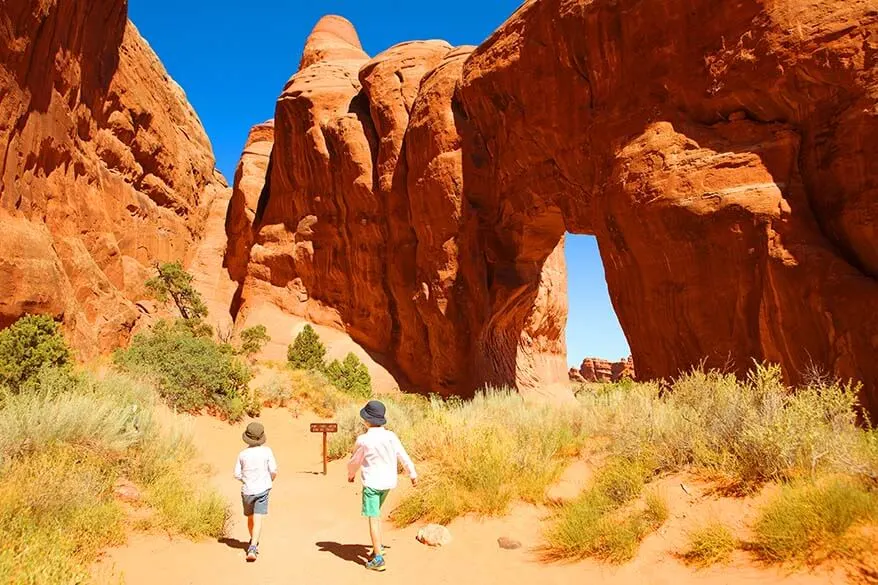 3. Bryce Canyon National Park
One of Utah's famed 'Mighty Five', Bryce Canyon National Park is on the bucket list of many family travelers and rightfully so. The unique landscape of its recognizable hoodoos makes for amazing photographs and breathtaking scenery.
Elementary-aged kids can easily hike the 2.9 mile Navajo and Queen's Garden Loop to get an up-close look at the majestic formations. There are also ranger programs, horseback riding, and many other activities for the whole family. Just be sure to pack plenty of layers because the park's extreme elevation change can mean highly variable temperatures.
There's only one hotel within the park, the Bryce Canyon Lodge, which books up months in advance and can be pricey. Families may find the less expensive accommodations just minutes away north of the park's entrance a better fit.
Bryce Canyon is recommended for families by Leslie from Trips With Tykes. Here you can find more information about visiting Bryce Canyon.
READ ALSO: Itinerary for Bryce & Zion National Parks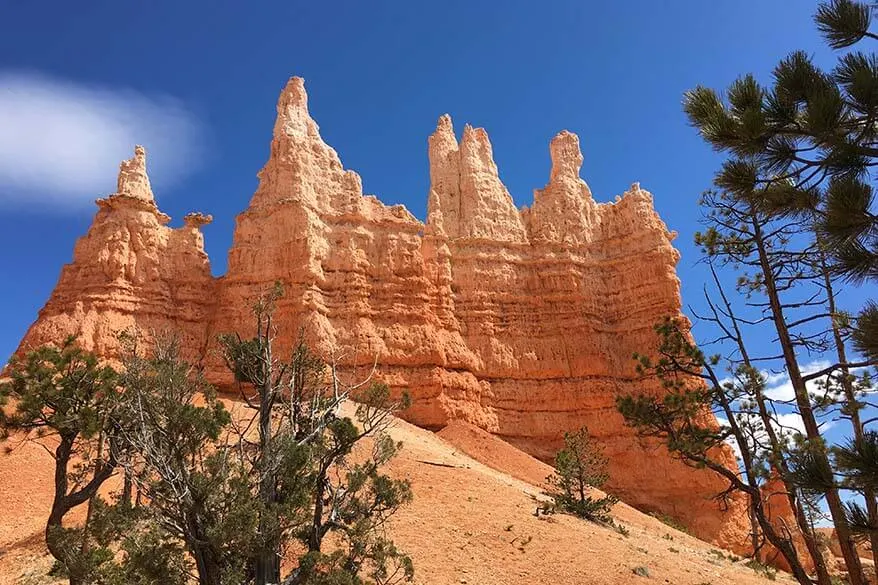 4. Death Valley National Park
Death Valley is an other-worldly paradise that will WOW your family. Feel like you're on a Star Wars set when exploring the Mesquite Flat Sand Dunes. Your kids will love sliding down the never-ending dunes! You'll never forget the Devil's Golf Course full of jagged spires of rock salt eroded by eons of wind and rain.
A must-do highlight is exploring the Dali-esque Badwater Salt Flats where the dynamic geometric designs created by nature can be seen for miles….and you are at 282 feet below sea level! Kids will delight in trying to lift the large chunks of salt!
A leisurely nine-mile one-way drive along Artist's Drive is incredible. Another highlight is relaxing on a bench overlooking spectacular Zabriskie Point. In one day you can see a lot of this park, but you can also spend weeks and never see it all. With surprises at every turn, Death Valley is my family's favorite national park.
Remember Death Valley is full of extreme weather and rough terrain so take precautions before visiting.
TIP: Book your lodging in advance as there are limited options. Here you can find the best deals for accommodation near Death Valley NP. Alternatively, stay in Las Vegas and come to Death Valley for a day. This is one of the most popular day trips from Las Vegas.
READ ALSO: Best Things to Do in Death Valley
Recommendation by Lisa from Hilton Mom Voyage & We Said Go Travel. Here you can read more about visiting Death Valley with kids.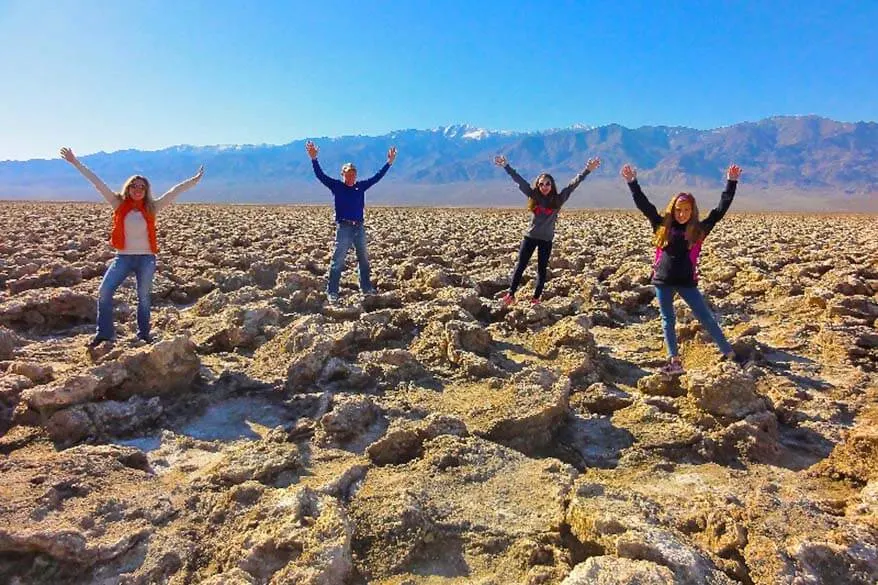 5. Everglades National Park
At over 1.5 million acres, Everglades National Park is the third-largest National Park in the lower 48 states making it larger than Grand Canyon, Glacier, and Yosemite National Parks. While many might think it's just a swamp, it's actually a diverse ecosystem that's also a lot of fun to explore.
Stop by the Shark Valley Visitors Center on the East and book a 2-hour tram ride through the park or bike the trails. To the West, the Gulf Coast Visitors Center serves as a jumping-off point for exploring the park via canoe or kayak.
Our absolute favorite thing to do in Everglades with kids is going on an airboat tour through the mangrove jungles. It's the best way to get around the marshy grasslands and the waterways in the park. It will be a highlight of your visit!
TIP: You can easily visit Everglades National Park from Miami, or you can opt to stay a bit closer to the park entrance.
Submission by Carrick from Along for The Trip. Here you can read more about visiting Everglades with kids.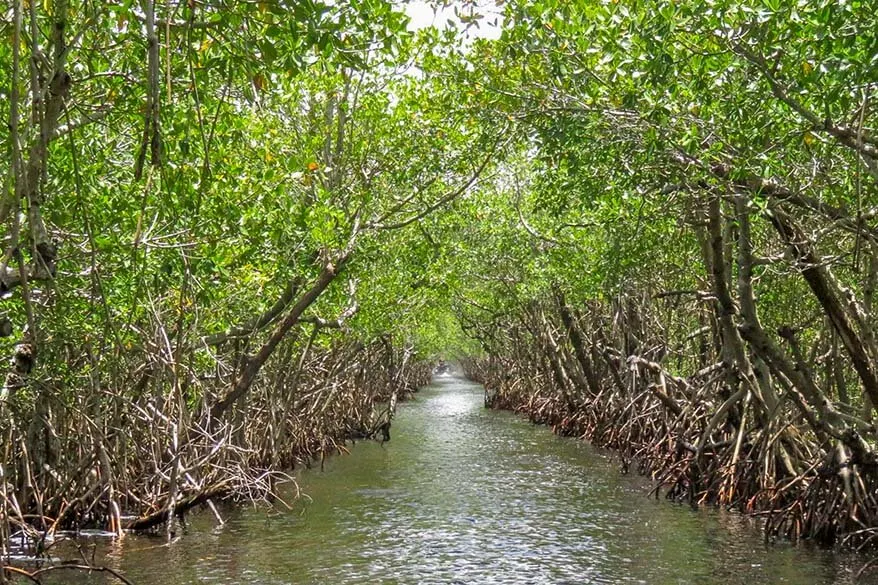 6. Glacier National Park
The remoteness and beauty of Glacier National Park in northwestern Montana must be experienced to be believed. With over a million acres and only one road crossing the entire park, most of the land is only accessible on foot.
You'll find plenty of family-friendly activities throughout the park. With young children Lake McDonald is fascinating. Multi-colored rocks sparkle beneath the clear glacial waters. Rent kayak or stand-up paddleboards to explore this peaceful lake.
The Trail of the Cedars is an accessible trail, easy and perfect for anyone. The extension to Avalanche Lake is not ADA accessible, but a good trail for families ending at a pristine lake filled by mountain waterfalls. Best tips for this trail: go after 4 pm when the park begins to empty.
For a more challenging trail, travel to the east side of the park and hike to Grinnell Glacier. The 11-mile hike is steep in spots, so I don't recommend tackling it with kids under 10, but the views are breathtaking. Start this hike as early as possible!
Be sure to book ahead to get seats on a Red Jammer tour. The narrated tour of Going to the Sun Road is great for all ages! The kids will love the seats in the far rear, set away from everyone else. These iconic buses have been driving tourists through the park since 1936 (yes, these are the original buses!).
For a great adrenaline rush with kids 5+ go white water rafting from West Glacier.
TIP: If visiting in summer, book your Glacier NP accommodation well in advance.
Recommended by Jody from Camping Tips For Everyone.
READ MORE: Glacier National Park Itinerary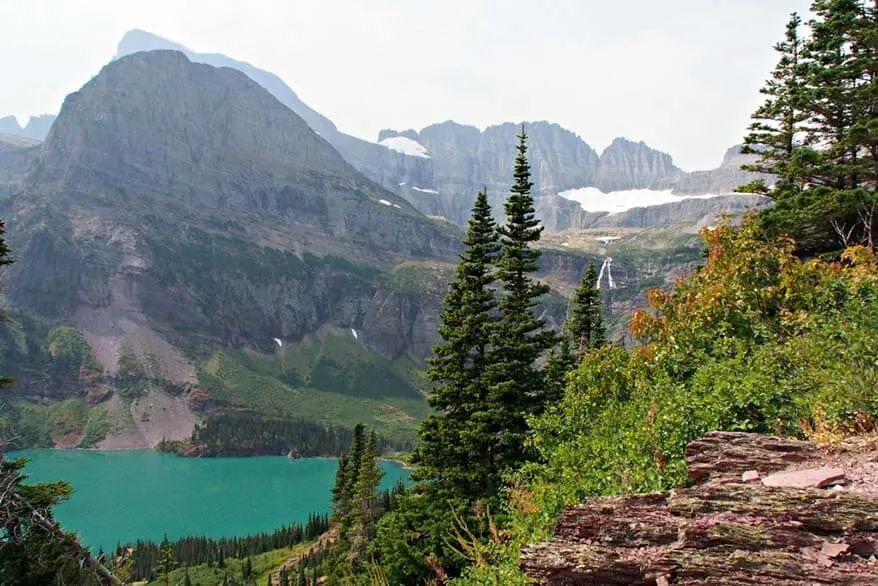 7. Grand Canyon National Park
Grand Canyon National Park in Arizona, true to its name, is amazingly GRAND. It can best be explored from the North, South, and West Rims. The South Rim is open year-round while North Rim is closed in winter. At South Rim, you'll be able to drive along Desert View Drive, a 25 mile stretch of road that runs along the canyon's edge, with views over the Colorado River.
It is also one of the best places in the country to go stargazing (one of my favorite things to do with kids). Every glimpse has its own peculiar glow, hue, and outlook on the canyon's labyrinthine topography. Don't miss the sight of canyon ablaze with shades at sunrise and sunset.
Trail of Time at Yavapai point – a teeny-weeny hike (a little over a mile) to understand the geological history and Junior Ranger Program are free and fun activities for kids. For adventure-seeking teenagers, river rafting in Colorado adds to the thrill. Visit to the Grand Canyon is pure wilderness and a great learning experience for kids of any age.
TIP: Staying (camping or lodging) within the park is best, but you have to book in advance. Here you can find our complete guide to the best places to stay in and near Grand Canyon.
Grand Canyon is a family trip recommendation by Neha and Anjali from Travel Melodies.
READ MORE: How to See the Best of Grand Canyon in One Day & Grand Canyon Antelope Canyon Itinerary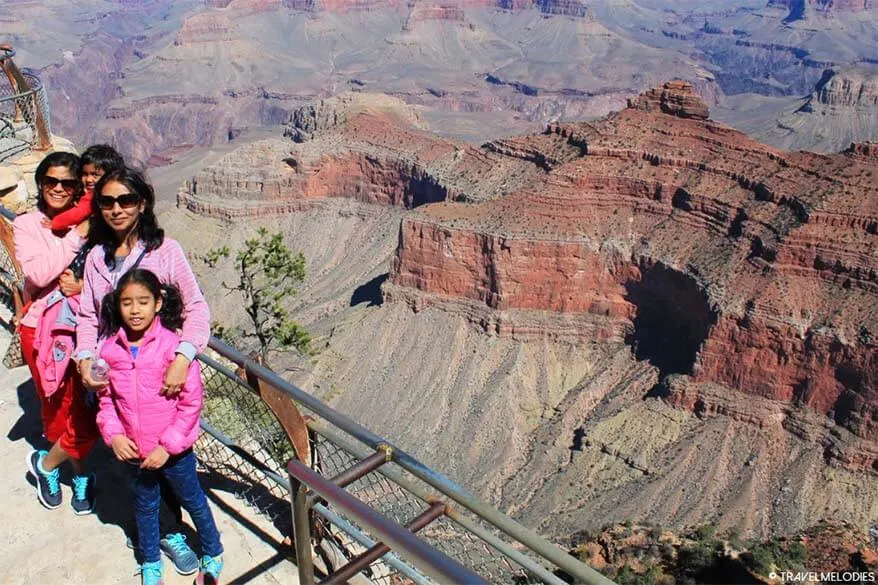 8. Grand Teton National Park
Grand Teton National Park is often overlooked or shortchanged in favor of its massive neighbor to the north, Yellowstone. But if you are looking for stunning scenery, mountain hikes, and beautiful lakes, then Grand Teton should be your choice — a stark contrast to the flatter, more arid Yellowstone. Get an early start as parking lots for popular hikes fill up early.
There are many great hikes with kids, but my favorite would be to take a boat ride across Jenny Lake and then hike up to Inspiration Point. The trail isn't too steep and offers many viewpoints across the lake along the way. The very top is a bit narrow and has a steep drop off so it's better for families with older kids (keep a close hold on younger children).
The most picturesque spots in the park must be Oxbow Landing, Schwabacher Landing, and from the top of Signal Mountain. If you get there early in the morning, you may spy some moose at Schwabacher Landing and kids will love seeing the herds of bison as you drive through Elk Flats.
TIP: Jackson Lake Lodge is the most stunning place to stay inside the park, but it is also easy enough to stay outside in the adorable town of Jackson, Wyoming, and take day trips into the park.
Recommendation by Tamara from We 3 Travel. Here you can find more information about visiting Grand Teton NP.
READ MORE: One Day in Grand Teton NP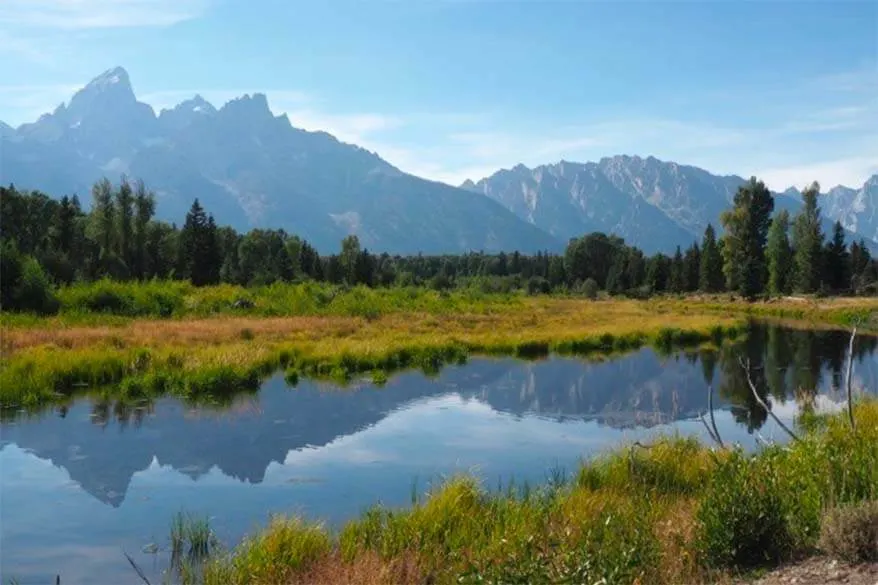 9. Great Smoky Mountains National Park
Straddled along the border of Tennessee and North Carolina, the Great Smoky Mountains National Park is the #1 visited National Park in the US and a UNESCO World Heritage Site. Most of the eastern United States can reach the park in less than a days drive, making it great for families traveling with kids.
Beyond the ease of getting to, the park has many hikes, some to waterfalls, that are relatively easy for any fitness level. Kids will feel encouraged and have fun discovering new planets and seeing new animals on these easier hikes.
Our favorite activities are hiking up to Clingman's Dome (great for sunsets), biking through Cades Cove, visiting in June when the fireflies are out and lit up the night sky, and go horseback riding along the river.
Recommended by Jade from Vagabond3. Here you can find more information for your visit to Great Smoky Mountains National Park.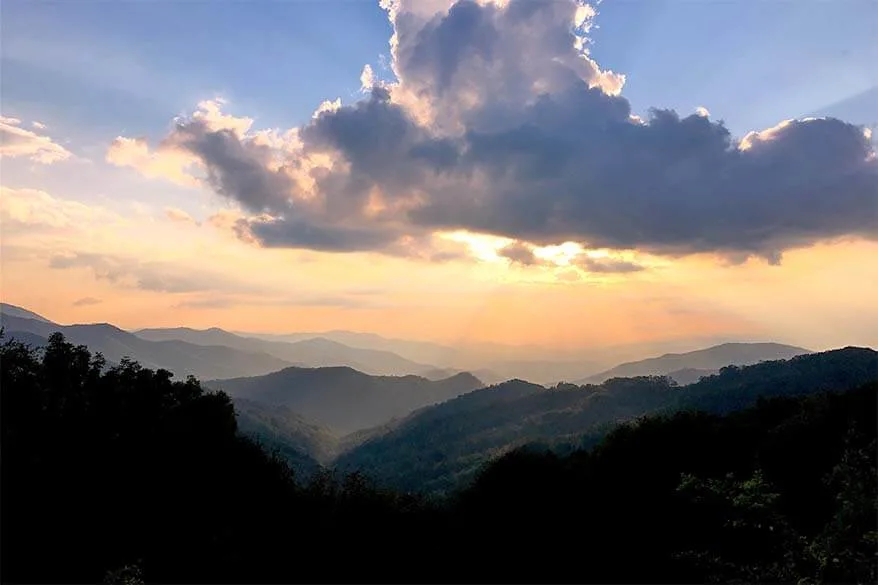 10. Hawaii Volcanoes National Park
Home to two of the world's most active volcanoes, Hawaii Volcanoes National Park on the Big Island is one of the best places for kids to explore and learn. Our family loved the stunning landscapes that included lava fields, craters, sulfur banks, steam vents, and tropical rainforest.
The park's two main roads are the ideal way to see everything. Crater Rim Drive ends at Jagger Museum where you can see the Kilauea caldera smoking and lava flows. In the past, you could see lava glowing, but it's not the case after the most recent eruption.
Chain of Craters Road is a 38-mile roundtrip drive that passes through dried lava fields, petroglyphs, agricultural remains. It ends at the coastline for spectacular, panoramic ocean views. Keep your eyes open for the endemic and endangered Hawaiian goose or Nene.
Families will enjoy the walk through the Thurston Lava Tube. We also recommend to hike or bike to see where lava ran into the ocean for truly unique experiences. Boat and helicopter tours are also available. Volcanoes NP is such an incredible and unique park – highly recommended, with or without kids.
TIP: You can visit Volcanoes NP as a day trip from anywhere on the Big Island Hawaii. Organized tours are also available.
Suggestion by Mary from The World Is A Book. Here you can find more information about visiting Hawaii Volcanoes NP with kids.
READ ALSO: Maui Itinerary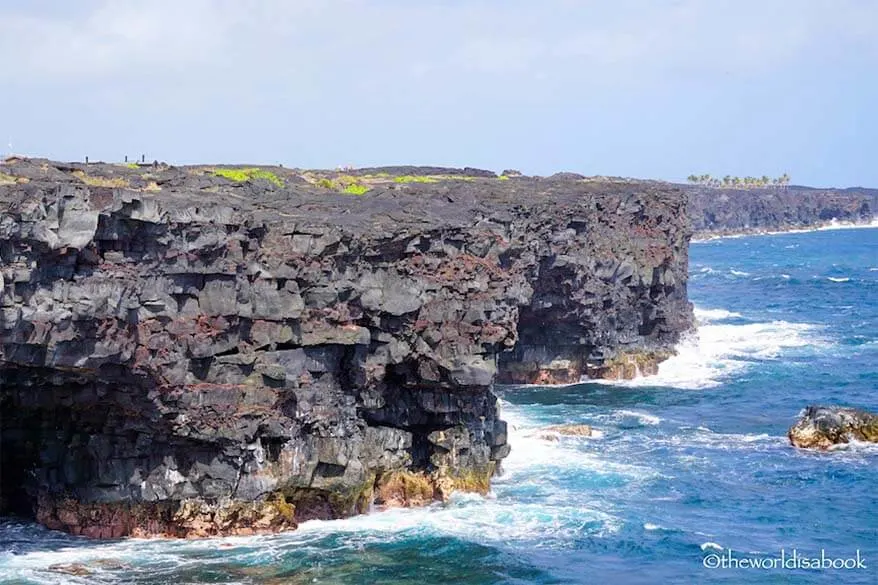 11. Mount Rainier National Park
The nation's fifth oldest national park, Mount Rainier National Park, is an ideal place for a family visit during any time of year. The park offers a plethora of family-friendly hikes with panoramic mountain views of the peak (14,411 feet high), cascading waterfalls, and peaceful walks through old forests.
The Paradise Visitor Center to the south is the most popular side to visit with its stunning peak views and views of the nearby Tatoosh Mountain Range. The Myrtle Falls hike at Paradise is an easy, stroller-accessible, 1-mile walk to see a 72-foot tall waterfall.
In late July or August, take the Skyline trail at Paradise or the Sourdough Ridge Trail at Sunrise to see wildflowers dot the landscape in every color and trails with more elevation gain & panoramic views for older kids & teens.
For a change of pace head to the relaxed & easy 1 mile Grove of Patriarchs trail at the south end of the park, with a picturesque bridge and old-growth forests.
During the winter, Paradise is filled with plenty of winter sports opportunities, due to the average 643 inches of snow they receive a year.
Snowshoeing, cross-country skiing, and sledding are all popular winter activities at Mount Rainier National Park. Summer or winter, Mount Rainier is a great choice for a family trip with kids of any age.
Mount Rainier is recommended by Jen from Thrifty NW Mom. She lives nearby and visits the park multiple times a year. Here you can find more information for visiting Mount Rainier NP.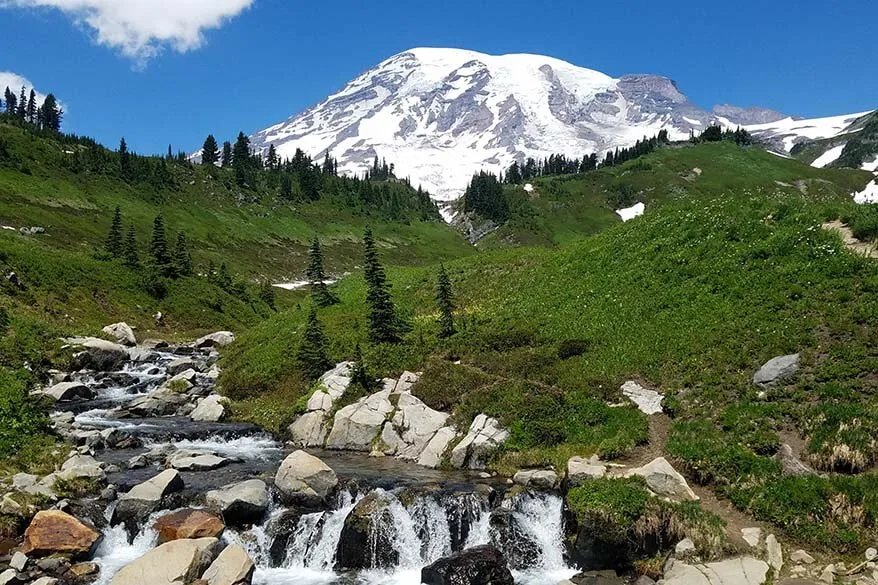 12. Olympic National Park
Olympic National Park is one of the best USA National Parks to visit with kids. It's also one of the most diverse parks in the US – with glacier-topped mountains, lakes, waterfalls, a Pacific coastline, and a temperate rainforest.
Our favorite activities include hiking Hurricane Hill at the Hurricane Ridge Visitor's Center to see fluffy marmots, mountain goats, and sweeping views. There are many places on the coastline to see the starfish and sea anemones in tide pools.
The Hoh rainforest has great, short hikes in the mossy, lush trees. If you are lucky, you might see the elk herd there as well. Other family-friendly activities include boating and fishing.
Recommendation by Lisa from The Hot Flashpacker.
READ MORE: Olympic National Park Itinerary & Travel Tips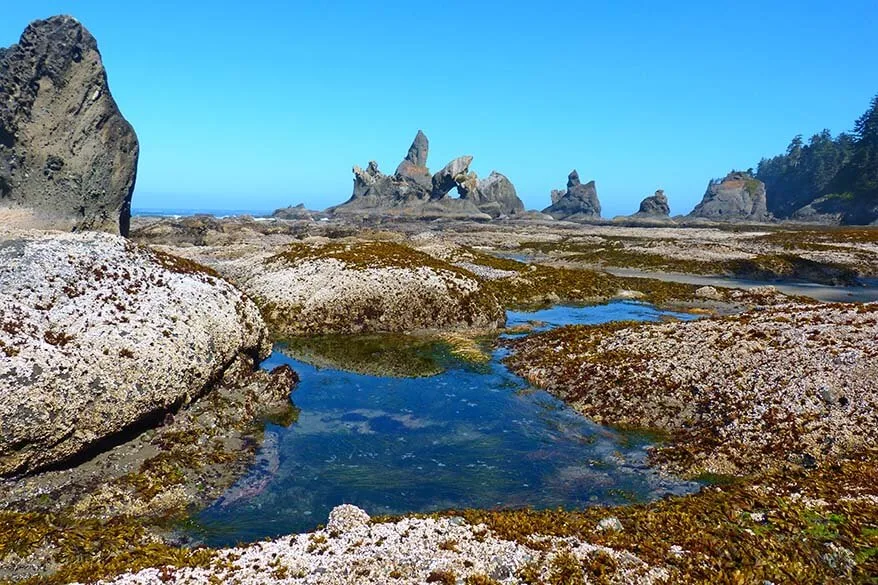 13. Rocky Mountain National Park
With so much to see and do in Rocky Mountain National Park, you could spend your entire summer within its 415 square miles. Less than two hours from Denver, Colorado, your family-friendly road trip to Rocky Mountain National Park takes you to the top of the world with peaks rising over 12,000 feet!
Drive Trail Ridge Road to discover the park's alpine tundra, known as the land above the trees – this will become one of your favorite road trips on the 'highway to the sky'.
Other not-to-miss things to do and see in the Rock Mountain National Park are: wildlife watching (with elk herds of over 800!), family-friendly hikes (my favorite is Adams Falls in Grand Lake, where even toddlers enjoy the scenery), ranger-led programs and more.
TIP: Start your park adventure at either of its book-ending gateway towns: Estes Park (eastern side) and Grand Lake (western side)—both good base camps to explore the park. Here you can find our complete guide to the Rocky Mountain National Park hotels.
Recommendation by Diana from Traveling In Heels. Here you can read find more tips for visiting Rocky Mountain NP.
READ MORE: Rocky Mountain National Park Itinerary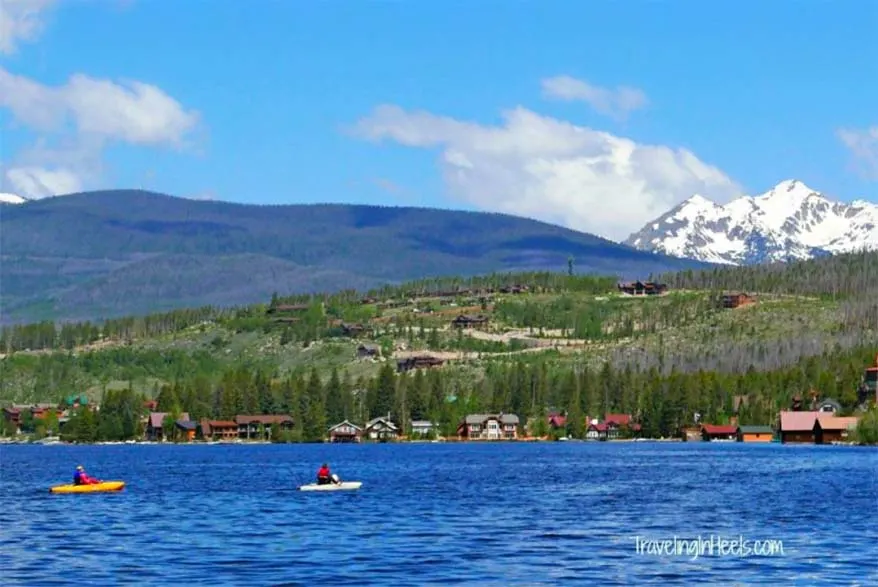 14. Yellowstone National Park
Yellowstone National Park is one of our absolute favorite U.S. National Parks to visit with kids. It's so diverse that you never have trouble keeping the children entertained.
What kid wouldn't love to see geysers in action, go looking for rainbows at the waterfalls, admire the incredible colors of the hot springs, or look for wildlife! And talking of wildlife, did you know that you can see thousands of bison just next to the road in Hayden or Lamar valleys…
But our favorite place in Yellowstone has nothing to do with the highlights of the park. By coincidence we discovered the Boiling River, a kind of natural hot tub – how cool is that! The whole family truly enjoyed swimming in the warm river and I would recommend this unforgettable experience for every family.
It's impossible to shortly summarise all that Yellowstone has to offer. But rest assured, whatever your interests or travel style, Yellowstone makes for a great family vacation outdoors.
TIP: Yellowstone accommodation is bookable 18 months in advance and if you want to stay inside the park, you have to be quick to secure a reservation, especially if visiting in summer. There are also some nice alternatives outside the park. Here you can read more about the best Yellowstone accommodation options.
Yellowstone is our personal no. 1 US National Park for families with children. Here you can find all our recommendations for the best things to do in Yellowstone with kids.
READ MORE: Best Things to Do in Yellowstone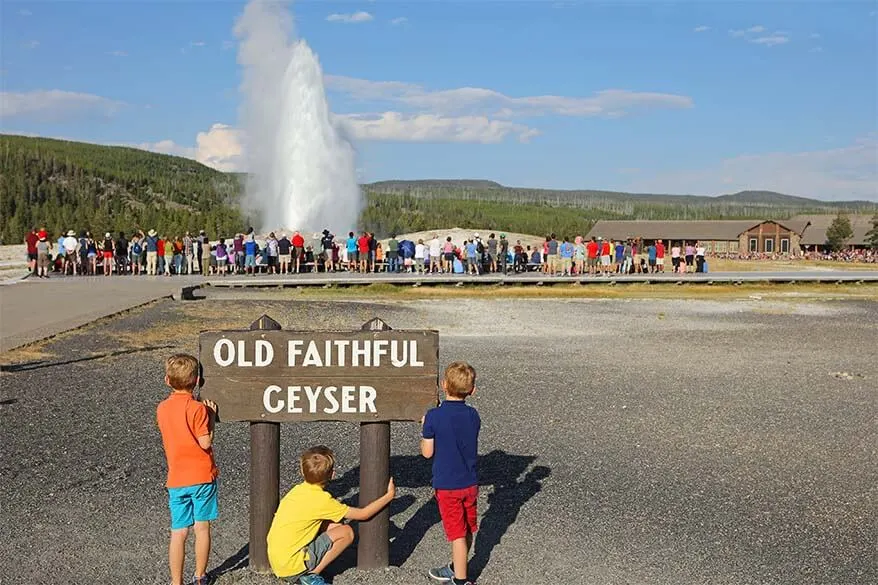 15. Yosemite National Park
At first glance, Yosemite National Park may not seem like an ideal family vacation spot. The most recognizable symbols are El Capitan and Half Dome, which are favorites of daring rock climbers and experienced hikers.
While rigorous adventures were not in our plans when visiting with two and 4-year-old boys, we thoroughly enjoyed the views of these granite cliffs from Yosemite Valley and Glacier Point. We loved our time in Yosemite!
We hiked the kid-friendly trails to Bridalveil Fall and Mirror Lake and were dazzled by the giant sequoia trees in Mariposa Grove. The trails to the Grizzly Giant and California Tunnel Tree are easily accessible. Our kids loved the Junior Ranger activities and badge program and had a wonderful time exploring natural beauty in Yosemite.
Recommendation by Catherine from We Go With Kids. Here you can find more information about visiting Yosemite NP with children.
LEARN MORE: Yosemite Travel Guide & Tips for Your Visit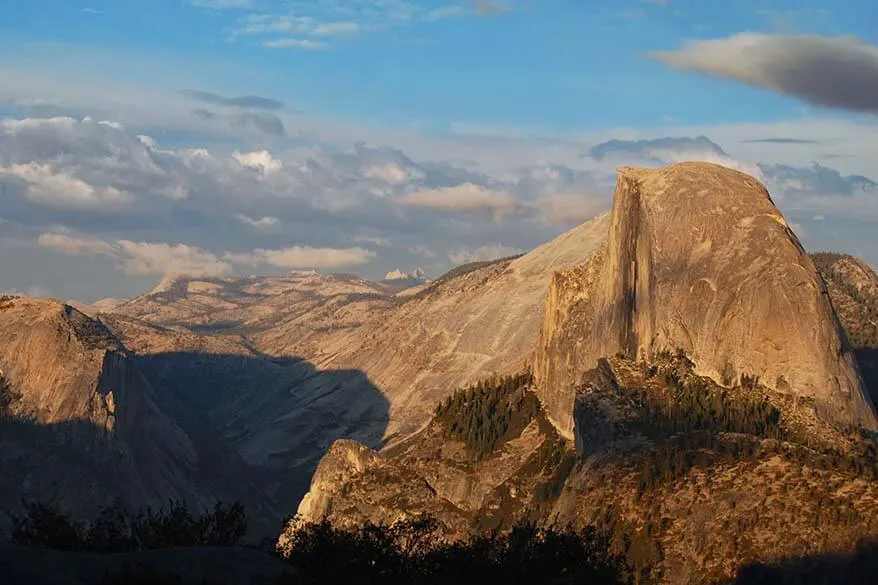 16. Zion National Park
Zion National Park is one of the NPS's best-kept secrets. It's a park where you can fully immerse yourself in nature, rather than just obverse it or see it from afar.
If there is only one thing you do at Zion, it must be hiking the Narrows. One of the most unique hikes you will ever do starts on dry land, before taking you right down the middle of a beautiful river cutting through skyscraper tall canyons. It's a mesmerizing experience and one that even families with small kids can enjoy. Apart from the Narrows, there are a plethora of things to do here from beautiful family-friendly hikes to hanging out at the Nature Center.
Whether you stay in the Zion or in Springdale hotels just outside the park, the area provides great access to amazing eateries. Don't miss Zion Pizza & Noodle Co and various shops to keep everyone happy when you aren't on the trails.
TIP: Plan to spend a lot of time enjoying the river in all its many openings. Catch tadpoles, swim, float, and play in it. Zion National Park is unlike any other – it will keep you coming back for more!
Zion NP is recommended by Karilyn from No Back Home. On her blog, you can read more about visit Zion NP with kids.
READ MORE: Best Hikes in Zion National Park & Zion to Bryce Canyon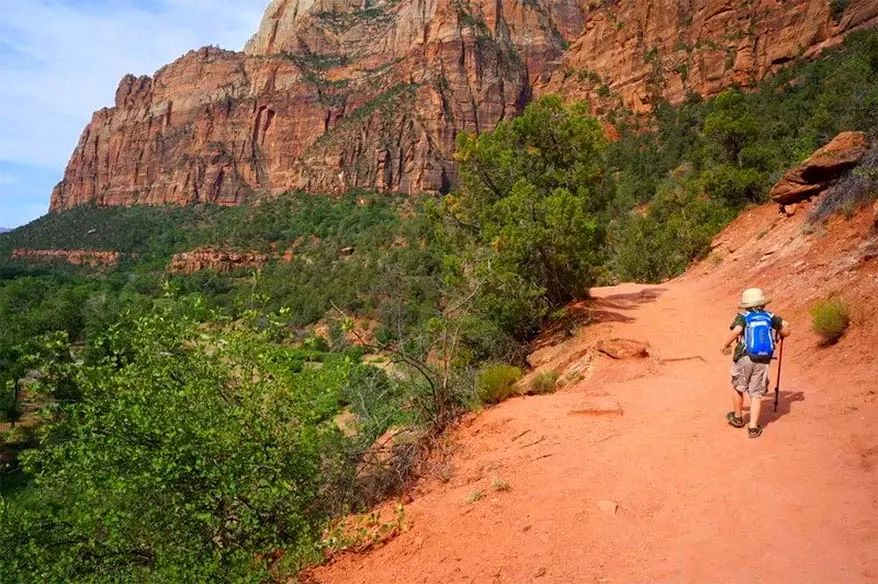 So, this is our guide to the Best National Parks for kids. As you can see, there is plenty of inspiration when it comes to choosing which American national park to visit with your children or grandchildren.
I hope that this post will inspire you to take a family trip to at least one of these amazing and family-friendly National Parks. If you are looking for more off-the-beaten-path places, please make sure to also check our other article that focuses on more off the beaten path, lesser-known National Parks for a family vacation.
What's your family's favorite national park in the US? Please leave a reply below and let us know!
READ ALSO: Spring Break Vacation Ideas (USA)
More National Parks travel inspiration:
If you found this post useful, don't forget to bookmark it and share it with your friends. Are you on Pinterest? Pin these images!