Looking for information on the best places to see and things to do in Arches National Park (Utah, USA)? In this guide, we cover all the must-sees that you really shouldn't miss when visiting Arches NP. Take a look!
Arches National Park in Utah is one of the most beautiful National Parks in the United States. With over 2.000 natural stone arches and jaw-dropping sceneries, it's one of the bucket list destinations in the U.S. The stunning landscapes here will take your breath away!
But what are the best things to do in Arches National Park? In this article, we share the very best places to see in Arches. From scenic viewpoints to the most beautiful arches, and the best easy hikes that everyone should be able to do. This list also contains the most beautiful moderate hikes that are worth your time the most.
The good thing about visiting Arches is that the majority of its main landmarks are easily accessible or require just a short walk of a few minutes. Furthermore, Arches NP can be visited at any time of the year.
So no matter when you visit, and whether you hike or not, you'll be able to see some extraordinary landscapes here. This list and our custom-made map will help you decide where to go and guide you to all the must-see places in Arches. Find out!
How to use this map: Use your computer mouse (or fingers) to zoom in or out. Click on the icons to get more information about each place. Click the arrow on the top left corner for the index. Click the star next to the map's title to add it to your Google Maps account. To view the saved map on your smartphone or PC, open Google Maps, click the menu and go to 'Your Places'/'Maps'. If you want to print the map or see it in a bigger window, click on 'View larger map' in the top right corner.
These are the best things to do in Arches National Park:
1. Drive the Arches Scenic Drive
Driving the Arches Scenic Drive is the best way to explore Arches National Park. This 18-mile road (22 miles, if you add the two side roads) connects all the main areas of the park.
The road is paved and is normally open the whole year. There are many viewpoints along this scenic route and you can also visit some beautiful arches along the road. Many of the main landmarks of Arches mentioned further in this article are just a short walk from this main road.
Driving this road and taking short stops along the way is the perfect way to explore Arches National Park for everyone.
How much time you'll need: Count at least half a day for driving this road and stopping at the most beautiful viewpoints and arches.
LEARN MORE: Best Stops of Arches Scenic Drive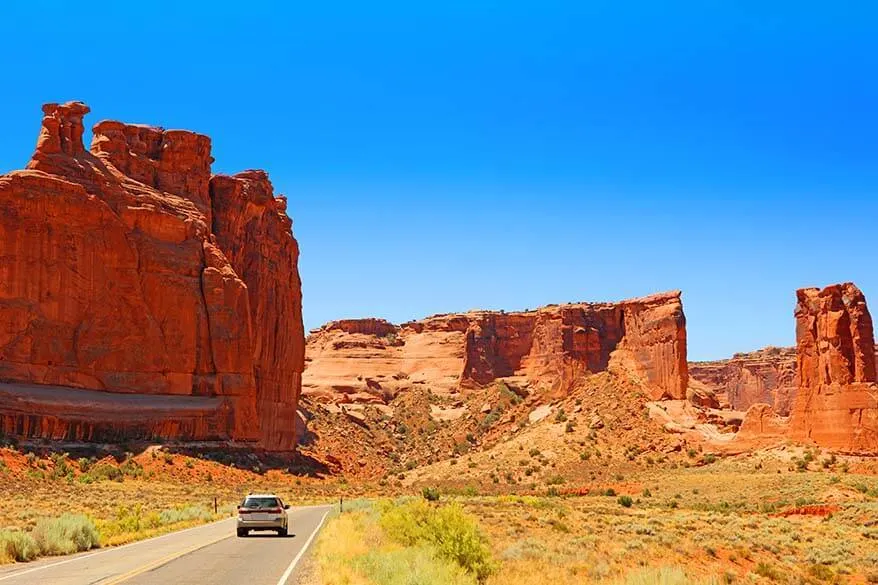 2. Hike to Delicate Arch
Delicate Arch is the most famous arch of Arches National Park. And no list of the best things to do in Arches would be complete without mentioning it. With 52ft height and 46ft (14m) light opening, this iconic arch is the largest free-standing arch in the park.
This is one of the few places on our list that will require a longer hike, but it's totally worth it! If you do one hike in Arches NP, make it the Delicate Arch!
Delicate Arch trail is about 3 miles (5 km) roundtrip, with an elevation gain of 480 feet (146 m). The trail is considered moderate, but this is mainly because of the steep short climb on the slickrock slope with no shade. This is the only hard section of the trail; for the rest, the hike is relatively easy. We did it with three young kids in the summer heat, and they managed just fine.
How much time you'll need: Count at least 2 hours for the hike to Delicate Arch. The hike took us about 45-50 minutes each way. Plus, you'll want to spend some time at the arch itself.
TIP: Delicate Arch Trail is one of the most popular hikes in Arches National Park, so car parking at the trailhead fills up fast. Try to avoid peak times if you can! The best time to hike here is at sunrise – that's when there are fewer people and it's not too hot. However, the light for photography is best at sunset; that's when most people visit.
LEARN MORE: Hiking to Delicate Arch
TIP: If you cannot hike to Delicate Arch, you can also see it from the (far) distance from the Delicate Arch Viewpoint further down the road. More info further below.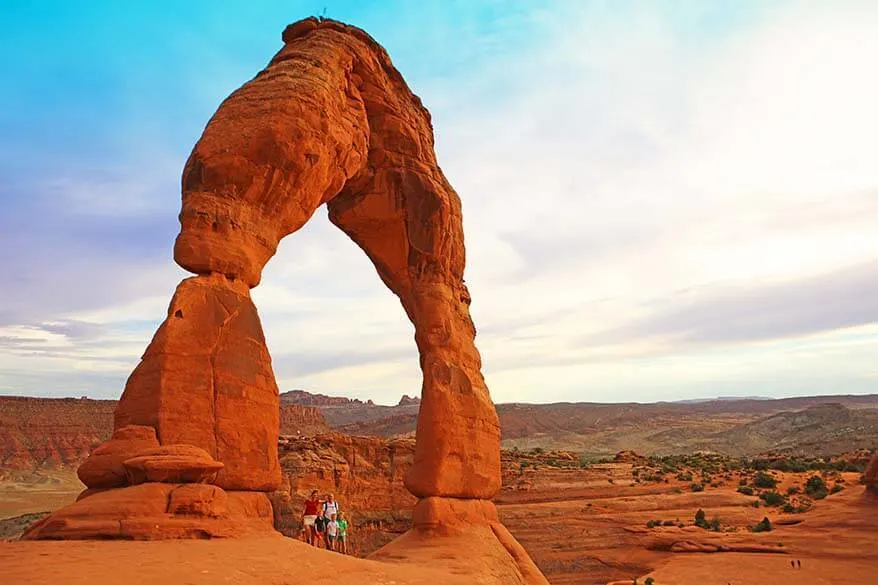 3. Admire the scenery at Park Avenue Viewpoint
Park Avenue Viewpoint is one of the most beautiful places to see in Arches National Park. It's located just along the Arches Scenic Drive and the best view is right next to the car parking.
There are no arches here, but the large natural 'avenue' surrounded by incredible rock formation is truly impressive. Must-see!
Good to know: The view here is ever-changing as the colors of the rocks depend so much on the time of the day and the position of the sun. If you can, I recommend stopping here several times during your visit.
How much time you'll need: Count 5-15 minutes for this scenic viewpoint.
Good to know: It is possible to hike Park Avenue all the way to the Courthouse Towers. It's a 1-mile easy hike and if you have a dedicated driver in your group, they can pick you up at Courthouse Towers. Otherwise, you'll need to hike back to your car, making it a 2-mile hike. Or you can just walk part of the trail and back.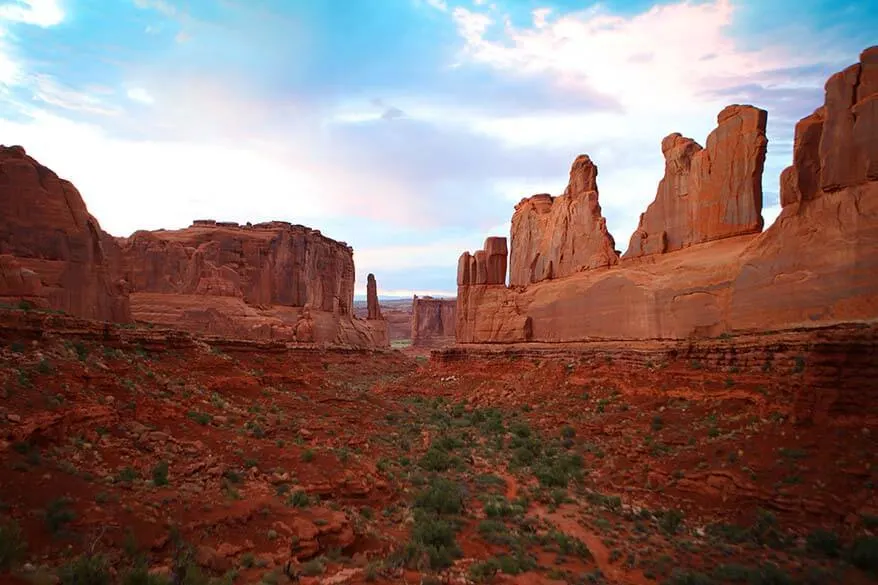 4. Stand under the Double Arch
Double Arch (not to be confused with the Double O Arch) is one of the most impressive arches that doesn't require much effort to visit. Located just 0.3 miles from the car parking near the Windows Section (see below), this arch is easily accessible. You can also see it from the road.
Many people climb to the opening of the arch for a view of the surroundings. But having done that, I have to say that it's not really worth it. The nicest view is from the bottom!
How much time you'll need: Count 15-20 minutes for a visit, including time for pictures.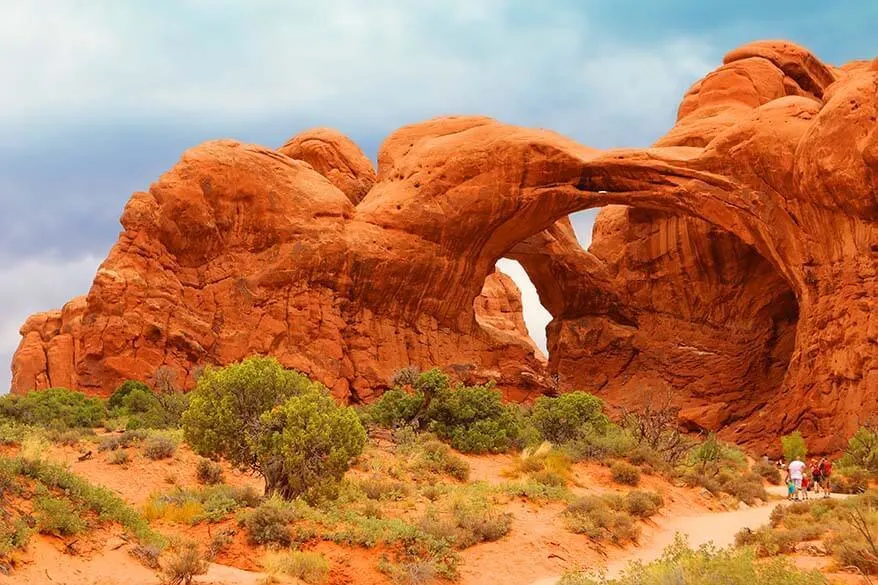 5. Walk the Windows Loop & visit Turret Arch
The Windows Section is one of the most scenic and popular places to visit in Arches National Park. It contains a large concentration of arches and you can easily visit several of them by taking a short walk.
An easy trail leads to the North Window arch and you can also walk to the South Window arch, and then make a loop back to the parking area passing Turret Arch. The Windows Loop Trail is about 1-mile long and can be shortened if you decide not to walk to Turret Arch.
TIP: If you're up for a slightly longer hike, you can also opt for the primitive trail that loops behind the Windows. This will add about 0.7 miles to your walk.
How much time you'll need: Count 20-30 minutes for the Windows and Turret Arch. Add another 20-30 minutes if you decide to walk all the way around the two Windows arches.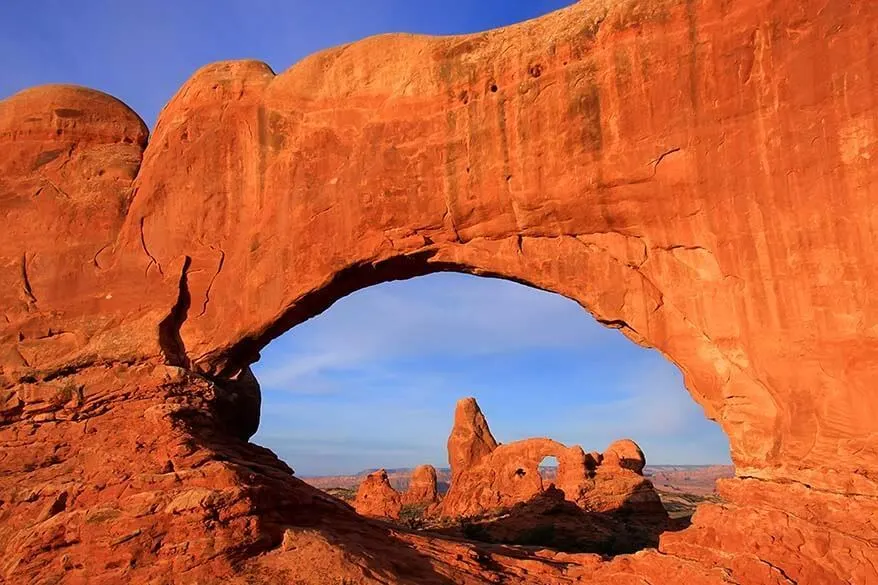 6. Check out Balanced Rock
Balanced Rock is another must-see landmark in Arches National Park and an extremely popular stop along Arches Scenic Drive. This unique rock formation indeed looks like it's balancing and might fall off one day.
You can see Balanced Rock from the road or from the car parking, and you can also walk around it. The accessible Balanced Rock Trail loop is just 0.3 miles and takes about 10 minutes.
Balanced Rock is located quite centrally and you'll pass here several times when exploring Arches. It's incredible to see how much the scenery changes with the different light conditions. I think we stopped here at least five times during our trip and it looked different every time.
How much time you'll need: Count 15-20 minutes for this stop.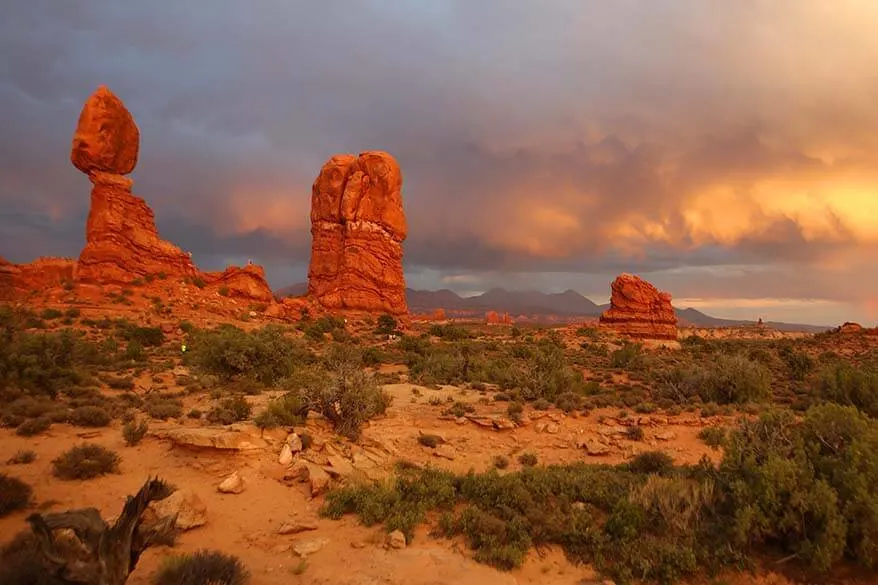 7. See Delicate Arch from a distance
If you cannot hike to Delicate Arch, then don't miss the opportunity to see this iconic arch from a distance. There are two viewpoints – Lower Delicate Arch Viewpoint close to the main road and the Upper Delicate Arch Viewpoint a short uphill hike from there.
You can see Delicate Arch from both these viewpoints; somewhat better from the Upper one. Just keep in mind that it's really far and looks tiny! Needless to say, it's not the same as seeing the arch from close-by, but the scenery is quite nice and it's your best alternative to the hike.
How much time you'll need: Count 15-30 minutes for this stop.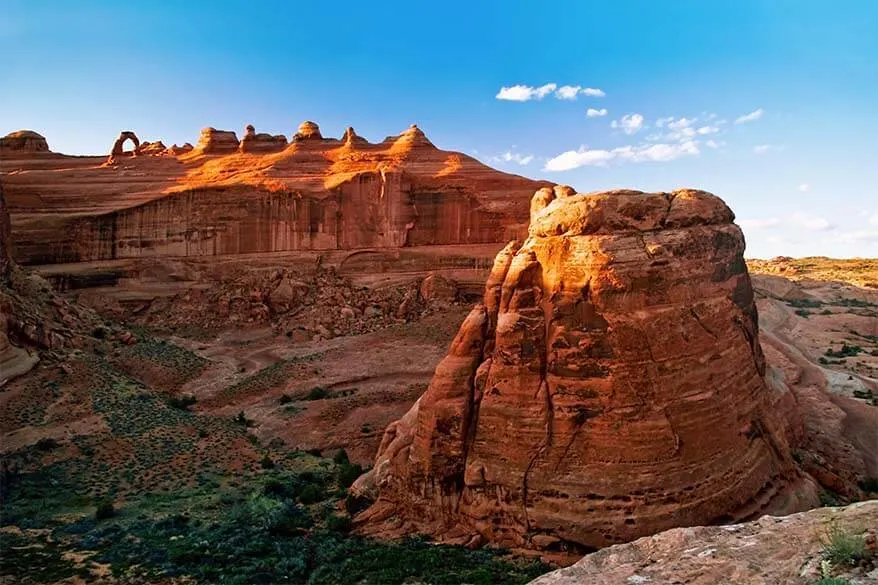 8. Walk to Pine Tree Arch & Tunnel Arch
Pine Tree Arch and Tunnel Arch are the two easiest-accessible arches at the Devils Garden Area at the very end of Arches Scenic Drive. This is a popular hiking area attracting big crowds.
The most popular hike here is Landscape Arch (see below). But if you find it too long, you can also just walk the first section of this trail, up to Pine Tree Arch and Tunnel Arch.
Pine Tree Arch is just 0.5 miles from the car parking area and Tunnel Arch is a short turn-off along that route and even closer. The whole hike is about 1.2 miles (1.9km).
How much time you'll need: Count about 30-40 minutes to hike to both arches and back, photo stops included. Or continue further to the other amazing arches of Devils Garden – more info below.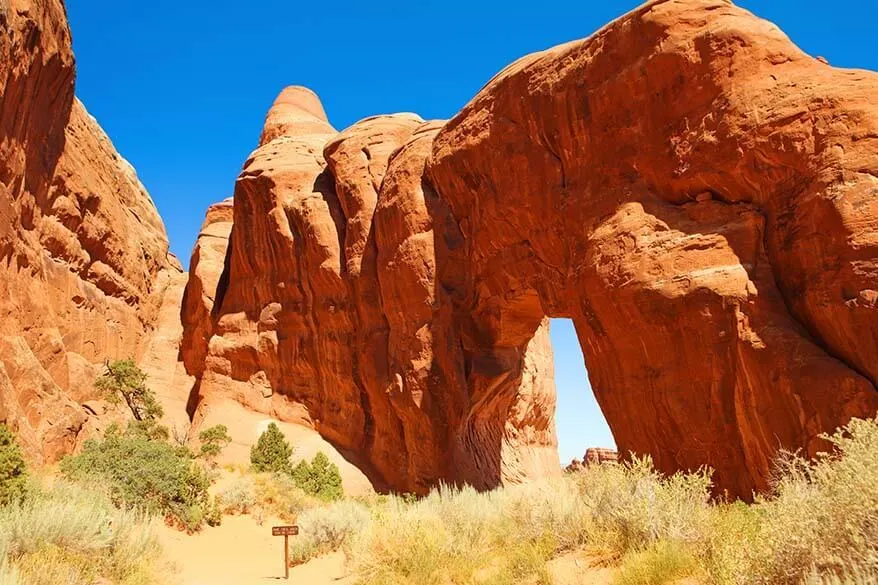 9. Hike to Landscape Arch
Landscape Arch is not only the largest arch in Arches National Park, but it's also the longest natural arch in the world. The easy hike to Landscape Arch is one of the most popular hiking trails in the park.
There is little elevation along this hike and it's less than a mile one way. So if you are looking for an easy hike that brings you to some really nice arches, then definitely make a small effort to hike here. As already mentioned, along the way, you can also see Pine Tree Arch and Tunnel Arch.
How much time you'll need: Landscape Arch hike is about 1.6-1.8 miles (3 km) round trip (total distance depends on where you stop). It takes about 40-45 minutes one way. If you also add a small detour to Pine Tree Arch and Tunnel Arch, you should count about 2 hours for this hike.
TIP: This area is extremely popular and car parking fills up fast. So come here first thing in the morning or later in the afternoon.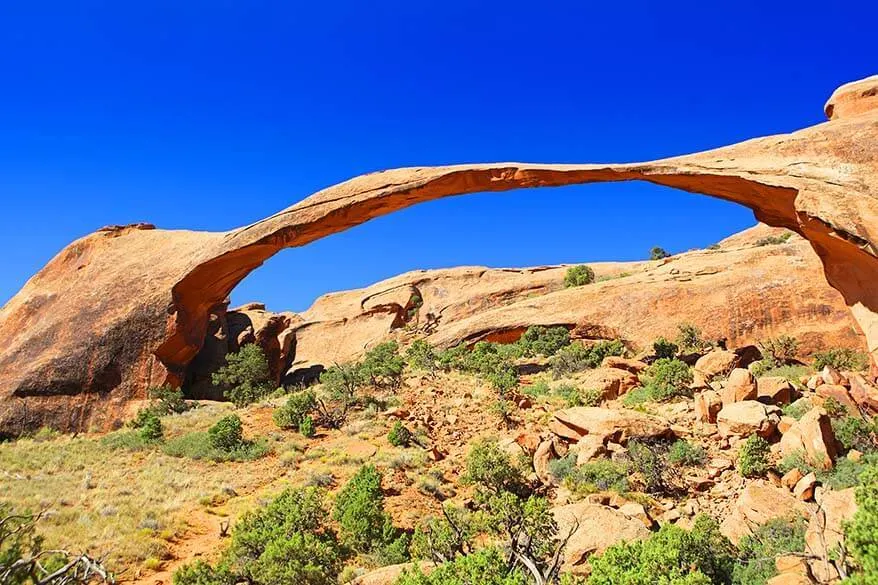 10. Explore Devils Garden
If you are looking for a really nice longer hike in Arches National Park and don't mind a more challenging terrain, you should explore the Devils Garden area deeper.
After hiking to Landscape Arch, continue further along the same trail. The hike gets steeper and more demanding and even requires some rock scrambling, but it's absolutely worth it.
First, visit Navajo Arch and Partition Arch, just above Landscape Arch. These arches are less-visited but are really nice to see. We especially enjoyed the shady area at Navajo Arch. It's like an oasis in the desert.
After that, you can decide to return or hike even further to Double O Arch. From there, you can walk back the same way you came or take the primitive trail that loops back.
Good to know: The Double O Arch hike is about 4 miles round trip; add another mile if you take the primitive loop.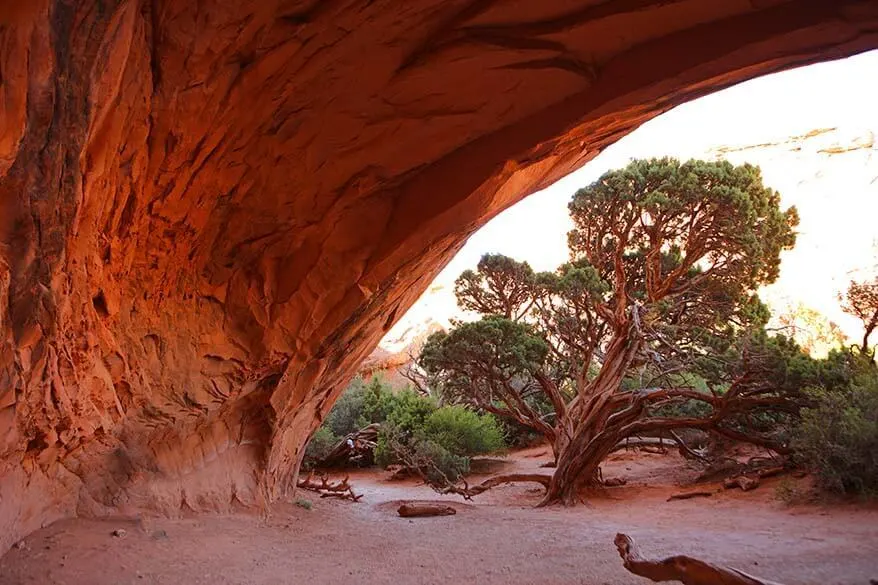 11. Check out Fiery Furnace
The Fiery Furnace is a natural labyrinth of impressive sandstone rock formations. It's one of the most unique places to visit in Arches National Park.
You can see this area from the Fiery Furnace Viewpoint along the road. It doesn't require much time or effort to visit and it is well worth checking it out. It's most beautiful before sunset when the setting sun lits the sandstone rocks and colors them bright orange.
But the best way to explore Fiery Furnace is by taking a walk inside this natural maze. However, the narrow passages are not easy to navigate and it's easy to get lost in this 2-mile (3.2 km) long labyrinth. If you decide to do this, you should know that permits are required or you have to go on a guided tour with a park ranger (recommended).
Good to know: Fiery Furnace hike can also be done with kids from 5 years and older. But it gets really hot here, so it might not be the best idea to do this hike with kids in summer.
TIP: The Fiery Furnace hike is quite popular and availability is limited. Some slots are open for advance booking, so if traveling in high season, we recommend booking it well in advance. Here you can find more info and practical details.
How much time you'll need: Count 5-10 minutes if you just go to the viewpoint. Count 3-4 hours for the Fiery Furnace hike.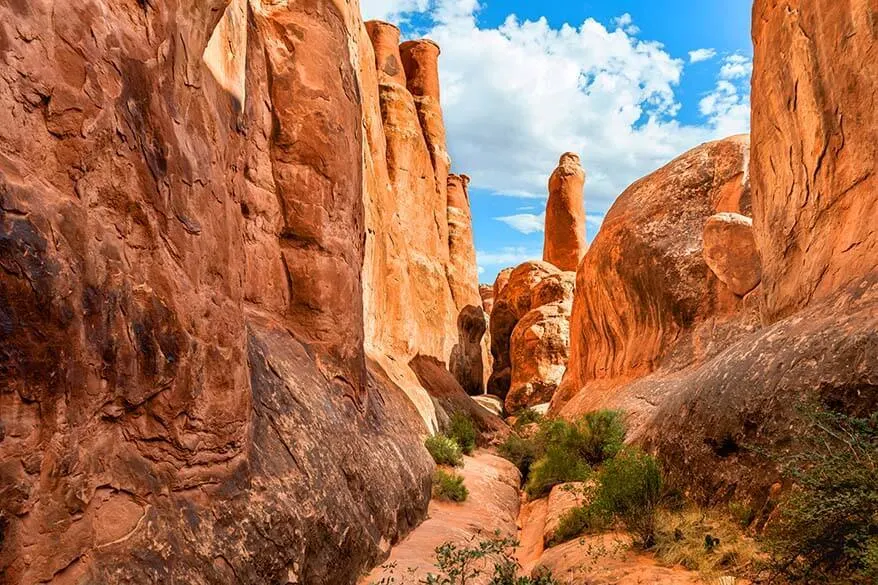 12. Get off the beaten path with a 4×4 tour
If you are looking to explore Arches National Park off the beaten track and visit some places that you wouldn't be able to see on your own, then definitely consider taking a guided 4×4 tour.
For example, check out this highly-rated half-day tour. It takes just 4 hours and brings you to some incredible locations in the park that most tourists never see.
Do it in combination with individually exploring the highlights of Arches mentioned in this article and you'll have seen the very best that Arches National Park has to offer!
TIP: If you have a full day and want to see the lesser-known places of both – Arches and the nearby Canyonlands National Parks – then take a look at this popular 4×4 tour that combines two parks in one day. It's the best way to explore the areas that would otherwise be very difficult to visit on your own.
READ ALSO: Best Tours from Moab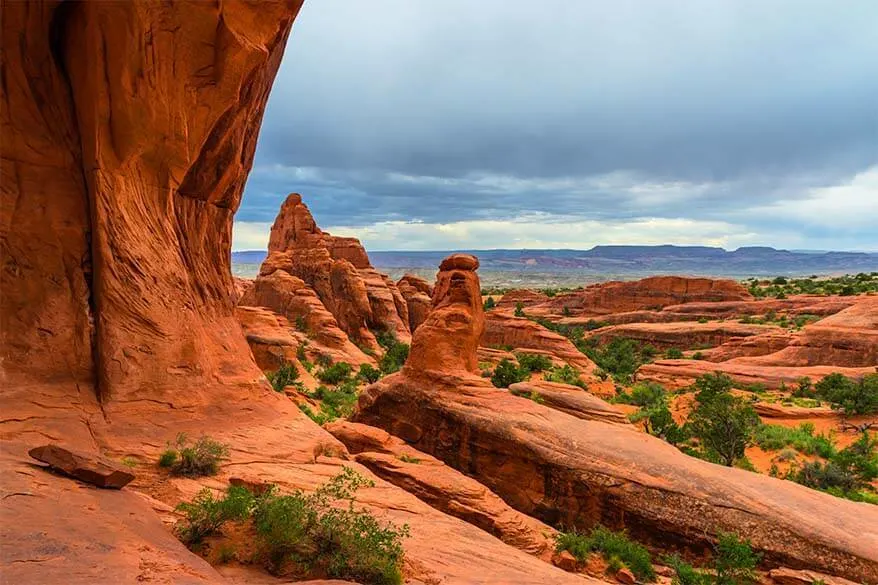 Practical Info & Tips for Your Visit
IMPORTANT! In the high season (April-October), timed entry reservations are required for visiting Arches National Park. Reservations usually open 3 months in advance. So be sure to check the official website and reserve your entry!
Arches National Park is open the whole year. The main road might get closed in case of exceptional snowfall in winter. Check the official website for up-to-date information and current travel conditions.
The best time to visit Arches National Park is in spring or in the fall. That's when the weather is most pleasant for outdoor activities. It gets really hot here in summer. We visited Arches in July and experienced temperatures of 105°F (40°C) and higher! In winter, it's not uncommon to find snow and temperatures around the freezing point, but the park is generally open and you can even do most hikes.
Arches National Park entrance fee is 15 USD per person or 30 USD per vehicle and stays valid for 7 consecutive days. TIP: Get America the Beautiful Pass if you are planning to visit more National Parks soon. It's valid for a year and costs just 80 USD for the whole family in the same vehicle. Alternatively, consider Southeast Utah Parks Pass that includes Arches, Canyonlands, and Natural Bridges and costs 55 USD.
Print the map of the park and indicate the places you want to see. Cell phone service is pretty much non-existent in Arches. Here you can find the map of Arches NP.
If visiting Arches in summer, plan to do any longer hikes as early in the morning as possible. It's so hot that you can only do shorter walks and scenic viewpoints during the day.
Parking is limited at the most popular trailheads where people leave their cars for several hours at a time. In high season and on the weekends or public holidays, parking at Devils Garden and Delicate Arch trailhead fill-up very quickly. Visit early in the morning or come later in the afternoon.
There are no restaurants or petrol stations in Arches National Park. There are bathroom facilities in different areas of the park. There are restaurants in the nearby town of Moab, but it's best to pack a picnic lunch and snacks when exploring Arches. That way you have complete flexibility during the day.
Carry plenty of drinking water when visiting Arches. Especially in summer and on longer hikes it's essential that you travel well prepared. At least one large reusable water bottle per person is a must. When hiking in summer, I'd pack at least two bottles per person. You can refill your water bottles at the visitor center, campground, and at Devils Garden trailhead.
READ ALSO: Where to Stay Near Arches National Park
More tips and practical information for visiting the Moab area:
If you found this post useful, don't forget to bookmark it and share it with your friends. Are you on Pinterest? Pin these images!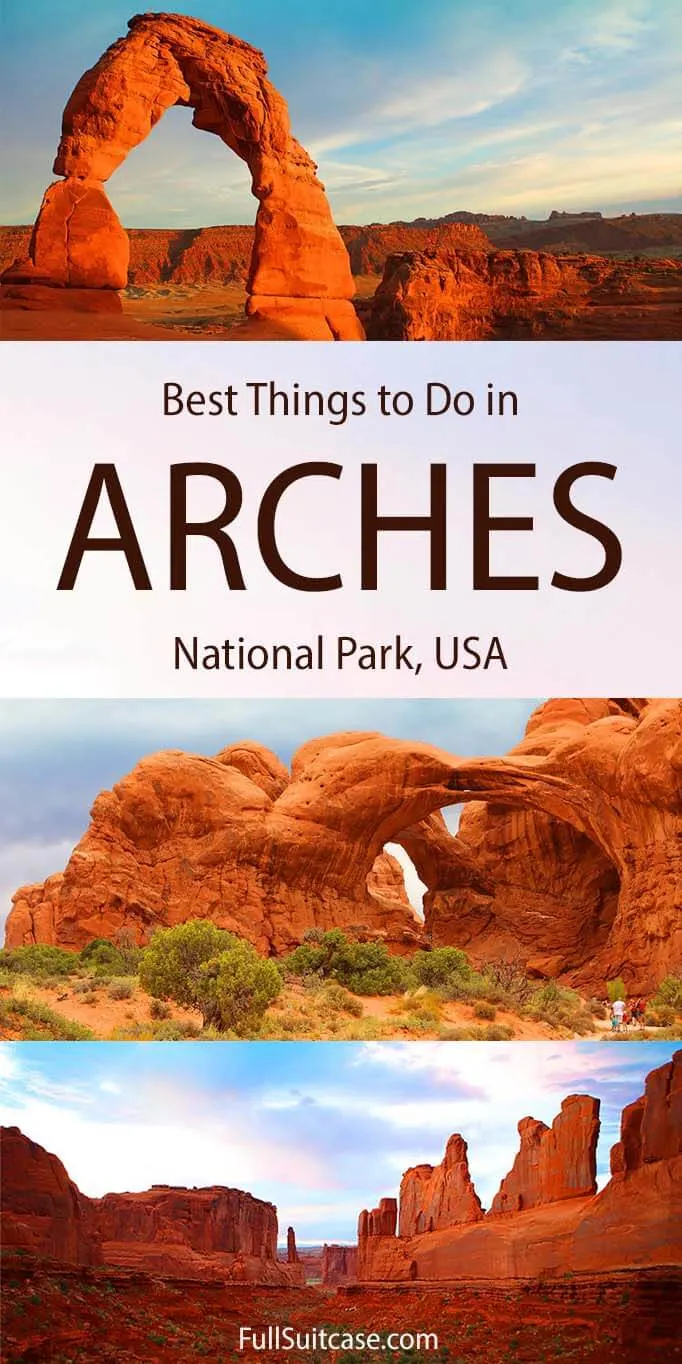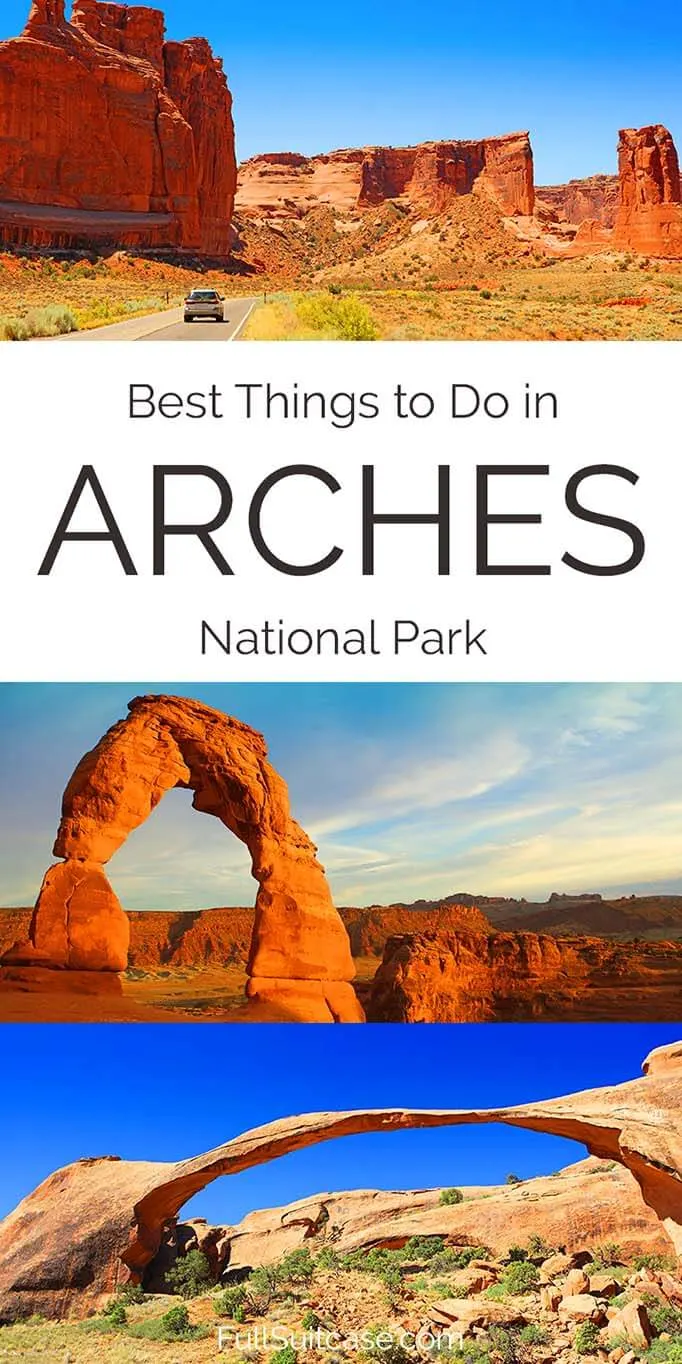 More travel guides for the southwestern USA:
Grand Canyon:
More of Arizona:
Zion & Bryce Canyon National Parks:
Las Vegas: