Visiting Sedona in Arizona and looking for inspiration for the best places to see and things to do in the area? In this guide, you can read about all the musts, the very best things to do in Sedona that you shouldn't miss on your first visit. Find out!
The first time you drive through the Coconino National Forest and approach Sedona, you will start to notice the majestic glowing red rocks taking over the landscape. Mother nature will take your breath away! As the landscape changes, you feel like you are entering another planet. The energy shifts as the glow of the red rocks take over.
Speaking of energy, one of the things Sedona is most famous for is the energy vortexes that are said to heighten spiritual and metaphysical growth. Some of these vortex sites happen to convene at some of the top attractions of Sedona. So while not the focus of this guide, you'll find the best vortex sites mentioned in our article as well because they are worth a visit either way!
Good to know: This guide to the best Sedona attractions is written with the help of our writer Rosie Queen. She has been to Sedona multiple times and absolutely loves it. In this article, she shares all her favorite places in Sedona and experience-based tips for your visit. Read on!
TIP: To help you plan your visit, we also included a map of the best places in Sedona. You can find it at the bottom of this article and save it to your computer and smartphone.
Scroll down for the full list of top things to do in Sedona, Arizona!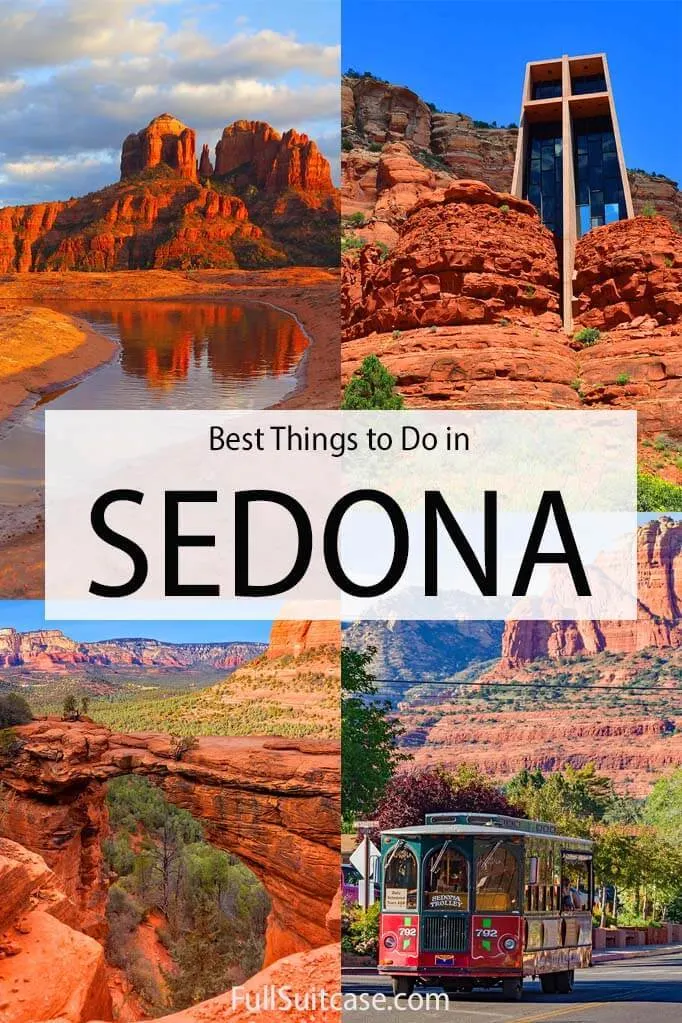 These are the very best things to do in Sedona:
1. Jeep Tours
Jeep Tours are among the most epic things to do for any first-time visit to the area! It's also the most popular tourist attraction in Sedona.
The 4WD tours take you on an off-road adventure where you can get deep into the glowing red-rock landscape of the area. This is a fantastic opportunity to see some phenomenal scenery that you wouldn't be able to easily access otherwise. Even if you only visit Sedona for one day, this is an absolute must!
There are so many tour options to choose from that it might get overwhelming to know which one to pick. One of the most popular is this outback trail jeep adventure. It's also very good price/quality-wise. This is a not-too-extreme off-road adventure that brings you to some amazing places including Cathedral Rock, Bear Mountain, Thunder Mountain, and more.
No matter which tour you choose, you are sure to get some great photo ops and amazing views!
Good to know: It can be a very bumpy ride, but most jeep tours are family-friendly, so most people can participate (even kids from the age of 2). However, if you have any medical conditions, be sure to read the tour details to see if it is safe for you.
TIP: Be sure to bring some water, a hat, and a pair of sunglasses to keep the desert sun at bay.
PRO TIP: Be sure to book jeep tours in advance. Even though the tours run daily, throughout the day, they tend to book up, sometimes even weeks ahead of time.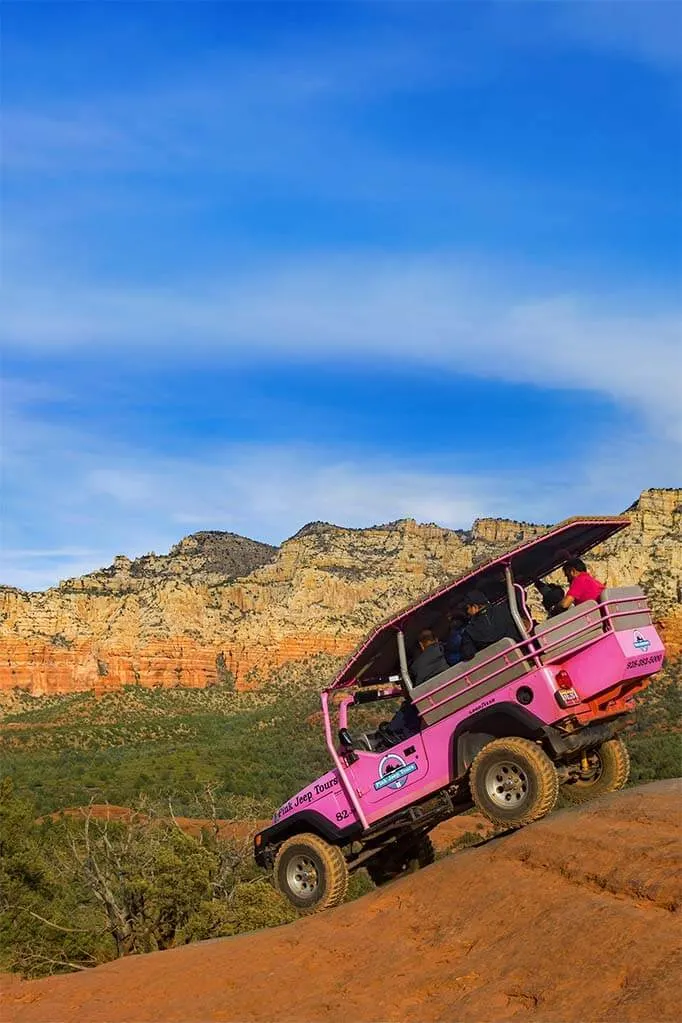 2. Sedona Trolley
Often referred to as "The Best First Thing To Do In Sedona", the Sedona Trolley tour is a good way to start your visit and get acquainted with the area. If you are in Sedona for a few days, do this on the first day of your visit to learn the lay of the land.
Tour "A" takes you through South Sedona through town and up to the infamous Chapel of the Holy Cross for a pitstop and positively incredible views.
Tour "B" will take you through the West side of Sedona into the towering red rock walls of Boynton Canyon. Here, you can see some well-known rock formations such as Thunder Mountain and Chimney Rock.
You can choose from their two tours or do both. They each take about 55 minutes and the Boynton Canyon tour (tour B) is more popular. You could do each tour separately and take a break in between for lunch or stay on board and do it all in about 2 hours. To combine both tours, you need to sign up for the "Full City" combo tour here.
TIP: You need to buy tickets ahead of time. They run daily between 9 AM and 5 PM.
3. Chapel of the Holy Cross
One of the main landmarks you have to see in Sedona is the Chapel of the Holy Cross. This architectural wonder is nestled in red rocks and perfectly sculpted into the landscape. The views from the top are also amazing!
The Chapel was inspired and commissioned by a local sculptor, Marguerite Brunswig Staude. After many changes in plans due to WWII and with the help of architects Richard Hein and August K. Strotz, her dream became reality and the chapel was completed in 1956.
It will take your breath away when you walk in the door and see the gorgeous massive crucifix with the large glass windows behind it looking out onto the rocks of Sedona. There are some candle/prayer stations where you can make an offering or pray for someone you love.
Good to know: The Chapel is open daily from 9 AM to 5 PM and is free of charge (see their website for more info). However, keep in mind that the parking lot is very limited. There is a steep winding walkway from the parking to the chapel and they also have golf carts available for people that need assistance up the hill.
TIP: Bring some dollar bills to tip the golf cart drivers or use for candle offerings.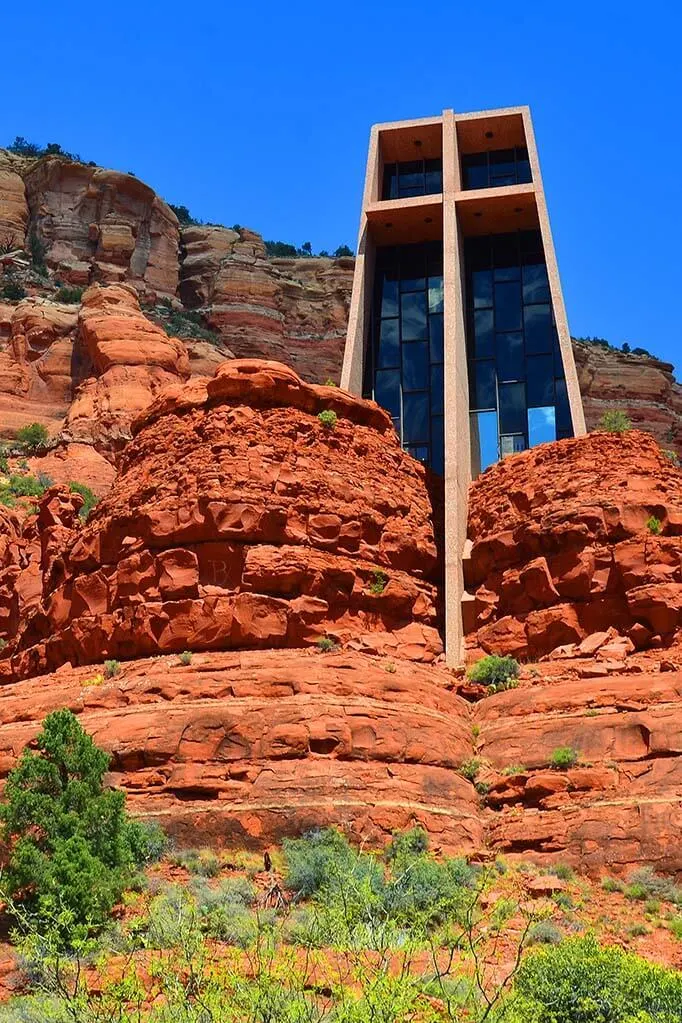 4. Tlaquepaque Arts & Shopping Village
The Tlaquepaque Arts & Shopping Village is another place that should definitely be on your list of the very best things to do in Sedona. It's not just an ordinary tourist attraction, but a truly nice place that's worth a few hours of your time.
Fashioned after a traditional Mexican village, Tlaquepaque (pronounced T-la-keh-pah-keh), which means the "best of everything", it has been a landmark in Sedona since the 1970s. This quaint charming village is also known as the most distinctive shopping experience in the Southwest.
Stroll through the cobblestone walkways, stucco walls, and beautiful architecture and feel like you are in another country. If you are lucky, you might even catch one of the artists working on their latest pieces. Unique shopping and tasty restaurants will give you a lot to explore.
If you know someone who's looking for a gorgeous place to have a destination wedding, the Chapel in the village is a premier wedding spot. But even if you have no wedding plans, definitely check it out!
Good to know: Tlaquepaque Arts and Shopping Village is open daily from 10 AM to 5-6 PM. Some restaurants remain open for dinner. For more info, please see the official website.
TIP: For more 'action' and entertainment, visit in the afternoon.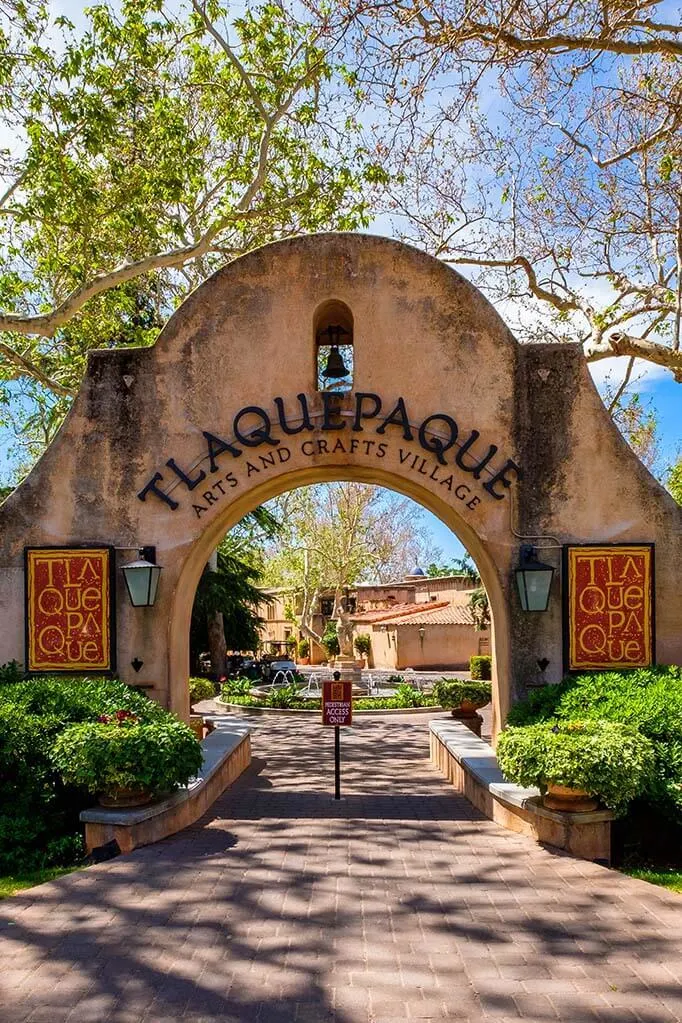 5. Energy Vortex Sites
Sedona vortex sites are widely known for possessing physical, emotional, and spiritual healing properties. Many people come to the area just for that. But these places are also worth a visit for their incredible scenery. So even if you don't believe in any of the above, don't miss them either way!
Is the Earth's energy really swirling in these specific spots of Sedona? Some New Age enthusiasts say the kinetic energy twists around trees causing them to change shape, rock formations vibrate and can make visitors' bodies tingle. Others say that the power of a Sedona vortex is simply a state of mind and a perception of a location where we can experience energy larger than ourselves.
Sedona is also filled with psychic centers and new age shows for those that want to be enlightened to a higher place during their visit. There are also spa centers where you can book a detox spa and similar.
Cathedral Rock, Bell Rock, Boynton Canyon, and Airport Mesa are four of the main vortex sites in Sedona. And whether you believe in vortex energy or not, you cannot argue that the beauty of these landmarks is undeniable.
Don't be surprised to find free thinkers meditating or doing yoga at these vortex sites. So take a pause, soak in the energy, and decide for yourself.
You can visit many Sedona vortex sites with organized tours, and you can also explore most of them yourself. Below, you can read more about each of the best places that you can easily visit on your own. We listed them as separate items on our list of the best things to do in Sedona because each location is truly worth a visit in itself.
Important: Red Rock Pass is required for visiting most of the places mentioned below. See the 'practical tips' section at the end of the article for more information.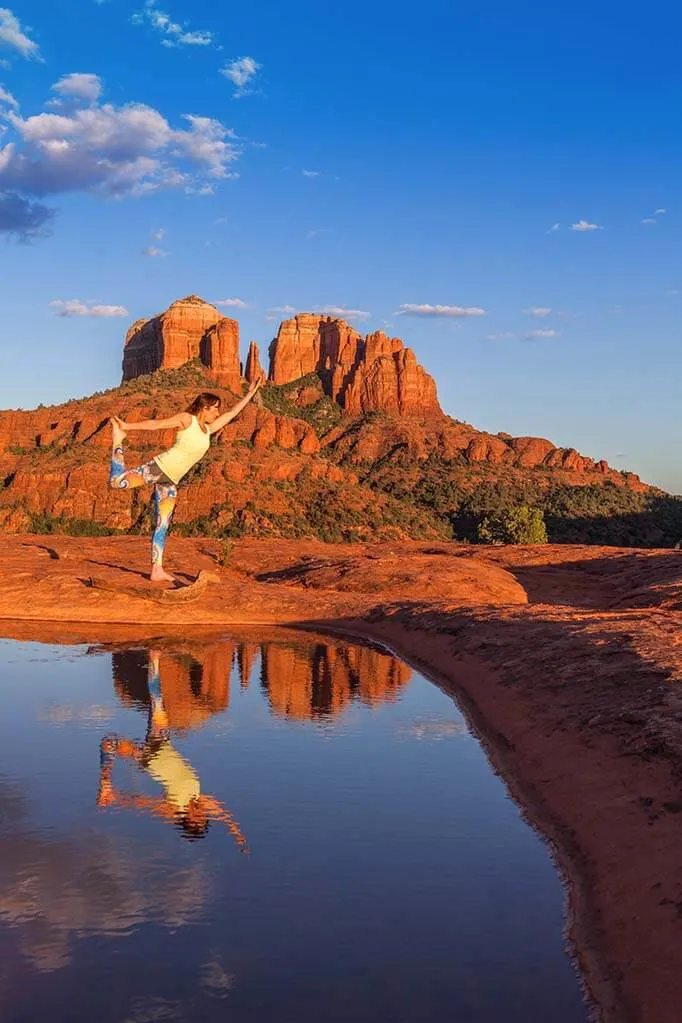 6. Cathedral Rock
One of the most energetic and scenic places in Sedona is Cathedral Rock. It's a beautiful area for hiking, biking, or horseback riding.
If you want to experience it with a sense of ease, take the Templeton Trail to Oak Creek. Once you reach the creek, look for Buddha Beach where visitors have built hundreds of Rock Cairns. Another short and easy walk is the Baldwin Trail.
If you are up for an adventure and are an experienced climber then you need to hike the Cathedral Rock Trail. This moderate hike is just 1.2 miles (1.9km) round trip and takes about 1-1,5 hrs in total. It ends with a steep climb up to the saddle of Cathedral Rock, with an elevation gain of about 740 ft (225m) over a short distance. So it's not for everybody and you definitely need good hiking shoes for it.
Good to know: You can access the trail from small parking at Back'O'Beyond Road, but it's usually extremely busy. Alternatively, the trail can also be accessed from the above-mentioned Baldwin and Templeton trails.
TIP: This is the best hike in Sedona, so if you can handle a steep short climb, definitely give it a try. Also, try to come very early in the morning – it's not as hot and you'll avoid the crowds. During the busy season, the parking area fills up at around 7.30-8 AM. But since the hike isn't very long, people come and go all the time.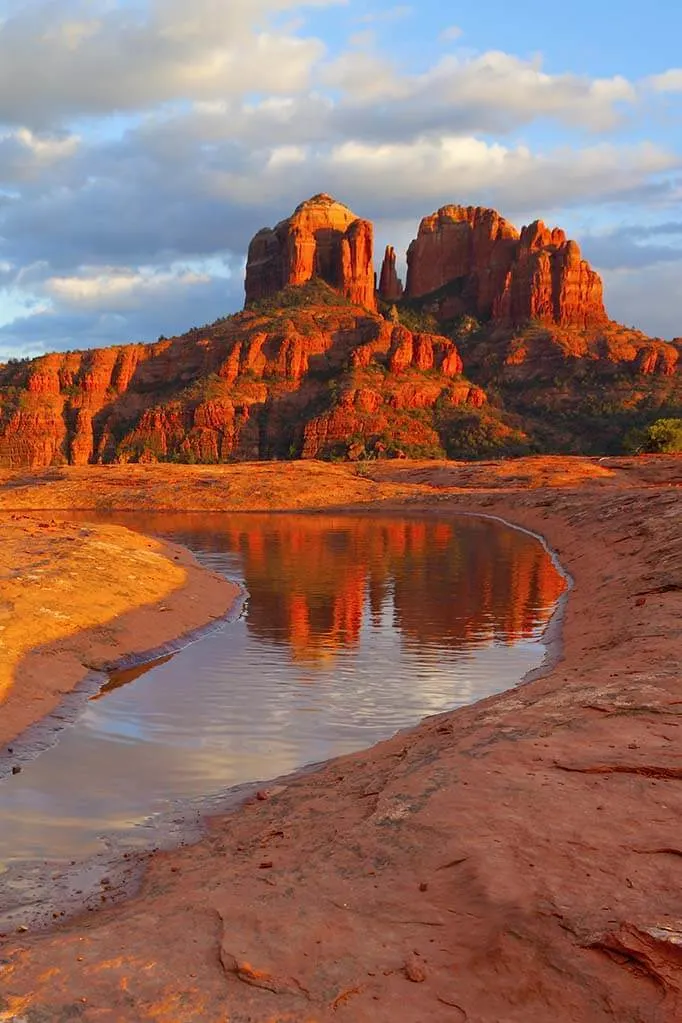 7. Bell Rock
Bell Rock is a massive red rock and is another popular place to see in Sedona. The site is rich in energy that is considered to be very powerful. As its name suggests, it is shaped like a gigantic bell.
You can see the rock from many pull-offs on Hwy 179, but you can also take a walk in the area and explore it closer. There are nice hiking trails and also mountain biking trails here as well.
There are two parking areas from where you can access the Bell Rock Trailhead. You can walk the loop around the rock and even climb to the top, but there are so many trails crisscrossing the area that you can decide there how far and where you decide to hike.
TIP: We suggest you park at the North Bell Rock parking area (indicated on our map further below). Because if you park at the south lot, you will need to hike 1 mile north to avoid a steep hike up the south side of Bell Rock. Find a quiet spot to close your eyes and feel the energy and vibrations.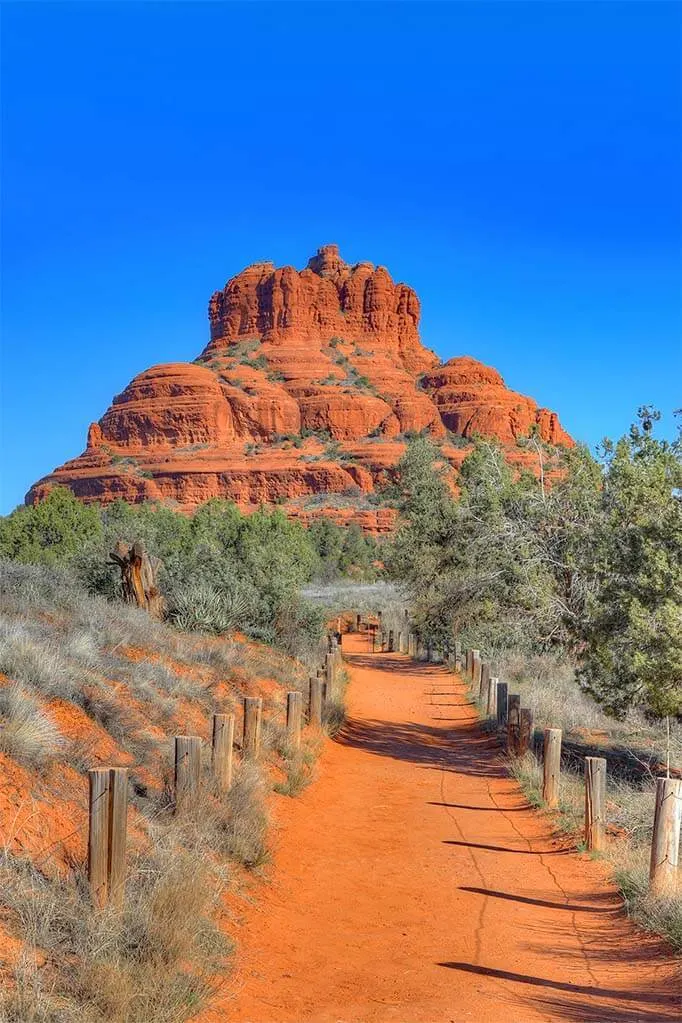 8. Boynton Canyon
Boynton Canyon is one of the best vortex sites to visit in Sedona. What makes it special is that you can actually reach out and touch it. Boynton Canyon Vortex is located half a mile from the Boynton Canyon parking area and is easy to get to.
The hike to the vortex is intermediate as it requires some uphill climbing, but can also be done with young kids.
TIP: You can also choose to hike around the Enchantment Resort and off deeper into the canyon to see some of the cool energy circles and rock cairns that people have built over the years. This canyon is a very special place to explore and one of the favorites in Sedona.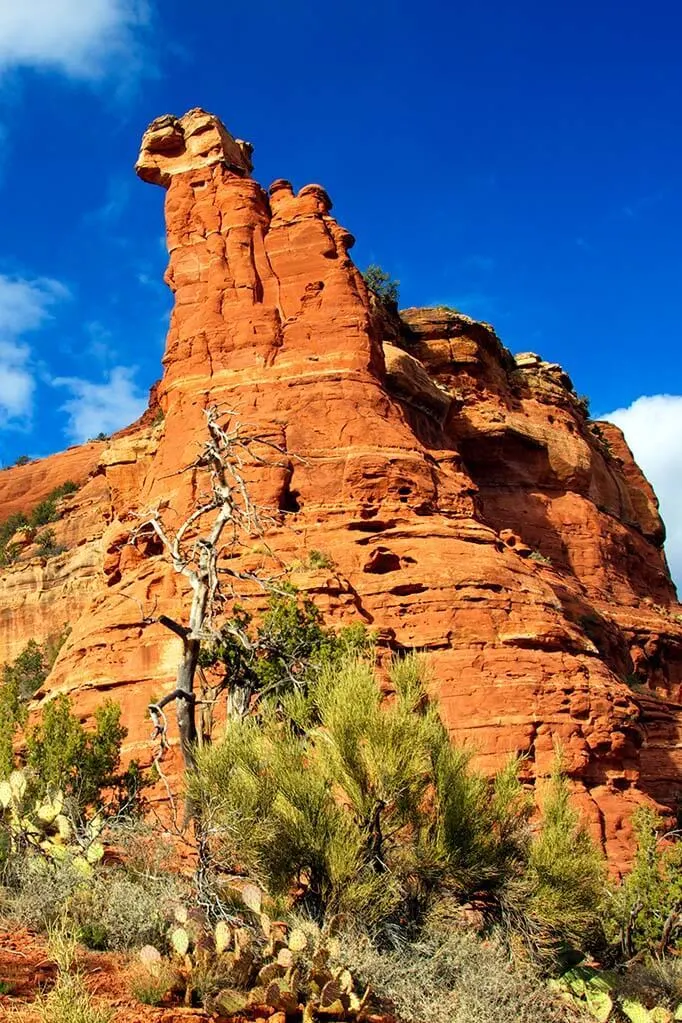 9. Airport Mesa
Airport Mesa is one of the most visited vortex sites in Sedona because it is close to the center of town and is very accessible. The 360-degree views from here are well worth a short drive!
Drive up some winding roads to the parking lot, but to get to the very top you will need to do a bit of hiking. You will find many examples of twisted trees along your way. Some new-age believers even claim to see colored orbs floating in the desert sky.
To follow the best trail from the car parking, turn left about 200ft from the lot at the market sign and follow the trail to the "Overlook". The trail is short and steep, so be sure to wear good hiking shoes.
Good to know: Airport Mesa is one of the best spots to stargaze and feel like you are one with the galaxy. The International Dark-Sky Association has given Sedona the "Dark Sky Community" title. During a new moon phase, you will likely be able to also catch great views of the Milky Way. This is a great place to pull up a chair, look through a telescope, bring your night photography gear, and enjoy the stars.
TIP: Download a stargazing app so you can identify the constellations. Also, check the moon phases & weather for the best time to stargaze. Or simply join a stargazing tour and they'll take you to the best locations and tell you all about the stars.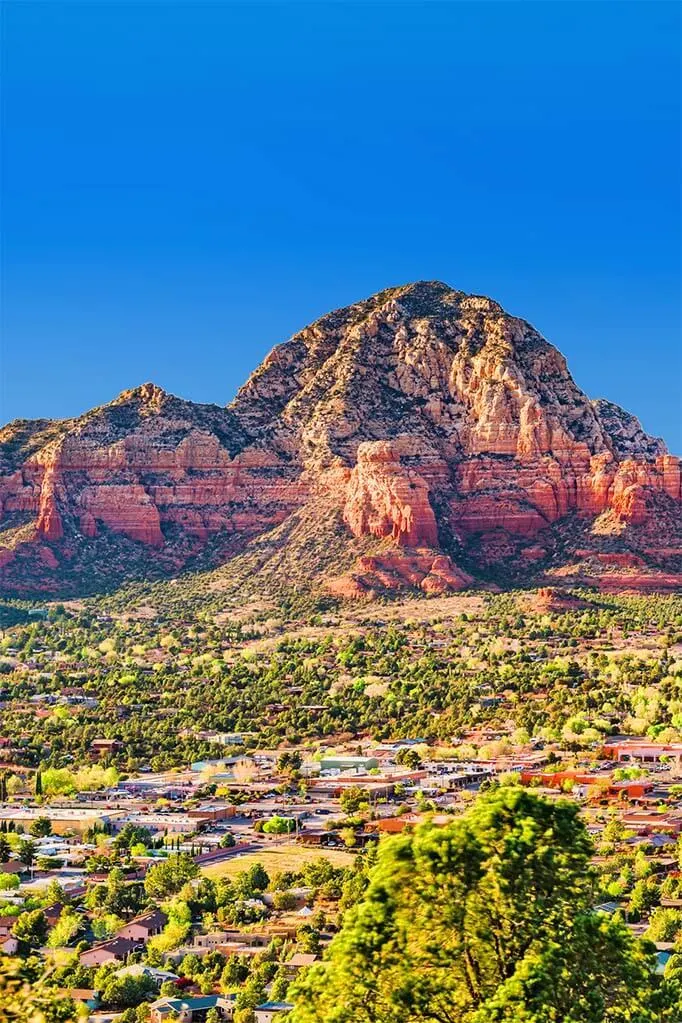 10. Oak Creek Canyon
Some of the best views in the Sedona area are nestled right here. Oak Creek Canyon, is a river gorge between Sedona and Flagstaff. And the best way to soak up the views is by simply driving the State Route 89A, between Sedona and Oak Creek Vista, which is the top viewpoint.
This is one of the most scenic drives in the US and a must-do near Sedona. It is also quite a dramatic way to enter Sedona if you come from Flagstaff. You will feel the energy shifting and the scenery popping.
Depending on the time of year, this road can get very busy with many other travelers. So be patient and take a deep breath to enjoy the views. You can also do this drive with a tour – that way, you can enjoy the views without having to worry about the traffic.
This canyon is a photographer's dream, so it's worth planning more time to explore. You can pull over to the different lookout areas to take in the views. There are also some unique shopping opportunities from artisans who sell authentic Native American jewelry and other gifts up at the top overlook.
TIP: If you feel like hiking, the best hike in Oak Creek Canyon is West Fork Trail. Slide Rock along this route is a fun place to bring the kids. See below for more info.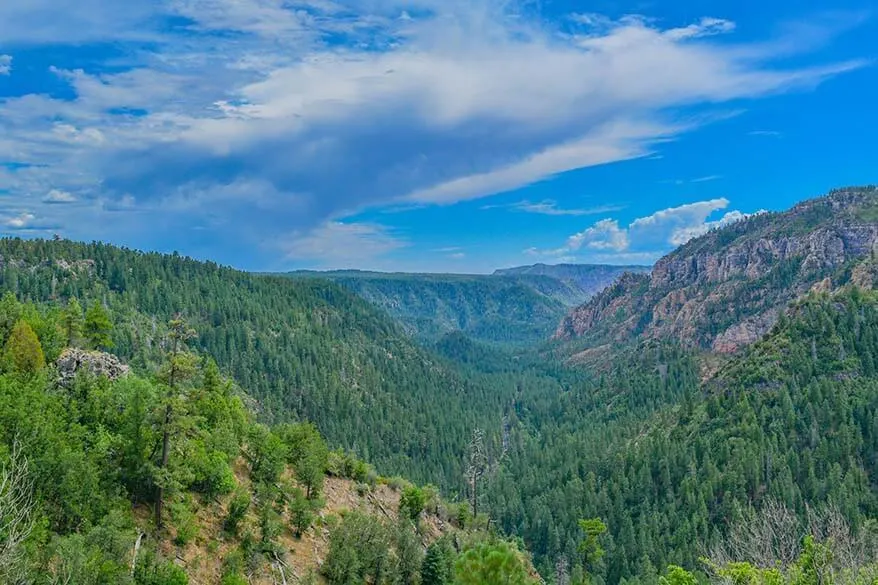 11. Slide Rock State Park
Slide Rock State Park along the scenic Oak Creek is a great place for all ages. It's a lot of fun especially if you like water, natural slides, easy hiking, and jumping off rocks.
Slide Rock got its name because the water running through the rocks made areas very smooth & slippery, so they function like natural water slides. It's a great place to cool off from the hot Arizona temps. However, the water is crystal-clear and very cold, so if you are planning to go swimming, you'll have to come in the warmest months. I would also suggest wearing water shoes or sandals of some sort.
There are a handful of natural pools where you can just hang out and multiple slides that you could enjoy. There are also two "cliff" jumps that you can do (one about 10-12' and another that is much higher).
If you don't want that much action, bring a chair and enjoy the sights. Alternatively, you can hike up & down the river to check out nature's beauty. You can easily spend an entire day here, especially if you are visiting Sedona with kids. You won't regret it!
Good to know: Slide Rock State Park is located 11 miles north of Sedona. There is a steep $20-30 per car (cash only!) entry fee. It is about a 5 min walk down to the river to access all the fun. More practical info and opening times here.
TIP: Try to go early as it gets crowded mid-day. Alternatively, come in the late afternoon as it thins out towards sunset (but it's also colder for swimming). Make sure to bring towels, swimming clothes, water shoes, and also pack a lunch.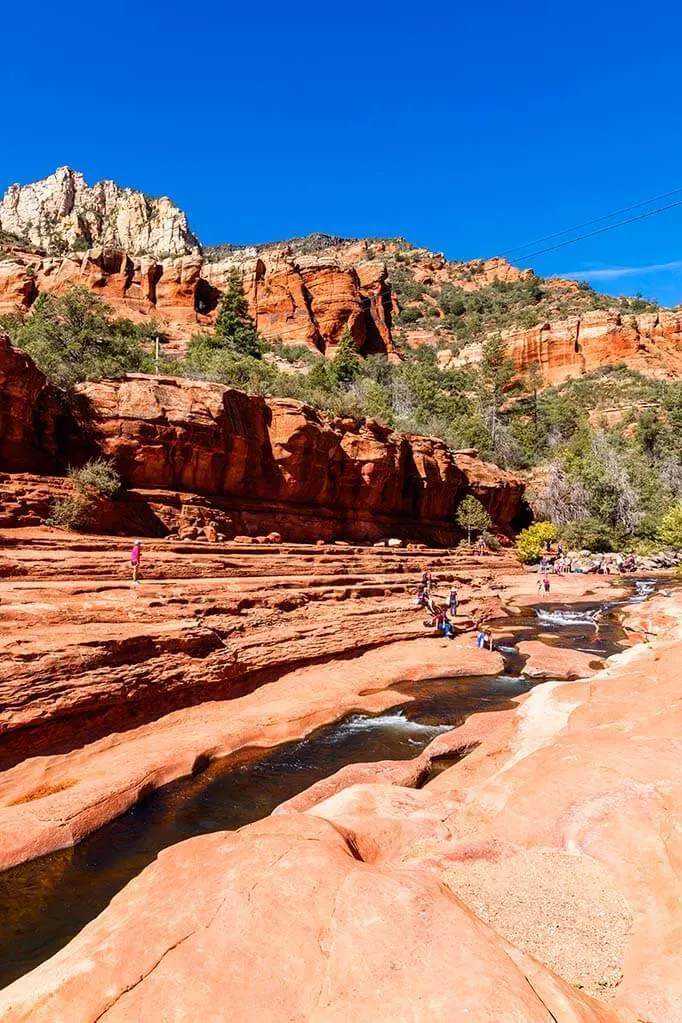 12. Devil's Bridge Trail
Devil's Bridge is the largest natural sandstone arch in the Sedona area and positively one of the best hikes in Sedona. There are several ways to get there and it depends on whether or not you have a 4X4 vehicle. We also indicated all these locations on our map. Below, are the two best options:
If you have a 4×4, you can drive on Vultee Arch Road straight to Devil's Bridge Trailhead. From there, the hike is just about 2 miles round trip.
Without a 4X4, it's best to park the Mescal Trailhead on Long Canyon Road. From there, it's about 1 mile to the Devil's Bridge Trailhead, plus a mile to the natural bridge itself. The entire hike is about 4.2 miles round trip.
At a reasonable pace, it will take you about 1 hour to reach the bridge from the Devil's Bridge Trailhead. It's a medium hike, but worth every step, and all very manageable for someone in decent shape. When you approach the climb to the bridge, there are some very steep stairs and a little bit of "real" climbing that might put you on all fours. This is the most challenging part of the hike.
Be aware, there aren't any guard rails on the 'bridge', so you are at your own risk. But the surface is large enough to feel safe. However, you will likely have to wait in line at the top to get that epic Instagram-worthy shot. Be sure to make friends with a fellow hiker or bring a portable tripod, a selfie will simply not do it justice.
TIP: Be sure to bring a hat and pack lots of water! When you think you have enough water, pack at least a bottle extra; per person!
Good to know: Be sure to purchase your Red Rock Pass and display it on the windshield of your vehicle (more info further below).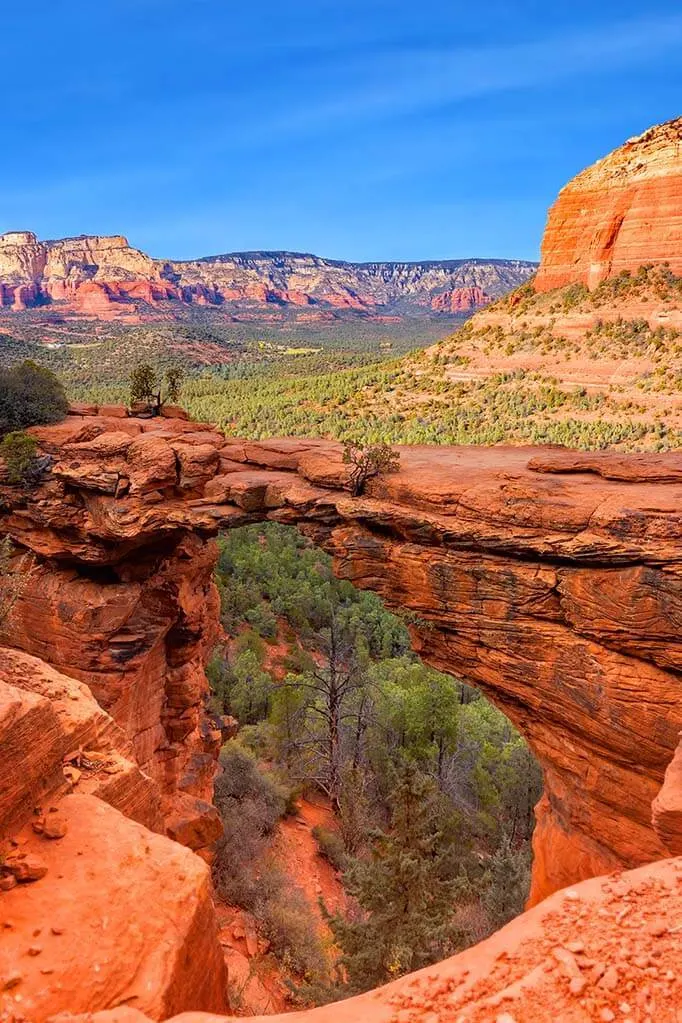 13. Crescent Moon – Red Rock Crossing
Sedona has many unique swimming holes scattered around its land that make for some fun in the sun. If you want to avoid the crowds at Slide Rock State Park, be sure to check out this swimming hole with a swinging rope in Red Rocks Crossing and Crescent Moon Ranch. It's a real hidden gem near Sedona!
The location is excellent with a gorgeous view of Cathedral Rock off in the distance. The water here is also a bit warmer than at Slide Rock and there are nice shady areas as well. Look toward the east end of the park and follow the trail to get to the swimming hole. See our map for the exact location.
TIP: Also here, you have to come early as the parking area fills up quickly. If you are planning to go swimming, bring towels, swimwear, and water shoes. The area is also very beautiful at sunset and there are some great photo opportunities.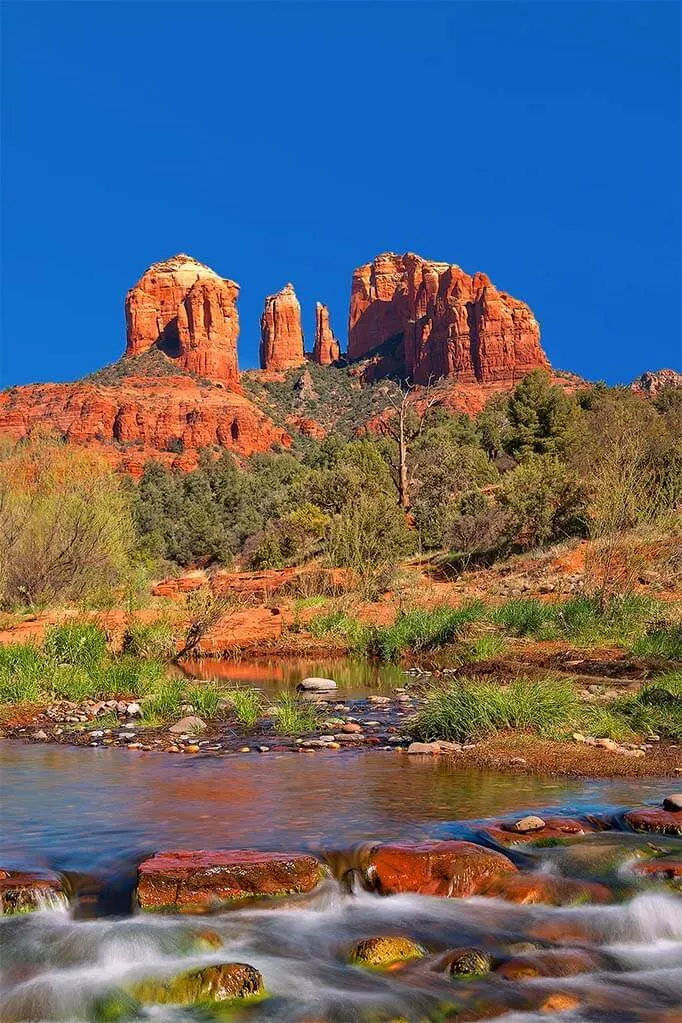 14. ATV tours, Air Tours, Wineries & More
In addition to the above-mentioned places and activities in Sedona, there are so many more fun things to do in the area. So depending on the time you have, you can explore the area deeper and find plenty of really nice things to do. Here are some examples:
ATV tours. This is a great way to get off the beaten path and explore more of the area. You can book an organized tour or even rent an ATV and explore at your own pace.
Air tours. If you are looking for a one-of-a-kind Sedona experience for a special occasion or just to simply treat yourself to the beauty of the red rocks, then definitely consider an air tour. There are hot air balloon tours and also helicopter tours are very popular. There is nothing quite like this experience. Seeing this beautiful area from the air is one of the most unique things to do in Sedona!
Wineries. There are also some nice winery tours that you can do when vacationing in Sedona.
Kayaking. While there is no kayaking in Sedona itself, there are nice kayak tours from Cottonwood, about 20 miles/25 minutes drive from Sedona.
Day trip to Grand Canyon. If you are vacationing in Sedona, you can easily visit the nearby Grand Canyon for a day. If you don't want to drive, one of the nicest ways to visit is by taking a railroad tour to Grand Canyon. Riding this historic railway is an experience in itself, but this tour combines the trip by train and by car in one. So you get to visit some of the nicest places along the South Rim and also the East Rim. Absolutely worth it!
Day trip to Antelope Canyon & Horseshoe Bend. This is another stunning area to visit when in Sedona. There are organized tours and they take care of all the permits. It will take a full day, but it's definitely worth it too.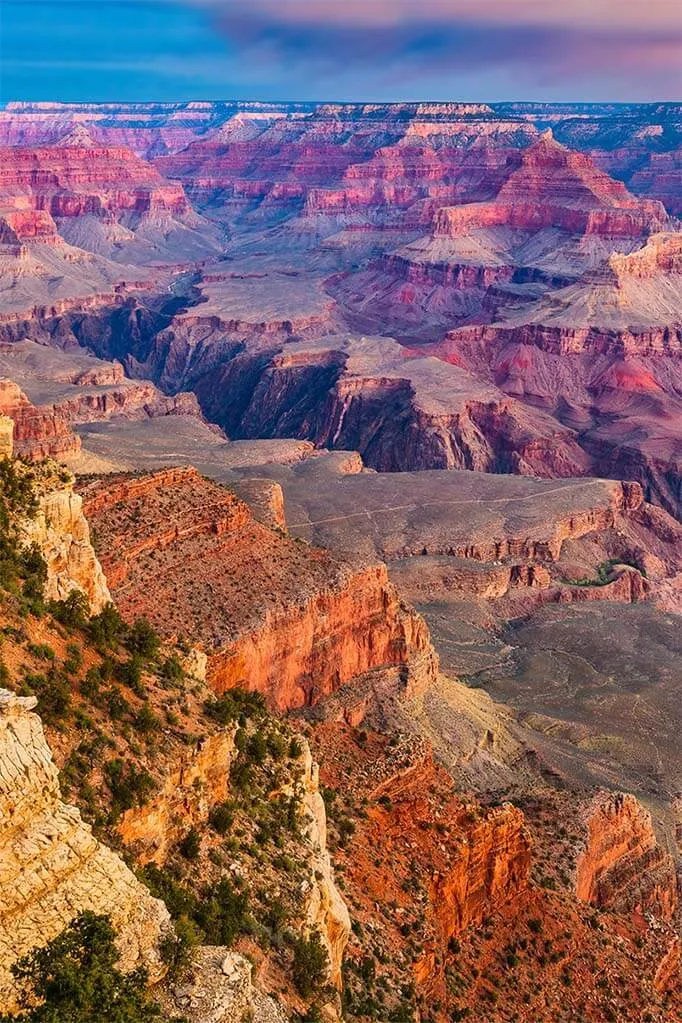 Map of Top Things to Do in Sedona
Below, you can see our custom-made map with the exact locations of all the best places and things to do in Sedona mentioned in this guide.
For the hikes, we indicated the location of the trailheads.
How to use this map: Use your computer mouse (or fingers) to zoom in or out. Click on the icons to get more information about each place. Click the arrow on the top left corner for the index. Click the star next to the map's title to add it to your Google Maps account. To view the saved map on your smartphone or PC, open Google Maps, click the menu and go to 'Your Places'/'Maps'. If you want to print the map or see it in a bigger window, click on 'View larger map' in the top right corner.
Tips for Visiting Sedona
Red Rock Pass is required when leaving your vehicle unattended while recreating on National Forest land around Sedona and Oak Creek Canyon. This pass must be displayed on your windshield. Daily passes cost $5.00, weekly- $15, and annual- $20. More info here. You can purchase these passes at various locations in town or at the self-serve kiosks located at each trailhead.
The best time to visit Sedona is in the shoulder season between March to May and mid-September to November. That's when the weather is best allowing you to enjoy everything to the fullest and it's not too hot for hiking. Also mild temperatures in the winter months are great for outdoor activities; not so much for swimming.
Depending on the time of year you visit, it can get VERY HOT in Sedona. So be prepared and armed with plenty of water, sunscreen, hats, and sunglasses.
The most popular and busiest time in Sedona is in the spring and three-day weekends like the 4th of July or Memorial Day. They draw a lot of tourists into town and make it challenging to navigate the traffic.
Plan at least 3-5 days for the Sedona area. This will allow you to explore the best of Sedona and some of the nicest areas nearby.
So, this is our guide to the very best things to do in and near Sedona. As you can see, the possibilities are endless.
If you are visiting for just a few days, start with the top of this list and make your way down choosing those places and activities that interest you the most. If you have 3-4 days, you should be able to see and do everything on this list, including some hiking. If you are also planning to explore more of the area and maybe take a day trip to Grand Canyon or similar, then definitely plan at least 5 days.
TIP: If you only have a day and wonder how to make the most of your time, please see our guide to how to see the best of Sedona in one day. It also has some additional suggestions for places to see between Sedona and Phoenix. Check it out!
READ ALSO:
Best Places to See in Arizona
Phoenix – Scottsdale Itinerary
More Travel Tips for Utah & Arizona:
Las Vegas & nearby:
If you found this post useful, don't forget to bookmark it and share it with your friends. Are you on Pinterest? Pin these images!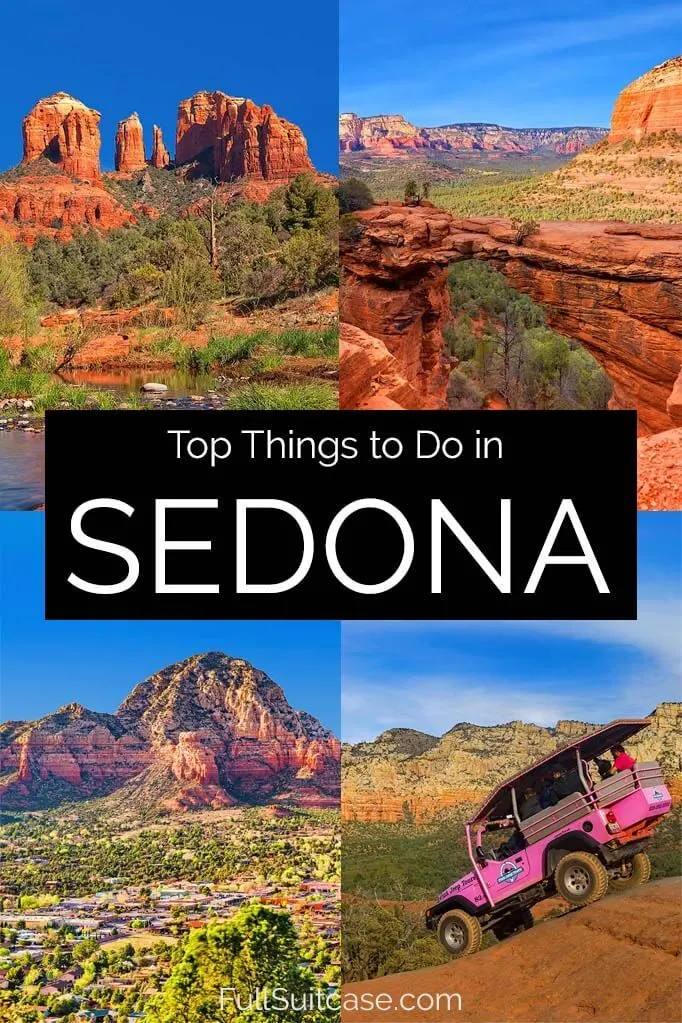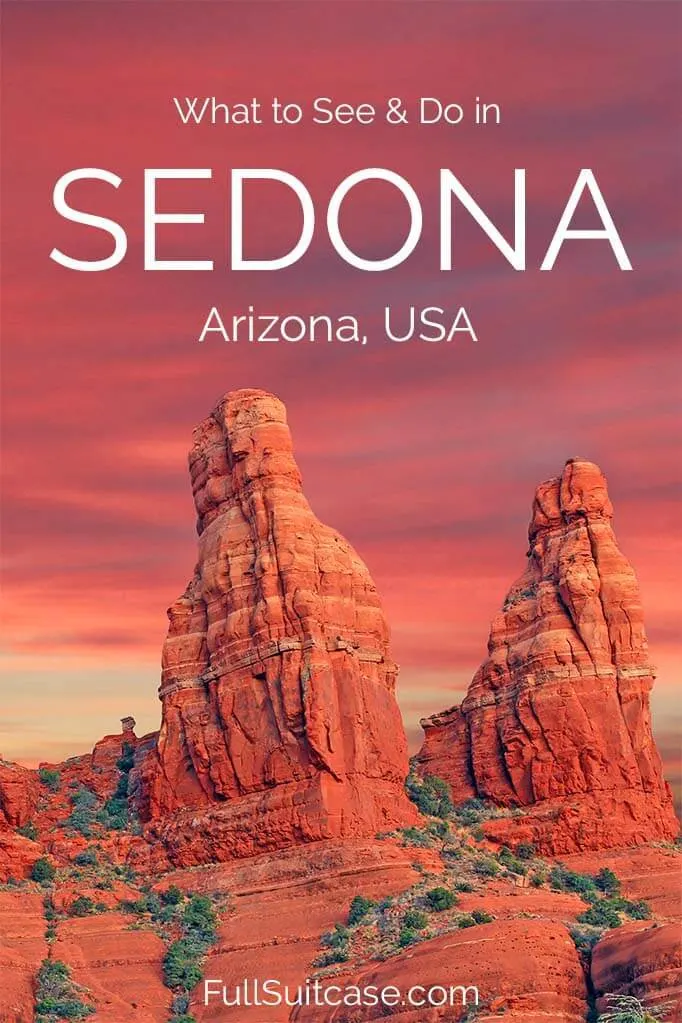 Image credits: Featured image- littlenySTOCK/Shutterstock.com// Pink Jeep- Autumn Sky Photography/Shutterstock.com// Sedona Trolley- Wollertz/Shutterstock.com// Chapel- meunierd/Shutterstock.com// Tlaquepaque & Slide Rock- fotoluminate/Depositphotos.com// Vortex & Boynton Canyon twildlife/Depositphotos.com// Cathedral Rock-Alexey Stiop/Shutterstock.com// Bell Rock-hstiver//Depositphotos.com// Airport Mesa- sepavone/Depositphotos.com// Oak Creek Vista- nflane/Depositphotos.com// Devils bridge-AVFC/Depositphotos.com// Red Rock Crossing-jjvallee/Depositphotos.com// Grand Canyon- Sean Pavone/Shutterstock.com// Red Rocks-cpaulfell/Shutterstock.com//