Visiting Las Vegas (Nevada, USA) and wondering what to see, what's worth it the most, and how to plan your time if you only have a day in Vegas? In this guide, we share a suggested 1-day Las Vegas itinerary that gives you a good introduction to the city. Find out!
World-known for its casinos and a huge array of entertainment options, the City of Sin has so much to offer that attempting to see the best of Las Vegas in one day might look like a daunting task…
It's true that there is so much to see and do in Las Vegas that you could spend many weeks here and still not experience it all. However, if this is your first time in Vegas and you want to get a taste of what the city is like, you'll be glad to know that it's quite possible to see some of the most iconic places in Las Vegas in a day.
In this article, we share a recommended itinerary for one day in Las Vegas, coupled with practical tips for each place and attraction.
We also created a map indicating all the places mentioned in this article. You can find it at the end of this guide, together with a short overview of the itinerary and practical tips.
With just a day in Las Vegas, we recommend that you focus on the most famous places that you really have to see when visiting the city for the first time.
Based on our personal experience on a recent visit, in addition to 'the musts', this itinerary also includes some additional suggestions for the most amazing experiences which will make your day in Las Vegas even more memorable.
Good to know: As you can imagine, Las Vegas is a city that comes to life at night. This means that many places are closed in the morning (especially on weekdays). This 1-day Las Vegas itinerary takes into account the actual opening hours and locations. It is structured in such a way that you can actually visit all the places in the order in which we recommend them.
Of course, you can sleep longer, start your day at noon and continue sightseeing into the early hours of the next day. In that case, you may want to adjust this itinerary a bit, depending on the opening hours of the places that you want to see.
So use this guide as an inspiration to see what can be done with 24 hours in Las Vegas, and make your own perfect itinerary based on your personal interests and the time that you have.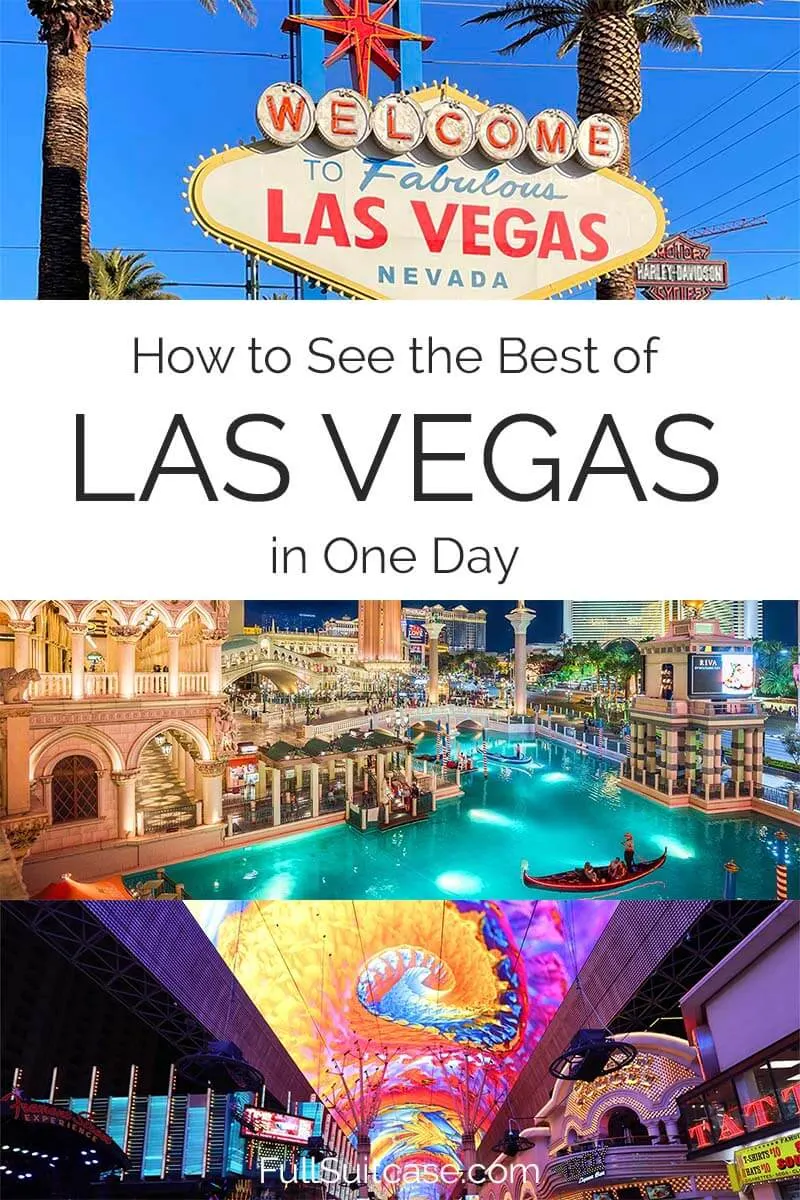 Here's what you could see and do in Las Vegas in one day:
Welcome to Fabulous Las Vegas Sign
Start your day at the famous "Welcome to Fabulous Las Vegas" Sign. It's located on Las Vegas Boulevard to the south of the Strip, close to the airport.
There are several reasons to come here first thing in the morning. First, there are no opening times here, so it's one of the places that you can actually visit at any time of the day.
Second, taking a picture with this iconic sign is one of the most popular things to do in Vegas. So if you come here later in the day, the chances are high that you will have difficulty finding parking and will have to stand in a very long queue for a picture…
Good to know: You will need a car in order to get here. With just a day in Las Vegas, I assume that you are in the area as part of a road trip, so likely, you will have a car. But if you are not renting a car, you can just take a taxi or an Uber, and – if it's not busy – ask the driver to wait while you take a few pictures.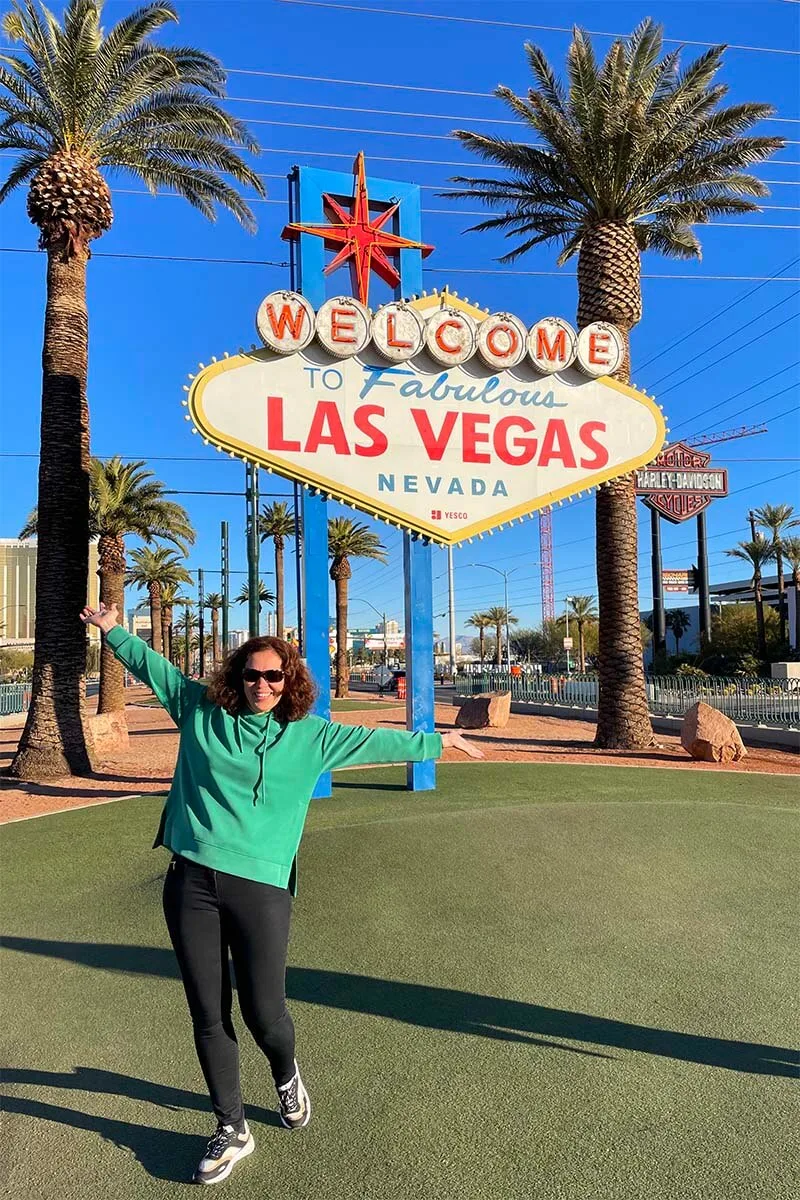 The Strip
You really cannot miss the famous Las Vegas Boulevard, aka The Strip. However, this street stretches over 4 miles (almost 7 km), and some parts are more impressive than others.
The absolute 'must-see' is the Strip between Mandalay Bay (just north of the 'Welcome to the Fabulous Las Vegas' Sign) and The Venetian.
This stretch of the Strip is about 2.5 miles long and is home to the most famous casinos. With just a day in Las Vegas, you should probably just drive through here. You'll pass the pyramid at Luxor, the Statue of Liberty at New York-New York, the Eiffel Tower at Paris Las Vegas, the famous Bellagio, Caesars Palace, Flamingo, Mirage, and many others.
Early in the morning, the Strip is usually very quiet, so you can slowly drive past all the famous casinos and get a good idea of the layout of the city.
Next, we recommend that you visit one or two of the most famous casinos. You can still come back to the Strip later in the evening as well. But the casinos are always open and many other places in Vegas are closed in the morning. Yes, it means a bit of backtracking, but it's one of the best ways to make the most out of your day in Las Vegas if you are starting out early and many other places are still closed or too deserted to enjoy the authentic atmosphere.
Good to know: If you are driving by car, you could park at Caesars Self-Parking (indicated on our map).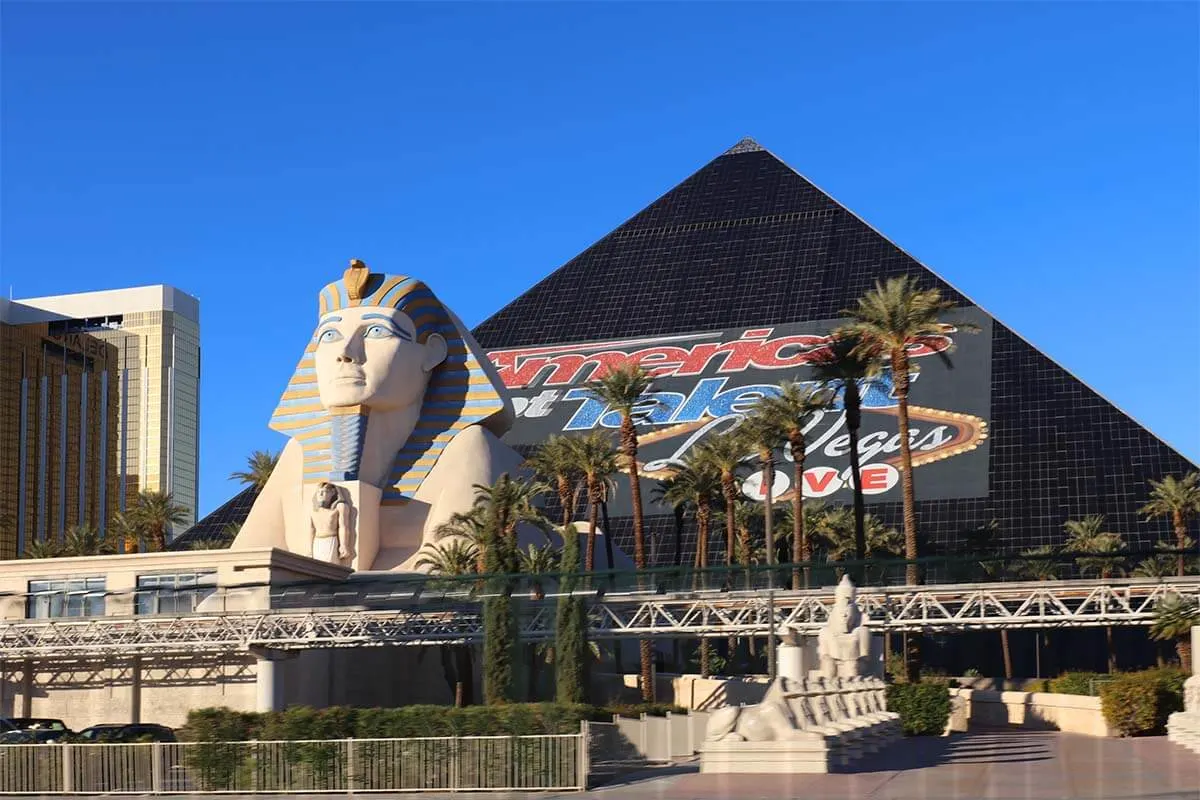 Caesars Palace
There are so many famous casinos to choose from, so you can pick the ones that interest you the most. But if this is your first time in Vegas and you are not sure where to go, we recommend visiting Caesars Palace and Bellagio.
These are among the most impressive hotels/casinos in Las Vegas and each of them has plenty to offer. Plus, they are located just across the street from each other, so you can easily see both in one go. In addition – based on your interests and the time that you want to spend here – you can also pay a visit to a few other casinos in this same area.
Just to be clear – we don't talk about gambling. There's so much to see and do at the most iconic casinos in Las Vegas that they are always worth a visit (and you can go with the whole family).
Caesars Palace is huge, so you could spend hours here. But for a quick first introduction, just walk the entire length of the complex starting at either side.
On the outside, you can see Roman sculptures and fountains including the famous Trevi Fountain and the Colosseum, just like the real ones in Rome, Italy.
On the inside, you'll find several shopping 'streets' complete with the most famous fashion boutiques, Italian restaurants, lanterns, benches, and even a beautiful 'sky' that makes you forget what time of day or night it is.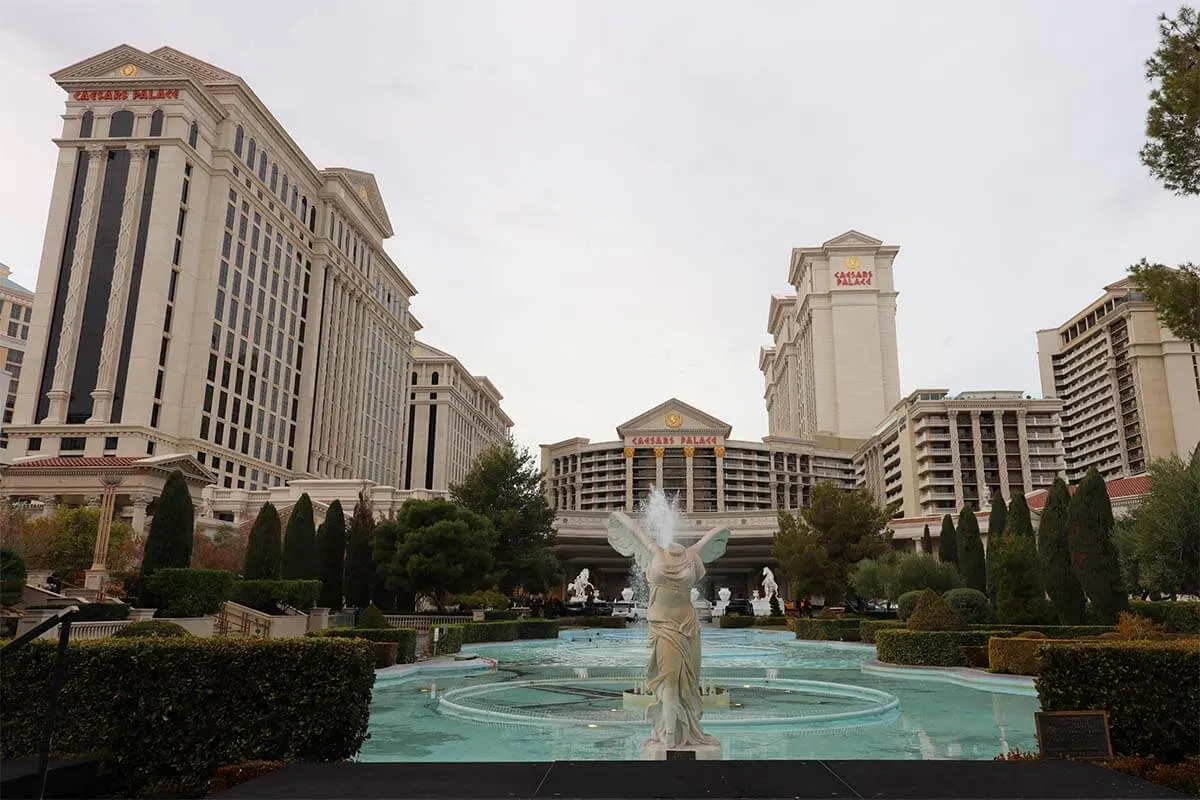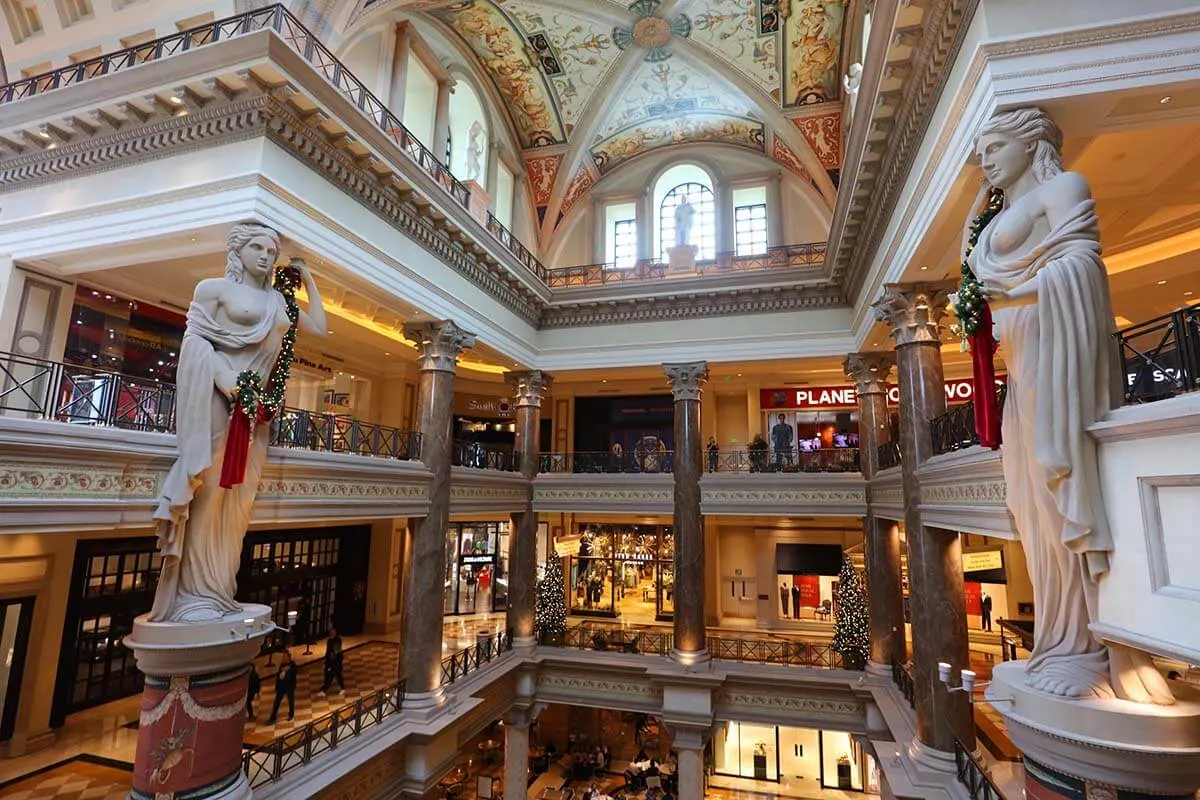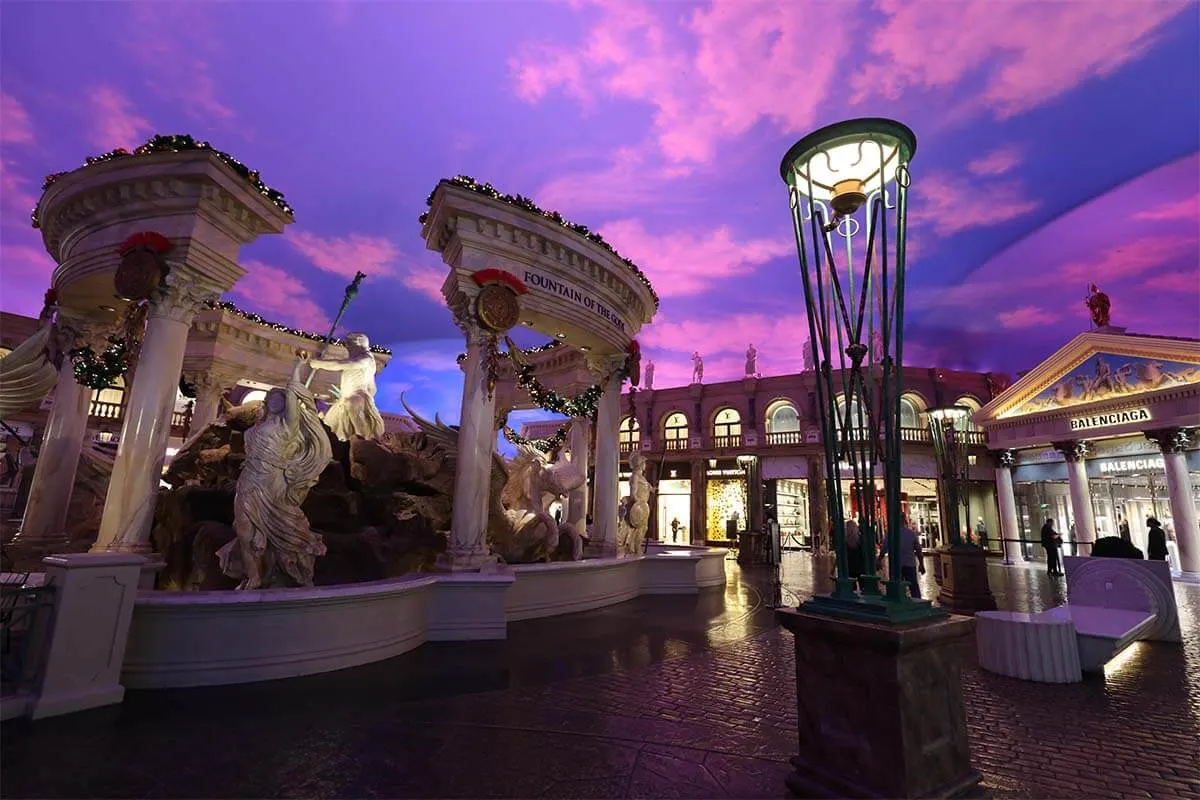 Bellagio
Bellagio is another iconic hotel and casino in Vegas. Also here, there's a lot to see. On the outside, you have a big pond that reminds you of Lake Como in Italy (where the real Bellagio town is located). Later in the day, there are musical fountain shows here (you may catch a show when you return to the Strip later).
Anyway, there are a few things to check out inside too. Don't miss the "Fiori di Como" glass ceiling in the main lobby and Bellagio Conservatory & Botanical Gardens which has different displays for every season.
If you start your day at around 8-9 am and depending on how much time you decide to spend at these casinos, it will likely be at least 11-11.30 am by this time. If you feel hungry, you could have a quick lunch on the Strip or along the way to your next destination.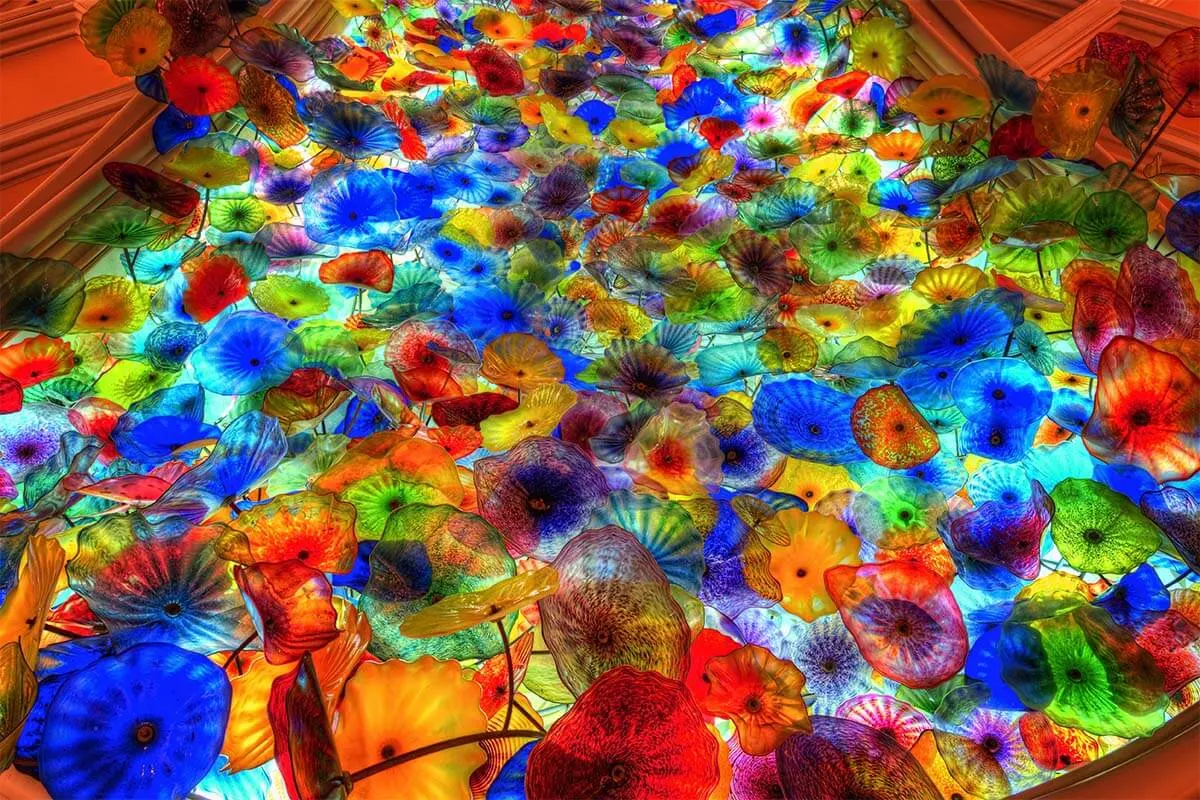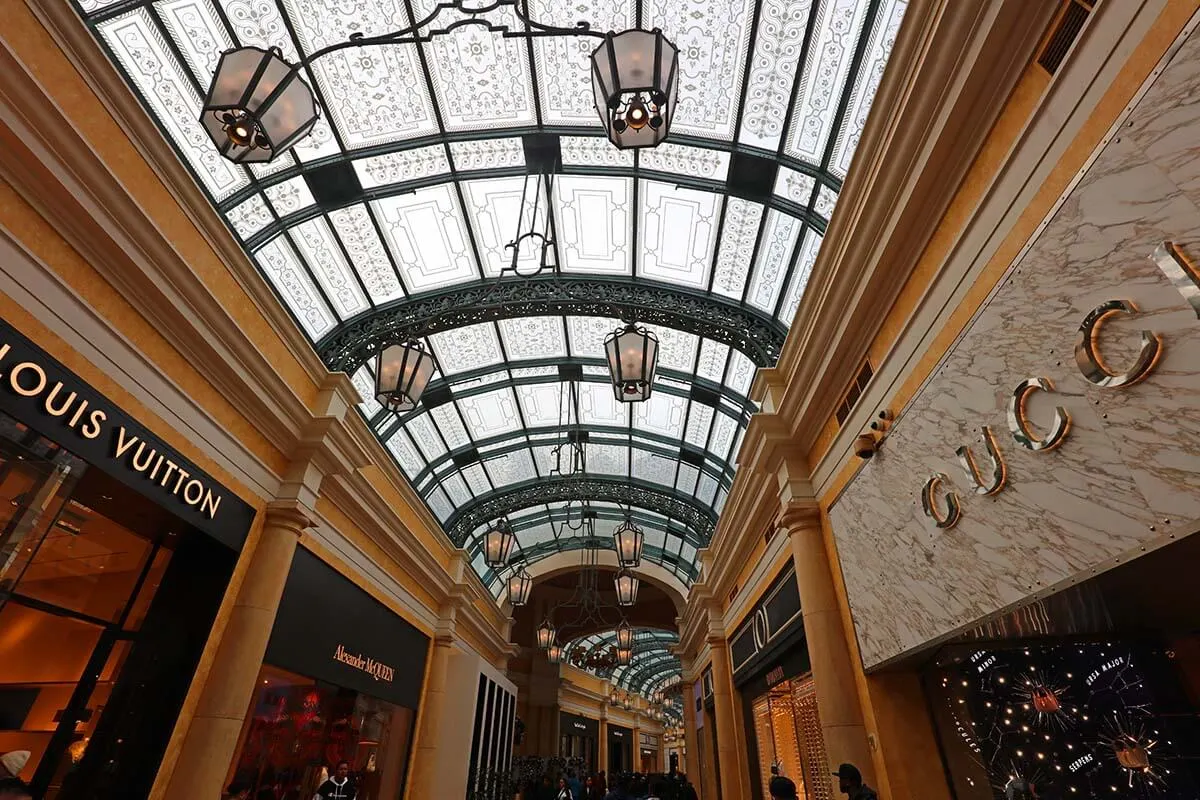 Museums/Attractions
Below, we have listed three of the most interesting museums/attractions that you could fit into this 1-day Las Vegas itinerary: Meow Wolf's Omega Mart, the Neon Museum, and the Mob Museum.
Good to know: Depending on the opening times and what you decide to do in the evening (more info further below), it will be difficult to see all three of these, so pick just one or two. If your evening is rather free, you could visit all of them.
Planning tip: Depending on your interests and the time that you have, we recommend that you visit the Neon Museum and either Meow Wolf's Omega Mart or the Mob Museum. The Neon Museum requires a lot less time, so it can easily be combined with one of the other places.
On the other hand – depending on the season – the Neon Museum sometimes only opens really late in the afternoon. In that case, you may want to skip it altogether. The Mob Museum is the easiest to visit since it has the most flexible opening hours.
Below, you can find more info about each of these places.
Meow Wolf's Omega Mart
Next on this itinerary is AREA15, a very unique entertainment complex. This place is not an absolute must, but it's so special and so 'Vegas' that we recommend checking it out. On the other hand, the tickets aren't cheap, so decide based on your interests, time, and budget.
AREA15 features a variety of quirky and very unique experiences and what they call 'experiential entertainment'. You'll find a few eateries here too.
There is so much to experience that you could easily spend a big part of the day… But with only one day in Las Vegas, we recommend just visiting Meow Wolf's Omega Mart. It's a very unique grocery store with immersive art installations and secret passages that lead to unexpected discoveries and fun adventures.
It's really difficult to put into words what Omega Mart is like. It's colorful, extraordinary, bizarre, entertaining, it's… Vegas. And it's fun for the whole family. We visited with teens and they had a great time here, just as we did. Kids will enjoy it as well.
Good to know: AREA15 is just 2 miles, 10 minutes drive from Caesars Palace. You'll need a car or a taxi to get here. Free parking is available.
TIP: Omega Mart operates on a timed-entry system and the tickets often sell out. So if you want to be sure to visit here without wasting your precious time, be sure to book your tickets in advance! Depending on the day, they are open from either 10 am or noon. If they are open at 10 (usually on weekends and busy seasons), you could adjust this itinerary by coming here earlier and visiting the casinos in the evening.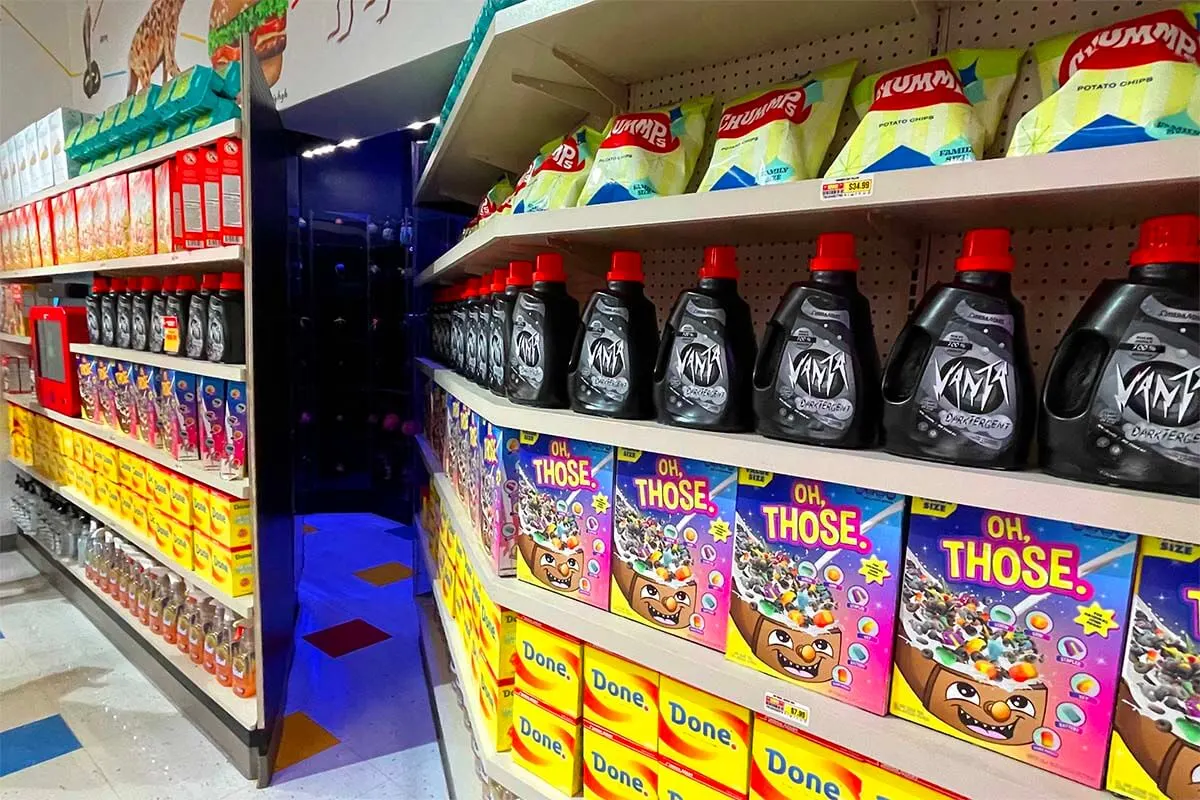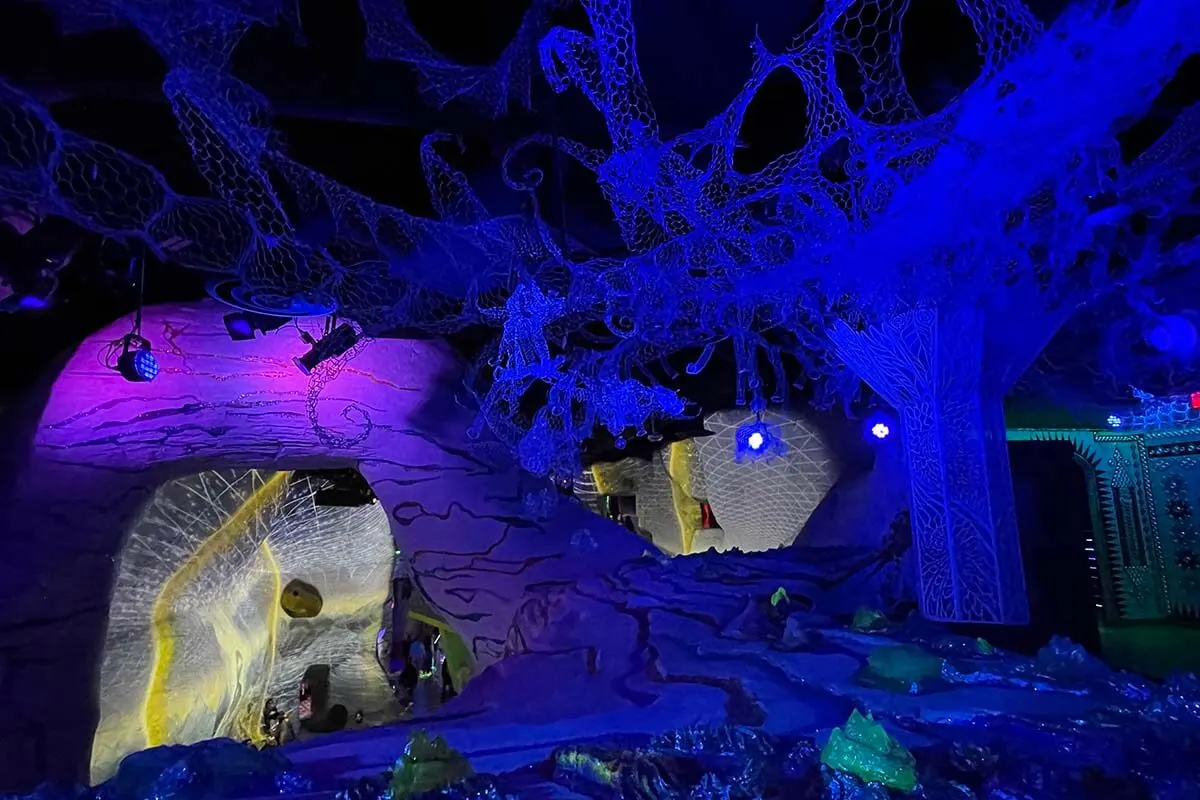 The Neon Museum
Next, head to Las Vegas downtown where you can visit one or two of the most interesting museums in the city. And don't worry – these are not 'boring' traditional museums, but something a bit more entertaining (it's Las Vegas after all).
The Neon Museum is another one of those unique places that you can only find in Las Vegas. It's an outdoor museum where you can see some 'retired' neon signs coming from all kinds of iconic venues in Las Vegas.
The museum is rather small so you can see everything in less than half an hour. Plus, it's located close to some of the must-sees in the old downtown area, so it's really easy to fit it into your itinerary, even if you only have a day in Vegas.
Good to know: Depending on the season, The Neon Museum is open daily from 2, 3, or 4 pm. If you want to be sure to visit, you have to reserve in advance. There is a small car park here which is free for visitors.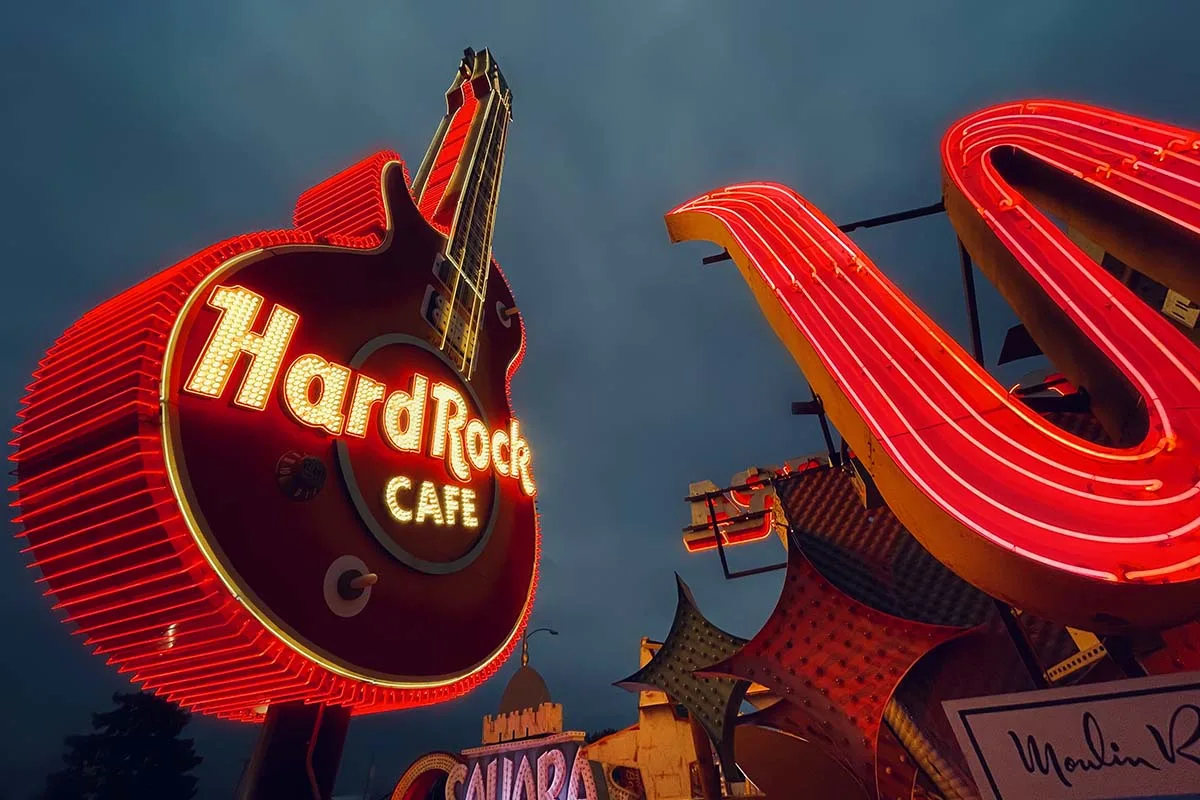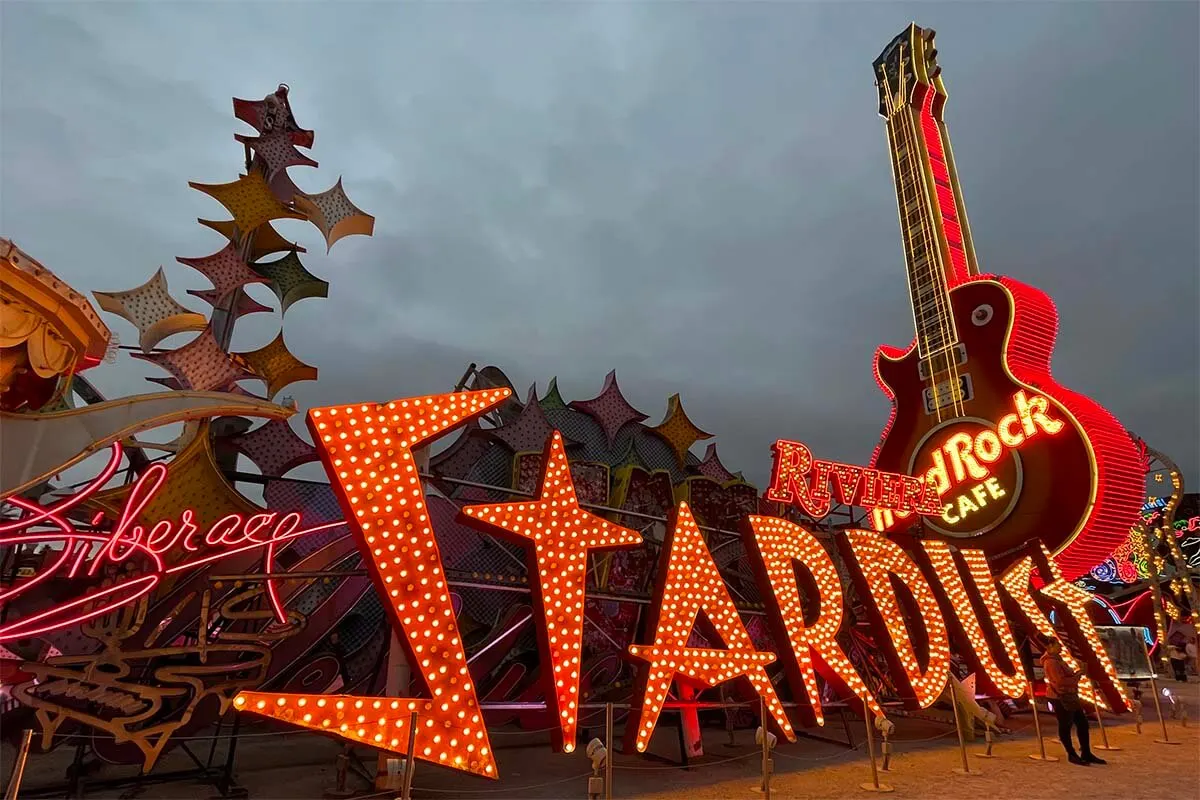 The Mob Museum
The Mob Museum is dedicated to the history of organized crime and law enforcement. Housed in the former federal courthouse in downtown Las Vegas, the museum offers a fun and interactive way to learn more about some of the most famous mobs in U.S. history (Al Capone, Moe Dalitz, Frank Costello, Tony Spilotro, etc.).
The Mob Museum also has a speakeasy-style bar, which serves cocktails inspired by the Prohibition era. The Underground bar is located in the basement and can be reached through a secret door. You may even need a 'secret' password in order to enter ;).
Good to know: The Mob Museum is typically open from 9 am until late in the evening; the bar is open from noon on. You can find more info and book your tickets here. Tickets are valid the whole day and are usually available for bookings about a month in advance. Count 1.5-2 hours for a visit. There are several large parkings downtown, but they are not free.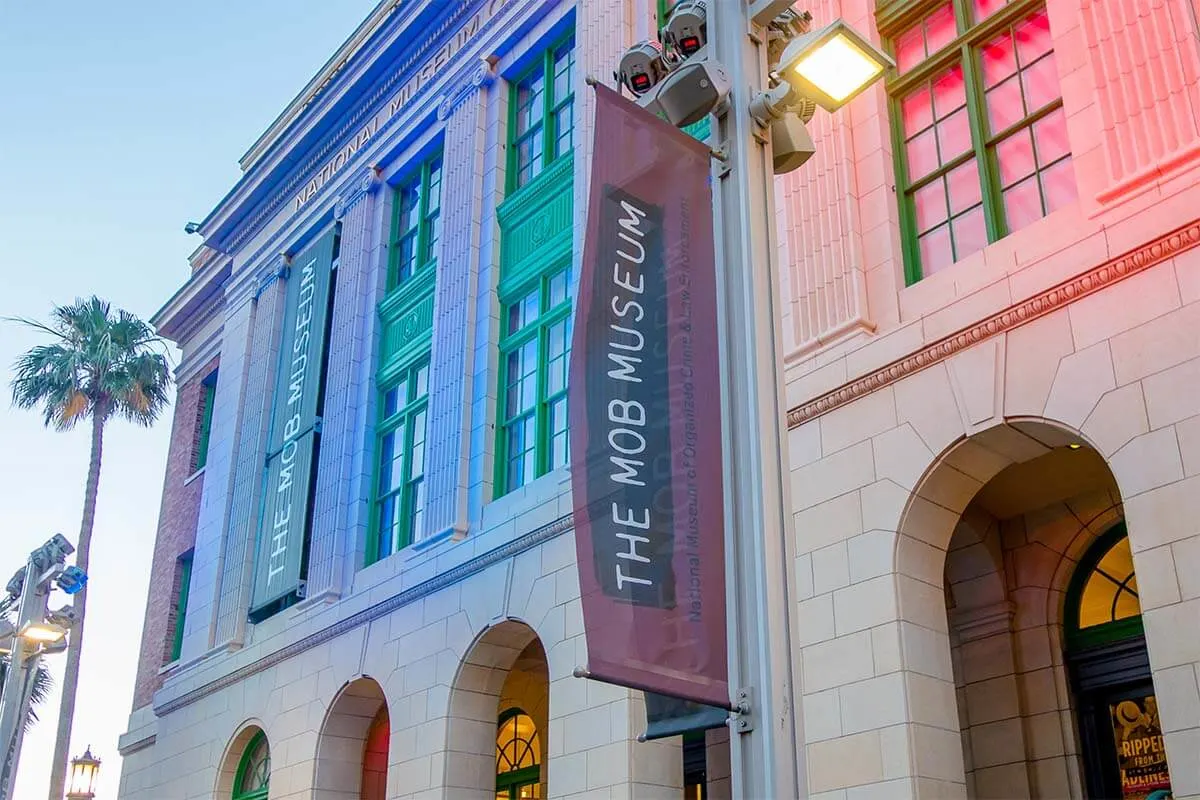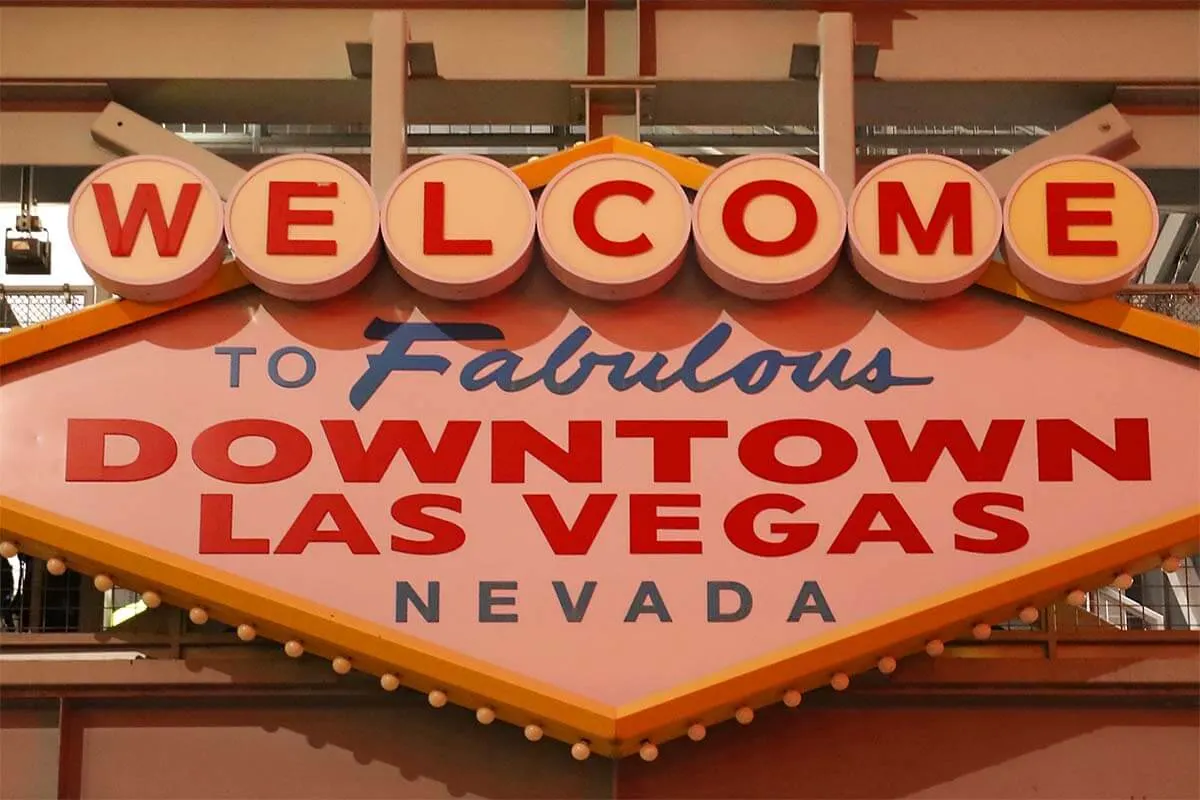 Fremont Street Experience
Next, head to the most famous tourist attraction in the old town – Fremont Street Experience. It's a sort of a covered pedestrian mall, best known for the dazzling light shows on the Viva Vision canopy made up of 12.5 million LED lights.
With its spectacular light displays, live entertainment, and vibrant atmosphere Fremont Street Experience is one of the must-see places in Las Vegas. You'll also see street artists and all kinds of dressed-up characters in the strangest costumes charging you a fortune for a picture with them. The street is lined with shops, bars, restaurants, and casinos, and there's always a lot going on here.
Fremont Street Experience is open 24/7 and there are ever-changing light displays all the time. So it's always worth a visit. However, it's a bit more impressive when it's dark and the street really comes to life in the evening. They also have some special featured music and light shows on the hour every hour starting from 6 pm until 2 am.
That being said, we found that these 'shows' aren't really worth waiting for. Also, depending on when you visit, it can get dark pretty early or only late in the evening. So if you only have one day in Las Vegas and your time is limited, simply go to Fremont Street when it fits your itinerary best.
Good to know: Fremont Street Experience and the Mob Museum are located very close to each other. The Neon Museum is just nearby too. So you can easily adjust in which order you visit these places. Also, you will find plenty of eateries in this neighborhood if you get hungry.
TIP: In the old town, you can also find the iconic Golden Nugget Casino. Opened in 1946, it is one of the oldest casinos in Las Vegas. If you have some time to spare, you may want to check it out. I indicated its location on our map further below.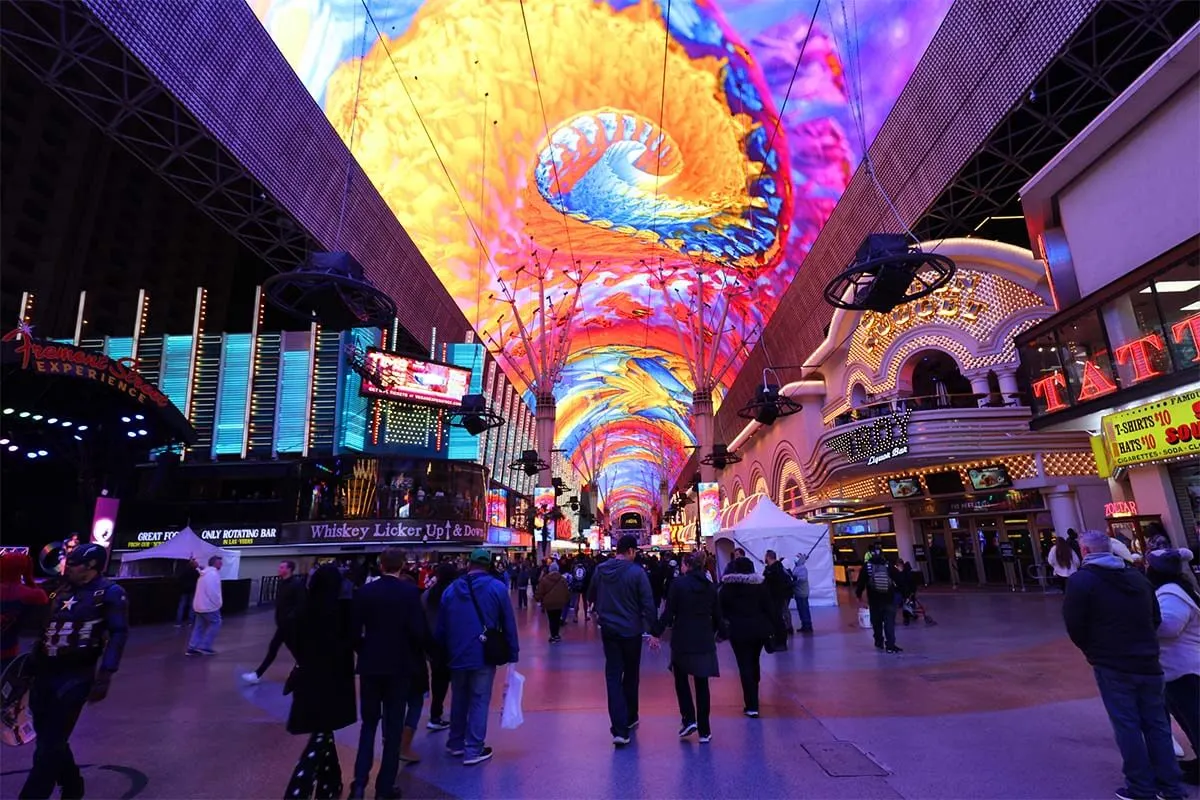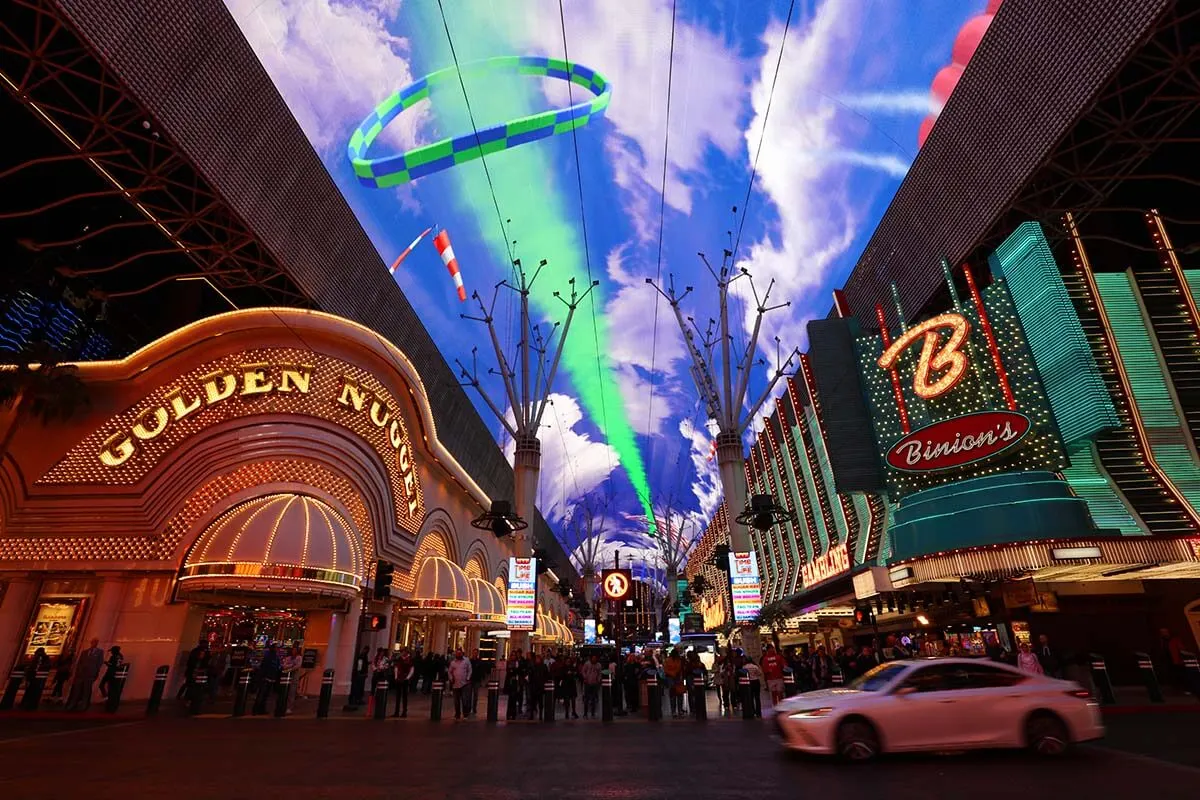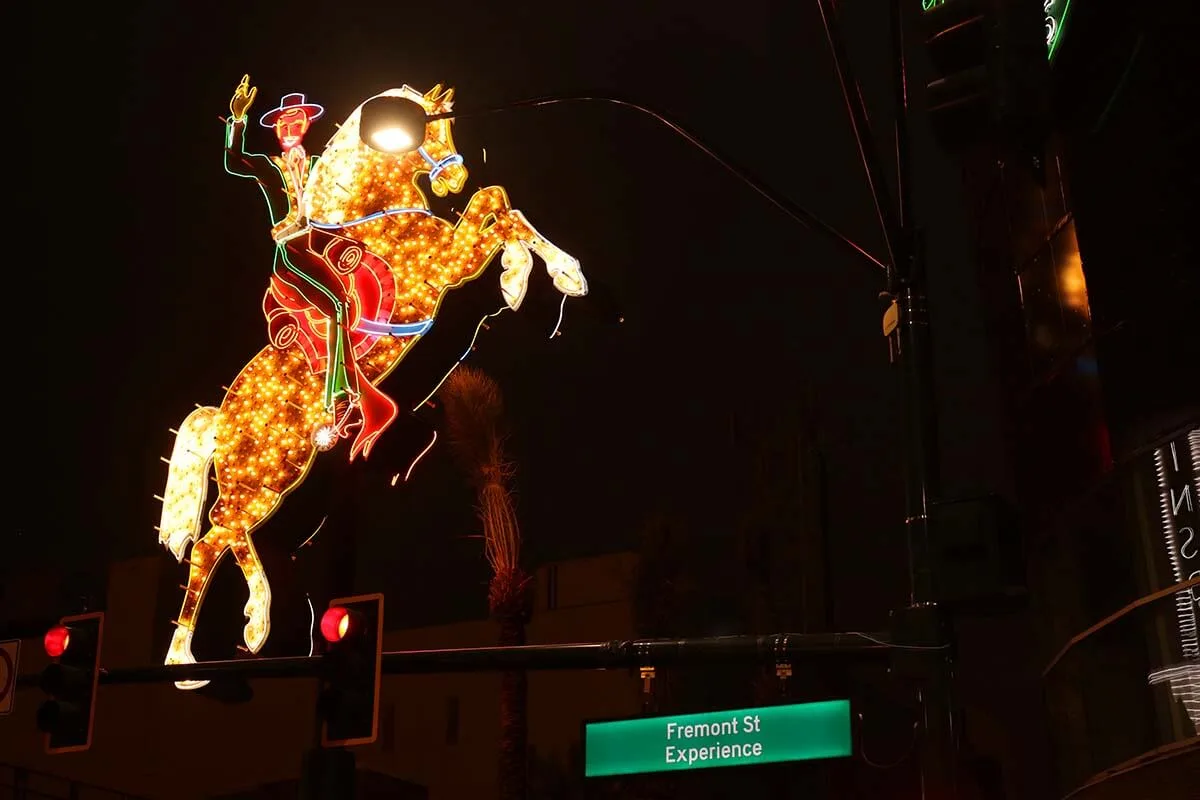 The Venetian
Next, we recommend that you return to the main area of the Strip. By the evening, it will be incomparably livelier than in the morning and it's the best place to experience what visiting Las Vegas is really about!
First, you may want to check out The Venetian.
Built in the style of Doge's Palace and St Mark's Square in Venice, Italy, this is another truly impressive casino to visit in Las Vegas! Also here, you can just walk around, see the Venetian gondolas, and admire the architecture.
With more time and depending on your interests, you could also opt for a few experiences like a gondola ride and/or Madame Tussauds Wax Museum.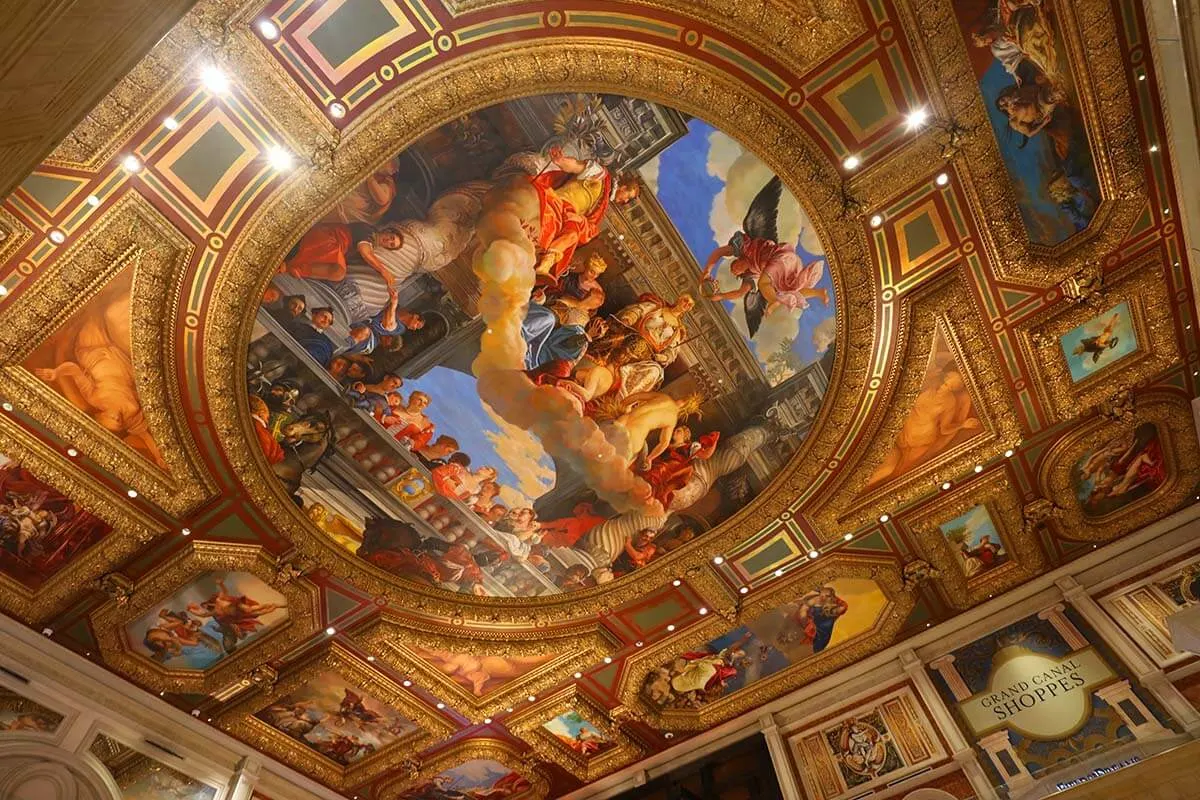 LINQ Promenade
Next, head to LINQ Promenade, just a block or two from The Venetian (10 minutes walk). This pedestrian street is home to a variety of shops, restaurants, bars, and attractions.
The main attraction here is the LINQ High Roller, a 550 ft observation wheel that offers panoramic views of the Las Vegas skyline. The ride takes about 30 minutes and if you want to do it, it's best to book your tickets in advance (they don't even sell them on the spot and ask to buy tickets online).
Another popular attraction here is the Fly LINQ zipline, which allows visitors to zip line from one end of the promenade to the other. If interested, you can get tickets here.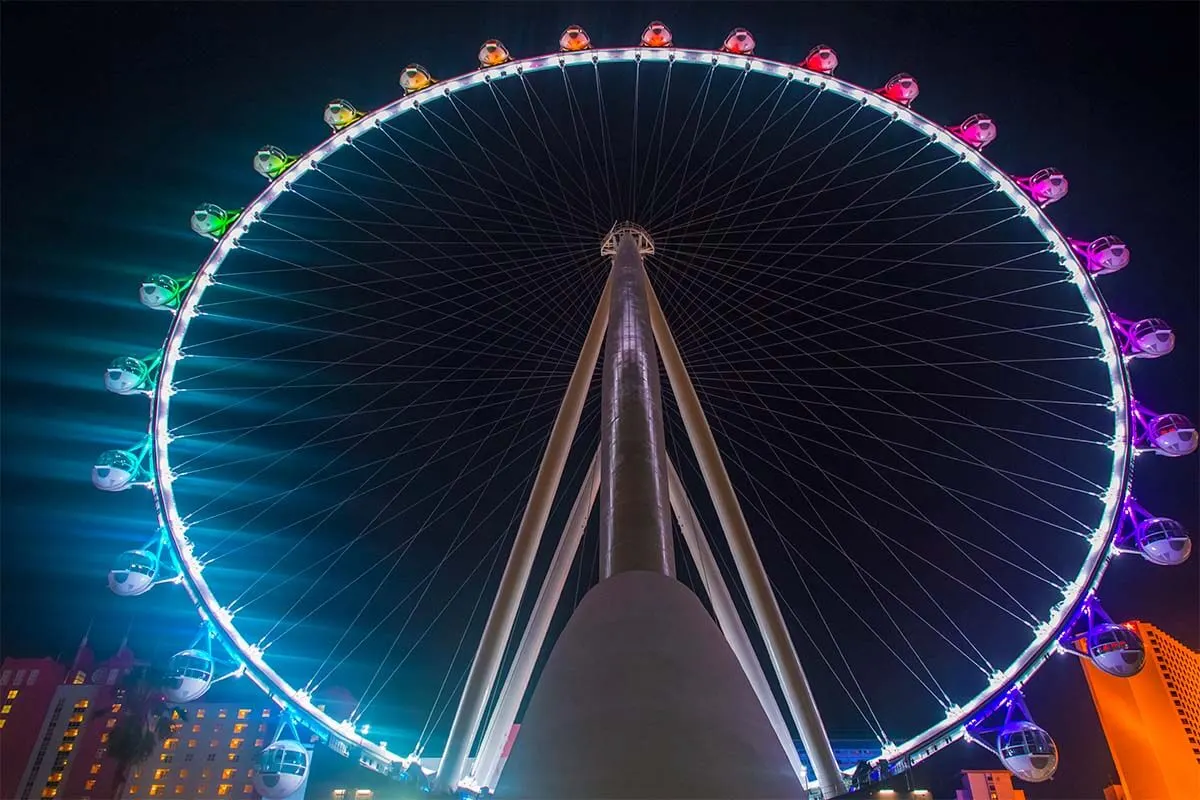 Bellagio Fountains
If you haven't visited Caesars Palace and Bellagio in the morning, you can do it in the evening too. In addition, you could also see one of the famous Bellagio musical fountain shows.
Bellagio fountain shows are free and you can see them from the street. There are shows every day, in the afternoons every 30 minutes, and in the evenings after 7 pm, every 15 minutes. They usually only last 5 minutes, so it's something that's really easy to include into any Las Vegas itinerary.
Further, the Strip and its casinos feature a big variety of restaurants and bars, ranging from casual fast-food options to upscale dining experiences. So you'll have no trouble finding a place for dinner.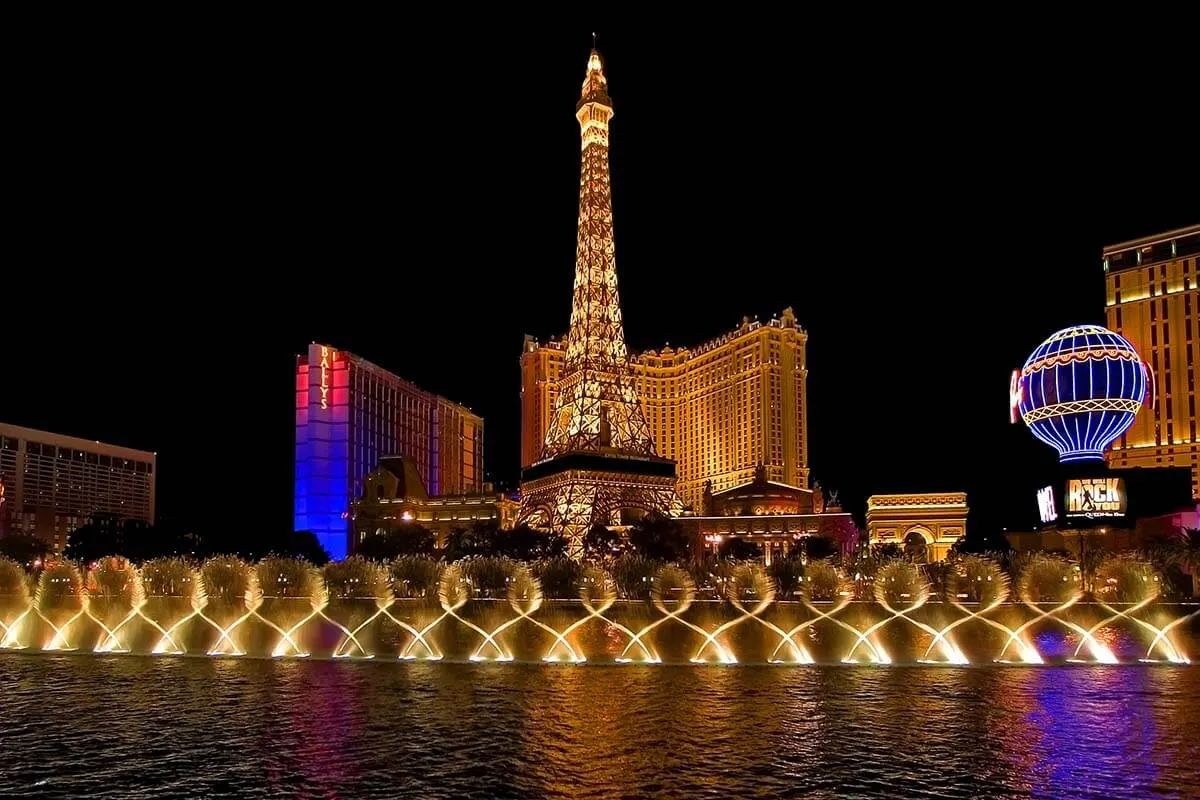 Shows & Helicopter Flight over the Strip
End your day in Las Vegas with a bang! We recommend that you see one of the famous Las Vegas shows and/or take a nighttime helicopter flight over the Las Vegas Strip.
Good to know: The shows typically last about 1.5 hours and a helicopter flight is just 10 minutes (+ the time to get there, etc., still, can be done in about 1 hour). If you research the best available options, find that there is availability for a late-evening helicopter flight, and book everything in advance, you could do both on the same evening. Alternatively, depending on your interests, budget, and the availability of helicopter flights, choose just one of the two.
There are too many shows and concerts in Las Vegas to even start listing them. Plus, they change with time. So check what's available and see if something catches your eye. The easiest to fit into this itinerary would be the shows at the casinos in the area around Ceasars Palace/Bellagio.
We chose one of the Cirque de Soleil shows and it was spectacular. At the moment of writing, for this itinerary, you could book tickets for the evening show "O" by Cirque du Soleil at Bellagio. Alternatively, see which shows are available at Caesars Palace.
A nighttime helicopter flight above the illuminated city of Las Vegas is another amazing experience that is well worth your time and money.
After doing quite some research, we booked this highly-rated helicopter flight and it didn't disappoint. Seeing the Strip and all the iconic Las Vegas casinos from above is a really unique experience. Just like everything in Las Vegas, it's not cheap, but we all found that it was absolutely worth it. The kids loved it too!
It's a perfect way to end your unforgettable day in Las Vegas!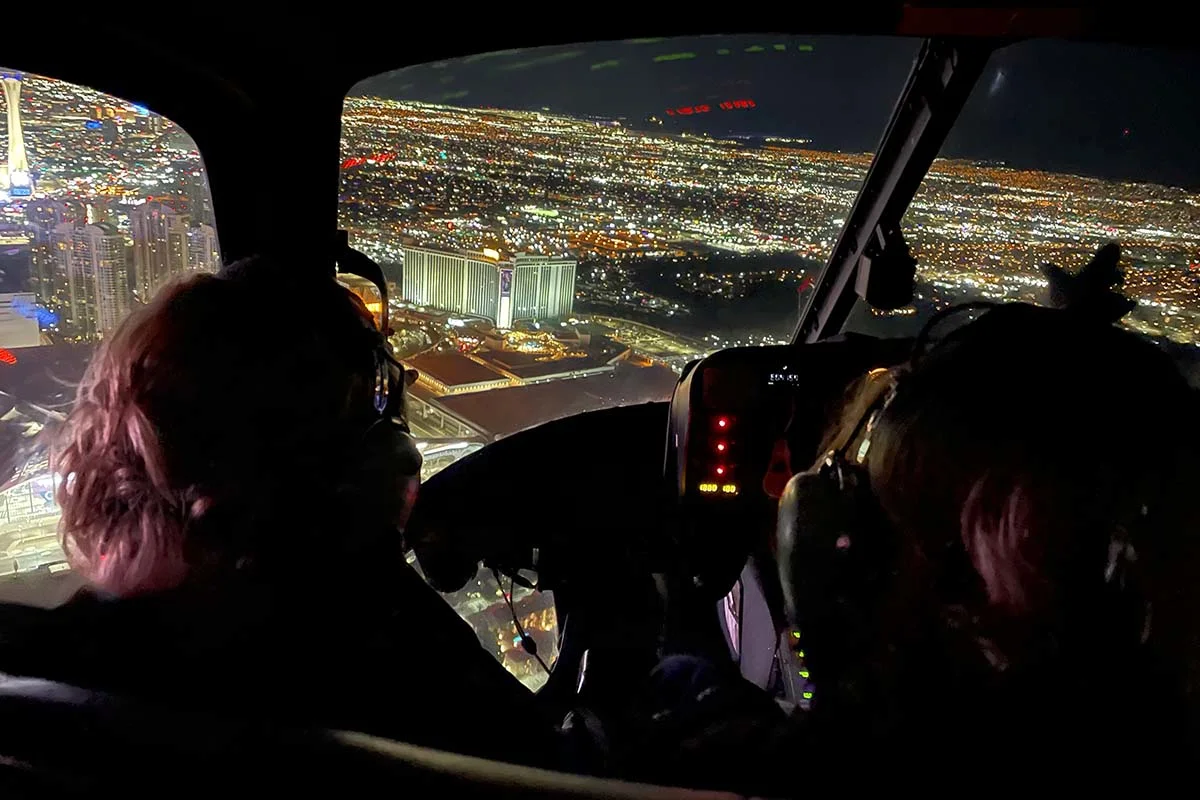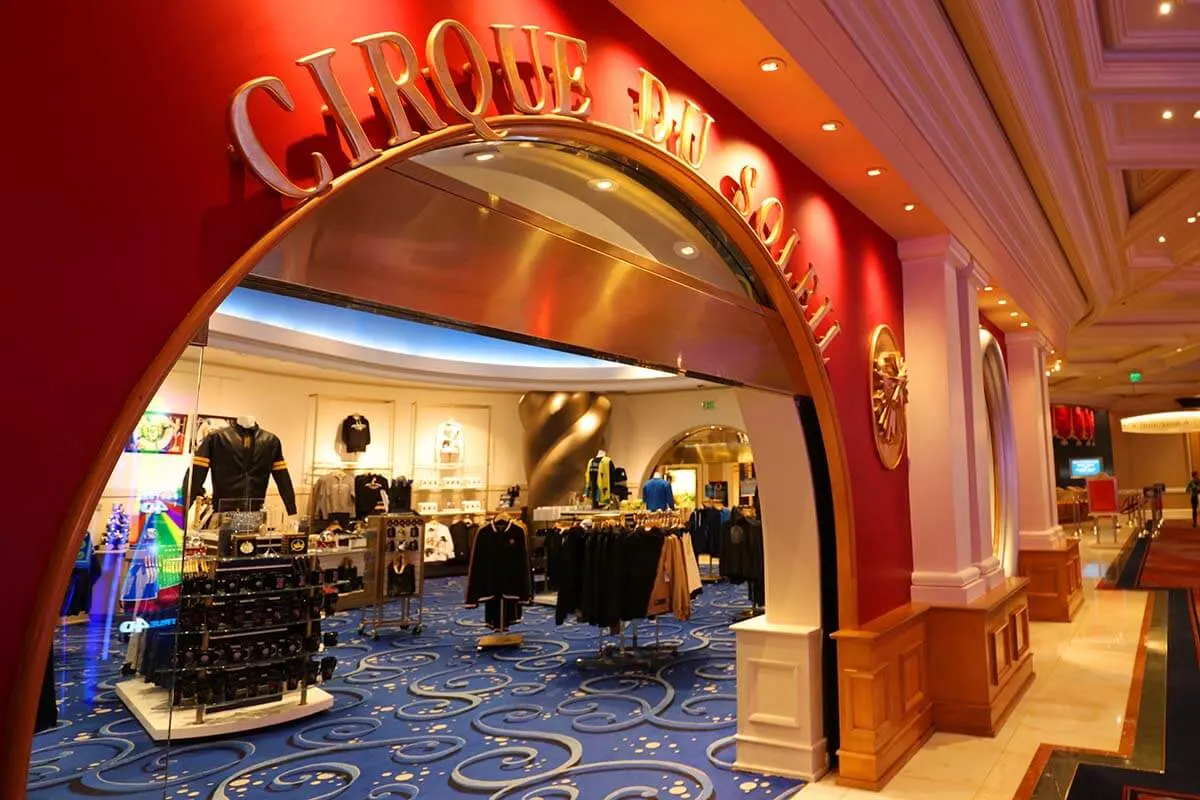 Getting Around
As you can see in the description and also on the map further below, you will need some kind of transportation for sightseeing in Las Vegas. In addition, prepare to do quite some walking.
If you have a car, it's quite easy to get around, but you have to take into account that finding parking will take some time. Plus, you will have to walk more because you can't always park your car exactly where you need to be. In addition, parking is not cheap at most places in Las Vegas.
Taking all this into account, you could just consider using a taxi/Uber. This could save you lots of time. Traffic can be really busy at times, especially in the afternoon/evening. But that's the same whether you use your own car or taxi.
TIP: With just a day in Las Vegas, you could also consider using hop-on-hop-off buses. The route covers all the main attractions including the 'Welcome to Fabulous Las Vegas' sign, the Strip, and Downtown Las Vegas. You don't have to worry about parking or how much a taxi would cost, plus, you can enjoy great views of the city and take some nice pictures from a double-decker bus.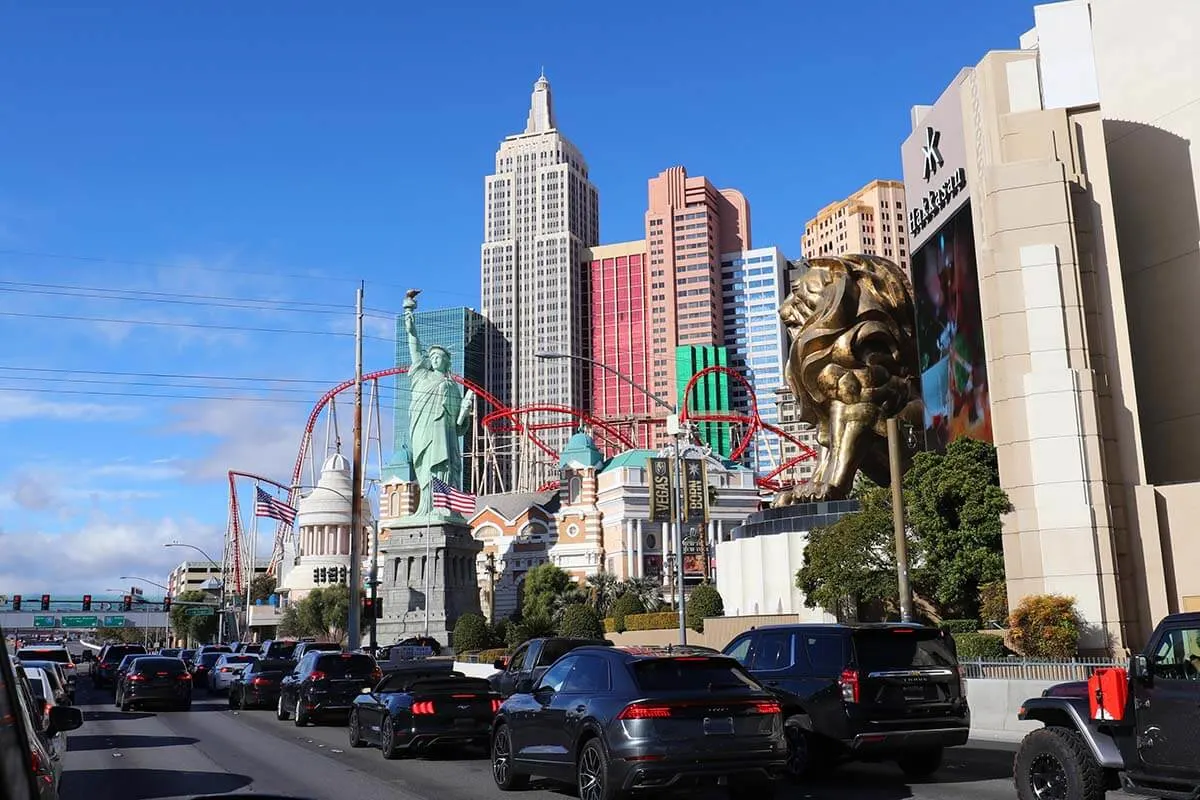 Las Vegas 1-day Itinerary Overview & Map
Based on our recommendations above, here is an overview of the suggested itinerary.
Please note that the hours are only indicated for your reference. A lot depends on the choices you make and how long you stay everywhere. Also, as already mentioned, some places have varying opening times depending on the day/season, so that will also influence your itinerary as well.
Here's what your 1-day Las Vegas itinerary could look like:
PRO TIP: Be sure to book all the indicated tickets/shows in advance (click on the links above for the tickets). That way, you can immediately see what's available for your travel dates (and at what time). This will make your travel planning simpler and your Las Vegas day trip much more relaxing.
To give you a better idea of where everything is located, we created a map indicating all the places mentioned in this Las Vegas itinerary for one day – see below.
Where to Stay
Even if you have just one day in Las Vegas, you should try to spend at least two nights in the city – that way, you have one full day for sightseeing.
With just a day, it doesn't really matter that much where you stay, especially if you have a car. On the other hand, staying close to the main area of the Strip could make your day more relaxing. Plus, you could also see some of the top places on the evening/morning of your arrival or departure.
In addition to the most popular hotel-casinos on the Strip like Caesars Palace, Bellagio, The Venetian, Flamingo, and Paris Las Vegas, there are so many other hotels in this area.
Here are several additional hotel recommendations just off the strip but very close to the most central area close to Bellagio/Caesars Palace: Horseshoe Las Vegas (mid-range 3* hotel just across the street), The Westin (a very nice 4* hotel about 5-10 minutes walk from the main area), or a lower-budget Ellis Island Hotel with free parking (10-15 minutes walk).
READ ALSO: Las Vegas Travel Tips for First Visit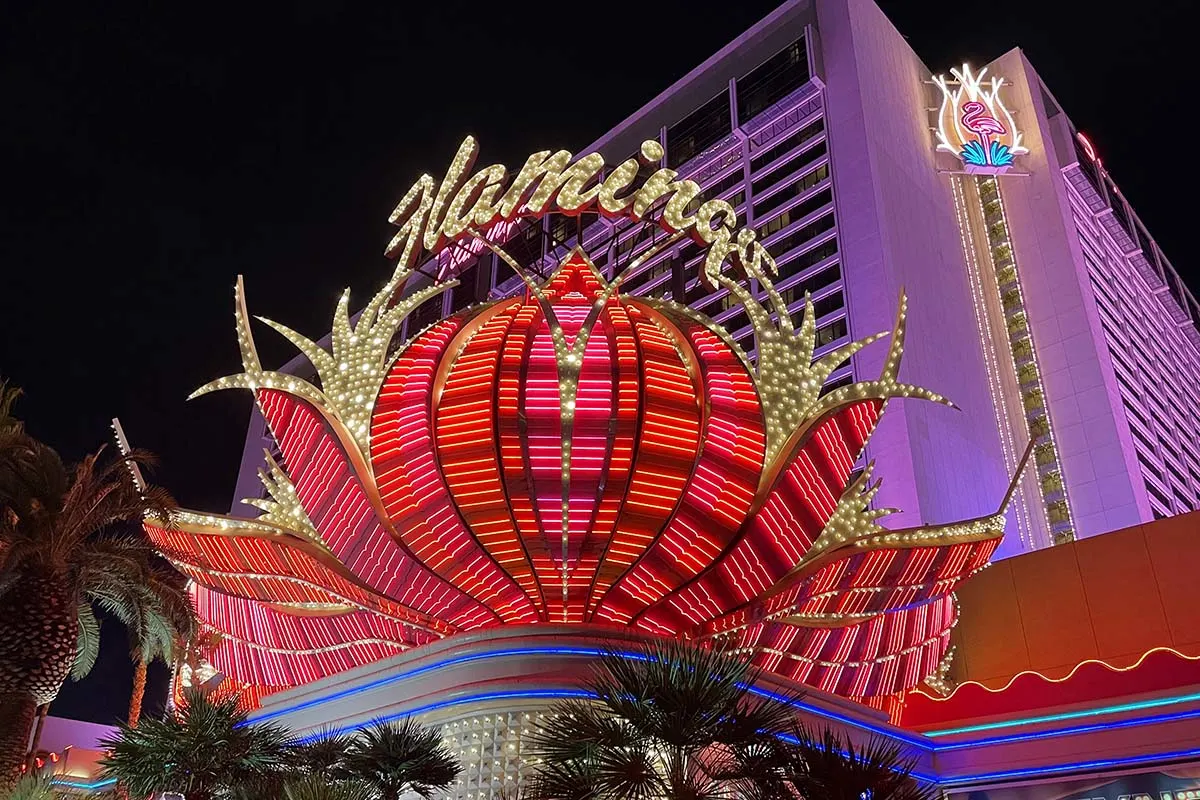 So this is our guide to the best of Las Vegas in a day.
I hope that this itinerary gives you a good idea of what you can see and do within +- 24 hours in Las Vegas and how you could plan your time in order to make the most out of your visit.
Have a great trip!
TIP: In addition to visiting the top places in Las Vegas, you should really consider some of the nicest places in the area. In the immediate surroundings, Hoover Dam is not to be missed, and also the Seven Magic Mountains are worth a quick photo stop. Not even to mention all the iconic nature destinations that are well worth visiting in this part of the country…
If you are looking for more inspiration and information, take a look at our guides for all the top destinations via the links below:
If you found this post helpful, don't forget to bookmark it and share it with your friends. Are you on Pinterest? Pin this image!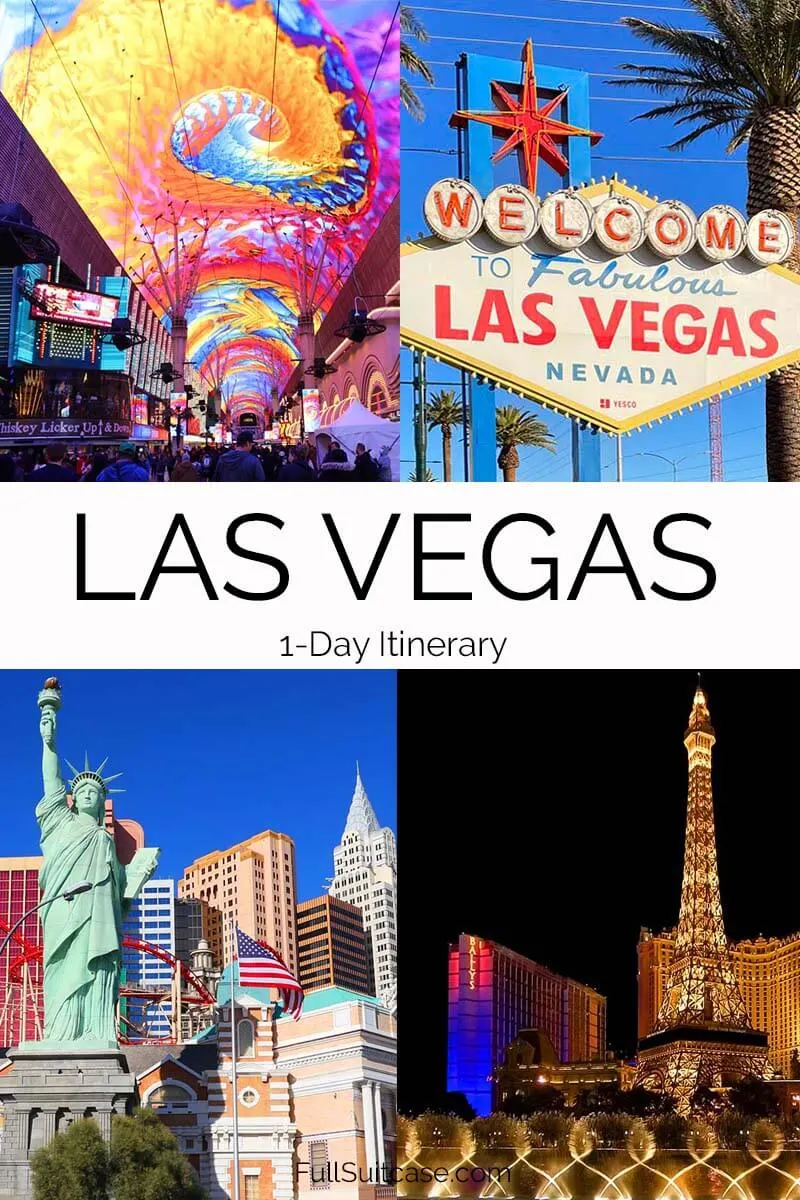 More itineraries for city trips in the USA: