Heading to New York for two days and wondering how to see some of the main landmarks and make the most of your time? In this guide, we share a detailed 2-day NYC itinerary that covers many of the 'musts' in the most efficient way.
New York City is massive, and two days are barely enough to scratch the surface of what this megacity has to offer. The good news is that with some good planning and preparation, you can cover a lot of ground and experience the very best of NYC in just 2 days. (In fact, you can see a lot in just a day in New York as well, but needless to say, the more time you have, the better).
Of course, there is no way to see all the best places in NYC in 48 hours. But – if you plan well – you can visit a few different neighborhoods, soak up the local atmosphere, and see some of the most famous sights in New York in two days.
To help you make the most of your short visit to the Big Apple, we asked for insider tips and recommendations from a NYC local and travel writer Gigi Chow, the creator behind Wet Nose Escapades. The Upper East Side in New York City has been her part-time home for over 3 years and she knows the city really well.
This itinerary is jam-packed with some of the best attractions you can experience in New York in just two days. But it's also planned in an efficient way and is actually doable. We also include some alternative suggestions here and there to show you what's possible and to help you create your own perfect itinerary.
Top Experiences in NYC:
Good to know: This article starts with a detailed itinerary highlighting all the top places to see and things to do in New York in two days, including approximate hours. Please note that the times are only indicated for your reference, to give you a rough idea of how to plan your time.
At the bottom of this article, you'll find a short overview of the itinerary which you can easily screenshot for a quick reference.
We also include a map of all the locations mentioned in this guide, as well as practical information such as which tickets you have to prebook, where to stay, where to eat, etc. Find out!
ACCOMMODATION TIP: Before we start with the details on where to go and what to see, you may want to know that the best place to stay for this itinerary is the area around Times Square. Following our itinerary, you will end your first day and start and end the second day of this itinerary in this area. Some of the most popular choices here include RIU Plaza Manhattan Times Square, or – on a lower budget – Pod Times Square).
CITY PASS TIP: If you follow our itinerary closely, consider getting the New York: CityPASS®. It's a digital ticket that includes access to 5 top NYC attractions (all of which are included in this itinerary) and can save you up to 40%. Plus, you can visit the sights in any order and the pass is valid for 9 days.
Here are our suggestions for the best places to visit in NYC in two days:
Day 1
Day 1 – planning info/tickets to book:
Here's what your first day in New York could look like:
DUMBO
7.30 – 8.30 AM.
Offering amazing views of Manhattan, DUMBO is an excellent place to start your sightseeing in New York. By the way, DUMBO has no affiliation with the famous Disney character but is an iconic Brooklyn neighborhood that stands for Down Under the Manhattan Bridge Overpass.
Once home to starving artists, the cobblestoned DUMBO is now one of the most sought-after, expensive neighborhoods in NYC. This is largely thanks to its top-notch views of the Manhattan Skyline and Brooklyn Bridge.
The intersection of Washington and Water features one of the most Instagrammed spots for selfies in the city – where the Manhattan Bridge is framed by historic red brick buildings. You'll find the exact location indicated on our map further below.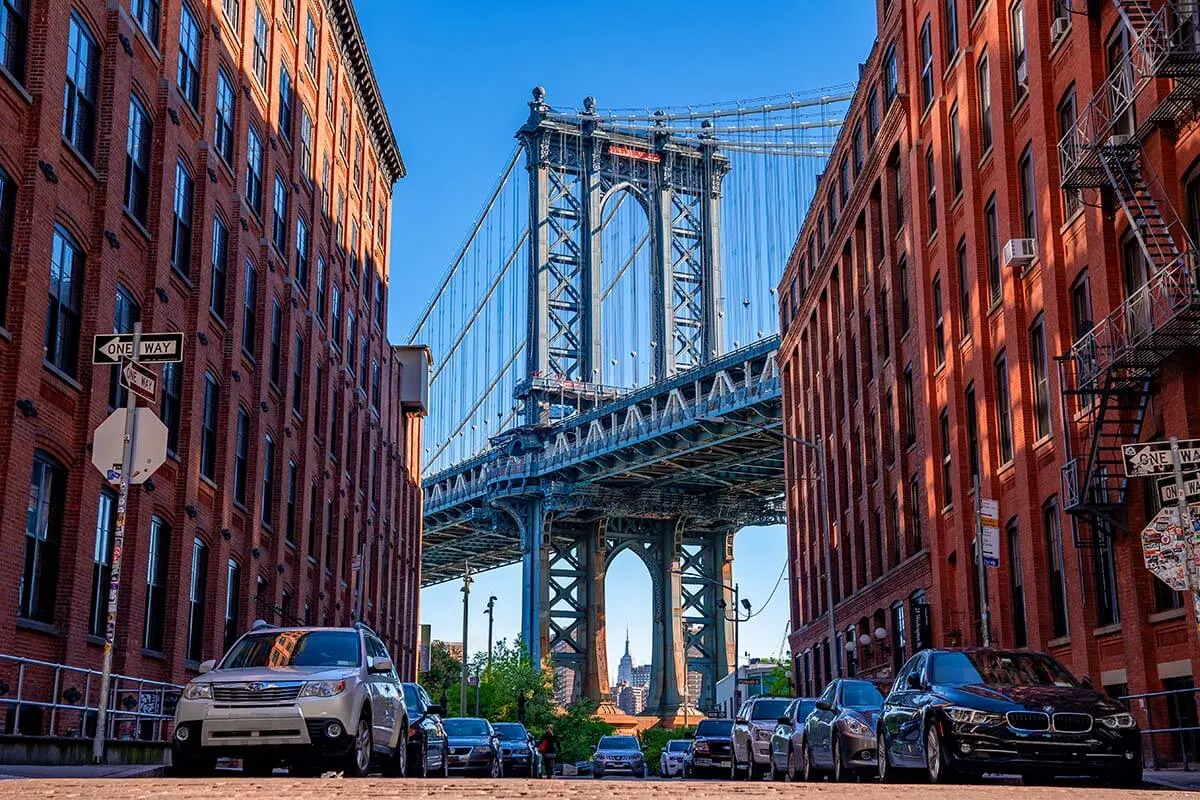 TIP: DUMBO is a good place to stop for some coffee or breakfast. We recommend the food court at Time Out Market New York. You can enjoy amazing views from here too – don't miss it!
Good to know: The views from here and the fact that it only opens at 8 AM – are the main reasons why we recommend planning your sightseeing itinerary this way.
Alternatively, you could start your day here earlier and head to the Brooklyn Bridge before it gets too busy with commuters heading to Manhattan.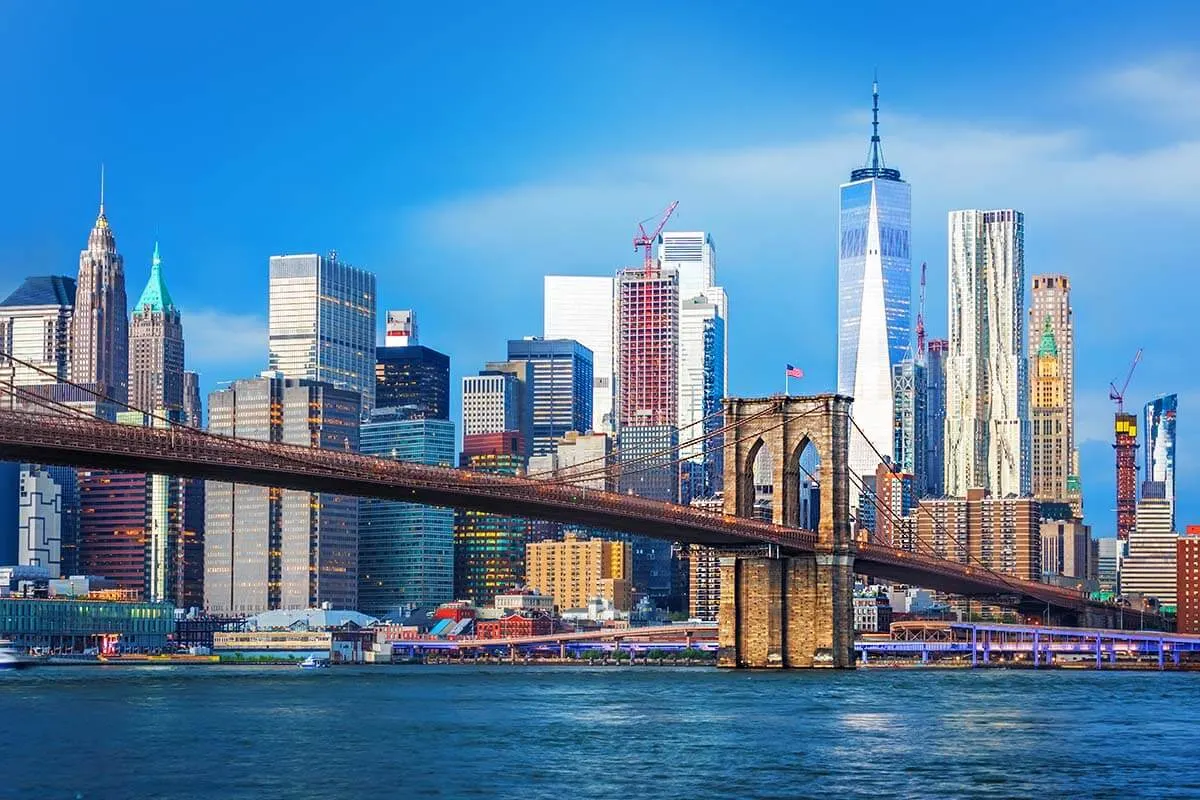 Brooklyn Bridge
8.30 – 9.30 AM.
Connecting Lower Manhattan to Brooklyn Heights, the Brooklyn Bridge is an iconic NYC landmark that is one of the must-sees for first-time visitors.
Popularized in movies and television, this famous bridge over the East River is the first suspension bridge to use steel for its cable wire. Hence, it is considered the cream of the crop of 19th-century engineering.
Boasting views of the stunning Manhattan skyline and the Statue of Liberty, the Brooklyn Bridge gives you some of the best views of the city FOR FREE.
Good to know: A one-way walk on the Brooklyn Bridge is about 1.3 miles, which may take 25 to 60 minutes depending on your fitness level and the number of stops you make for pictures.
TIP: If you are interested in photography, get there early (ideally before 8 AM). The Brooklyn Bridge has a lot of pedestrian traffic so the earlier you get there, the more relaxing it will be (and it's easier to take photos). But otherwise, just come here when it best suits your itinerary. After all, crossing it with all the people and bikes around you is part of the authentic New York experience.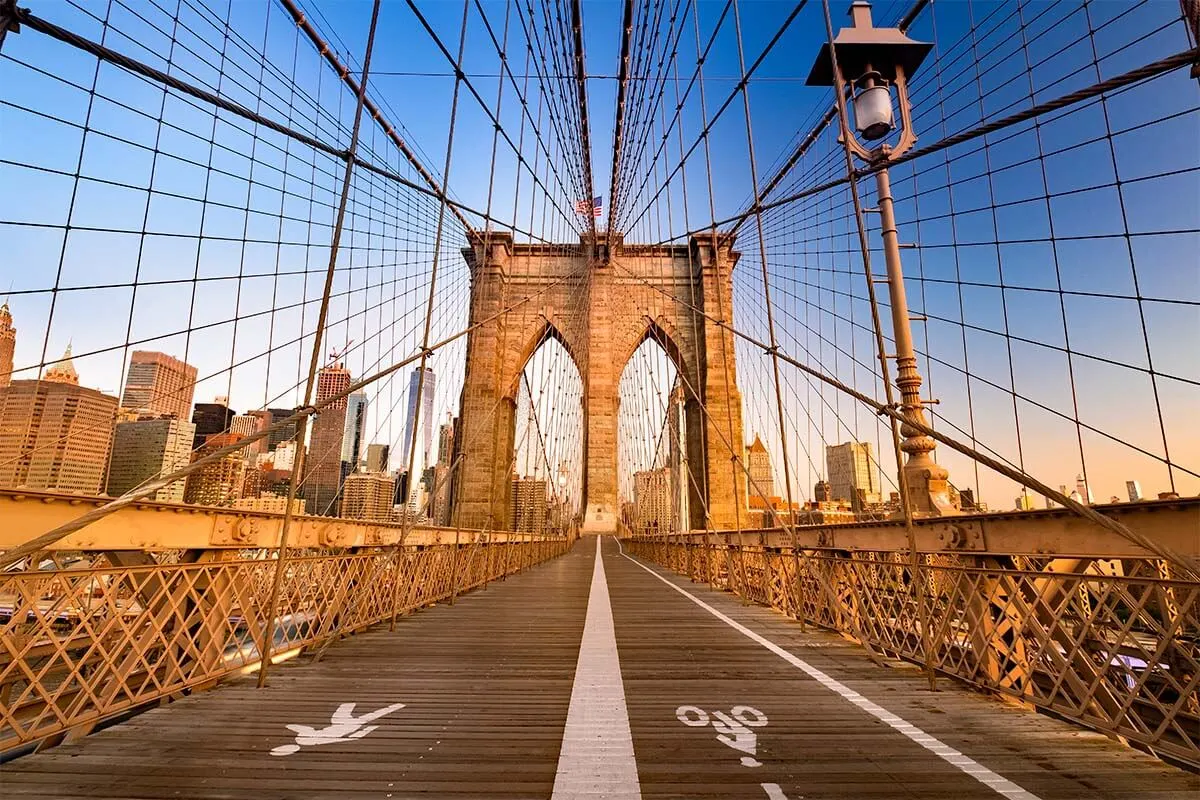 South Street Seaport
9.30 – 10 AM.
After crossing the bridge, you'll reach South Street Seaport in downtown Manhattan.
This 4-acre historic cobblestoned area is home to some of the oldest architecture you'll find in the city. From centuries-old mercantile buildings to renovated sailing ships, you'll take a step back in time and get a historic NYC feel.
In the past, this area was a prominent site for trade in the U.S., from domestic to transpacific trade. Today, this renovated neighborhood is bustling with trendy restaurants, hip bars, and posh boutiques.
TIP: The best part about the Seaport District is its unsurpassed views of the Brooklyn Bridge, which can be seen from Pier 17.
Good to know/ alternative planning tip: If you plan to start your day later and could be at South Street Seaport at around 11 AM, you could take this 1-hour Statue of Liberty Cruise from Pier 16 here. These cruises run frequently throughout the day, but the first one only starts at around 11. It could be a good option if you are short on time and can't fit in any of the other options that we list below.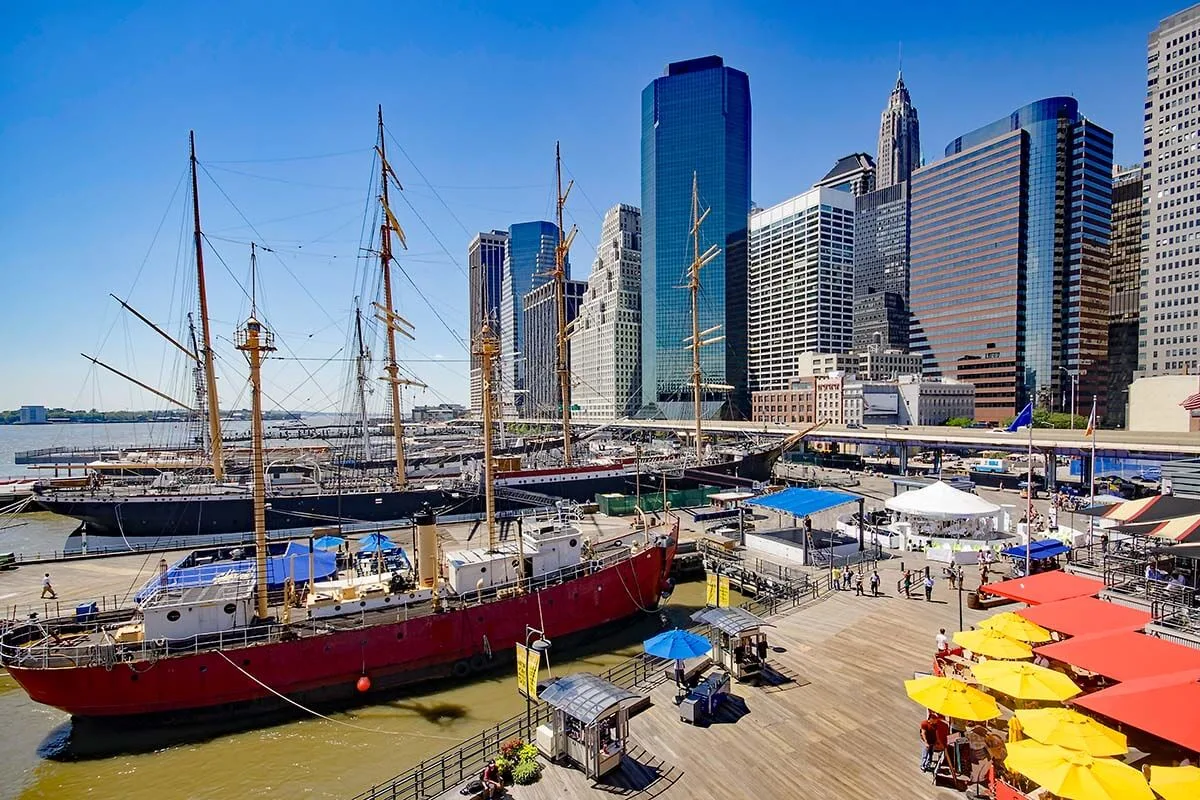 Financial District: NY Stock Exchange, Wall Street & Charging Bull
10 – 10.30 AM.
No visit to the world's financial capital would be complete without seeing the most famous landmarks in its Financial District.
First stop – Wall Street, which runs for eight blocks between South Street and the East River in the east and Broadway in the west.
The southern end of this famous street is just a few minutes walk from Pier 17 at South Street Seaport, and you can walk almost its entire length in just 10 minutes.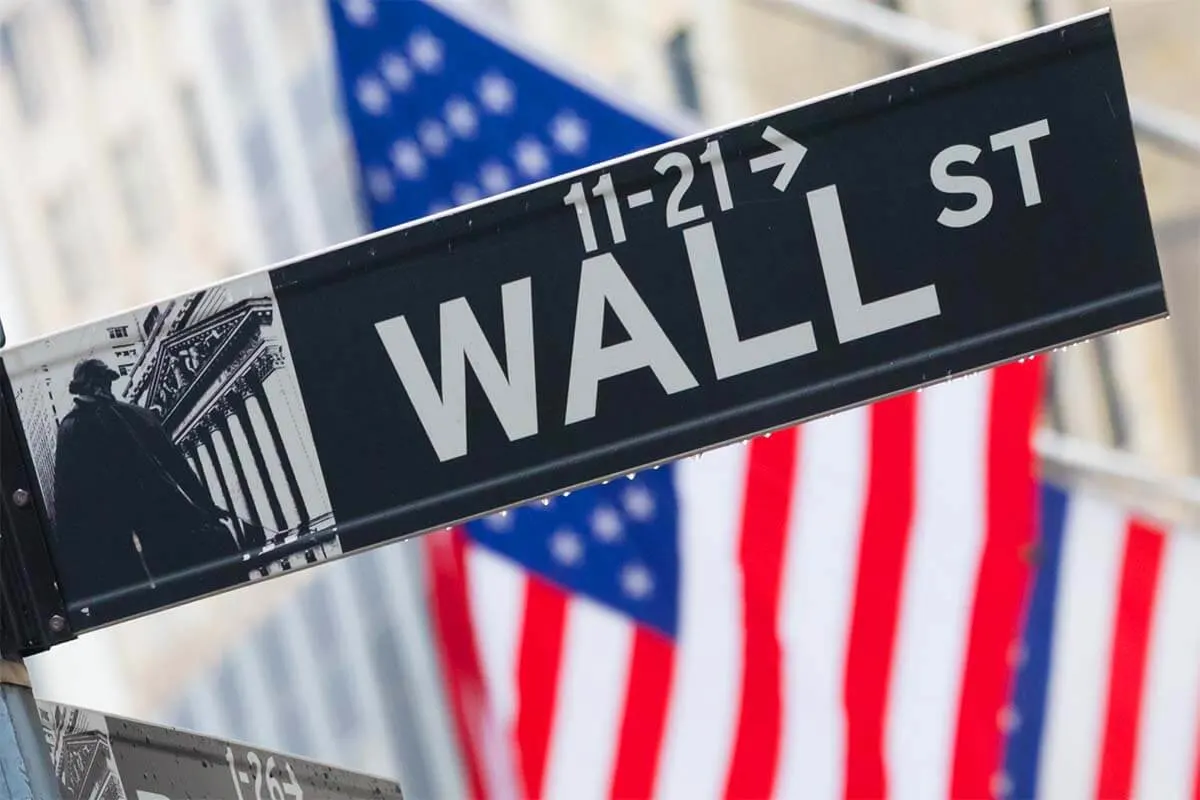 Next, stop by the impressive building of the New York Stock Exchange.
Founded in 1792, this is the world's largest stock exchange by total market capitalization and the beating heart of NYC's financial district.
Although the public isn't allowed inside the NYSE, you can still walk past and get a glimpse of this Classical Revival landmark widely considered the backbone behind the American economy.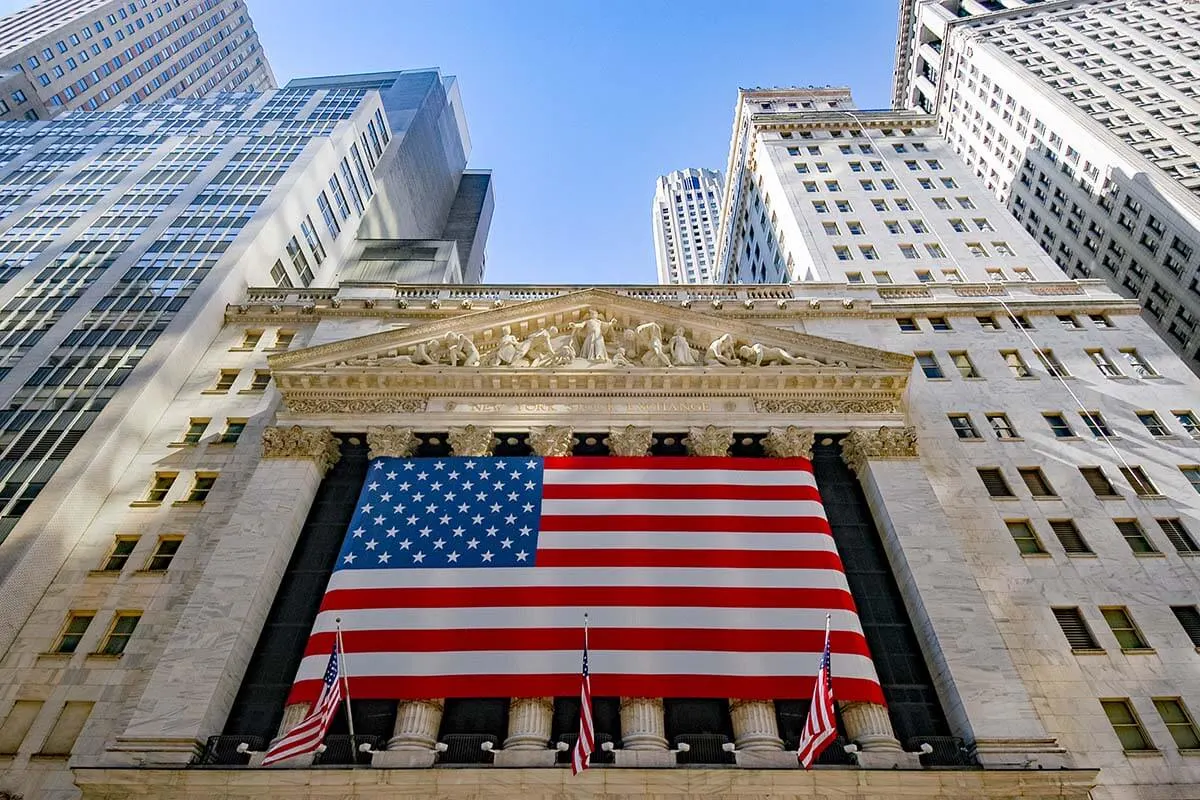 Finally, take a picture with the famous Charging Bull (also known as the Bull of Wall Street or the Bowling Green Bull).
Standing with immense energy on a cobblestoned median, the Charging Bull sculpture symbolizes financial optimism and prosperity.
The 7,100-pound bronze sculpture stands 11 feet tall and measures 16 feet long – perfect for you to strike a pose with.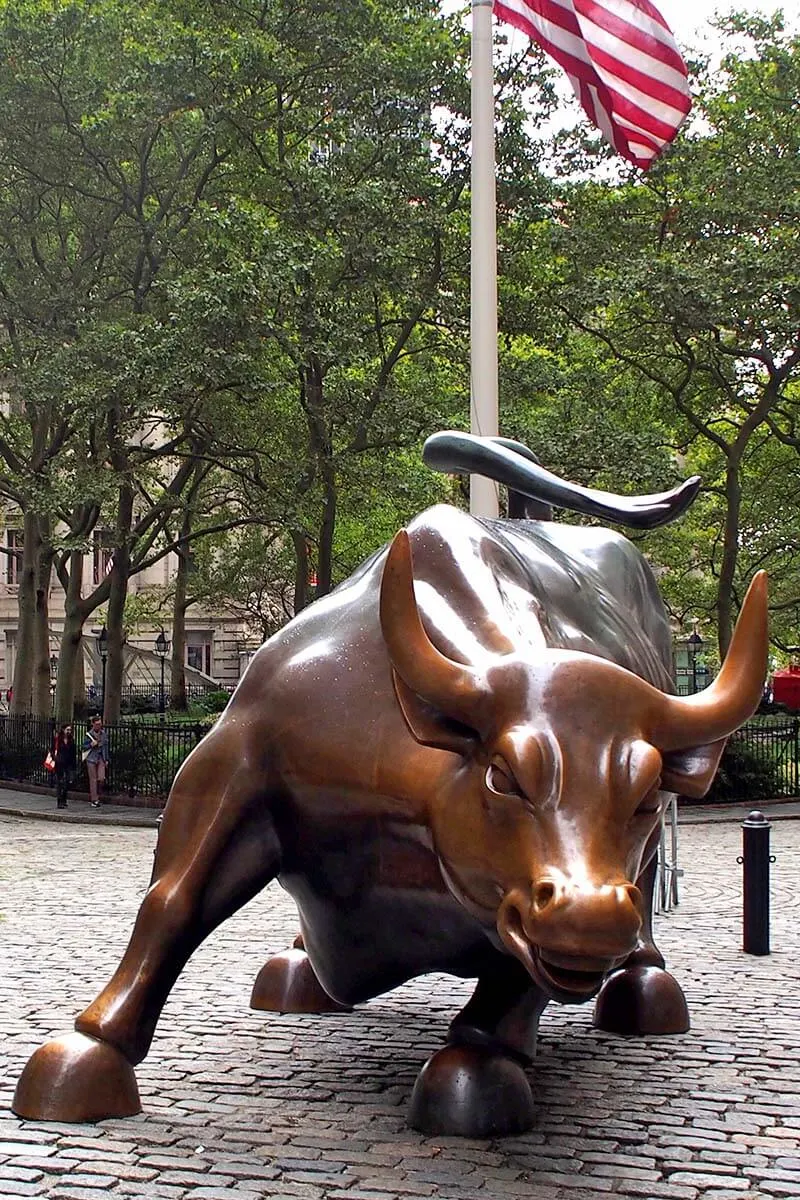 Statue of Liberty
10.45 AM – 3.30 PM (or less depending on the option you choose).
As a first-time visitor, you cannot go to NYC without seeing The Statue of Liberty. A prestigious independence gift from the French, the copper neoclassical sculpture represents the American dream – hope, freedom, and justice.
There are many ways to visit (or just catch a glimpse of Lady Liberty). Keep in mind that you need a good 4-6 hours to visit the main sights thoroughly. But you can also just see the statue from the ferry, or make a shorter visit. So it's up to you to decide how much time out of your 48 hours in NYC you want to dedicate to Liberty Island and/or Ellis Island.
Here are the best ways to visit the Statue of Liberty that could work for this 2-day NYC itinerary:
OPTION 1 (& OUR RECOMMENDATION): For this itinerary, we recommend this highly-rated guided tour of the Statue of Liberty & Ellis Island. There are several advantages of taking this tour.
First, it starts just near the Charging Bull and they have a tour at 11 AM – an ideal fit for this itinerary. And second, you get to see A LOT in a rather short time (4 hours) and without having to worry about any practicalities or plan anything.
We have done dozens of tours with this company all over the world and they are always excellent.
Good to know: If you take this tour, be sure to get something for lunch before you go (or take it with you). You will have some free time on Liberty Island, but if you need to get food, you'll waste all your time on that rather than sightseeing.
Also, this tour ends on Ellis Island and you can opt to return to the city with the guide or stay and explore a bit longer. Just keep an eye on the rest of your plans and the ferry schedule! If you return with the guide, you should be back in the city a bit past 3 PM.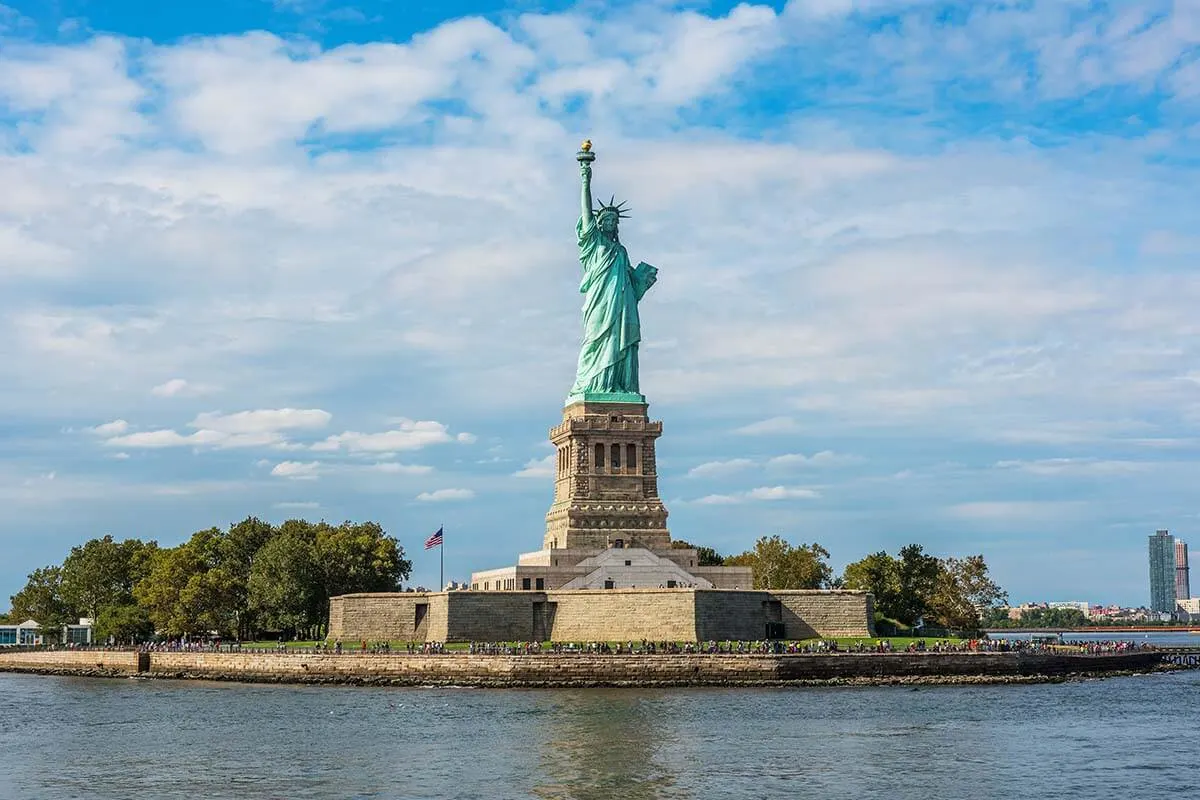 If you prefer not to take a guided tour, here are the two other best ways to see the Statue of Liberty that would also fit this itinerary quite well taking into account the location of the ferries.
OPTION 2: The easiest and FREE way to get a glimpse of the Statue of Liberty is to hop on the Staten Island Ferry, which operates every 15-30 minutes and 24/7 (with limited hours on holidays). The ferry even welcomes dogs onboard. Depending on the time of day, the ride from the Whitehall Ferry Terminal in Manhattan only takes about 15-25 minutes one-way (so you only need about 1 hour).
Keep in mind that the Staten Island Ferry only passes by Lady Liberty. You will see the Statue of Liberty and Ellis Island in the distance and can also enjoy some splendid views of the Manhattan skyline, but you won't get very close to it. The ferry is huge and has an impressive capacity of 4,000 people, so it's usually not a problem to just hop on the next available boat.
OPTION 3: If you prefer to go to Liberty Island and see the statue up close and personal on your own, you will need to hop on a Statue of Liberty cruise. There is a departure every hour, but the capacity is more limited so you should book in advance. Also, they recommend at least 4-6 hours to enjoy all the attractions, plus, you'll need to figure out yourself where exactly to go, what to see, etc. You can find more practical information here.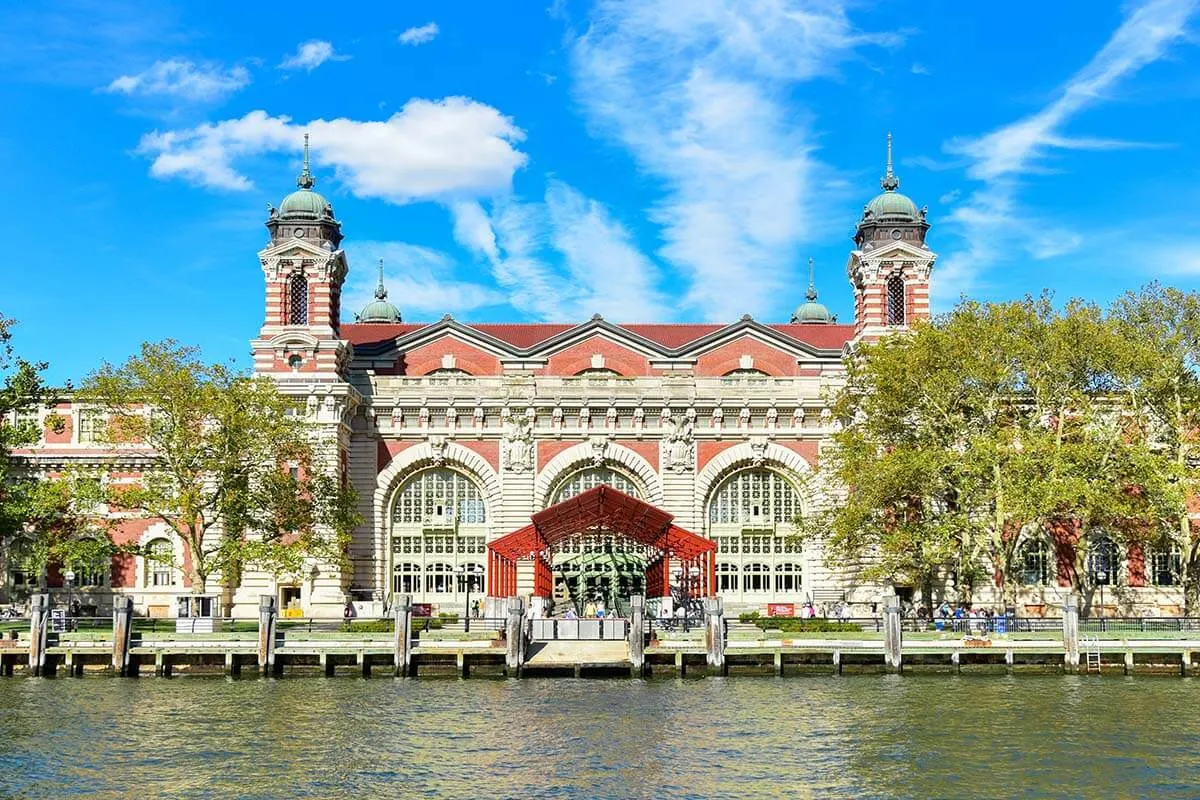 9/11 Memorial & Museum
4 – 6.30 PM (you'll need much less time if you are not visiting the museum).
Even though the 9/11 Memorial is not exactly the happiest place to be in NYC, it still represents a crucial part of the city's history. So you should definitely pay a visit here, even if just shortly.
Resting peacefully inside a massive public plaza, the 9/11 Memorial is FREE for everyone to wander. Don't miss the 9/11 Memorial Pools at Ground Zero. The calming twin waterfall pools are surrounded by bronze balustrades with names of the innocent lives taken in the 2001 attacks as well as the 1993 World Trade Center bombing.
In addition, you can also visit the 9/11 Memorial & Museum. It's open to the public six days a week (closed on Tuesdays).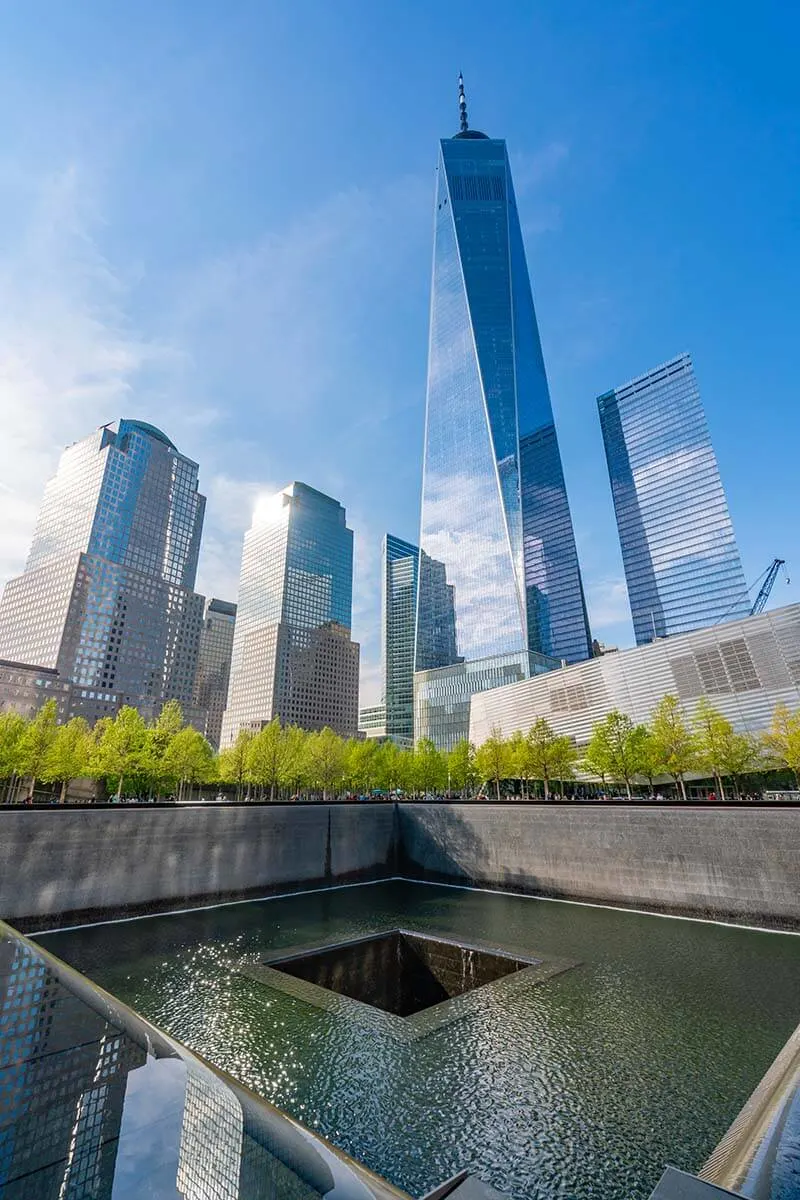 TIP: If you want to be sure to visit the museum, reserve your timed-entry ticket in advance. Otherwise, you'll waste too much time queuing which is not what you want to do if you have just 2 days in NYC.
If you take the Statue of Liberty tour mentioned above, we recommend that you opt for the 4.30-5 PM entry at the 9/11 Museum. This gives you some extra time to get there without having to worry about missing your time slot. If you arrive much too early, you can simply explore the Memorial before going inside.
Good to know: You really need at least 1.5-2 hours to give this museum justice. So if you are not sure that you want to spend that much time inside, you can simply opt to walk through the Memorial. For $8, you can also download the Outdoor Memorial Audio Guide on your iPhone. It's a 40-minute tour on an app that goes over the design and meaning of the memorial.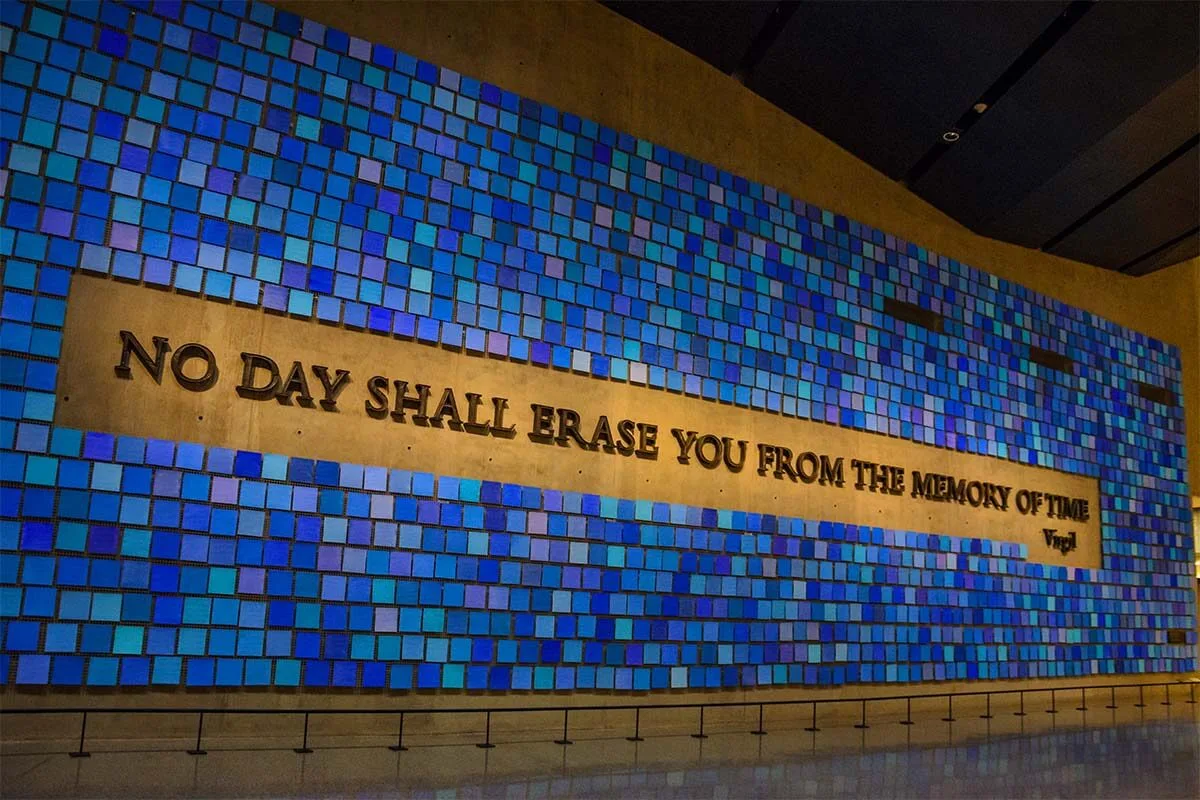 Oculus at the World Trade Center
6.30 – 7 PM.
Near the Ground Zero site, you could also check out the unique architecture of the Oculus at the World Trade Center.
This is a railway station/ shopping center that is very impressive from both – outside as well as inside.
The building was designed by Spanish architect Santiago Calatrava after 9/11 and resembles a hand releasing a dove. It is well worth seeing if you like modern architecture, plus you can also take a subway from here to the next stop on this itinerary.
Next, head to The High Line (12-15 minutes by subway). Alternatively, if you are not interested in that part of the city or rather not pack your itinerary too much, head straight to Times Square or the Empire State Building (more info below).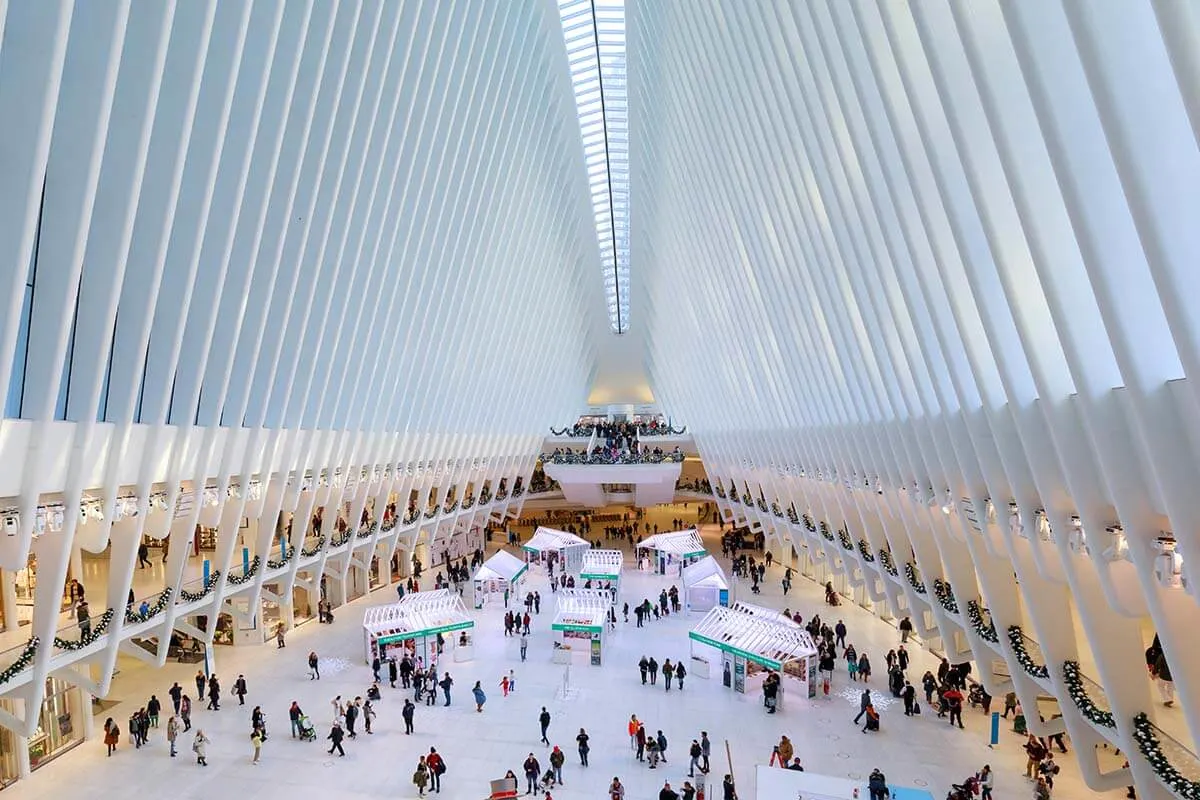 The High Line & Dinner at Chelsea Market
7 – 8.30 PM – OPTIONAL.
Constructed on an elevated rail line, The High Line is one of the coolest activities you can do for free in NYC.
The High Line is a linear 1.45-mile-long historic public park running from Gansevoort Street to 34th Street. It boasts various scenic overlooks and crosstown views of the city. With over ten entrances, it is easily accessible via stairs, elevators, etc. There are also plenty of benches to rest your legs.
Founded by the residents of the Chelsea neighborhood on the west side of Manhattan, this unique attraction was created to prevent the former New York Central Railroad from demolition. Since its opening in 2009, locals and visitors alike have been flocking here to take one of the coolest walks in NYC.
Good to know: The High Line is a public space that is open daily and is free to visit. In the summer season (April – November), it's open from 7 AM to 10 PM. In the winter (December – March) from 7 AM to 8 PM.
TIP: The most picturesque part of The High Line lies in the south, so it's best to start from Gansevoort Street. Here, you could also stop for dinner at Chelsea Market – see below for more info. Also, you don't absolutely have to walk the entire length of the High Line to get a feel for the area. Just see how you feel when you are there.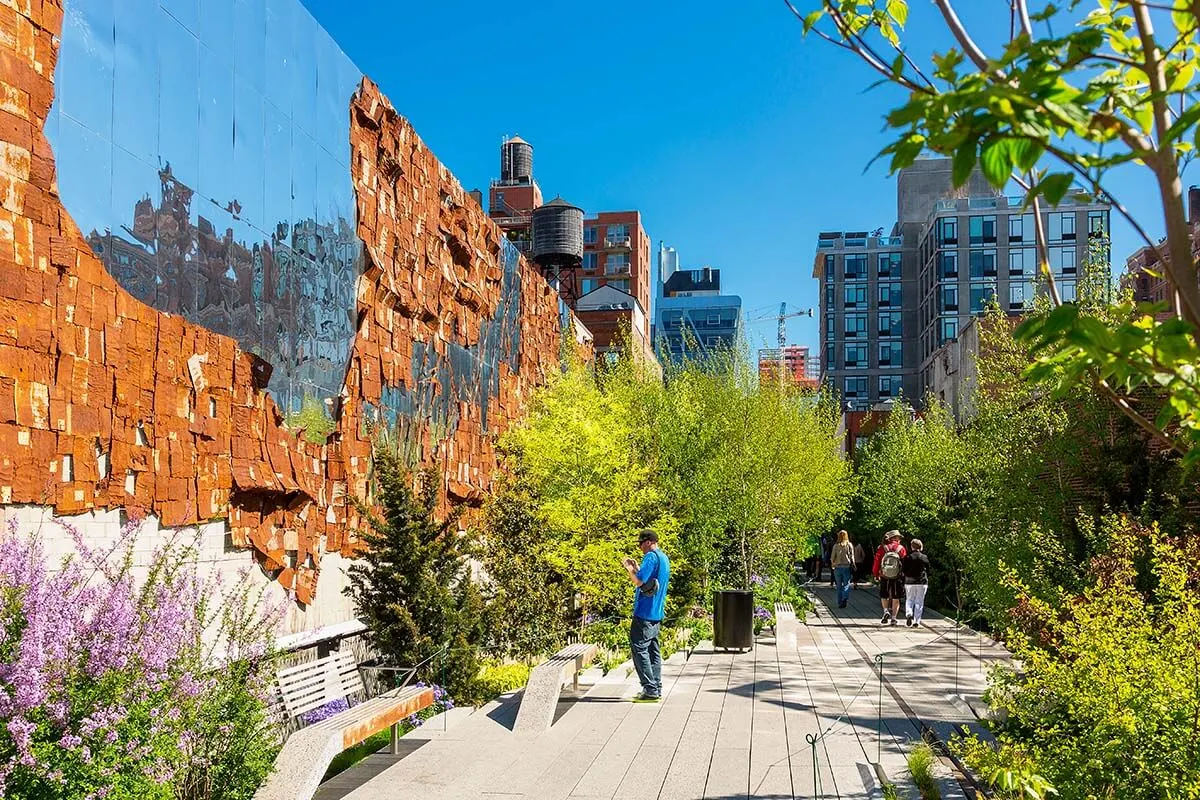 Despite its humbling industrial past, Chelsea Market is now a hip international food hall with frequent celebrity sightings. From Japanese tacos to German sausages, you can choose from over 40 exciting food and drink establishments – whatever fancies your appetite.
TIP: For the best experience, think tapas style when dining at Chelsea Market. You can do a sort of restaurant-hopping choosing a small bite or snack at one place and moving on to the next. If you have time, you could try 2 to 4 spots in one visit – one place for an appetizer, one or two places for a small meal or snack, and something else for dessert.
Fun fact: Chelsea Market is the birthplace of the OREO cookie! Also, the building is owned by Alphabet Inc. (the parent company of Google).
Good to know: While it's really nice and trendy, dining here is not cheap (and it can get very busy at dinner). So if you prefer something less hectic, you'll find plenty of restaurants nearby.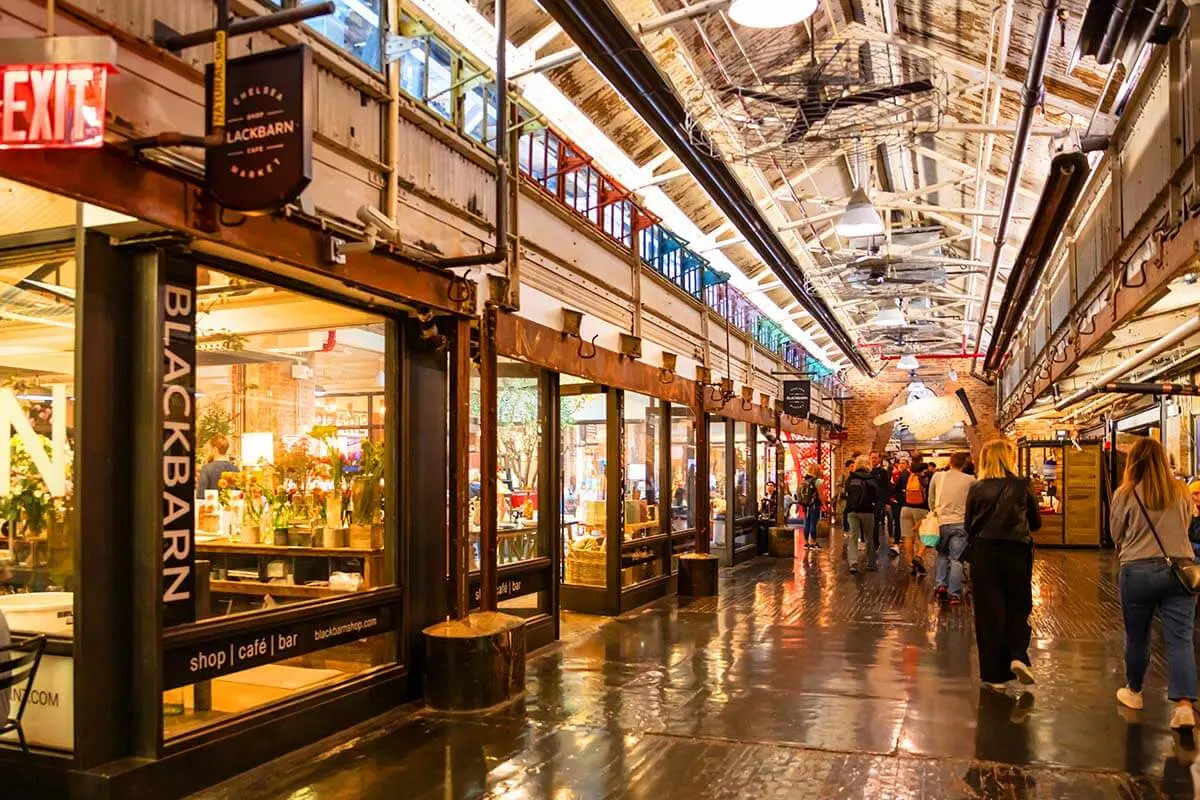 Hudson Yards
EVENING – OPTIONAL.
If you decide to walk the entire length of the High Line, you'll reach the Hudson Yards.
This premier neighborhood is home to a plethora of chic bars, nightclubs, classy restaurants, public art, modern residences, and public squares. From laid-back Irish pubs to high-class wine bars, you won't find a shortage of energetic places to spend the evening.
So if you'd like to experience NYC nightlife, this could be a good place. On the other hand, there are so many other amazing options. So with just two days in the city, we recommend just passing by.
Even if you're not into bars, you can come to Hudson Yards to people-watch and admire the Vessel, a 16-story, 150-foot-tall structure of 154 interconnected flights of stairs. However, visitors are no longer allowed on the higher levels so you can only see this architectural masterpiece from the ground.
Good to know: A 100-story observation deck, Edge, is also located here. It's the highest outdoor observation deck in the Northern Hemisphere and offers unparalleled 360° views of New York. However, sometimes it really lacks organization. On busy days, it can take forever to get to the lifts even with the timed-entry tickets. Plus, there are often way too many people at the top making it difficult to enjoy the experience.
But we have another great suggestion for you to enjoy the amazing views of New York City, namely the Empire State Building. See below for more info.
Empire State Building
EVENING.
We recommend ending your day with a visit to the Empire State Building in the evening. It's located just 1 mile east of Hudson Yards, about 20 minutes walk from the Vessel. The viewing platforms are open quite late – depending on the season, to 11 PM or even midnight.
The Empire State Building probably needs no introduction. This iconic 1930s landmark was intended to be the world's first 100+ story building. It was built in only one year and 45 days, smashing all records at the time.
A visit here offers unconstructed sprawling views of Manhattan. You can choose to visit its open-air observation deck on the 86th floor. Or you can also opt for a more expensive ticket that also allows you to visit the top deck on the 102nd (at 1,250 feet). From here, you can see unmatched NYC views with less crowd than on the main deck, but the price is quite a lot higher so most people just go to the main deck.
PRO TIP: The Empire State Building is one of the most popular tourist attractions in NYC, so be sure to get timed-entry tickets online in advance. Without advance booking, you'll waste much too much time and ruin your evening.
Good to know: Depending on the season and your interests, you could try to visit here around sunset. If you come at least 30-45 minutes before sunset, you can admire both – daytime and nighttime views. For that, be sure to check the NYC sunset time online for your travel dates For example, the sun sets at around 8.30 PM in June – July, around 6 PM in October, or 4.30-5 PM in December – January.
But it's well worth coming here in the dark too. The night-time views are stunning and the later you visit, the less busy it is.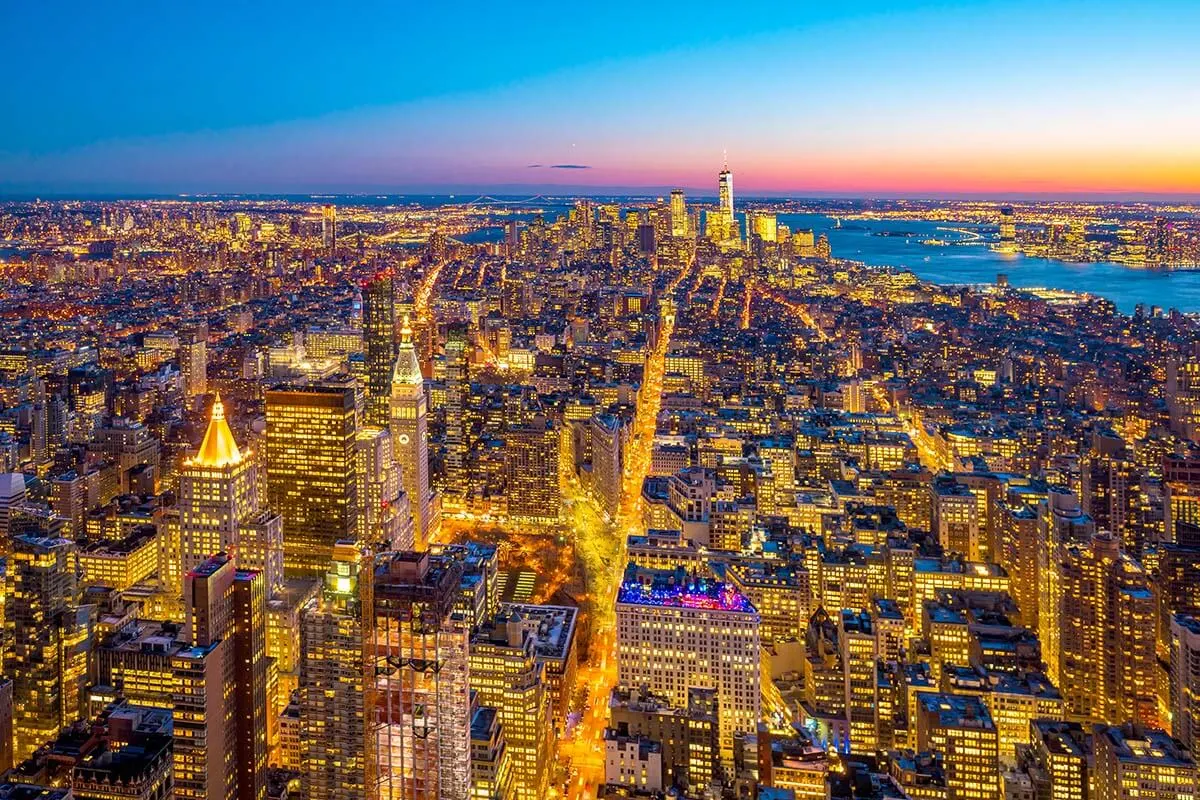 Koreatown
LATE EVENING – OPTIONAL.
If you want to continue the night like a real New Yorker (and still have some energy left), you could explore Koreatown (or K-Town). The Empire State Building is in this neighborhood, and its central part is just one block south of the building.
This rich ethnic enclave dates back to the 1980s when Koreans started settling into the Garment District and opened a handful of restaurants and shops in the area. Thanks to its proximity to nearby touristy Midtown attractions, Korean-owned establishments grew simultaneously along with immigration from Korea.
Despite its compact size of several blocks on 32nd Street (with its center situated between 5th and 6th Avenues), Koreatown is bustling with karaoke bars, rooftop bars, barbeque joints, K-Pop shops, and dessert lounges. Here, you can devour soju cocktails at a private karaoke room or buzzing rooftop bar.
Described as the "Korean Times Square," K-Town has over 100 small businesses on Korea Way, the nickname for the heart of the neighborhood. Most karaoke lounges close at 4 AM, and some Korean restaurants even operate 24/7.
TIP: When visiting a Korean bar, it is customary to order a snack (anju) in addition to a soju cocktail or an alcoholic beverage. In Korean culture, alcohol and eating are done together, not separately. From spicy fried chicken to roasted walnuts, you can choose from a variety of snacks with your soju, beer, or wine.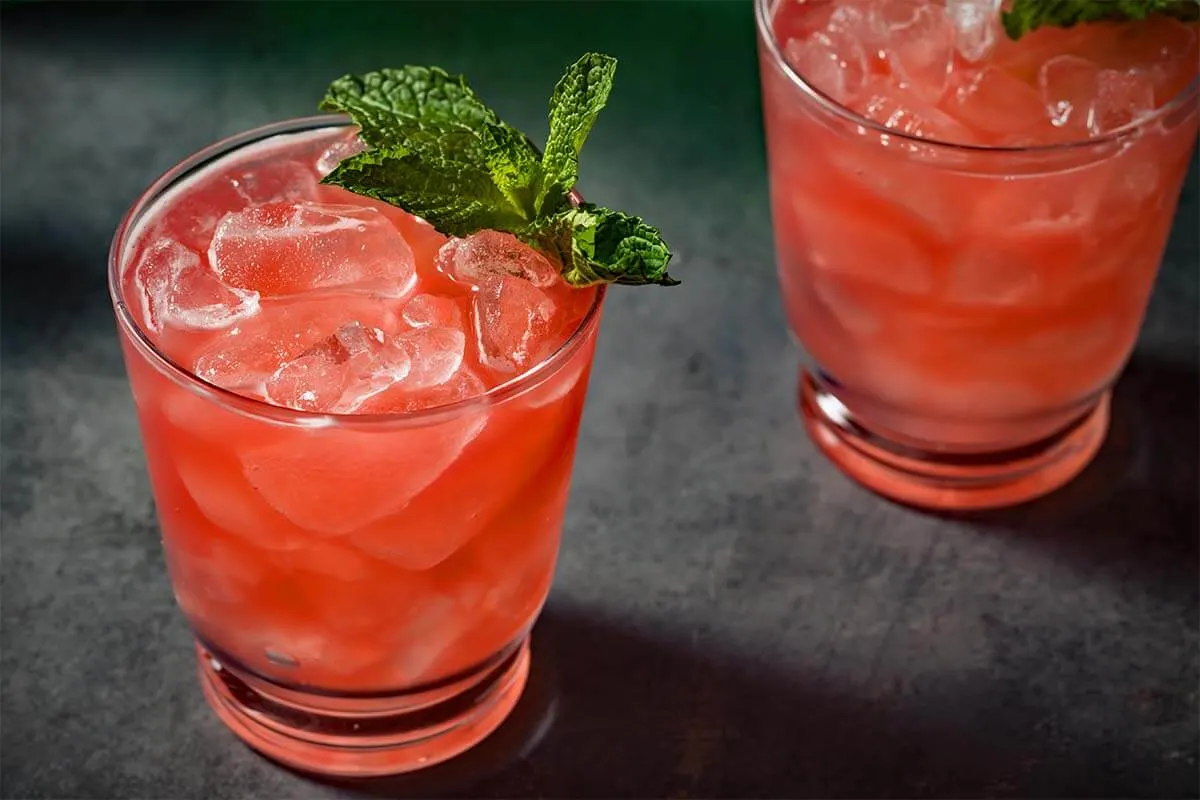 Day 2
Day 2 – planning info/tickets to book:
Here's what your second day in NYC could look like:
Grand Central Terminal
8 – 8.30 AM.
Start your second day at the most famous railway station in New York, Grand Central Terminal.
Situated on 42nd Street and Park Avenue, Grand Central is not just any commuter rail or transportation hub. Thanks to its unique Beaux-Arts interior design, the terminal is a true historic landmark. It's been frequently used as a filming location for countless TV shows and movies, so you'll recognize it instantly.
Built in 1913 in just ten years, Grand Central has bragging rights as the largest train station in the world. It has 44 platforms and 67 tracks on two levels.
In addition, the terminal also has a food hall, grocery marketplace, retail shops, fast-casual food joints, upscale restaurants, and cocktail bars. If you want to get some breakfast before another long day of sightseeing, check out Tartinery Café.
Next, head to Rockefeller Center, about 10 minutes walk from the station, where you can visit Top of the Rock (see below).
Alternatively, you can also first stop at SUMMIT ONE Vanderbilt Experience. It's more than a traditional observation deck (although the 360° views from the 93rd floor are sensational), but also an immersive, multi-sensory art experience. It's located just next to Grand Central Terminal and could easily fit into this itinerary as well.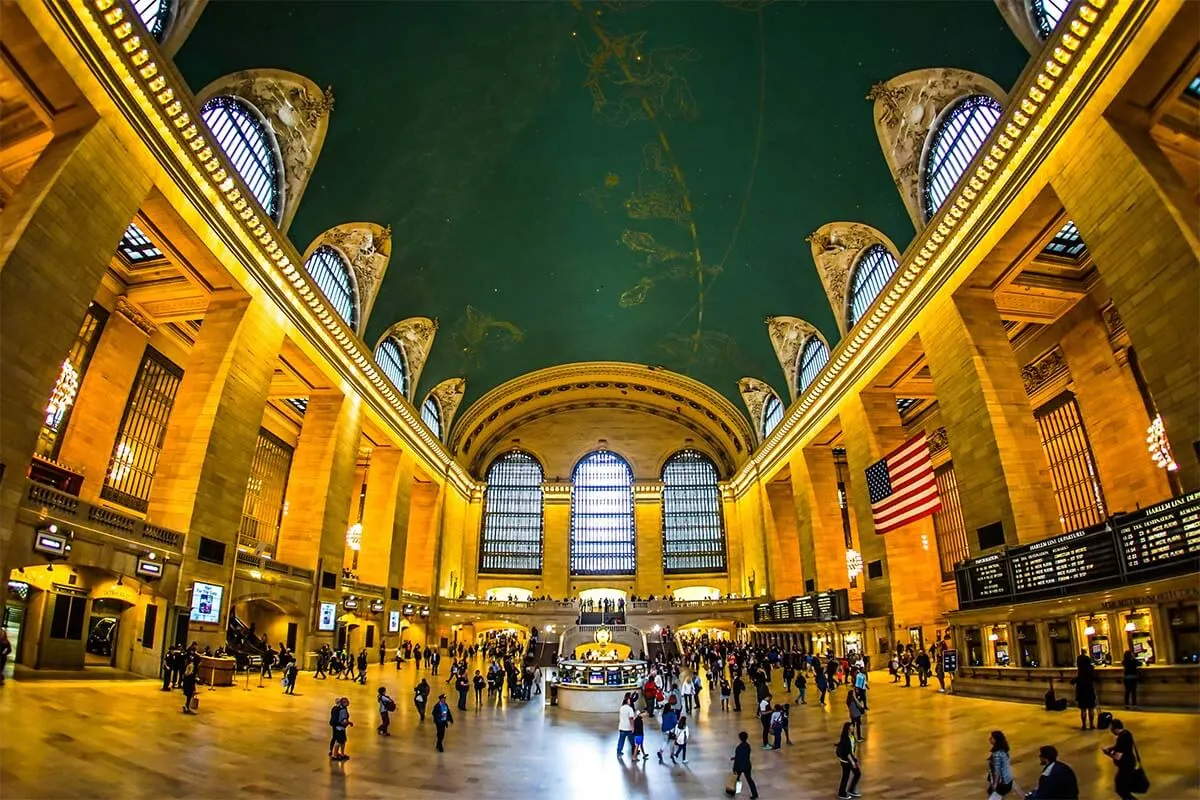 Top of the Rock
9 – 10 AM.
Built in the 1930s, the renowned Art Deco-style Rockefeller Center is home to one of the most popular NYC attractions – Top of the Rock. Just like the Empire State Building, it offers spectacular views of the city from the top.
Top of the Rock presents three observation decks, the highest of them is located on the 70th floor. They have outdoor terraces facing in different directions, so you get unobstructed 360° views over Manhattan's most iconic sites from above. There is also a large indoor space on the 67th floor.
Top of the Rock vs. Empire State Building: The deck at Top of the Rock is slightly lower than the Empire State Building. But it gives you an unparalleled view of the Empire State Building itself. In addition, from here you have better views of Central Park and Times Square (whereas from the Empire State Building, you have views of the water and One World Trade Center).
If you follow this itinerary and visit one of the observation decks in the evening of day 1 and the other one in the morning of day 2, you'll get to see the aerial view of the city in daylight as well as at nighttime. That in itself makes it worth it going to both. Also, because the two towers are located rather close to each other, you can switch the order in which you visit them.
Good to know: These two experiences are quite similar and you cannot go wrong with either. Regardless of which one you choose, the panoramic views are simply incredible. However, if you have to pick just one of the two, we recommend Top of the Rock.
PRO TIP: Top of the Rock is extremely popular, so be sure to get timed-entry tickets online in advance. If you can, opt for one of the earliest time slots; that way, you can experience it before it gets too busy. Top of the Rock opens at 9 AM and the first hour is usually the quietest. Count 45-60 minutes for a visit.
TIP: If you're visiting NYC during the holidays, don't miss the Rockefeller Center Christmas Tree and ice-skating rink as well!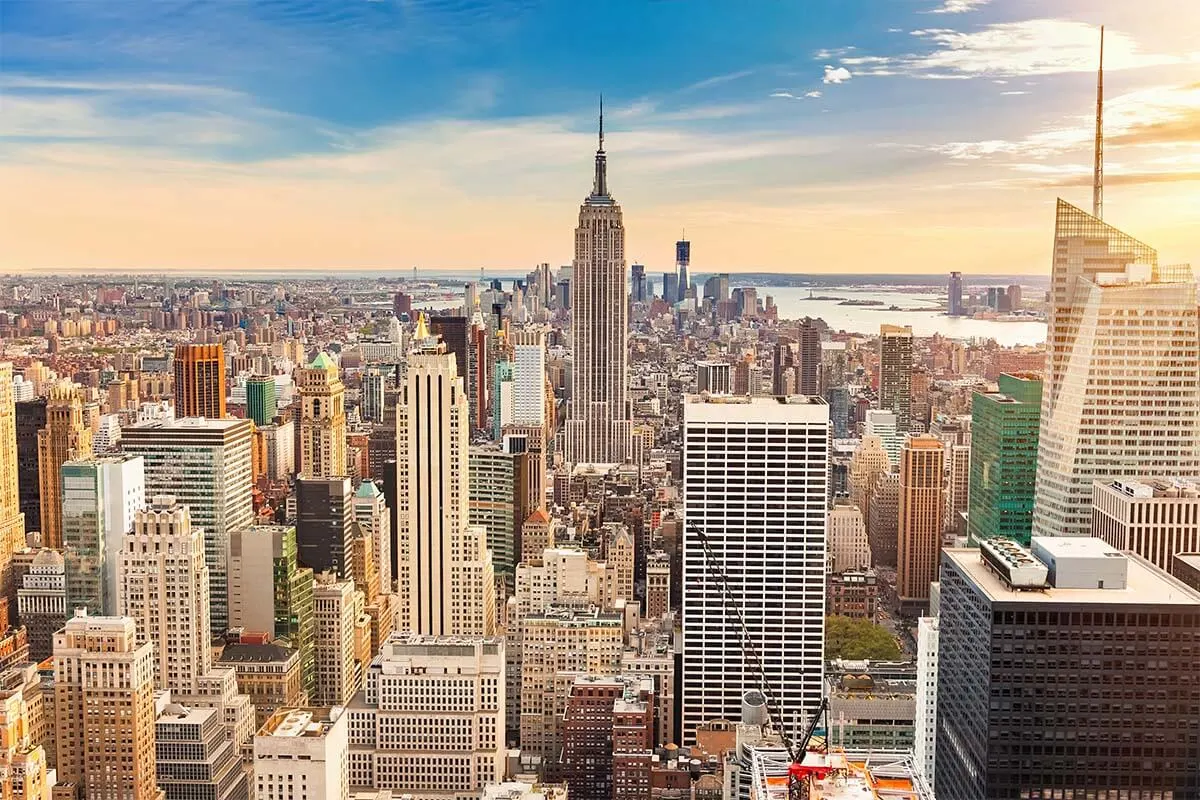 5th Avenue
10 – 11 AM.
NYC's Fith Avenue is another iconic destination that should be on the must-see list for first-time visitors.
This famous street is a shopper's paradise, featuring a blend of luxury boutiques, renowned department stores, and flagship stores of some of the world's most prestigious brands.
Following this itinerary, you can see a big part of this famous street.
In the morning, when you walk from Grand Central, you can pass past the impressive building of the New York Public Library. After you visit the Top of the Rock at Rockefeller Center, check out the St. Patrick's Cathedral just nearby.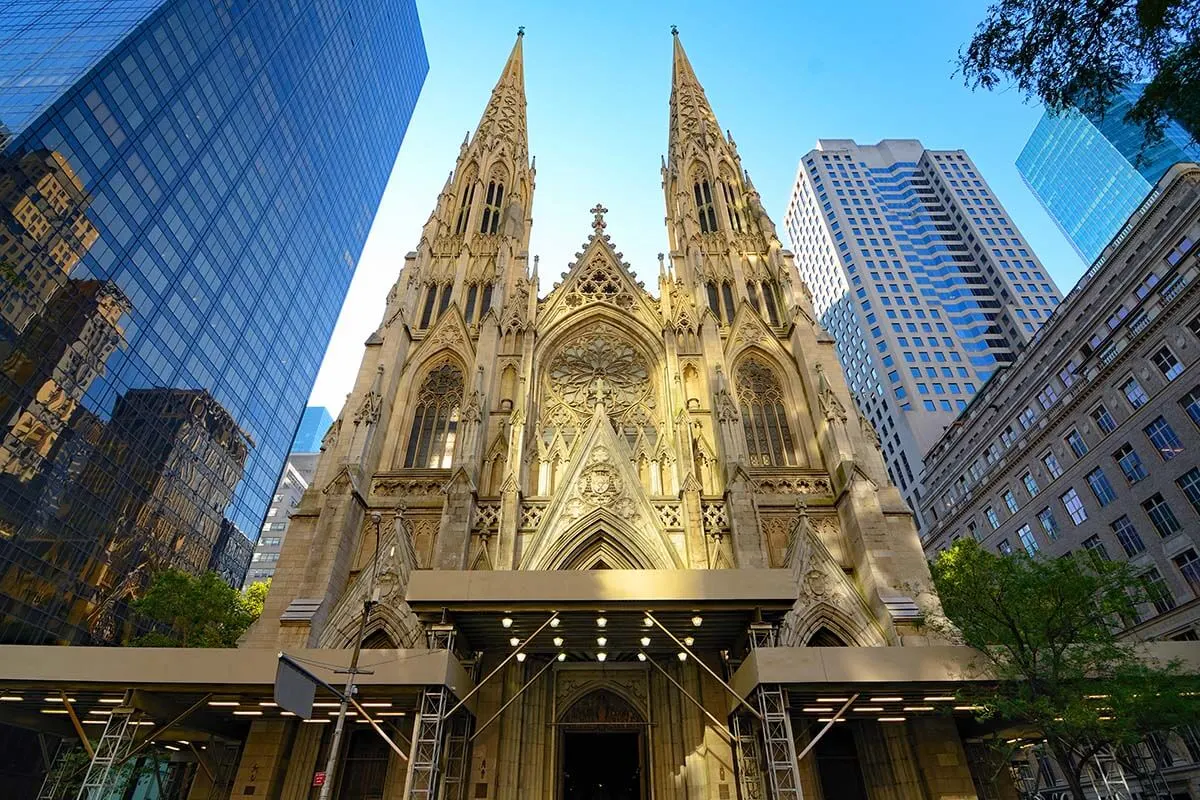 Next, walk north in the direction of Central Park. On the way, you'll pass flagship stores of brands like LEGO, Victoria's Secret, Louis Vuitton, Tiffany & Co., and many others.
Further north and parallel to Central Park, you'll find the so-called Museum Mile. This part of 5th Avenue features some of NYC's most famous museums such as The Met, Solomon R. Guggenheim Museum, and El Museo del Barrio. You can find information about these below.
For now, as soon as you reach The Plaza Hotel at the southeastern corner of Central Park, we recommend leaving the hustle and bustle of 5th Avenue and walking through the park.
Good to know: The distance from the Top of The Rock to The Plaza is just 0.6 miles, about 15 minutes walk without any stops. But you'll likely want to do some window shopping, so foresee a bit more time.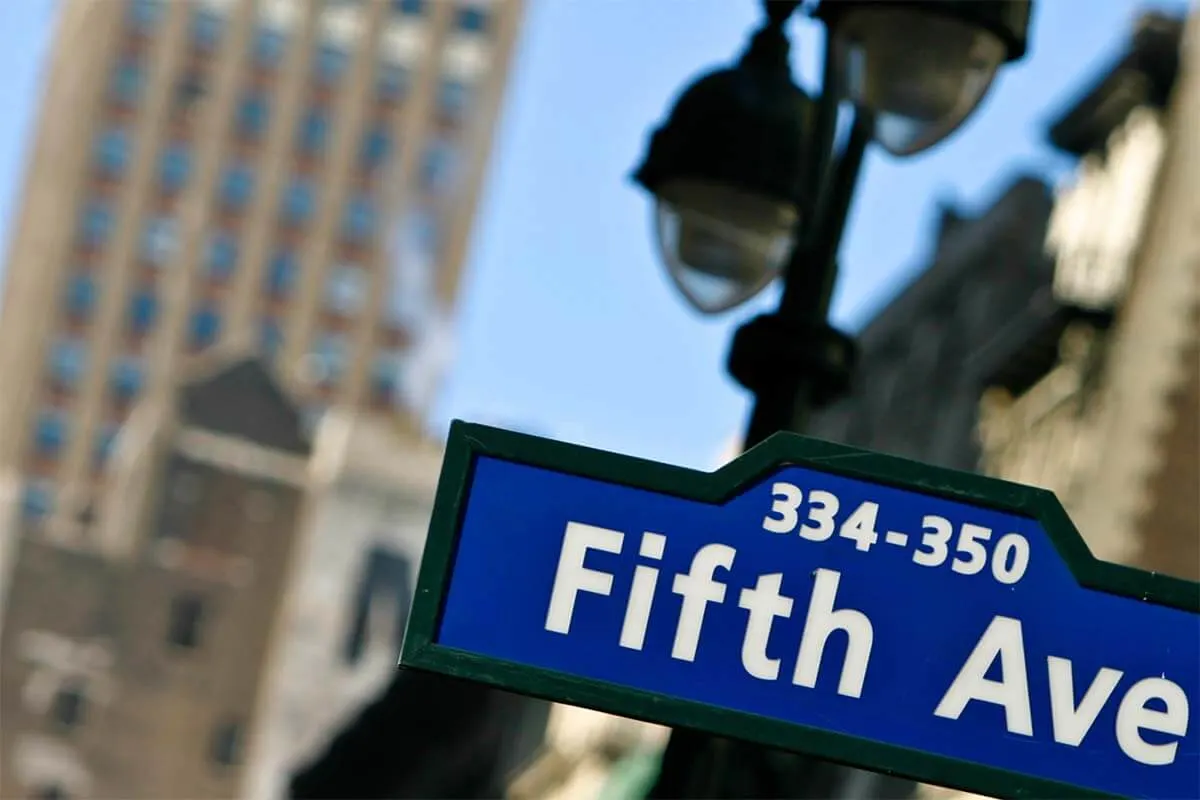 Central Park
11 AM – 1.30 PM (including lunch).
Next, it's time to explore the famous Central Park of New York. Stretching for 2.5 miles in length and 0.5 miles in width, this green space is huge.
Perched between the Upper West Side and Upper East Side, the park has lots of unique little attractions, so there is a lot to experience. It can be a bit overwhelming for first-time visitors.
To help you decide where to go, here are a few suggestions of our favorite places that we recommend checking out (they are all listed starting from the south and going northwards since you'll enter the park on the south side):
Pond at Central Park with the picturesque stone Gapstow Bridge.
Wollman Rink – the famous ice skating rink (winter season only, +- from the end of October to mid-March).
Tavern on the Green – recently restored, this iconic restaurant is one of the best places for lunch inside the park.
The Mall and Literary Walk – a wide promenade lined with elm trees featuring statues of famous writers such as Shakespeare.
Bethesda Terrace and Bethesda Fountain (not to be missed!).
Bow Bridge – one of the most scenic photo spots in Central Park.
Belvedere Castle – a 19th-century castle on one of the highest points of the park.
Good to know: The places mentioned above are situated in the lower half of Central Park. The walk from The Pond near the southern entrance to Belvedere Castle is about 1.2 miles and takes about half an hour. But if you want to stop at all the places mentioned above, you'll definitely need at least an hour extra (even more if you go ice skating). In addition, when making your planning for the day, don't forget to foresee some time for lunch.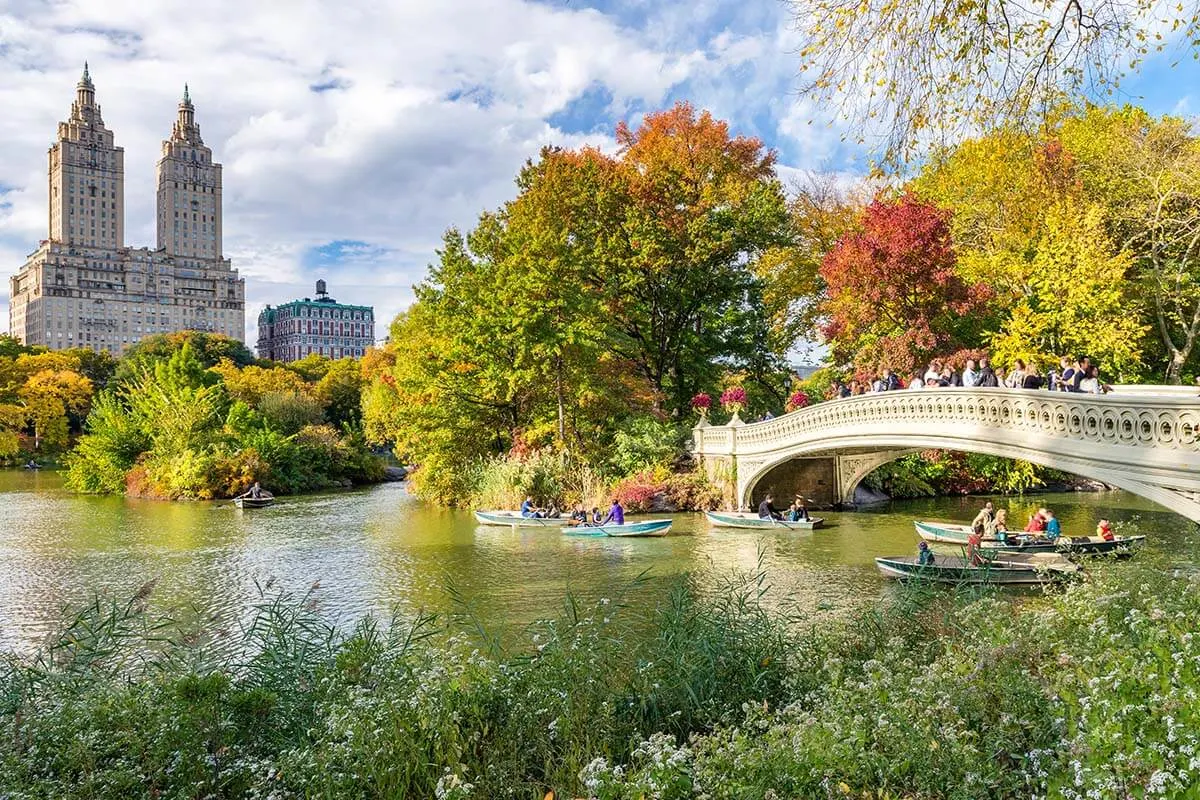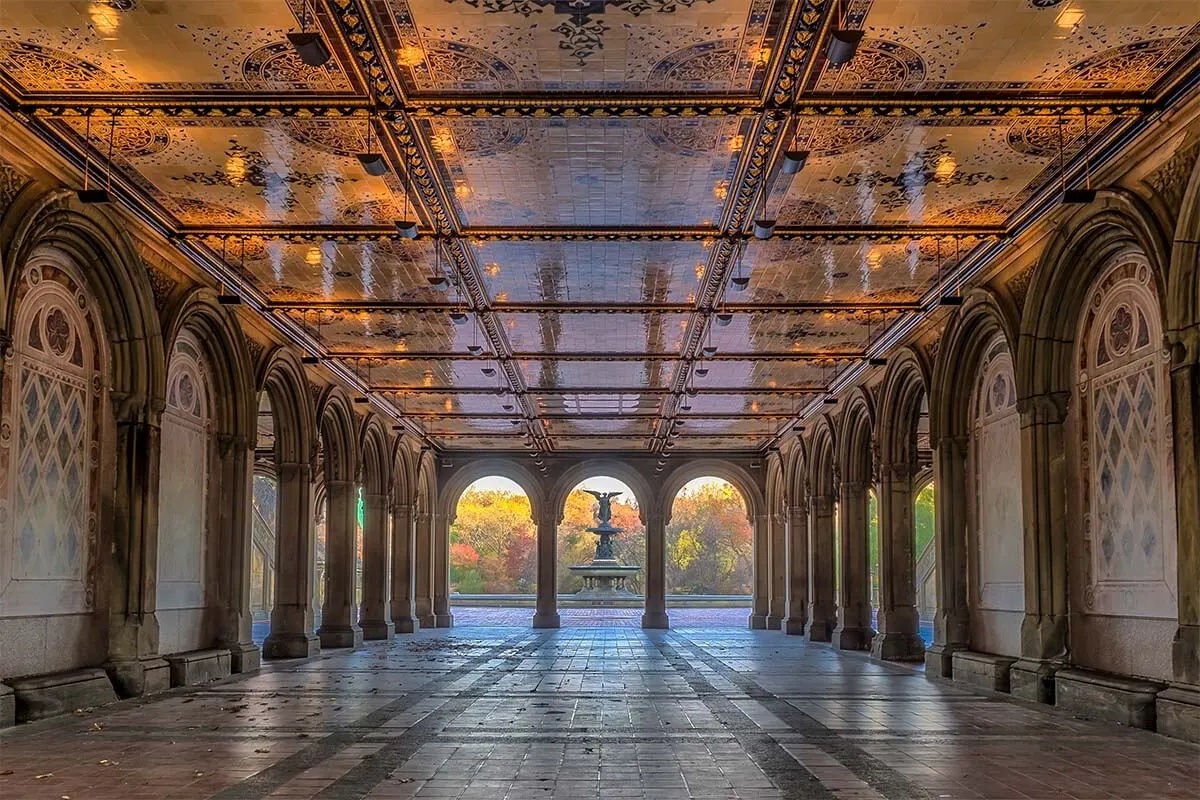 Next, we recommend choosing one of the following options – (1) visiting the Upper West Side and American Museum of Natural History OR (2) the Upper East Side and The Metropolitan Museum of Art (aka The Met).
With just two days in New York, we recommend that you pick one of these two museums because they are both quite big and you need at least a few hours to do them justice. Both are located just 10 minutes walk from Belvedere Castle in Central Park, but in different directions. See below for more info.
American Museum of Natural History (Upper West Side)
1.30 – 4.30 PM (OPTION 1).
Upper West Side (UWS) is a prestigious neighborhood with posh eateries, trendy boutiques, upscale food markets, and ultra-expensive real estate. If you decide to come here, you can also find a nice place for lunch in this area. Columbus Avenue and Amsterdam Avenue are lined with dozens of eateries, so there is a lot more choice than in Central Park.
Despite being a predominantly residential neighborhood, UWS is also home to the American Museum of Natural History and the Beacon Theatre.
Founded in 1869, the American Museum of Natural History is a New York institution that's been families' favorite for generations. Despite the fact that many exhibits have been here for decades, the museum is surprisingly modern. They say it's the most interactive natural history museum in the world. It's definitely one of the best museums to visit in NYC, and not just for families traveling with kids.
The museum houses over 32 million specimens spread over 45 halls, Rose Center, and Hayden Planetarium. Some of the most famous exhibits include the gigantic Tyrannosaurus rex, the world's largest dinosaur fossil collection, and awe-inspiring dioramas of various ecosystems from around the world. Your ticket also includes the new state-of-the-art Gilder Center with very impressive architecture.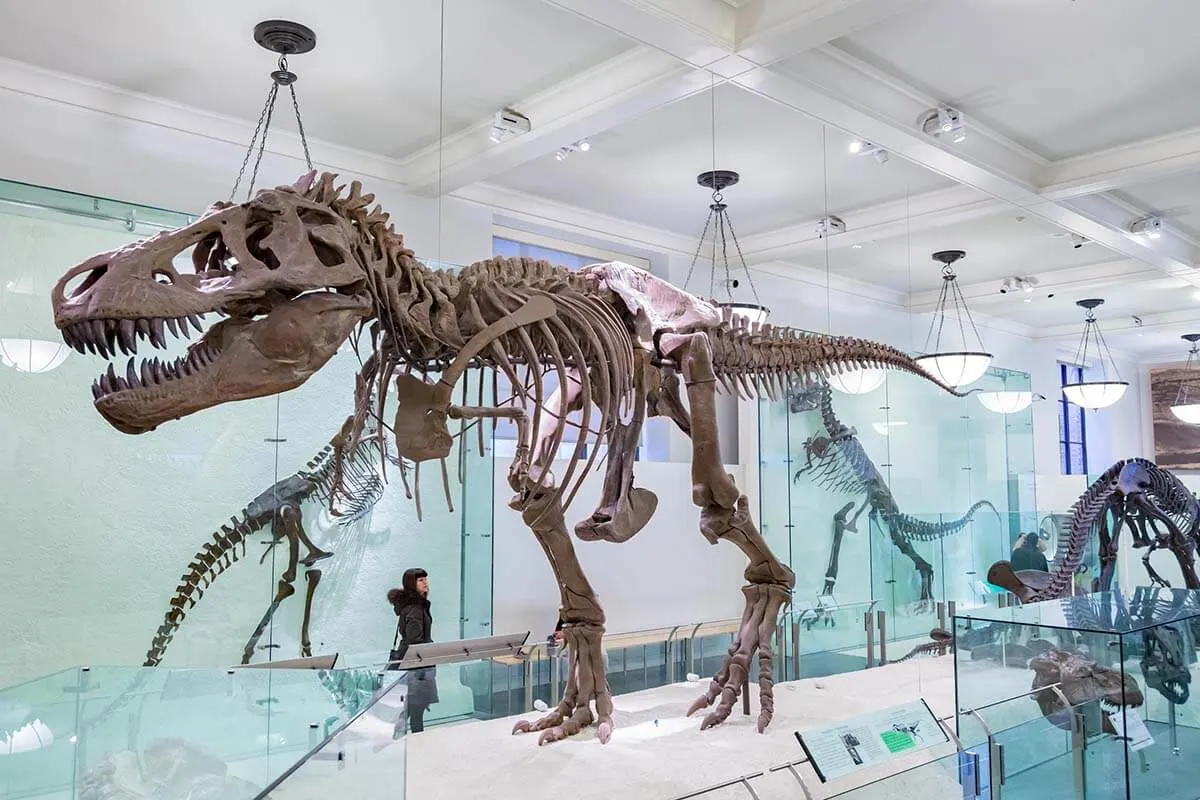 Practical info: The museum is open daily, from 10 AM to 5.30 PM except Thanksgiving and Christmas Day.
You need at least 2.5 hours for a visit to the regular exhibits, plus an hour extra for the temporary exhibits. Here you can find more info and book tickets.
TIP: The entry to this museum is also included with the earlier-mentioned New York: CityPASS (which also includes the Empire State Building, Top of the Rock, 9/11 Memorial and Museum, and Liberty Island ferries or cruises – all the places that we recommend visiting with 2 days in NYC).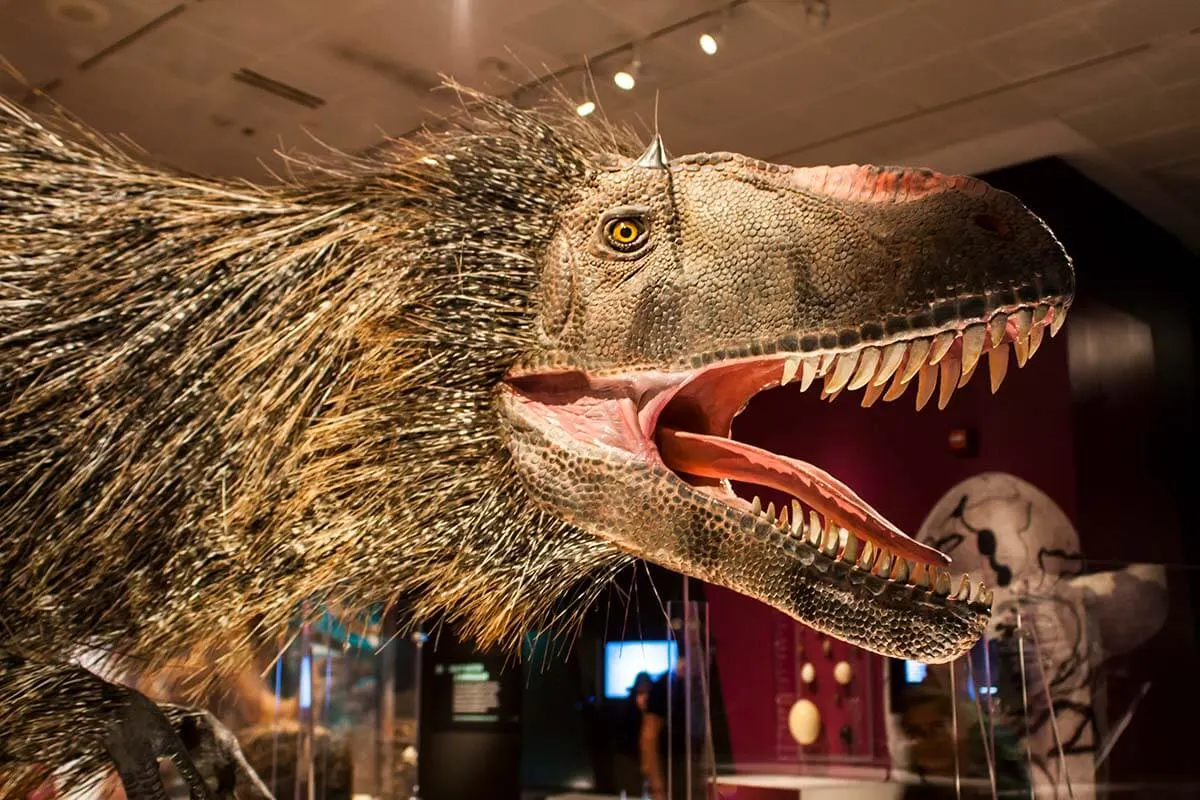 The Metropolitan Museum of Art (Upper East Side)
1.30 – 5 PM (OPTION 2).
Upper East Side (UES) is another esteemed NYC neighborhood (that you may recognize as Carrie Bradshaw's home from Sex & The City). The UES runs from 59th Street to 96th Street, with the East River on the east and Central Park on the west.
Constituting three smaller neighborhoods – Lenox Hill, Carnegie Hill, and Yorkville – UES is where the Rockefellers, Kennedys, and Roosevelts once called home. Parallel to 5th Avenue is Madison Avenue where you'll find high-end boutiques and designer stores – a luxurious shopper's dream.
Museum Mile on 5th Avenue is part of this neighborhood, so there is a lot to see here. But with just two days in New York and limited time, the most obvious choice is The Metropolitan Museum of Art (The Met). However, keep in mind that you need at least 3-4 hours for a visit here (most people recommend even more time).
The Met is one of the world's most renowned art museums, boasting an extensive and diverse collection spanning over 5,000 years of human history. From ancient Egyptian artifacts to European masterpieces, a visit to this museum offers visitors a captivating journey through art, history, and culture.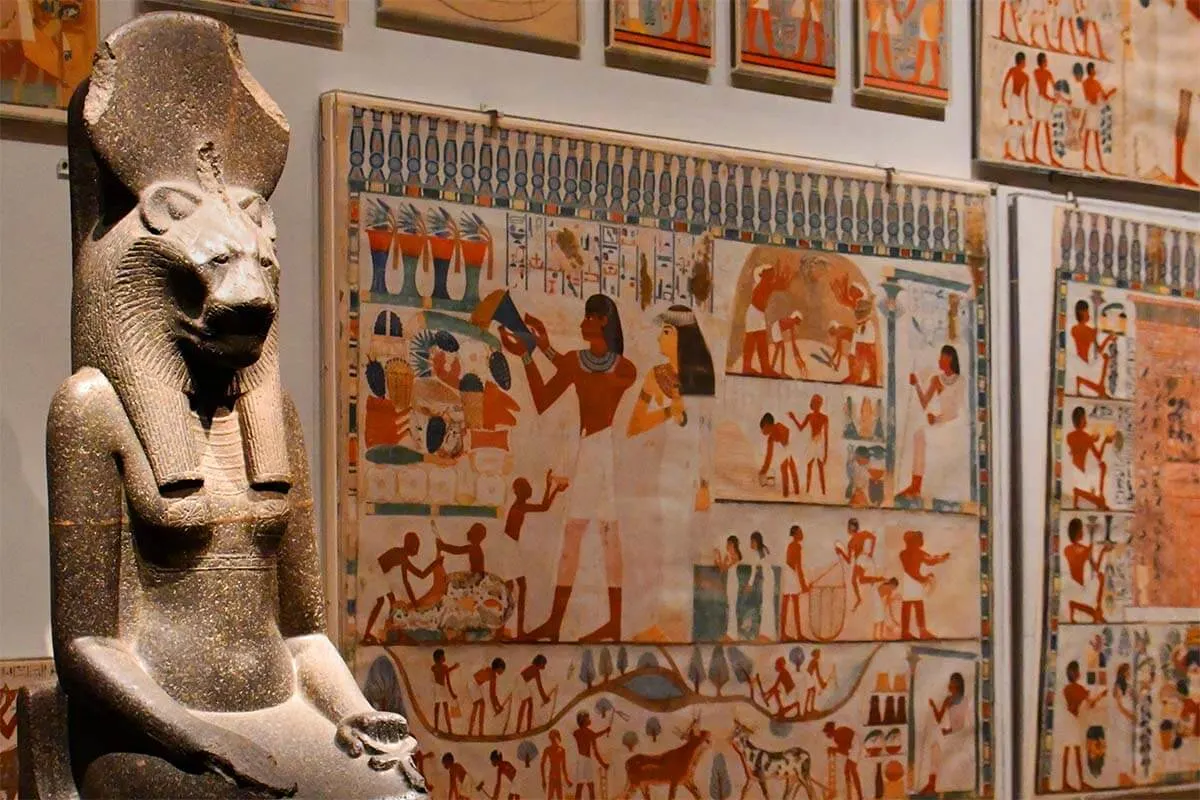 Practical info: The Met is open daily except on Wednesdays and a few public holidays. It's open from 10 AM to 5 PM, plus on Fridays and Saturdays, it remains open to 9 PM. You can find more info and tickets here. Plan at least 3 hours for a visit.
Good to know: The museum is really big and overwhelming for first-time visitors. You could be wandering aimlessly for several hours and still miss the most important works. So if you are short on time and absolutely want to see The Met, consider a guided tour. There are some excellent tours that bring you to the museum's top attractions with carefully planned itineraries in about 2 hours.
PLANNING TIP: If you decide to visit The Met with a guide, we recommend this highly-rated tour. Just keep in mind that it usually starts at 11 AM so you'll have to rearrange this itinerary a bit to make it work.
In that case, come here immediately after visiting The Top of The Rock and explore more of 5th Avenue and Central Park in the afternoon. This would actually be a rather relaxing way to spend your day since you do all the 'musts' that require advance planning first thing in the morning.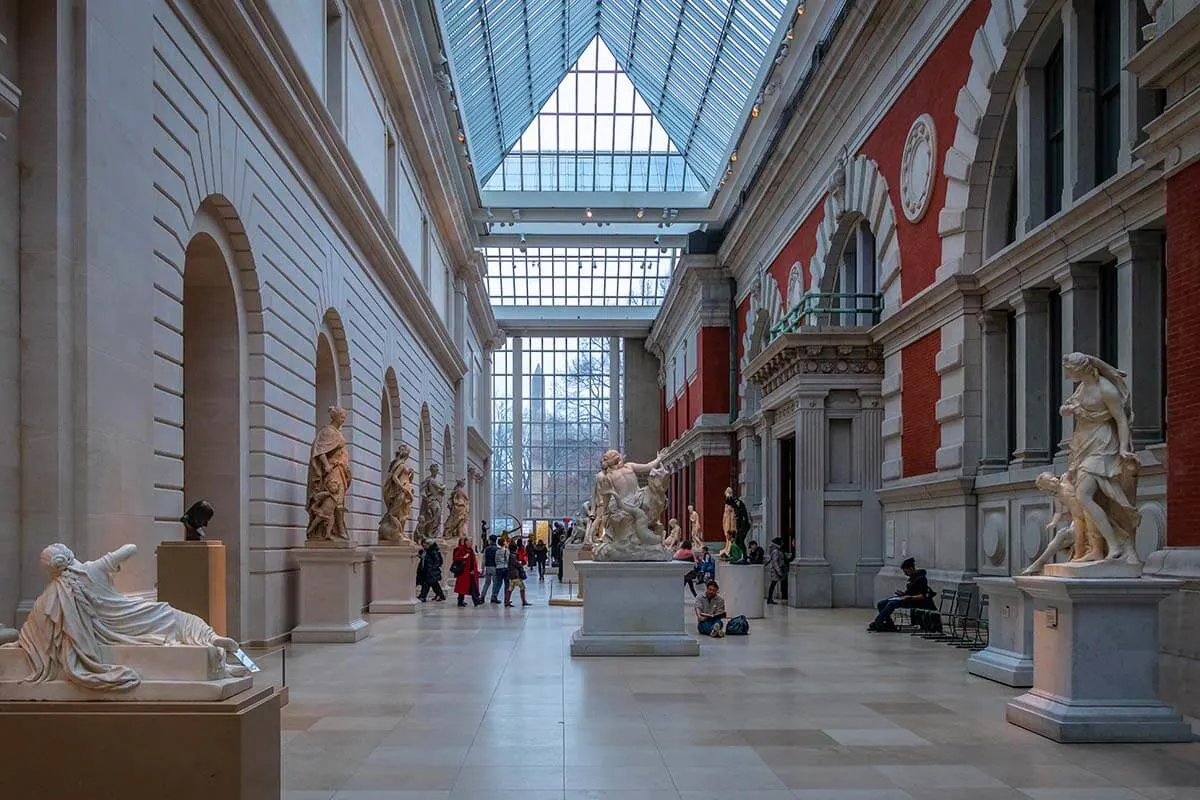 Broadway Show & Dinner
EVENING
Whether you have been to the Big Apple before or it's your first time in the city, attending a Broadway show is a must. Even if you have just 2 days in New York, you can easily add this to your itinerary – IF you plan and get tickets in advance.
With 41 Broadway theaters in the city, you have plenty of options to choose from. From Wicked to The Lion King to Moulin Rouge, NYC Broadway shows offer a big variety of theatrical productions and amazing musicals known to be the best in the world.
TIP: We recommend checking the HelloTickets website in advance. It's our favorite one-stop shop for the most popular shows worldwide and they have tickets to all the best Broadway shows too. Without advance booking, you risk not being able to see the show that you like (especially if you visit on a weekend or during school holidays).
If you can't decide what to see, we recommend either The Lion King (Minskoff Theater) or Aladdin (New Amsterdam Theater). We indicated both theaters on the map
Good to know: Most of the Broadway theaters are located around Times Square. So you'll find plenty of dinner options nearby, before or after the show. Also, depending on the time of your show, you might want to consider exploring Times Square first (see below). Most shows take about 2.5 hours.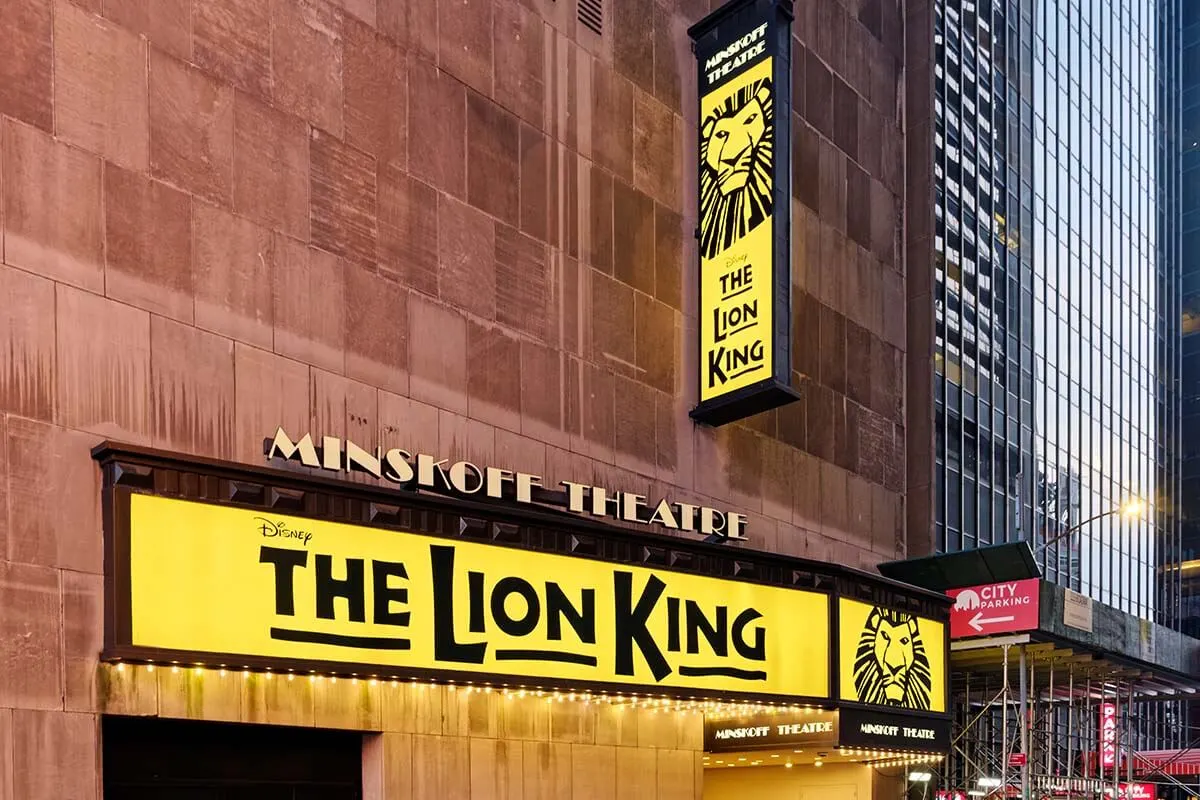 Times Square
EVENING.
End your short visit to New York admiring the beaming lights and glaring billboards of Times Square. It's a MUST for all first-time visitors and no trip to NYC would be complete without a stop here.
One of the world's busiest pedestrian-only areas, Times Square needs no introduction. You probably have seen hundreds of pictures of its colorful lights, flashing billboards, and – in the past – iconic yellow taxis. Its New Year's Eve Ball Drop is also world-famous.
Formerly Longacre Square, Times Square changed its name in 1904 when a new skyscraper called One Times Square made its home on 42nd Street. Nowadays, this prominent commercial area attracts 50 million visitors annually. It is also home to the Broadway Theater District. Whether you want to take a stroll or hit up a nightclub or rooftop bar, you'll never find a shortage of vibrant nightlife here.
TIP: The best time to visit Times Square is in the evening when you can see a sea of bright neon lights flashing against darkness.
Good to know: Times Square is a traffic-free zone so it's much more enjoyable than in the past. But it can still get extremely crowded, especially over the weekend. Be sure to keep your belongings in front of you to avoid pickpockets.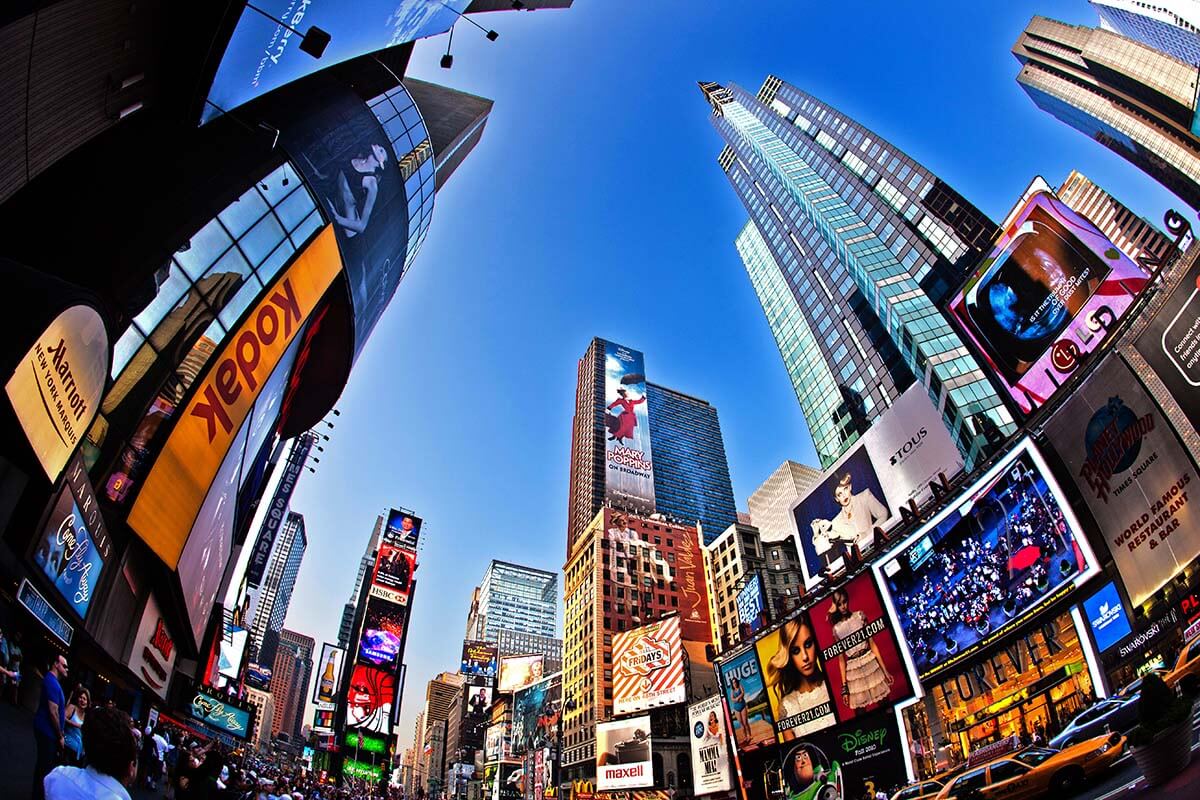 Where to Stay
As already mentioned, by far the best area to stay for this itinerary is around Times Square. This is where you will find yourself at the end of day 1 of this itinerary, plus start in the morning and end in the evening of day 2.
Of course, staying in Manhattan is not cheap, but the prices are similar all over the center. Staying in the vicinity of Times Square will save you a lot of time.
Here are some of the best-rated hotels in this area for various budgets:
PRO TIP: Book your hotel in NYC as soon as you know your travel dates. It's a very popular destination and the prices only go up as your travel dates get closer!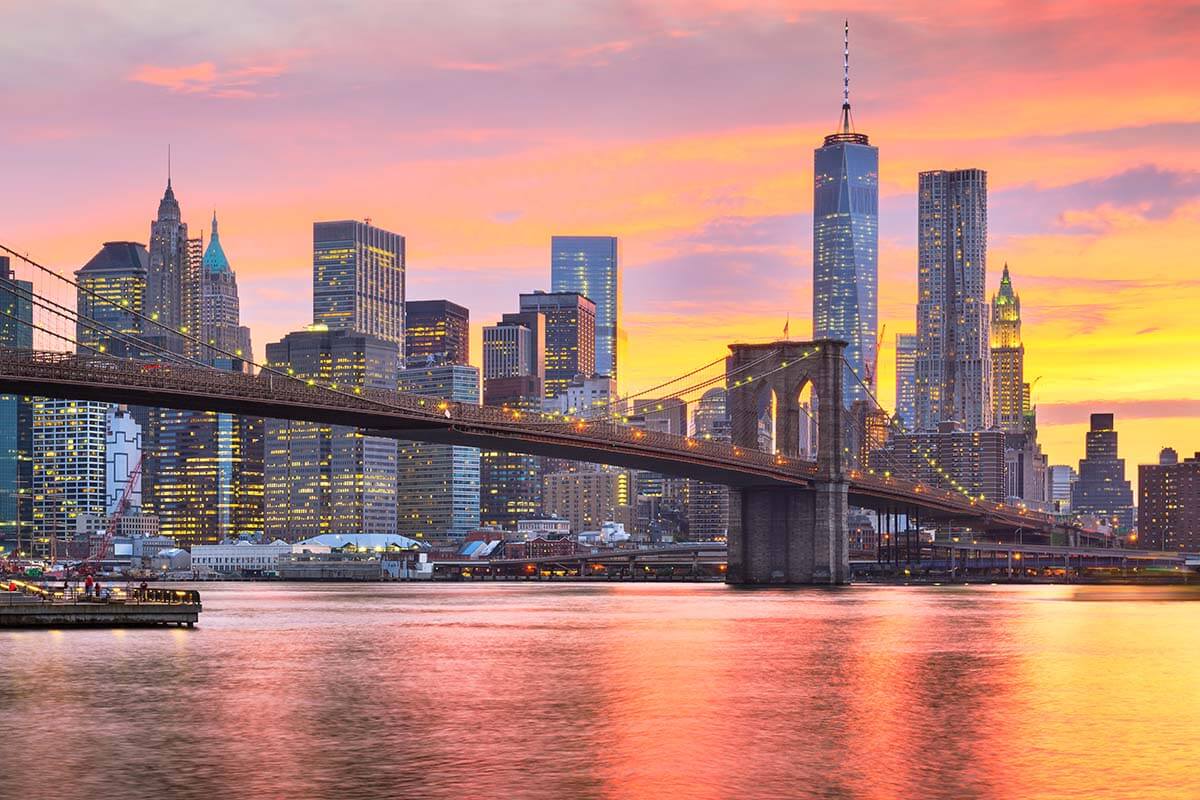 2 Days in NYC: Itinerary Overview & Map
Below is a quick summary of our suggested 2-day New York itinerary. You don't need to follow a strict schedule, but this will give you a rough idea of how your days could look like and how much time to spend at each attraction.
Further below, you can also see the map indicating all the places on this itinerary.
Day 1
7.30 – 8.30 AM: DUMBO.
8.30 – 9.30 AM: Brooklyn Bridge.
9.30 – 10 AM: South Street Seaport.
10 – 10.30 AM: Financial District.
10.45 AM – 3.30 PM: Statue of Liberty: by ferry or guided tour.
4 – 6.30 PM: Ground Zero & 9/11 Memorial Museum.
6.30-7 PM: Subway from Oculus to The High Line.
7 – 8.30 PM: The High Line & dinner at Chelsea Market.
9 PM: Empire State Building.
Late evening (optional): Hudson Yard or Koreatown.
Day 2
How to use this map: Use your computer mouse (or fingers) to zoom in or out. Click on the icons to get more information about each place. Click the arrow on the top left corner for the index. Click the star next to the map's title to add it to your Google Maps account. To view the saved map on your smartphone or PC, open Google Maps, click the menu and go to 'Your Places'/'Maps'. If you want to print the map or see it in a bigger window, click on 'View larger map' in the top right corner.
Practical Tips for 2 Days in NYC
Stay in Manhattan, close to Times Square if you can. This will save you lots of time and will enable you to make the most out of your short visit.
Be sure to book tickets to all the sights and attractions that you want to visit. Otherwise, you'll waste too much time in queues and won't be able to do everything mentioned in our itinerary.
Don't pack anything you don't absolutely need. Many attractions have strict security checks and a long list of items that are not allowed inside (sharp items, etc. but some don't even allow food or drinks). Also, if you go to Liberty Island, you'll have to leave your backpacks in a locker (be sure to bring some quarters with you!). We personally always pack a small crossbody bag for city trips (something like this or a bit smaller). Most attractions allow you to keep a small crossbody bag on you without any issues.
Wear comfortable shoes – you'll be walking a lot! Contrary to what you see in the movies, real New Yorkers don't walk around in 4" stilettos either.
If you want to save yourself some walking, use the subway for long distances or taxi/Uber for shorter rides.
Don't be afraid to ask for help if you are not sure where the entrance is, which metro line you need, etc. It's better than wasting precious time trying to figure it out yourself.
Consider having just a quick lunch on the go rather than sitting down for a full meal. This will usually save you at least 1-1.5 hours of precious sightseeing time. Also, you may want to reserve a table at a restaurant for dinner, especially if traveling on a weekend and/or if you want to have dinner at a specific time or place.
Pack a portable charger for your smartphone (and don't forget to fully charge it in advance + take the cables that you may need). You'll be using your phone all the time – to navigate the city, show prebooked tickets at the attractions, take pictures, etc.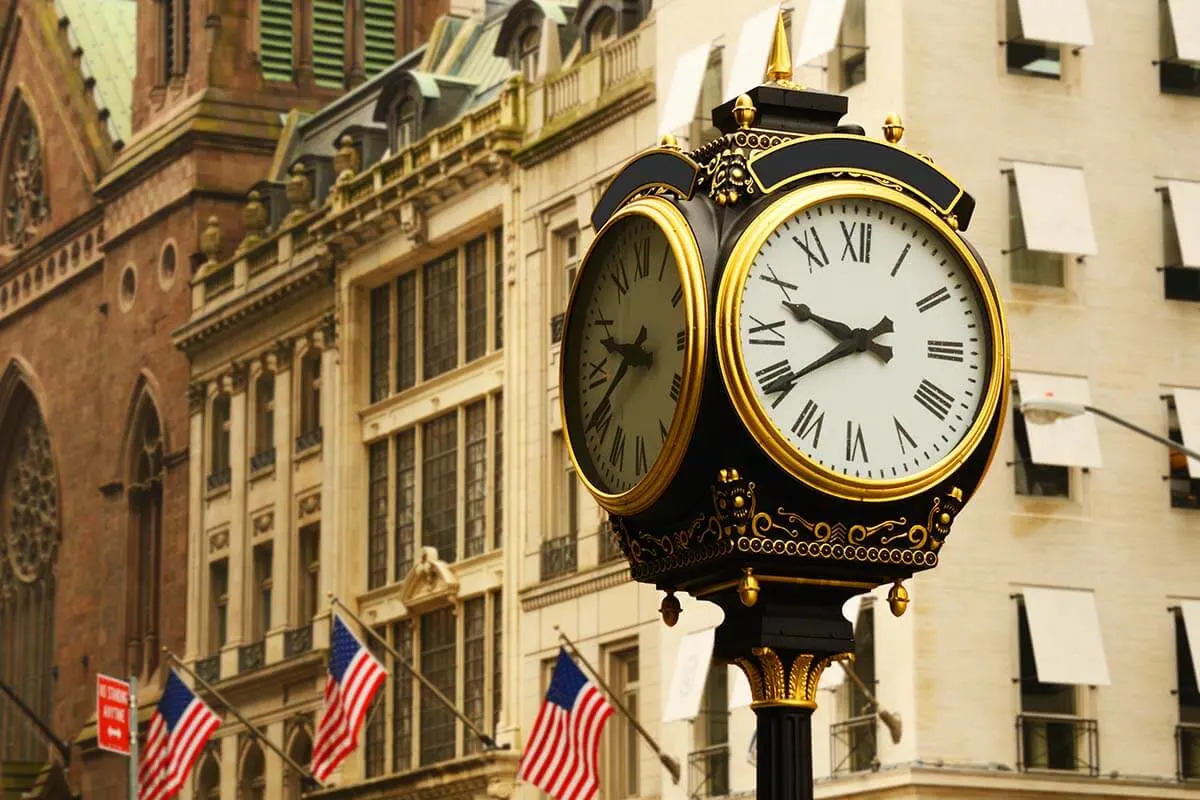 This concludes our 2-day itinerary for New York. If you want to see some of the most famous places in NYC in a short time, this itinerary will help you do just that.
Of course, this is just one of the countless ways to spend two days in New York and there are so many options.
So if it feels a bit overwhelming, cut a few places/activities that don't interest you that much and make your sightseeing plan a bit more relaxing. That's also why we indicated some sites as 'optional'. And if you absolutely want to see some other landmark or neighborhood, take a look at the map and figure out where you could squeeze it in. A lot is possible, so simply use this as a guide to help you plan your own perfect trip.
Have a great time in NYC!
More travel inspiration for the USA:
If you found this post useful, don't forget to bookmark it and share it with your friends. Are you on Pinterest? Pin these images!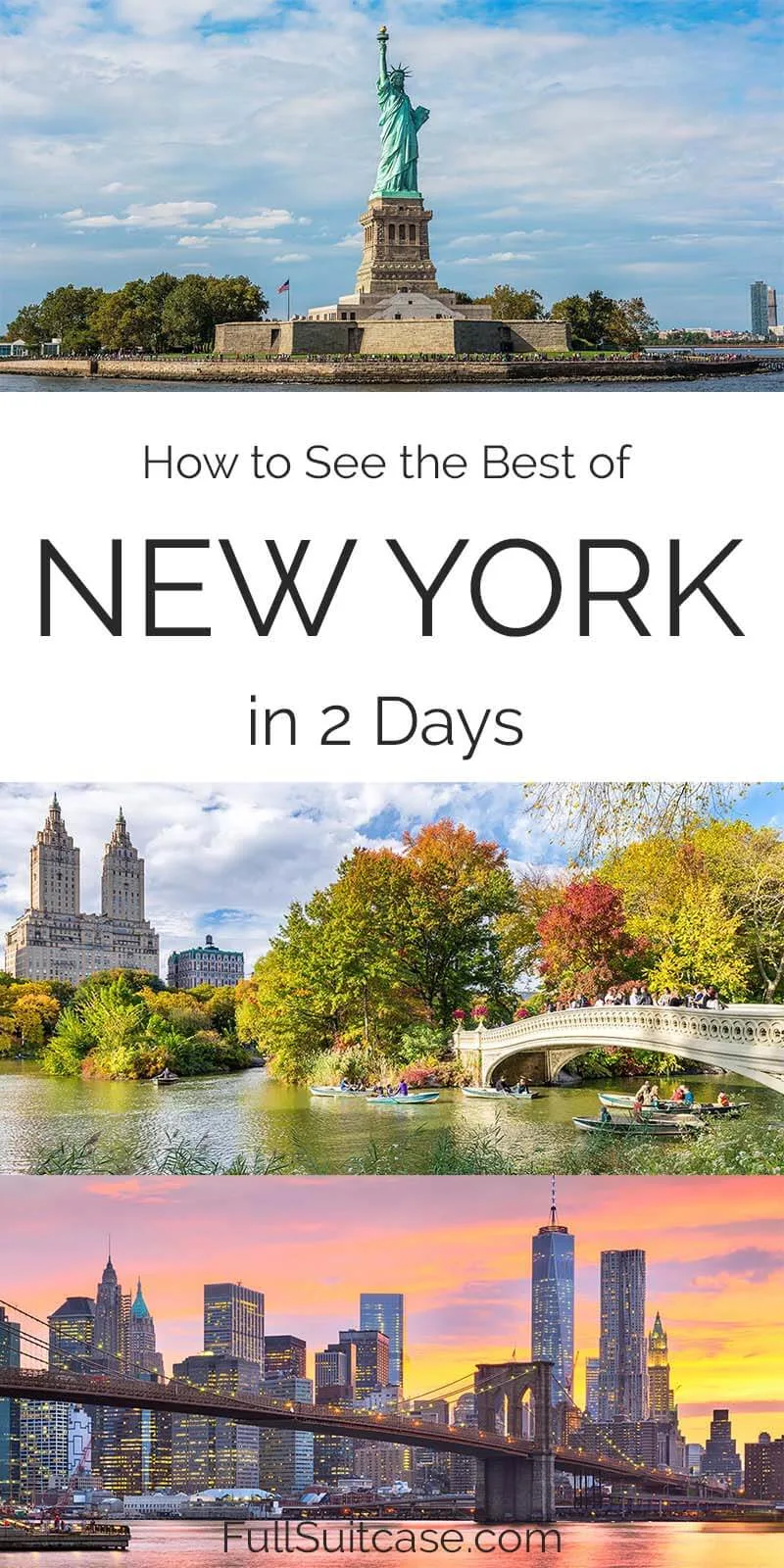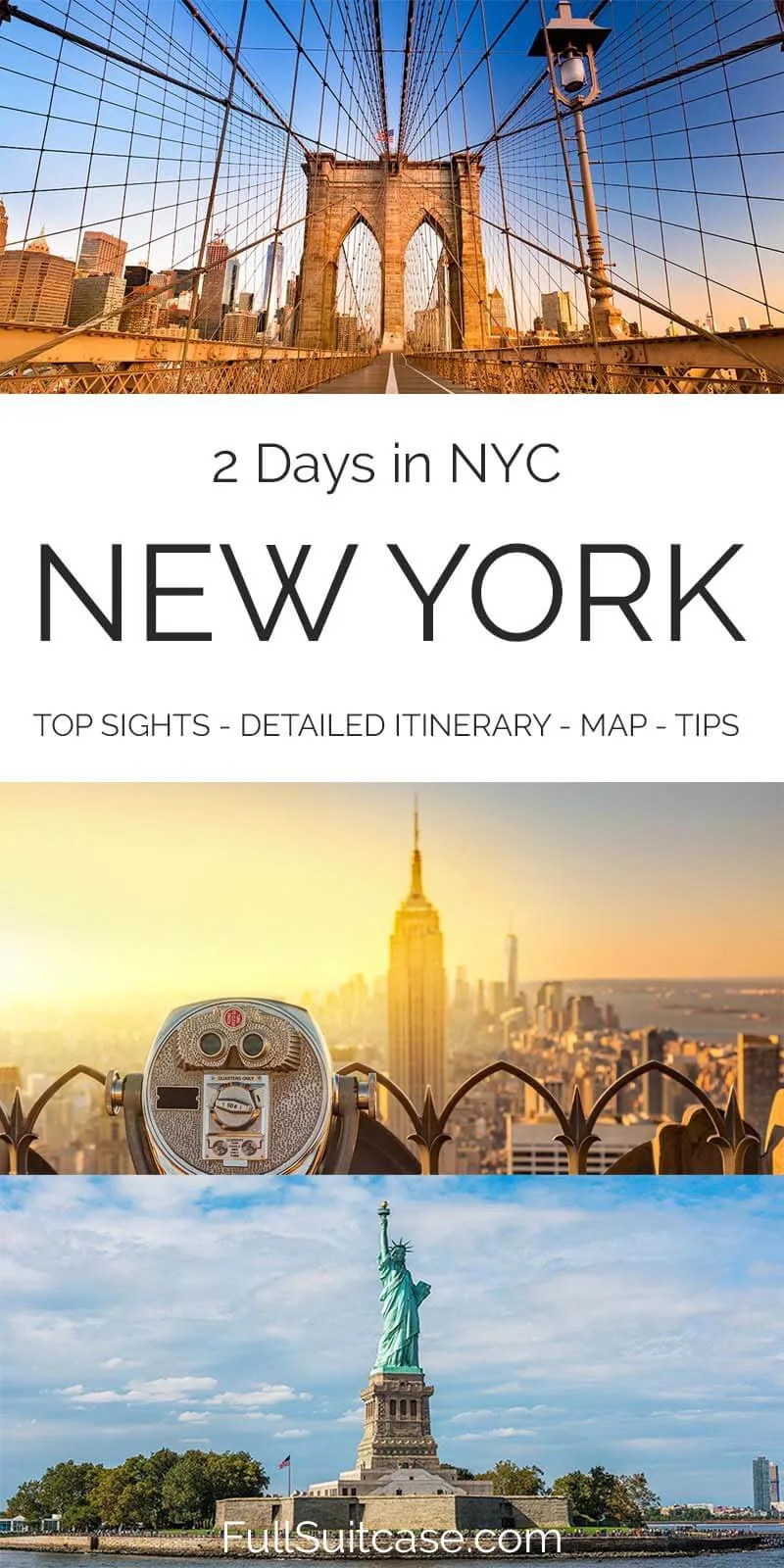 Image credits: Depositphotos.com// Pitstock/Depositphotos.com// ymgerman/Depositphotos.com// s4visuals/Depositphotos.com// frimufilms/Depositphotos.com// gioiak2/Depositphotos.com// boggy22/Depositphotos.com// kasto/Depositphotos.com// diegograndi/Depositphotos.com// sainaniritu/Depositphotos.com// Hackman/Depositphotos.com// DAuthordbvirago/Depositphotos.com//.