Visiting New York City for a day and wondering how to make the most of your time and see some of the main landmarks? In this guide, we share a detailed 1-day NYC itinerary that covers some of the 'musts' in the most efficient way.
Good to know: This one-day New York itinerary is best suited for first-time visitors and everyone who wants to see the top sights and the best places that the Big Apple is famous for in just a day.
Of course, you can't see all the best places in NYC in a day (so you'll definitely want to come back for a longer visit). But – if you plan well – you can visit a few of the most famous sights in New York in one day.
This itinerary includes the Statue of Liberty, Times Square, Central Park, the Financial District, Ground Zero, and some of the best views in the city. You can soak up the unique atmosphere through various parts of Manhattan, and maybe even catch a Broadway show or mingle with locals at a rooftop bar…
Though one day in New York City is not a lot of time, with proper planning, you can accomplish quite a bit. To help you do that, we asked for recommendations from NYC-local, fellow travel writer Sean Lau of LivingOutLau. He grew up and lived in New York for over 15 years and in this guide, he shows you how to maximize your 24 hours in NYC and experience as much as you can.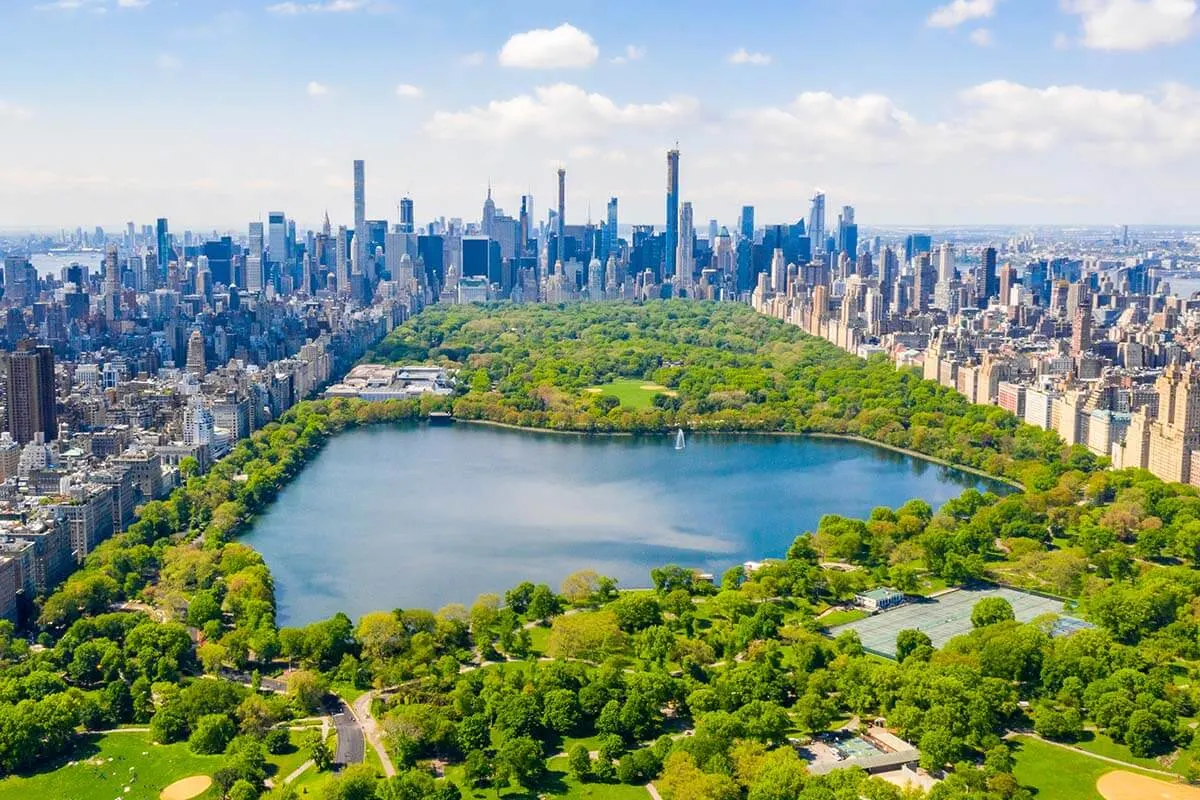 This itinerary is packed with some of the best spots that you can see in New York in a day. It will help you plan every activity from sunrise to midnight to make sure you don't miss anything important.
In addition, we include a map indicating all the places mentioned in this guide and planning tips to make the most out of your day.
You can also find some practical tips for visiting NYC because we all know how intimidating it can be to visit such a big and bustling city, even more so if it's your first trip. You can find all this info and the map at the bottom of the article, together with a short overview of the detailed itinerary that we start with.
But first – our suggestions for the best places we recommend visiting in the Big Apple in a day!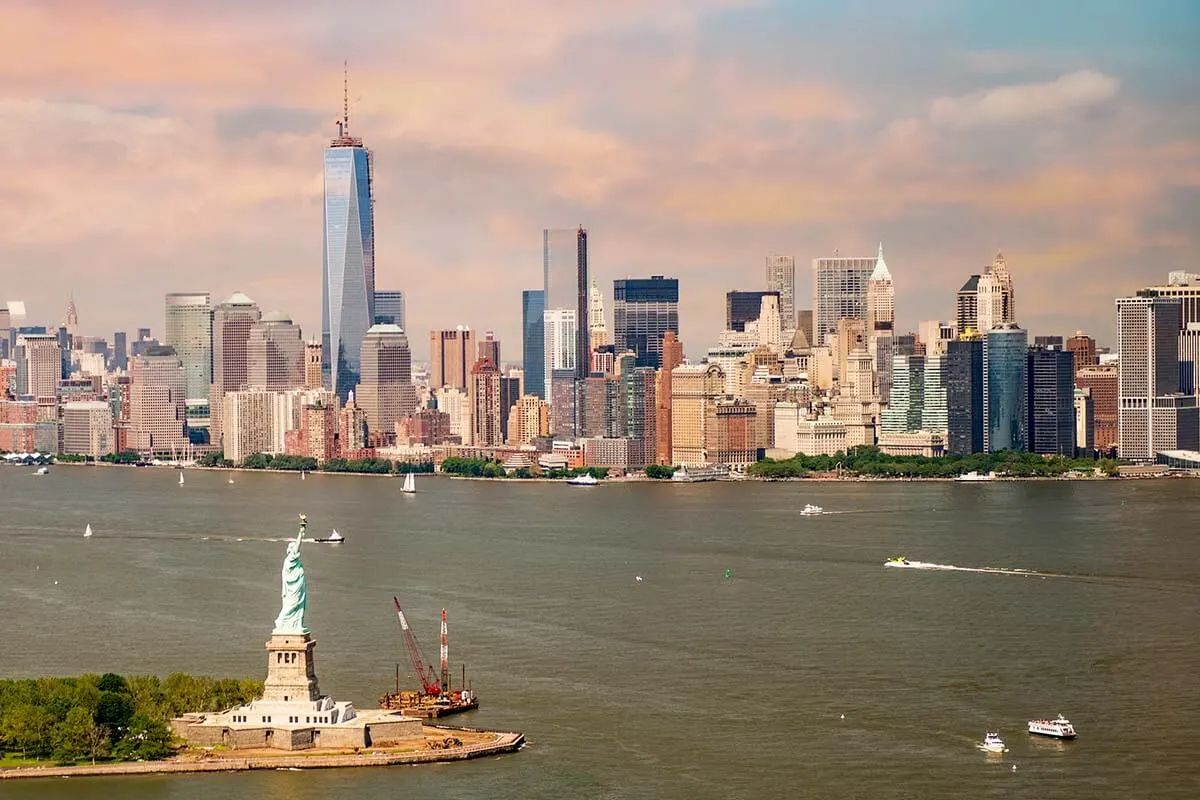 What to do in New York in one day:
Brooklyn Bridge
There is no bridge in NYC more iconic than the Brooklyn Bridge, a hybrid cable-stayed/suspension bridge that spans the East River and connects Brooklyn with Lower Manhattan. And what is more fitting for the so-called "City That Never Sleeps" than to visit this iconic landmark at sunrise?
There is a good reason for this. Brooklyn Bridge during the day can be one of the most crowded places in NYC. The bridge is shared by pedestrians and cyclists, so it is always filled with people.
Visiting early in the morning, you can appreciate this beautiful Instagram location in NYC at its fullest potential. You don't absolutely have to arrive as soon as the sun rises (this might be easier in winter than in summer), but starting sightseeing as early as possible is also the best way to ensure that you make the most of your day in New York. So try to get here as early as you can.
TIP: We recommend getting on the bridge from the Manhattan side and walking about halfway before turning back. Walking back towards the city center, you can get some stunning views of the Manhattan skyline from here.
Financial District – Wall Street
The Financial District is situated in Lowest Manhattan, making it the perfect place to visit in NYC after Brooklyn Bridge. This area is sometimes referred to as FiDi, and is home to some of New York's most famous attractions such as Wall Street and Ground Zero.
Start your visit with Wall Street, the heart of the financial district in NYC. Visitors will find historical buildings such as the NYSE (New York Stock Exchange) and Federal Hall (where George Washington became the country's first president).
The symbol of Wall Street is the Charging Bull, a 3-ton bronze bull that represents the prosperity of NYC. Rubbing its testicles is said to bring good luck! And if you visit early in the morning, you won't have to wait in queue just to rub them.
TIP: The Financial District is also an excellent place to grab some breakfast. We recommend trying something local, such as a smoked salmon bagel or a bacon egg and cheese on a roll from a deli!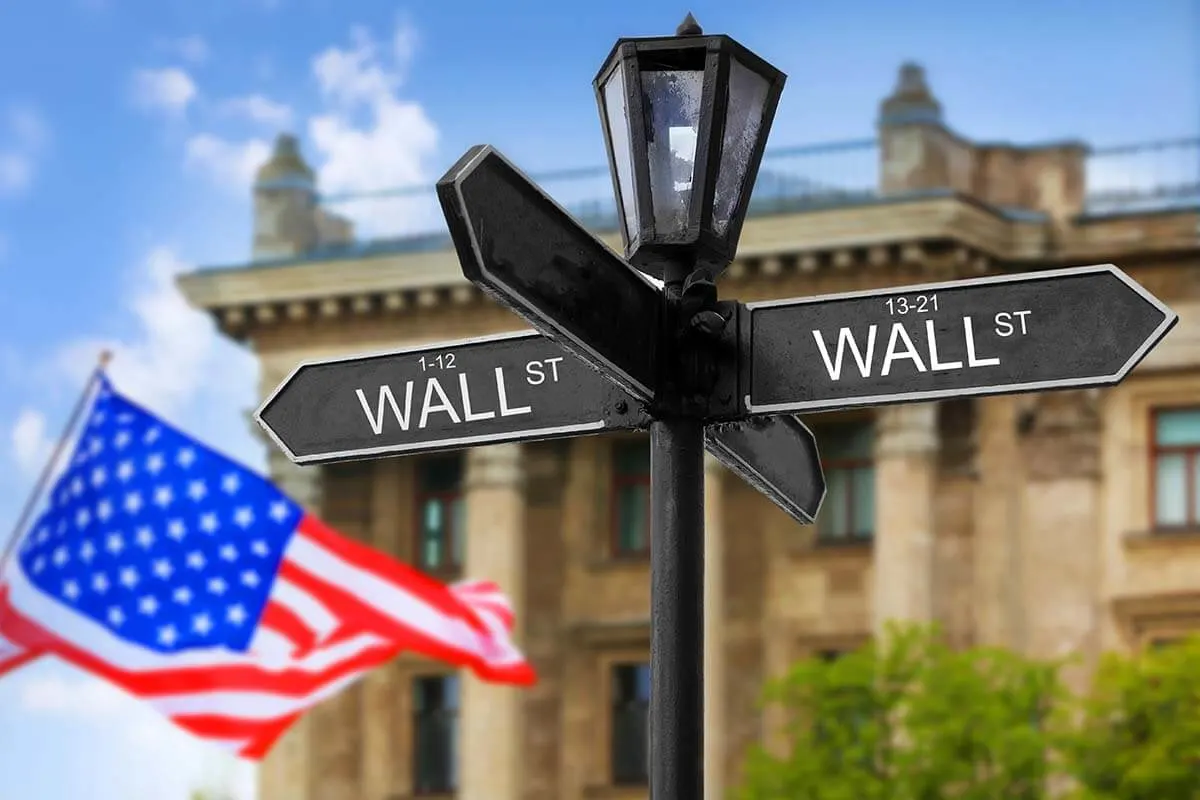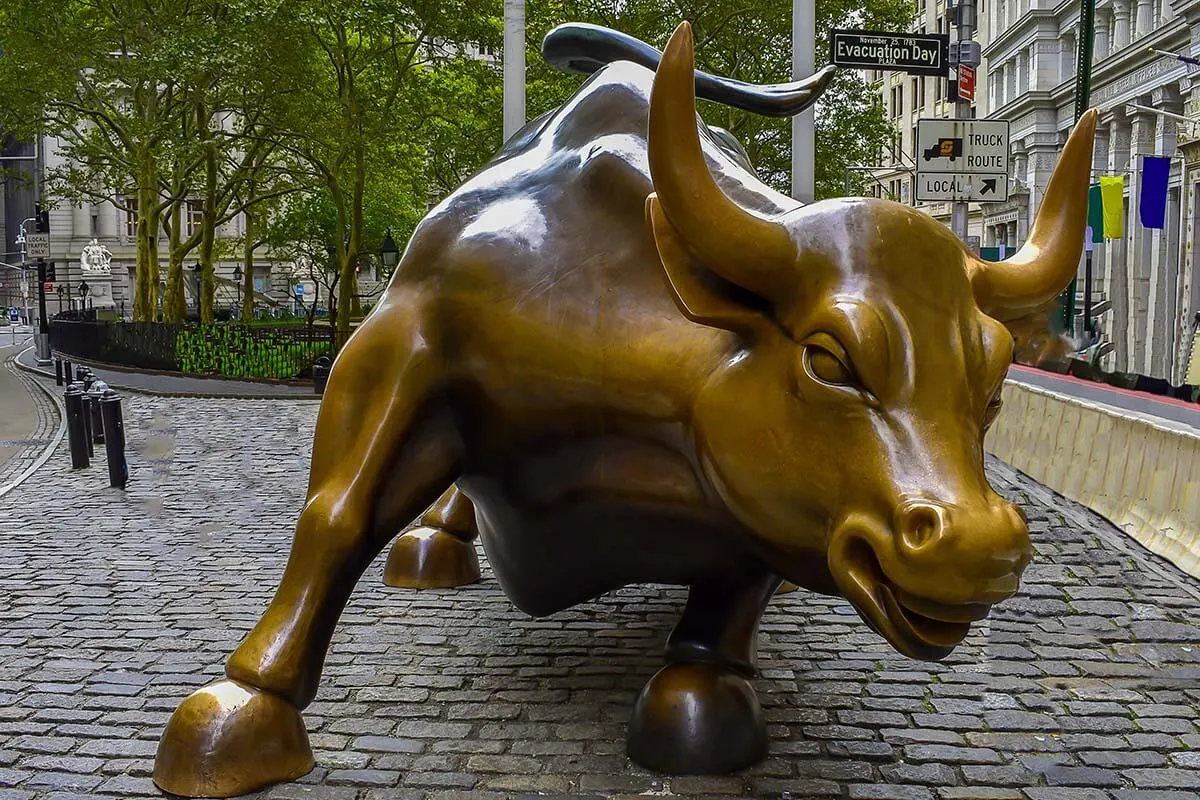 Ground Zero – 9/11 Memorial
After seeing the Wall Street area, head towards Ground Zero, the site where the tragedy of 9/11 unfolded. After the Twin Towers were destroyed, there was nothing but debris and rubble at Ground Zero. But now the site has been rebuilt, and many of the most impressive structures of NYC reside there.
The most breathtaking site at Ground Zero is the 9/11 Memorial Pools. These reflective pools are built at the footprints of the twin towers and have an area of 1 acre. It is an impressive engineering feat and also the biggest manmade waterfall in the world.
You may also want to check out the 9/11 Memorial & Museum. For this, it's essential to plan in advance and book the timed-entry tickets. This will usually save you at least an hour if not more. However, with just one day in NYC, even with skip-the-line tickets, you probably won't have enough time to do this museum justice (most people recommend at least 1.5-2 hours inside). If you decide to visit inside, get the 10 am tickets and adjust the rest of the itinerary accordingly and based on your interests.
Next, head over to the Oculus at the World Trade Center. This is arguably the most uniquely-shaped building in NYC and one of the most expensive and extravagant railway stations in the world. On the exterior, the Oculus is a steel building with wing-shaped tips sprawling towards the sky. It is designed by Spanish architect Santiago Calatrava, and the building resembles a hand releasing a dove.
The exterior of the Oculus is spectacular, but the interior is far from lackluster. The steel ribs create perfect symmetry. With the elegant white marble decor, it is one of the most beautiful places in NYC. The building houses various shops and you can just wander around a bit admiring its unique interior. It can get really busy here during the morning commute, but if you come at around 10 am, the biggest crowds will likely have passed.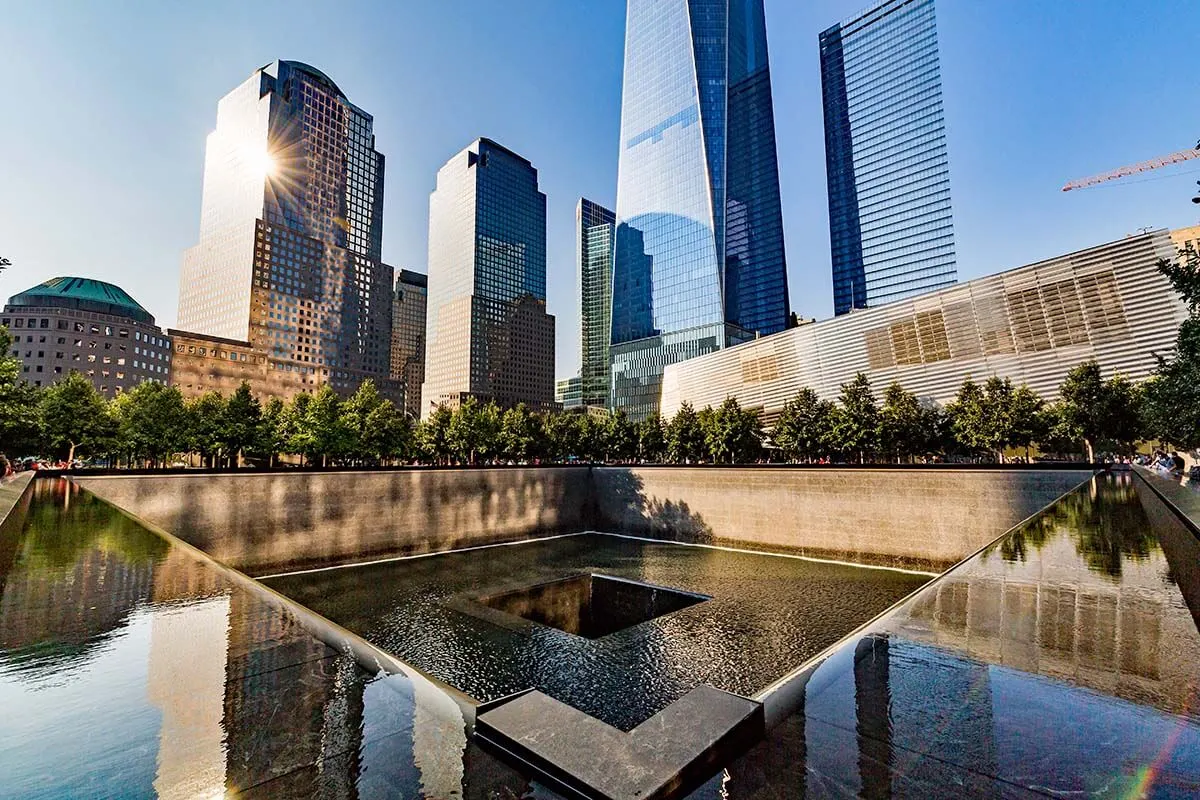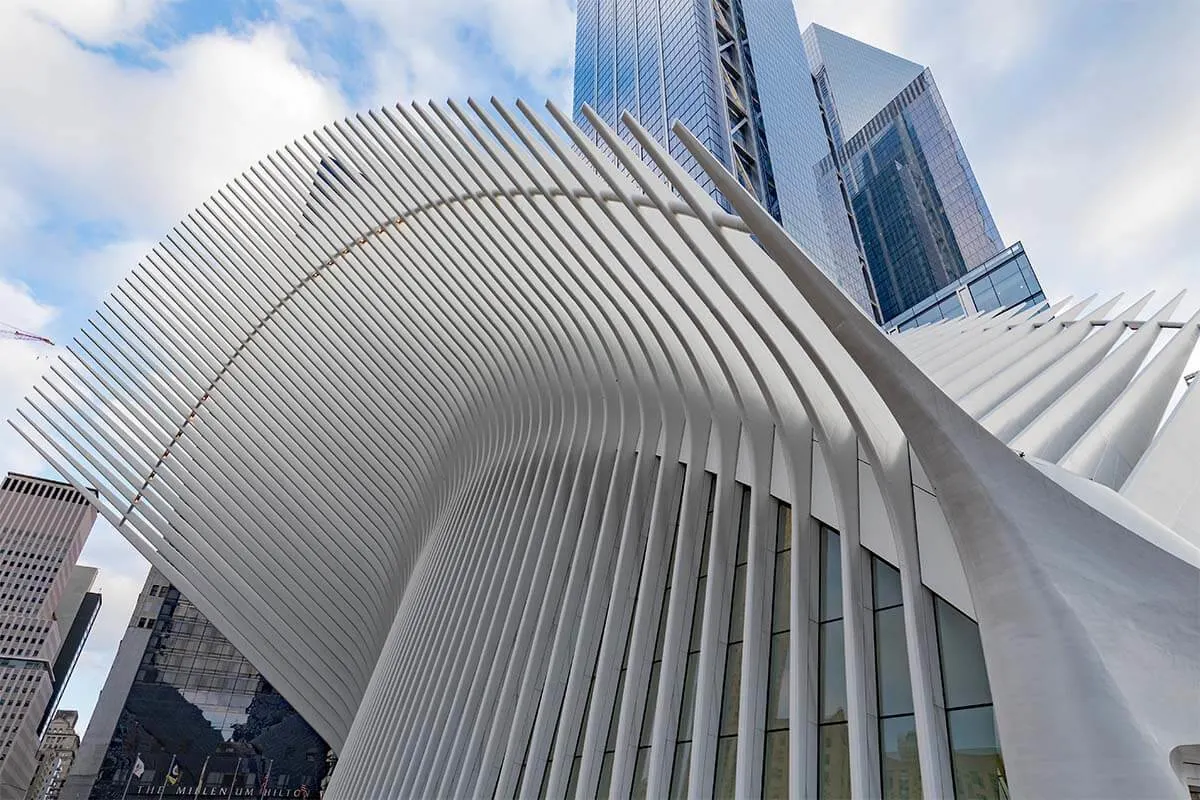 The High Line
Next on this itinerary is the High Line, one of the most unique places to visit in NYC. The former freight rail line has become one of the best green spaces in the city. Spanning a total of 1.45-mile, this elevated structure runs from Gansevoort St. to 34th St. on Manhattan's West Side.
The Highline's unique feature is its ability to integrate with the urban spaces around it. It is rare that green space and a busy urban area can co-exist so harmoniously, and that is exactly what the High Line has done.
It's difficult to describe this unique place and no pictures do it justice. The architecture, the art installations, the street art, the views of the city and Hudson River, and many other details make it one of my personal favorite places in the city. It's a nice place to experience yet another facet of the Big Apple, and a great addition to your 1-day NYC itinerary.
Good to know: Walking the entire length of the High Line takes about 30-45 minutes. If you want to shorten it a bit, start around W 18th St on the High Line and finish on W 34th. Along the way, make sure you check out the view on W 23rd Street and the giant skyscrapers of Hudson Yards. The views on the High Line are spectacular.
Getting here: The distance from Ground Zero in Lower Manhattan to the start of the High Line on Gansevoort Street is about 2.2 miles and it would take you about 45-60 minutes to walk here. To maximize your time, we recommend getting an Uber or a taxi. A nice alternative is biking along the Hudson River Greenway. You can use one of the city bikes for that.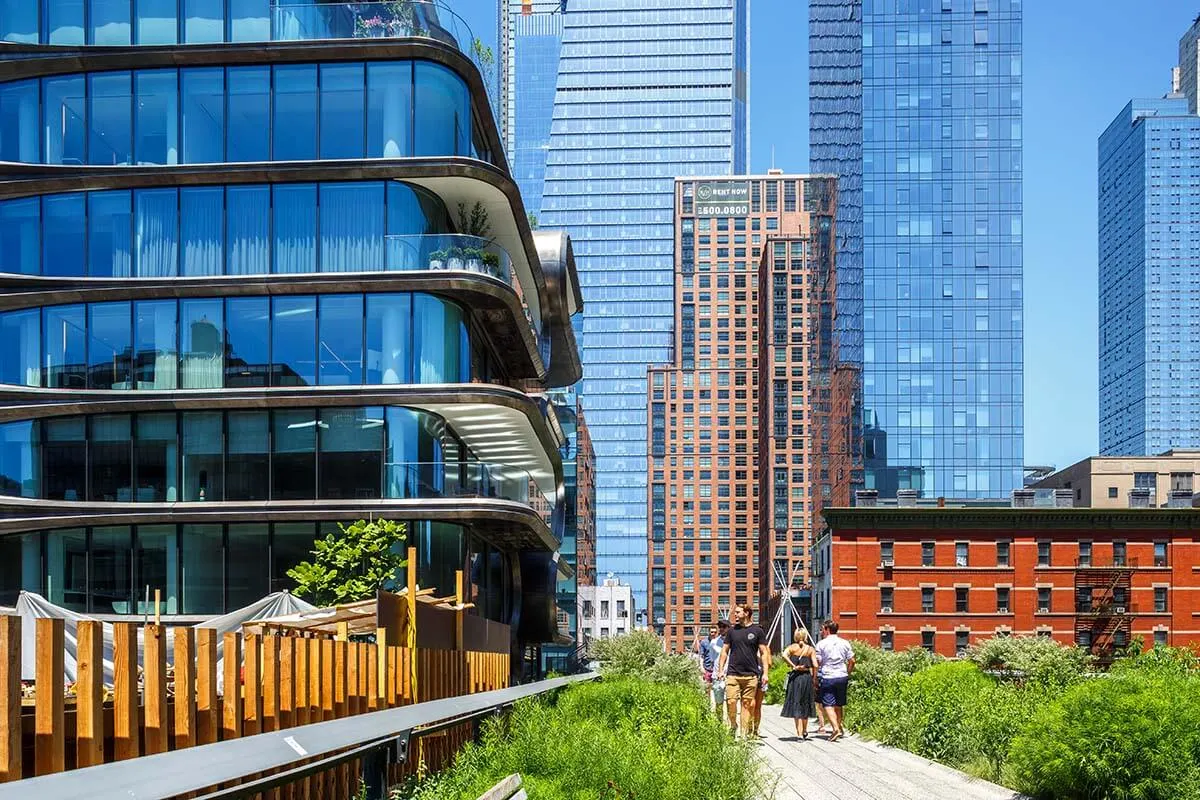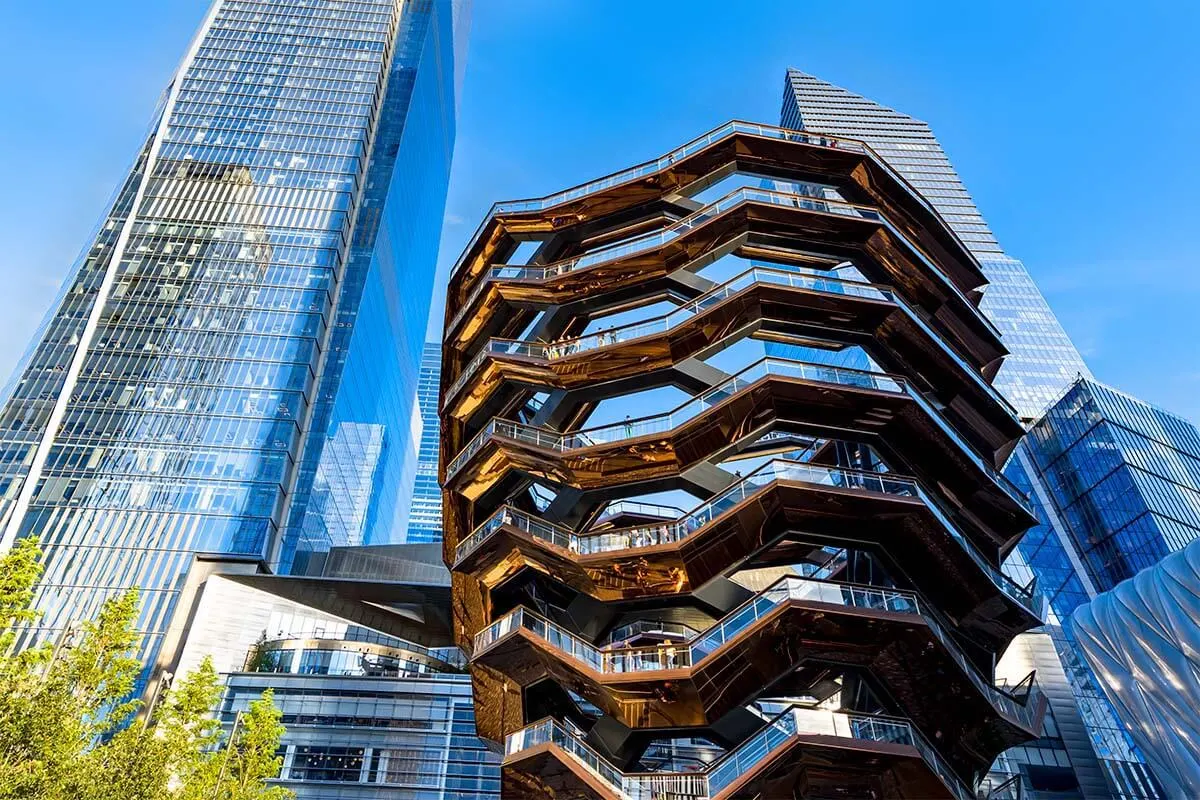 Lunch at Mercado Little Spain
At the end of the High Line, just next to the Vessel, there is a nice food court called Mercado Little Spain. It's located on the street level of the mall at Hudson Yards.
Here, you'll find bars, kiosks, and restaurants serving authentic Spanish and Portuguese dishes. You can see their website for the menu and other info.
This could be a nice place for a quick early lunch. The food court is open daily from 11 am, so it would be a good fit with this itinerary, before heading to your next activity which is about 20 minutes walk from here.
Alternatively, you can also have lunch after the Statue of Liberty Cruise or even later in the day – it depends on your preferences.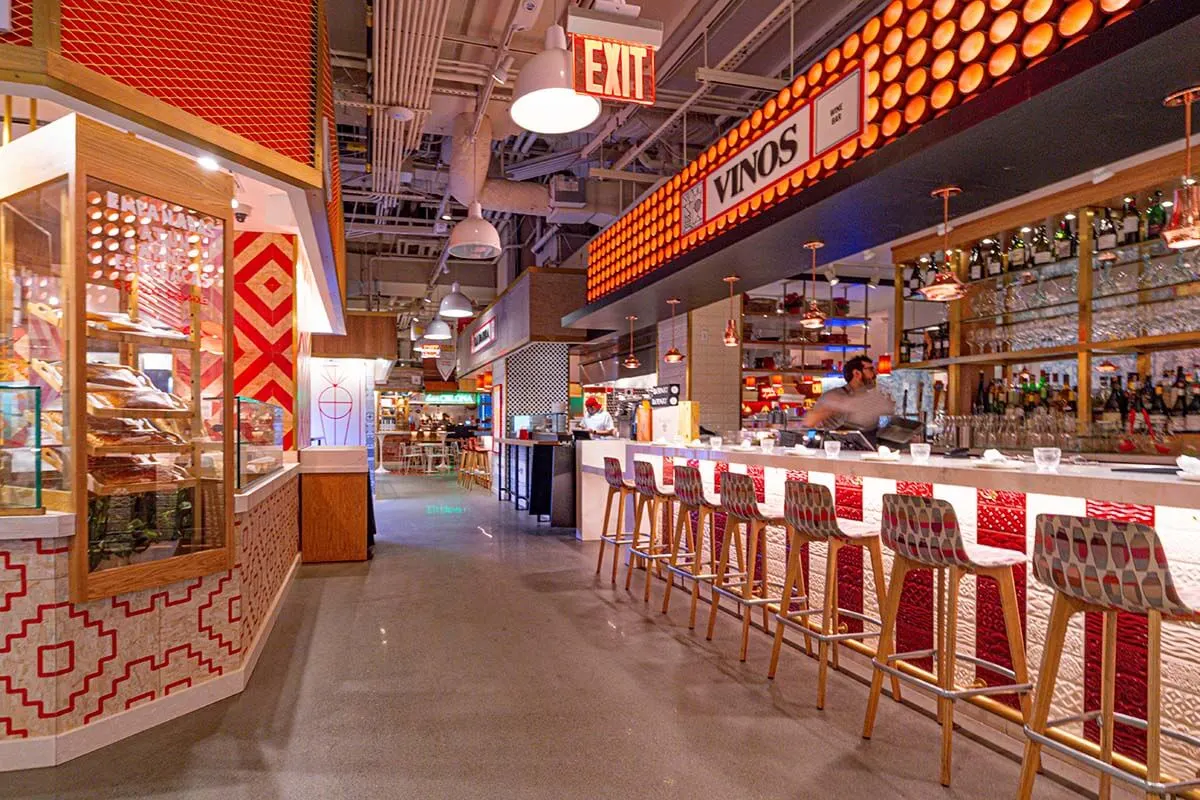 Statue of Liberty Cruise
The Statue of Liberty is one of the most iconic landmarks of North America, not just in NYC. It is a gift from France to commemorate the US and France's alliance during the American Revolutionary War.
It would be unthinkable to plan any trip to New York without seeing the Statue of Liberty. However…
The Statue of Liberty is situated on Liberty Island, and the only way to visit it is during a guided tour. As memorable as it is to set foot on Liberty Island and climb to the top of the Statue of Liberty, it's not something we'd recommend with just one day in NYC.
Besides, when you are that close to the 93-meter-tall statue, you don't really see much of it. That is why we recommend doing a Liberty of Statue cruise. That way, you get close enough to appreciate its craftsmanship, but far enough to take photos and still see its entirety. It's also the best use of your limited time.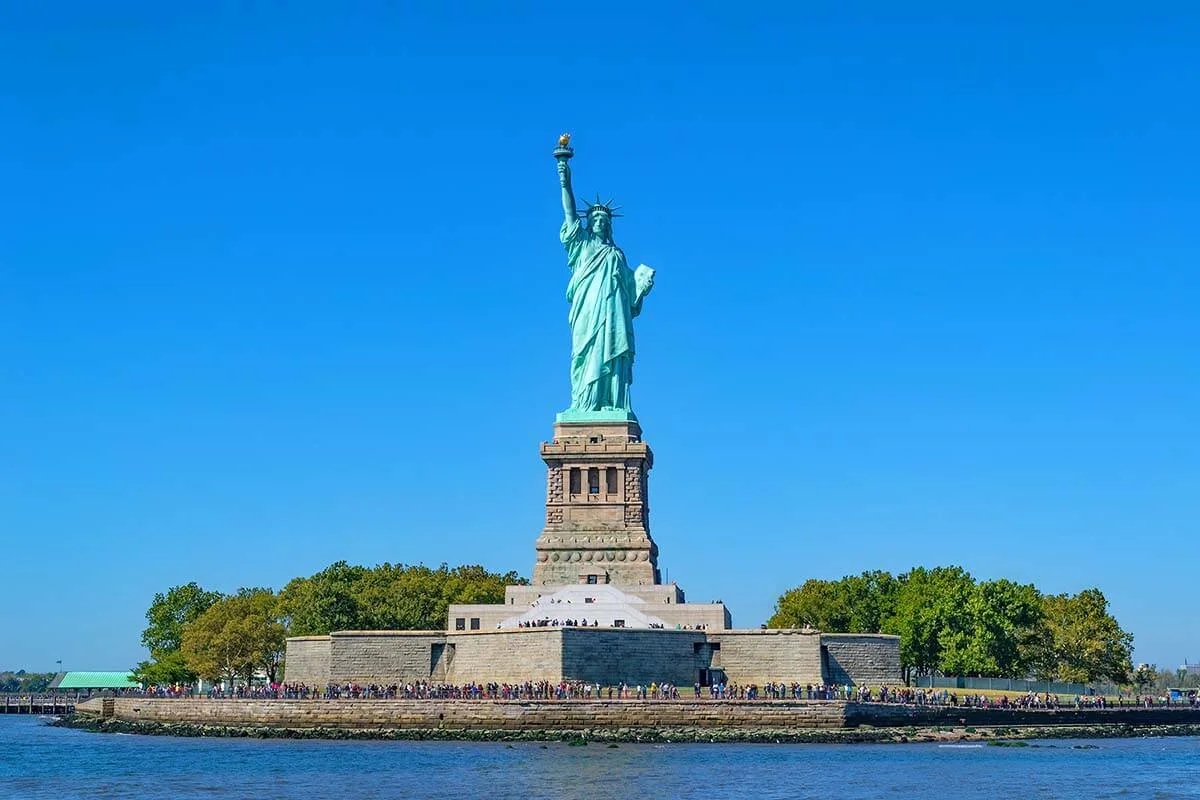 Good to know: Most Statue of Liberty tours recommend planning 4 – 6 hours for a visit. Unless you are prepared to skip half of the other places in this itinerary, you simply won't have time to do it with 1 day in NYC. If, however, you absolutely want to visit the Statue of Liberty, check out this early-access tour, book the 8.45 am option, and you'll likely be done by 1-2 pm.
TIP: There are countless ferry and cruise options when it comes to visiting the Statue of Liberty and Ellis Island. However, with just one day in New York and trying to maximize your time in the most efficient way, we recommend this 1.5-hour cruise that starts from Pier 83.
Depending on the season, they usually have a departure at around noon, which will 'split' your day and let you rest your legs a bit. In addition, this tour is a good fit for this itinerary location-wise. Furthermore, not only do you get close to Liberty Island, enjoy the Manhattan skyline, but the boat also passes under the Manhattan Bridge, Brooklyn Bridge, and the Williamsburg Bridge. It's also one of the highest-rated Statue of Liberty cruises in NYC.
Another highly-rated option at this same location is this 45-minute speedboat tour (May-September only). They have hourly departures starting from 11 am, so it could fit this itinerary as well.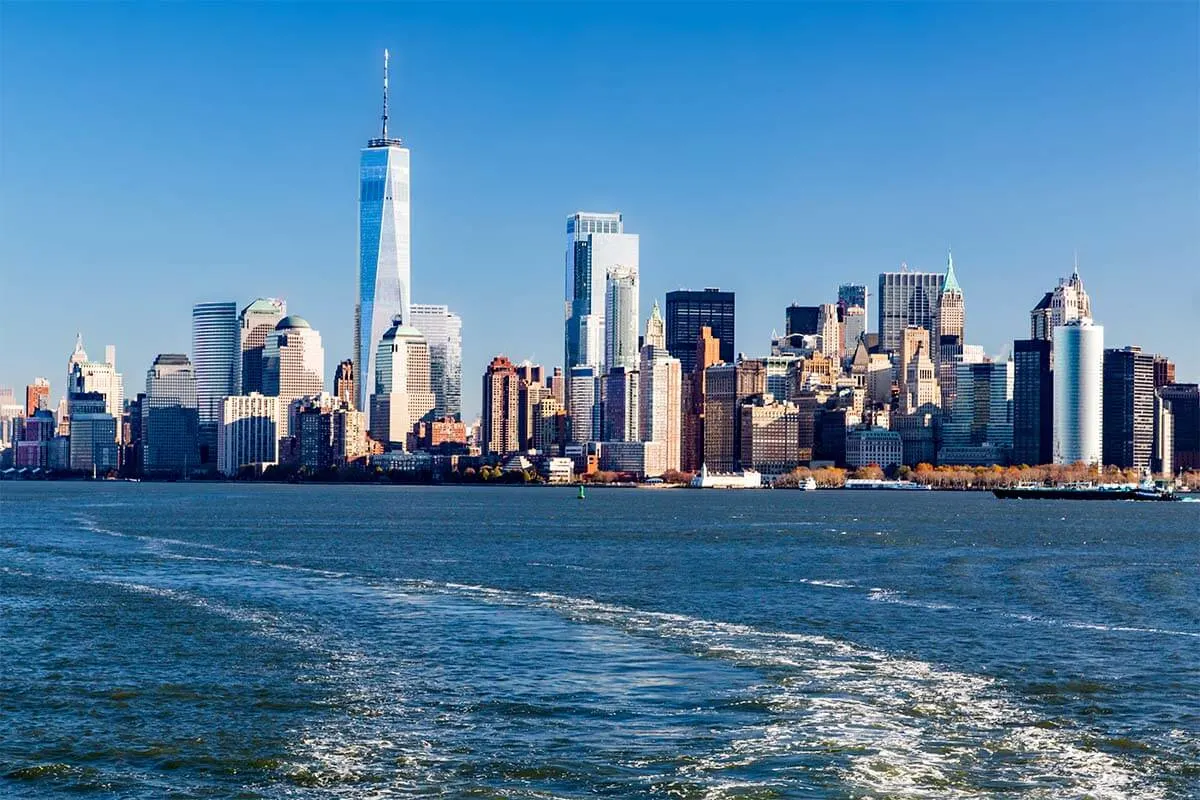 Central Park
No NYC itinerary is complete without a visit to the famed Central Park, an 843-acre park between Upper West Side and Upper East Side. This massive park is filled with tons of unique little attractions, and as a result, it can be very overwhelming for first-time visitors.
So after the boat tour, get a taxi/ Uber to the park. We recommend using the entrance at West 72nd Street – it's the closest to some of the nicest parts of the park (see below).
As someone who has frequented Central Park, I recommend that you visit the Bethesda Terrace and Bow Bridge. Those two attractions are arguably the most scenic locations inside the park.
The Bethesda Terrace is a bi-level terrace that features an arcade and the famous Bethesda Fountain. At the top of the fountain is the iconic "Angel of the Waters" statue that was designed by Emma Stebbins in 1873.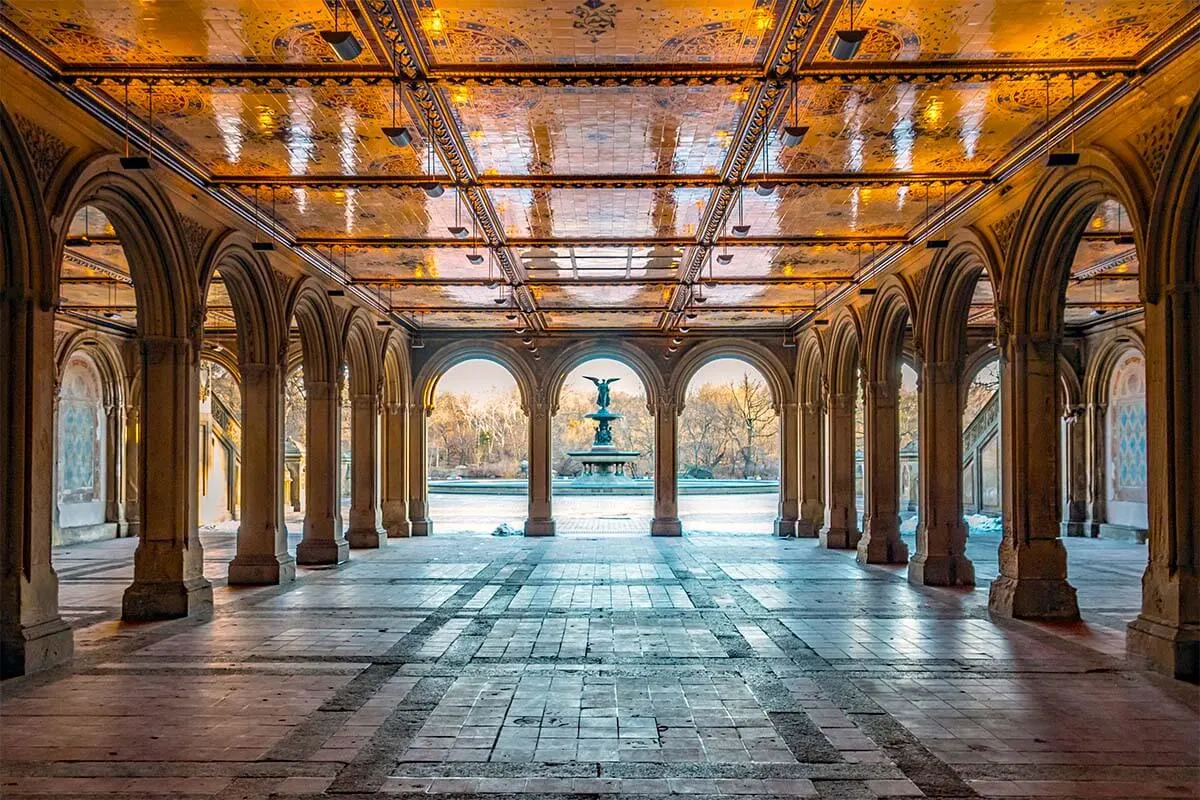 A short walk away from Bethesda Terrace is the Bow Bridge, one of the most romantic places in New York City. Earned its name from the bow-like arc, this 1862 bridge offers stunning views of Fifth Avenue. With a combination of the bridge, Manhattan's best skyscrapers, and a scenic lake, this spot is drop-dead gorgeous, especially with the fall foliage.
With limited time in NYC, you won't be able to explore many other parts of Central Park. However, you'll walk through the southern part of the park on the way to your next destination anyway. We recommend taking the Mall and Literary Walk and checking out the Pond at Central Park.
Good to know: The walk from Bethesda Terrace in the middle of the park to your next destination -top of the Rock – is about 1.3 miles and should take about 30-45 minutes.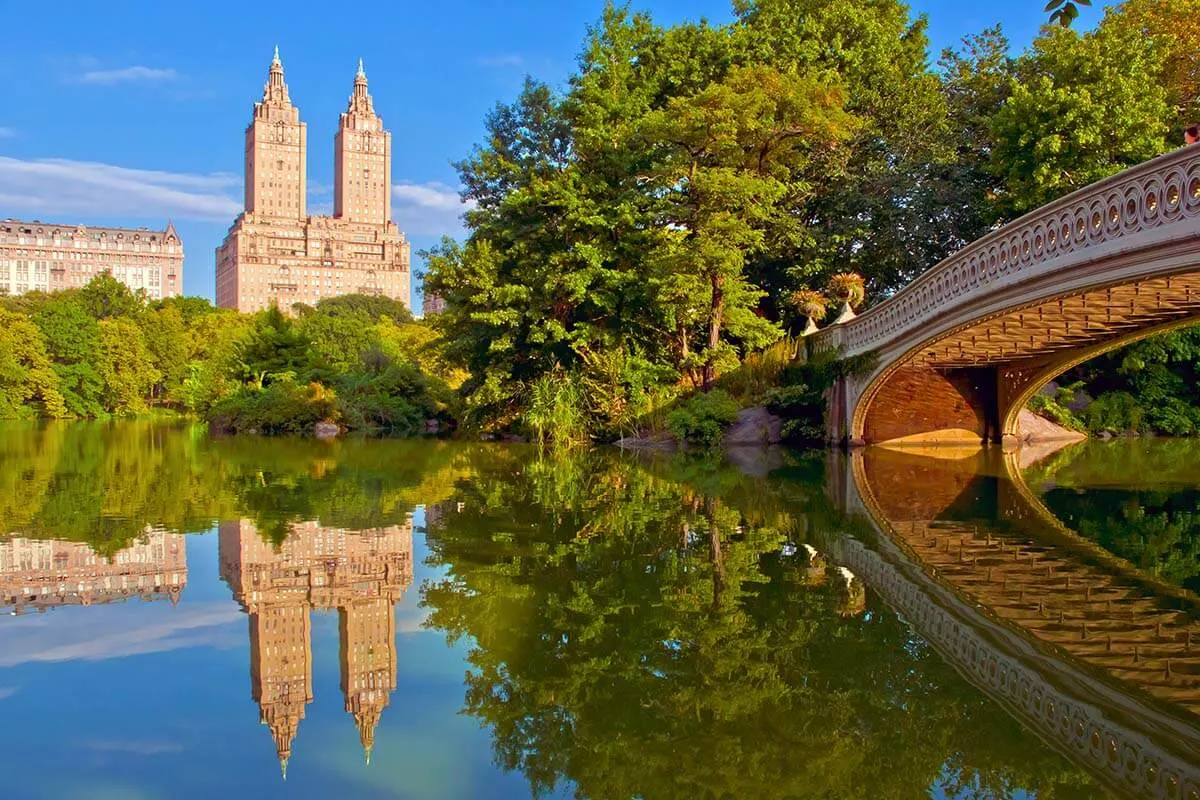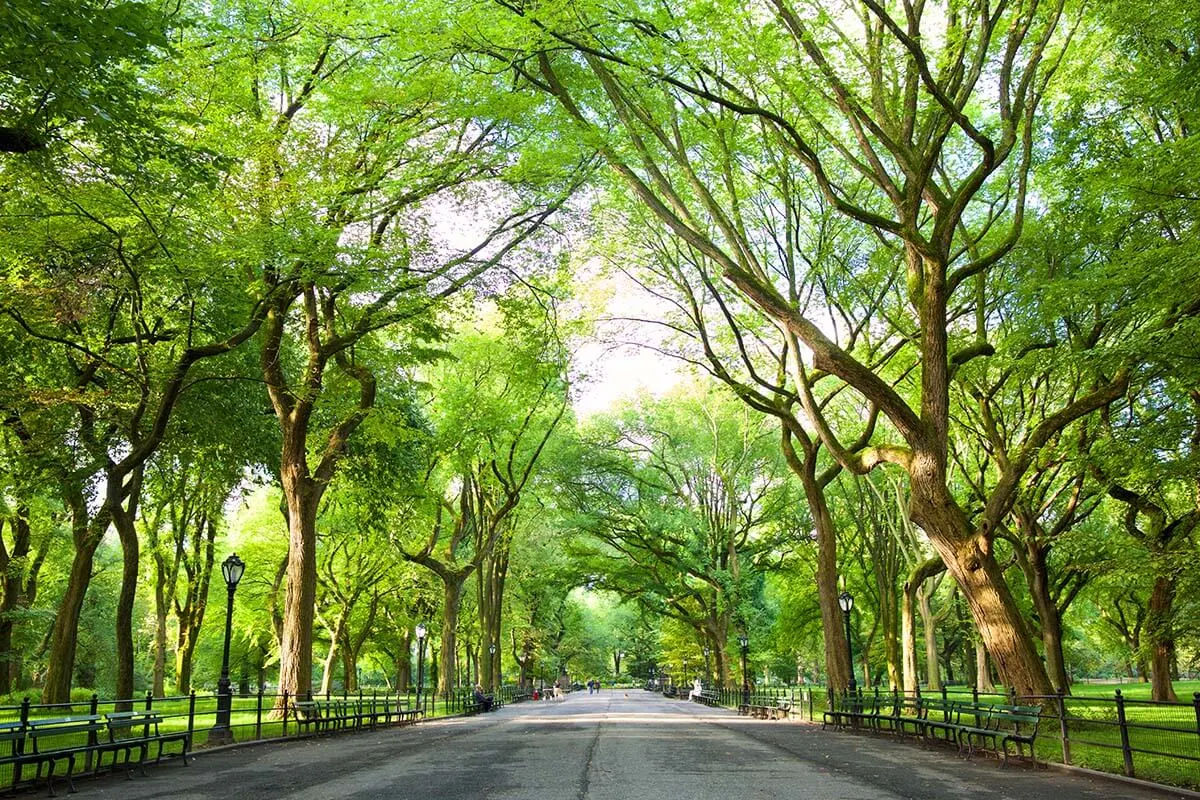 Top of the Rock
No trip to New York would be complete without enjoying the amazing views over the city from above. Although there are many amazing observation decks in NYC, there is still no better one than Top of the Rock, the observation deck at the top of the Rockefeller Center.
The view of the Empire State Building from the Top of the Rock is hands-down the best in the city. It's also one of the best spots to see the sunset in NYC. However, whether you'll actually be here at sunset, will highly depend on what time of the year you visit and what else you decide to see and do in the evening.
Practical info: The Top of the Rock is open daily the whole year round and is accessible until late at night (11 pm or midnight depending on the season). Keep in mind that the last elevator to the top goes up 1 hour before the closing time. All tickets give you access to 3 levels of the observation deck, including the outdoor one on the 70th floor with panoramic views of the city.
Good to know: Top of the Rock is extremely popular, so be sure to get timed-entry tickets online in advance. You need about 1 hour for a visit.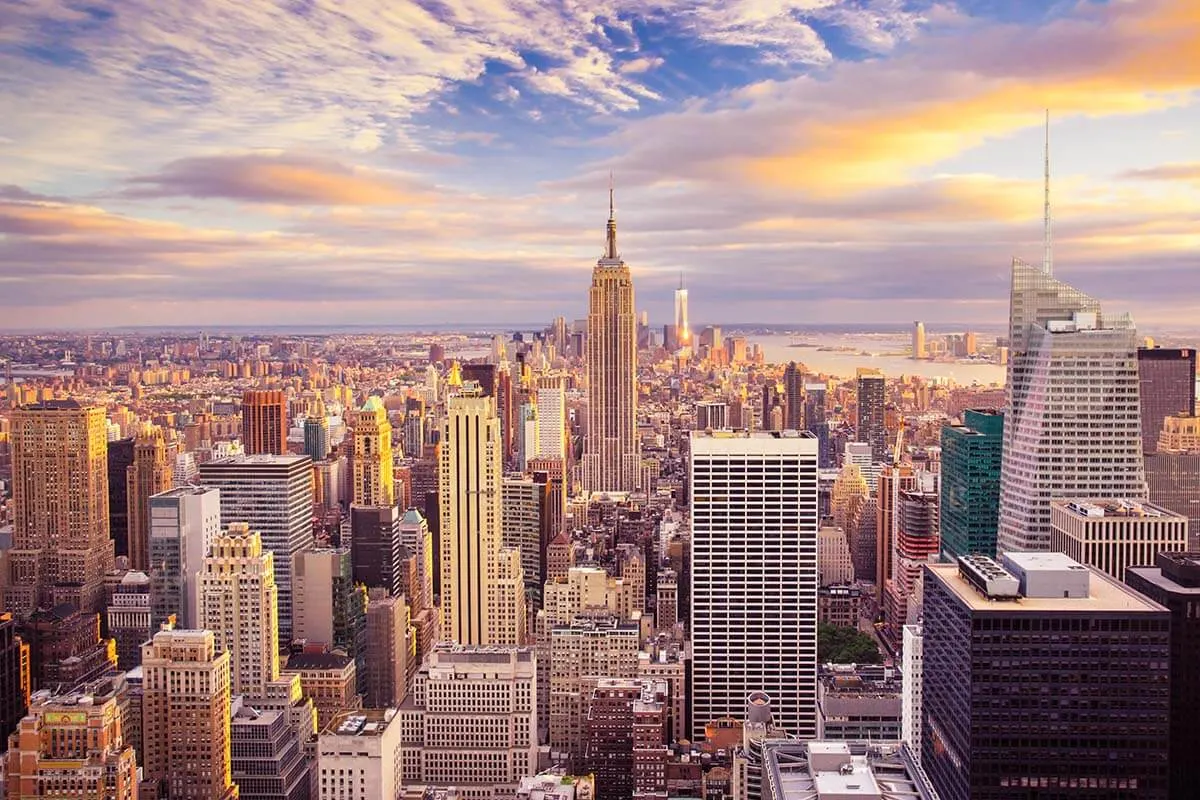 OR The Empire State Building
Alternative option: If you rather visit the iconic Empire State Building instead of the Top of the Rock, it's possible to include it in this itinerary as well.
In that case, you'll have to walk 1 mile further (or simply take a taxi there from Central Park).
Needless to say, it's also extremely popular. So also here you have to book the skip-the-line tickets in advance.
The Empire State Building is also open very late (11-12 pm, depending on the day).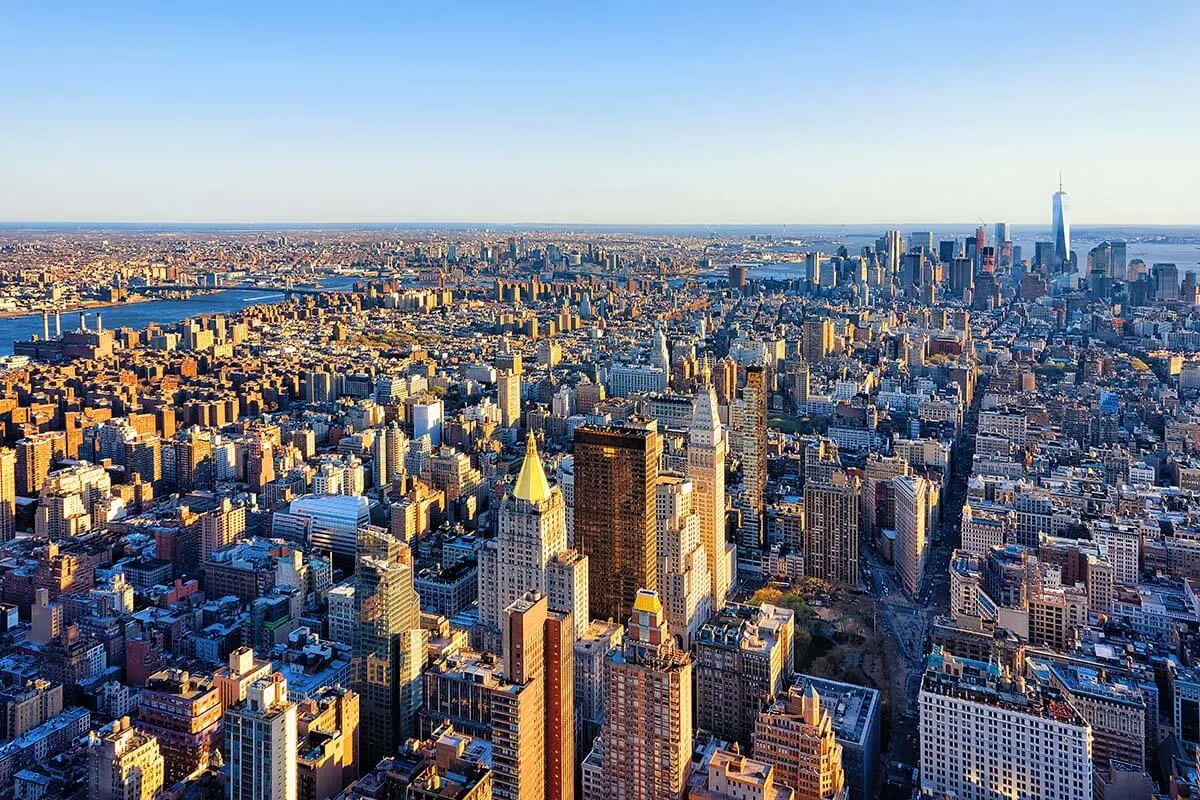 Broadway Show
If you want to make the absolute most out of your day in New York City, you can enjoy some of the best NYC nightlife, starting with a Broadway show. The theatrical productions on Broadway in NYC are some of the best in the world, and you have a huge variety of plays and musicals to choose from.
Going to a Broadway show as a tourist can be a little bit intimidating. Where do you get tickets? What are the shows that are on? How do I avoid counterfeit tickets? There are so many things that could go wrong.
As someone who's been to several Broadway shows in NYC, the best way to go about securing your ticket is actually online via a third-party website such as HelloTickets. Not only do you get to see the different shows in the various Broadway theaters (there are 41 in the city), but you can immediately reserve your seat and time.
The prices are pretty much the same everywhere. Plus, the alternative is running around looking for Broadway ticketing booths, and that would be very time-consuming (not something you want to do with just a day in NYC!).
TIP: You can't go wrong with Aladdin (New Amsterdam Theater) or The Lion King (Minskoff Theater)! The Lion King plays right at Times Square, and the Aladdin is a few blocks further south. We indicated both theaters on the map as well – both fit this itinerary really well.
Note: Depending on the time of your Broadway show, you might want to consider exploring Times Square first (see below)! In this area, you'll also find plenty of places where you can get dinner.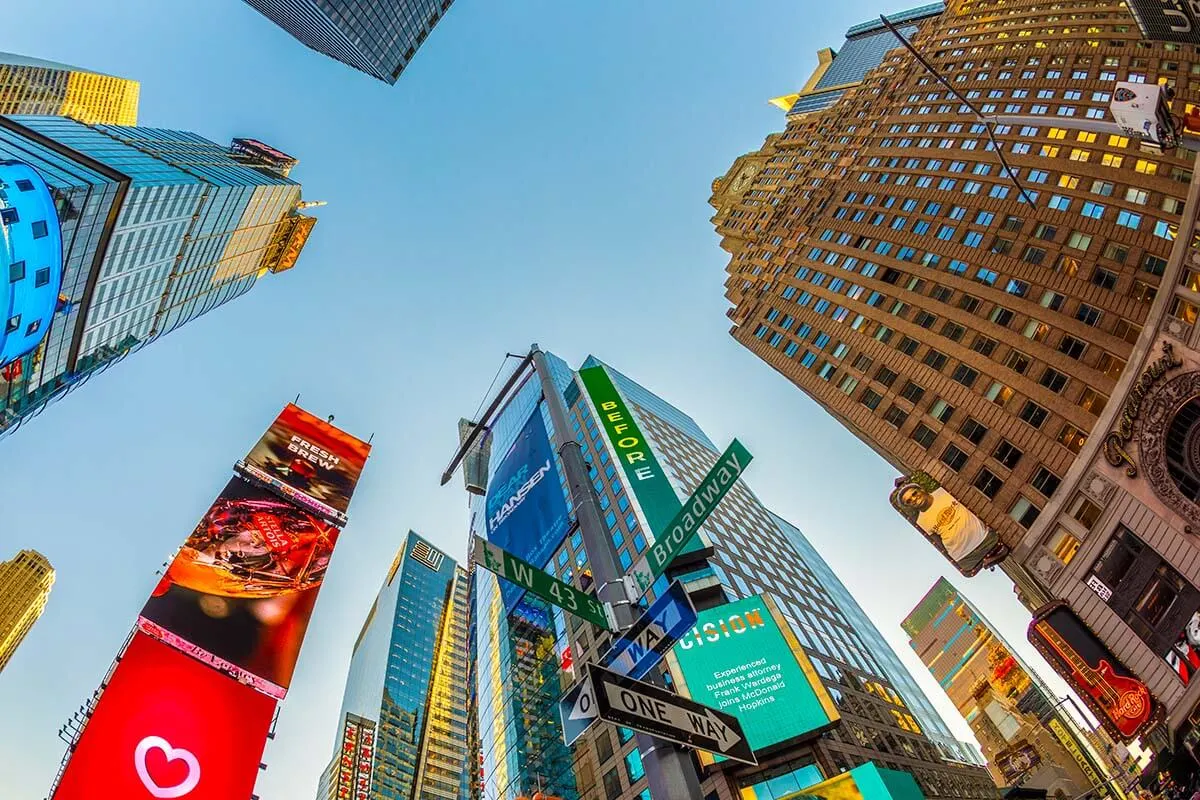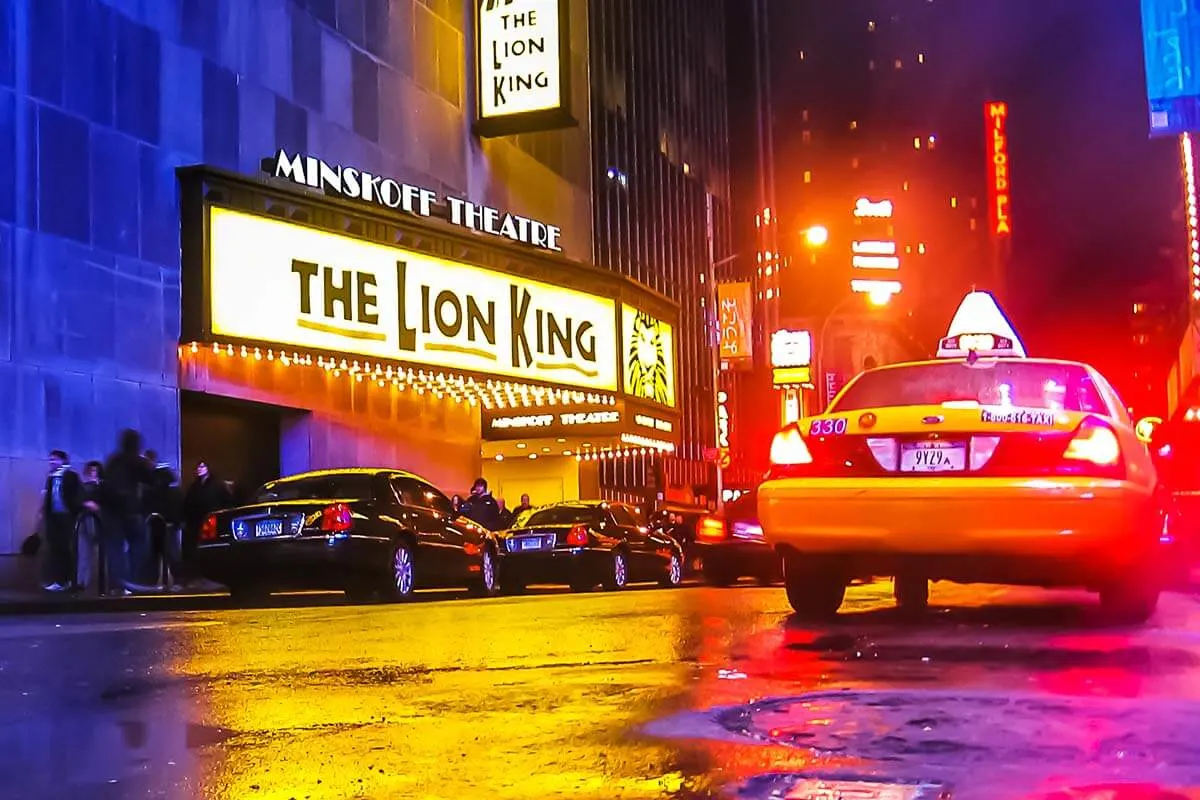 Times Square
At night, the legendary Times Square comes alive! In fact, the term "night" doesn't really exist in Times Square, because the lights from the billboards, buildings, and every single crevice of the area are so bright.
Times Square is sometimes referred to as the heart of NYC, and that cannot be any more accurate. An invigorating wave of energy sweeps through this part of Midtown Manhattan and the giant red staircase above the TKTS booth are filled with tourists trying to get the perfect photo.
If you are lucky, you might even encounter the famed Naked Cowboy! If you are not, you will encounter street performers in horrible costumes looking to take a photo with you and then ask you for ridiculous amounts of money. Just know what you are getting yourself into when taking a photo with them!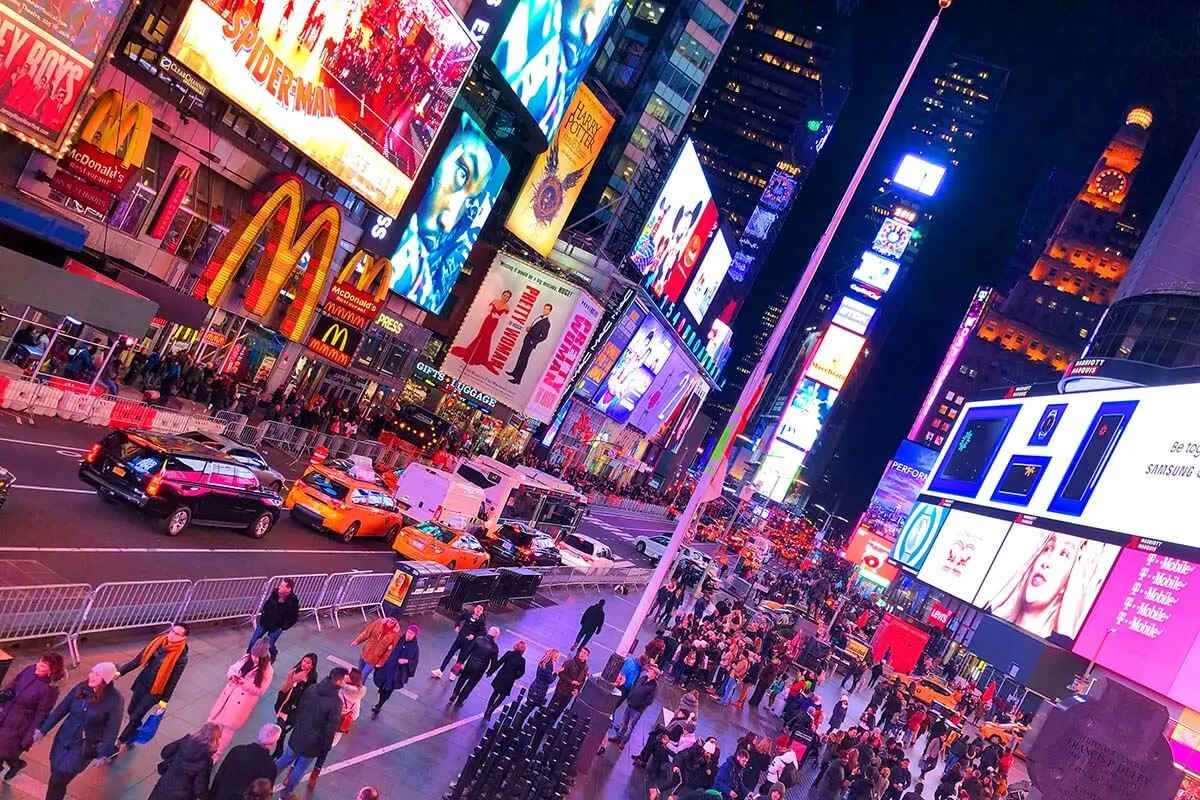 Rooftop Bar
After exploring Times Square and enjoying a Broadway Show, it is time to party (that's if you still feel your legs). Nightlife in NYC is one of the best in the world, and there is no better place to enjoy it than one of the rooftop bars. So even if you don't want to party, you can still enjoy the immaculate night views from a rooftop bar!
One of the best rooftop bars in NYC is 230 Fifth on 27th St and 5th Ave. Situated in the center of Midtown Manhattan, some of the most famous NYC landmarks are within eyes' reach. The venue often features live music and a variety of drinks. In the winter, they have their iconic igloos, which allow you to enjoy the NYC views on their outdoor rooftop without being cold!
However, it's quite a walk from Broadway. There are a few other great options that are closer by (and would save you lots of walking) – such as Haven Rooftop, Bar 54, Castell Rooftop Lounge, or St. Cloud Rooftop Bar to mention just a few. We indicated all of these on our map below as well.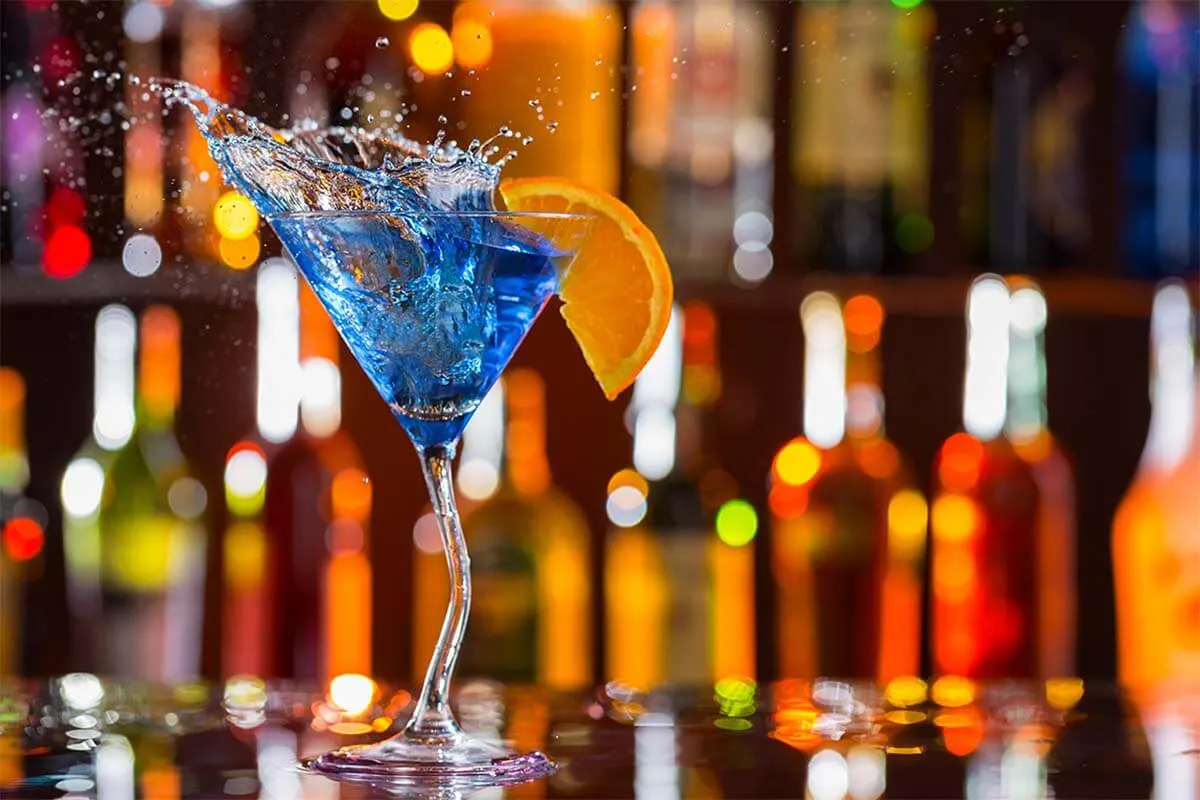 1 Day in NYC: Itinerary & Map
Below is a quick summary of our suggested 1-day New York itinerary and a map to give you a better idea of where everything is.
Please note that the times in the itinerary are the starting times of the activities and are indicated just for your reference, to give you a rough idea of how much time to spend in each place and how to plan your time.
New York 1-day itinerary:
Early morning: Brooklyn Bridge (great place for sunrise if you want to start very early).
Financial District (Wall St, Ground Zero, 9/11 Memorial).
+-10.30 am: Taxi/Uber/bike to the High Line.
Walk the High Line and have a quick lunch at Mercado Little Spain (or lunch after the boat tour).
+-12-12.30 pm: Pier 83 Statue of Liberty cruise (takes 1.5 hours) or speedboat tour (takes about 45 minutes and has more departures, but you need to arrive a bit longer in advance).
+-2-3 pm: Taxi/ Uber to Central Park.
Central Park.
Top of the Rock (or Empire State Building) and early dinner.
+-6-8 pm: Broadway Show.
Times Square.
Rooftop bar.
How to use this map: Use your computer mouse (or fingers) to zoom in or out. Click on the icons to get more information about each place. Click the arrow on the top left corner for the index. Click the star next to the map's title to add it to your Google Maps account. To view the saved map on your smartphone or PC, open Google Maps, click the menu and go to 'Your Places'/'Maps'. If you want to print the map or see it in a bigger window, click on 'View larger map' in the top right corner.
Is 1 Day in NYC Enough?
No, one day is not enough for New York City. There is so much to see that even in 3-4 days, you would just scratch the surface.
However, with a day in New York (and advance planning!), you can get a glimpse of some of NYC's best attractions including the Statue of Liberty, Central Park, Times Square, the Financial District, and soaring views from one of the observation decks. If you plan well, you can even see a Broadway Show and get a bit off the beaten path at the High Line.
We hope that our suggested itinerary will help you plan an amazing day trip to New York! See also below for some practical tips and info on where to stay and what to know before your visit.
YOU MAY ALSO LIKE: New York Itinerary for 2 Days
Where to Stay
Depending on your travel plans – and even with just a day in New York – you might need a place to stay in the city. Ideally, you stay for at least two nights as this will give you one full day to explore.
For this itinerary, it would be best to stay in Lower Manhattan (where you start in the morning) or close to Times Square (where you end in the evening).
Here are some hotel recommendations that would fit this itinerary well, for various budgets (although 'budget' is a relative term in NYC):
TIP: Using the map below, you can find some of the best deals for accommodations in Manhattan. Simply insert your travel dates and group size, and you'll see what's available for your stay. Check it out!
Practical Tips for Visiting NYC
Wear comfortable shoes. Since our NYC itinerary has strategically placed some of the attractions in the same area together, you will walk a lot to maximize your time.
Take a taxi/Uber for longer distances. Subway is also ok, but it can be overwhelming for first-time visitors and it won't always be the best option depending on where you are going.
Carry as little as possible with you. Many attractions in NYC have strict security checks, some ask you to leave backpacks in the lockers, etc. We prefer to pack a small crossbody bag for city trips (something like this).
Don't be afraid to ask for help. New Yorkers have a reputation for being very unfriendly, but that is not always true. Most of us are actually very nice and willing to help.
Don't just stop in the middle of the sidewalk. If there is one thing that annoys New Yorkers, it is stopping in the middle of the sidewalk. NYC is a busy city and people are always trying to get to places. Step to the side and make sure you are not blocking anyone's path before you stop!
Decide which airport you will fly into. If you have the option to choose which NYC airport to fly to, we highly recommend Newark International Airport. Though it is in New Jersey, it is the quickest one to get to Manhattan, which is where you will want to stay if you only have limited time.
Book as much as possible in advance! NYC is an extremely popular destination, the prices are high and it's busy everywhere you go. The sooner you book your accommodations, the more availability, the better prices. Also, planning and booking your tours/tickets in advance is the only way to make the most out of your time in this overwhelming city. Otherwise, you'll be wasting half of your time looking for information and queuing.
Pack a portable charger for your smartphone. You'll be using your phone all day – to navigate the city, show tickets at the attractions, take pictures, etc.
This concludes our 1-day NYC itinerary. Of course, this is just one of the gazillion possibilities for how to spend one day in New York… But if you want to see some of the most famous places and soak up the bustling atmosphere that the Big Apple is famous for, this itinerary should help you do just that.
More travel inspiration for the USA:
If you found this post useful, don't forget to bookmark it and share it with your friends. Are you on Pinterest? Pin these images!