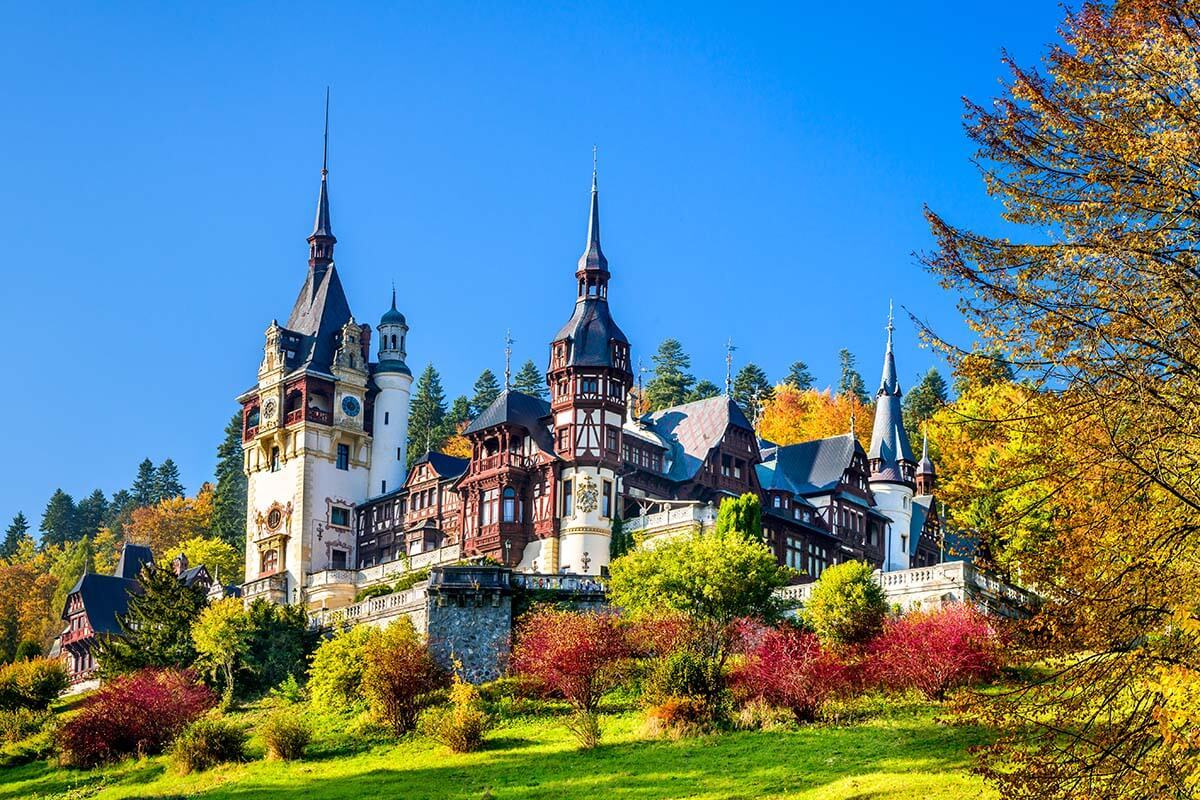 Looking for travel inspiration for the best cities and towns in Romania? In this article, you'll find a local's guide to the very best cities to visit in Romania, coupled with insider tips and recommendations for the best things to see and do in each town. Find out!
Romania is perhaps best known to international visitors for its capital city, Bucharest, and as the 'land of the vampires'. But the highlights of Bucharest and 'Dracula tourism' is only a portion of all the wonderful things you can discover.
You'll find big modern cities bustling with life and culture. There are also beautiful mountains, forests, and natural landscapes everywhere, wild and untouched. Plenty of preserved medieval villages, castles, and churches, as if you somehow got into a fairy tale. Some sights are so ancient and rural that you'll think you are traveling back in time…
Romania is a unique combination of the reminiscents of its multicultural past, untamed natural landscapes, and a spirited youth, looking and working towards building a better future. And there's no better way to discover all facets of Romania than by visiting at least a few of its most beautiful towns.
Good to know: This guide to the best cities in Romania is written by Erika Dragu from Beyond Romania Travel. Native Transylvanian, she grew up in the small town of Miercurea Ciuc, surrounded by mountains and medieval villages. In this guide, she shares the most beautiful towns in Romania and insider tips for your visit. Find out!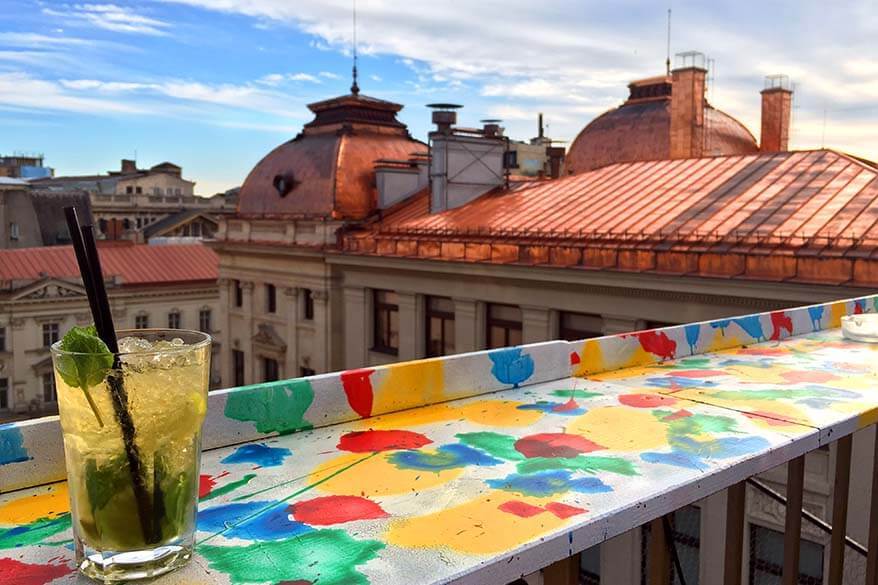 To help you plan your trip, we also created a map of the best cities in Romania. As you can see, Romania is a big country. Some of these cities are quite close to Bucharest and can be visited as day trips. But if you want to see the ones further away, you're probably better off booking a multi-day tour or renting a car and making a road trip.
TIP: If you are looking for away to see the very best cities in Romania in just a few days, then check out this highly-rated 3-day tour. It visits some of the nicest cities (relatively) close to Bucharest.
How to Use This Map: Use your computer mouse (or fingers) to zoom in or out. Click on the icons to get more information about each place. Click the arrow on the left top corner for the index. Click the star next to the title of the map to add this map to your Google Maps account. To view the saved map on your smartphone or PC, open Google Maps, click the menu button, and go to 'Your Places'/'Maps'.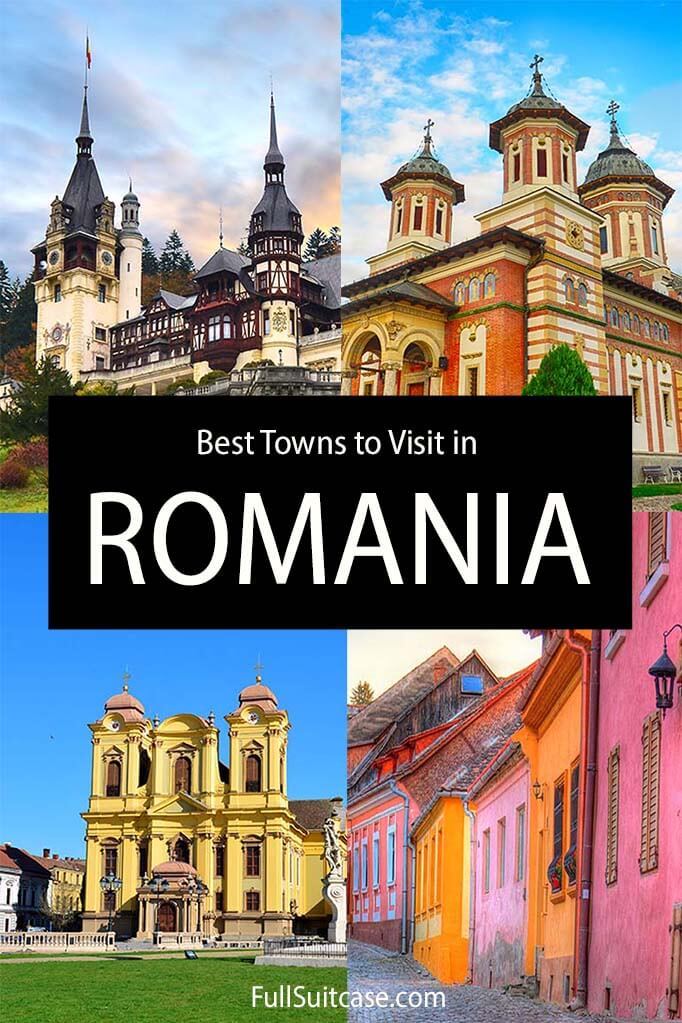 These are the most beautiful towns and cities in Romania:
1. Brașov
Brașov is not only one of the most beautiful towns in Romania, but it's also one of the most charming, idyllic towns in all of Eastern Europe. It's a fortified city with a romantic atmosphere, and that makes it one of the most visited cities in Romania. In addition, just outside of town, you'll find the famous Bran Castle (aka Dracula's Castle), one of the most-visited places in the country.
This charming Saxon city in the heart of Transylvania was built in the 13th century by the Teutonic Knights. Brasov used to be one of the most vibrant cultural hubs of the country during the Middle Ages. Wandering around the narrow cobblestone streets and centuries-old fortified buildings, you can vividly imagine medieval people running around the streets, merchants selling their stuff on the market, the sound of horses and carriages…
For the complete experience, make sure to try authentic local cuisine. For that, we recommend a restaurant called La Ceaun. Located right in the center of the city (Piața Sfatului – see map), this restaurant serves traditional Romanian dishes. But beware that Romanians love meaty and rich food such as pork, beef, sausages, sour soups, stews, cabbages, goulash, paprika, onion.
Best things to do in Brașov: Bran Castle | Old Town | Fortification system | Schei district | Black church | Rasnov fortress | Liberty Bear Sanctuary | 7 Ladders Canyon | Poiana Brasov mountain | Solomon's Rocks | Carpathian mountains
READ ALSO: Best Things to Do in Brasov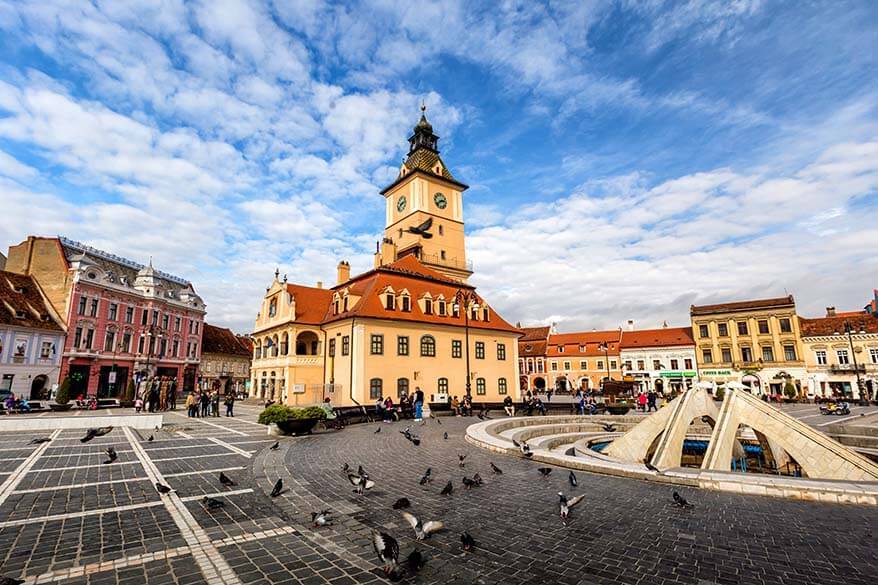 Practical Info for Visiting Brașov
Getting there: Brasov is about 170 km (105 mi), 2h45 drive from Bucharest. If you don't have a car, the easiest way to get there is by booking a private transfer or a day tour from Bucharest. The most popular tours (like this one) take you to Brasov Old Town, Bran Castle, and Peleș Castle in one day. If you are short on time, this is the best way to go.
Getting around: The easiest way to get around the beautiful historic streets of Brașov is on foot. For other attractions further away from the center you can take the bus, train, or book local tours.
How much time you need: While you can see the best of the city and surroundings in a day, we recommend spending a weekend in Brașov. That way you can explore the medieval city and also visit a few other attractions nearby (Bran Castle, 7 Ladders Canyon, Poiana Brasov, Liberty bear sanctuary, Carpathian mountains, Solomon's rocks).
Where to stay: Most people just visit Brasov for a day. But if you have more time and decide to stay in the city for a night, we recommend staying in the Old Town. Check out the Safrano Palace Hotel. For a longer stay, check out the Grand Hotel Belvedere.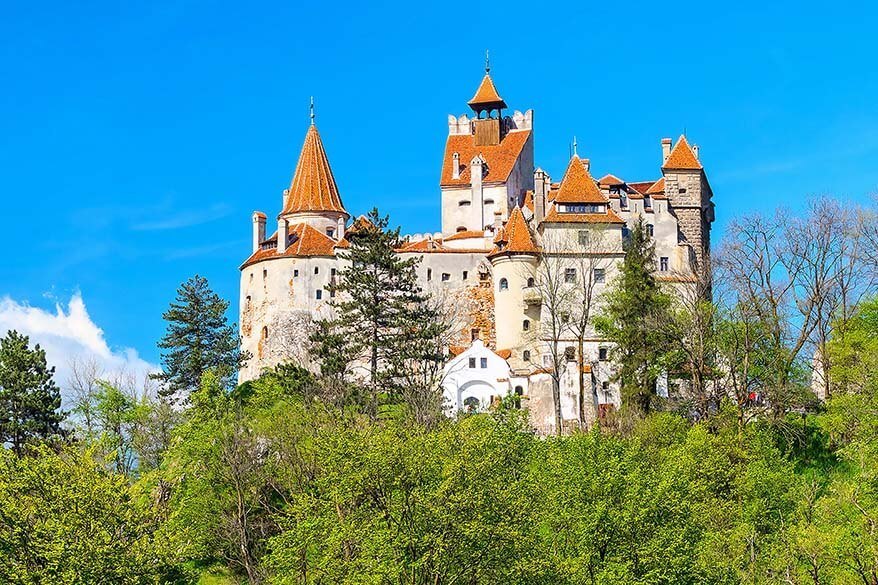 2. Bucharest
Romania's capital since 1862, Bucharest is the largest city in the country and has the biggest population. At the turn of the 20th century, Bucharest used to be referred to as the 'Little Paris of the East' because of its elegant grand architecture and the people's passion for French culture. People wore the latest Parisian fashion and often traveled to France to study or attend cultural events.
But, during the Communist regime (1947 – 1989), the ruthless authoritarian leader Ceausescu has built many thick grey communist buildings (Stalinist architecture) in an attempt to urbanize the whole country. These two different architectural styles make Bucharest a really unique city.
The Palace of Parliament, in the heart of the city, was built during communism. The heaviest building in the whole world, it's a massive structure that you really have to see to believe. But while the Communist past is a significant part of Bucharest, the city has changed beyond recognition in the last decades. It's a lively bustling place with so much to see and do and a wonderful atmosphere.
Walk around the Old Town in search for centuries-old churches and quirky modern cafés that are standing side by side. Take a 'Communism tour' or get a bit off the beaten path and explore the incredible street art collection. There's truly something for everyone in Bucharest!
Best things to do in Bucharest: Palace of Parliament | Arc of Triumph | National Museum of Romanian history | Stavropoleos orthodox monastery | Old town | Revolution Square | Athenaeum | Dimitrie Gusti National Village Museum | Carturesti bookstore
LEARN MORE:
Best Things to Do in Bucharest
Hidden Gems of Bucharest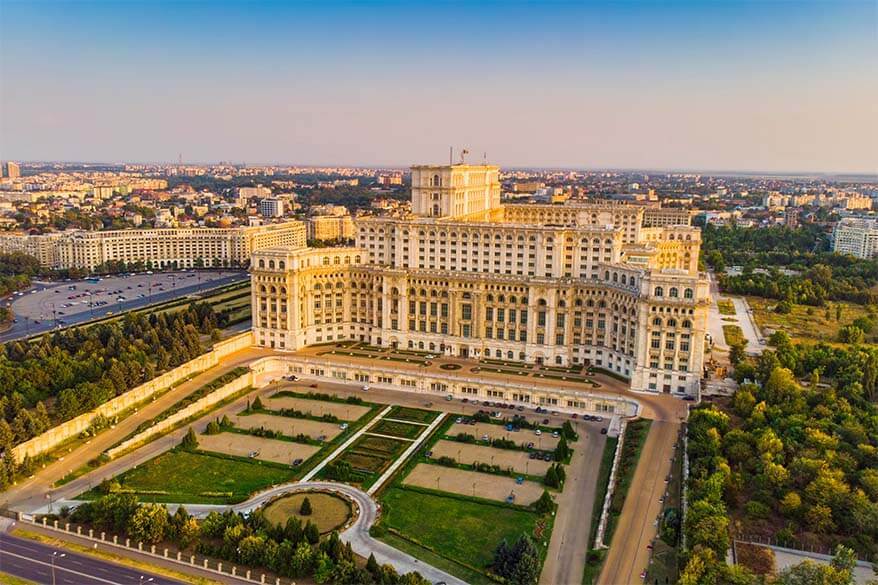 Practical Info for Visiting Bucharest
Getting there: Bucharest has an international airport with lots of direct connections to many European destinations. The airport is located 30 minutes drive from the city center and it's best to book a private airport transfer.
Getting around: The public transport in the capital makes it easy to get around the city. The subway system (Bucharest Metro), buses, trolleys, trams, light rails run from 04:30 to 00:00 and there are also night buses available. The Old Town of Bucharest can easily be explored on foot. Bike tours are also a good way to see a lot in a short time.
How much time you need: You can see the most important landmarks of Bucharest in one day. However, if you want to explore a bit deeper, plan at least two days for the city itself. In addition, you can book day tours to some of the best towns and places in Romania from Bucharest. So depending on your interests, you can easily fill 3-7 days exploring the city and beyond.
Where to stay: We recommend staying in the city center. With so many nice cafés and restaurants in the Old Town, it's a wonderful place to be in the evening. Check the Grand Hotel Continental or Radisson Blue, both very popular choices with excellent location.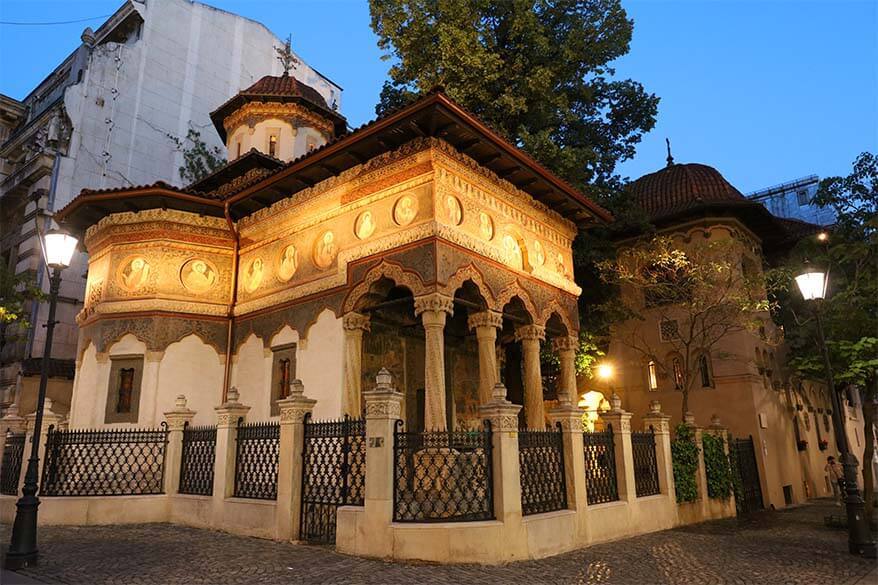 3. Sinaia
Sinaia is a charming mountain resort and town located between Bucharest and Brasov. It's idyllic and small, so it's perfect if you want to have some quiet moments. Most tourists come here for the beautiful Peles Castle and Sinaia Monastery, or simply to relax in the beautiful nature, hidden away from the busy and noisy everyday life.
There's not much else to do in the town itself but to rest and walk in the mountains. But if you need some peace, this is certainly the place to be. If you are a ski lover, you should consider visiting Sinaia in the winter, when life gets a little busier here thanks to the popular ski resort.
Best things to do in Sinaia: Peleș Castle | Sinaia Monastery | Sinaia Casino | Howling waterfall | Stirbey Castle | Dimitrie Ghica park | Ski resort | Cantacuzino Castle | Busteni |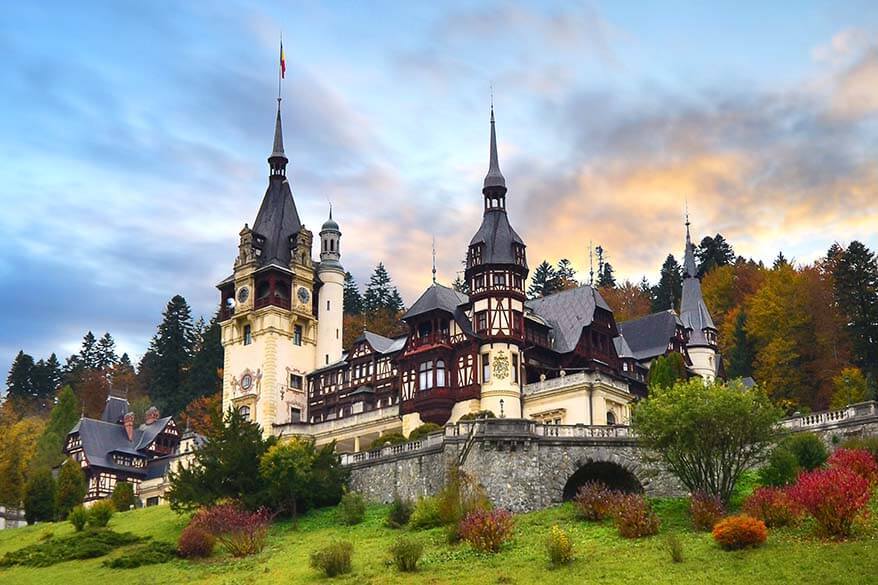 Practical Info for Visiting Sinaia
Getting there: Sinaia is 120km (75 mi), 1h45 drive from Bucharest. You can also get here by train, which takes about 1,5 hrs. Many people visit Peles Castle in Sinaia in combination with Brasov and Dracula's Castle on a day tour from Bucharest (here you can find the best tours). There are also tours that focus only on Sinaia.
Getting around: You can explore Sinaia on foot.
How much time you need: One day is enough for Sinaia, Peles Castle, and Sinaia Monastery.
Where to stay: As already mentioned, most visitors only come here for a day. But if you decide to stay and explore the busy sights after day tourists have left, we recommend Hotel Sinaia or a lower-budget option Hotel Rina Cerbul. Both have an excellent location just near the Castle and the Monastery.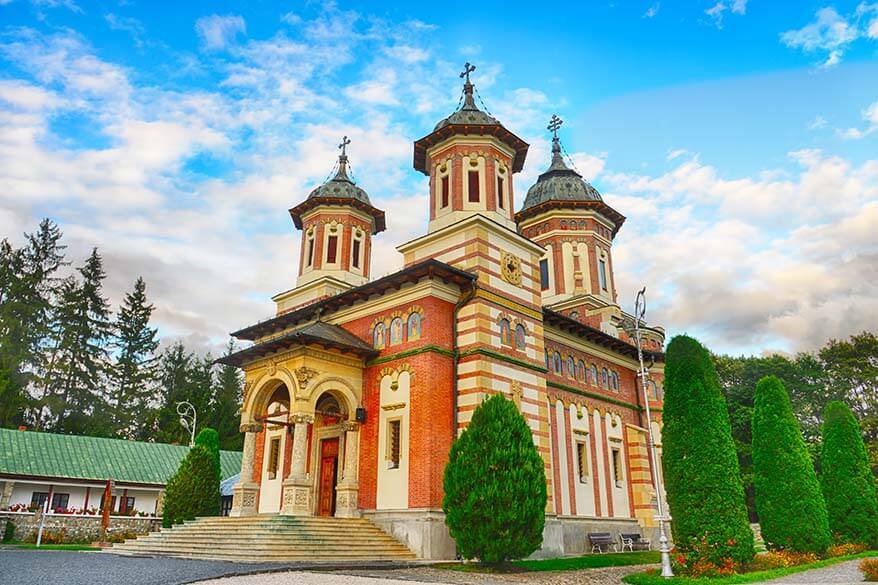 4. Sibiu
Sibiu is another idyllic medieval town you should really see in Romania. It's one of the oldest still existing Saxon towns in Europe. Looking like a picturesque German town out of a fairy tale or fantasy movie, it feels like time has stopped here centuries ago.
The city was founded in the 11th century by a Hungarian king who invited Saxon settlers to live here. Sibiu flourished for hundreds of years as the home of Saxons and an important cultural hub in the region.
While there are only about 1500 ethnic Germans still living here (during communism, most residents slowly emigrated to Germany), their architecture still stands today as one of the most scenic places in Europe.
Sibiu is home to mythical attractions! Don't miss the 160 years old bridge that can sense if you are lying and makes strange noises. Check out the Stairs of Passage that actually looks like you traveled back in a time machine and the red rooftop houses with eyes, spanning all around the town, watching over every step you make. We also recommend climbing on the top of Council Square to get a full view of the amazing Old Town.
Best things to do in Sibiu: Old town | Grand Square | Stairs Passage | Upper Town & Lower Town | Lutheran cathedral | Holy Trinity Orthodox church | Astra Museum of Traditional Folk Civilization | Bridge of Lies | Pharmaceutical Museum (oldest pharmacy in the country) | Biertan village | Houses with eyes
READ ALSO: Best Things to Do in Sibiu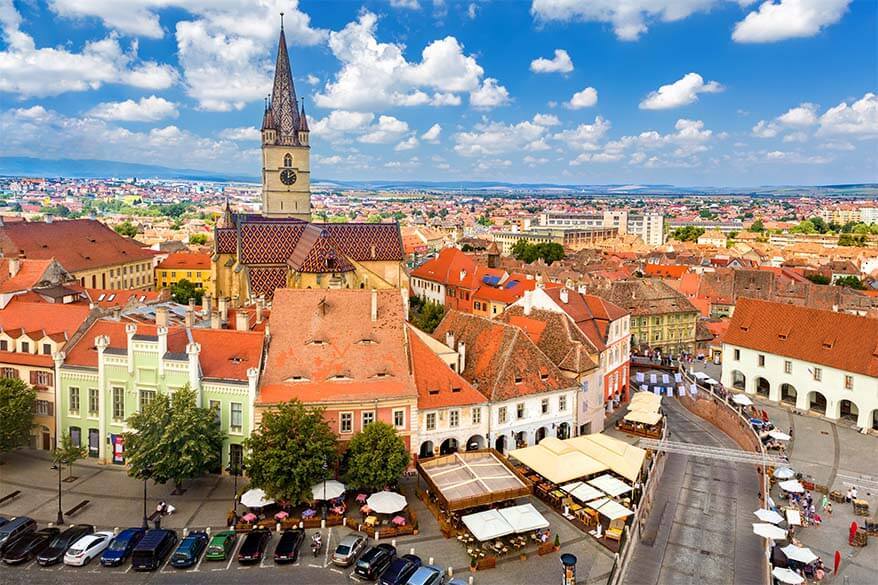 Practical Info for Visiting Sibiu
Getting there: Sibiu is 280 km (175 mi), 4-5h drive from Bucharest or 2,5h drive from either Brasov or Cluj-Napoca. There are also flights from Bucharest to Sibiu. If you rent a car, you can make a nice road trip visiting all these places. Alternatively, you can visit Sibiu with a day tour from the nearby cities. Some multi-day tours also include Sibiu in their itinerary.
Getting around: Sibiu is a small and picturesque town and can be best explored on foot.
How much time you need: You can see the best of Sibiu in half a day to a day. If you can stay a day longer, we recommend visiting the nearby city Sighișoara (see below) and Biertan village. This fortified Saxon village, surrounded by romantic vineyards and hills, is a UNESCO World Heritage Site. The place looks like it's been trapped in time.
For an even more spooky experience, visit during the annual Horror and Fantasy Film Festival called 'Luna Plina' (Full Moon), held here every summer.
Where to stay: Stay in the historic city center! If you are looking for a beautiful historic hotel, check out Hotel Imparatul Romanilor. For more contemporary lodging, you can't go wrong with the highly-rated Continental Forum.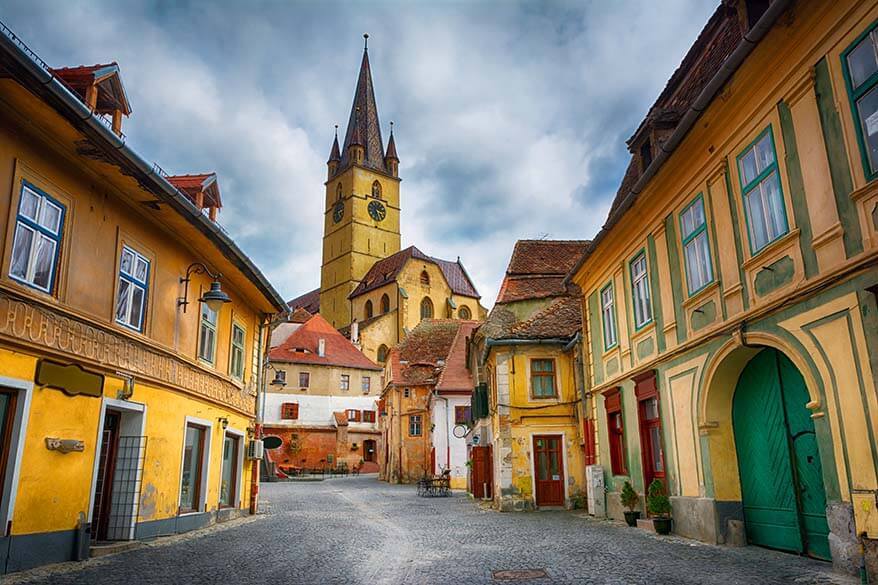 5. Sighișoara
Can you imagine a place more mystical than the birthplace of Vlad the Impaler aka Count Dracula himself? Sighișoara is a UNESCO World Heritage Site and yet another historic town that's well worth visiting in Romania.
Founded in the 12th century, Sighisoara was an important trade center and home of Saxon craftsmen for hundreds of years, who left their marks on the architecture of the town. Most of the city was rebuilt in the 17th century after a fire that destroyed almost everything.
Today, Sighișoara is a peaceful and idyllic town, with colorful houses, narrow cobblestone streets, medieval architecture, old churches, and artisan boutiques, all of which are very popular among tourists. Sighisoara is probably one of the most picturesque towns in Romania!
Best things to do in Sighisoara: Citadel | The Clock Tower | Dominican Monastery | History Museum | Vlad Dracul House | Fortified towers | Old Town | Church on the Hill | City Square | The Scholar's Stairs |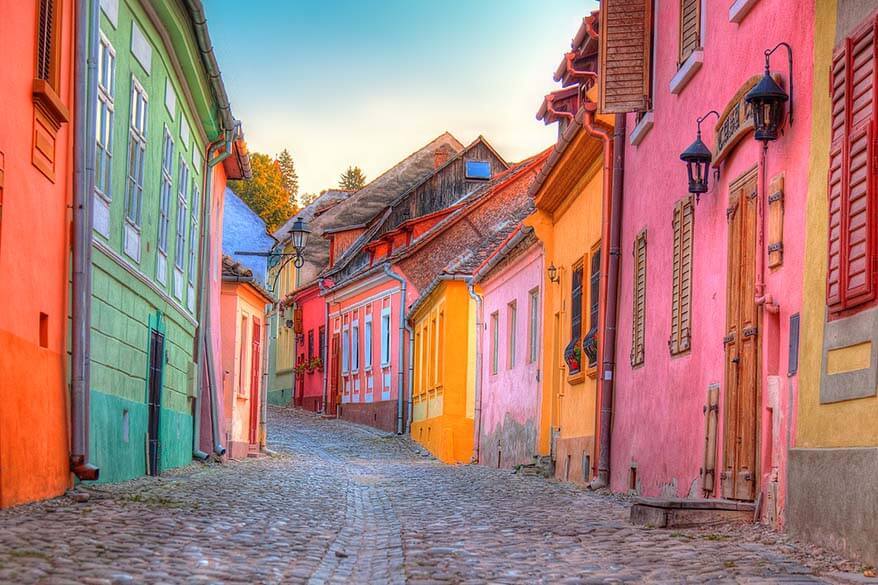 Practical Info for Visiting Sighișoara
Getting there: Sighișoara is about 290 km (180 mi) 4,5h drive from Bucharest or about 1h45 drive from Brasov or Sibiu. Some Transylvania tours also visit here.
Getting around: The town is small, so you can easily explore it all on foot.
How much time you need: Exploring Sighișoara will require one pleasant, relaxed day.
Where to stay: Sighișoara has some really nice hotels in the historic city center. For a more local experience, try the beautiful Casa Savri. If you're visiting with a family, check out DoubleTree by Hilton (they have an indoor pool).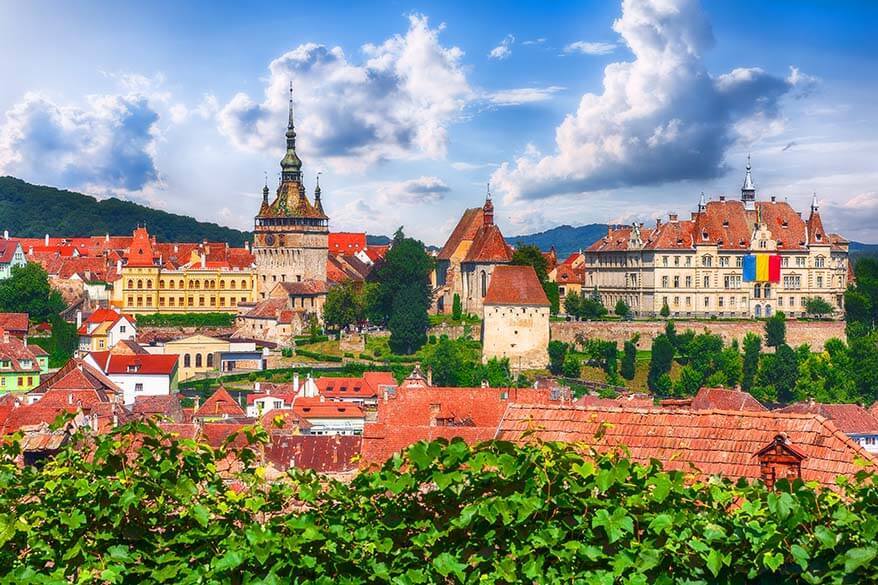 6. Cluj-Napoca
Cluj Napoca is a historic Romanian city, yet it feels so young at the same time. Chosen as the European Youth Capital in 2015, the city has such a unique mixture of wonderful historical buildings and museums, beautiful nature, dynamic nightlife, artsy culinary world, young population, cultural events, and international music festivals.
We're not exaggerating when we say that Cluj-Napoca is throbbing with life. It's a university city that hosts around 100,000 students each year and you'll love the atmosphere here!
Its history is no less impressive. The city is about 2,000 years old and has been shaped by countless events and so many different cultures. First, it was home to the Dacian and Roman people, then it survived a Mongol invasion that destroyed almost everything. Rebuilt by Saxons, it became a cultural hub in the Hungarian Kingdom.
Under the Habsburg Dynasty, Cluj-Napoca was part of the Austro-Hungarian empire, until WWI, when it became part of Romania. It was then shaped by the communist regime's urbanization plan. And with all its history, Cluj-Napoca stands today as an ambitious, modern city.
Best things to do in Cluj-Napoca: The Metropolitan Orthodox Cathedral | St Michael's Church (Gothic) | Cluj Arena | Joben Bistro | Enigma | Samsara Chillout Teahouse | Hoia Baciu Forest | Astronomical Observatory | National Museum of Transylvanian History | Cetatuia Park | Palace of Justice | Tailor's Bastion | Matthias Corvinus House | Hazsongardi cemetery | Romulus Vuia ethnic museum | Banffy Castle
READ ALSO: Best Things to Do in Cluj Napoca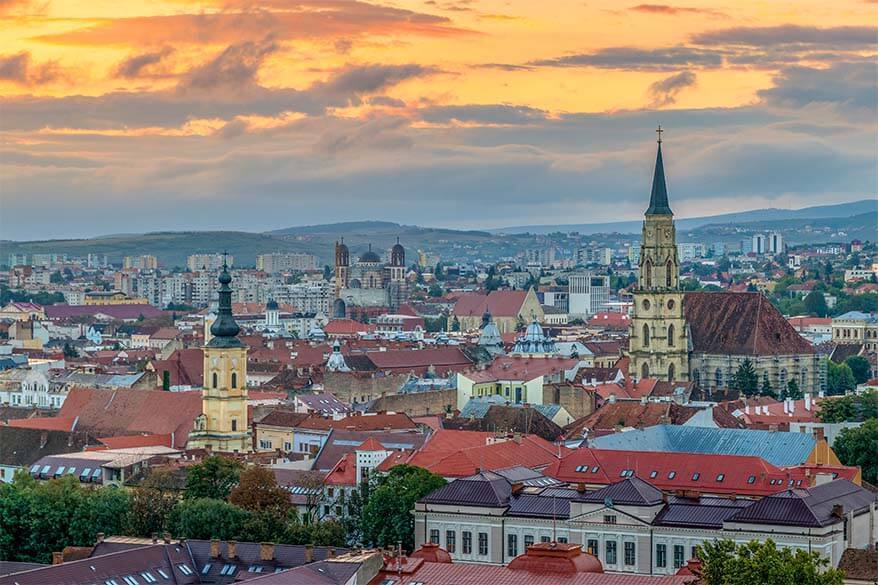 Practical Info for Visiting Cluj-Napoca
Getting there: Cluj-Napoca is in the northwestern part of Romania, about 450 km (280 mi) from Bucharest. It would take you at least 7 hours to drive there, but there are also direct flights between the two cities. A visit to Cluj-Napoca is best combined with that of Sibiu, Sighișoara, and also Timișoara (see below).
Getting around: The city's public transport is well-developed, so you'll easily get anywhere without a car. There are also guided tours of the city and the surrounding areas.
How much time you need: Since it's a large place with a rich history, we recommend spending 2-3 days in Cluj-Napoca.
Where to stay: Stay in the Old Town. One of the nicest hotels is the DoubleTree by Hilton. For a lower-budget option, check out Lol et Lola Hotel, one of the best-rated 3* hotels in town. Also worth mentioning, is the beautiful Hotel Platinia, just outside of the Old Town.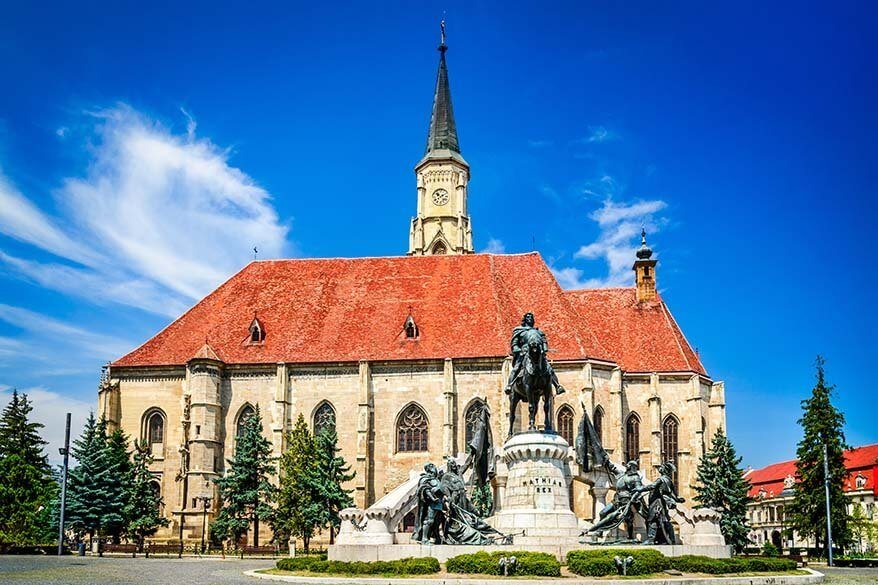 7. Timișoara
Timișoara is the third-largest city in Romania and one of the most beautiful cities to visit in the country! Located in western Romania, close to Hungarian and Serbian borders, Timișoara is a hub for students, businessmen, and all sorts of cultural events. The city has earned the title of the 2023 European Capital of Culture, with lots of events planned around this.
Its origins date back to the 13th century. And like all the other centuries-old Romanian cities, Timisoara has been through so many historical changes. Tatar invasion, Hungarian kingdom, the Turks, Austria, Swabian Germans, and Serbia all had their roles in its long history.
But perhaps the most important event that ever took place in Timișoara is the anti-government demonstrations on 15-17 December 1989, which quickly evolved into the fully-fledged revolution that resulted in the collapse of the communist regime.
Best things to do in Timișoara: Orthodox Metropolitan Cathedral | Art Museum | Castle of Hunyad | Victory Square | Theresia Bastion | Brück House | Banat village museum | Corvin Castle | The Dacian ruins at Sarmisegetuza | Bigar waterfall | Union Square | Roses Park | Museum of the Communist Consumer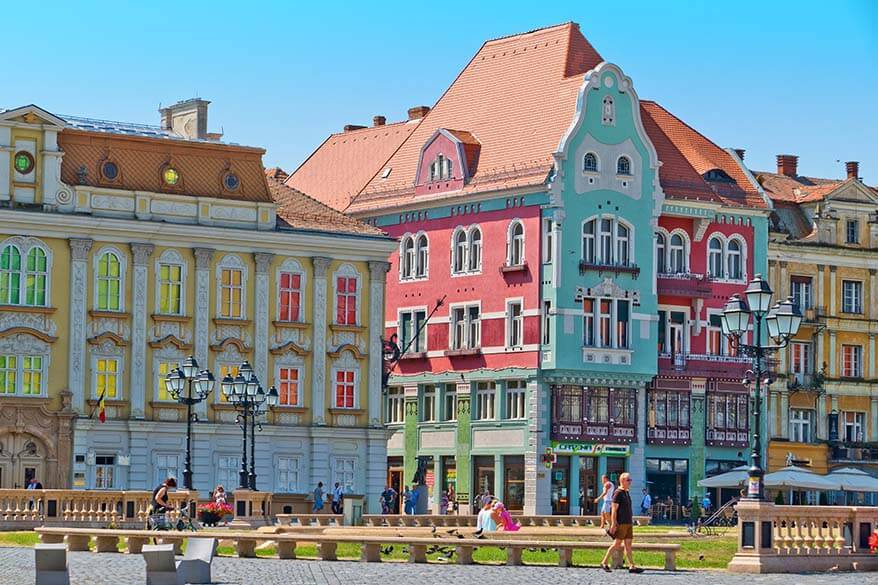 Practical Info for Visiting Timișoara
Getting there: Timișoara is located 550 km (340 mi), 7-8 hrs drive from Bucharest. It's actually easier to drive here from Budapest in Hungary or simply book a flight from Bucharest. You can rent a car and combine a visit here with that of the other Romanian cities mentioned in this article – Cluj-Napoca, Sibiu, and Sighișoara.
Getting around: The historic Old Town is best to be explored on foot, and everywhere else you will be able to take a cheap bus, tram or taxi.
How much time you need: One day is enough for the city and you can take a city tour to learn more about its history. If you have more time in the area, rent a car and visit the other cities. Also the nearby Arad town is quite interesting.
Where to stay: There are many nice hotels in the Timisoara town center. We recommend Old Town Hotel in the city center or Hotel Tresor Le Palais if you are traveling by car and rather stay a bit outside of the center.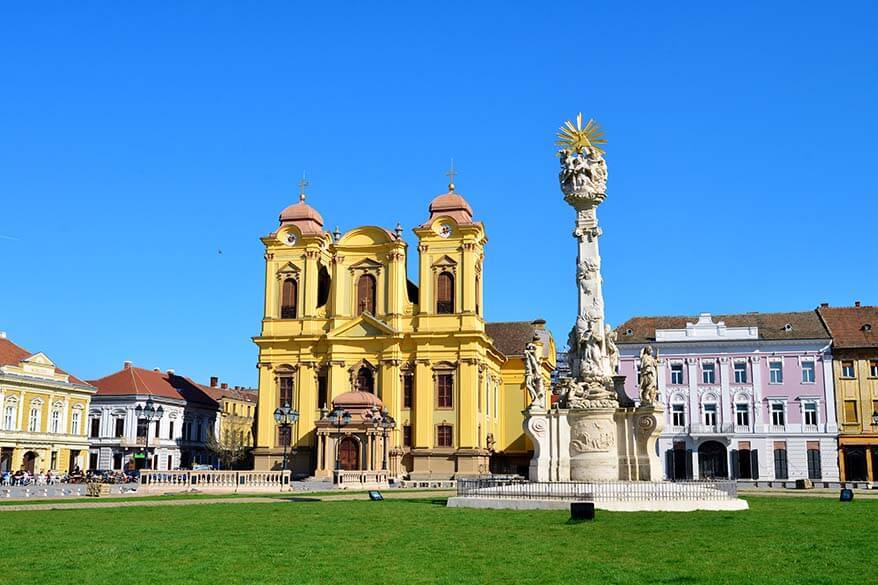 8. Constanța
Constanța, located on the shores of the Black Sea, is Romania's largest port city. It's a multicultural place, with beautiful architecture. The city was founded by Greek settlers more than 2,000 years ago. There's even a legend that states the city was visited by the Greek mythical figures Jason and the Argonauts.
Best things to do in Constanța: Constanța Casino | Aqua Magic Mamaia | Mamaia beach | Costinesti | Vama Veche | Aquarium | Eforie Nord & Eforie Sud beaches | Museum of National History and Archeology
Since Romania's coast on the Black Sea is one 100 km straight line, you can easily visit other coastal resorts and beaches from Constanța.
Here are some of the nicest beaches to visit in Romania:
Eforie Nord – this beach is popular among families with young children.
Vama Veche – right near the Bulgarian border, this is a bit of an artsy, chill-out place.
Costinesti – this is where the nonstop parties happen, where all the young and dynamic people gather together.
Venus Beach – one of the best beaches in Romania, but for this reason, expect it to be crowded most of the time.
Mamaia Beach – this is where all the exclusive and fancy resorts can be found (but still affordable compared to many other European beaches).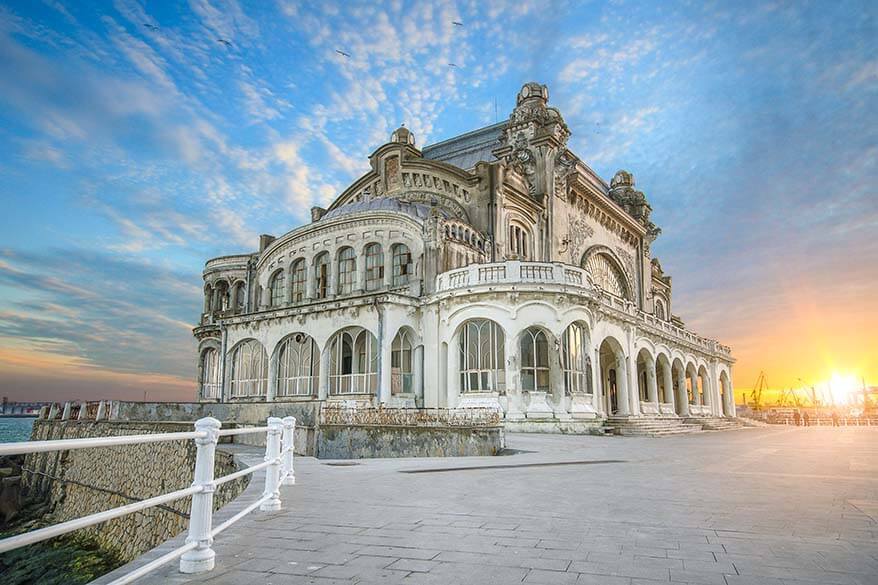 Practical Info for Visiting Constanța
Getting there: Constanta is just 230 km, 2,5 hrs drive from Bucharest. Most of the best beaches are just a short drive from there.
Getting around: Constanta city center can best be explored on foot. For the Black Sea coast and the beaches, it's easier if you have a car, but public transport is available as well.
How much time you need: One day is enough for the highlights of the city and a few other places nearby. You can visit here with a day tour from Bucharest. If you are visiting in summer and are looking for a relaxing beach holiday in Romania, you can easily spend a week here.
Where to stay: Ramada by Wyndham Constanta is a nice hotel for sightseeing. If you rather stay closer to the beach, check out the Maritimo Luxury ApartHotel. For a beach holiday, check out resorts in the nearby Mamaia.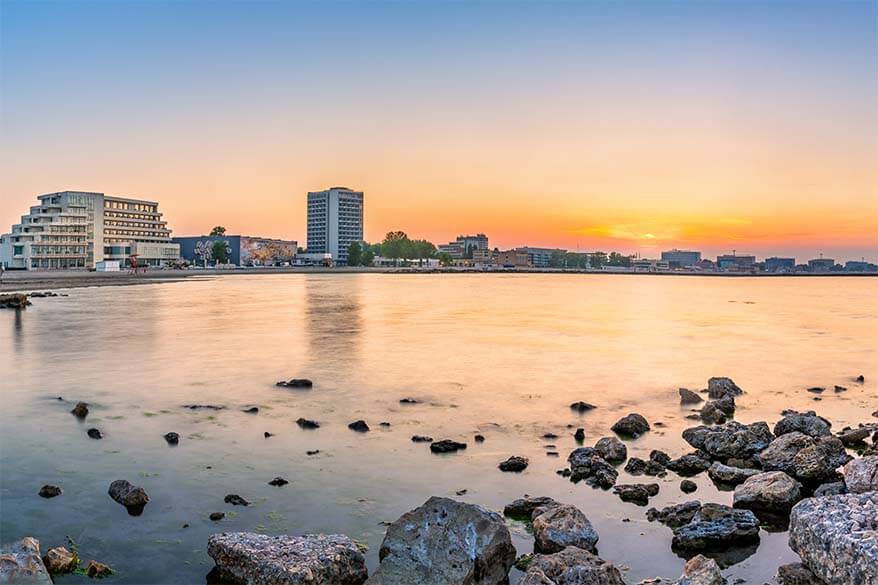 9. Iași
Before Romania was unified, the country consisted of three separate principalities: Wallachia, Transylvania, and Moldova. Iasi was the capital of the Moldova region, thus a very important cultural and economic center. The city is home to Romania's first and oldest university, Alexandru Ioan Cuza, and many others. Students and business-minded people are taking over the city.
While many Romanian cities on this list have Saxon heritage and are located in Transylvania, Iași is located in the Principality of Moldova on the northeastern border of Romania and has a completely different atmosphere. And while this region is lesser-known to international travelers, the culture and the history of this region are just as old and as beautiful as in the other parts of Romania.
Don't miss the Orthodox monasteries, old provincial houses, and grand cultural buildings such as the Opera and The Palace of Culture. The latter is a mixture of Neo-Gothic, Neo-Baroque, and Art Nouveau architectural styles, and it looks even more wonderful at night, when it's beautifully lit.
TIP: Perhaps not many people know this, but Romania produces delicious wine. The most famous wine of the country is a full-bodied, smoky, spicy, dry red wine called Fetească Neagră which comes from a wine region in Iași. So if you love good wine and visit Iasi, make sure to try it right here where it's made! You can also opt for a city tour that also visits a local winery.
Best things to do in Iași: Palace of Culture | Golia Monastery | Botanical Garden | Moldavian Metropolitan Cathedral | Art Museum | Romanian National Opera | Alexandru Ioan Cuza University (the first one ever in the country) | Mihai Eminescu Museum of Literature | Saint Nicholas church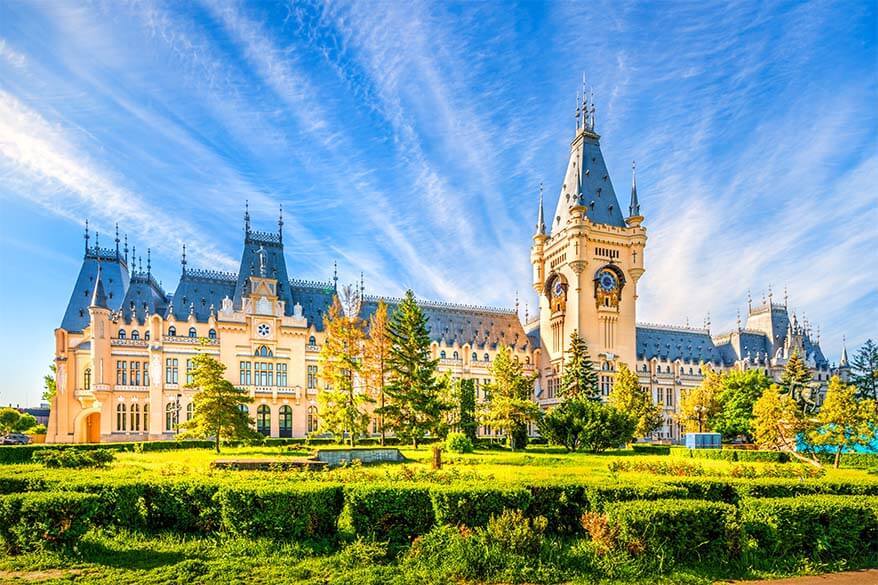 Practical Info for Visiting Iași
Getting there: Iasi is located on Moldavian border, about 400 km, 6hrs from Bucharest. The easiest way to get here is by taking a flight, which is both cheap and fast.
Getting around: Since the city is not very big, you'll probably be able to visit the most important sights in one day. You can visit most sights on foot and public transport is also good.
How much time you need: One day is enough for Iasi. But if you already take the time to get here, you may as well stay a few days and explore the beautiful surroundings. You can find some ideas here.
Where to stay: Unirea Hotel & Spa is one of the top picks in the city. Hotel Arnia is a great 3* hotel for those on a lower budget. For a more luxurious experience, check out the Pleiada Boutique Hotel & Spa. The nice thing about visiting lesser-known cities in Romania is that even a 5*-luxury is very affordable here!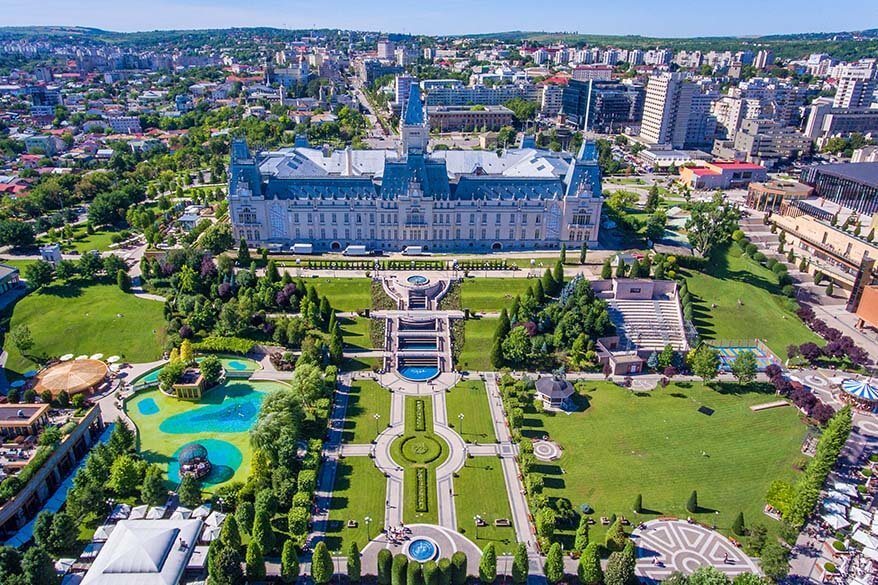 So, this is a local's guide to the very best cities and towns to see in Romania. I hope that this inspired you to discover this beautiful country beyond its capital city Bucharest and Dracula's Castle!
If you are looking for more ideas for nice places to visit in Eastern Europe, check out our guide to Krakow in Poland. Another great place to visit is my home country, Lithuania. Check it out!
READ ALSO: Best Time To Visit Europe
If you found this post useful, don't forget to bookmark it and share it with your friends. Are you on Pinterest? Pin these images!