Are you thinking of visiting Bucharest, Romania, and wondering what there is to see and do in Bucharest and if it's worth a visit? In this article, we share top things to do in Bucharest and tips for your visit. Find out!
I have to admit that I also knew very little about Bucharest before my trip. I googled the best things to do in Bucharest and the must-see places of Bucharest and was quite disappointed to see that there was so little quality information available on the very best things to do in Bucharest. After all, if you only have one or two days in Bucharest, you probably want to visit the landmarks and see the main highlights of the city.
This was a few years ago. In the meantime, there is more information available online than it was back then. Still, this guide to the very best of Bucharest is just as relevant as at that time.
If you are visiting Bucharest soon and are looking for the very best things to do in Bucharest, you'll find all the must-see places in this article. Take a look!
Good to know: In order to help you make the most of your trip to Bucharest, we also included some practical tips and advice for your visit. How to get to the city, where to stay, safety tips, and local's advice. You can find this information further below.
READ ALSO: Hidden Gems of Bucharest
But first, here are the top places to see and the best things to do in Bucharest:
1. Palace of Parliament
If there is just one place that you just have to see in Bucharest, it's the Palace of Parliament, also called the People's Palace. With a surface of 365,000 m2 and 1,000 + rooms, it's the second-largest administrative building in the world. Make sure to visit inside, as seeing it from the outside just isn't the same!
It's a controversial place, and we were told that Romanians still haven't decided whether they love it or hate it. However, it's such an integral part of what Romania is today and it will give you a much deeper insight and understanding of Romanian history, so I really recommend visiting the Palace of Parliament when in Bucharest.
Practical info: You can visit the Parliament with a guided tour that also includes other interesting places in Bucharest (which is what we did) or you can get online tickets and just visit the Parliament with a short guided tour. In any case, you need to carry your passport or ID card when visiting the Parliament building.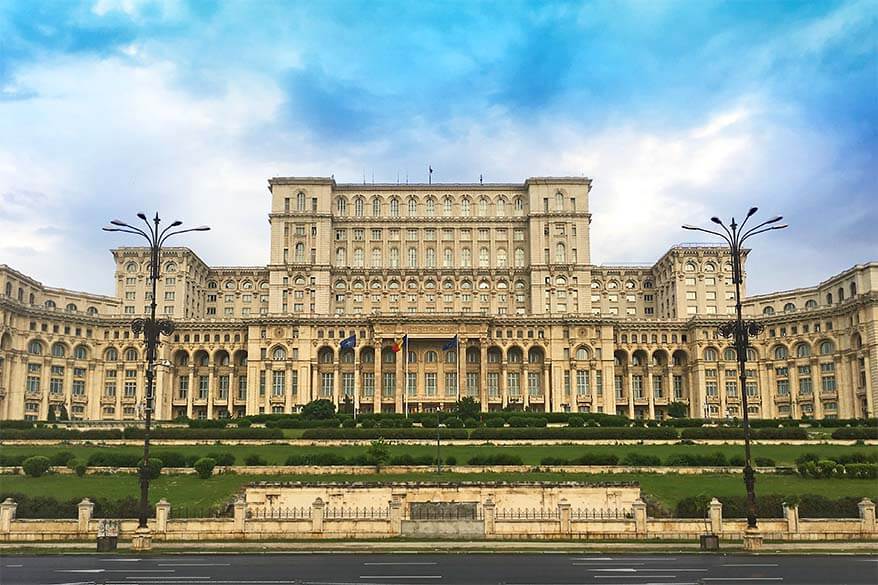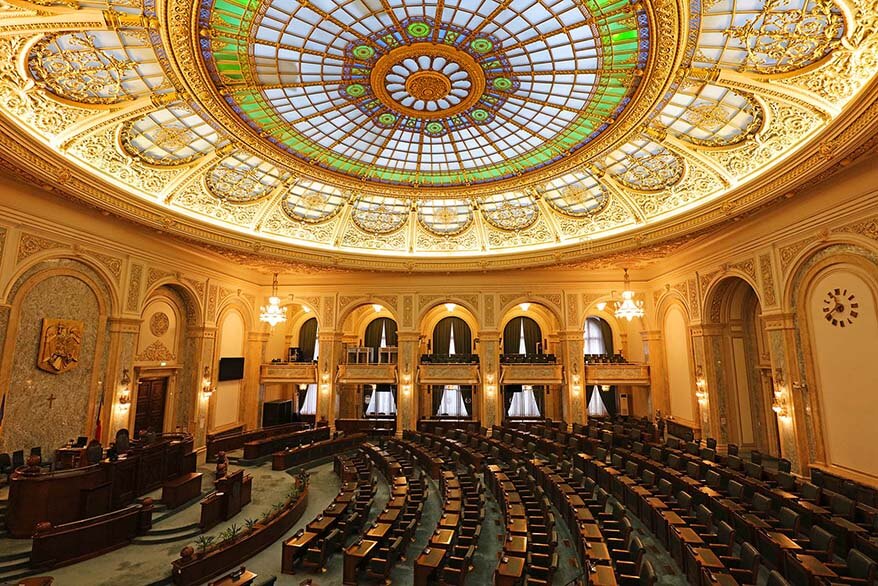 2. Old Town
In the past, Bucharest didn't really have one central place where people would go out or meet with their friends. So a couple of years ago the City Council decided that the city needed such a place.
They designated a couple of streets for this area, laid cobblestones, and forbid most traffic. And so now Bucharest has an Old Town. The locals were joking that it must be the newest Old Town in the world…
The Old Town of Bucharest is a real success story, one that has transformed the city completely.
Hundreds of bars, trendy cafes, and restaurants have opened in Bucharest in the last few years. The Old Town is the place to be in Bucharest now, and you'll instantly fall in love with the incredibly lively atmosphere. A bit quiet in the morning, lively during the day, and bustling with activity in the evening, The Old Town is the place that you will end up going to every day of your stay in Bucharest.
TIP: If you are interested in local pubs and Bucharest nightlife, check out these popular pub crawl tours in Bucharest.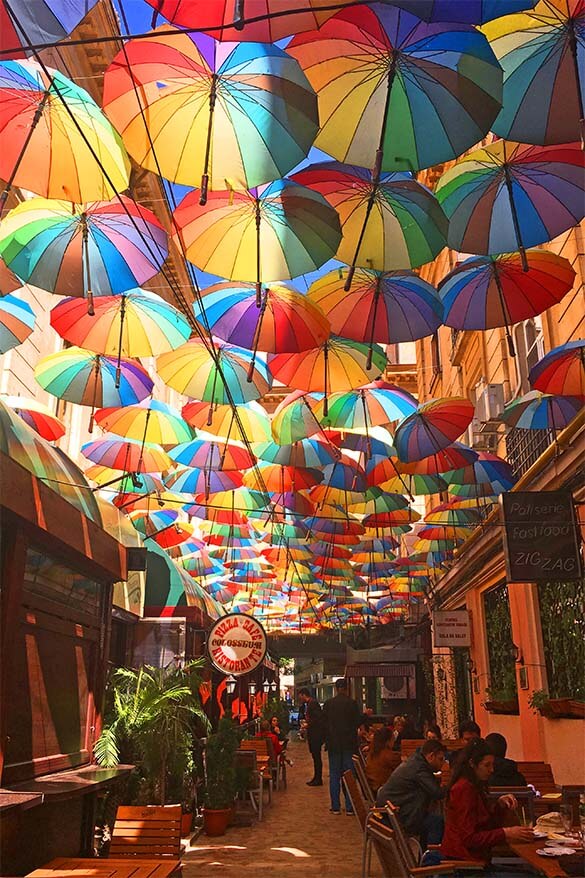 3. Revolution Square
Revolution Square in the Centre of Bucharest is a place with lots of history. The monuments and the buildings that you see today have been completely restored and you wouldn't tell that some of the darkest chapters of Romanian history have been written here.
TIP: I strongly advise that you visit Revolution Square with a local guide. It's the best way to understand what happened here and learn more about Romania's history. We don't often take guided city tours, but in Bucharest, it was absolutely worth it.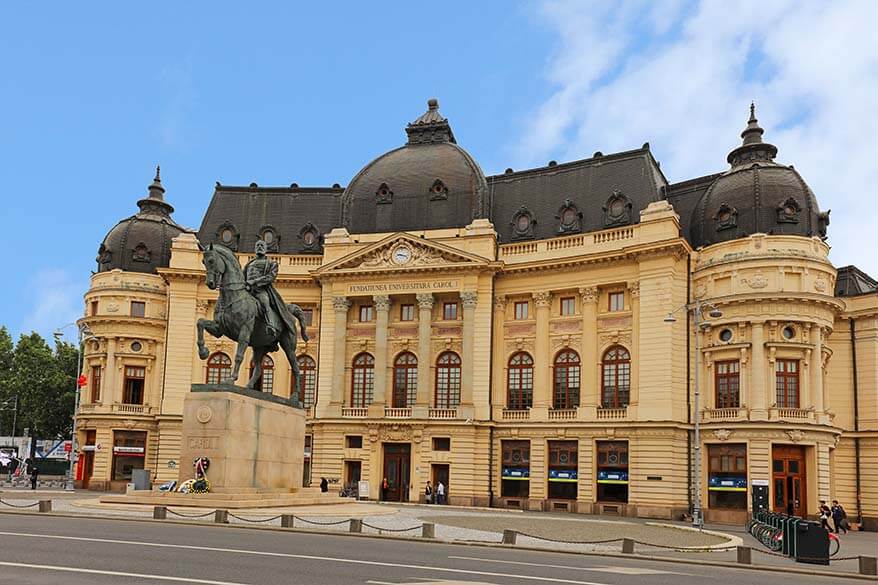 4. Dimitrie Gusti National Village Museum
Dimitrie Gusti National Village Museum (Muzeul Satului in Romanian) is an open-air exhibition showing traditional Romanian village life as it was in the past. It's also the most visited museum in Romania and rightly so.
The Village Museum is a nice place to visit in Bucharest on a sunny day. It's interesting for families with kids as well. There is lots of place to run around and kids will love exploring the 200-year-old buildings.
Bucharest Village Museum is open daily except for some public holidays. For more information and opening times, please check their website.
Quite some city tours of Bucharest also include a visit to this museum – see the full selection of tours here. The advantage of going with a local guide is that you'll get a much better understanding of what this place is about. Also, it's quite a big open-air museum and so going with a guide will make sure that you see all the musts.
TIP: Combine your visit with the adjacent Herăstrău Park (see below).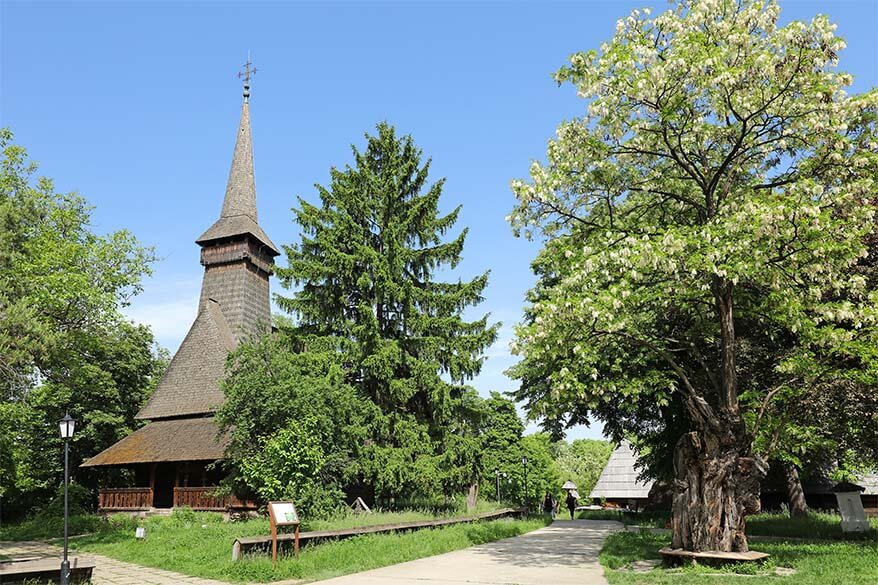 5. The Parks of Bucharest
Bucharest is a very green city and there are many parks you can explore. I only visited three – Herăstrău Park, Cișmigiu Park, and Parcul Izvor.
I was told that these three parks are not to be missed, but if you have more time you can also visit the Botanic Garden, Parcul Operei, Parcul Tineretului, and the Urban Delta – Parcul Natural Văcărești – is supposedly very nice as well.
Herastrau Park
One of the biggest parks of Bucharest – Herastrau Park – is definitely worth a visit. You can rent a bike, go on a boat ride, or tire the kids out in one of the playgrounds. There are several food stalls in the park, and if you go on a weekend or in summer, the chances are high that there will be some kind of an event here.
TIP: Combine the visit to Herastrau park with a visit to the Village Museum and don't miss the Arch Of Triumph (Arcul de Triumf).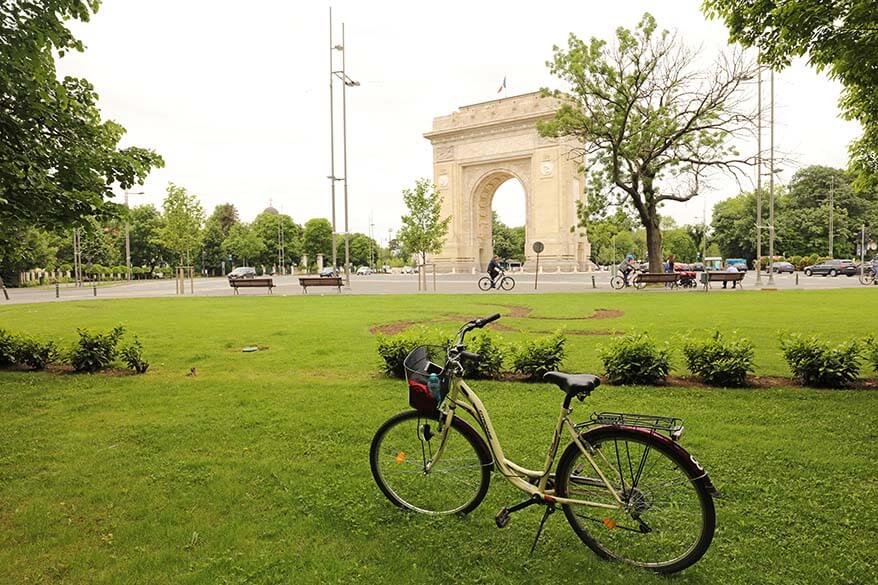 Cișmigiu Park
Cismigiu park right in the center of Bucharest is as nice as a park can get. You will find beautiful green alleys, the most colorful playground for children I have ever seen. In addition, there are a couple of places where you can eat or just have ice cream and a small lake where you can rent a rowing boat in summer or go ice skating in winter.
If you visit just one park in Bucharest, make it Cismigiu Park.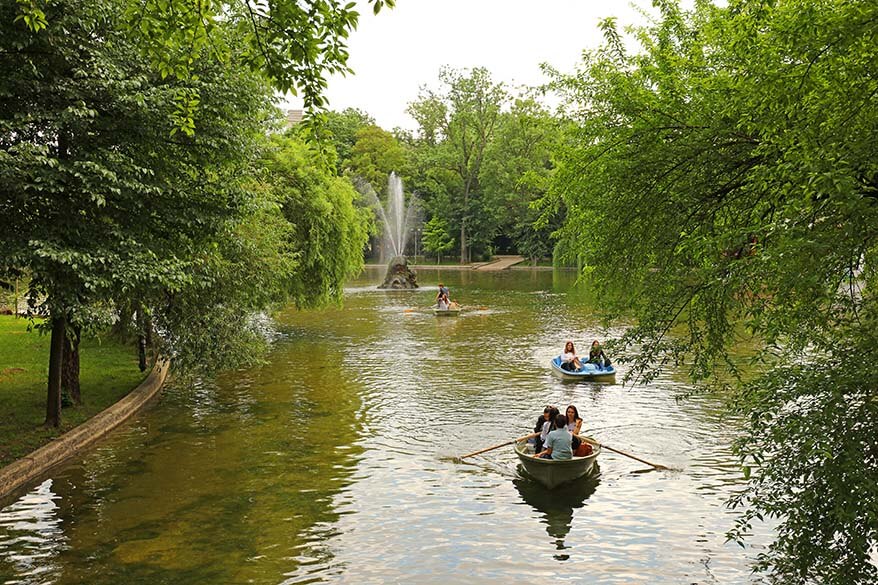 Parcul Izvor
Parcul Izvor, located right in front of the Palace of the Parliament, is probably the quietest one of the three parks I visited in Bucharest. It's one of those parks where locals come for a stroll or to run.
There are several playgrounds here too. And, of course, you have a beautiful view of the Palace of Parliament.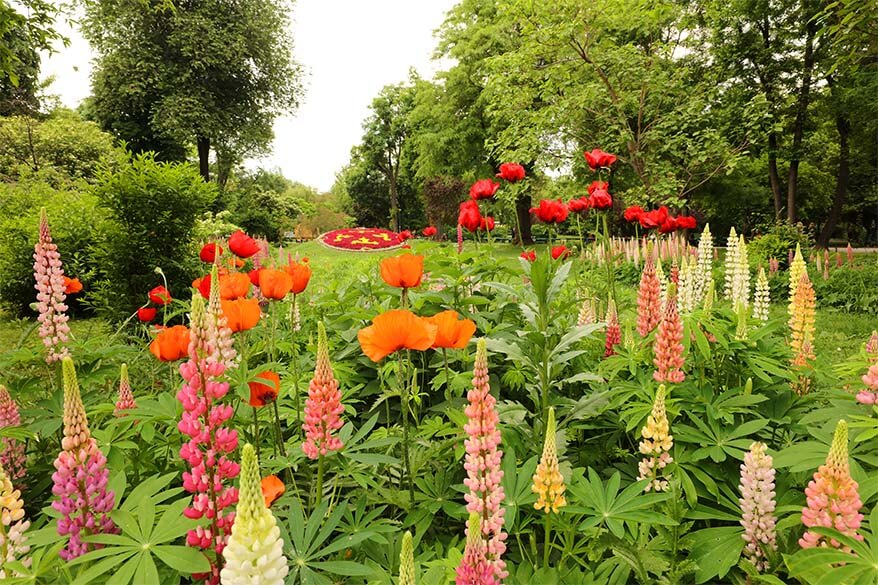 6. The Churches of Bucharest
You cannot walk for five minutes without running into a church in Bucharest. Some of them are really impressive and well worth a visit.
Some of the nicest churches in the center of Bucharest town are:
Stavropoleos Monastery – Biserica Stavropoleos
Church of Saint Anthony – Biserica Sfântul Anton
Kretzulescu Church – Biserica Crețulescu
St. Nicholas Church – Biserica Sf. Nicolae – Șelari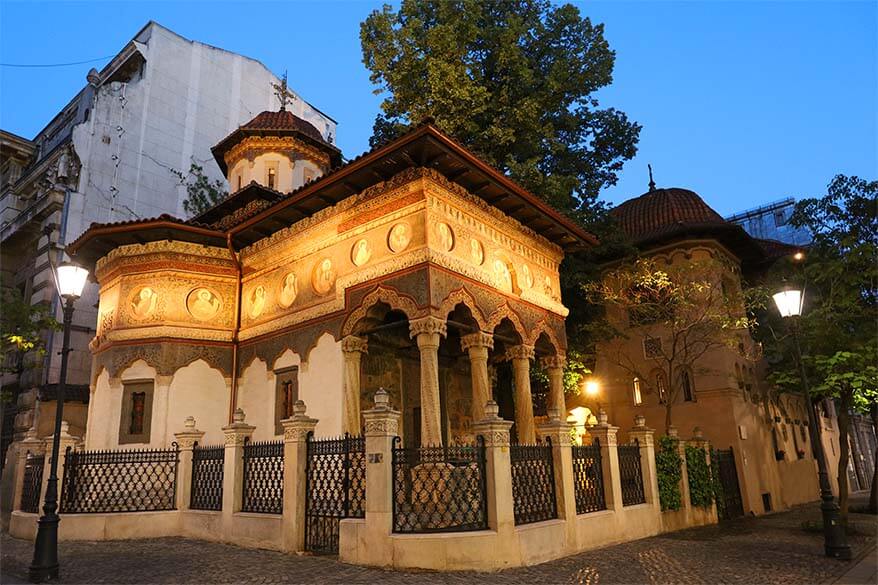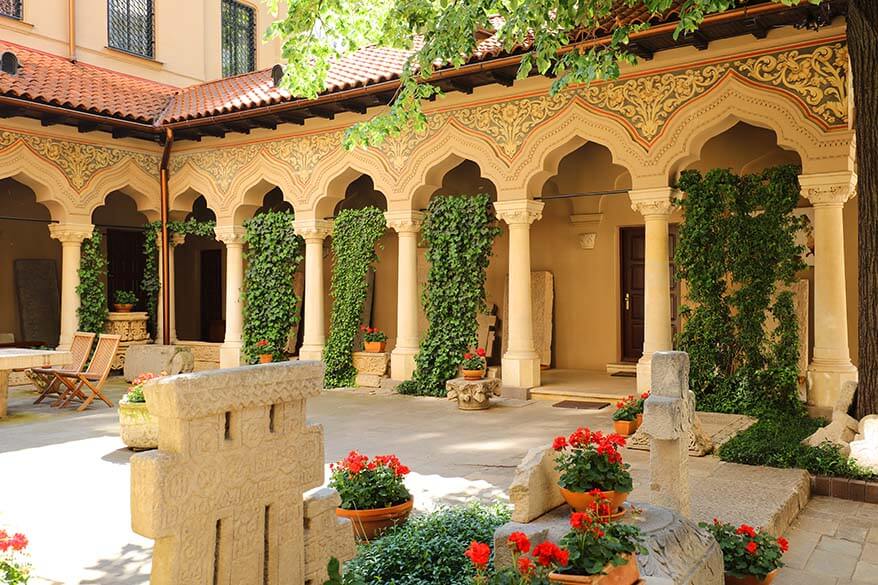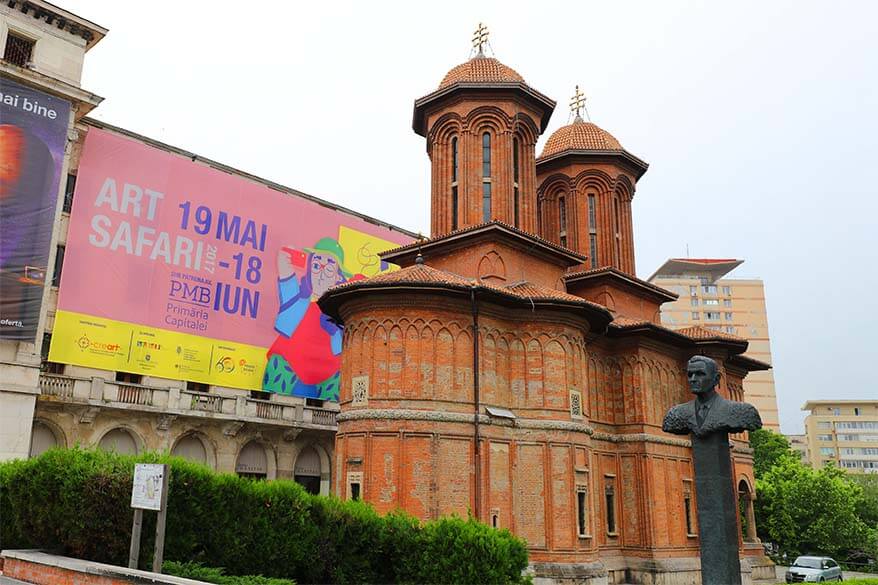 7. Romanian Athenaeum
Romanian Athenaeum is a beautiful building and one that Romanians are most proud of. It's actually the main concert hall of Bucharest, so if you like classical music, try to attend one of the concerts.
You can also visit the Athenaeum and admire its beautiful architecture during the day. Make sure to take a look inside – the interior is stunning!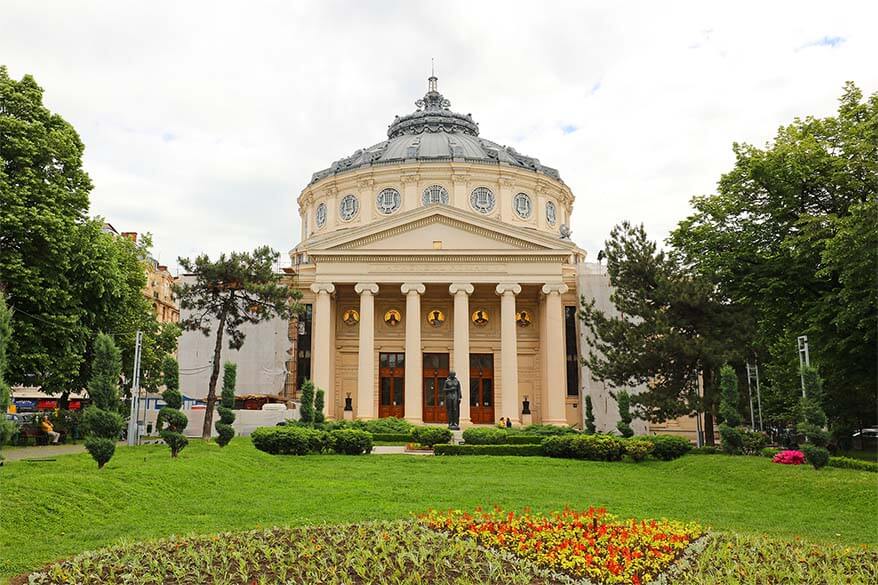 8. Romanian Traditional Restaurants
Enjoying a true Romanian peasant meal is one of the must-do things in Bucharest! Below, we have some recommendations based on our experience and what locals recommended to us at the time of our visit. My best tip for finding the best local restaurants is to simply inquire at your accommodation – that way you might also find some hidden gems only known to the locals.
Probably the best-known restaurant that serves local food in Bucharest is the Caru' cu Bere in the Old Town. It's a bit touristy, but the food was good, and it's worth going just for the interior. We had dinner on Saturday and they even had some traditional dance performances during the evening.
Another good place to try some local cuisine is Hanu' Berarilor Casa Oprea Soare, just across the river from the Old Town.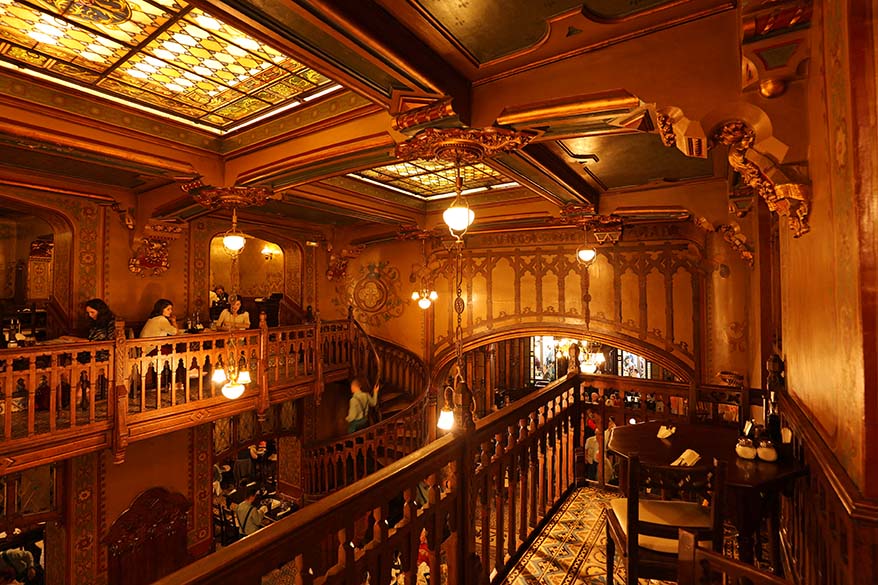 9. Curtea Veche
Curtea Veche is a small archeological site in the Old Town of Bucharest. There is not that much to see actually, but it used to be a residential palace of Vlad III Dracula in the 15th century. So if you want to see the statue of Dracula, this is the place to be.
Romanians will tell you the whole story about how Vlad the Impaler had nothing to do with the fictitious character in the Dracula novel by Bram Stoker. But it's become a big commercial thing, so I think they kind of made peace with it.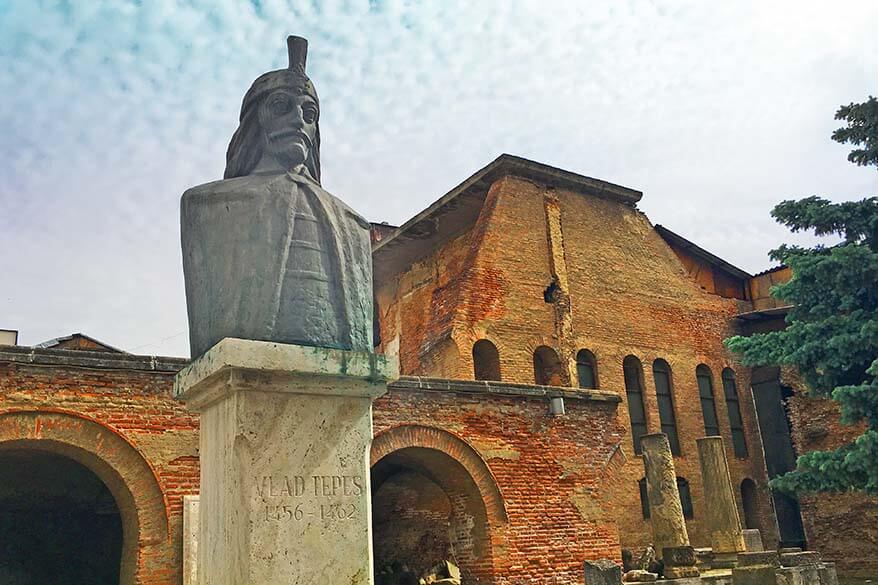 10. Museums of Bucharest
Bucharest has many museums. If you are only in the city for a day or two, you won't have much time for them. If, however, you have some time to spare and/or are visiting in the colder season when it might be wet and cold outside, you may want to check out several of the best museums.
In addition to the Village Museum that I already mentioned above, here are some of the most noteworthy museums in Bucharest:
Grigore Antipa National Museum of Natural History
National Museum of Art of Romania
Museum of Art Collections
Museum of the Romanian Peasant
National Museum of Contemporary Art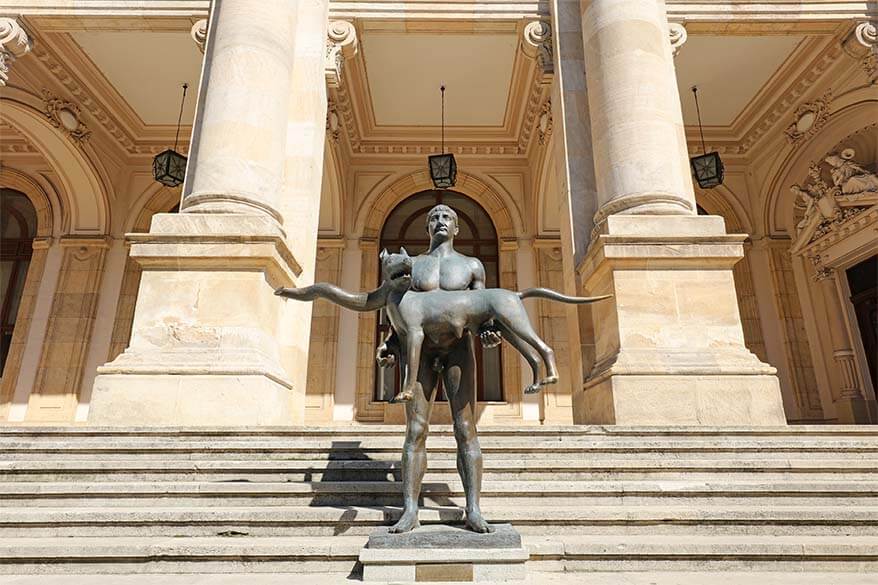 So, these are the main highlights, best things to do in Bucharest that you really shouldn't miss. Make sure to read our article about the hidden gems of Bucharest as well. You really have to see both sides of Bucharest in order to truly appreciate this city of contrasts!
Below, you can find some useful tips for your trip to Bucharest. Read on!
Is Bucharest Worth It?
I have been to Bucharest as a kid and had vague memories of this big city with wide boulevards and huge communist-style buildings. I remember Roma children begging for food on the streets… But that was Bucharest 30 years ago.
The city has changed beyond recognition! And if you see all of the activity going on, you cannot help but wonder if it will become the next top destination in Eastern Europe…
Bucharest exceeded all my expectations and yes, its' absolutely worth a trip! Five days flew by and I left the capital of Romania with the feeling that there was still so much more to explore… Not even to mention all the beautiful places to see outside the city (see some recommendations below).
Things to Do Near Bucharest
Romania is so much more than Bucharest alone and you can see a lot by taking day tours from Bucharest! There are also so many nice towns and Romanian Castles to visit. I really enjoyed a short visit to Mogoşoaia Palace.
Therme Bucharest (exotic spa with pools and saunas) is another great place to visit just near Bucharest.
TIP: The most popular day trip from Bucharest is to Transylvania. It includes Bran Castle (nicknamed Dracula's Castle), the medieval town of Brasov, and Peles Castle. You can see the detailed itinerary and book this day trip here.
READ ALSO: Best Towns and Cities to Visit in Romania
Practical Information
Below you can find some practical information for visiting Bucharest.
How to get to Bucharest
Bucharest is a perfect destination for a short city break. You can find many affordable direct flights to Bucharest from pretty much anywhere in Europe.
Bucharest airport is located about 30 minutes drive from the city center. The best way to get to the city is by booking a private airport transfer.
Where to stay in Bucharest for sightseeing
Without a doubt, the best place to stay in Bucharest is the area around Calea Victoriei street, approx. between Blvd. Regina Elisabeta and Revolution Square. I visited Bucharest on a press trip with many other travel bloggers and here is a selection of some of the best hotels in that area that everyone was very positive about:
These are all really nice hotels and very well priced compared to most other European cities. You can find plenty of accommodation in all price ranges Bucharest. Check here for the best accommodation deals for Bucharest!
Is Bucharest safe?
One of the main concerns I had before traveling to Bucharest on my own, was if Bucharest was safe. As a woman traveling solo and carrying expensive camera equipment I never felt unsafe in Bucharest.
I have to say that it's probably just as safe as any other European capital. And, if you stay in the city center, it's probably even safer than most other major European towns. Of course, there are some areas where you better not walk alone at night, but that counts for any other city that I know.
More practical info for first-time visitors
If you have questions about the practical side of visiting Bucharest: when to go, how to get around the city… you can find all this information in a very comprehensive practical guide to Bucharest by a local Romanian travel guide.
And as always – if you have any specific questions about Bucharest or the places mentioned in this post, feel free to ask by leaving a reply below.
READ ALSO: Hidden Gems of Bucharest That Most Tourists Never See
If you found this post useful, don't forget to bookmark it and share it with your friends. Are you on Pinterest? Pin this image!