Thinking of visiting Disko Island in Greenland, but not sure if it's worth it? Or maybe you're wondering what there is to see and do in Qeqertarsuaq, the main town of Disko Island? This guide should give you a good idea of what it's like to visit Disko Island and Qeqertarsuaq in particular. Find out!
Whether you are stopping in Qeqertarsuaq as part of your Greenland cruise, or are traveling around Greenland and planning to spend a few days on Disko Island, this article will help you make the most of your visit.
First, you can learn a bit more about Disko Island and its main settlement, Qeqertarsuaq. Further below, you can read about what there is to see and do in Qeqertarsuaq. Finally, at the end of this article, you will find some practical tips and useful information for visiting Qeqertarsuaq (such as how to get there, where to stay, where to eat, etc.). Find out!
Disclosure: We visited Disko Island in cooperation with Visit Greenland. All opinions and enthusiasm are, as always, our own and based solely on our personal travel experience.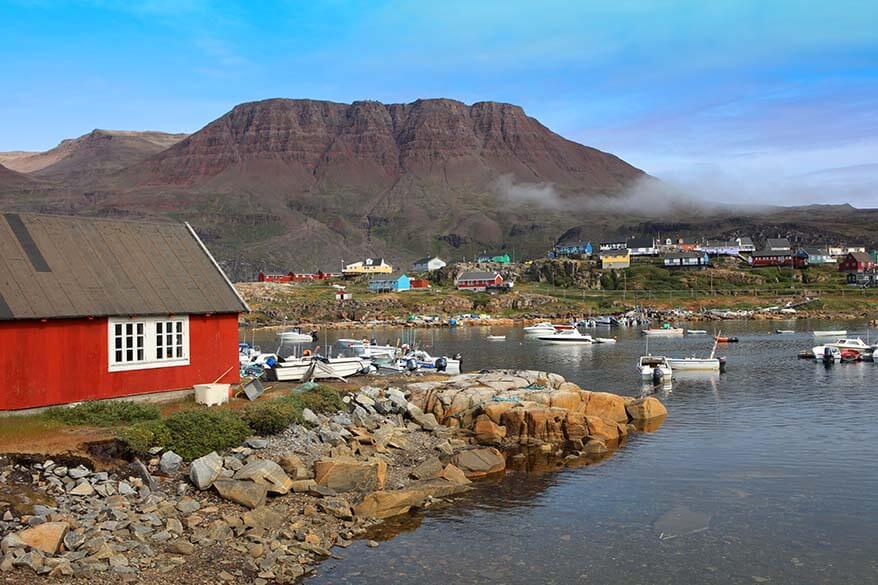 Complete guide to visi Qeqertarsuaq & Disko Islanding – OVERVIEW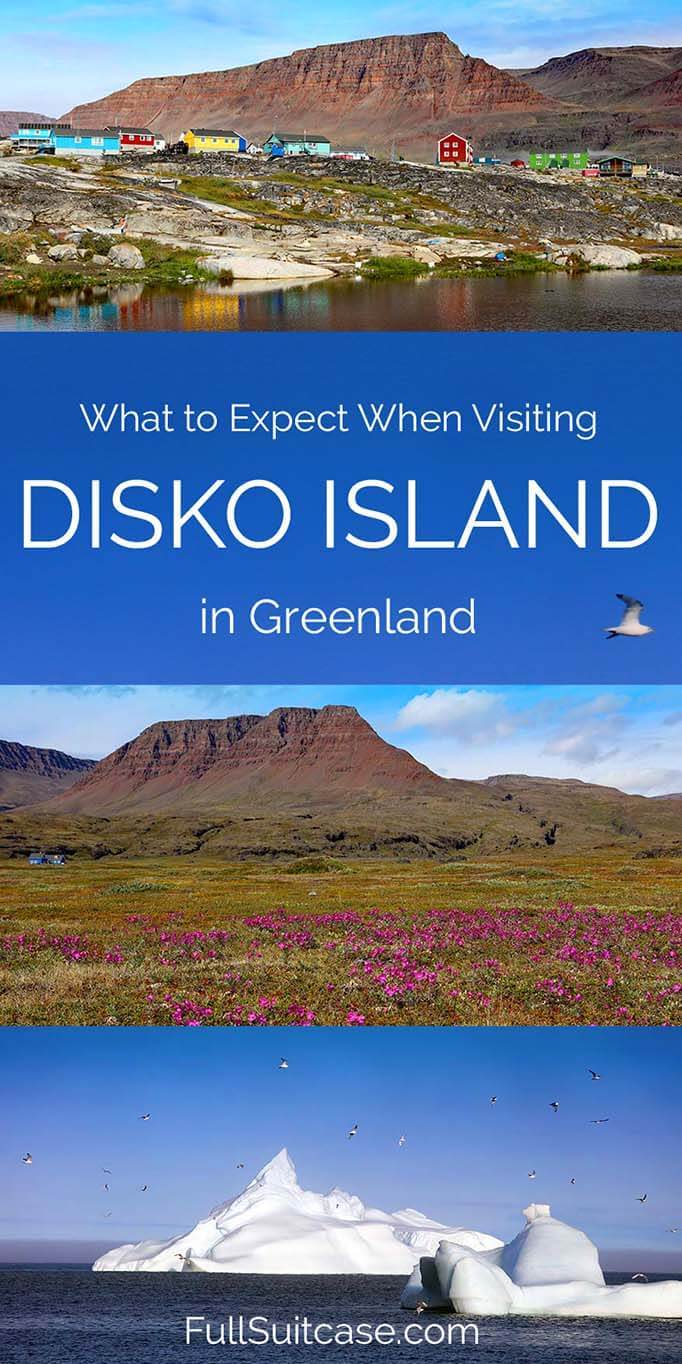 Disko Island
Disko Island is the largest island in Greenland, which – itself – is the largest island in the world. Located on the western side of Greenland, Disko Island is part of the world-famous Disko Bay, a UNESCO World Heritage Site. The island is surrounded by the cold and rough waters of the Arctic Sea, dotted with floating icebergs and visited by whales.
In winter, the sea can freeze completely here. In fact, in the past, when winters were colder, it was possible to travel from Qeqertarsuaq on Disko Island to Greenland's mainland by a dog-pulled sled. We met a local musher who told us that he traveled all the way to Ilulissat (+- 100km away) together with his father when he was a child, and it was one of his fondest memories and best adventures ever…
Disko Island is unlike the rest of Greenland because of its volcanic origin. With its black-sand beaches, waterfalls, basalt columns, hot springs, and rich vegetation, it looks more like Iceland than mainland Greenland…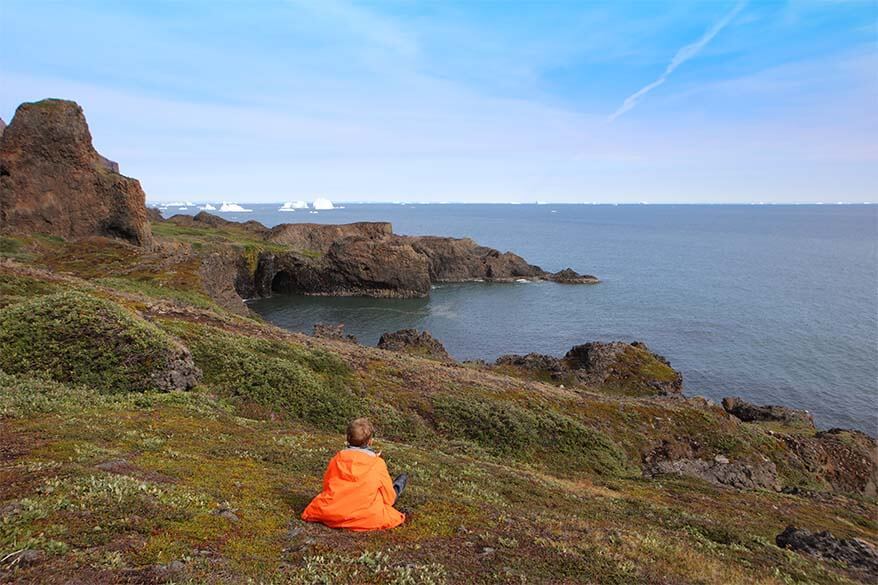 Disko Island is so different from anything else nearby, that, according to a legend, it originally belonged in the South of Greenland. Two seal hunters liked this green island so much that they decided to take it home to the north, using their kayaks and a single baby's hair to pull it.
However, a witch in Ilulissat noticed the green island being pulled through Disko Bay and decided to keep it there. She cast a spell and the island remained inside the bay forever.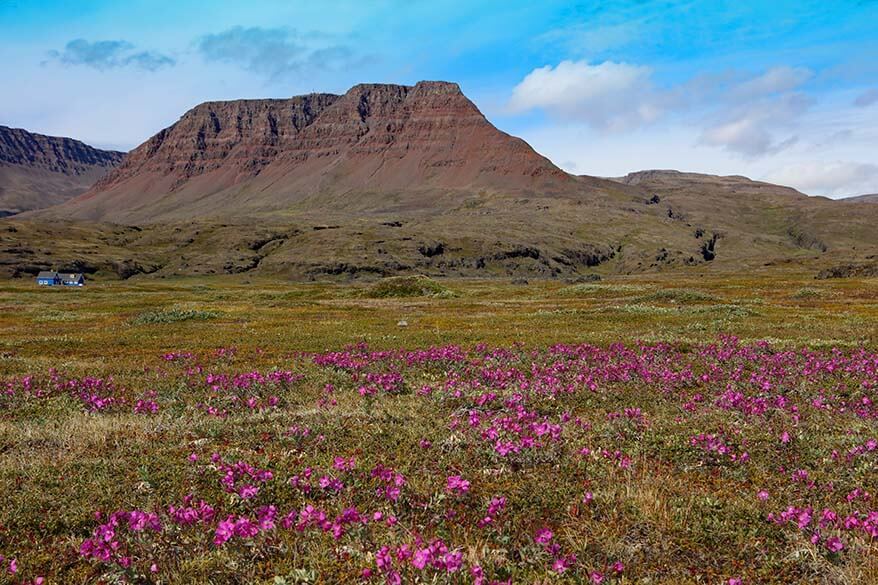 With a length of 160km and a surface of 8,578 km², Disko Island is 4 times the size of Mauritius and over 3 times the size of Luxembourg. However, there are just two settlements on the island with a total population of about 850 people…
The biggest town on Disko Island is Qeqertarsuaq that is home to +- 840 people. The second settlement is the tiny village of Kangerluk in Diskofjord that is several hours away by boat… In the year 2000, about 70 people lived in Kangerluk, but its population is rapidly decreasing. In the summer of 2019, when we visited Disko Island, only 12 people still lived in Kangerluk…
The biggest part of Disko Island is uninhabited and can't easily be visited. So in this guide, we only focus on Qeqertarsuaq and what there is to see and do in its immediate surroundings because that's the only place that you can visit on Disko Island. Read on!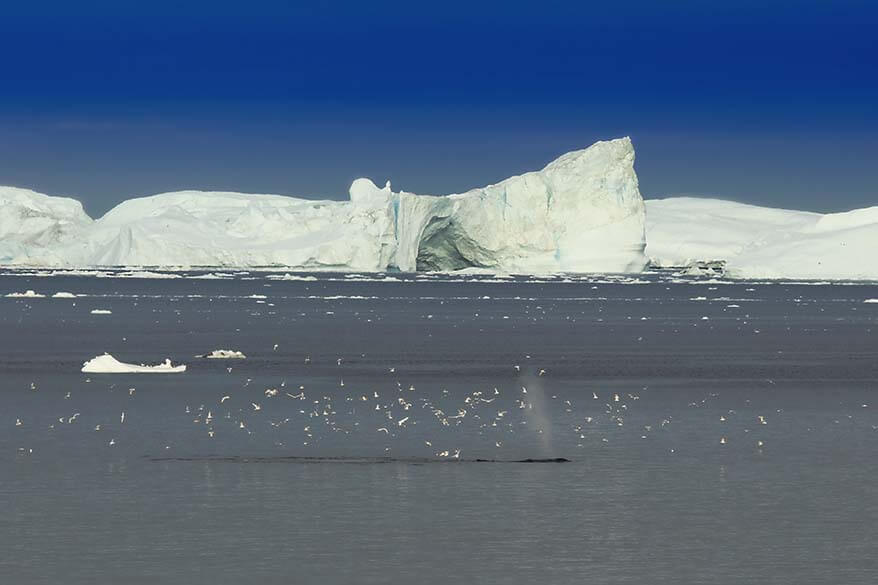 Qeqertarsuaq
Qeqertarsuaq is a small seaport and the main town of Disko Island. The town is one of the oldest settlements in Greenland. It was founded by whalers in 1773, but archeological findings show that there used to be a settlement here some 5-6000 years ago.
The name Qeqertarsuaq means 'the Big Island'. So it's the world's biggest island's (Greenland) biggest island's (Disko Island) big island (Qeqertarsuaq)… Still following? 🙂
Whaling, hunting, and fishing were the main occupations of its inhabitants, and the town also served as the administrative center for North Greenland. Qeqertarsuaq is now home to the Arctic Station, which is part of a campus of the University of Copenhagen.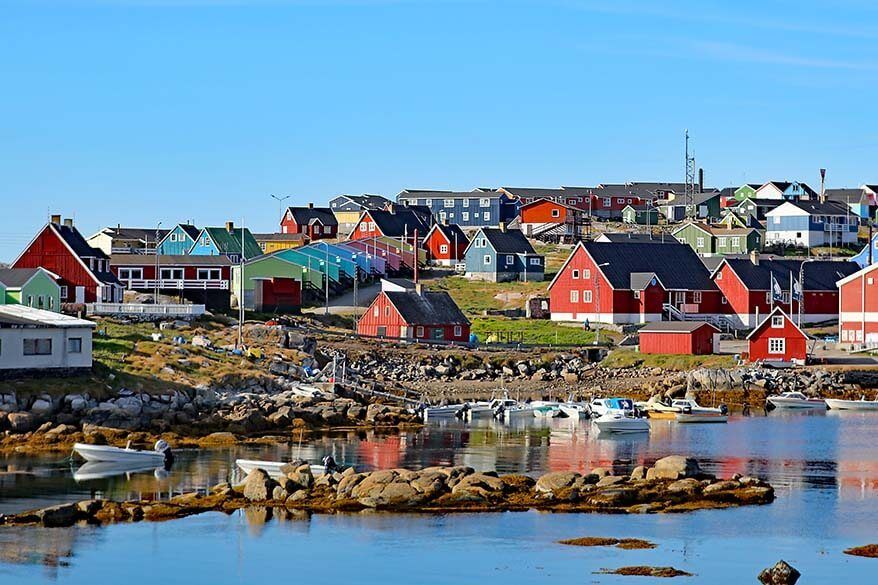 Despite the fact that several Arctic cruise ships stop in Qeqertarsuaq for a day, tourism is just starting to develop here. At the moment, there is just one hotel in town, but luckily, it's quite nice and they have an excellent on-site restaurant.
There is also a (very) local café, a museum, a tiny arts and crafts gallery run by a local artist, and a big supermarket selling everything from bread to clothes and even guns for hunting…
However, I think that Qeqertarsuaq has a lot of potential and that the town will change rapidly as more and more tourists discover the beautiful Disko Island. For now, Qeqertarsuaq is a hidden gem of Greenland. So if you are thinking of visiting, don't hesitate and get here before the rest of the world finds out!
There is a lot more to see and do in Qeqertarsuaq than it looks at first sight. Below, you can find our tips for the very best things to do on Disko Island. Further down, you can also find some practical information and tips for visiting Qeqertarsuaq on Disko Island. Find out!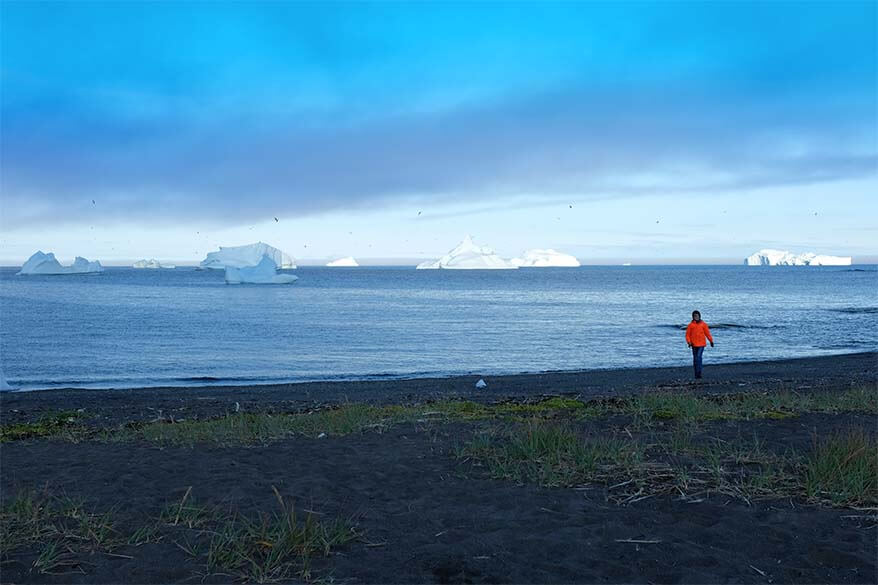 Things to Do in Qeqertarsuaq
Taking into account that Qeqertarsuaq is such a small place, it's almost hard to believe how diverse it is!
There are black-sand beaches with big chunks of ice washed ashore and huge icebergs floating in the ocean are always around and visible from everywhere on the island… Then, just a bit further away from town, the coastline gets steep and rocky, and you'll find incredible basalt columns and beautiful waterfalls… When you set hiking, you discover yet a whole different world with a big variety of plants, uncommon to the Arctic areas, but thriving here thanks to the hot springs of Disko Island…
And then there are also glaciers, higher up in the mountains. The closest and the easiest to reach is Lyngmark Glacier, the only place where you can go dog sledding in Greenland in summer! (For as long as it lasts, because climate change is taking its toll here).
Now, let's take a look at what there is to do in Qeqertarsuaq.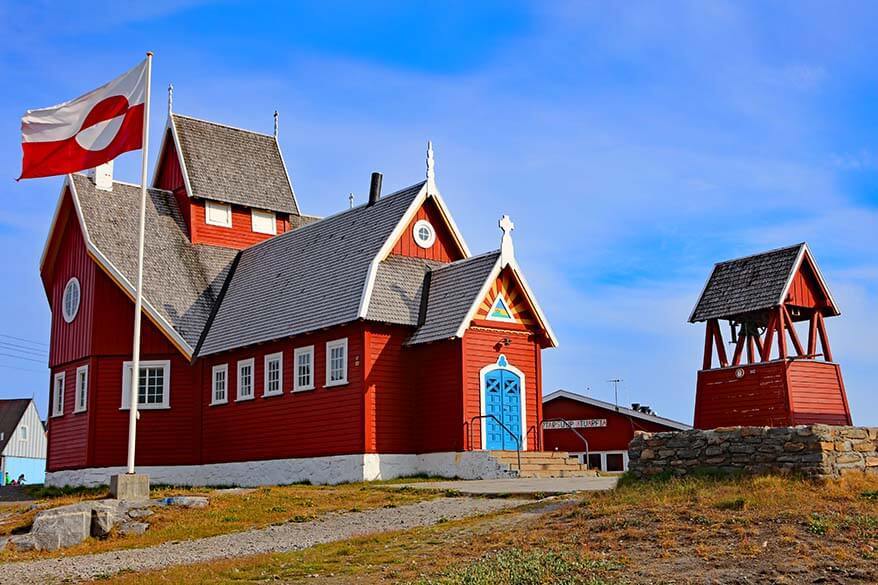 Explore Qeqertarsuaq Town
Qeqertarsuaq is a small town and you can just walk around and 'see it all' in half an hour. However, if you want to learn a bit more about the place and understand what life on Disko Island is truly like, I highly recommend taking a guided Qeqertarsuaq town tour.
Most locals don't speak English, so while they're extremely friendly, you won't learn much from them. Instead, ask the hotel reception and they'll arrange one of their guides to show you around. It doesn't cost that much and it doesn't take much time, but it will really help you get a much better understanding of what Qeqertarsuaq is really about. You'll also learn more about local Greenlandic habits and traditions.
Traditionally, all the houses in Greenland are very colorful. In the past, when there were no street names or addresses, different colors helped people to quickly find the right house in town. So, for example, it was common that doctors lived in yellow houses, government officials in the red ones, and fishermen – in blue houses…
Nowadays, the colors don't mean much. Still, people paint their houses in bright colors and all the towns in Greenland are just as colorful as in the past.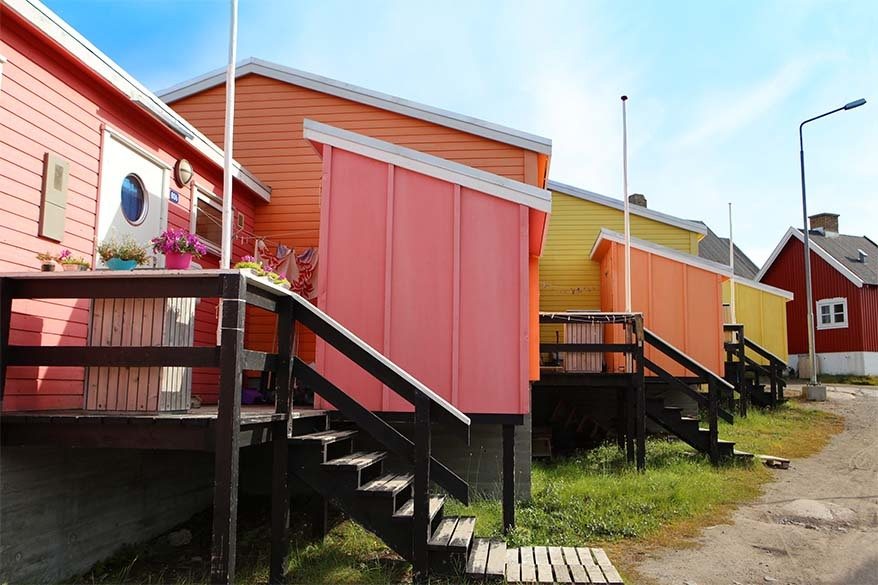 We also noticed that a lot of houses in Greenland have two numbers on them, a black and a yellow one. The yellow one indicates the house number in the street, just as in most other countries.
Our guide explained that in the past, only the black numbers were used. They indicated the order in which the houses were built in town. So the oldest house in town would be #1 and so on. The oldest house we found in Qeqertarsuaq had number 4; our hotel building was #13.
TIP: As you walk around the town, make sure to stop at a little art gallery called Kuannit Art.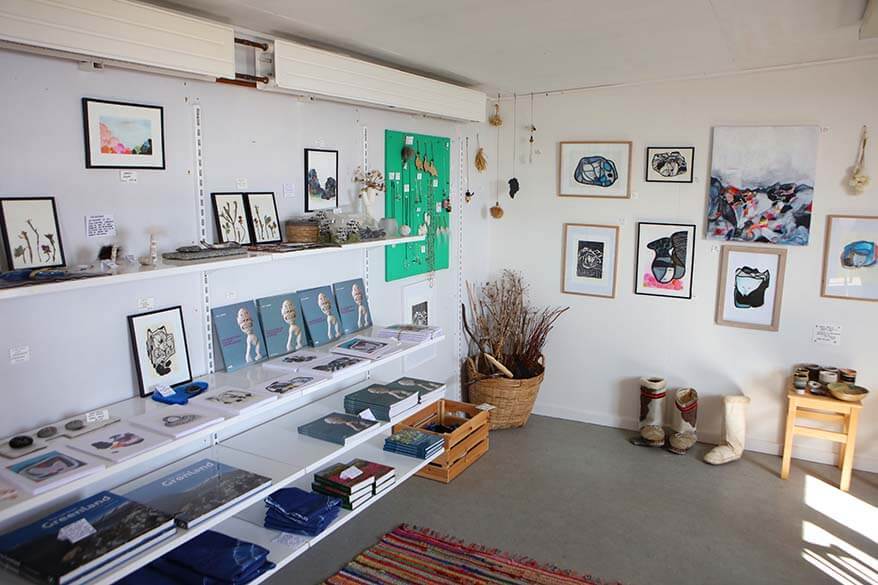 Meet the Locals
Qeqertarsuaq is a small town and if you take the time to explore a bit deeper, it's possible to get at least some idea of what life is like here. As I mentioned, not many locals speak English, so it's not always simple to communicate, but most people we met are really friendly and a smile can go a long way. Still, it's definitely easier if you have an English-speaking local guide with you…
We arrived in Qeqertarsuaq on a Saturday and, by complete coincidence, witnessed a local wedding. It was so interesting to see all the colorful traditional costumes. They are all made by hand and some take years to complete… It was also fun to see people cheering loudly and throwing lots of rice at the newly married couple as they left the church.
Our guide asked the family if we could hang around a bit and take some pictures. Witnessing this traditional wedding celebration was one of the highlights of our visit to Disko Island.
We were told that any serious life event in Greenland is celebrated with fireworks. And indeed, precisely at midnight, there were fireworks to celebrate the wedding.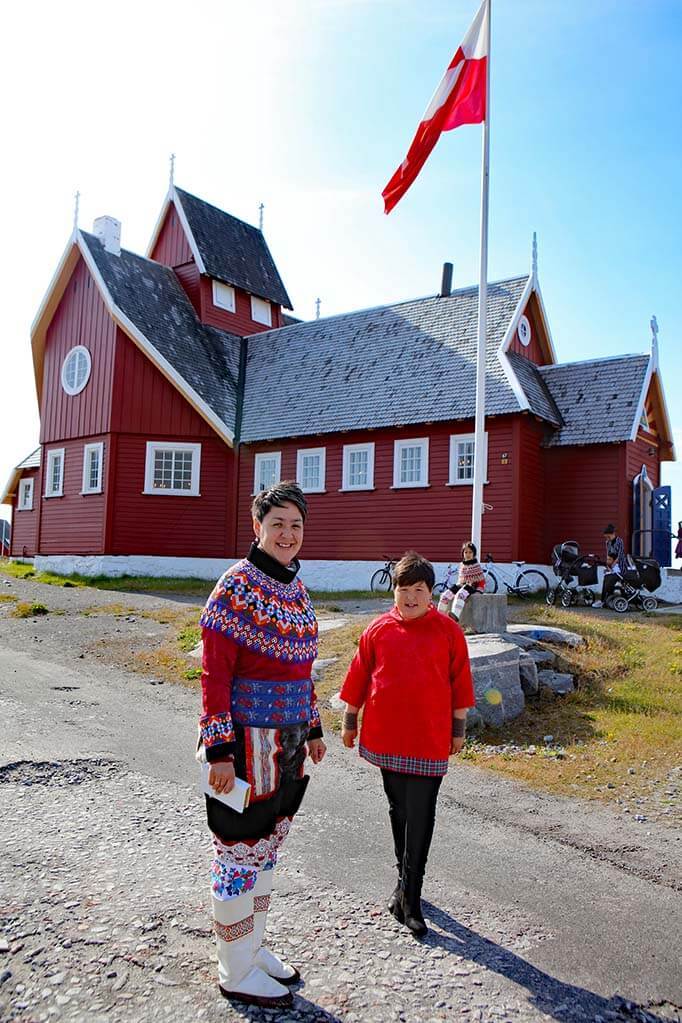 Visit Qeqertarsuaq Museum
Right at the harbor, inside the former house of the bailiff for North Greenland, you'll find the Qeqertarsuaq museum. It's a small museum dedicated mostly to the history of the area and its key location and significance in whaling and trade in the region.
The museum is open in summer months (June to August), from 10 AM to 3 PM. During weekends, it's open from 11 AM to 2 PM. The rest of the year – depending on the local program and any special events.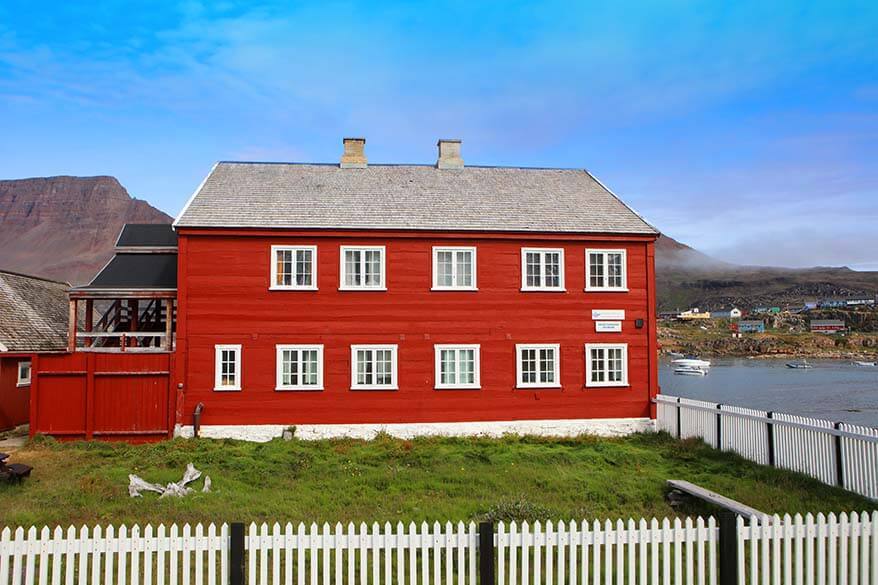 Watch Icebergs & Whales on the Black Sand Beach in Qeqertarsuaq
If you walk to the eastern side of town, in the direction of the Arctic Station, you'll pass a beautiful little bay with a long black sand beach. This was one of our favorite places in Qeqertarsuaq!
In the distance, you can see floating icebergs and often, you'll also find big chunks of ice washed ashore laying on the beach. There are several picnic tables here and it's a really nice place to spend some time.
Because the waters here are somewhat warmer due to the hot springs on the island, this area is rich in fish. That attracts lots of whales too. This beach is a perfect place to see whales from the shore and we spent a lot of time here.
Whales are quite easy to spot in Greenland because they are always followed by flocks of birds. The birds are trying to catch fish that whales push to the surface. So if you see lots of birds above the water, it's usually a sign that whales are around.
TIP: Dress warm, take a thermos with some tea and a picnic, and go whale spotting here.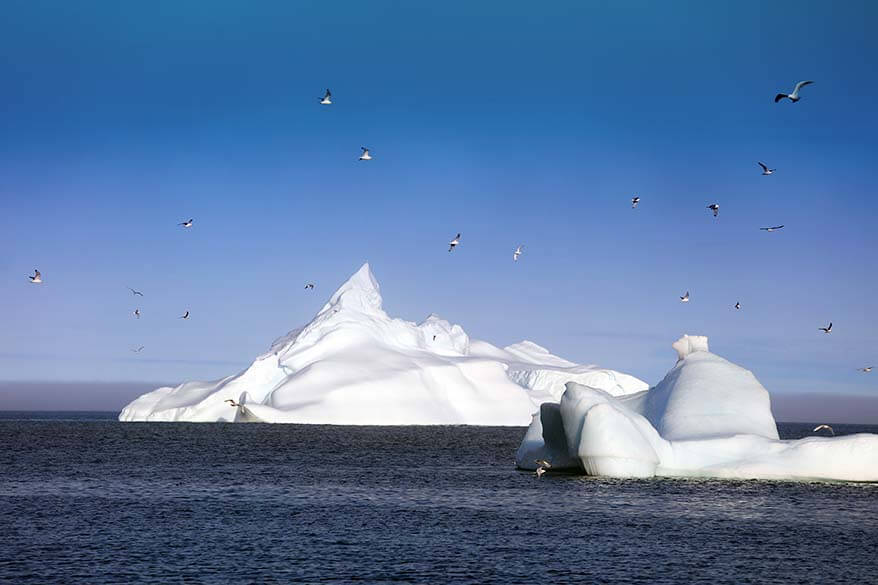 Hike to Kuannit
The area around Qeqertarsuaq is ideal for hiking, but there are just a few somewhat marked trails. One of the very best hikes and one thing that you absolutely have to do in Qeqertarsuaq is the hike to Kuannit. Even if you are visiting Qeqertarsuaq for just a day, make sure not to miss it!
Kuannit gets its name from the Angelica plant 'kvan' that grows towards the end of the hiking trail. Angelica is a type of wild celery that can only grow in this area thanks to the hot springs. This plant has traditionally been one of the most important sources of vitamin C in Greenland and it is still used a lot today.
In fact, we tasted some Angelica and our guide also picked some plants to bring to the hotel restaurant. In the evening, we tasted a delicious angelica sorbet for dessert.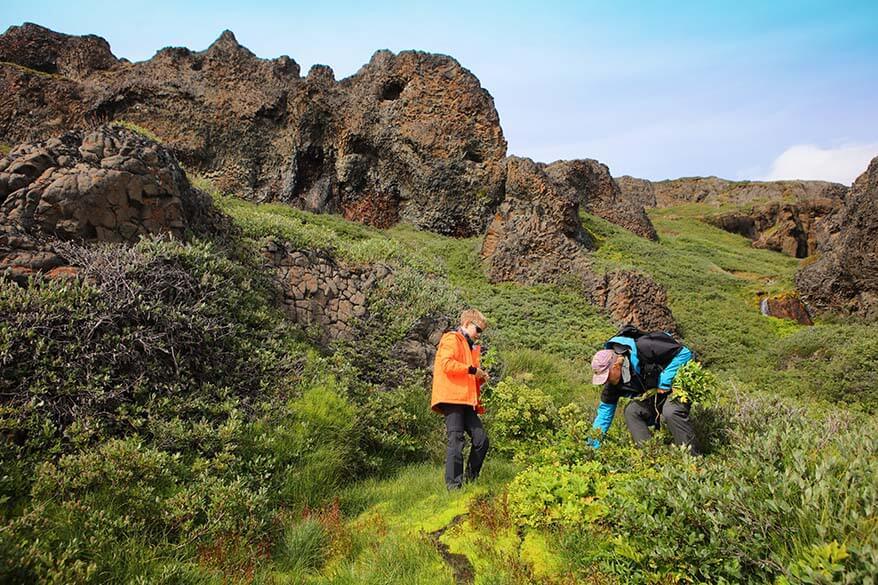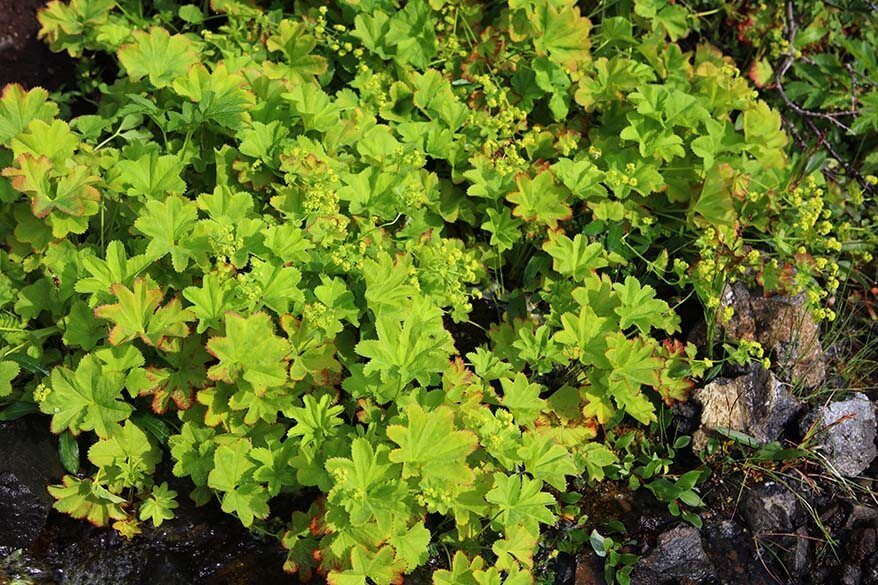 Besides its hot springs, fertile land, and Angelica plants, the Kuannit area is also known for its impressive basalt columns and stunning coastline. There are a couple of nice waterfalls along this hike, and the views are amazing the entire time.
As you hike, you can always see icebergs in the sea below and if you are lucky, you can spot some whales too… Taking this hike is the best way to explore some of the most diverse scenery of Disko Island.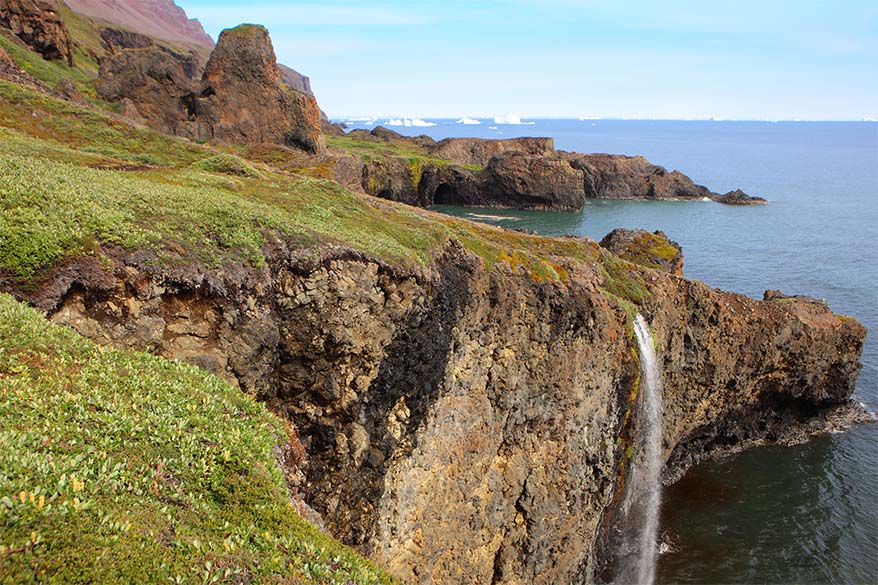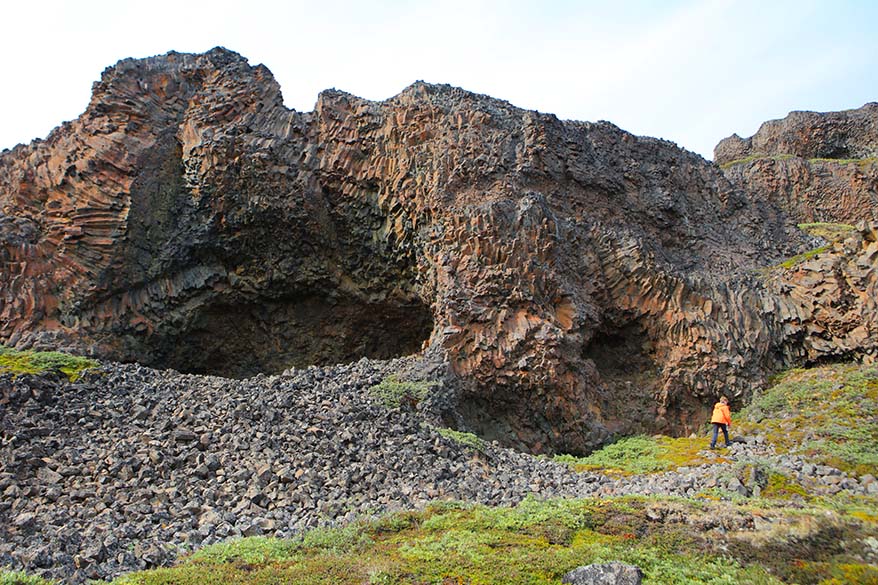 The landscape at Kuannit is so beautiful that no pictures can do it justice. It's a unique place, like nowhere else we have been before. To me, the Kuannit hike was like the very best scenery of South Africa, the Azores, Iceland, and Greenland in one place. Must do!
Practical information: Kuannit is a relatively easy hike that will take you 1,5-2 hours one way (count 3-4 hours total hiking time from town and back). It starts on the eastern side of town. Walk past the football field, the Arctic Station, and the camping, cross the bridge and continue northeast along the clear path. Alternatively, you can ask for directions at the hotel or ask them to arrange a guide for you. Further below, you can also see a picture of the hiking map.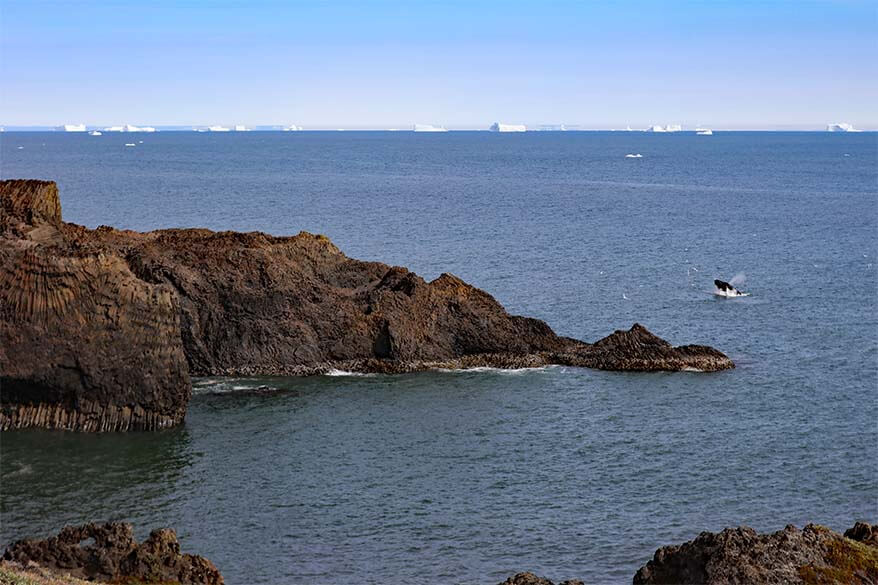 Hike to Qorlortorsuaq (Waterfall)
If you don't have the time to do the entire Kuannit hike, you can also just hike part of it and see Qorlortorsuaq, 'the big waterfall'. This hike is really easy and shouldn't take you more than an hour one way.
As you leave the village going eastwards and past the camping and the Arctic Station, you will cross a bridge over the river, 'Røde Elv'. This area is called Blæsedalen. The hike to Kuannit continues further, but there is also a path following the river northwards. Turn left here and continue for 10-15 minutes till you'll reach a waterfall. The river is very strong here – an impressive sight, just be careful and keep a safe distance.
This area reminded us of the highlands of Iceland. Nothing like I imagined to find in Greenland, but simply stunning!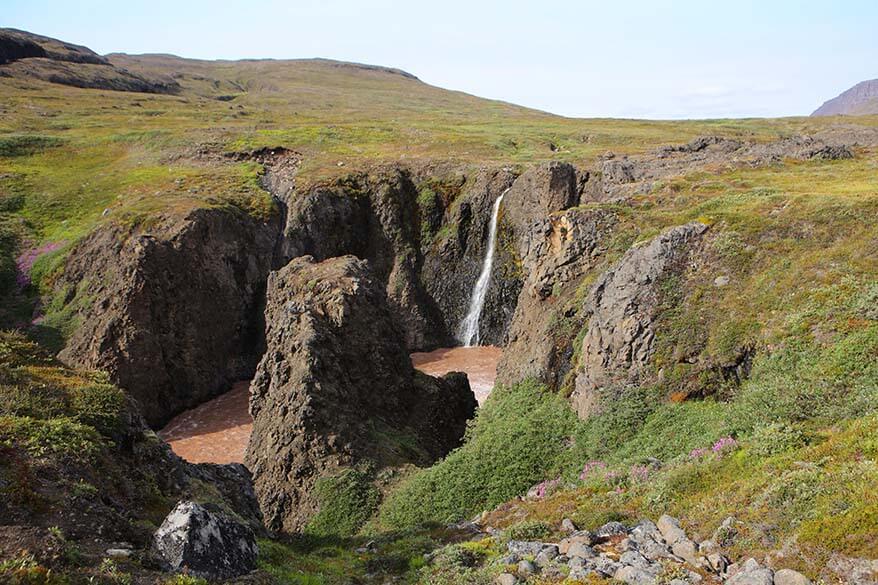 Practical information: This is an easy hike of about 1 hour one way, but it's also very easy to combine with the Kuannit hike and do the two together. Below, you can see the map with the two hikes indicated on it.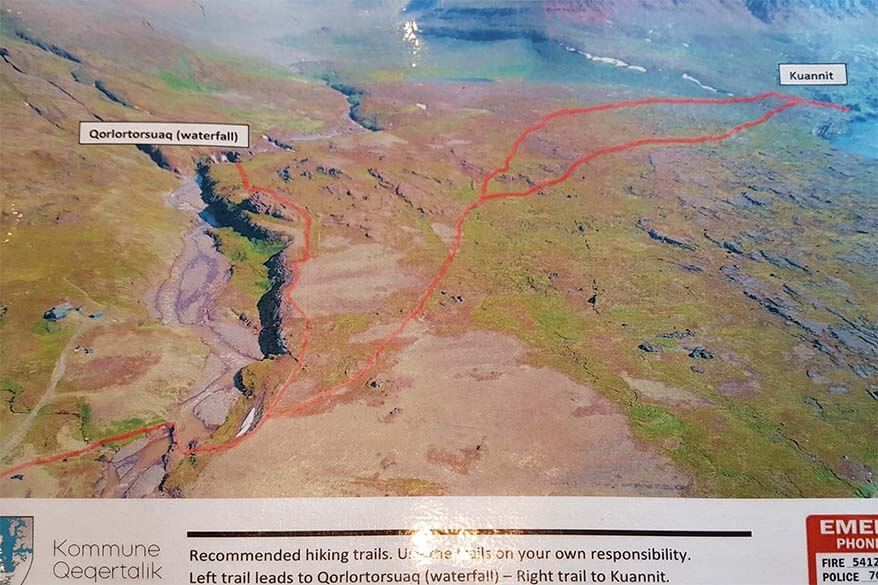 Hike to Quaqqaliaq Lookout Point at Udkiggen
Probably the shortest and the easiest hike in Qeqertarsuaq is that to Quaqqaliaq lookout point in Udkiggen.
Udkiggen is a cape, situated in the most southwestern point of Qeqertarsuaq. From here, you should have a great view of the Southern part of Disko Bay and it's another great spot to watch whales.
I have to admit that we never made it to this place, so I cannot comment on it from first-hand experience. I think it's nice to do if you want to go for a short walk or if you find the other hikes too long or too strenuous.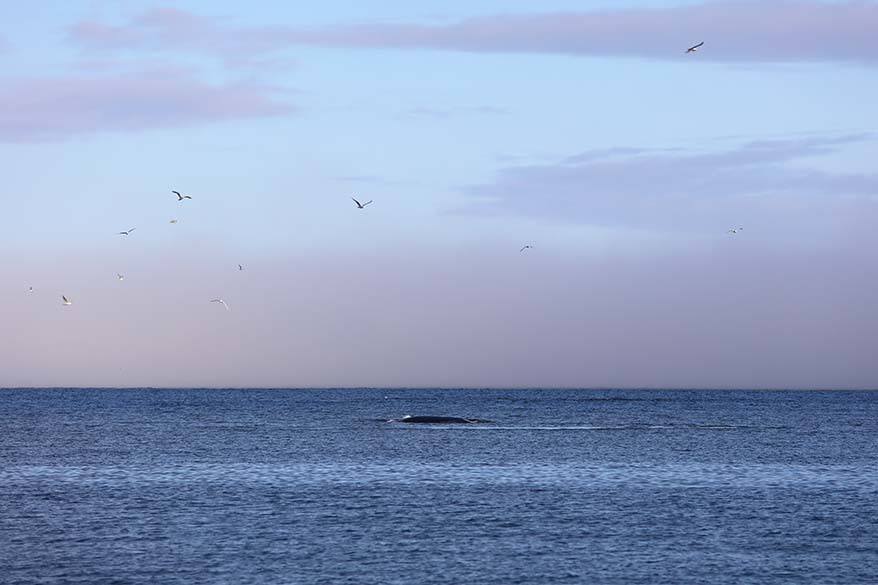 Practical information: Follow Arfivik road in the south of town, and from there, look for a hiking trail leading towards the sea. Below, you can see a picture of the map with the suggested hiking trail. See the map for the location.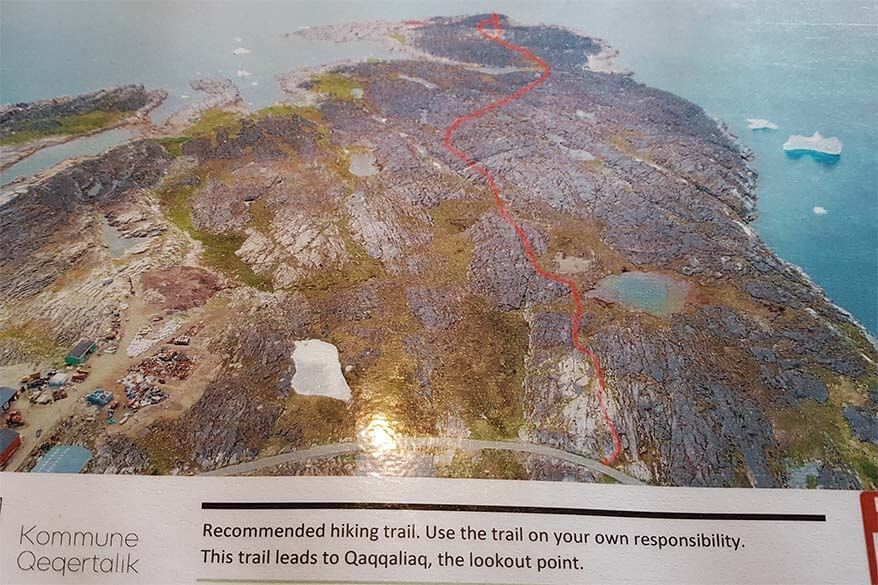 Hike to Lyngmark Glacier
Together with the Kuannit hike, hiking to Lyngmark Glacier is one of the very best things to do in Qeqertarsuaq. This is one of the glaciers of Disko Island, and it's located on top of the mountain, just above the town.
Keep in mind that this is a strenuous hike and you should count pretty much the entire day if you decide to hike up. When you see the mountain, it looks really intimidating, but it is doable for people in regular physical condition.
My 10-year old son hiked to Lyngmark Glacier with me and, while it wasn't easy, we both managed just fine. Going down is easier on your heart, but it's quite steep and there are lots of loose stones, so it's equally challenging.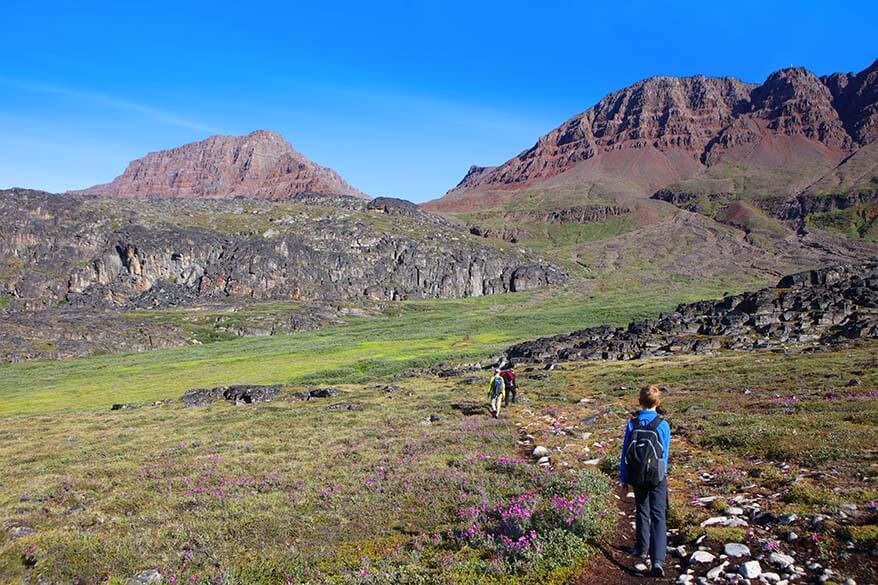 The hike starts with lush green landscapes and as you cross several mountain streams, you would almost think you're hiking in the European Alps… As you start to climb, the views are absolutely incredible.
The entire Southern Disko Bay is at your feet with countless icebergs all around you. If you stop for a second and listen well, you can hear calving glaciers tens of kilometers away. It's also possible to spot whales from here…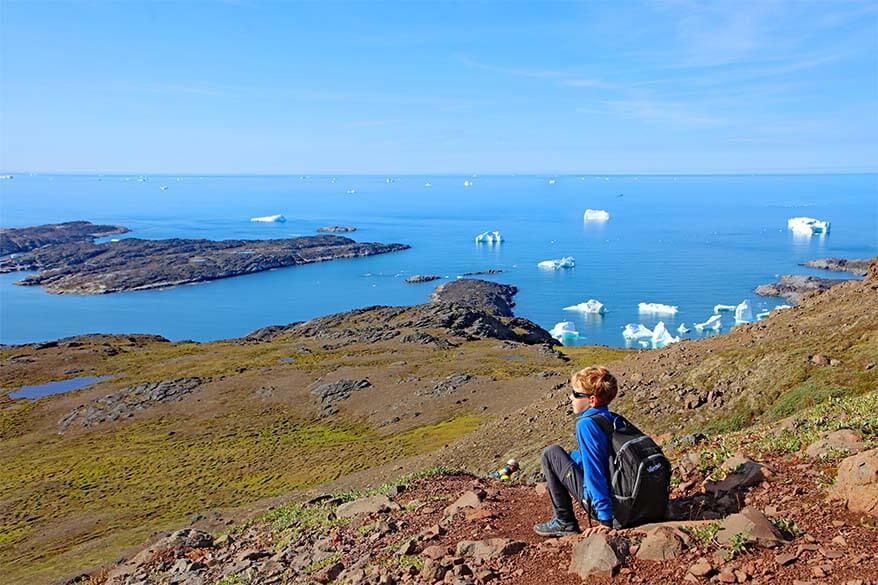 Lyngmark Glacier itself is suffering from climate change and it's becoming smaller every year. Once you finally reach it, it doesn't look anything like most glaciers I've seen before. It looks like a huge ice cap and it's interesting to see how all kinds of minerals have colored the snow in a variety of grey and pink shades…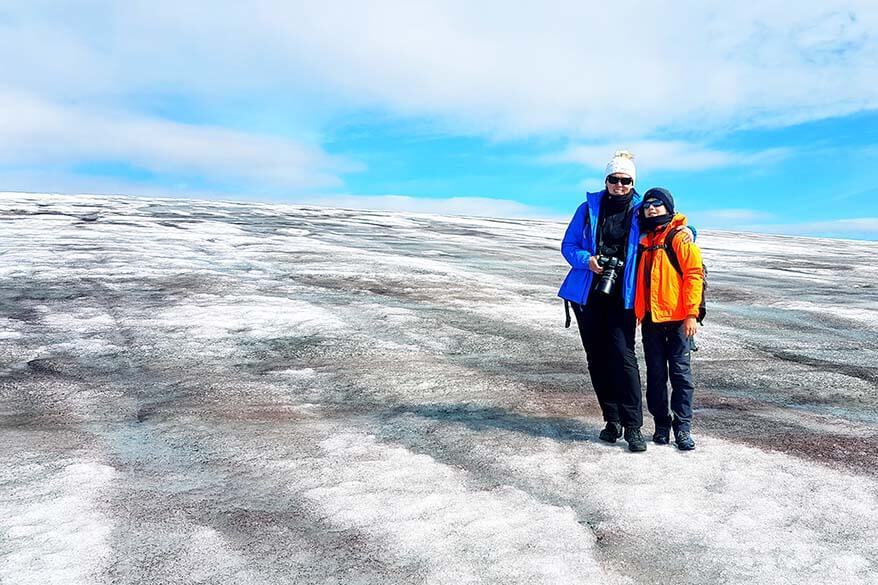 Practical information: This is a strenuous hike with an altitude change of approx. 800 m (2,600 ft). It takes at least 2,5 hours one way. It took us 3 hours to reach the top and then another half an hour to get to the blue cabin by the glacier. You will need good hiking shoes and hiking poles would help too.
I think this is a summer hike only. When we visited, the hotel ran tours here between 15 June and 15 August.
There are bathroom facilities at the blue hut that belongs to the Hotel Disko Island. They call this hut Disko Mountain Lodge and it's possible to stay here overnight here if you like to. Accommodation is really basic, but I'm sure it's a very special experience. We opted for a day trip that included dog sledding and didn't sleep here.
We did this hike as a tour that included dog sledding and lunch. If you hike to Lyngmark Glacier on your own, make sure that you have plenty of water, food, and snacks with you.
The hike is indicated, but it's not that easy to find it in the beginning. I recommend that you do it with a guide from the hotel. Otherwise, make sure to ask them for a map and directions.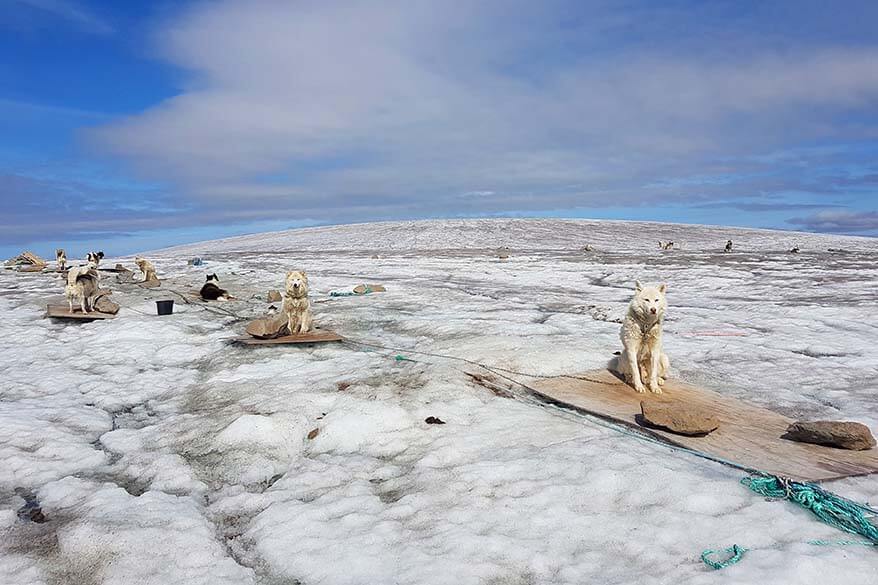 Go Dog Sledding on Lyngmark Glacier
As already mentioned, Lyngmark Glacier is the only place in Greenland where you can go dog sledding in summer. However, the glacier is melting so quickly that it's really uncertain if this will still be the case in the future…
It's also not easy for the dogs – if there is no snow, they can really hurt their feet on the ice. So the future of dog sledding on Disko Island in summer is uncertain.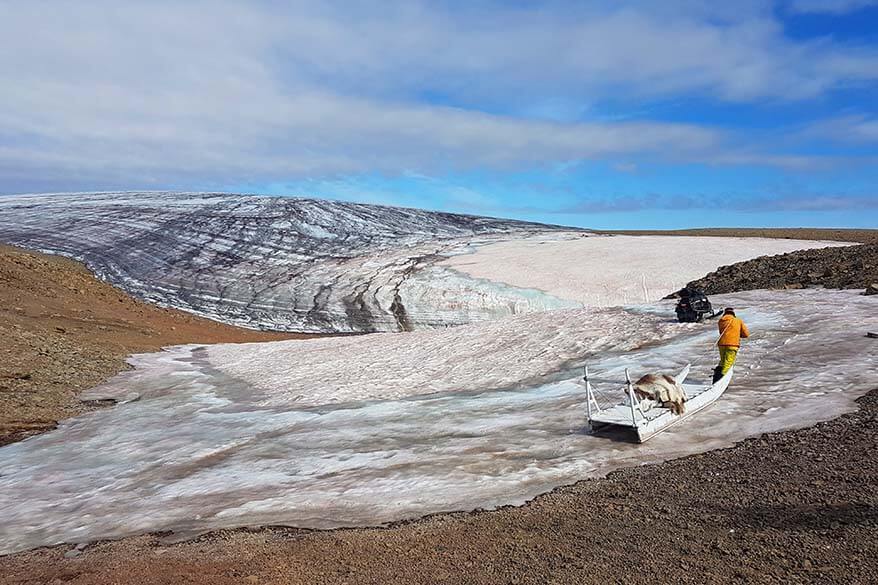 Dog sledding on Disko Island was very different than e.g. dog sledding in Norway. In Greenland, they use working dogs and traditional wooden sleds that are quite big and heavy. It's less glamorous and less comfortable, but it somehow felt more authentic, I suppose. It helps you understand just a little bit better how locals travel around here in winter and how sled dogs are an essential part of life in the Arctic.
To us, it was a way to experience a more authentic side of Greenland. But next time, I would only do this in winter when there is plenty of snow.
That being said, the hike up to Lyngmark Glacier is well worth it, even if you don't go dog sledding. It's a great way to see yet another side of the incredibly diverse Disko Island.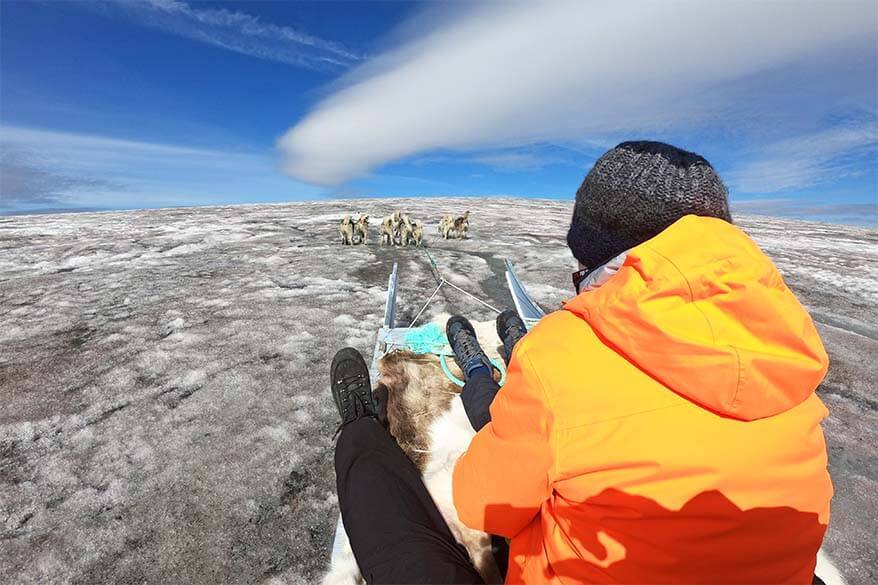 Take a Boat Tour
A great way to explore the beautiful coastline near Qeqertarsuaq is by taking a boat tour. It's also a wonderful opportunity to see whales from close by.
I spoke to a family from Denmark who took a boat tour in Qeqertarsuaq and they said it was absolutely beautiful and definitely worth it.
However, since tourism isn't really that developed on Disko Island yet, there are no regular boat tours that you can join. The hotel can arrange the boat tour for you, but you'll either need a group of 6 people or will probably have to pay the price of 6 people in order to be able to do it…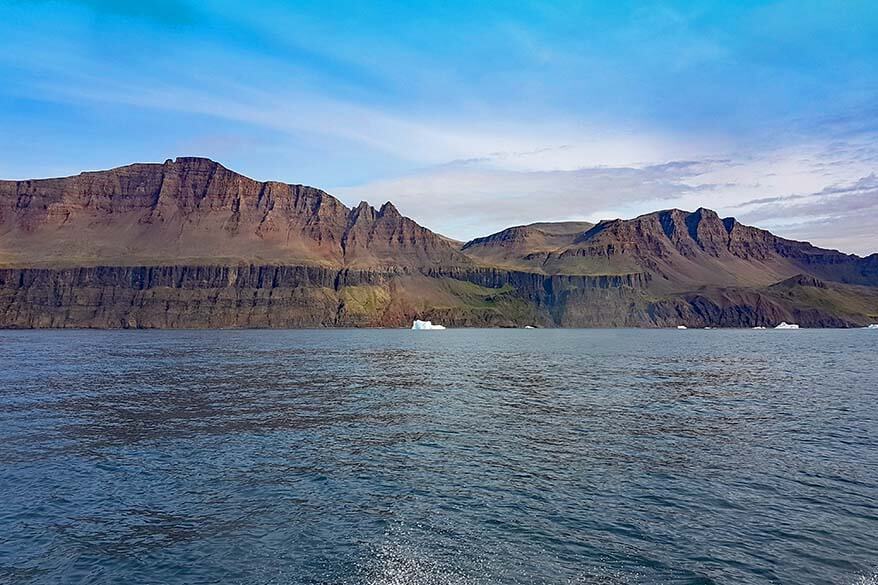 Rent a Mountain Bike
It's also possible to rent a mountain bike at the hotel and explore the area around Qeqertarsuaq by bike. The hotel guide told us that they are planning to develop some nice biking routes; but if that's not available yet, just ask for suggested routes at the hotel.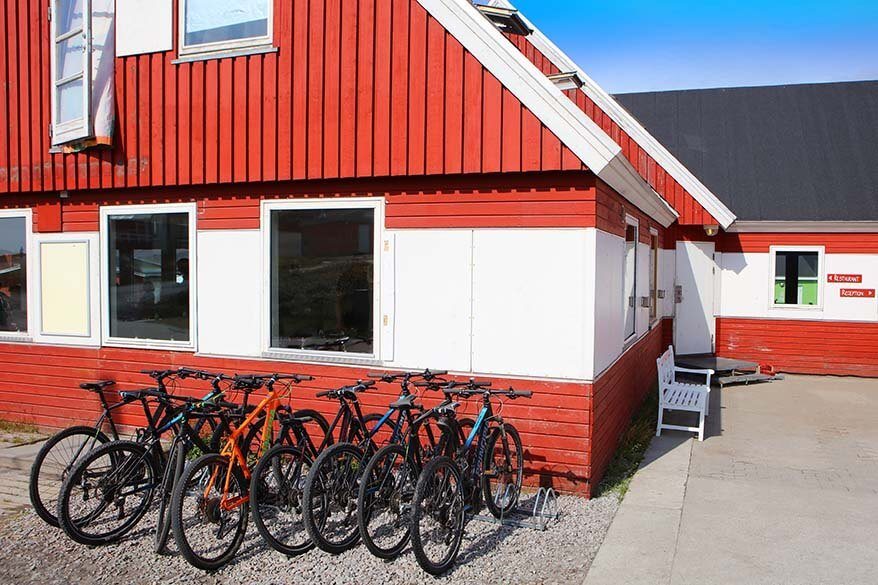 Watch a Football Game
It's almost surreal, but Qeqertarsuaq has a really nice football field on the outskirts of town. We passed it several times and there were usually some balls laying around and you could go and play some football. My son couldn't stand the temptation…
Sometimes there are football matches here, so if you're looking for something to do in the evening, go and see if there is a game…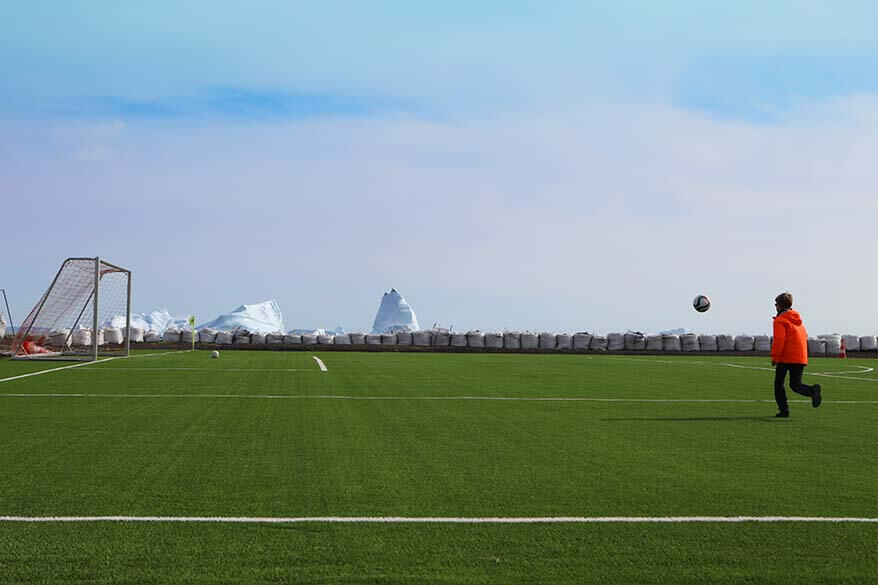 How to Get to Qeqertarsuaq
Qeqertarsuaq on Disko Island can best be reached by boat or by helicopter from Ilulissat or from Aasiaat, which is one of the major tourist hubs in northwestern Greenland. Ilulissat has an international airport with direct flights to Iceland and Denmark, but also to the other main towns in Greenland.
In summer, boats between Ilulissat and Qeqertarsuaq or Aasiaat and Qeqertarsuaq run every day, several times a day. The direct boat trip takes about 1,5-2,5 hours one way and it's an incredibly scenic ride between the icebergs of Disko Bay. In low season, boat trips are still possible (weather-dependent), but not as regular.
In the colder season, when the sea is frozen or weather conditions are too dangerous for a boat trip, you can reach Qeqertarsuaq by helicopter. The flight times vary depending on the number of stops at other settlements in the area.
Good to know: There is just one company that operates boats and helicopters in the region – Disko Line. You can find the boat and the helicopter schedule, as well as prices and other practical information on their website.
TIP: The boats are quite small and take just about 12 passengers, and they are often fully booked. So make sure to book your trip to/from Qeqertarsuaq well in advance, especially if traveling in summer. Also, be prepared for delays or even cancelations. It's essential to always leave sufficient time (a day or even two extra) for all your other travel connections. This is the case when traveling anywhere in Greenland, no matter the season.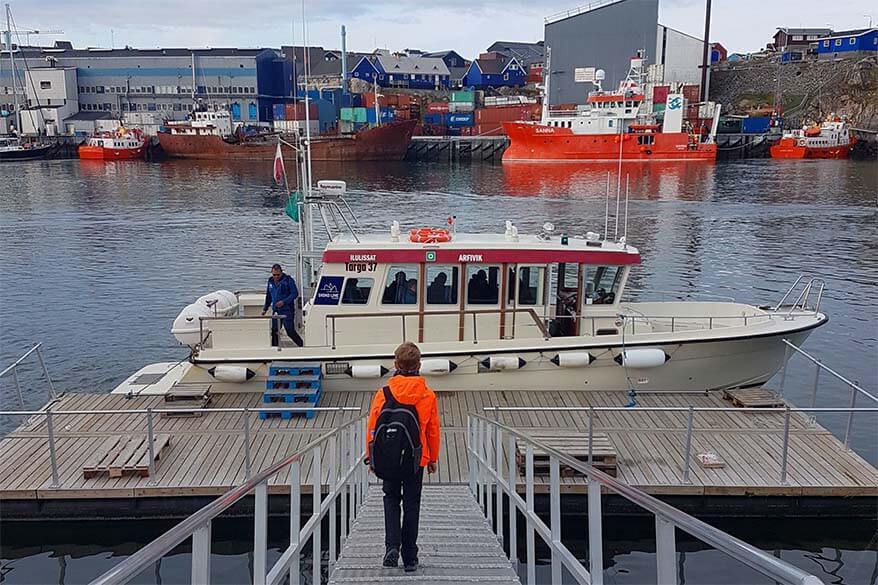 When to Visit Disko Island
Qeqertarsuaq on Disko Island can be visited the whole year-round. That being said, if you want to enjoy everything this place has to offer, the best time to travel to Disko Island is in summer. Needless to say that most hiking trails won't be accessible in winter…
Furthermore, the days are endless in summer and this allows you to see a lot in a short time. Make sure to stay up really late at least once – seeing the midnight sun is an incredible experience in itself!
The high season on Disko Island is approximately from June 15 to August 15. So if you are traveling in this period, make sure to book your accommodation and boat transfers to the island long in advance. If you are planning a last-minute trip, visiting just before or right after this period might make things a bit easier.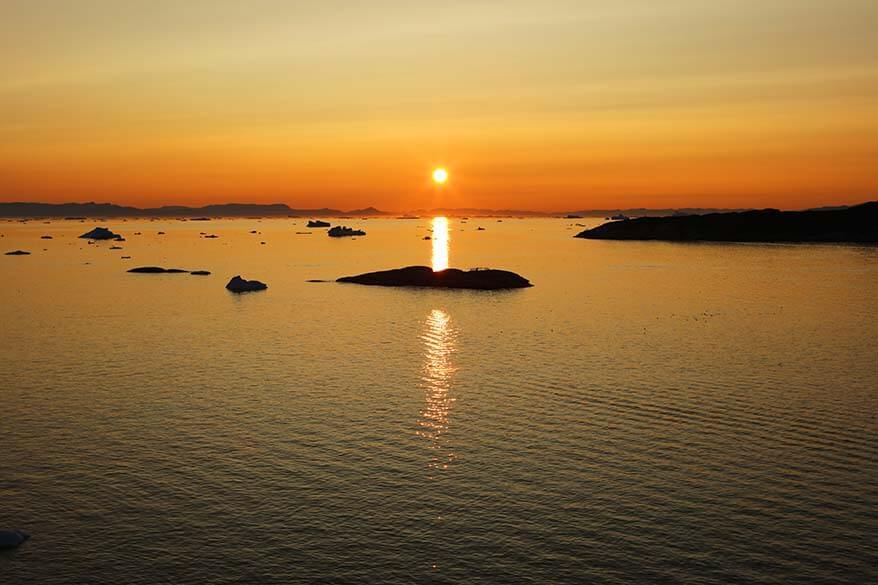 Where to Stay in Qeqertarsuaq
As already mentioned, at the moment, there is just one hotel in Qeqertarsuaq – Hotel Disko Island. It's quite simple but the rooms are comfortable and clean. There are 21 double and 5 single rooms, with private or shared bathrooms. Also, they told me that it would be possible to add an extra bed and accommodate three people in a room as well.
The hotel is spread out over five different buildings. The building we stayed at had a nice common area with a small kitchen. From what I understood, there were kitchens in the other buildings as well. So if you want to prepare your own meals, you can buy some food at the supermarket and cook at the hotel.
In addition to hotel rooms, there are also hostel rooms that are run by the same owners. In summer, you can also book a stay in their Disko Mountain Lodge at the nearby Lyngmark glacier (it requires a 3hr hike).
Breakfast is included in your hotel stay, and you can also have lunch and dinner at the restaurant (see below).
Good to know: Hotel has wi-fi, but it's quite expensive.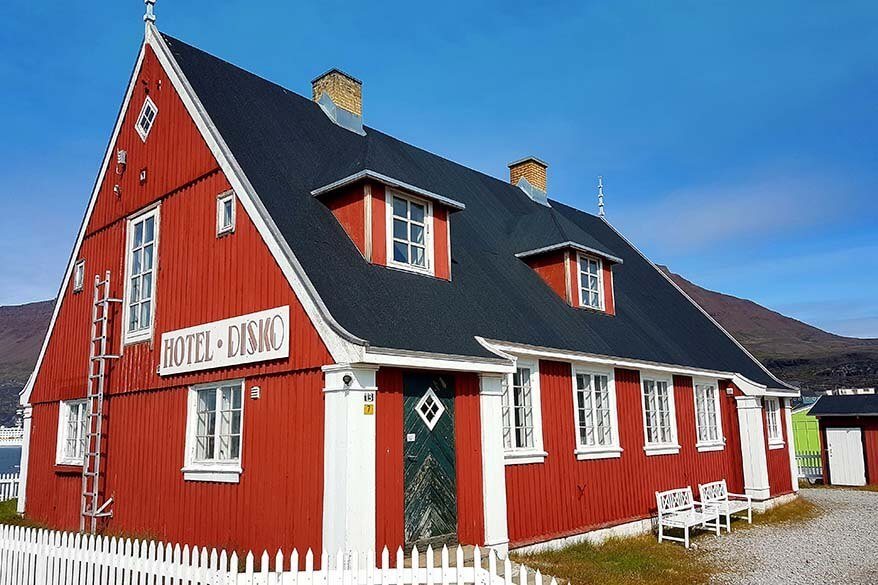 Where to Eat in Qeqertarsuaq
When we visited Qeqertarsuaq, there were just three options where you could get some food in town – a hotel restaurant, a tiny café, and a supermarket.
Hotel Disko Island has been taken over by a bigger group that also owns a hotel in Ilulissat and the new owners are doing an excellent job. The newly opened restaurant at Hotel Disko Island has a very good chef and the food served here is of the highest standard.
The choice isn't huge, but usually, you can choose between two-three main courses, several appetizers, and deserts. Dining here was like going to a fine restaurant anywhere in Europe. I never thought that we'd find such amazing food in such a remote place where getting fresh ingredients isn't that straight-forward…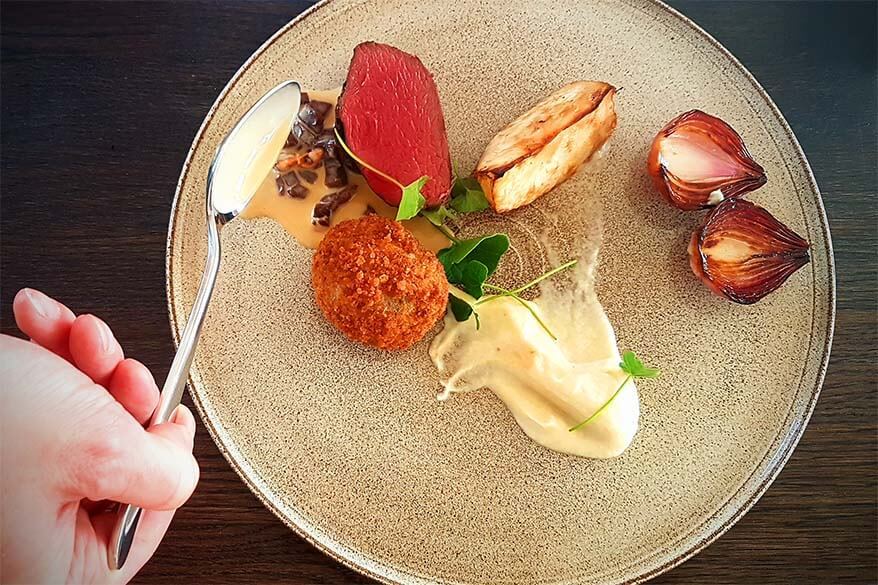 Blue Café is the only cafe in Qeqertarsuaq, but their menu is really limited. You can only get some smoothies and small snacks here. Our hotel guides (young students from Denmark) told us that there is just one thing worth having there, and that's nachos.
So one day, we went to try this local specialty. We were the only tourists at the Blue Café and indeed, all the locals were eating nachos and drinking smoothies. So we gave it a try as well, and I have to say that it was really good.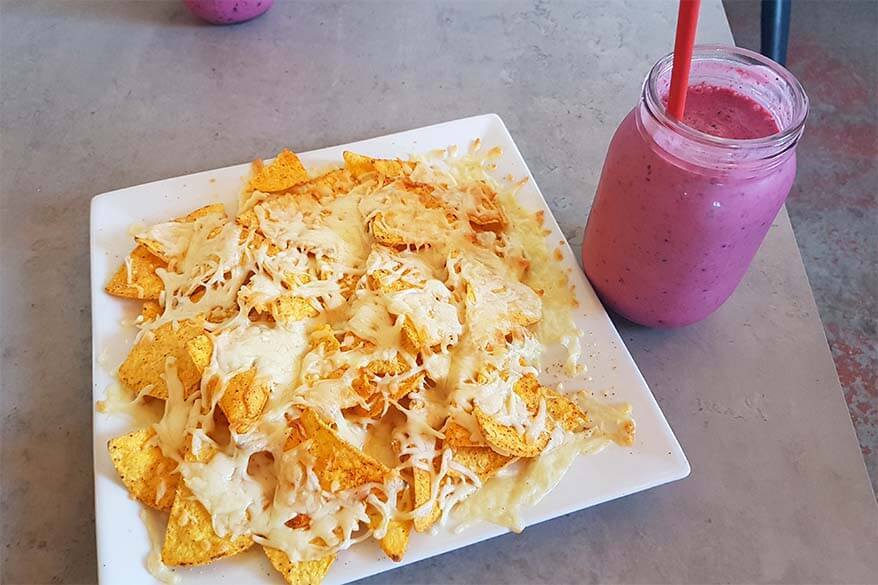 The only other place to get food in Qeqertarsuaq is the local supermarket. You'll find plenty of options here, including freshly baked bread and even some fruit. Selection is actually quite big taking into account how remote Disko Island is.
As already mentioned before, you can use a kitchen at the hotel to cook your own meals. Quite some people, especially the ones traveling on a limited budget, were doing just this.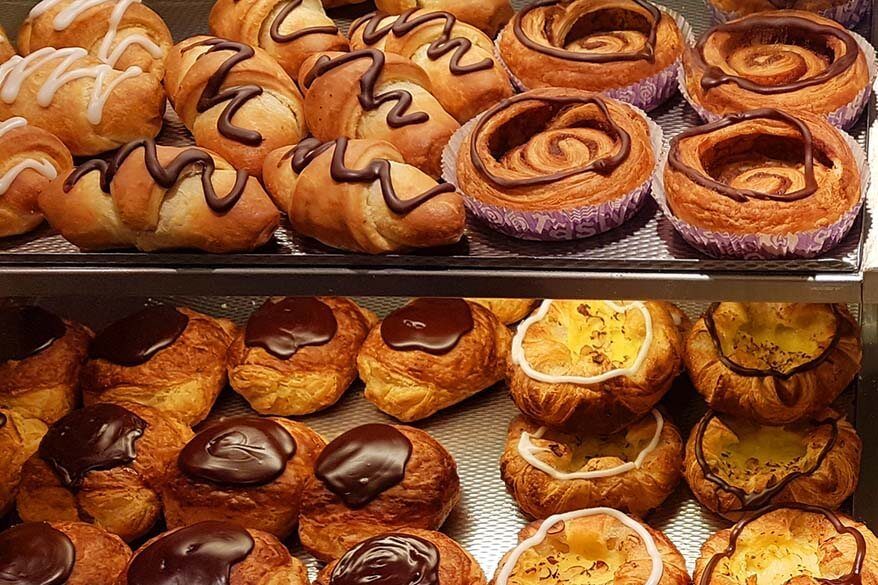 How Much Time Do You Need in Qeqertarsuaq
If you want to see and explore most of what Qeqertarsuaq has to offer, you'll probably need at least 2-3 days on Disko Island. Taking into account that you can expect boat delays, I suggest booking at least 2-3 nights in Qeqertarsuaq.
That being said, you can also get a good idea of what Qeqertarsuaq is about in a day, or you can spend a week here. We met people who were visiting Qeqertarsuaq by cruise ship for just a day, but we also met people who were spending their two-week holiday here with a 3-generation family…
We ourselves planned to spend 3 nights in Qeqertarsuaq, but due to a canceled boat, we had just 2 nights on Disko Island. Talking about boat cancelations, ours was the first one in more than two months this summer. So it's not that common, but it does happen…
2 nights/ 3 days on Disko Island was just enough time to get a taste of what this place is about, but I wish we had a day extra to explore deeper or simply have a picnic and watch the icebergs and whales a bit longer…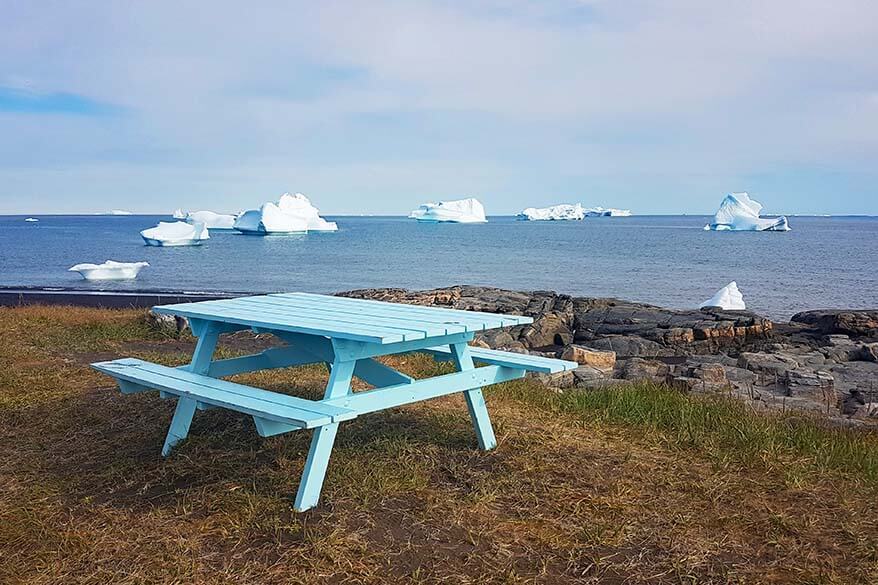 So, this is our guide to visiting Qeqertarsuaq on Disko Island. I hope that it inspires you to visit this beautiful little place and to explore it a bit deeper. We had no idea what to expect when we visited Disko Island and it turned out to be amazing.
We loved this remote beautiful place that is like nowhere else we have ever been before. It's a real privilege to explore destinations like this! So if you can, get here before the rest of the world finds out and before it changes too much…
More tips for your trip to Greenland:
Have you been to Qeqertarsuaq and want to share your experience? Or are you planning a trip to Disko Island and didn't find an answer to your questions? Feel free to leave a reply below!
If you found this post useful, don't forget to bookmark it and share it with your friends. Are you on Pinterest? Pin this image!