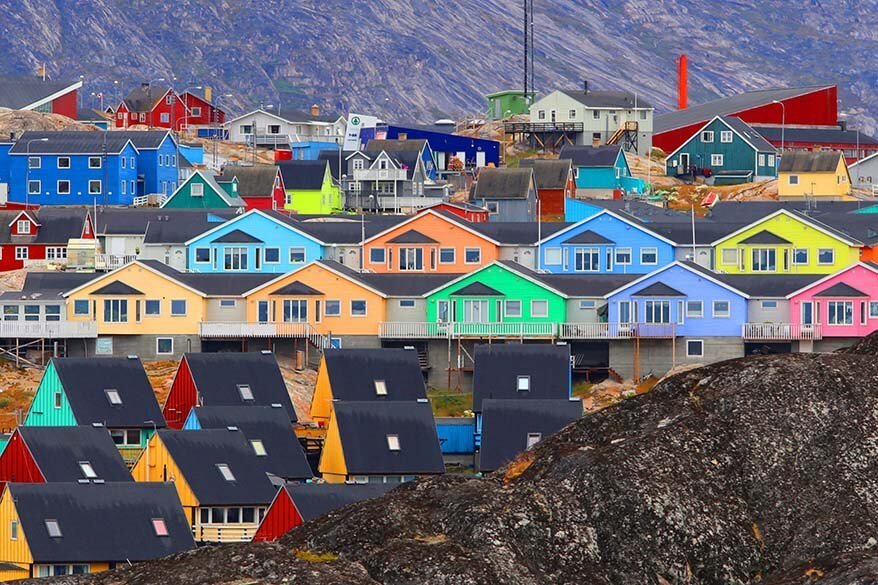 Ilulissat is one of the most popular tourist destinations in Greenland. Once you decide to visit and figure out what you want to see and how long to stay, the next question is where to stay in Ilulissat or what the best (located) Ilulissat hotels or accommodations are?
In this article, we share our experience-based tips on the best places to stay in Ilulissat and things to consider before you book. In addition, you can find an overview of all Ilulissat hotels, with advantages and disadvantages of staying at each of them. Find out!
TIP: Most Ilulissat hotels and accommodations are fully booked during the high season from June to September. So, if traveling in summer, book your accommodation well in advance (and check for availability before even booking your flights!).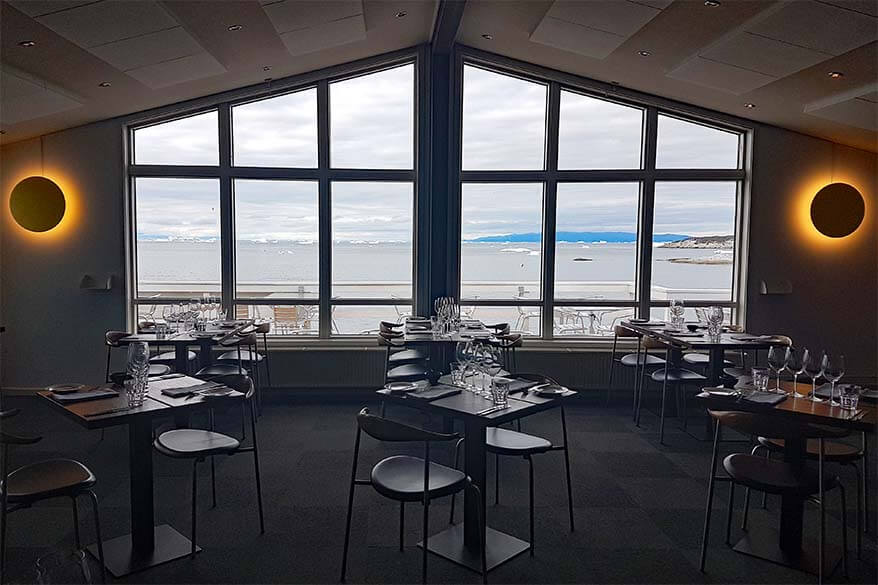 Things to Consider When Deciding Where to Stay in Ilulissat
Ilulissat might look like a small town, but it's really spread out. There are a few hotels in Ilulissat, and also quite some privately-rented accommodations and Airbnb's, but they are scattered all over the place… In addition to location and getting around, there are some other things to consider when choosing where to stay. Take a look below!
Location
Location is one of the most important things to consider when looking for Ilulissat accommodation. First, you should really look for a place that offers sea views. Ilulissat's incredible location overlooking the Disko Bay and near Ilulissat Icefjord is what makes staying in Ilulissat so special. It would be a shame not to take advantage of that!
Just imagine how it feels when you see whales from your room window first thing in the morning. And you can literally spend hours sitting on a terrace and watching the ever-changing scenery with icebergs drifting by… In summer, you can watch midnight sun and in winter – Northern Lights – straight from your hotel room! This is what will make your stay in Ilulissat so much more special and memorable, so don't underestimate the importance of having a room with a view!
Furthermore, the location of your accommodation can either save you money or cost you – not just money, but also frustration… Read on to find out why!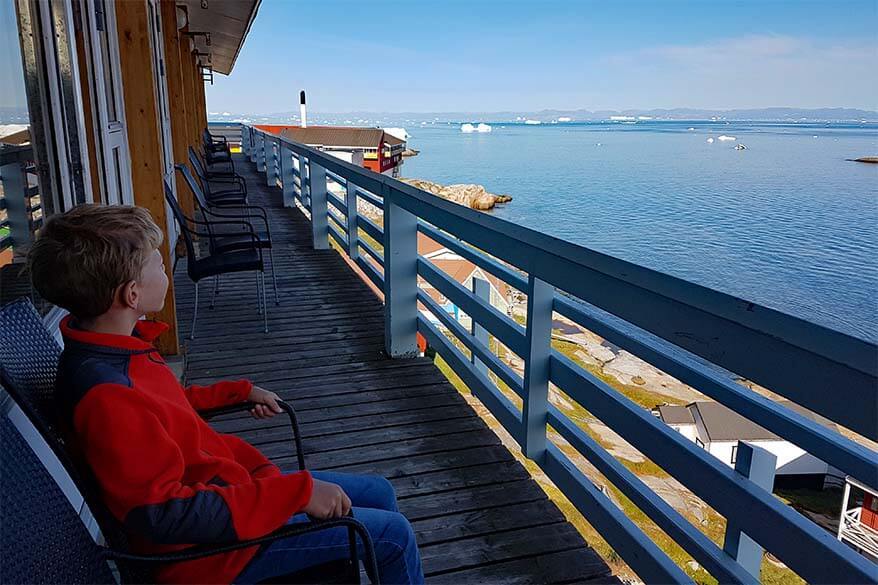 Transportation
When deciding where to stay in Ilulissat, you should research where your accommodation is located, whether there are restaurants or shops nearby, and if your accommodation offers (free) transfers.
Even if you are prepared to walk everywhere in town, consider that you'll need a transfer for you and your luggage to and from the airport (about 4-6 km from most hotels), or to/from a harbor if you take boat transfers to the other settlements.
Furthermore, you might want to dine at a different restaurant instead of staying at your hotel every evening. And, if you are renting a self-catering apartment, you'll also need to carry your groceries. In that case, you may want to look for a place that's really centrally located!
Good to know: While Ilulissat is quite 'walkable', the town is hilly. There are almost no pavements, and – if you want to take some shortcuts – lots of stairs to negotiate. It can take you half an hour or even longer to walk from your hotel to a restaurant, a supermarket, or to a tour company in the center of town…
There are a couple of taxis in town, but they might be really tough to reserve during peak times. Also, the taxis in Ilulissat are quite expensive (count at least 100 DKK – 15 EUR for a ride anywhere; more for longer distances). Furthermore, you'll probably need to call them several times, which might result in some really high phone charges if using your cell phone.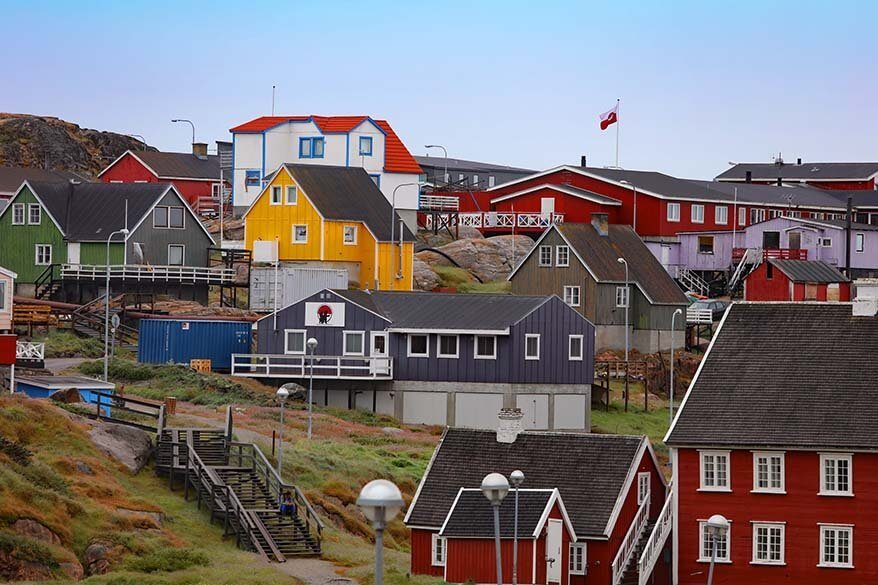 Season
The season in which you travel might also be a deciding factor when deciding where to stay in Ilulissat. While you might be ok walking big distances in town in summer, you might be much more reluctant to do that when it's dark, cold, and slippery…
Wi-Fi
Up to a few years ago, every hotel and restaurant in Ilulissat used to charge for Wi-Fi. Luckily, many Ilulissat hotels now offer free Wi-Fi to their guests. However, free Wi-Fi is still more an exception than the rule in Greenland. Many privately-rented places don't have Wi-Fi at all, and the ones that do, often charge really high fees for using it. Restaurants in Ilulissat also charge for Wi-Fi.
Food
Some Ilulissat hotels offer free breakfast, while at some others, you have to pay for it. Most hotels have restaurants, but the quality of food varies greatly from place to place. Some restaurants offer world-class cuisine with fantastic food, but there are also places where the food is mediocre at best.
It's usually possible to dine at a hotel restaurant even if you are not staying there. Just keep in mind that – at the best restaurants – you have to reserve a table for dinner at least a few hours in advance, especially in summer.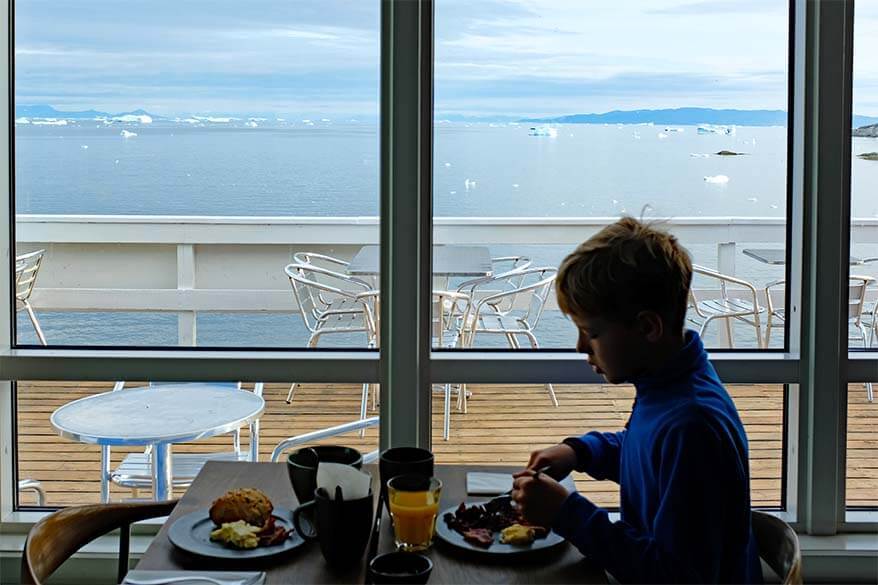 Ilulissat Accommodation Price & Things to Keep in Mind When Comparing
Ilulissat hotel prices (for 2) in the high season range from about 150 EUR for a simple room with a shared bathroom at a budget hotel to 350-450 EUR for the most luxurious suites at the nicest hotel. A double room at most mid-range hotels in summer will cost around 200 – 300 EUR per night. Here you can find the best deals for hotels, b&bs, and apartments.
Many apartments and private rentals are also in the same price range as hotels, but there are also some better deals with prices starting at around 100-125 EUR per night. But you have to book a long time in advance because the cheapest properties are always sold out first.
When comparing Ilulissat hotel and accommodation rates, keep in mind the following:
Some hotels offer free airport/ harbor transfers. Some of them also have shuttles to town.
Some hotels include breakfast in their rates, while some others charge extra.
Most hotels in Ilulissat now offer free Wi-Fi, but it's not the case with most private rentals (and WiFi is very expensive if not included).
TIP: If you are traveling on a budget, consider visiting in the shoulder season – May or September, when accommodation prices are much lower. If you come during the rest of the year, it's even cheaper.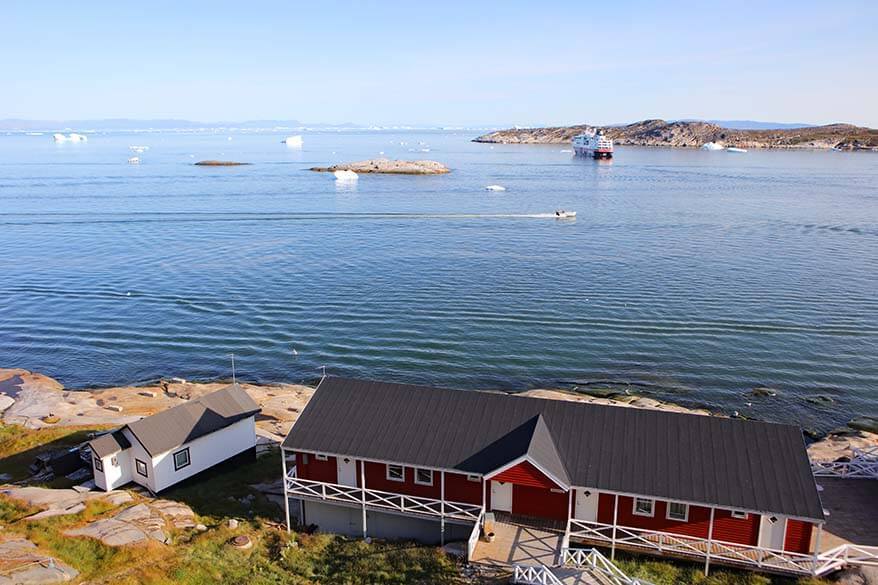 Now, let's take a look at Ilulissat hotels as well as the advantages and disadvantages of staying at each of them. I sorted the hotels by price, starting with the most expensive ones first.
Ilulissat Hotels
Hotel Arctic
The 4-star Hotel Arctic is the most luxurious hotel in Ilulissat. It's located a 20-minute walk from the center of town, about halfway between the airport and the town center. The building sits at the top of a hill, affording the most stunning views across the bay. A free shuttle service is provided both to and from the airport, and on an almost hourly basis into town.
The bright, modern rooms feature work from local artists and all have flat-screen TVs. Families are catered for, with a range of family rooms and suites, and cribs are available on request. Some rooms have mini-bars and exceptional views of the sea and icebergs.
The onsite Ulo restaurant – with its beautiful summertime terrace – offers a fine dining experience, where you can try the best of Greenlandic cuisine. Don't miss the snow crab! The restaurant also serves breakfast, brunch, and lunch, with packed lunches available on request.
The hotel has a fitness center and a conference room, and offers a variety of specialist massages, all available at an additional cost.
There is a range of other amenities for your convenience, including private parking, car rental, onsite currency exchange, free wifi, and even a flight check-in service! Since many guests are checking into flights as they check out of the hotel, this can make the check out queues long, so allow yourself plenty of time.
Advantages: beautiful modern hotel, amazing views (make sure to book a room with sea view), free transfers, free Wi-Fi, excellent restaurant, and breakfast is included. This is also one of the few hotels in Ilulissat with an elevator and facilities for disabled guests.
Disadvantages: the hotel is located a bit outside of town, so you'll need to take a shuttle everywhere. It's the most expensive hotel in Ilulissat.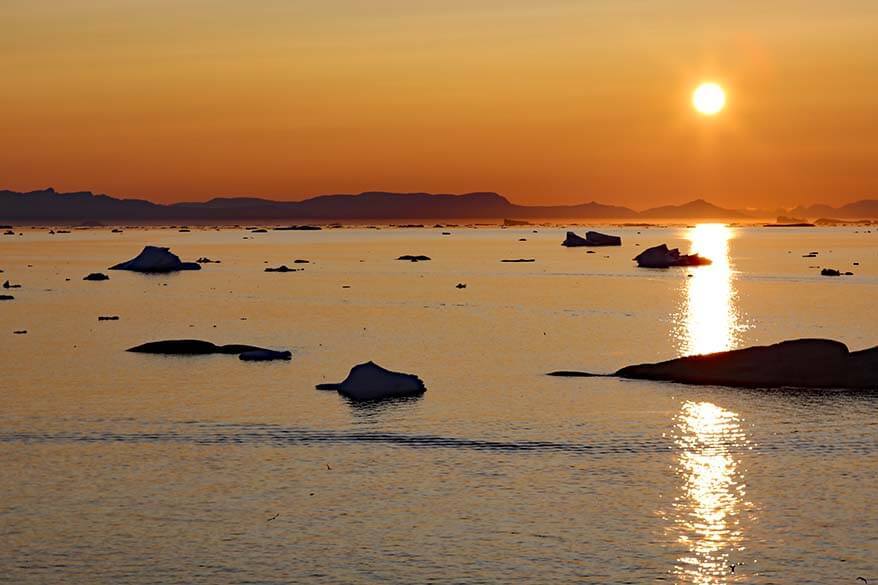 Hotel Icefiord
The modern, 3-star Hotel Icefiord situated on the edge of the fjord, offers some of the best hotel-room views in Ilulissat! It's here that we saw whales from our room several times! And it's not an exception. If you read customer reviews, you'll see that many guests report seeing whales directly from their rooms as well.
The rooms are modern, spacious, and really cozy. All rooms are overlooking Disko Bay, but some have somewhat obstructed views. We had such a room and it was still amazing and the views were great. All rooms also have flat-screen TVs and there is family accommodation available, sleeping up to 4.
The hotel has its own bar and a very popular à la carte restaurant, which uses local ingredients wherever possible. While the menu may be limited, they have a different 'special' on offer every day. There is also a terrace right on the water, which is a lovely spot from which to watch the world (and icebergs!) go by! This must be the best-located bar and restaurant with the best views in Ilulissat!
The hotel is located somewhat outside of the town center. But – without having to carry luggage or groceries – everything is within a reasonable walking distance. The start of the yellow hiking route along the Ilulissat Icefjord can be found near the Power Plant, just a short walk from the hotel.
Free transfers to and from the airport are available and the hotel also provides free wifi, free parking, and onsite currency exchange.
Advantages: a beautiful modern hotel, spacious cozy rooms, phenomenal views, excellent restaurant, free transfers, free Wi-Fi, breakfast included. Service is great too.
Disadvantages: located a bit further away from the town center (but walkable). If I recall well, there is no elevator.
Our experience: We stayed at this hotel and fell in love with this place! It has everything you can expect from a really nice hotel and so much more. The views are out of this world and we saw so many icebergs and whales from our room, from the restaurant, and from the outside terrace. There is no better place to spend a summer evening and watch the midnight sun in Ilulissat than on the outdoor terrace of Hotel Icefiord!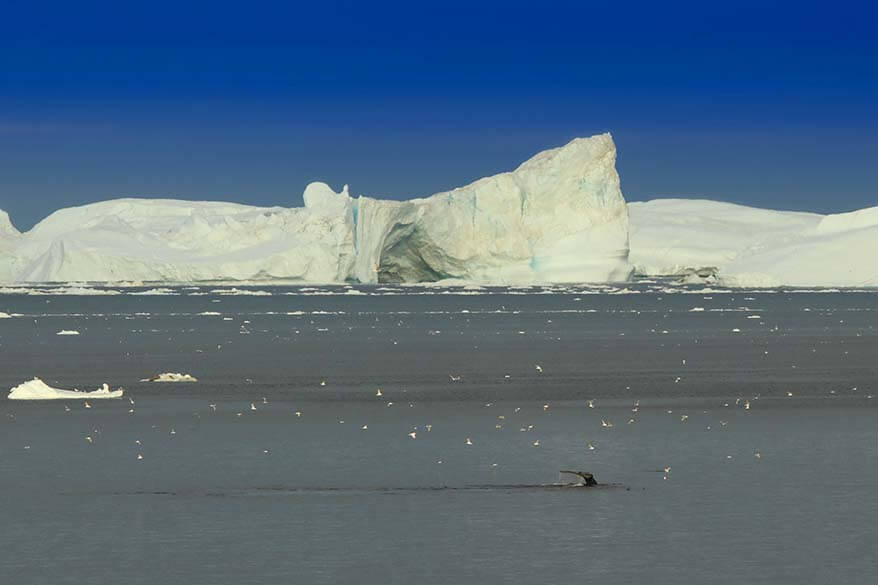 Hotel Hvide Falk
Hvide Falk is a simple 3-star hotel with an ideal central location, just a 5 to 10-minute walk from all the restaurants, shops and cafes in town and close to all tourist facilities. It's probably the best-located hotel in Ilulissat, within a short walking distance to all the facilities you might need.
Many rooms at Hvide Falk have amazing sea views. The panoramic view of Disko Bay means that you wake up and go to sleep with the sight of glaciers, fishing boats, and tour boats passing by! In summer, you can spend hours sitting on the outdoor terrace and watch the midnight sun. Magical!
The hotel has a restaurant serving breakfast (either Continental or buffet-style), lunch and dinner, and there is also a bar on the premises. Ideal for families, the simple but spacious rooms comprise a range of singles, doubles, and apartments sleeping up to 4, with cots available on request.
Other amenities include free wifi throughout the property, private parking and a free shuttle service to take you to and from the airport. You are also able to exchange your currency onsite, but credit cards are widely accepted in Ilulissat too.
Advantages: unbeatable central location, amazing views (make sure to book a room with sea view), free transfers, free Wi-Fi, and a good price compared to the other hotels.
Disadvantages: the hotel is a bit dated, impersonal, breakfast is basic, and the service (especially at the reception) could be better. The restaurant isn't great. There is no elevator.
Our experience: We stayed at Hotel Hvide Falk twice. Once, we had a room located in the wooden cabins close to the water, and once in the main building. Both times, we had the most amazing sea views and an outdoor terrace with chairs. The rooms in the main building were much more modern and really cozy. Whereas the room in the cabins was much simpler, it was bigger and had a small kitchenette. We absolutely loved the location of this hotel and it's the main reason to stay here. The views were amazing. Breakfast was ok. We didn't dine at the hotel restaurant, so I can't comment on that.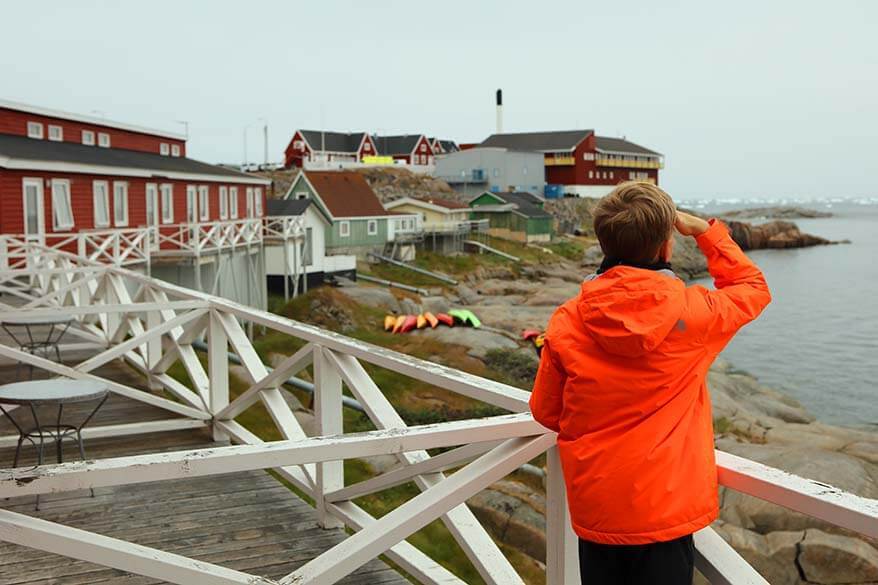 Hotel Avannaa
Hotel Avannaa is situated on a headland that gives you great views of the surrounding area. It's located in the same area as Hotel Arctic, a bit closer to town, but only offers free transfers to the airport and not to the town center. The town is about 15 minutes walk from here. Many people find that the walk is quite pleasant – with a sled dog colony just across the street and spectacular scenery along the way, but I'm not sure I'd like to walk along this busy road, definitely not in the dark…
Hotel Avannaa is bright and modern and has excellent ratings at a very competitive price. It has mainly single and double spacious rooms, but there is also a penthouse suite that sleeps up to 4 (and includes a kitchenette). All rooms come with flat-screen TVs and a good view – some of the sea and some of the mountains.
The hotel's restaurant only serves breakfast. Hotel Arctic is only a short walk away and you can have lunch and dinner in the Arctic's restaurant, Ulo.
The hotel has free parking and free wifi. A sun deck and terrace provide great spots from which to enjoy the beauty of the area in the summertime.
Advantages: nice modern hotel, free airport transfers, free Wi-Fi, and a good price for Ilulissat.
Disadvantages: the hotel is located a bit outside of town and doesn't have a shuttle to town. Breakfast is charged extra. There is no restaurant.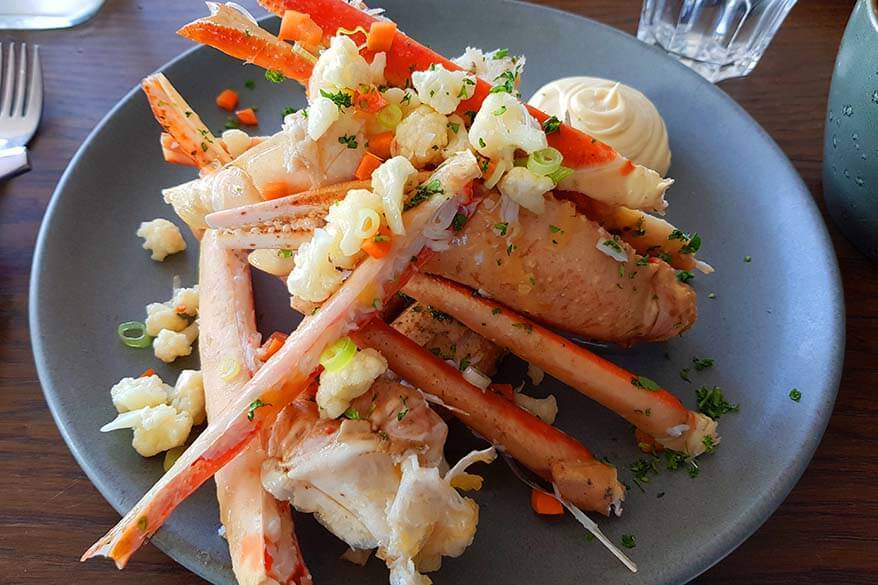 Hotel Ilulissat Bed & Breakfast
Hotel Ilulissat Bed & Breakfast is one of the best-value hotels in Ilulissat. There are just 6 double rooms and 3 shared bathrooms. This small and simple hotel has an excellent location, right in the center of town, very close to shops and restaurants.
While not overly spacious, the rooms are simple, clean, and comfortable. Views from the rooms may not be spectacular, but you are only a few minutes walk away from much better spots to appreciate the surrounding scenery. The hotel is also close to the start of the hiking trails.
There is no reception at this hotel, so you are sent a code for the door prior to your arrival. A buffet breakfast is served daily and there is free coffee available from a coffee machine 24 hours a day. Free Wi-Fi and nearby private parking are also included in your stay.
Advantages: central location, free Wi-Fi, breakfast included, good value.
Disadvantages: shared bathrooms, no sea views, no transfers. No restaurant (but lots of restaurants nearby).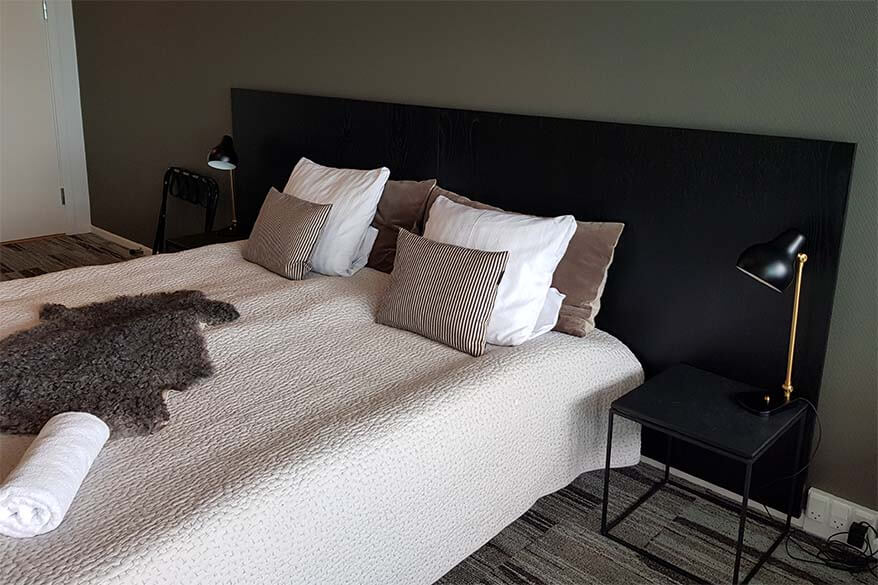 Blue Trail Guesthouse
An option to consider if you're traveling on a budget is the Blue Trail Guesthouse, which is something of a mixture between a hotel and a hostel.
Its location is in a relatively industrial area and is not particularly scenic, although it is very close to the start of the blue hiking trail along Ilulissat Icefjord. Nevertheless, it's still possible to take in some great views from the shared terrace. It is around a 20-minute walk into town, alongside quite a busy road.
Ideal for singles or couples, this small, adult-only guesthouse provides a well-equipped shared kitchen and lounge. All rooms have private bathrooms. Guests love the friendly atmosphere and particularly the camaraderie of the shared kitchen, which is a great spot to meet fellow travelers and discuss your experiences! While the rooms are small, they are equipped with everything you'll need, including a work station.
A buffet breakfast is not included and there are vending machines serving drinks and snacks. Packed lunches are available on request.
Although there is Wi-Fi at the property, it is available at an extra cost, as is the onsite sauna. There is free, private parking available and a shuttle to and from the airport, but this is only available for an additional fee.
Advantages: price and private bathrooms.
Disadvantages: Wi-Fi, breakfast, transfers – all come at an extra charge. There is no restaurant, no sea views, and it's quite a walk to town.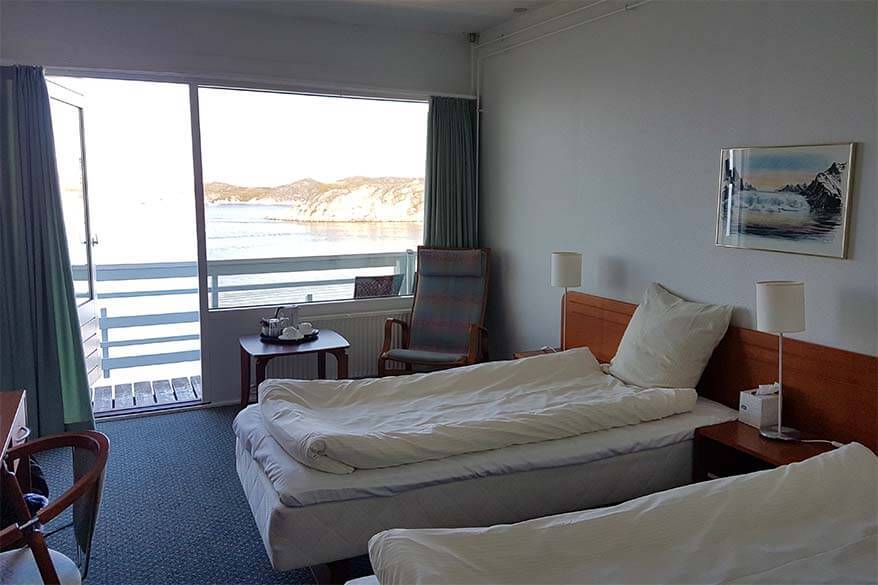 B&B Geisler
B&B Geisler has a good location close to the Yellow Hiking Trail and about a 15-minute walk from the town center. This bed and breakfast accommodation is perfect for singles or couples and offers good value for money in Ilulissat. The price includes continental breakfast.
Rooms are very basic, but clean and comfortable, with sea views and drifting glaciers. There is a shared bathroom and a great terrace, with outdoor seating and a barbecue grill.
Paid Wi-Fi is available. While there is no shuttle available to and from the airport, the B&B's owner is a taxi driver, so transfers are easy to arrange.
Advantages: price. Breakfast is included.
Disadvantages: Shared bathrooms. Wi-Fi and transfers come at an extra charge. There is no restaurant, but Hotel Icefiord with one of the best restaurants in town is just around the corner.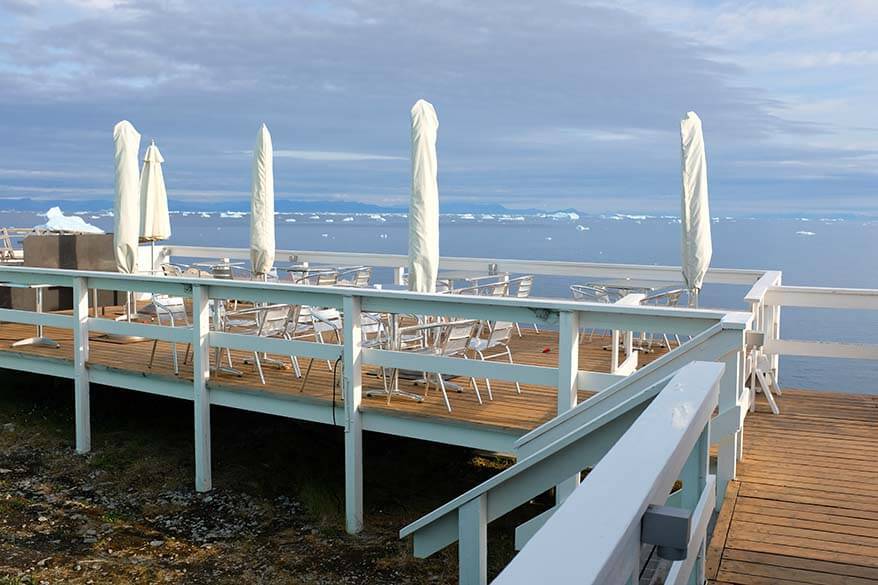 Self-Catering Accommodation in Ilulissat
In addition to the above-mentioned hotels, guesthouses, and b&b's, there are also some privately-owned apartments in Ilulissat. Make sure that you check what's included and where the place is located before you book! It can make a big difference in your final budget.
On Booking.com, you can also find several highly-rated apartments in Ilulissat. Some of them are very centrally located and so a good option if you are self-catering and want to be close to the supermarkets and also restaurants. If you stay in the town center, you'll also need fewer transfers or taxi rides, which should save you some money.
TIP: Using the map below, you can compare hotels, B&Bs, and short-term rental accommodations in Ilulissat. Simply insert your travel dates and group size, and you'll see the best deals for your stay. Check it out!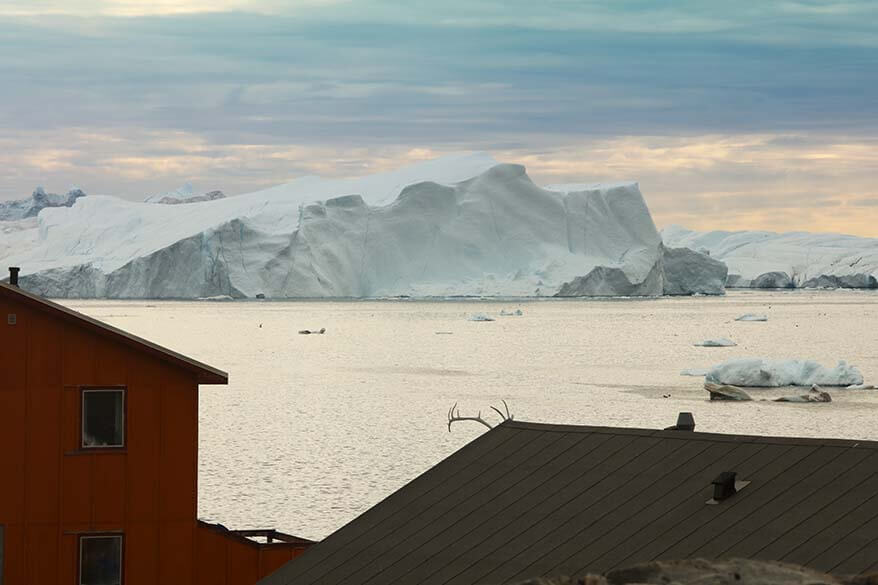 Where to Stay in Ilulissat – Conclusion
If you have the budget, then the absolute-best hotels to stay in Ilulissat are Hotel Icefiord or Hotel Arctic. If you are on a mid-range budget and don't mind a bit simpler accommodation, then Hotel Hvide Falk is probably the best option; it definitely has the best location in town.
If you are on a tighter budget and don't mind shared bathrooms, Hotel Ilulissat Bed & Breakfast or B&B Geisler are probably the best options.
If you are visiting with a bigger family or just prefer self-catering accommodation, then short-term private rentals might be a good option for you (see above for suggestions).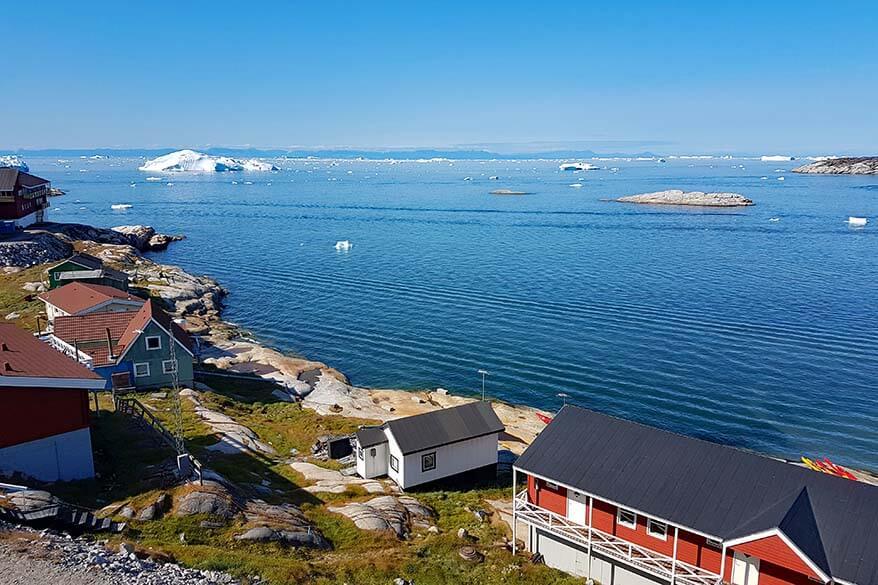 So, this is our guide to Ilulissat hotels and accommodations. I hope that it helps you choose the best place to stay that will make your vacation even more memorable!
If you are visiting Ilulissat, make sure to read our guide to Ilulissat Icefjord. It contains all the practical information about the best hiking trails and tours that bring you close to the icebergs. Take a look!
More tips for your trip to Greenland:
If you found this post useful, don't forget to bookmark it and share it with your friends. Are you on Pinterest? Pin this image!