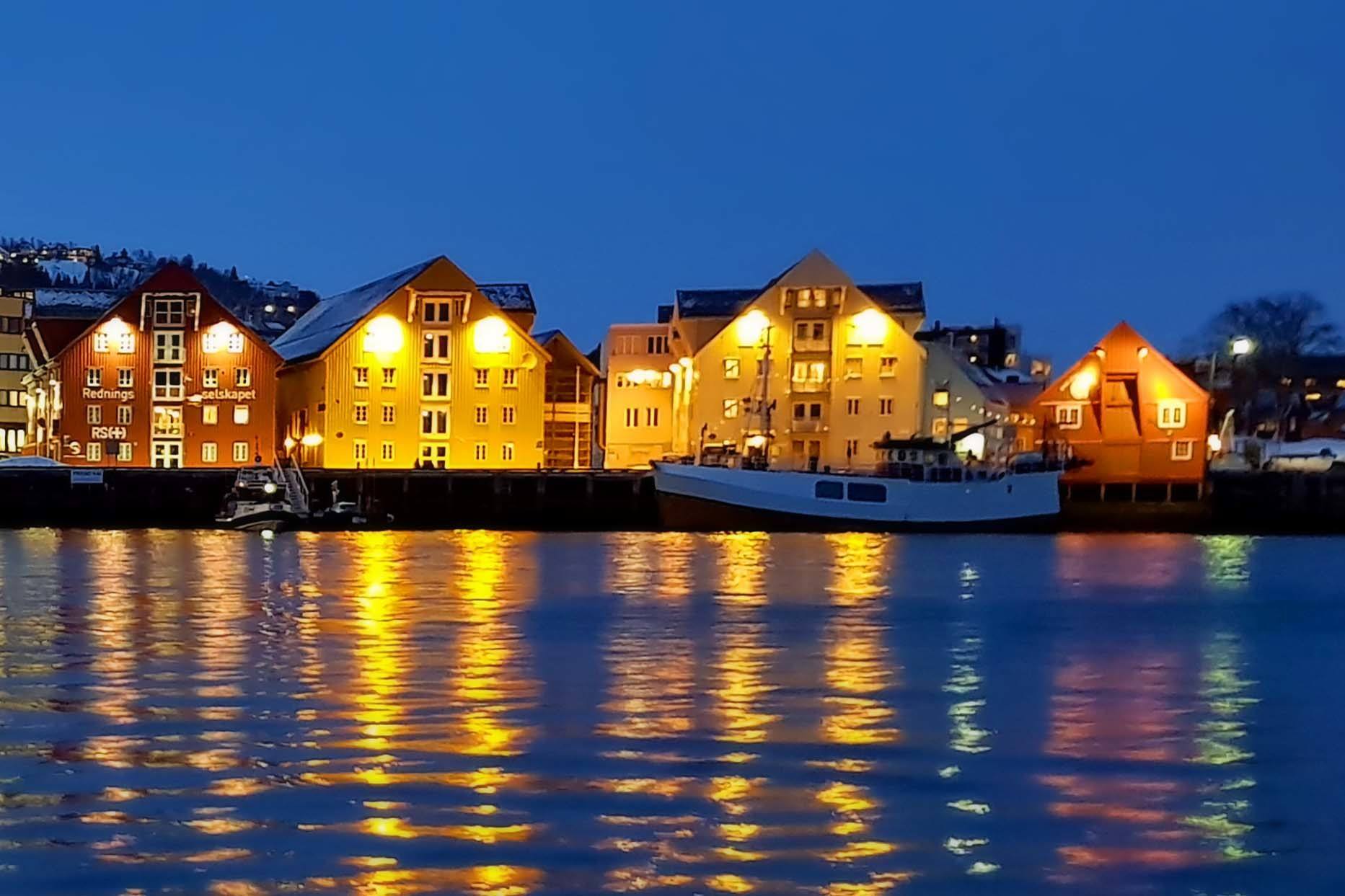 Are you traveling to Tromsø in Norway and wondering where to stay in Tromso and what the best Tromso hotels are? In this article, we cover the best options for places to stay in Tromso town. Find out!
TIP: Before you read any further, you should know that the best deals for Tromso hotels are usually gone fast. Especially in winter, hotels in the city center sell out quite often as well. So make sure to book your Tromso accommodation as soon as you know your travel dates!
Good to know: This article is only focused on accommodation in Tromso town itself and not the areas nearby. We only feature the best accommodation options in Tromso so that you don't have to waste your time when planning your trip.
This article is split into several parts. First, we cover the very best hotels in Tromso. Further below you can find our suggestion for the best price-quality mid-range hotels as well as budget hotels in Tromso. We also include best-located self-catering accommodation suggestions for those who travel with a family, like a bit more privacy, or are simply looking for a more local experience.
At the bottom of this article, you can also find additional suggestions for more unique winter accommodations near Tromso. But for the rest – this guide only covers hotels in Tromso town. You'll soon see why. Read on!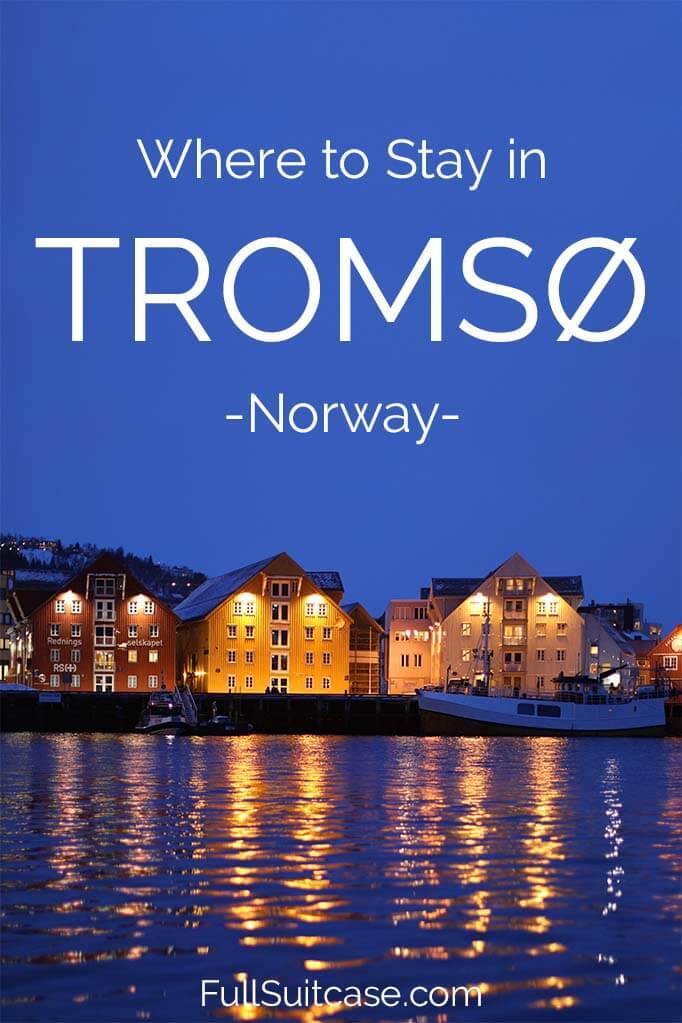 Tromso Town Center is the Best Area to Stay in Tromso
There are a few things you should know when looking for where to stay in Tromso. First, Tromso is a small town and the city center is very compact as well. It's therefore very easy to explore Tromso on foot. Second, Tromso downtown and harbor areas are where you'll find all the best shops, restaurants, museums, etc. Third, if you take any organized tours in Tromso, they all offer free pick-up and drop off in the city center.
Furthermore, if you arrive in Tromso by boat, it docks right in the town center, right next to a couple of the best Tromso hotels. If you arrive in Tromso by plane, you can take a taxi or a public bus that will drop you off right in the city center as well.
Because of all the reasons mentioned above, I suggest that you stay at one of the hotels in Tromso town center. This makes exploring Tromso easy and – depending on when you travel and what you plan to do – makes it unnecessary to rent a car (which will save you lots of money).
If you stay in the city center, you can walk to all of the attractions in town, take a bus to the airport or to the cable car, and, as already mentioned, all the tours and excursions will pick you up from there.
All of this also means that it's extremely easy to visit Tromso in winter as well. You can stay in the lively town center and explore the beautiful surroundings by taking tours, without having to worry about driving on icy roads.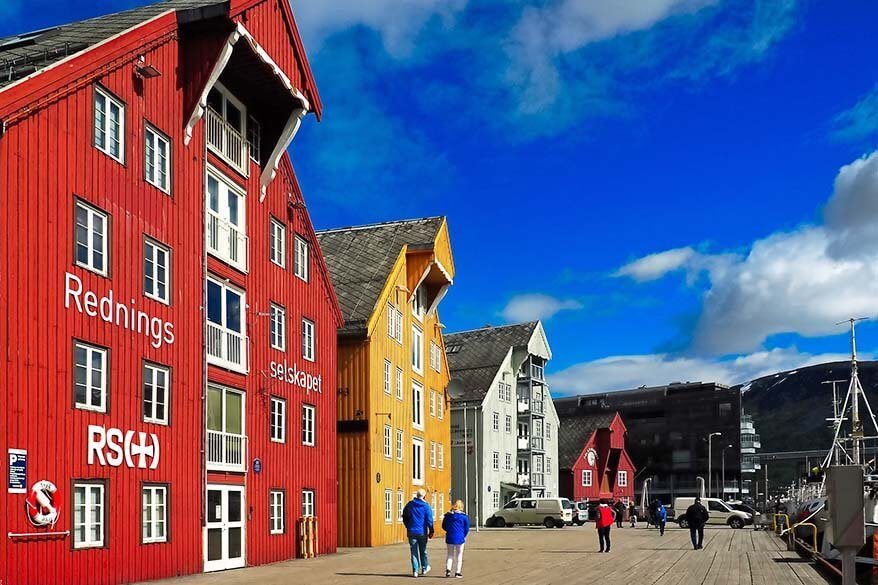 Best Tromso Hotels – Top 5
Now that you know that the very best place to stay in Tromso is the town center, you may be wondering where exactly. Tromso city center is tiny, but locals still refer to the area around the main shopping street Storgata as Tromso Downtown and the area next to the water as Tromso Harbor.
In my opinion, both these areas are just as nice and both are just as convenient for sightseeing. It will take you just 5 minutes to walk from one to the other…
That being said, the nicest Tromso hotels are the ones by the harbor. If you can also get a room with a view, it's as good as it gets! In winter, you might even be able to see the Northern Lights from the comfort of your hotel room!
However, Tromso hotels that are a bit further from the water tend to be a bit cheaper… So if you are on the tighter budget, check out my selection of the best price-quality hotels in Tromso further below.
But first, let's take a look at the very best hotels in Tromso. These hotels have an excellent location, fantastic customer reviews, and offer the very best experience in Tromso. Find out!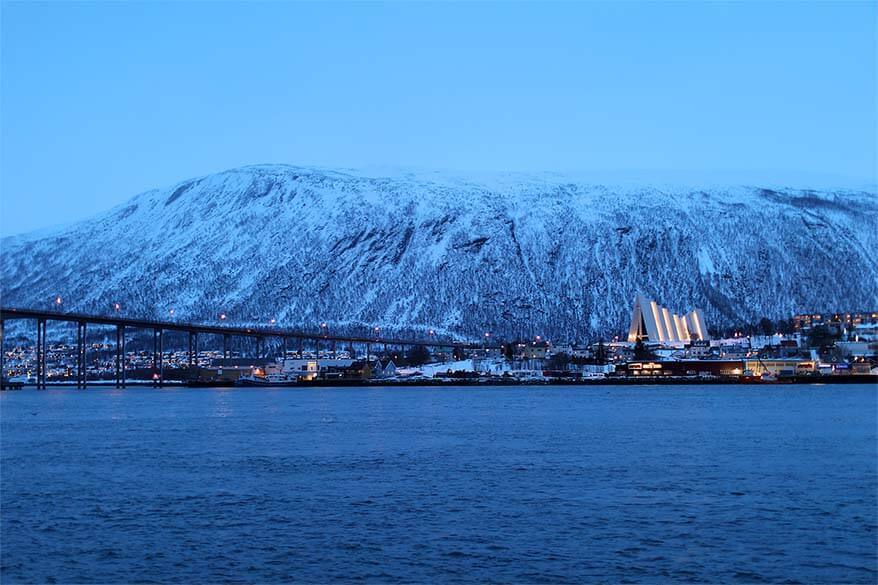 These are the best hotels in Tromso:
1. Clarion Collection Hotel With
Clarion Collection Hotel With is probably one of the best hotels in Tromso. Located directly by the water and overlooking Tromso harbor, this 4-star hotel offers the best views in town, as well as some of the best facilities in town.
At first sight, it looks like it's the most expensive hotel in Tromso. However, the price includes a breakfast buffet, free coffee, tea, and fruit during the day, and also dinner. Taking into account how expensive Norway is, having all these meals included actually makes this hotel a really good deal. This is also the main reason why I listed this hotel first.
One drawback for us, but probably an advantage to those looking for quietness, is that this hotel doesn't have big family rooms.
You can read real customer reviews and find the best deals to book Clarion Collection Hotel With here.
2. Scandic Ishavshotel
Scandic Ishavshotel is one of the most luxury hotels of Tromso and has a unique location in the harbor. It's located at the very end of the quay and surrounded by water from three sides. You can't beat the views, the comfort, and the location.
Family rooms are quite good value and prices vary quite a lot depending on when you're traveling and also depending on which room you book. Often, it's as affordable as some mid-range hotels in Tromso, so check it out.
You can find the best deals and book Scandic Ishavshotel here. Thousands of real customer reviews say it all.
3. Radisson Blu Hotel Tromsø
One of the most popular hotels to stay in Tromso, Radisson Blue, also has an excellent location in the harbor area. In addition, this hotel has nice family rooms and facilities like a gym and a sauna (free for all guests).
The location and the rooms are very comparable to the Scandic Ishavshotel mentioned above, but it tends to be a bit cheaper. No wonder that it's considered one of the best picks in Tromso.
You can find the best deals for Radisson Blue Hotel Tromso here.
4. Clarion Collection Hotel Aurora
This modern 4-star hotel in the harbor area offers great value by including breakfast and dinner in the – already very reasonable – price of your stay. Furthermore, the Clarion Collection Hotel Aurora is one of the few hotels in the center that offers onsite parking.
Customer reviews are very good and if you get one of the rooms with a view, you can't go wrong with choosing this hotel for your stay in Tromso.
You can find the best prices and book Clarion Collection Hotel Aurora here.
5. Clarion Hotel The Edge
Located near Tromso harbor, but further away from the other hotels in this selection and quite close to the main shopping street, Clarion Hotel The Edge sits in the most central location in town.
This modern hotel is quite new and it offers the best value of all the 4-star Tromso hotels in the harbor area.
You can check availability and book Clarion Hotel The Edge here.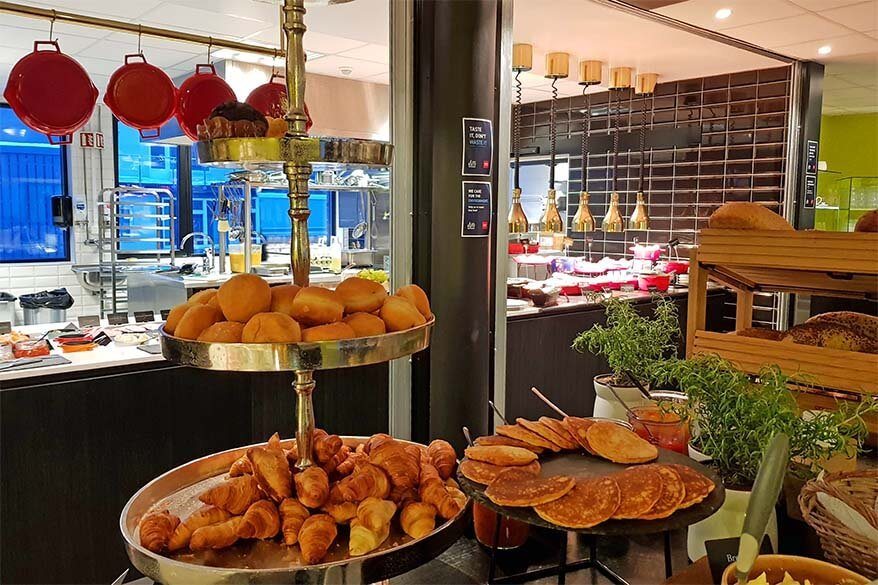 Best Price – Quality Hotels in Tromso
As already mentioned above, Tromso hotels that are located just outside the harbor area tend to offer similar value as the best hotels listed above, but for less money.
Here is my selection of the very best mid-range hotels in Tromso. They all have a good location and very good customer reviews. Take a look!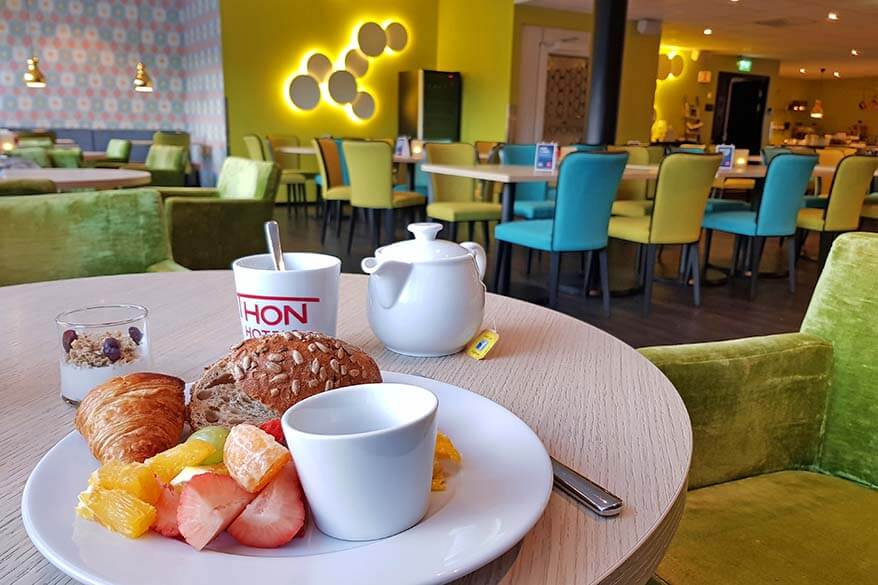 Best Budget Hotels in Tromso
Norway is an expensive country, so budget hotels in Tromso might not be as cheap as you expect. Nevertheless, there are a few good places to stay where you can get a room for less than 100 EUR per night.
Here are just three budget hotels in Tromso that I want to highlight. I only include the ones with good reviews, because I believe that budget accommodation has to offer good value as well. After all, it's your vacation and you deserve to enjoy it!
Comfort Hotel Xpress Tromsø. This is one of the most affordable 3-star hotels in Tromso town center that has great customer ratings. However, breakfast isn't included in the price, so keep that in mind when budgeting for your trip.
Skansen Hotel. A simple 3-star hotel just a bit outside of the harbor/downtown area in Tromso. However, the location is still very good, and breakfast is included in the price.
Bed & waffles, Tromsø. This is a bit more special accommodation that looks more like a cozy house rather than a hotel and customers are raving about it. It's located just outside the downtown area and offers single and double rooms, some with shared bathrooms. However, customer reviews are the best in this price range and so if you are traveling to Tromso on a tighter budget, this is a really nice option.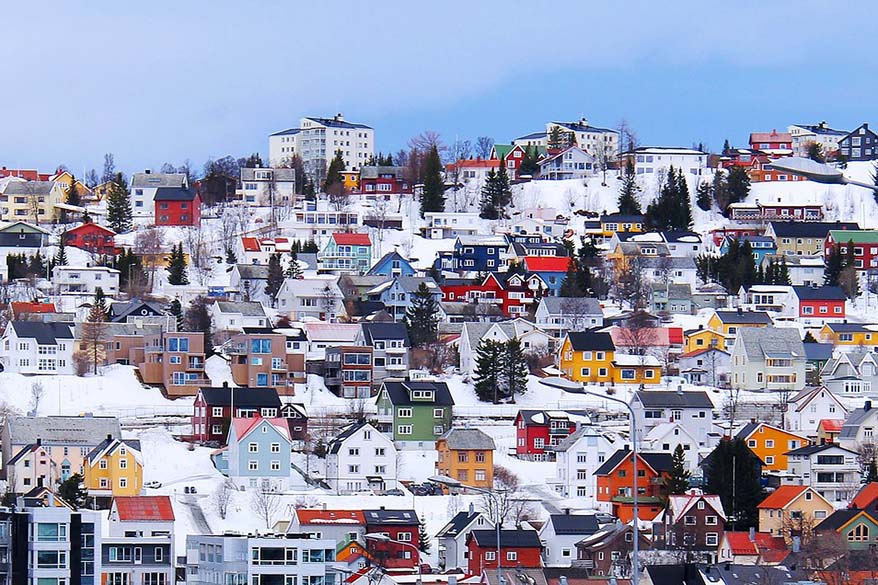 Best Self-catering Accommodation in Tromso Town Center
In addition to traditional hotel rooms in Tromso center, there are also several hotels that offer apartments with a kitchen. There are also a couple of nice privately-rented apartments that are perfect for bigger families or groups of friends traveling to Tromso together. However, only a few of these are located in the city center.
Take a look at some of the best options below!
In addition, you can also find some short-term rental accommodations in Tromso city center. Although, there are just a few of them with a really good location. Most others are located further away, so you'll need to use a bus for everything.
TIP: Using the map below, you can compare hotels and short-term rentals in Tromso. Simply insert your travel dates and group size, and you'll see the best deals for your stay. Check it out!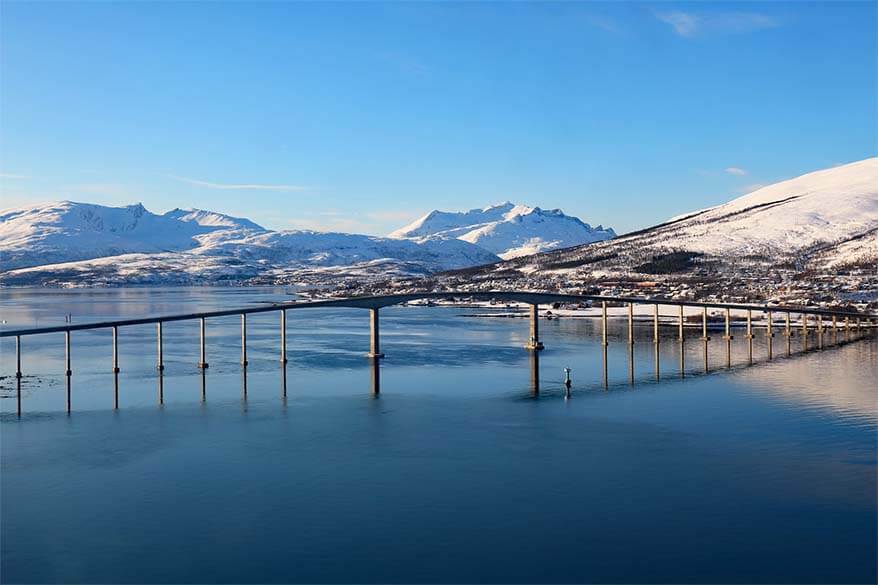 Unique Places to Stay Near Tromso in Winter
If you are visiting in winter and are looking for a unique place to stay near Tromso, take a look at these two amazing accommodations nearby!
Camp North Tour. This is your chance to experience local Sami culture and stay in a very unique accommodation. You'll be sleeping in a luxurious tent with (partially) glass roof on beds covered with reindeer skin. The location is incredible and it's a great place to watch the Northern Lights straight from your bed! Camp North Tour is located outside of Tromso, but they offer free transfers.
Tromso Ice Domes is another incredible place to stay near Tromso in winter. It's an ice hotel that has to be rebuilt every winter again, so you can only stay there between mid-December till the end of March. For prices and availability, please check here.
LEARN MORE: Tromso Winter Itinerary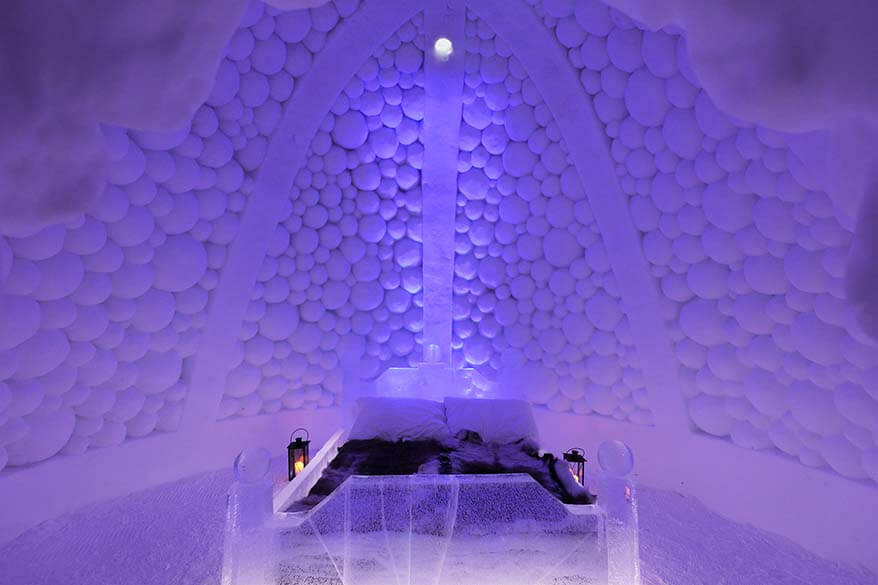 So, this is our guide to the very best Tromso hotels and other accommodation options for all budgets. Once again, book your Tromso lodging as soon as you have your travel dates because the best deals are gone very quickly, not even to mention some hotels often get fully booked.
Good to know! We recommend booking your accommodations via Booking.com because it's just simply the easiest and the best hotel booking site out there, offering the best prices and booking conditions. It's the site where we book 99% of our hotels when traveling.
READ ALSO: Best Tromso Tours – our hand-picked selection of the best activities not to miss in Tromso. Check it out!
More tips for your trip to Tromsø: