Visiting Lofoten Islands in Norway and wondering where to stay? In this guide, we share our experience-based tips and useful information that should help you choose the best location(s) and Lofoten accommodations for your trip. Find out!
Lofoten is an archipelago that is comprised of 7 main islands with lots of mountains and fjords, several bigger towns, and countless smaller villages. While distances between places might not look big, it takes about 2.5 hours to drive the main road in Lofoten, from Svolvaer to Å, without any stops or detours.
Therefore, the best places to stay in Lofoten highly depend on where you are coming from/ traveling to, how much time you have, what you plan to see and do, your budget, personal preferences, etc.
So before we take a deeper look into the best towns and areas to stay in Lofoten Islands in Norway (let alone specific accommodations, cabins, and hotels), there are some things you should consider first. Find out!
READ ALSO: Tips & Info for Visiting Lofoten
Where to stay in Lofoten – OVERVIEW:
Where to Stay in Lofoten – Things to Consider:
How much time do you have and how you like to travel
Depending on how much time you plan to spend in Lofoten, you may want to stay at just one central location or pick 2-3 different places. Of course, you can spend a week in just one place, or opt for three different areas – it all depends on your personal preferences.
Staying in one location will make your trip planning easier and you won't have to pack/ unpack every day. You also have complete flexibility to decide where to visit each day and can adjust your plans depending on the weather.
Of course, this also means that you'll have to spend more time in the car every day. So if you opt for this option, be sure to pick a place that is very centrally located in Lofoten. That way, you can limit your driving times to 1-1.5 hours one-way.
Good to know: If you are looking for one 'home base' to stay in Lofoten islands from where you can make day trips and visit all the other places without spending hours in a car, it's best to stay not too far from the main road about halfway between Svolvaer and Reine/Å. For that, check out accommodations in the area around Leknes/ Ballstad.
Our recommendations if you choose to stay in just one central location: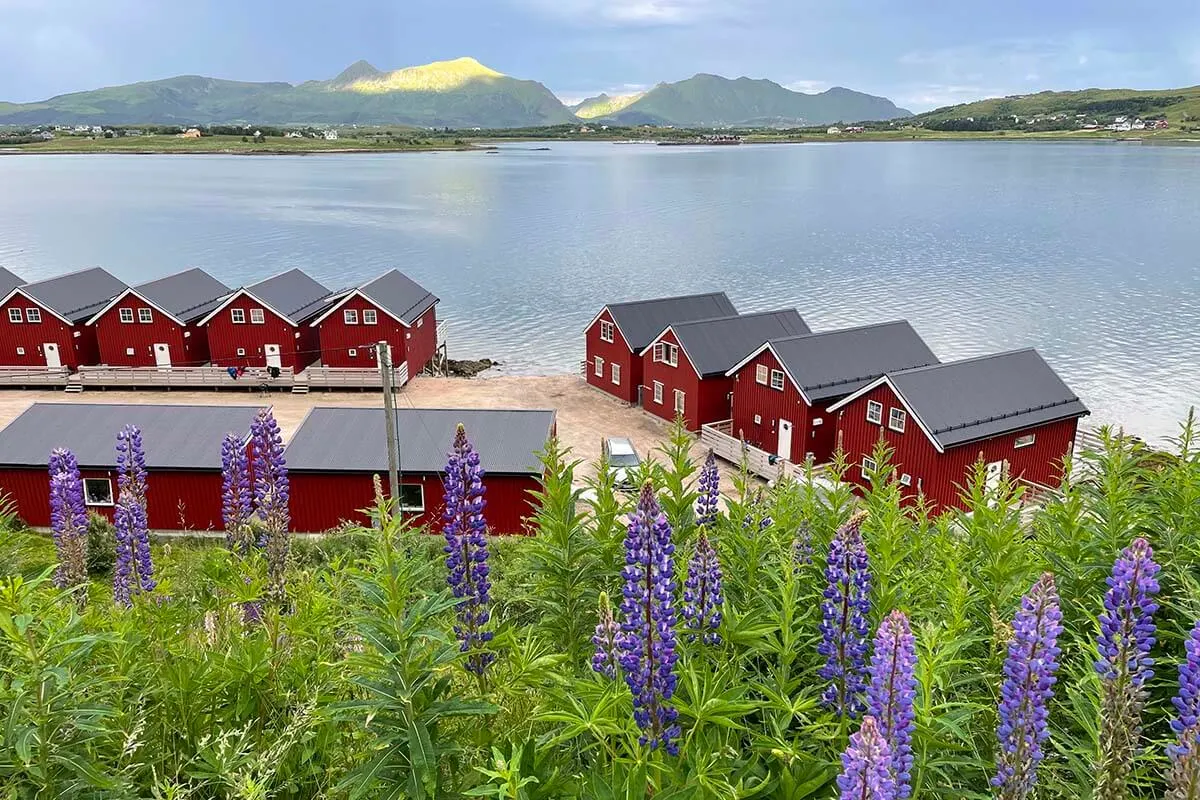 Your overall itinerary
The best places to stay in Lofoten will also depend on your overall travel itinerary (see our Northern Norway itinerary for some inspiration).
If you are driving through Lofoten and potentially also plan on taking a ferry to/from Moskenes, you may want to stay in a few different areas – at one end of the archipelago, on the other side, and maybe also in between.
Whereas if you are only visiting Lofoten and don't have any other plans in the area, you only have to consider the airport you fly to/from and the transportation you'll be using.
For example, if you are coming from the north, driving through Lofoten, and taking a ferry to Bodo, you could split your stay between a few nights in Svolvaer and a few nights in the Reine area. If you have more time, consider adding a few nights in the center (Leknes/ Nusfjord) as well.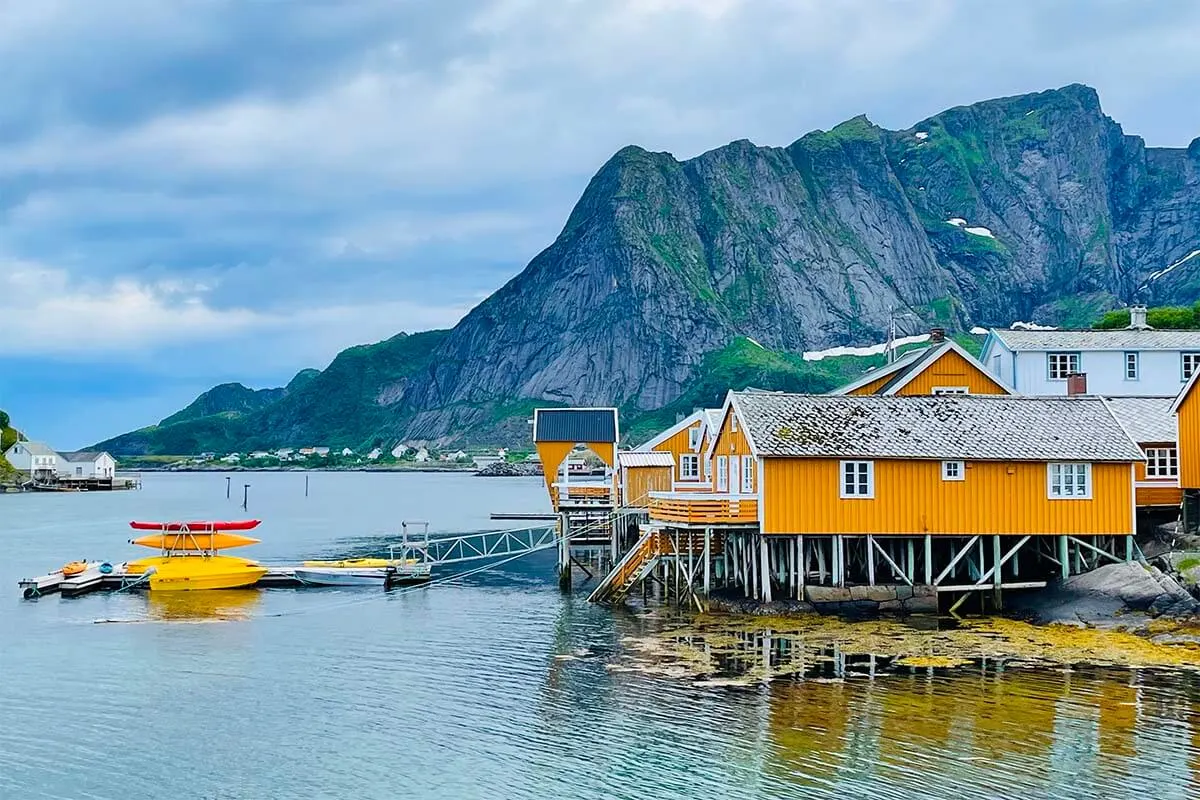 The season when you travel
Just like most destinations in the Nordics, traveling to Lofoten in summer is a totally different experience than visiting in winter.
To start with, the sun never sets in the summer months, so the days are endless, it's light all the time, the roads are good, and you can easily drive everywhere yourself. So it's less important where exactly you stay, especially if you rent a car.
Whereas in winter, you might have just a few hours of daylight, the roads can be icy, the hikes inaccessible, and some places closed for the season…. In that case, you may want to stay in bigger towns where you can easily walk to shops and restaurants or book day tours instead of having to drive…
Good to know: If you are visiting Lofoten in winter and want to take guided tours rather than drive around by yourself, the best place to stay is Svolvær town.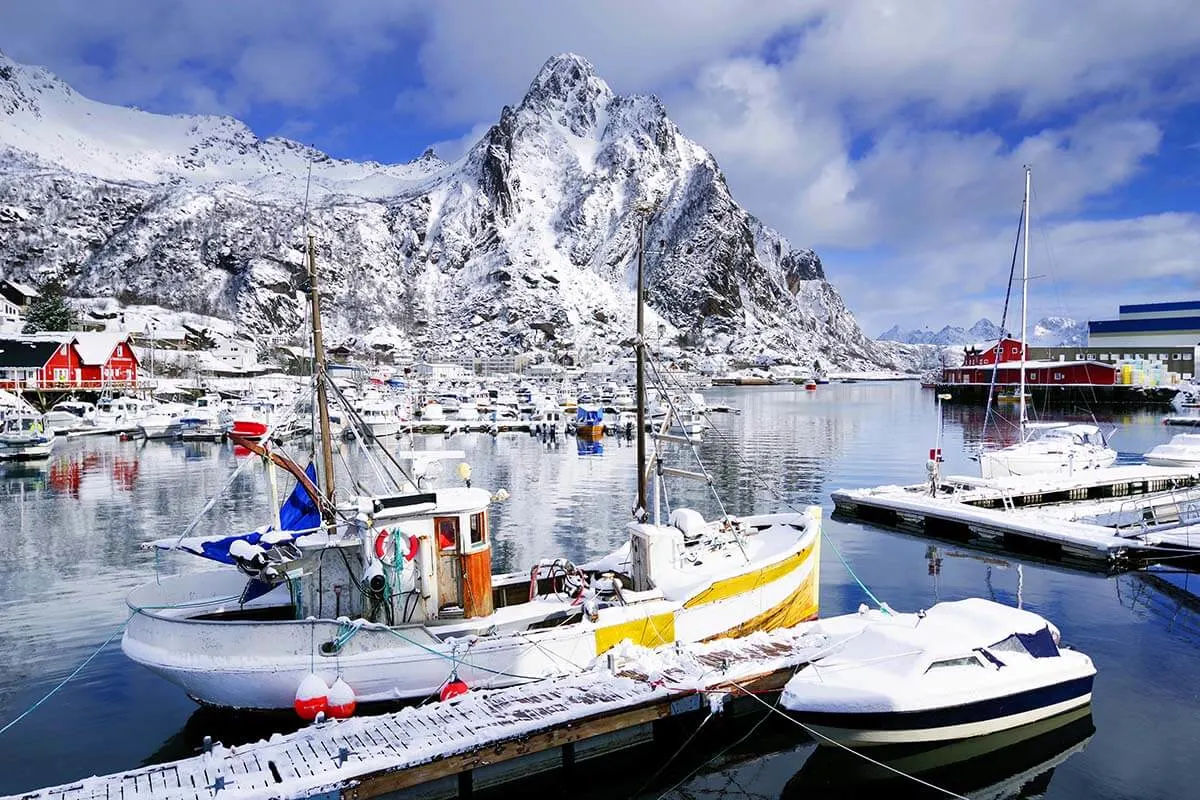 What do you plan to see and do
Another important aspect to consider when looking where to stay in Lofoten is what you are planning to see and do.
Some areas of Lofoten have a lot more to offer than others, and some activities and excursions are only available in certain places.
Are you doing any longer hikes (which ones), planning on taking any boat excursions (where), fishing, kayaking, visiting museums, etc? Figuring this out first will help you decide where to stay and for how many nights.
For example, if you are planning on taking a full-day trip to Vaeroy Island, it's best to stay in the area around Hamnoy/ Reine or Å for a few days. This area is also good for several popular hikes and Reinefjord scenic cruises.
Whereas if you are planning on taking a boat tour to the Trollfjord, you may want to stay in Svolvaer the night before. On the other hand, this tour only takes a few hours so you could also just drive there for a day.
READ ALSO: Best Places to Visit in Lofoten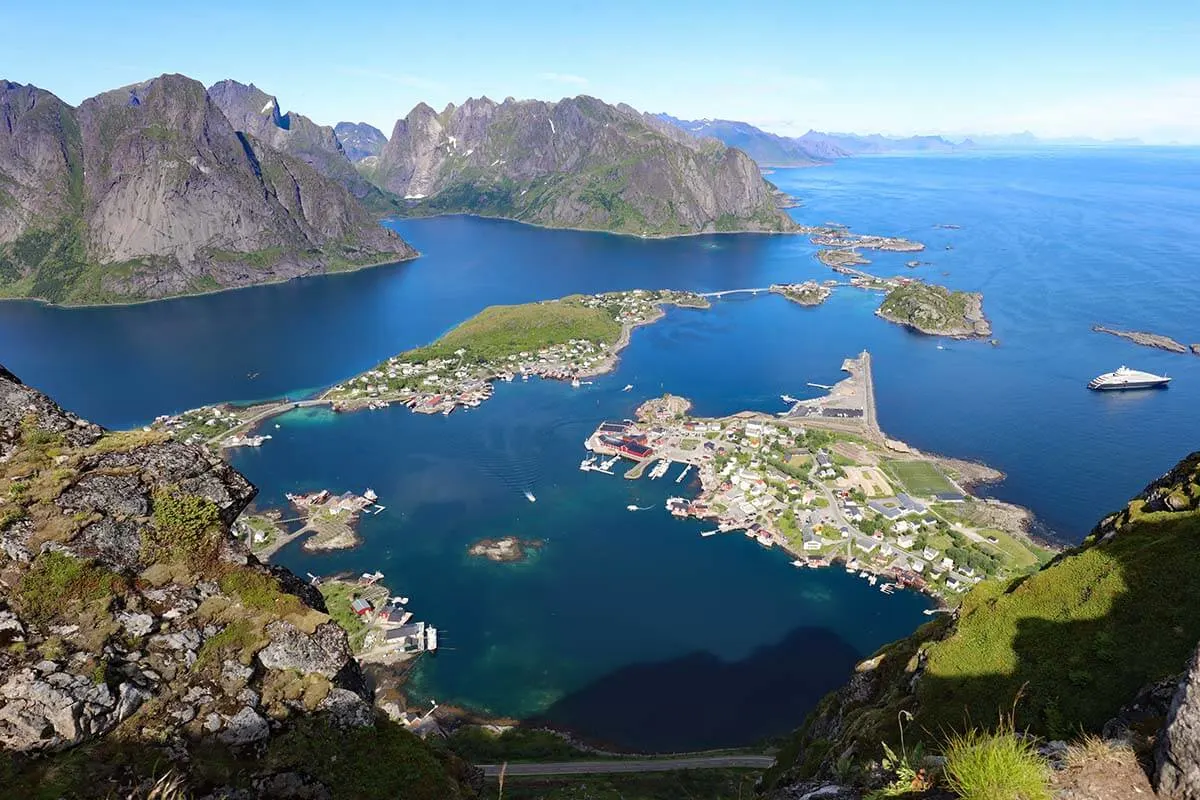 Transportation
When looking for a place to stay in Lofoten, you should also consider how you'll be traveling around. If you have a car, you have much more flexibility than if you have to rely on public transport.
Unless you are visiting in winter and rather not drive on icy roads in the dark, we highly recommend renting a car for exploring Lofoten. It will make a lot of things so much easier.
TIP: We rented a car from Harstad/Narvik airport in Evenes and were always able to find the best deals via RentalCars. It's much cheaper if you do this well in advance, and also incomparably cheaper than renting a car in Lofoten archipelago itself.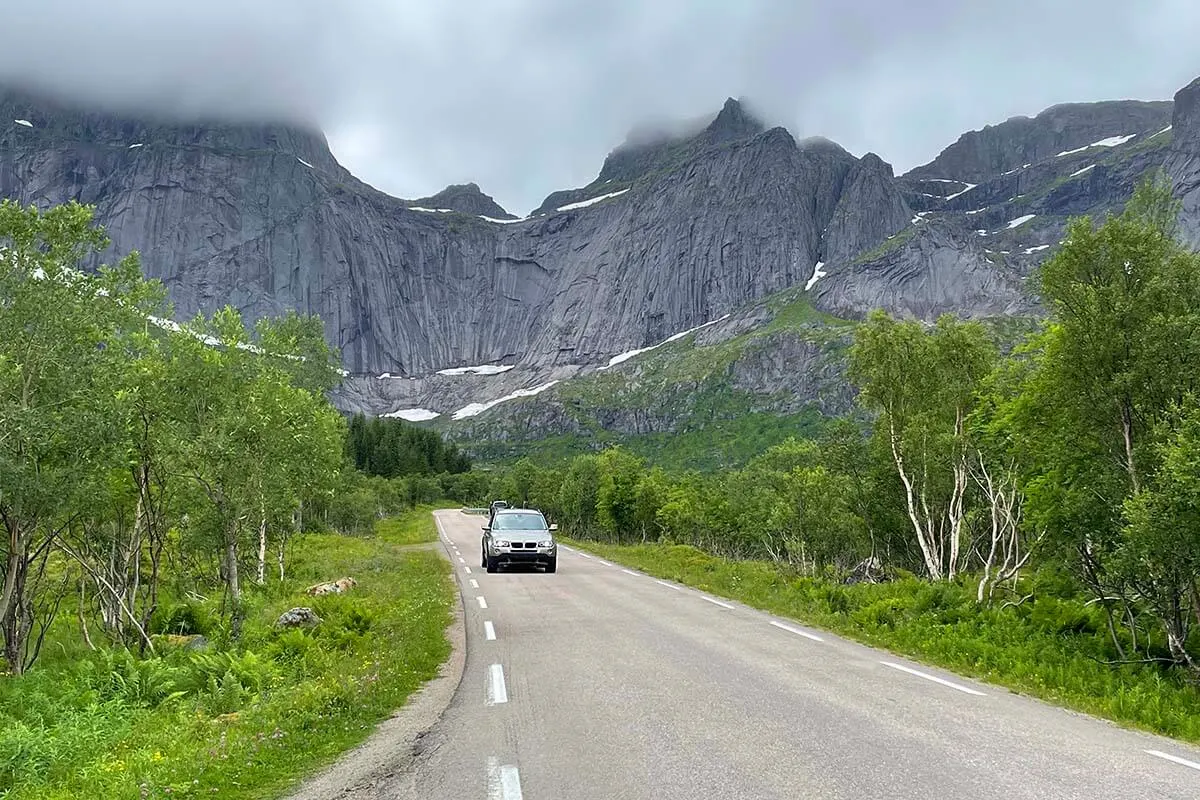 Facilities
Another important point to consider is what kind of facilities you need.
If you want to be within walking distance of shops and restaurants, join organized day tours, or take public transport, you better look into staying in a bigger town.
Whereas if you are planning on cooking at your accommodation every evening, you may want to check if there is a supermarket nearby.
Or maybe you'd love to be able to take a sauna or a hot tub after a day of sightseeing? In that case, be sure to check if your accommodation offers this type of facilities (and if they are free or come with a hefty extra fee)…
Here are just a few examples based on our personal experience. When we visited, Lofoten Basecamp offered the use of their amazing sauna for free, whereas Svinoya Rorbuer had a sauna charge of about 25 euros per guest per hour… Hattvika Lodge has a beautiful hot tub, but there is a pretty high charge for it… So keep this in mind when comparing prices of different accommodations in Lofoten!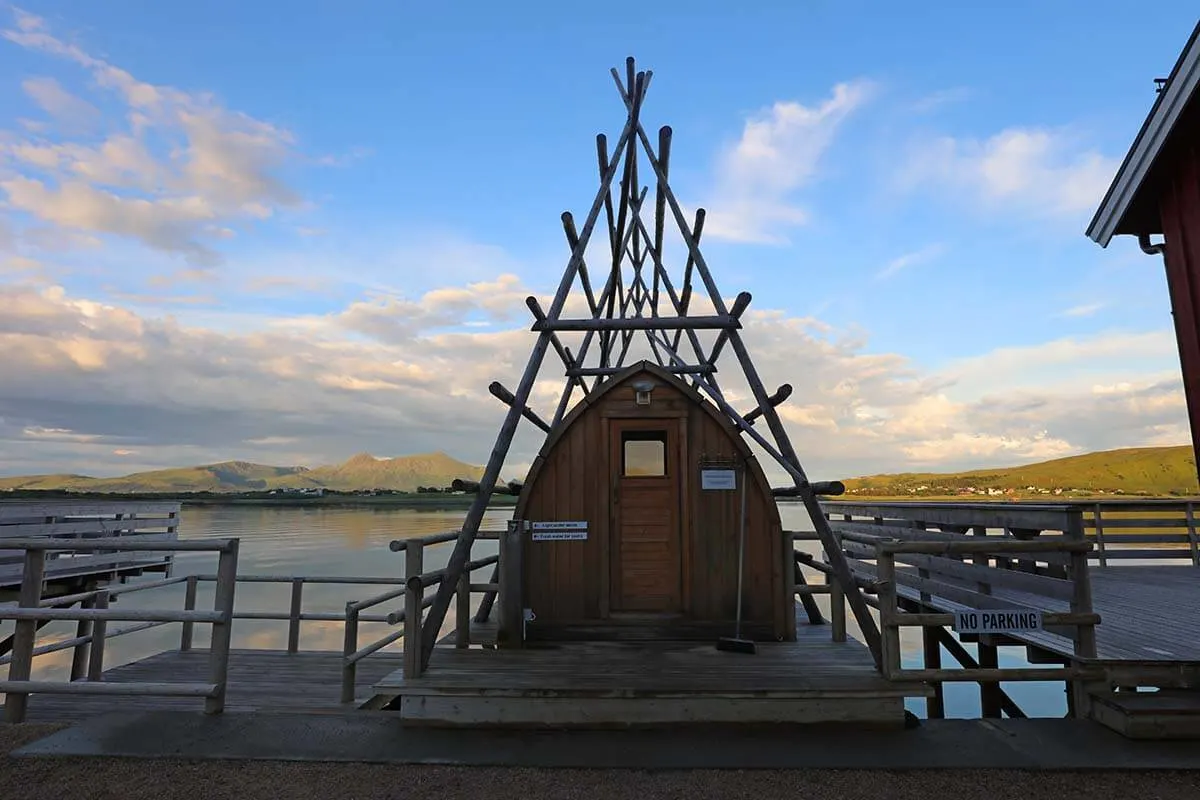 Best Places to Stay in Lofoten
Now that we covered some of the important aspects to think about, let's take a look at some of the best towns and places to stay on the Lofoten islands.
We selected some of the nicest areas based on their location, facilities, scenery, and the things to do nearby. For each place listed below, we also include some of the main advantages and disadvantages of staying there, as well as some of the main points of interest nearby.
Please note that we don't list every single town or village and just focus on a few of the most popular areas to stay in Lofoten. If you find a hotel 5-10 km near the place we mention, it can be just as good and a lot of the same points will apply to it as well, especially if you are traveling in summer and have a car.
Here are some of the best areas to stay in Lofoten:
1. Svolvær
Located on the northern side of the archipelago, Svolvaer is the main town of Lofoten islands. This is one of the best places to stay in Lofoten if you want to take organized tours or have to rely on public transport.
Several beautiful hikes can be found just near the town and there is a big variety of boat tours and other excursions that start from Svolvaer as well.
There are several supermarkets in town, lots of restaurants, and even apartment buildings (something you won't see anywhere else in Lofoten). Svolvaer also has several hotels, rental cabins, and other accommodation options. If you do have a car, be sure that your accommodation has (free) parking. Car parking is quite expensive in Svolvaer.
Advantages: Good public transport connections, lots of facilities, and many amazing tours (so you can see and do a lot even if you don't have a car).
Disadvantages: Bigger town feel (depending on where exactly you stay), busier (e.g. you have to reserve most restaurants in advance), quite expensive, the location is not ideal to see everything in the area (Svolvaer is about 2.5 hours drive from southern Lofoten).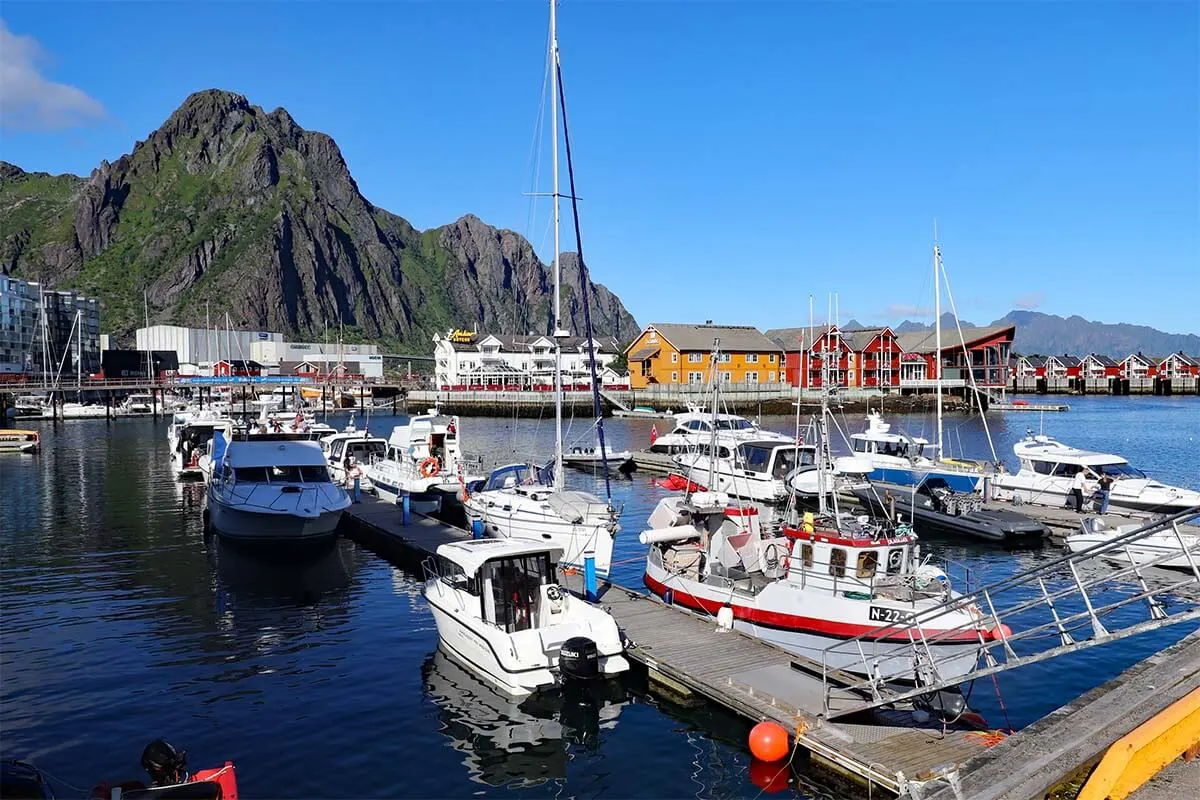 Where to Stay in Svolvaer
The best places to stay in Svolvaer are the hotels in the city center. If you want to be close to everything in Svolvaer, then don't look any further. Everything is located just a very short walk from here: restaurants, cafes, musea, boat tours, etc.
The nicest hotel here is Thon Hotel. In addition, on a small island accessible via a small short bridge, you'll find Scandic Hotel (with tiny rooms – so best for solo travelers or couples) and the charming cabins of Anker Brygge (best for families).
If you have a car, want easy and free parking, and don't mind staying a bit further away from all the action, check out Svinoya Rorbuer cabins. This budget-friendlier accommodation is located just 15 minutes walk to the center, but keep in mind that the area is quite industrial and you'll have to cross a long bridge that is also used by cars and trucks. It can also be quite cold if walking here in the rain or in winter.
But if you want to stay in classic fishermen's rorbuer cabins and are looking for a more authentic Lofoten feel, this is a good option in Svolvaer. However, these cabins are indeed very traditional, tiny, and dark inside. Their restaurant is excellent but is really pricey, so you may be walking to town more often than expected.
Other nice options for people who have their own transportation is Lofoten Rorbuer or Svolværgeita Apartments (for big families), both about 2-3 km from the town center.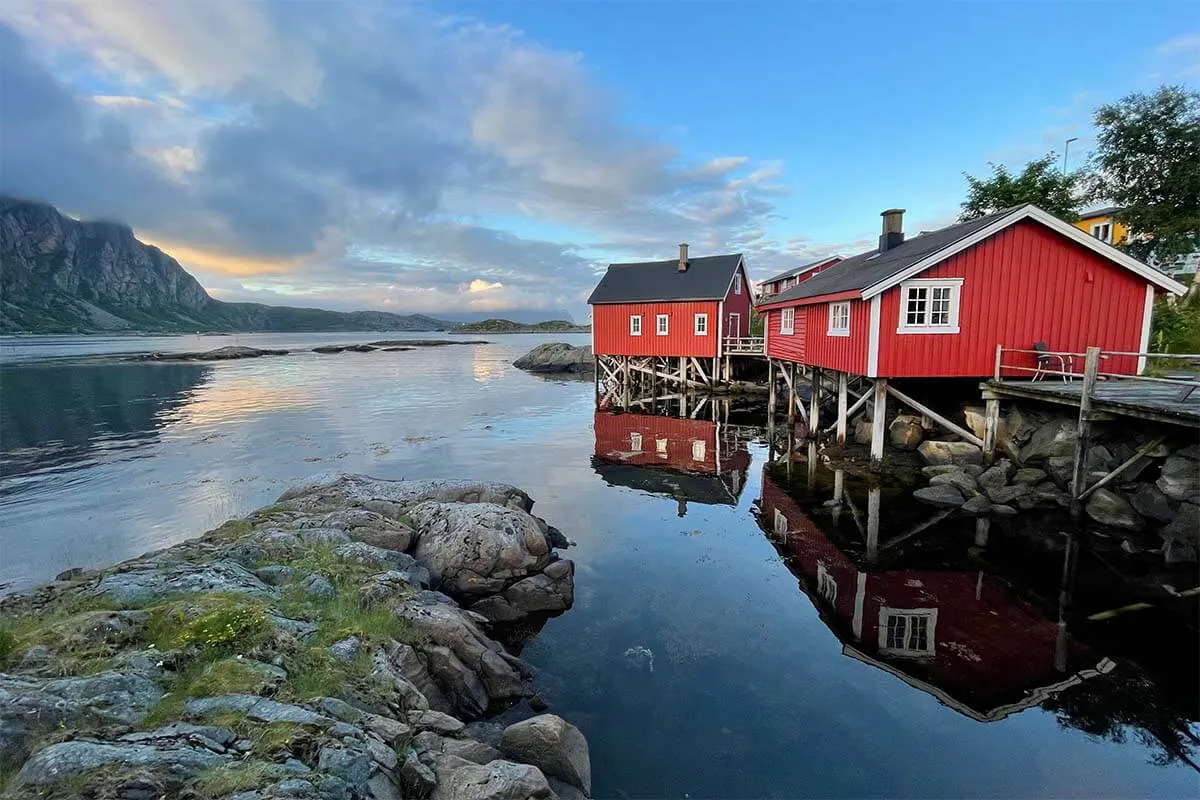 2. Reine – Hamnøy
The area around Hamnøy and Reine is the most scenic part of Lofoten that you see in all the pictures and travel brochures (see also the featured image at the top of this article). If you are looking for the most authentic experience, then this is truly one of the best places to stay in Lofoten.
There are several supermarkets and quite a few good restaurants in this part of Lofoten. But you will need a car for most of the things you do here. The most iconic hike in Lofoten – Reinebringen – is just near Reine. And you should also explore the Reine Fjord by boat.
Some really nice rorbuer cabins can be found all around this area, many of them offer fantastic views. You won't want to leave!
The Reine area is also a good place to stay when you arrive or leave Lofoten by Moskenes ferry.
Advantages: Very scenic location, beautiful traditional cabins, lots of nice places to visit nearby, and good restaurants. Moskenes ferry is close by.
Disadvantages: The cabins with the best views are quite pricey. The location is not central enough to explore everything in Lofoten from here (Reine is about 2.5 hrs drive from Svolvaer and northern Lofoten). It's not ideal if you don't have a car.
Best things to do: Reine town, Reinefjorden scenic cruise or kayaking, Reinebringen hike, also Å town is not far away.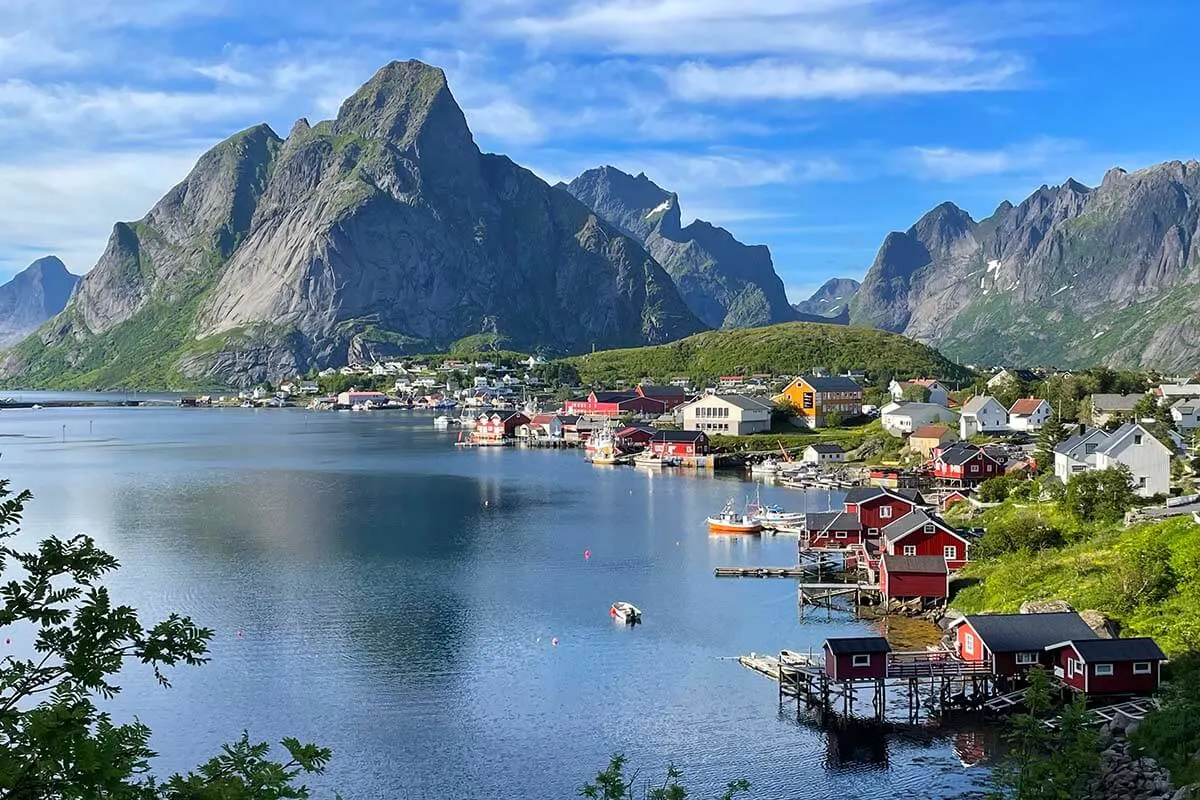 Where to Stay around Reine
As already mentioned, there are lots of beautiful traditional cabins in this area. You will find some of them in Reine town itself. But for an even more scenic location, take a look at the Hamnøy area, just north of Reine.
In Reine town, the nicest option is Reine Rorbuer – by Classic Norway Hotels. The advantage of staying here is that you can walk to the Reinebringen hike trailhead, to the boat harbor where some excursions leave, and there are a few small shops and restaurants within easy walking distance. Another highly-rated option in town is May's Apartments.
In Hamnøy, you can choose between several really nice options. We stayed in a beautiful traditional cabin at Reinefjorden Sjøhus overlooking the Reinefjord. The views from our cabin and from the terrace were incredible – you feel like sitting inside a postcard!
A bit cheaper place to stay in Hamnoy area (especially if you are with 2-4 people) are the Eliassen Rorbuer cabins. These are the red cabins that you see in all the famous Lofoten pictures. They have lots of cottages and apartments of various sizes; some of them have great views.
Between Reine and Hamnøy, there are some beautiful cabins (and the views here are stunning too). One of the nicest places to stay here is Sakrisøy Rorbuer, yellow rorbuer cabins that are also among the most photographed in Lofoten.
There are a few restaurants and supermarkets in this area, but you will definitely need a car here.
READ ALSO: Best Rorbuer in Lofoten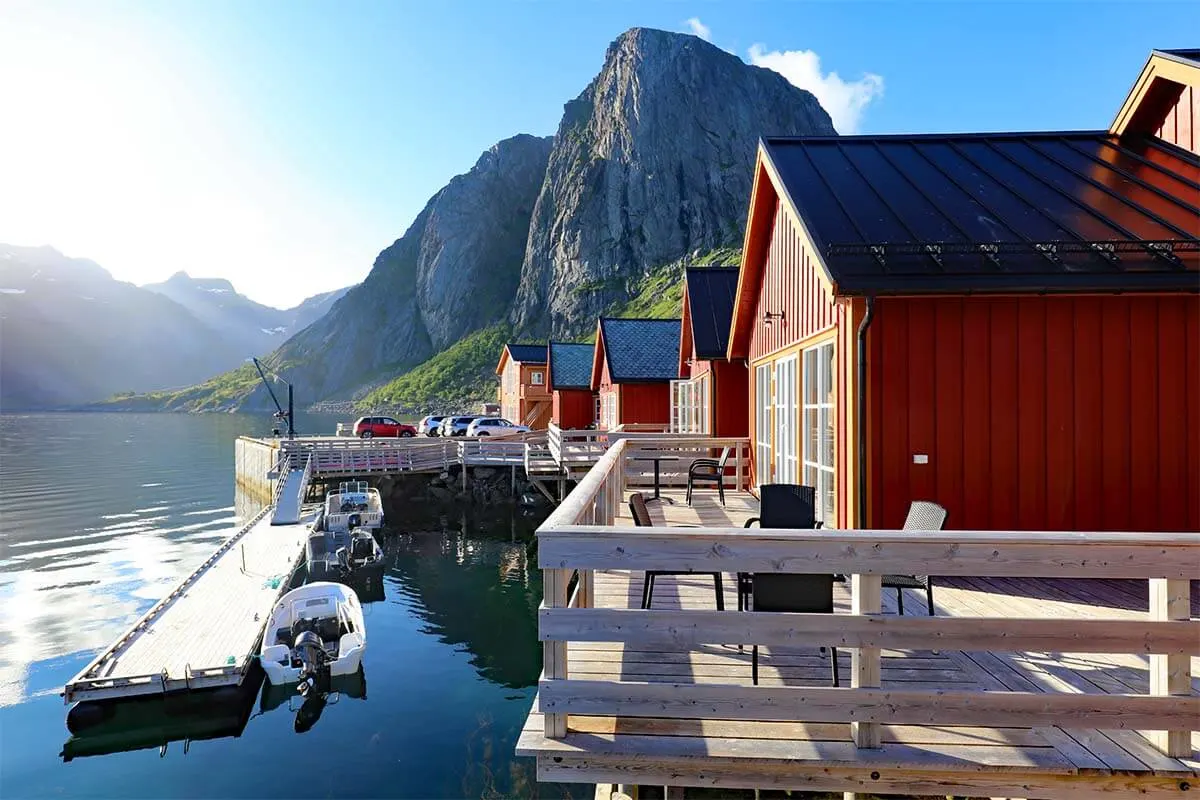 3. Leknes – Ballstad
The Leknes – Ballstad area is the best place to stay in Lofoten if you are looking for one central location and don't want to change hotels. It's about halfway between Svolvaer and Reine/Å, and all the best places to see in Lofoten are located within 1-1.5 hours drive from here.
Leknes itself is a rather big (for Lofoten standards) and uninspiring town, but the surroundings are nice and there are several really nice places to stay in this area.
Ballstad is located 10 minutes drive from the main road, on the coast, and is more scenic. There are some really nice hotels/cabins and restaurants here, but Ballstad lacks a town center. So if you stay here, you'll likely just dine at your accommodation or will have to take a car if you decide to go someplace else.
Advantages: Central location (everything in Lofoten is within maximum 1.5 hrs drive from here).
Disadvantages: Not the most scenic part of Lofoten (although a lot depends on the accommodation that you choose). Not ideal if you don't have a car.
Best things to do: Some of the nicest beaches (Haukland, Uttakleiv, Ramberg) and best hikes in Lofoten (Ryten, Offersøykammen) are very close by.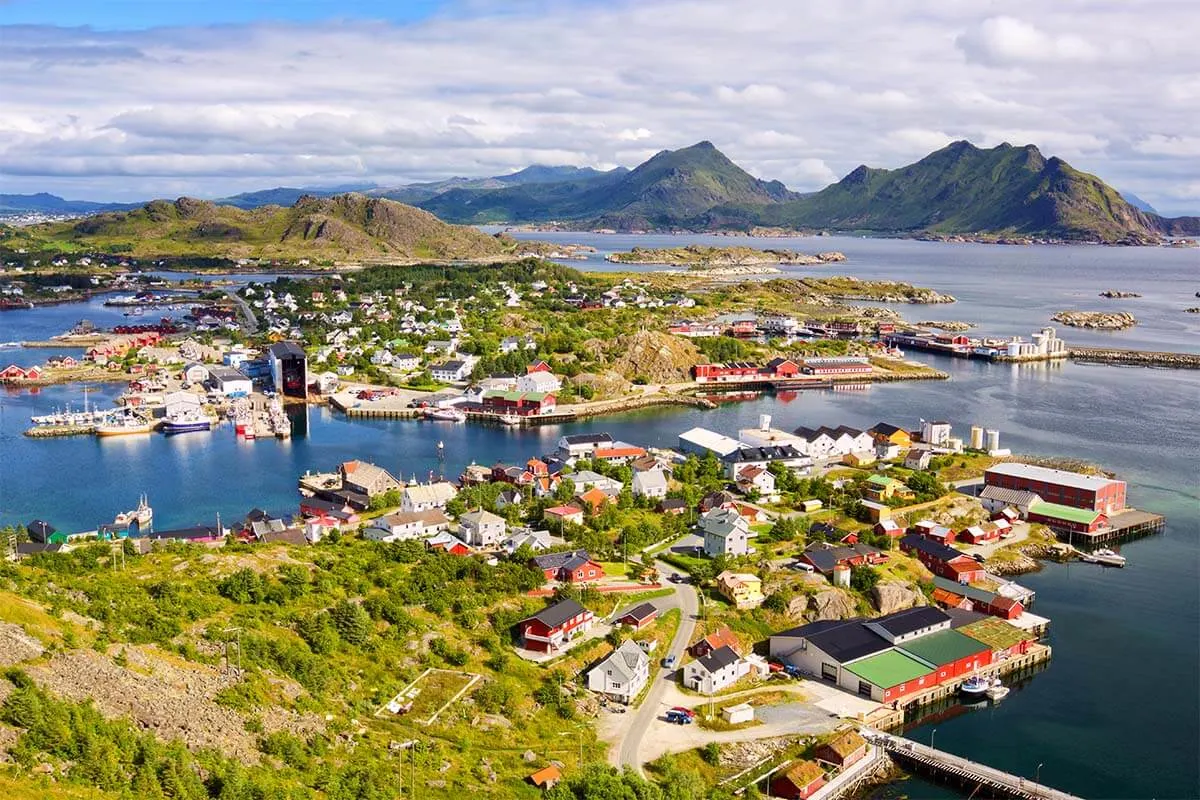 Where to Stay around Leknes/ Ballstad
In this area, we stayed at Lofoten Basecamp near Leknes. The location is quite scenic and the modern rorbuer cabins are really nice. They also have a free sauna and there are boats that you can hire for fishing trips. The Offersøykammen hike starts just behind the accommodation. However, if you need a shop or a restaurant, you'll have to drive 10-15 minutes.
In Ballstad, check out the Hattvika Lodge. It's a beautiful accommodation with a good restaurant and other facilities such as sauna or a hot tub, and they also rent kayaks, etc. This is a great place to stay in this part of Lofoten if you want to have all the comforts and facilities of a hotel.
There are many other accommodation options in this area, mostly privately-owned cabins and vacation homes, but also several hotels, etc. Take a look at the accommodation map for more options.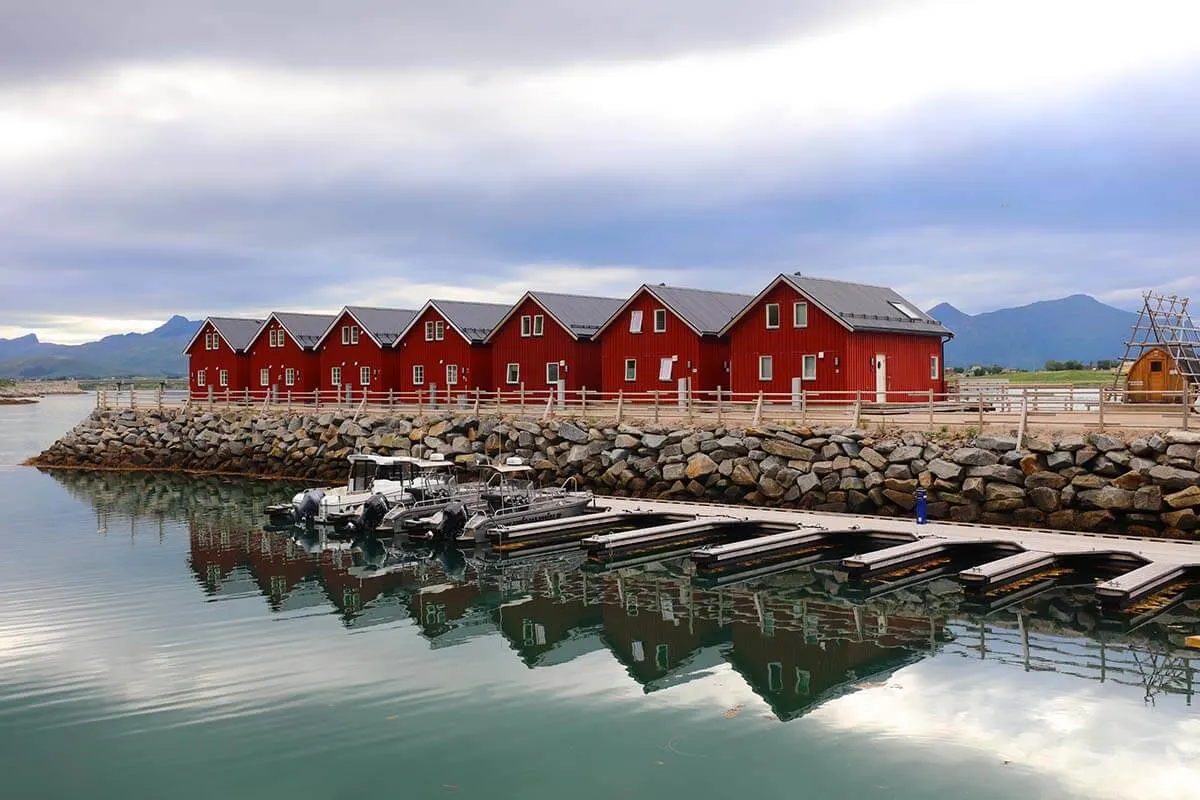 4. Nusfjord
Nusfjord is another great centrally-located place to stay in Lofoten. It's pretty close to Leknes and Ballstad, so has the same advantages. In addition, Nusfjord is extremely picturesque and the location is very scenic too.
However, Nusfjord also functions as an open-air museum and can get very busy during the day. It's one of the must-see places in Lofoten and is easily accessible by car, so there are always lots of visitors and tour buses here.
On the other hand, it is very quiet in the evenings and in the mornings, giving you plenty of opportunities to enjoy the beautiful surroundings. You can also join kayaking or fishing trips here.
Nusfjord is small and the facilities are somewhat limited. If you are looking for a nice place to stay for a night or two, then it's a wonderful choice. If you are looking for a quiet relaxing vacation experience in Lofoten – it can be very nice too, just know that you'll have to drive a bit further in order to stock up on supplies. As long as you know what to expect, it can be a great place to stay in Lofoten.
Advantages: Central location in Lofoten. The village and the surroundings are very scenic. Beautiful accommodations too.
Disadvantages: There are no supermarkets nearby and just one or two restaurants and a bakery. It's a tiny place and you will definitely need a car, yet parking is limited. It's also about 10 minutes drive off the main road.
Best things to do: Nusfjord town itself, also kayaking, walking, fishing.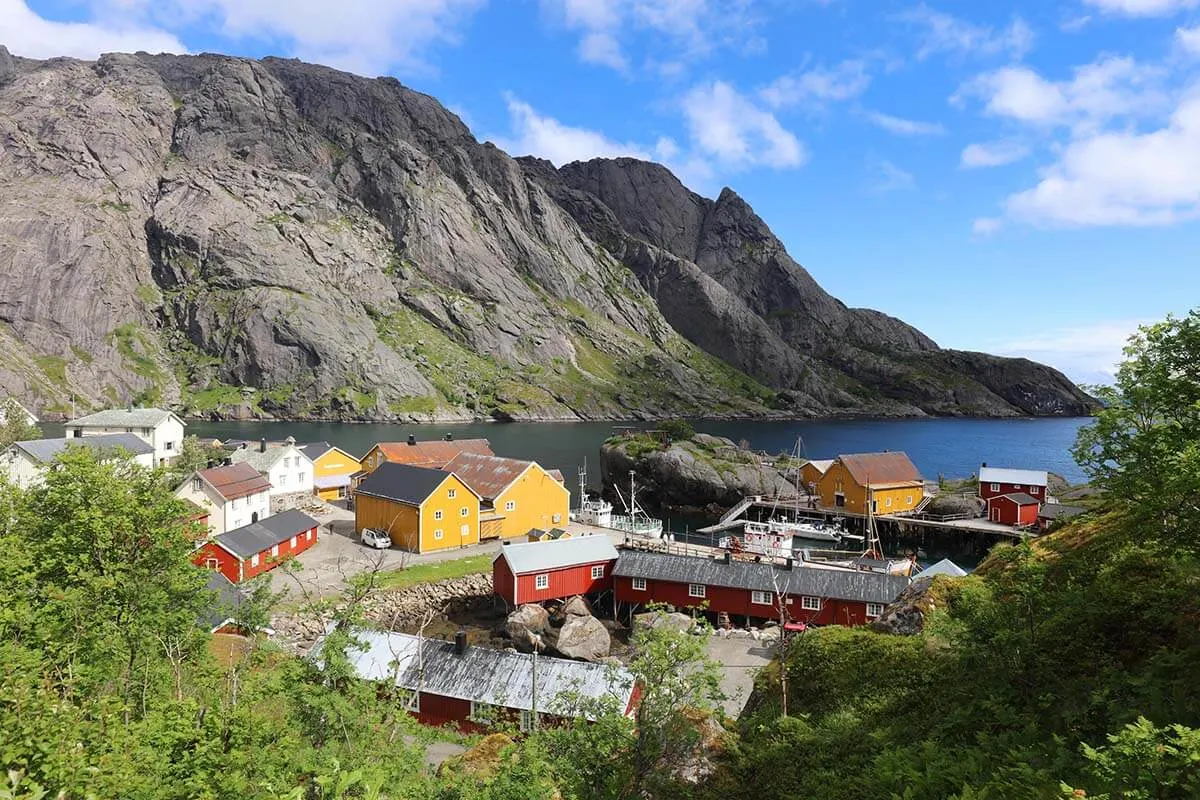 Where to Stay in Nusfjord
The nicest (and the only) places to stay in Nusfjord are Nusfjord Arctic Resort and Lofoten Cottages.
These are both modern accommodations in a traditional setting offering stunning views and a true Lofoten experience. They are also among the best-rated hotels in Lofoten.
I know some people who stayed here and they said they really enjoyed the experience, but would only recommend it for a short stay.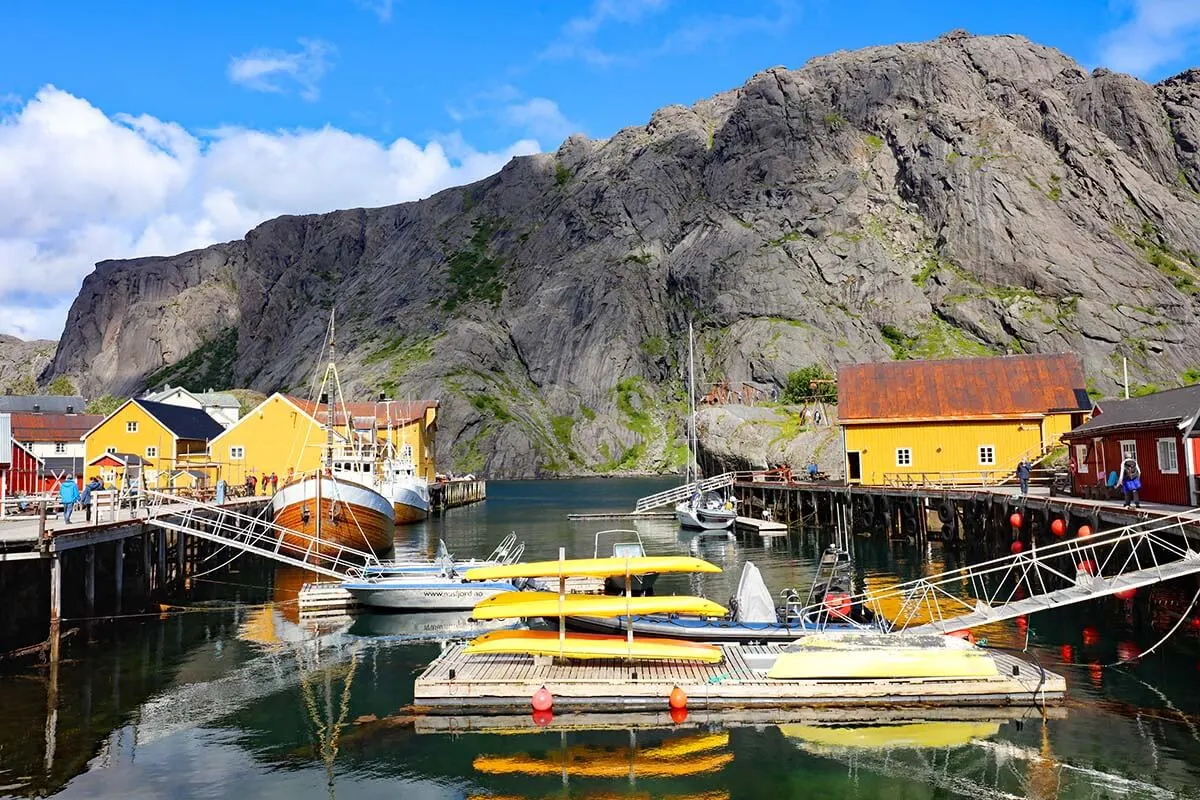 5. Henningsvær
Best known for the jaw-dropping (drone) images of the famous football field on a little island surrounded by the sea, Henningsvær is a cozy hip town with a lively atmosphere.
Henningvsaer is probably the most 'trendy' town to stay in Lofoten that will definitely appeal to younger people, solo travelers, and everyone who is looking for a livelier place. You'll find several nice bars and cafes here, art galleries, and various shops. There are also some nice hikes nearby and a few local companies organize boat and kayak tours.
Henningsvær is located quite a bit off the main road. So every time you want to go sightseeing, you'll have to do the extra 10 km to get in/out of town. Because of streetlights at one-way bridges and lots of people and cars on the road next to the most popular hiking area just outside of town, it can take you 20-30 minutes to reach the main road every time you want to go sightseeing anywhere else.
While not my personal preference as a place to stay in Lofoten in terms of location or authentic Lofoten experience, I can see the appeal of this vibrant little town.
So it all comes down to your personal preferences and what you are planning to see/do or how often you want to change your accommodation in Lofoten. If you are planning a real road trip and don't mind staying at a different place every night, then you may consider spending a night or two here. It would also be a great place to stay for digital nomads or those planning a longer workation in Lofoten.
Advantages: Nice lively atmosphere and relatively central location. Public transport. There are also accommodations for lower budgets.
Disadvantages: Located 20-30 minutes drive off the main road.
Best things to do: Hiking at Festvagtind, kayak tours, fishing trips, and visiting the art galleries in town.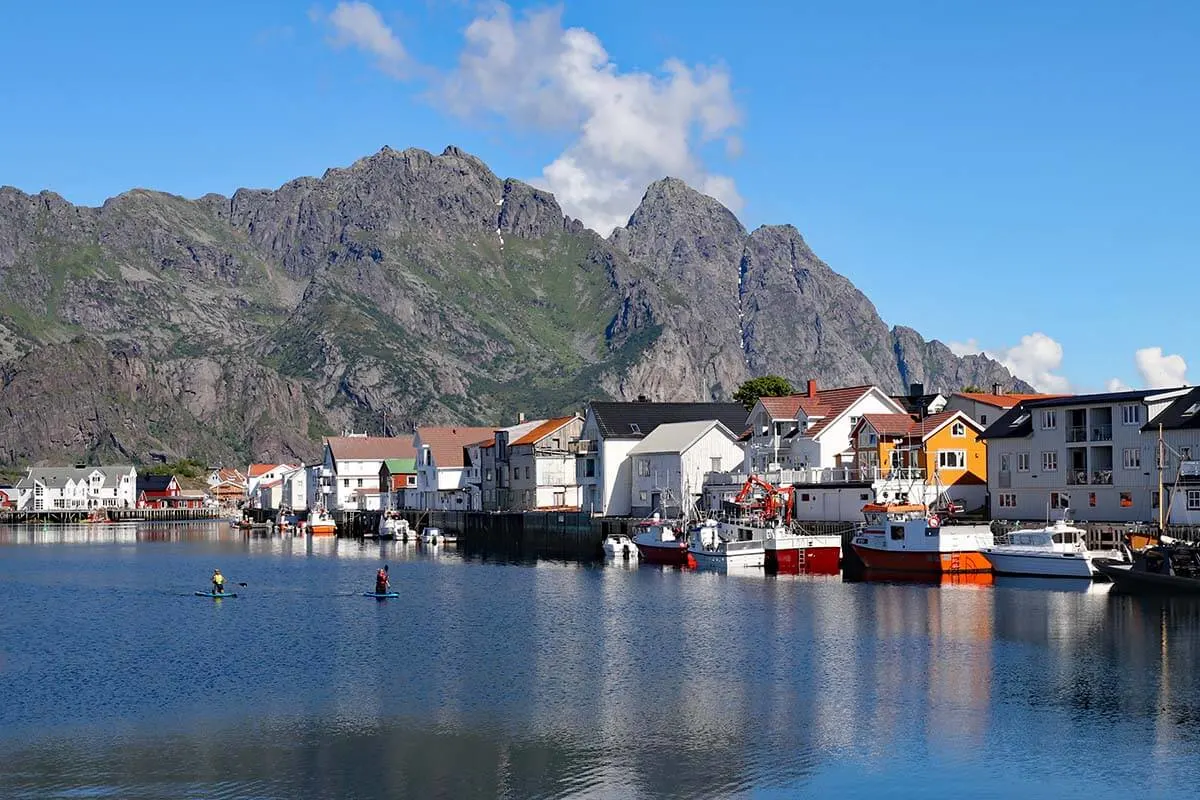 Where to Stay in Henningsvaer
There are quite a few accommodation options in Henningsvaer, but also here, most of them are privately-rented apartments and similar. There are also several guesthouses, cabins, and hotels.
TIP: If you have a car, check if your accommodation has (free) parking. There are public car parks, but parking is quite expensive here.
One of the nicest places to stay here is Henningsvær Bryggehotell – by Classic Norway Hotels. With modern rooms (some of which feature sea views) and good facilities including breakfast, it's really one of the top choices in town. Also Henningsvær Guesthouse is a beautiful choice, especially if you prefer a more 'local' experience.
If you rather stay at a traditional cottage, check out Henningsvær Rorbuer. This is also a great choice for families. If you rather opt for a modern apartment, check out Tobiasbrygga. They have apartments of different sizes (from 1 to 3 bedrooms), which are also a very good option if you are looking for a place to stay in Lofoten for a workation.
But probably the trendiest and most unique place to stay in town is Trevarefabrikken, an old factory that has been turned into a hotel. If you are looking for stylish accommodation with cool vibes, this is the place to be.
6. Å
If you are looking for a nice place to stay in the south of Lofoten or close to Moskenes ferry, then the area around Å (also known as Å i Lofoten) is a good choice.
This town with the shortest name is also the most southerly point of the road that goes through the Lofoten islands. In other words, it's as far as you can drive in Lofoten. This means that the location is not ideal for sightseeing all over the archipelago. But it can be a great place to stay if you are opting for several accommodations in different parts of Lofoten.
Å is a historic fishing village and it feels like one of the most authentic places in Lofoten. Just as Nusfjord, it's really scenic and has a similar feel. Except that here, you also find some locals, and it's a real village and not a museum. That being said, there are two interesting museums here and one of them includes several buildings which are spread out in the village.
There are several restaurants and small grocery stores in town.
Advantages: Scenic, lots of nice hikes nearby. Close to Moskenes car ferry. Public transport is available and there are accommodations for lower budgets too.
Disadvantages: Å is really far from most places in Lofoten.
Best things to do: There are a few museums in town, plus quite a few nice hikes in the area.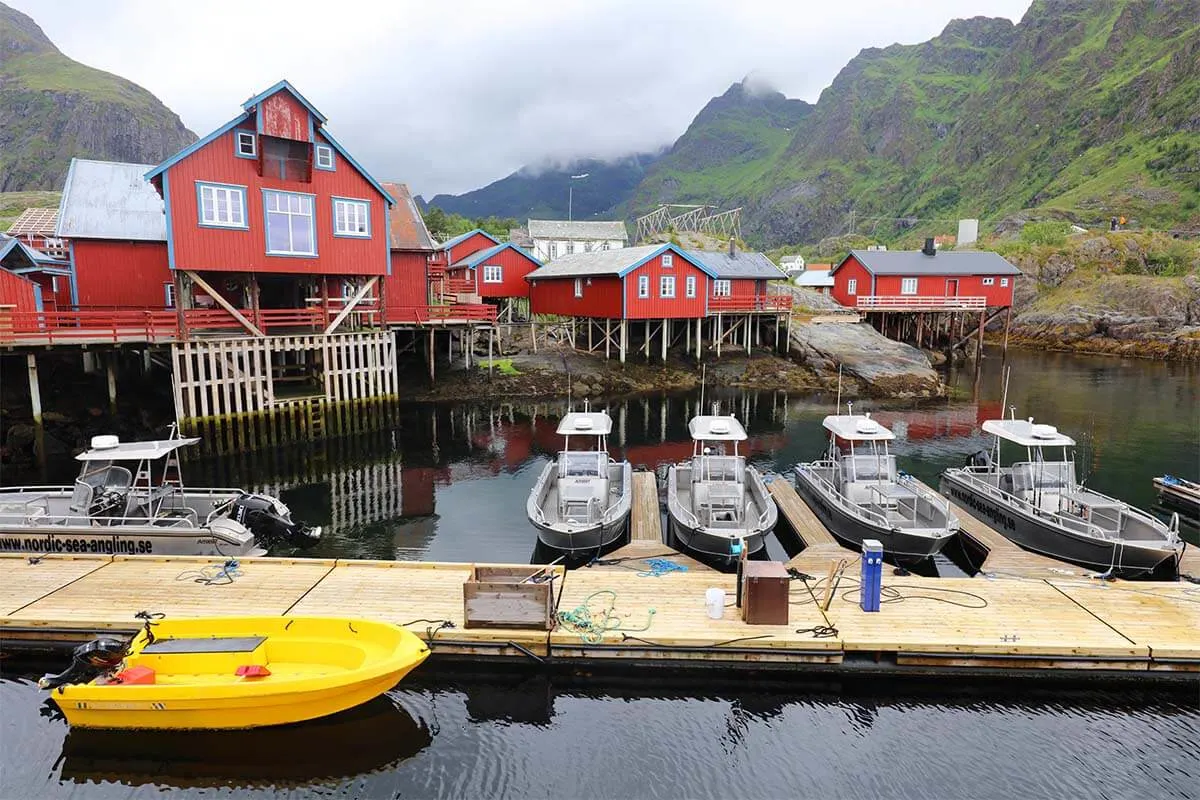 Where to Stay in Å
There are not that many accommodations in Å. Most lodging here consists of privately-owned cabins or vacation houses.
One of the best options are the traditional fishermen's cabins of Å Rorbuer. They have cottages in different sizes – from one to four bedrooms. The location is very scenic.
On a lower budget (and if you don't mind shared bathrooms), check out Brygga Restaurant and Rooms or Lofoten Å HI hostel.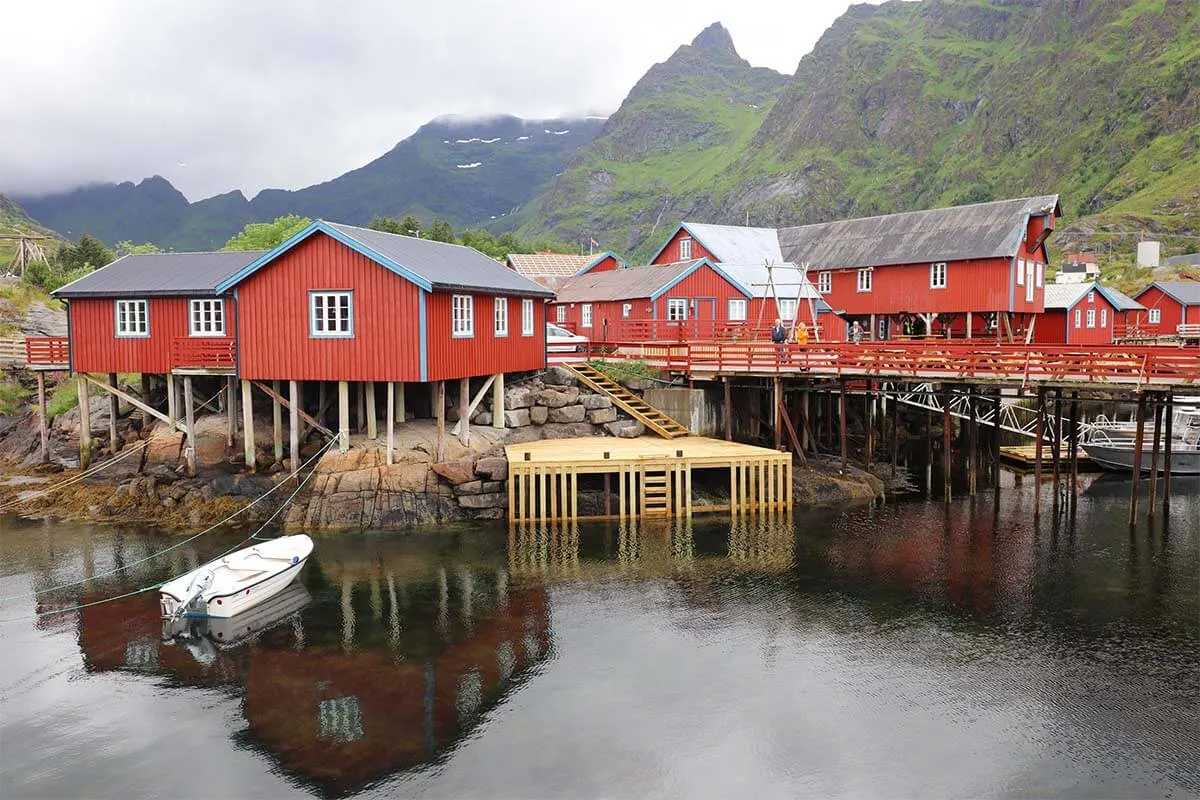 Best Places to Stay in Lofoten Islands – Our Experience
On our recent trip to Lofoten, we opted to stay in 3 different areas: Svolvaer in the north, close to Leknes in the middle, and in Hamnoy in the south.
We had more than a week in the area and this approach made it easy to explore all the different parts of Lofoten without having to spend hours in a car every day. It was also nice to get to know several places a bit better, take the time to find some of the nicest restaurants in each area, etc.
Each of these places was unique in its own way, but they all had one thing in common – we opted for traditional-style overwater cabins (rorbuer) with a terrace and nice views.
If you ask me for advice on where to stay in Lofoten, I'd recommend staying in a rorbuer cabin, even if just for a night or two. It's not necessarily more expensive than staying at a 'regular' accommodation or hotel, and it's part of an authentic Lofoten experience.
Rorbuer cabins come in all sizes and also various budgets. Keep in mind that there is a big difference between the traditional cabins that have been converted into a hotel and modern ones that have been built more recently. The older ones give you a more authentic experience, but they are usually rather small and dark. Whereas the modern ones are light and spacious, and usually have much bigger windows and nicer views.
Talking about the views – yes, it's well worth paying a bit more for it. In the summer, you can enjoy the midnight sun and in the winter – you might be lucky to see the Northern Lights from the comfort of your room. Also, if the weather turns out really bad for a while, you'll be glad to be stuck inside a cozy cabin with a nice view.
As for which town to choose – see our 'things to consider' section higher above once again. There is really no one 'best' place to stay in Lofoten and you have to pick one (or a few) that suits your situation the most.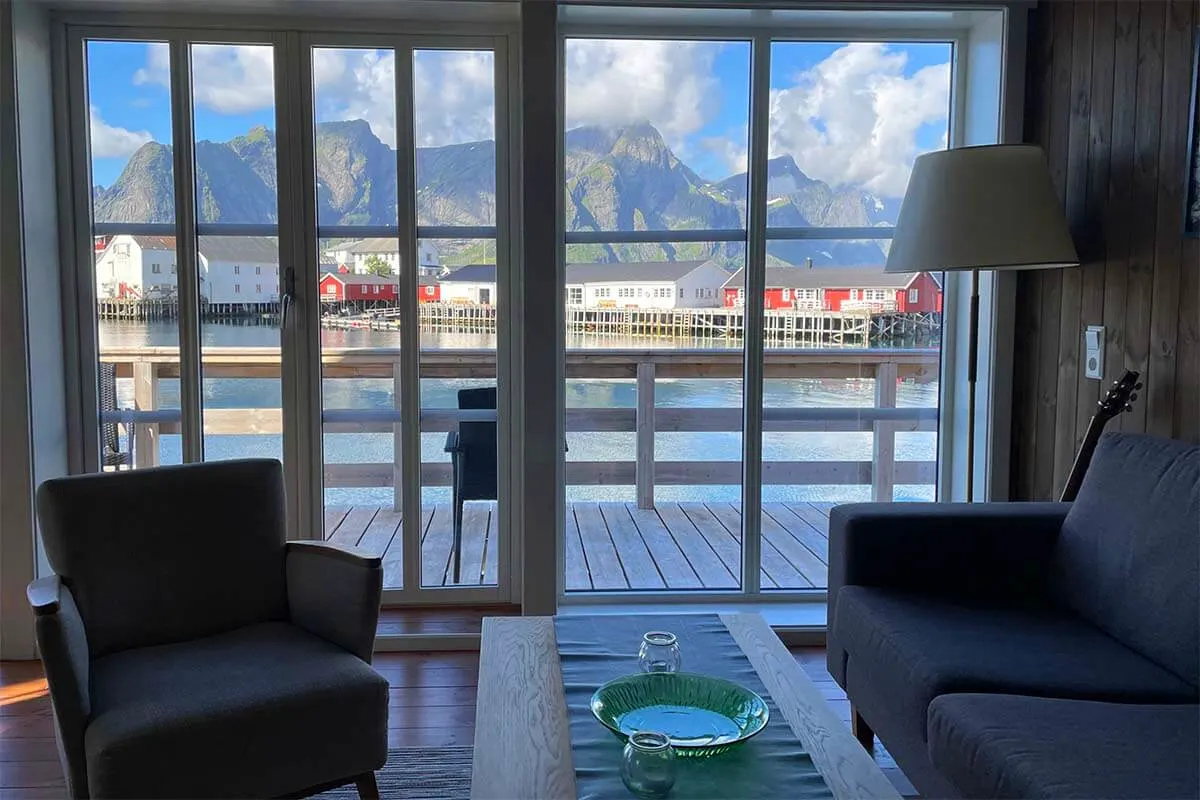 So, this is our guide to the best places to stay in Lofoten Islands.
I hope that this gives you a better idea of what to expect and helps you plan an amazing vacation in Lofoten!
TIP: For more practical information and tips for your trip, take a look at our guide to visiting Lofoten. It's packed with useful tips and info we wish we had known before our trip. Check it out!
More travel inspiration for Norway:
If you found this post helpful, don't forget to bookmark it and share it with your friends. Are you on Pinterest? Pin this image!