When looking for travel inspiration or information for the Lofoten Islands in Northern Norway, you will undoubtedly come across the word 'rorbu' or 'rorbuer' (plural). These are traditional fishermen's cabins in Lofoten.
If you are wondering what makes rorbuer so special or why everyone recommends them, this guide should answer all your questions about rorbuer in Lofoten and give you a better idea of what to expect.
First, you can learn exactly what a rorbu is and read a bit about its history.
Further down below, you can find our list of some of the best Lofoten rorbuer cabins to stay in during your vacation. We personally stayed at quite a few of them and absolutely loved it. We hope that this guide will help you choose a nice place as well!
And, of course, we also included lots of pictures of rorbuer all over the Lofoten Islands. Take a look!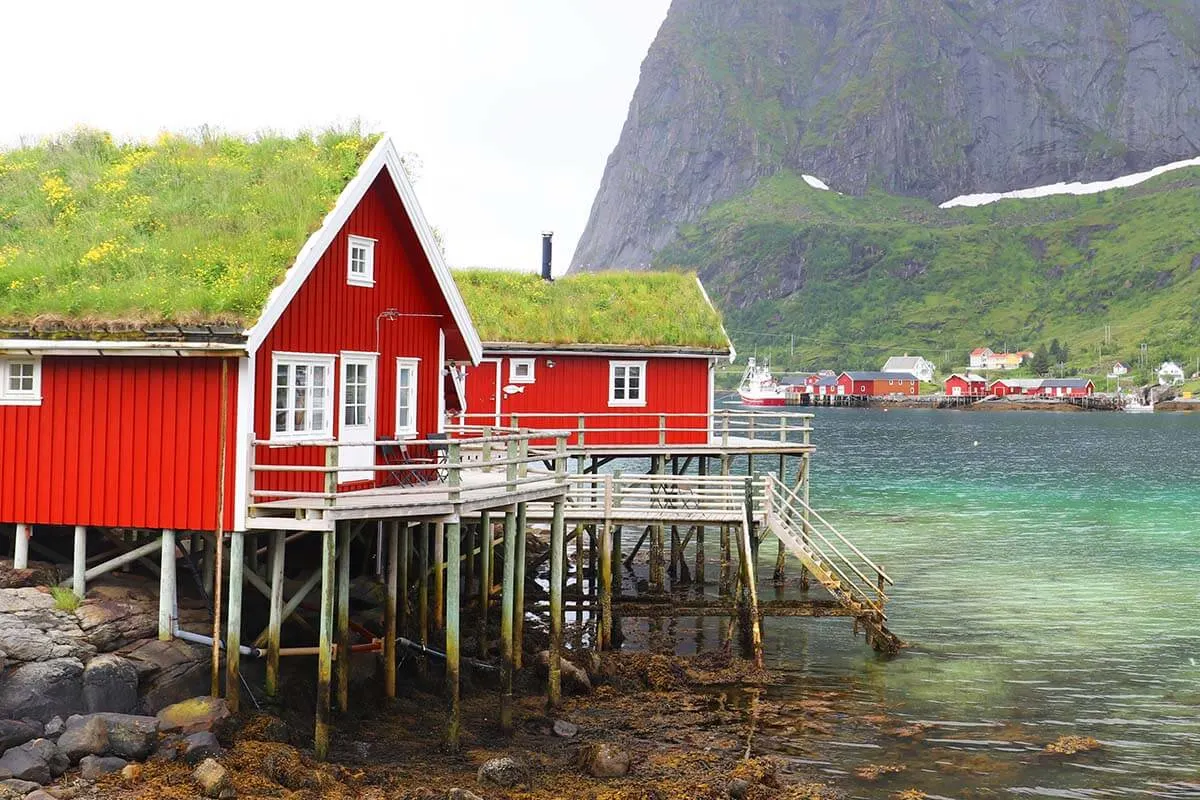 What is a rorbu?
Norway's Lofoten archipelago is well known for its rugged beauty, scenic fishing settlements, and varied wildlife. But perhaps its most recognizable symbols have to be the distinctive red cabins lining much of the coastline.
These are rorbu (rorbuer, plural) – traditional wooden fishermen's cabins in Lofoten. These cabins stand on stilts and are typically painted red with white trim. In the past, red fish-oil paint was the cheapest paint that you could get in Norway, and fishermen's huts were built using the cheapest materials. Nowadays, rorbuer are sometimes painted in other colors, such as yellow, but traditional red remains dominant.
Lofoten rorbuer cabins are among the most recognizable symbols in Norway. Many of them have been lovingly preserved and renovated to provide vacation homes to Lofoten's visitors.
These vacation cabins vary widely, from restored authentic rorbu huts with basic facilities to more recently built, spacious rorbu-style cabins with all the modern comforts and often also amazing views.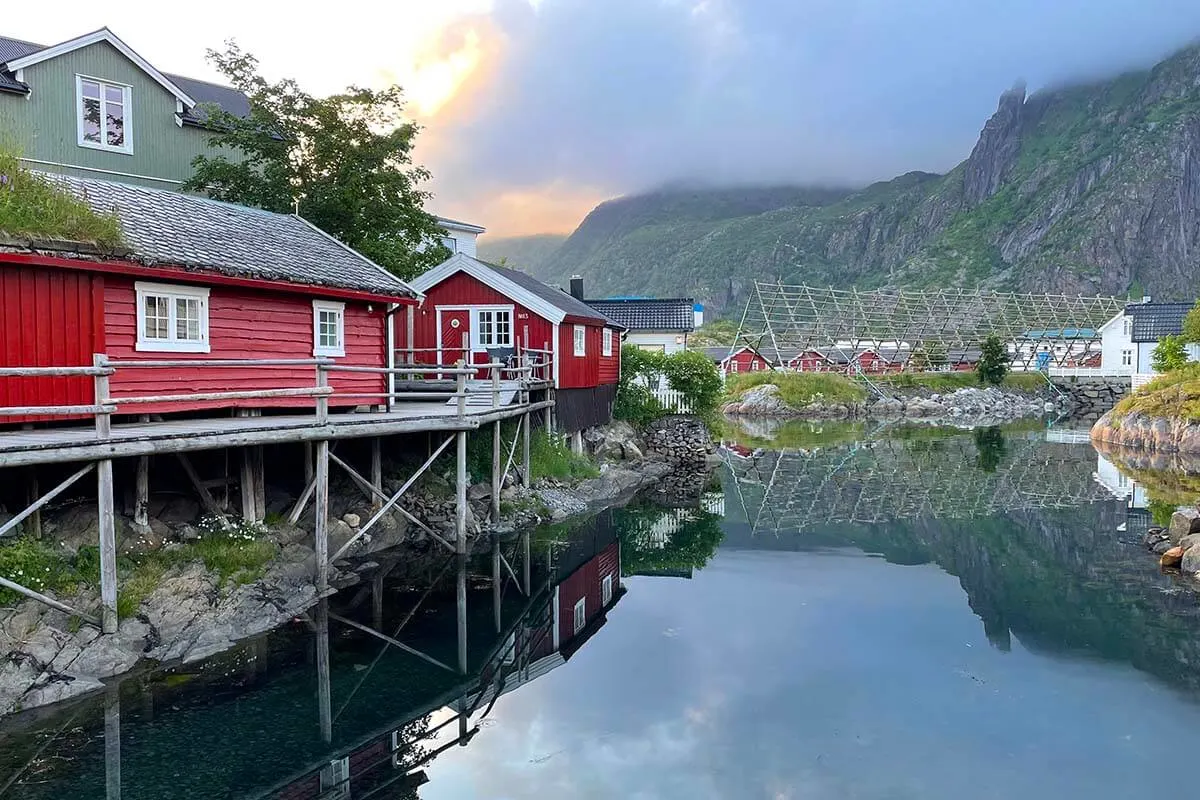 History
Fishing has been the main source of income for Lofoten's inhabitants for centuries. Norse tales from as early as the 900s describe hardy fishermen rowing towards the archipelago in order to fish for cod. Lofoten had a reputation at that time for some of the most abundant fishing grounds in the region, particularly during the winter months.
All those visiting fishermen arriving by open rowing and sailing boats needed somewhere to stay. So in 1120, the country's ruler – King Øystein – commissioned the very first Rorbu cabins to give the fishermen shelter.
Lofoten rorbu cabins were originally constructed right on the shoreline, set atop poles that extended into the sea. This made them easy to build, as the shoreline itself was particularly rocky and uneven. It also made it easy for the fishermen to bring their boats up right beside the cabins.
Most rorbuer were painted red. That's because red fish-oil paint was the type most commonly available, and therefore the cheapest to buy.
A rorbu was not a luxurious accommodation by any means. It was never intended for a long-term living but was just meant as a temporary shelter during fishing season. So the original rorbuer cabins in Lofoten were very basic, usually consisting of just two rooms. One was a living room with beds (sometimes accompanying some 20-30 people!), while the other was used for storing food and fishing gear.
As you can imagine, it was not the most comfortable accommodation, not even to mention the smell…
Over time these fishing villages developed, with more rorbuer being added along with buildings used for fish processing. But while the fishing industry thrives to this day, Lofoten rorbuer cabins now have a new purpose – and that's to provide an authentic experience to Lofoten's visitors who seek a taste of what life on the islands may once have been like.
Why stay at a rorbuer cabin in Lofoten
Visiting Lofoten Islands is a unique experience in itself. But staying in one of the traditional-style fishing cabins makes your vacation feel that bit more special!
Of course, not all rorbuer are original. Some are quite new and far more spacious and bright than the fisherman would have enjoyed hundreds of years ago. Even the older, historic cabins have been renovated to provide at least the basic comforts required by the modern traveler.
Yet staying in rorbuer cabins once used by visiting fishermen still gives you a sense of connection with the islands' history. It also makes a great way to introduce kids to the concept of a rugged lifestyle, where even basic facilities that they take for granted were completely unavailable!
There are other great advantages to staying in a rorbu, too.
Many are grouped in complexes with useful amenities like shops, restaurants, and bars located conveniently nearby.
The shoreline locations, meanwhile, mean you'll usually get a great view, whether it's from inside your cabin or just a short walk from your front door.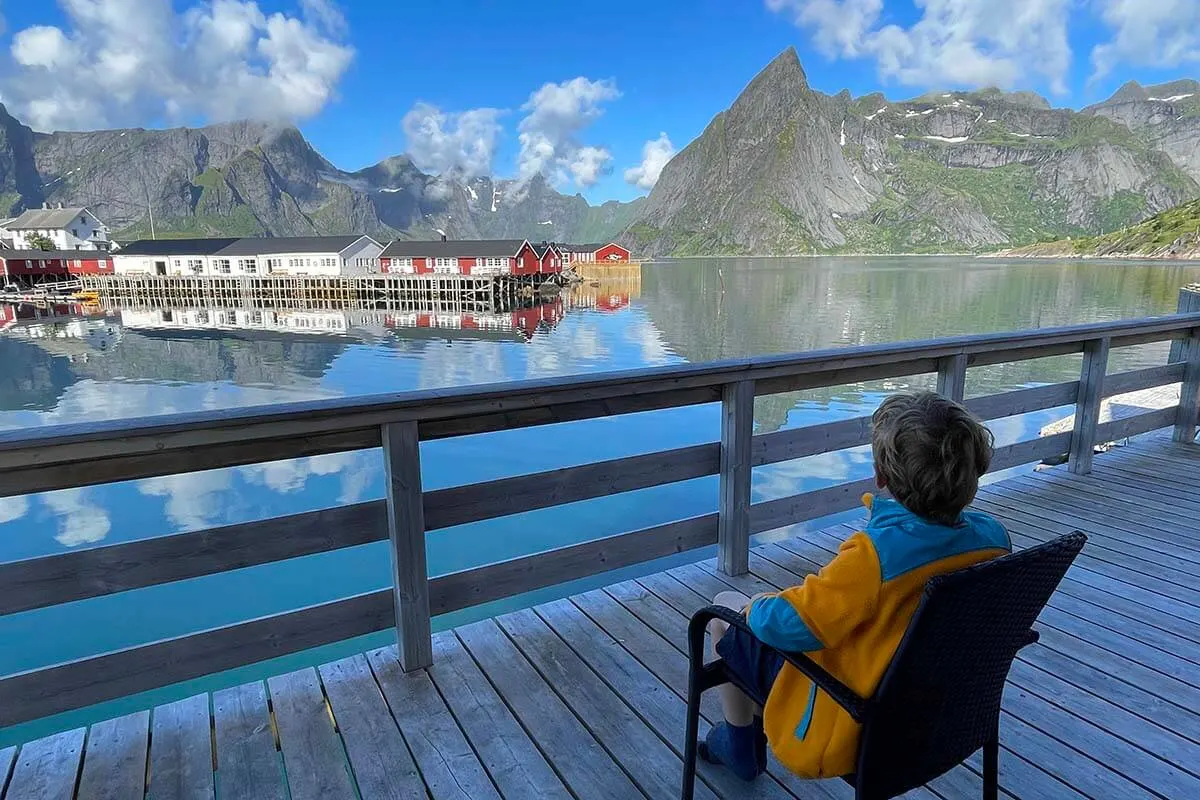 What to expect
Rorbuer can vary a lot in terms of design and facilities, so it's important to be clear about what to expect if you plan to stay in one. They tend to look quite similar from the outside, but the interiors can vary from rustic and basic to luxurious.
Traditional rorbuer are small – tiny, in fact, compared to the accommodation we are used to these days. They were built with very small windows so can feel very dark inside. This is all part of the charm – but definitely something to be aware of.
The cabins are not just small in terms of floor space, but they can be low in height, too. If you're very tall you may need to duck to avoid low roof beams and doorways. On the plus side, the character-filled traditional rorbuer tend to be the most affordable!
Mid-range to high-end rorbuer are usually more modern in design, with spacious rooms and large windows (often floor-to-ceiling) to enable you to enjoy the views. Some may offer multiple bedrooms and living rooms, plus a kitchen and at least one bathroom. These can be great for larger families.
Soundproofing (or the lack of it) can be an issue with all rorbuer. In some ways this can be charming – indeed, it's pretty cool to lie in bed at night and listen to the water lapping beneath your cabin.
On the other hand, this may mean that you hear quite a bit from your neighbors, particularly if your cabins are very close together. Not even to mention the noise of the seagulls – especially if visiting Lofoten in the summer months.
In addition, some robruer are 2-story, with a separate unit of accommodation on each floor. Due to the wooden flooring, this can be pretty noisy for the party staying on the ground floor.
Something else to note if you are traveling with younger children is that almost all rorbuer are located on or close to the water's edge, with little to no fencing between the accommodation and the sea. But the trade-off for such a location is the opportunity to watch the wildlife in the bay, the sea eagles fishing, or – the Northern Lights all from the comfort of your cabin.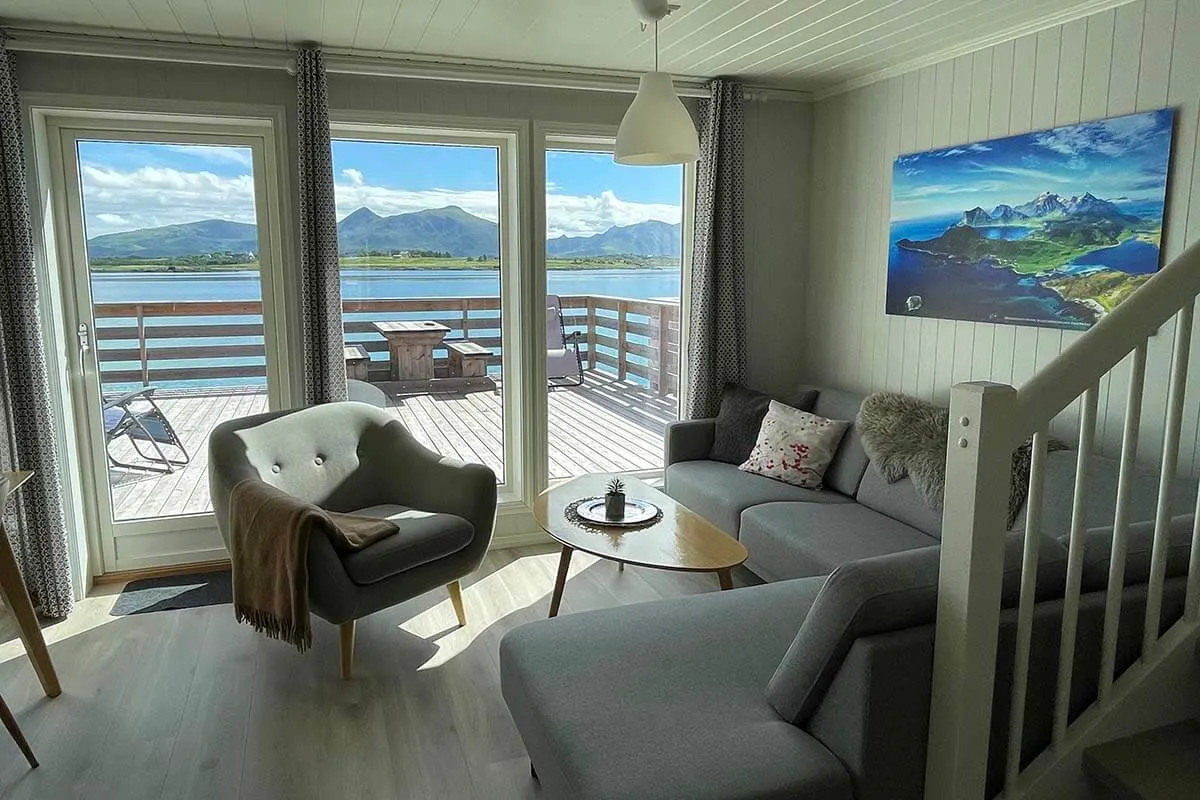 Best rorbuer in Lofoten
Below, you can find more information about the nicest and most famous rorbuer cabins in Lofoten.
TIP: In addition to finding the best rorbuer cabin for your vacation, you may also want to check our guide on where to stay in Lofoten (which towns and areas are best, what they offer, and what to expect).
These are the best rorbuer in Lofoten:
1. Eliasen Rorbuer (in Hamnøy – Reine)
The Eliassen Rorbuer cabins are located at one of the most scenic and most photographed spots in Lofoten. It's like staying inside a postcard!
The location – in the fishing village of Hamnøy on the Reinefjorden – is breathtaking, the cabins nestled against a backdrop of soaring mountains.
The resort is the oldest on the island but the rorbuer themselves are mostly modern rather than rustic, having been largely renovated in 2010. A few historic ones remain, though, if you're looking for a more authentic experience.
All cabins have small kitchens and range from studio size to 3 bedroom accommodation sleeping up to 6 guests. Some also have an outdoor terrace.
There is a wonderful on-site Gadus restaurant serving Italian/Nordic fusion. We had one of the best meals in Lofoten here! Plus, you can choose from a whole host of (seasonal) activities available to book, from bicycle hire and boat trips to kayaking, etc.
The Eliassen Rorbuer cabins are located very close to the main road connecting all the islands, just a short drive from Reine. There is also a small harbor here where you can hop on or off the Reinefjorden boat cruise or take a boat excursion to Vaeroy island.
Good to know: Because of their fame and popularity (but also their excellent location and good price/quality ratio), these cabins tend to get booked up quickly. So be sure to reserve well in advance.
Here you can find more information, read customer reviews, and check the availability of Eliassen Rorbuer cabins.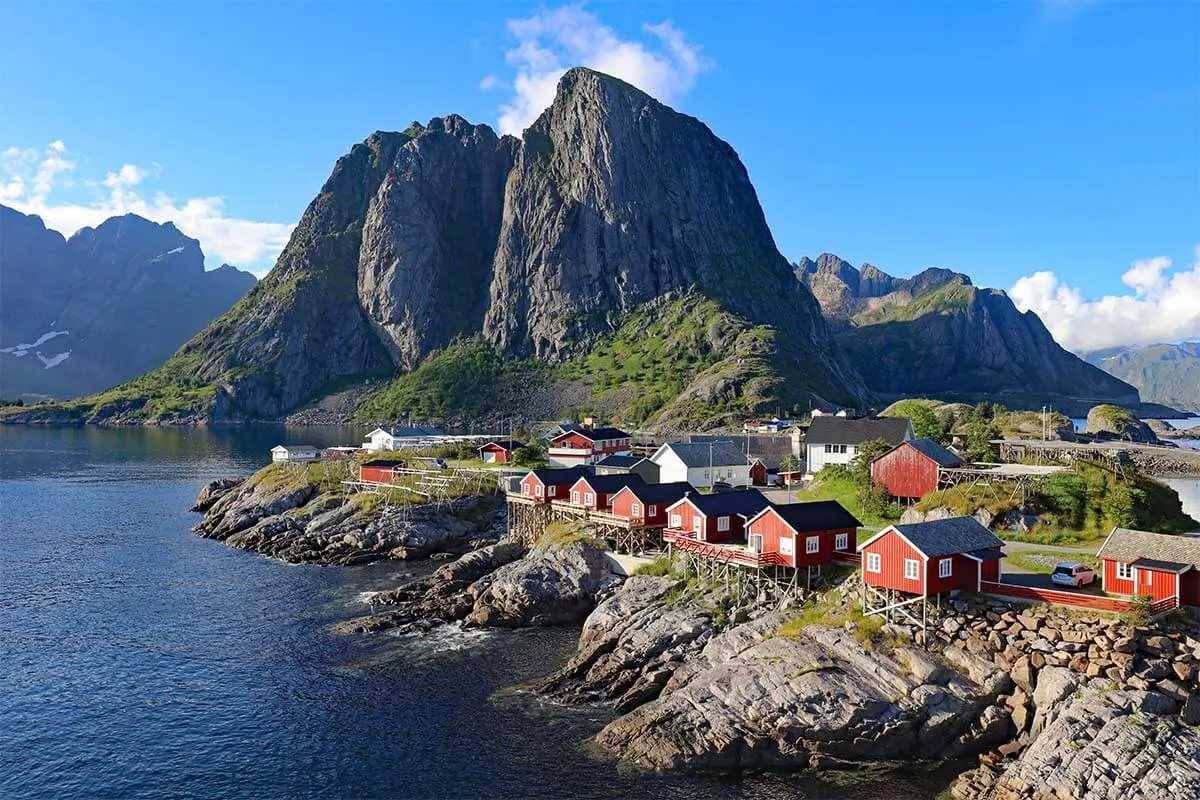 2. Reinefjorden Sjøhus (in Hamnøy – Reine)
Set at the entrance of the beautiful Reinefjorden and overlooking the previously-mentioned Eliassen Rorbuer cabins and Hamnøy harbor, you'll find some of the most beautiful modern rorbuer cottages in Lofoten – Reinefjorden Sjøhus.
While at Eliassen Rorbuer you are staying inside the postcard, from Reinefjorden Sjohus you are looking at it. In a way, the views here are even better.
What makes these cabins even better is that they are modern and spacious, and every cabin has a beautiful private terrace and stunning views. Furthermore, they are really well equipped. In addition to the rorbuer cabins on stilts, there is also a bigger building housing several apartments. So be sure to check what exactly you are booking!
There is no restaurant here, but you can walk to Gadus restaurant at Eliassen just across the water. And there are many restaurants and several shops in Reine, just a short drive away.
We stayed at one of the beautiful rorbuer cabins at Reinefjorden Sjøhus for a few days and didn't want to leave. It's truly one of the nicest accommodations in Lofoten!
Here you can find more information, read customer reviews, and check the availability of Reinefjorden Sjøhus.
3. Lofoten Rorbu Lodge & Lofoten Basecamp (in Offersøya – Leknes)
Located in Offersøya near Leknes, around a one-hour drive from either Svolvær or Reine, you'll find some of the nicest modern rorbuer cabins in Lofoten. The cabins have different owners and thus different names, but they all offer pretty much the same (great) experience.
One of the accommodations here is called Lofoten Rorbu Lodge, the other – Lofoten Basecamp, and there are also a few other cabins for rent in this same complex.
These bright, modern cottages put a contemporary twist on traditional rorbu cabins. The accommodation options range in size up to 4 bedroom villas.
Whilst the double rooms are somewhat in keeping with traditional rorbuer, the suites and villas are larger, with floor-to-ceiling windows and kitchens fully equipped with all modern conveniences, including dishwashers. All come with their own private terraces offering fantastic sea views.
The biggest disadvantage of this location is that you need a car for everything including shops and restaurants. But we recently stayed at Lofoten Basecamp here and it was truly one of our favorite accommodations in Lofoten. The location is so peaceful, the views are amazing, and it's really centrally located for sightseeing all over the Lofoten islands.
The trailhead for the Offersøykammen hike is within easy walking distance and the central location is ideal for day trips to the surrounding areas. Lofoten Basecamp has the added advantage of a sauna, with amazing views.
Here you can find more information, read customer reviews, and check the availability of Lofoten Basecamp and Lofoten Rorbu Lodge.
4. Svinoya Rorbuer (in Svolvær)
The Svinoya Rorbuer cabins are a mixture of newly built and traditional cabins located on a small island in the Svolvær harbor, around a 15-minute walk from the town center.
The rorbu cabins offer 1 to 3 twin bedrooms and come with kitchens and one or more bathrooms. They feature traditional craftsmanship and timber for a more authentic feel. Many cabins here are small and rather dark – just as they used to be in the past (minus the fish smell, plus modern bathrooms ;)).
Also available are modern 'rorbusuites'. These have 2 floors and sleep up to 8 people, each with a private quay front terrace, 2 bathrooms, a fully equipped kitchen, dining room, and living room.
The resort features a range of renovated historical houses, too, along with a Manor House that dates back almost 200 years.
You also have the convenience of a good on-site restaurant – Børsen Spiseri – which specializes in stockfish but has a great, all-around seasonal menu. Just outside it is the complex's floating sauna, which offers great views towards the harbor of Svolvær and Svolværgeita. There is also a small art gallery located on the property grounds.
Good to know: Since Svolvaer is the main town in Lofoten, there is a wide range of activities is available here, in every season. The most popular tours include Northern Lights tours, sea safaris to Troll Fjord, cycling, fishing, and hiking.
Here you can find more information, read customer reviews, and check the availability of Svinoya Rorbuer cabins.
5. Nusfjord Arctic Resort (in Nusfjord)
The tranquil village of Nusfjord is one of the best-preserved in Lofoten and has a scenic location surrounded by mountains. The entire village functions like an open-air museum attracting lots of tourists.
In addition to the museum buildings, Nusfjord is also home to the Arctic Resort, one of the most beautiful rorbuer complexes on Lofoten, nestled in a small seaside cove.
There are 20 high-end but compact cabins in the development, all extensively refurbished to combine modern comfort with tradition. Some are located around the pier of the harbor, giving you great waterfront views, and others line the peaceful bay. There are also cabins in the village, which are sheltered from the wind and a little closer to the amenities of the village.
Some rooms feature basic kitchen facilities and some have their own private terraces.
All you need is close at hand, with a handy shop in the village that sells snacks, gifts, and an incredible fish soup! There are two restaurants – the Oriana Tavern, serving excellent pizza, and the romantic Restaurant Karoline which specializes in seafood. There is also a cafe that serves light meals and snacks. This makes the lack of kitchen facilities less important than with some of the other complexes, where there are few dining options.
You can book a variety of excursions from the front desk or visit the Salteriet, once a salt house where fish roe would have been salted and stored. This is now an art gallery, displaying works over two floors.
Here you can find more information, read customer reviews, and check the availability of Nusfjord Arctic Resort.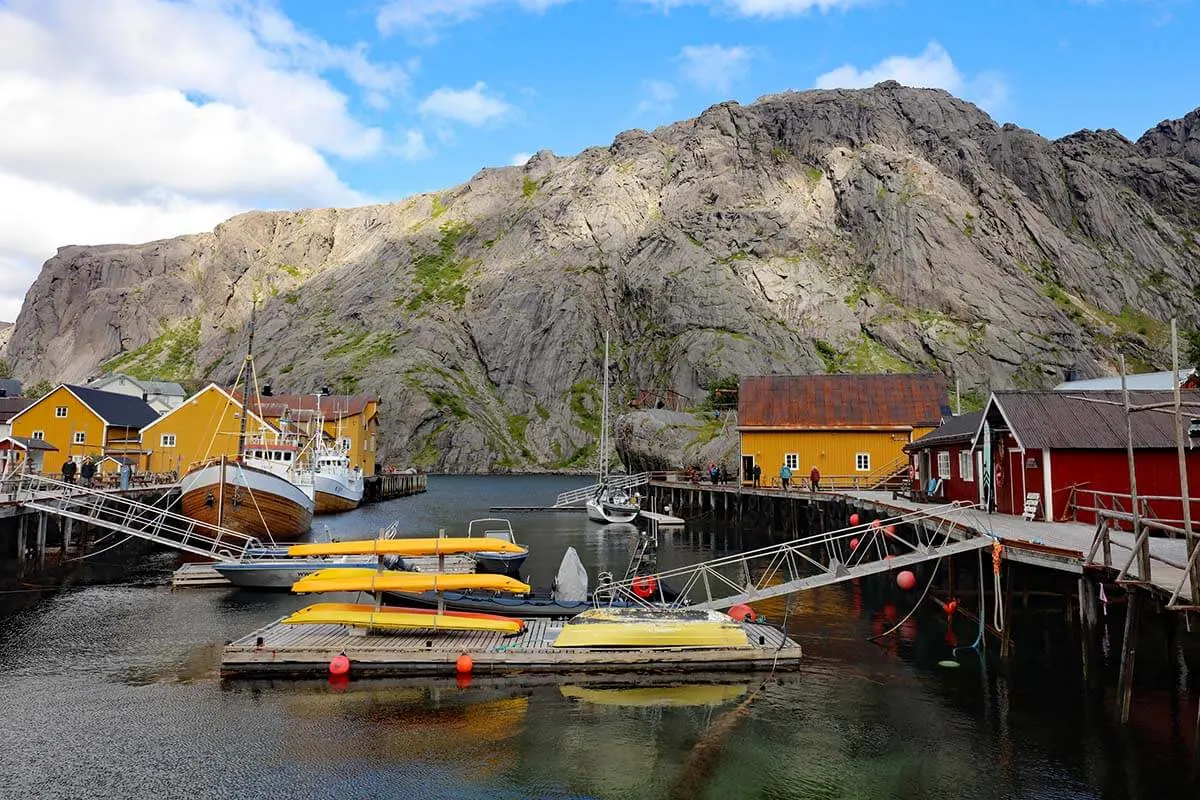 6. Reine Rorbuer by Classic Hotels (in Reine)
Reine is one of the most photographed villages in Norway, often appearing on the front of travel brochures because of its outstanding beauty. It is made up of several islands, connected by bridges, and is one of the most scenic locations in Lofoten.
The Reine Rorbuer – by Classic Norway Hotels has 40 cabins, all restored to a very high standard. The interiors are designed to look as authentic as possible, with rustic-looking furniture and fittings. They range in size from 1 to 3 bedrooms, all with their own bathrooms and most with fully equipped kitchens.
An on-site restaurant – Gammelbau – serves traditional meals made with seasonal local produce and incorporating a little international flair.
The Reine Fjord is nearby and a wide range of seasonal activities can be arranged by the hotel or local partners. And if you want to hike to the famous Reinebringen peak, the trailhead is just a short walk from the village.
Here you can find more information, read customer reviews, and check the availability of Reine Rorbuer.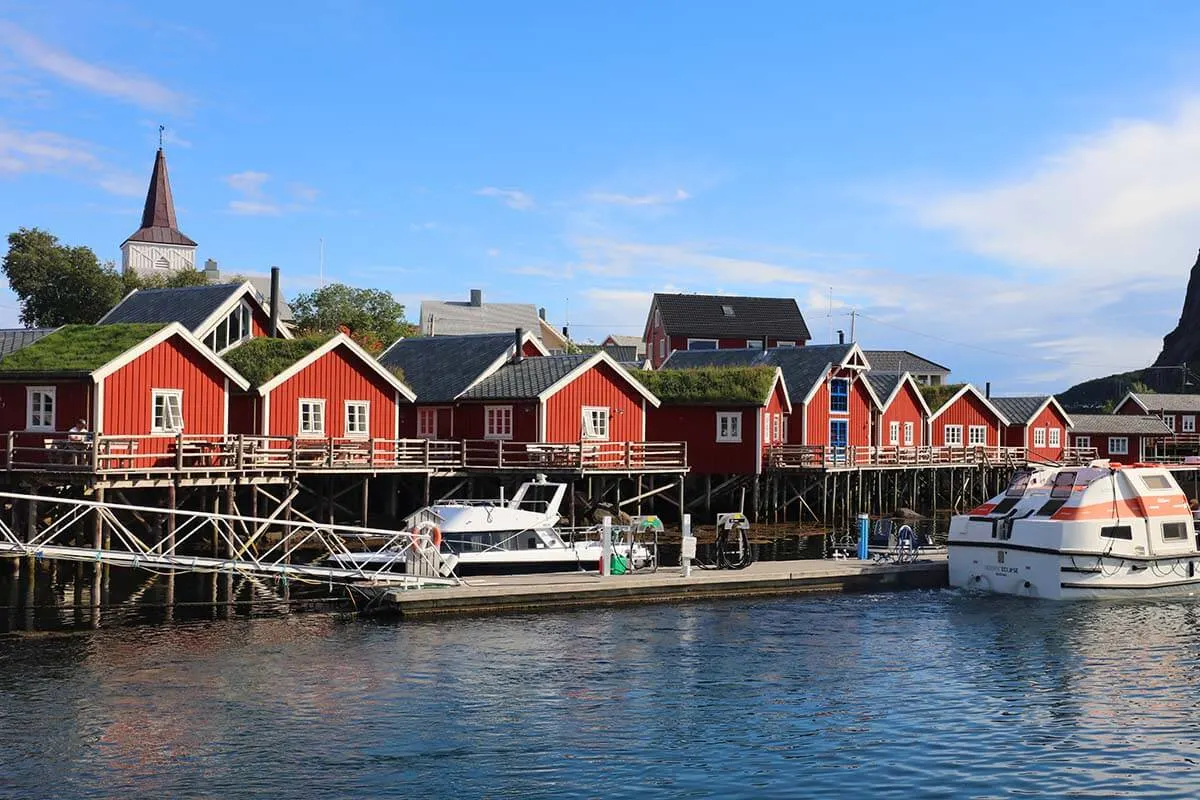 7. Sakrisøy Rorbuer (in Reine)
Located between Hamnøy and Reine, bright yellow cabins of Sakrisøy Rorbuer are among the most photographed rorbuer in Lofoten.
These are traditional-style waterfront cabins with cozy wooden interiors and all the modern comforts. Accommodation here ranges from budget rooms to 1-2 bedroom cottages, and also a deluxe bungalow and a 2-bedroom house.
There is a very nice restaurant/pizzeria here and also the famous Anita's Seafood cafe is just across the street. Reine is just a short drive away as is Hamnøy. This is truly one of the most scenic areas in Lofoten!
Here you can find more information, read customer reviews, and check the availability of Sakrisøy Rorbuer.
8. Å Rorbuer (in Å i Lofoten)
There's something very special about staying in Å village at the very end of the road in Lofoten. A few of the rorbuer in this village are still used by fishermen to this day.
The rest are the Å Rorbuer cottages, used as vacation accommodations. Ranging in size from 1 to 4 bedrooms, these rorbuer offer panoramic ocean and mountain views. Dating back to the early 1900s, they have been thoughtfully renovated to maintain their original appeal and each has its own balcony, plus a living room, kitchen, and bathroom
The on-site Brygga Restaurant dates back to the 19th century and has a rustic feel, with antique furnishings and pictures on the walls harking back to the region's past. Ingredients are locally sourced and the restaurant serves breakfast, lunch, and dinner. You also have access to a fully licensed bar.
A fjord cruise by boat to Reinefjord is available to book from mid-June to mid-August. The boat to Vaeroy island also stops in Å.
Here you can find more information, read customer reviews, and check the availability of Å Rorbuer.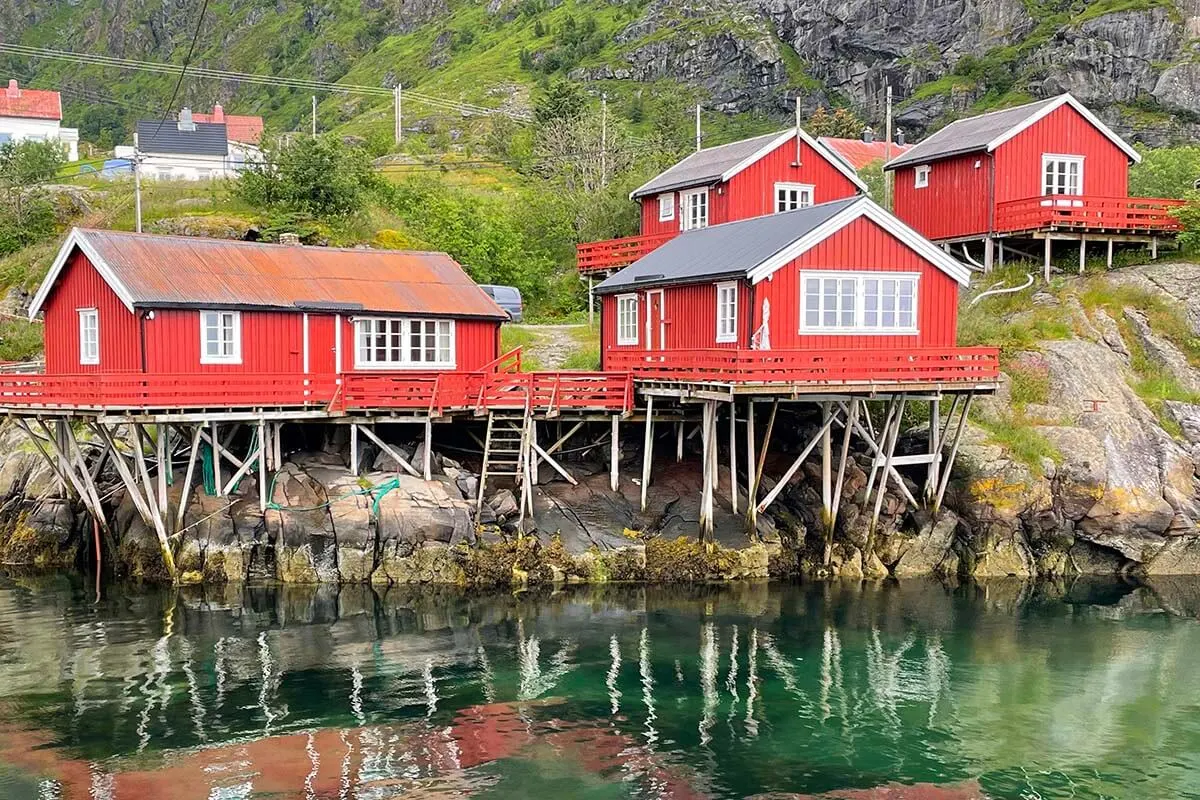 Lofoten Rorbu FAQ
What is a rorbu in Lofoten?
Lofoten rorbuer are traditional fisherman's cabins in Lofoten Islands in Northern Norway. A typical rorbu stands on stilts and has a distinctive bright red color. Nowadays, rorbuer are among the most sought-after vacation accommodations in Lofoten offering a more authentic experience to its visitors.
Rorbu or rorbuer?
Rorbu or rorbuer are traditional fishermen's cabins in Lofoten archipelago in Northern Norway. Rorbuer is the plural form of rorbu.
What are the best rorbuer cabins to stay in Lofoten?
There is a big range of rorbu accommodations in Lofoten. Some of the nicest rorbuer cabins include Eliasen Rorbuer and Reinefjorden Sjøhus in Hamnøy, Svinoya Rorbuer in Svolvaer, Lofoten Rorbu Lodge and Lofoten Basecamp in Offersøya, Nusfjord Arctic Resort, Reine Rorbuer and Sakrisøy Rorbuer in Reine, and Å Rorbuer.
Which are better – traditional or modern rorbuer cabins?
Whether you opt for a traditional or a modern rorbu cabin depends purely on your preferences and budget. While traditional rorbuer in Lofoten definitely have their charms, we definitely prefer the more spacious and bright modern rorbuer cabins such as Reinefjorden Sjøhus or Lofoten Basecamp. One of the biggest advantages of modern overwater cabins vs traditional rorbuer is that they usually offer a private terrace with stunning views.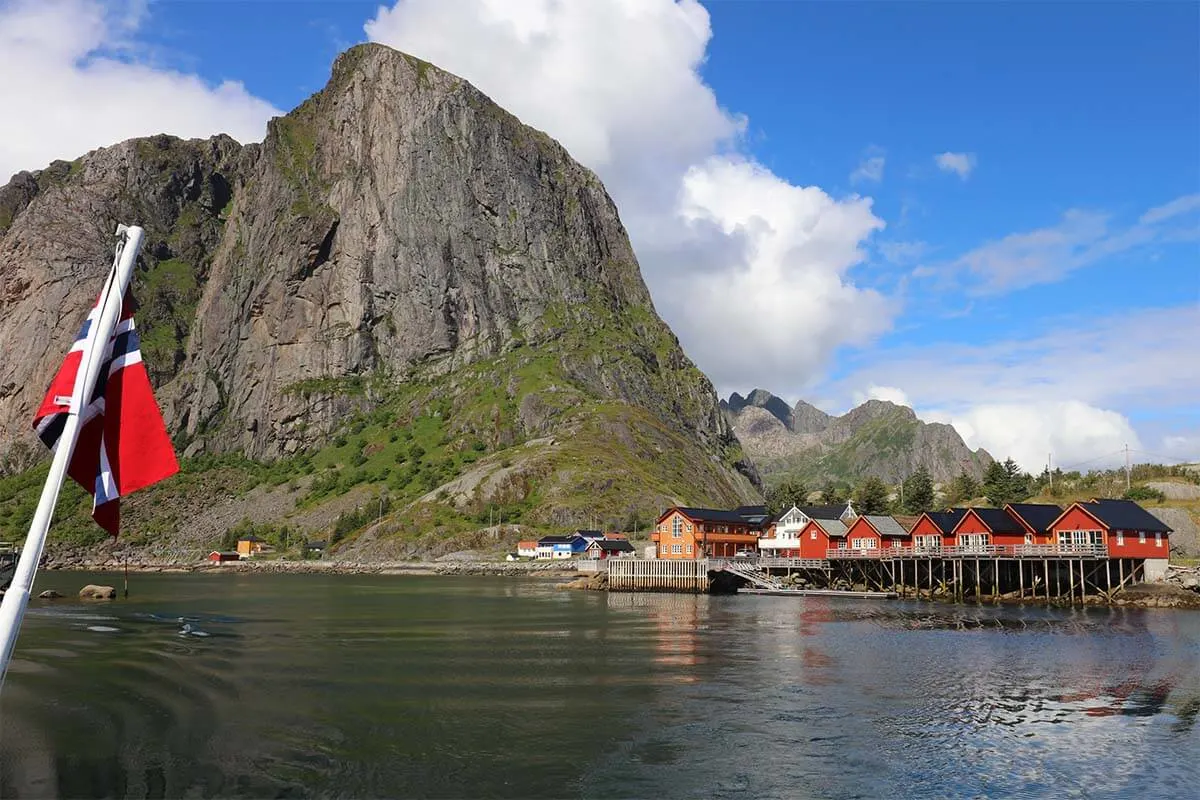 So, this is our guide to some of the nicest rorbuer in Lofoten.
I hope that it gives you a better idea of what to expect and helps you choose the right accommodation for your trip!
TIP: If you have time, stay a few nights at different rorbuer cabins in different parts of Lofoten. That way, you can experience this beautiful area to the fullest! This is exactly what we did on a recent trip. You can read all the details in our Northern Norway itinerary.
READ ALSO: Tips for Visiting Lofoten & Best Things to Do in Lofoten
If you found this post helpful, don't forget to bookmark it and share it with your friends. Are you on Pinterest? Pin this image!