Traveling to Antwerp in Belgium for a few days and wondering what's the best area to stay on your first visit?
In this guide, you can find an overview of the best neighborhoods to stay in Antwerp for sightseeing, shopping, and dining. For each area, we also include hotel recommendations for all budgets.
Good to know: The center of Antwerp is not that big and you can walk between the Central Station and the old town in about 20-30 minutes. In addition, there are (underground) trams that make it easy to get around if you have to cover bigger distances or if you have luggage and prefer not to walk.
So finding a good place to stay in Antwerp close to everything is not that difficult. Still, there is quite a big difference between various areas, and picking the right location to stay in Antwerp can make your visit so much more enjoyable.
TIP: If you don't have the time to read the entire article and are wondering about our personal recommendations on where to stay in Antwerp, here are some of the best-rated mid-budget hotels for your first visit: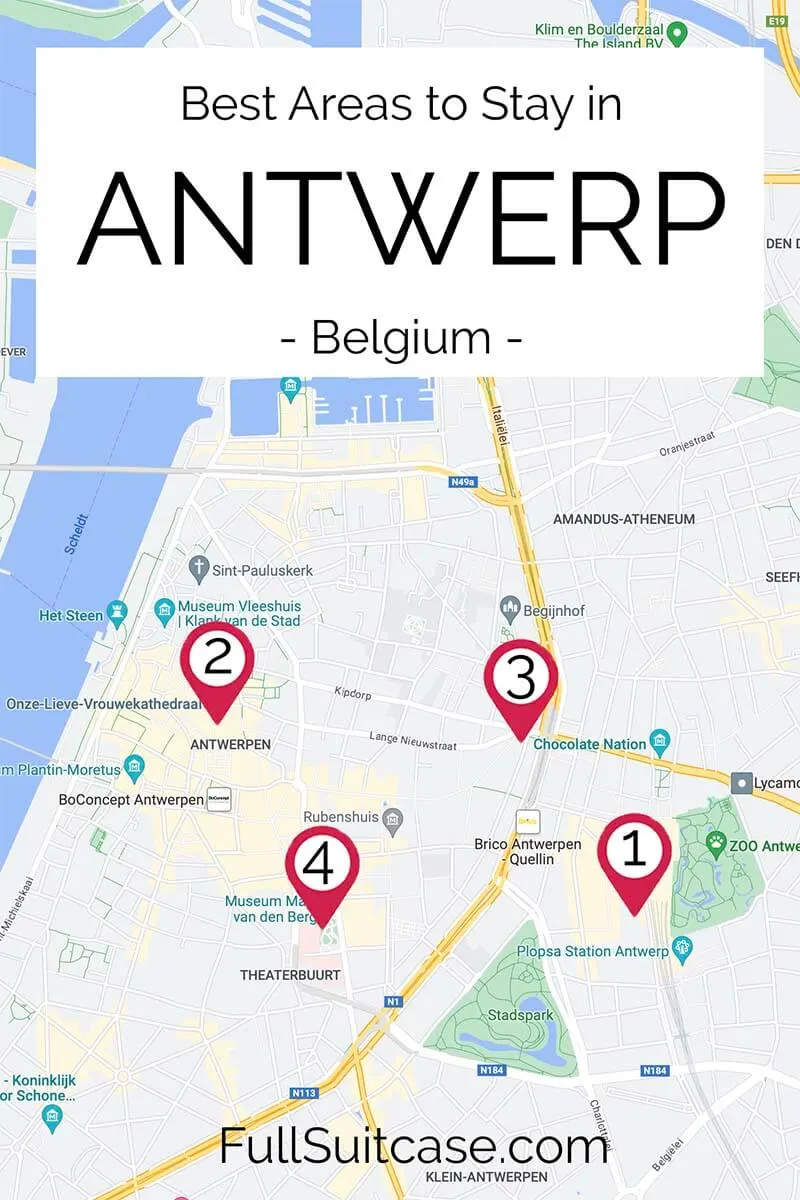 Please note that in this guide we only feature THE VERY BEST neighborhoods to stay in Antwerp. The city is quite big and spread out, so there are many more choices than we mention in this guide.
However, if this is your first time in Antwerp and you are a tourist who simply wants to experience the best that the city has to offer in a relaxing way, then staying in one of these central areas is the way to go!
Also, all of these areas are really safe. We live nearby and go to the city center all the time and never experienced any problems.
Here are the best areas to stay in Antwerp:
1. Central Station
Best for a short visit and day trips outside the city. Good dining options nearby. There are many big, modern hotels here, some offering very good price/quality compared to more central locations.
Antwerp's Central Station is the gateway to the city. Whether you are traveling around Belgium or are coming over directly from Paris or Amsterdam, this is where you'll arrive.
If you are staying in Antwerp for just a night and don't want to worry about transportation or having to walk to your hotel with the luggage, then definitely consider staying close to the station. This area is also very convenient if you are using Antwerp as your base location for exploring the rest of Belgium (which is very easy to do by train).
As the name suggests, the railway station is quite centrally located in Antwerp. However, as far as the main tourist sights go, pretty much all of them are located to the west of the station and not around it.
Most tourist sights and landmarks can be found in the old town, about 20-30 minutes walk from here. But there are also a few attractions near the station. For example, the historic Antwerp Zoo (1843) is located near the main entrance, the Chocolate Museum is just across the square, and the Diamond District is on the other side of the street.
There are also quite a lot of cafes, bars, and restaurants in this area. Most eateries are located on De Keyserlei, the main boulevard toward the old town. If you turn a bit from the main streets, you'll find some really nice and less touristy restaurants (if you like good Italian pizza, try Malaciorta). Chinatown is just nearby too – with some more affordable dining options.
Here are some of the most popular highly-rated hotels near the station:
€€€€ NH Collection Antwerp Centre (best rated).
€€€ Hotel Indigo or Hampton By Hilton (most popular).
€€ A-STAY Antwerp (best value).
€ ibis budget (a bit further away from everything (+-10min extra walk), but this is one of the best-rated budget options).
READ ALSO: Best Things to Do in Antwerp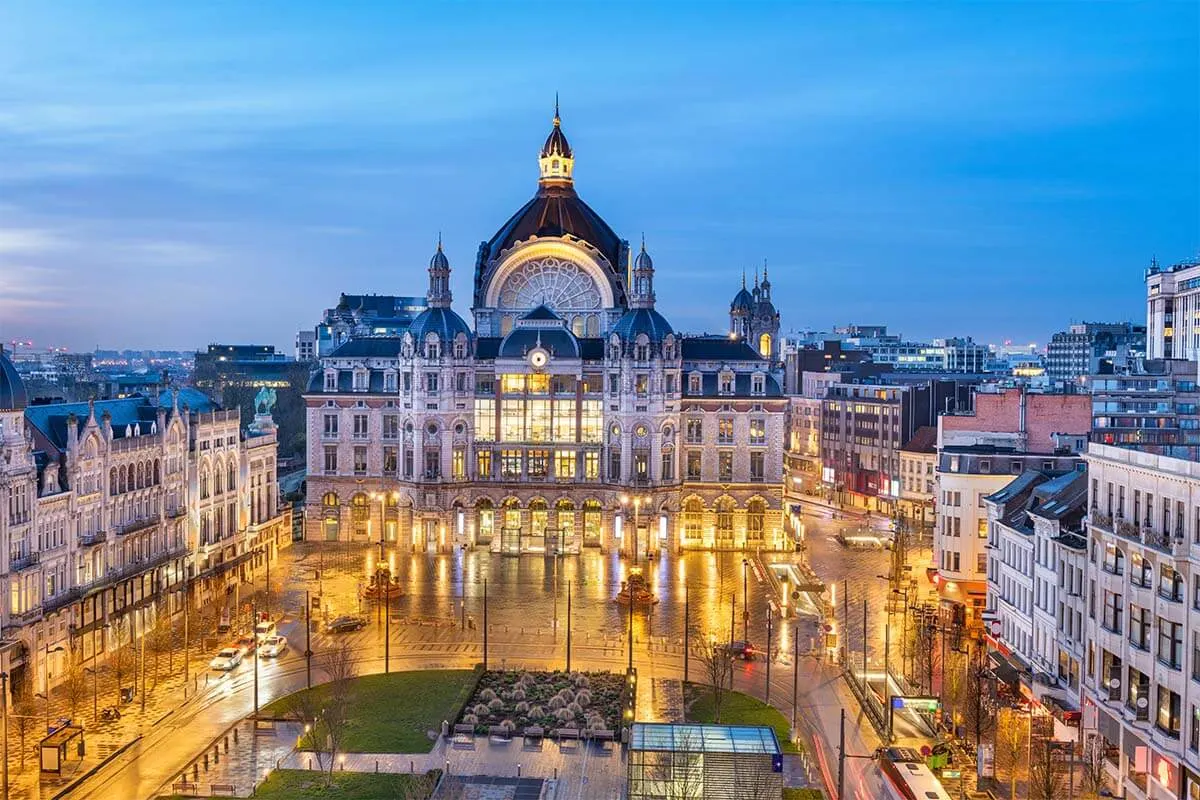 2. Historic Old Town
Best for sightseeing and dining. Most hotels here are smaller, and you can find some charming, boutique-style accommodations.
The historic old town is another great area to stay in Antwerp. This is the most charming area in the city, where you'll find the majority of the main landmarks of Antwerp such as the Grote Markt (the main square), the Town Hall, the Cathedral, Het Steen Castle, and many others.
Most events and celebrations also take place here. For example, the Antwerp Christmas Market in winter, Bollekesfeesten in August, and many others.
You will find tons of cafes and restaurants in the old town. There is really something for every taste and budget – from some of the most luxurious, gourmet experiences to lower-budget options such as the famous Belgian fritkots where you can try our most popular street food – Belgian fries.
Good to know: Apart from the grand hotel Hilton Old Town on the Groenplaats Square, most hotels in the old town are smaller. Many are located in old historic buildings, but some are very nicely renovated. So you really have to check photos and recent reviews to get a better idea of what kind of accommodation it is.
Here are some of the best-rated hotels in the old town:
€€€€€ Hotel Julien (modern luxury hotel) or Gulde Schoen (boutique, luxury studios and cozy suites).
€€€€ Hotel Rubens (most popular).
€€€ HotelO Kathedral (excellent price/quality).
€€ P6 Antwerp or Hotel Mezonvin (good value for the location).
READ ALSO: Hidden Gems of Antwerp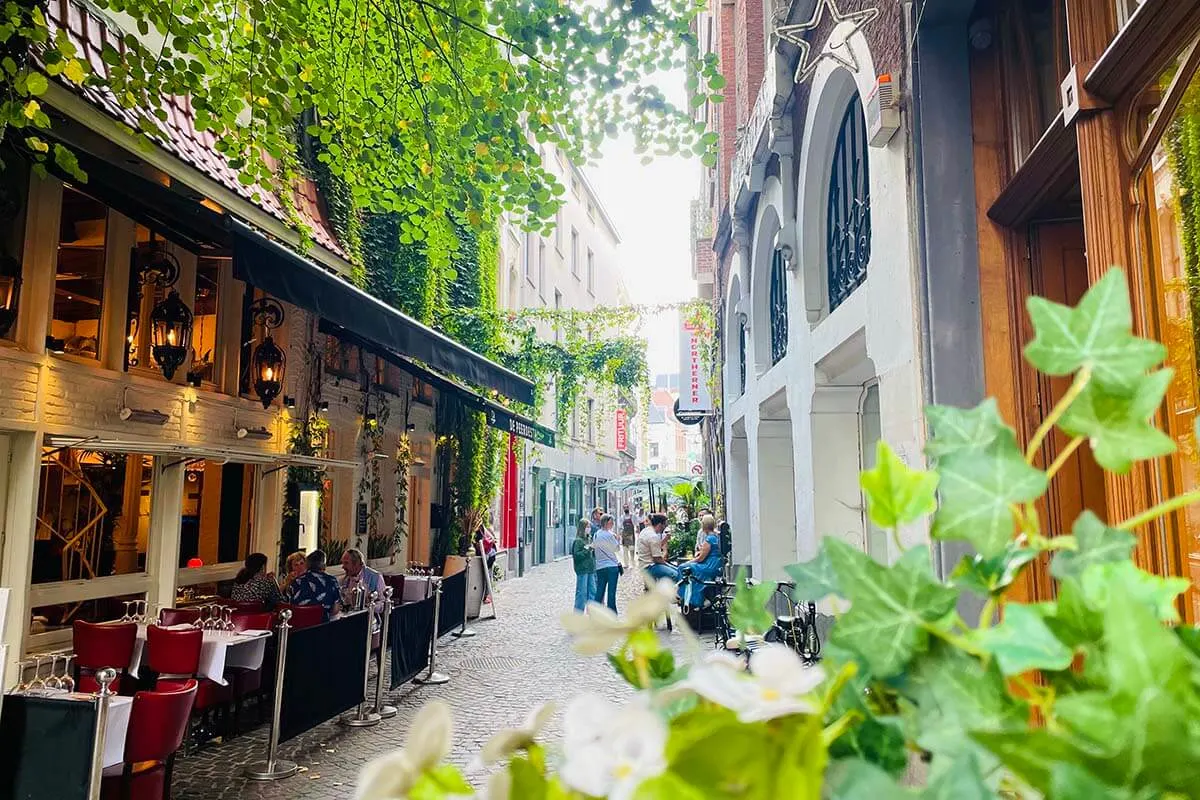 3. Opera
The most central location to stay in Antwerp, close to everything. Perfect for shopping and sightseeing, but also within easy walking distance from the station.
Antwerp Opera Square is located about halfway between the Central Station and the old town (the two areas mentioned above). So if you can't decide where to stay, this might be just the right area for you.
You can walk to Opera Square from the Central Station in just 5 minutes, and to the Cathedral in the old town in 15 minutes. Pretty much all tourist sights are within 10-15 minutes walking distance from here. And even the places that are located somewhat further away, like Het Eilandje district (home to MAS Museum) are about 20-25 minutes walk. So the location is really convenient for everything.
This area is also the prime location for shopping in Antwerp. The main shopping street – De Meir – can be found here. If you are interested in more high-end luxury boutiques in the old town/ theater district, it's also just about 10 minutes walk away.
This area is also good for families since most of the family-friendly attractions are located very close-by.
Good to know: Just as by the station, the hotels in this area are mostly big and modern chain hotels. Most of the hotels here are located on the big boulevard – Frankrijklei – so it might be a bit noisy with the windows open. You may want to ask for a room at the back, or simply keep the windows shut. In general, the hotels here are very highly rated and offer great value.
Here are the best-rated hotels in this area:
€€€+ YAYS Antwerp Opera (best rated).
€€€ B&B HOTEL Antwerpen Centrum (great price/quality).
€€ Citybox Antwerp (most popular, excellent value, and a bit off the main road).
READ ALSO: Best Things to Do in Antwerp with Kids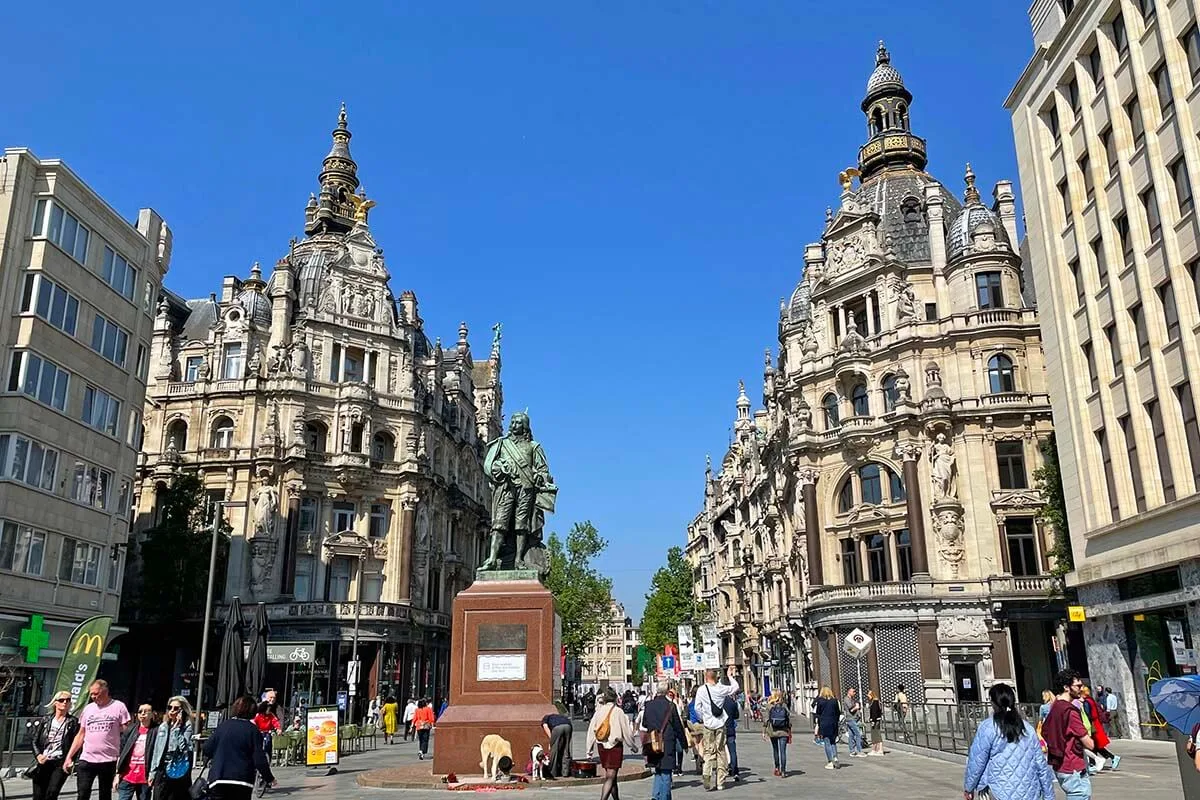 4. Theater Neighborhood
Close to everything, but away from the hustle and bustle. Perfect for shopping and sightseeing, and for luxury or romantic stays.
Antwerp's Theater Neighborhood is located in the southern part of the old town. It's just a few minutes walk from the main shopping street and Rubens House, and just 10-15 minutes from the main landmarks in the old town. However, it's incomparably quieter and more 'local' than the main areas of the historic city center.
Just as the name suggests, there are quite a few theaters and concert halls in this neighborhood, the main one being Stadsschouwburg (City Theater). By the way, you can find a wonderful food market in front of this theater on Saturdays.
If you like shopping, you'll be glad to know that Antwerp's fashion district is also located just nearby. You will find countless flagship stores of some of the most expensive fashion brands in the world, but also smaller boutiques featuring local designers, etc.
One of Antwerp's hidden gems – the Botanical Garden – is also located in this area.
Here are the best hotels in this part of Antwerp:
€€€€€+ Botanic Sanctuary Antwerp. This is the best luxury 5* hotel in Antwerp. It's located in a beautifully restored former monastery. Many celebrities and music stars stay here when they give concerts in Antwerp (Harry Styles, Madonna, etc.), but the hotel also has some more affordable rooms, especially if you are visiting in the lower season.
€€€€ Hotel Les Nuits (good price/quality for the location).
€€€ Theater Hotel (best value in this area).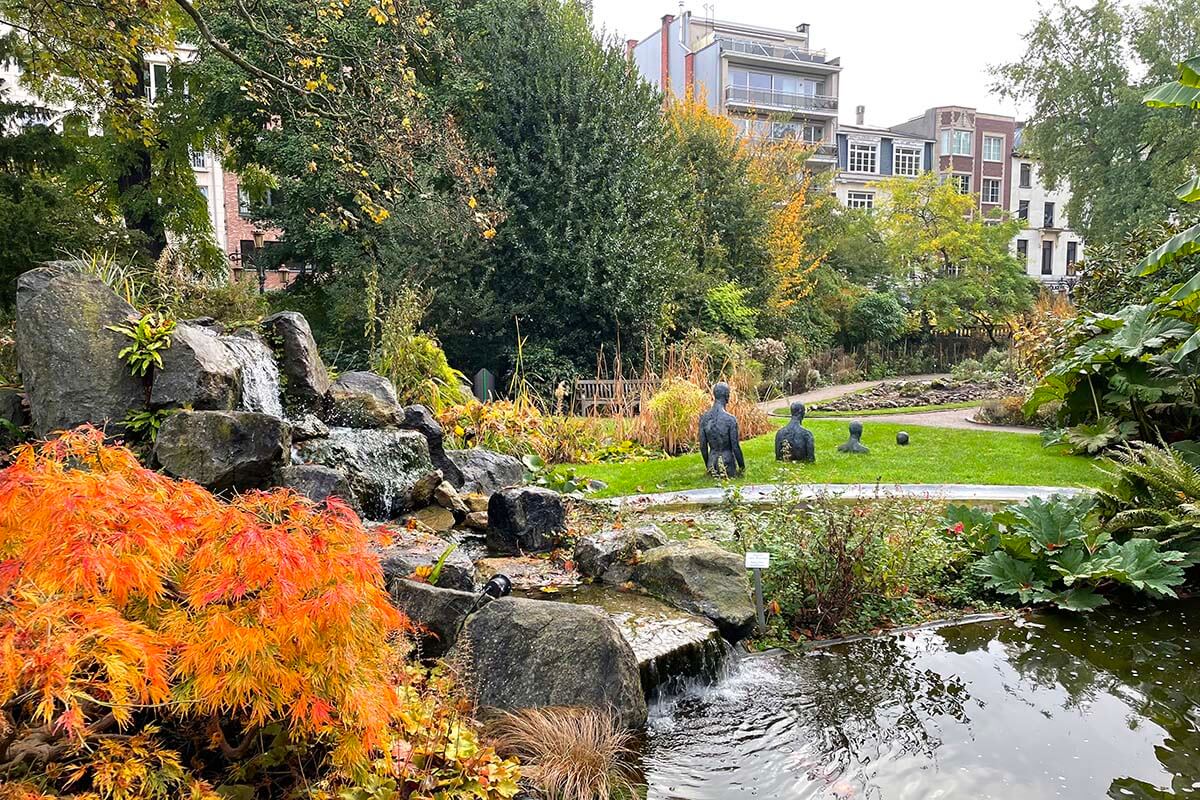 So, this is our guide to the very best places to stay in Antwerp. I hope that this gives you a better idea of what to expect and helps you find the perfect place for your stay.
And – since we get this question very often – if you are still wondering whether Antwerp is worth visiting (or staying for a few nights), take a look at our article with some of the main reasons to visit Antwerp.
And here is one more reason to stay in Antwerp: price/quality-wise, Antwerp hotels are among the best that you'll find in any major tourist destination in this part of Europe. Staying in Antwerp costs just a fraction of what hotels in Amsterdam, London, or Paris cost.
So it's well worth planning a few nights in Antwerp if you are traveling around western Europe. Also because you can take a direct highspeed train from here to Paris or Amsterdam.
YOU MAY ALSO LIKE TO READ: How to Plan a Trip to Europe (+ Useful Tips!)
More travel inspiration for visiting Belgium:
If you found this post helpful, don't forget to bookmark it and share it with your friends. Are you on Pinterest? Pin this image!