The Port of Antwerp is the second-largest seaport in Europe, after Rotterdam. And there is probably no better way to explore it than by boat.
When looking for a nice Antwerp harbor tour, we stumbled upon the Jan Plezier's Antwerp harbor boat tours with pancakes (aka the pancake boat or de pannekoekenboot in Dutch). We just had to try it! Our boys were really enthusiastic about spending Sunday afternoon on a pancake boat.
Surprisingly, there are just very few port tours in Antwerp. So if you are looking for a nice boat tour, this might be a good place to start!
Antwerp port tour by boat – our experience
We started our Port of Antwerp boat tour at Het Eilandje ('The Little Island'), the quickly growing new area North of the city centre of Antwerp. Some of the most impressive new landmarks of Antwerp can be found here: The MAS museum, The Red Star Line museum, and probably the most unique building of Belgium – The New Port House of Antwerp.
And while a few years ago all the main highlights of Antwerp were found in the old town, anno 2017 no trip to Antwerp would be complete without visiting this new bustling area, Het Eilandje.
The Port of Antwerp boat trip with Jan Plezier starts at London Bridge, and the very first thing you see is the impressive islet with the New Port House of Antwerp.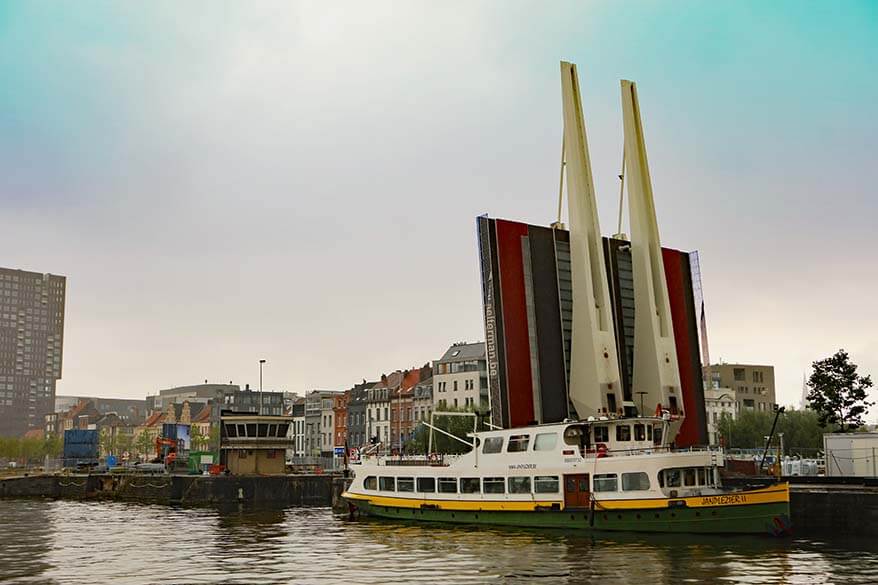 The drawing bridge opened as we sailed past the 'Diamond Ship' and into the Port of Antwerp.
Some of the world's largest container ships stop at the harbor of Antwerp. Ships like Madrid Maersk, a 399m (1,309 ft) long and 58,6m (193 ft) wide giant, carrying over 20.000 containers, visit Antwerp harbor. I have difficulties even trying to imagine a ship like that!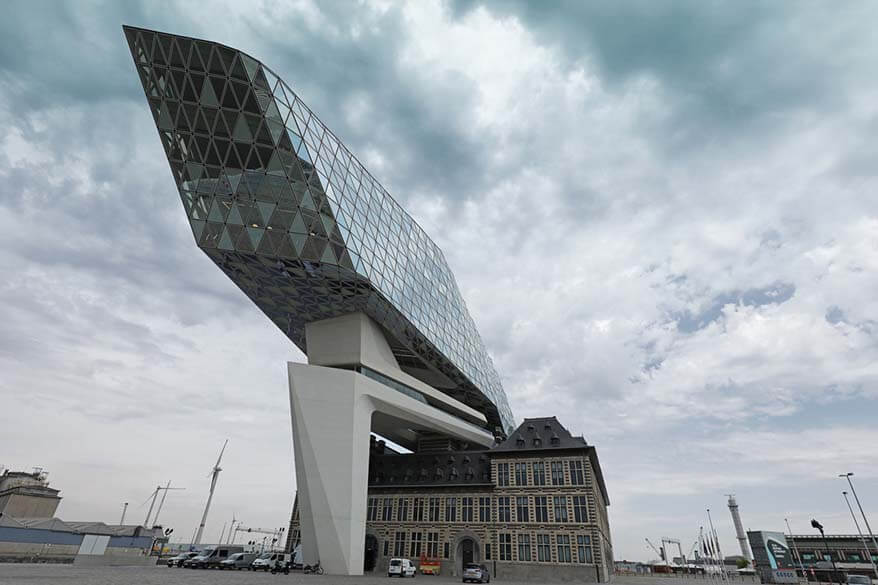 Antwerp port tour – what to expect
Almost immediately we saw some huge container ships and the ultra-modern handling of containers. The cranes were unloading heavy containers as if they were Lego bricks. It's really impressive to see such a big harbour in action!
We passed some large ship repair companies, fruit terminals, and so much more. Antwerp harbour is the main European harbour for fruit and vegetable transport. It also has the world's largest stock of coffee. Petroleum and tobacco are very important for the port of Antwerp as well.
Around 30,000 people work in the Antwerp harbour. Almost 100,000 people have jobs that are related to the harbour one way or the other. Needless to say that the harbour is extremely important to the city of Antwerp.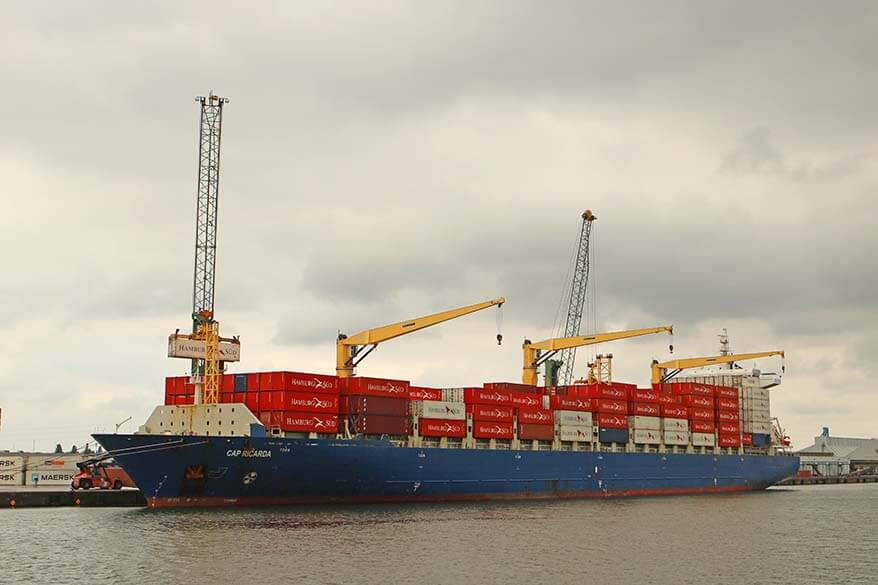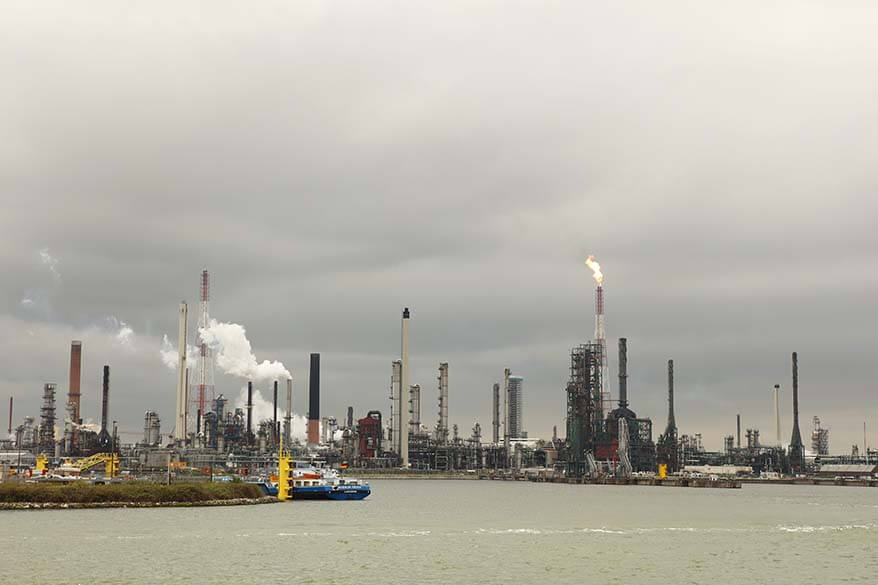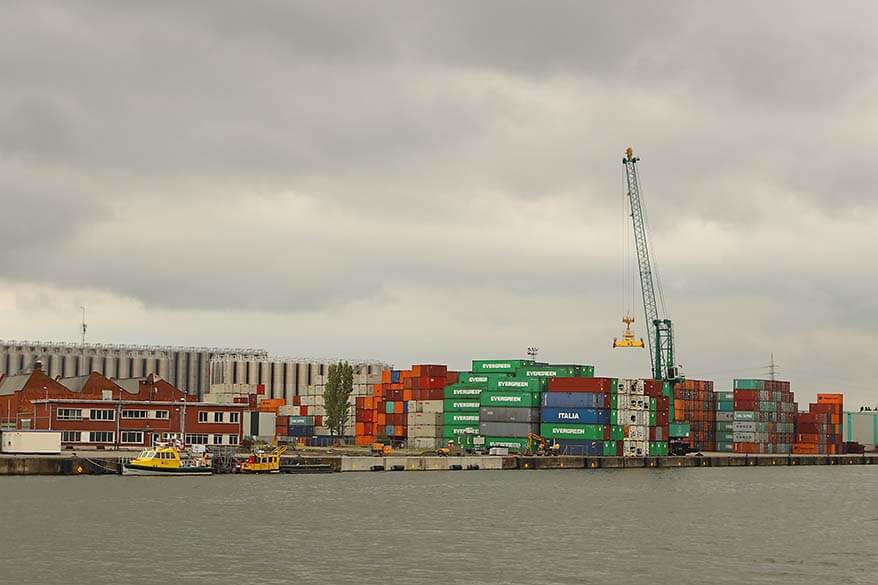 Pancake boat
While I spent most of my time on the deck of the ship, the kids couldn't get enough of the tasty all-you-can-eat pancakes inside.
Belgians love pancakes and they are a popular treat on many occasions, especially for kids. But we had never seen such an interesting pancake baking technology as on this boat!
They have a pancake 'machine' that bakes hundreds of pancakes per hour. And I have to say that the pancakes were really good too! As I'm updating this article a few years after we did this trip, our kids are still talking about the pancake boat and how we should do it again.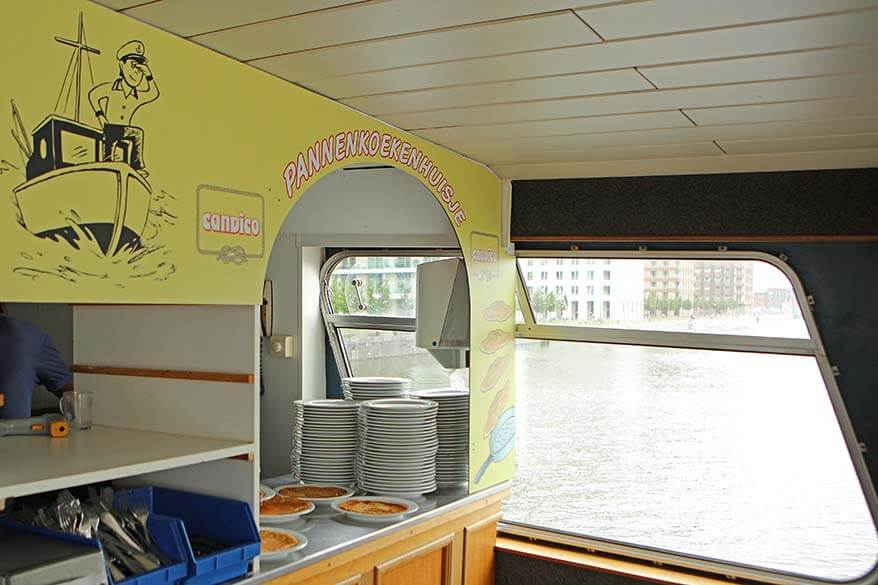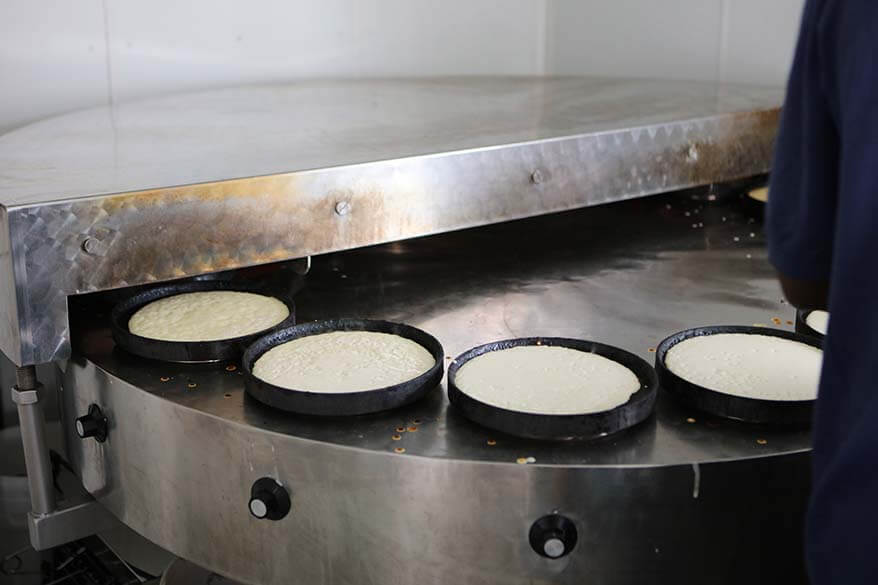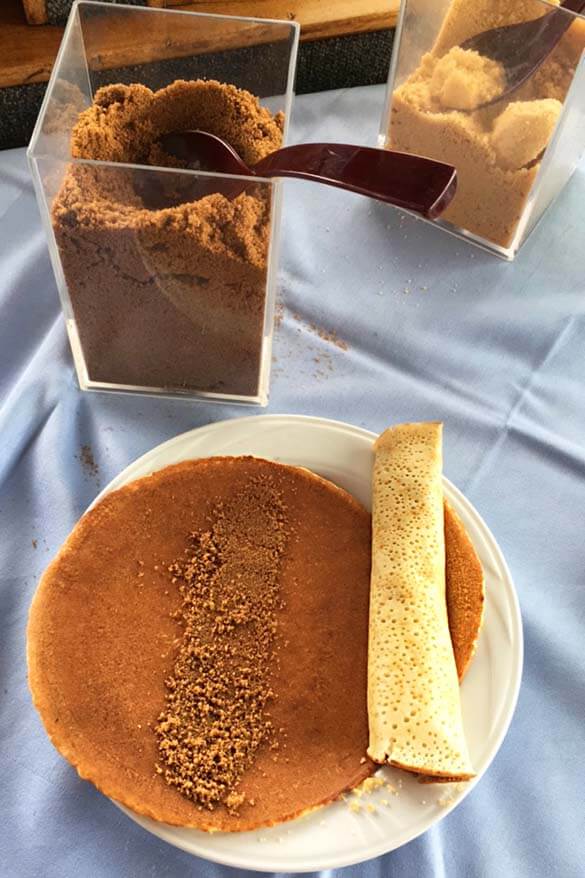 After we all ate more pancakes than was good for us, we spent the rest of the trip on the deck outside.
On the way back we passed two more drawing bridges; always fun to watch for young and old.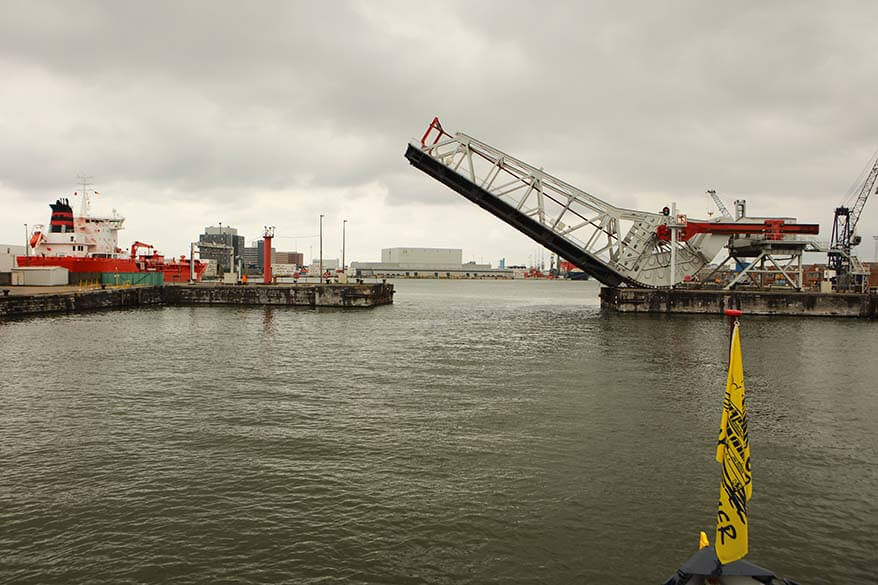 Jan Plezier's Antwerp harbor tour vs. pancake boat
If you really want to learn a lot more about the port of Antwerp, you should take one of the regular harbour tours with Jan Plezier. They have new interactive guides with iPads and headphones that will give you deeper insight into this fascinating side of Antwerp. Note that these regular cruises have no meals included. And the pancake boat doesn't include the guided commentary.
In both cases you get to see just as much, but for those who have never been to Antwerp harbour before, I would suggest a regular harbour tour with commentary.
I have to mention that in addition to the harbour cruise and the pancake boat, Jan Plezier also offers other harbour experiences. One of them is a very popular spare ribs boat. But once again, if you really want to learn more about the harbour, just book a harbour tour with commentary. There are plenty of nice restaurants to have lunch or dinner before or after the boat tour.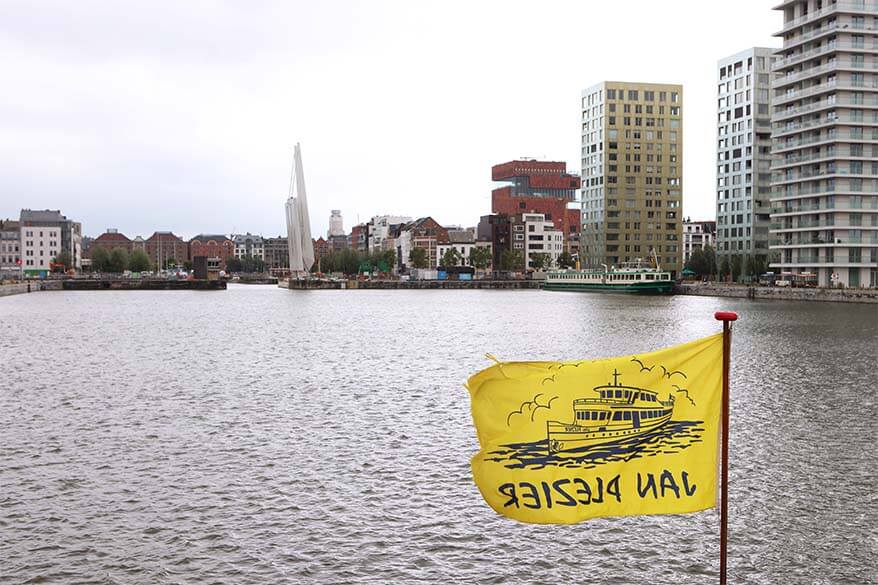 Conclusion
I would definitely recommend taking a boat tour in the Port of Antwerp – whether you are visiting Antwerp for a longer time or for just a day.
Walking to the boat is a nice experience by itself. You will pass beautiful places that are a bit outside of the main tourist routes. I recommend walking next to the river till you see the MAS museum on your right. From there it's just a few more minutes.
And if you come on a weekday and take a regular harbor cruise, make sure you have lunch nearby. There are so many good restaurants and cafes in the area.
A boat tour of the Port of Antwerp is also a really nice way to discover more of Antwerp with kids.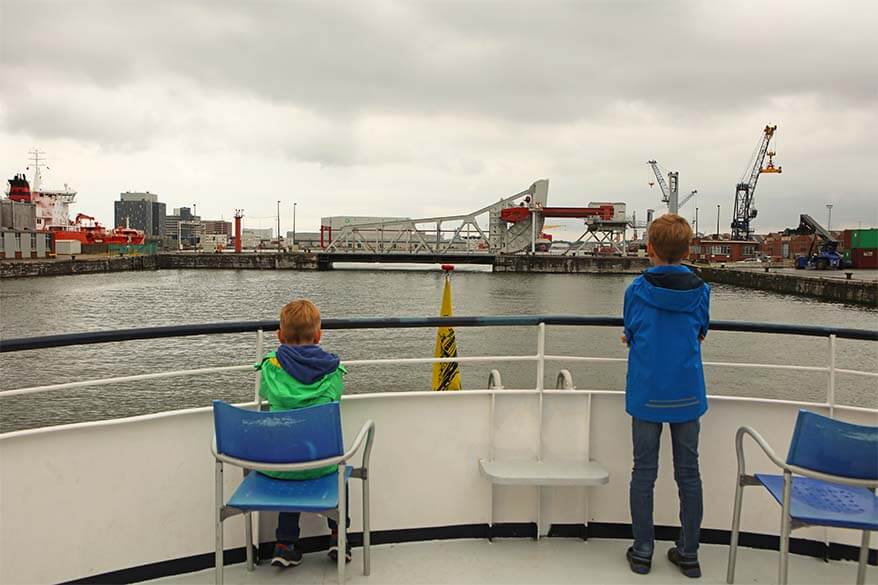 Practical Info
Jan Plezier's Antwerp port tours run from April to October, several times a day, every day except Monday. You can find all the practical information on their website.
Antwerp harbor tour takes around 90 minutes.
Jan Plezier's port tours depart at London Bridge – see this map for more information on how to best get there from the old town.
The boat is easiest accessible from the side of river Scheldt. If you come by car, park it close to the Red Star Line Museum. If you are coming on foot, it is about 20 minutes walking distance from the Grote Markt in the old town.
From what I understand, the pancake boat is extremely popular. Since it only runs every second weekend, you definitely need to reserve in advance. We went on a rainy Sunday afternoon and the boat was full – they had to decline passengers who hadn't booked.
If you come for a regular harbor tour, you can probably just buy the tickets on the boat. However, if you want to be sure that you can do the tour, I still advise booking it in advance.
The boat departs on time, so make sure to arrive at least 10-15 minutes in advance.
Disclaimer: We were guests of Jan Plezier via Visit Antwerpen, but all opinions are my own. To be very honest, I have to add that the reservation and the boarding process could be handled better. That's why I strongly suggest to book a tour in advance and bring a proof of your reservation. Apart from that – really recommended.
READ ALSO: Best Things to Do in Antwerp
More tips for your visit to Belgium:
If you found this post useful, don't forget to bookmark it and share it with your friends. Are you on Pinterest? Pin this image!