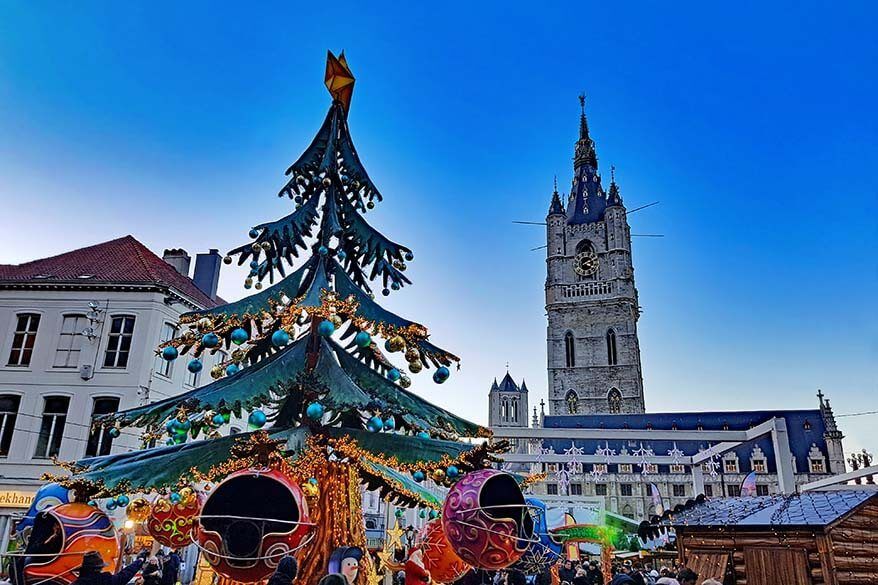 If you are traveling to Belgium in winter, you should really visit some of our famous Christmas markets. But with such a big variety of Christmas markets being held in every bigger town, how do you know where to go… In this post, I am highlighting some of the very best Christmas markets in Belgium. Find out!
Please note that this is not a complete guide to the Belgian Christmas markets. After all, there is no way you'd ever want to visit them all. Well, not as a tourist anyway I suppose. These are the biggest, most popular Christmas markets in Belgium, each well worth a visit.
Before we continue, let me tell you that Belgium is one of the best places for Christmas markets in Europe. Not only do we have the best food, beer, and chocolate, but most Christmas markets in Belgium stay open through Christmas – New Year holidays and the first week of January. So you can actually celebrate the Holidays with a visit to a Christmas market!
In case you wonder, this is not the case in most places in Germany or Austria, where Christmas markets close a day or two before Christmas. I always find it so disappointing! After all, that's when most people have holidays and time to celebrate. Anyway, no such worries in Belgium. Just note that some markets will have shorter opening hours on the 24th and 25th of December.
I have a tough time sorting this list of Belgium Christmas markets, as it's really hard to say which one is the best. In a way, they are all similar, and at the same time each has something unique. So I decided to just sort them alphabetically. The choice is yours to make!
TIP: If you're looking for tips on where to stay for visiting Belgian Christmas markets, you can find my recommendations all the way at the bottom of this post.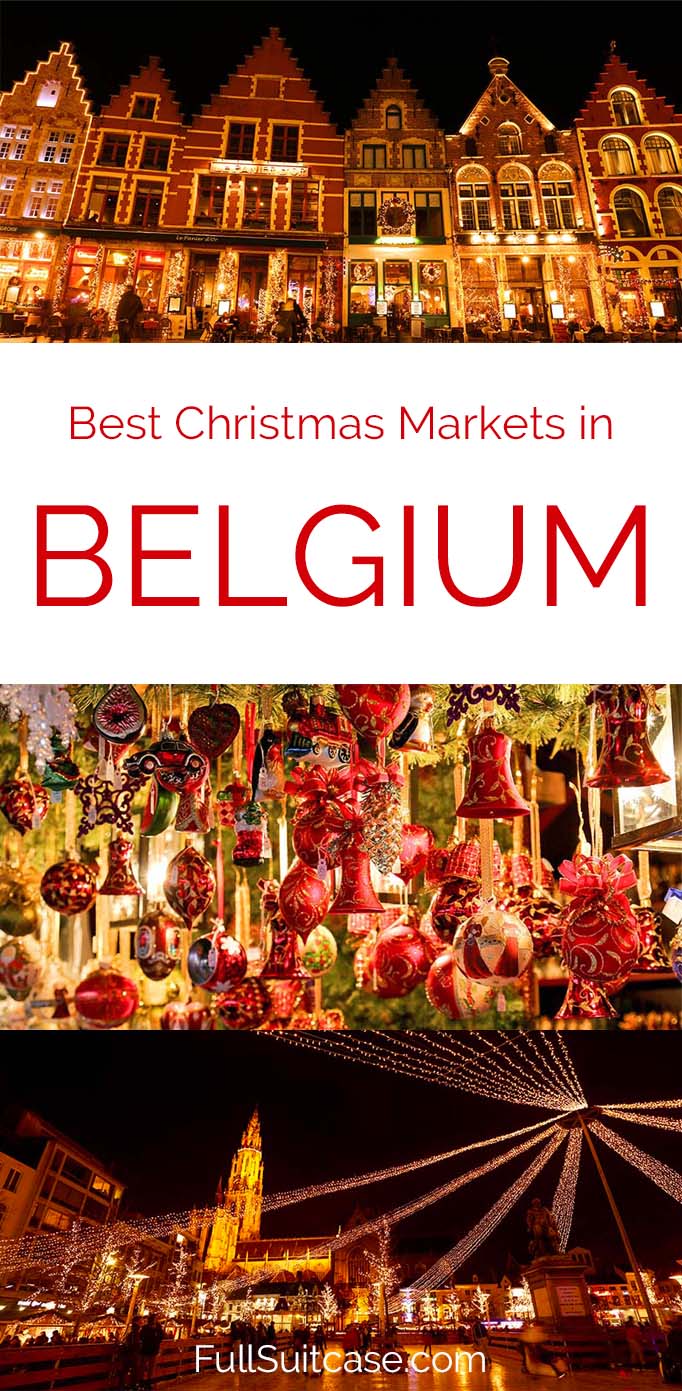 These are the best Christmas markets in Belgium:
Antwerp Christmas Market
Antwerp Christmas market is normally open in December and until the first Sunday in January.
Antwerp hosts one of my personal favorite Christmas markets in Belgium. It's located in such a beautiful setting! The buildings of the Old Town are all beautifully lit up and it just feels like you are walking in a fairytale. You really have to come here in the evening when it's dark!
Antwerp Christmas market is quite big. It features over 100 market stalls, an ice skating rink, as well as many diverse family-friendly rides and attractions. Tubing slide and the big Ferris wheel are our kids' favorites, every year again. Whereas we love the cozy bonfires and food stands with some irresistible waffles and of course Gluhwein.
TIP: If you come to Antwerp just for one day to visit the Christmas market, try to arrive early and see some of the city as well. You won't be disappointed! If visiting Antwerp with kids, don't miss the incredible China Light festival too. In fact, I would recommend spending at least two nights/one full day in Antwerp, so that you can enjoy it to the fullest.
Here you can find more information about the best things to see and do in Antwerp.
LEARN MORE: Antwerp Christmas Market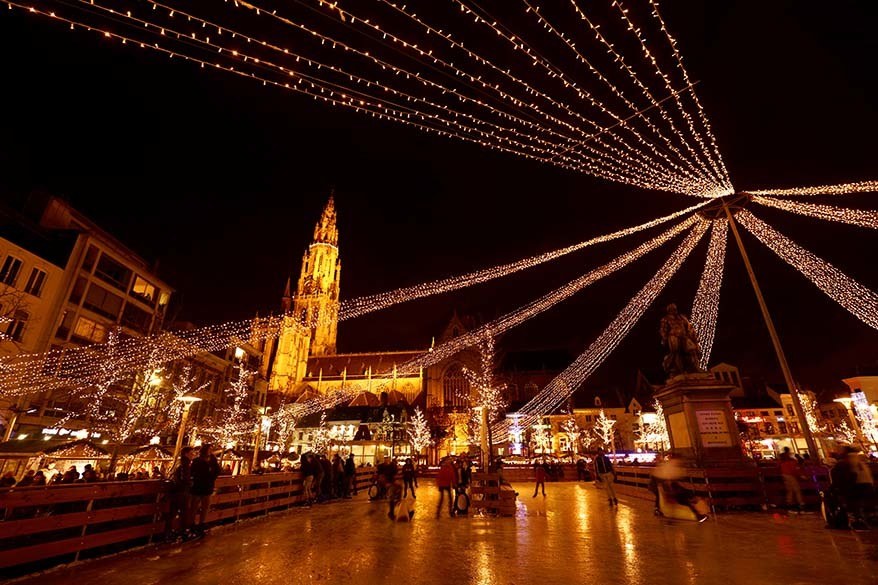 Bruges Christmas Market
Bruges Christmas market is usually open from the 3rd week of November till the first weekend of January.
Bruges is probably the most fairytale-like town in Belgium, extremely popular with foreign visitors. I guess that's also the reason why Bruges Christmas market is one of the few that open at the end of November already, giving winter tourists a chance to experience the festive holiday mood well before Christmas.
Bruges Christmas market is much smaller and cozier than most of the others in this selection, but somehow it feels more Christmassy. There is usually an ice skating rink, but that's pretty much it, no other fancy rides or attractions. However, there are plenty of market stalls selling crafts, Christmas decorations, and all kinds of local food and drinks.
Just like all the other Christmas markets in Belgium, the one in Bruges can get extremely busy, especially during the weekends. In general, Bruges is the place for day tourists and is deserted in the evening, but it's usually not the case for the Christmas market. It seems to be always busy, no matter when you visit…
The good news is that in the evening you can easily escape the crowds of the Christmas market and stroll the empty streets and explore the beautiful canals that Bruges is famous for.
TIP: If you can, stay at least one night in Bruges! Not so much for the Christmas market, but in order to be able to experience this fairytale town at its best without the crowds of day visitors.
READ ALSO: Best Things to Do in Bruges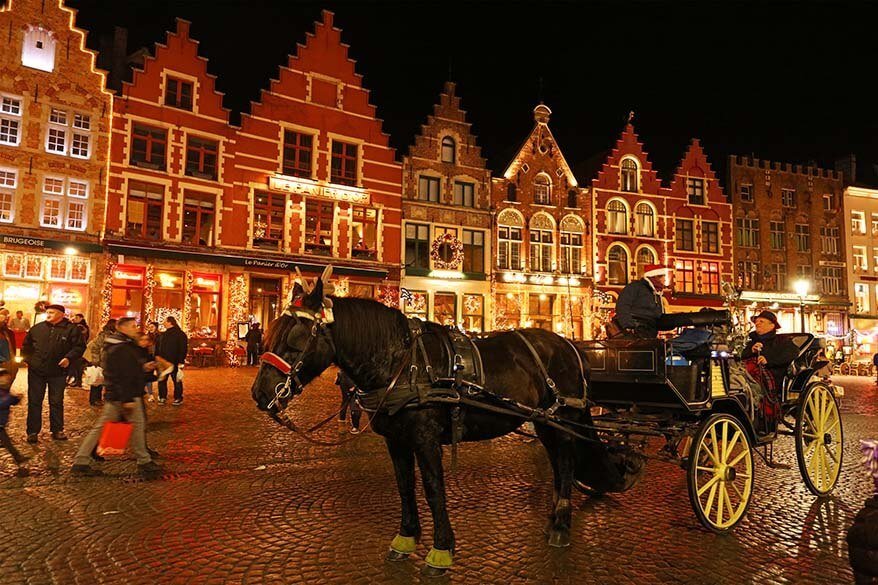 Brussels Christmas Market
Brussels Christmas market is usually open from the 3rd week of November until the first weekend of January.
Brussels Christmas market is probably the biggest and the busiest in Belgium. With over 200 market stalls spread between the main town square Grand Place and all the way to the Fish Market (Marché aux Poissons), it's not for those looking for a small-town Christmas feel.
In addition to the countless market stalls, you will find an ice skating rink and lots and lots of attractions. To be honest, it sometimes feels a bit more like a big multi-cultural country fair than a traditional Christmas market. But if you are looking for a Christmas market that has it all, then you'll definitely enjoy visiting Brussels in winter.
My absolute favorite place to be in Brussels during the Holiday season is the main town square, Grand Place. There is always a big Christmas tree in the middle of the square, as well as a Christmas stall with sheep and donkeys. But the best part is the incredible music and light show that turns the Grand Place into a real fairytale. The music and light show usually takes about 10-15 minutes and plays continuously throughout the evening, during the whole holiday season. Don't miss it!
TIP: If you can, try to avoid weekends as Brussels Christmas market can get really packed. Also, don't miss the main landmarks and tourist attractions in Brussels – there's so much to see and do! And, as in any other bigger town, watch out for pickpockets.
LEARN MORE: Brussels Christmas Market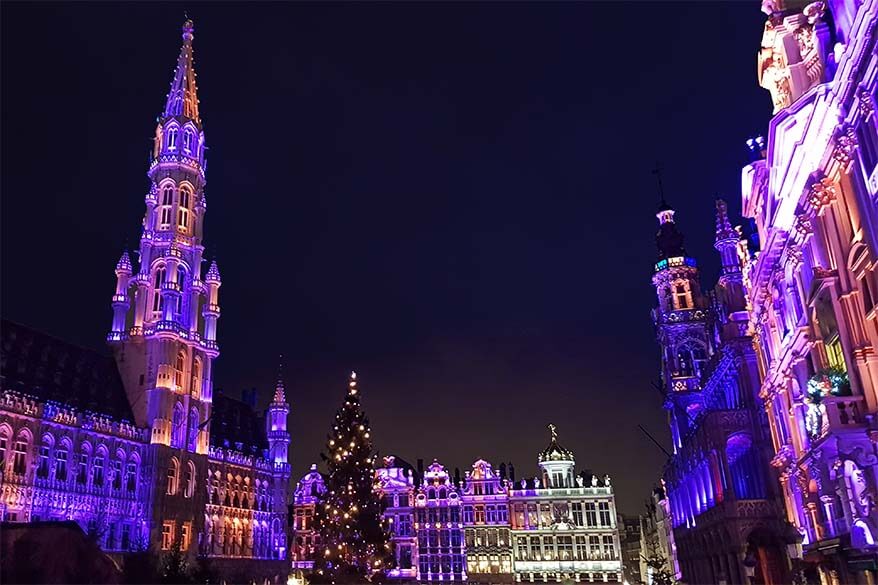 Ghent Christmas Market
Ghent Christmas market is usually open from the 2nd weekend of December until New Year.
The Ghent Christmas market has really surprised me last year. It's much bigger than I expected, yet still feels cozy, and has such a good vibe to it. If you can't choose where to go and are looking to visit just one Christmas market in Belgium, then I think you won't be disappointed if you choose Ghent.
With more than 150 wooden market stalls spread out in the old city center, it feels as if the whole town is in the Christmas spirit. Ghent Christmas market has a big ice skating rink and some really quirky attractions, like the Christmas-tree-merry-go-round in the featured image. And of course, just as everywhere else, you'll find plenty of tasty treats and holiday presents.
TIP: Don't miss the medieval castle of Graventseen, one of the main attractions in Ghent. Every holiday season it's turned into a Winter Wonder castle with special Christmas-themed decorations and activities.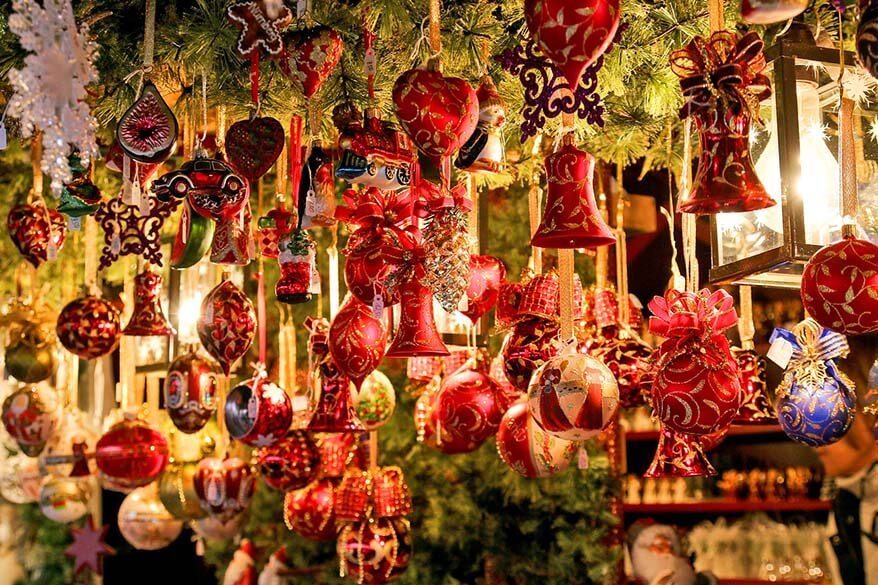 Hasselt Christmas Market – Winterland Hasselt
Winterland Hasselt is is usually open from the 3rd week of November until the first weekend of January.
Winterland Hasselt is so much more than a Christmas market. Little known to international visitors (except maybe our neighbors from the Netherlands), it's extremely popular with the locals.
What's unique in Hasselt Winterland is that it's hosted in a more compact setting – just one city square rather than spread out in town, so it really feels like visiting a cozy Christmas village. Their Christmas market is also very varied with stands from many different countries.
If you are looking for Santa Claus in Belgium, you should know that he doesn't really come here; we have Sinterklaas instead (here you can find more interesting facts about Belgium). However, Santa Claus is gaining popularity, so you can meet him here and there.
TIP: Winterland Hasselt is one of the best places to meet Santa Claus in Belgium since he has his house set here during the whole holiday season. It's the same as the Home of Santa Claus in Rovaniemi in Finland, but has several big advantages – you don't have to endure arctic winter conditions and it's much cheaper than a trip to Lapland. Santa Claus usually has a small present for the little children, so if you are visiting Belgium's Christmas markets with kids, don't miss Hasselt!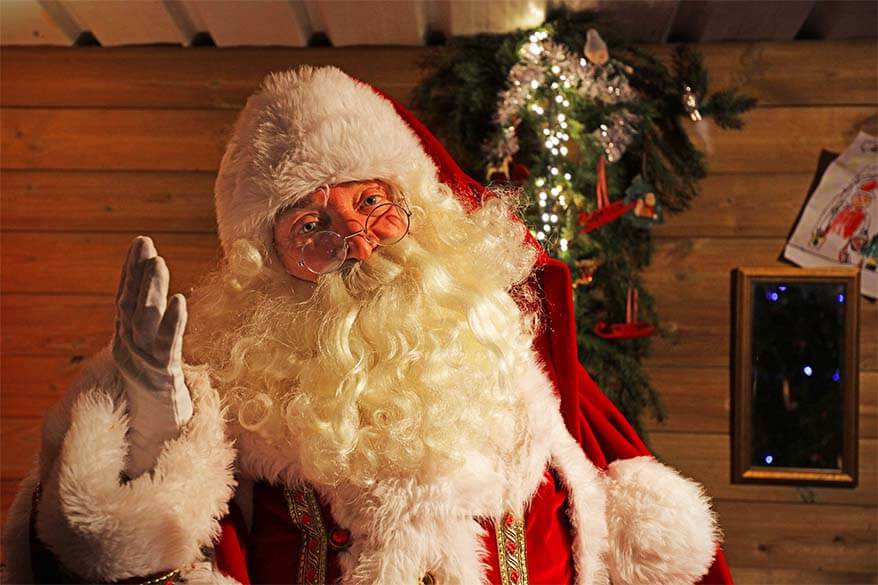 Leuven Christmas Market
Leuven Christmas market is usually open from the beginning of December until just before Christmas Eve.
Leuven Christmas market is probably the smallest and the coziest of all the Christmas markets mentioned in this post. It doesn't require hours of your time and makes for a great half-day trip from Brussels.
What I like most about the Christmas market in Leuven is the fact that it has a very local feel and is never as crowded as Christmas markets in the bigger towns. The festive lighting of the Town Hall is also incredible to see and it is worth visiting Leuven during the holiday season just to see this stunning building…
Also, it's one of the places where you can usually find Santa Claus as well, so great for ex-pats and foreigners who want to experience true Christmas spirit in Belgium, just as you would at home.
TIP: Leuven is a student town and has such a great atmosphere in the evenings. Also, it's just a short train ride from Brussels, so don't miss it if you are looking to escape the crowds and experience one of the coziest Christmas markets of Europe.
LEARN MORE: Leuven Christmas Market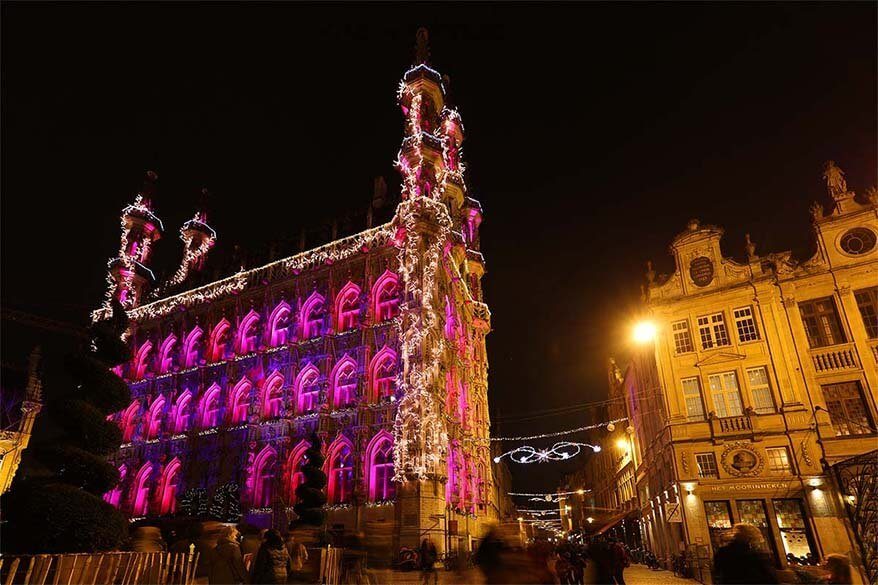 Liege Christmas Market – Christmas Village
Liege Christmas market is usually open from the end of November till the end of December.
Liege is a big town in the French-speaking part of Belgium and hosts one of the largest Christmas markets in the country. It's probably the most popular market in Wallonia, so expect huge crowds, especially if you visit on a weekend.
The city is really proud of its Village de Noel, the Christmas Village. Its layout is supposed to remind you of a real village, with wooden chalets lined along streets and alleyways, a square featuring a town hall, a church, and even a post office… Liege Christmas market features over 200 market stalls, selling local crafts and tasty regional specialties. You'll also find a big variety of attractions, including an ice skating rink and a sled run.
Since most of the other major Christmas markets are located in the Flemish part of Belgium, it might well be worth visiting the Liege Christmas market for a slightly different approach, different culinary delights, and traditional crafts. Liege Christmas market is a blend of Belgian, German, as well as French Christmas traditions, but somehow it doesn't appeal much to me personally since it seems to be mainly about the food and drinks, with very few market stalls selling Christmas ornaments and other decorations.
TIP: Don't miss the famous Liege waffles.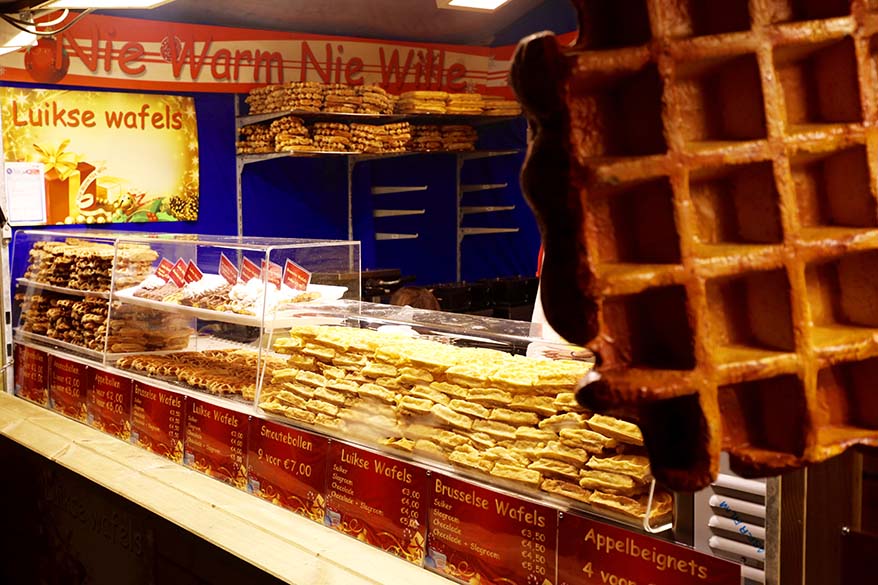 Other smaller Belgian Christmas markets that might be worth a visit
The Christmas markets described above are probably the best ones you can visit in Belgium as a tourist. There are many more smaller Christmas markets, but they usually have very limited opening times, and are more oriented towards locals living in those towns.
Anyway, if you are looking for even more Christmas markets in Belgium, here are a few more suggestions:
Mechelen is just a short train ride from Brussels and is such a nice little town to visit as a day trip. It hosts a nice Christmas market on a few weekends before Christmas. Here you can find practical information for visiting Mechelen Christmas market.
Namur also hosts a Christmas market in December. I wouldn't go there just for the Christmas market alone, but it's a nice town to visit, so if you are there anyway, you can just as well combine the sightseeing with some ice skating or mulled wine. More information can be found here.
Caves of Wonck (Les Grottes de Wonck). This artisanal Christmas market near Liege is unique due to its setting in a cave, but is only open one weekend in December. Nice to see if you are nearby, but I wouldn't go out of my way for it. More information here. In fact, if you are intrigued by an idea of a Christmas market in a cave, I'd rather recommend the one in Valkenburg, just over the border in the Netherlands.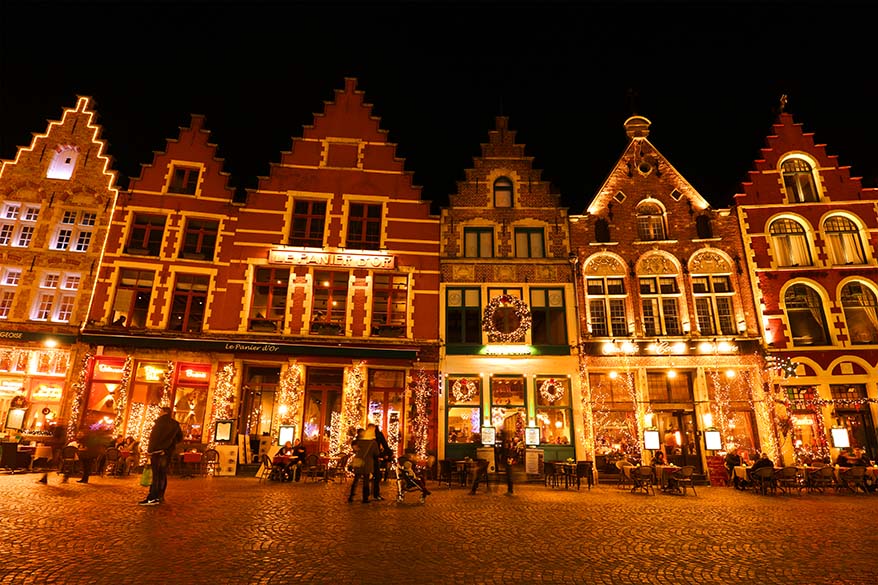 Where to stay for visiting Christmas markets in Belgium
You should know that Belgium is a rather small country and all the main towns have good railway connections. You can easily stay in one place and just make day trips to the other towns from there. I recommend choosing either Brussels or Antwerp as your home base.
If your schedule allows it, you may want to spend at least one night in Bruges as well. As I said before, it's so nice to see this fairytale town in the evening when the day tourists have left. Bruges is also a wonderful place if you are looking for a romantic winter weekend getaway in Belgium.
In Brussels, I suggest staying within a short walking distance from Grand Place/ Central Railway station. It's a good central area with many restaurants nearby and it is also easy if you decide to take a day trip to one of the other towns (take my word for it and use the train). Here you can find the best deals for centrally-located Brussels accommodations.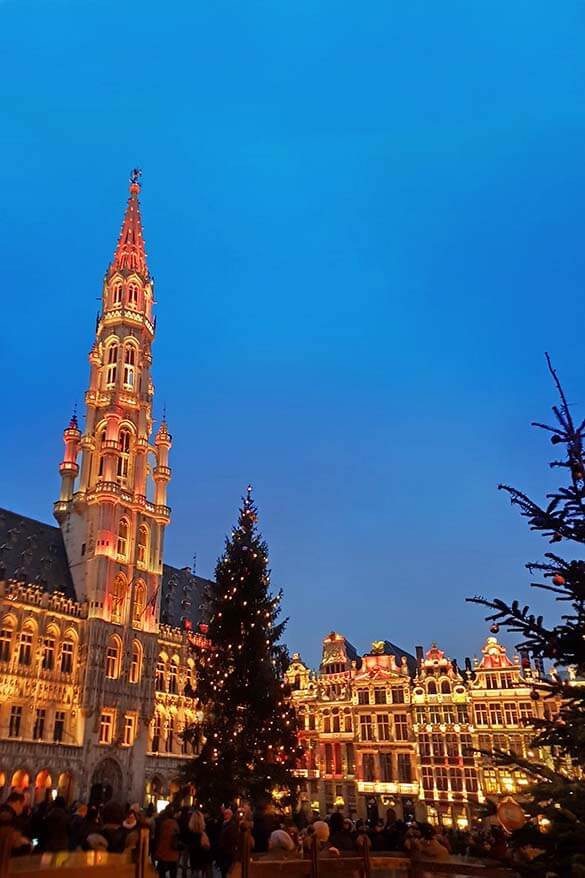 So, this is my selection of only the very best Christmas markets in Belgium. Hope you'll find plenty of inspiration for your winter trip and enjoy the festive season in Belgium.
TIP: If you are visiting Belgium in winter and are not sure where to start with the trip planning, please check my recommended Belgium itinerary. It covers all the musts in 3 or 4 days. You can use the same itinerary during the festive winter season just as well, as all the main towns mentioned in this itinerary have great Christmas markets.
If you have any questions, don't hesitate to leave a reply below.
READ ALSO: Best Christmas Markets in Europe – Hidden Gems
More tips for visiting Belgium & The Netherlands:
If you found this post useful, don't forget to bookmark it and share it with your friends. Are you on Pinterest? Pin this image!