Have you ever heard of Sinterklaas? What about Saint Nicholas? But you definitely know Santa Claus, don't you?
What if I told you that here in Belgium kids don't wait for Santa Claus, nor do they care about Christmas that much for that matter… Here is why.
The reason is simple. Santa Claus doesn't really come to Belgium, or to the Netherlands, not even to Luxembourg or Northern France. Well, he does show up here and there, actually more and more in recent years, but traditionally Belgian and Dutch children don't get presents from Santa.
Don't worry, children here in Belgium get plenty of presents and sweets! In fact, they are better off than the kids in most other countries since they get their presents twice. Once from a very kind old man called Sinterklaas, and then again at Christmas from their family and friends.
In this article, you can read all about the Sinterklaas celebration and the traditions related to it. Find out!
READ ALSO: Best Christmas Markets in Belgium
Sinterklaas – Saint Nicholas Day Celebration in Belgium and the Netherlands
Sinterklaas is an old tradition dating back to the 3rd century. In fact, the name Santa Claus comes from the name Sinterklaas.
Sinterklaas is an elderly man with white hair and a long beard. Sinterklaas wears traditional bishop's attire: white alb, long red cape, red miter, white gloves, and a big ruby ring. He holds a long gold-colored staff and rides a white horse.
He also has a big red book with the names of all children and up-to-date information about each child's behavior in the past year.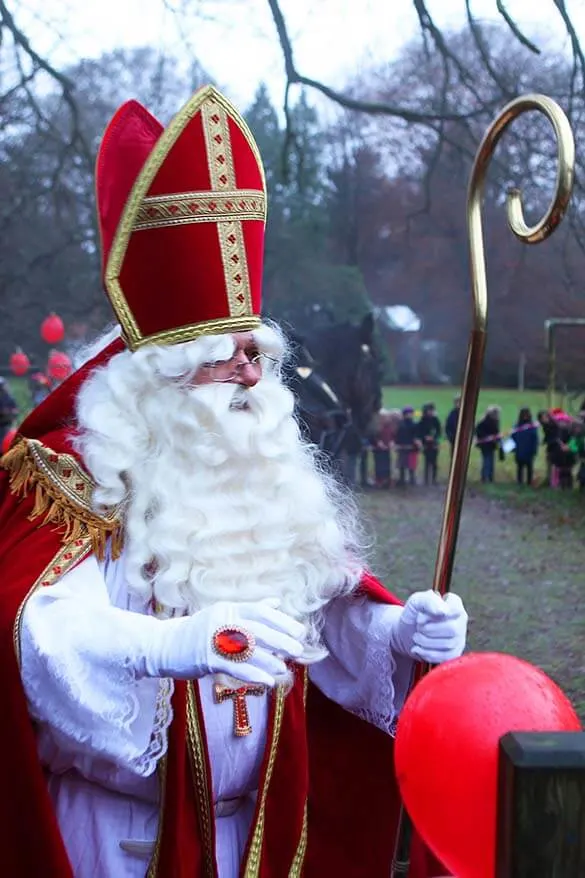 Where does Sinterklaas come from
Sinterklaas doesn't live in Belgium or in Holland, nor does he come from the North Pole as Santa Claus does.
Legend has it that Sinterklaas originally came from Turkey as the Bishop of Mira, St. Nicolaus. He was an honorable man who was very kind to children.
Nowadays Sinterklaas lives in a warm and sunny country – Spain and he comes to Belgium by boat. Traditionally he arrives in Antwerp (in the Netherlands he arrives in Rotterdam) and the big festivities are broadcasted on the National Television!
The boat is rather big since it's carrying presents for all children. Sinterklaas disembarks from the "steamboat" and parades through the streets (sometimes on his horse), welcomed by children cheering and singing traditional Sinterklaas songs.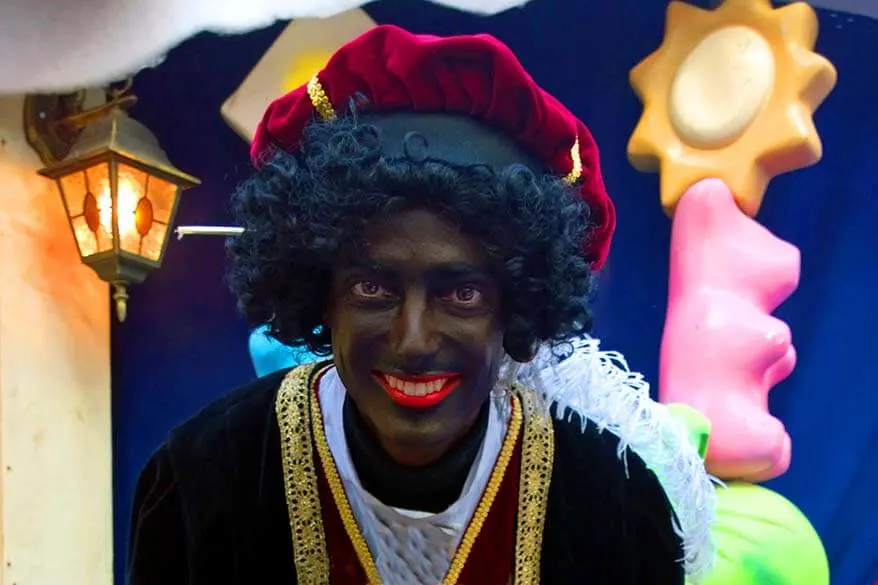 Black Pete
Sinterklaas never comes alone. He has lots of helpers – Zwarte Pieten (Black Pete or Black Peter) who are always very cheerful and are throwing candy and pepernoten (small, round, gingerbread-like cookies) into the crowd.
Zwarte Pieten – Black Petes – are always wearing colorful clothes, but their faces are black. This is due to the soot of the chimneys which are – similar to Santa Claus – used as a way to enter the house and bring the presents.
There has been a lot of commotion about Black Pete in recent years, especially in the Netherlands. People are protesting about the role of the 'black servant' and so there are more and more Zwarte Pieten who are not completely black anymore.
And this is what happens to the kids who don't behave…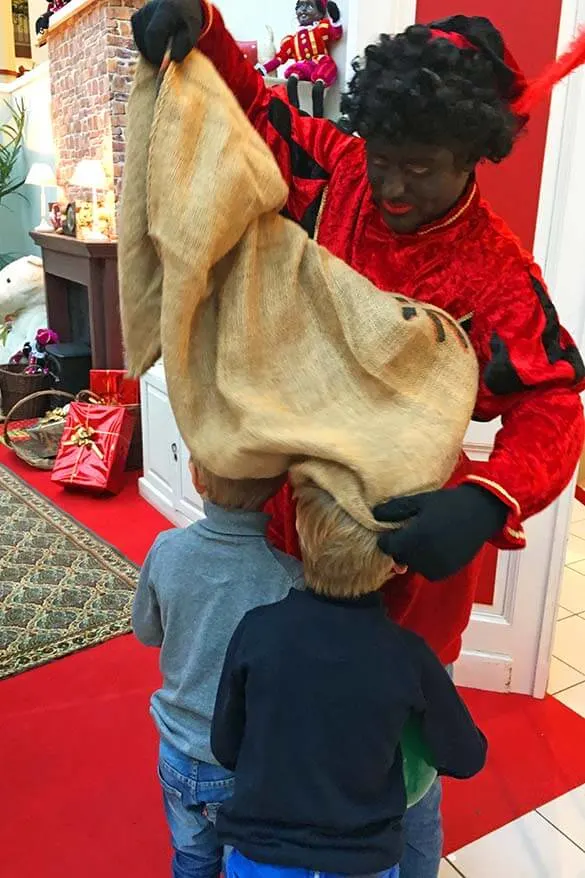 Preparations for Saint Nicholas Day
Traditionally, Sinterklaas is celebrated on the 6th of December. But the celebrations take almost a month since he arrives in the country 3 weeks before that.
These three weeks is the most exciting time of the year for all Belgian children! I don't know about all the kids, but our boys are over-excited, sleep-deprived, and completely exhausted by the time the good man finally comes along with the presents.
The letters are being written and the house is full of drawings waiting for Sinterklaas to arrive. The kids are singing Sinterklaas songs and somehow they keep on finding new songs every year. Just when I think I've learned them all by heart, there is always a new one to be learned next year!
This is the period when Sinterklaas is E V E R Y W H E R E. You can meet him walking on the streets or you can go and say hi to the good man in the shopping centers all over the country. It's a must for all children!
So if you see rows and rows of families with kids waiting excitedly, you'll know they all came to the shopping mall with one purpose and one purpose only – to hold the hand of Sinterklaas, tell him how well behaved they are (and have been the whole year – just in case he made a mistake in his book), get some candy and take a traditional must-have picture with Sinterklaas and the Zwarte Pieten.
If your kids do any sports, the chances are big that Sinterklaas will pay them a visit at the sports club too. And if they go to the boy scouts, the good man will make sure to bring some candy there as well. Music school, arts academy, dance lessons – they all get interrupted by a visit of the Holly man… And of course, he doesn't forget one single school either. I told you, he is literally everywhere.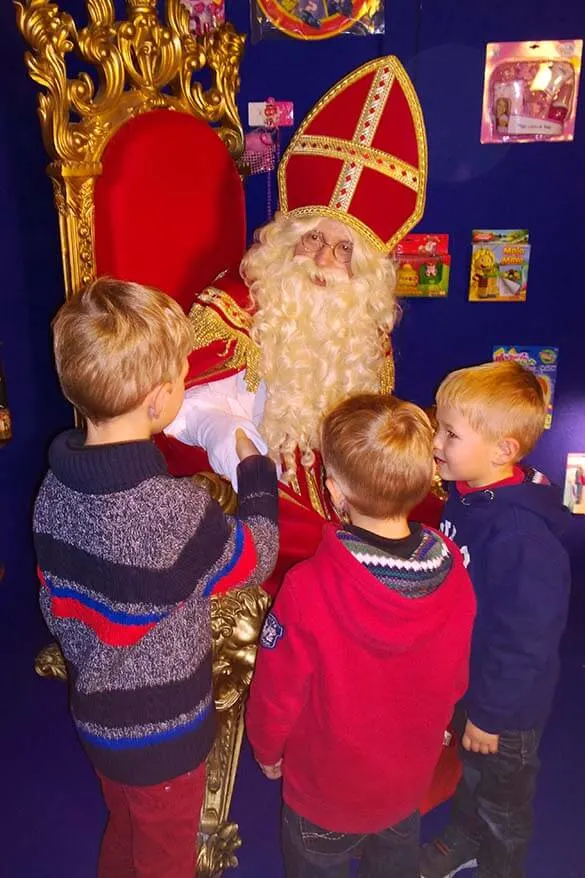 December 5th – the evening before
There is a lot of preparation in the evening before the big day. Children place their shoes by the fireplace where they hope to find the presents in the morning. But this is not enough!
If you want to get some presents, you have to make sure you give something in return: a drawing and/or a letter for Sinterklaas, a sugar cube for the Zwarte Piet, and a carrot for the horse. In some regions children also leave a drink for the Sinterklaas.
The kids then go to bed since everyone knows that Sinterklaas doesn't bring presents if you are awake.
Recently, more and more children start to place their shoes by the fireplace on the day the Sint arrives in the country. That's more than 3 weeks of excitement and many hours of sleep lost by getting up early hoping to find some candy or some presents in the shoe. After a while, some parents give in, the kids find some presents in their shoes, they tell their friends at school, other kids expect the same, and before you know it, your kids don't sleep for 3 weeks in a row…
Saint Nicholas Day – December 6th
On the morning of the 6th of December, the kids wake up to find the house full of presents, and chocolate, and candy, and cookies…
I'm not from Belgium originally and at first, I couldn't believe the number of presents and the quantities of chocolate that the kids receive here for Sinterklaas.
Since the good man comes at the grandparents' and the godparents' place as well (+sports, school, aunts and uncles, etc), there is usually so much chocolate and candy that it takes the kids several months to eat it all.
We are usually just about finishing all the Sinterklaas chocolate by the time the Easter Bunny arrives… with even more chocolate.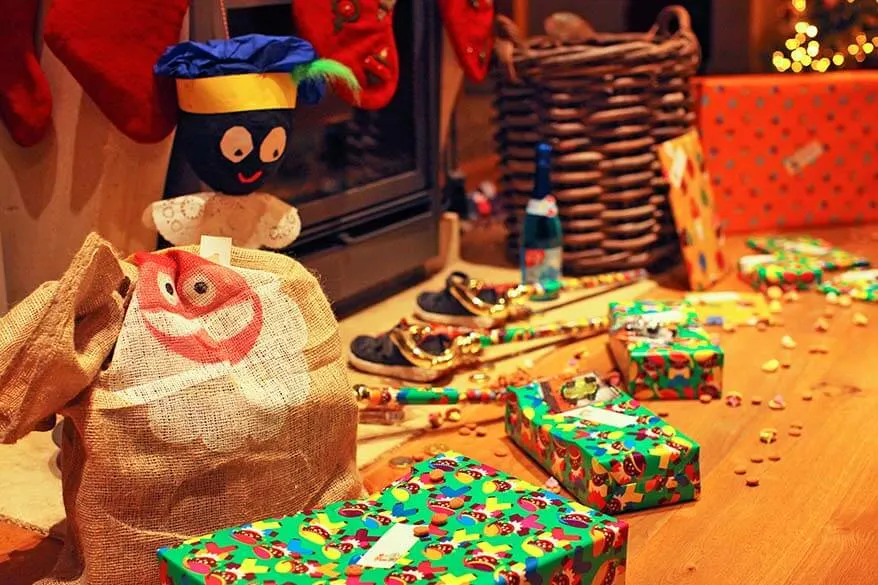 After all the presents are handed out and the boat is empty, it's time for Sinterklaas to leave. He heads back to Spain for a well-deserved vacation. And the Belgian kids can finally get some sleep again… Till next year!
READ ALSO: Interesting Facts about Belgium
If you are visiting Belgium in winter, check our guides to some of the best Christmas markets as well:
More travel inspiration:
If you found this post useful, don't forget to bookmark it and share it with your friends. Are you on Pinterest? Pin these images!