Visiting Belgium's second-largest city and wondering what to see and do in Antwerp? In this article, you can learn about the very best things to do in Antwerp, coupled with our insider tips and advice. Find out!
First, let me tell you that it's a great choice to visit Antwerp. In my opinion, Antwerp is one of the most beautiful cities in Belgium! We live nearby and I just love Antwerp, so I might be a bit biased. But to me, Antwerp is a perfect mix of history and modern trendy places; it's a city that has an amazing vibe. I'm certain that you'll love it here as well!
In this article, we share the best things to see and do in Antwerp. It's an insider's guide to the best places that you have to see if visiting the city for the first time.
In addition to the most famous landmarks, we also included the best new additions, things to do in Antwerp that you won't find in older tourist guides. At the bottom of this article, you can also find the map indicating the best things to do in Antwerp, as well as our suggested walking route.
I hope that this will not only inspire you to come to visit Antwerp, spend a bit more time here and explore deeper but will also help you to get the most of your trip. Find out!
TIP: If you are short on time and want to experience the best of Antwerp in a nutshell, I recommend joining a city tour with a local. Here are the best-rated 2-3 hour tours that I found: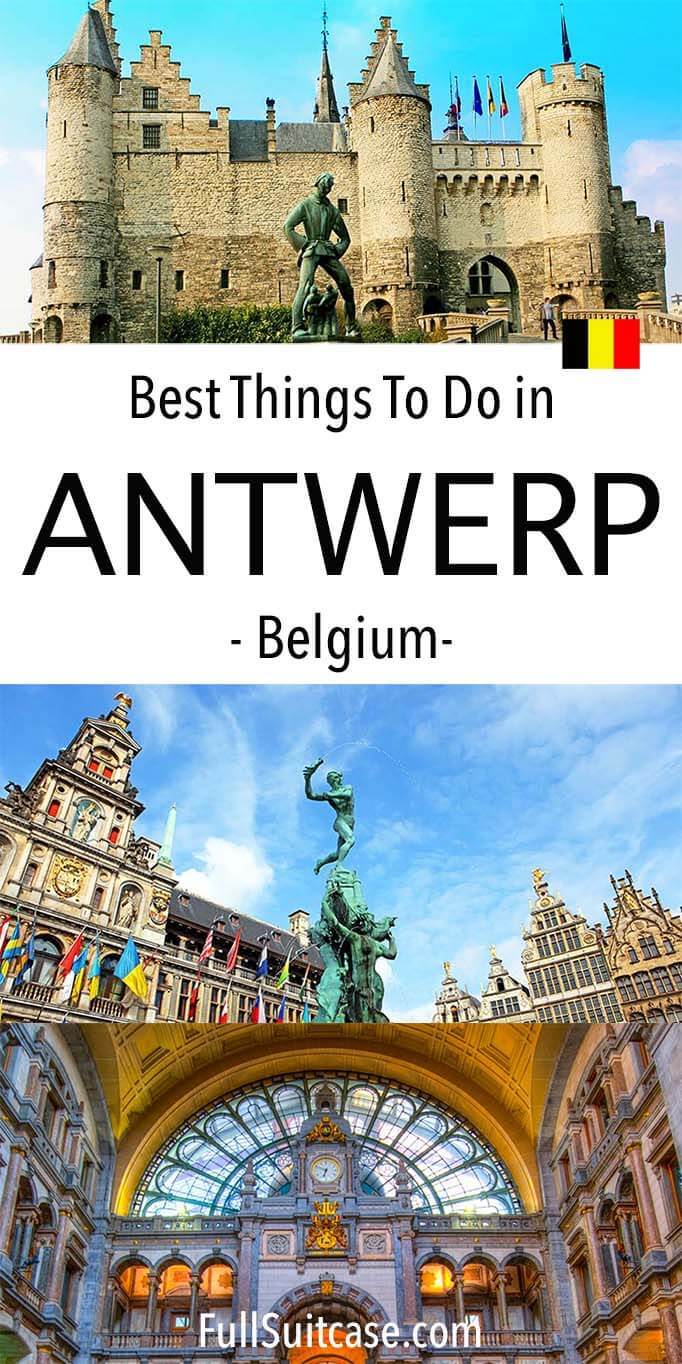 Best things to do in Antwerp – how to use this guide
If you only have limited time in Antwerp, you will probably want to see the most famous landmarks that the city is known for. Below are the main highlights, most popular things to do in Antwerp. I listed them in the same order as you would visit if you start walking or biking from the Central Station.
The newest addition to Antwerp's places to see, Antwerp Chocolate Museum, is listed in the end. The reason for this is that it's open quite late in the evening, and so you could end your day in Antwerp with a visit to this museum.
To help you better plan your time in the city, I also created a map with a sample city walk itinerary to help you get the best out of your time in Antwerp.
Even if you are visiting Antwerp for just one day, you can see most of the best places. Please note that if you want to actually visit (and not just see the exterior) every place on this list, you will need at least two days.
Renting a bike or joining a guided bike tour is a great way to see the best of Antwerp, especially if you are short on time and want to cover a lot of ground.
Without further ado, here are the best things to do in Antwerp:
1. Central Station – Antwerpen Centraal
Recently restored, the central station of Antwerp is one of the world's most beautiful train stations. The building exterior is very impressive, but to truly appreciate it, you have to see it from the inside.
The most impressive is the main hall (main entrance on the side of Koningin Astridplein) and also the big hall with a clock as seen from the ground level.
Central Station is one of the places you must see in Antwerp. Don't miss it! If you arrive in Antwerp by train, you will start your city visit here.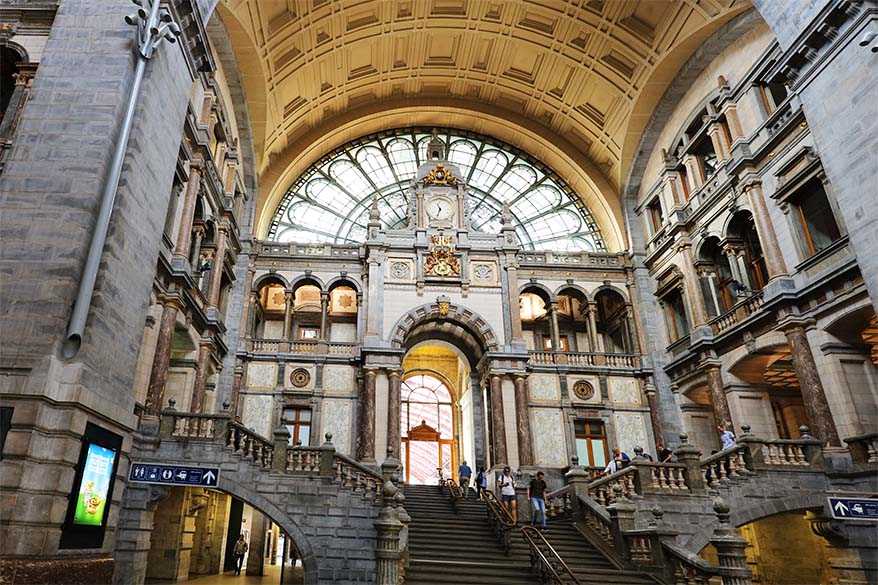 2. Antwerp Zoo
Established in 1843, Antwerp Zoo is the oldest animal park in Belgium and one of the oldest in the world. This historic zoo is located in the center of Antwerp, right next to the Antwerpen Centraal railway station.
A visit to the zoo is the perfect way to escape the hustle and the bustle of the city, while at the same time being right in the heart of town.
Antwerp zoo can be visited the whole year as there are indoor and outdoor attractions. There are all kinds of activities and shows and you can easily spend a good couple of hours here. Don't miss it if you are visiting Antwerp with kids!
Antwerp Zoo is considered one of the best things to do in Antwerp for locals and tourists alike. However, if you only have one day in Antwerp, I think that there are other places that are worth your time more.
TIP: In winter, Antwerp Zoo hosts a beautiful light festival China Light. It's amazing, especially in the evenings. So if you visit Antwerp in the winter, I really recommend the China Light in the zoo.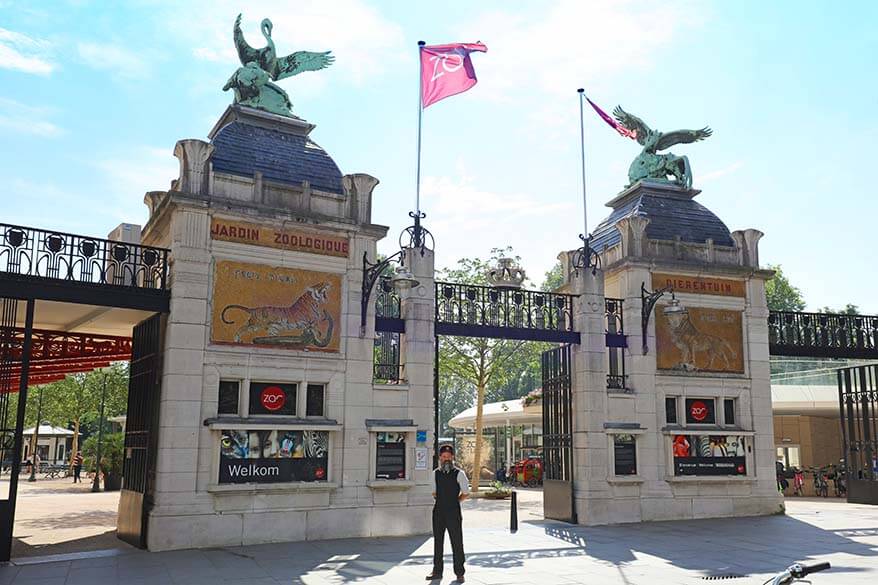 3. Diamond District
Antwerp has been known as the diamond capital of the world since 1447 and it still is today.
Right next to the Central Station is the famous diamond district of Antwerp, the place where rough and polished diamonds are traded. You can't really visit the trading markets, but there are plenty of shops selling diamond jewelry…
Most diamond shops are open every day except Saturday. I bet you have never seen so many diamonds and jewelry in one place!
If you want to buy diamonds, make sure to bargain. Negotiating the price is normally not done in Belgium, but Antwerp's diamond stores are an exception to the rule.
In fact, it might be worth it to make a trip to Antwerp if you are considering buying diamonds. On a bigger purchase, you can save so much that your whole trip to Belgium will easily pay back for itself.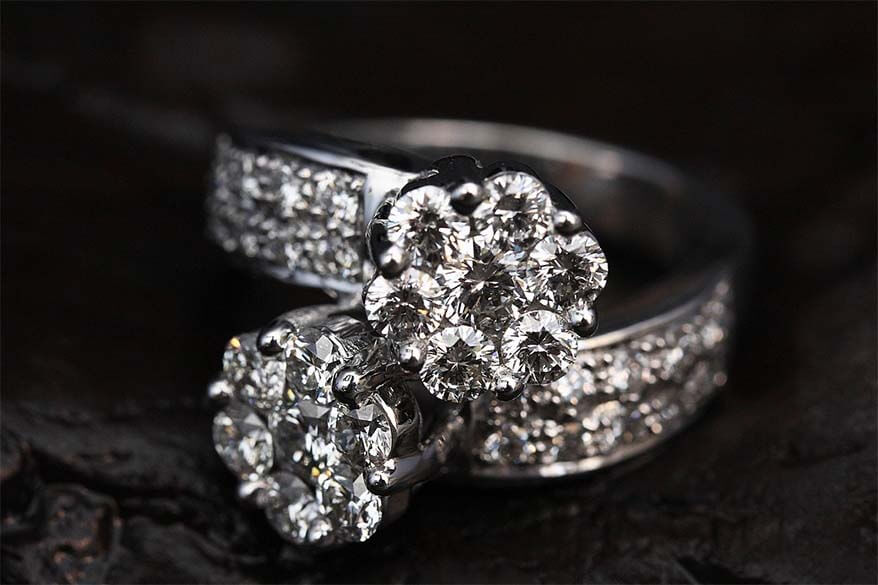 4. City Park
Antwerp City Park is another great place to escape the hustle and bustle of the busy city life. It's nice to visit with kids or if you have some time to spare. But, to be completely honest, it's not an absolute must among the things to do in Antwerp.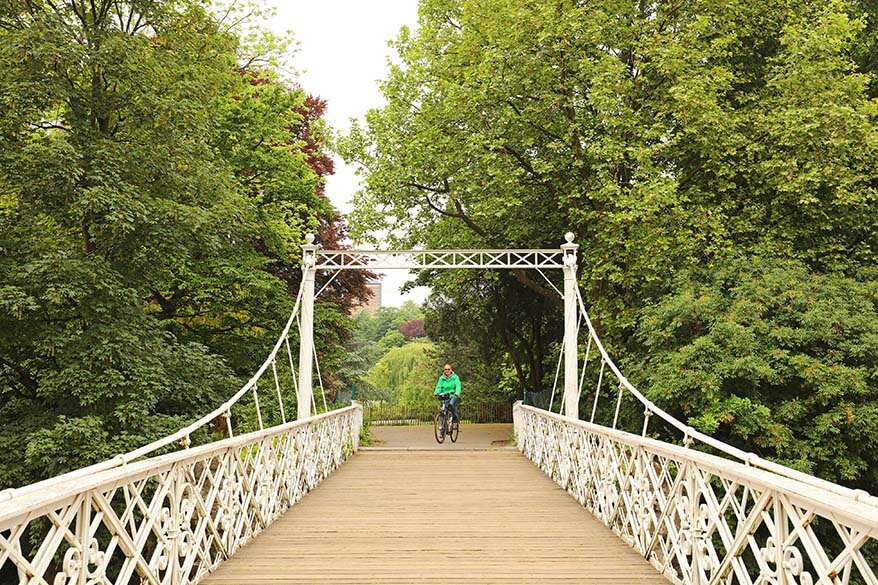 5. Meir Shopping Street
The Meir shopping area encompasses the streets surrounding the area from the Cathedral all the way to the Central Station.
Meir is a prime shopping destination in Belgium, but there is more to it than the shops. Thanks to its historic architecture and prestigious character, the Meir makes shopping feel special.
Not only do the buildings make it worth a visit, but the offerings are also first-rate. You'll find all the major, international brands here. Don't miss Antwerp's Stadsfeestzaal, an exclusive shopping center in the beautifully restored city festival hall.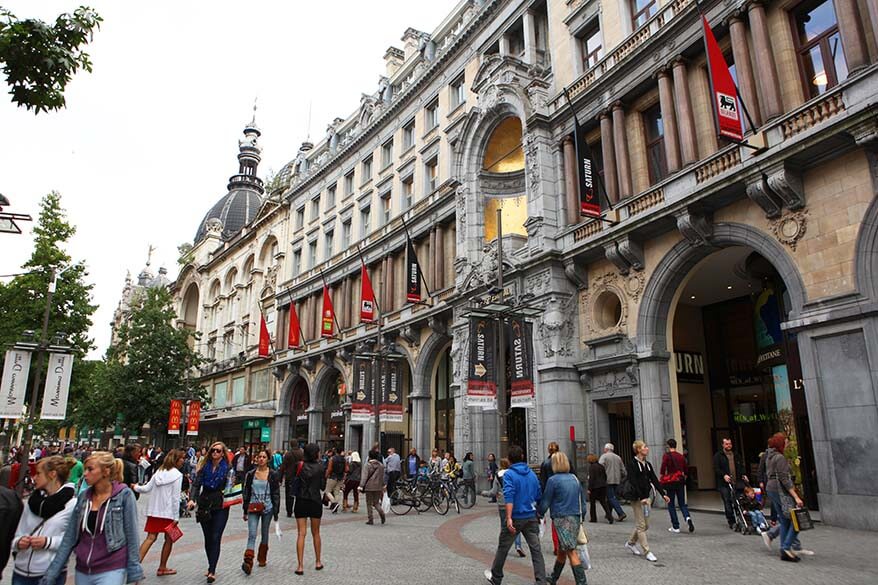 6. The Rubens House
If tourists visit just one museum in Antwerp, they usually choose the Rubens House. World-famous Flemish painter Peter Paul Rubens lived in this palazzo with his family. He created many of his paintings in this house, in the center of Antwerp.
The museum has an interesting collection of his works but also shows how the master lived and worked. It doesn't require much time and it's really worth a visit. But there are also other really interesting museums in the city, so if you are only visiting for a day, you'll have to pick just one of them.
For practical information, please consult the official website of the Rubens House.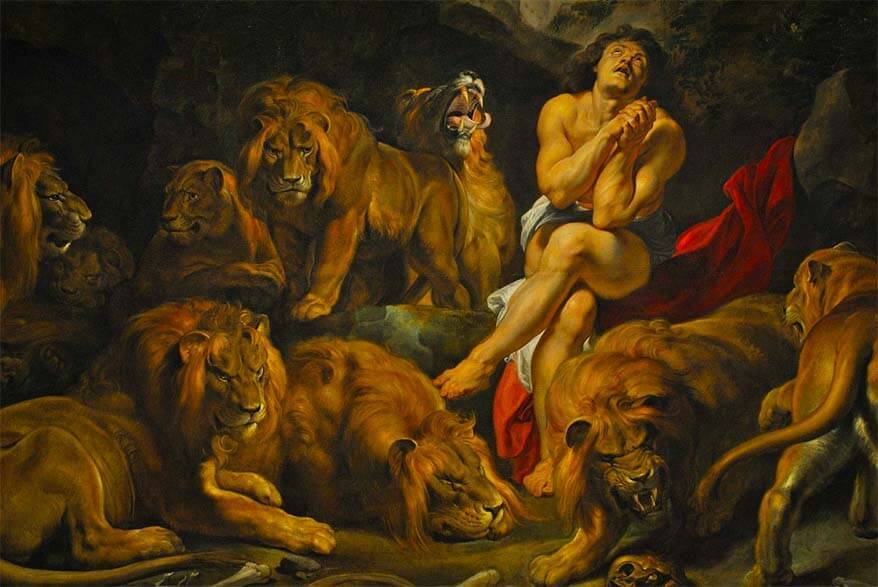 7. Belgium's Best Boutique Shopping
After leaving the Rubenshuis to continue in the direction of the Graanmarkt. It's a nice little square and it's usually amazingly quiet compared to the surrounding streets.
If you are interested in (window) shopping, then you will love the Schuttershofstraat and the Huidevettersstraat. Here, you can find some of the world's most luxury boutique stores like Hermès, Chanel, or Louis Vuitton to name just a few.
Some of the best Belgian designers also have their shops here. If you are looking to buy some unique clothing, this is the place to be.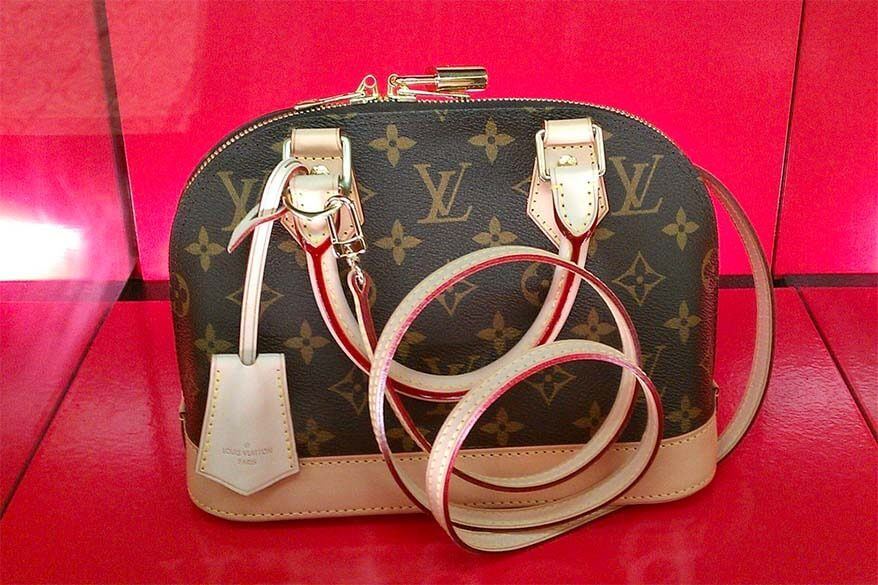 8. Plantin – Moretus Museum
If you like history and somewhat unusual museums, you will enjoy a visit to Plantin – Moretus Museum. This is my personal favorite museum in Antwerp and I highly recommend it to everyone.
It's the only museum on the Unesco World Heritage list and is the only remaining printing workshop and publishing house in the world, dating back to the 16th century. You can admire the beautiful buildings, the richly-decorated interior of this mansion, see an impressive library, and the printing house. You also learn so much about the art of book printing. This is such a fascinating place and it exceeded all my expectations.
If you have some time left in between other great things to do in Antwerp, check it out! Platin-Moretus Museum is also a great place to visit in Antwerp when it rains.
Practical information: Platin-Moretus Museum is open from Tuesday to Sunday, from 10 AM to 5 PM. You can easily spend two hours here. More info here.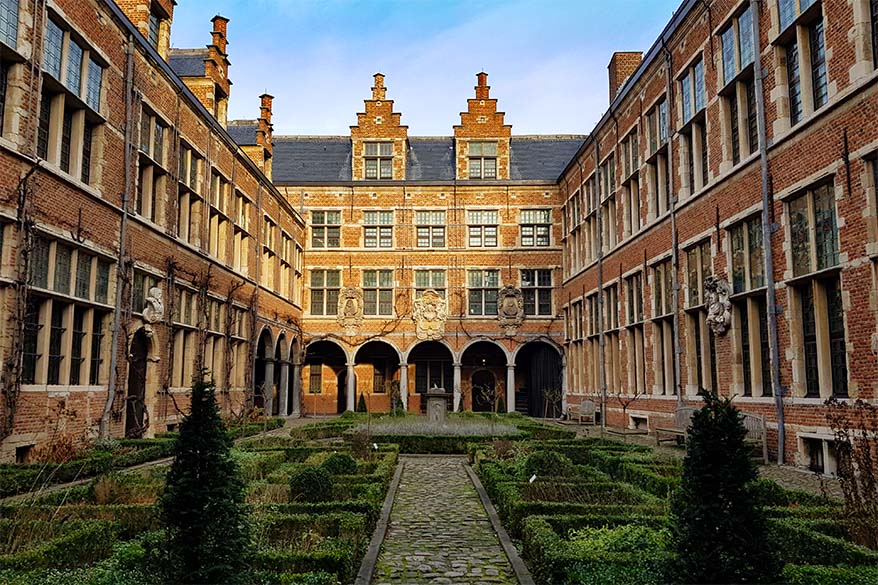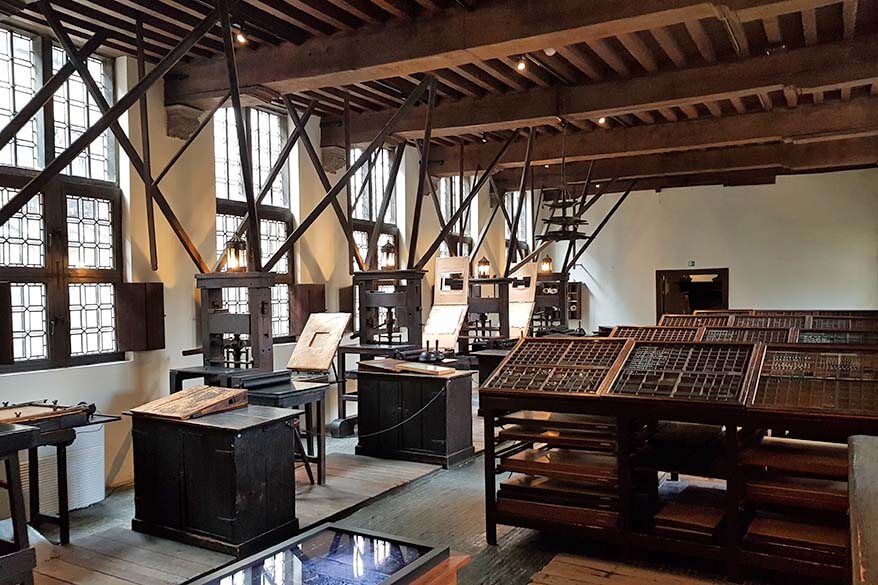 9. Groenplaats
Antwerp's Green Square is the perfect place for those who want to laze around on a warm summer's day under the sun and enjoy watching the city from the comfort of a cozy café.
If you are looking for McDonald's or Starbucks, you can find them here, together with many local cafes and restaurants. A little tourist train departs from Groenplaats in summer and is fun for adults and children alike.
Antwerp has an old tradition of open markets and you can find the daily flower market on the Groenplaats. The Antwerp Christmas market is also (partially) located on this square.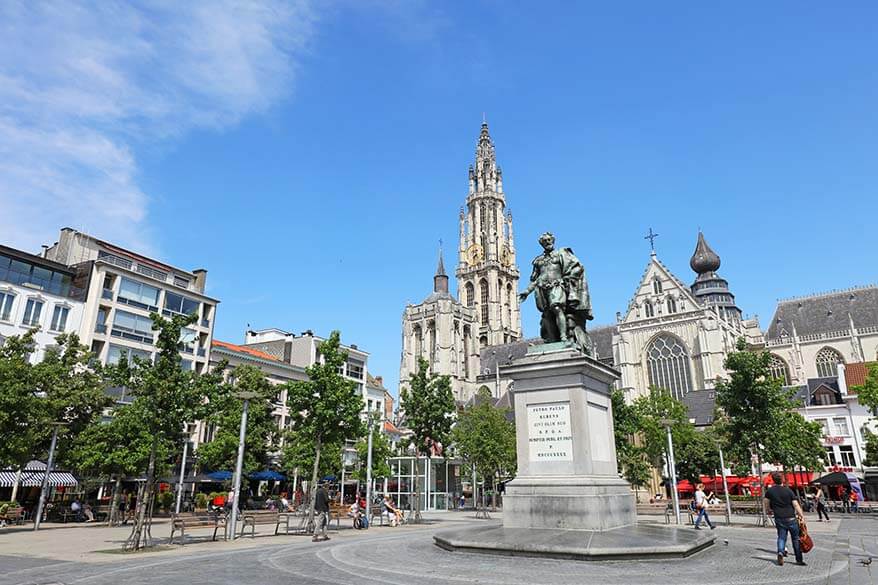 10. Antwerp Cathedral of Our Lady
Antwerp Cathedral of Our Lady (Onze-Lieve-Vrouwekathedraal) is the highest Gothic building in the Low Countries. It's an iconic building, but also a treasury with an impressive collection of major artworks, including several paintings by Rubens.
You can join the guided tour of the Cathedral or explore it at your own pace. There is an 8 EUR fee to visit the Cathedral unless you're coming for the mass. There's also a mass in English; it's held on Saturdays at 5 PM.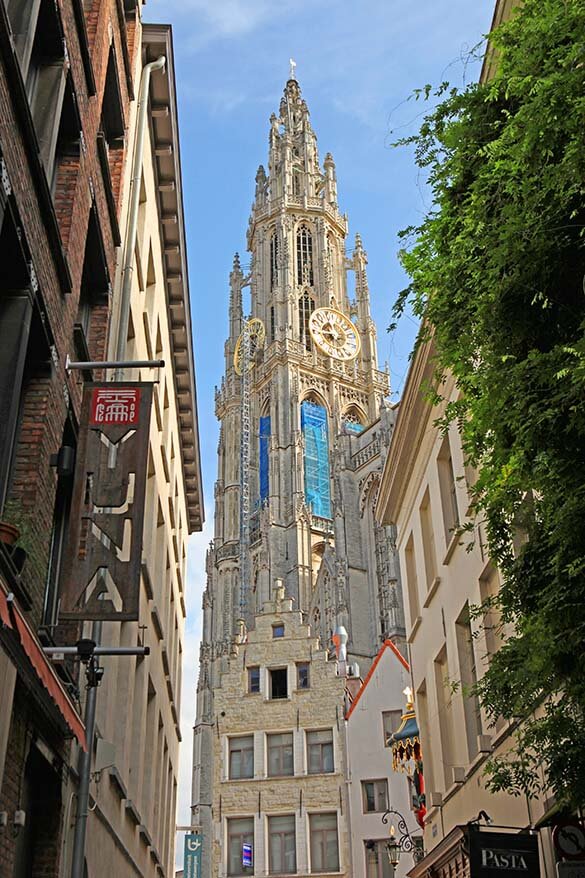 11. Grote Markt
Grote Markt is the main square of Antwerp and is one of the most beautiful town squares in Europe. The magnificent 16th century City Hall (Stadhuis) dominates the square surrounded by the beautiful Guild Houses.
If there is one place you absolutely have to see in Antwerp, it's the Grote Markt.
You cannot overlook the Brabo Fountain, right in the center of the square. According to the legend, Brabo killed a giant who demanded a high toll for each ship that wanted to enter the city. If the ship's crew wouldn't pay the toll, their hands were cut off. The little Brabo fought the giant, cut his hand and threw it in the river. The fountain's statue depicts this story that is used to explain the origins of the name of the city – Antwerpen – hand werpen meaning 'to throw a hand'.
Grote Markt is a peculiar place – empty on cold winter mornings and buzzing with tourists and locals in summer. Filled with cafes and restaurants, Grote Markt is the place that wakes up around noon, so don't go there first thing in the morning unless you want to have the whole place to yourself.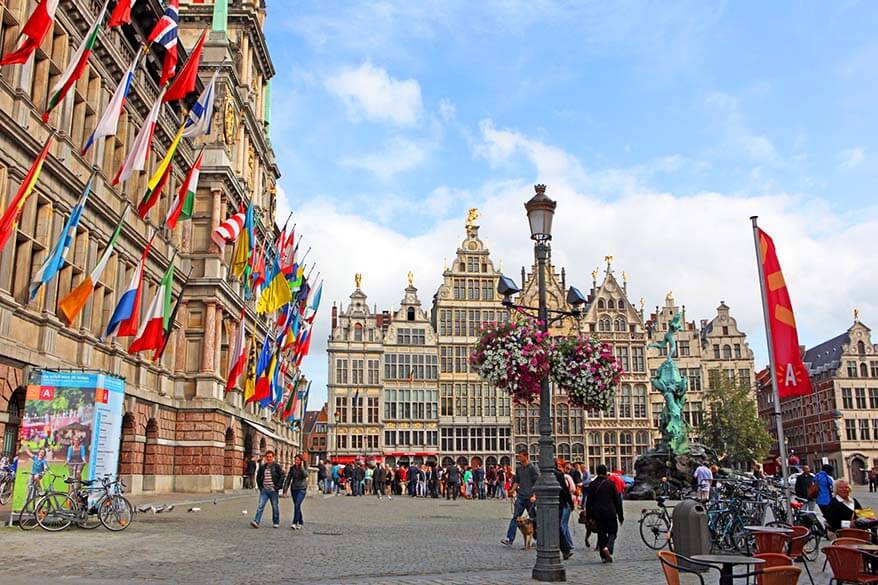 12. Het Elfde Gebod
The café Het Elfde Gebod (the 11th commandment) can be found on the Northern side in the shadow of the Cathedral and is worth a short stop for a drink.
It might look strange to include a café into best things to do in Antwerp list, but it's such a special place that you really should check it out when in Antwerp. The 11th Commandment has a spectacular interior filled with saints, angels, saints, pulpits, etc and has kept its authenticity for over 40 years.
You will find many traditional Belgian beers here, including the local Antwerp De Koninck beer ('t Bolleke), the famous Trappist beers, and more. Non-alcoholic drinks are also available, of course.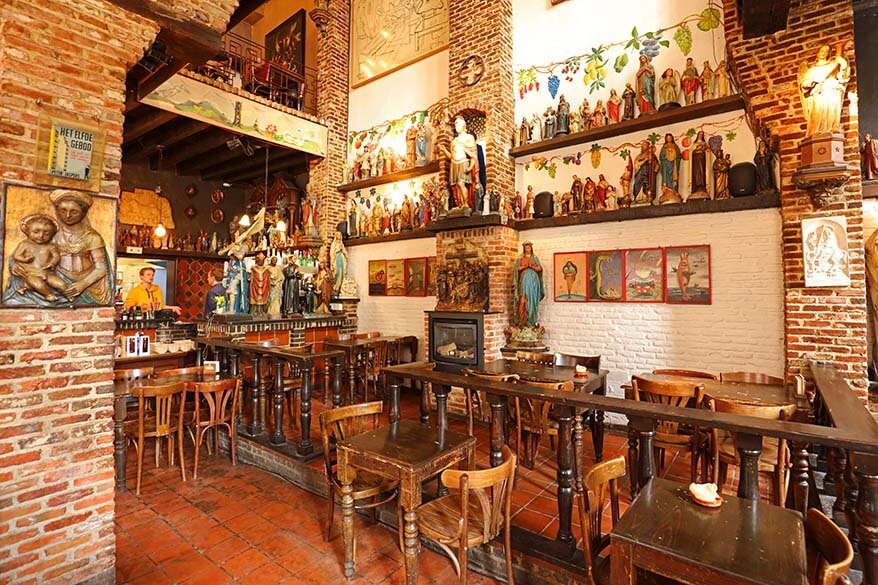 13. Saint Carolus Borromeus Church & Hendrik Conscience Town Square
Saint Charles Borromeo Church (Carolus Borromeukerk) is one of the most beautiful churches of Antwerp. It's slightly hidden and out of sight, located on a charming little town square, Hendrik Conscienceplein.
You have to walk through some narrow cobblestoned streets to see the magnificent facade of this 17th century Jesuit church.
Antwerp is the most distinctive Baroque city of the Low Countries and Saint Carolus Borromeus church is one of the places you really should see in Antwerp. It's impressive from the outside, but its rich interior is not to be missed either!
Right opposite the church, you can see Hendrik Conscience Library. This library is home to one of the nicest hidden gems of Antwerp – Nottebohmzaal.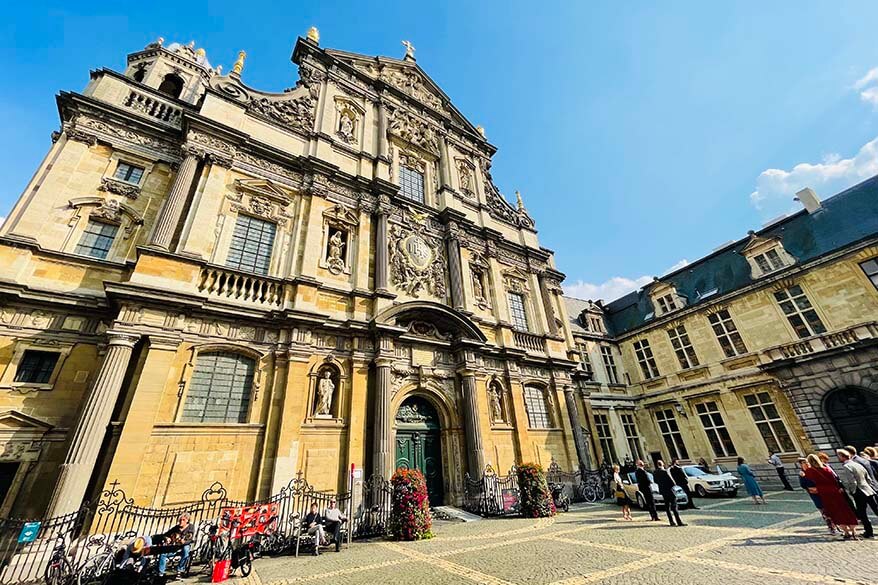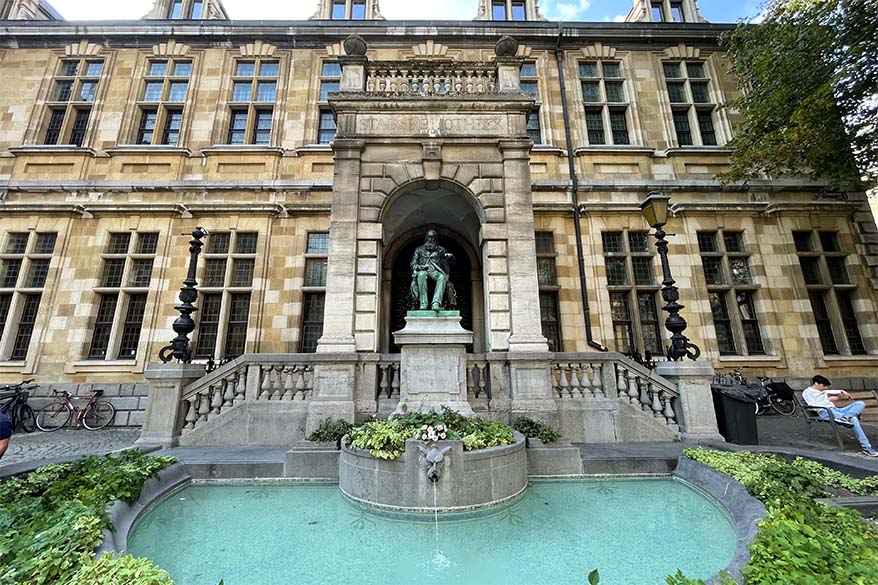 14. Vleeshuis
Vleeshuis (literal translation 'the meat house, also known as the Butcher's House) is the oldest guildhall in Antwerp. The 500-year-old building is very impressive from the outside and is worth seeing if you are in the area.
Inside, you can find a museum featuring all kinds of musical instruments. This is a great place to learn about the centuries-old history of music and dance in Antwerp.
For practical information and opening times, consult the official website of the museum.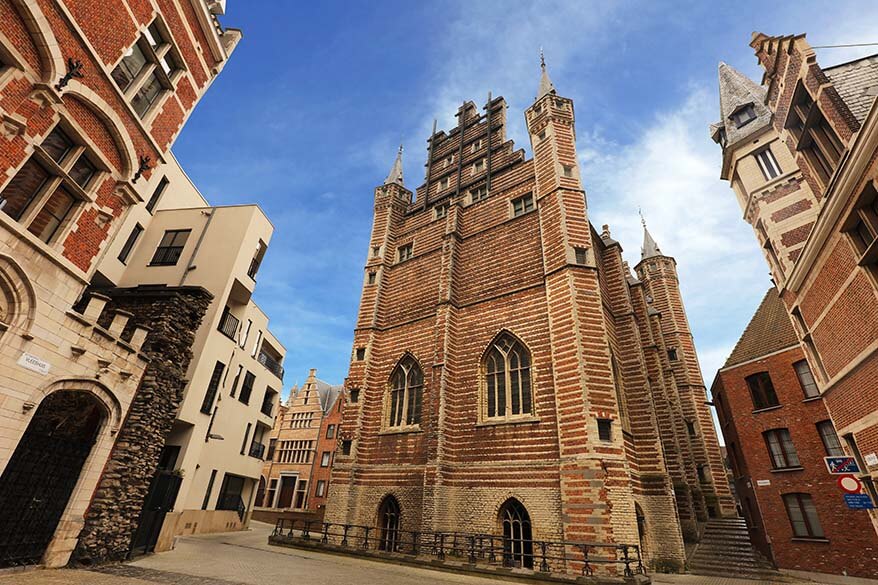 15. Steen Castle & The Antwerp Story
Het Steen is Antwerp's oldest building. It was built at the beginning of the 13th century and served as a city fortress. This impressive castle lies on the Scheldt river and is just a short walk from the Grote Markt.
In the past, Het Steen was home to the Maritime Museum, later – a child-friendly meeting space with all kinds of workshops for kids. Finally, the city has decided to make better use of this beautiful building and it now serves as a visitor center and a great place to learn more about the history of Antwerp in a fun way.
Het Steen is now home to one of the newest attractions in Antwerp – the Antwerp Story. It's a bit comparable to the Historium in Bruges. You walk through 11 different rooms, each showcasing different facets of Antwerp in original and surprising ways. Must do!
In addition, you have nice views from the panoramic roof terrace, and also the building itself is really impressive to see. This is now one of the best places to visit in Antwerp, so be sure to check it out!
Good to know: Het Steen and the visitor center is open daily from 10 AM to 6 PM, from October 22, 2021. For more information, see here.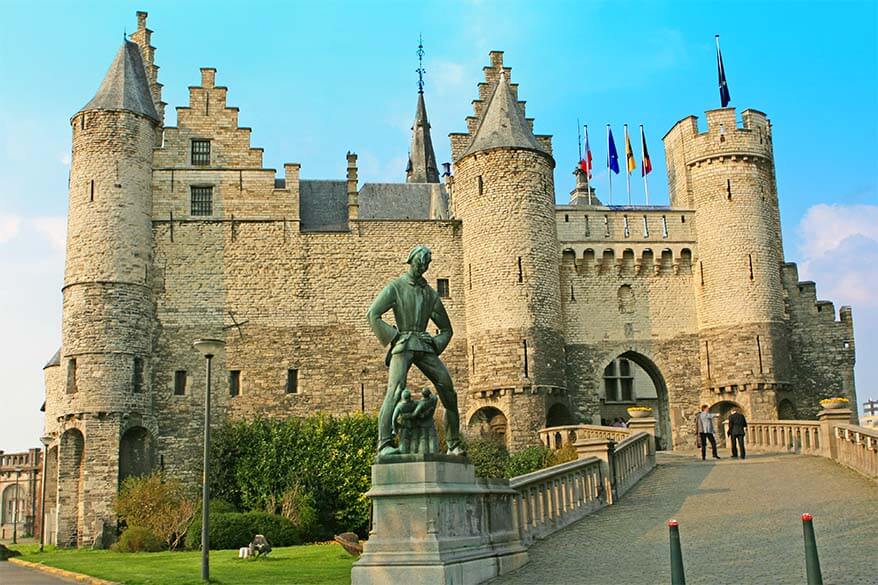 16. Scheldt River and Antwerp Harbor
The harbor has always been of utmost importance to the city of Antwerp. So make sure to take a short walk next to the river Scheldt and get the feel of whar this port-city is truly about. Antwerp is Europe's second-largest seaport and ranks among the world's top ten. You can usually see some large container ships in the distance.
The cruise ships visiting Antwerp are also docked at the new cruise terminal next to the Steen fortress, right in the center of the city.
If you have a couple of hours to spare, consider a boat tour in Antwerp harbor, or simply take a waterbus for a short ride to St Anna on the other side of the river – see below. But if you only have a day in the city, this is not a must.
TIP: There are now also great boat connections from Steen Castle to the other side of the river, and so if you have more time, you could take a boat to the St. Anna Beach on the Left Bank (Linkeroever). You can then take a nice walk along the river, and have lunch or dinner at one of the many restaurants there. The waterbus runs frequently, the ride to St. Anna takes less than 10 minutes (just one stop), and you don't have to reserve in advance. It's something nice to do if you are visiting Antwerp in summer and have at least two days.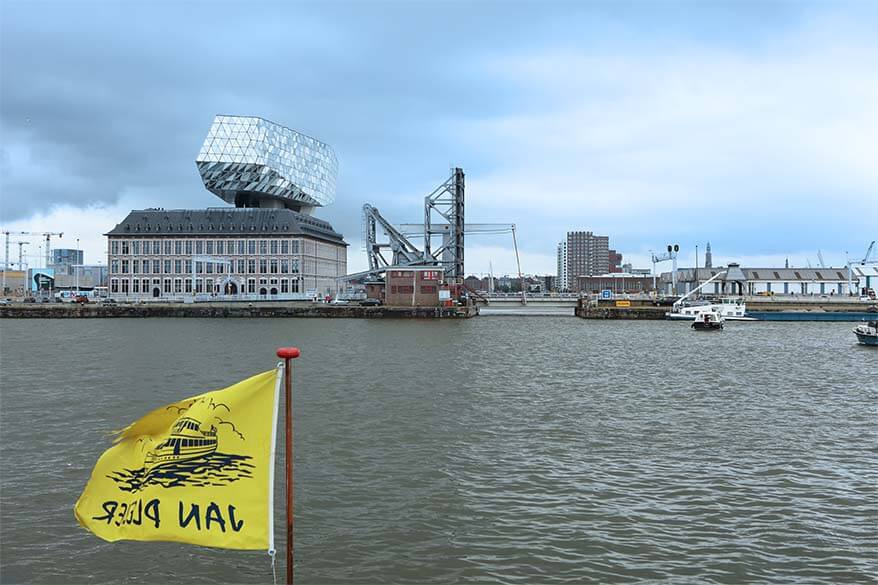 17. St. Paul's Church
St. Paul's Church is impressive both from the outside as well as from the inside. The 18th-century Calvary with 60 life-sized statues is not to be missed. But also inside the church, there are hundreds of statues and lots of masterpieces by famous Flemish painters such as Rubens, Van Balen, and Van Dyck. Definitely worth a short visit!
We first discovered this hidden gem when exploring some off the beaten path places in Antwerp with kids. But I think it's one of the unique landmarks that deserve a mention on this list of the must-see places in Antwerp as well.
Note that the church is only open in the afternoon from 2 PM to 5 PM, and only in the high season (summer and Christmas).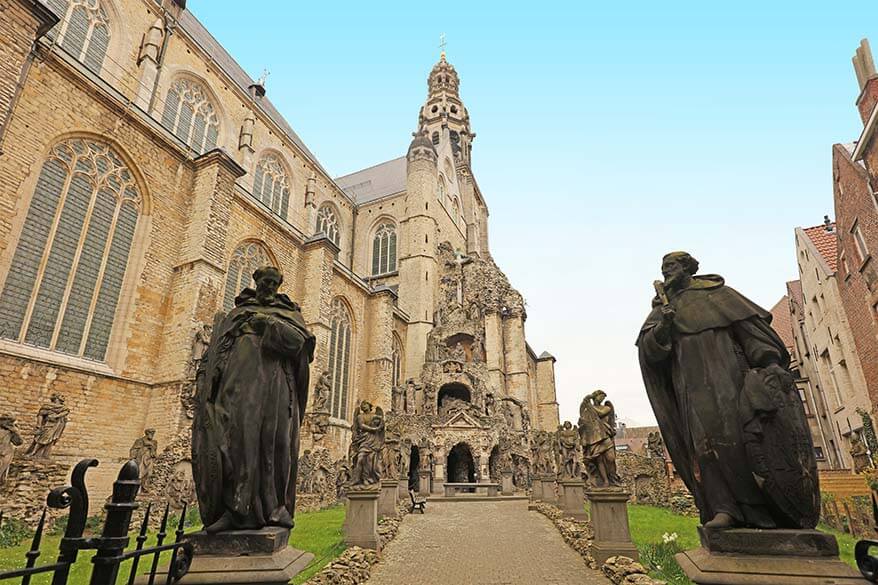 18. Het Eilandje District and MAS Museum
The modern red building of the MAS museum in the new trendy Het Eilandje district has quickly become one of the landmarks, a must-see place in Antwerp.
MAS has many interesting expositions, but the interior of this modern building is just as impressive. Make sure to also go all the way to the top of the building. The rooftop terrace of MAS has some of the best views of Antwerp.
Practical information: The entrance to the museum building and the rooftop terrace is free of charge; the rest of the museum requires a ticket. The museum is open from Tuesday to Sunday from 10 AM to 5 PM. More info on their website.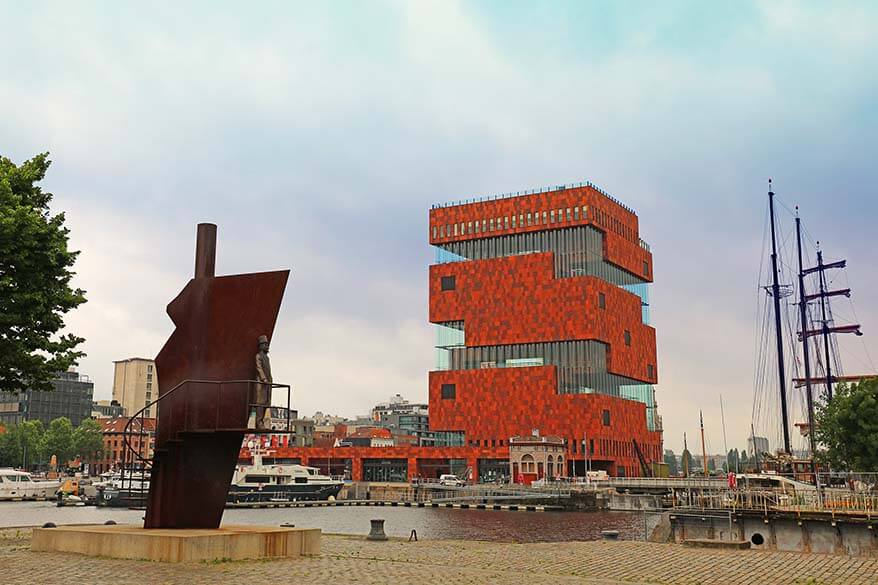 19. The New Port House
The New Port House of Antwerp is yet another recent addition to Antwerp's skyline.
It is one of the most impressive buildings I have ever seen and it's fascinating to watch this 'diamond ship' change in a different light.
Visits inside are possible but require advance reservation and it's not straightforward. However, the building is the most impressive from the outside anyway, and therefore easy to visit any time of day.
TIP: Because the New Port House is located a bit further away from the city center, it's easiest to visit with a bike tour or with a rental bike.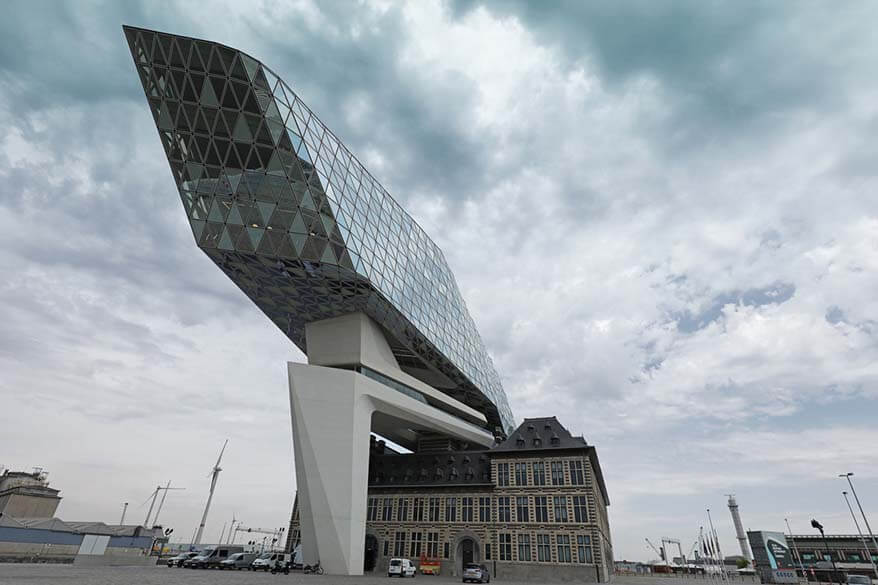 20. Red Star Line Museum
Red Star Line Museum is a trip back in time with the stories of people who sailed from here to find a new life in North America. You can also climb to the top of the tower for nice views of 't Eilandje district and the harbor.
Together with the Plantin-Moretus Museum (mentioned higher above), this is one of my personal favorite museums in Antwerp, also a good place to visit with kids. A visit here is very touching and eye-opening. Believe me, you'll never look at emigration with the same eyes after visiting the Red Star Line Museum.
This rather recent museum is, in my opinion, one of the best things to do in Antwerp!
Practical information: The museum is open from Tuesday to Sunday, from 10 AM to 5 PM. More info on their website.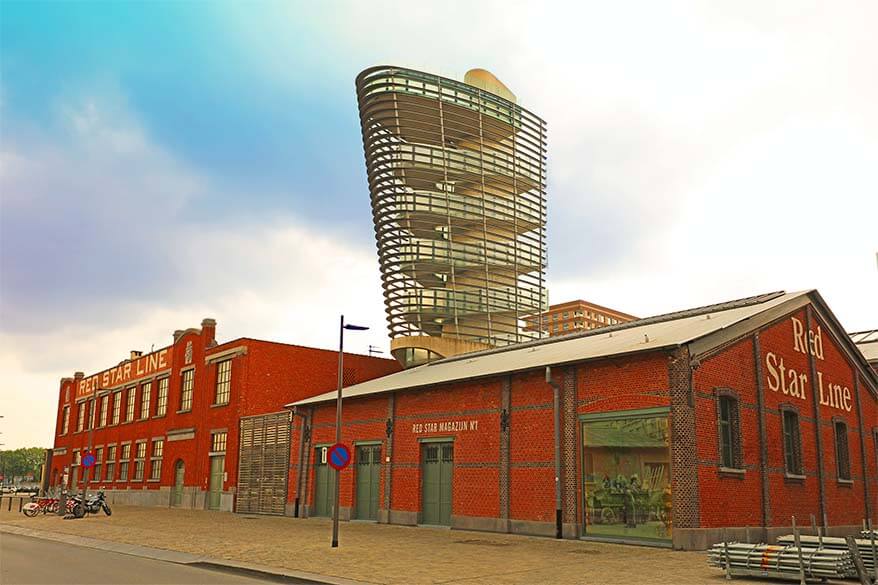 21. Chocolate Nation
Chocolate Nation is the largest Belgian Chocolate museum in the world. Opened in 2018, this unique museum is a rather new addition to Antwerp's tourist attractions. It has quickly become one of the popular places to see in Antwerp.
Interesting fact. The very first Belgian chocolate factory opened in Antwerp in 1831. This new chocolate museum brings history to life and is already one of the best things to do in Antwerp. The reviews on Trip Advisor are really loving and all our friends who visited Chocolate Nation really enjoyed it. The delicious chocolates that you get to taste (or take home with you) make the visit even better, of course!
Chocolate Nation is located very close to the Central Station and is open every day. Check it out when in Antwerp!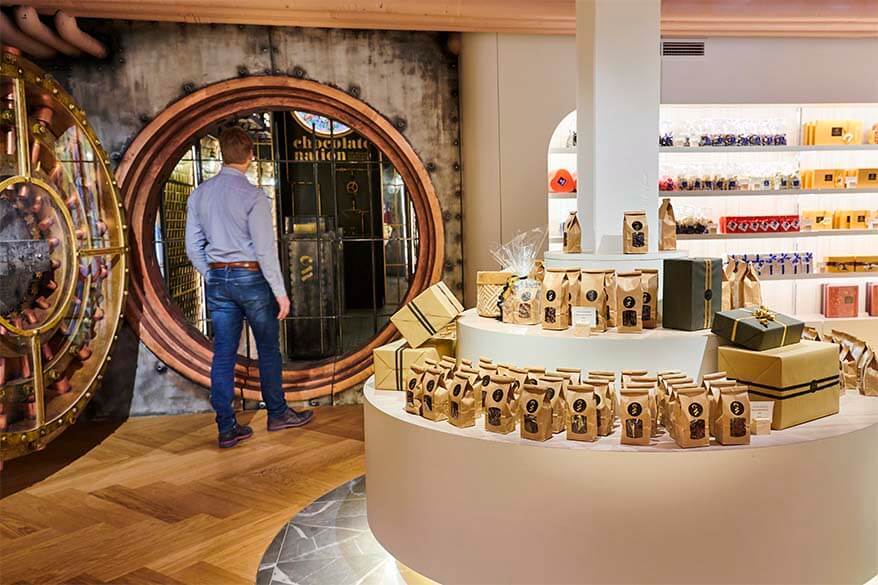 Best things to do in Antwerp – suggested city walk and map
Below, you can find our custom-made city map featuring the best things to do in Antwerp. I indicated each location mentioned in this post, as well as the suggested walking route.
How to Use This Map: Use your computer mouse (or fingers) to zoom in or out. Click on the icons to get more information about each place. Click the arrow on the left top corner for the index. Click the star next to the title of the map to add this map to your Google Maps account. To view the saved map on your smartphone or PC, open Google Maps, click the menu button, and go to 'Your Places'/'Maps'.
Where to stay in Antwerp
If you want to explore the best that Antwerp has to offer, stay for 2-3 nights. This will give you some time to see the best of Antwerp and maybe also find some hidden gems as well.
If you are looking for the best-located hotels for sightseeing in Antwerp, here are my best recommendations:
TIP: Using the map below, you can compare hotels, apartments, and short-term rental accommodations in Antwerp city center. It's now showing the old town, but you can also zoom out if you want to see accommodations closer to the Central Station.
Simply insert your travel dates and group size, and you'll see the best deals for your stay. Check it out!
So, this is our guide to the very best things to do in Antwerp. This is in no way a complete list of everything that Antwerp has to offer, but if you are visiting for the first time and looking for the must-see places in Antwerp, then this list is a good place to start. Enjoy your trip!
TIP: If you have more time and are looking for more things to do in Antwerp, take a look at our guide to some amazing lesser-known places in the city that most tourists never see (but that are well worth your time). Check it out via the link below!
READ ALSO: Amazing Hidden Gems of Antwerp
More travel inspiration for visiting Antwerp:
Belgium travel guides:
If you found this post useful, don't forget to bookmark it and share it with your friends. Are you on Pinterest? Pin this image!