Are you traveling to Antwerp with kids and looking for ideas for the best things to do in Antwerp with children? You came to the right place!
Antwerp is one of our favorite towns in Belgium. We live just outside the city and love exploring Antwerp with our children. This great town never disappoints!
There are more family-friendly things to do in Antwerp than you might think. With a few recent family-friendly additions, as well as many seasonal events, Antwerp has a lot more to offer to traveling families than ever before.
In this article, we share some of our family's favorites, top things to see and do in Antwerp with kids.
This list is aimed at tourists who want to discover and explore Antwerp with children. So if you are an expat looking for more regular family-friendly activities like bowling, indoor playgrounds, or movie theatres in Antwerp, you'll just have to google them. Or leave your question in the comments below and I'll try to answer as best as I can.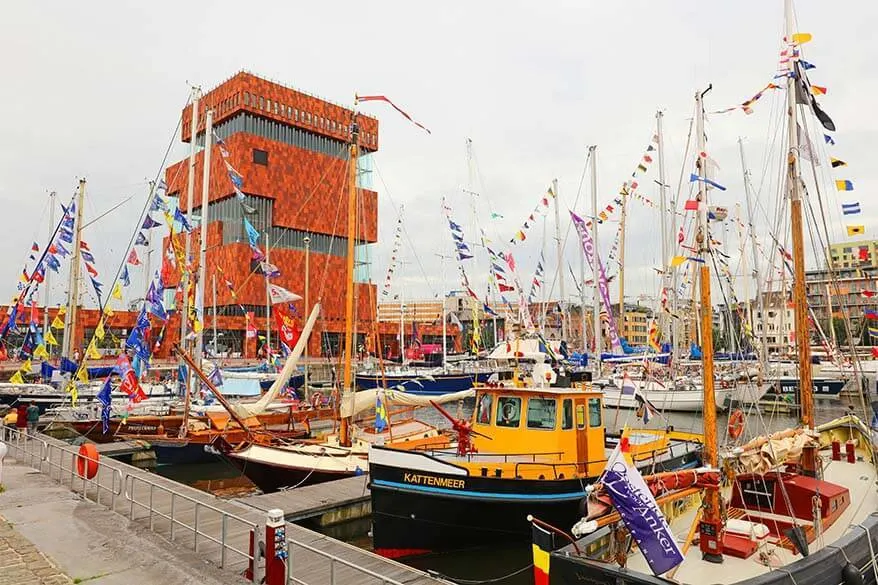 Without further ado, here are the best things to do in Antwerp with kids:
1. Antwerp Zoo
No list of the best things to do in Antwerp would be complete without a visit to the Antwerp Zoo. And this is certainly the case if you are visiting Antwerp with children!
The Zoo of Antwerp is one of the oldest animal parks in Europe and is located right in the middle of the city. So, in addition to animals, you can also see some really nice historic buildings that make the Antwerp Zoo so much more special than any other animal park in Belgium.
And talking about animals, they have gorillas, elephants, giraffes, and rhinos, but also lots of smaller animals and birds. There's also a nice butterfly house that's really fun for kids. Colorful butterflies often come to sit on your shoulder or even your hand.
Good to know: Count about 2-3 hours for the visit. The zoo is quite big and there are also some keeper talks that you can attend. In the past, they used to have shows and feeding moments, but this seems to have changed and I'm not sure if it's something they will do again. So you may want to see their daily program here if that's a deciding factor in whether to visit.
Practical info: The zoo is open daily throughout the year, with opening hours varying per season. For more info, see their website. If you have a day to spare, you may want to check their sister-park Planckendael instead. It's a much larger animal park located close to Mechelen, with even more animals and lots of playgrounds for kids.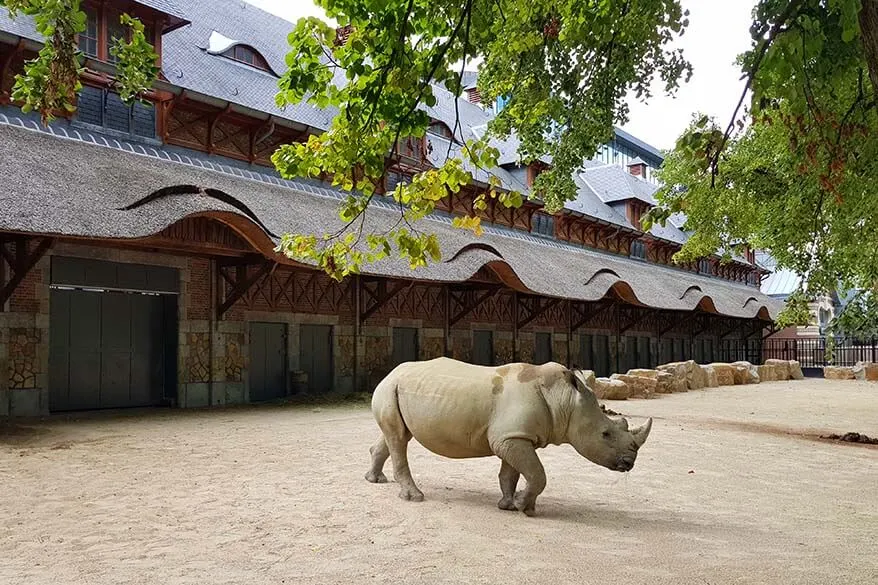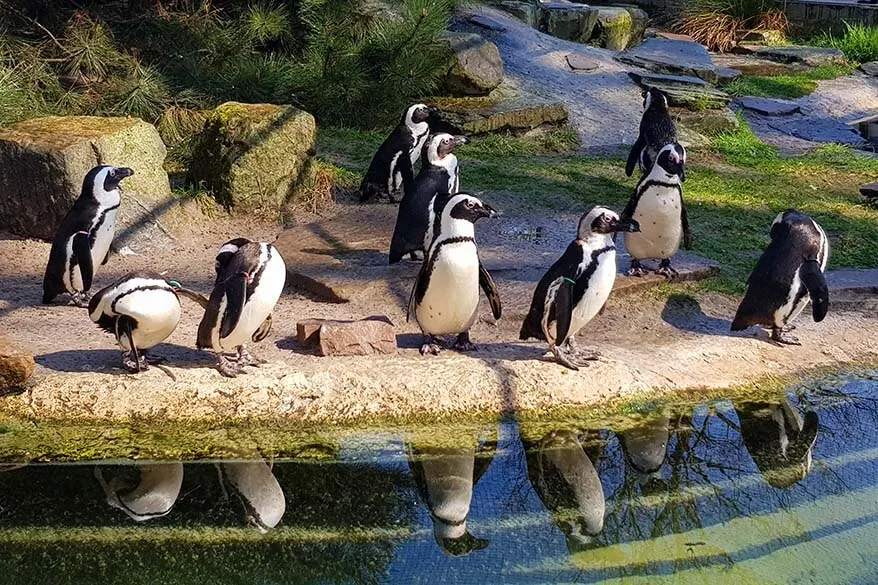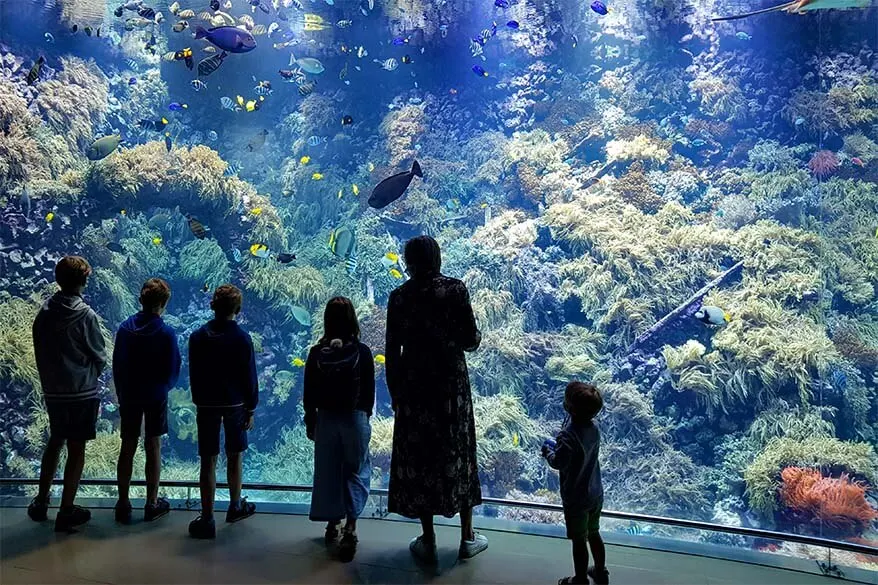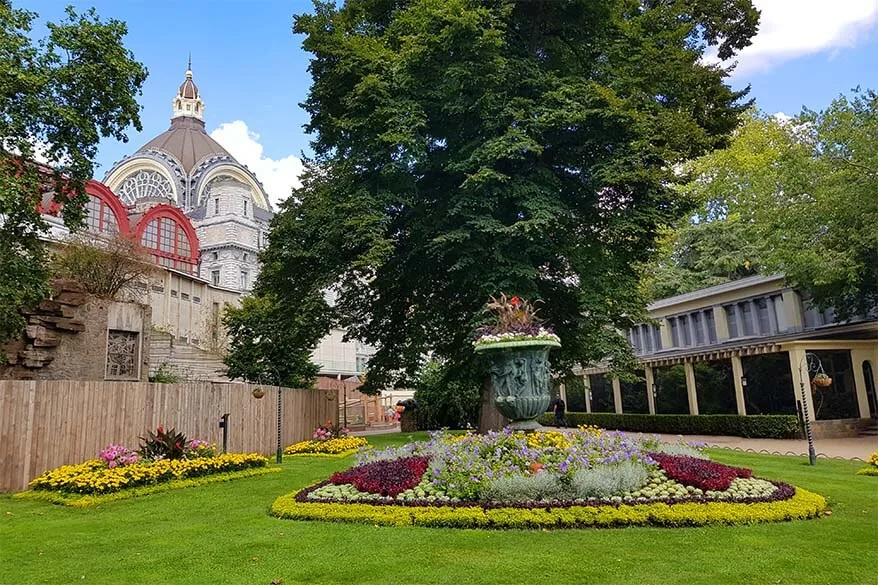 TIP: If you are visiting Antwerp during the winter holiday season (December to mid-January), check if they have the incredible light spectacle China Light. It might be called somewhat differently (e.g. one year it was called Alice in Wonderland light festival), but the concept remains amazing. Highly recommended when visiting Belgium in winter, with or without kids!
One more winter tip: Antwerp also hosts one of the nicest Christmas markets in Belgium.
With lots of market stalls selling typical Belgian and holiday specialties, a beautiful ice skating rink, and lots of attractions for the children Antwerp Christmas market is just one more great reason to visit Antwerp with kids in winter.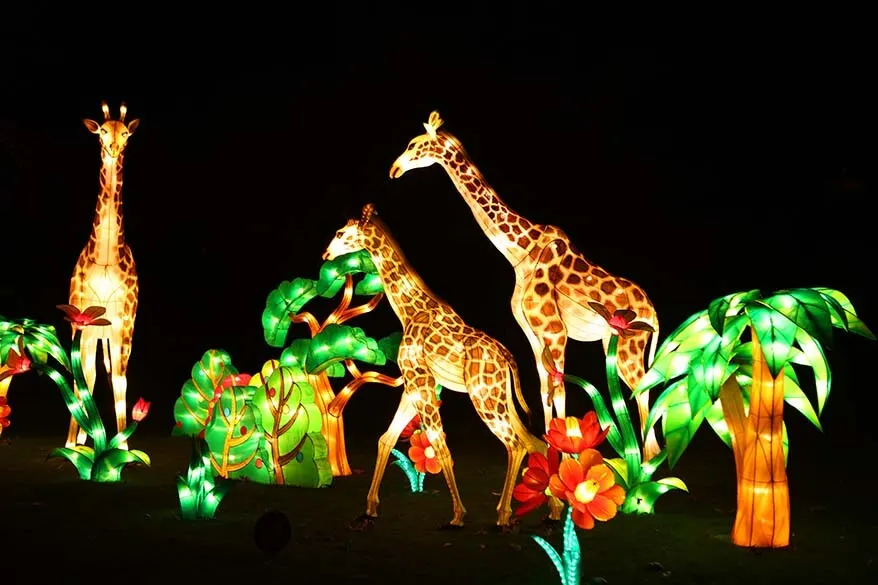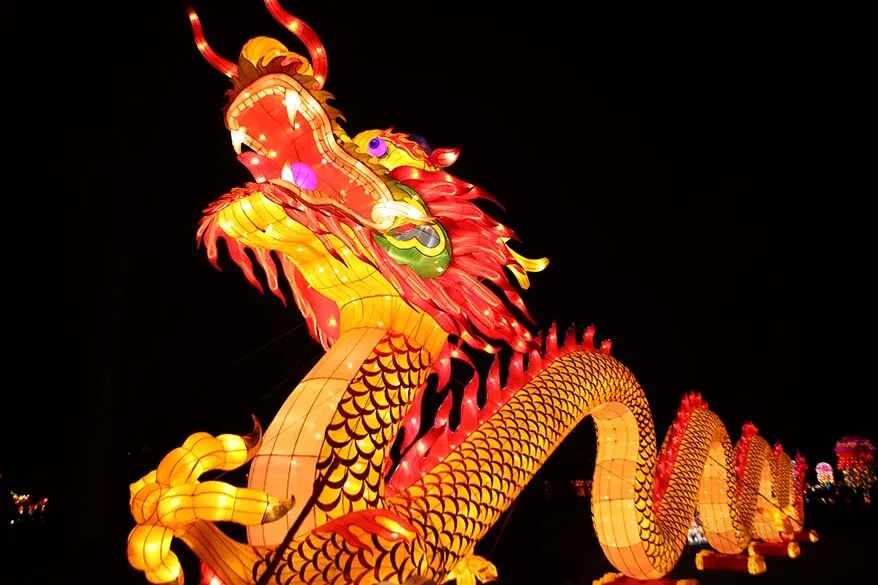 2. illusion Antwerpen
illusion Antwerpen is the most interactive museum in Antwerp and a great place for families looking to spend some quality time together. Whether you are looking for something fun to do in Antwerp with young children or with teenagers, you are guaranteed to have a great time here.
We have been to a few similar museums in the past, and the one in Antwerp really stands out. Despite its relatively small size, this museum of illusions has a lot more to offer than it looks at first sight. Some exhibits really challenge all your senses and leave you puzzled, while others make for some fun photos with the whole family.
But there is one thing that makes a visit here even more special and that's their dedicated staff. They'll give you tips for the best angles and fun ideas for your photos and will help you out if you get intrigued about some of the mind-blowing puzzles. The people working here make all the difference!
Good to know: illusion Antwerpen is open daily, also on public holidays. It's very centrally located and since you need less than an hour to visit, it's very easy to add it to any Antwerp itinerary. For more practical info, see here.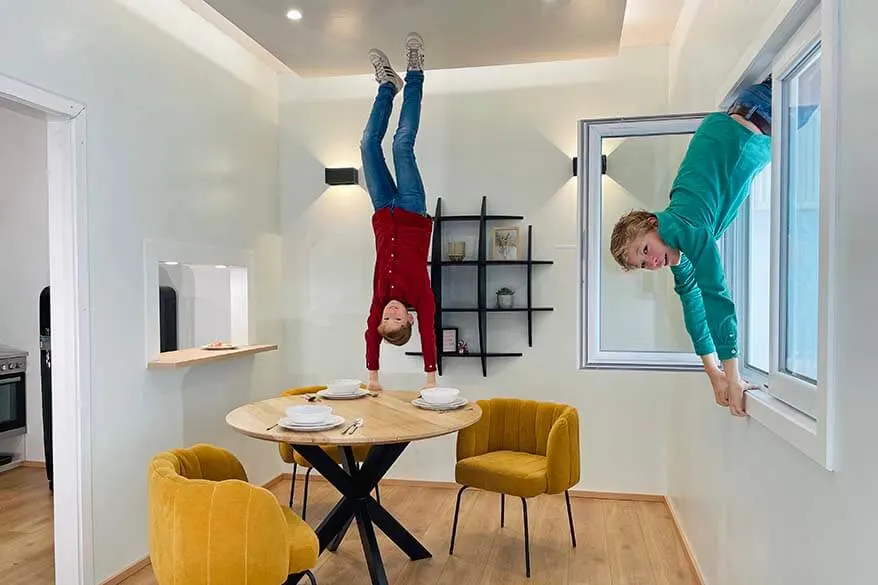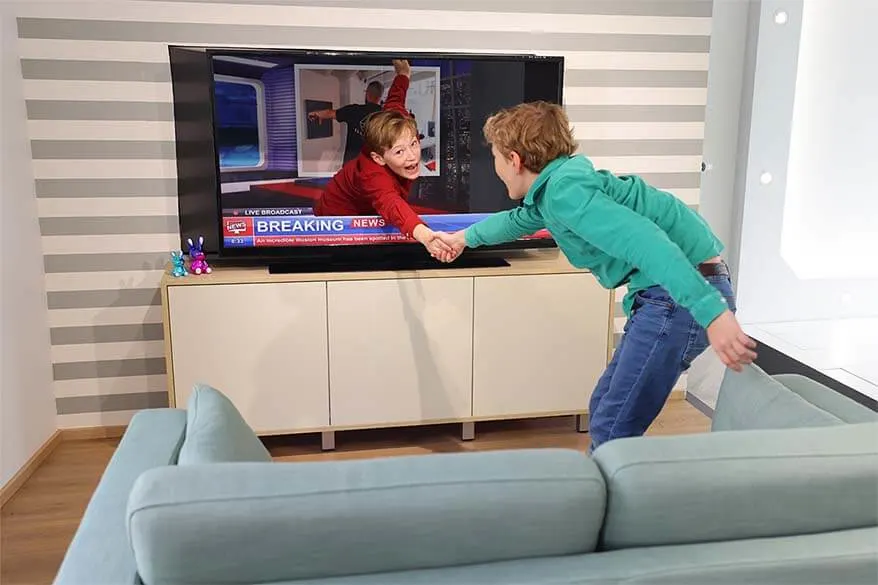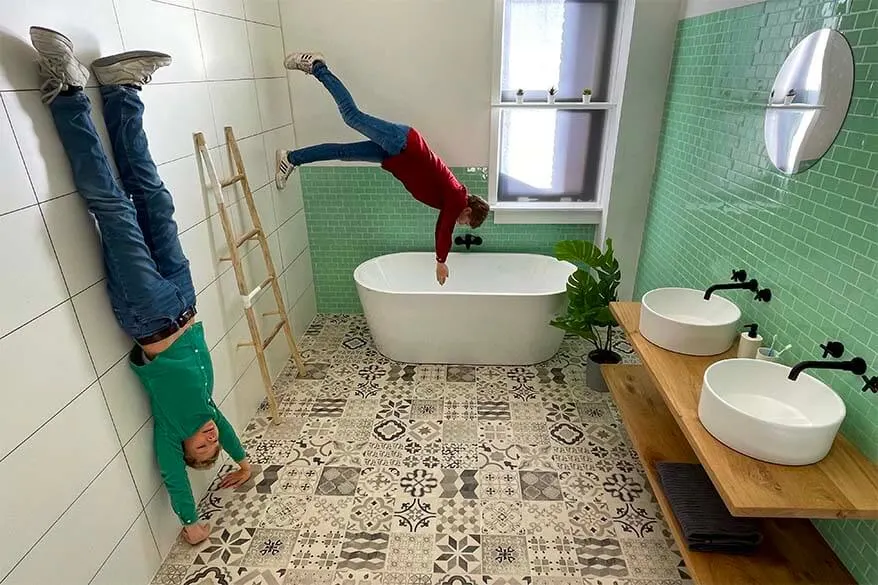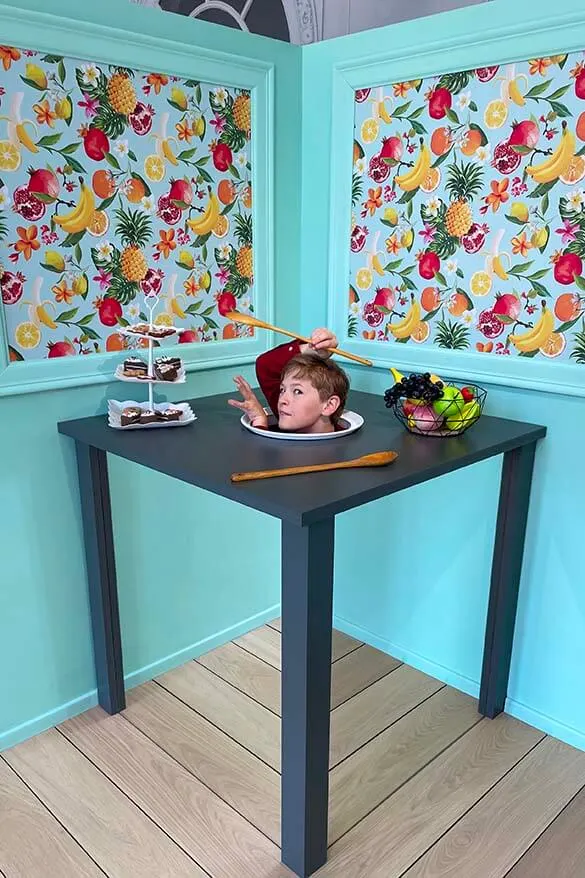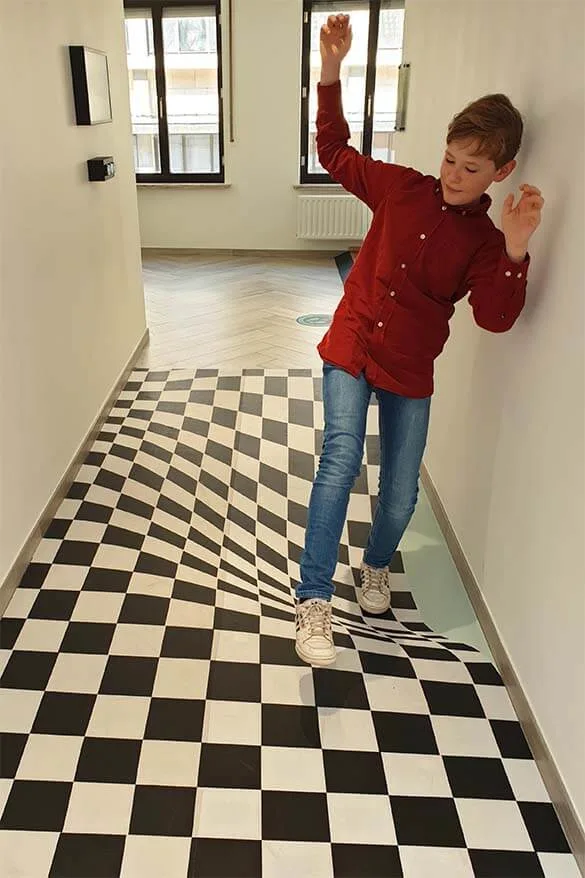 3. Chocolate Nation
Chocolate Nation is another great place to visit in Antwerp with kids. The biggest chocolate museum in the world, it's incredibly well-presented with multimedia exhibits spread out over 14 different rooms that take you on a journey of chocolate-making.
I have to admit that it was so much better than we expected! Every room is totally different and the information is really interesting. Even as locals who snobbishly thought that we know everything there is to know about Belgian chocolate, we learned so much, especially about all the Belgian chocolate icons. At the same time, it's not overwhelming with too much information and is well thought out so that younger kids will enjoy it as well.
A visit here is a unique experience for all your senses. You smell chocolate when you visit the 'chocolate factory' room and at several other exhibits, and you can taste 10 different kinds of warm, freshly-made chocolate at the end of your visit.
As one of our kids said, we took the most interesting trip to learn everything about chocolate and ended in chocolate heaven.
And if you still don't have enough chocolate, you can find a big variety of all kinds of chocolate products in their gift shop. Plus, if you plan well ahead, you can also attend chocolate-making workshops on certain days.
Good to know: The museum is accessible by wheelchair or stroller. Plan 1 hour for a visit here. A visit is self-guided and they have audio guides in several languages including English. The museum is open daily and is located very close to the central railway station and the Zoo. You can reserve your tickets in advance, but even on a busy weekend, we just got them on the spot and could enter without any delay. For more practical info, see their website.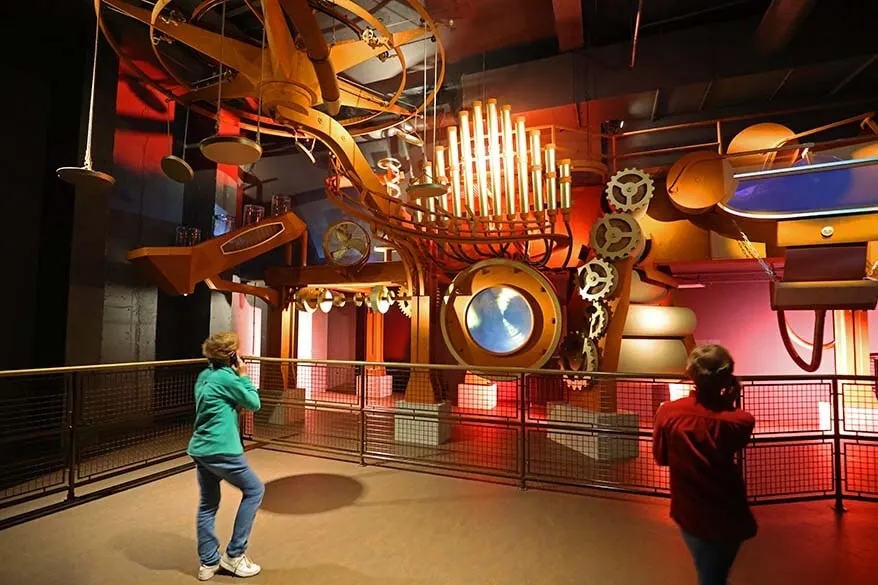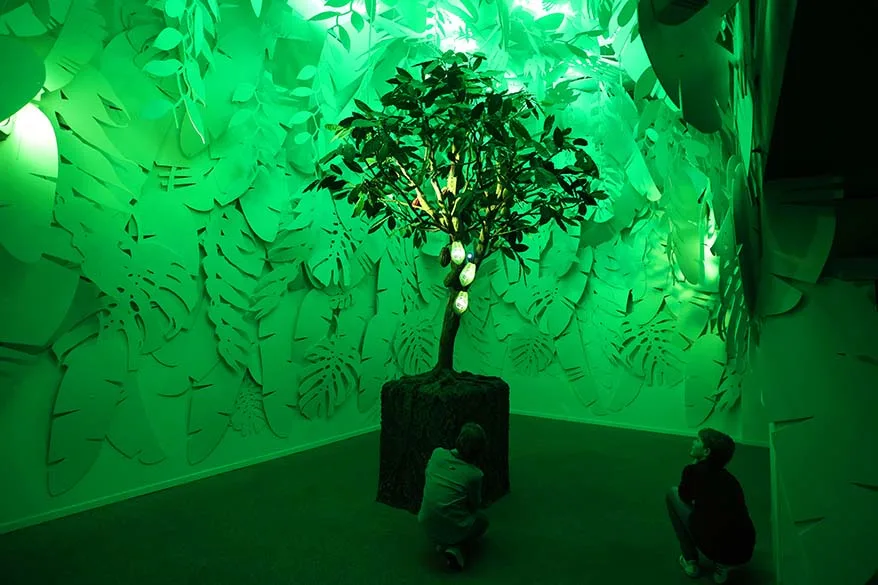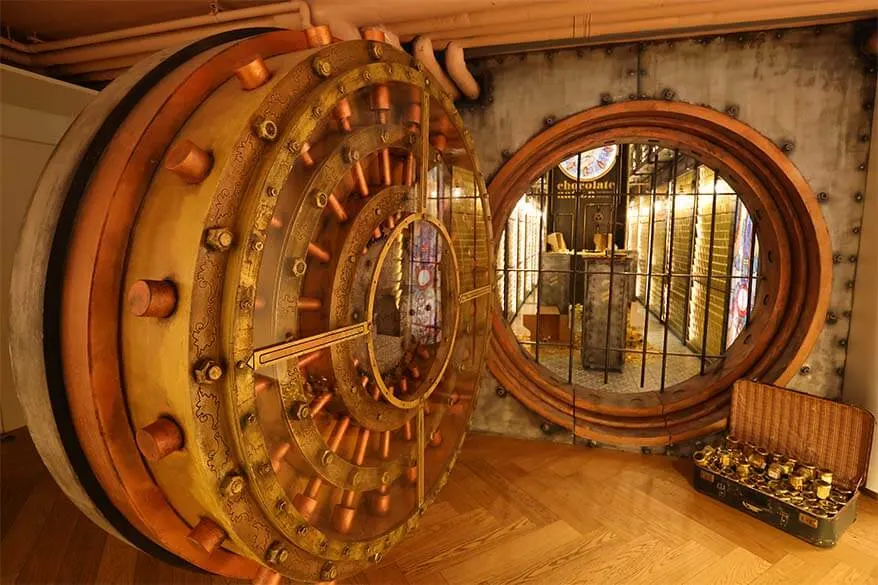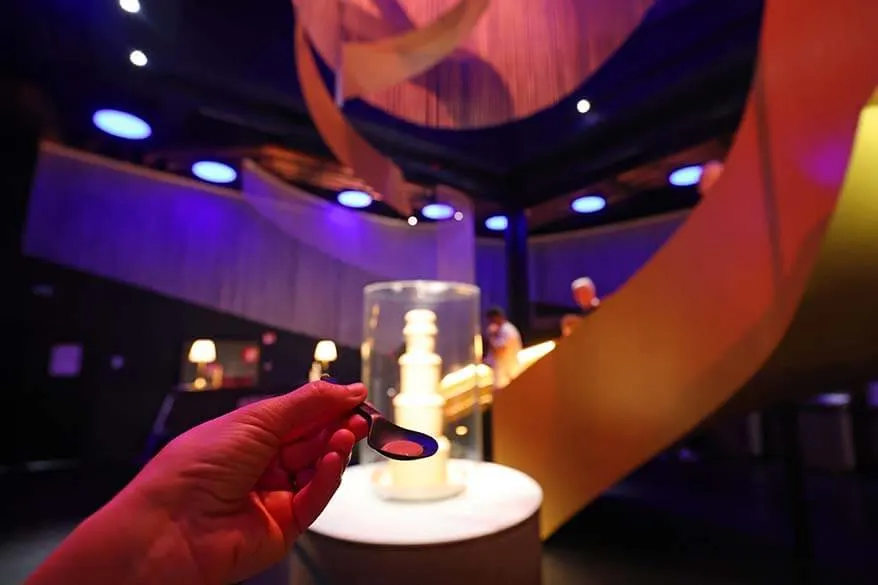 4. Plopsa Station
Plopsa Station is an indoor theme park and playground for kids. If you are visiting Antwerp with young children and are looking for a few hours of indoor play fun, it's a great place to be.
This place used to be called Comics Station and was mostly focused on the famous Belgian comic strip heroes, such as Tintin or the Smurfs. It's been recently taken over by Belgium's biggest entertainment group Studio 100 which has lots of experience in family entertainment, theme parks, etc.
In addition to the famous comic strip figures, it is now more focused on the heroes that kids will recognize from the Studio 100 shows and kids' TV series. It also offers lots of fun attractions for the youngest children.
Plopsa Station is like a miniature version of a theme park AND it is indoors – a good place to spend a couple of hours with kids in Antwerp when it rains or on a cold winter's day.
Located at the far end of the Central Railway Station in the heart of the city center, this family attraction is easy to find and doesn't require more than a few hours. This makes it easy to combine a visit here with that to the nearby zoo, Chocolate Nation, or a day of shopping and sightseeing.
Good to know: For opening hours and more practical information, see their website.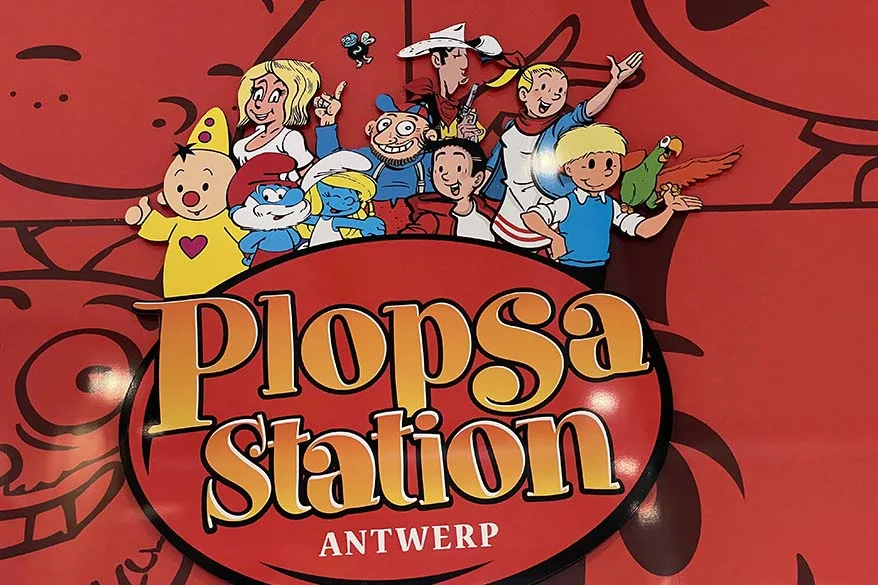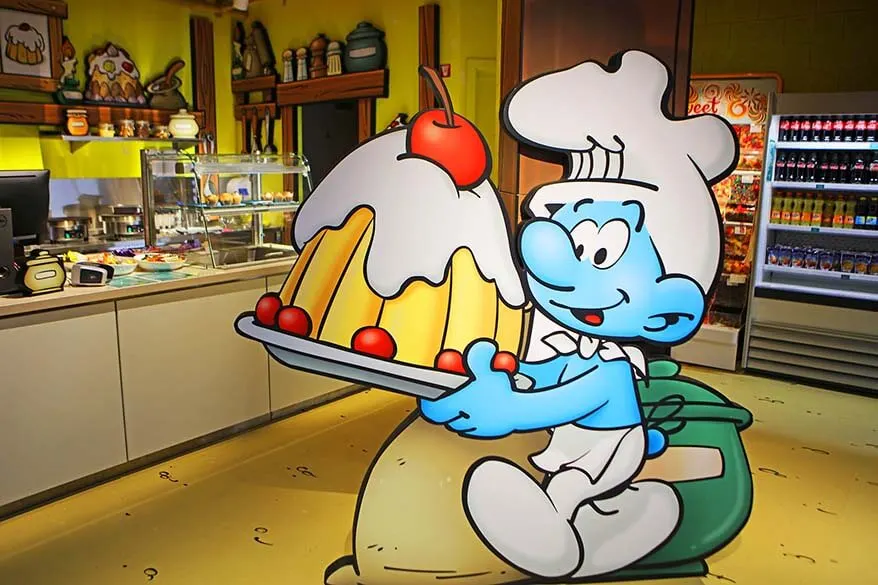 5. The View Antwerp Ferris Wheel
In the past, I've been a bit hesitant to include Antwerp Ferris Wheel as one of the places to visit in the city, mainly because it used to move locations all the time. Recently, it seems to have settled on Steenplein along the Scheldt River. It's just next to Het Steen Castle and a really nice place from which to enjoy some of the best views of Antwerp.
So if you are visiting Antwerp with children and are looking for a fun activity for the whole family, I now recommend considering The View Antwerp Ferris wheel. The views from the top are really nice, with the historic Old Town and the river at your feet and the entire city stretching in all directions as far as an eye can see.
While the wheel is not very high, neither are the buildings in Antwerp city center. So you have a really good 360° view in all directions. From the top, you can also see the famous Antwerp Harbor, the second-largest seaport in Europe.
Oh, and the cabins are closed, so it's safe to do with kids and is something that can be enjoyed in all season.
Good to know: The View Antwerp is usually open daily, from 11 am to 11 pm. At the moment, an adult ticket costs 8 euros and 5 euros for the kids. Usually, you get 4 rounds, which gives you plenty of time to enjoy the views and identify various landmarks.
Our kids have been on the giant wheel in Antwerp a few times and it remains one of their favorite things to do in the city.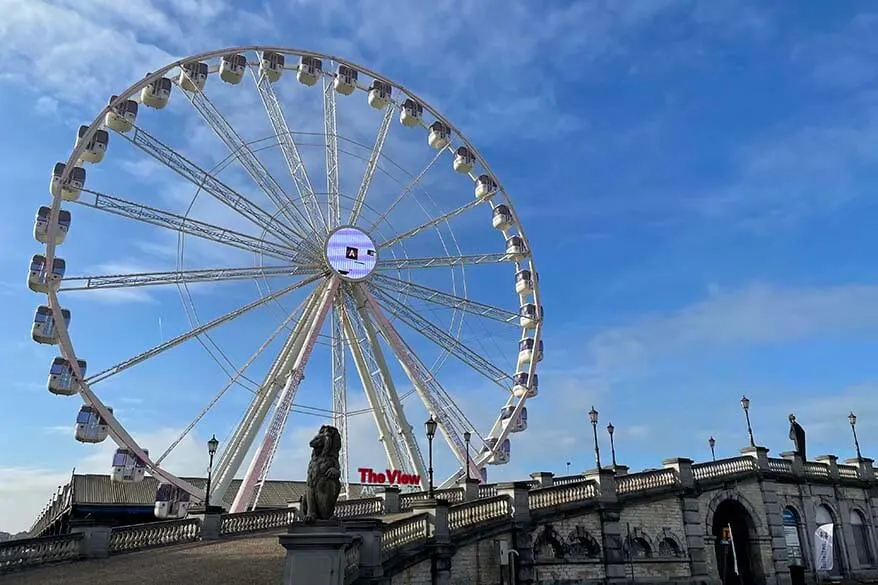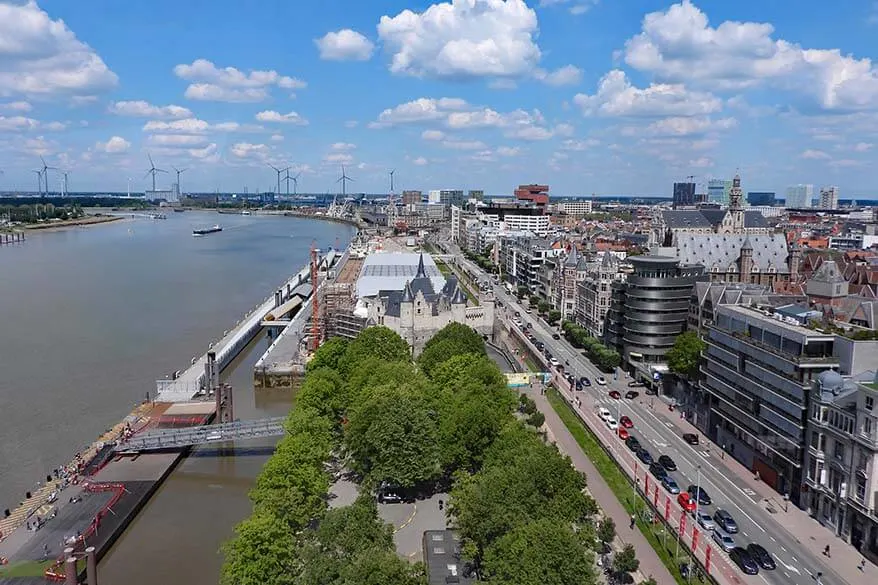 6. Antwerp Underground Canals – De Ruien
Now, this might look like an unusual choice – visiting the old sewers and underground canals with children – but our kids loved it! And so did we. De Ruien is one of the lesser-known, secret places in Antwerp that will make your visit to the city so much more special.
The part that you can visit with kids is very small, it's a 10-15 minute boat ride that can be done with kids from 3 years and older. With older children (from 10 years), you can also go on a short walking tour along the underground canals.
The entrance to De Ruien is centrally located close to Antwerp City Hall. You don't need to book this short visit (other options are best reserved in advance), so it's really easy to visit. It's something that doesn't take long and only costs a few euros and is a very unique experience. Check it out!
Update: Due to low water levels, the boat tours in the underground canals have been suspended recently. I'm not sure if or when they will be running again. The self-guided walking tours are running as usual. For up-to-date practical info and available tours, see their website.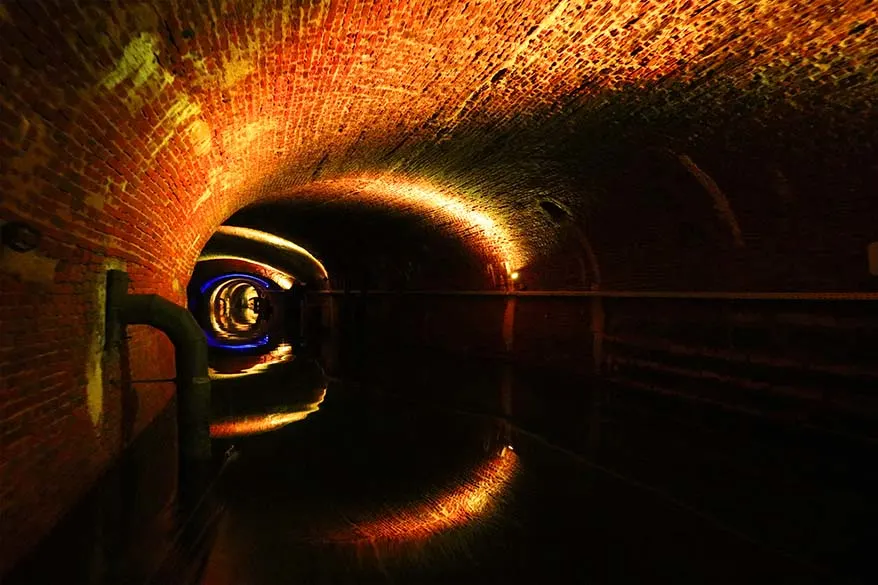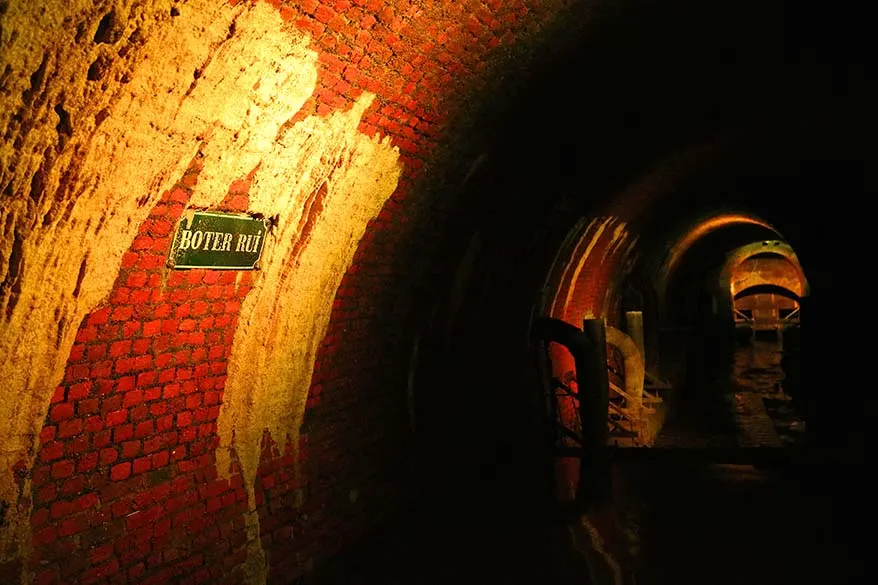 7. The Rooftop Terrace of MAS
MAS is a modern museum in the new trendy part of Antwerp, 't Eilandje. It's an impressive red building, an architectural masterpiece that cannot be missed when visiting Antwerp.
While a visit to the museum might not interest younger kids, the view from the rooftop terrace is something the whole family will appreciate.
The entrance to the building is free of charge and you can take an escalator staircase all the way to the top. The architecture of this building and the views from various floors and from the top make this one of our kids' favorite places to visit in Antwerp.
Good to know: The MAS museum is open daily except on Mondays and some public holidays. The rooftop terrace is usually accessible on the days when the museum is open between 9.30 AM and 10 PM unless the weather is exceptionally bad. If you decide to visit the museum, you'll be glad to know that kids under 12 are free of charge. More info on their website.
TIP: There are many trendy local restaurants nearby. We love De Burgerij – not as much for its delicious hamburgers, but for its children's play corner. Our kids never want to leave and it gives us a welcoming break as well. A nice alternative – in summer – is the nearby Bar Noord. They have a beach bar with a big (water) playground that is always a big success with kids.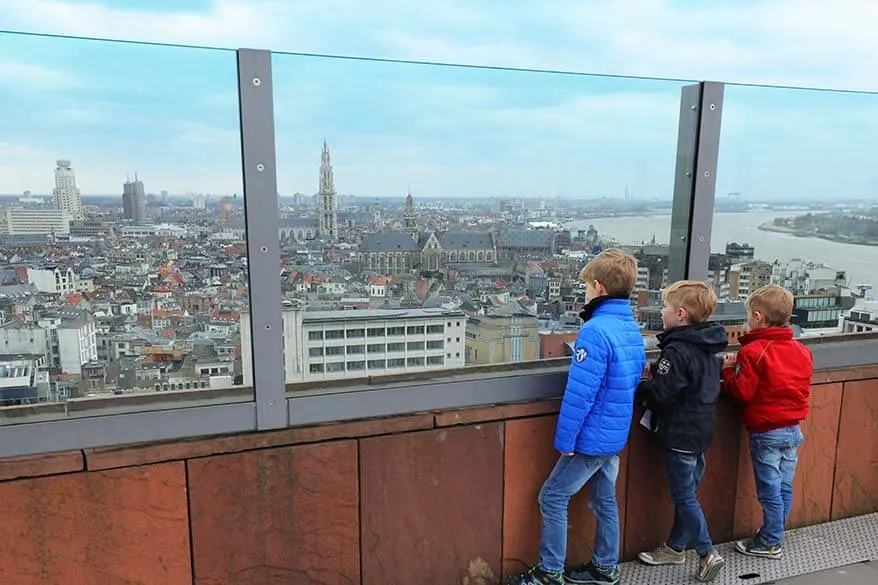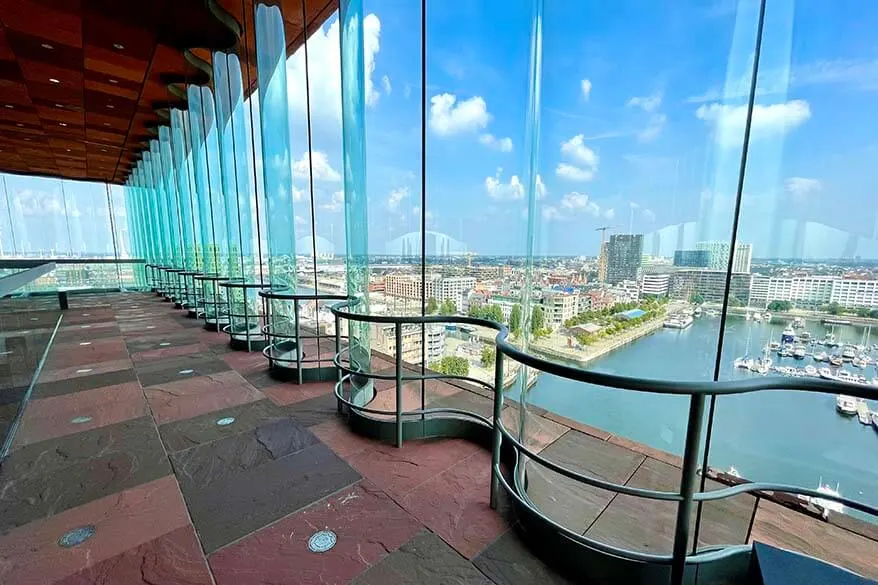 8. Het Steen Castle
Het Steen is the oldest building of Antwerp. Located by the river, this medieval fortress has a long history. Nowadays, it's a beautifully restored castle with a small interactive museum – Antwerp Story – where you can learn more about the city.
I'm not really sure if the museum is worth it for families with kids (lots of listening to the locals telling about the city today might not really appeal to the children), but the building itself is really impressive and some of the best parts don't require a ticket.
In addition, there's a rooftop terrace offering nice city views. And you can also stop by at the visitor center/ shop where you'll find all kinds of local specialties from Antwerp. This is our kids' favorite place at Het Steen…
All in all, I highly recommend checking it out. It's located in the city center and doesn't require much time. For more info about the museum, see their website.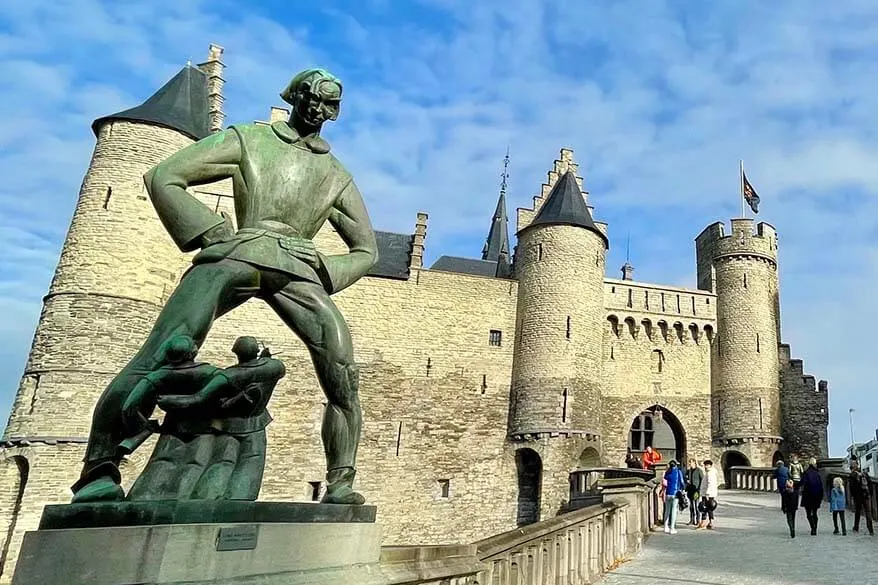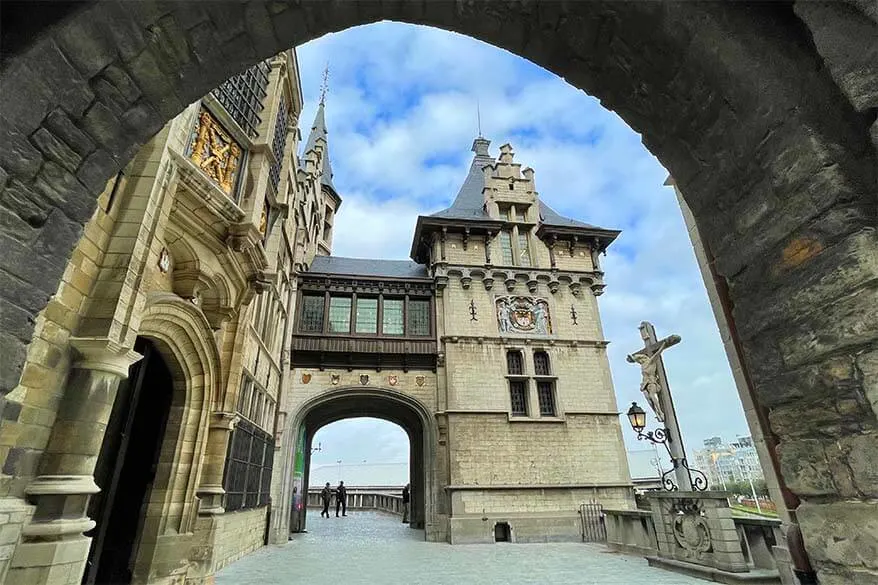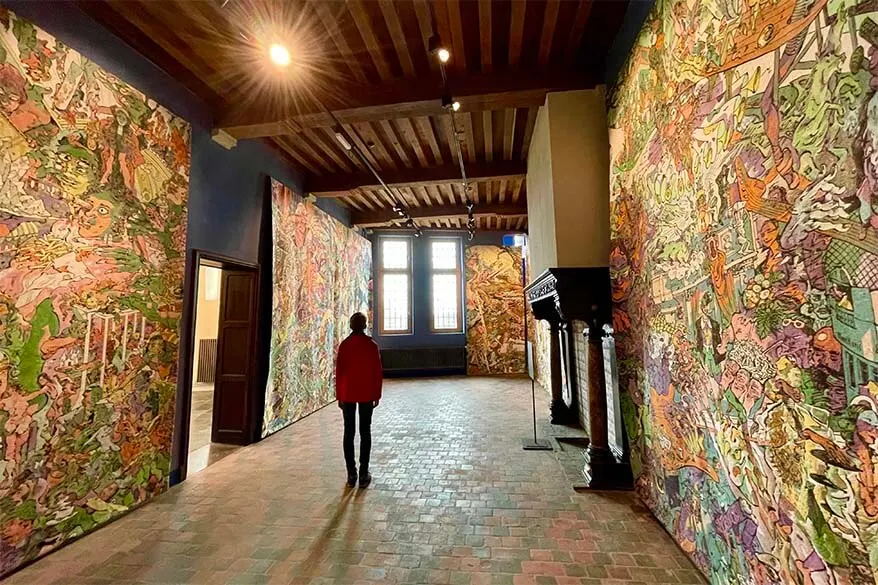 9. Boat Trips
If your kids like boats, you could consider taking a boat trip in the harbor of Antwerp. This is not a must if you are short on time, but it's something different to do in Antwerp that will give you a more complete picture of what this town is all about.
The harbor itself is a fascinating place to see. You will pass huge cargo ships and container-handling cranes that are always fascinating to watch for young and old.
There are several companies offering these tours. Here you can read more about our visit to the Antwerp harbor with Jan Plezier's pancake boat (it seems to only run private tours at the moment though).
Alternatively, take a look at the boat tours organized by Flandria – they have a nice selection of boat tours in Antwerp, including scenic harbor tours and pancake tours as well.
TIP: You can just hop on the waterbus at 't Steen Castle and do a short trip on the Scheldt River. With kids, we recommend taking this boat to Sint Anna on the left bank of the river – just one stop from the city center. There, you'll find a small sandy beach (swimming is not allowed though), playgrounds, and lots of restaurants.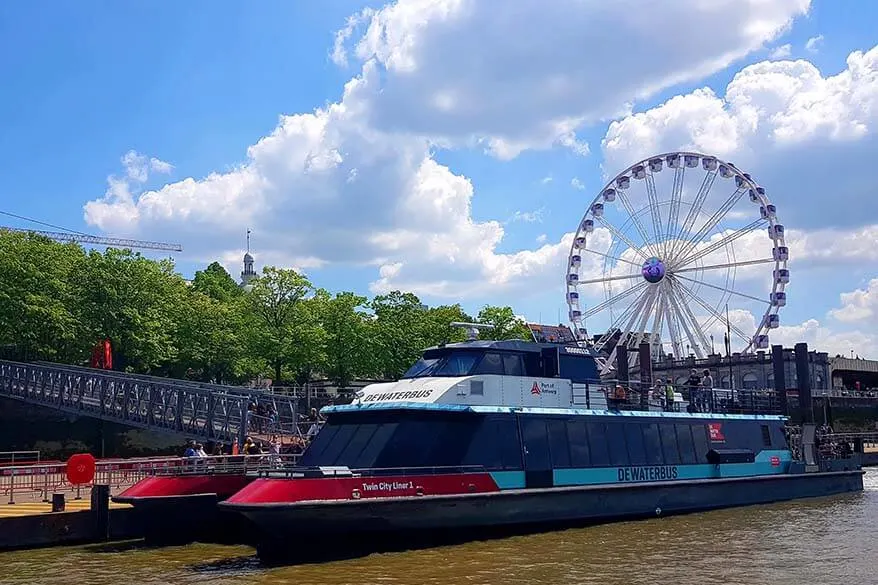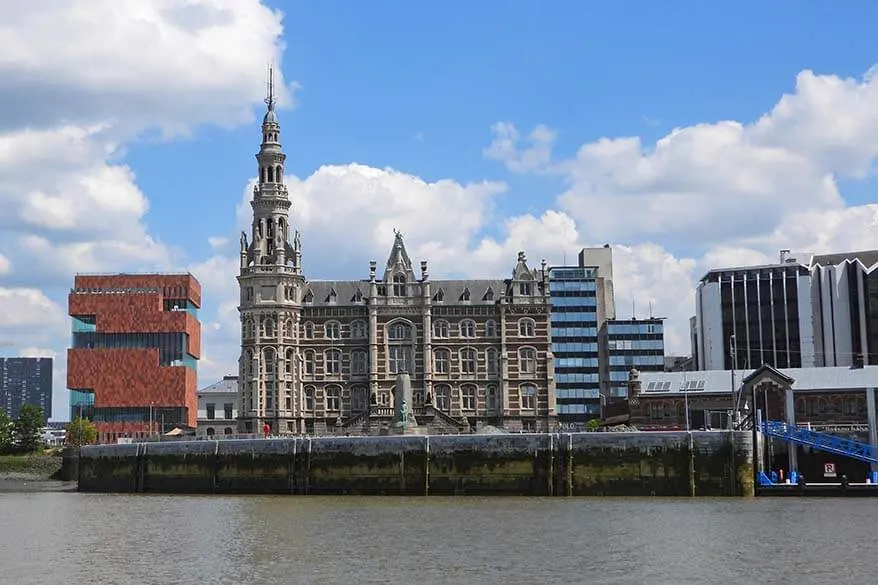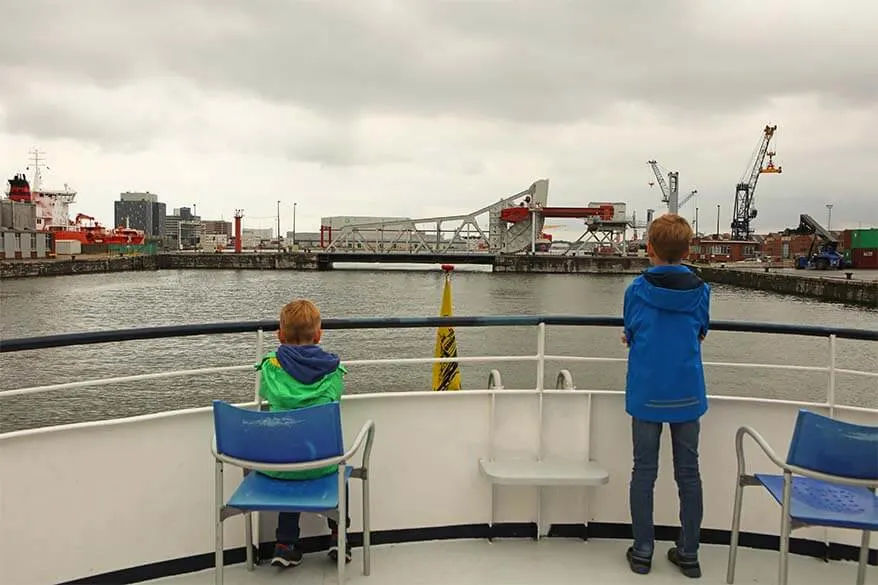 10. Family-friendly Sightseeing Tours
There are several family-friendly sightseeing tours that you can do in Antwerp with kids. You don't absolutely have to book them in advance.
There is a tourist train – touristram – that runs daily in summer and during school holidays (and during the weekends in other periods). It starts at the Groenplaats, close to the Cathedral.
Another sightseeing option is a horse and carriage that runs from April through October. It starts at the Grote Markt.
HopNStop bus is another fun way to see the highlights of Antwerp with kids. It runs daily in high season and on the weekends during the rest of the year. It also starts and finishes at the Grote Markt.
If your kids are a bit older, you could consider renting a bike. We love exploring Antwerp by bike, it's a great way to see a lot without having to walk too much.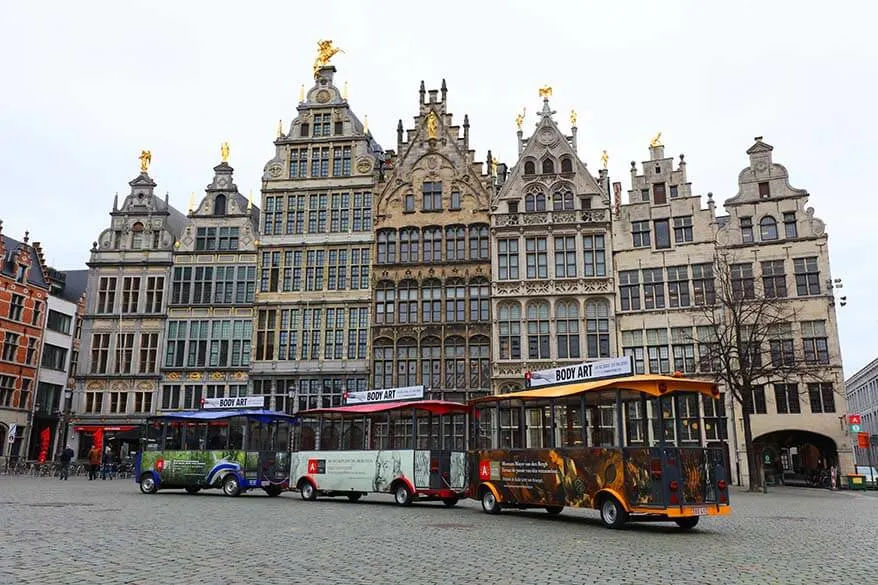 11. Comic Strip Walls and Street Art
Antwerp has a lot of street art and our kids love looking for it.
On top of the ever-changing street art, there are also 14 comic murals spread around the city. Kids will love searching for them! Here you can find the map with the location of the comic strips in Antwerp.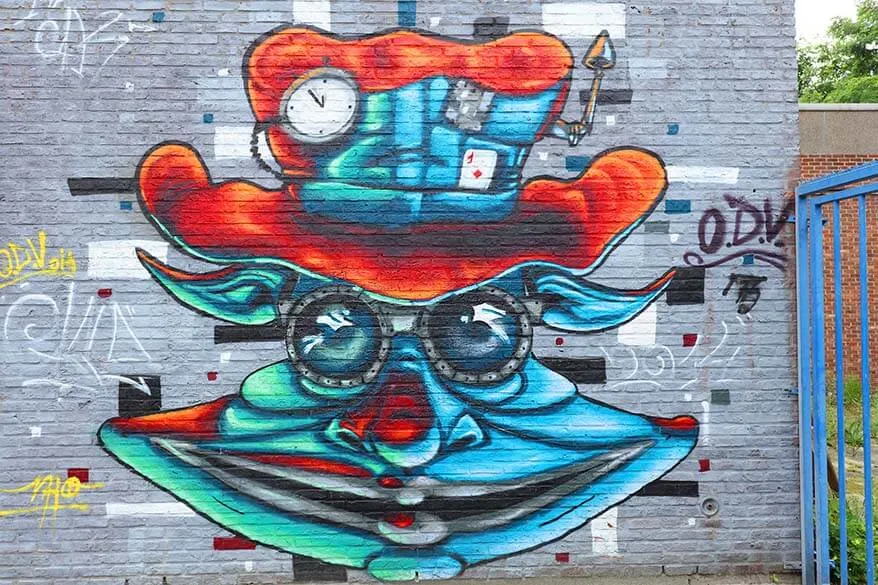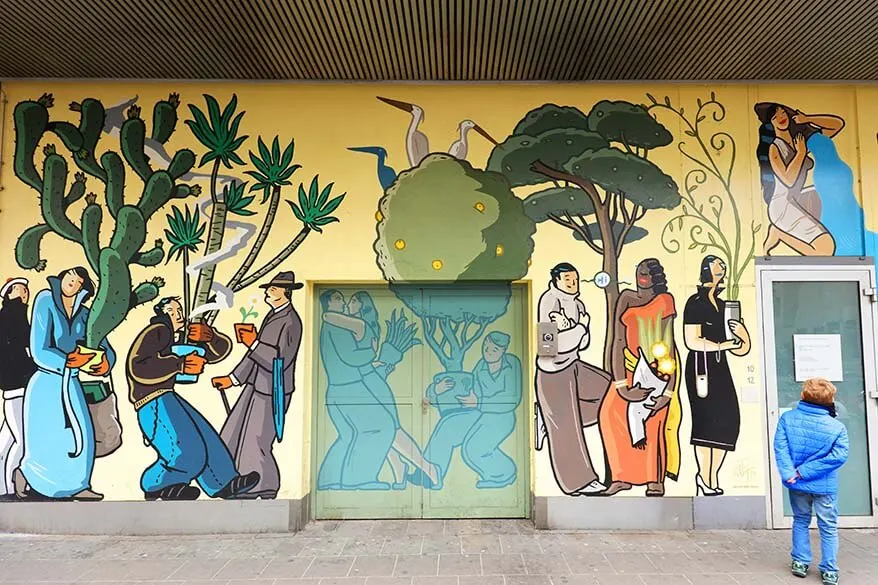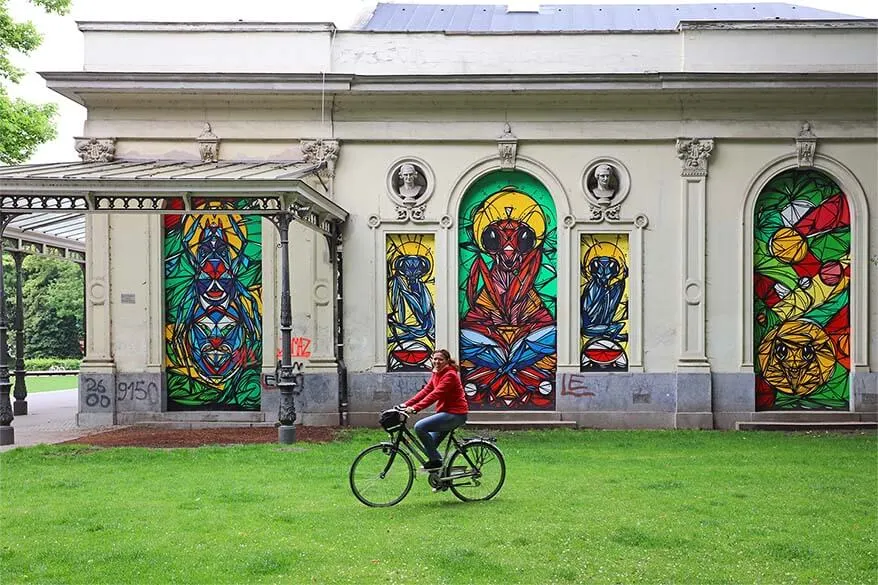 12. St. Anna Tunnel
Antwerp's pedestrian tunnel, St. Anna Tunnel, dating from the 1930s is often missed by foreign visitors. However, it's a part of Antwerp's history and a place that families will love to explore as well.
Original wooden escalators take you more than 30m (100 ft) under the ground and under the river Scheldt. You can walk to the Left Bank (Linkeroever) for some nice views over the old city center of Antwerp. Here, you'll also find a playground for kids and a free open-air museum with all kinds of buoys and other huge artifacts from old ships.
Good to know: The entrance to the tunnel is located in a square art-deco yellowish building just a few blocks South of the Grote Markt (see the exact location on the map).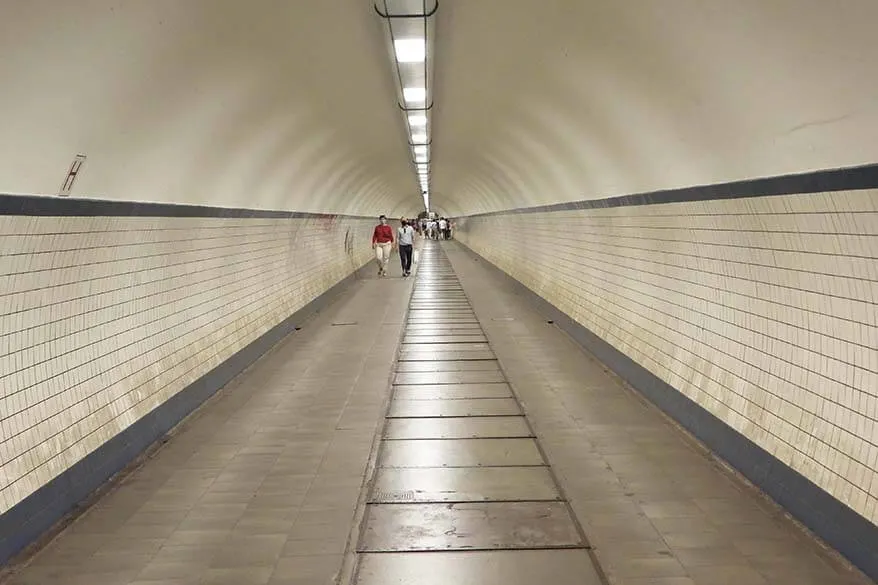 13. Hands of Antwerp
Antwerpen city name is said to have originated from 'hand werpen' which means 'to throw a hand'.
The origins of the name of Antwerp (Antwerpen in Dutch) come from an old legend about a giant called Antigoon and a little guy Brabo. Antigoon demanded a high toll for the ships entering the city and cut off the hands of the sailors if they refused. The little Brabo fought the giant, cut his hand, and threw it in the river.
On the Grote Markt, in front of the City Hall, you can see the statue of Brabo throwing the giant's hand.
In the main shopping street, Meir, you can find a giant statue of the hand (map) that you can see as the featured image on top of this post. It's an obligatory photo stop in Antwerp, certainly if visiting with kids.
TIP: All over the city you can also buy chocolates and biscuits in the form of little hands. Ask for the Antwerpse handjes. And once you are at it, make sure to try some Cuberdons (traditional cone-shaped Belgian sweets) as well.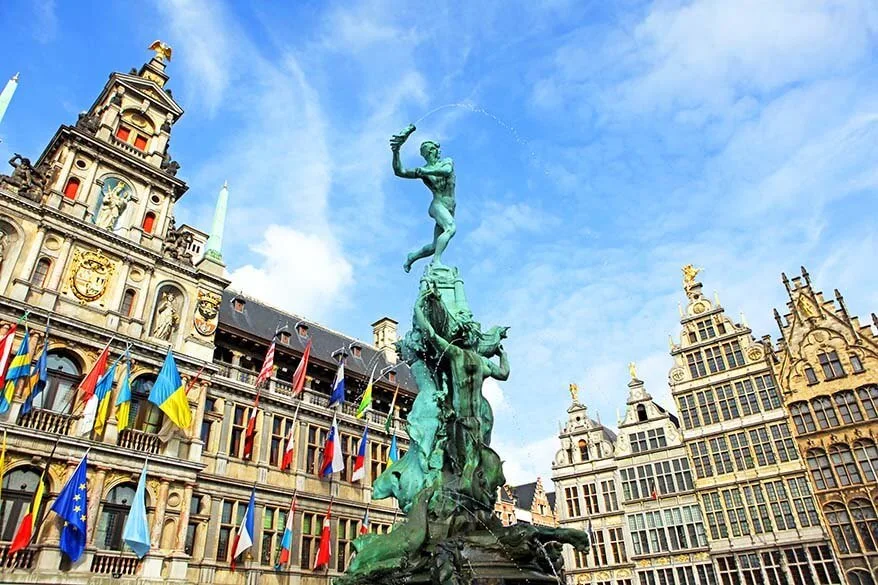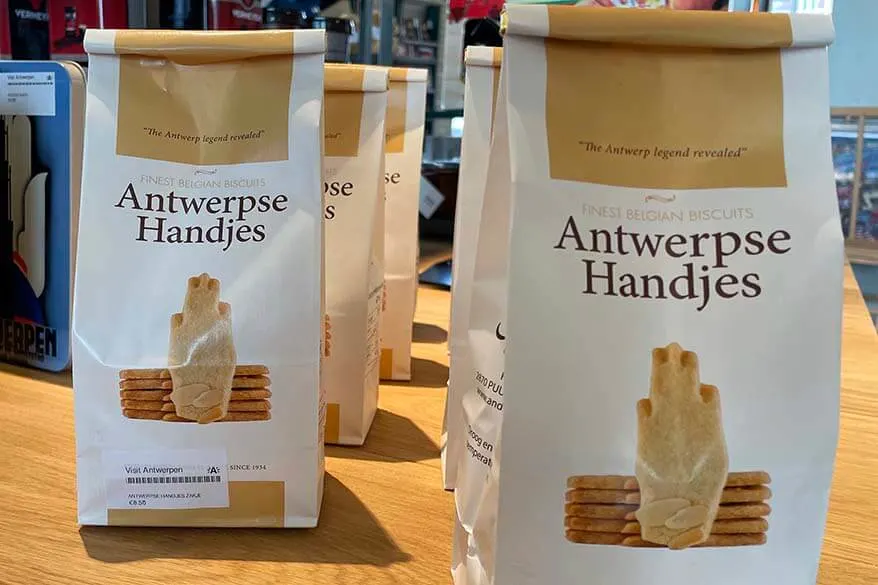 14. City Park
Antwerp City Park (Stadspark) is a nice green park with a pond and several playgrounds for children. It's just a bit outside of the main tourist route (but very close by), so you'll mostly find locals here.
It's a popular place for people to come for a walk, go jogging, or take a picnic when the weather is nice.
If you are visiting Antwerp with young kids, you may want to spend some time at the playgrounds here. It's a nice way to escape the hustle and bustle of the busy city center. And the park is literally just a stone's throw from Central Station and the zoo. Check it out!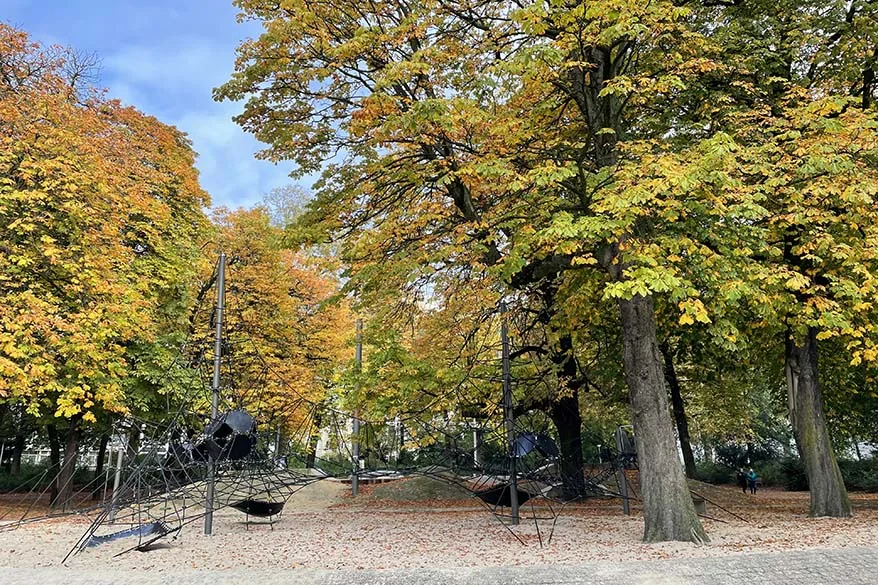 15. Rivierenhof Park
Rivierenhof Park is the only place on this list of things to do in Antwerp with kids that is located outside the city center. Most tourists never get there, but it's a beautiful park that is worth a visit if you are in Antwerp for a couple of days, especially during spring and summer.
The best way to get there is by bike (map).
TIP: If you have a car and are looking for something more off the beaten path, we really enjoy visiting Liefkenshoek Fort, just outside of the city. However, it's a place more targeted towards locals and so all the information there is in Dutch. If interested, here you can find our article (in Dutch) about visiting Fort Liefkenshoek.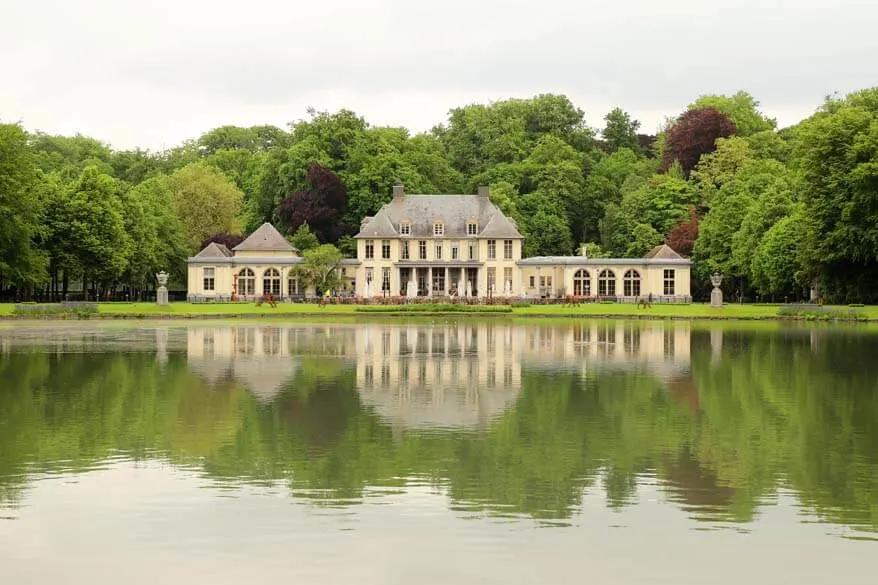 16. Try some local delicacies
When visiting Antwerp with kids, be sure to try some local delicacies. We already mentioned Antwerpse Handjes – small hand-shaped cookies and chocolates that you'll only find in Antwerp.
There are also quite a few places selling warm Belgian waffles in the center of Antwerp – no child will be able to resist that! And, of course, you'll find ice cream all over the city too.
Make sure to take your kids to a local fritkot – a small kiosk where you can buy typical Belgian fries (by the way, here in Belgium we eat them with mayo). There are several places in the city center close to the Cathedral where, despite the touristic location, the fries are usually quite good.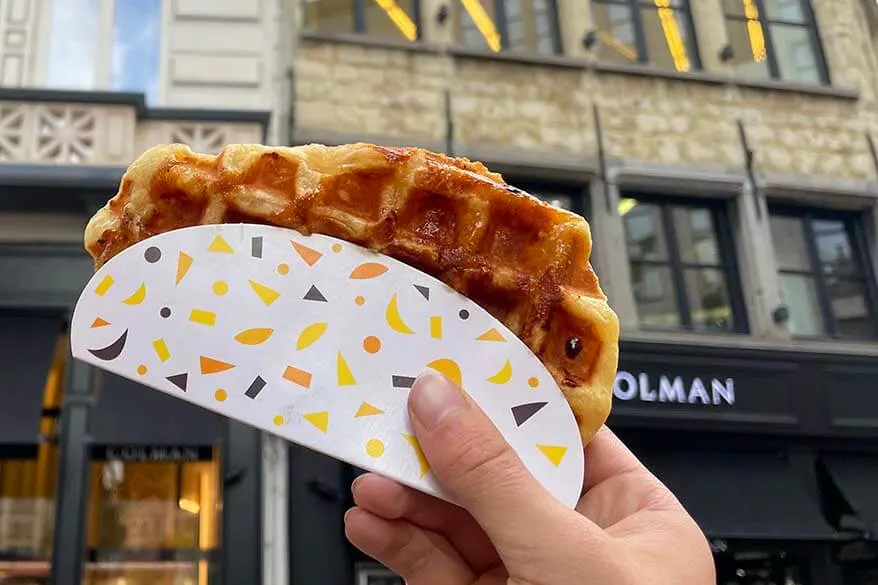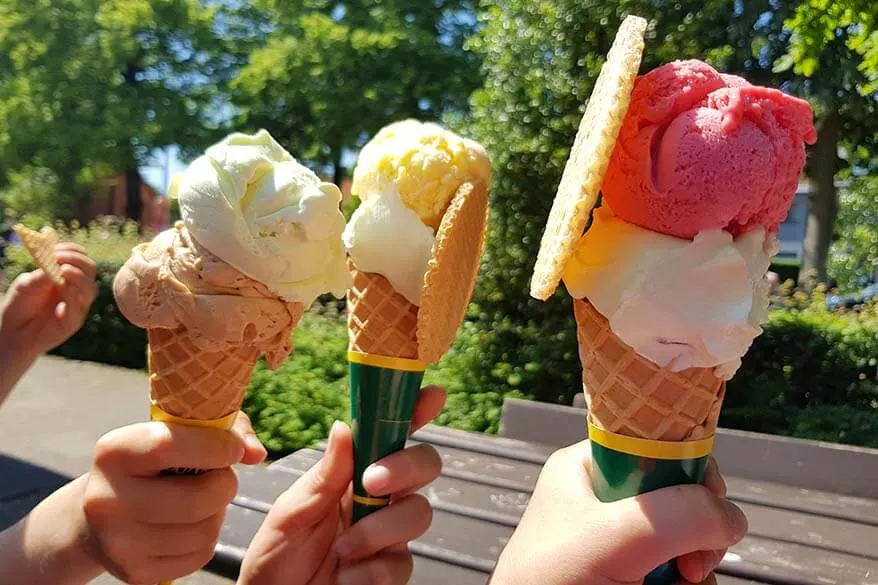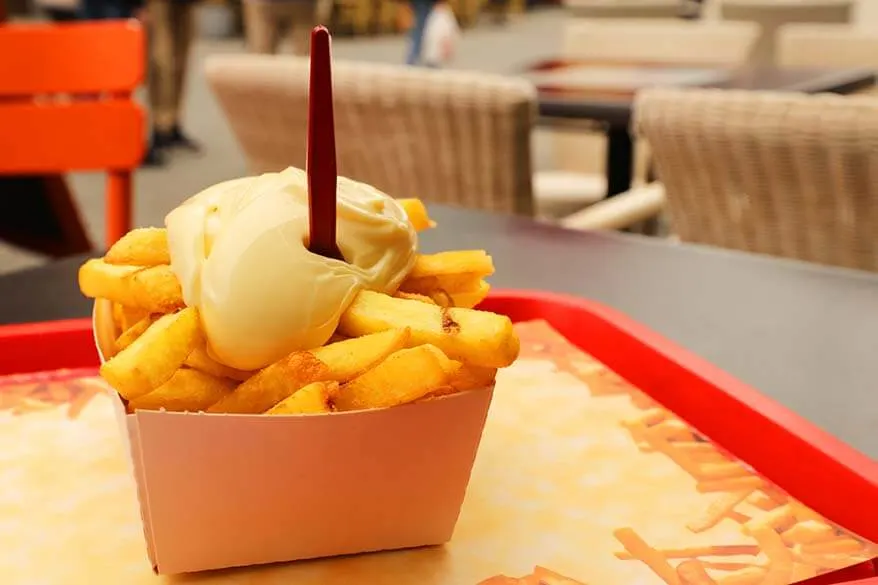 So, this is a local's guide to the best places to see and things to do when visiting Antwerp with kids. Hope that this will give you some ideas of what to see and do in Antwerp with children.
For more information on the best and lesser-known places to see in Antwerp, see our city guides via the links below.
READ ALSO: Best Things to Do in Antwerp & Antwerp's Hidden Gems
TIP: If you are visiting Belgium with a family in the summer, don't miss Belgian theme parks!
More tips for your trip to Belgium:
If you found this post helpful, don't forget to bookmark it and share it with your friends. Are you on Pinterest? Pin this image!