Are you traveling to Antwerp with kids and are looking for ideas for the best things to do in Antwerp with children? You came to the right place!
Antwerp is one of our favorite towns in Belgium. We live just outside the city and love exploring Antwerp with our children. This great town never disappoints!
There are more family-friendly things to do in Antwerp than you might think. With a few recent family-friendly additions, as well as many seasonal events, Antwerp has a lot more to offer to traveling families than ever before.
In this article, we share some of our family's favorites, top things to see and do in Antwerp with kids.
This list is aimed at tourists who want to discover and explore Antwerp with children. So if you are an expat looking for more regular family-friendly activities like bowling, indoor playgrounds, or movie theatres in Antwerp, you'll just have to google them. Or leave your question in the comments below and I'll try to answer as best as I can.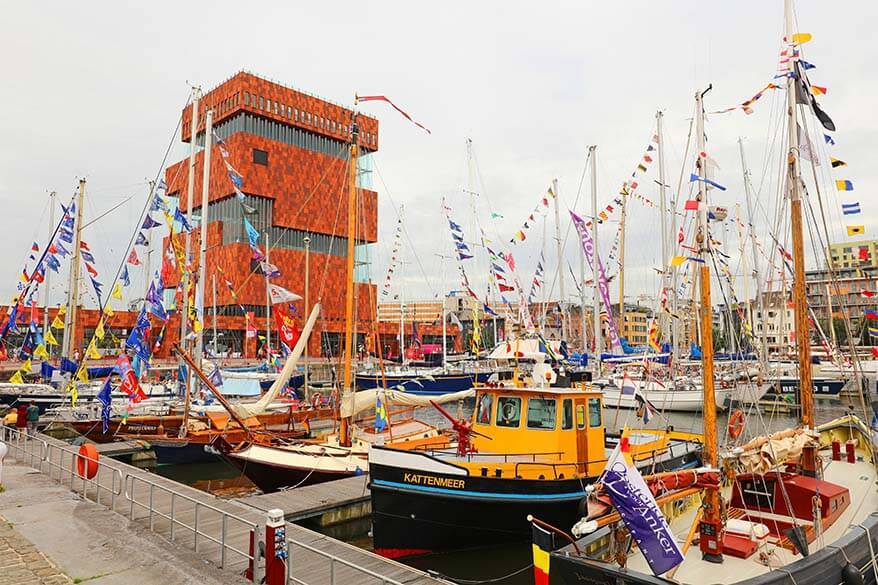 Without further ado, here are the best things to do in Antwerp with kids:
Antwerp Zoo
No list of the best things to do in Antwerp would be complete without a visit to the Antwerp Zoo. And this is certainly the case if you are visiting Antwerp with children. The zoo of Antwerp is one of the oldest animal parks in Europe and is located right in the middle of the city. Count at least half a day for the visit. The zoo is quite big and there are also some shows and feeding moments that you can attend. Our kids always love those.
Tip: If you are visiting Antwerp during the winter holiday season, don't miss the incredible light spectacle China Light. Highly recommended!
One more winter tip: Antwerp also hosts one of the nicest Christmas markets in Belgium. With lots of market stalls selling typical Belgian and Holiday specialties, a beautiful ice skating rink, and lots of attractions for the children – Antwerp Christmas market is just one more great reason to visit Antwerp with kids in winter.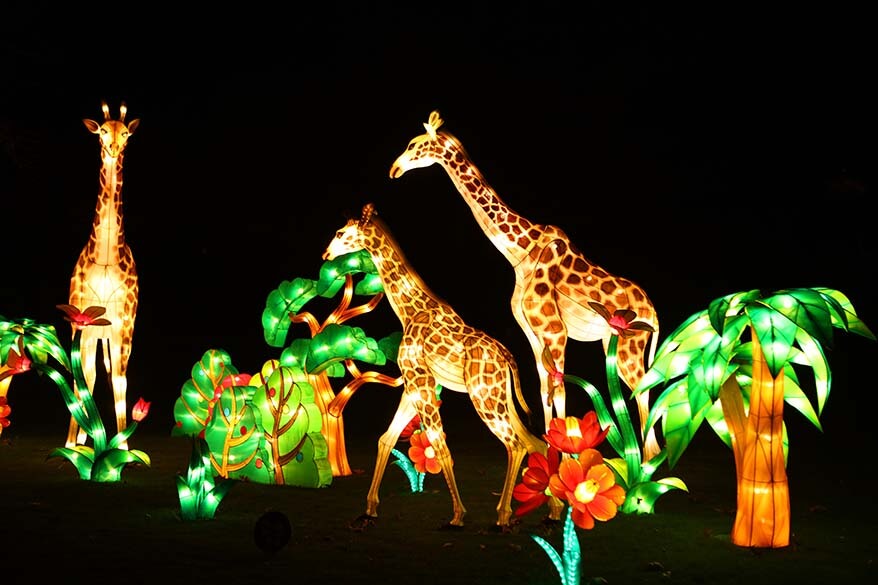 Comics Station
Comics Station is an indoor theme park and playground. It is located at the back of the Central Station building in the city center of Antwerp.
You probably know the most famous Belgian comic strips heroes like The Smurfs or Tintin, but there are so many more. Belgium has an old comic strips tradition and a visit to the Comics Station is a fun way to get to know more about this fascinating Belgian art.
UPDATE: Please note that at the moment of the last update, Comics Station is closed. It's been taken over by a big family entertainment group in Belgium and is expected to reopen in 2022 under a different name.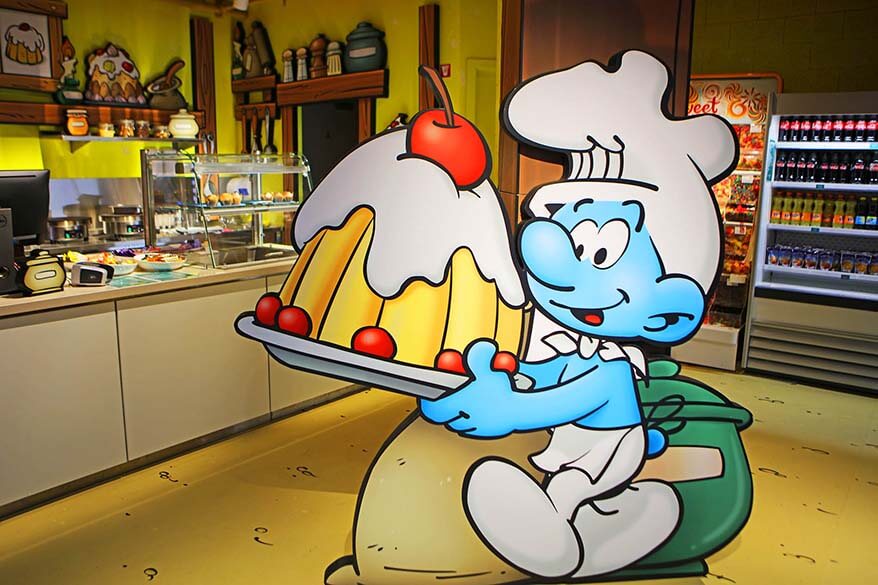 Harbor Boat Trip
If your kids like boats, you could consider taking a boat trip in the harbor of Antwerp. This is not a must if you are short on time, but it's something different to do in Antwerp that will give you a more complete picture of what this town is all about.
The harbor itself is a fascinating place to see. You will pass huge cargo ships and container-handling cranes that are always fascinating to watch for young and old.
There are several companies offering these tours. Here you can read more about our visit of the Antwerp harbor with Jan Plezier's pancake boat. Or you can just hop on a waterbus at 't Steen Castle and do a short trip on the Scheldt River.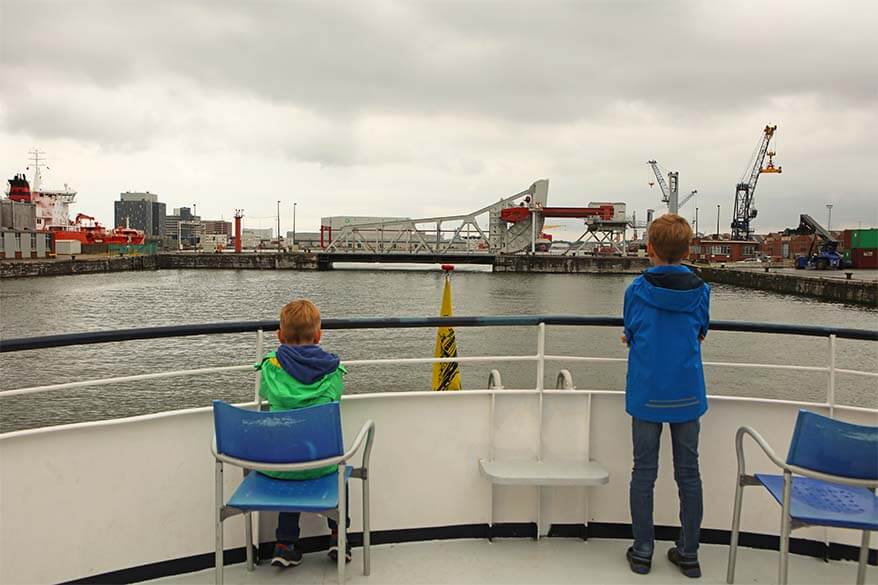 Antwerp Sewers – De Ruien
Now, this might look like an unusual choice – visiting the old sewers and underground canals with children – but our kids loved it! And so did we. It's one of the lesser-known, secret places in Antwerp that will make your visit so much more special.
The part that you can visit with kids is very small, it's a 10-15 minute boat ride that can be done with kids from 3 years and older.
The entrance to De Ruien is centrally located close to the Antwerp City Hall. You don't need to book this short visit (other options are best reserved in advance), so it's really easy to visit. It's something that doesn't take long and only costs 5 EUR/pp and is a very unique experience. Check it out!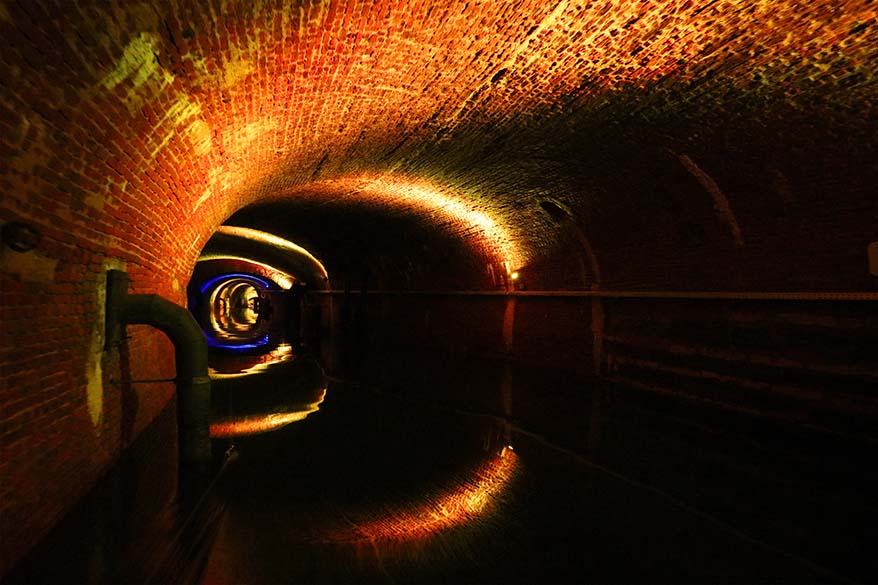 The Rooftop Terrace of MAS
MAS is a modern museum in the new trendy part of Antwerp, 't Eilandje. It's an impressive red building that cannot be missed when visiting Antwerp.
While a visit to the museum might not interest younger kids, the view from the rooftop terrace is something the whole family will appreciate.
The entrance to the building is free of charge and you can take an escalator staircase all the way to the top. The architecture of this building and the view from the top make it one of our kids' favorite places to visit in Antwerp.
TIP: There are many trendy local restaurants nearby. We love De Burgerij – not as much for its delicious hamburgers, but for its children's play corner. Our kids never want to leave and it gives us a welcoming break as well. A nice alternative – in summer – is the nearby Bar Noord. They have a beach bar with a big (water) playground that is always a big success with kids.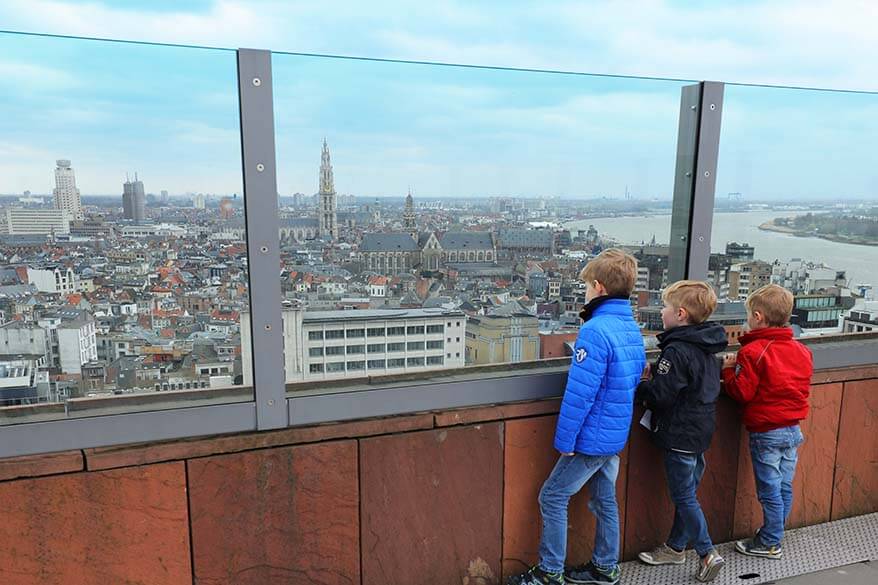 Family-friendly Sightseeing Tours
There are several family-friendly sightseeing tours that you can do in Antwerp with kids. You can find more information about these tours on the Visit Antwerp website, but you don't have to book them in advance. Most of these cost around 7 EUR for adults and 5 EUR for children.
There is a tourist train – touristram – that runs daily in summer and during school holidays (and during the weekends in other periods). It starts at the Groenplaats, close to the Cathedral.
Another sightseeing option is a horse and carriage that runs from April through October. It starts at the Grote Markt.
HopNStop bus is another fun way to see the highlights of Antwerp with kids. It runs daily in high season and on the weekends during the rest of the year. It also starts and finishes at the Grote Markt.
If your kids are a bit older, you could consider renting a bike. We love exploring Antwerp by bike, it's a great way to see a lot without having to walk too much.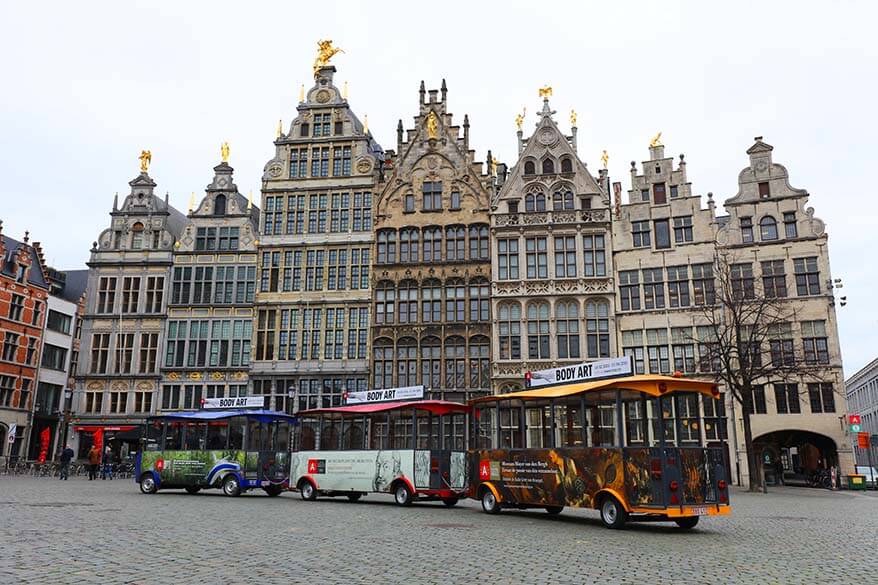 Comic Strip Walls and Street Art
Antwerp has a lot of street art. On top of the 'regular' paintings, there are also ten comic murals spread around the city. Kids will love searching for them! Here you can find the map with the location of the comic strips in Antwerp.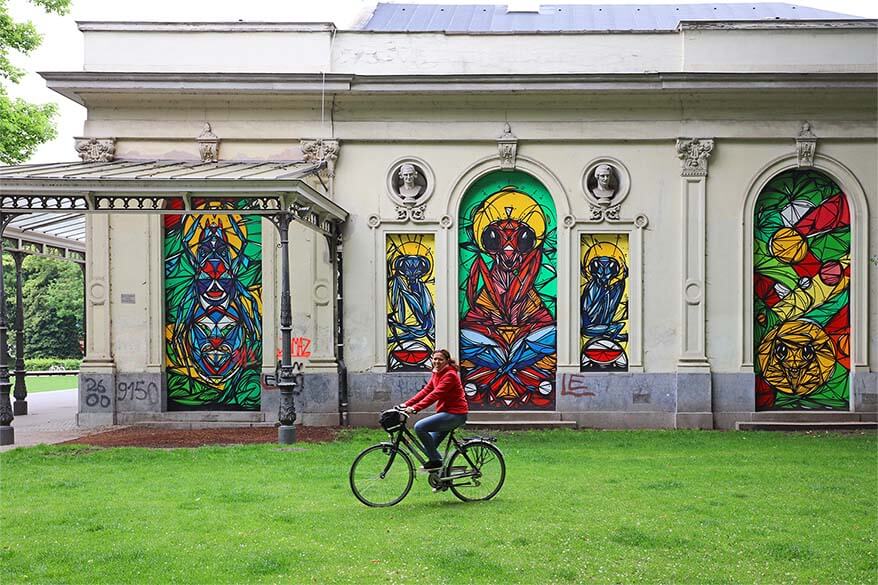 St. Anna Pedestrian Tunnel
Antwerp's pedestrian tunnel, St. Anna Tunnel, dating from the 1930s is often missed by foreign visitors. However, it's a part of Antwerp's history and a place that families will love to explore as well.
Original wooden escalators take you more than 30m (100 ft) under the ground and under the river Scheldt. You can walk to the Left bank (Linkeroever) for some nice views over the old city center of Antwerp.
The entrance to the tunnel is located in a square art-deco yellowish building just a few blocks South from the Grote Markt (see the exact location on the map).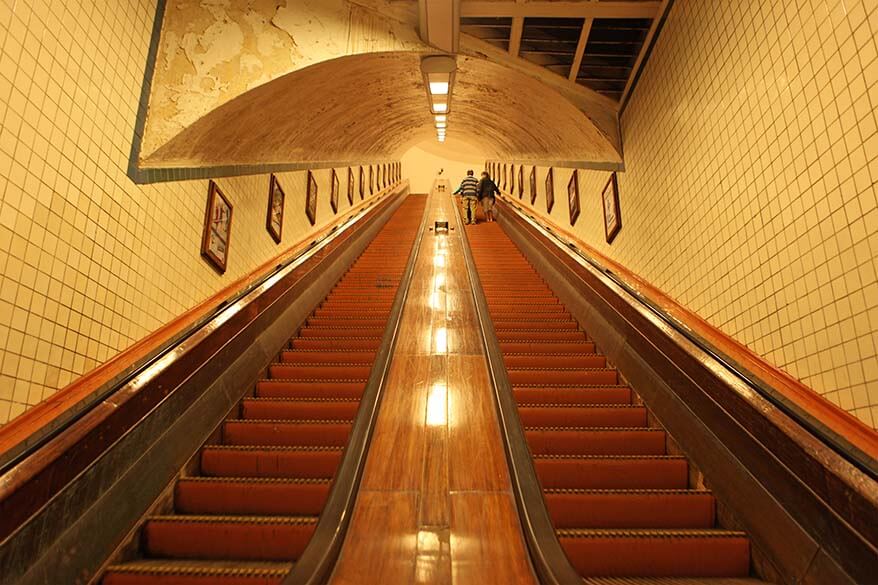 Hand of Antwerp
Antwerpen – 'hand werpen' means 'to throw a hand'.
The origins of the name of Antwerp (Antwerpen in Dutch) come from an old legend about the giant called Antigoon and a little guy Brabo. Antigoon demanded a high toll for the ships entering the city and cut off the hands of the sailors if they refused. The little Brabo fought the giant, cut his hand and threw it in the river. On the Grote Markt, in front of the City Hall, you can see the statue of Brabo throwing the hand.
In the main shopping street, Meir, you can find a giant statue of the hand (map) that you can see as the featured image on top of this post. It's an obligatory photo stop in Antwerp, certainly if visiting with kids.
TIP: All over the city you can buy chocolates and biscuits in the form of little hands. Ask for the Antwerpse handjes. And once you are at it, make sure to try some Cuberdons (traditional cone-shaped Belgian sweets) as well.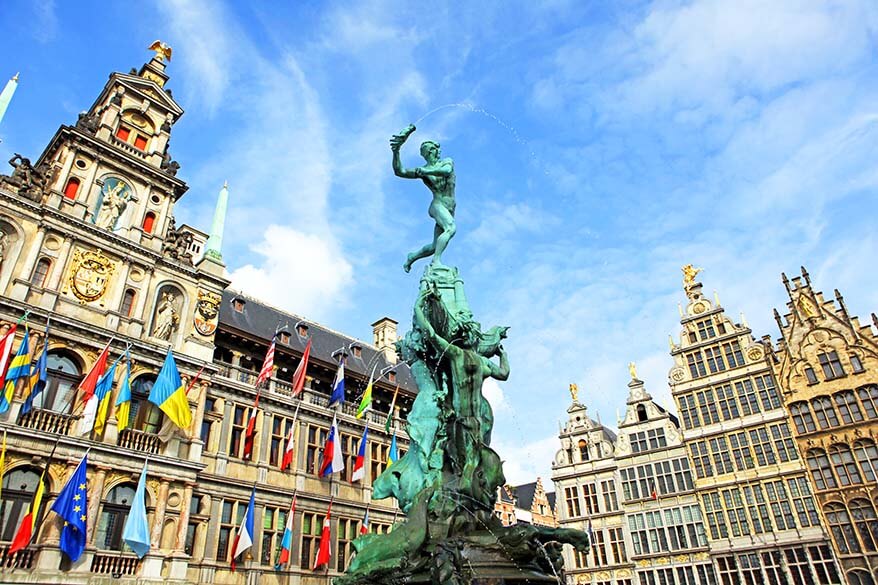 Rivierenhof Park
Rivierenhof park is the only place from this list of things to do in Antwerp with kids that is located outside the city center. Most tourists never get there, but it's a beautiful park that is worth a visit if you are in Antwerp for a couple of days, especially during spring and summer. The best way to get there is by bike (map).
There is another park right in the city center as well – Stadspark (map), and while not as nice as Rivierenhof, it can still be a good place to escape the busy city streets with kids.
TIP: If you have a car and are looking for something more off the beaten path, we really enjoy visiting Liefkenshoek Fort, just outside of the city. However, it's a place more targeted towards locals and so all the information there is in Dutch. If interested, here you can find our article (in Dutch) about visiting Fort Liefkenshoek.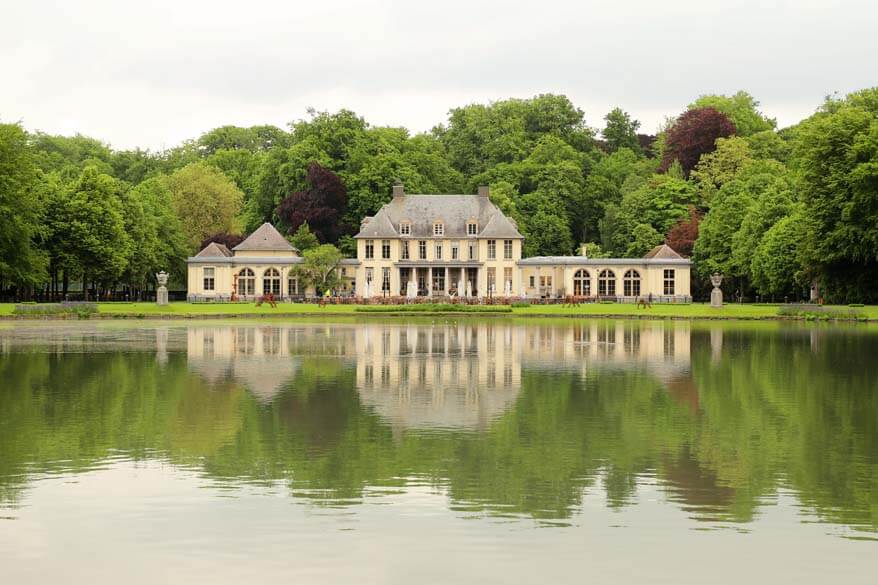 So, this is a local's guide to the best places to see and things to do when visiting Antwerp with kids. A couple of more tips:
There are quite a few places selling warm Belgian waffles in the center of Antwerp – no child will be able to resist that!
Make sure to take your kids to a local fritkot – a small kiosk where you can buy typical Belgian fries (by the way, here in Belgium we eat them with mayo). There are several places in the city center close to the Cathedral where, despite the touristic location, the fries are usually quite good.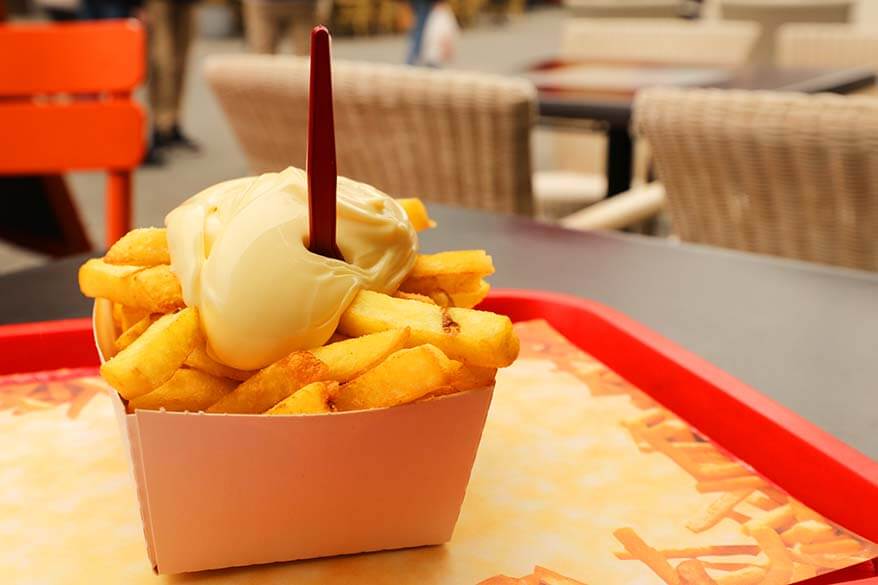 TIP: If you are visiting Belgium with a family in the summer, don't miss Belgian theme parks!
READ ALSO: Best Things to Do in Antwerp & Antwerp's Hidden Gems
More tips for your trip to Belgium:
If you found this post useful, don't forget to bookmark it and share it with your friends. Are you on Pinterest? Pin this image!