Looking to spend a fun day with your family and wondering what are the best theme parks in Belgium? It might be hard to choose… From the world's most thrilling rides to the wildest water attractions and some of the best animal parks in Europe, Belgium has an incredible variety of theme parks.
No matter where you live in Belgium, there is always a theme park less than an hours drive away. But how to choose the best amusement park or an animal park for a fun day with your family?
This guide to the best theme parks in Belgium tells you what to expect so that you can pick the best theme park for your family. Find out!
Best amusement parks in Belgium
In no particular order, here is an overview of the best theme parks in Belgium:
1. Walibi
One of the biggest amusement parks in Belgium, Walibi is a real classic. With over 40 rides, 4D cinema, and a tropical water park Aqualibi, it has plenty to offer for young and old. Walibi is constantly adding new attractions and is truly a theme park for the whole family.
Walibi has a really nice playground and lots of less thrilling rides for the little children. But for us, it's a park for the thrills.
From the moment our twins have finally reached the magic 120cm and were allowed on most of the rides at Walibi, this park has become our favorite theme park in Belgium. Now that all our kids are over 130cm, they can enjoy all the thrilling rides and just can't get enough of them…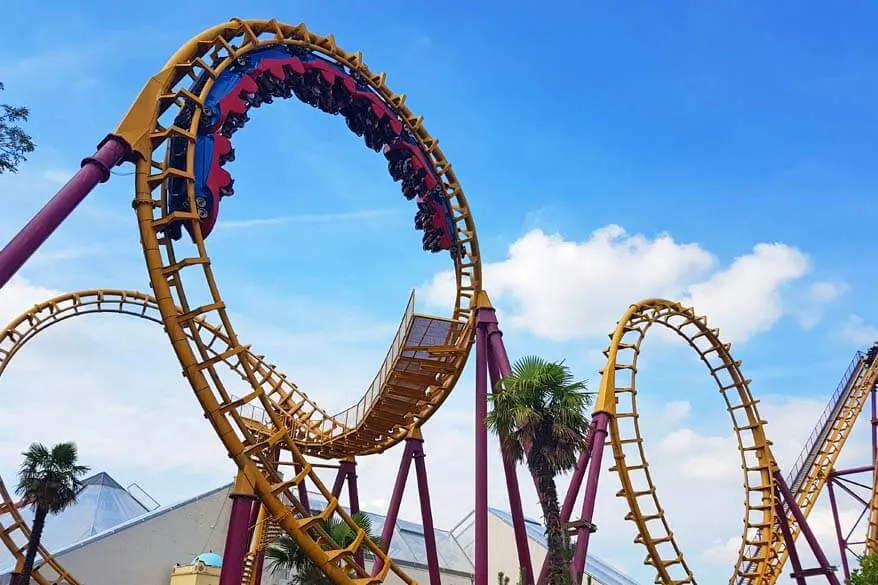 Some of the wildest and the most sensational roller coaster rides in Belgium can be found in Walibi.
Adrenaline-seekers will love Cobra, Vampire, Psyké Underground, Werewolf, Dalton Terror, and one of the latest additions – Pulsar, which reaches speeds of up to 100km/h and dives into the water from 45m high (take a look at the video below!).
If you like adventure and don't mind getting wet, make sure to try the Radja River as well, just hold on tight!
Walibi seems to be focusing on families more than ever before and every time we visit, we discover something new that we feel distinguishes it from most of the other theme parks in Belgium.
One thing we really like about Walibi as well is that they have a good and more diverse food selection. So you can find plenty of alternatives to the typical theme park meals. Their newest restaurant Delhi'Cious even serves Indian food!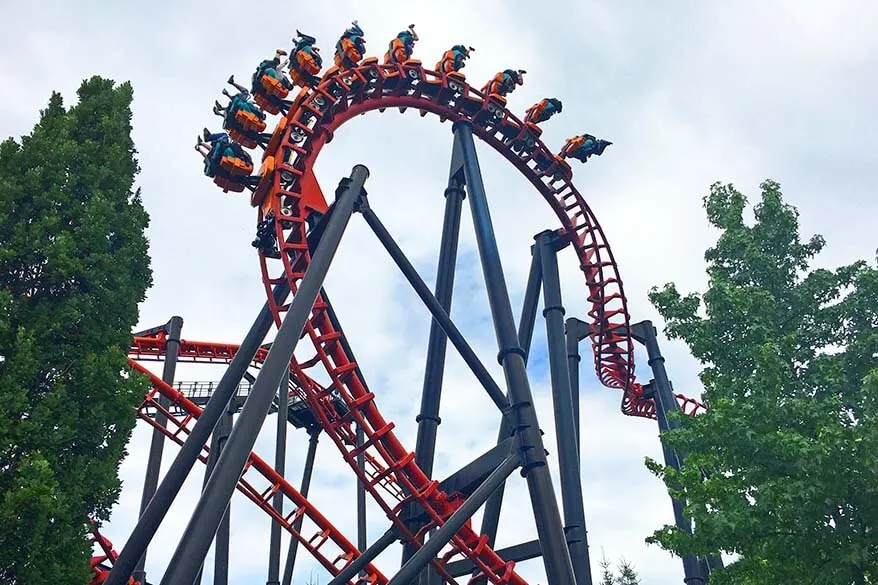 Practical information for visiting Walibi:
Just 30 min away from Brussels, Walibi is the most centrally-located amusement park in Belgium. It's also a very busy park. However, if you visit on a weekday in summer, you will find that most rides only have 5-20 minutes waiting time. But if you come on a sunny weekend, you may want to consider one of their Speedy passes.
Walibi also has season passes that include unlimited access to Walibi Belgium, Aqualibi, and Bellewaerde. Family Golden Pass is a great value for families with two children or more.
For more practical information – check the official website of Walibi Belgium.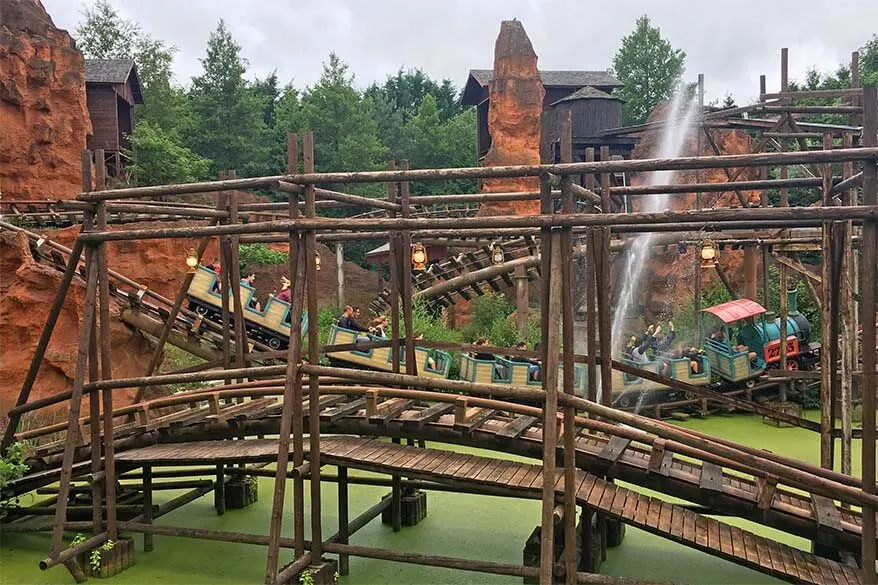 2. Plopsaland De Panne
Plopsaland De Panne is one of the five theme parks that belong to a Belgian entertainment group Studio 100. There are three Plopsa parks in Belgium, one in Germany, and one in the Netherlands. Plopsaland De Panne is the best-known and the biggest of them all.
Generations of Belgian children grew up with the famous Studio 100 characters like Samson & Gert, Kabouter Plop, Mega Mindy, ROX, Maya The Bee, K3, Vic the Viking, and many others.
So it will come as no surprise that Plopsa theme parks featuring themed attractions and various shows with the beloved TV characters are extremely popular.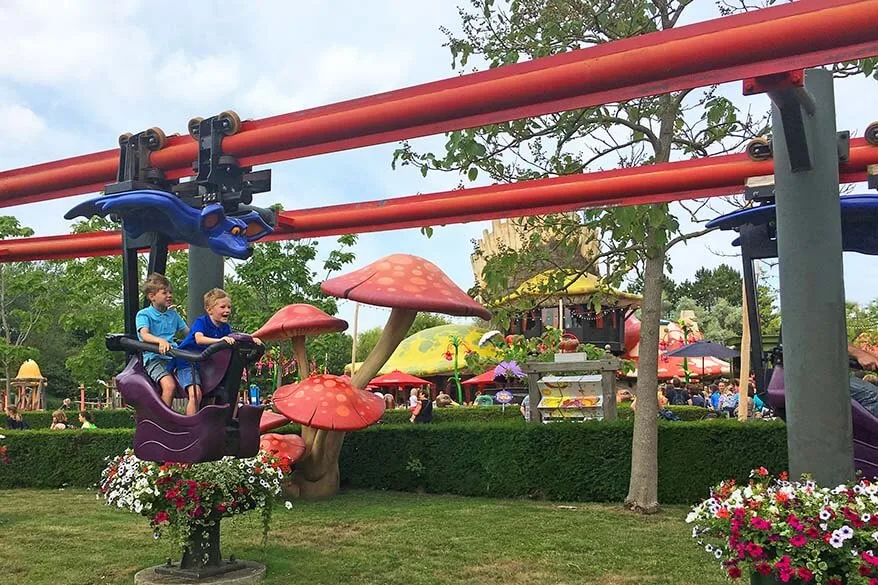 Plopsaland De Panne is a true family park offering the biggest selection of rides for young children. The whole family will love the Plop's Woods – a wonderful boat trip through a spectacular gnome forest.
Some of our other favorites from when the kids were little, include the Mayaland with a variety of indoor attractions for young kids, the bumper cars, the traffic park, the tree trunks, the fire brigade, and of course the dancing fountains.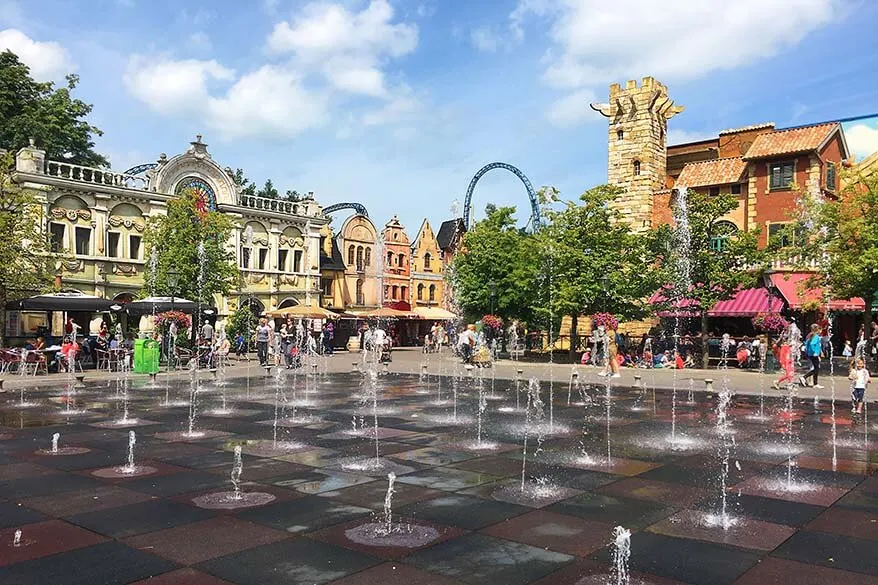 You can find some fast dizzying rides for the older kids and youth at Plopsaland De Panne as well. Don't miss Anubis The Ride, The Big Wave, the 67-meter high ROX-Flyer, and the newest addition – Heidi The Ride!
We loved this new Swiss-themed village, and Heidi the Ride became our family's new favorite ride in Plopsaland. Despite the long queues, we did it twice, just as The Big Wave.
I didn't try Anubis The Ride, but my husband went with our oldest son, and I have to say that I never saw them both so excited about a ride before. Apparently, it has some unexpected surprises and reaches a dazzling speed of 90km/h in just 2 seconds.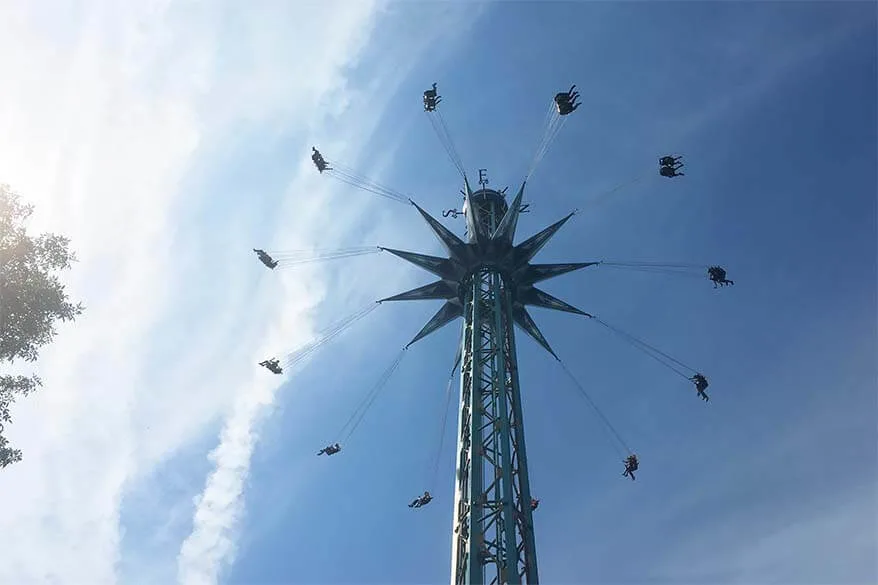 Practical information for visiting Plopsaland De Panne:
Plopsaland De Panne is a far trip from pretty much anywhere in Belgium. But despite that and thanks to its location on the Belgian coast and close to the French border, it's an extremely popular park.
Try to arrive early in the morning. If you are coming by car, follow the signs and take Exit 1a – Veurne on the highway rather than driving to Exit 1 – Adinkerke, as there is always a major traffic jam there. Better yet, consider taking public transport. Plopsaland De Panne is also a perfect day trip for those staying on the Belgian coast, as it can easily be reached by the Coast tram.
If you have more than a day, consider visiting the PlopsAqua De Panne water park as well. In my opinion, you need at least two days to truly appreciate all that Plopsa De Panne has to offer. I suggest booking a hotel in De Panne so that you can really get the most of your visit.
Plopsa parks have season tickets that are valid in all their parks, and offer additional discounts at more than 50 other attractions in Belgium.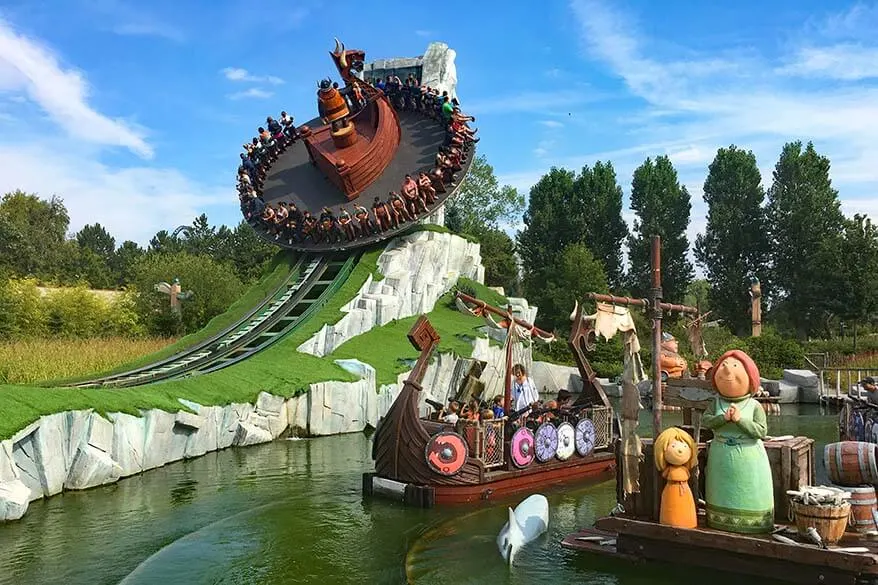 3. Bellewaerde
The oldest operating theme park in Belgium, Bellewaerde has a unique concept. It's the only park that offers a combination of an amusement park and an animal park in one.
We started our day with the ride on the Dawson Duel – the newest ride of Bellewaerde, opened in May 2017. After a walk to the 25 meter high platform between the tree tops, an alpine coaster takes you for a spectacular downhill ride. Don't miss!
Another highlight you have to see in Bellewaerde this summer is the impressive Stunt & Dive Show. It's an incredibly well done thrilling show that will keep you on the edge of your seat. They have a different show every year, and they are always really worth seeing. Highly recommended!
From all of the amusement parks in Belgium, Bellewaerde is probably the most diverse. You can find some thrilling rides, rides for the youngest kids, 4D cinema, several shows, and a big variety of animals.
Take a little train – Bengal Express – to see lions and tigers from up close. Walk among monkeys, spot a leopard, and try to catch the birds of prey show… Oh, and the Little Prince 4D movie is simply amazing!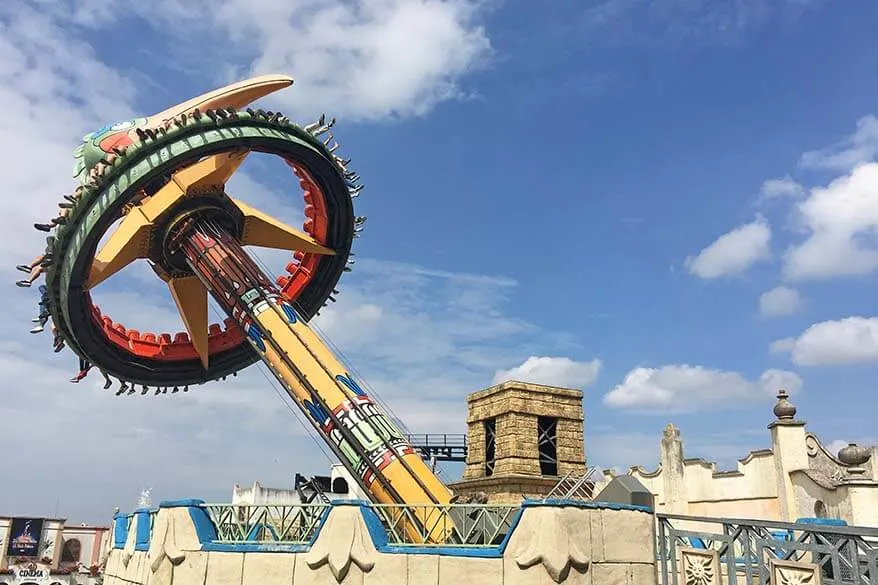 Practical information for visiting Bellewaerde:
Bellewaerde is located close to Ypres, in West Flanders. It's about 1,5 hrs drive from Brussels.
It belongs to the same group as Walibi (see above), and if you get a Golden seasonal pass, you can visit both parks as often as you want. As I said before, the Family Golden Pass is really a good deal. The only downside is that these parks are not really next door to each other.
For more practical information – check the official website of Bellewaerde.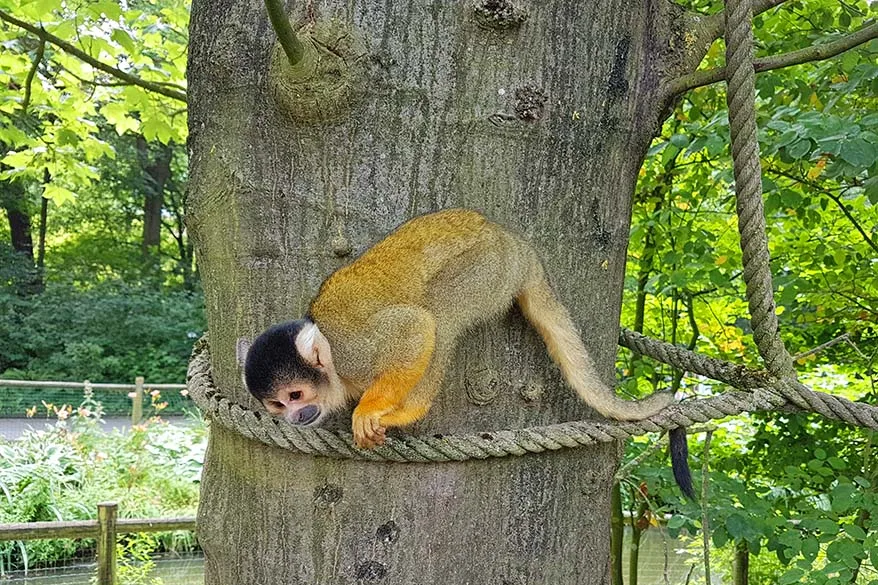 4. Bobbejaanland
Bobbejaaland is probably the best-hidden gem among the Belgian amusement parks. Mostly visited by the Flemish and the Dutch, the park has been one of our family's favorites for years.
With almost 50 attractions in a relatively compact area, Bobbejaanland makes it extremely easy to visit the whole park without having to walk for miles. The rides are located relatively close to each other and the queues are usually very manageable. Although I have to say that we always try to avoid visiting on weekends.
Bobbejaanland offers a good mix of rides for all ages. Some of our favourites include the Wild Water Slide, Dream Catcher, Indiana River, Speedy Bob, El Rio, Revolution, Bob Express, and the longest junior roller coaster in the world – Okidoki. For more thrills try Naga Bay, Sledge Hammer, and of course the Typhoon with a drop angle of over 97°, a fourfold loop, and a free fall.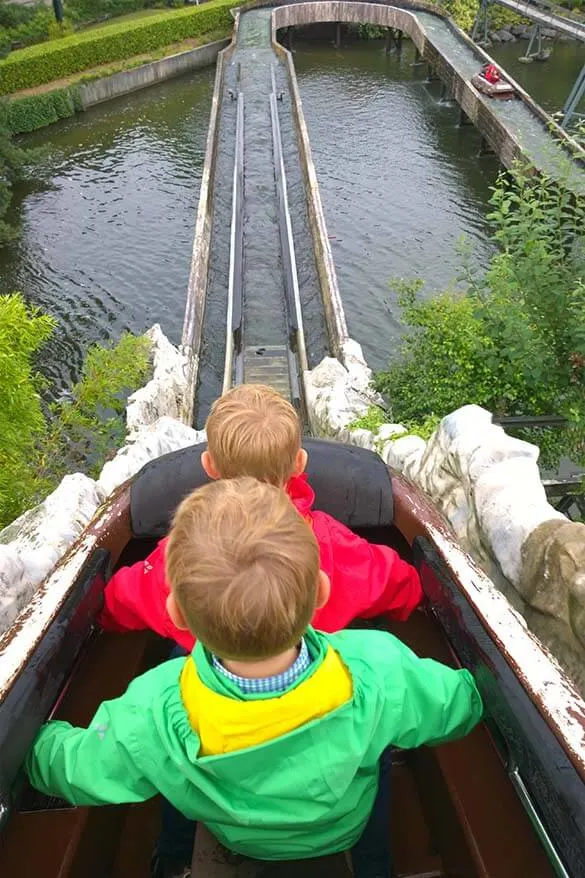 Every year, Bobbejaanland has a new daily show as well. These shows are always extremely well done and never disappoint!
Practical information for visiting Bobbejaaland:
Bobbejaanland is located between Antwerp and Hasselt. It's just over 1hrs drive from Brussels.
For more practical information – check the official website of Bobbejaanland. However, it's the only one of the mentioned theme parks that doesn't have an English website.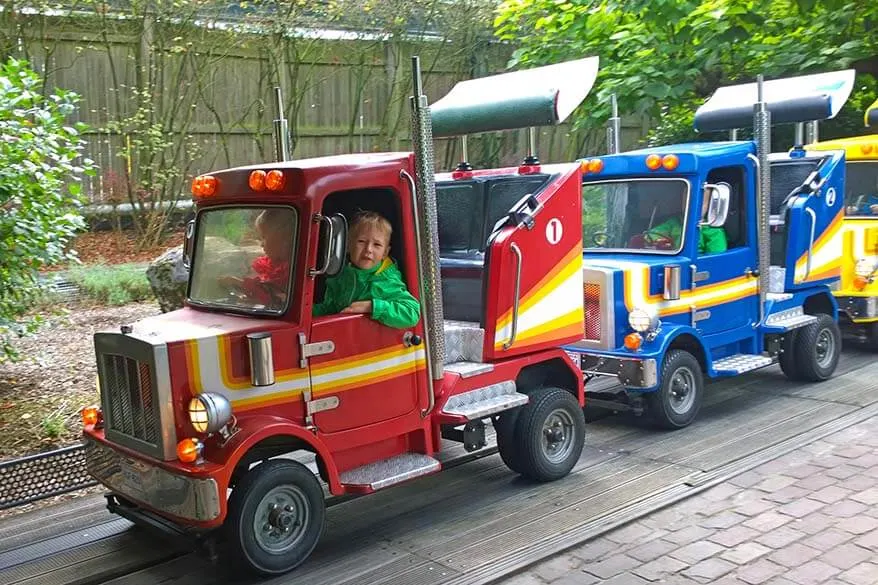 5. Planckendael
Planckendael is a big animal park close to Mechelen, between Brussels and Antwerp. Here you can find a big variety of animals from all over the world, and that in a very nice setting in the forest.
Visitors can attend several animal feedings daily, walk among penguins, monkeys, or stand eye to eye with a giraffe.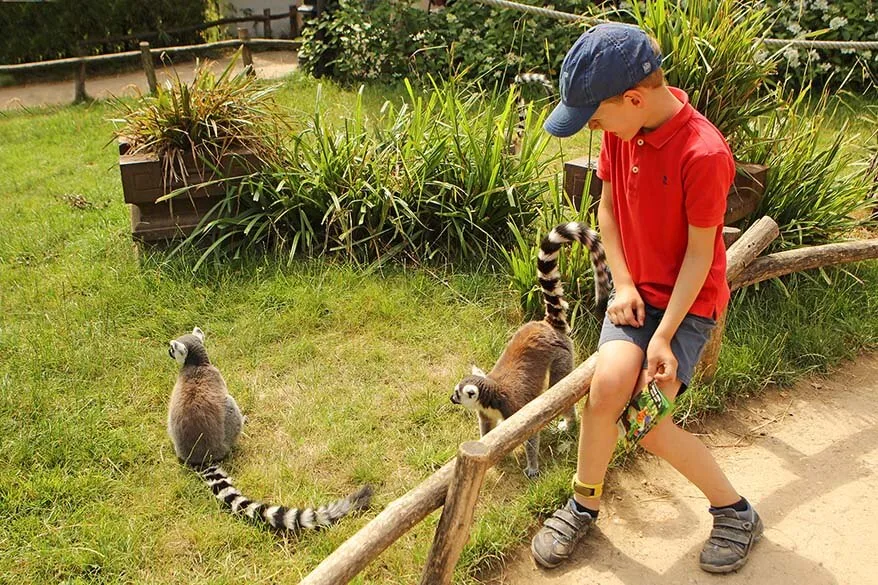 But Planckendael is much more than that! There are some really nice play areas for kids of all ages, from slides and swings to treetop walks and other adventurous activities.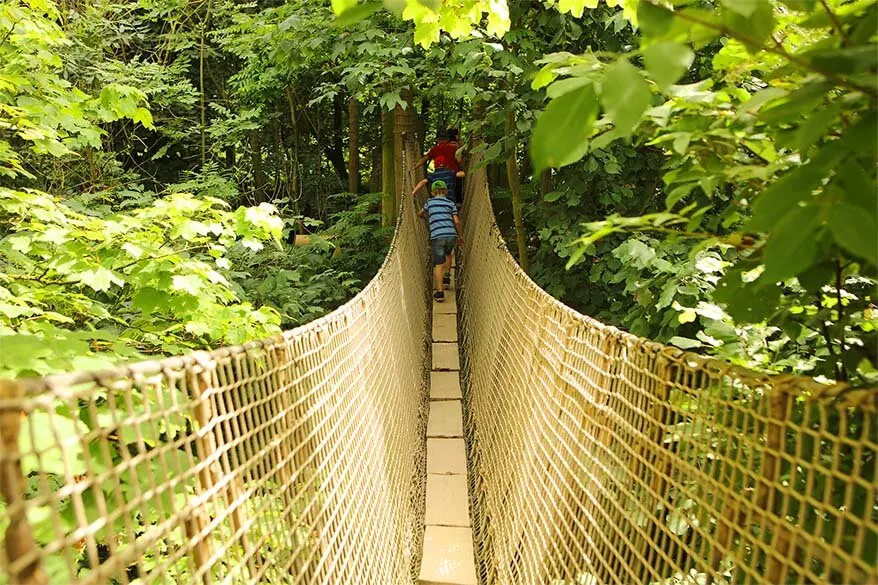 Furthermore, every year Planckendael does something new as well. One year, it had a beautiful collection of animals made of LEGO. Nature Connects, Art with LEGO bricks from the American artist Sean Kenney, has never been shown in Europe before.
We loved Planckendael so much that I published a separate article about it. Check it out: So many reasons to visit Planckendael!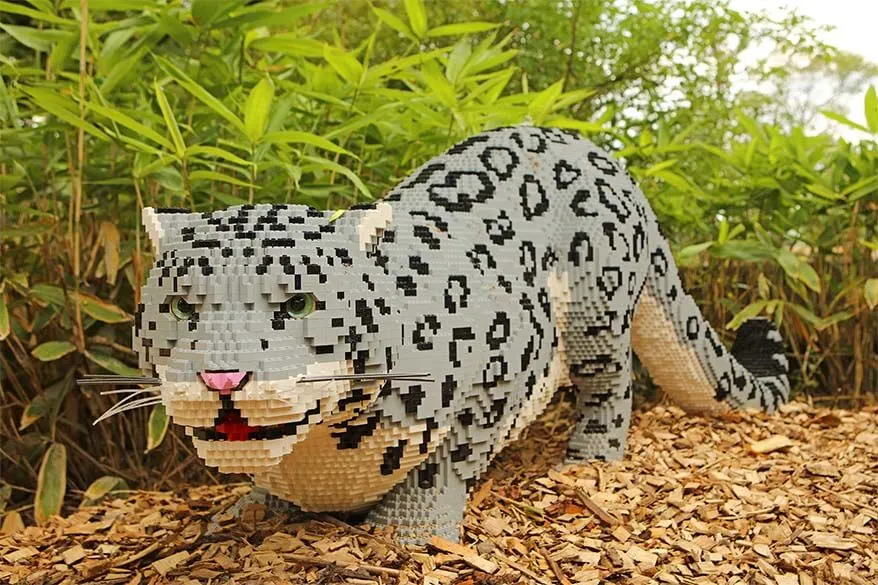 6. Antwerp Zoo
Antwerp Zoo in the center of Antwerp is a real oasis in the city. It's the oldest animal park in Belgium, and one of the oldest in the world, established in 1843. To me, it's unique because of its original setting, with some charming old buildings.
If you are visiting Antwerp with kids, I definitely recommend Antwerp Zoo! They have several animal feedings every day, a sea lion show, birds of prey demonstration, and so much more.
Whether you have a couple of hours or the whole day – you will find plenty to see and do in Antwerp Zoo.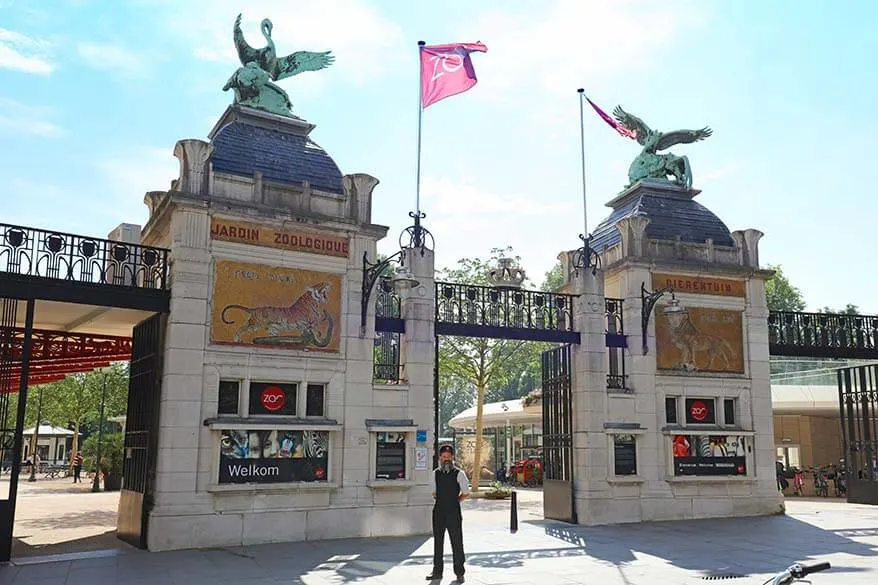 Practical information for visiting Antwerp Zoo:
Antwerp Zoo is located right at the Central Station of Antwerp and makes a good day trip by train from anywhere in Belgium. There is usually even a special train ticket and zoo entrance combo – take a look at the website of Belgian Rail.
Antwerp Zoo is a sister-park of Planckendael, so if you want to visit both, you may want to consider a seasonal pass.
For more information, check the official website of Antwerp Zoo.
If you are visiting Antwerp in winter, don't miss the China Light festival. It's always held inside the Antwerp Zoo. Although, the most recent edition took place in Planckendael and not in Antwerp Zoo, so you have to double-check that next winter.
READ ALSO: Best Things to Do in Antwerp & Antwerp Secret Places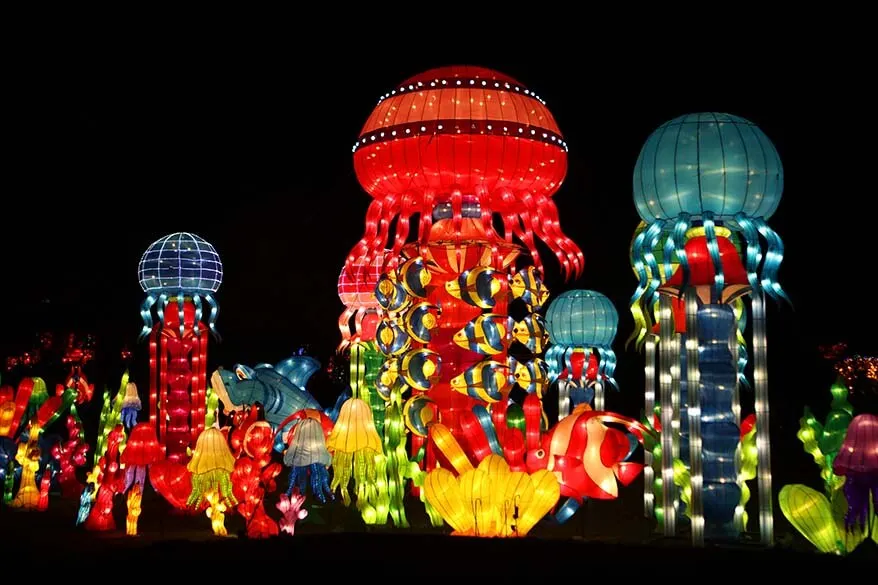 7. Pairi Daiza
Pairi Daiza is a privately owned zoo and botanical garden located in the French-speaking part of Belgium, about 1hr from Brussels. It's a really big animal park, comparable to Planckendael, with themed areas per continent that animals come from.
Pairi Daiza, previously known as Paradisio, became very popular in the last few years since the acquisition of the giant pandas. Recently they added koalas, gorillas, and several other species as well. But Pairi Daiza isn't only about the animals. The gardens are really beautiful too.
It's the only park, however, that we didn't visit recently, so I cannot give more details (or pictures). However, last time we visited, we enjoyed it very much. I hear nothing but positive reviews about it, but also reports of huge crowds. Avoid the weekends, and get there early.
For more practical information, check the official website of Pairi Daiza.
8. Mini Europe
Mini-Europe is a miniature park located close to the Atomium in Brussels. Mini-Europe has reproductions of 80 cities and over 350 monuments and buildings from all of the European Union countries.
We visited Mini-Europe a few months ago, in winter, and our kids were super enthusiastic to see the tiny versions of the well known European landmarks.
I have to say that the kids enjoyed it more than I thought they would, and so did we. So I can truly recommend Mini-Europe as a great place to spend a couple of hours if visiting Brussels with family. But Mini-Europe is not just for families with kids! In fact, over 70% of their visitors are adults.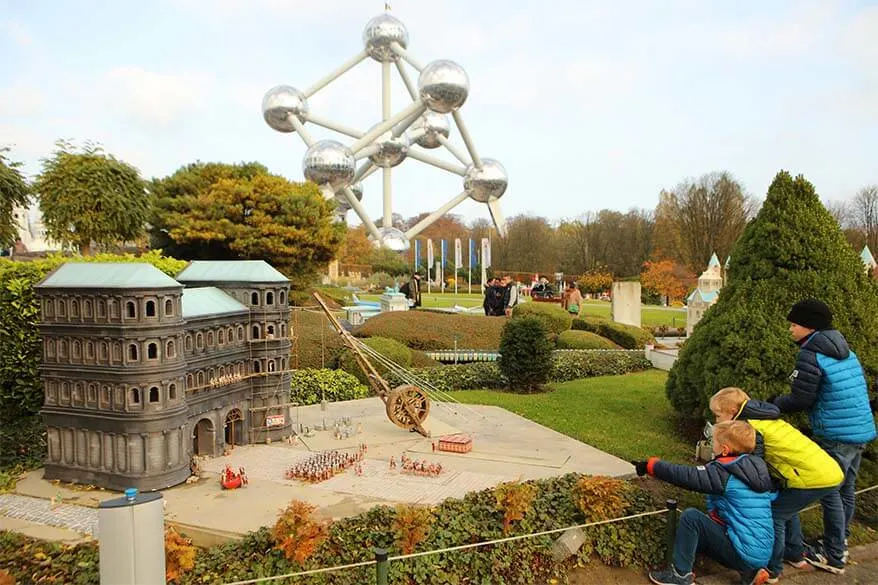 Mini-Europe is a bit outside of the city center, but can easily be reached by metro, and takes less than 30min from the city center.
On top of that, you can combine the visit to Mini Europe with that of the Atomium, and visit the two top attractions of Brussels in just a couple of hours. There is also a planetarium and a big cinema complex.
Here you can get your tickets for Mini-Europe and here – for the Atomium.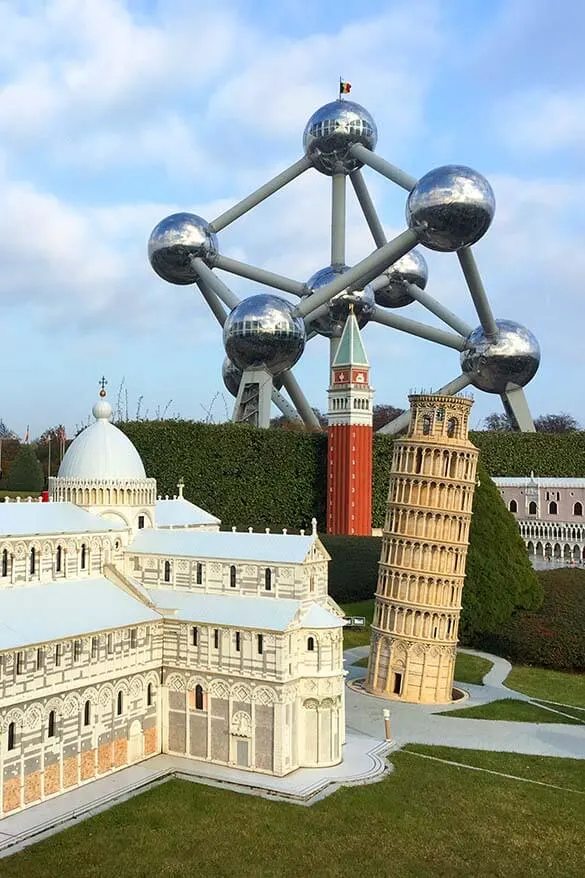 Other theme parks in Belgium
Above is my list of the very best theme parks in Belgium. With 4 biggest amusement parks, 3 major animal parks, and one in its kind – Mini Europe – you have plenty of choice as to where to spend a fun day in Belgium with your kids.
However, this is not a complete list of all the theme parks that you can find in Belgium. Here are several other theme parks in Belgium. Most of them are smaller and not as busy as the biggest parks I listed above, but usually really good too.
Other bigger amusement parks in Belgium
Other bigger animal parks in Belgium
Tips for visiting Belgian theme parks
Visit on a rainy day. Belgians love amusement parks. On top of that, many of the theme parks in Belgium are very popular among the French and the Dutch. Needless to say that you can usually expect big crowds at all of the major theme parks. The best days to visit are the ones where there is some rain in the morning, as that will keep the majority of people at home. Check the hourly forecast for the area the evening before your planned visit. We are often lucky to find limited queues on the so-called rainy days with just a shower or two. We usually get wetter in the water rides than in the rain.
The best times to visit Belgian amusement parks are on summer weekdays, especially at the beginning of the week. The first two weeks of July are generally less busy as well.
If your family enjoys going to a theme park, consider buying seasonal tickets. Most of the time, they will cost as much as two regular visits, and stay valid for the whole season. In addition, some seasonal tickets offer all kinds of discounts for many other attractions in Belgium and in the neighboring countries.
Many theme parks offer a combination ticket of the park entrance and the train ticket (B-Excursion). Kids under 12 travel for free with Belgian Rail, so sometimes this is really a good option. Here you can find all the available B-Excursions.
Have you visited these or other theme parks in Belgium? What are your favorites? You can leave a reply or any tips you may want to share in the comment section below.
READ ALSO: Belgium Itinerary
If you found this post helpful, don't forget to bookmark it and share it with your friends. Are you on Pinterest? Pin this image!