Visiting Belgium for the first time and are not sure where to start with planning your trip? Then this post is for you. In this article, we feature a suggested Belgium itinerary that brings you to the most beautiful places in Belgium in three or four days. Read on!
Our tiny country is squeezed in between the top-tourist destinations like London, Amsterdam, or Paris and is therefore often overlooked. But Belgium has a lot to offer to any type of traveler!
Since I know that many people don't have a lot of time to explore Belgium deeper, here are my very best recommendations for a short first trip to Belgium.
Even if you are visiting Belgium for just one or two days, you will be able to plan your trip using our tips below. But if you have the time, I recommend spending at least 3 or 4 days in Belgium.
My recommended three day Belgium itinerary includes the capital city Brussels and the most beautiful towns of Flanders – Antwerp, Ghent, and Bruges.
If you have four days in Belgium I also strongly recommend visiting one of the historic war sites in Belgium – either Ypres and WWI battlefields or Bastogne and its WWII museums and monuments.
TIP: The distances in Belgium are not big and there are good railway connections between all major towns. Therefore you can base yourself in any city and make day trips from there – that way you don't have to pack/unpack all the time. But you can, of course, stay in a different town every day as well. Find out!
Good to know: Since most of the main highlights of Belgium are towns, you can visit Belgium in any season.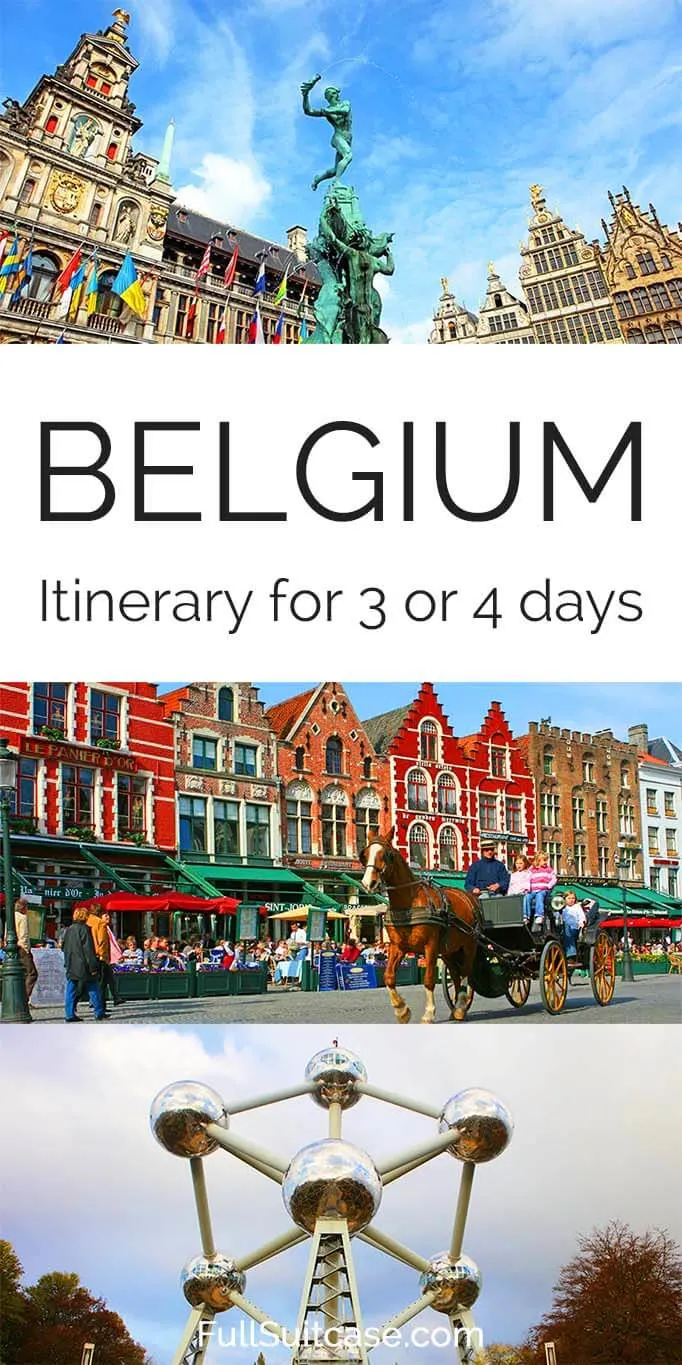 Recommended Belgium itinerary:
Day 1: Brussels
Brussels is the capital of Belgium and a city every tourist has to see at least once. In my opinion, one day is plenty of time in order to see the main highlights of Brussels. If you want to visit museums (Musical Instruments Museum is my favorite and there are so many more) and less centrally located areas you will, of course, need more time.
Here is my suggested itinerary for Brussels in one day:
In the morning, take a walk in the town center and don't miss the following places:
Grand Place and the Town Hall. The central square of Brussels is a UNESCO World Heritage Site and one of the most beautiful town squares in the world. Surrounded by the decorative 17the century guild houses, the impressive City Hall and the Maison du Roi (now the Brussels City Museum) it's a place not to be missed. My favorite time to go is in the evening when the crowds are smaller and the buildings are nicely lit.
Manneken Pis. According to one of the legends, the little peeing boy saved the city from the fire and is the ultimate symbol of Brussels. The iconic bronze statue will surprise you with its small size. Depending on the day you visit, you might see him naked or dressed. Manneken Pis has over 1000 costumes for all kinds of different occasions. Here you can read the real story of Manneken-Pis and how he became so popular.
Les Galeries Royales Saint-Hubert. The 19th-century pedestrian gallery with numerous boutiques and restaurants is not to be missed.
St. Michael and St. Gudula Cathedral. Finished at the beginning of the 16th century, the impressive Gothic cathedral took over 300 years to build. It is here that all significant Belgian monarchy's celebrations take place: coronations, weddings, and state funerals.
Royal Palace of Brussels. The official palace of the Belgian King in the center of Brussels is used for all kinds of official events and can be visited from the end of July till the beginning of September. The Royal family itself lives in the Castle of Laeken, on the outskirts of Brussels.
Mont des Arts. This 'hill of the arts' is a nice garden overlooking the Sablon area and the City Hall of Brussels.
Brussels Stock Exchange. Impressive architecture.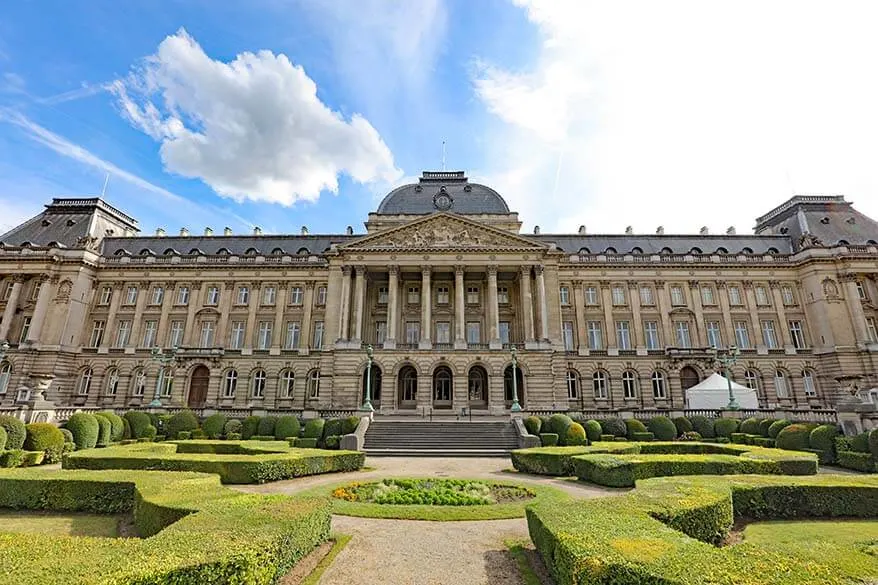 In the afternoon take a metro to the Heysel area and visit Atomium. If you have an hour to spare, you may want to visit Mini Europe as well. It's one of the nicest family-friendly attractions in Brussels. Combination tickets are available for both attractions.
In the evening head back to the city center of Brussels, see the nicely lit Grand Place, and check out the famous dining area – Rue des Bouchers. I don't advise dining here as the restaurants are real tourist traps, but this street has such a unique atmosphere that no visit to Brussels would be complete without passing by here.
A bit hidden out of sight, the 'sister' of the Manneken Pis – Jeanneke Pis can be found in a small alley next to the Rue des Bouchers.
LEARN MORE: Best Things to Do in Brussels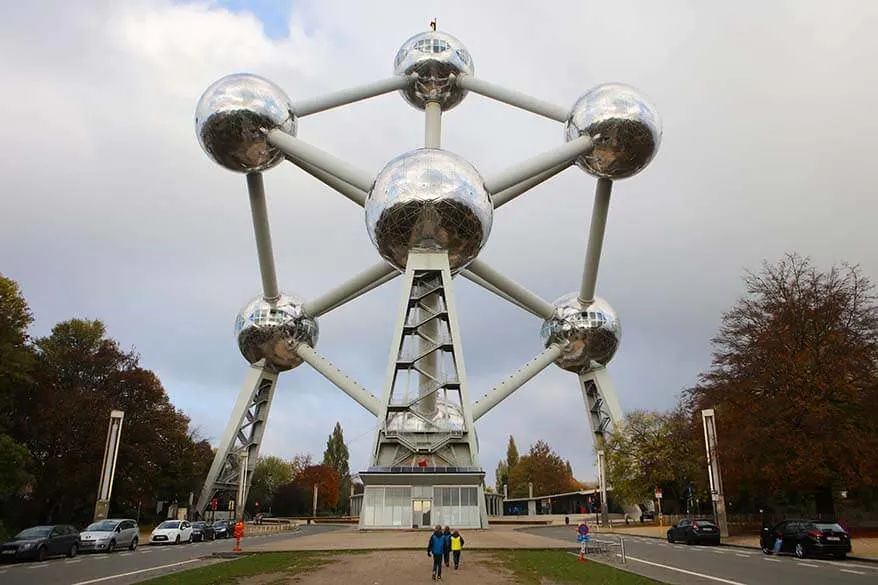 Some practical tips for visiting Brussels:
Brussels is a good base for exploring Belgium. There are direct train connections to all the major towns.
Where to eat. Like in many cities, there are many good restaurants in Brussels, but there are real tourist traps as well. One of our favorites for traditional Belgian food in the center of Brussels is 't Kelderke located right on Grand Place. Despite its central location, this restaurant managed to maintain high-quality standards for many years. Recently we discovered a really nice Italian restaurant – Spago that I would also recommend.
Safety. Brussels is a rather safe city, but – as in any other big city – there are some areas to avoid and simple safety tips to follow. For more information, please check our guide – is Brussels safe?
READ ALSO: Brussels Christmas Market & Brussels Flower Carpet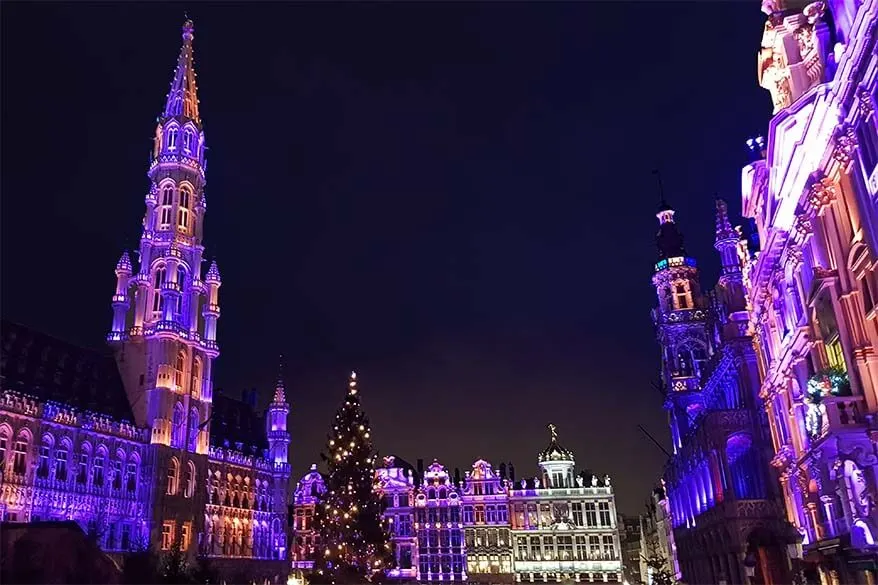 Day 2: Antwerp
Antwerp is my personal favorite Belgian town. It's not as big as Brussels, not as touristic as Bruges or Ghent, and therefore has a more authentic feeling. I strongly suggest that you spend the whole day in Antwerp.
Since we live nearby, I have quite a few more detailed blog posts highlighting the best things to do in Antwerp with kids, exploring Antwerp by bike, etc.
Below are my suggestions for the main places you have to see in Antwerp. Below, you can find a link to our more detailed guide to the best things to do in Antwerp, including a suggested city walk with the map.
Central Station
Antwerp Zoo
Rubens House
Groenplaats
Cathedral of Our Lady
Grote Markt
Steen Castle
Vleeshuis
MAS rooftop terrace
The New Port House
Starline Museum
LEARN MORE: Best Things to Do in Antwerp & Antwerp Hidden Gems
Some practical tips for visiting Antwerp:
Antwerp is very well located and has excellent connections to Brussels Airport and Brussels city center (35-40 min), but also to Ghent (50 min) and Bruges (1h30).
In my view, Antwerp is as good a place to base yourself for exploring Belgium as Brussels. Depending on when you visit, it's likely that it will be somewhat cheaper to stay in Antwerp than in Brussels. Here you can find accommodation in Antwerp.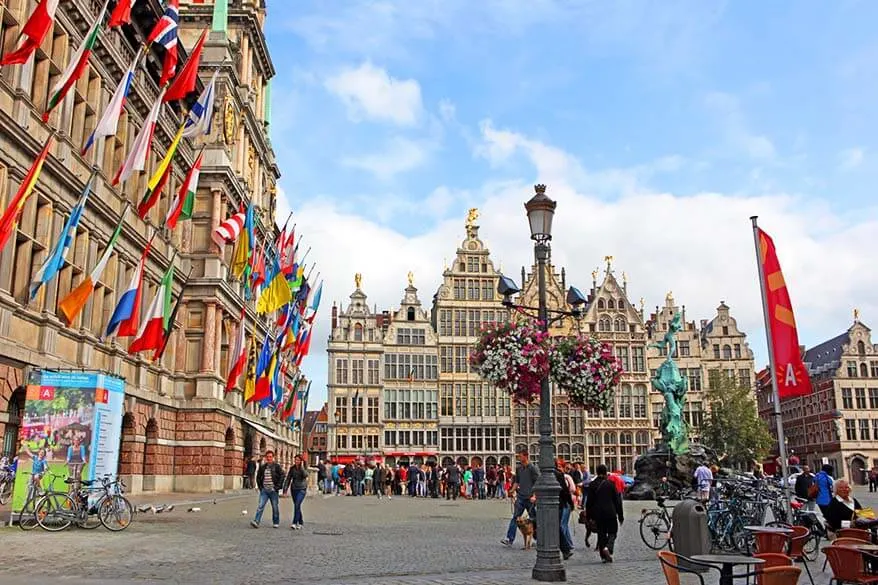 Day 3: Ghent and Bruges
While some people choose to spend the whole day in each Ghent and Bruges, you can see the very best these cities have to offer in just half a day as well. So if you are short on time, you can visit Ghent and Bruges on the same day. The train between the two towns only takes 35 minutes.
Alternatively, you can take an organized day trip from Brussels – they will take you to the most beautiful spots of these two must-see Flemish towns.
I suggest that you go to Ghent first (you'll see why later). The Dampoort Railway Station is the one closest to the old historic town center.
Here are the main places not to be missed in Ghent:
Gravensteen. The 10th-century castle is worth a short visit.
Leie river. Take a walk along Graslei and Korenlei and past St Michael's Bridge. A great way to explore Ghent is by taking a short boat trip.
Saint-Bavo's Cathedral. Inside you can opt to visit the famous Ghent Altarpiece, aka the Mystic Lamb painting.
Belfry and Cloth Hall and St. Nicholas Church are also worth a short visit.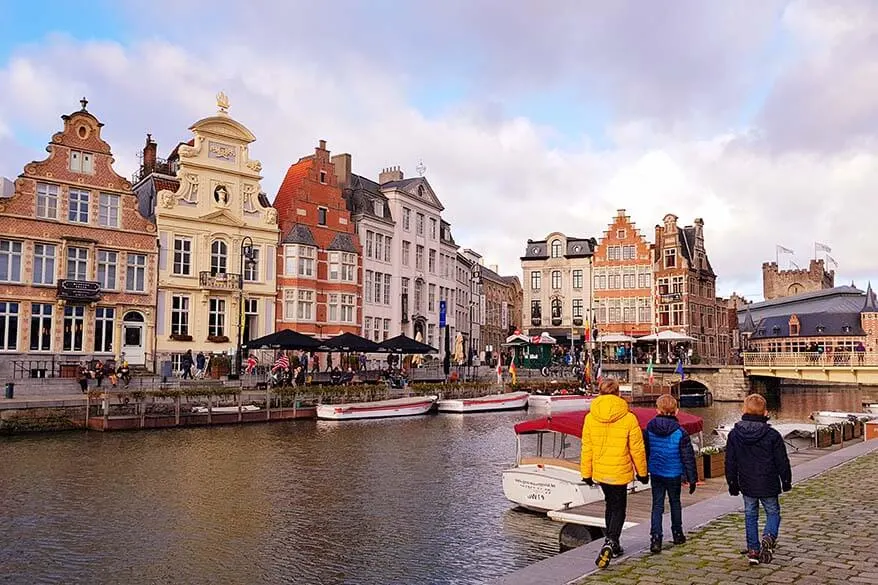 Have lunch in Ghent, then head back to the Dampoort Railway Station and take a train to Bruges.
I always advise visiting Bruges toward the evening because it's crowded with tourists during the day. Bruges is a fairytale-like place, but it's difficult to truly appreciate it if you have to squeeze your way through the crowds.
However, only a very small percentage of tourists actually stay in Bruges, so in the evening the city is completely deserted, and you can have the whole place to yourselves.
If you come by train, plan to stay late in the evening and explore the beautiful canals after all the day tourists have left. It's my very best tip for anyone visiting Bruges for the first time.
Here are the main things to do in Bruges for first-time visitors:
Lake of Love – Minnewater.
The old beguinage Ten Wijngaerde.
Belfort of Bruges – you can climb this medieval tower for beautiful views.
Market Place – the central town square of Bruges.
Burg Square is really beautiful too. Take a narrow passageway left from the City Hall towards the Vismarkt (Fish Market), then go right (South) and follow the canals in the direction of the Church of Our Lady.
A real must-do in Bruges is a boat ride on the canals.
If you have some time left, you could visit one of the breweries – De Halve Maan Brewery or Bourgogne des Flanders Brewery.
Have dinner in one of the many restaurants in Bruges and head back to the canals. As I said, it's a very different atmosphere in the evening.
LEARN MORE: Best Things to Do in Bruges
TIP: if you are planning to visit the WWI battlefields (see below), then it's best to stay in Bruges to avoid driving up and down too much.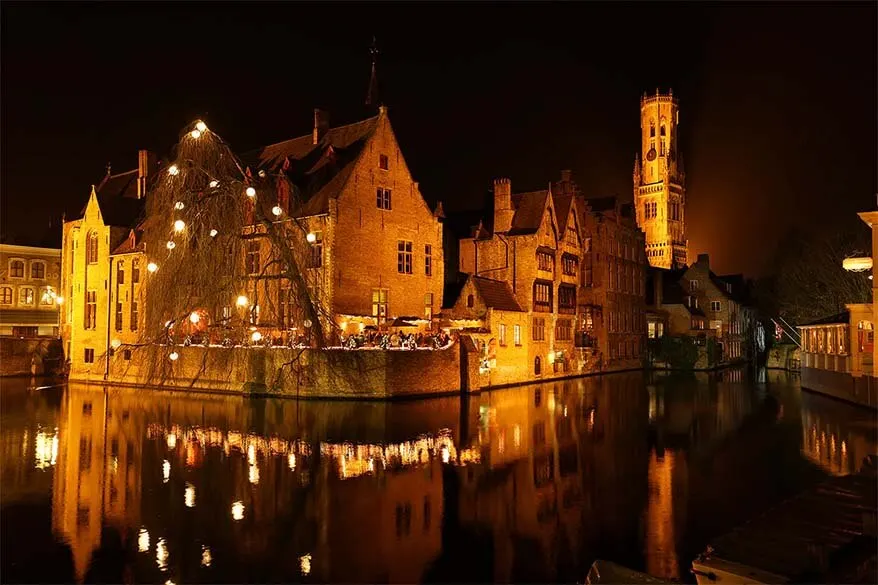 Day 4: World War I Battlefields near Ypres
To some people, WWI battlefields are the main reason to visit Belgium. But the majority of tourists never even consider it…
I have to admit that it took us many years to get there (and we live in Belgium), but it was so worth it! There is so much history in those war cemeteries, fields, and trenches!
We now visited Ypres and the WWI battlefields several times, with our kids, and it's an experience I would recommend to everyone. Below, you can find a link to a detailed guide for your visit.
Here are the main places not to miss when visiting the WWI battlefields:
Ypres: In Flanders Fields Museum and the Menin Gate
Tyne Cot Cemetery and Memorial
Langemark German War Cemetery
Yser Tower – IJzertoren Diksmuide
Trench of Death, Diksmuide
Essex Farm Cemetery
Vladslo German War Cemetery
LEARN MORE: Ypres and the WWI Battlefields
Some practical tips for visiting the WWI battlefields:
TIP: If you are interested in the history of the Second World War, you may want to visit Bastogne town in the French-speaking part of Belgium.
LEARN MORE: Bastogne War Museum & Mardasson Memorial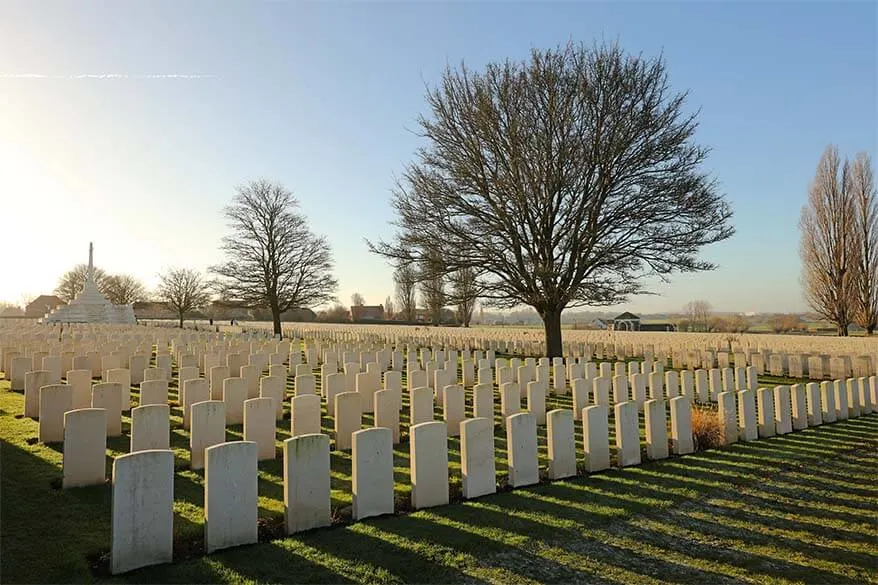 If you only have three or four days in Belgium, then this itinerary is all you need. If you have more time and are looking for ideas on what else to see, check our other blog posts about Belgium for more inspiration.
You could also consider visiting the French-speaking part of Belgium with beautiful places like Namur, Dinant, Durbuy, etc. Luxembourg is also just a 2,5 hours drive from Brussels and there are lots of beautiful places to visit near Luxembourg.
Winter TIP: If you are visiting Belgium in winter, don't miss our Christmas markets. Here you can find our selection of the best Christmas markets in Belgium.
Summer TIP for families: If you are visiting Belgium with kids, take them to a theme park. Here you can read about our recommended Belgian theme parks.
Belgium FAQ
Here are some frequently asked questions that our readers ask about visiting Belgium:
How many days do you need in Belgium?
As a minimum, we recommend 3-4 days in Belgium. With 3 days, you can briefly visit the most beautiful cities such as Brussels, Antwerp, Ghent, and Bruges. If you have 4 days, you can also visit some of the famous Belgian war sites.
What is the best time to go to Belgium?
Belgium is a year round destination and because most landmarks are located in the cities, you can visit at any time of the year. For the best weather, come between April and September. In summer, Belgium hosts lots of festivals and events. From mid-November until January, you can visit Belgian Christmas markets.
Where should I stay in Belgium?
Belgium is a small country and it's possible to stay in one place and see everything. For that, Brussels is probably the best place to stay. Alternatively, Antwerp or Ghent are also well located for exploring the main cities in Belgium. If you decide to stay in Brussels, we recommend staying close to the Central Station. That way, you can easily make day trips to other destinations in Belgium.
Is Belgium worth visiting?
Yes, Belgium is absolutely worth visiting! There is so much history, stunning architecture, and arts. Also Belgian food is worth a trip in itself.
What are the best places to see in Belgium?
The main highlights of Belgium are its cities. Don't miss Brussels, the canals of Bruges, Antwerp city center, and charming Ghent. If you are interested in war history, Belgium has some interesting war sites, especially around Ypres and Bastogne.
Does it rain a lot in Belgium?
Belgium has a reputation for being a rainy country. However, in recent years, we often have very long periods with no rain at all. While there is always a chance that it will rain in Belgium, you can also have the most beautiful sunny weather during the entire trip. In principle, the driest months in Belgium are between April and September.
READ ALSO: Fun & Interesting Facts About Belgium
More tips for visiting Benelux:
If you found this post useful, don't forget to bookmark it and share it with your friends. Are you on Pinterest? Pin these images!