Aspen, CO, is one of the most famous mountain resorts in the USA. With a stunning location surrounded by some of the most beautiful sceneries in the Colorado Rocky Mountains, Aspen has a lot to offer to outdoor enthusiasts in summer and in winter.
But what are the best things to do in Aspen and what are the nicest places to see nearby? In this guide, we feature all the top things to do in and near Aspen. Some of the activities are seasonal, while the others can be done the whole year.
But no matter when you visit Aspen – in summer or in winter – there's plenty of nice things to do in town and nearby. For each place/ activity mentioned in this guide, we also include some practical tips for your visit. In addition – at the end of the article – you can find our recommendations on where to stay and how to get to Aspen and getting around. Find out!
In order to help you get a better idea of where everything is located, we also created a map indicating all the best things to do in Aspen. This way, you can get a better idea of where everything is and plan accordingly.
How to Use This Map: Use your computer mouse (or fingers) to zoom in or out. Click on the icons to get more information about each place. Click the arrow on the left top corner for the index. Click the star next to the title of the map to add this map to your Google Maps account. To view the saved map on your smartphone or PC, open Google Maps, click the menu button, and go to 'Your Places'/'Maps'.
These are the very best things to do in Aspen:
1. Maroon Bells
Maroon Bells are the incredibly picturesque mountains about 10 miles southwest of Aspen. If you are visiting Aspen in summer, this is the absolute must, number 1 place to see in the area!
Maroon Bells are said to be the most photographed mountains in the USA. I'm not sure if it's true, but the landscape here is indeed picture-perfect! The mountains and their stunning reflections on the lake turn the scenery into a real-life painting.
The good thing about visiting Maroon Bells is that it's easily accessible to everyone. You don't need to hike in order to see the best scenery; the nicest views can be found just a short walk from the car parking area. In addition, you can also explore the area along the scenic lakeside trail and there are other nice hikes in the area (see also information about the Crater Lake further below).
Good to know: The road to Maroon Bells is only open in summer, from approximately mid-May to early October. September is an exceptionally beautiful time to visit because of the colorful fall foliage of the aspen trees around the lake!
TIP: Visit Maroon Bells early in the morning. That's when reflections are at their best and there is a bigger chance to see wildlife in the area. Furthermore, in high season, the road gets closed to private vehicles from 8 AM to 5 PM. So if you don't want to take a shuttle, be sure to get there well before that. For more information and tips, please see our detailed article via the link below.
LEARN MORE: Complete Guide to Visiting Maroon Bells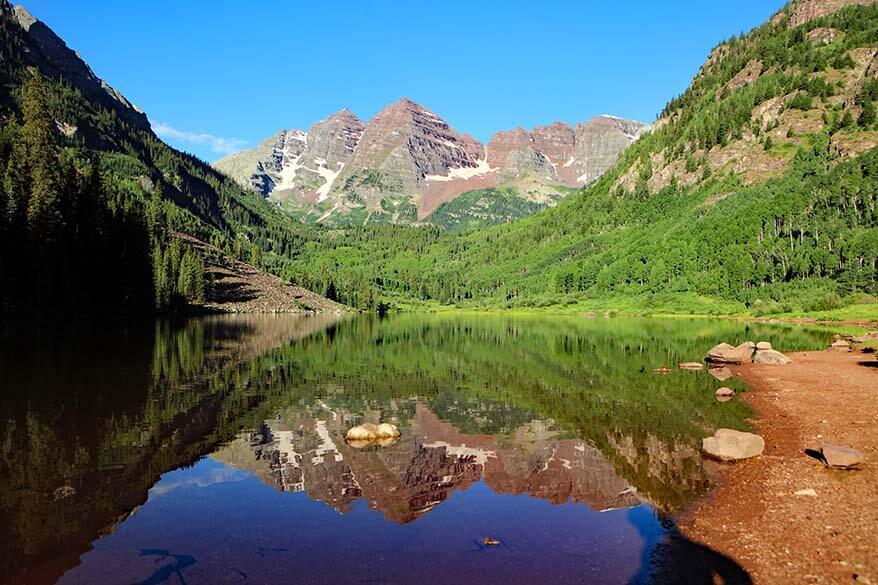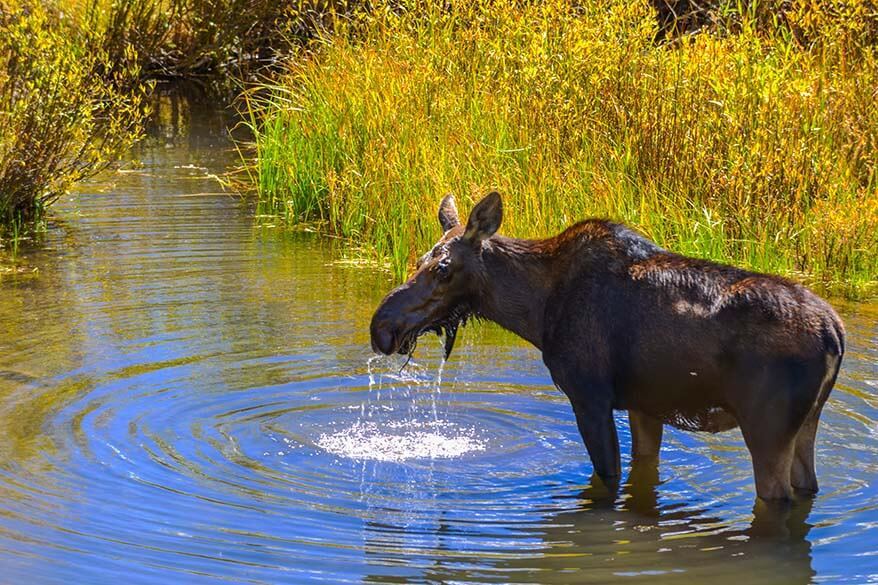 2. Silver Queen Gondola
Silver Queen Gondola is one of the must-do things in Aspen! It gives you easy access to the top of Aspen Mountain straight from the town center and offers some of the best mountain scenery in the area. In about 15 minutes, you reach Sundeck at 11,200 feet (3,414 m). The views from the top are incredible!
In winter, this is one of the prime skiing areas around Aspen. But you don't have to go skiing in order to take a gondola up the mountain and enjoy the views. In summer, you can simply admire the scenery from the gondola and at the top, or you can also go hiking in the area.
Sundeck Restaurant on top of the mountain is a great place for lunch with amazing views all around you!
Good to know: Silver Queen Gondola is a family-friendly activity. Dogs are allowed as well. In summer, it runs daily from mid-June to Labor Day. In September and the first week of October, it also runs every Friday, Saturday, and Sunday. The winter season is between the end of November and mid-April.
TIP: If you are visiting the area in the summer, you can opt for a 'Sightseeing Package'. It costs just a bit more than a single ticket but includes gondola and chairlift rides in the area for 3 days. It also gives lots of additional benefits and discounts. Well worth it! For more practical information, opening times, and ticket options, please check the official website.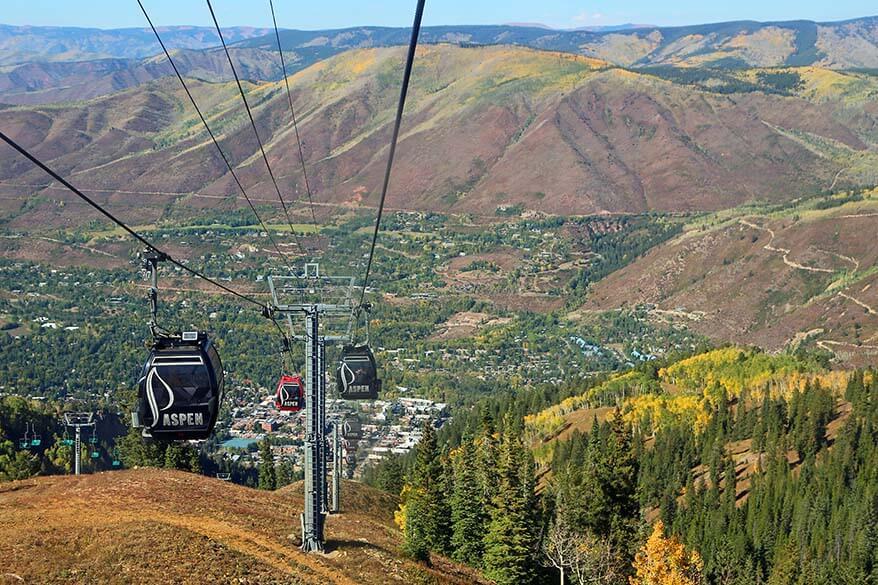 3. Explore the Town
Aspen town isn't big, but it has a really nice atmosphere and some beautiful Victorian homes. It's well worth taking your time to take a walk around and explore it a bit deeper!
The origins of Aspen date back to the end of the 19th century when it was a booming silver mining town. After the 1893 silver crash, Aspen experienced a few rough decades and most of its inhabitants left. The revival came after WWII when skiing became popular and Aspen became the famous mountain resort that we know today.
There are many ways to explore Aspen. You can simply go for a walk, rent a bike, join one of the town tours (a great way to learn more about Aspen's history), or go for a horse and carriage ride (in winter – horse and sleigh ride).
If you are looking for something a bit more special, consider Aspen's DarkSide Ghost tour. It's a great and fun way to learn more about the history of Aspen, based on some true stories of its residents.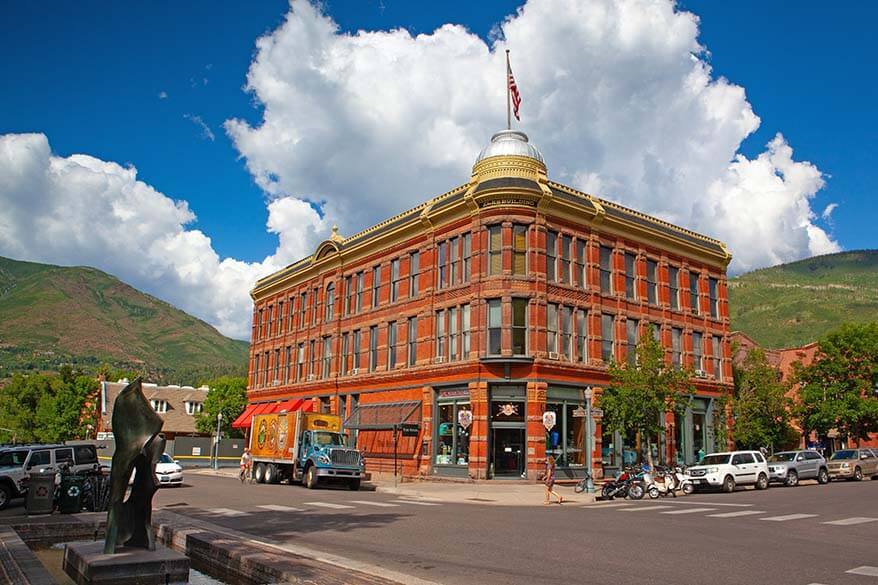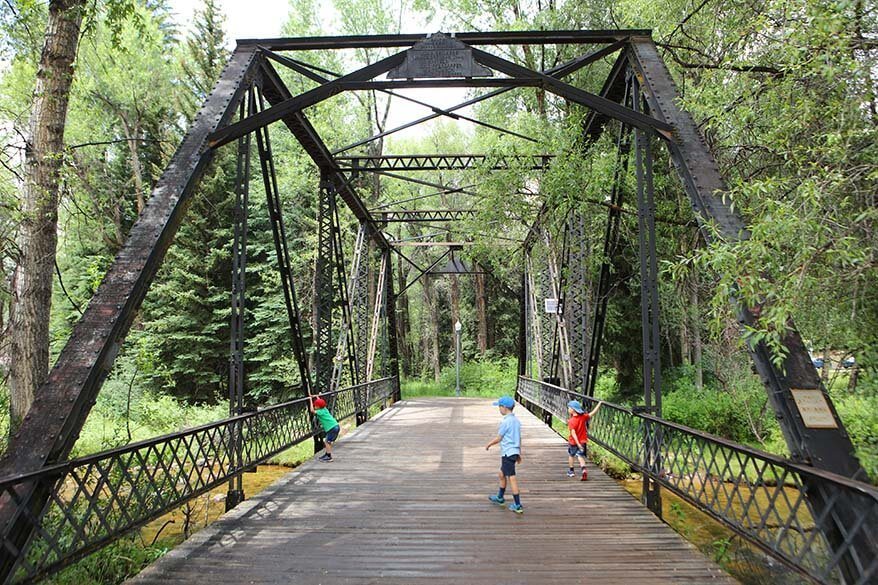 4. Hiking & Summer Outdoor Activities
Also in summer, there are always so many great outdoor activities in and near Aspen! If you are only here for a day or two, you're not going to have much time for all of them. But if you are staying in Aspen for a longer vacation, there's plenty to keep you and your family busy for days!
If visiting between June and September, you should definitely go hiking in the nearby mountains! There are plenty of hiking trails near Aspen of various durations and difficulty levels.
You can also go biking, mountain-biking, or visit Lost Forest. Lost Forest is located at Elk Camp in Snowmass and is like a destination in itself. It offers a big variety of adventurous outdoor activities including ropes challenges, an alpine coaster, biking trails, a climbing wall, fishing ponds, and trails for hiking. It's a great place to visit in Aspen with kids or teens!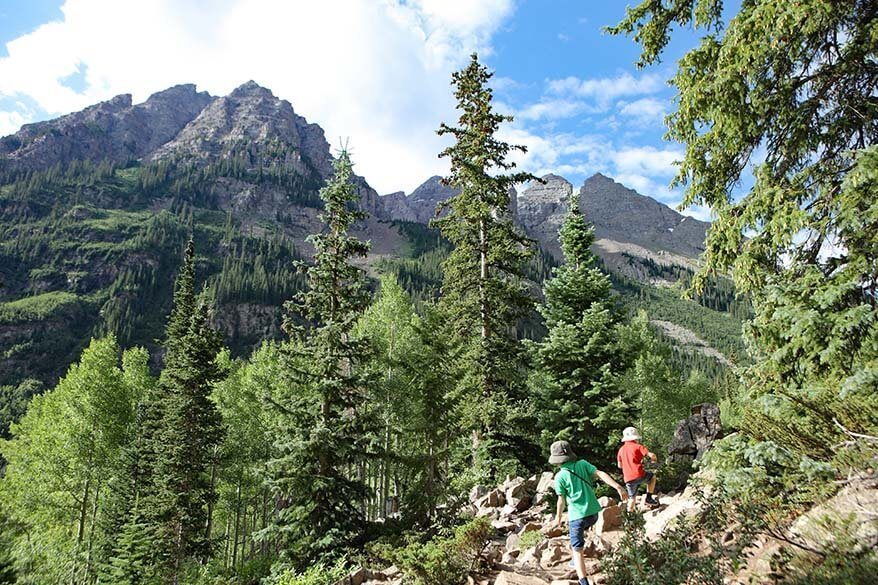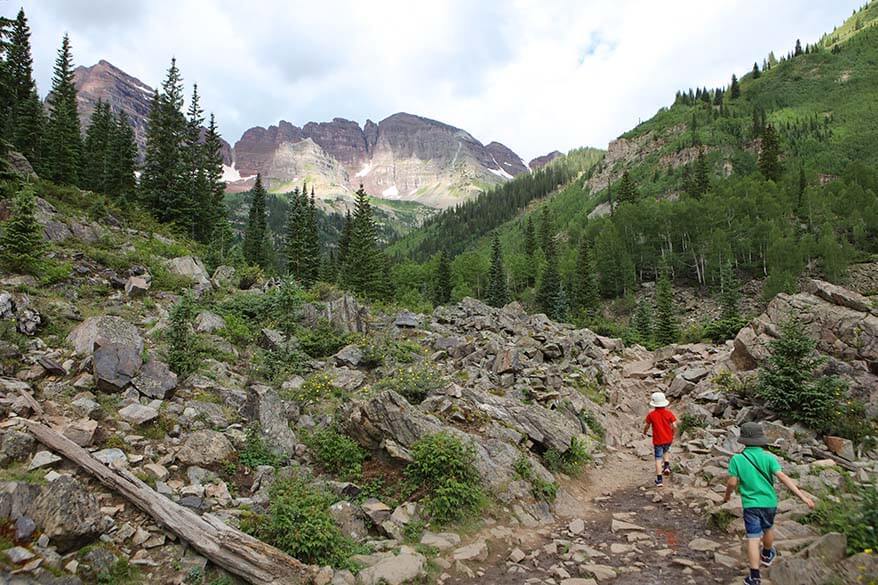 5. Skiing & Winter Fun
Aspen is best known as a winter resort. In winter, the main reason to visit and the absolute best thing to do in Aspen is skiing.
The Aspen Snowmass skiing area has 4 mountains, 41 lifts, and 362 skiing trails. The four major skiing areas in the area are Aspen Mountain, Aspen Highlands, Buttermilk, and – a bit further away – Snowmass. The good thing is that the same ticket is valid in the entire region, so you can hit different slopes every day. However, different ski areas are not connected to each other.
In addition to skiing, there is also cross-country skiing, ice skating, snowshoeing, snowbiking, and tubing. You can also go for a thrilling ride on the Breathtaker Alpine Coaster. Dog sledding is also available.
There's so much to do that you can easily spend a week or two in Aspen in winter and never get bored. A perfect destination for your winter holidays!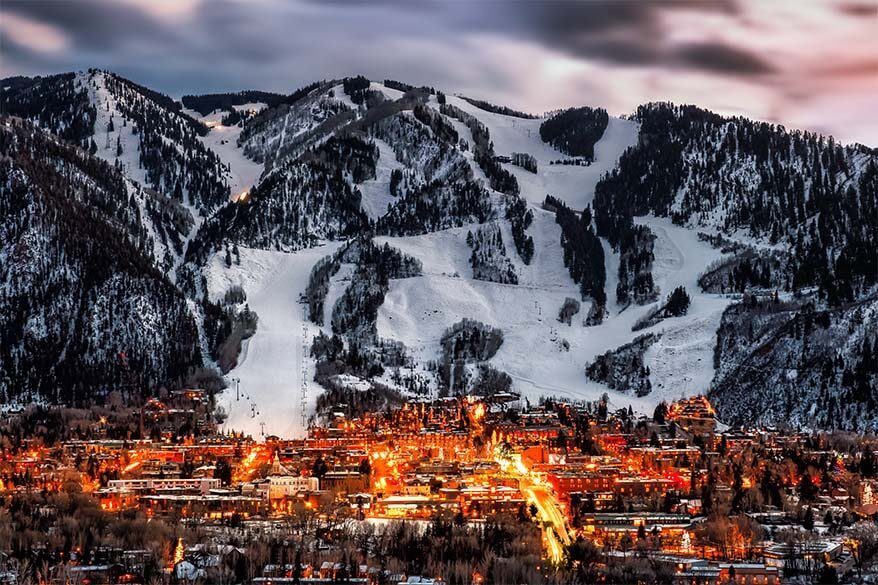 6. Crater Lake
Crater Lake is one of the most beautiful mountain lakes near Aspen. It's located just near the famous Maroon Bells and requires some hiking to get to. If you do just one hike in the area, make it this one!
While not as popular as Maroon Bells, Crater Lake is very picturesque as well. If you are lucky and there's not much wind, you can see beautiful reflections on this lake as well. Just as the nearby Rocky Mountain National Park, this area also offers easy access to some of the most beautiful mountain scenery in Colorado!
The area around Maroon Bells and Crater Lake also has a big variety of wildlife. If you visit during the quieter times, you are likely to spot moose. Beware that this is also bear country. However, if you are visiting during the day in summer, it's usually so busy that your chances of running into a bear are extremely slim.
Practical info: Crater Lake hike is a moderate hike of about 1.9 miles, 1 hour each way. So about 3.8 miles, 2 hours to hike there and back. For the best weather, reflections, and little crowds, come here very early in the morning. Afternoon storms are common here in summer! For more information and tips, please refer to our guide to Maroon Bells and Crater Lake Trail.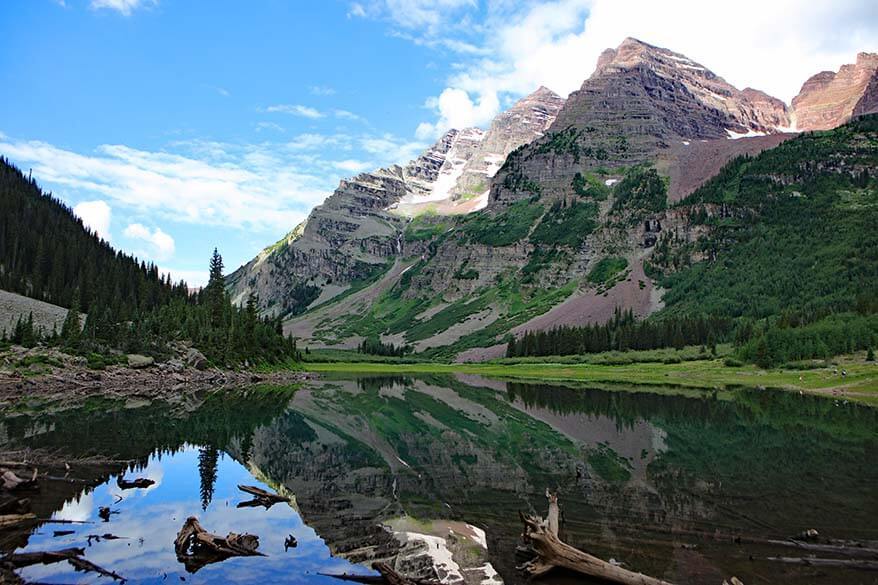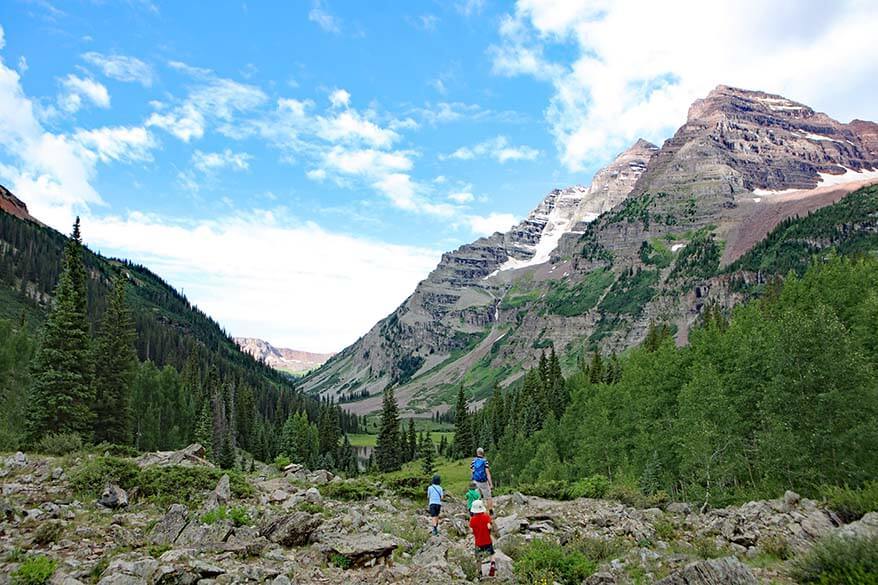 7. Independence Pass
Independence Pass on Hwy 82 between Leadville and Aspen is one of the most scenic mountain roads in the U.S. It passes Continental Divide at 12,095 ft (3,686 m) above sea level and offers stunning views. First opened in 1881, this road was originally known as Hunter Pass. Later it was named after the nearby gold mining settlement called Independence.
Aspen's increased popularity meant more visitors, many of whom were uncomfortable using an unpaved twisting mointain road. So it was paved in 1967. But because of this altitude, Independence Pass is usually closed between the end of October and May.
If you are visiting Aspen in summer, driving this road is a must! If you are driving to Aspen by car from Denver, you can simply opt for this route on your way there. It's the shortest and the most scenic ride and takes about 3-4 hours from Denver in total. The Independence Pass road itself is about 32 miles and takes about 1 hour without the stops.
However, there are several viewpoints along the way, so definitely take your time to stop and enjoy the scenery!
It's also possible to drive Independence Pass by bike. We met many motorcyclists as well. On a nice sunny day in summer, the road can get quite busy, so count that in if you are just passing by.
Good to know: While it's a steep mountain road with many twists, turns, and very few guardrails, Independence Pass is not a dangerous road. Being used to driving European mountain passes (especially the ones in the Italian Dolomites), to us, this road didn't look dangerous or intimidating at all.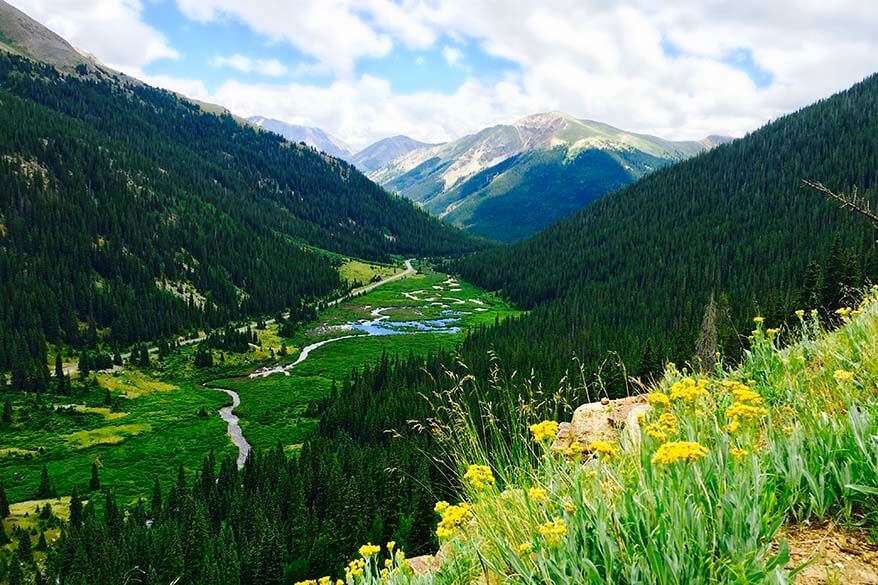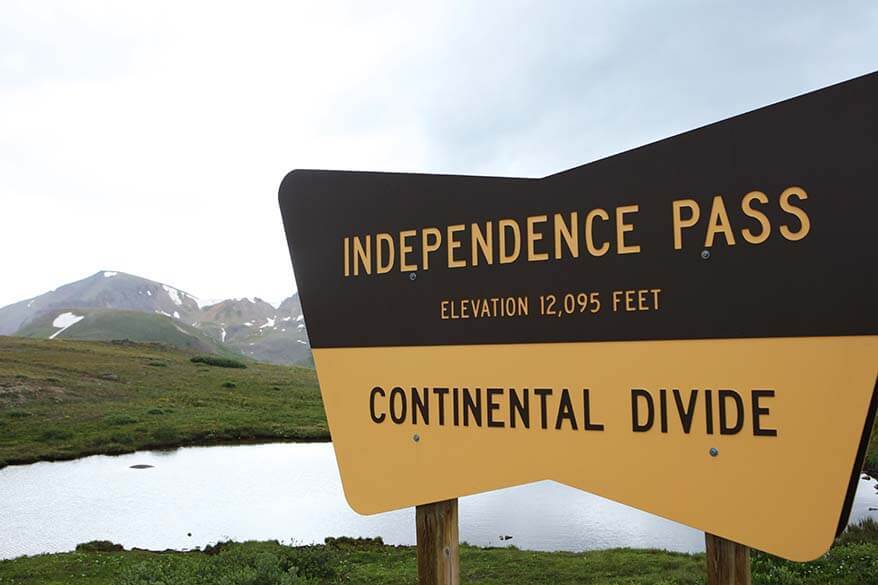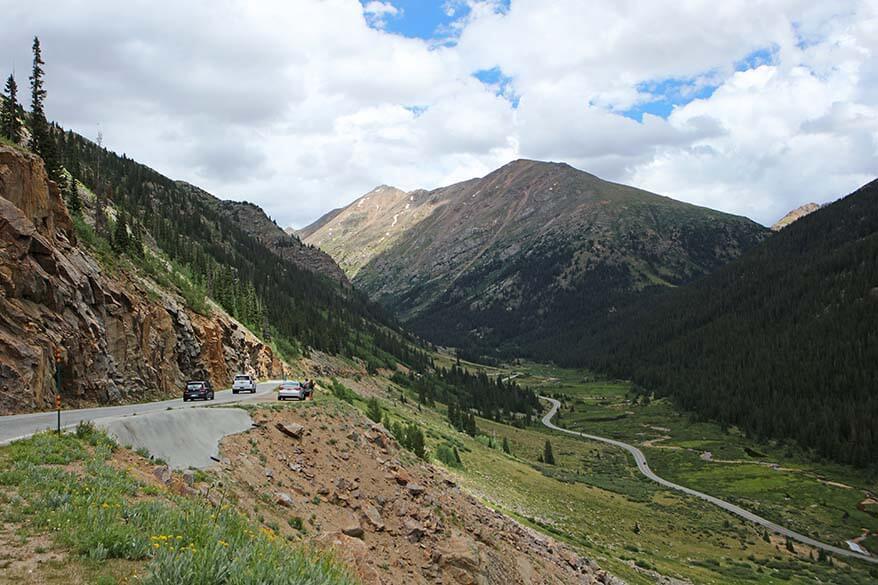 8. Grottos Trail
Grottos Trail is one of the nicest stops when driving from Independence Pass to Aspen. It's located along the road, about 9 miles southeast of Aspen town and you can also just come here even if you are not driving to Independence Pass.
Grottos Trail is an easy short forest hike that leads you to cascades/ waterfalls and ice caves. It's about 0.5 miles to Grottos rocks and you can make a loop on your way back. All in all, it's a relatively flat albeit uneven walk of about 1 mile in total. You can visit in half an hour or spend a few hours here.
The rocks here are hundreds of millions of years old and were formed and sculptured by the moving glaciers. It's a very unique scenery with plenty of nice photo opportunities. In addition, you can climb down inside an ice cave. However, when we visited mid-July, the ice cave was muddy and very wet and it was very difficult to access. We didn't go in. Be careful if you decide to go down!
TIP: The parking area is small and fills up quickly. So it's best to come early in the morning or later in the afternoon. However, afternoon thunderstorms are common. It was raining when we arrived here, but it cleared up a few minutes later. So be prepared for quickly-changing weather, especially during summer afternoons.
Good to know: Picnic tables are available at several places along the walk and there are also bathroom facilities at the car parking. It's best to wear sturdy walking shoes for exploring the area. While the main trail is a bit uneven, there's also a wheelchair-friendly walk next to the river that leads to a view over the cascades.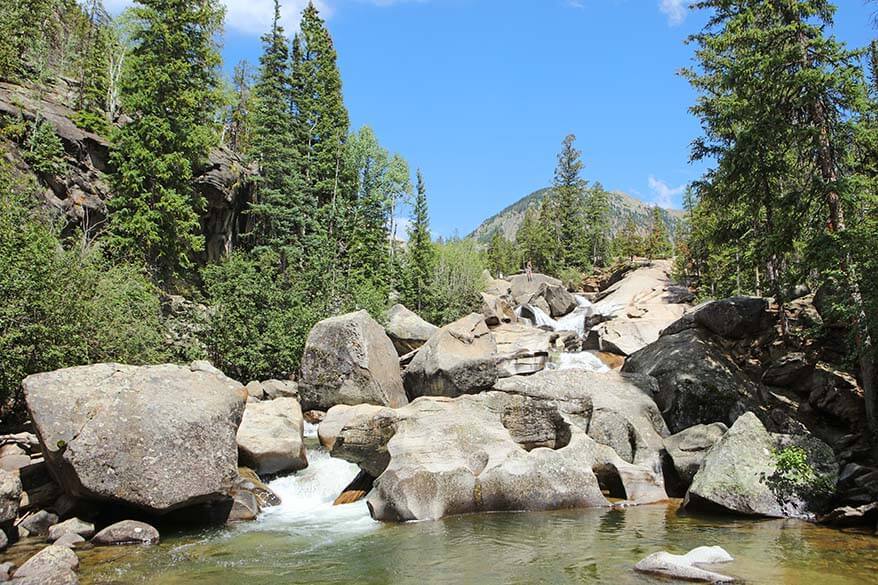 9. Aspen Art Museum
If you are looking for something different to do in Aspen than outdoors, then pay a visit to Aspen Art Museum. It's also something nice to do in Aspen when it rains or snows.
This contemporary art museum is housed in a very unique building. It's a real architectural masterpiece and it's worth coming here just for its architecture!
Every floor features works by different artists. It's all very creatively presented and there are many interactive exhibits, movies, etc.
TIP: On the top floor, in addition to the sculpture exhibition, there's also a nice café. In summer, when the weather is nice, it becomes an outdoor space offering stunning views of the surroundings. Food here is delicious as well!
Practical information: Aspen Art Museum is open daily, except on Mondays, from 10 AM to 6 PM. Admission is FREE of charge. For more information and info on current exhibitions and upcoming events, please check their website.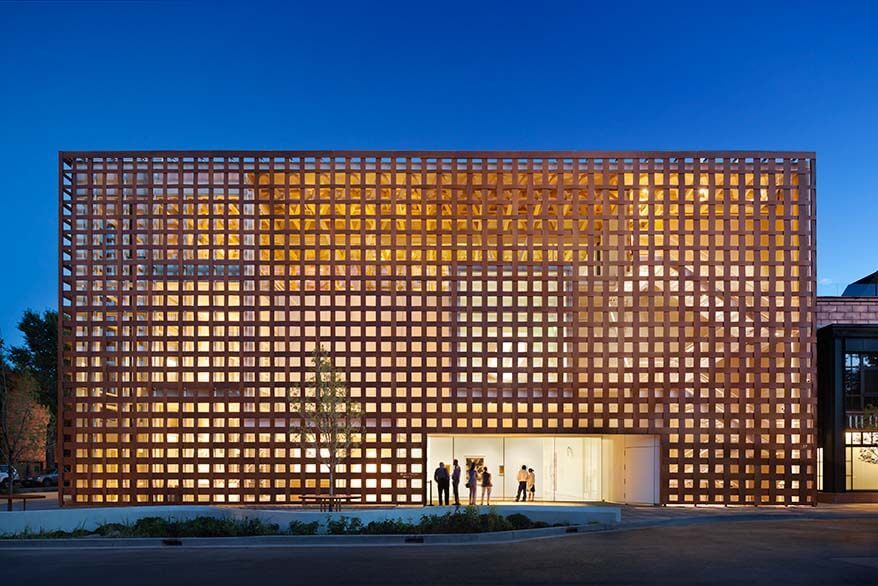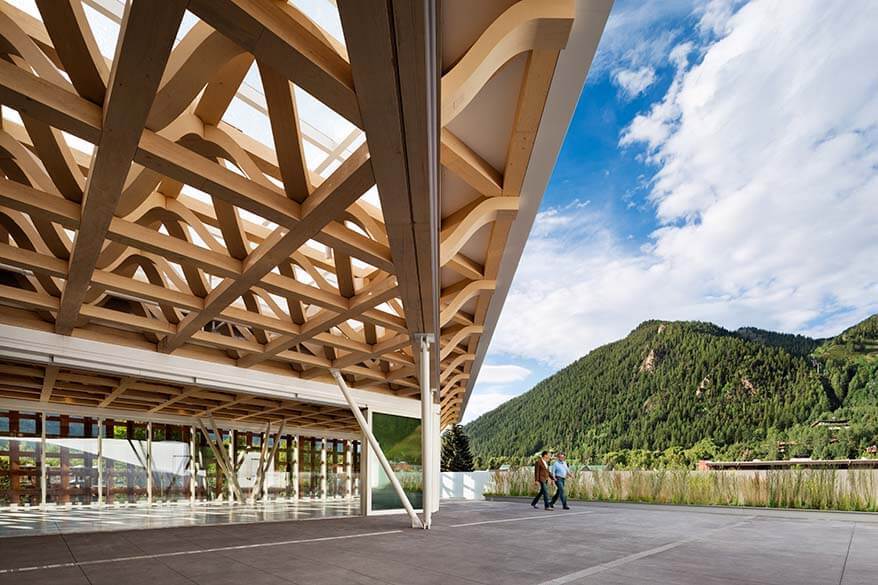 10. Ashcroft Ghost Town
One of the most interesting places to visit in Aspen is Ashcroft Ghost Town. Located about 12 miles south of Aspen town, this is an old silver mining town that's been turned into a sort of open-air museum.
Ashcroft was established in the 1880s and quickly became bigger than Aspen. In its glory days, it had a population of about 2,000, a school, sawmills, a courthouse, and about 20 saloons. However, it went bust just a few years later and never recovered. The last original citizen passed away in 1939.
Ashcroft became a National Register Historic Site in the 1970s and you can now visit this beautifully preserved ghost town. In season, there are local guides from the Aspen Historical Society that can tell you more about the history of the town. Otherwise, you can learn more about it using the interpretive signage throughout the site. Brochures are available as well.
Practical information: Ashcroft Ghost Town is officially open from mid-June to September. It's just next to the road and there's is car parking. During the day, you pay a small entrance fee (5$ when we visited). I'm not sure if there is a fee outside the official hours as it seems to be possible to visit the site at any time. We were there on a summer afternoon just before closing time and we were free to walk around as long as we wanted. By the time we left, there was no staff on site anymore. Count about 45-60 minutes for a thorough visit.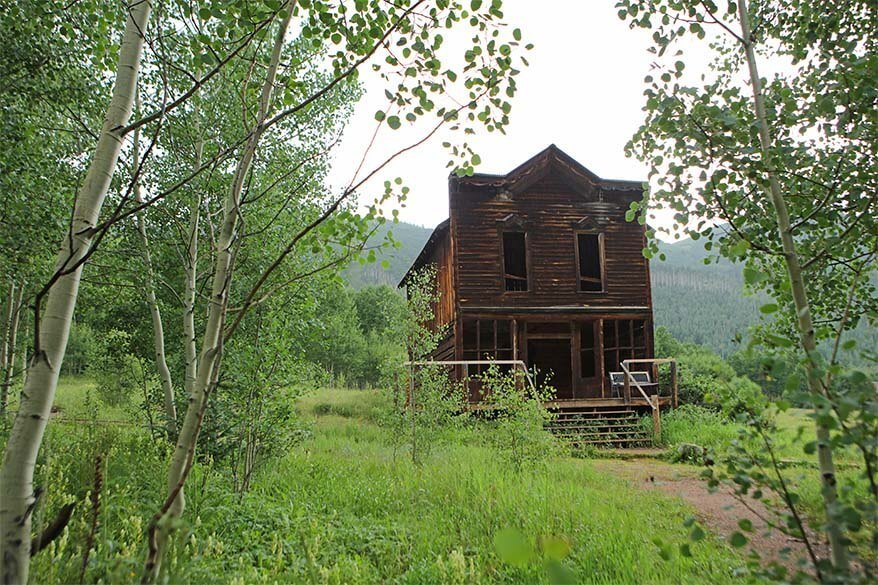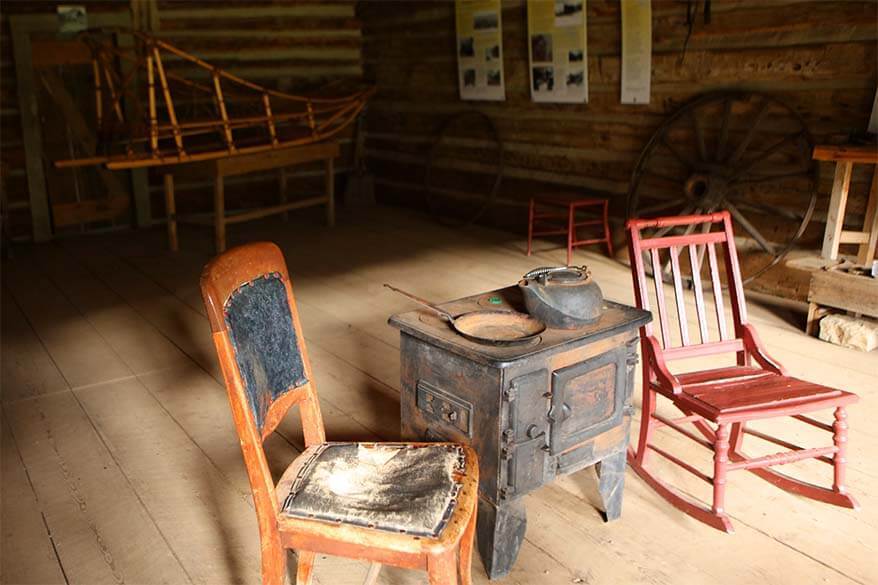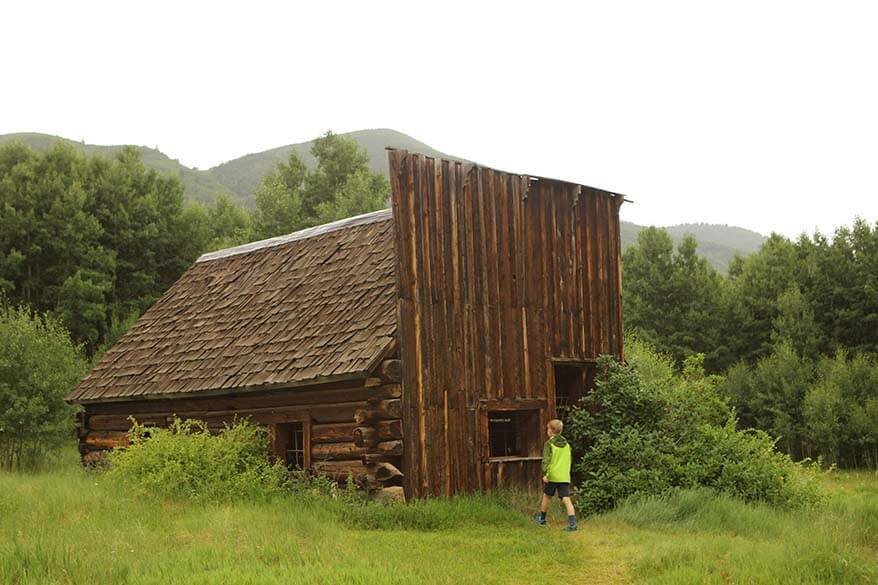 11. John Denver Sanctuary
John Denver Sanctuary is a sort of a landscaped park in Aspen town. Located near the Roaring Fork River, it's a relaxing garden and is a nice place to escape from the hustle of the town.
John Denver was a songwriter/singer and lived in Aspen for much of his life. He was passionate about nature and environmental protection and expressed it through his music. The sanctuary is a sort of a memorial to his life and his music. Some of his song lyrics are engraved into the rocks throughout the park.
In summer, this is a locals' favorite place for a picnic. Various music festivals and performances are held at the Theatre Aspen (Hurst Theatre) that's also located here. Aspen Skate Park is also located here and there were many local kids skateboarding when we visited.
It doesn't take much time to visit John Denver Sanctuary and you can come at any time. So if you are looking for something nice relaxing to do in Aspen after a busy day sightseeing, this is a nice place to check out.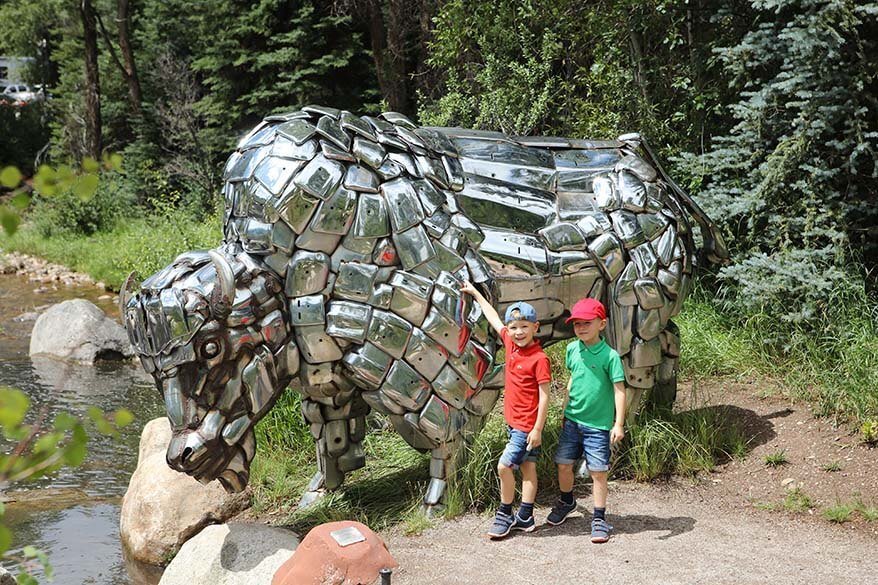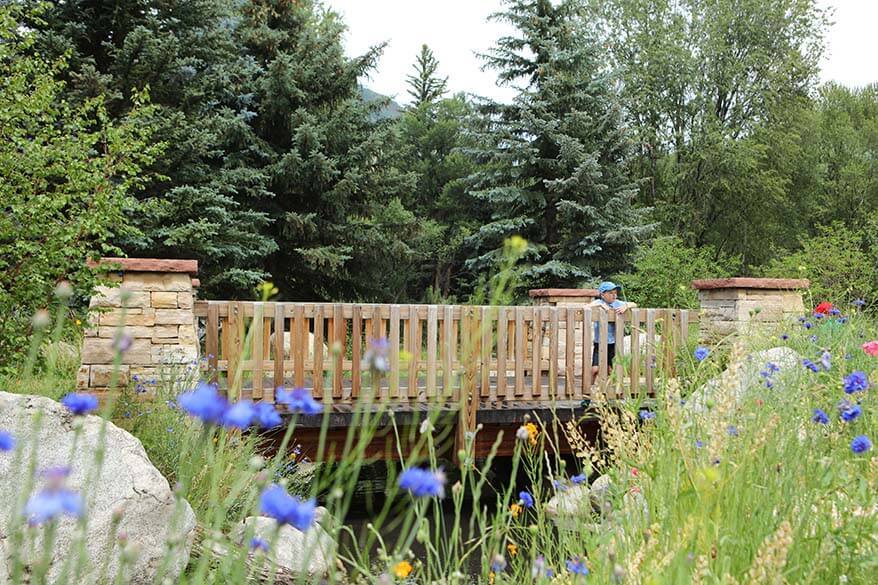 12. Aspen Center for Environmental Studies
Aspen Center for Environmental Studies (ACES) is a 25-acre nature preserve located just near Aspen downtown. It's hard to believe that this quiet nature retreat is right in the heart of Aspen.
Easy self-guided walking trails take you through the wooded area and to a little lake (Hallam Lake). You can also see a variety of native animals, including a few resident birds of prey. You can simply walk around here, watch the birds, or do their Junior Naturalist program. It's a good place to learn about the local environment.
The scenery here is simple and not as grand as in the surrounding mountains. But if you are visiting Aspen with kids and are looking to fill an hour or two, this is a nice place to visit. Hallam Lake is also a popular spot for weddings.
Good to know: ACES has several locations in the Aspen area. The most popular place to visit is the above-mentioned nature reserve in town itself. In addition to this, they also offer guided hikes in summer and snowshoeing tours in winter, and many other environment-focused events.
Practical information: ACES is open on weekdays only, from 9 AM to 5 PM. For more information, please check their website.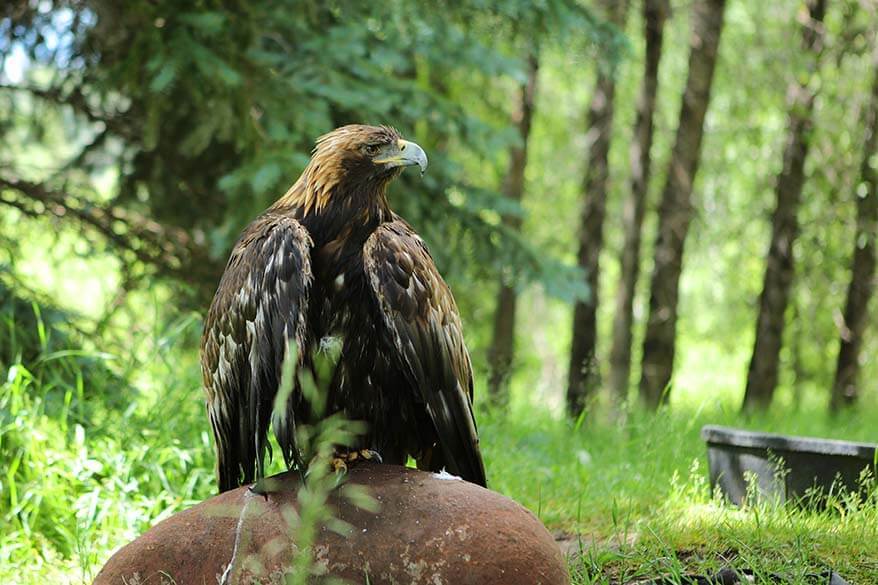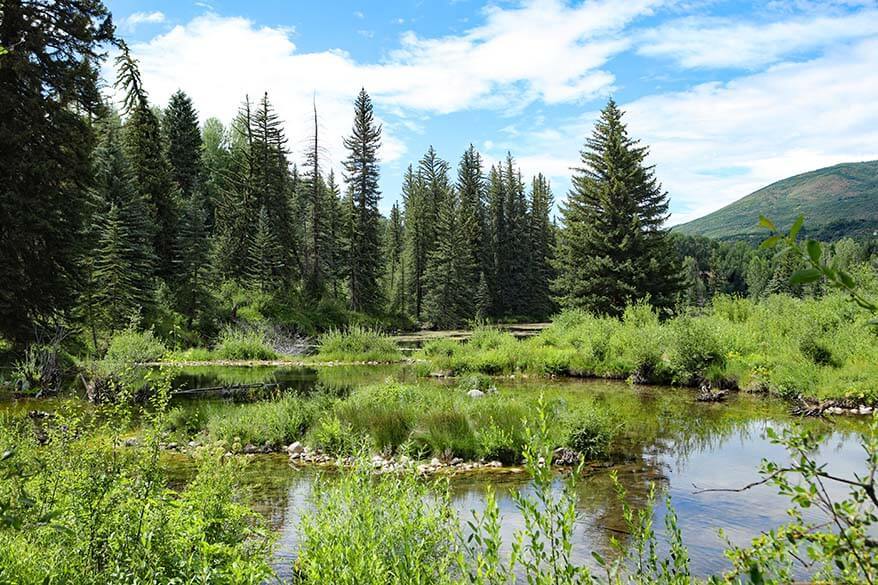 13. Wheeler Opera House
If you are in Aspen for a longer vacation, make sure to catch a show at the Wheeler Opera House. Located in the historic building dating from the end of the 19th, this is Aspen's community performance venue.
There are various events here throughout the year. Movies, theater performances, concerts, festivals, or lectures – there's always something going on at the Wheeler Opera House.
Practical information: For the events calendar and tickets, please check the official website. If you want to be sure to attend a specific performance, it's best to reserve your tickets in advance, before you arrive in Aspen.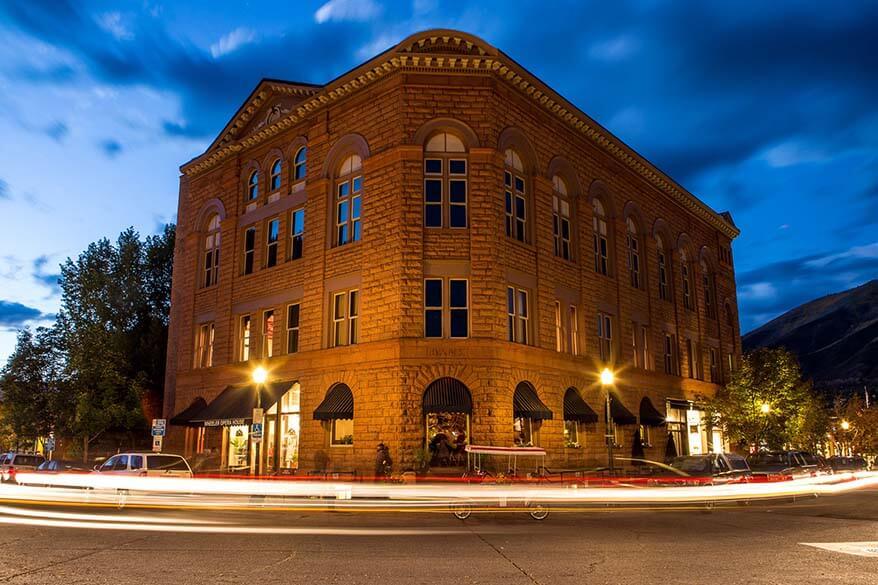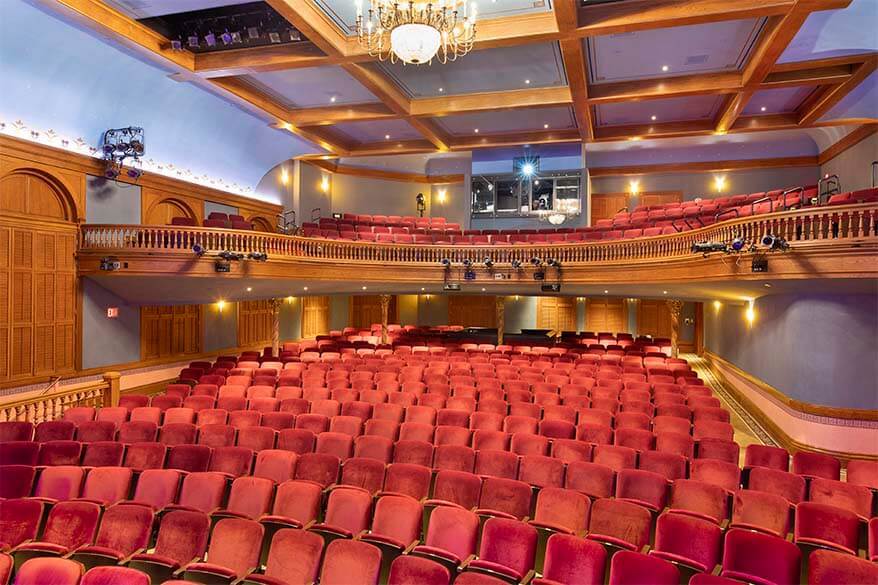 14. Shopping & Dining
No list of the best things to do in Aspen would be complete without mentioning the most simple pleasures, such as shopping and dining.
Aspen is known for its shopping and you'll find everything from the most luxurious, chic boutiques to sports stores selling outdoor wear. Whether you are looking for gifts, holiday souvenirs, haute couture ski clothing, or simply forgotten some of your ski apparel, you'll find it all in Aspen!
Aspen also has many nice restaurants, bars, and cafés. You'll find everything from chic eateries with top chefs to simple cafes and delis. If you'd like to try some local Aspen brew, head to Aspen Tap / Aspen Brewing Co. Or go for a casual dinner at The Red Onion, Aspen's oldest historic tavern established in 1892.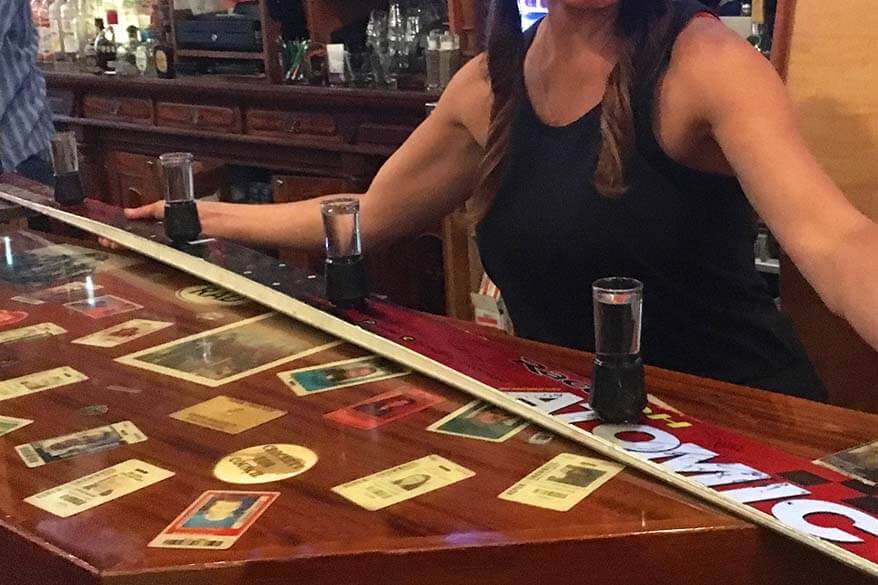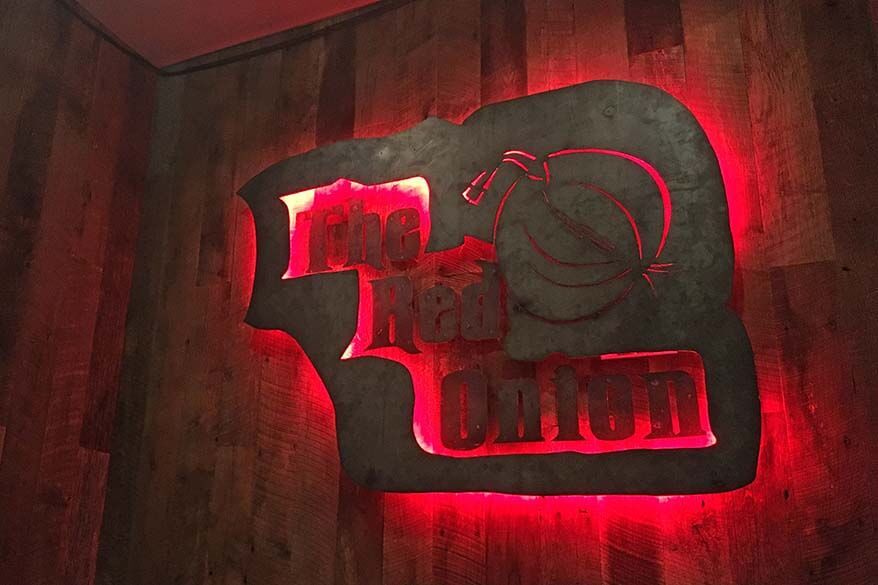 Where to Stay
There are many accommodation options and some very beautiful hotels in Aspen. In general, it's quite a pricey place to stay and definitely in the high ski season and during school holidays in summer. There are some really nice hotels in Aspen like the iconic Hotel Jerome or St. Regis Aspen Resort.
We were in Aspen for just a few nights and stayed at the Tyrolean Lodge. It's a rather simple and a bit quirky hotel that indeed looks a bit like mountain chalets in the Austrian Tyrol region. It's very centrally located within walking distance to everything in town, and it has big family rooms. For us, it was one of the best price-quality options for a short stay in Aspen.
TIP: Using the map below, you can compare hotels, B&Bs, and short-term rental accommodations in Aspen. Simply insert your travel dates and group size, and you'll see the best deals for your stay. Check it out!
Getting to Aspen & Getting Around
Depending on when you visit Aspen and what you are planning to do, you may or may not need a car here.
Aspen-Snowmass area has a very good FREE public bus system. That will save you money on car rental and trouble with looking for parking at the most popular places. So whether you need a car or not really depends on your personal preferences and what you are planning to see and do.
In winter, many people just fly to Denver and book an airport transfer from Denver to Aspen and back. For skiing itself, you don't really need a car and there are several free bus routes to bring you everywhere you need to be.
In summer – and definitely if you want to explore the area more – the best way to get around is by car. We rented a car upon arrival in Denver and we also visited Estes Park and Rocky Mountain National Park from Denver before heading to Aspen. Here you can find the best deals for car rental in Denver.
Here you can find our road trip itinerary that included Colorado, Utah, and Wyoming.
So, this is our guide to some of the best things to do in Aspen. If you've been to Aspen before and want to share any of your favorite local hikes or experiences, feel free to leave a comment below and let us know!
READ ALSO:
Rocky Mountain National Park Itinerary
Where to Stay near Rocky Mountain National Park
If you found this post useful, don't forget to bookmark it and share it with your friends. Are you on Pinterest? Pin these images!