Traveling to Colorado and thinking of visiting Rocky Mountain National Park from Denver? Even if you only have a day, you can see some of the most beautiful places by taking a day trip to Rocky Mountains from Denver! In this article, we show you how. Find out!
There are many ways to get to the Rocky Mountain National Park (RMNP) from Denver and there are countless choices of things to do once you get there. This itinerary is just one way to do it, based on our personal experience, and also on what is feasible when visiting Rocky Mountains on a day trip from Denver.
This 1-day itinerary starts in Denver, passes one of the most scenic roads in Colorado – Peak to Peak Highway, Estes Park, and brings you all the way to the heart of the Rocky Mountain National Park via the Trail Ridge Road. You then drive back to Denver via another scenic road – Big Thompson Canyon Road. We also include a short hike recommendation and tips for wildlife viewing for those who want to make the absolute most of their Rocky Mountains National Park day trip.
Good to know: To help you plan your self-drive day trip from Denver to Rocky Mountains, we also include a map showing all the places mentioned in this guide and the driving route. You can see the picture of the map right below and find an interactive map with all the details at the bottom of this article. This itinerary is designed as a loop starting and ending in Denver, but you can easily adapt it if you continue your trip to Grand Lake or other places. Take a look!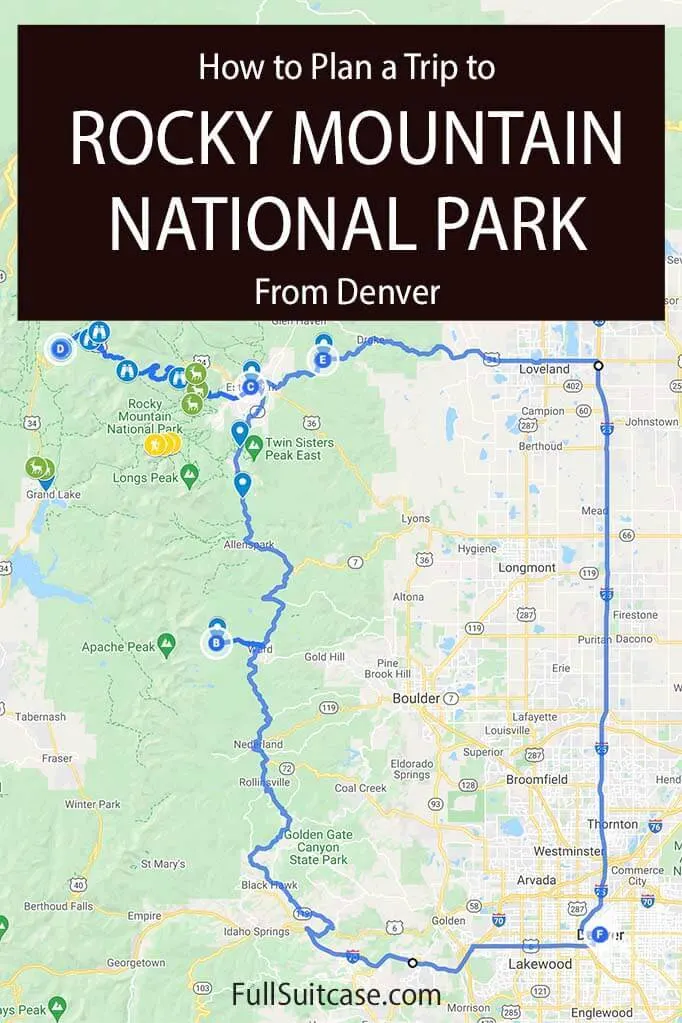 Good to know: You can visit Rocky Mountain National Park from Denver the whole year. However, Trail Ridge Road is only open in summer (+- June to November). But don't worry – if you are visiting outside the peak season, you can still see some amazing places and you have good chances of seeing wildlife. In addition, you can go for a winter hike if you like.
TIP: If you want to visit Rocky Mountain National Park from Denver, but don't want to drive or worry about planning, there are also several nice tours that visit this area for a day. See here the best options on Viator and on GetYourGuide.
If you want to see the highlights in an easy way, this is the best tour for you, whereas if you want to do some hiking, this is the best option.
If you are just looking to escape the city for a few hours, this is the most popular half-day tour that shows you some very nice scenery, but please note that it doesn't really visit the National Park itself.
Here's our suggested itinerary for your day trip from Denver to Rocky Mountain National Park:
Denver to Estes Park via Peak to Peak Highway
If you look at the map, you'll see that there are many ways to get from Denver to Estes Park. We recommend that you take the famous scenic Peak to Peak Highway. For that, take I-70 west of Denver, followed by State Highway 119 to Nederland, and from there – roads #72 and #7 to Estes Park.
The drive from Denver to Estes Park via Peak to Peak Hwy is about 95 miles, 2-2.5 hours without any stops. It's about 30 miles longer compared to the shortest route via Boulder and takes about an hour extra. So you may be wondering whether Peak to Peak scenic byway is worth it…
It really depends on what you are planning to do the rest of the day. If you are just planning to drive around and see some of the best scenery of the Rockies, then yes, Peak to Peak Hwy is definitely worth it. The drive on Colorado's oldest scenic byway is easy and the landscapes are stunning! If, however, you just want to get to the Rocky Mountain National Park from Denver as quickly as possible and beat the crowds for one of the hikes, then it's better to take the quickest route.
TIP: If you are visiting Colorado Rockies in the fall, Peak to Peak Hwy is a must! Golden aspen trees along this route make it one of the best places for fall foliage near Denver.
There are many nice places to see along the Peak to Peak Hwy, but if you have just a day in the Rockies, you won't have much time to explore here. Nevertheless, we recommend a few photo stops along this route – Brainard Lake, Saint Catherine's Chapel on the Rock, and Lily Lake.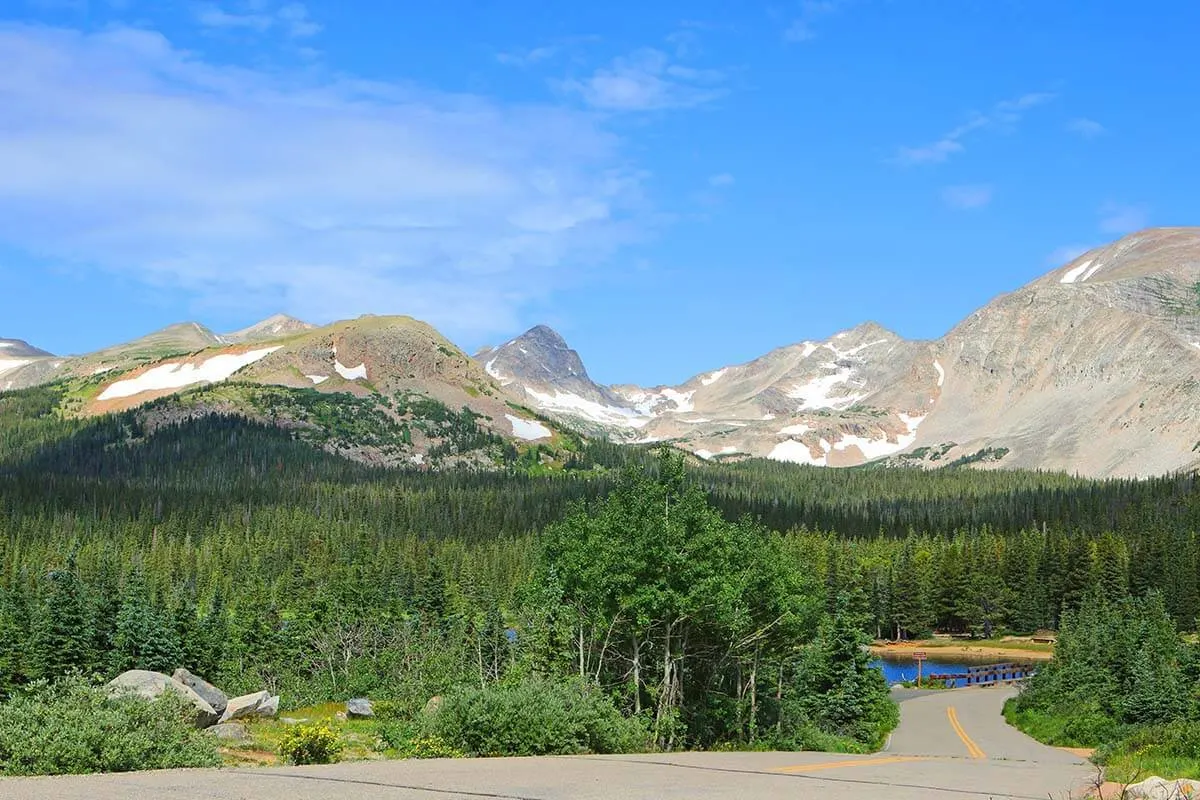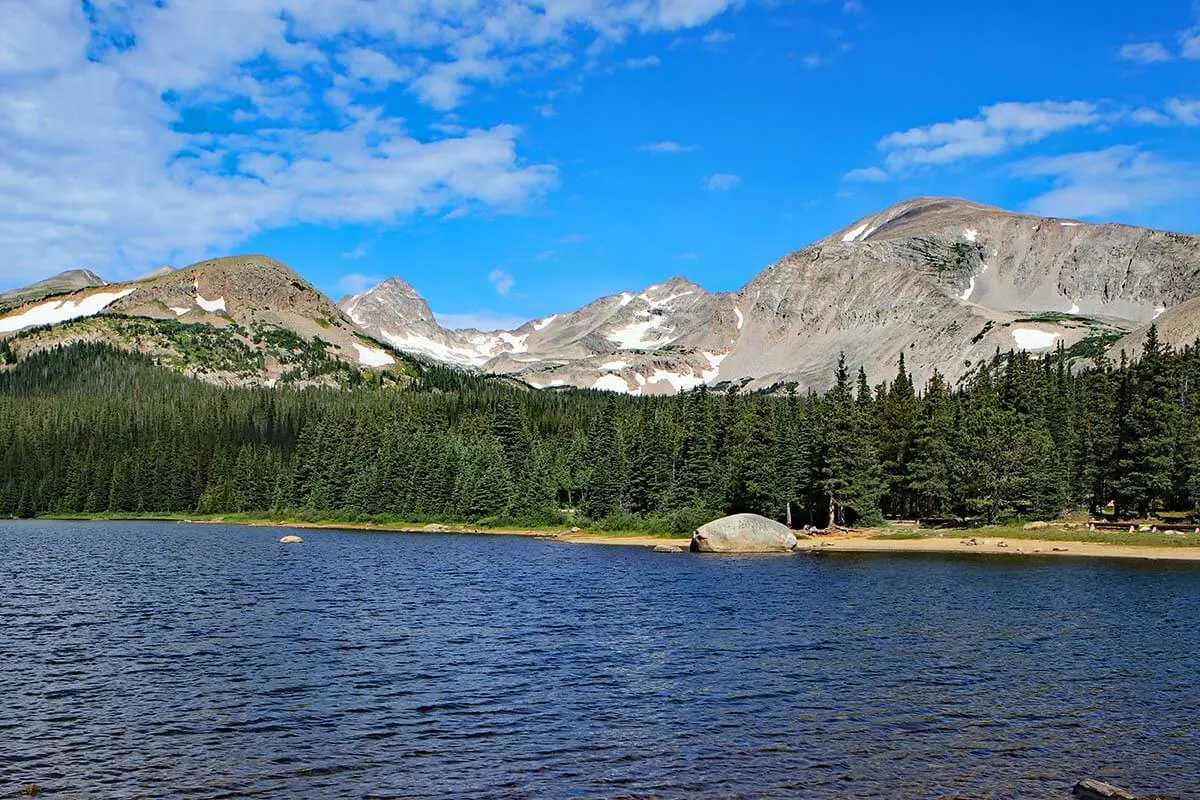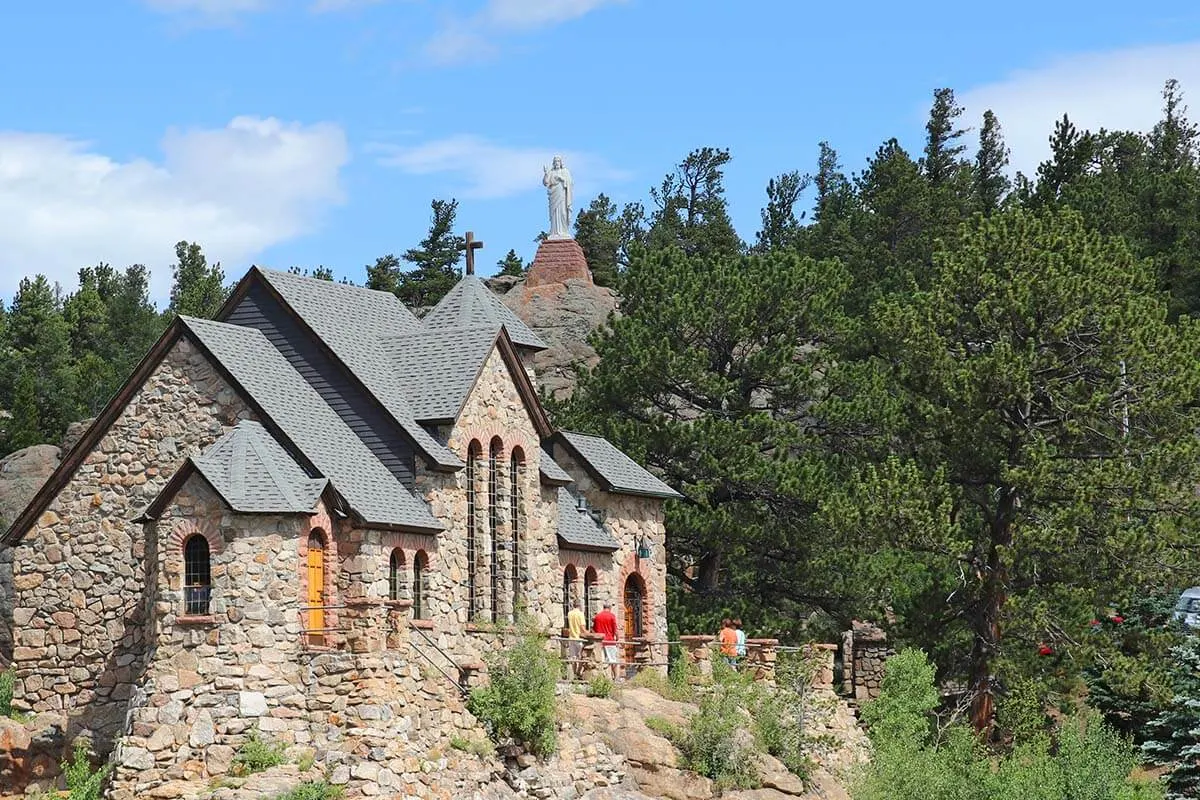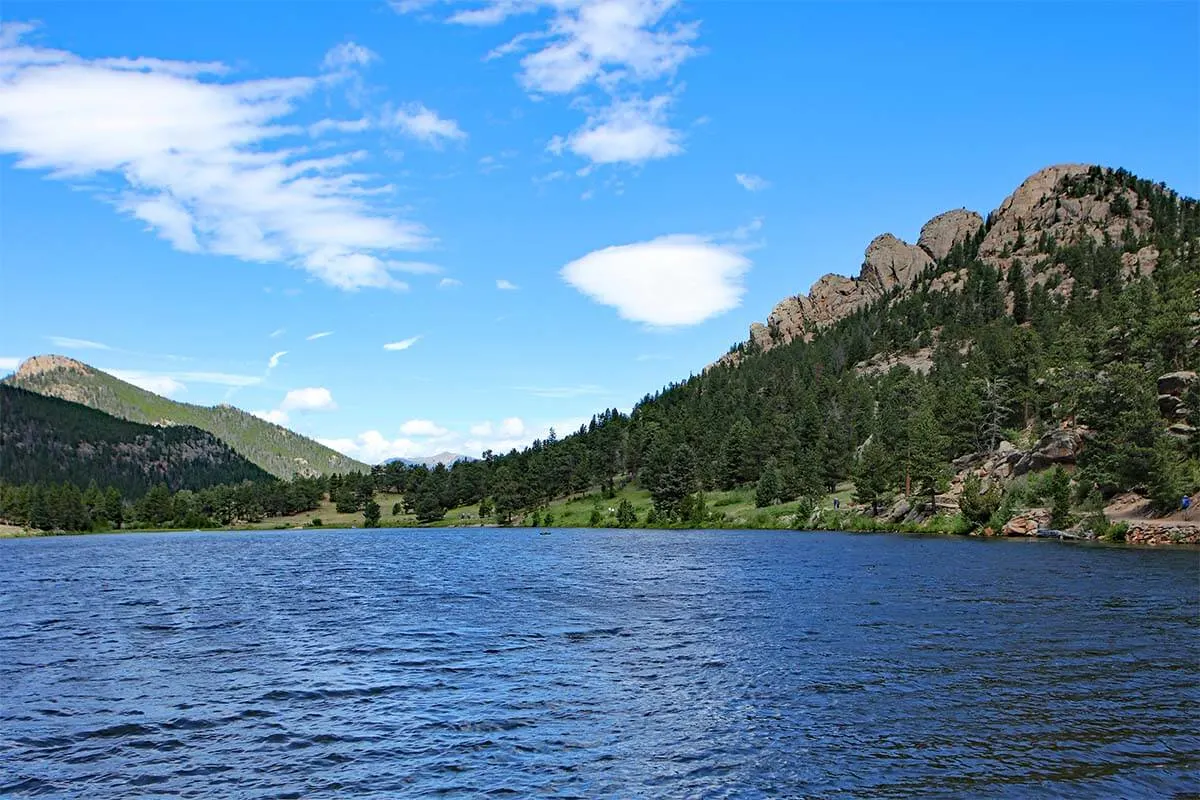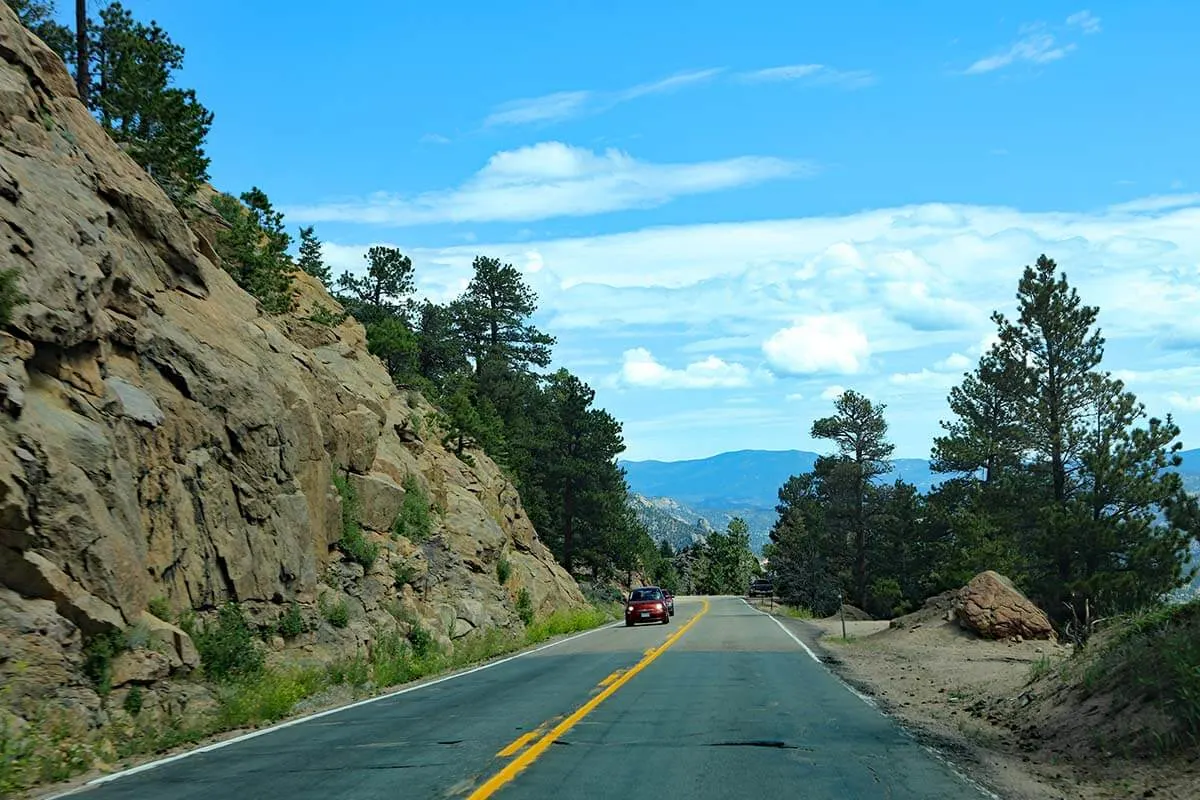 Estes Park
Estes Park, CO is the best place to stay for visiting Rocky Mountain National Park. It's a beautiful mountain resort with many hotels, restaurants, shops, and any facilities you may need. There are also nice lakes here and some really unique scenery close to town.
If you are driving back to Denver on the same day, you could head to Rocky Mountain National Park first and visit Estes Park on your way back. But if you continue your trip further to Grand Lake, then you may want to make a quick stop in the town center. Estes Park is a good place to get some coffee or grab something to eat on your way, but – with just a day in the area – I wouldn't linger here too long.
TIP: If you are traveling in the fall, winter, or spring Estes Park is a great place to see elk. Animals come to graze at lower elevations and you can often see them in town as well, especially in the coldest months.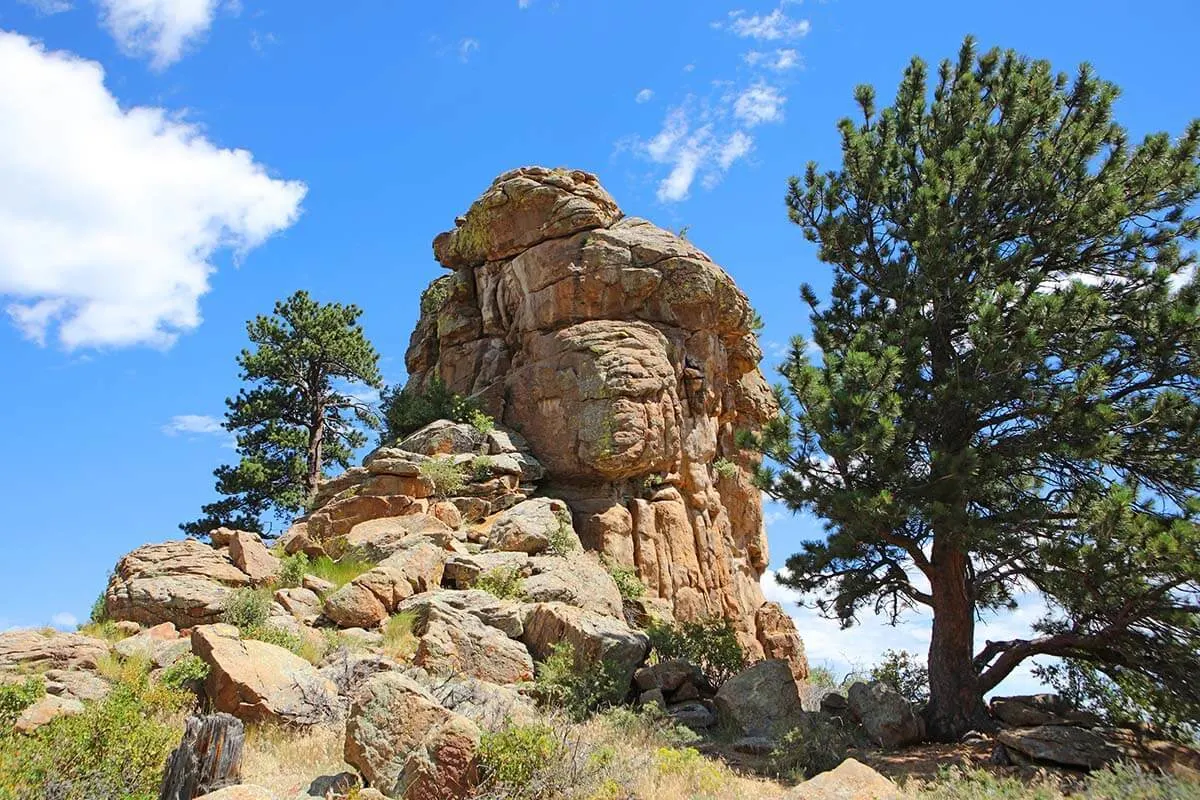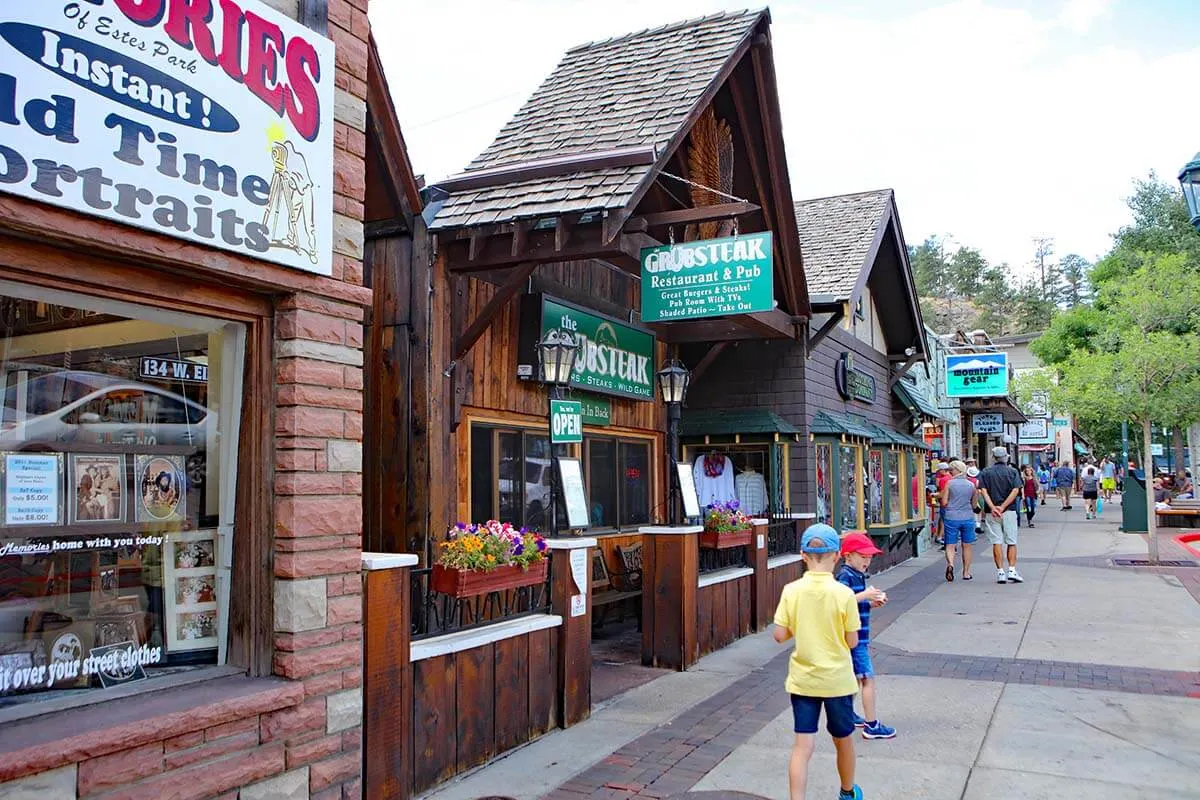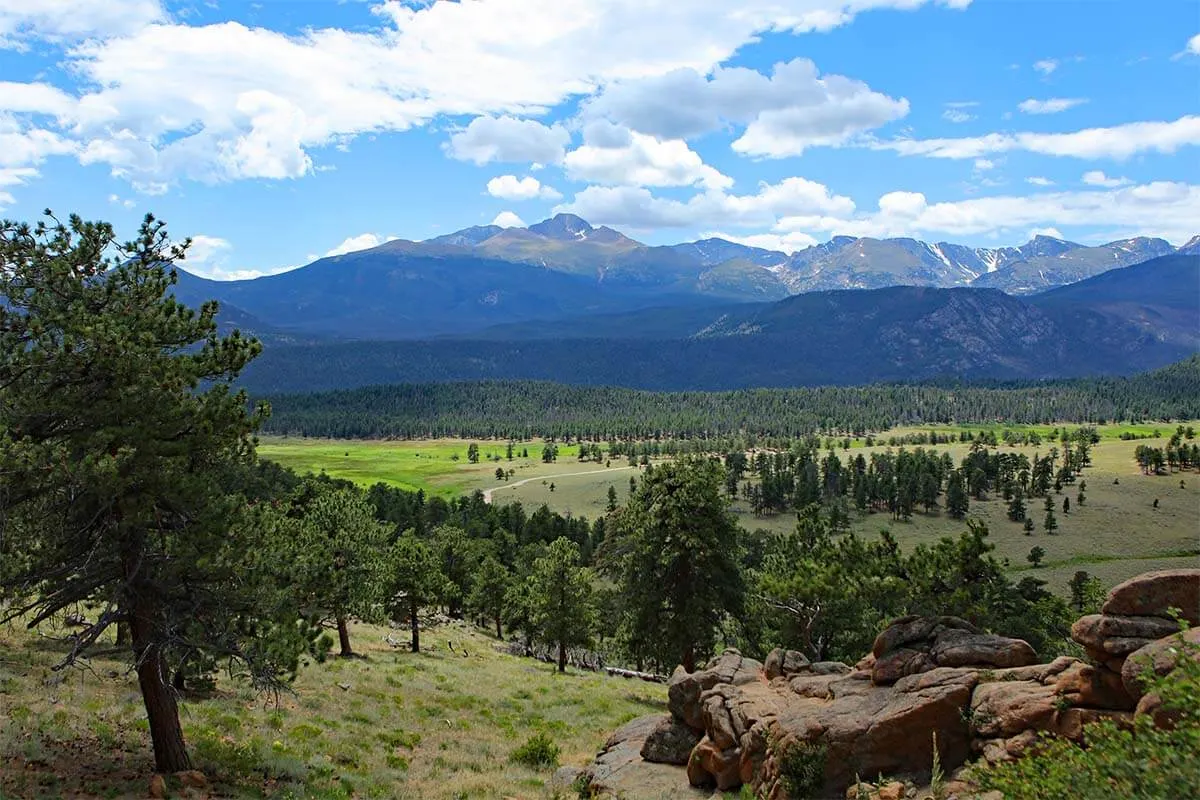 Hiking at Bear Lake Area
Enter Rocky Mountain National Park via the Park Entrance Road at Beaver Meadows area. Keep in mind that in the high season the park works with the timed-entry reservation system.
Even if you are just visiting Rocky Mountains from Denver for a day, you could do one nice hike. One of the best areas for hiking in RMNP is the Bear Lake area. The walk around Bear Lake itself is easy and short, but if you already go through all the trouble to get there, we recommend taking one of the longer hikes. As a minimum, hike to Dream Lake – it's one of the best short hikes in the Rocky Mountain National Park.
Dream Lake is about 1 mile/ 30 min walk from the car parking at the Bear Lake trailhead, with about 450 ft elevation gain. If you come back the same way, it's about 2 miles in total, plus you may want to walk around Bear Lake (add about 0.7 miles). All in all, this shouldn't take you longer than 1.5 – 2 hours.
TIP: If you are fit, we recommend that you continue past Dream Lake and hike to Emerald Lake, about 0.5 miles/ 15-20 minutes further. With just a day in the Rocky Mountain National Park, this is one of the best hikes you could do. Emerald Lake hike (passing Bear Lake and Dream Lake) is about 3.5 miles in total and takes 2-3 hours depending on your hiking speed and the number of photo stops.
Important! If you are visiting in the peak season and want to go hiking in the Bear Lake area, you'll likely have to leave your car at the Glacier Basin Park & Ride parking area and take a free shuttle further. This is the most popular place for hiking in the park and the only way to avoid the crowds would be to arrive around sunrise…
Good to know: You can go hiking in this area in winter as well. For that, you may need snowshoes, or – as a minimum – good waterproof hiking boots and hiking poles.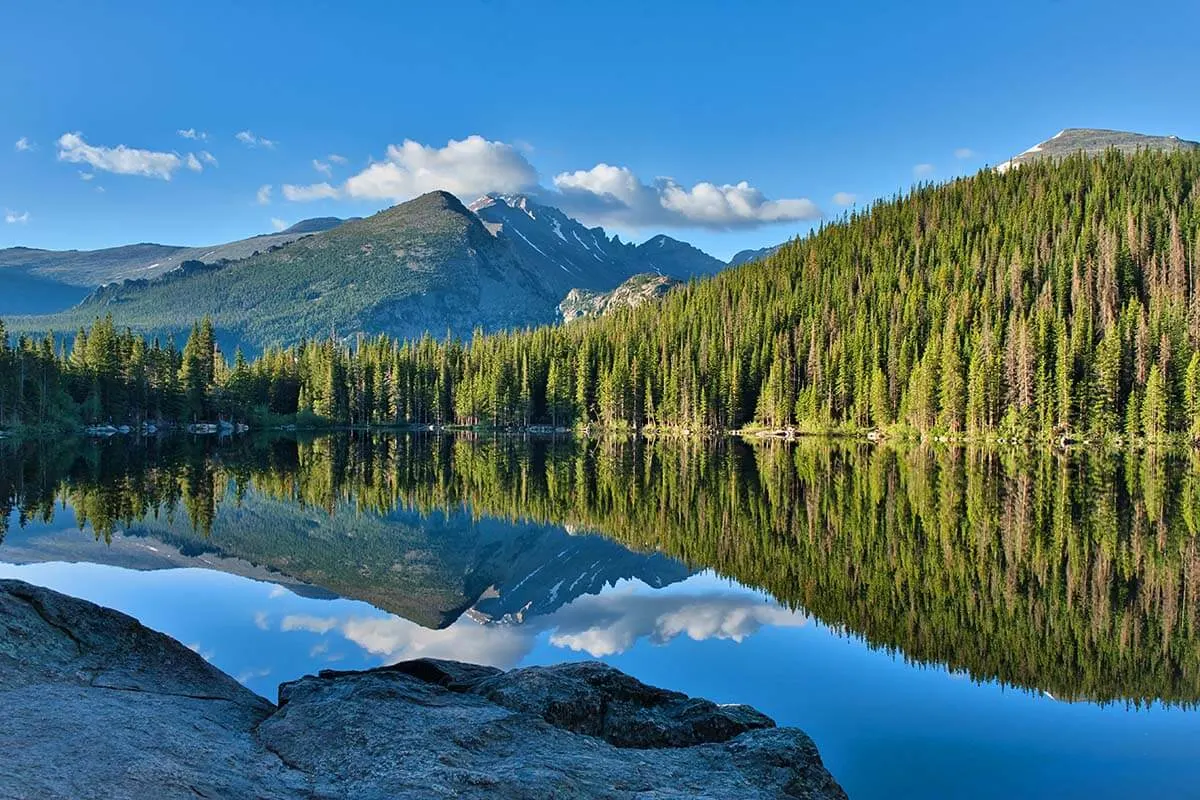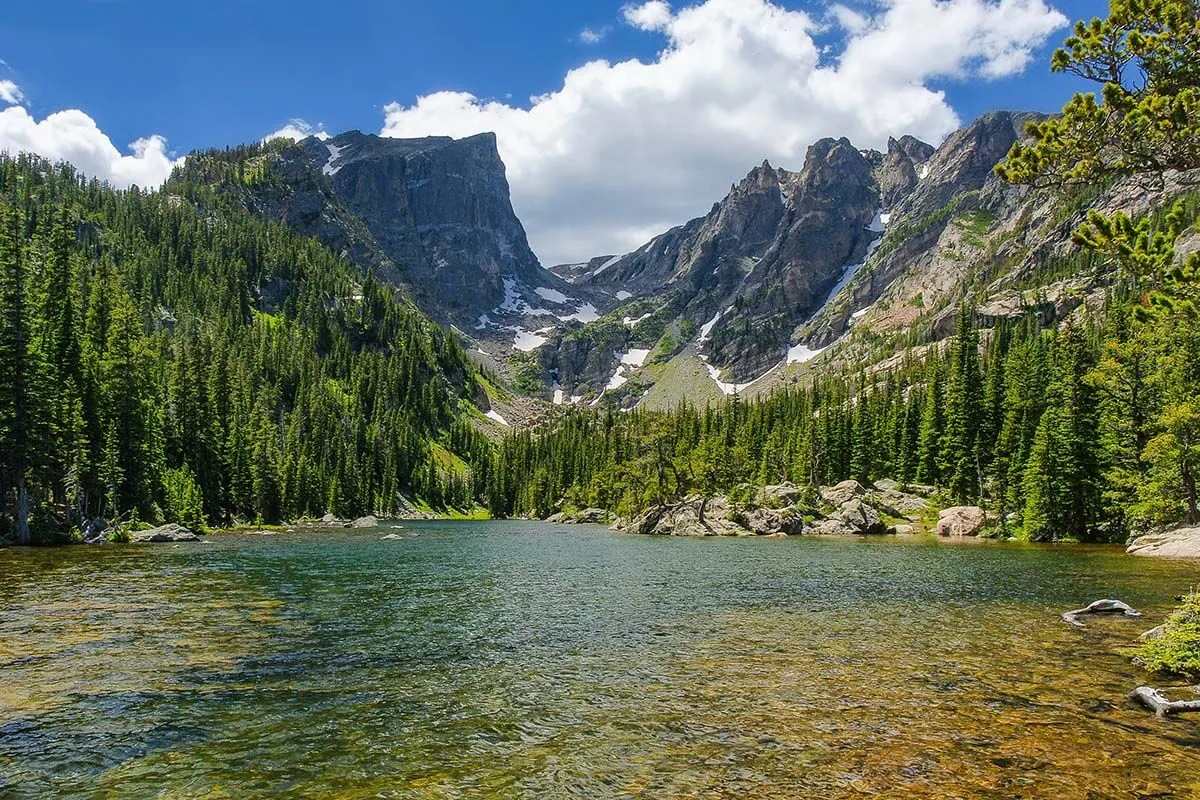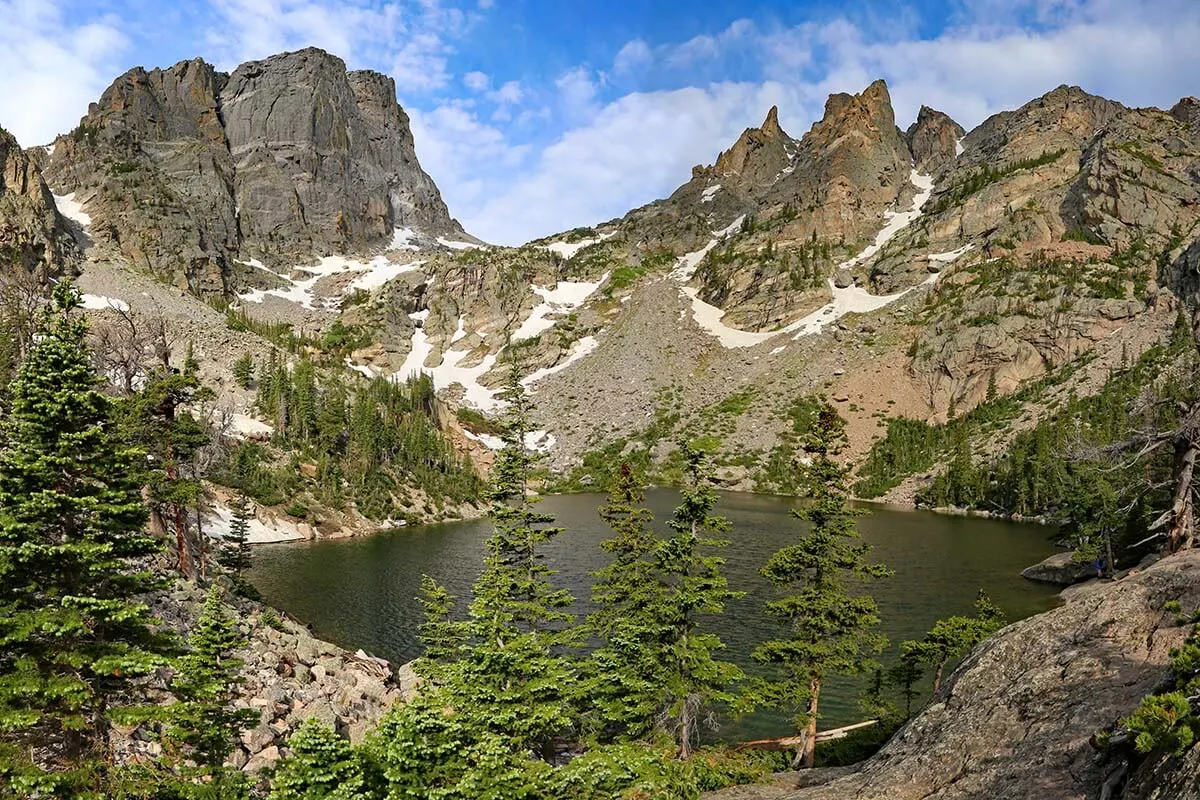 Trail Ridge Road
Trail Ridge Road is a must-see if visiting Rocky Mountain National Park in summer or early fall! It's the highest paved road in any national park in the U.S. and takes you well above the treeline to altitudes of 11-12,000 feet! The views on a clear day are amazing!
Built in the 1930s, Trail Ridge Road stretches for about 48 miles between Estes Park in the east and Grand Lake in the west. It takes about 1.5 hours to drive the entire road in one direction, without any stops.
But on a day trip from Denver (and if going back to Denver), we suggest that you only do part of the road – up to the Alpine Visitor Center or a bit further to Continental Divide at Milner Pass. This stretch is very scenic and takes about 1 hour (stops not included).
The best stops along Trail Ridge Road are: Many Parks Curve Overlook, Rainbow Curve Overlook, Forest Canyon Overlook, Gore Range Overlook, Alpine Visitor Center, and Continental Divide.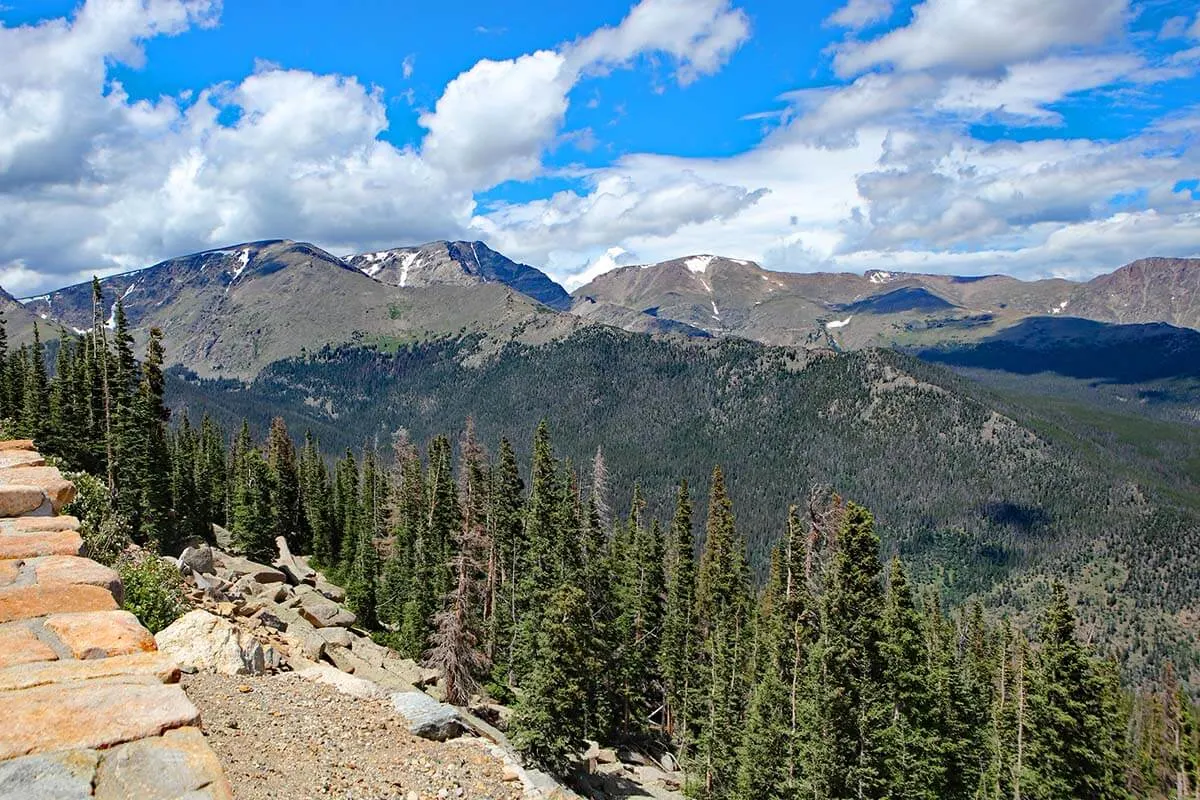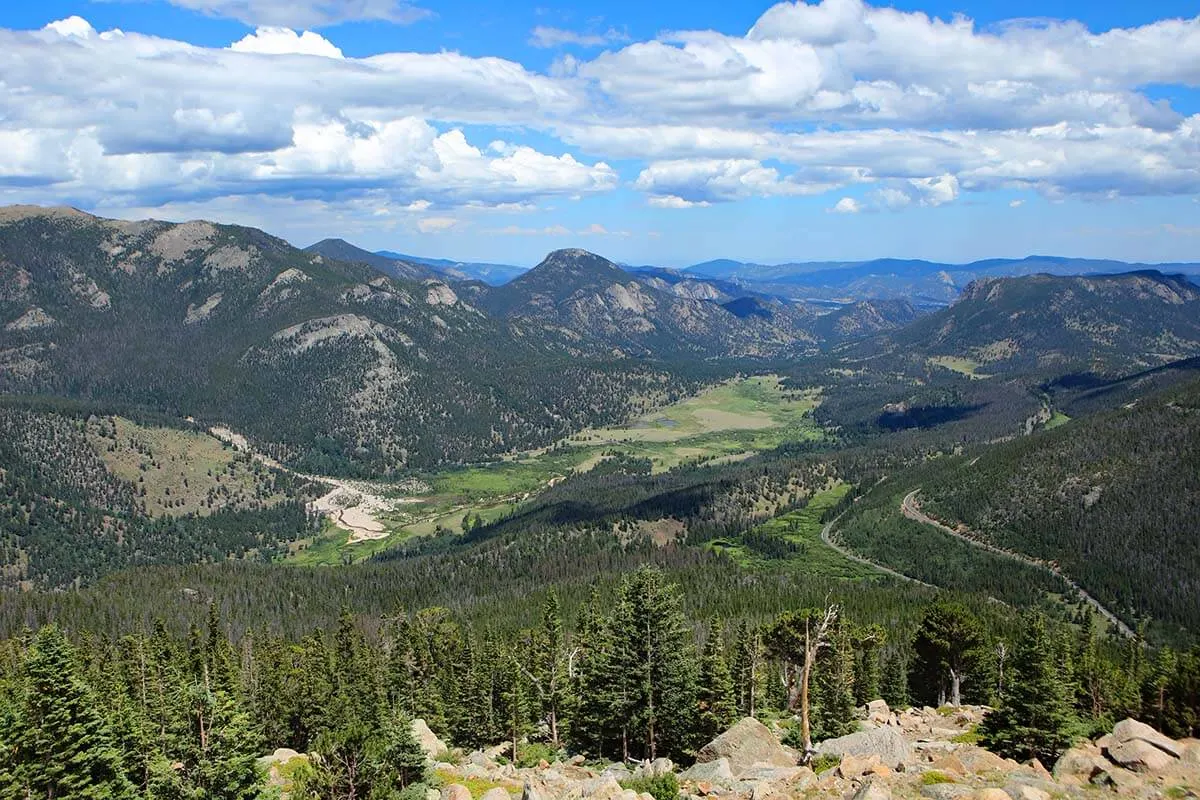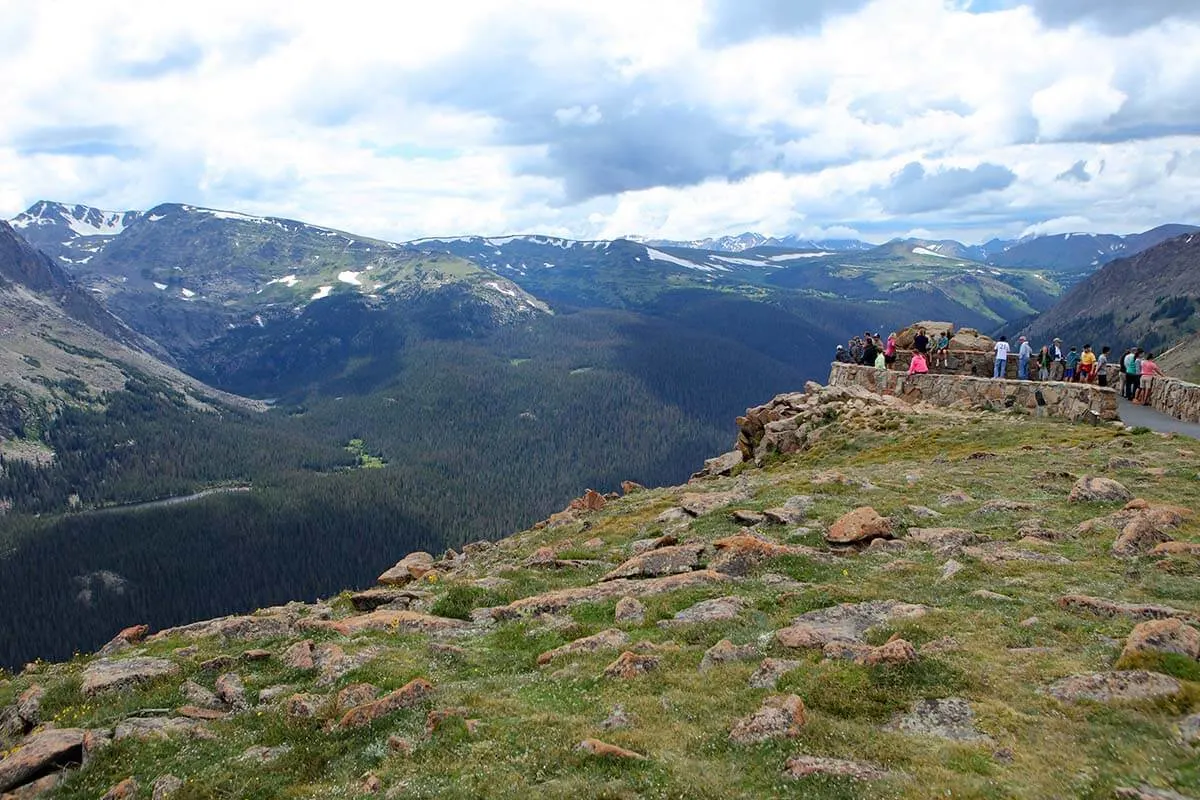 At the Alpine Visitor Center, you can also take a short walk on the Alpine Ridge Trail to the nearby peak at 12,005 feet.
The hike is short, but you'll quickly be out of breath at this altitude, so take it easy and carry plenty of water!
Good to know: Count about 2.5-3 hours for Trail Ridge Road and the best stops. Also, even in the warmest summer months, you'll likely find snow along Trail Ridge Road. It's also colder here, so be sure to pack a sweater (and maybe also a light jacket), even if it's hot when leaving Denver.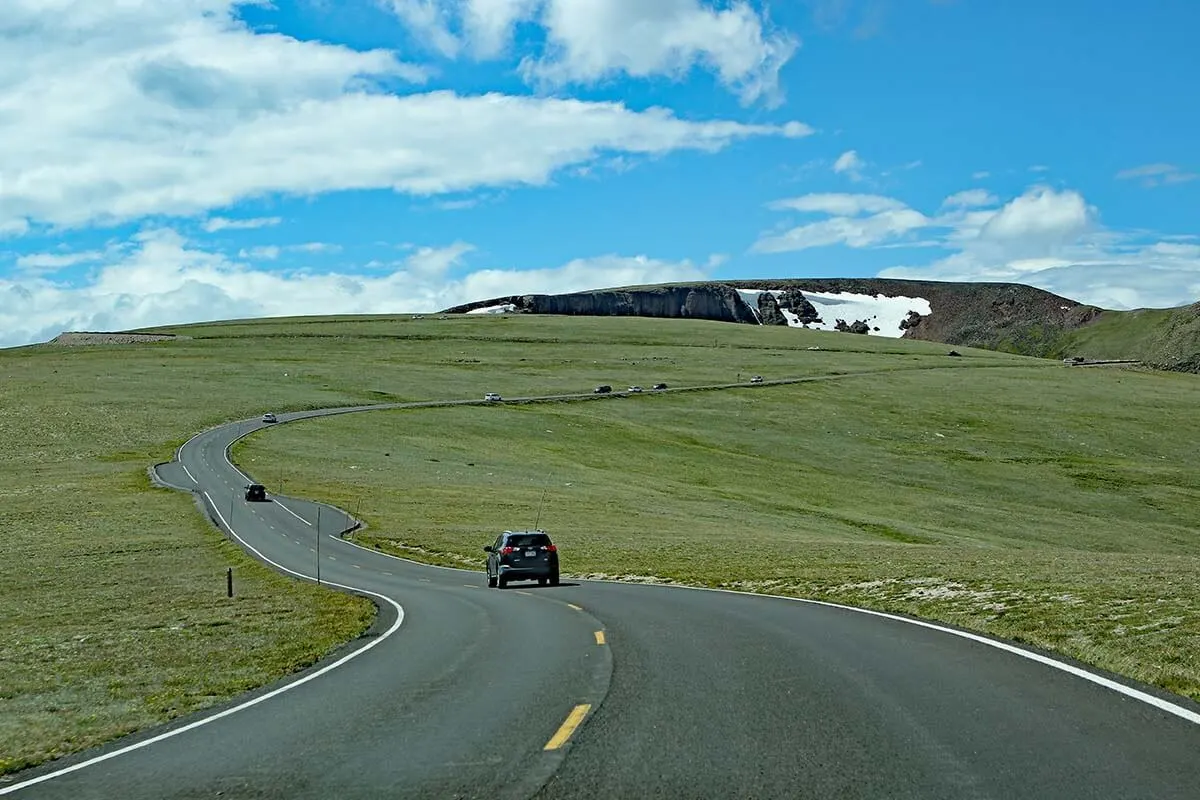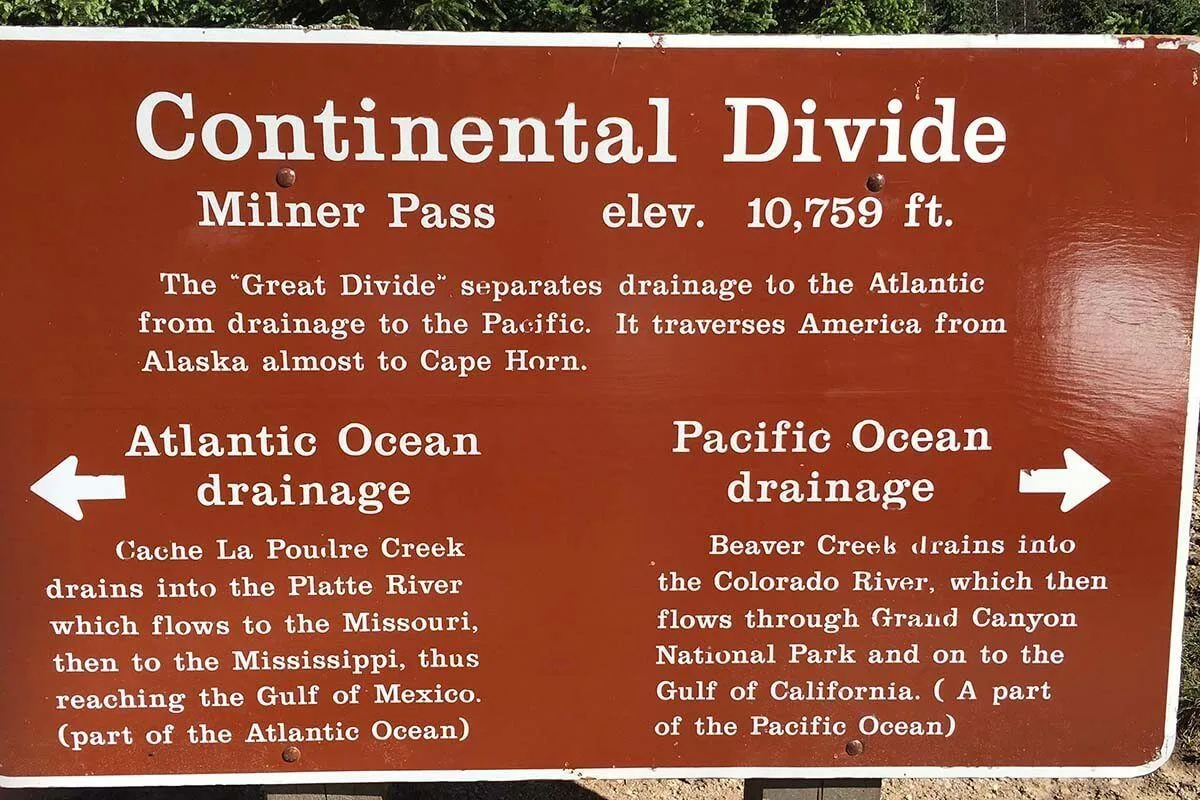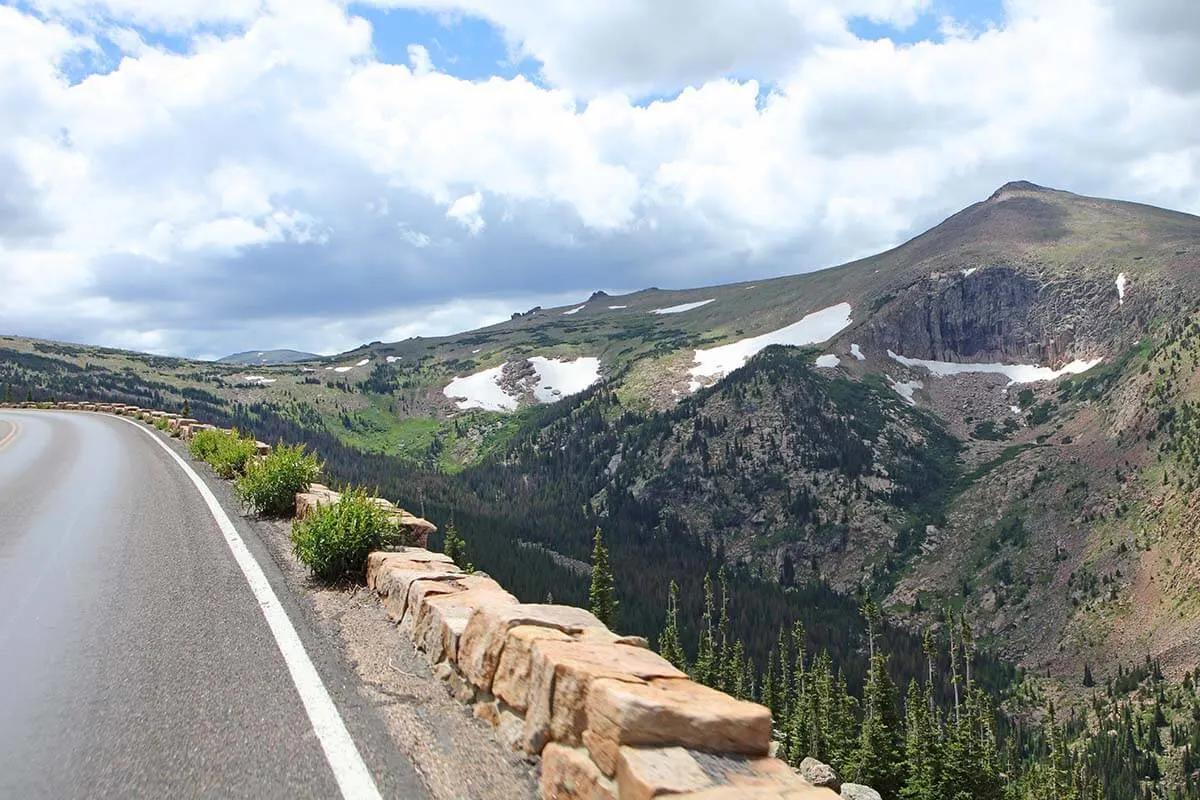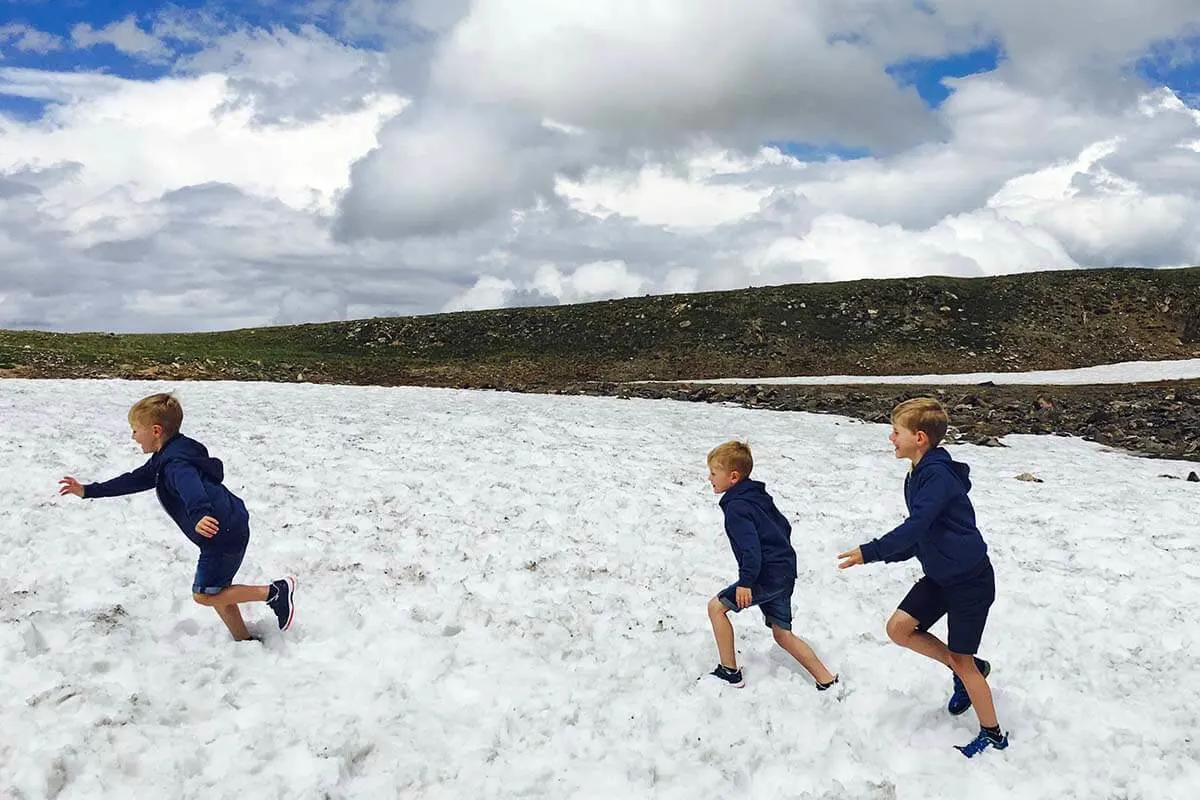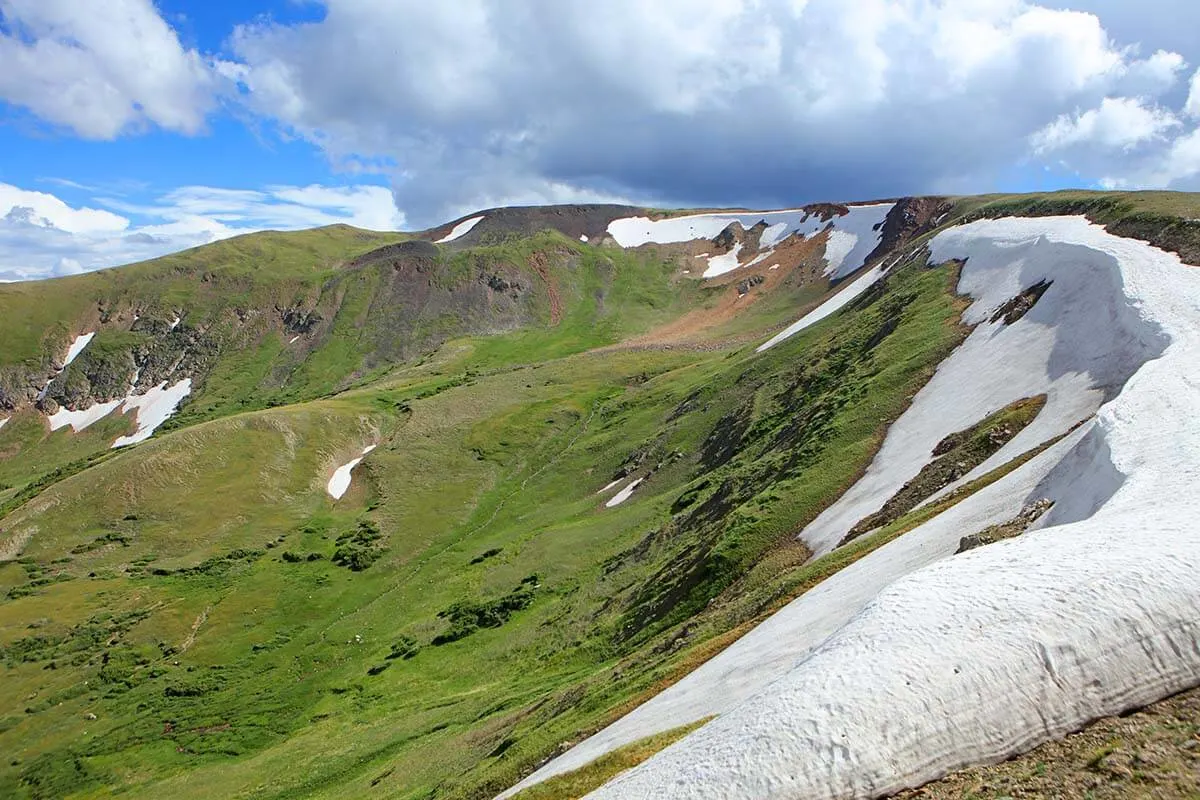 Wildlife
Rocky Mountain National Park is home to a big variety of wildlife. Seeing bears on a day trip is unlikely, but you might get lucky to see bighorn sheep, elk, moose, and also lots of smaller animals such as marmots, squirrels, or chipmunks.
The best time to see wildlife is around sunrise or before sunset. On your way back to Estes Park, you could check out a few areas that are known for wildlife viewing: Moraine Park, Horseshoe Park, or Upper Beaver Meadows (see our map below for the location). If you are visiting in the fall, you're almost guaranteed to see elk here.
TIP: If you are not driving back to Estes Park/ Denver, but continuing your trip to Grand Lake, check out Harbison Meadow and the Kawuneeche Valley on the western side of the park. We saw moose and lots of elk here on our last trip to the area.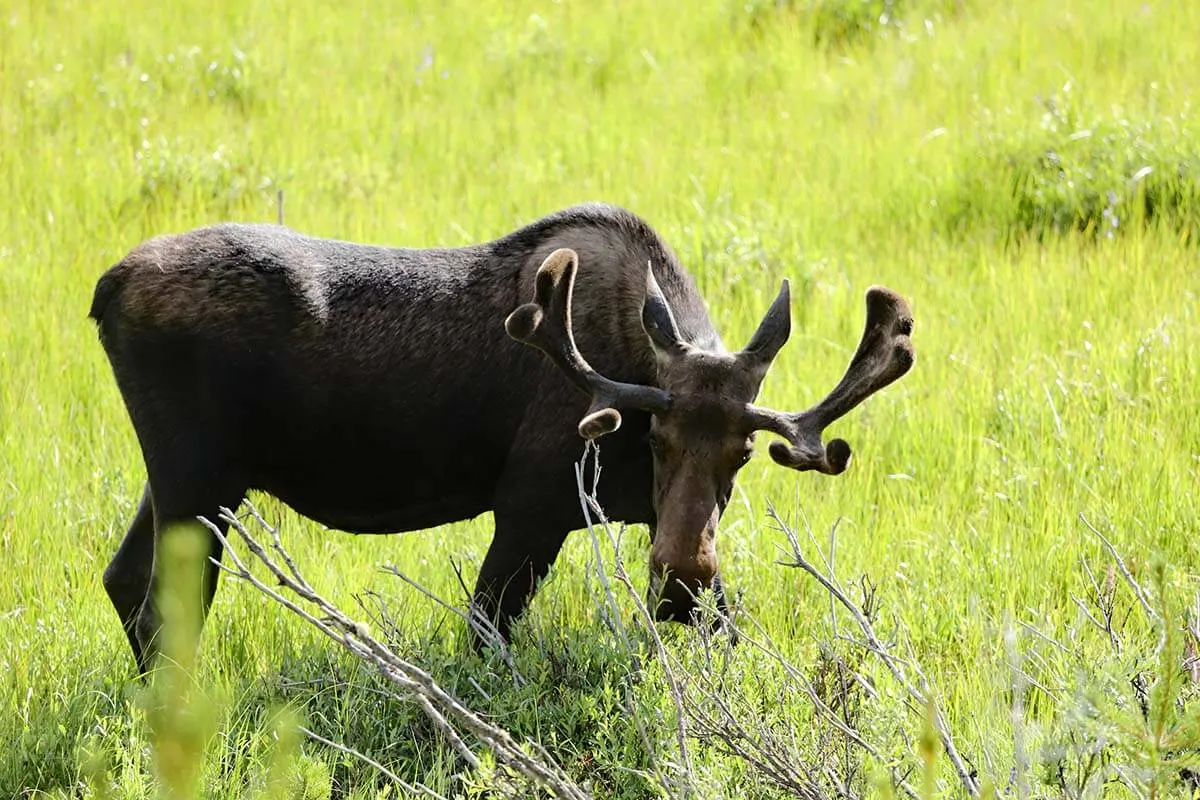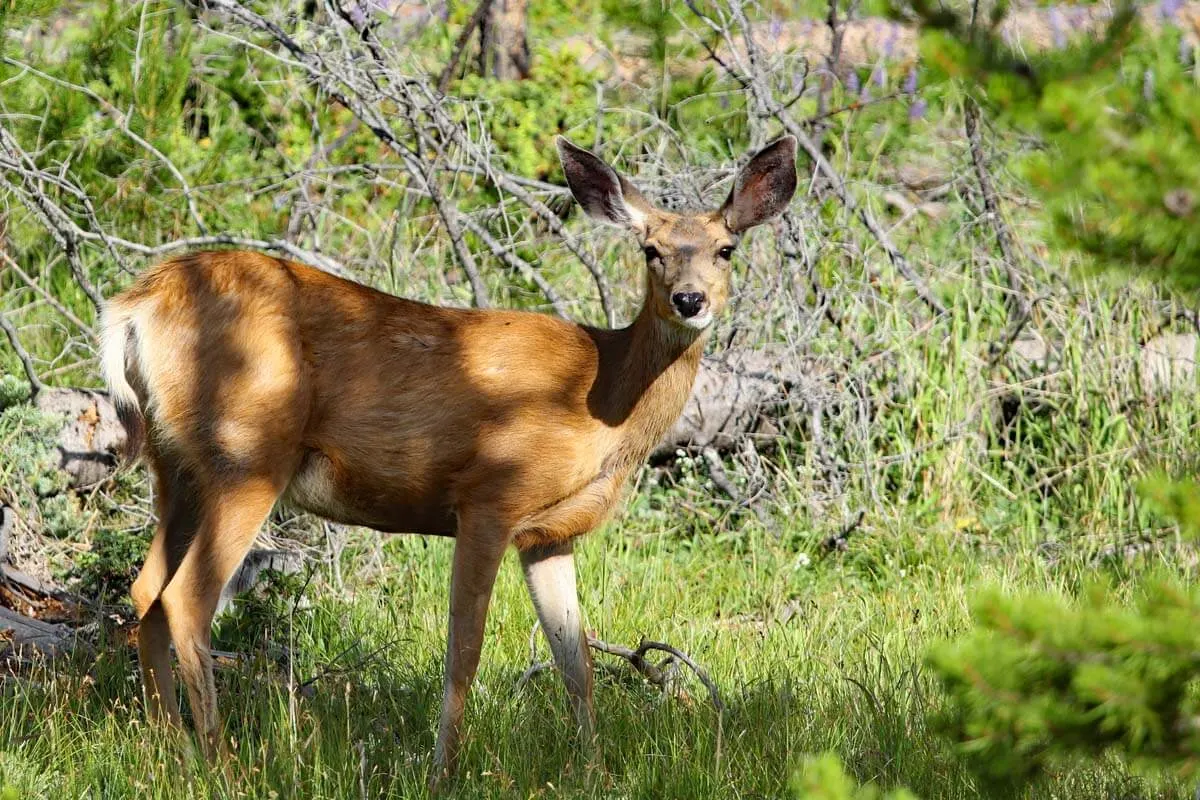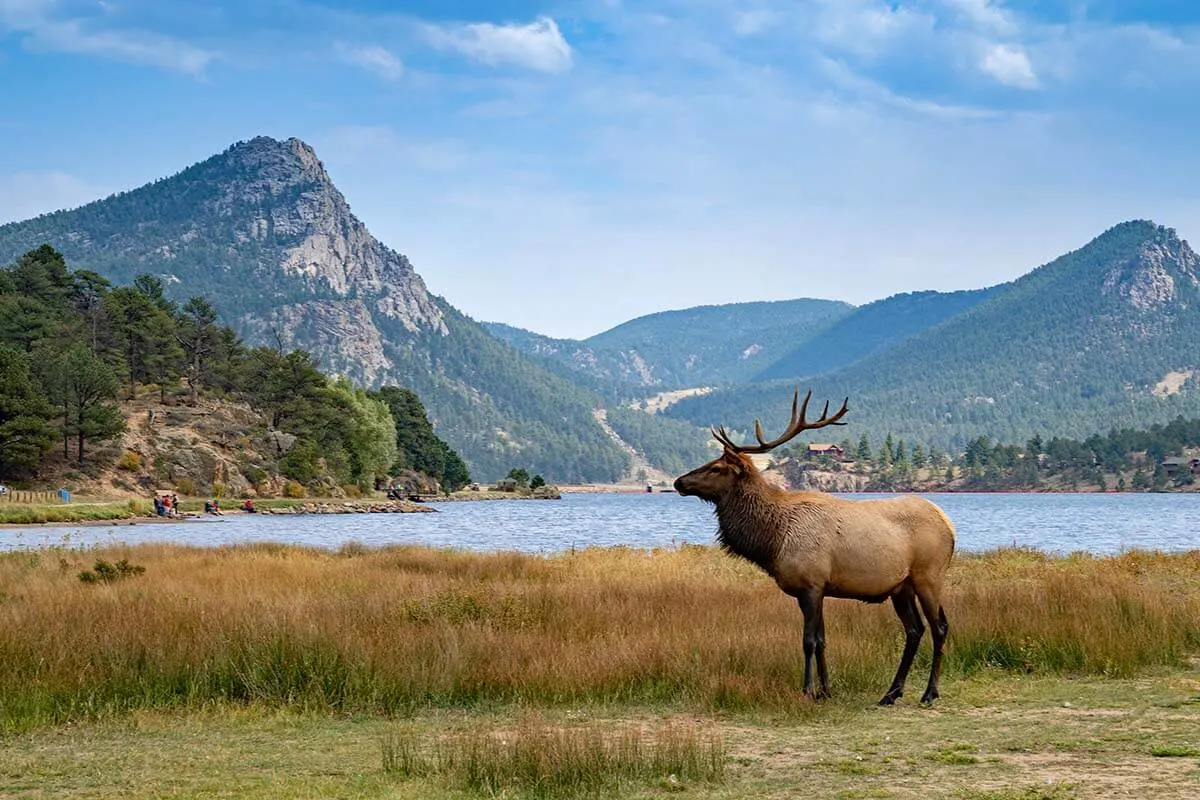 Big Thompson Canyon Road
After visiting Rocky Mountain National Park, leave via Fall River Visitor Center and continue to Estes Park. It's a nice place to stop for dinner, or you can continue back to Denver.
One of the most beautiful drives from Estes Park to Denver is Hwy 34 via Loveland, aka the Big Thompson Canyon Road. It follows the Big Thompson River with the most spectacular canyon walls all around you. The drive is so beautiful that you'll want to take pictures behind every corner. However, it's difficult to find a safe spot for a photo stop along this road, so just enjoy the scenery around you.
And yes, just as the Peak to Peak highway, Big Thompson Canyon Road is a small detour when driving between Estes Park and Denver, but it's well worth it! The distance between Estes Park to Denver via Hwy 34 is about 80 miles and takes about 1.5-2 hours.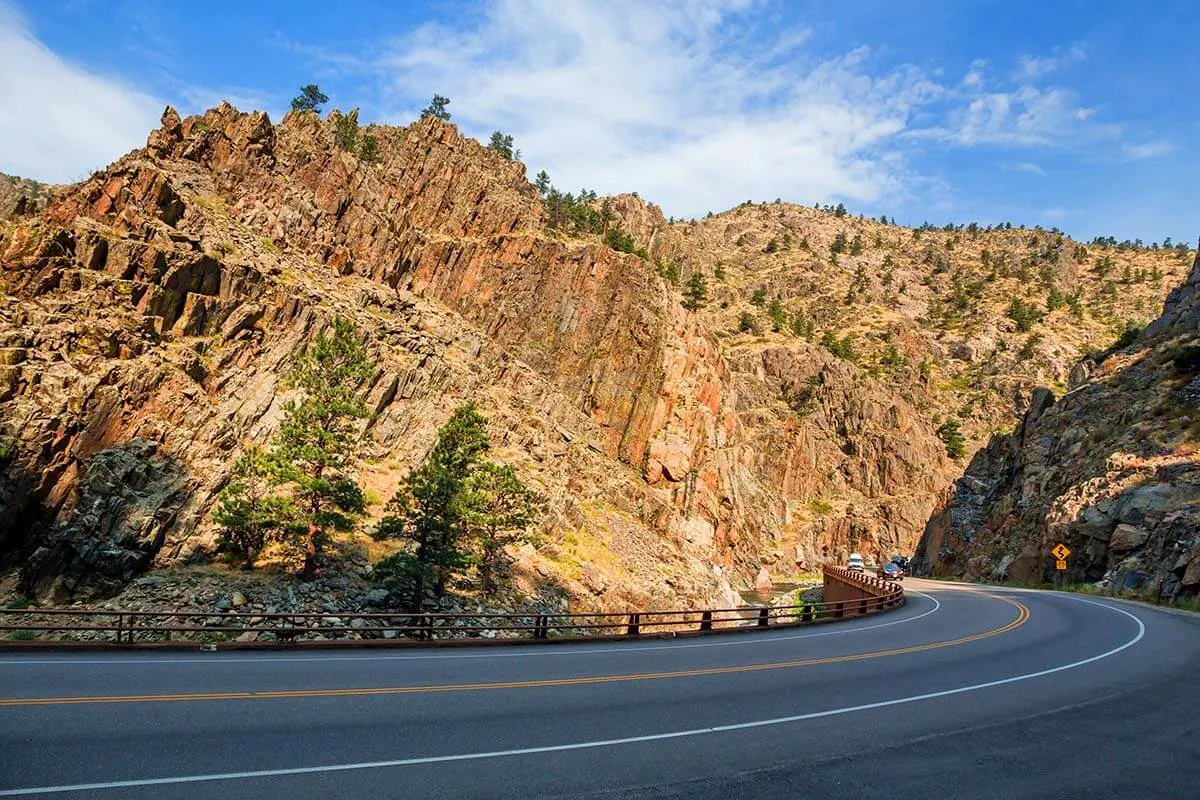 Denver to Rocky Mountain NP road trip overview
This is what your Rocky Mountain National Park day trip from Denver could look like:
Leave Denver early in the morning
Peak to Peak Hwy to Estes Park
Hike at Bear Lake area (optional)
Trail Ridge Road (+-June – November only)
Wildlife viewing
Big Thompson Canyon
Back to Denver
Off-season trip: If you are visiting Rocky Mountain National Park between November and June when the Trail Ridge is closed, you could definitely do one of the short hikes described above and also spend more time looking for wildlife. Fall and winter are particularly good seasons for that at lower elevations close to Estes Park. Also, be sure to check if all the other roads you are planning to take are open.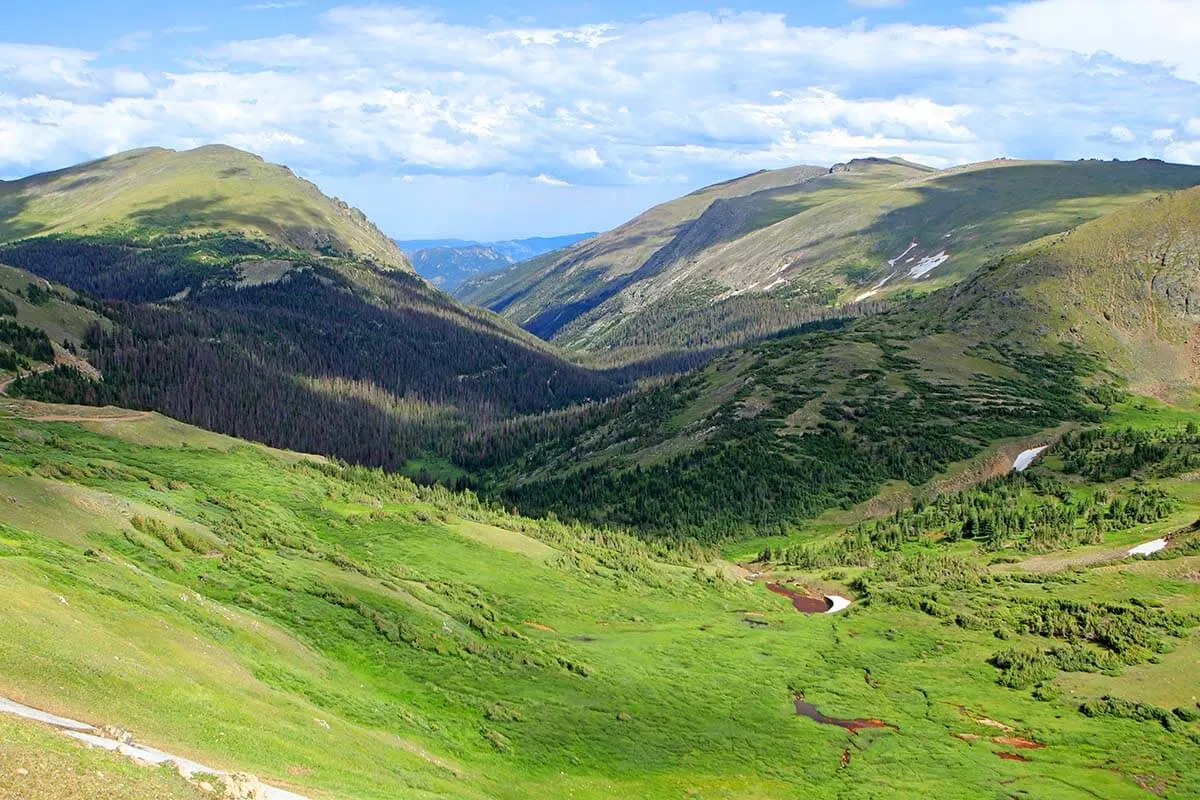 Map of this Denver – RMNP day trip
Below is a map indicating all the places mentioned above and an approximate driving route if you follow all our suggestions.
TIP: If you would like to make this trip a bit shorter (or get to RMNP faster in the morning), you could take the shortest road via Boulder on your way to RMNP from Denver.
How to use this map: Use your computer mouse (or fingers) to zoom in or out. Click on the icons to get more information about each place. Click the arrow on the top left corner for the index. Click the star next to the map's title to add it to your Google Maps account. To view the saved map on your smartphone or PC, open Google Maps, click the menu and go to 'Your Places'/'Maps'. If you want to print the map or see it in a bigger window, click on 'View larger map' in the top right corner.
Practical Info & Tips
Just as all national parks, visiting Rocky Mountain NP requires a pass. You can get it at the park entrance, or – if you have an annual America the Beautiful Pass – it's also valid here.
Rocky Mountain NP is one of the most visited National Parks in America, and the majority of visitors come between June and October. So it's important to plan well and check the official website for reservations or any other important info. If you are planning to hike, be sure to arrive at the park as early as possible.
While you can visit the park from Denver for a day, you would enjoy your trip more if you spend at least one night in Estes Park (see Estes Park lodging suggestions). This would allow you to get an early start at the Bear Lake trailhead. Also, the Rocky Mountains often get afternoon storms in summer, so it's best to go hiking in the morning.
As already mentioned, there's a big altitude difference when coming to Rocky Mountain National Park from Denver. Not only will you need somewhat warmer clothes for the highest areas of the park, but you may also encounter some physical difficulties because of such a sudden change in elevation. Take it easy when hiking and be sure to drink plenty of water.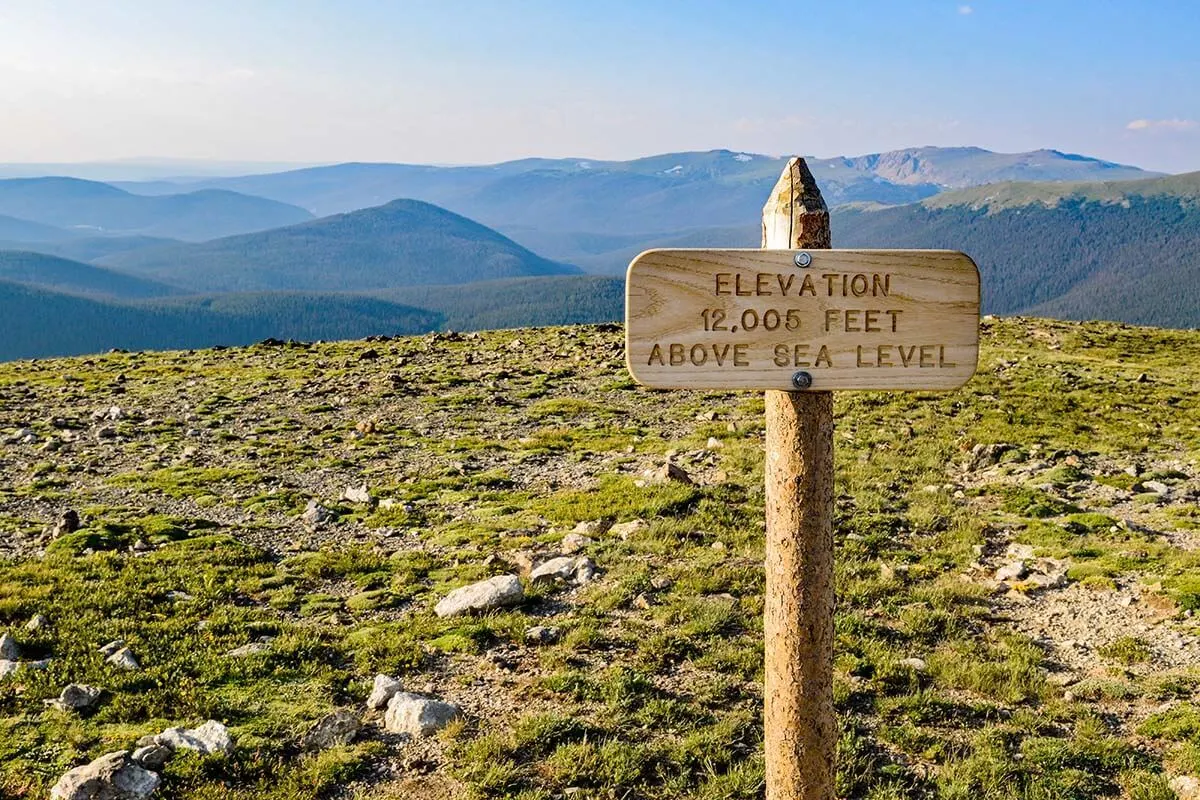 You can rent a car in Denver and easily visit Rocky Mountain NP on a self-drive trip. However, if you are planning to spend the rest of your time in the city, it might not be worth all the hassle of renting a car for just a day. In that case, it might be easier to take a day tour. We already mentioned several of the best options for tours from Denver to Rocky Mountain National Park higher above and you can find some of the best tours on Viator.
If you can, plan on spending more than just a day in Rocky Mountain National Park. There's so much to see and do! Here you can find Rocky Mountain itinerary suggestions for any trip from 1 to 5 days. Check it out!
Road trip tip: On one of the recent summer road trips to Colorado we only visited Rocky Mountain National Park for a day en-route between Denver and Aspen, via Grand Lake. To make the most of our day, we stayed in Golden, west of Denver, and started very early in the morning. We then spent the next night in Grand Lake. This gave us plenty of time to see the main highlights in RMNP, pretty much as described in this itinerary.
If you enjoyed this article and are looking for more inspiration for the most beautiful nature destinations in the United States, check out our other guides as well:
More travel inspiration for Colorado:
National Parks Travel Inspiration:
If you found this post useful, don't forget to bookmark it and share it with your friends. Are you on Pinterest? Pin these images!