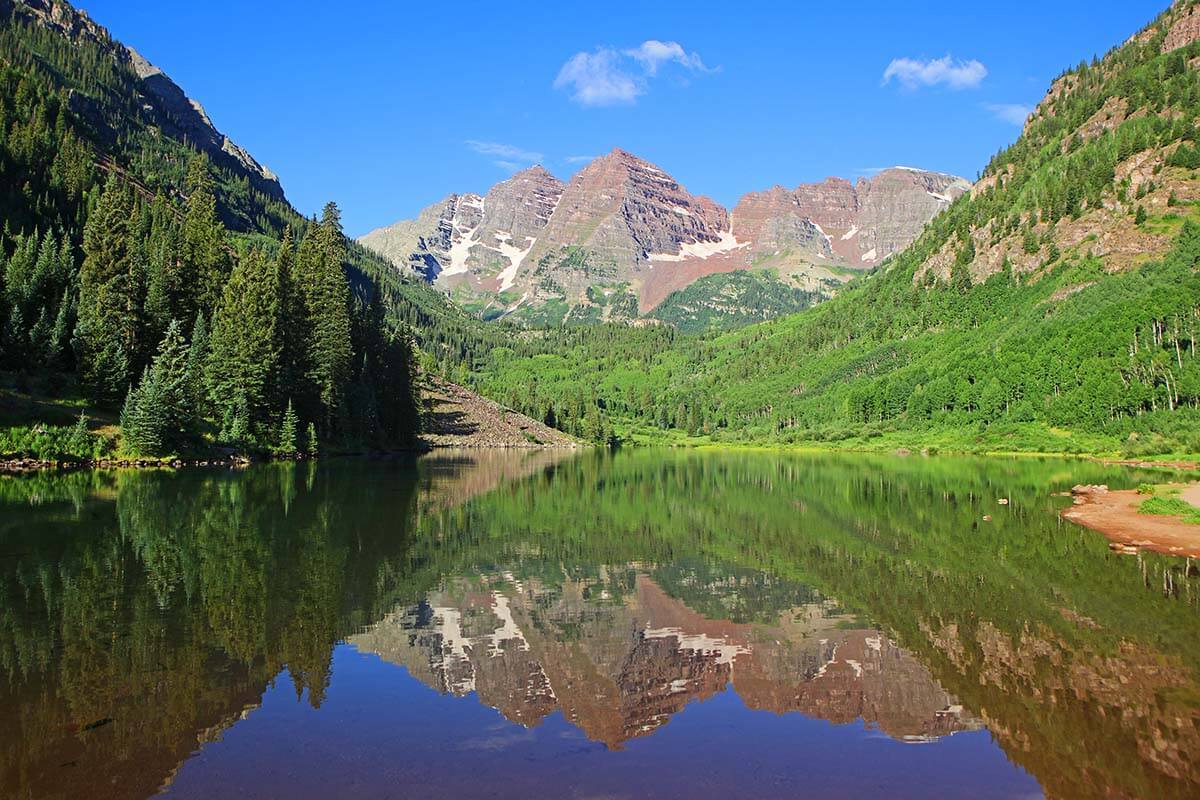 Planning on visiting Maroon Bells, Colorado, and wondering what to expect, when is the best time to go, or which Maroon Bells hike to do? This guide should answer all your questions – find out!
Maroon Bells in Colorado, USA, are said to be the most photographed mountains in all of North America. So it will come as no surprise that this stunning mountain landscape near Aspen attracts lots of visitors. In addition, just nearby, there is another spectacular mountain lake, Crater Lake that's worth a visit just as much.
But how to visit Maroon Bells? And what to expect when hiking to Crater Lake? You should find all the answers to your questions in this article. Read on!
Aspen was part of our American road trip with a focus on nature. We visited Maroon Bells and hiked the Crater Lake Trail with kids. In this post, I am sharing our experience visiting Maroon Bells and hiking the Crater Lake trail. I hope that it will inspire you to visit this incredible area with your family!
In this post, you can also find lots of practical information to help you get the most out of your trip to these iconic Colorado mountains. Take a look!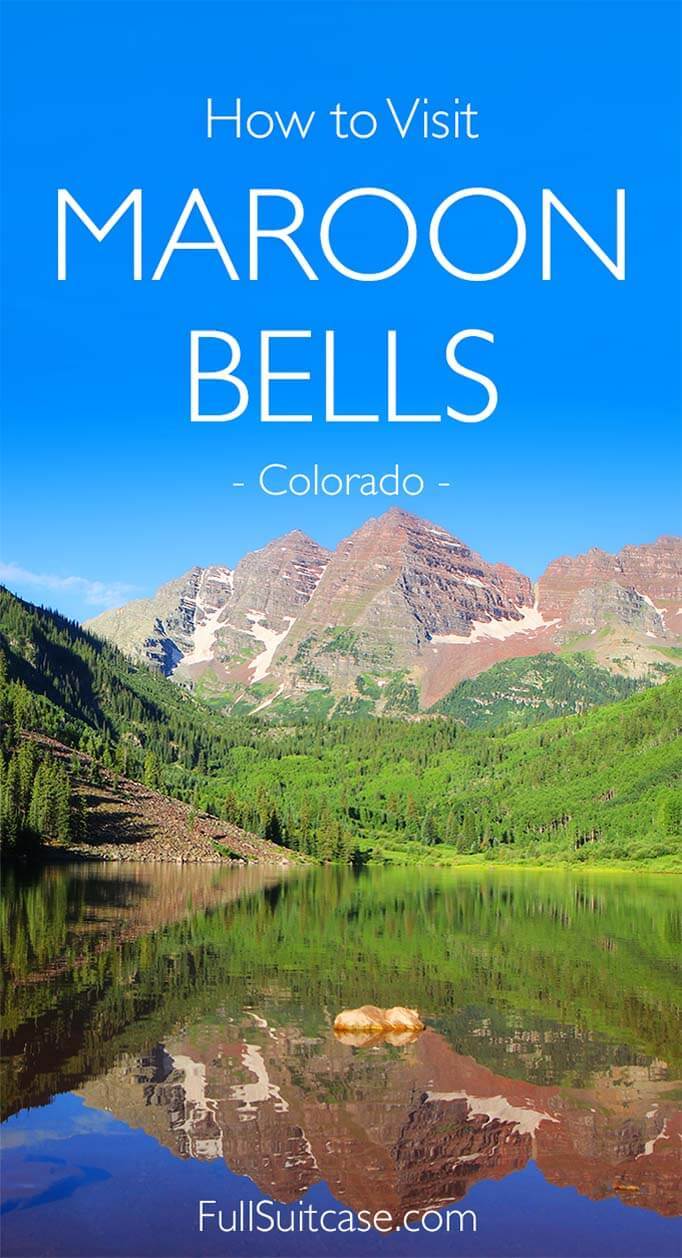 How to Get to Maroon Bells
Location
The Maroon Bells can be found in the Elk Mountains in Colorado. Maroon Bells' car parking (see location on the map) is just 10 miles/20 minutes' drive from Aspen town. Maroon Bells can be reached by car, bike, or shuttle bus via Maroon Creek Road (#13).
Some people say that you can visit Maroon Bells from Denver. But with over 200 miles and more than 4 hours driving distance one way, I really don't think it's the best idea to drive up and down on the same day.
Good to know: You don't have to walk far in order to see the Maroon Lake and the beautiful reflections. It's literally just a few steps from the car park and the path is wheelchair/ stroller accessible. So anyone can easily visit Maroon Bells, also older people and families with very young children.
TIP: If you have some time to spare and are reasonably fit, don't stop here! There are several beautiful hikes in the Maroon Bells area. More information below.
Maroon Creek Road
The Maroon Creek Rd is a mountain road that is only open when snow conditions allow it. Weather permitting, it opens around mid May and closes mid November.
The Maroon Bells is a popular destination and the road is rather narrow. So in high season, you are not allowed to drive the Maroon Creek Road during the busiest hours of the day (from 8 AM to 5 PM).
If you arrive before 8 AM or after 5 PM, you can drive all the way to the Maroon Bells hiking trailhead. You will need to pay a 10 USD recreation use fee. If you come during the day, you will need to take a shuttle bus. You can find up-to-date practical information here.
TIP: Maroon Bells recreational fee is included in an annual U.S. National Parks pass.
Good to know: Please note that the high season here stretches from the beginning of July to almost half October. That's because Maroon Bells are famous for its fall foliage attracting many visitors in the early fall as well.
Families with young children who require a restraining child-seat are allowed to drive all the way to Maroon Bells at all times. As we often say, traveling with kids has benefits too.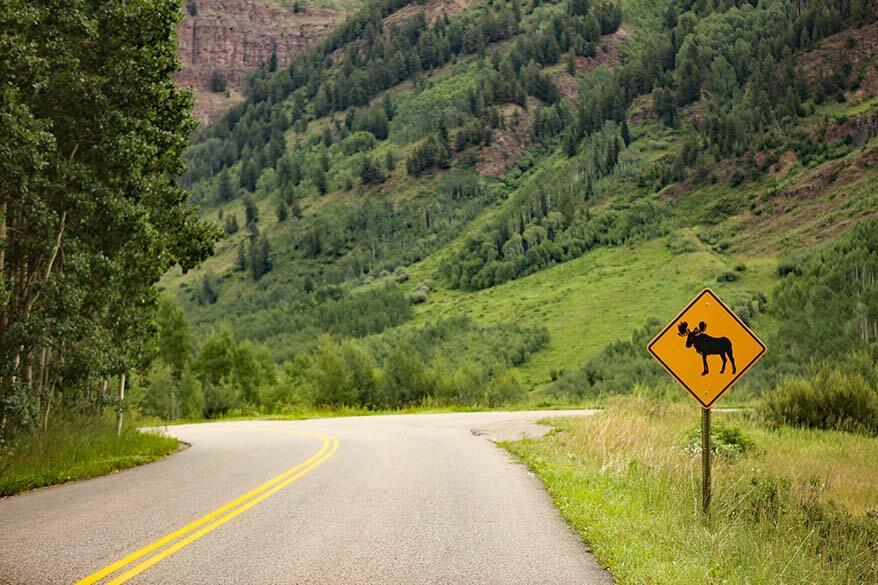 Best Time to Visit
The best time to visit Maroon Bells is from late May to early October. That's when the roads are open and there is no snow on the hiking trails.
The best time to see fall foliage at Maroon Bells is typically in the second half of September. Just try to avoid the weekends in the 3rd and the 4th week of September as it gets really busy.
TIP: The best time of day to visit Maroon Bells is early morning. This will give you direct access (no shuttle required), fewer crowds, better weather, and more chance for beautiful reflections with the most iconic views of Maroon Lake. More info below.
READ ALSO: Best National Parks to Visit in September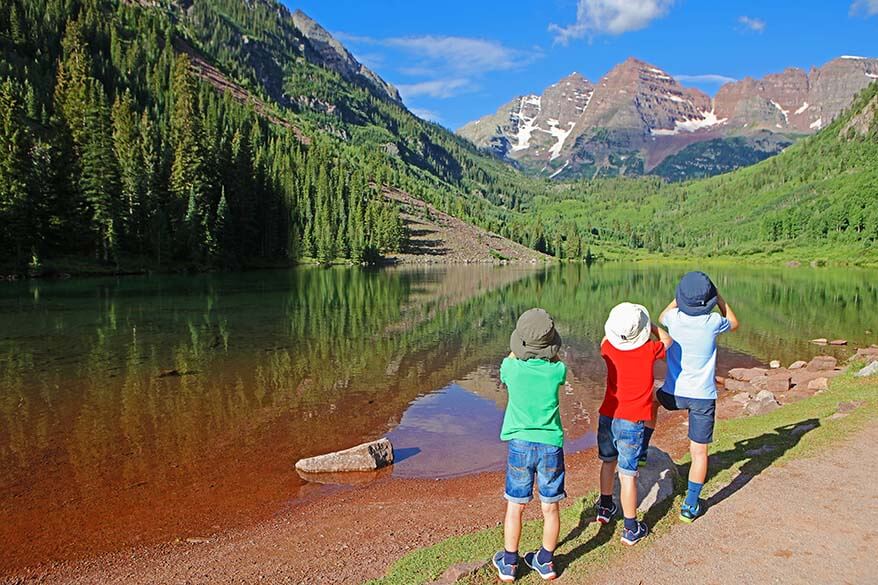 Why Visit Maroon Bells in the Morning
There are many reasons to arrive at Maroon Bells as early in the morning as possible. First, you can drive all the way up to the lake and don't have to take a shuttle. Second, you get to see amazing reflections.
Furthermore, there are fewer people around, and the chances of seeing wildlife are higher. And finally, the Colorado mountains are known for unpredictable afternoon storms, so it's always best to go hiking in the morning.
We visited Maroon Bells in the busiest summer season, the second half of July. We left Aspen at around 7 AM and drove to Maroon Bells in order to get there well before 8 AM. The car park was quickly filling up as we arrived at around 7.30 AM and we sure were glad that we came early.
If you don't make it on time, you have to leave your car at designated parking and take a shuttle from there. For us, this was the main reason to visit Maroon Bells early in the morning. Nothing against shuttles, but it's so much easier to have your car and everything you need nearby when traveling with kids.
Reflections on the lake are simply mesmerizing in the morning too! By the time we were back from our hike a couple of hours later, reflections were completely gone and the lake looked like any other mountain lake.
We started our day at Maroon Bells with a picnic breakfast by the lake. It has to be the best breakfast location ever! One more reason to take an early start when visiting Maroon Bells.
The chances of seeing wildlife are also much bigger in the morning or early evening when there are not too many people around. We saw a moose from afar, but it was already late by the time we started our hike. So you might get luckier if you arrive even earlier and start hiking right away.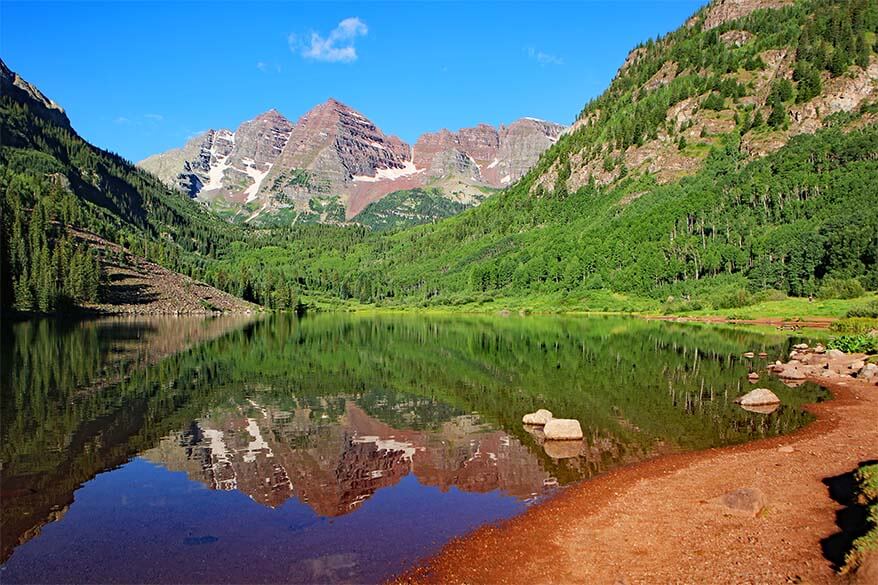 Maroon Bells Scenic Trail
The shortest and easiest hike at the Maroon Bells is the Maroon Bells Lake Trail. It's an easy walk of about 1 mile that starts at the Maroon Bells trailhead by the car parking at the end of the Maroon Creek Rd.
First, you reach the lake, and if you walk further, you continue on the Maroon Bells Lake Scenic Trail. It follows the northern side of the lake, goes a bit past it, and makes a short loop before bringing you back to the same path along the lake. This hike is about 3 miles in total.
Anyone in reasonable physical condition should be able to do this walk next to the lake. Part of the trail is a dirt path, so it's not accessible for strollers or wheelchairs. But I wouldn't hesitate to take a 2-3-year-old child hiking on this trail.
Halfway on the scenic loop trail, the road splits. You can either stay left and continue your hike following the lakeshore or go right in the direction of Crater Lake (which is what we did). And, of course, you can do both – the scenic trail first and then the Crater Lake hike or you can do the rest of the loop after you come back from Crater Lake.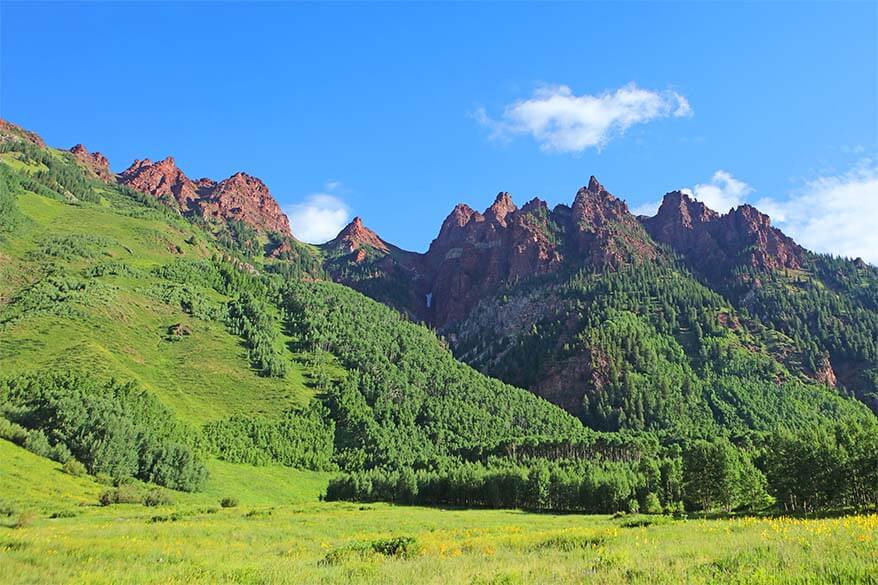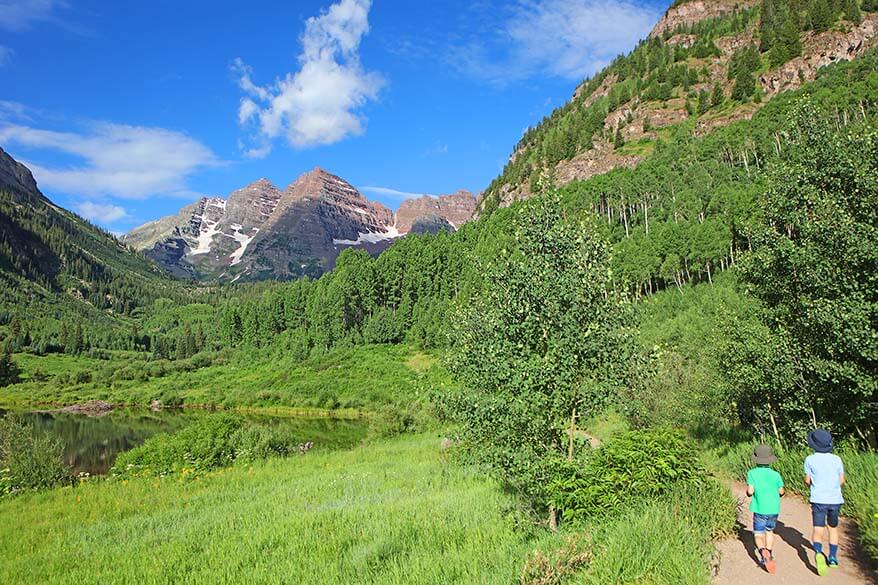 Hiking to Crater Lake
Crater Lake Trail is a moderate 3.8 miles (6.1km) hike that brings you to the base of the Bells. Count about 1 hour each way, so 2 hours for the entire hike. It took us about 2.5 hours, but we made lots of photo stops and we also spent quite some time at Crater Lake.
Crater Lake Trail is a popular hike, but don't get discouraged by the crowds at the beginning of the trail. Soon, people spread out and it doesn't feel too busy. Remember that only a fraction of people visiting Maroon Bells actually go hiking beyond the scenic loop trail.
The first part of the trail, the scenic loop, took us forever. I kept on taking too many pictures and the kids were in exploring mode and didn't feel like hiking yet. But the moment the path started to climb, they switched to a higher gear and we had difficulties keeping up with them. That's how our children always are – the more challenging the hike, the more fun for them (here you can read about our hike to Delicate Arch in Arches National Park at 100°F in summer).
The first part of the Crater Lake hike goes through a beautiful aspen forest. There are no grand views here, but the forest is really pretty. Just imagine how beautiful it is in September when all the trees turn yellow…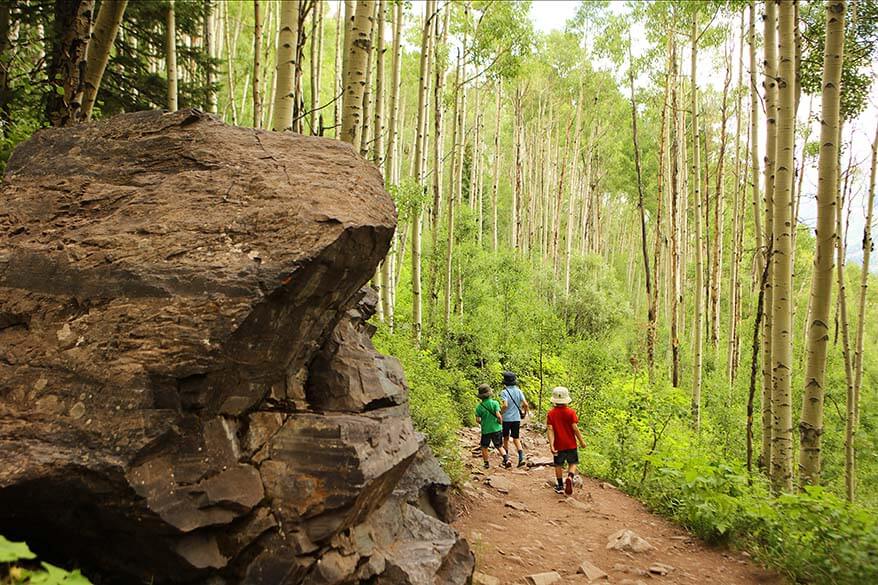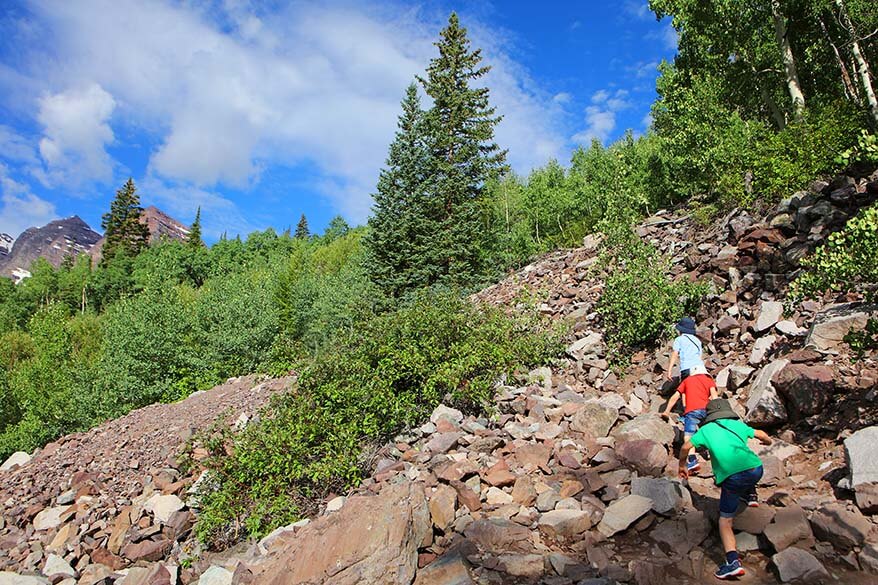 As you climb higher, you will leave the forest and cross a steeper rocky area. It's quite flat here and this section of the hike is not difficult at all. However, there is no shade anymore and it can get really warm in summer.
At the end of the hike, you will see the Bells again. Once you reach Crater Lake, you will be rewarded with stunning scenery. It's well worth the hike that took us about 1.5 hrs one way.
We were planning to have a picnic lunch by the lake, but it was still much too early. The Crater Lake hike took us much less time than we had anticipated, even with three young children. So we spent some time by the lake, let the kids play while I took a hundred pictures of the beautiful reflections…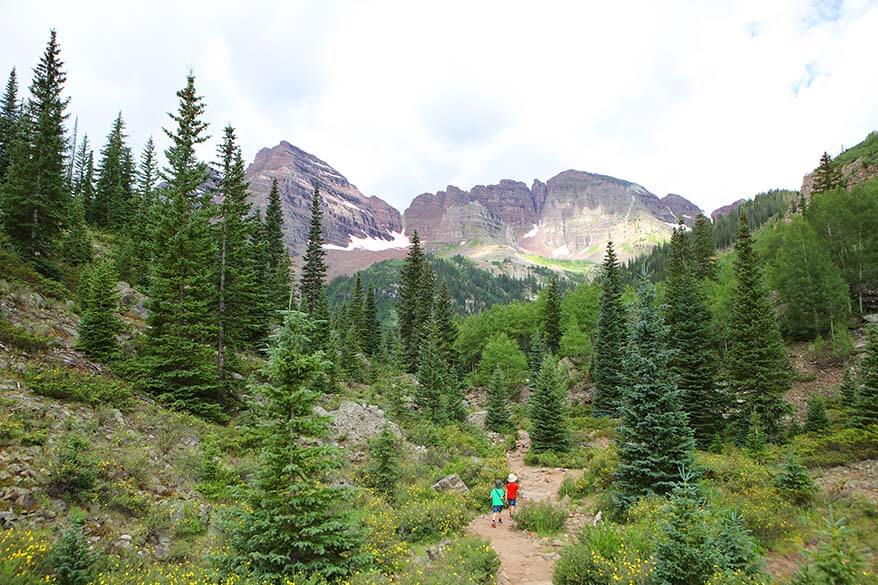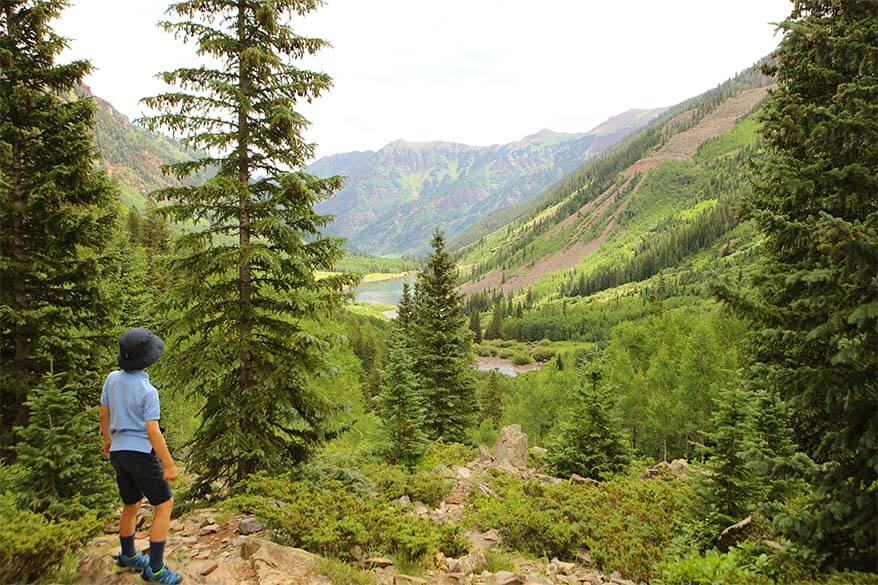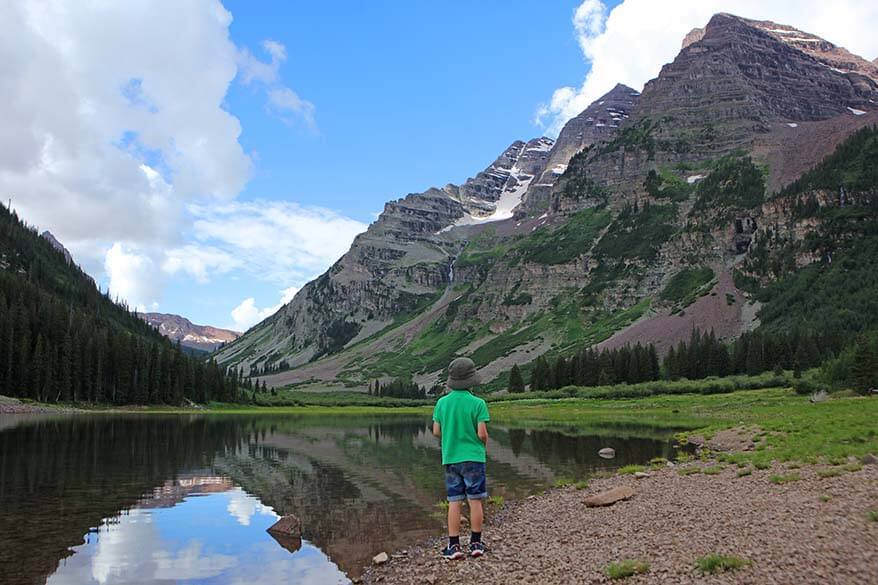 Hiking Back to Maroon Bells
Since it was too early for lunch and the weather was starting to change, we decided to walk back to Maroon Bells instead of staying at Crater Lake longer. We were planning to have lunch at the same scenic spot where we had breakfast.
The walk back down to Maroon Bells was much more relaxed and it took us about an hour. The views are stunning and walking back the same way gives you a different perspective.
Just watch the knees as it's rather steep at some places! If you have weaker knees, you might want to take trekking poles with you. (We use and highly recommend these extremely light foldable hiking poles.)
The moment we reached Maroon Bells, it started to rain. By the time we were back in our car, it was pouring. Farewell lunch with a view… We ran back to the car and headed back to Aspen.
By noon we were back in town, nicely in time for lunch. We carried all that food for nothing… Oh well, at least we used those rain jackets for once. As already said, the Colorado mountains are known for heavy afternoon storms. So this is just another good reason to visit Maroon Bells early in the morning!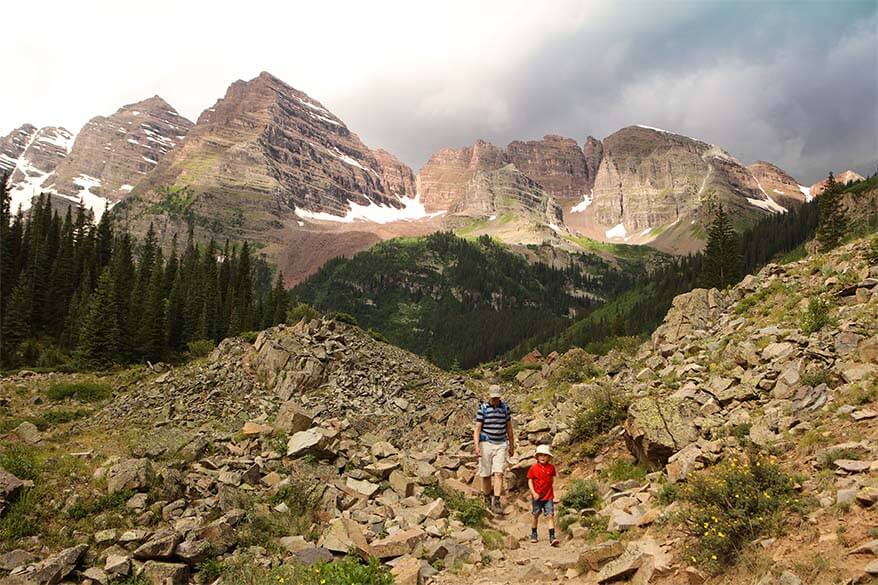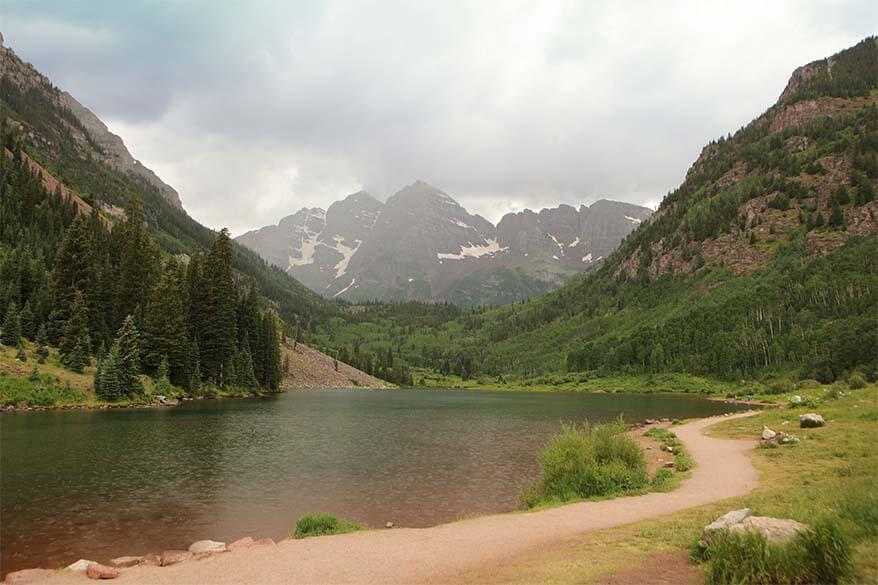 Bear Safety
In a way, we were happy that there were many other people on this trail. Because this is a bear country and there were signs warning that you should carry bear spray when hiking to Crater Lake and beyond.
With so many people hiking on this trail and making noise, I think your chances of running into a bear are pretty slim. But you should always be alert! Especially if you hike early in the morning or late in the evening when wildlife is more active and there are fewer people around.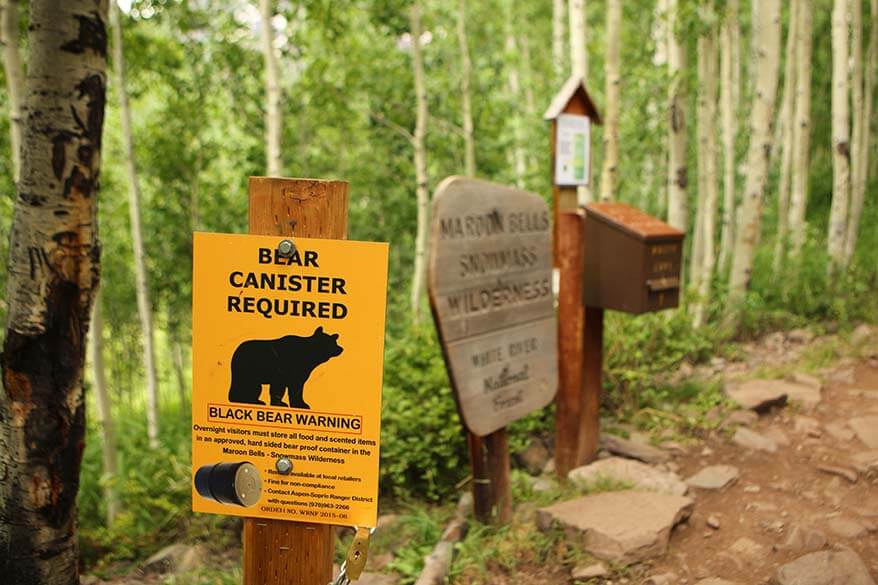 Crater Lake Hike with Kids
Yes, you can hike to Crater Lake with kids. But I will not tell you that the trail is easy because it's not. There are some steeper sections and it requires some effort. However, it's not a long hike and if you take your time, it's really doable with kids.
Our boys hiked so well that we kept on passing other people all the time. At one moment, they even stopped to encourage a teenage boy who was about to give up the rather steep ascent.
If our 5-year olds could do it, then you and your kids can probably do it too. Just make sure that you wear good walking shoes, carry enough drinking water, have sun protection, and make regular stops along the way.
TIP: I would not take children younger than 4-5 years on the Crater Lake Trail unless you are prepared to carry them for a while. Maroon Lake Scenic Loop is a better alternative for families with very young kids.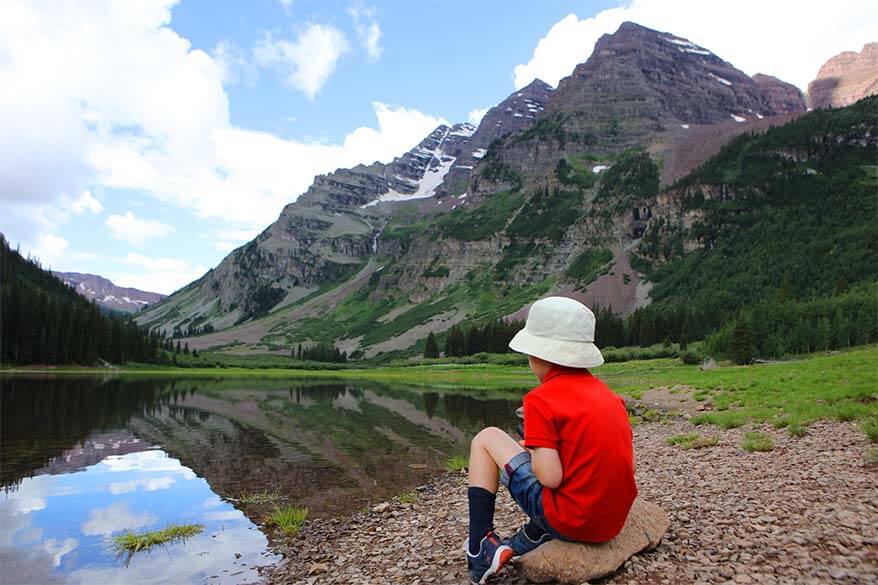 Maroon Bells and Crater Lake – Worth It?
Yes, Maroon Bells is absolutely worth a visit. We included Aspen into our itinerary purely for Maroon Bells and would do it again without any hesitation.
I highly recommend the Maroon Bells and the Crater Lake hike when visiting or passing this area. It's such an iconic place in Colorado; absolutely worth a trip.
If I had to pick my favorite places from our American road trip that included the Rocky Mountains, Arches, and Yellowstone as the main highlights, Maroon Bells would definitely be in my top 3.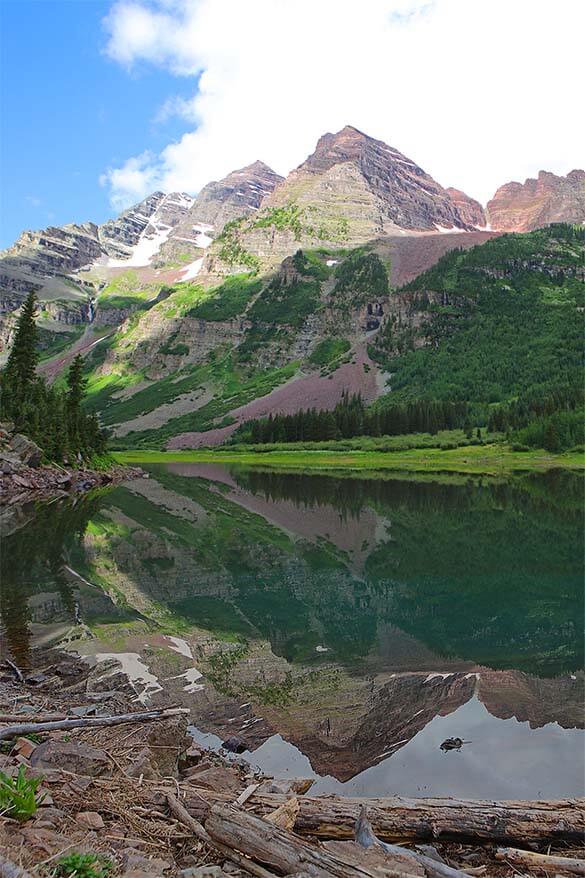 What to Pack
There isn't much special that you need to pack for Maroon Bells, especially if you drive all the way up to the lake and have your car next to you. I would advise wearing sensible shoes and carrying a rain jacket.
If you are planning to go hiking to Crater Lake, make sure to wear good hiking shoes though. A rain jacket is also a must as you never know when the weather will change. It's also wise to wear a sun hat and use sunscreen lotion, as some areas have no or little shade.
In principle, it's obligatory to carry bear spray when hiking beyond Maroon Bells. We didn't know this in advance and therefore didn't have one. I honestly don't think that most of the day hikers had it with them either. But if you are reading this, then you are warned, so take one. It's not like it costs a fortune, especially if you buy it online in advance.
If you are hiking without kids, a bear bell might be useful too. Hiking with kids, we never have to worry about being too silent and surprising bears by coincidence. 😉
Where to Stay
Aspen is the best base for visiting Maroon Bells. It's just 20 minutes drive and makes it really easy to come here early. Just beware that Aspen is a very popular mountain resort, so make sure to book your Aspen accommodation in advance!
We stayed at the Tyrolean Lodge. It's a very good price/quality option in the center of town. Here you can find the best deals for Aspen accommodation.
TIP: Using the map below, you can compare hotels and short-term rental accommodations in Aspen. Simply insert your travel dates and group size, and you'll see the best deals for your stay. Check it out!
Snowmass Village is also a good option. It's about 30 minutes drive from Maroon Bells and accommodation here tends to be somewhat cheaper. Here you can find the best deals for Snowmass Village accommodation.
READ ALSO: Best Things to Do in Aspen
Maroon Bells FAQ
Can you drive up to Maroon Bells?
Between late May and early October, you can drive all the way up to Maroon Bells. You'll have to pay $10 per vehicle. However, in high season, the last section of the road gets closed to private vehicles between 8 AM and 5 PM, and you have to take a shuttle. So if you want to drive up to Maroon Bells, come early in the morning or in the evening.
How do you get to Maroon Bells?
In summer, when the roads are open, the best way to get to Maroon Bells is by car or by bus. In winter, you can only get there on foot or snowshoeing.
How long of a hike is Maroon Bells?
The best view of Maroon Bells doesn't require much hiking. It's right at the car parking. So – depending on how far you choose to walk – Maroon Bells Lake trail is an easy walk of about 1 mile in total. Maroon Bells Scenic Loop Trail, following the circumference of the lake, is another easy hike of about 3 miles.
When is the best time to visit Maroon Bells?
The best time to visit Maroon Bells is between June and beginning of October. For the best experience, visit as early in the morning as possible. That's when the road is open allowing you to drive all the way up there, there are no crowd, wildlife is more active, and the reflections on the lake are most beautiful.
What can you do at Maroon Bells?
Maroon Bells is a nature destination. You can admire the beautiful mountain scenery, take pictures of the reflections, go for a walk next to the lake, try to spot wildlife, and take a longer hike to explore the area deeper. We recommend hiking to Crater Lake as well.
READ ALSO:
Itinerary Suggestions for Rocky Mountain NP, Colorado
How to Visit Rocky Mountain National Park from Denver
More travel inspiration for some of our favorite places in the USA:
If you found this post useful, don't forget to bookmark it and share it with your friends. Are you on Pinterest? Pin this image!