Few places fill one's soul like a visit to the Hawaiian Islands. And one of the best islands to visit is Maui. If you are planning a trip and are looking for Maui itinerary ideas, you came to the right place. In this article, we share insider suggestions for any Maui itinerary for 1, 2, 3, 5, or 7 days. Find out!
Though each of the four main Hawaii islands – Oahu, Maui, Kauai, and the Big Island – have their own unique specialties, there is a saying that rings true for me: Maui nō ka 'oi. It is Hawaiian for "Maui is the best." This is not to take away from the other islands, but Maui simply has a very unique blend of activities and splendor that makes it even more special.
There is so much to see and do in Maui! The good thing is that the island is fairly manageable in size. That means that you can do some amazing activities and see the most stunning scenery even if you are short on time. The itinerary suggestions below are designed to help you make the most out of your visit to Maui, no matter how many days you have.
Good to know: This article has been written by our guest writer Keri of Bon Voyage With Kids. Together with her family, she's been to all four major Hawaiian islands multiple times. Maui is their absolute favorite – they have visited Maui seven out of the last eight years.
So all the suggestions in this article are based on their personal experience and filled with insider tips. I'm confident that her tips will help you plan a dream vacation in Maui, no matter how much time you have. Take a look!
Maui Itinerary – OVERVIEW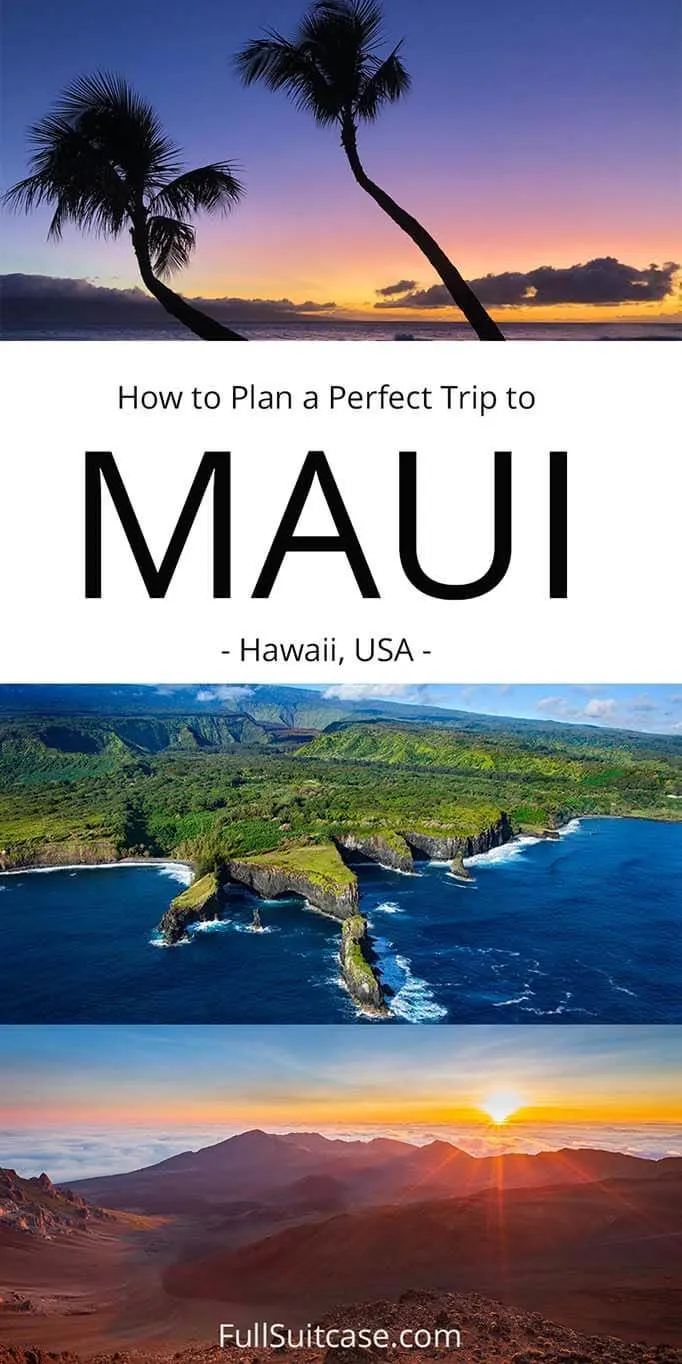 Things to Know When Planning a Trip to Maui
What's so special about Maui
There is something about the landscape and the lifestyle of Maui that makes it feel particularly Hawaiian to me.
Maui is one of our family's favorite destinations in Hawaii; there is so much to see and do in Maui with kids. Furthermore, the island is not as busy as Oahu, but also not as quiet as Kauai, and has plenty to offer to all types of travelers.
Maui is also very manageable in size, which means that you can stay in one hotel during the entire vacation and see everything that Maui has to offer by taking tours and day trips.
To us, Maui has an ideal combination of relaxation and exploration.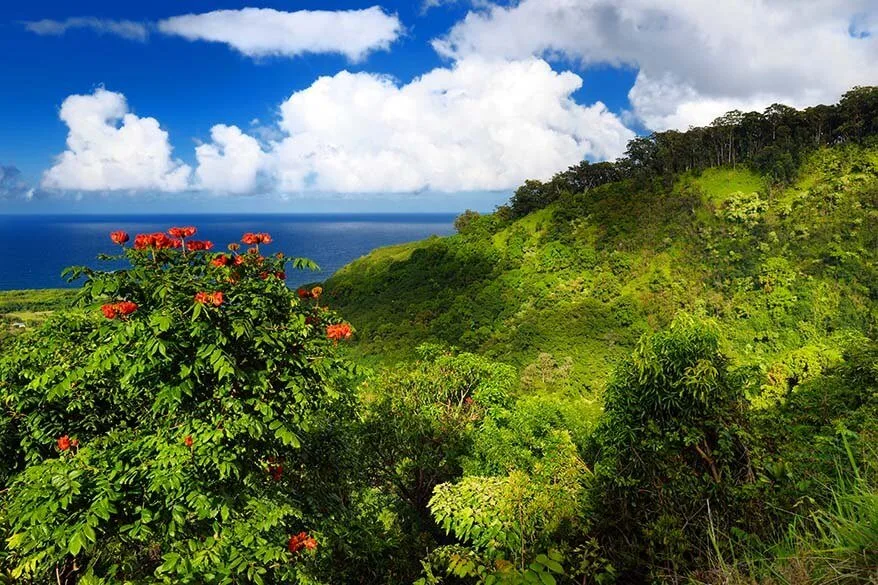 How much time to spend on Maui
Like anywhere, the more time you spend on Maui, the more you can see. I recommend at least one week in order to experience all that Maui has to offer.
You can still get a flavor of Maui even if you just visit for one day. However, as a minimum, try to plan 3 to 5 days in Maui. This will give you the opportunity to experience some of the very best places and activities and get a really good idea of what Maui is about.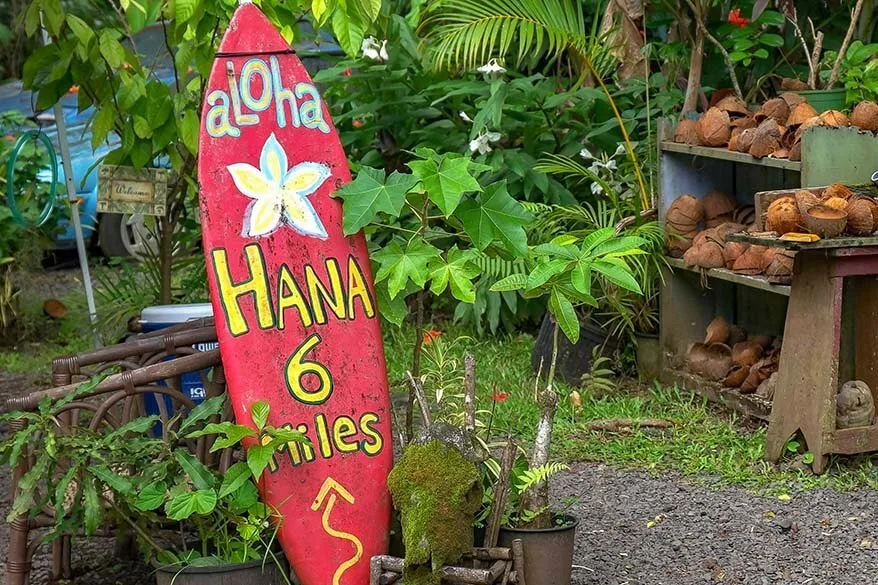 Getting around
Car rental is recommended if you prefer to explore Maui on your own. Many activities in this itinerary will require transportation. Here you can find the best deals for car hire in Maui.
However, many of the activities can also be done with organized day tours. Often, taking a tour is the best way to explore certain places.
If you decide not to rent a car, you can get an airport transfer upon arrival and for most day tours, tour companies will pick you up at your hotel. So you don't necessarily need a car for your Maui vacation. It really depends on your travel style and on what you are planning to do.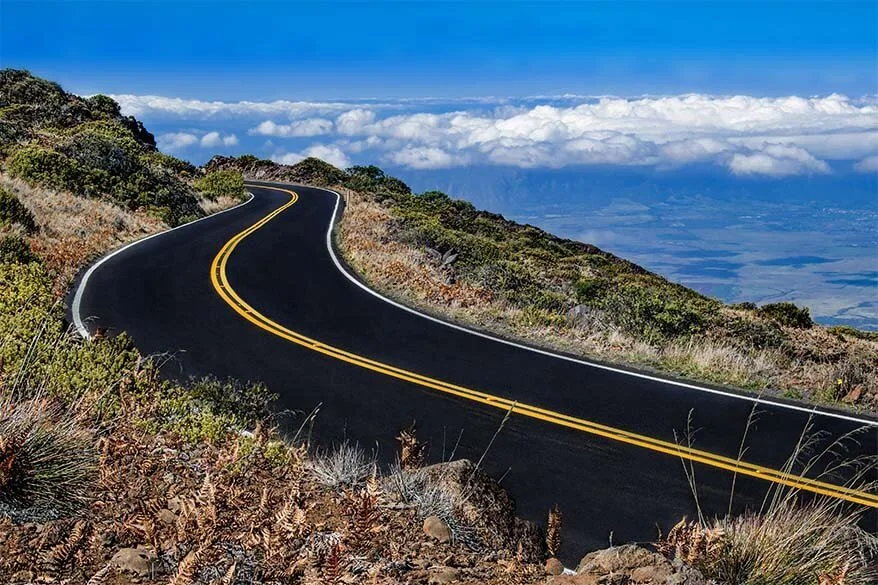 When to go
The best time to visit Maui is from April to early October. That's when the weather is at its best. November to February-March is the rainy season, but at the western coast, temperatures are usually very pleasant and it's also drier than in the North.
Maui is a good destination for spring break, especially if it falls in April or at the end of March.
June, July, and August are the busiest months in Maui, and the prices of accommodations are much higher. For good weather and lower prices, it's best to visit Maui in April – May or in September – early October.
Some of our Maui itinerary suggestions below will fit best during the summer months (May through September). You may be able to do most of these activities in the winter as well, however, the weather and ocean conditions will be different. Flooding of the roads is also possible in winter and it could limit certain activities, like driving the Road to Hana. The surf will also be a lot rougher in winter. So take caution for any ocean activities and heed local weather warnings.
The winter season is, however, perfect for those who want to see whales. The best time to see whales in Maui is from November to May (January to March are the very best months). The best way to see them is by booking a whale-watching tour.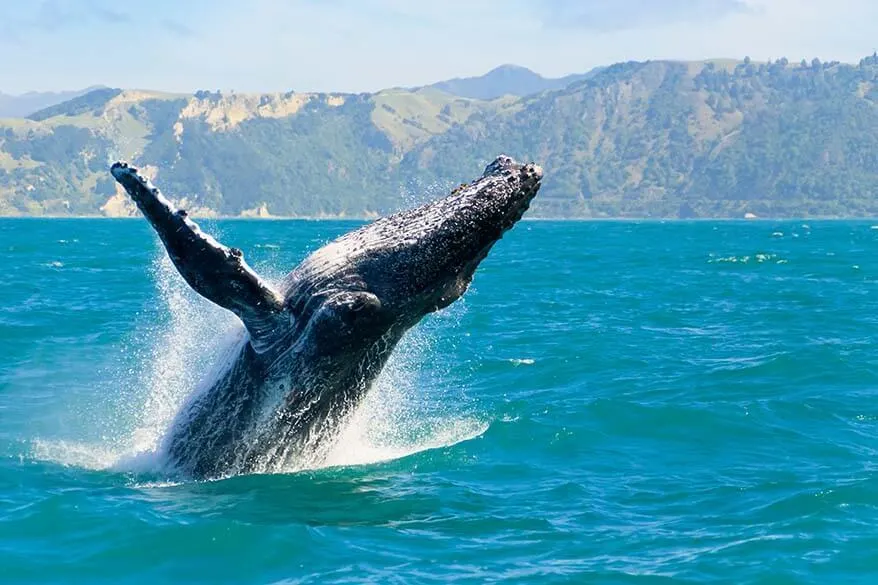 Where to stay
There are three main resort areas to stay in Maui – all on the western side of the island: Wailea (where most hotels and resorts are located), Kaanapali, and Kapalua.
All these areas are just as nice. If you are staying in Maui for a longer vacation and have a car or are planning to take tours, it doesn't matter that much where you choose to stay. Just pick a resort or an area that you like the most.
Our favorite place to stay is Kaanapali, which is the closest to the town of Lahaina. This area has a lot of great tours and activities.
TIP: Using the map below, you can compare prices for hotels and short-term rental accommodations in Maui. Simply insert your travel dates and group size, and you'll immediately see what's available for your vacation. Check it out!
Our picks: We usually stay at Marriott's Maui Ocean Club because it is very family-friendly. In addition to rooms with kitchens, kitchenettes, and laundry facilities, they host regular activities to keep kids busy. From free shave ice to pool games or lei making – the kids will not get bored here. There are also plenty of on-site family games and movies for rental and a pirate splash area for toddlers. This area is also within walking distance of the Whalers Village shopping area which has lots of stores and great restaurants.
We also love the Hyatt Residence Club on Kaanapali Beach, the Westin Villas, and Sheraton Black Rock. These hotels have their own Luaus (see below) and offer mid to higher-end accommodations for families.
If you are on a budget or simply prefer private properties, you may also want to check VRBO accommodations on Maui. They have some of the best deals for short-term rentals – perfect for a longer vacation.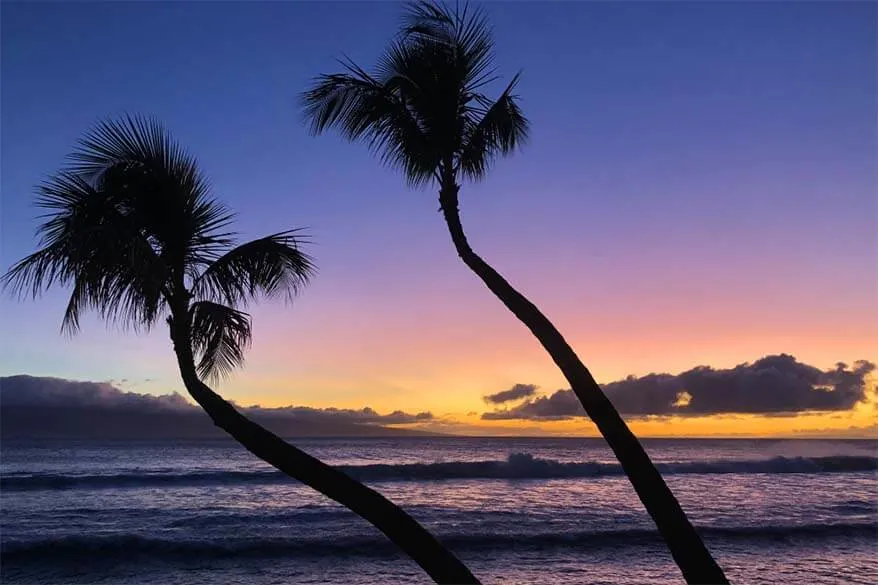 Best Things to Do in Maui
Before we continue with Maui itinerary suggestions, here is a short overview of the best things to do in Maui:
Haleakalā
There is nothing quite like a Maui sunrise or sunset anywhere else in the world. But seeing a sunrise from on top of a dormant volcano Haleakala is a sight to behold!
At 10,000 feet above sea level, this dormant volcano offers a variety of landscapes. Sunrise tours of the Haleakala are truly awe-inspiring moments. It's one of the absolute best things to do on your vacation in Maui, so don't miss it! It's well worth getting up before dawn for this.
You can drive up early to get a view of the sunrise, or you can join a bike tour. They bring you up to view the sunrise by car and after that, you bike down the mountain. This is a very popular activity and is something that families with teens will love as well!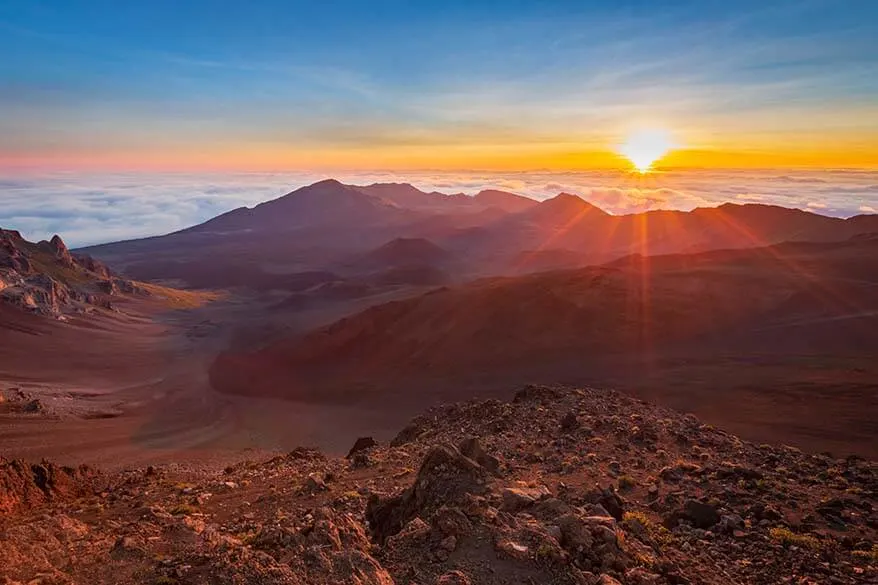 Road to Hana
The Road to Hana is a very scenic road on the northeastern side of the island. It's considered one of the absolute must-see places in Maui. This winding road takes you to some of the most spectacular spots on the island.
The Road to Hana is about the journey, not the destination. As you meander on winding narrow roads, you come upon many breathtaking stops along the way. From waterfalls cascading into pools to overlooks of the rugged coast, black rock beaches, and Hana town, this is one of the most special experiences you can do on Maui!
Be sure and stop at the roadside stands along the way. Nothing is quite as delicious as homemade banana bread during your drive.
Good to know: Road to Hana is an all-day drive. So if you do this, plan an entire day for it. I would also recommend starting early, as the road with all its scenic stops can take 8-10 hours to complete. Make sure to also grab a picnic and enjoy your self-guided day tour.
You can either drive the Road to Hana yourself (although rental car companies prefer you don't) or take a tour.
TIP: If you drive yourself, be sure to stop in Paia, one of the last towns before you get on the road. Some of the gas stations here sell a CD that describes the route and stops along The Road to Hana. Alternatively, you can get an audio tour in advance and make sure that you don't miss any of the best spots.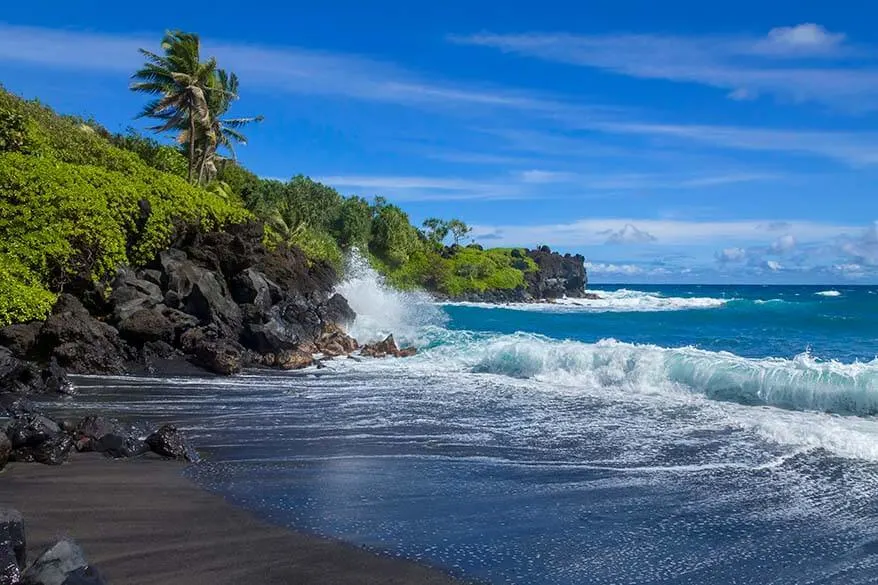 Snorkel and Scuba Diving
If you are a snorkeler or scuba diver, you'll be glad to know that Maui has an amazing underwater world.
Some of the best-known snorkeling/ diving sites are the Molokini Crater and Lanai. The nearby Molokai island also has beautiful sites for experienced scuba divers.
We dove and snorkeled at Molokini Crater and Lanai several times and it's always amazing. There is something quite spiritual about seeing lava tubes underwater and the light beaming in. Not to mention the incredible underwater world that exists below the surface. Highly recommended!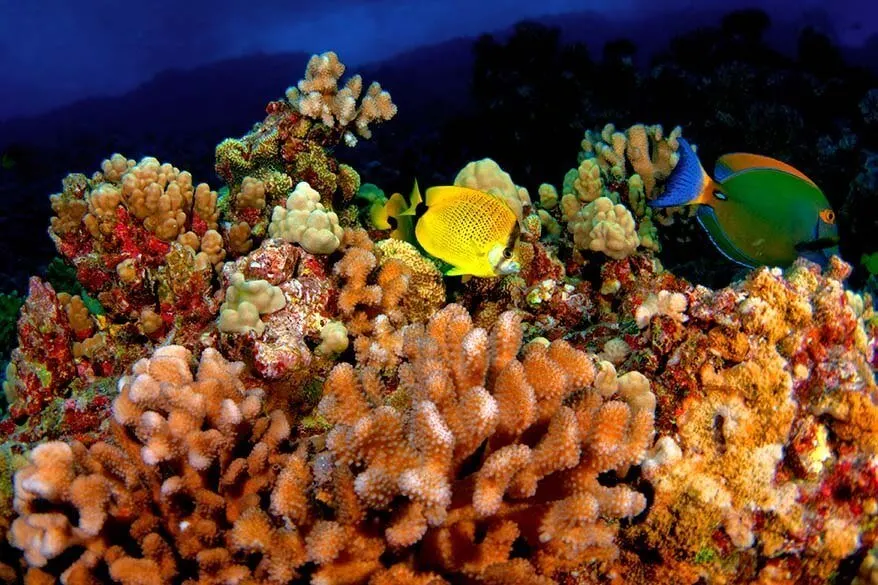 Helicopter Tours
One of the very best ways to see the stunning beauty of the Hawaiian islands is by taking helicopter tours. Maui is not an exception.
From the air, you can see some of the most incredible and remote places that are difficult to reach otherwise. Furthermore, an aerial view of the area gives you a totally different perspective of the surroundings. We did this once and it was one of the most incredible experiences in Hawaii!
No matter which helicopter tour you choose, it will be the highlight of your trip to Maui!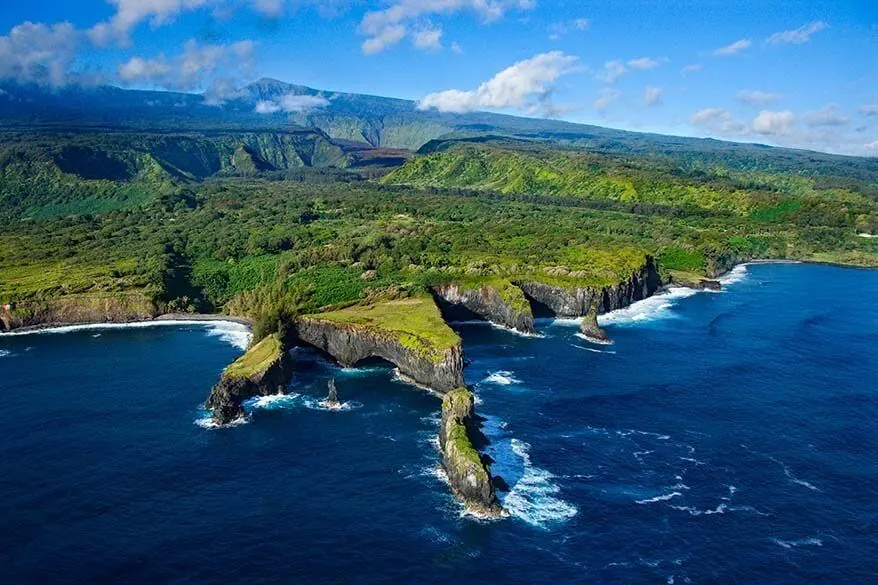 Beaches
There are so many beaches in Maui that it would be impossible to describe them all here. One of our favorite beaches in Maui is Kapalua Bay Beach.
The area is a protected bay and you can snorkel in a shallow reef there. It's a great place to see lots of fish, eels, and also sea turtles. Often you can spot Hawaii's state fish with a very unique name – humuhumunukunukuāpuaʻa (try to pronounce this!). It is a distinctive-looking reef triggerfish, with blue lips and a diagonal orange stripe.
There is also a resident turtle who lives here. But do take note that it is against Hawaiian law to go within 10 feet of sea turtles.
TIP: You will need to bring your own snorkel gear, but there is a stand on site that rents noodles. I recommend getting to the bay early, as it can get crowded. There is a parking area, public restrooms, and foot showers. There is also parking across the street at the tennis club for a fee.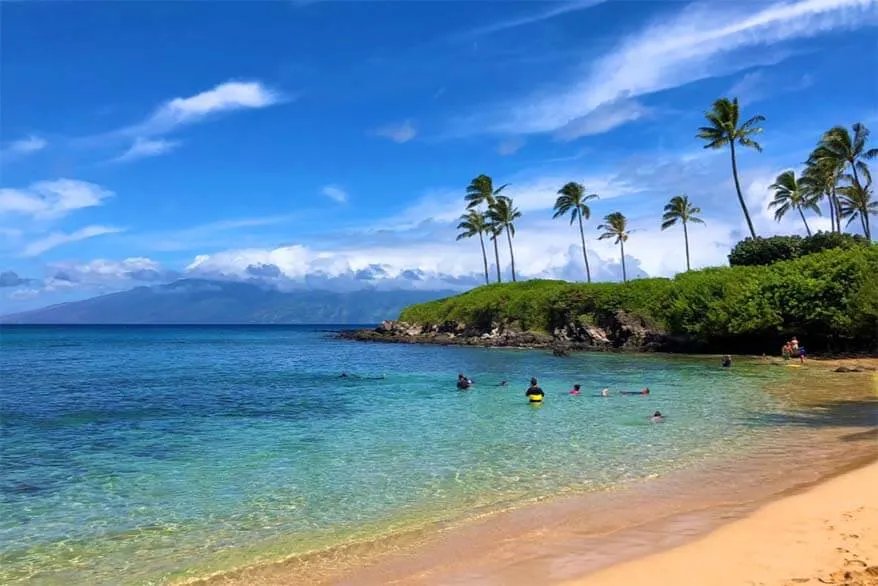 Lūʻau
A lūʻau (luau) is a traditional Hawaiian party/ feast that usually includes a family-style meal of fish and pork. The Hawaiians cook the pig in the ground and there is a ceremony for bringing the cooked pig outside.
The luau also usually includes Hawaiian games, crafts, and a big show with singers singing Hawaiian songs and traditional hula dancing. Sometimes, there are also fire throwers that also tell the story of Hawaiian culture. It is a wonderful experience!
Hawaiian culture is very strong and present on all of the islands of Hawaii and the Luau is a great way to learn about it. Usually, you get a flower or shell lei when you come in, then play games, sit for the meal and then watch the show.
You can book tickets for Luau on Viator.
Good to know: Some luaus start quite early in the evening, so this is a great thing to do on your beach/pool "off" day.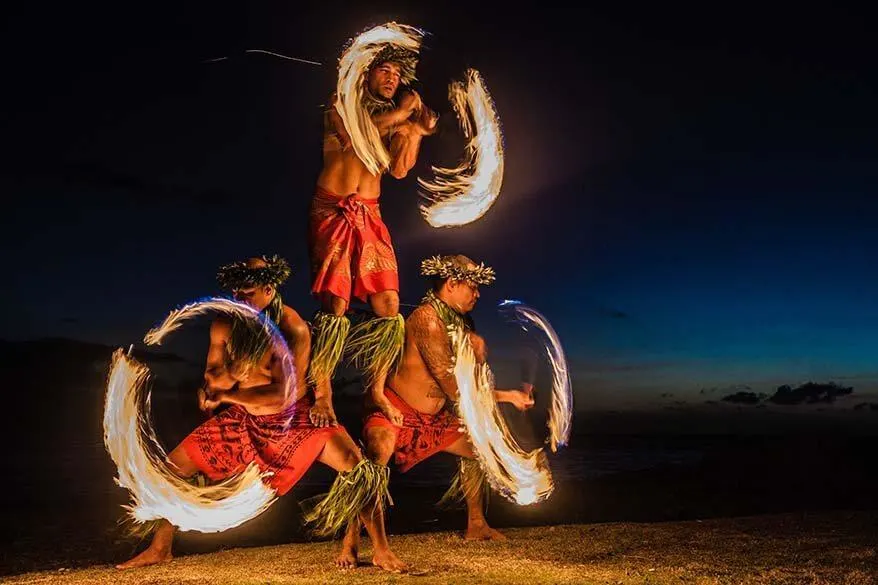 Whale Watching
As already mentioned, Maui is an excellent place to see whales. Especially if you are visiting Maui in winter or in the spring (November to May), it's a must.
You might get lucky and see whales at other times too (sometimes as early as September or as late as June). And some whale watching tours run throughout the year.
Seeing these giants always remains a unique experience, so don't miss the chance!
Maui Ocean Center
Maui Ocean Center is a nice aquarium and one of the best places to see if you are visiting Maui with kids. They have a big variety of marine life, an impressive aquarium tunnel, and you can also learn a bit about the history of Hawaii and military operations in the area.
The Ocean Center is open daily and you need about 2 hours to see everything. You can find more information and book your tickets here.
Relax
And, of course, you will want some time for relaxing by the pool or on the beach and if time allows, a luau to cap your trip.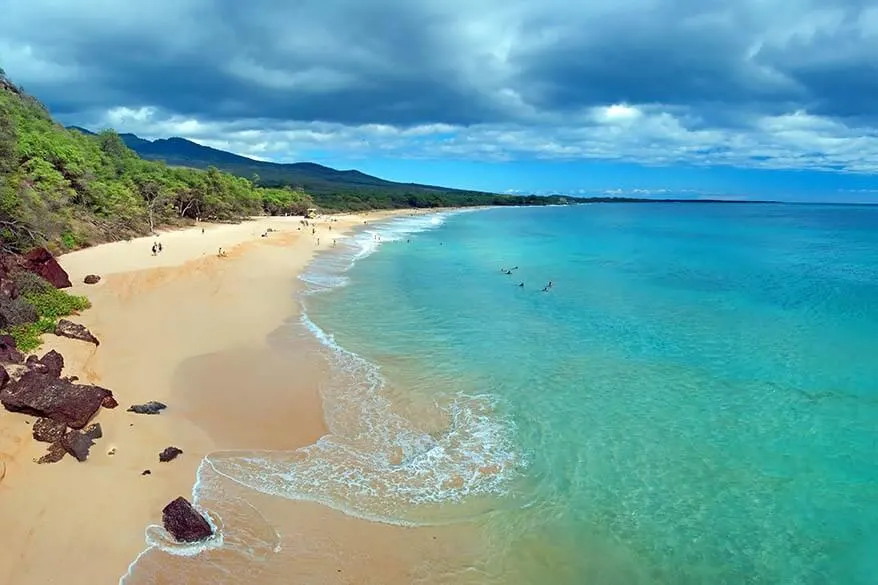 Below are some suggestions for the Maui itinerary. Keep in mind that these are just suggestions meant to give you an idea of what you can do in Maui in the time that you have. For more details about each activity, please refer to what to do in Maui section above.
Needless to say, you can move activities around or make different combinations that best suit your schedule and interests. But this will give you a good idea of how to plan your time. Take a look!
Here are some itinerary suggestions for Maui, Hawaii:
One Day in Maui
If you only have one day to spend on Maui, you'll have to choose your activities really carefully.
Here are several best options of how you could spend 1 day in Maui:
OPTION 1: Haleakala + beach & snorkeling + luau
In the morning, take a sunrise tour to Haleakala. Most tours start well before dawn and end before noon. So you still have time to relax on the beach or go snorkeling. In the evening, go to a luau dinner.
OPTION 2: Road to Hana
Another great option for those with just one day in Maui is to take a Road to Hana tour or a self-drive trip. Count an entire day for this! If not too tired, you could attend a luau in the evening.
Good to know: If you do this, you really need at least two nights/ one full day in Maui. You wouldn't be able to do the Road to Hana and depart on the same day, unless your flight is very late at night.
OPTION 3: Kapalua Bay Beach, Lahaina town, and Maui Ocean Center
If you rather have a more relaxing day, spend the morning at Kapalua Bay Beach. Afterward, you could stop for lunch and shopping in Lahaina town or rent an e-bike and explore the area.
Lahaina is one of my personal favorite places to visit in Maui! Be sure to visit the incredible Banyan tree at the Lāhainā Banyan Court! If you still have time afterward, you could stop at the Maui Ocean Center.
OPTION 4: Haleakala + helicopter tour + lūʻau
In the morning, take a sunrise tour to Haleakala. In the afternoon, take a helicopter flight over the Hana Rainforest. Afterwards, relax by the pool of your hotel. In the evening, attend a luau.
OPTION 5: Private day tour
If you don't want to arrange anything yourself and want to get as much as possible of your short visit, you can also opt for a day tour with a private driver. That way you can visit some of the very best places in Maui in one day.
One of the advantages of a private tour is that you can influence the itinerary and pick the places that interest you the most. Furthermore, you also have all the benefits and knowledge of a local guide who can give you insider tips and make your day truly unforgettable.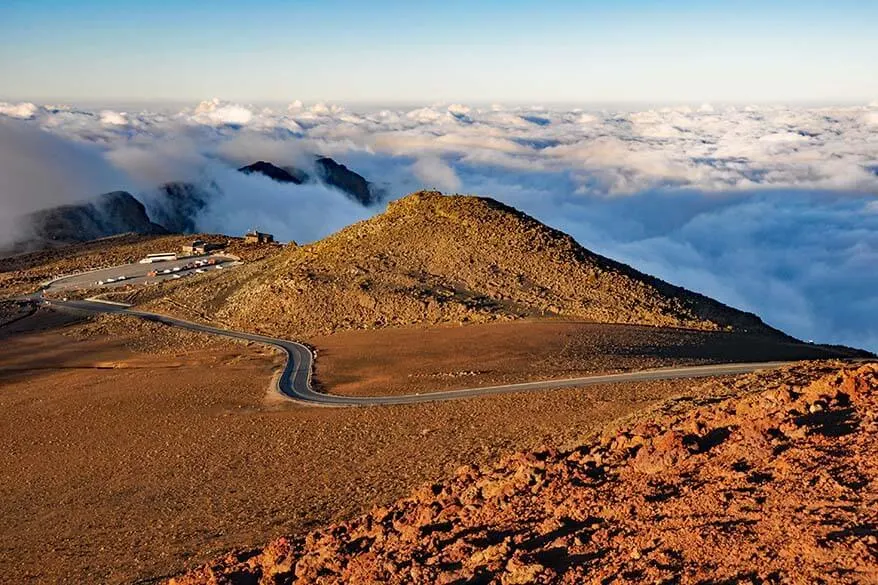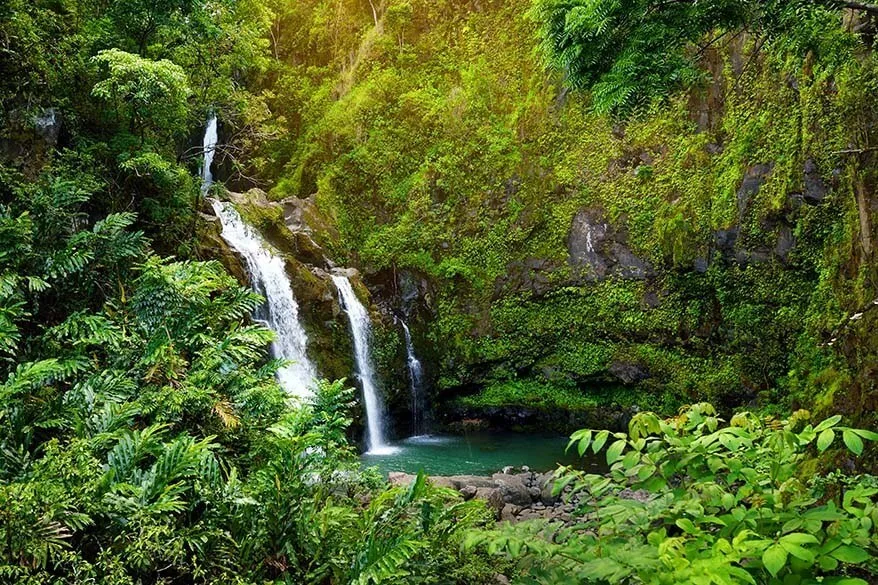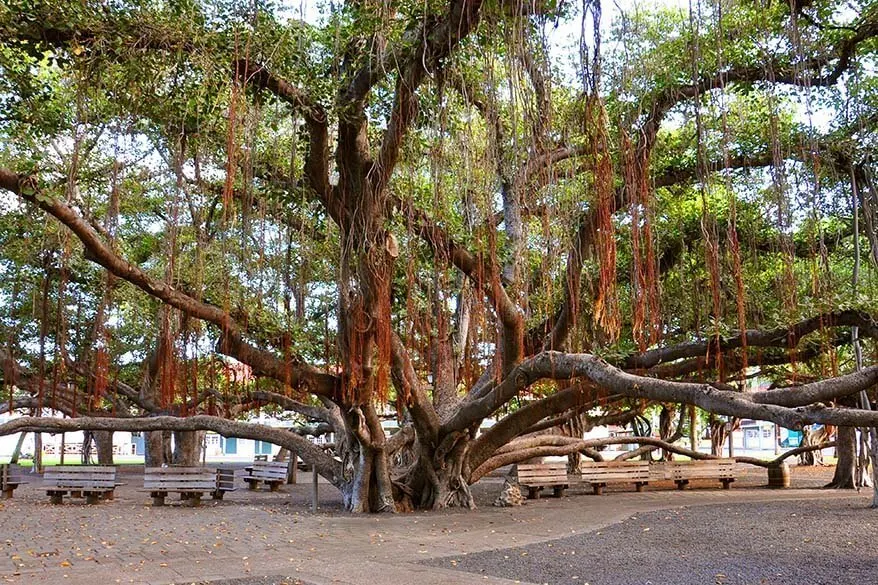 Two Days in Maui
If you have two days in Maui, you should definitely try to do the Road to Hana on one day.
On your second day, you can choose for a relaxing day at the beach and snorkeling. If you have lots of energy and want to get the absolute most of your trip, you can also take a Haleakala sunrise tour and/or helicopter tour.
Here are a couple of suggestions on how you can spend 2 days in Maui:
OPTION 1: See-it-all
OPTION 2: Sightseeing and beach
OPTION 3: A bit more relaxing
Day 1: Road to Hana
Day 2: Kapalua Bay Beach, Lahaina town, and Maui Ocean Center and luau dinner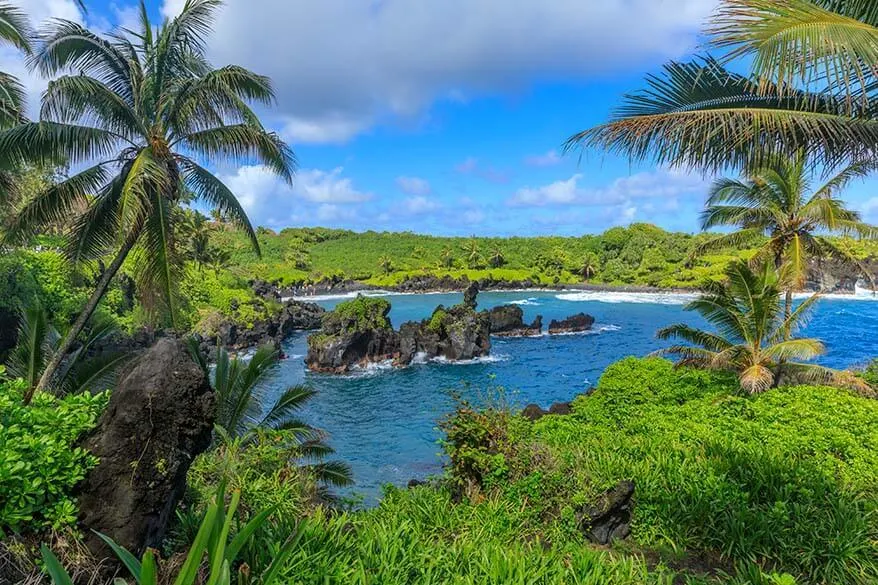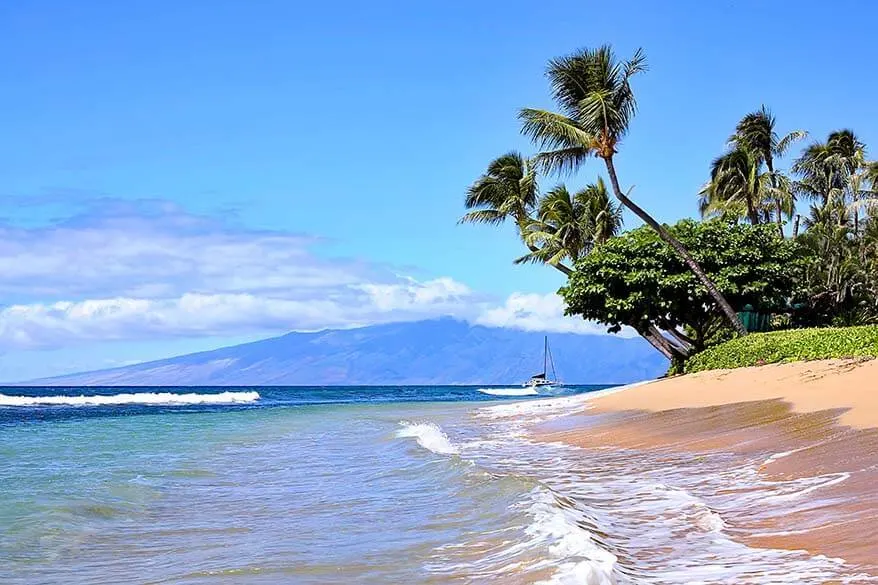 Three Days in Maui
With three days in Maui, you can do the best tours to the nicest places, as well as relax on the beach. If you are looking for an active vacation and want to see as much as possible, you should definitely do the Road to Hana as well as make a trip upcountry to Haleakala National Park. It is well worth the visit to see the view from above!
Here is how your itinerary for 3 days in Maui could look like:
If you drive to Haleakala, there are a few additional spots to visit, including a lunch stop in the area of Kula. There is a lovely little diner there with amazing baked goods. From there, you can drive to the Ali'I Kula Lavender farm for a quick tour and visit their lovely gift shop. Who knew lavender grew on Maui? If you don't want to arrange anything yourself, you can opt for this highly-rated private tour and ask them to make a custom itinerary for you.
TIP: If you are in Maui for 4 days, I recommend adding a pool or beach relaxation day to the 3-day itinerary. After all of the activity, you will need a day to relax and just enjoy the sun and the sand. You could also take a surf lesson.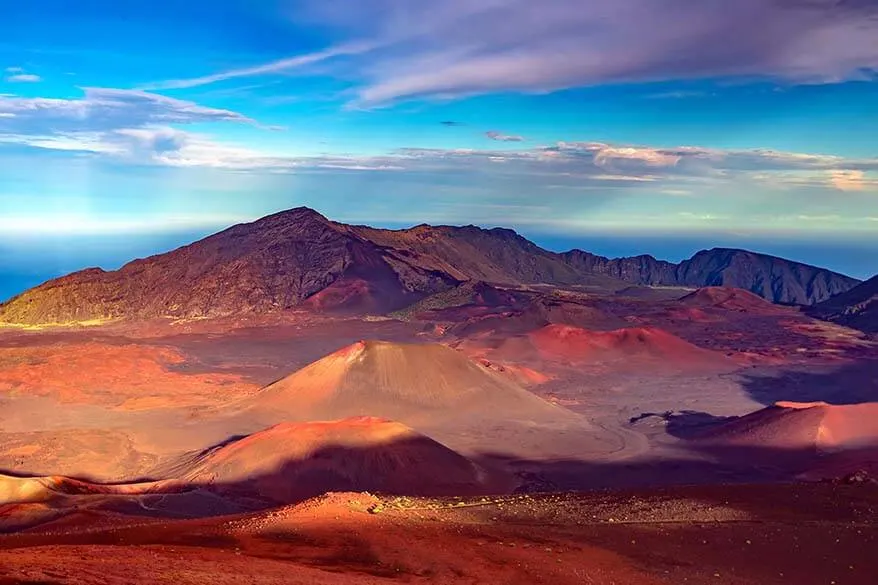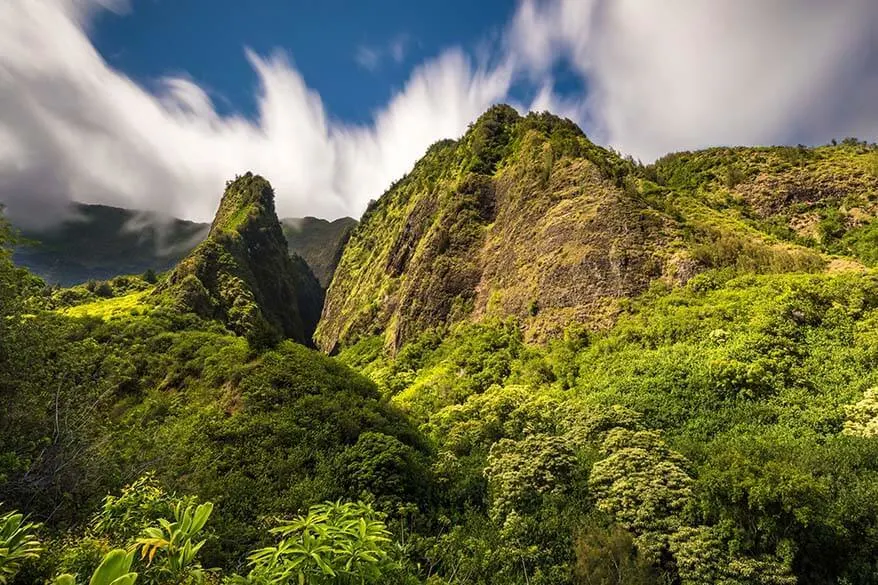 Five Days in Maui
If you are in Maui for 5 days, in addition to the main highlights mentioned above, you should definitely also add in a snorkel trip to the Molokini Crater. Molokini Crater is home to a lot of wildlife and tropical fish. It is one of the best places to see some of Maui's incredible underwater world.
Many boat companies offer these tours, but my favorite is the PFW snorkel tours. They also promote marine conservation and speak about it on the trip. The boat staff also serve as lifeguards in the water, which I really appreciated traveling with kids.
If you are a scuba diver and would like to dive at some of the best underwater locations in Maui, we highly recommend this amazing tour. We have gone with this group many times, and we are always impressed with the quality. It's always an amazing experience.
IMPORTANT TIP: One thing to keep in mind, however, is if you scuba dive on this trip, you can't go up to Haleakala or get on a plane for a specific time afterward, per diving health and safety rules. So be sure and double-check the timing needed before you can go to a higher elevation. Also, be sure and book this first and plan the rest of your itinerary afterward.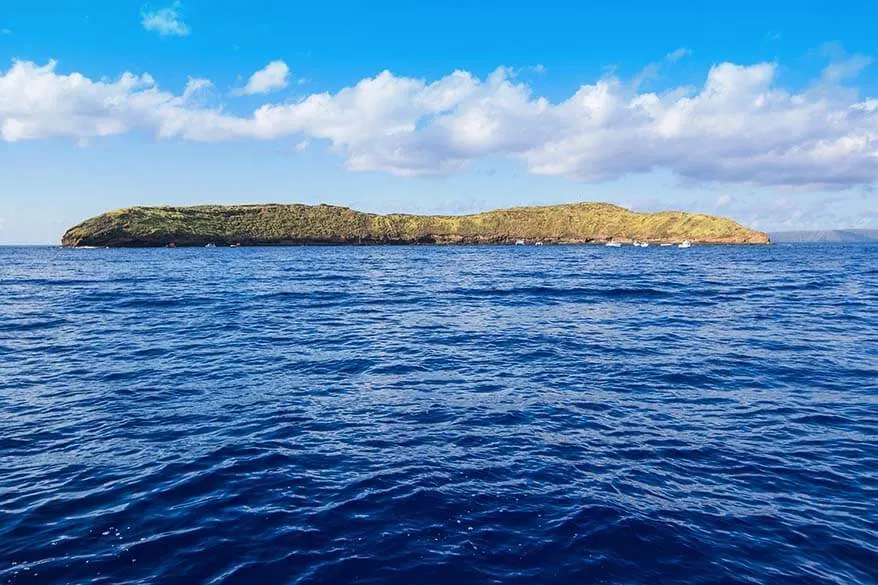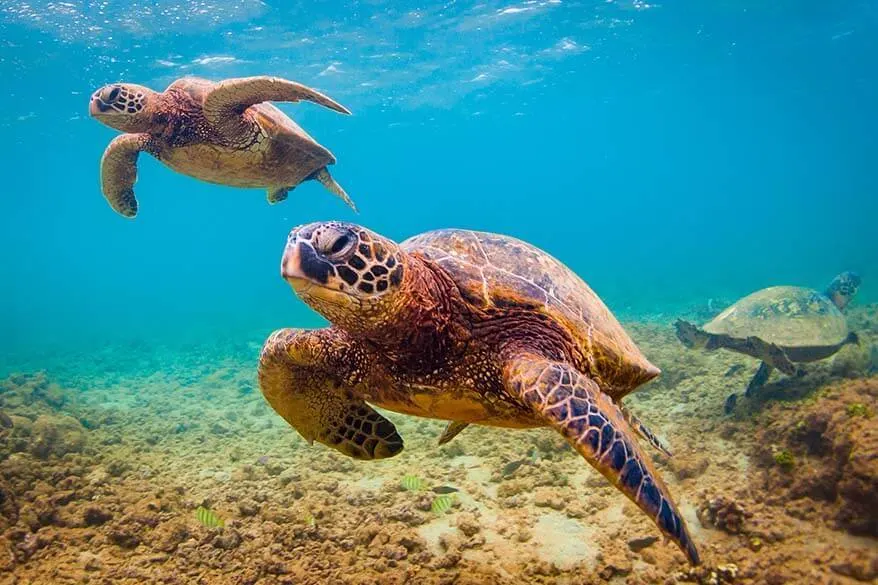 During a five-day visit, you will definitely have time for a luau experience as well. It's a must for any visit to Hawaii. Not only do you learn about Hawaiian culture through songs and activities, but it is a great Hawaiian tradition to enjoy this family-style meal.
Here is what your 5-day Maui itinerary could look like:
Day 1: Road to Hana.
Day 2: Snorkel in Kapalua and visit Lahaina or take a helicopter tour or a whale watching tour.
Day 3: Haleakala, Upcountry and Lavender Farm or a pineapple tour.
Day 4: Beach/pool or take a surf lesson. In the evening, Luau dinner.
Day 5: Molokini Crater snorkeling trip or scuba dive (depending on when you are flying you may need to book a diving tour in the beginning of the trip).
TIP: If you have 6 days in Maui, I would recommend another "off" day with a pool or beach visit. Or you could visit a golf course like Kaanapali Golf Courses or take a lunch trip to Mom's Boat House.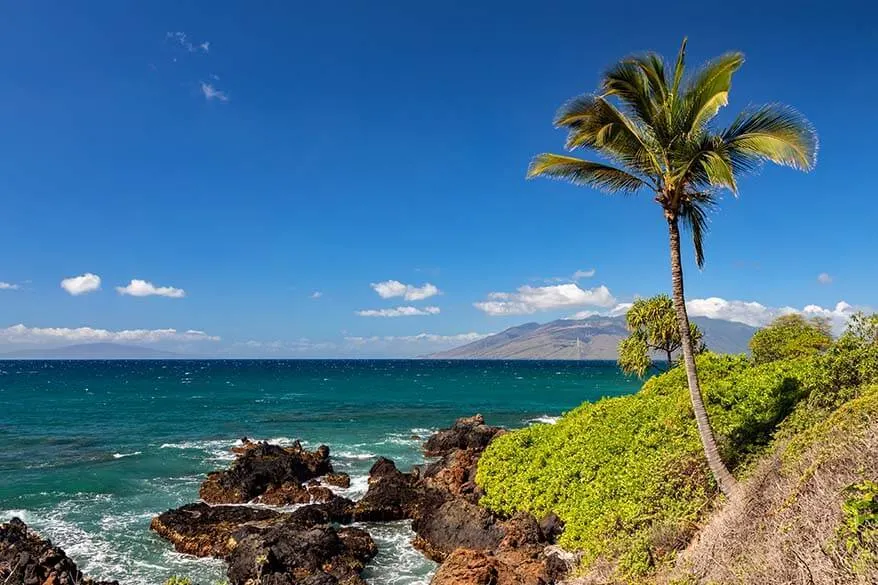 One Week in Maui
If you are visiting Maui for a week and want to really maximize your trip, in addition to all the activities mentioned above, you should definitely take a helicopter tour of the island!
If you are a golfer, the Kaanapali golf course is one of our favorite places to go. It is a glorious golf course with incredible views!
Another fun outing is to take a lunch trip to Mom's Fish House for lunch. A family-owned fish house right on the beach, in the town of Paia. This is one not to miss! Just keep in mind that you will need an advanced reservation, as the restaurant is extremely popular.
If you are looking for more ideas for your Maui vacation, you need not worry. There is so much to see and do in Maui! Bike tours, zipline adventures, sunset cruises, kayak tours, whale watching tours, or even local food tours… You can spend 2- 3 weeks in Maui and never get bored!
Here is how your 7 days in Maui could look like:
Day 1: Beach/ snorkel in Kapalua, rent a bike, visit Lahaina or a private tour.
Day 2: Road to Hana.
Day 3: Beach/pool or take a surf lesson or whale watching cruise. Luau dinner.
Day 4: Haleakala, Upcountry and Lavender Farm.
Day 5: Helicopter tour of Maui + beach/pool. Luau dinner if not done yet.
Day 6: Molokini Crater snorkel trip or scuba diving.
Day 7: Beach/pool or golf or one of the many other activities.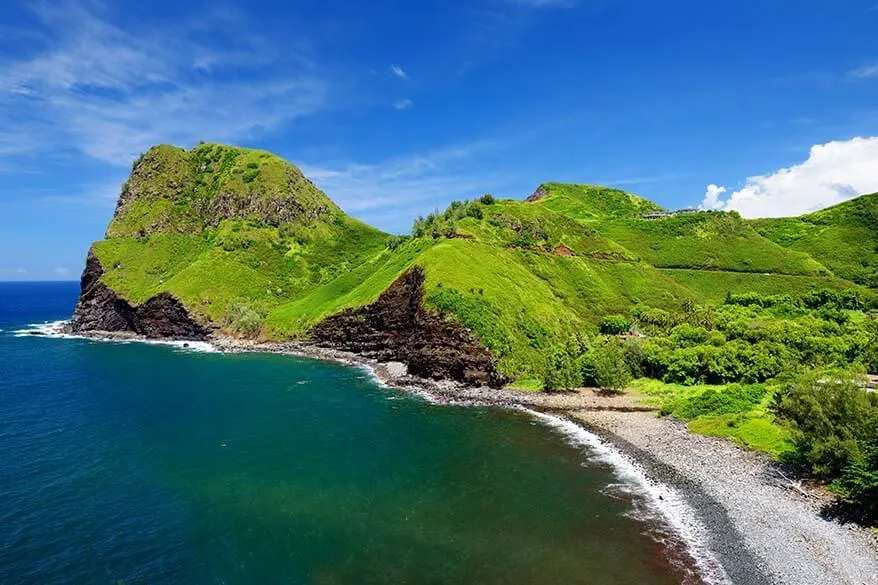 So, these are Maui itinerary suggestions that should help you make the most of your visit to Maui. The "Valley Isle" has so much to offer; you'll definitely want to come back!
Seeing Maui from the land, the sky, and the ocean is my favorite thing about this particular Hawaiian island. It truly feels like you are embracing all of the "Aloha" this magical island has to offer. Enjoy your trip!
About the author: Keri is a mom of three kids and a family travel blogger at Bon Voyage With Kids. She has lived abroad three times, worked for a cultural exchange company, and has traveled all over the world with her family. From all destinations, Hawaii is their favorite. They have been to all four major Hawaiian islands, and have spent 7 (!) family vacations in Maui.
FAQ
How much time do you need in Maui?
We recommend at least one week in order to experience all that Maui has to offer. While you can get a flavor of Maui even if you just visit for a day or two, as a minimum, try to plan 3 to 5 days in Maui.
What's the best month to visit Maui?
The best time to visit Maui weather-wise is from April to early October. For the best weather, fewer crowds, and lower prices, come in April – May or in September – October. November is a shoulder month and can be good as well. It's also the start of the whale-watching season.
When is the best time to see whales in Maui?
Whale season in Maui stretches between November and May. The absolute best time to see whales in Maui is from January to March. It's also possible to spot whales in September-October and also in June, but the chances are lower.
Is a rental car necessary in Maui?
A rental car is recommended if you want to explore Maui deeper. It's a big island and taking a taxi or an Uber for getting around will cost you a fortune. However, even if you don't rent a car, you can still see all the best places of Maui by taking tours.
What should you not miss on Maui?
When visiting Maui, don't miss a traditional luau feast, the Road to Hana, and Mt Haleakala. Maui is also a great destination for snorkeling, swimming with sea turtles, and whale watching. If you can, take a helicopter tour as well – it will be the highlight of any trip to Maui.
LEARN MORE: Best Maui Activities
Some more travel inspiration for the USA:
If you found this post useful, don't forget to bookmark it and share it with your friends. Are you on Pinterest? Pin these images!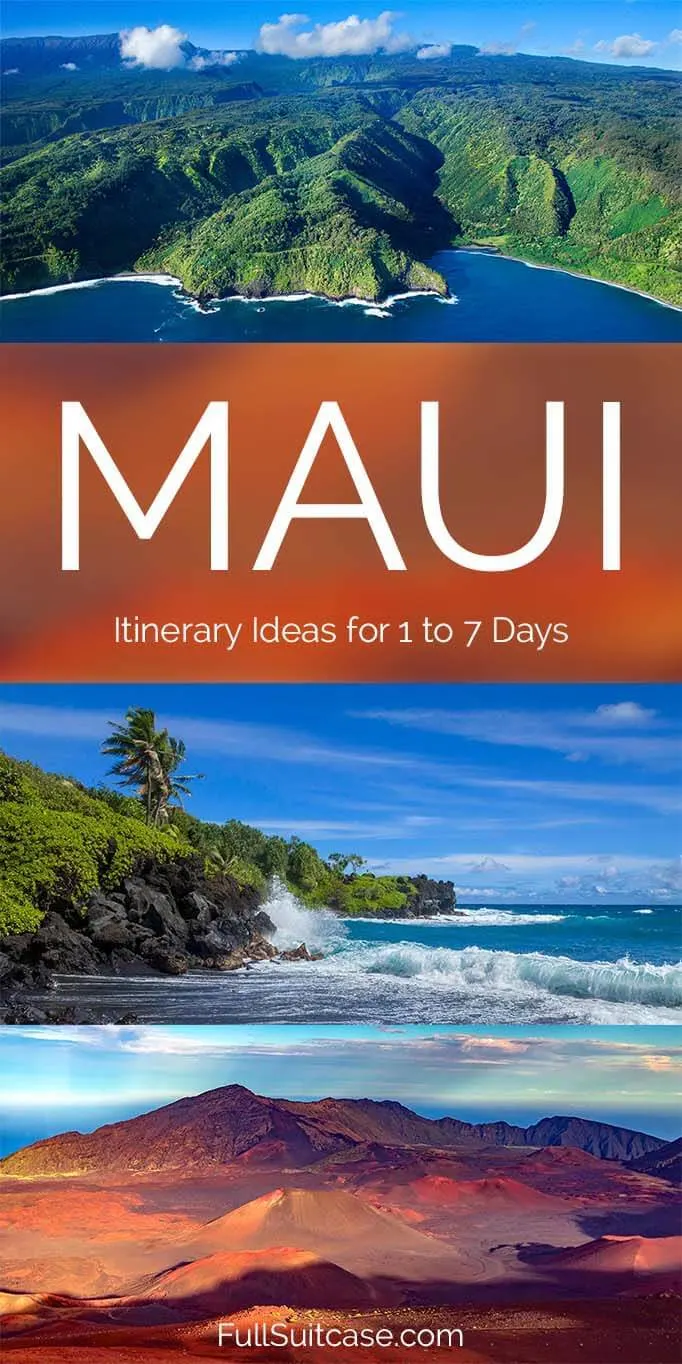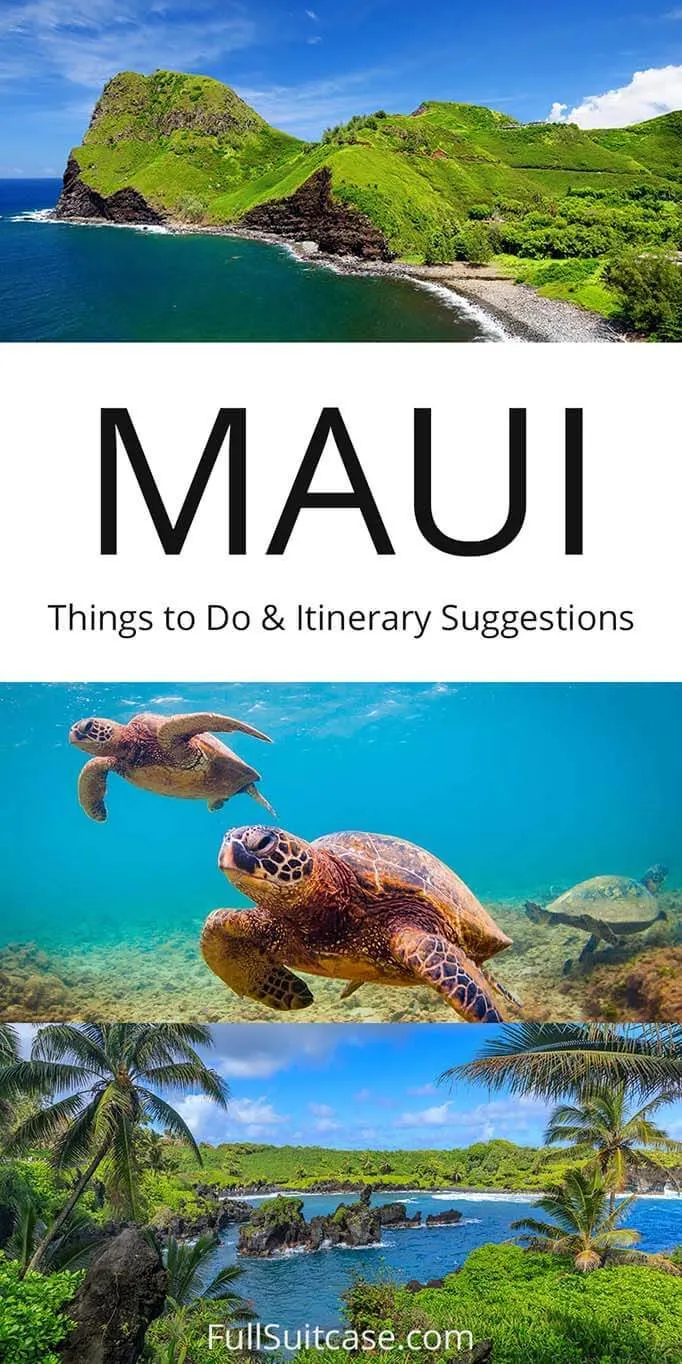 Image credits: Keri from Bon Voyage With Kids and Depositphotos.com