Maui Island in Hawaii has so much to offer! Beautiful beaches, stunning landscapes, incredible underwater world, but also a rich culture and unique traditions. There is so much to do in Maui that it might get overwhelming to figure out what's worth your time the most.
So if you are looking for some truly amazing activities on Maui and want to experience the best that this island has to offer, read on! In this guide, we selected the very best Maui activities and exceptional tours that will make your vacation so much more memorable.
The activities in our list below are the ones that are most typical to Maui; some of them can only be experienced here. We didn't include all the obvious things to do in Maui like going to the beach, hiking, paddle boarding, and similar…
Instead, we focus on those unique things to do in Maui that are worth your time even if you visit Hawaii from the other side of the world. For each activity, we also included practical information and the best Maui tours that will help you experience the very best that this beautiful island has to offer. Find out!
READ ALSO: Maui Itinerary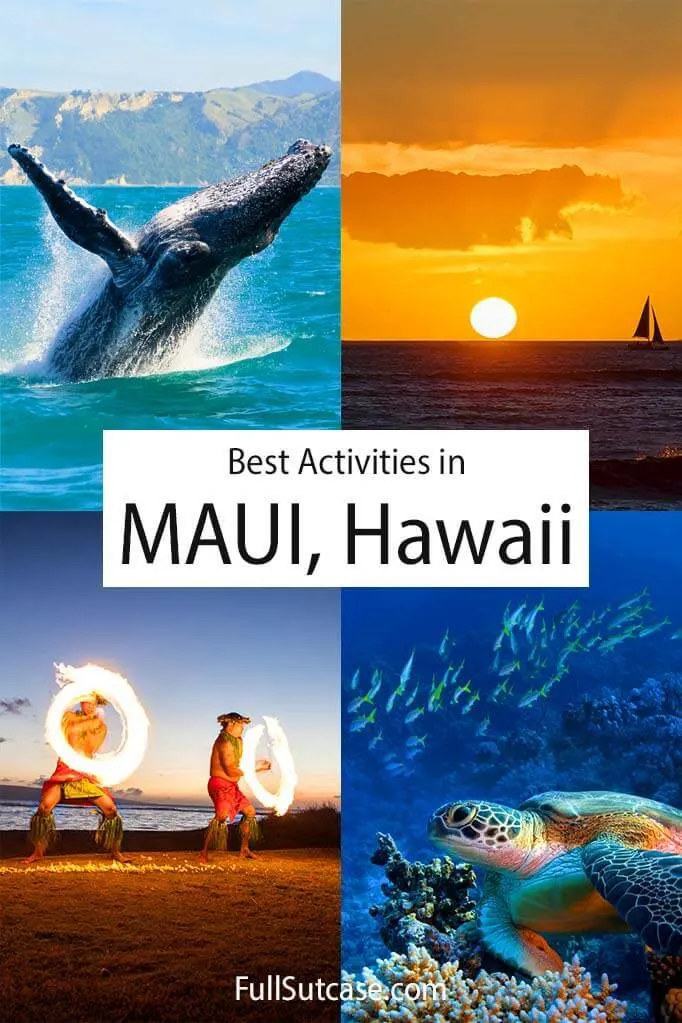 These are the very best Maui activities:
1. Attend a Luau
A lūʻau (luau) is a traditional Hawaiian party that combines food, music, and dance. Attending a luau is a great way to experience Hawaiian culture, taste some uniquely prepared food, and get to know local traditions. No trip to Maui would be complete without attending a luau at least once!
Kalua Pig, (Kalua Pua'a in Hawaiian), is the central main dish of a luau. It's slow-cooked in an underground oven for around 8 hours and there is a special ceremony for bringing the tender cooked pig outside.
The luau feast also usually includes Hawaiian games, local crafts, and a show with Hawaiian songs and traditional hula dancing. Some shows also have fire throwers and that makes the whole experience even more unique.
Practical information: There are many places on Maui that organize Luau feasts. You can find them at some bigger hotels as well. On Viator, you can find some of the popular luaus in Maui. And yes, these parties are meant for tourists these days, but it gives you a unique opportunity to experience Hawaiian traditions.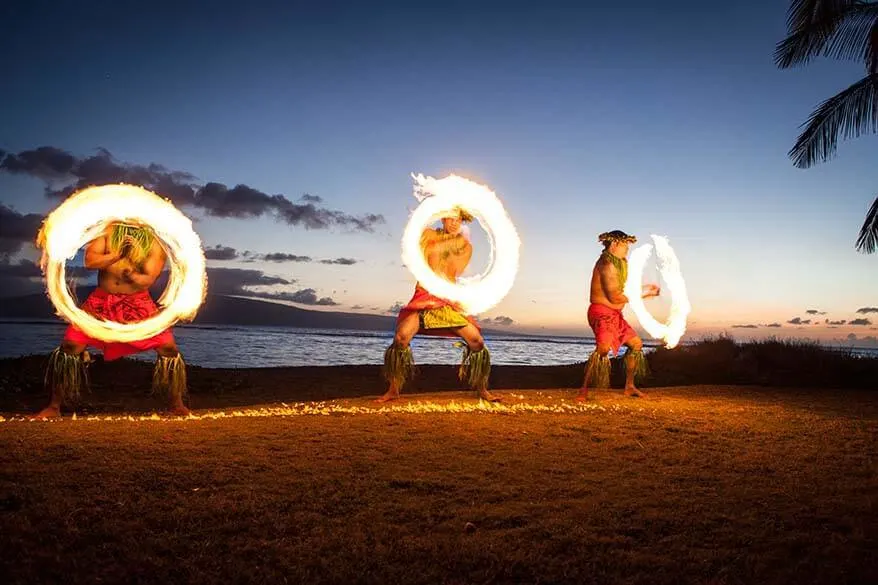 2. See the Sunrise at Mt. Haleakala
One of the most unique activities on Maui is seeing a sunrise from on top of the Haleakala volcano. Haleakala is a dormant volcano with a peak towering above the island at 10,023 ft (3,055 m).
A visit here is impressive any time of the day, but coming at sunrise is one of the most magical experiences in Maui. The views from the top are phenomenal, but it's probably even more special coming here on a cloudy day when you find yourself above the sea of clouds under your feet. It's an experience you won't quickly forget.
Practical information: There are many organized sunrise tours of the Haleakala. A popular way to explore the National Park is by booking a self-guided bike tour. They drive you up to the mountain for sunrise and afterward you bike down the volcano at your own pace.
Good to know: You can also visit Mt. Haleakala on your own. However, if you want to visit at sunrise, you'll have to make a reservation (it's free of charge, but you have to reserve). However, Mt Haleakala is part of a National Park, you'll have to pay a fee to enter (30 USD for a vehicle and the pass remains valid for 3 days). If you have an annual America the Beautiful National Parks Pass, it's also valid here.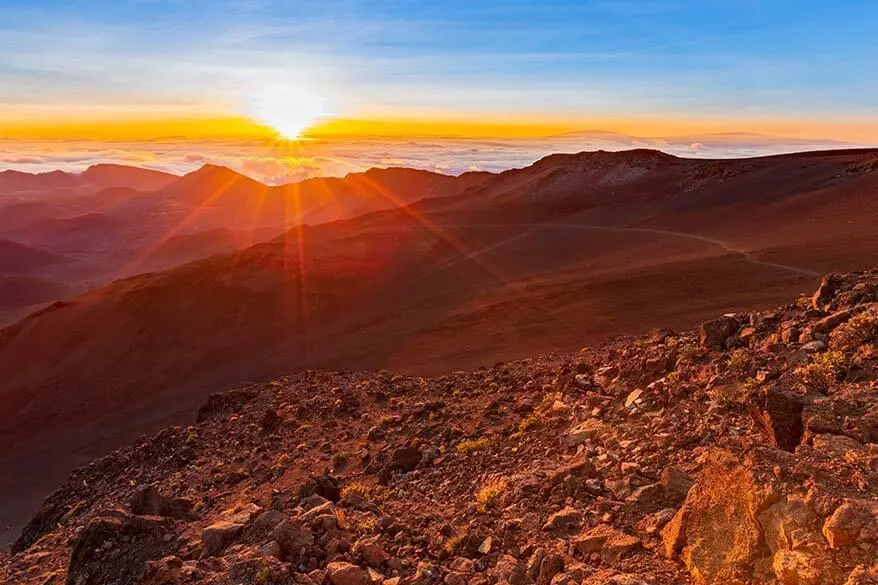 3. Swim with Sea Turtles
One of the most unique activities in Maui is snorkeling and swimming with sea turtles. Out of the seven species of sea turtles in the world, five of them can be found in Hawaii, including the most common sort, the green sea turtle.
There are many places around Maui where you can expect to see sea turtles, often right next to the shore or even laying on the beach. The best time to see sea turtles on the beaches in Maui is said to be in summer when the waters are calmer, but in the water, they can be seen year-round.
Some of the best places to see sea turtles in Maui are Maluaka Beach in Turtle Town, Black Rock Beach in Kaanapali, Slaughterhouse Beach, and several others. The best time to see turtles is in the middle of the day.
Practical information: You can head to one of the beaches where turtles are known to hang out and try to spot them yourself. Alternatively, if you want to increase your chances of swimming with turtles, you can also join snorkeling tours. Some of these tours also visit Molokini Crater (more info further below).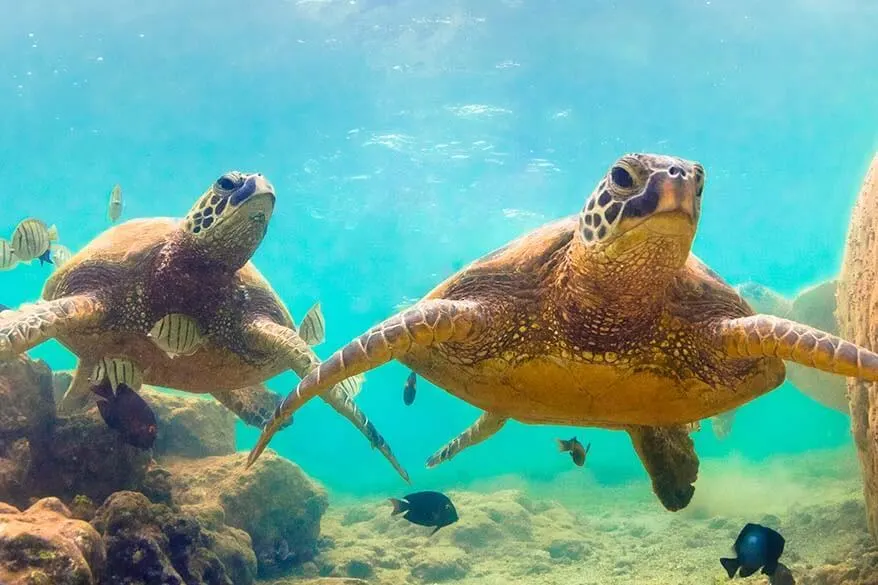 4. Drive the Road to Hana
The Road to Hana is one of the most beautiful places in Maui. No matter if you are visiting for just a few days or spending a longer vacation in Maui, driving the Road to Hana is an absolute must.
This winding road on the northeast side of Maui takes you to some of the most spectacular locations on the island. It's not about reaching a specific destination, but about the trip itself. As you drive, you'll stumble upon black rocky beaches, lush forests with waterfalls, and rugged coastal landscapes. So take the time to stop and explore the most beautiful places along the road.
Practical information: Driving the Road to Hana can take 8-10 hours, so start early and plan an entire day for it. You can either drive the Road to Hana yourself or choose one of the many amazing tours that visit this stunning part of the island.
TIP: Pack a picnic lunch and also buy some homemade banana bread at one of the roadside stands along the way. If you drive yourself, you can also get an audio tour that describes the route and the best stops along The Road to Hana.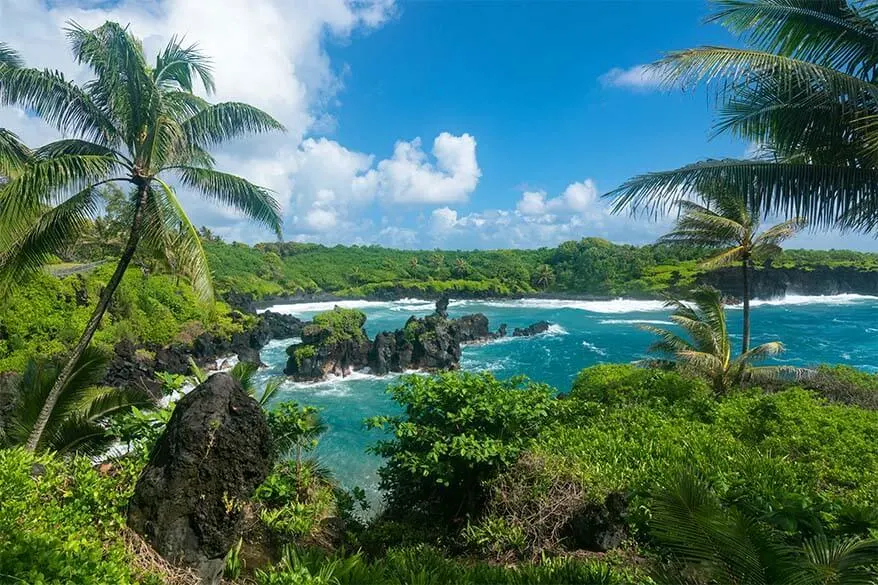 5. Go Whale Watching
Maui is a great place to see whales, especially humpback whales. Humpback whales come to Maui for its warm calm waters of the 'Au'au Channel and surrounding areas. 'Au'au means 'to take a bath' – this refers to bathtub-like water conditions of the channel. And whales love it!
The absolute best season to see whales in Maui is from January to March, but you have very good chances to see whales anywhere between November and May. It's possible to spot whales outside of this season as well, but your chances are significantly lower.
Practical information: The best way to see whales in Maui is by booking a whale watching tour. These tours actively go looking for whales, communicate with the other boats in the region, and do their utmost to make sure that you get to see whales.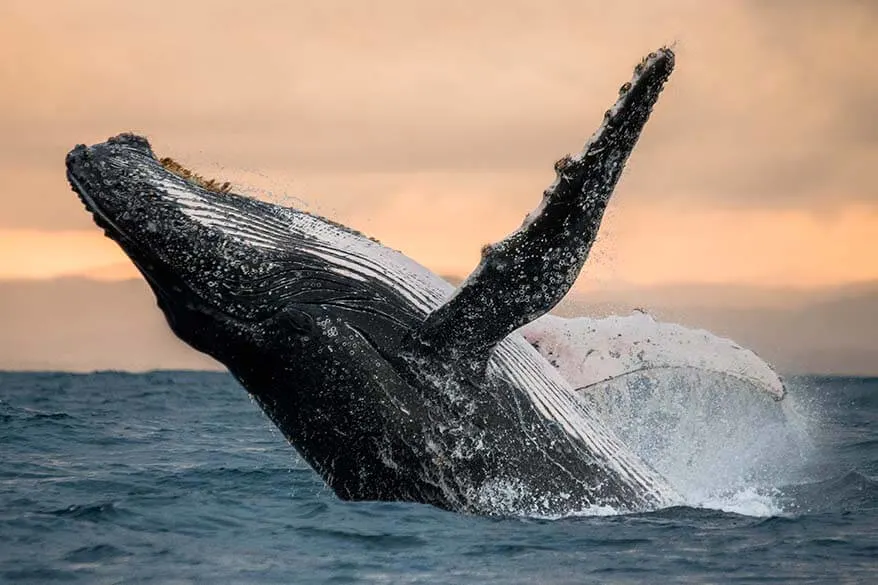 6. Take a Helicopter Tour
There is no better way to appreciate the beauty of Maui Island than seeing it from above. Of course, you can get a window seat on the plane when you fly in or out of the island, and catch a glimpse of the island for a few moments… But it cannot compare to a helicopter tour that takes you to the most beautiful places and allows you to truly appreciate its beauty!
From the air, you can see some of the most remote places and the most stunning locations of Maui. In addition, an aerial view of the area gives you a very different perspective. It's truly one of the best experiences in Maui and it will be a highlight of any vacation!
Practical information: There are several incredible helicopter tours on Maui. Most of them take 45-60 minutes, but there are also a few longer ones. Because this only takes such a short time, it's easy to plan a helicopter tour during any trip, no matter how many days you have in Maui.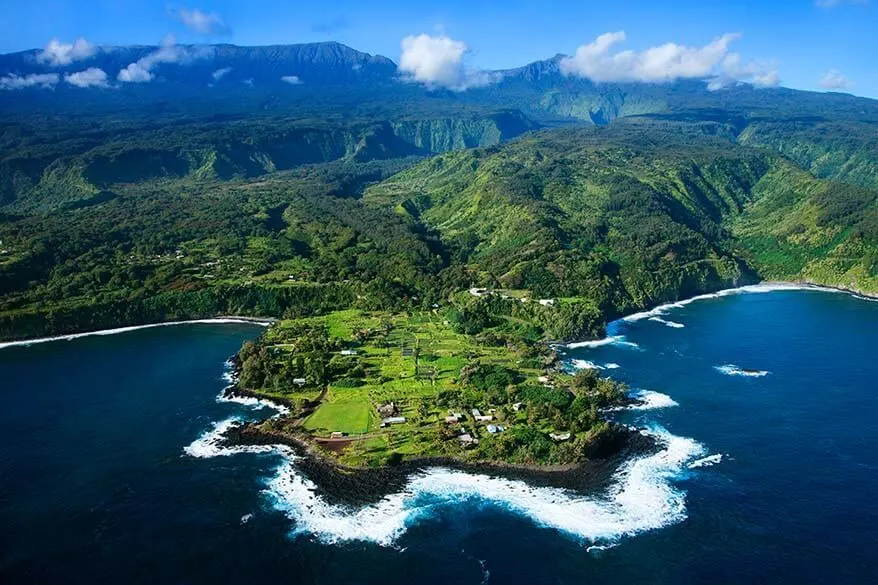 7. Snorkel Molokini Crater
Molokini is a tiny island formed by a partially-submerged volcanic crater, located just off the shore in the southwest of Maui. Molokini reef is known as one of the best snorkeling locations in Maui.
Snorkeling between underwater lava tubes and arches is a unique experience. The marine life is very rich here, and Molokini is one of the best places to see green sea turtles in Maui.
Practical information: There are various tours in Maui that go to Molokini Crater (see available tours here). Most of them leave in the morning, take 5-6 hours, and include lunch. But if that's too long for you, there are is also a shorter and cheaper afternoon tour (see here) that only takes 3 hours.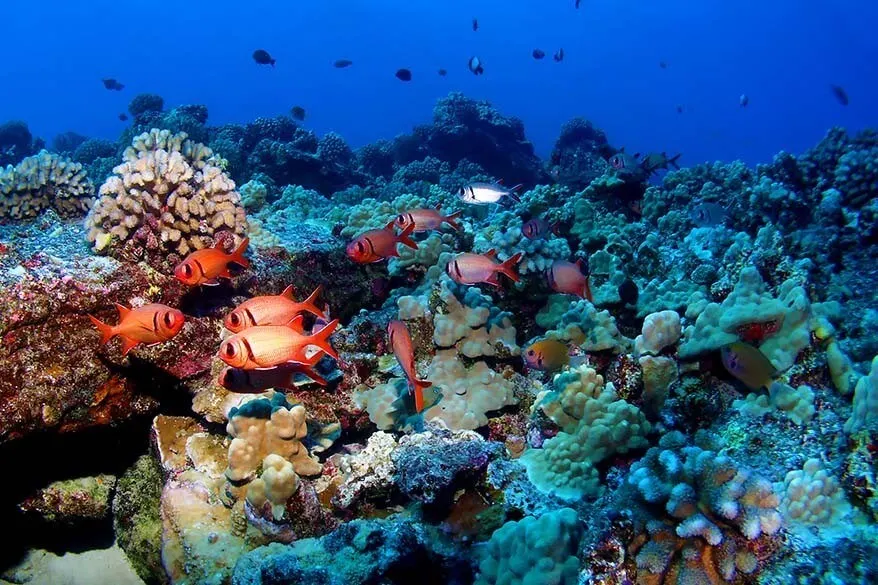 8. Take a Sunset Cruise
Maui sunsets are truly incredible! A great way to end your day is taking a sunset cruise and enjoy the stunning colors of the sky from the water.
There are many different sunset cruises. Some of them include dinner, some open bar and appetizers, others – cocktails. No matter which one you choose, it's a truly unique experience in Maui that will definitely make your vacation more special!
Practical information: You can find a selection of the most popular sunset tours here. They depart from various locations in Maui and typically take 1.5 – 2.5 hours.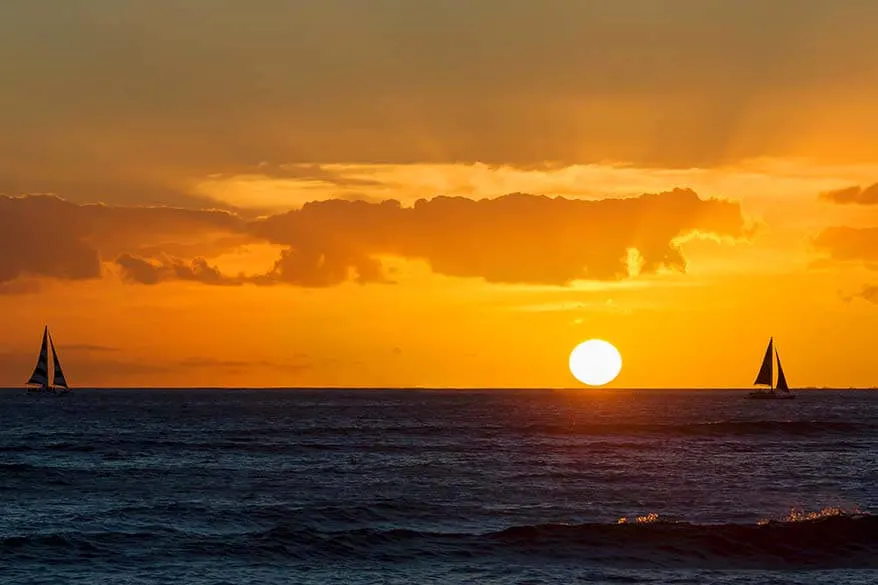 9. Visit Pineapple Plantation
Taking a pineapple tour is one of the unique Maui activities that is also well worth your time. After all, how often will you have the chance to visit a working pineapple plantation with fields of pineapples as far as an eye can see!
Not only will you learn more about pineapples, but you also get to taste them. Some of the sweetest pineapples you'll ever taste! In addition, every guest receives a pineapple! They make it airport-ready too, so that you can take it home if you like.
Practical information: The Maui pineapple tour takes place at Hali'imaile farm and takes about 1.5 hours. You'll have to drive there on your own and you can reserve your pineapple tour on Viator.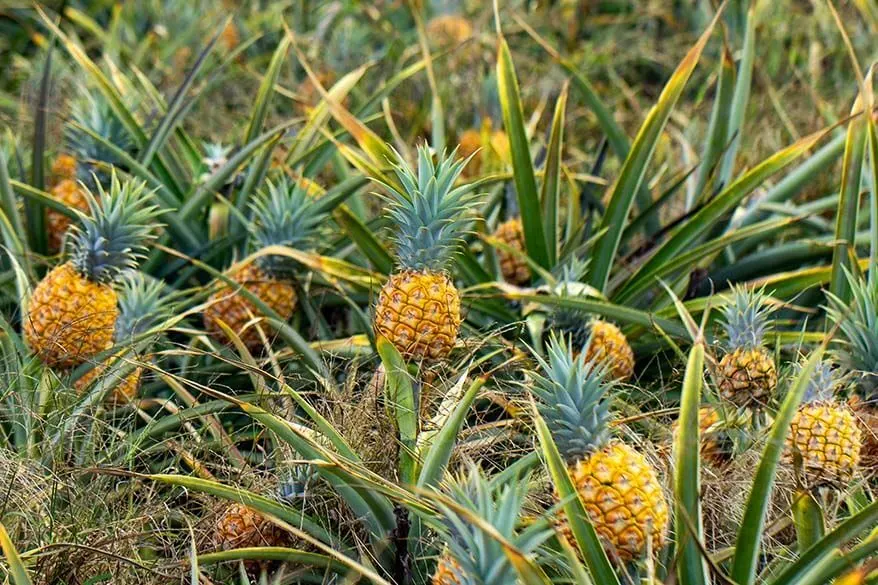 So, this is our selection of the very best activities and excursions in Maui. Even if you just pick a few of these tours, they will surely make your holidays so much more special and memorable.
Of course, there are many more things to do and places to see in Maui than we listed here. But if you are looking for the most special Maui activities that are worth your time the most, this is it!
For more tips and suggestions for visiting, please check our Maui itinerary suggestions. In this guide, you can find practical info and tips on how to plan your time in Maui, from 1 day up to 1 week. Take a look!
TIP: If you are looking for a place to stay in Maui, using the map below, you can find the best deals for accommodations on the island. Simply insert your travel dates and group size, and you'll see what's available for your vacation. Check it out!
YOU MAY ALSO LIKE: Most Visited National Parks in the USA
If you found this post useful, don't forget to bookmark it and share it with your friends. Are you on Pinterest? Pin these images!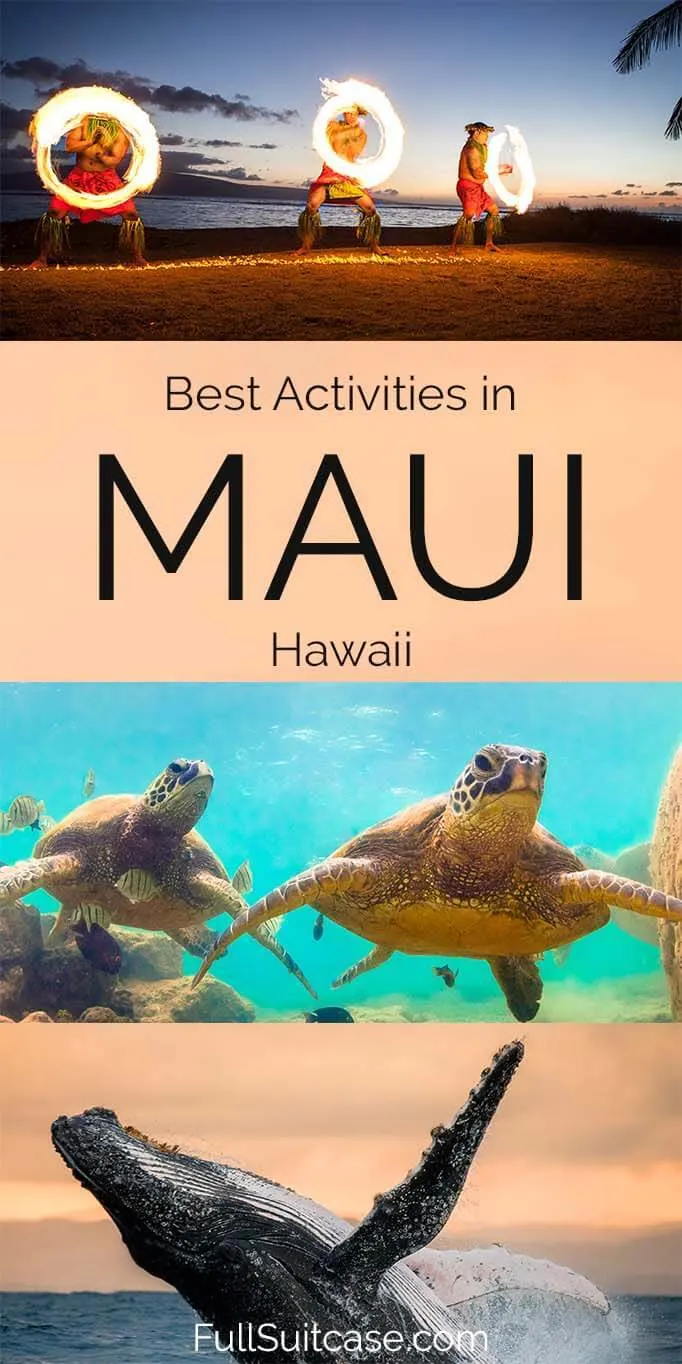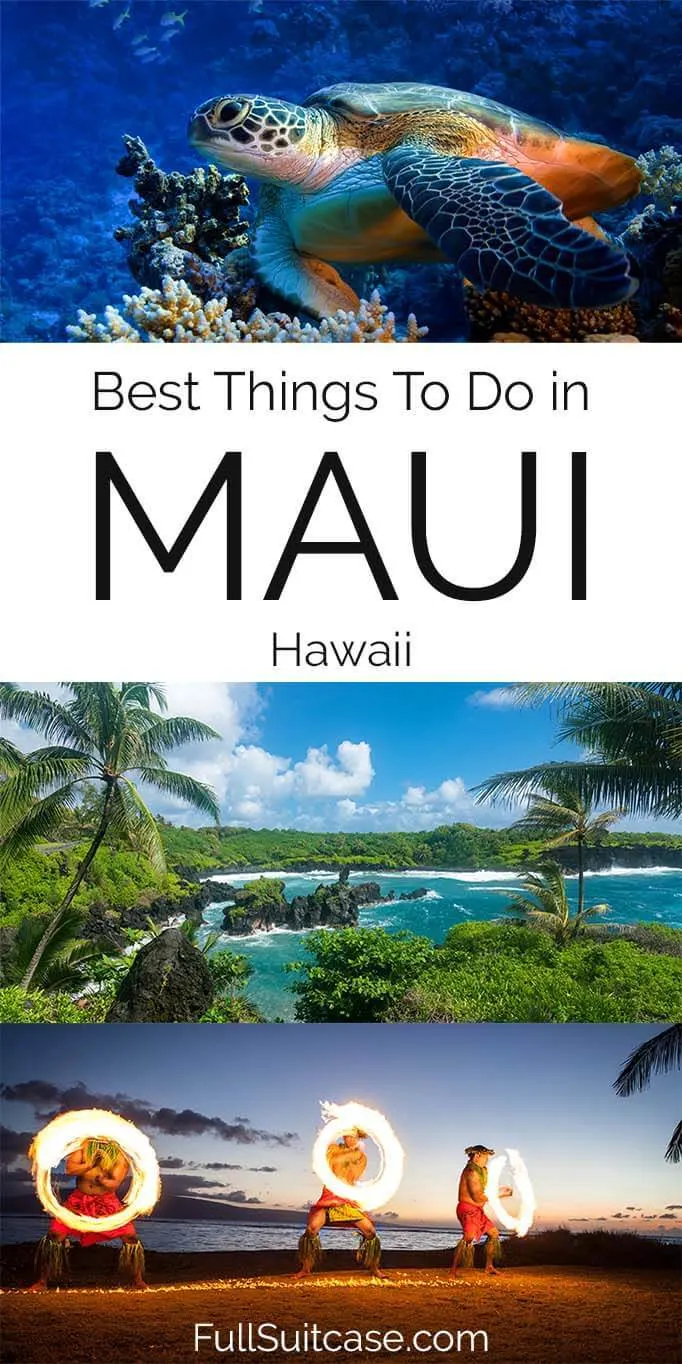 Photos: Depositphotos.com