Wondering where to travel in November or looking for trip ideas for a Thanksgiving weekend? Why not opt for a nature getaway and visit one of America's National Parks in November!
November is a special month. In some places, the high season is definitely over and the winter season is still to begin. However, there are also many other National Parks where November weather is actually perfect for outdoor activities and late fall is one of the best seasons to be there.
In this article, we feature a mix of both – the best National Parks to visit in November, but also some less obvious choices – National Parks that have something unique to offer in November, but where you have to be more open-minded and flexible in terms of what kind of weather you get.
Good to know: For this inspirational post for where to go in November, we asked opinions of fellow travel bloggers. They share some of their favorite National Parks that they visited in November and offer some experience-based tips for your visit. We also included some of our personal suggestions. Take a look!
READ ALSO: National Parks to Visit in December
PRO TIP: If you are planning to visit several National Parks, get an annual pass. It's called America the Beautiful Pass and costs 80 USD for the whole family traveling in the same vehicle. It is valid in all National Parks and 2,000 federal recreation sites across the United States for one year from the month of purchase.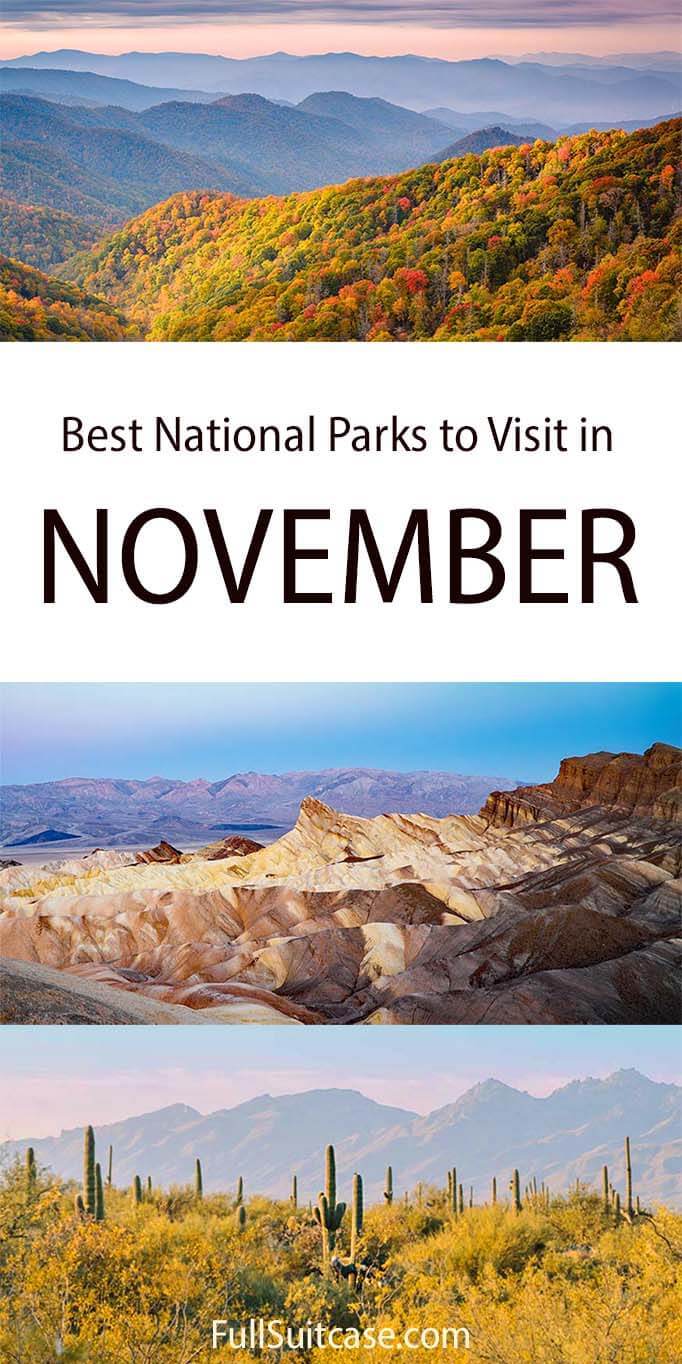 These are some of the best National Parks to visit in November, starting with the parks where November is one of the absolute best months to go:
1. Death Valley National Park
Death Valley National Park, on the border of Nevada and California, is the hottest place on Earth. The park has a unique landscape of vast expanse of desert with a flat barren land all around. A visit here is like traveling to another world; an experience that leaves you in awe.
Death Valley is an easy 2-hour drive from Las Vegas and a must-visit if you find yourself in this area. You can also opt for an organized day tour from Vegas.
However, it's not the best place to travel in summer, when temperatures generally range around 110-120°F (43-48°C). Even in September and October, Death Valley NP is still very hot, which makes it challenging to explore the highlights.
By late fall, however, the weather finally cools down. With pleasant daytime temperatures in the 70s (20-25°C), November is one of the best months to visit Death Valley!
The Death Valley NP is huge! It spans across an area of 3,000 square miles and it's important to have a good map and plan your itinerary well. The best place to start and get acquainted with the park is the Furnace Creek Visitor Center. So make sure to start your visit there.
The Badwater Basin, the lowest elevation point in the US consists of vast dry flat salt lands. Don't miss the 9-mile long Artist's Drive loop! It leads through spectacular views of mountains, in vibrant shades as if God just took out his brush and played with colors. These are the most photogenic spots in the park, especially during dawn and evening.
The best site to get a panoramic view of the badlands is Dante's View at an elevation of 5,000 ft. It is a sight to experience the badlands and the wavy designs on the hard dunes. You'll be awed by mother nature's creations!
TIP: Don't forget sun hats, sunblock, and plenty of water to keep yourself hydrated all the time. Also, carry a paper map of the park to help you traverse because cell phone coverage is poor in most places.
Additional suggestion: If you like desert landscapes and quiet places off the beaten path, check out Gold Butte National Monument in Nevada. It's also a perfect place to visit in November!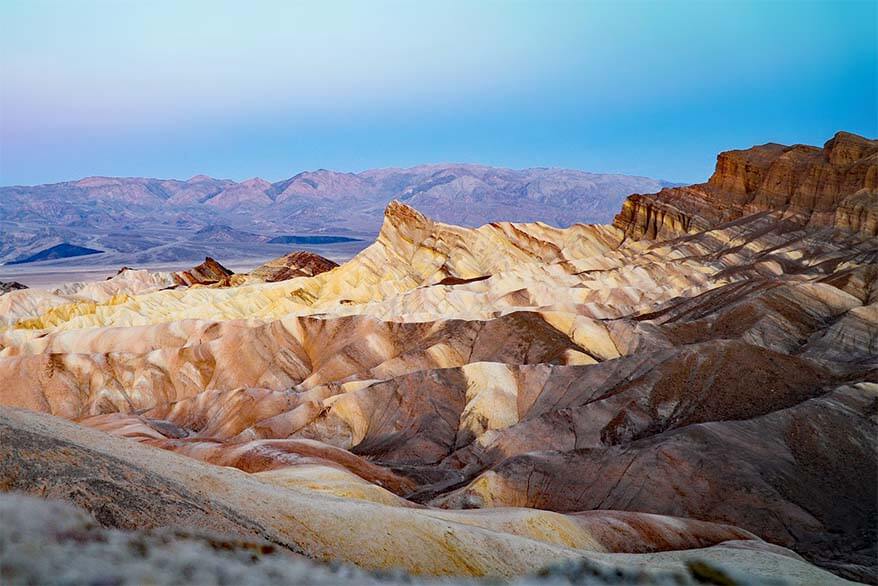 2. Great Smoky Mountains National Park
The Great Smoky Mountains National Park is the most popular National Park in the United States. It receives 10-12 million visitors per year! Best-known for its smoky blue haze, this park also has over 100 hiking trails and lots of wildlife including elk, bears, and over 60 other species of mammals, plus birds, reptiles, amphibians, etc.
The Smokies are a year-round destination, with most visitors coming in the summer months. Late October-early November is one of the best times to visit the Smoky Mountains National Park to view fall foliage.
Some of the best hiking trails to see the colorful trees are the Rainbow Falls Trail, Laurel Falls Trail, and Alum Cave Bluff Trail. Visiting in the early mornings in the fall, you'll see why the park got its name, with a moody misty fog hovering along the mountain tops.
Cades Cove loop can't be missed any time of the year. Whether you choose to visit by car, by bike, or even take a horseback ride, the cove is one of the most beautiful spots in the Smoky Mountains.
Average November temperatures are around 55°F (13°C) and it can also freeze, especially at night. So bundle up on your hikes and make sure to pack a rain jacket. Weekdays lead to fewer crowds than weekends and Thanksgiving week is the busiest time of the month. But if you visit the Smokies on a quiet weekday in the first half of November, it's as good as it gets.
TIP: Staying in the cabins in Gatlinburg or cabins in Sevierville will allow you the comforts of home, away, with fireplaces and nightly s'mores. Under Canvas Smoky Mountains offer a unique glamping option of camping in a yurt – a perfect alternative to camping in the fall.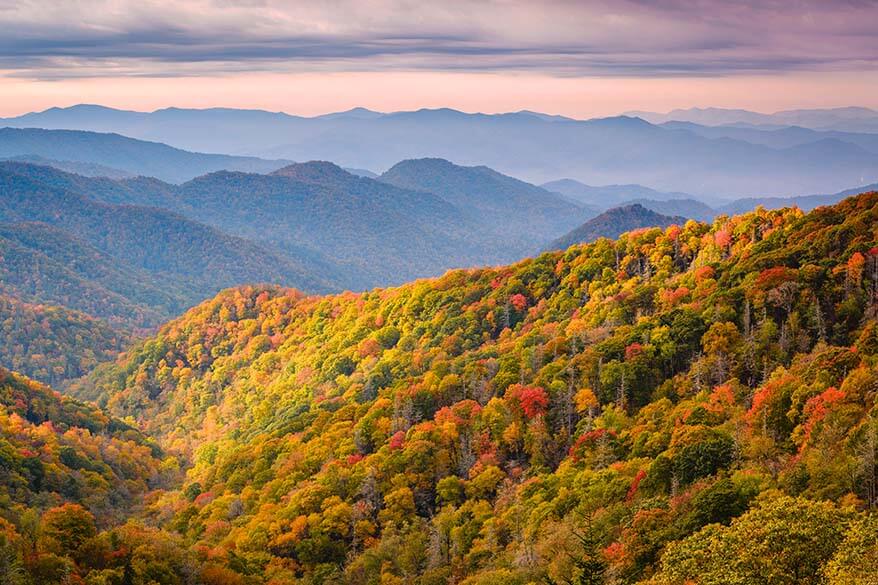 3. Big Bend National Park
Combining mountains, deserts, and the Rio Grande River, Big Bend National Park in southwest Texas is like an extensive outdoor playground. This park is perfect for hikers, bird watchers, canoers, kayakers, and natural history lovers.
A stop at the Fossil Discovery Exhibit is a must for those who want to see a giant alligator, a Bravoceratops, and learn more about the natural history of Big Bend and the surrounding area.
If you are looking for a good hike, you can choose anything from canyon trails to peak trails with plenty of desert trails in between. Don't forget to soak in the nearby hot springs after your hike! Another option is a drive through the park and over the border to visit the traditional Mexican Village of Boquillas. No matter what you choose, Big Bend is an outdoor enthusiast's desert dream.
November is the perfect time to visit Big Bend National Park, especially for those who are averse to extreme temperatures. Unlike other times of the year, you can go hiking at any time of day because November temperatures average in the high 60s to low 70s (18-22°C). Perfect hiking weather!
We visited Big Bend NP on a sunny, clear day in the middle of November and hiked the 4.2-mile Lost Mine Trail that gave us views over to Mexico. With a cool breeze and constant sunshine, a simple long sleeve shirt with shorts was enough for us. Perfect hiking weather!
Good to know: Keep in mind there are over 150 miles of trails at Big Bend NP. Elevation ranges from as low as 1800ft in the Chihuahuan Desert to 7832ft in the Chicos Mountain Range. This means that the temperature can fluctuate wildly during the day and night, depending on where in the park you are hiking or camping.
Big Bend NP is open year-round and most of its trails are always accessible, except during rare snowfalls in the winter months. Summer months can see a high of over 100°F (around 40° C) and heat-related caution should be heeded. November is the perfect time to be here! However, no matter when you visit Big Bend, you should bring a sun hat, sunscreen, and plenty of water!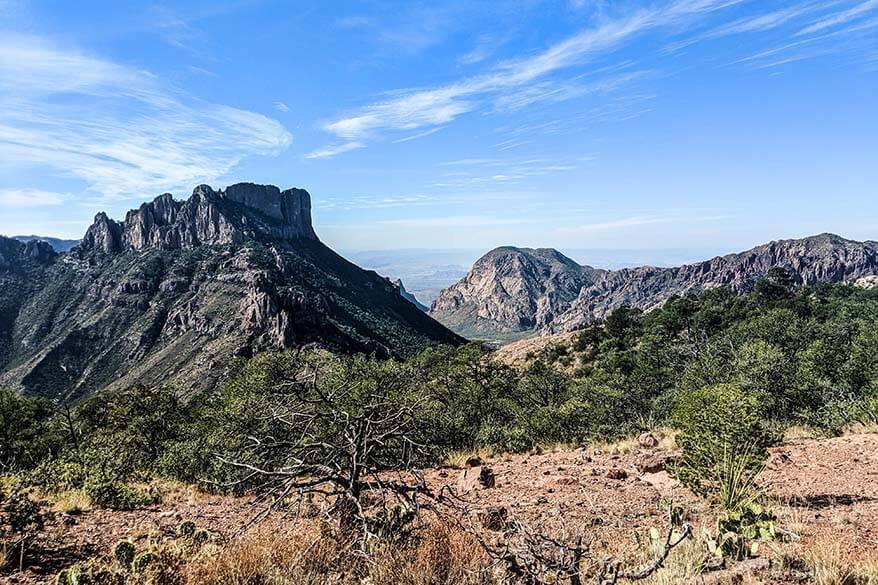 4. Everglades National Park
Fall offers the most bearable weather in South Florida and Everglades National Park. November is the beginning of the dry season, which means that you won't get attacked by mosquitos and will be able to enjoy everything that Everglades NP has to offer to the fullest.
The weather is pleasantly 'cool' for Florida, with average daytime temperatures in November around 80°F (27°C).
At the Shark Visitor Center, you can take a 15-mile loop road via bike, tram, or hiking. Along the loop, you can see many species of birds and many alligators. At the halfway point stands a huge observation tower from which view extends for miles over the planes and grass of the Everglades.
If you take a trip further south to the Flamingo Visitor Center, you can see one of the best-known places in North America that is home to the American alligator. Also, you can find manatees (sea cows) here. It is interesting that some of the most friendly animals like the manatees live in harmony with such aggressive creatures in this ecosystem like alligators.
The most popular thing to do in Everglades is taking an airboat tour to spot wildlife. Adventure seekers can rent a canoe and explore the mangroves on their own. You can also go wild camping on one of the many islands just off the shore of the visitor center.
The adventures in the Everglades are not for the fainthearted, but by avoiding the wet and hot season, you are bound to enjoy your journey through America's biggest swamplands.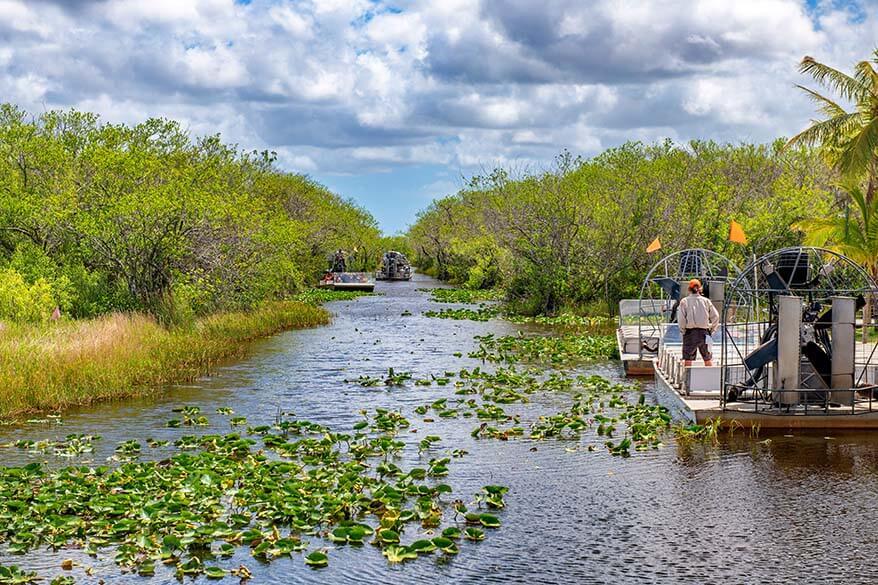 5. Joshua Tree National Park
November is one of the best months to visit Joshua Tree National Park and it is also one of the most popular times in the park.
After a scorching summer, the Joshua Tree temperatures begin to drop as fall approaches. By November, the weather is cooler and really pleasant. Daytime temperatures vary between 60°F and 75°F (15-24°C) during the month. At night, the temperatures range from 40°F to 50°F (5-10°C).
The cooler weather in the early morning and late afternoon makes for perfect hiking conditions.
Joshua Tree NP is located in California and is one of the best year-round parks to visit in the United States. Its trails are all typically open in November and it's one of the best times of the year to hike to Barker Dam.
During the cooler months of the year, the dam is usually filled with water. So November is one of the only opportunities to see water in the barren Joshua Tree desert.
An added bonus of visiting Joshua Tree NP in November is that some of its more dangerous wildlife are less active. Although sightings are relatively rare, it's reassuring to know that the rattlesnakes are dormant during the cooler months!
The pleasant weather continues to attract high crowds throughout the entire month. Although, outside of the Thanksgiving weekend, the park is quieter than during the most popular spring months. This makes grabbing one of the coveted parking spaces by the trails much easier!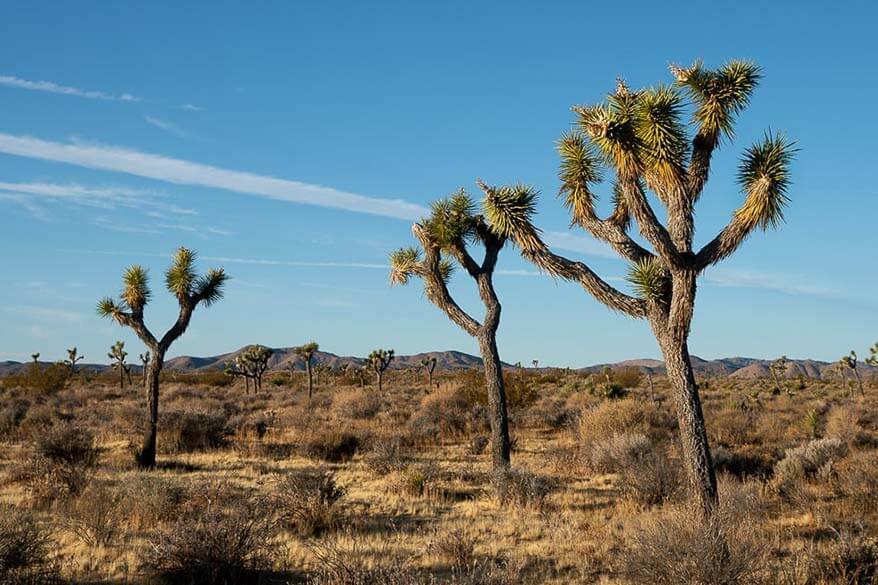 6. Saguaro National Park
Where: Saguaro NP is in Arizona.
Suggestion by Kelly from No Man Before.
Where to stay: Tucson, AZ is the best base for exploring the region.
Saguaro National Park, located in southern Arizona, is aptly named for the thousands of giant saguaro cacti dotting its desert landscape. The Arizona desert is known for its dry, scorching heat in the summer. But by November the weather is practically perfect for all Arizona sights and attractions.
Average high temperatures in Saguaro NP in November are around 74° F (23°C). There is typically very little to no rain.
However, this is also one of the busiest times in the park. Late fall through early spring is the best season to visit Saguaro NP. There are many activities offered, such as guided walks and park ranger talks.
Saguaro National Park is divided into two districts, separated by the urban sprawl of the city of Tucson. The East District, also known as the Rincon Mountain District, features the classics of the Sonoran Desert at its lower elevations like saguaros, ocotillo, and cholla cactus. The landscape transitions into pine trees and conifers as you climb into the mountains and closer to the park's highest elevations that reach almost 9,000 feet.
The best way to take advantage of the mild, sunny November weather is to head out on the hiking trails. Try the Mica View Loop for an easy, beautiful hike in Saguaro National Park.
The West District of Saguaro National Park, also called the Tucson Mountain District, tends to see more visitors. It features a larger visitor center and also has a denser saguaro forest. One of the best views is at the end of the short Valley View Overlook Trail, just off the scenic Bajada Loop Drive.
While not technically part of Saguaro National Park, the Arizona Sonora Desert Museum is located just outside the park. It's a great place to learn about the history, desert ecosystems, and animals that call the area home.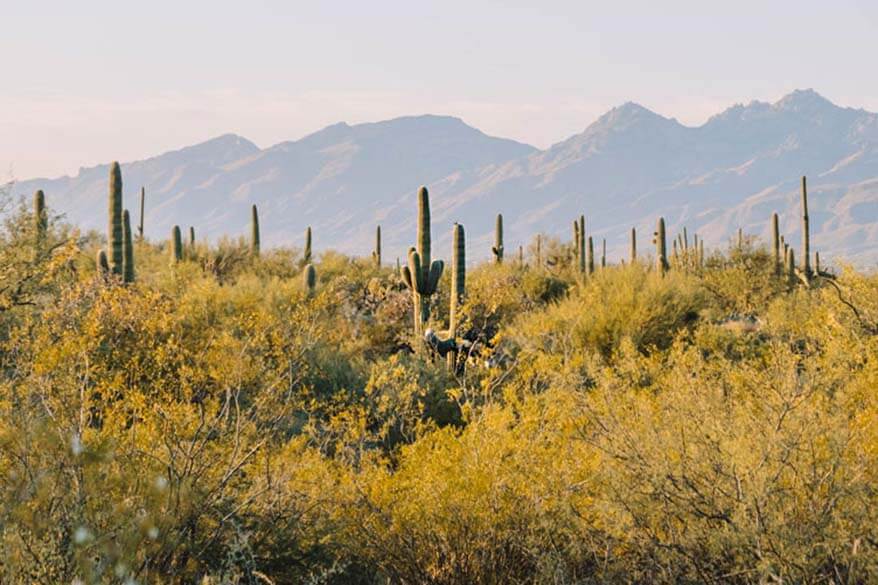 7. Dry Tortugas National Park
Where: Dry Tortugas NP is in Florida.
Suggestion by Ruby from A Journey We Love.
Where to stay: There is no lodging, only camping here. Most people stay in Key West and visit for a day.
Dry Tortugas NP, located between Florida and Cuba, is one of the harder to reach National Parks. It is only accessible by ferry or by small airplane. But that's also what makes it more unique and worth visiting.
There are seven islands in Dry Tortugas NP. However, when people talk about visiting Dry Tortugas, they usually refer to the 2nd largest island, Garden Key. That's where Fort Jefferson is located and that's where day tours go.
The best things to do on the island are snorkeling (bring your own gear as there are no concessions on the island), exploring the big fort that surrounds most of the island, and/or lounging by the beach. Most people visit Dry Tortugas as a day trip from Key West, but you can also camp here.
There's only one official ferry going from Key West's mainland to the island, and you will have to buy tickets online and well in advance in order to get a spot. It includes roundtrip transportation from Key West to Dry Tortugas National Park as well as a light lunch. If you have a bigger budget or are traveling with a bigger group or family, you may opt to charter a seaplane from Key West to Dry Tortugas.
November is a shoulder season in Florida, with cooler weather, less humidity, and fewer crowds. In other words, one of the best months to visit. Furthermore, going during the shoulder season gives you a better chance of getting tickets to the Dry Tortugas ferry as well as lesser crowds in Key West.
While November weather might be a bit overcast and the seas tend to be rougher, most of the time the weather is beautiful and it's a great time for sightseeing. If you are lucky, you will visit Dry Tortugas on a sunny day, with not many waves to hinder your ferry journey, and it won't be too crowded on the island. It's a much better experience than coming here in high season.
TIP: When planning to visit Florida and Dry Tortugas in November, try to avoid the Thanksgiving weekend as that is a very busy time.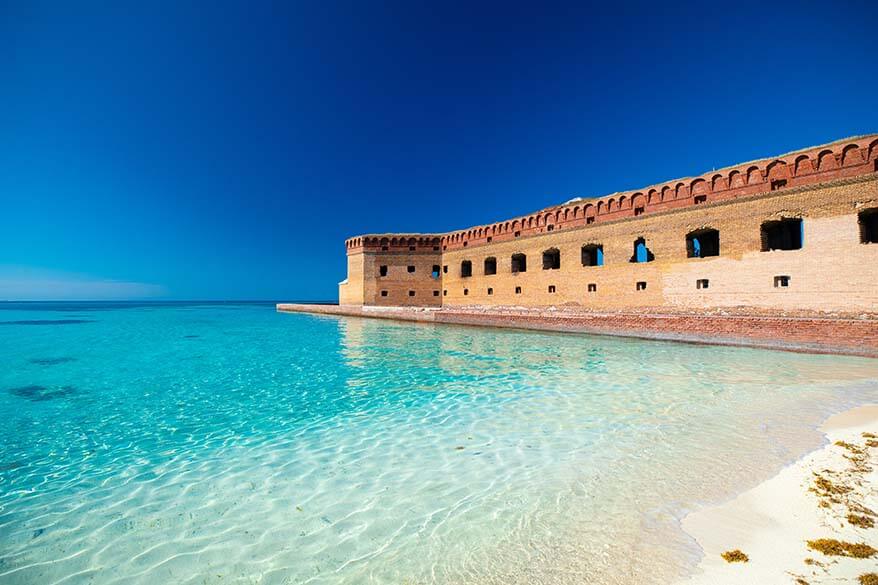 8. Capitol Reef National Park
Where: Capitol Reef NP is in Utah.
Suggestion by Danielle from Wanderlust While Working.
Where to stay: Torrey is the best place to stay here.
Capitol Reef National Park is the least visited of Utah's 'Mighty 5'. Nestled in between behemoths like Zion, Bryce Canyon, and Arches, Capitol Reef NP is often overlooked.
While the park can be lovely at any time of year, November in Capitol Reef is particularly wonderful with no crowds and cool, dry weather. Average daytime temperatures in November are just around 50°F (10°C) and it can also freeze a little. However, snow is very unlikely, and with some sunshine, this time of the year is perfect for hiking.
We visited the park at the beginning of November and loved how secluded it felt. Even the easily accessible Fruita District was really quiet. On one of the hikes, we were the only people on the trail!
Although there was no fruit left to pick in the popular Fruita Orchards, we got to watch some wildlife. A small herd of deer – including a large buck and several fawns – were wandering through the orchard searching for leftover fruit that had fallen from the trees. I can't imagine finding such a large herd during peak season!
While the Gifford House and Nature Center are closed in November, the campgrounds, visitor center, and the park itself are open all year with the exception of some major holidays.
If you plan to visit Capitol Reef, be sure to check out the Pioneer Register on the Capitol Gorge Trail and see views of the 'Waterpocket Fold' in the Earth's crust along the Fremont River Trail. Also, hike to Cassidy Arch, the secret hideout of Butch Cassidy, and catch the sunset at Goosenecks Point. Here you can find more ideas for the best things to do in Capitol Reef National Park.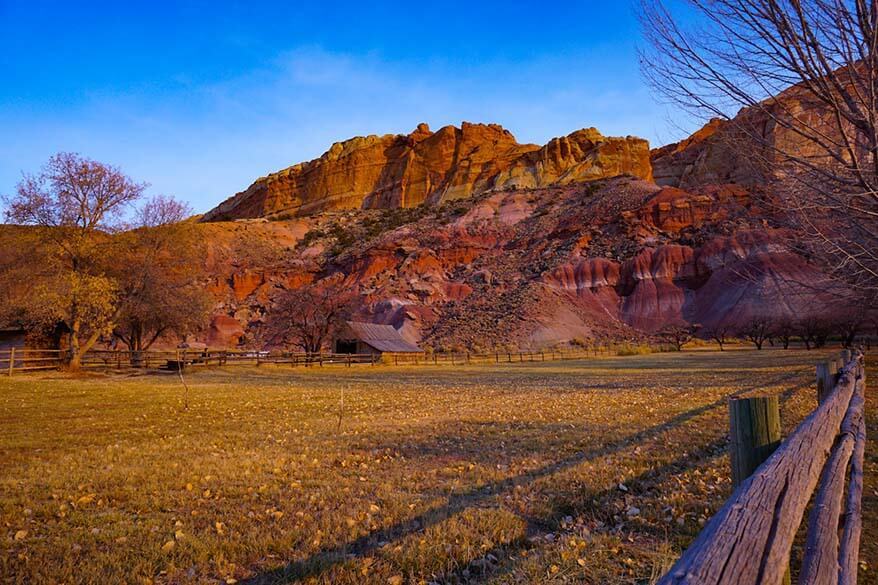 9. Grand Canyon National Park
Where: Grand Canyon NP is in Arizona.
Suggestion by Diana from Sea of Blush.
Where to stay: See our guide to Grand Canyon hotels.
Grand Canyon NP is always a good idea! But November is in particularly great time to visit the Grand Canyon simply because it's not as crowded as in the high season. Furthermore, you can easily combine a visit here with the nearby Sedona and/or Las Vegas, which are also great in November!
It's also not as hot, however, the weather is also much more unpredictable. South Rim facilities are open in November and there are no restrictions on your visit. We arrived at the park entrance late at night and used an automated gate to pay and enter the park.
Grand Canyon weather in November can vary greatly! We were there for only about 24 hours and experienced high winds, rain, hail, and warm sun! All in one day.
TIP: When checking the forecast be sure to check the weather for South Rim and not Flagstaff, AZ which was my mistake. Because of the elevation difference between Flagstaff and the South Rim, it is much colder at the South Rim.
November temperatures at the South Rim are between 25 and 50°F (-4 to 11°C). But it is much warmer if you hike down into the canyon. Sunshine makes a big difference as well. Normally, it doesn't snow in Grand Canyon in November, but you never know, especially towards the end of the month.
If you plan to see the sunrise at the South Rim in November, stay at the Grand Canyon hotels inside the park so that you don't have to travel far. In late fall and winter, you have to be prepared for the possibility that overcast skies will obscure the sunrise. This is exactly what happened to us.
We got up super early to see the sunrise at a specific spot I had picked out and were met with nothing but ominous clouds and hail. Fortunately, shortly after sunrise, the clouds cleared and the sun shone behind a beautiful mist. I can honestly say this may have been the most magical moment of our Arizona road trip. See the picture below – magical isn't it!
Most of the crowds at the Grand Canyon South Rim gather around Mather Point. But if you take the Rim Trail left or right there are barely any crowds in November. We especially enjoyed walking the Rim Trail from Mather Point to Yavapai Point.
READ MORE: How to See the Best of Grand Canyon in One Day
TIP: A visit to the Grand Canyon is often combined with several other amazing places nearby. See our suggested itinerary for Grand Canyon, Antelope Canyon, and Horseshoe Bend for some inspiration on where to go in this area!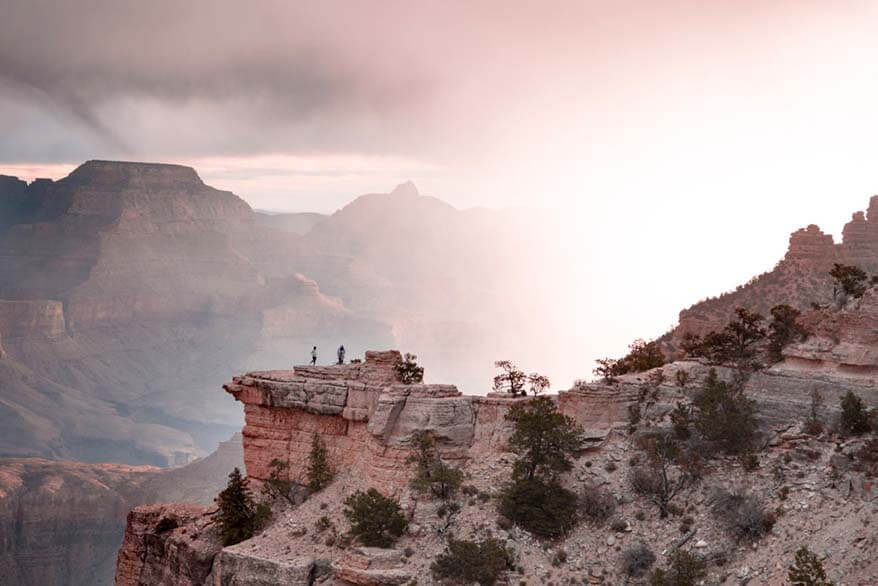 10. Zion National Park
With typically low crowds, quiet trails and mild weather, November is a fantastic month to visit Zion National Park. The fall colors are still prominent throughout the park and, with winter approaching, the first snowflakes usually arrive to lightly dust the canyon walls.
November temperatures in Zion average highs of 64°F (17°C) in the daytime and lows of 37°F (3°C) overnight. Rainfall tends to be moderate and it rains on average 5 days during the month. There can be some snow but the low elevation of the Zion Canyon means it rarely sticks.
Aside from being careful of ice on the trails, many of the most popular Zion hikes are largely unaffected by the November weather. Angels Landing, Weeping Rock, the Emerald Pools and the Canyon Overlook trails are all accessible and stunning during November.
The biggest impact is on the Narrows, a river-based hike through the Virgin River and one of Zion's most popular trails. While the trail is still outstanding in late fall, there's no denying that trekking through water is a much more pleasant experience when the temperatures are higher. During the colder months, hikers usually require dry pants to stay warm in the water.
Throughout November, with the exception of the extremely busy Thanksgiving weekend, the hiking trails in Zion are often a place of solitude. If you start early in the morning, you're likely to have long sections of the trails to yourself.
With the added bonus of cheaper Zion accommodation outside of Thanksgiving, November is a great month to experience both the final days of fall and the beginning of winter in Zion National Park.
READ MORE: Best Hikes in Zion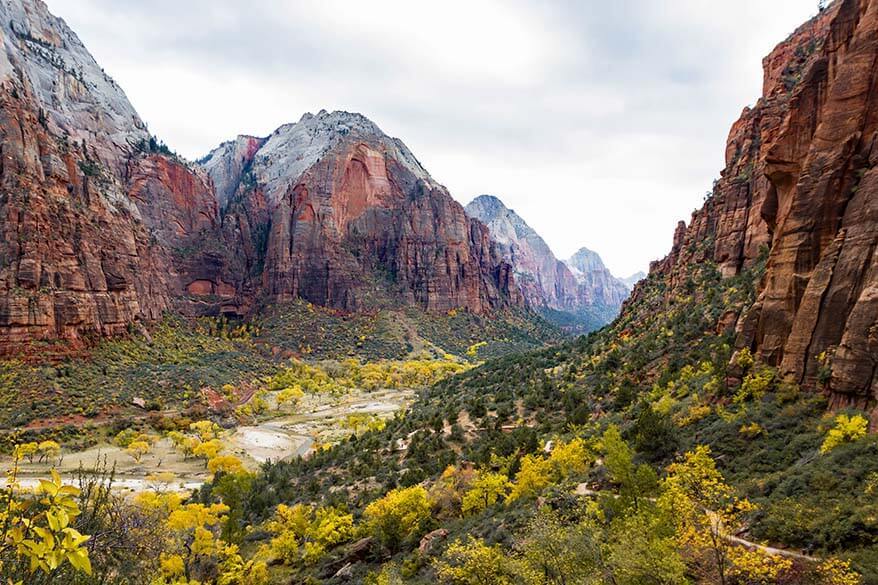 11. Arches National Park
Where: Arches NP is in Utah.
Suggestion by Clare from Driving Me Nomad.
Where to stay: There's no accommodation inside the park. See our guide to Moab hotels – the best town nearby.
November is one of the best months to visit the overly-popular Arches National Park. You'll get to avoid the scorching hot weather along with the crowds that usually flock to the park in the summertime. It's also much cheaper to visit in the low season as accommodation prices drop significantly.
Although visiting in the winter months does present some limitations, like ranger-led hikes, most of the hiking trails do remain open during the winter. Arches Scenic Drive is normally open the whole year round as well.
There are over 10 hours of daylight in Arches in November, giving you plenty of opportunities to explore the park and its many hiking trails and viewpoints.
November weather in Arches is usually very good, but chilly. Normally, you can expect temperatures anywhere between 30-60°F, with average daytime temperatures of 55°F (13°C), freezing cold nights, and clear skies. If you're visiting Arches NP towards the end of November, you can also expect some snowfall, which adds to the beauty of the dramatic landscape.
The most popular hike in the park is the Delicate Arch trail. Be sure to bring trekking poles and to have shoes with great grip as the trail could be a little icy in November.
The Devil's Garden Campground is also open in the winter and is available on a first-come-first-serve basis. Camping at Arches in winter is a great experience! Just make sure to have the appropriate camping equipment to keep you warm. You can also buy firewood right at the visitor center. For more comfort, stay at the nearby Moab hotels.
November at Arches National Park will give you a peaceful experience filled with contrasting views. The red rocks set against a blanket of fresh white snows are some of the best views the park has to offer. Just be sure to pack the right hiking and camping gear, and to dress warm so that you can truly enjoy this magical place to the fullest.
READ MORE: Best Things to Do in Arches National Park
TIP: Combine a visit to Arches with that of the nearby Canyonlands National Park. Here you can find our suggestions on how to visit Arches and Canyonlands in one day.
If you have more time, take a look at this complete guide listing all the best things to do in Canyonlands NP, Island in the Sky district.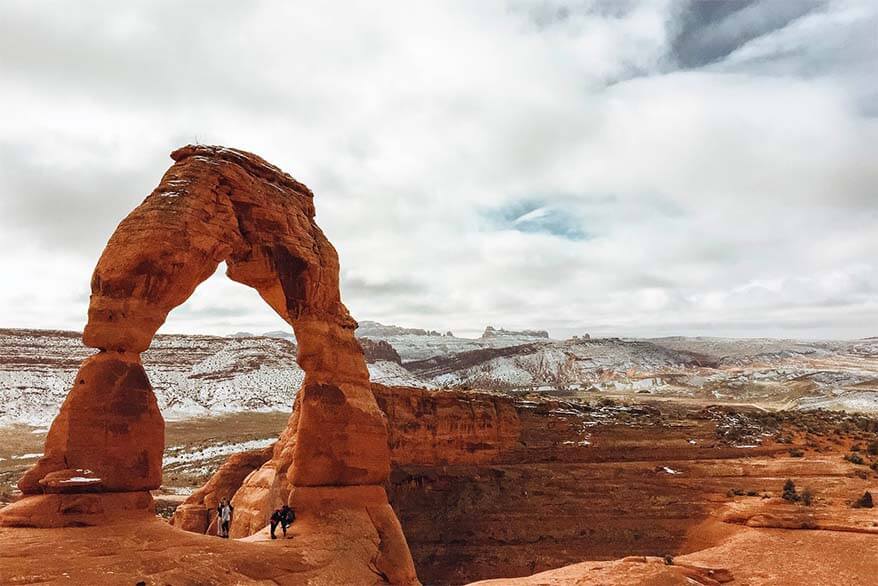 12. Bryce Canyon National Park
Low crowds and the chance of snowfall make November a magical time to visit Bryce Canyon National Park. The trade-off is the regular trail closures that come with the cold weather.
Bryce Canyon's high elevation means that freezing conditions are typical for November with temperatures in the low 40's (5-10°C).
The end of the year is also a unique opportunity to see the signature hoodoo rock columns covered in snow as November often brings the first of the heavy snowfall to Bryce Canyon. The contrast of the deep red rock, the fresh snow, and the bright blue sky is a magical sight.
Bryce NP remains open throughout the month, except during snowstorms when it may close temporarily. While it may be too cold or snowy to hike into the park, the viewpoints remain open and are regularly snowplowed.
The Rim Trail from Bryce Point to Inspiration Point is often closed to all traffic at this time of year. The hikes down into the main amphitheater are also more challenging due to snow and mud making the trail slippery.
Good to know: Warm clothing and lots of layers are essential if visiting Bryce in the late fall. Waterproof hiking boots or even snow boots are also great for navigating the trails. Even walking the short distances to and from the viewpoints requires full warm gear, including gloves, hats and hiking spikes for the ice!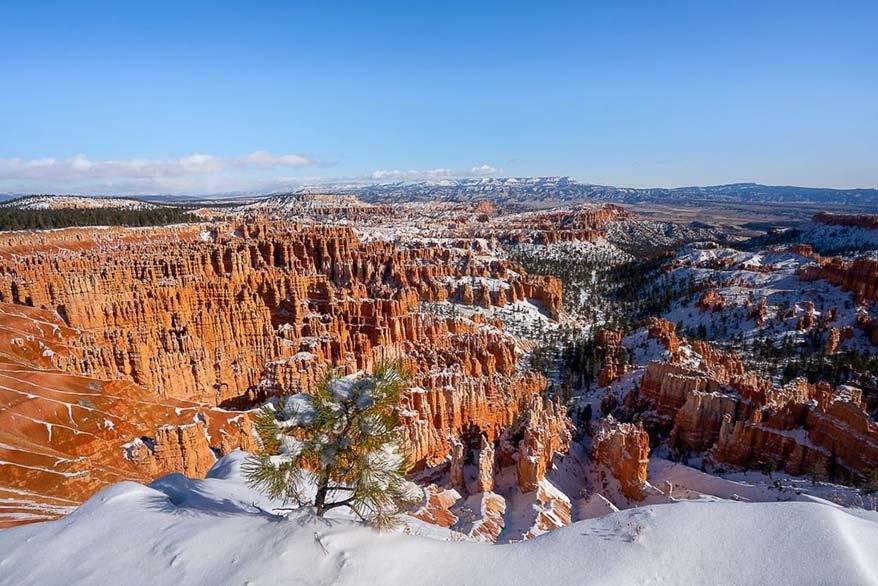 13. Channel Islands National Park
Where: Channel Islands NP is in California.
Our suggestion.
Where to stay: There is no lodging here, only camping. Stay in Ventura or in Oxnard and visit on a boat tour.
Channel Islands National Park is located just off the coast in southern California, yet a world apart. These islands are called North America's Galapagos and feature rugged coastal landscapes and lots of unique plant, bird, and animal species.
Channel Islands NP consists of 5 bigger islands, each somewhat different and unique. Santa Cruz is the biggest island. It is best known for its many sea caves, steep cliffs, coves, and sandy beaches. Santa Rosa is home to rare Torrey Pine trees. San Miguel island is known for its seals and Santa Barbara Island is a popular place to see nesting seabirds.
Anacapa Island has a series of narrow inlets stretching for 6 miles. This unique formation can best be seen from Inspiration Point on East Anacapa Island. The scenery around Anacapa Island Lighthouse (1912) is also incredible.
There are no hotels or restaurants on the islands and most people visit them as a day trip. The best way to get here is with a boat tour from Ventura or Oxnard, about an hour drive north of Los Angeles. Private boat tours are also available.
Camping is also possible and each island has a (primitive) campground. But you have to make sure to bring everything you need. Most people prefer to stay in Ventura hotels or in Oxnard and travel here for a day.
Channel Islands can be visited the whole year round, with most tourists coming between June and August. Each season has something unique, but with ocean temperatures in the 70's, fall is considered one of the best times for snorkeling, diving, kayaking, and swimming in the Channel Islands. It's also a quiet time to be here, without the crowds.
Early fall is good to see whales and November is a good time to see seals.
Average high temperatures in Channel Islands NP in November are around 60-65°F (15-18°C). In the beginning of the month, you're likely to have sunny warm days with temperatures in the low 70s (21-24°C).
November is the shoulder month just at the end of the dry season. So there's somewhat more chance for precipitation, but there are also extended periods of beautiful dry weather. It's a great month to discover this rugged natural paradise.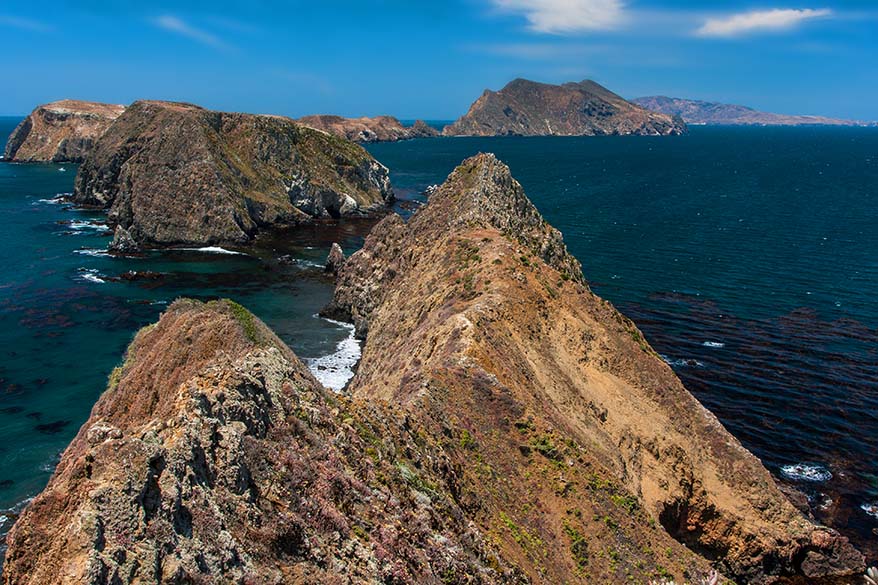 14. Olympic National Park
There are very few parks that have such diverse ecosystems like Olympic National Park on the Olympic Peninsula of Washington State. It has one of the few temperate rain forests in the USA, beaches from where you can watch whales, stunning coastal areas, and a lot more.
If you are driving from Seattle, count more or less 2 hours to get there, depending on which part of the park you are visiting. How about starting the trip with a picnic at Hurricane Ridge, in the backdrop of mountains. Your next stop could be the gorgeous Lake Crescent. The lake has scenic views and picnic areas. From there, you could go to Sol Duc Falls.
Make sure to visit the Hoh Rainforest. With more than 130 species of mosses, lichens, and ferns, the plants take over everything in here. You could spend the whole day hiking inside the forest and listening to the sound of the Hoh River. Ruby Beach and Shi Shi Beach are two of the most popular beaches in the Olympic NP.
Although June to September are the more popular months to visit this park, I really enjoyed visiting Olympic NP in November. It's a wonderful time to experience the park with no crowds. Also, October and November are great months to see the grey whales from Shi Shi Beach.
November is also the best month to see elk and other wildlife. Prices drop, local businesses are happy to see you, and you can enjoy some local produce. It's also a good time for seafood such as oysters and crab.
However, November weather is cold (around freezing point) and it is also one of the wettest months in the Olympic National Park. So make sure that you are well prepared for rain and wind. Good rain gear is a must!
My best advice is to check the forecast and adapt your plans to the weather. For example, stormy weather is perfect for storm watching along the Pacific Coast.
There might be campsite and road closures during that time, which you can check on the National Park Service website. Everything was open when I visited around mid-November.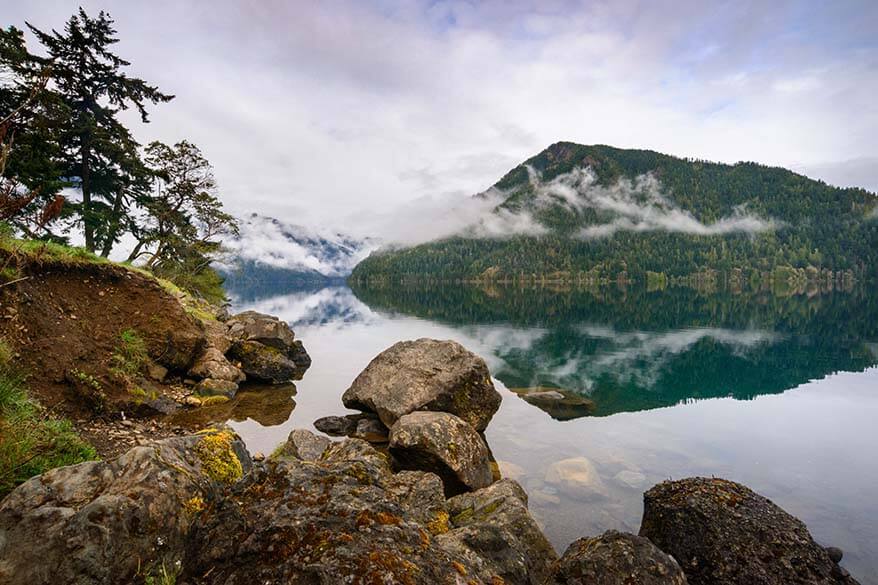 15. Yosemite National Park
Yosemite National Park is very busy in the summer and fall is considered one of the best times to visit the park. November is the least crowded month, but is a bit tricky as you have to be prepared for all kinds of weather. However, if you come with an open mind and appropriate gear, Yosemite in November can be a truly magical experience.
The weather in Yosemite Valley in November is usually still mild, with average daytime temperatures around 57°F (14°C) and average lows just around the freezing point (32°F – 0°C). With just 5 days of rain, you have great chances for crisp and clear autumn weather that is perfect for the outdoors.
Needless to say, it's much colder at higher elevations where snow is quite common in November. Fresh snow at higher elevations usually means beautiful waterfalls in the valley!
Yosemite Valley and Wawona are accessible the whole year round, but starting in November, tire chains are required (although hardly ever needed). Glacier Point Road and Tioga Road usually close around mid November, sometimes a bit later. If you're lucky, you can still visit Glacier Point, Mariposa Grove, and Tuolumne Meadows before they close for the season.
Beginning of November is also a good time to see colorful fall foliage in Yosemite. The majority of the trees in Yosemite are evergreen, but big-leaf maples, black oaks, Pacific dogwoods, and deciduous shrubs color bright yellow around mid-October, turning Yosemite valley into a colorful painting for a few weeks.
For the best hiking weather, open roads, and fall colors visit Yosemite in the beginning of November!
READ ALSO: First-Timer's Guide to Yosemite National Park
Good to know: While November is very quiet in Yosemite, Thanksgiving week is very busy and accommodations are usually fully booked. If you're planning to visit Yosemite for Thanksgiving, make sure to reserve your stay well in advance. There are some nice accommodations in Yosemite Valley – one of the best places to stay.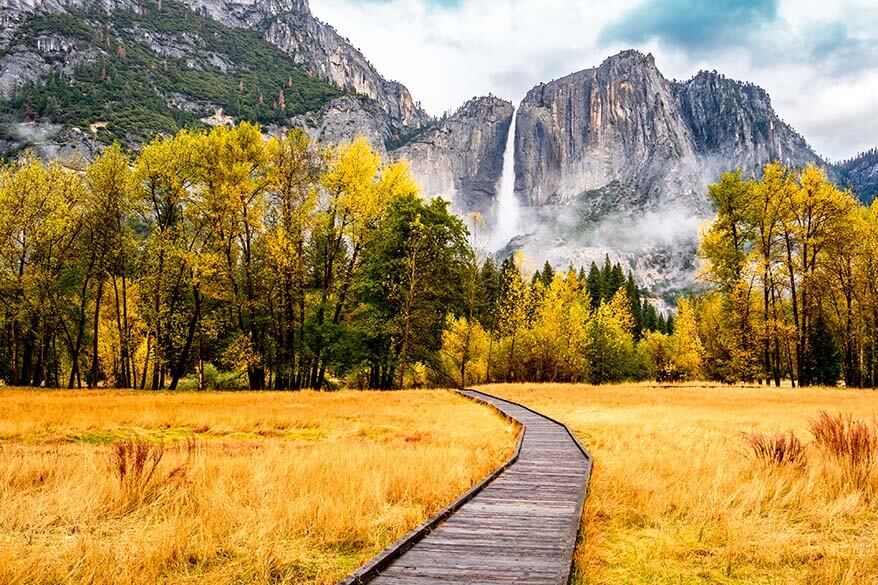 So, this is our selection with suggestions for some great National Parks to visit in late fall. I hope that you found some new ideas for where to go in November!
TIP: While not a National Park, Sedona in Arizona is also a great place to visit in November. With daytime temperatures in the high 60s-70s (20°C), the weather is perfect for all the outdoor activities there!
What's your favorite American National Park in November? Feel free to leave a comment below and tell us all about it!
READ ALSO: Best National Parks to Visit in the USA
More travel inspiration for American National Parks:
If you found this post useful, don't forget to bookmark it and share it with your friends. Are you on Pinterest? Pin this image!