Are you traveling to Chicago, Illinois, for the first time and looking for some travel tips for a more memorable and enjoyable visit? In this guide, we share our top tips and useful info for visiting Chicago.
Big city life, cool unique neighborhoods, fantastic food, lakefront fun, and Midwest charm – these are just a few things that await you when visiting the Windy City.
But how to make the most of your visit, see the musts, but also get a bit off the beaten path and simply enjoy the best that Chicago has to offer without getting overwhelmed?
In this guide, we share our top tips that will help you to make the most of your first visit to Chicago. Find out!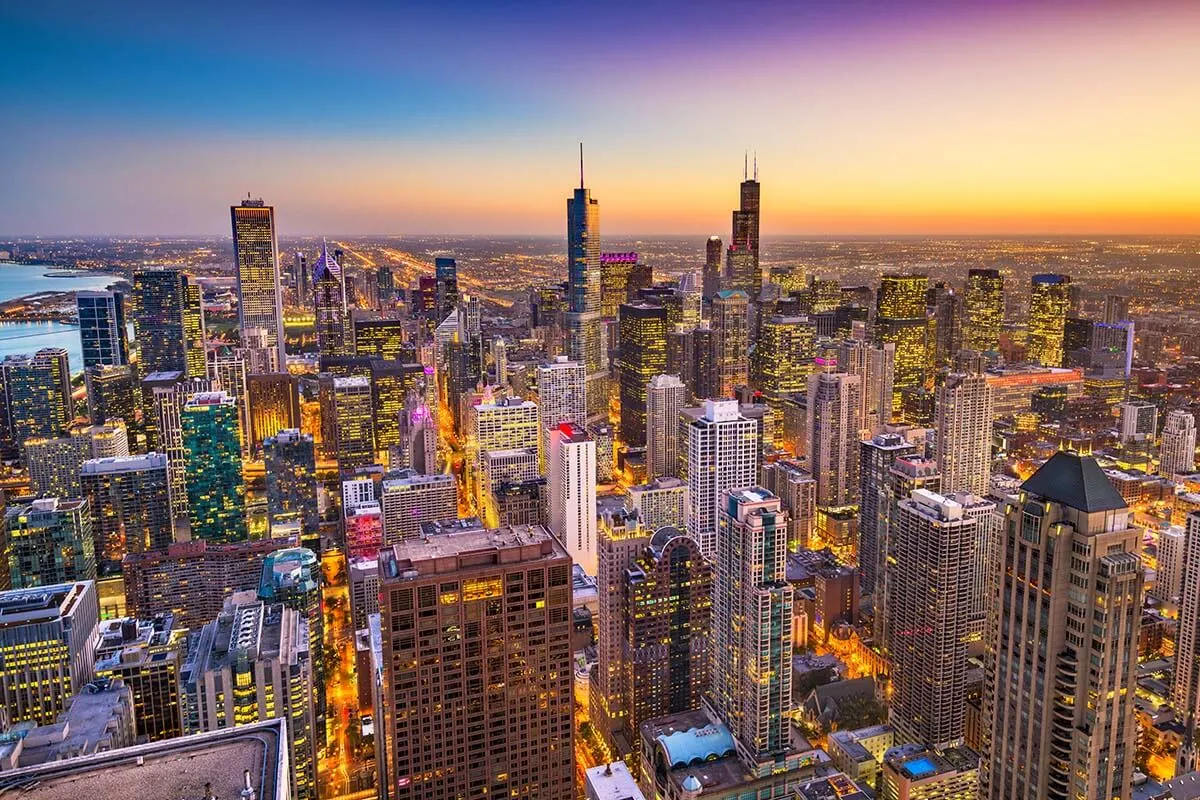 These are our top tips for visiting Chicago:
1. Stay in the Heart of the City
If you are traveling to Chicago for the first time, you're likely planning to see all the main tourist landmarks. For sightseeing, we recommend staying right in the heart of downtown so you will be near all the action. Chicago is a very walkable city, with many attractions close to each other, and the best way to enjoy your trip is to stay as close as possible to the main sights.
A good thing about Chicago is that it has lodging for every budget and every style, from 5-star luxurious hotels to eclectic private rentals in a cool neighborhood.
Where to stay: The Loop is one of the top areas to stay in because it's where Chicago's most popular tourist attractions are located. If you do your research and make your reservation right, you should be able to walk or take a short Uber ride to most of the top spots in the city.
Good to know: The Loop is the 1.79-mile elevated train (called the "L") that "loops" around the Chicago downtown area. Chicagoans use the term "The Loop" to refer to Chicago's entire downtown area.
Here are some of the best-rated hotels in this area, for all budgets:
Personal favorites: The one thing I highly recommend is finding a room at a boutique hotel like The Blackstone for a much more unique experience than staying at a big hotel chain.
Another one of my favorites is the Chicago classic hotel, the Palmer House (Hilton hotel). Staying at the Palmer House during the holidays is a special experience, don't miss it! The Palmer House is also within walking distance to Millennium Park, Maggie Daley Park, Cloud Gate (the Bean), and the Art Institute.
Shoppers should stay near the Magnificent Mile while foodies and art lovers will love the River North area, just a few blocks away. This Hilton Garden Inn is well-located for these areas.
TIP: Using the map below, you can also compare hotels and short-term apartment rentals in Chicago city center. Simply insert your travel dates and group size, and you'll see what's available for your stay. Check it out!
2. Avoid Bank Holidays & School Breaks
Chicago is a very popular city break destination in the US attracting over 50 million visitors each year.
The busiest times to visit Chicago are, of course, during school breaks and US bank holiday weekends. So if you can, try to avoid these peak periods for fewer crowds and better prices.
Summer life in Chicago is extra special and you are going to want to see this gorgeous city during the warmer months. The winters can be gloomy and grey, so the city really feels like it comes to life when the seasons change.
Now that we told you to avoid the peak times, it would be unfair not to mention that the summer season is popular for a good reason. Even though busy and hot, Chicago is beautiful in summer!
Chicago's summer festival scene is like no other with various events, such as Lollapalooza, Taste of Chicago, Venetian Night, and the Air and Water Show to name a few. There is always something cool to do! The outdoor dining and rooftop bars in areas like River North & Riverwalk are also a huge part of Chicago's summer fun.
The nicest time to visit Chicago is April-May and mid-September-October when the weather is pleasant and it's not as busy as in the peak summer months and not as cold as in the winter. On the other hand, Chicago has so much to offer that you can have the most enjoyable visit at any time of the year. You just have to plan well and adjust your itinerary to the season.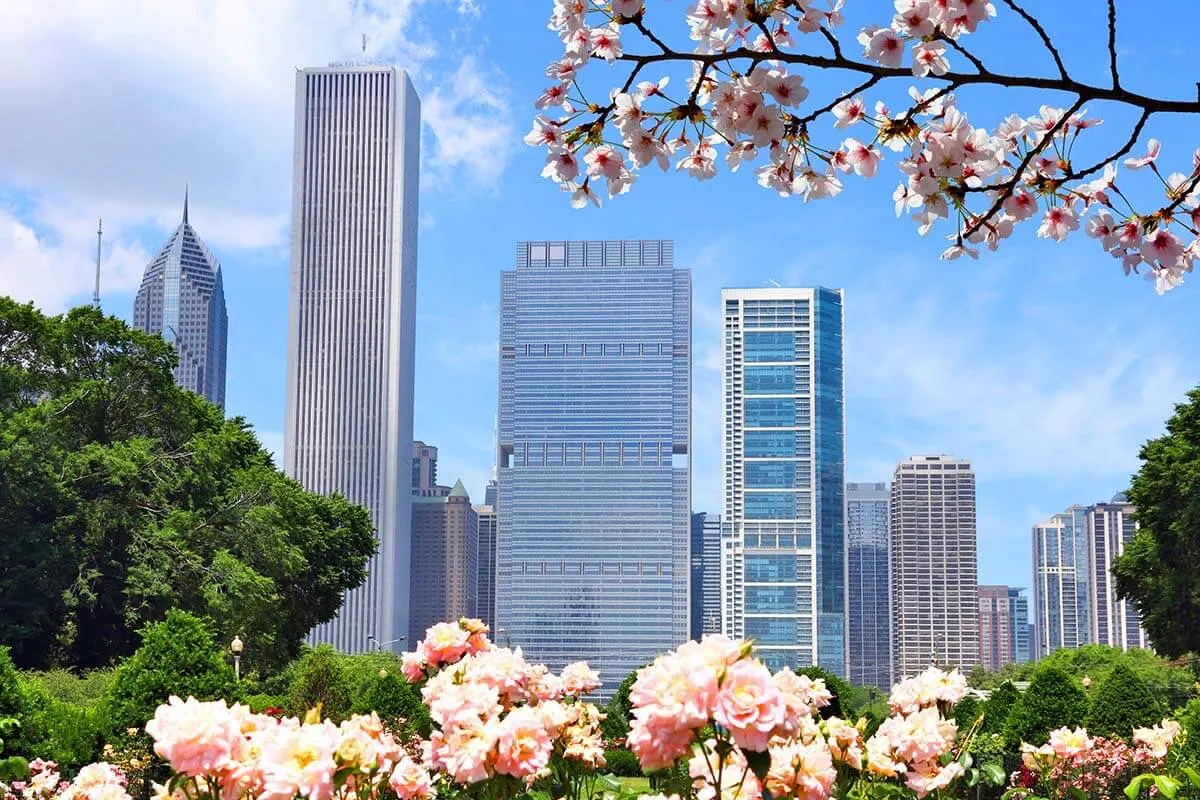 3. Book in Advance
One of the biggest mistakes you can make when visiting any popular destination is not to plan your visit in advance, especially if you are traveling during the busy season. Chicago is no exception.
Starting with accommodations and ending with Chicago attractions – booking in advance means more choice, better prices, and less time wasted queuing. After all, you want to make the most of your trip to Chicago and not spend your precious time standing in line or have to stay at a hotel far from everything because the best options are either too expensive or aren't available anymore.
Sometimes, tickets for the main attractions are cheaper if booked online at least a day in advance. Not to mention that some activities can sell out. In addition, by booking in advance, you can read customer reviews, compare different options, and avoid disappointment.
If you want to go see a show or a sports game in Chicago, book your tickets well in advance. Sometimes, you can book last-minute as well, but not for the most popular shows/games, not to mention that you usually get the worst seats when booking last minute.
TIP: For skip-the-line tickets to popular Chicago attractions and the most popular tours, we recommend checking the GetYourGuide website. We book all our tickets/ tours via them when we travel – the prices are good, you can read real customer reviews, and easily find the best tour. Furthermore, they have the most flexible cancelation policy and their customer service is amazing. Viator is also a good option and has a big selection of tours and tickets.
Good to know: The most popular tour in Chicago is the Chicago River Architecture Cruise. No visit to Chicago would be complete without doing this.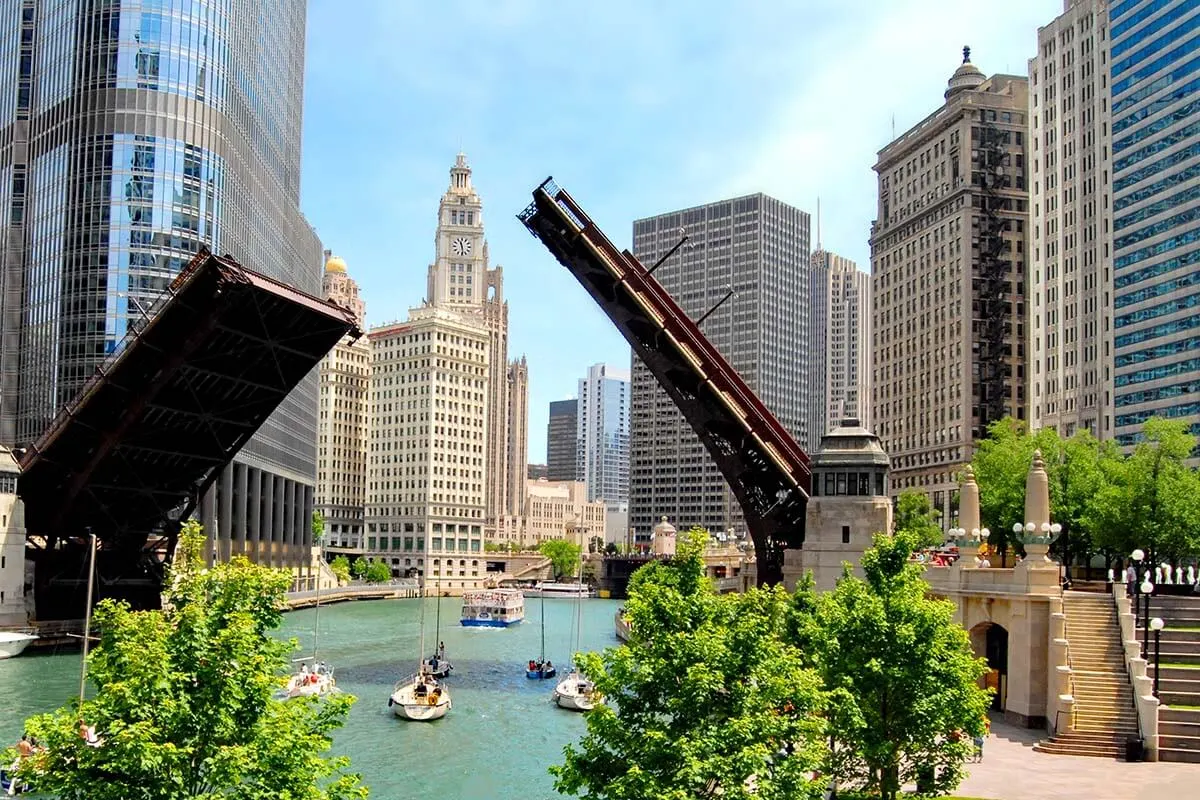 4. Take Advantage of Different Transportation Options
Chicago has a plethora of options when it comes to public transportation: CTA buses, the L, and the Metra (suburban train) to name a few.
If it's raining or cold, you can also use the Chicago Pedway, the city's pedestrian walkway system of underground tunnels and overhead bridges. It's a great way to easily get around the city center.
If the weather is gorgeous and you are looking for a fun way to explore Chicago check out the city's bike-share program at various locations all over town. Riding your bike down Lake Michigan and taking in the gorgeous Chicago skyline is always so much fun. Biking is also a great way to cover bigger distances and see more of the city in a shorter time. See also bike tours and rentals for more ideas.
If you're looking for a fun way to explore the Chicago Riverwalk, Michigan Avenue, or the West Loop area, you can also buy a ticket for the Chicago Water Taxi. This cool mode of transportation connects several Chicago neighborhoods AND they do have restrooms on board.
And, of course, there are hop-on-hop-off buses, segway tours, and so many other fun ways to explore Chicago without having to walk all day.
Airport transfers: The easiest way to get to and from both O'Hare and Midway airports to the downtown area is by rapid trains on CTA. They run 24 hours a day, seven days a week. It will take you about 45 minutes to get from O'Hare to downtown on the CTA Blue Line. And it will take you about 25 minutes from Midway to downtown on the CTA Orange Line. You can also book private transfers online if you prefer not to take public transport, but of course, it will be more expensive.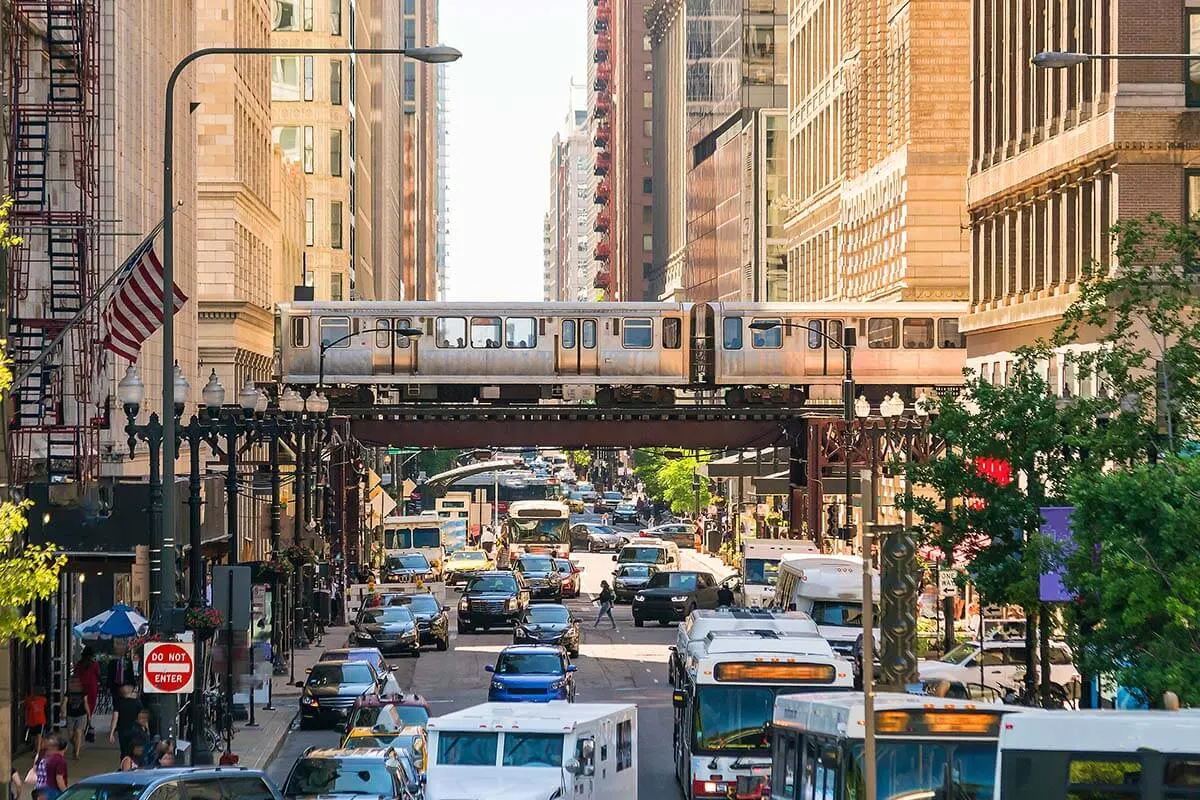 5. Take Advantage of City Passes
If you are visiting Chicago for the first time, you'll likely want to see at least some of the main tourist attractions. Sometimes, it makes sense to look into getting a City Pass instead of booking separate tickets for each of them.
There are two best options when it comes to attraction passes in Chicago: Chicago Explorer Pass and the more popular option – Chicago: Go City All-Inclusive Pass. They both cover the same main attractions, but in a different way:
Chicago Explorer Pass allows you to see 3, 4, 5, or 6 attractions of your choice within 2 months from its first activation.
Chicago: Go City All-Inclusive Pass allows you to see as many attractions as you want within a certain period (the number of days purchased). You can get this pass for 1, 2, 3, or 5 days. It's ideal for those who want to see as much as possible in a short time and can save you up to 45% on the attraction tickets.
Also worth mentioning is the Chicago CityPASS. This pass gives you free entrance to 5 of the main Chicago Attractions over 9 consecutive days. However, it has a rather limited selection of attractions you can choose from. But if those are the ones that you want to see, then it's a great value as well.
TIP: Be sure to see which attractions are included before deciding if these passes are worth it for you. And if you get a pass, make the most of it! It can be of great value if you use it right.
6. Enjoy FREE Chicago Attractions
A city trip can quickly become quite expensive – there are just so many sights and attractions that you want to see. The good news is that you can also enjoy some of the nicest places in Chicago free of charge.
Here are just a few suggestions of free things to do in Chicago:
Millennium Park, Grant Park, Maggie Daley Park.
Lakefront Trail, parks, and beaches.
Chicago Riverwalk.
Navy Pier.
Lincoln Park Conservatory and Lincoln Park Zoo.
There are also many free museums in Chicago and some museums offer free museum days. So be sure to do some research before you go and take advantage of it.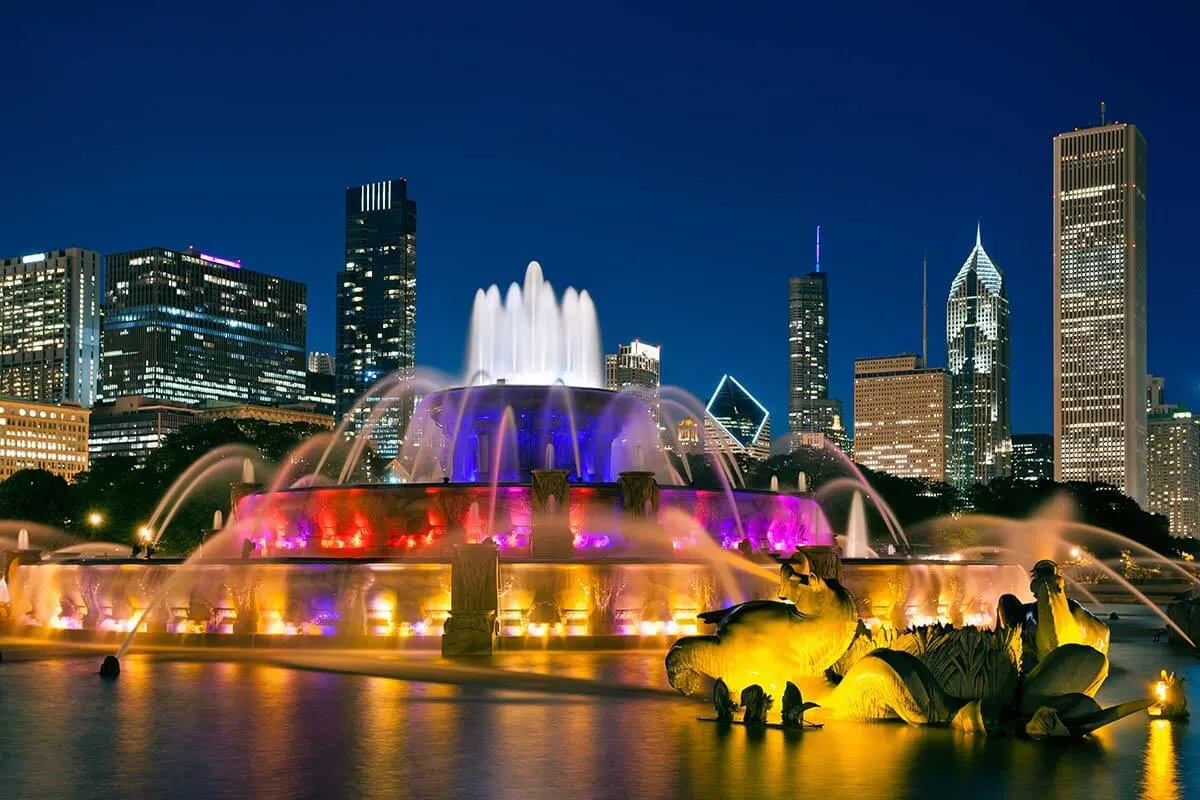 7. Foresee Enough Time and Don't Try to See Everything
If you are traveling to Chicago for the first time, you are probably wondering how much time you need in the city. Chicago is huge and there is no way to see everything in just a few days… So don't come here thinking that you can see it all in just one or two days.
That being said, you can see most of the main sights in Chicago in 2 days and this makes Chicago a nice weekend-break destination as well. However, this will just be enough time to get a feel of what Chicago is truly about.
If you want to explore a bit deeper, spend some time at the museums, explore some local neighborhoods, etc., we recommend at least 3-4 days in Chicago.
Also, don't try to see 'everything' in Chicago. This is simply not possible and will leave you tired and frustrated. Plan to visit just 2-4 bigger attractions every day and leave some time to experience the food (maybe even go on a food tour), take a boat trip on Lake Michigan, or get a bit off the beaten path… You'll have a much more enjoyable trip this way!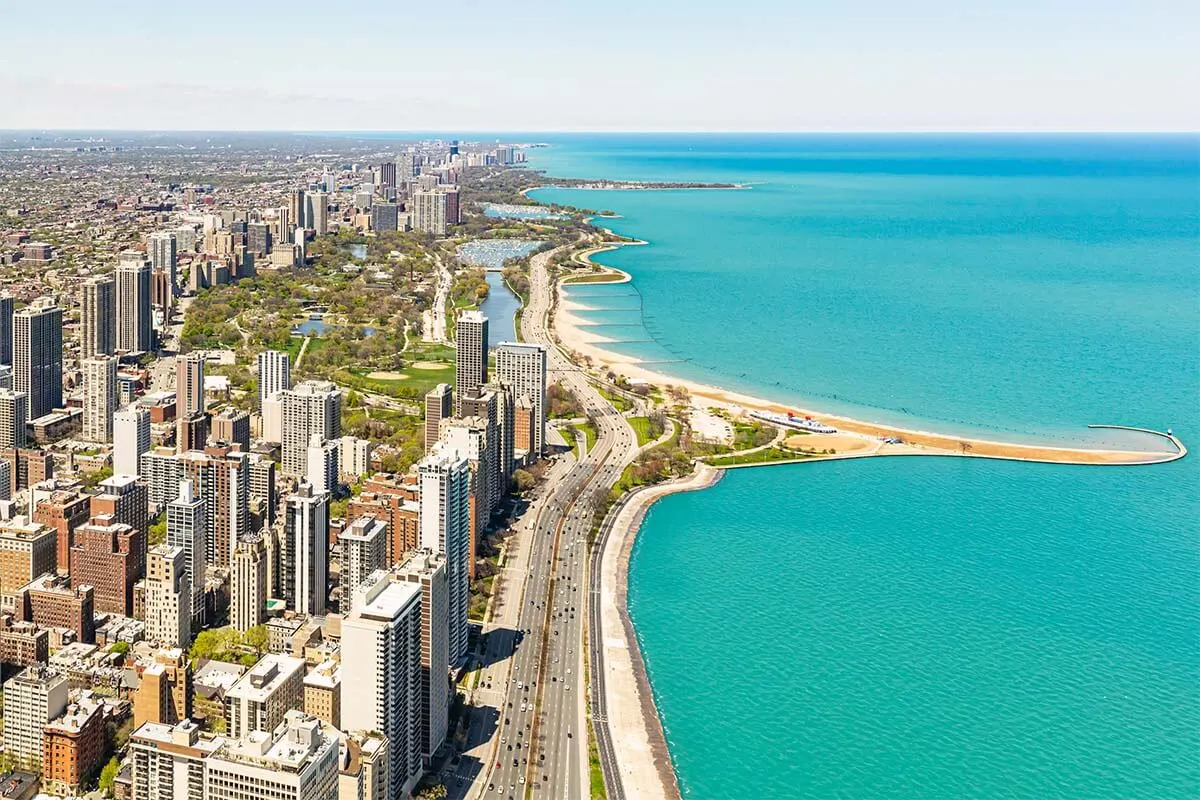 8. Spend Time on the Water
One of the best things about visiting Chicago is getting to experience the waterfront fun. Both Lake Michigan and the Chicago River offer so many fun activities and it's well worth your time.
Chicago has some of the most spectacular architecture in the world. As already mentioned, one of the most popular things to do in Chicago is to take an architecture boat tour down the Chicago River.
Take a bike ride or walk down Lakefront Trail and soak in the lakefront breezes and panoramic views. Hit the beaches (Oak Street Beach and North Avenue are my favorites) for a relaxing day in the sun. Also be sure to take a ride on the giant Centennial Wheel at Navy Pier to see the city from a different perspective.
There are also many companies offering all kinds of boat tours on Lake Michigan, or sometimes a combination of both – the lake and the river. From scenic cruises, lunch- or dinner cruises, to romantic sunset cruises and so much more… It will be hard to choose, but you also can't go wrong – it's always worth it.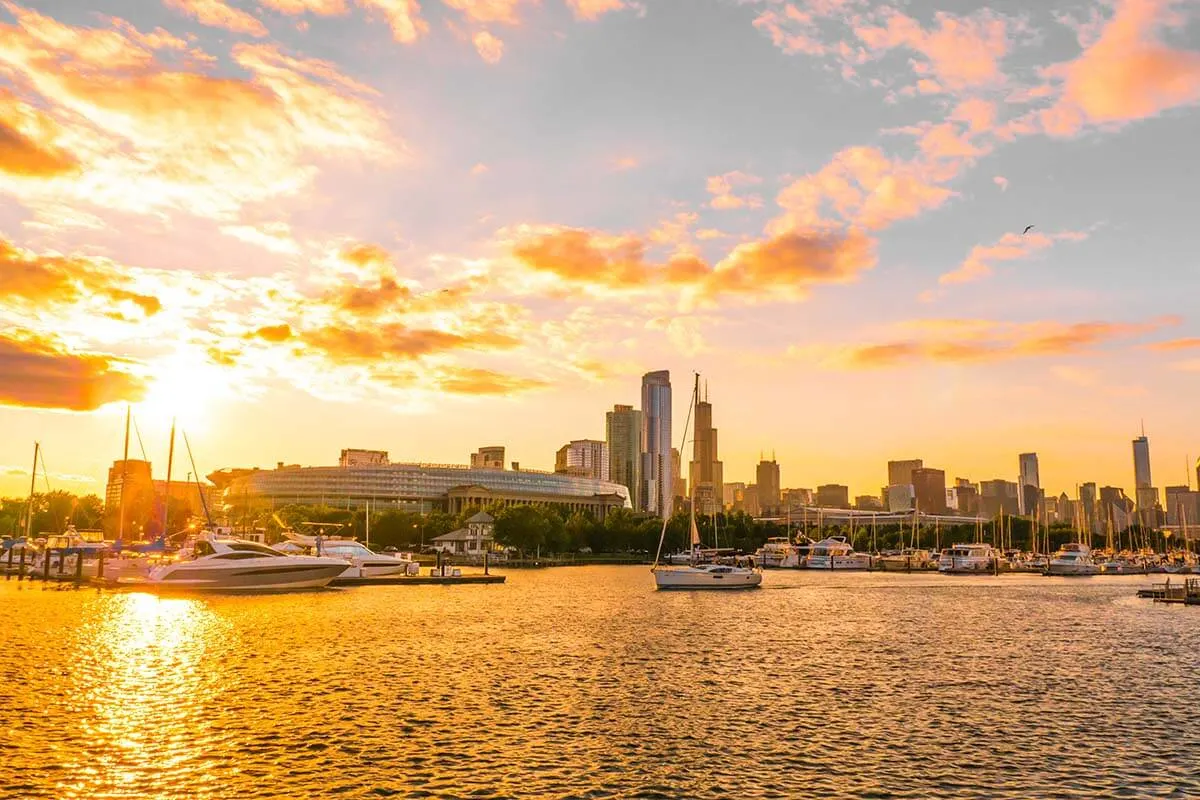 9. Explore Local Neighborhoods
If you have more than just 2-3 days in Chicago, get out of the city to explore some of the cool neighborhoods beyond the downtown Chicago Loop area! Each neighborhood has its own unique personality.
Explore Chinatown, Greek Town, or Little Italy to feel like you have been transported across the world. Each of these towns has a unique cultural heritage, and – of course – some great restaurants with authentic delicious food from all corners of the world.
TIP: If you want to feel like you're living in a scene from the old Chicago Al Capone mob days, be sure to check out the iconic Rosebud Restaurant in Little Italy. It has been around for over 40 years and is a celebrity hot spot! Be sure to try their signature Rosebud Meat Lasagna or Chicken Parmesan.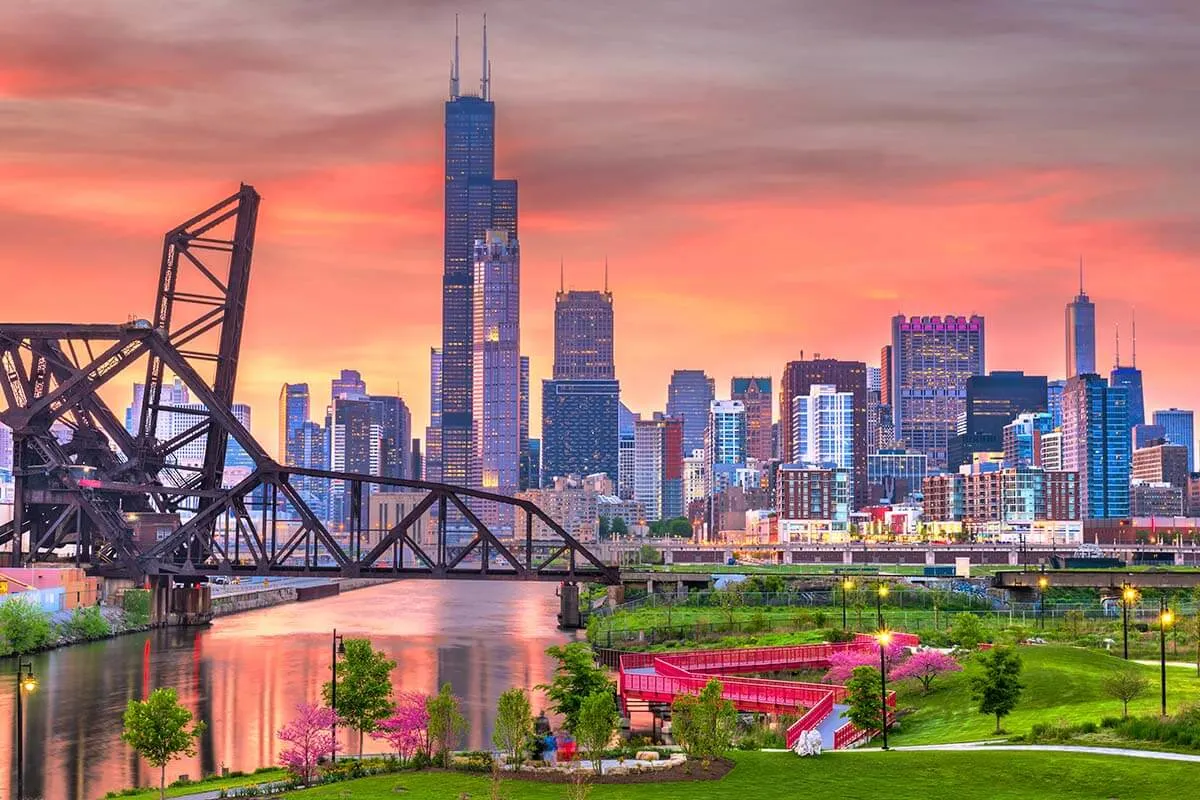 10. See a Sports Game
Chicago is one of the top sports cities in the U.S. and Chicagoans take their teams very seriously. No matter what time of year you are visiting you will have the opportunity to paint your face, buy a logo hat, and start cheering for your Windy City favorite!
Here are just a few suggestions:
April – September: Baseball. Check out the Chicago Cubs or the Chicago White Sox.
October – April: Basketball or Hockey. Check out the Chicago Bulls and take a selfie with the towering statue of legendary Bulls star Michael Jordan right outside of the United Center. Hockey fans, check out the Chicago Blackhawks or Chicago Wolves.
TIP: Here, you can see what's scheduled and find tickets for local sports games.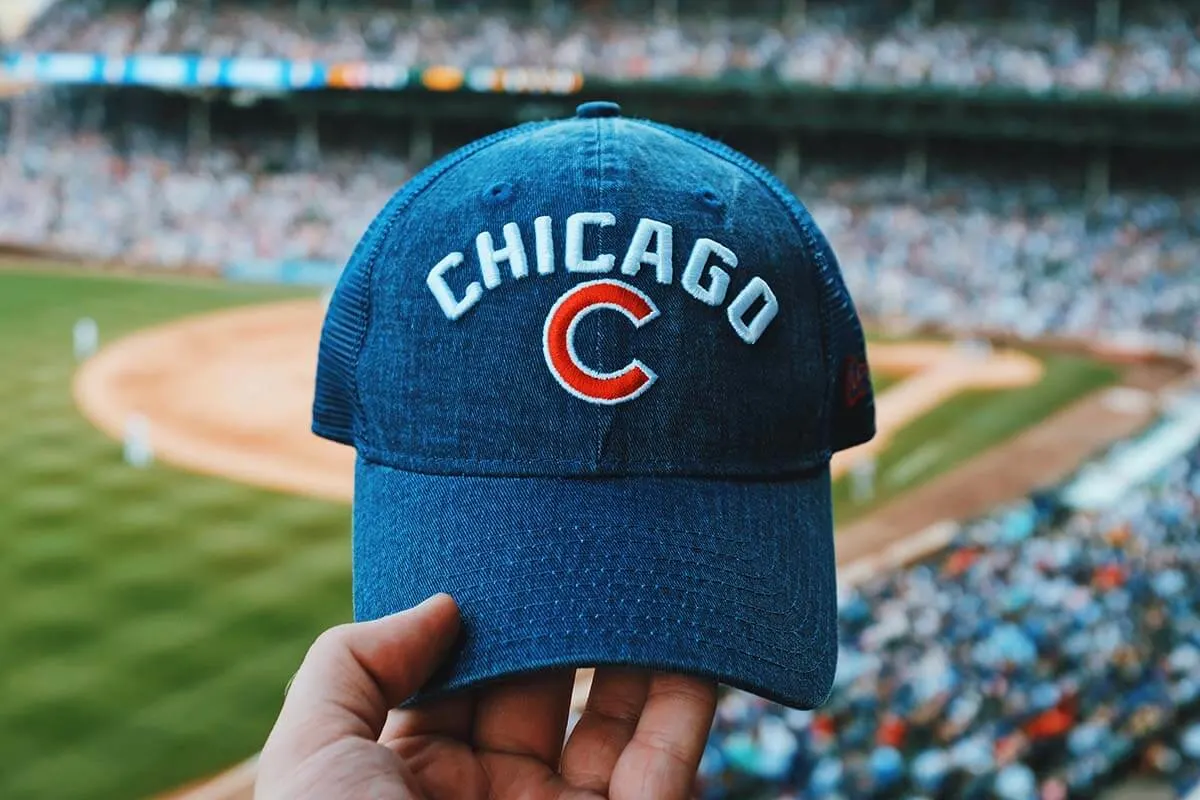 11. Don't Miss the Museum Campus
Museum Campus is one of the best things to do in Chicago for anyone that loves to learn. You could spend several days exploring the 57-acre park located in Grant Park right alongside Lake Michigan. But even if you only have half a day, it's well worth checking it out!
The Museum Campus consists of the Field Museum of Natural History, Adler Planetarium, and Shedd Aquarium all side by side right next to Soldiers Field. The museums are easily walkable along very pedestrian-friendly walkways.
TIP: About 6 miles south of the Museum Campus is another favorite, the Museum of Science and Industry. You could easily spend an entire day here!
Good to know: All these museums are included in the Chicago Go City All-Inn Pass – ideal if you want to just quickly check out a few of them on the same day. Otherwise – if you are on a longer visit – Chicago CityPASS offers a better value because it remains valid for 9 consecutive days, allowing you to spend more time at each museum.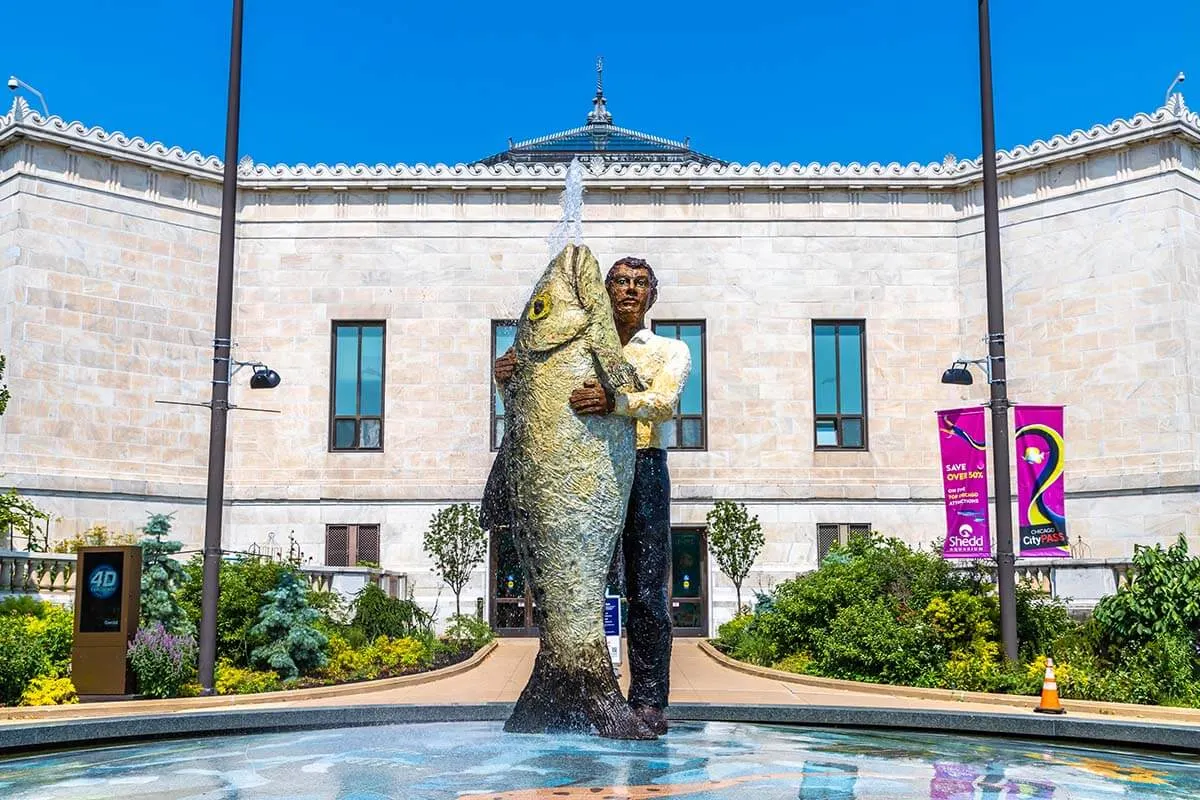 12. Wear Layers & Comfortable Shoes
There are some theories as to why Chicago is called the Windy City, and just one of them is the weather. However, it's often very windy in Chicago indeed, especially at Lake Michigan.
The Lakefront area can sometimes be 10 degrees cooler than other parts of the city. So, no matter what time of the year you visit Chicago, it is wise to wear several layers so that you can adjust and stay comfortable during your visit.
Also, comfortable shoes are a must when visiting Chicago! You're going to be doing a ton of walking so make sure your feet are prepared for all the mileage.
We also recommend taking a reusable water bottle with you.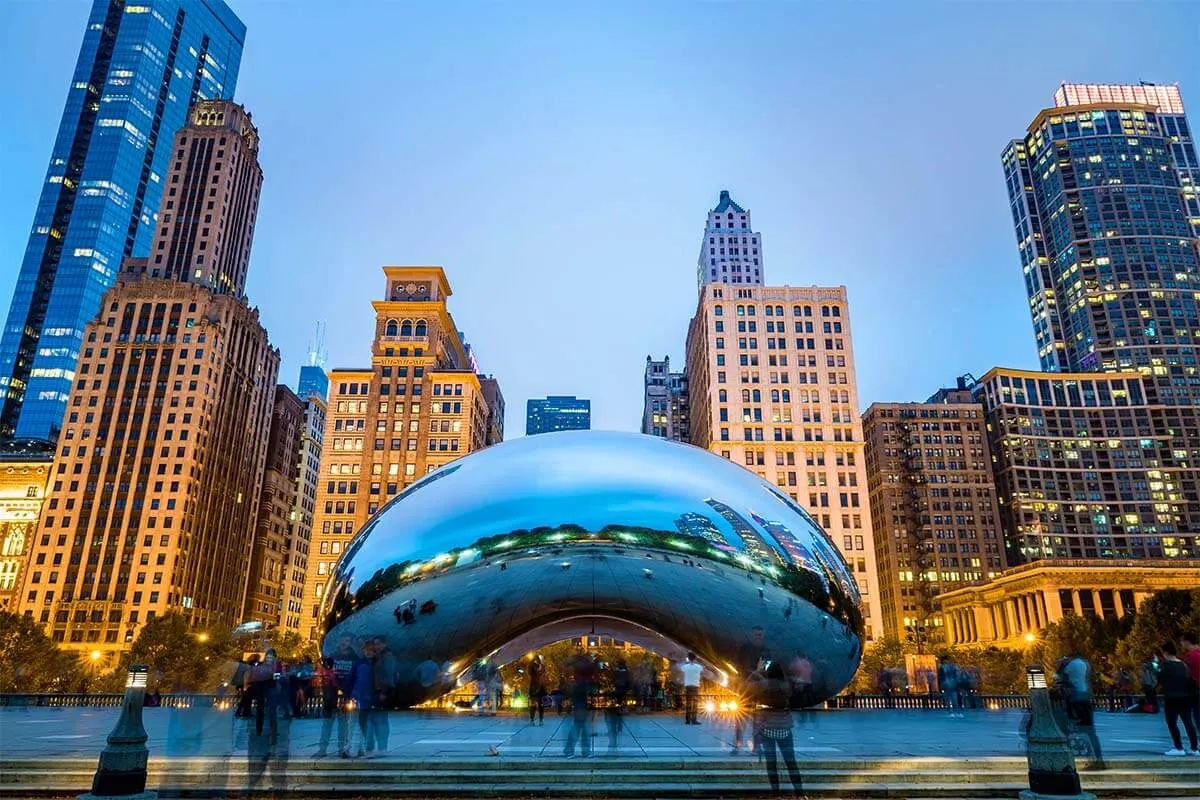 13. Eat Like a Local
There are three things that every traveler must experience while they are visiting Chicago. These three things are the most iconic Chicago foods that are Windy City classics:
Chicago Style Hot-Dog. This is an all-beef dog with a poppyseed bun, relish, mustard, tomatoes, and onions. Do NOT ask for ketchup on your Chicago dog, everyone will know you are from out of town. Portillo's Hot Dogs and ADB (America's Dog and Burger) serve some of the best Chicago hot dogs! The most convenient ADB location is at the Navy Pier food court.
Deep-Dish Pizza. This saucy thick-crust pizza is one of a kind, and one of the foods you must try in Chicago. Some of the best places for this include Lou Malnati's, Giordano's, or Ginos East and you can't go wrong with either of them.
Italian Beef Sandwich. This is Chicago's version of Philly's Cheesesteak (see our guide to Philadelphia for more info). Be sure to get your sandwich "dipped" in the special juice that makes this sandwich a favorite of the locals. Hit up Johnnie's Beef or Al's to get some of the best Italian Beef in town.
TIP: Malört (wormwood-based digestif liquor) might be one of the worst-tasting liquors around, but it's legendary in Chicago. The shot of Malört has become quite a cult classic in Chicago and somewhat of a rite of passage. So give it a try, if you dare!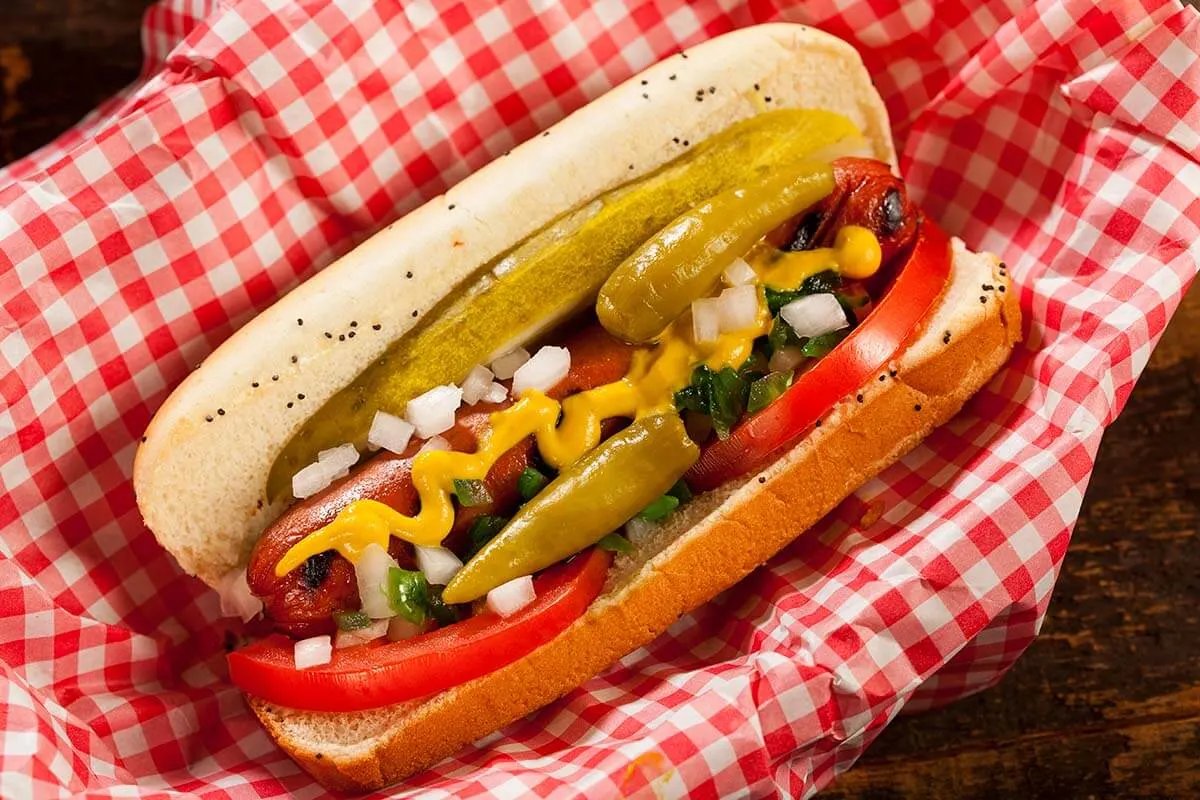 Chicago Travel FAQ

When is the best time to travel to Chicago?
The best time to visit Chicago is anytime but winter. Winters can be brutal with freezing cold temperatures and lots of snow. Summers are fantastic in Chicago and the best time to enjoy the lake and outdoor fun. For the best weather and fewer crowds, visit Chicago in April – May or September – October.
What are 2-3 top attractions I shouldn't miss in Chicago?
While there is so much to see and do in Chicago, if your time in Chicago is really limited, don't miss the architecture river cruise, lakefront, and Willis Tower (formerly known as Sears Tower), the 3rd-tallest building in the Western Hemisphere.
What is Chicago famous for?
Chicago is famous for its architecture, skyscrapers, Lake Michigan, great sports teams, deep-dish pizza, and fantastic midwestern locals who passionately love their city. It's also world-known for the green-dyed Chicago River on St. Patrick's Day.
Is Chicago safe?
While there are some areas of Chicago that may not feel safe, visiting the main tourist attractions in the city center, you shouldn't worry too much. Still, you should always be cautious and it never harms to do some research, especially if you are traveling alone or at night.
How much time do you need in Chicago?
Ideally, you plan at least 3-4 days in Chicago, but you'll be able to see many of the 'musts' in 2 days as well. You will never run out of things to do in Chicago, so if you have the time, we recommend staying for a week. This will allow you enough time to see all the main sights, explore the museums, and get a bit off the beaten path as well.
Is Chicago worth it if you only have a day?
Yes, Chicago is always worth a trip – no matter how little time you have. If you have just 1 day, focus on the downtown area: do a river cruise, spend some time at Millennium Park and Grant Park, and visit Willis Tower Skydeck and potentially also 360 Chicago Observation Deck.
READ ALSO: How to see the best of Chicago in 2 days
You may also like our guides to 1 day in New York, 2 days in New York, and 1 day in Philadelphia. Even on short visits, you can cover a lot of ground and see much more than you think – check it out!
If going southwest, you may like to check our San Diego itinerary suggestions as well as LA itinerary for 3 days.
If you found this post useful, don't forget to bookmark it and share it with your friends. Are you on Pinterest? Pin these images!