Looking for cheap things to do in Dubai or places to visit in Dubai for free? This guide should give you some ideas for the BEST affordable things to do in Dubai. Find out!
Dubai is a very expensive travel destination and the sky is the limit when it comes to the most extravagant things one can do in the city. But don't despair if you are on a tight budget! There are quite some cheap activities and amazing free things to do in Dubai that will not cost you a Dirham.
In this article, you can find a short overview of the best cheap things to do and free Dubai activities.
These are not only budget-friendly things to do in Dubai, but they are also among the best things to do in the city! These are one by one top experiences that are really worth your time, whether you're visiting Dubai on a budget or not! Take a look below!
READ ALSO: How expensive is Dubai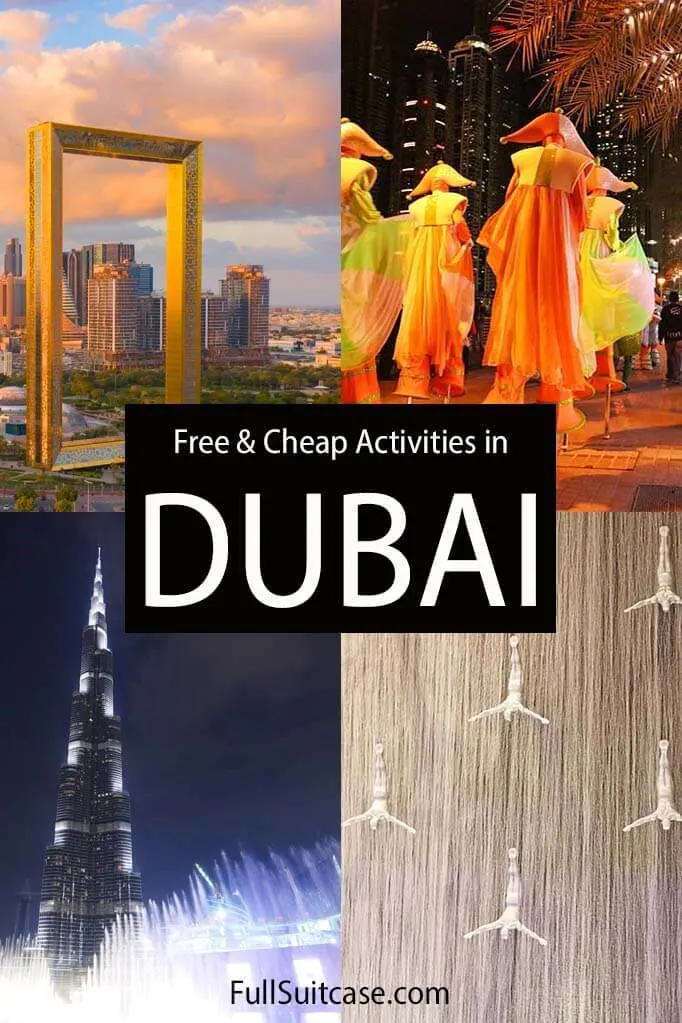 Here is a list of things to do in Dubai on a budget. First, you can find the best FREE things to do in Dubai, followed by very cheap activities in Dubai.
These are the best free things to do in Dubai:
1. Dubai Fountains
Located next to The Dubai Mall and at the foot of the world's tallest building – Burj Khalifa – Dubai fountains are the most popular tourist attraction in the city. Watching the impressive musical fountains and the light show is completely FREE of charge!
Without any doubt, this is one of the top places to visit in Dubai for free!
The world's largest dancing fountain performs daily. There are two afternoon shows starting at 1 pm, 1.30 pm, or 2 pm (depending on the day). In the evenings, there's a show every 30 minutes from 6 pm to 11 pm.
TIP: If you want to do something special, you can also take a ride on a traditional boat to see the dancing fountains from close by. This tour is not free of charge, but it's one of the cheapest activities in Dubai and something that many tourists consider as a must-do in Dubai.
2. Dubai Mall: Aquarium and Waterfall
The Dubai Mall is one of the largest shopping malls in the world. It's home to 1200 shops, including some of the most luxurious brands. But a visit to the mall will not cost you anything (if you can resist the shops) and is certainly worth it.
You will be impressed by the sheer size of the place, the number of people, and the huge variety of shops. Don't come here for an hour or two – you can easily spend a day or two!
There are two main Dubai Mall attractions you should not miss: The Waterfall and The Dubai Aquarium.
While the Aquarium and Underwater Zoo tickets are not cheap, you can view the huge aquarium free of charge from the mall itself. Very impressive!
Another great free thing to do in Dubai Mall is watching its impressive waterfall. This huge waterfall with sculptures of divers traverses all four levels of the indoor shopping center.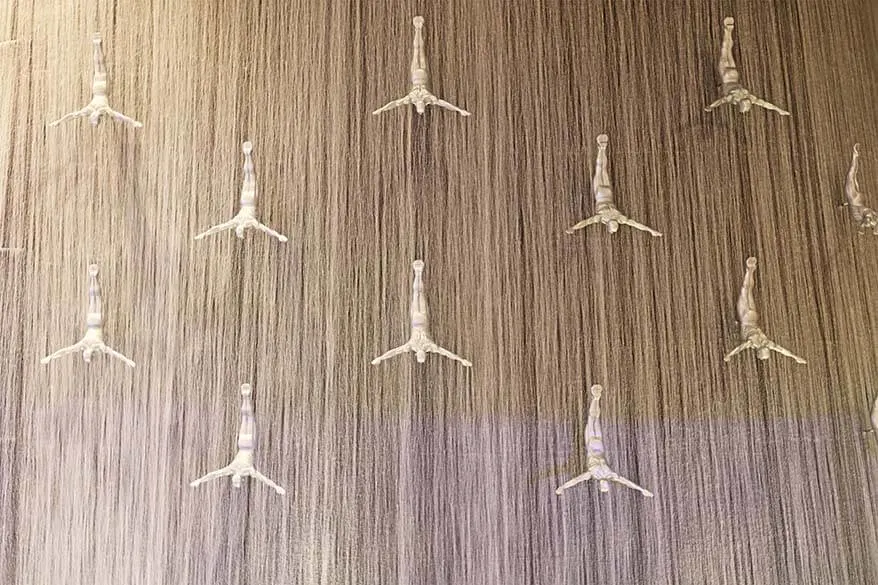 3. Dubai Marina
Dubai Marina is a very lively place and, like most places in Dubai, wakes up after sunset. Dubai Marina Promenade offers some 7km of walkways, and it's one of the most beautiful places you shouldn't miss while in Dubai. It's also completely free to visit!
The liveliest part of the Marina is between The Marina Walk and The Marina Mall. Most shops and restaurants are located here.
Don't miss the dancing fountains at the entrance to the Marina Walk, right beside Dubai Marina Towers Shows. The shows take place every 20 minutes in the evenings and also during the day on the weekends. Good to know that weekends in Dubai are on Friday and on Saturday (read more: Dubai facts).
Dubai Marina is also a popular place for various events throughout the year. There are festive parades during the Christmas – New Year holiday period, music festivals, boat parades, etc… So make sure to check in advance if anything special is happening when you are there.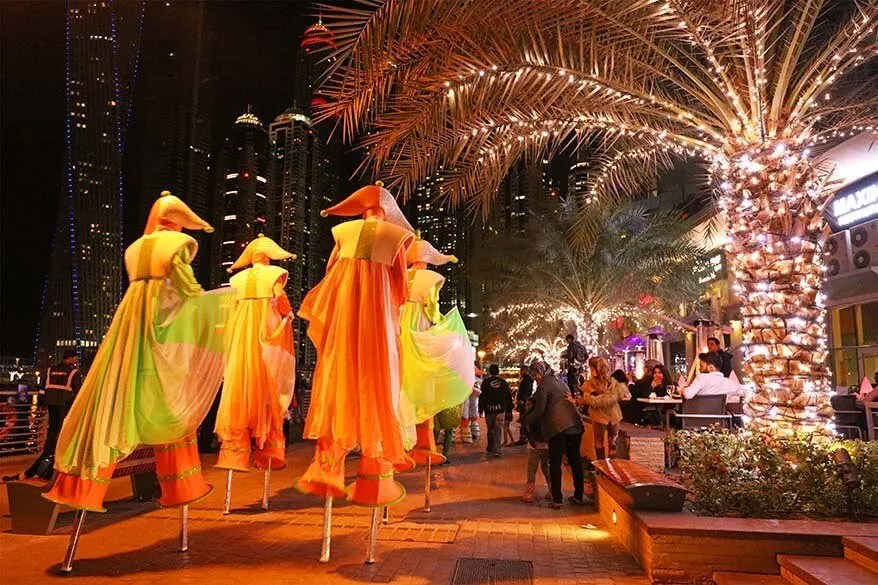 4. Ras Al Khor Wildlife Sanctuary
Worth mentioning among free things to do in Dubai is also Ras Al Khor Wildlife Sanctuary. This wetland conservation territory is a great place to see flamingos and other birds in Dubai. And – it won't cost you anything.
There's a viewing platform where you can see flamingos. And you can also attend flamingo feeding (usually between 10 – 11 AM).
However, the best time to visit is earlier in the morning, just before the feeding. Flamingos are active and there are fewer visitors. For more info, check the official website.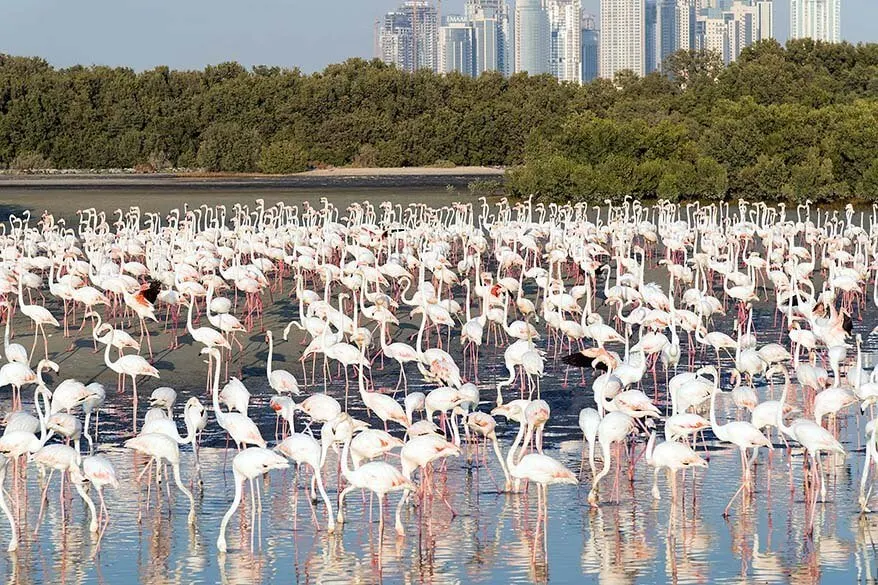 5. Dubai Beaches
No visit to Dubai is complete without spending some time at the beach! The good thing is that Dubai has various free public beaches that are open and accessible to everyone.
The most popular beaches in Dubai are Marina Beach (or JBR) at The Walk and Jumeirah Beach near the famous Burj Al Arab Hotel.
While Burj Al Arab is a must to see in Dubai, as far as the beach goes, we recommend Marina Beach. It has a variety of playgrounds for kids and there are also lots of dining options on The Walk. It's probably the most lively of the Dubai beaches.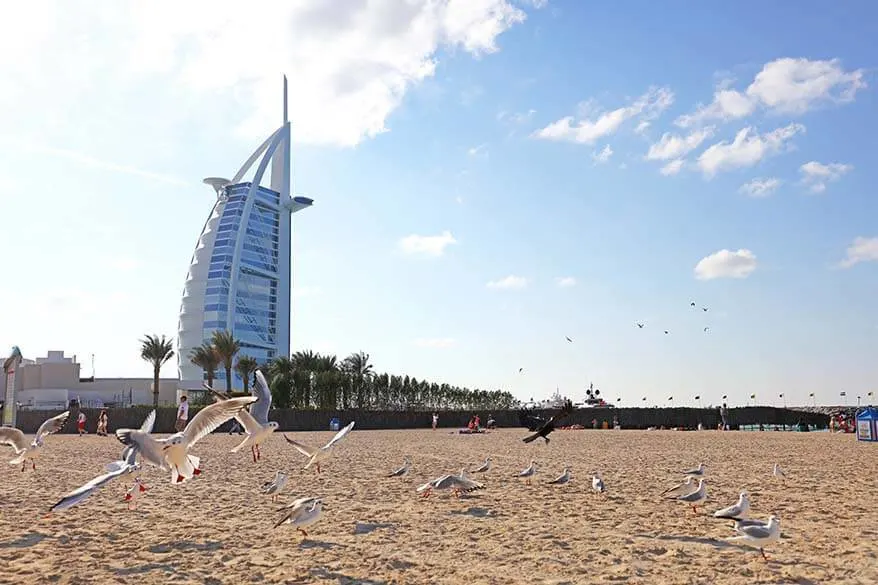 6. Traditional Markets
For a completely different side of Dubai, make sure to visit the traditional markets – Spice Souk and Gold Souk.
Visiting local markets is always one of the best – and free – things to do anywhere you travel. It's your chance to mingle among the locals and see all kinds of traditional merchandise that you won't find in the shops catering to tourists. It's also a great place to buy some cheap souvenirs to take home from Dubai.
Like everything else in Dubai, the souks come to life in the evening. Don't forget to bargain in case you decide to buy something.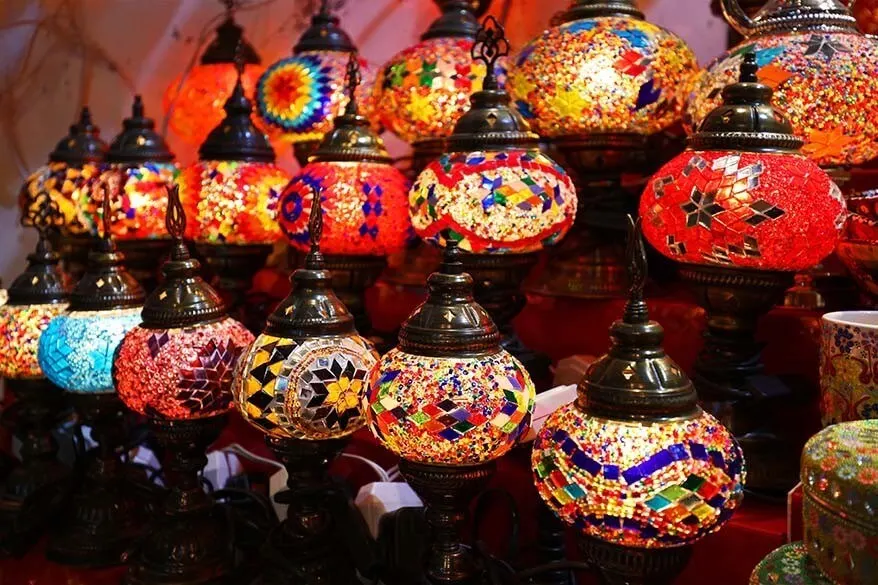 7. Love Lake Dubai & Al Qudra Area
Worth mentioning among the fun free things to do in Dubai is a visit to the Al Qudra area south of the city. There are some man-made lakes here that form a real oasis in the desert. It's also a great place to escape the hustle and the bustle of the city!
One of the most famous lakes here is the heart-shaped Love Lake. You can explore the area on beautiful walkways that follow the heart-shaped lakes where you can often see various birds and colorful fish in the lake (feeding is not allowed). In addition, there are many statues of hearts in the beautiful grounds around the lake – perfect for a romantic evening in Dubai.
This place is little known to tourists and more popular with the locals. There are picnic facilities, bbq pits, board games, and bathrooms. It's a great place to come for a romantic walk at sunset, stargazing at night, or to spend the entire day with a family.
A visit to Love Lake and the other Al Qudra lakes is free of charge. However, the area is located quite far away from the city (see map) and you need a car (or a taxi) to get there. Luckily, taxis are cheap in Dubai, so a visit here will not cost you a fortune. Just make sure you also arrange a taxi for a ride back!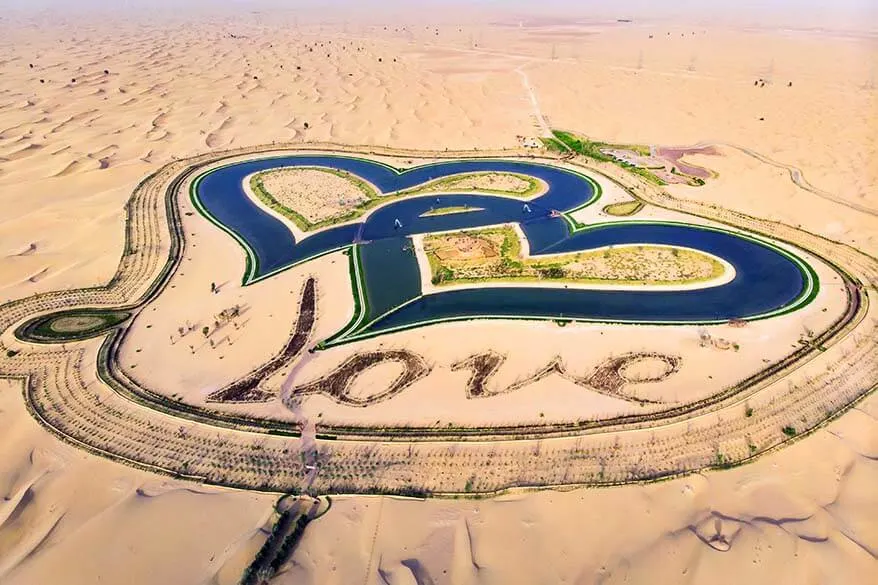 In addition to the free things to do in Dubai mentioned above and many other things to do in the city, there are also some great CHEAP things to do in Dubai. These are all activities that will not cost you more than a couple of dirhams and will make your visit to Dubai more special. Must do, whether you are visiting Dubai on a budget or not.
Following the same numbering, here are our favorite cheap activities and places to visit in Dubai:
8. Zabeel Park & Dubai Frame
Zabeel Park, probably best known for the famous Dubai Frame, is another great place to visit for those looking for cheap things to do in Dubai. This is a great area where you can explore Dubai deeper without having to spend much money. There's just a small fee to enter (around 5 AED – 1.2 EUR) and you can easily get here by metro.
It's a nice green park to relax or play with well-maintained paths for walking, jogging, or bicycling. Locals love to bbq here on a weekend. You can also visit the Dubai Flea Market inside the park and admire great views of Dubai Frame which looks like a huge picture frame.
TIP: The viewing platform of the Dubai Frame offers amazing 360° views of both – Old Dubai on one side and New Dubai on the other. A visit to Dubai Frame is not free of charge, but relatively cheap. It costs about 50 AED (11-12 EUR) for adults and 20 AED for kids under 12. Kids under 3, seniors, and some others visit free of charge. More info on their website.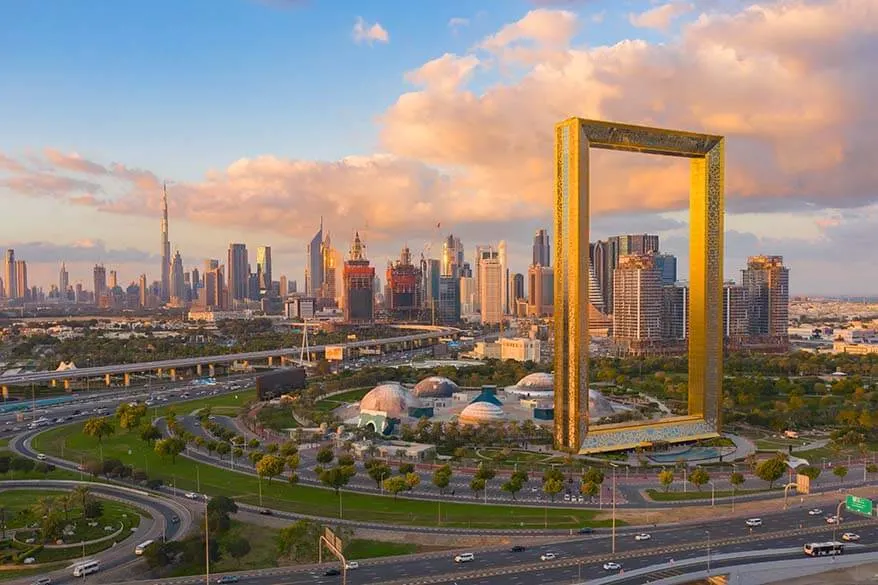 9. Dubai Museum & Al Fahidi Fort
Dubai Museum is the main museum in the city. It's located in the old Al Fahidi Fort in Dubai Old Town. Built in 1787, it's also the oldest existing building in Dubai.
This is a nice little museum to visit for the whole family; it's not one of those boring places that kids hate. Our boys of 5 and 7 enjoyed the short visit and didn't get bored for a second! Foresee approximately 45min for a visit.
A visit here is a must-do! It's a great opportunity to learn more about Dubai, its history, and the incredible transformation into the world metropole it became!
This is one of the best cheap things to do in Dubai! A visit to the museum only costs 3 AED (0.75 EUR) for adults and 1 AED (0.25 EUR) for children. You can find more practical information and opening times here.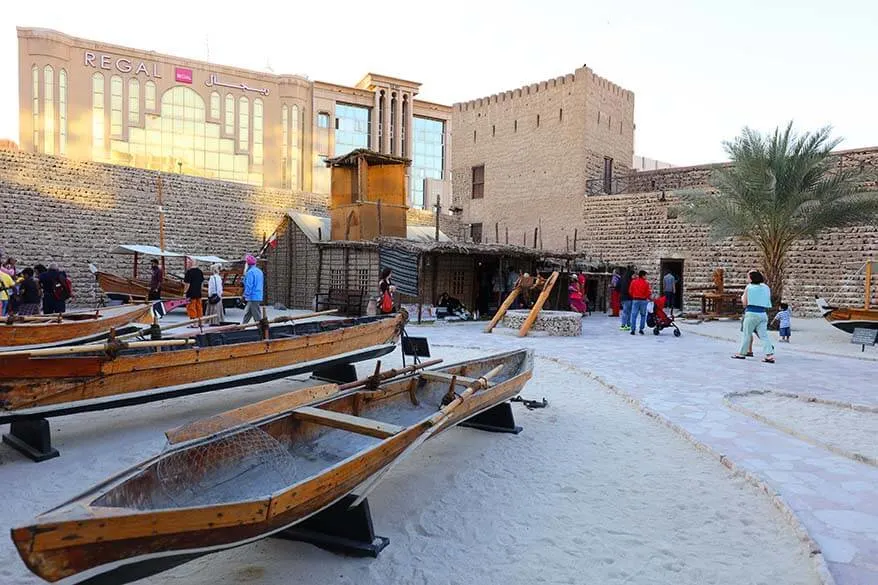 10. Dubai Creek Water Taxi Abra
Abra is the traditional water taxi on Dubai Creek and one of the fun, cheap things to do in Dubai. A single ride costs 1 AED (0.25 EUR) per person and you pay directly to the driver.
This is not a scenic tour, but a quick way to get between places located along Dubai Creek. It's also a great way to get from the Old City to Dubai's commercial business district in Deira where Dubai Souks (traditional markets) are located.
Hop on at the Dubai Old Souq Marine Transport Station on the South side of Dubai Creek and the boat will drop you off in Deira on the other side where you'll find the Spice Souk and the Gold Souk.
READ ALSO: All you need to know about Dubai public transport as a tourist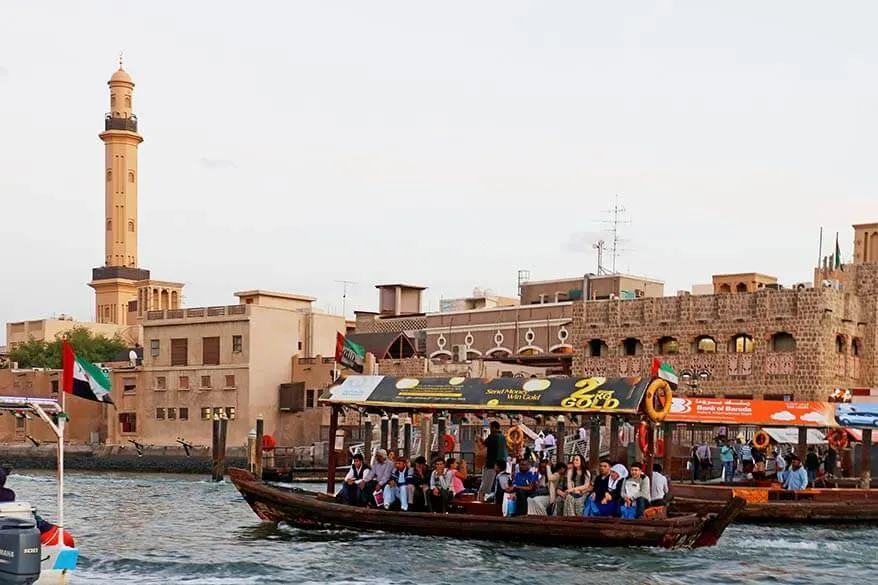 11. Jumeirah Mosque
One of the most beautiful mosques of Dubai – Jumeirah Mosque – is also the only one that can be visited by non-muslims. It's a beautiful building with an architectural style that originated in Egypt and Syria. It's been first opened in 1979.
You can admire the beautiful architecture for free, but a visit inside will cost you 10 AED (2.5 EUR). Kids 5-12 can visit free of charge. Kids under 5 are not allowed.
The mosque is open every morning except Friday. Tours start at 10 AM and you can simply register for a tour there, starting from 9.30 AM. The dress code is long sleeves and covered legs for everyone and headscarves for women. More info on the official website of the mosque.
Good to know: While you wait for your tour to start, the mosque offers FREE light Emirati refreshments including Arabic coffee, tea, dates, water, luqaimat, and chebab.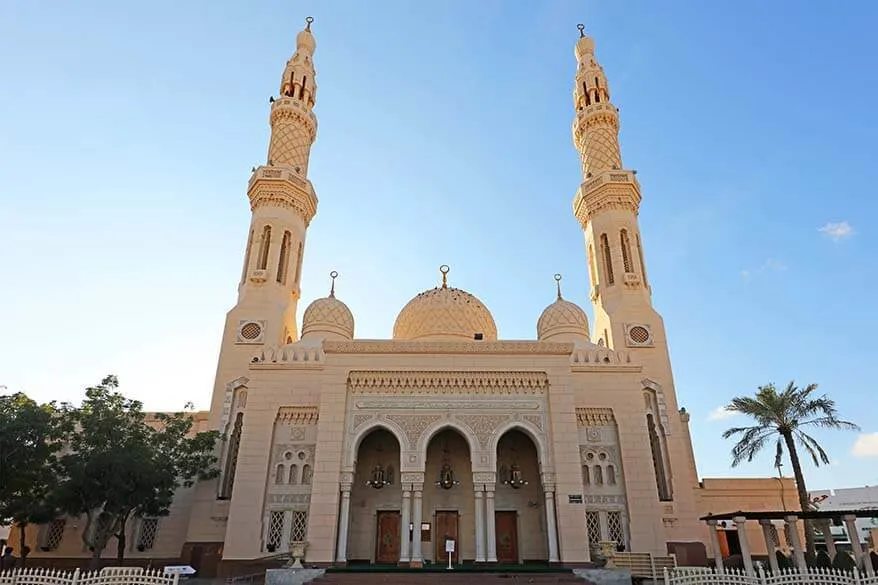 So, this is our short list of the very best free and cheap places to visit and things to do in Dubai.
However, no visit to Dubai would be complete without visiting some of its most remarkable landmarks or joining some amazing tours.
TIP: Even if you are visiting Dubai on a budget, Burj Khalifa is one thing you shouldn't miss! The cheapest tickets for Burj Khalifa cost about 35-40 USD – money you won't regret spending. After all, how often do you get a chance to visit the world's tallest building?!
READ ALSO: Best tours in Dubai
More information for your visit to Dubai:
If you found this post useful, don't forget to bookmark it and share it with your friends. Are you on Pinterest? Pin these images!