Probably the most asked question by travelers to Dubai and the other United Arab Emirates is 'what to wear?'. 'Do I need to cover my hair?'. 'Can I wear a bikini on the beach or at a waterpark in Dubai?'. 'Can I wear a short dress at a shopping mall in Abu-Dhabi?' 'Can I wear shorts in Dubai?'…
Women are usually the ones who seek advice, but men should also inform about the local habits as they too might need to wear long pants, a shirt, and closed shoes on some occasions…
So what to wear in Dubai? In this post, you'll find no-nonsense practical advice and real-life examples of what clothes to wear in Dubai as a tourist. Read on!
What clothing is appropriate in Muslim countries depends so much on which country you are visiting, but also on the places you go to. If in doubt, always go for the safer version (covered arms and legs) and women should also carry a thin headscarf in case they need to cover their hair.
I bought a maxi skirt, especially for our Dubai trip. Although it wasn't really necessary, I wore it on a couple of occasions in Dubai and felt very much at ease anywhere we went.
I think one should always be respectful of the local habits of the country and its people. Just as people should be respectful to our way of life when they come to the West! But that's another topic, so let's not get into politics….
This simple guide to what to wear in Dubai should help you pack and feel more at ease when traveling to Dubai, UAE. Find out!
READ ALSO: Dubai Facts (some are must-know for tourists!)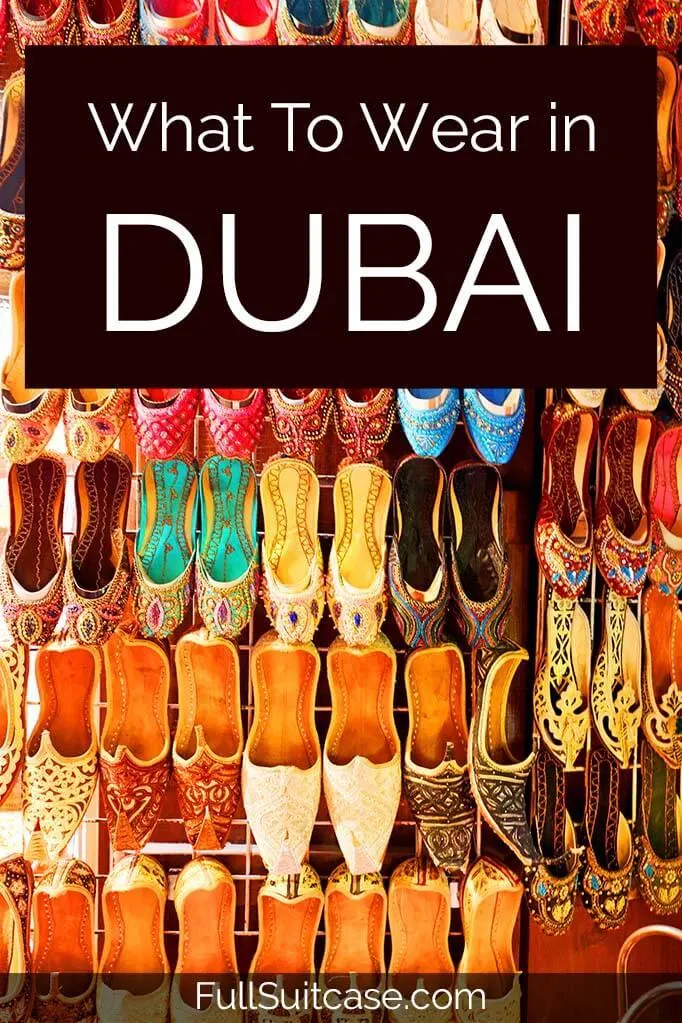 What to wear in Dubai: practical advice for travelers
Dubai is actually very relaxed and open-minded when it comes to clothing. As the public is very international, so is the clothing.
You will see people wearing all imaginable sorts of clothing in Dubai – from shorts and sleeveless t-shirts to burqas.
But don't forget that it's a Muslim country and you are a guest. So once again – if in doubt, always go for the 'safer' choice.
Dress code at Dubai hotels, restaurants, and malls
Most malls, restaurants, and hotels in Dubai ask customers to 'dress modestly' and advise to cover your knees and shoulders. However, we saw many people who didn't fit this description and nobody really seemed to be bothered.
As long as you stay in the very touristic places (hotels, malls…), you can pretty much wear whatever you want in Dubai. The rules might be enforced more strictly if you visit during the Ramadan, so keep this in mind.
Most upmarket restaurants require that men wear long trousers and closed shoes; women can wear sandals at any time.
Beachwear is only for the beach, so don't go to a restaurant wearing only a bikini or swimming shorts.
What to wear on the beach, swimming pools & water parks in Dubai
Any type of beachwear from bikini to full-cover Islamic swimsuits is allowed at all beaches, pools, and waterparks, like e.g. Aquaventure Waterpark at Atlantis, The Palm.
The only rule on Dubai beaches and waterparks is no nudity.
What to wear in United Arab Emirates mosques, traditional markets, and rural areas
In the old part of Dubai where traditional markets like Spice Souk or Gold Souk are located, you will be surrounded by many more locals and Muslims from other countries than expats or tourists from the West.
Here, you will be much more at ease and avoid the stares if you will dress more conservatively.
If you are planning to go to some rural areas in the Emirates or visit a mosque, you should better leave sleeveless blouses and shorts at the hotel. Covered arms and legs for both men and women are advisable, and women have to also cover their hair inside the mosque. The mosques that allow non-muslim visits, usually provide appropriate clothing if needed.
What to wear on Dubai desert safari
One of the most popular tourist activities outside the city is visiting the desert. I would recommend wearing pants, shorts, or capri pants (no skirts or mini shorts) and a T-shirt or a blouse. Don't forget sun protection!
Don't use the picture below as an example of what to wear in Dubai desert. Your experience will definitely be a lot warmer than ours.
Normally, it's very hot in the desert, so wear light clothes that protect you from the sun. It was very cold in the desert when we visited in December, so if you encounter the same exceptionally cold weather, take a sweater or even a jacket as it can get really cold in the desert in the evening. Sandals or closed shoes – depends on your preference.
TIP: Here you can find the best Dubai desert tours.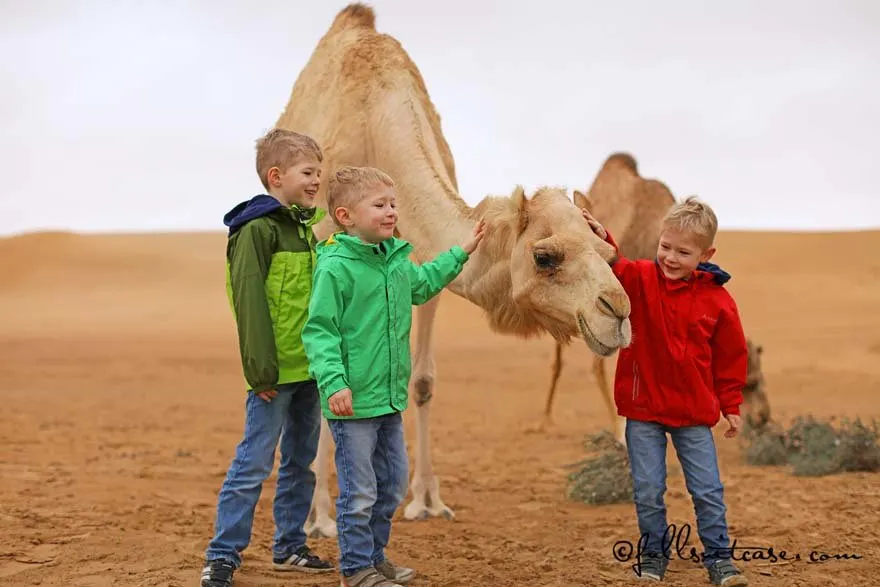 Clothing advice for Abu Dhabi and the other Emirates
We haven't been to the other Emirates, but I heard that Abu-Dhabi is already much more conservative than Dubai and that women are often stared at if they are dressed the way we do in the West. That makes me think that all the other emirates are even more traditional.
From what I understand, Dubai is by far the most tolerant of the 7 of the United Arabic Emirates, so keep that in mind if traveling outside of Dubai.
Update after a comment from a reader who grew up in Abu Dhabi. This is what she said: 'I'm an expat born and brought up in Abu Dhabi and was free to dress however I please, including shorter shorts and sleeveless…(Abu Dhabi) is just as open-minded in terms of dress (as Dubai)'.
What to wear for women traveling to Dubai alone
If you are traveling to Dubai alone as a woman or with a group of girlfriends, and especially at night, you are probably better off dressing modestly.
It's your choice, of course, but I say this based on the way many men stared at two young ladies in tight mini-dresses we met at the Dubai Marina one night.
Do you need warm clothing in Dubai?
Normally, you only need summer clothing and footwear in Dubai. A thin sweater can be nice for some cooler evenings in winter or inside the malls.
In December, when we visited, the malls were air-conditioned but not so cold that you would need a sweater. I hear that it might be different in the warmer seasons and you may want to take a thin sweater with you when going shopping – just in case the AC works too hard.
We visited Dubai for Christmas and New Year, and the temperatures we had were pretty much as cold as it gets over there. Minimum temperatures in Dubai in winter are around 20°C (68°F) and the maximum temperatures of 28°C (82°F) during the day.
One day we even had some rain (it hardly ever rains in Dubai) and that was also the day we visited the desert. You've got to be lucky, right?! The wind was very cold and we wore long pants and a sweater during the day and a thin rain jacket in the evening.
Except for this one day, we never needed jeans or jackets in Dubai and only used our sweaters once or twice at night. My closed shoes stayed in the suitcase during the entire trip.
What should you definitely pack for Dubai?
I'm not going to give the whole packing list because packing for Dubai is pretty much the same as packing for any other warm destination. So here are just a few tips.
First, make sure you carry a summer shawl/wrap which you can use to cover your head, shoulders, or knees if needed.
Second, wear comfortable summer sandals. You will look a bit out of the place with the hiking sandals though. Sportive sandals are ok for children and for men during the day.
What to wear in Dubai in winter?
If you are visiting Dubai in the winter months such as December and January, you should pack some warmer clothes as well. It's usually very warm during the day when a T-shirt will suffice but can get quite cold in the evening and at night.
When traveling to Dubai in winter, make sure to pack a pair of long pants/long skirt and a sweater. A light jacket is good to have as well, especially if you are planning any evening trips on the water or in the desert.
FAQ
In addition to the above, here are some frequently asked questions we get about what to wear in Dubai:
What should tourists wear in Dubai?
When visiting Dubai as a tourist, you will be glad to know that the dress code in tourist places and hotels isn't very strict. Men can wear shorts, pants, shirts, or T-shirts. Women can wear dresses, skirts, shorts, and T-shirts, blouses, tops… The dress code is somewhat stricter at shopping malls, local areas, and mosques, and also during Ramadan. When in doubt, cover your knees and shoulders.
Can you wear leggings in Dubai?
Yes, you can wear leggings in Dubai, but ideally not as your only pants. Leggings can be used to cover your legs, especially under short dresses or shorts. If you only wear leggings, it's probably best to wear a very long blouse on top.
Is there a dress code in Dubai?
The dress code in Dubai is quite liberal. Usually, you can wear pretty much what you like, certainly in tourist places and hotels and their adjacent beaches. There are guidelines of what is acceptable and some places have stricter rules than others, but – in general – if you cover up your shoulders and knees, you should be fine even in the more traditional areas.
What to wear on tours in Dubai?
Depending on what places your tour visits, there might be a dress code. But in general, you can wear any casual clothes that you feel comfortable in.
Can women wear pants in Dubai?
Yes, women can wear pants in Dubai. You may want to avoid leggings or very tight pants, also because it's usually very warm. Looser clothes will be more comfortable.
Do women have to cover their hair in Dubai?
No, women are not required to cover their hair in Dubai. This might be required at certain religious places, but places that have this requirement usually also offer to borrow appropriate clothing to cover up.
Traveling to Dubai soon? Make sure to check our hand-picked selection of the best tours, day trips, and activities in Dubai
More information and inspiration for your trip to Dubai:
READ ALSO: How Expensive is Dubai
If you found this article helpful, bookmark and share it with your friends. Are you on Pinterest? Pin this image!