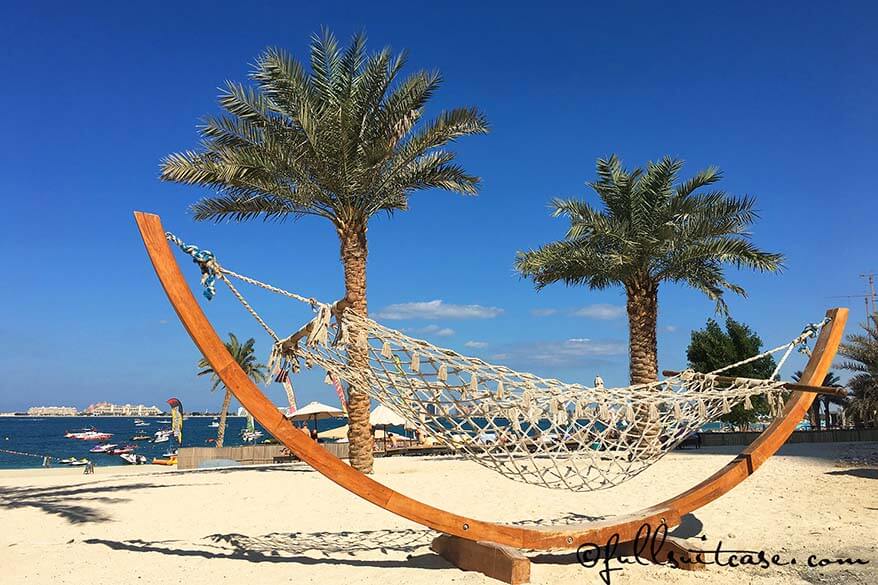 Are you looking for a nice Dubai hotel for a big family or a group of friends? The best Hilton hotel in Dubai? Or maybe you already know that DoubleTree by Hilton Dubai Jumeirah Beach Hotel is an excellent choice and are looking for an honest review? This article is for you!
I spent many hours researching hotels for our family vacation in Dubai. It seemed an impossible task to find a hotel that's well-located and has affordable rooms for a big family.
There are so many hotels in Dubai, but it's not easy to find something that is both nice and affordable when you travel with a family of 5 and all the standard rooms are meant for a maximum of 4 people…
We were looking for a nice Dubai hotel that is located directly at the beach, has big family rooms that could accommodate a family with 3 children, and is in the vicinity of restaurants, shops, and public transportation.
We ended up booking this hotel and I want to share our experience and tell you why it's one of the best Dubai hotels for big families or a group of friends traveling together.
Good to know: This is not a sponsored post and all opinions are my own and based on our experience.
DoubleTree by Hilton JBR – Best Dubai Hotel for Big Families
There are many reasons why we chose the DoubleTree by Hilton Dubai Jumeirah Beach Hotel, and probably the most important one is that it had by far the best price-quality ratio for our family of 2 adults and 3 children.
Here are the main reasons why we loved the DoubleTree by Hilton Dubai JBR:
1. Big Family Suites
DoubleTree by Hilton Hotel Dubai Jumeirah Beach is a suite-only hotel. There are 1, 2, and 3-bedroom suites.
All 3-bedroom suites have 180° sea views, but it's not the case with the smaller ones. Depending on the room, you will have either partial sea views or side views over a small section of the Dubai Marina.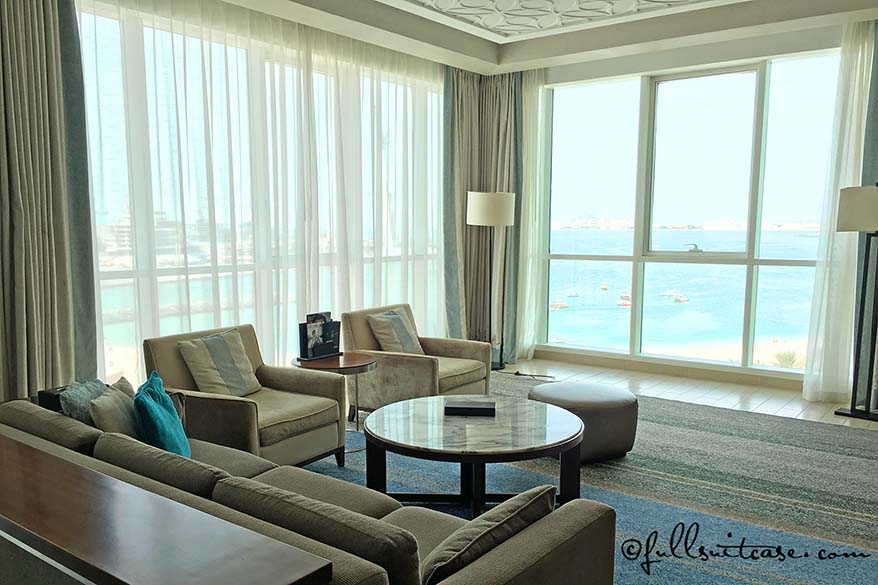 We stayed in the 3-bedroom suite on the 7th floor (701). All 3-bedroom suites are the same, and they are unbelievably spacious (189 sq. m./2,034 sq. ft).
Each 3-bedroom suite features a big living room with a sitting area and a big dining table. There is also a well-equipped kitchen (microwave, big refrigerator, cooktop,…). Each of the three bedrooms has its own bathroom with a shower and a toilet (the master bedroom also has a bath). On top of that, there is a separate WC, and two balconies with outdoor furniture.
There is plenty of cupboard space, and lots of extra amenities for a comfortable stay: TV in every room, DVD player in the living room, Nespresso coffee maker, bathrobe and bath slippers, hairdryer, iron and ironing board, and even a washing machine. Needless to say, all the rooms are air-conditioned, and you can control the A/C for each of the rooms separately.
If you are planning on using the kitchen a lot, you might need to take some kitchen towels with you or ask at the hotel. Also, only a few Nespresso capsules for the coffee maker are provided for free and you have to pay for the additional ones. But you can buy anything you need at a supermarket just across the road (cross the street under the bridge and you'll see it).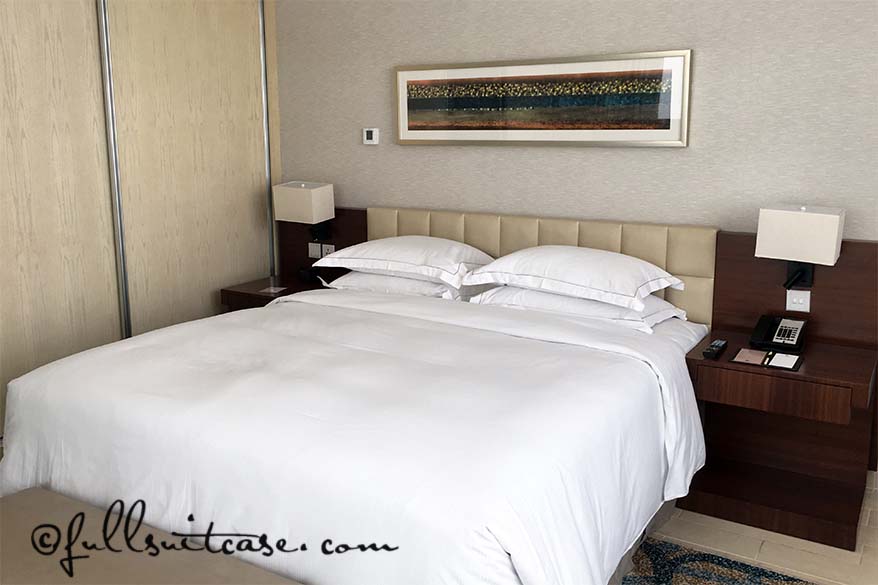 2. Excellent Location in JBR, Dubai
DoubleTree by Hilton Dubai Jumeirah Beach Hotel has an excellent location, at one of the best areas in Dubai.
The hotel is located right on the beach. It's also right at the end of The Walk – a very popular area with lots of entertainment and dining facilities. It's actually better than being on The Walk itself because it's much quieter and you have private beach access.
It's just a few minutes from the tram stop and the metro station Jumeirah Lake Towers is within walking distance (10-15min) as well.
The hotel is just a few minutes' walking distance from Dubai Marina promenade access (with some 7km of walkways) and the Dubai Marina Water Bus stop.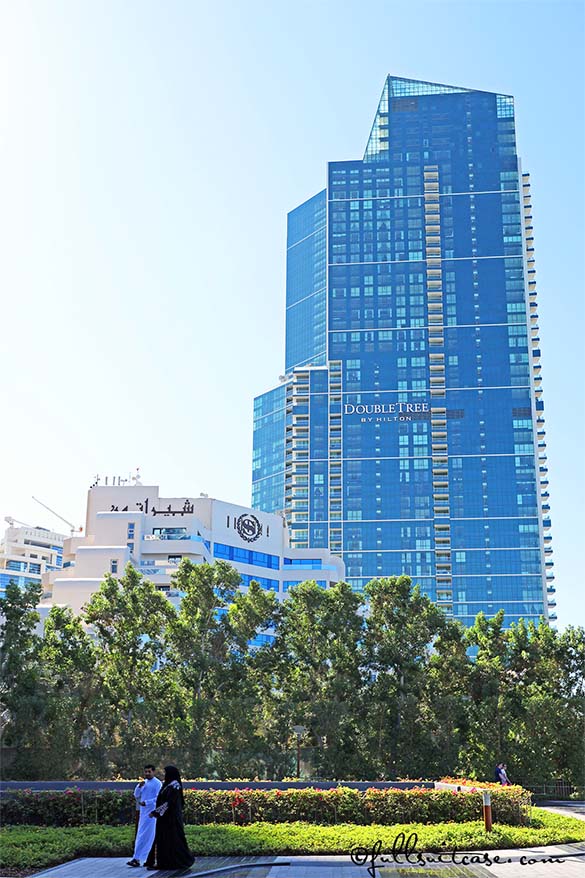 3. Children's Daycare
There is a daycare center in the building where you can leave your children for a couple of hours. Two hours per day and per child of 5 years and older are included in the price for hotel guests.
You have to pay for the younger kids or for the extra time, but your kids are in really good hands and you can relax, even if for a short while.
We only used the daycare once and our boys of 5, 5, and 7 years old had a great time there. Our kids don't speak English, but it wasn't a problem at all.
4. Breakfast Buffet
I really recommend booking a package with breakfast included as it's really worth it. Breakfast was plentiful and very good. Lots of fresh fruit and fruit juices, fresh bread and pastries, all kinds of coffee on demand, any type of eggs baked as you wait,…
Oh, and there were donuts for breakfast… It was the best start of the day our kids could have ever dreamt of. It's a vacation, after all!
There is a nice lunch menu available and you can have lunch outside, at the pool bar, or brought to you on the beach or anywhere in the garden.
We didn't have dinner at the hotel, so I cannot comment on that. There are just so many really nice affordable restaurants in the neighborhood, so you don't have to stay in the hotel every night.
5. Excellent Service
The staff at the DoubleTree by Hilton Dubai Jumeirah Beach Hotel is very friendly and efficient. Nothing negative to say – service is of the highest possible standard. They seem to appear out of nowhere to assist when needed, but don't bother you otherwise.
6. Guarded Swimming Pool
There is a nice swimming pool at the hotel and there is a lifeguard on duty the whole day. There is even a separate pool with permanent shade for babies and small children.
Pool- and beach chairs are somewhat scarce (as it is everywhere), but if you get there before noon, it's usually not a problem to get a chair.
There are various options for water sports and the staff by the pool will help you with the arrangements.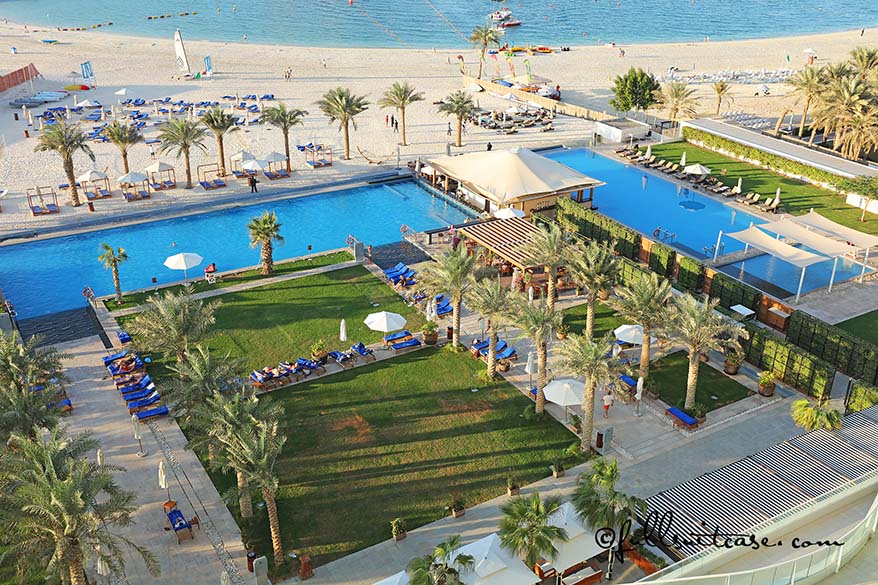 7. Free Wi-Fi
Hilton Honours members enjoy free Wi-Fi in the room – ask at the reception how to join and you're good to go.
8. Small Attentions
Lots of small attentions make your stay even more enjoyable: warm cookies and a welcome drink upon arrival, free bottled water every day, complimentary coffee and tea making facilities in the room.
On Christmas day we got a nice set of freshly baked cookies… In other words, you really feel welcome at this hotel.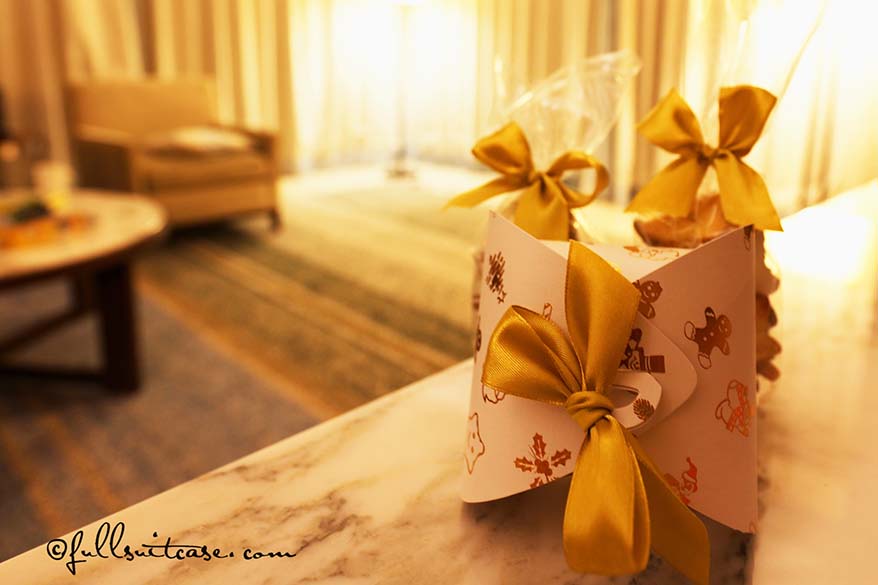 Is DoubleTree by Hilton Dubai, JBR Expensive?
I cannot answer this question for every family and every situation. For us, it was one of the cheapest options available because most Dubai hotels don't accommodate 5 people in one hotel room.
The alternative was either booking two separate rooms or a luxury suite at another hotel in Dubai. Both options were considerably more expensive than this spacious 3-bedroom suite in DoubleTree by Hilton, JBR. Why would anyone choose two expensive regular-size separate rooms over a big luxurious apartment which is cheaper?!
While the DoubleTree by Hilton Dubai Jumeirah Beach Hotel may not be the only good price/quality accommodation option for smaller families, it is a very good choice for big families or a group of friends traveling together. It's by far the best price/ quality hotel we found for our family in Dubai.
Is DoubleTree by Hilton Dubai JBR Worth It?
Based on our experience and the price/quality ratio, I would recommend the DoubleTree by Hilton Dubai JBR for a family stay in Dubai and would definitely stay there again.
If you are looking for a really nice, well-located, and affordable Dubai hotel for a big family or a group of friends, you cannot go wrong with the DoubleTree by Hilton Dubai at Jumeirah Beach.
You can check prices, availability, and book a room at this hotel here.
Compare Hotels & Short-term Rentals in Dubai
If you are looking for a nice place to stay in Dubai, but are not sure where exactly, you can compare different accommodations and find the best deals for your stay using the map below. Simply insert your travel dates and group size and you'll see all the best deals!
The map is now centered around the Jumeirah Beach Residence – The Walk area in Dubai, but you can also zoom it out for accommodations in other parts of the city. Check it out!
More tips for your trip to Dubai:
If you found this post useful, don't forget to bookmark it and share it with your friends. Are you on Pinterest? Pin this image!