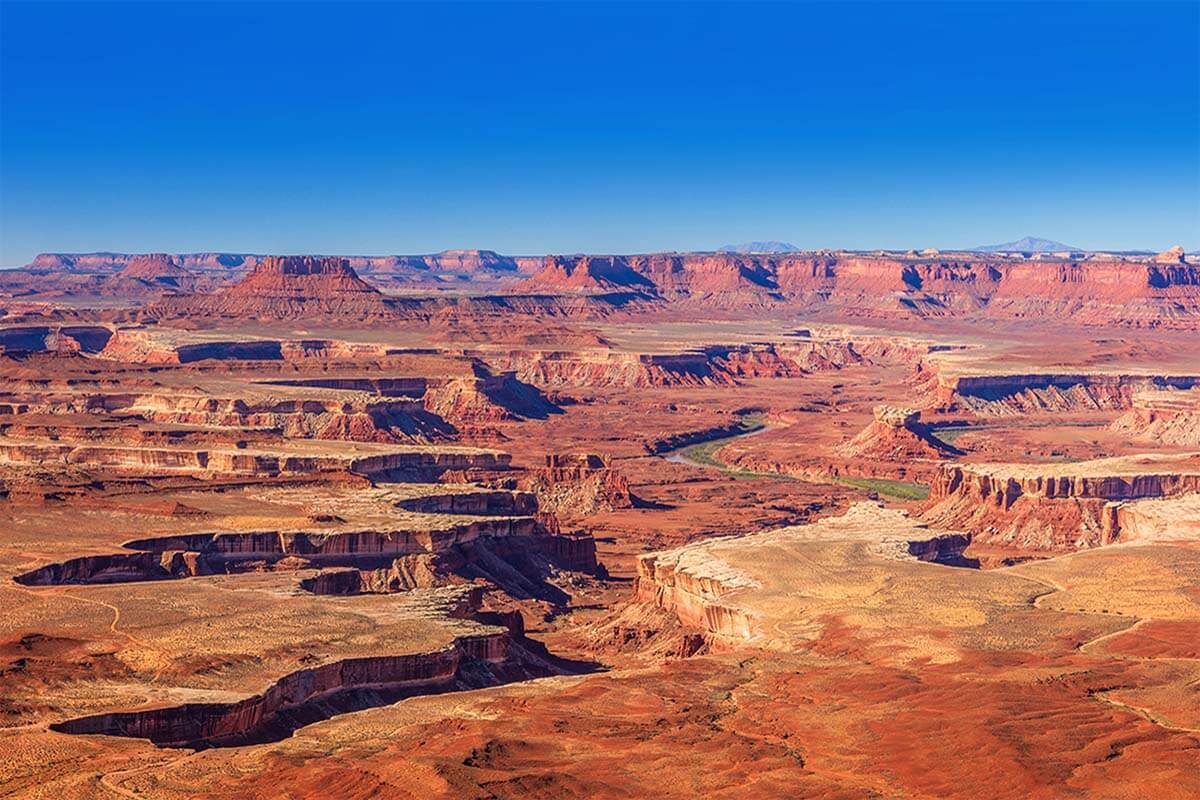 Canyonlands National Park in Utah is vast in size and is divided into four districts, accessible from different sides of the park: Needles, Island in the Sky, the Maze, and the Rivers of Canyonlands National Park.
So when looking for information for the best hotels near Canyonlands National Park, you should probably first decide where you're planning to go.
And don't worry if you don't know where to start! The majority of visitors go to Canyons Island in the Sky district – it's beautiful, simple to get to, and it can easily be visited individually or with a tour.
Furthermore, this part of the park is quite compact and can be visited in half a day to a day. In fact, you can easily combine a visit to Canyonlands and Arches National Park.
So if you are visiting Canyonlands for the first time and only have a day in the area, Island in the Sky is where you will probably want to go to. On the other hand, if you want to explore the park to the fullest and have a few days, definitely consider visiting the other parts of the park as well!
Good to know: There are no hotels inside Canyonlands National Park. Luckily, there are some nice options not too far away.
Below, you can find the best lodging options closest to each section of the Canyonlands National Park. Take a look!
TIP: We recommend booking your Canyonlands hotels via Booking.com. They offer the best rates, excellent customer support, and some of the best cancelation policy on the market. Alternatively, check out Expedia that usually offers similar conditions. Make sure to check the booking policy so that you keep the most flexibility. It's essential these days!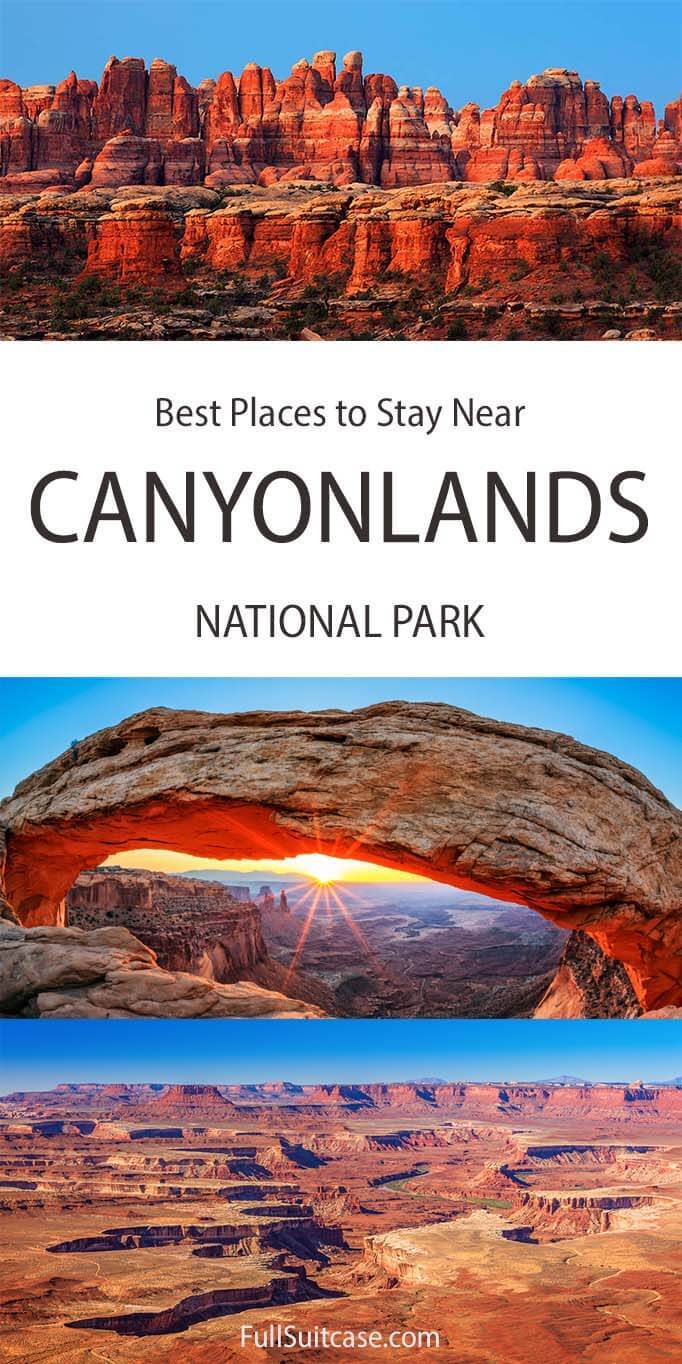 Hotels Near Canyonlands Island in the Sky District
Island in the Sky is the most-visited district of Canyonlands. Its easy hiking trails and accessible rim-side views over deep vast canyons make it a popular destination for all nature lovers. It also has a lot to offer for the more adventurous type of travelers – mountain bikers, ATVers, and rock climbers. Here you can read more about the best things to do in Canyonlands Island in the Sky.
Even though Canyonlands NP feels very remote, this part of the park is located just 33miles (40-45minute drive) from Moab where you will find plenty of quality accommodations and other facilities. And while it's not exactly next door, Moab is the best place to stay for visiting the Island in the Sky district of Canyonlands National Park.
Below, you can find our suggestions for the best lodging nearest to Canyonlands National Park:
Moab Under Canvas. This tented glamping accommodation is located 8 miles outside of Moab and just 22 miles from the Island in the Sky Visitor Center. It's as close to Canyonlands NP as you can stay if you don't want to camp in a basic tent or an RV. They have luxury tents with comfortable beds and en-suite bathrooms. If you want to experience the beauty of the desert at night, in combination with the comfort of a hotel, then you'll love it here!
SpringHill Suites by Marriott Moab is one of the nicest hotels in the area. It's located on the outskirts of Moab, just 5 minutes drive from Arches NP entrance and 35 minutes drive from Island in the Sky Visitor Center in Canyonlands NP. The modern rooms are very spacious and all rates include breakfast. A beautiful outdoor pool and jacuzzi offer lovely views of the red rocks of the desert.
Aarchway Inn. Located just a bit further down the road in the direction of Moab town center, this is probably the best price-quality lodging closest to Canyonlands NP. We stayed here during our trip and this hotel had all we needed – spacious family rooms, good facilities, free breakfast, and a nice outdoor pool to cool off during the unbearably hot summer visit. It's not as nice as the SpringHill Suites, but the price-quality-location ratio is excellent.
Expedition Lodge. Located in the center of Moab, this is the best-rated lower budget accommodation in town. With very big rooms, comfortable beds, it's a popular choice for those looking for a comfortable stay at a somewhat lower price. Many shops and restaurants are within a very short walking distance, so there's no need to take a car for dinner.
Inca Inn Motel. This is one of the better budget accommodations in Moab. Rates include breakfast and they have a nice pool. Their slogan is 'budget done better' and they sure do their best to give you the best value for little money.
LEARN MORE: Best Moab Hotels for All Budgets
TIP: Using the map below, you can compare hotels and short-term rental accommodations in Moab, UT. Simply insert your travel dates and group size, and you'll see all the best deals for your stay. Check it out!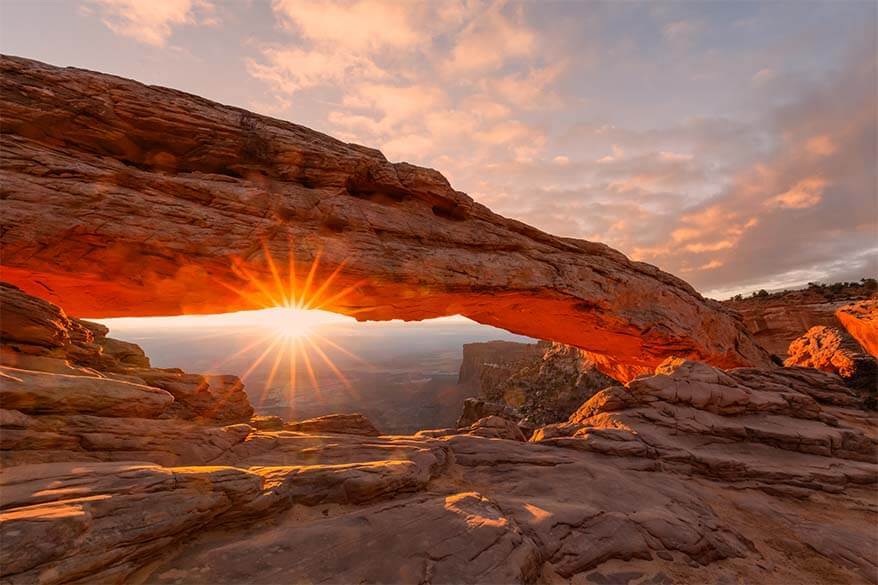 Hotels Near Canyonlands Needles District
The Needles section of Canyonlands National Park is a 75 miles, 1.5 hours drive from Moab. It's even more remote and less visited, but absolutely worth it if you have an extra day to spare.
The scenery here is very different than at the Island in the Sky section. The Needles is mostly known for its beautiful rock spires in the desert. If you want to experience this part of the park to the fullest, consider booking this popular 4×4 tour. It will bring you to some of the most remote areas that you won't easily be able to see on your own.
The closest town to stay for this part of Canyonlands is Monticello, about 50 miles, 1-hour drive from the Needles. There are also several camping and glamping options in rural areas closer to the park. And even though it's somewhat further away, staying in Moab is a good option as well. The Needles is a popular stop when driving between Moab and Mesa Verde and for that you best stay in Monticello.
Good to know: Hotels in Monticello are much cheaper than in Moab. Most of them are not as luxurious which probably explains part of the price difference.
Here is the best lodging closest to the Needles district in Canyonlands National Park:
Inn at the Canyons. This Monticello hotel featuring a big indoor pool and a hot tub has the best reviews in town. Breakfast is included in all rates and free Wi-Fi is provided.
The Grist Mill Inn. If you are looking for a hotel with character and history, then you'll love staying at this charming b&b. It's located a bit further from the main road and is one of the quietest accommodations in town. Just beware that some rooms are on the upper floors and there is no elevator. They have no pool either.
Blue Mountain Horsehead Inn. This is the best-rated lowest budget lodging in the area. If all you need is a simple, clean place to spend a night and don't care about any extra facilities, then this value accommodation will do the job just fine.
READ ALSO: Best Tours from Moab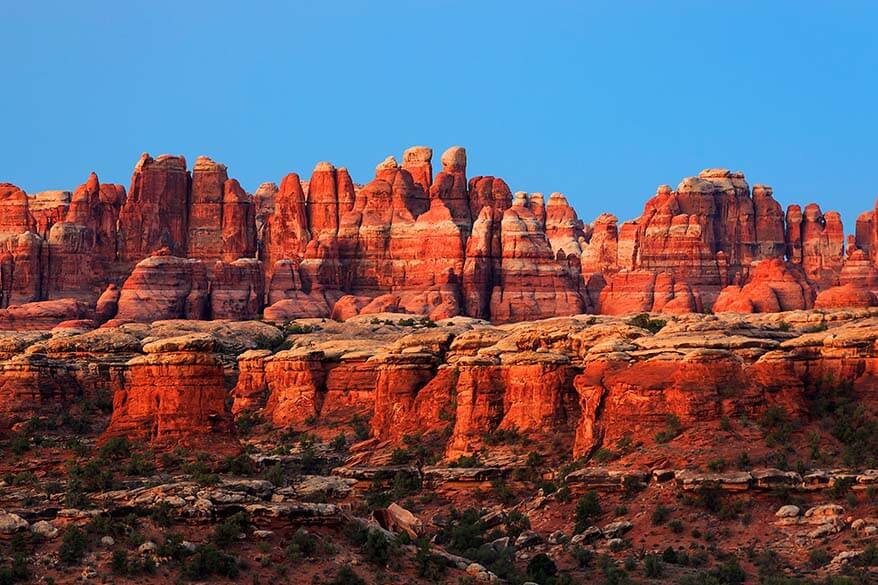 Hotels Near The Maze District of Canyonlands
The Maze is the least accessible part of Canyonlands. Not only is this part of the park very remote, the roads and the trails are quite difficult to navigate, but it also requires a lot of time to visit.
If you decide to visit this area, you'll have to be completely self-sufficient, and it's best to plan at least several days. You'll need a high clearance 4×4 and camping equipment. For more information, please check the official National Parks Service website.
The Hans Flat Ranger Station is the gateway to the Maze. It's located about 60 miles, 2 hours drive from Hanksville or 80 miles, 2.5 hrs drive from Green River, UT. So if you are looking for a place to stay before or after visiting the Maze, you'll have to stay at one of these two towns, with limited accommodation options.
TIP: If you visit this part of Canyonlands, Capitol Reef National Park is just nearby. So you may want to include it in your itinerary as well. Hanksville is a good place to stay for Capitol Reef as well.
Here is the best lodging closest to the Maze in the Canyonlands:
Dukes Slickrock Campground & RV Park. This is the highest-rated lodging in Hanksville. Clean cabins with comfortable beds also have a refrigerator, microwave oven, and tea & coffee making facilities.
Whispering Sands Motel. This is probably the nicest good value lodging in Hanksville. It has hundreds of excellent customer reviews as well. With several restaurants, a coffee shop, and a grocery store nearby, this place has all you need for a carefree stay in this remote part of Utah.
Holiday Inn Express & Suites – Green River. This is by far the most 'luxurious' hotel in the area. An indoor pool and beautiful modern rooms make it a good choice for those looking for a bit more comfort before or after hitting the desert.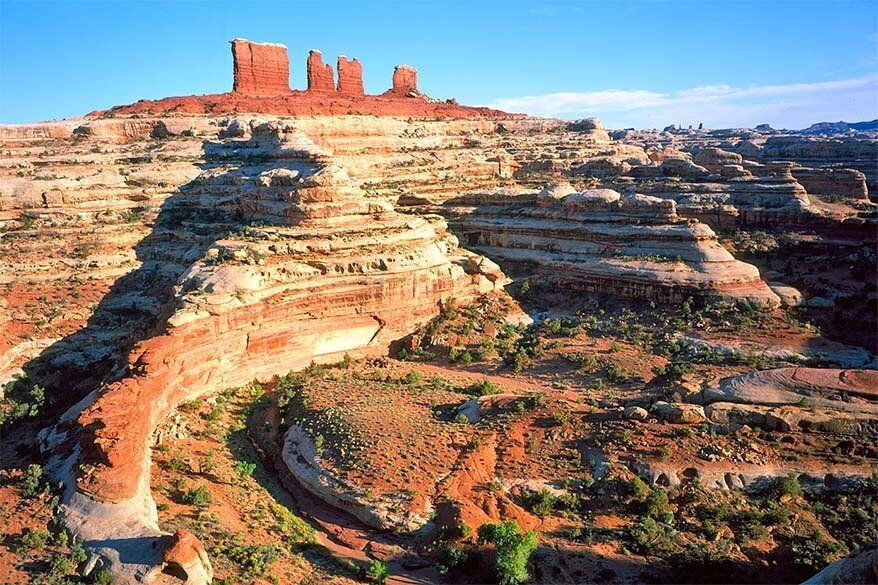 Rivers District of Canyonlands
The Colorado River and the Green River wind through the heart of the Canyonlands National Park. They are best explored by kayaks and boat tours, most of which require multi-day camping.
If you are planning to visit this area of Canyonlands National Park, check the official National Park Service website for more information.
READ ALSO: Rafting in Moab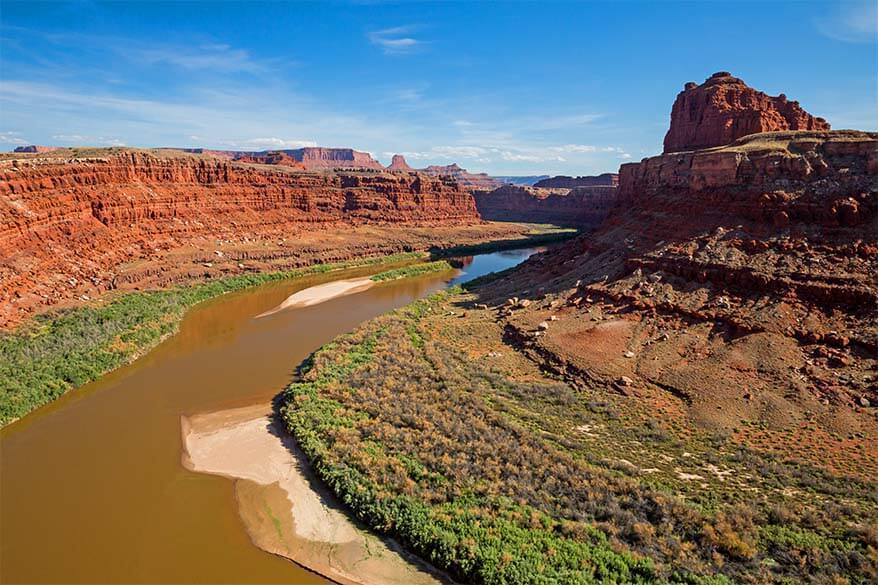 So, this is our guide to the best places to stay for visiting Canyonlands National Park. Hope that it will help you plan your trip to this beautiful part of Utah!
To summarize:
If you are only planning to visit Island in the Sky district or take a day tour to the Needles, stay in Moab, UT.
If you are planning to visit the Needles for several days or are passing by this area on your way to Mesa Verde, then stay in Monticello, UT.
If you want to visit the Maze and Capitol Reef NP, stay in Hanksville, UT. Green River, UT is a good place to stay before or after your trip to the Maze.
READ ALSO: Best Things to Do in Moab & Moab Itinerary Suggestions
TIP: If you are looking for more practical tips for visiting the Moab area, please check our guide to Moab, Canyonlands, and Arches National Parks. It contains an overview of all our articles and lots of useful tips for your trip. Check it out!
If you found this post useful, don't forget to bookmark it and share it with your friends. Are you on Pinterest? Pin these images!