Arches and Canyonlands National Parks are among the most beautiful nature destinations in Utah, USA. And while each park deserves a longer visit, many travelers have just one day in Moab and want to see as much as possible in a short timeframe.
So if you are wondering if it's possible to see both, Canyonlands and Arches in one day, the answer is: definitely! You won't be able to see everything, but yes, you can see the very best that Arches and Canyonlands have to offer in just a day.
Actually, you'll be able to see even more! You can also visit the nearby Dead Horse Point State Park, which is famous for its incredible sunset locations.
Good to know: This itinerary covers the very best landmarks of both parks in the most efficient way. At the same time, it's only meant to give you an idea of what's possible in 1 day. In summer, when the days are quite long (sunrise is at around 6 am and sunset at around 8.30-8.45 pm) you'll be able to do everything mentioned here in a day. If you are visiting in winter, you'll have to plan really well because it gets dark much earlier.
Also, if you are visiting in the high season when Arches National Park requires a reservation, you might have to adjust this itinerary depending on the time slot that you can get for your visit.
Depending on your interests, physical ability, and time of the year, you can easily adjust this Arches and Canyonlands itinerary. As you'll see, we recommend one longer hike in Arches NP and a really short one in Canyonlands NP. But even if you don't hike, you will still have an amazing day and see some mind-blowing scenery.
At the bottom of this article, you can find some practical tips for your trip. But first, let's take a look at how your day at Arches and Canyonlands could look like. Read on!
TIP: If you feel overwhelmed planning your Arches and Canyonlands day trip, you should know that there are also organized small-group tours from Moab that cover two parks in one day (like this highly-rated 4×4 tour). The advantage is that you don't have to worry about anything and you get to see some places off the beaten path as well.
Alternatively, you can visit Arches NP on your own and take this great half-day tour to Canyonlands. The advantage of these tours is that you go by a 4×4 vehicle, drive the Shafer Trail in Canyonlands, and visit some other places that you wouldn't be able to visit with your own car.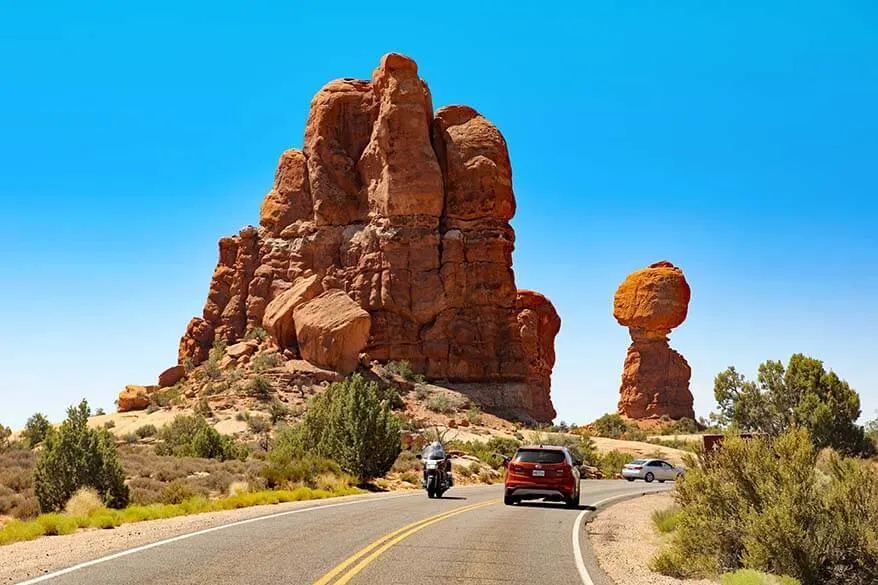 To make your planning easier, I created this map indicating all the places mentioned in this article. So not just the main landmarks that you must-see, but also suggested alternatives or nice scenic stops along the road in case you have more time.
How to use this map: Use your computer mouse (or fingers) to zoom in or out. Click on the icons to get more information about each place. Click the arrow on the top left corner for the index. Click the star next to the map's title to add it to your Google Maps account. To view the saved map on your smartphone or PC, open Google Maps, click the menu and go to 'Your Places'/'Maps'. If you want to print the map or see it in a bigger window, click on 'View larger map' in the top right corner.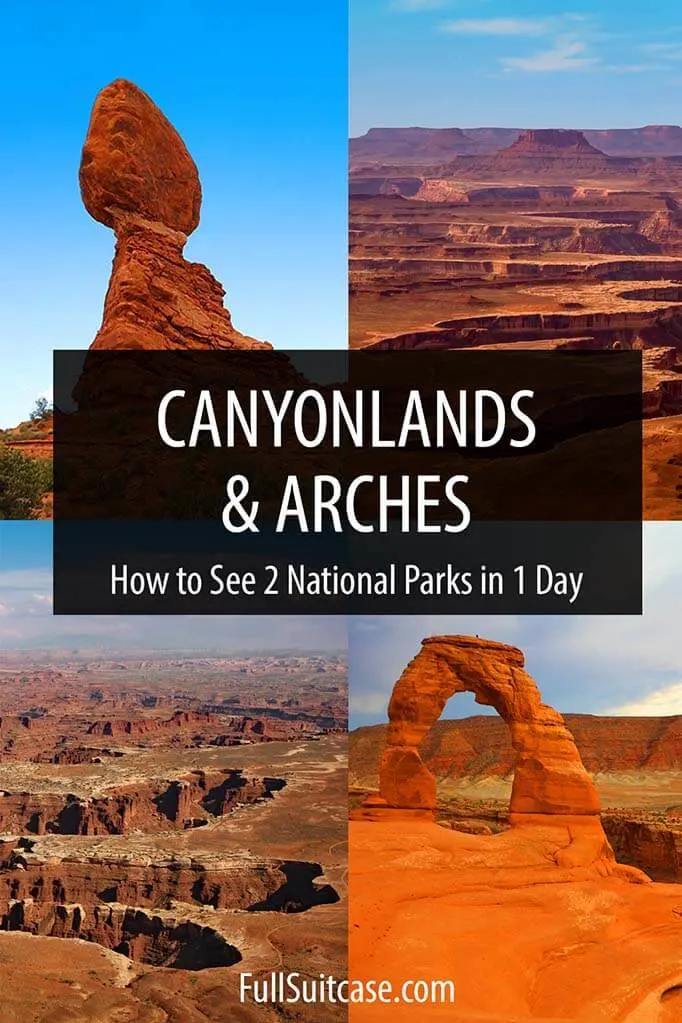 Without further ado, here is our suggested self-drive itinerary for Arches and Canyonlands in one day:
Visit Balanced Rock at Sunrise
First things first. Stay in Moab town to explore Arches and Canyonlands National Parks (see our guide to Moab hotels for suggestions). From Moab, it's just a very short ride to the entrance of Arches National Park.
As you enter Arches National Park and drive the incredibly scenic road through the park, it will be very difficult not to stop at every corner. But with just half a day in Arches National Park, you'll have to plan well!
Therefore, I suggest that you drive this scenic road all the way to Balanced Rock before it even gets light. Not only is it easier to resist the temptation to stop everywhere, but it also allows you to make the most of your day in the Moab area!
Balanced Rock is a very picturesque rock just next to the road and it's one of the most popular places in Arches NP. If there is one stop that everyone seems to make, it's here. It's because you can easily see Balanced Rock without even having to walk. Furthermore, if you decide to stretch your legs, the accessible trail around this peculiar rock is just 0.3 miles round trip. It only takes 10-15 minutes to complete, photo stops included.
TIP: This is an excellent place to start your day. And if you time well, you can even watch the sunrise here. But don't linger too long, because there are so many amazing places to be explored! Next stop – Delicate Arch Trailhead, just a 4 miles drive further.
Good to know: In summer, sunrise in Arches is at around 6 am. Here you can check the exact sunrise and sunset times for Arches NP.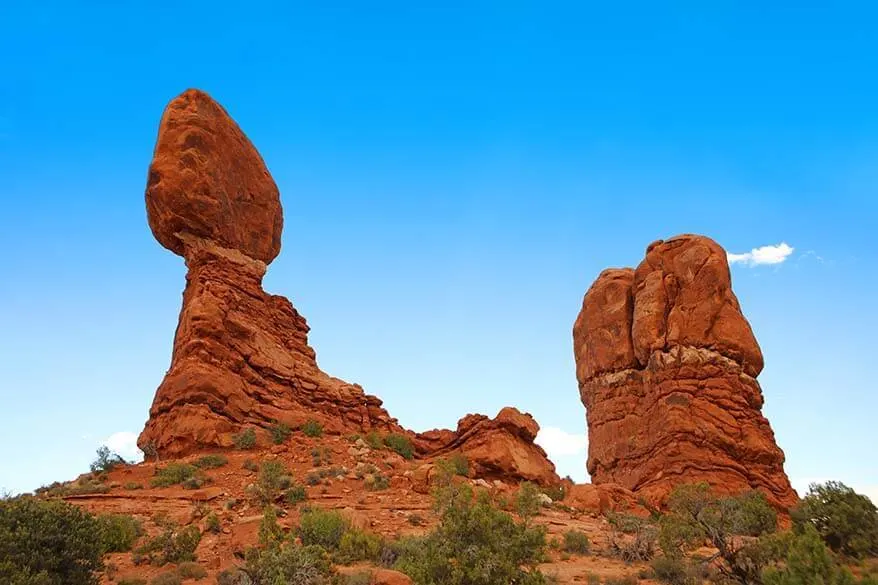 Hike to Delicate Arch
If you like to hike and want to see the most iconic arch in Arches National Park, then head to Delicate Arch. This is the most beautiful hike in Arches National Park. So if you can only do one hike today, make it this one! The entire hike is stunning and the scenery at the Delicate Arch itself is spectacular.
However, with just one day in Arches and Canyonlands, you should only attempt hiking to Delicate Arch if you are fit enough for a moderate 3-mile uphill hike and are willing to start really early. Otherwise, you will have to rush through all the other main landmarks that are worth visiting. If you rather do an easy shorter hike, we recommend Landscape Arch (see below).
Planning: Depending on how fast you hike, count 40-60 minutes to hike to Delicate Arch and a bit less time to walk back. Plus, you'll want to spend some time at the arch itself (count at least 20-30 minutes). Everything included, this hike will probably take you 2-2.5 hours.
Good to know: The most popular time to hike to Delicate Arch is at sunset, but it's much easier to plan your day if you get this hike done first. And Delicate Arch will be much quieter early in the morning too. Furthermore, daytime temperatures can get unbearably hot in summer and car parking at the Delicate Arch Trailhead fills up really quickly. So start here first thing, immediately after visiting Balanced Rock. In fact, you can easily visit Balanced Rock later in the day, so it's up to you where you decide to start.
Alternative view: If you decide not to hike to Delicate Arch, you can also see it in the far distance from the Delicate Arch Viewpoint along the Arches Scenic Drive. It's a totally different experience though.
LEARN MORE: Delicate Arch Hike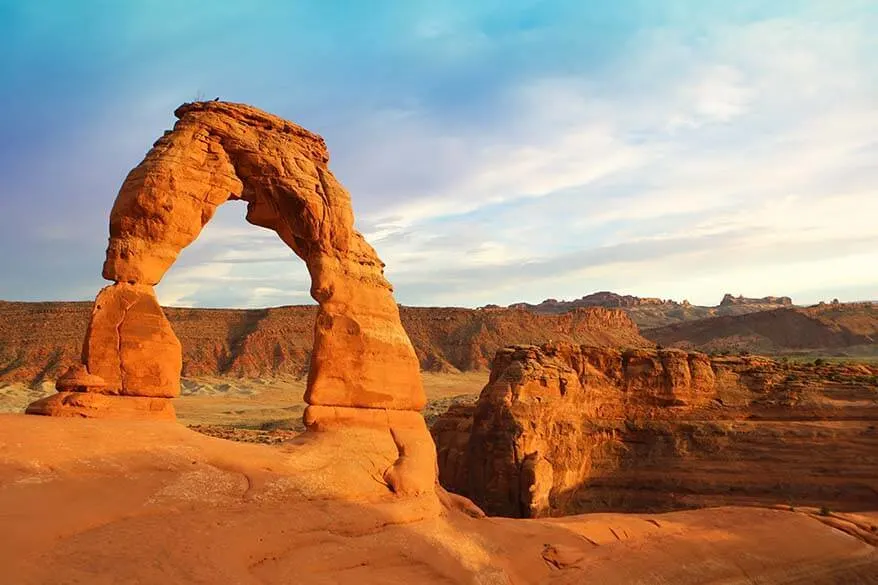 Drive to Devils Garden Area
After visiting the Delicate Arch, drive to the northernmost point of the Arches Scenic Drive, the Devils Garden Area. The distance between these two places is just around 7 miles and takes about 15 minutes by car. Just by driving here, you'll see some really nice scenery along the Arches Scenic Drive Road.
Several stunning longer hikes start at the Devils Garden Trailhead, but there are also some really impressive arches that don't require as much time to visit. This is a more family-friendly option than Delicate Arch and is perfect for those visiting Arches National Park with kids.
If you choose not to hike to Delicate Arch, from here you can do a really nice easy hike to Landscape Arch (1.6 miles). It takes about 20-30 minutes one way, so about 1 hour in total. Alternatively, only walk up to Tunnel Arch and Pine Tree Arch which are just about 5-10 minutes walking distance from the car.
Good to know: If you walk to Landscape Arch, you'll pass Tunnel Arch and Pine Tree Arch – it's along the same trail. Because this hike is so easy, it's extremely popular and highly trafficked. So only go hiking here as an alternative to Delicate Arch and start as early as possible (or you may not even find a parking spot).
TIP: If you opt to hike to Delicate Arch, hiking to Landscape Arch might be a bit too much with just limited time in Arches NP. So you can also skip this area and make a few short stops along the Scenic Drive instead. Skyline Arch is just a quick photo stop and the nearby Sand Dune Arch is just a short 0.2 miles walk.
In order to help you decide which arches to visit, I added some pictures below.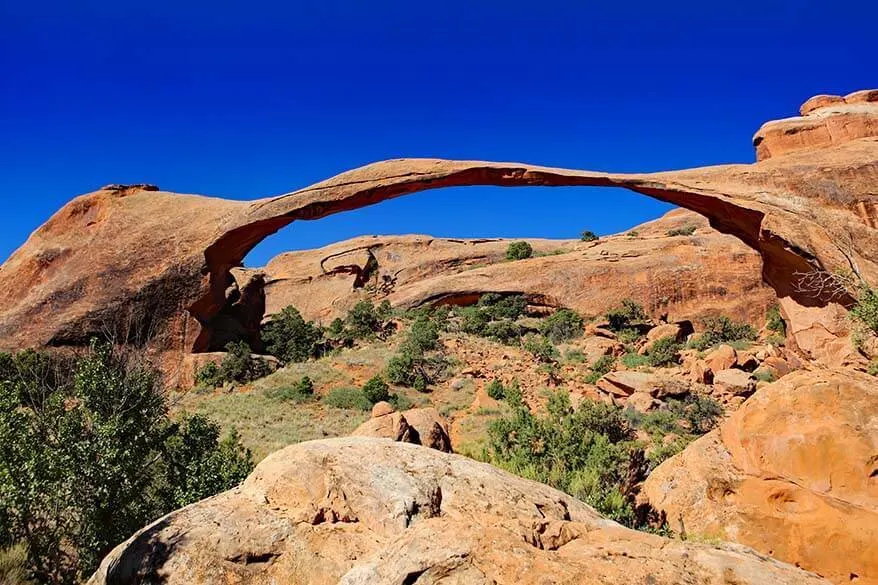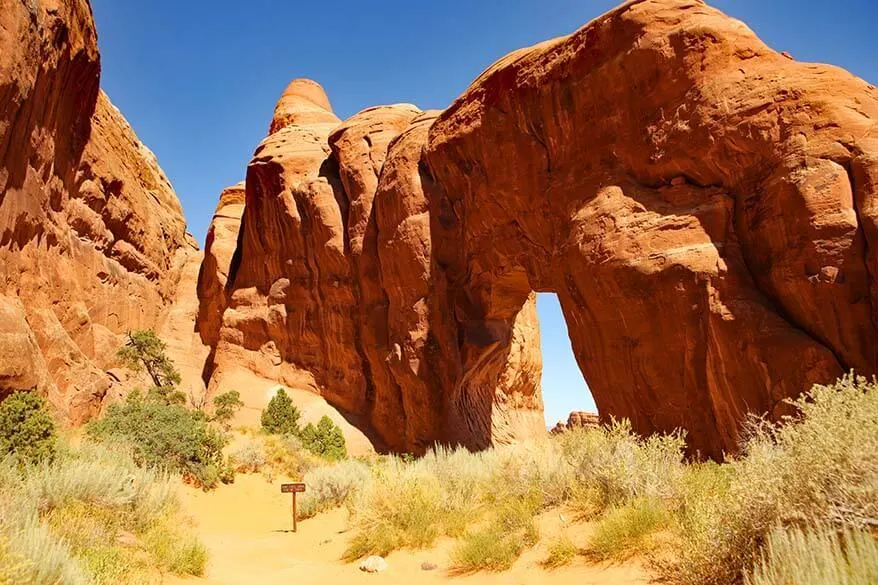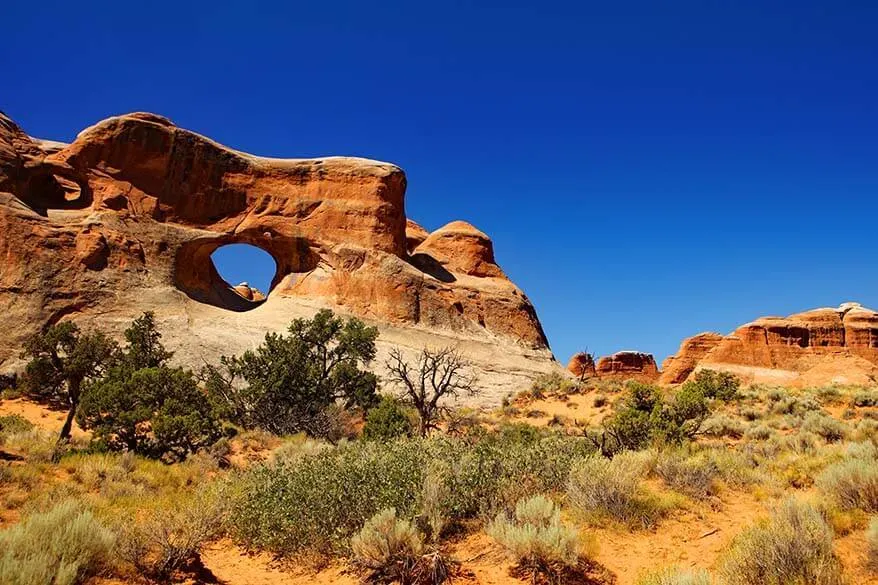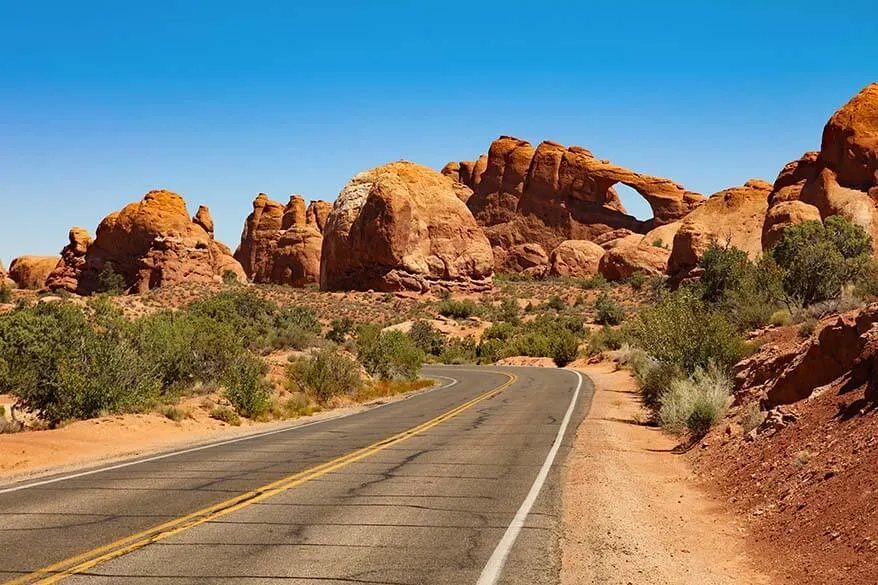 Visit the Windows Section
Head back south along Arches Scenic Drive and turn off to The Windows Section. This is a very picturesque area with several impressive arches and they are all located very close to the car parking.
You can see the North Window and the South Window from the parking area. So you can just admire them and snap a picture or two from a distance. With limited time in the park, I would not walk to these arches.
Instead, take a short walk to Double Arch. It's a very impressive arch and well worth a few minutes of your time. And you really don't have to climb up to look through the arch – the best view is actually from the bottom.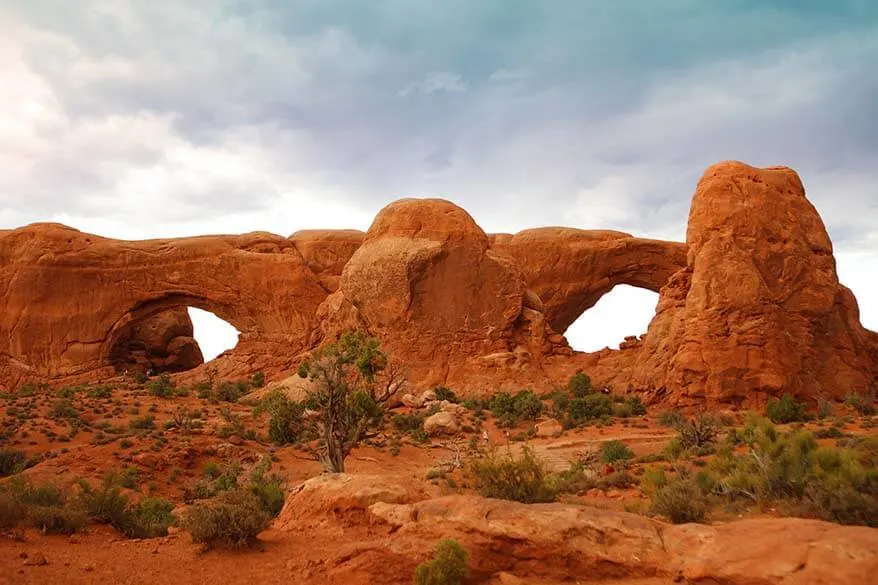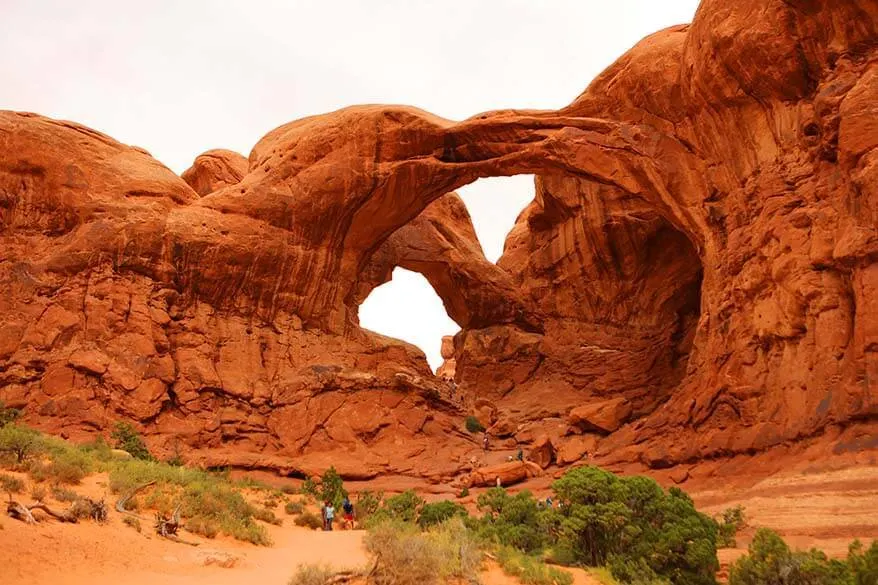 Drive Arches Scenic Road
After visiting the Windows, head back to the main road and turn south back towards the entrance of the park. You'll pass Balanced Rock again and can easily stop here now if you haven't done that in the morning yet.
Next is the Petrified Dunes Viewpoint. It's not as impressive as most others, so feel free to skip it. By this point, it will probably be around 11 am, and there are still a few other really nice photo stops before you leave the park.
Further south along the scenic route is the Courthouse Towers Viewpoint. It's a nice short photo stop, but not as nice as the last viewpoint that you really should see (more info below). So, see how your day is going and if you are still somewhat on schedule, and decide if it's worth stopping as you go. The same with La Sal Mountains Viewpoint yet further down along the road.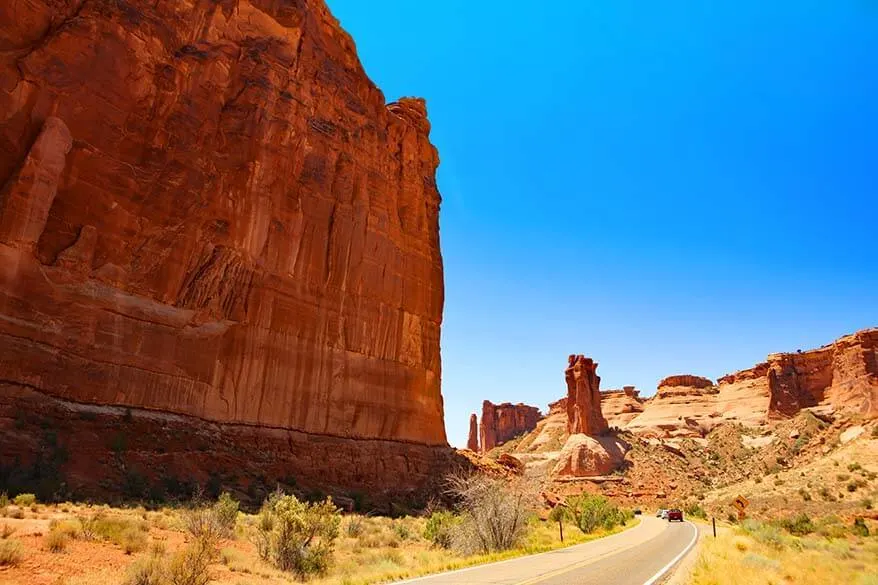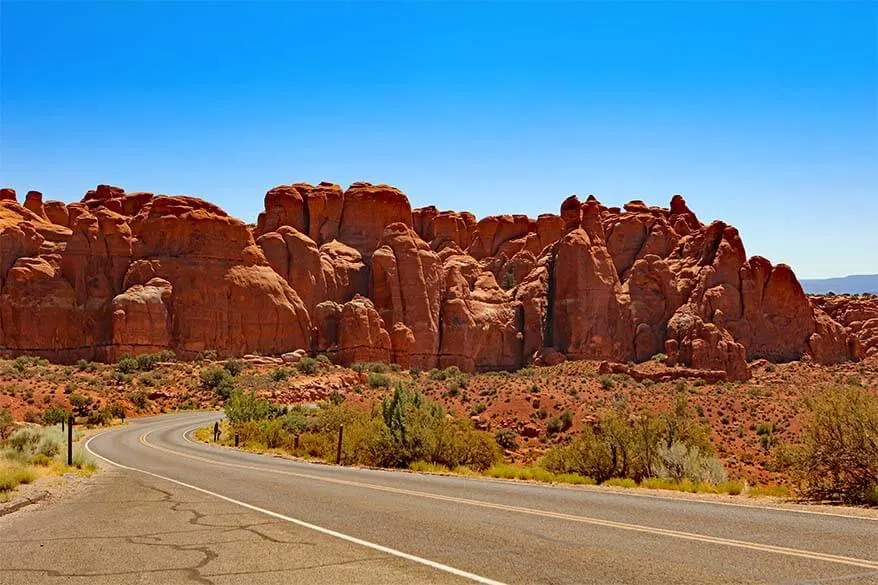 Admire the Views at Park Avenue Viewpoint
One of the nicest viewpoints along the Arches Scenic Drive is the Park Avenue Viewpoint. There are no arches here, but the giant rock towers are truly impressive!
Park Avenue has a really nice hike that starts here at the car parking lot of the viewpoint, but with just half a day in Arches National Park, you won't have the time for this. So take your time to admire the views as this is probably your last stop in Arches National Park.
The 2.5-mile drive from here down to the Arches NP Visitor Center at the entrance of the park is incredibly scenic as well. There are no easy pull-offs or places to safely stop next to the road, so drive slowly and take in the scenery from your car.
Arches Scenic Drive is so incredibly picturesque from the beginning to the very last kilometer. And that in itself makes a visit to Arches National Park worth it even if only for a couple of hours.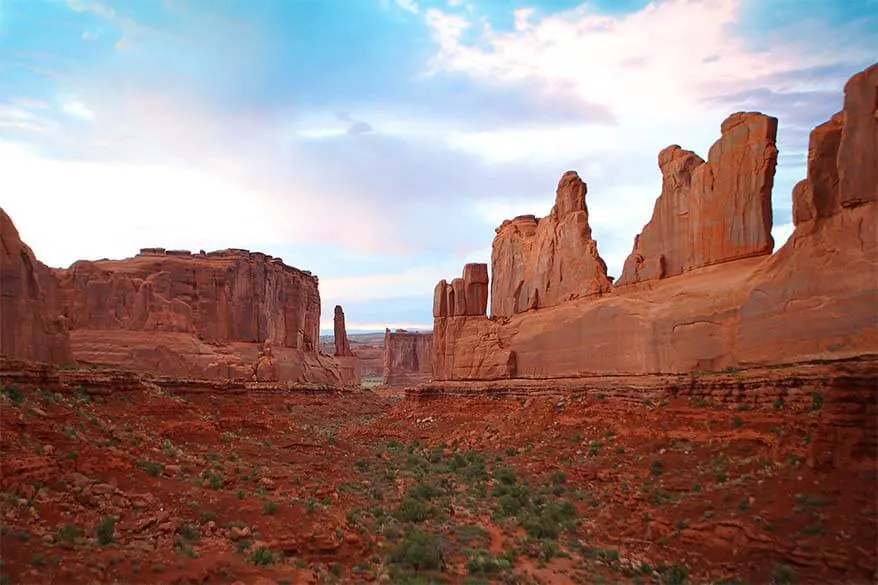 Have Lunch & Drive to Island in the Sky Visitor Center of Canyonlands NP
If you need to use bathroom facilities, you can stop at the Arches National Park Visitor Center just before you leave the park. This is also a good place to refill your water bottles. If you packed a picnic, this might also be a good spot for lunch. Otherwise, head to Moab; there are plenty of restaurants in town.
Going to Moab for lunch will mean that you lose at least an hour of your time. But if you are visiting in summer when the days are really hot, it might feel so good to escape the heat and take a short break inside an airconditioned restaurant during the hottest hours of the day.
Your next stop – Island in the Sky section of Canyonlands National Park. This part of Canyonlands is the easiest one to visit on your own and is therefore the most popular one (The Needles and The Maze are more remote sections that require more time or even a tour).
Island in the Sky is very close to Arches National Park. In fact, it's just about 30 minutes drive between the two parks (or 40-45 min from Moab). This makes it easier to see these two great Utah National Parks in just one day.
TIP: As already mentioned, you can also opt to visit Canyonlands with this highly-rated half-day 4×4 tour. This would give you a break from all the driving in the morning. Furthermore, this tour brings you to some cool places that you can't see yourself. There are usually afternoon departures available from Moab, so it's easy to combine with Arches NP as described above. Check it out if this option sounds like something for you!
Good to know: Summer days are long enough and you still have more than plenty of time to see the main highlights of Canyonlands after visiting Arches and having lunch. If you get to Canyonlands at around 3-4 pm, you'll still be able to see most of the main viewpoints before heading to Dead Horse Point State Park for sunset at around 8 pm. If the days are shorter, then plan accordingly.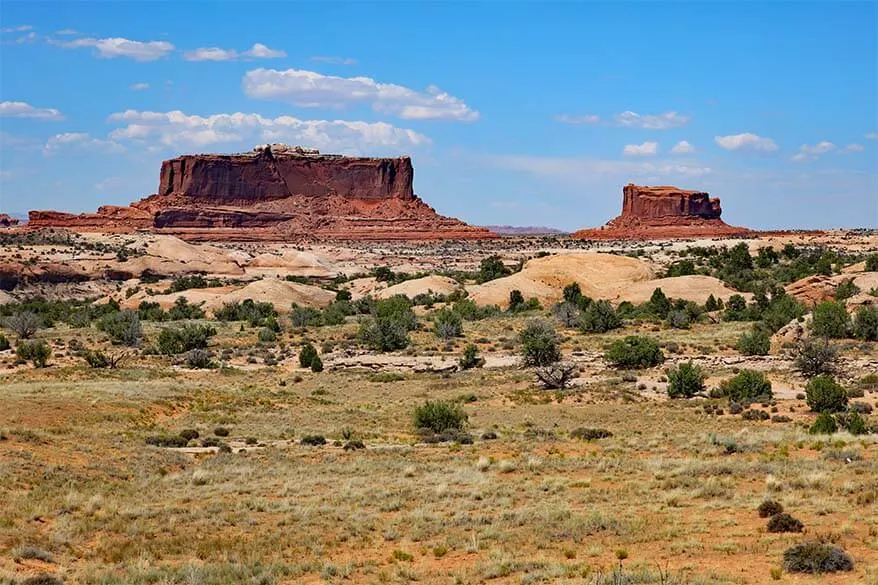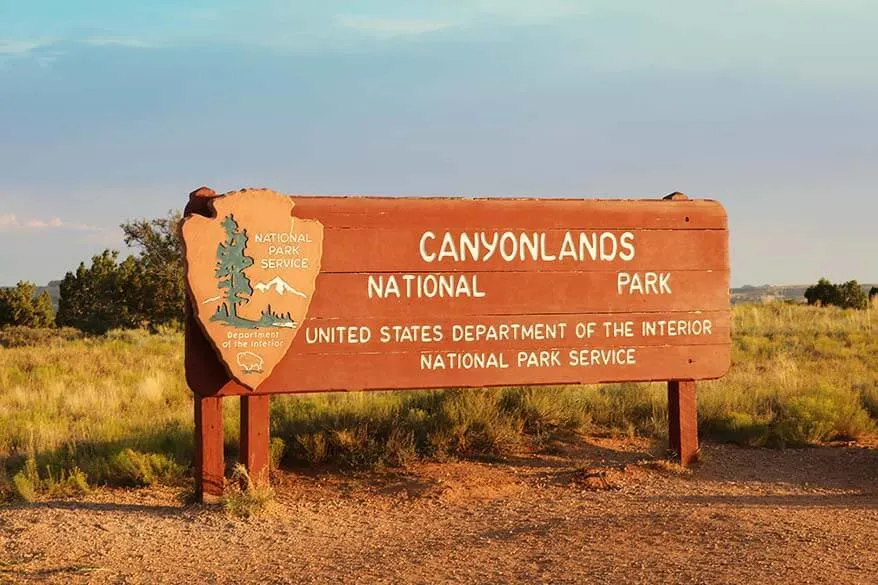 Stop at Island in the Sky Visitor Center
Island in the Sky Visitor Center is located right past the entrance of the park and it's a good place to start your visit. Next to it, you can catch the first glimpses of the beautiful scenery.
You can also grab a map of the park and ask rangers if there are any closures or things you should be aware of. However, for a short visit to Canyonlands, where you'll be mainly staying on the main roads, this is not really a must.
The Visitor Center is very small but it houses a really nice gift shop and there are also bathroom facilities. You should know that there is no restaurant or any food here. So make sure that you eat before you arrive at Canyonlands or bring your own picnic.
This is also the last chance to refill your water bottles for the day! It will probably be closed when you leave Canyonlands in the evening and there is no drinking water anywhere else inside the park. So make sure to stock up here!
READ ALSO: Best Things to Do in Canyonlands National Park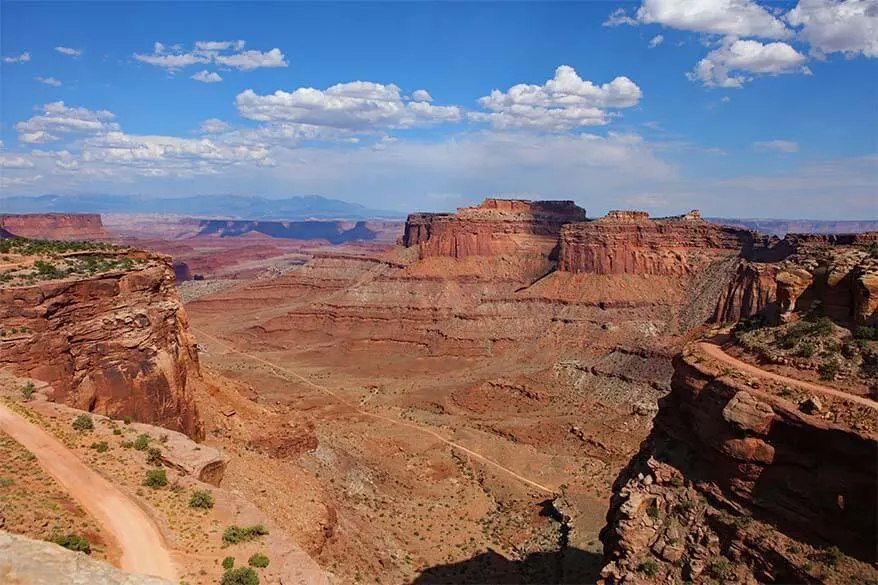 Shafer Trail Viewpoint
One of the first stops right after you leave the Visitor Center, is the Shafer Canyon Overlook and right after that, Shafer Trail Viewpoint.
The canyon overlook requires a short walk from the car (about 0.1 mi, 5 minutes) and gives you nice views of the canyon. However, if you have the time for just one quick stop, make it the Shafer Trail Viewpoint. It's right next to the road and gives you a stunning view of the twisting Sharfer Road leading down into the canyon. Dazzling!
Good to know: You can also easily visit one or both of these stops at the very end of your trip, just before you leave Canyonlands. You'll be passing here on your way out anyway.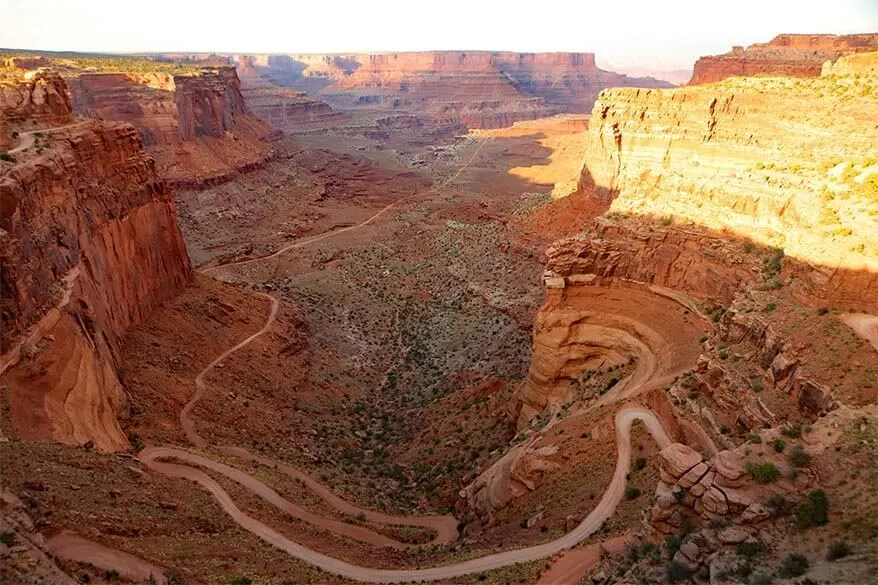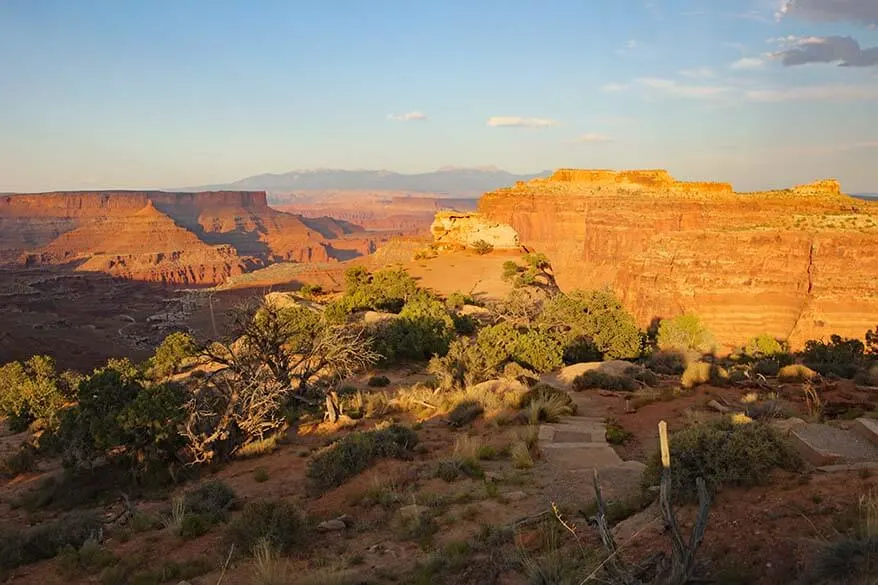 Hike to Mesa Arch
Mesa Arch is the highlight of any visit to Canyonlands National Park. To reach this impressive arch, you'll need to walk a bit, but it's a short walk that you can definitely do even with limited time.
The circular Mesa Arch loop is really easy, just 0.5 miles long, and takes about 20-30 minutes to complete.
This is the only hike we suggest doing on your short visit to Canyonlands and only because it's totally worth it. So don't miss it!
LEARN MORE: Mesa Arch Hike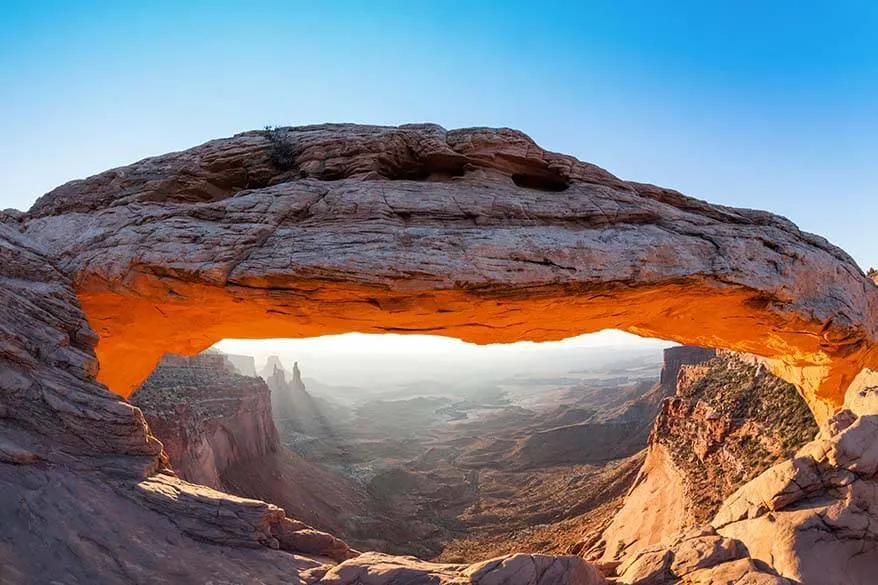 Enjoy the Views at Green River Overlook
Just 2 miles further down the road after leaving the Mesa Arch car parking, you'll find one of the best viewpoints in Canyonlands – Green River Overlook. After leaving Mesa Arch, follow the road to the right and then turn left. It's well indicated, so no worries.
This viewpoint gives you a fantastic perspective of the Canyonlands and one of the WOW points in the park. Furthermore, it's extremely easy to reach – just a short walk of a minute or two on an accessible flat walkway.
This is one of the must-see places in the Island in the Sky section of the Canyonlands.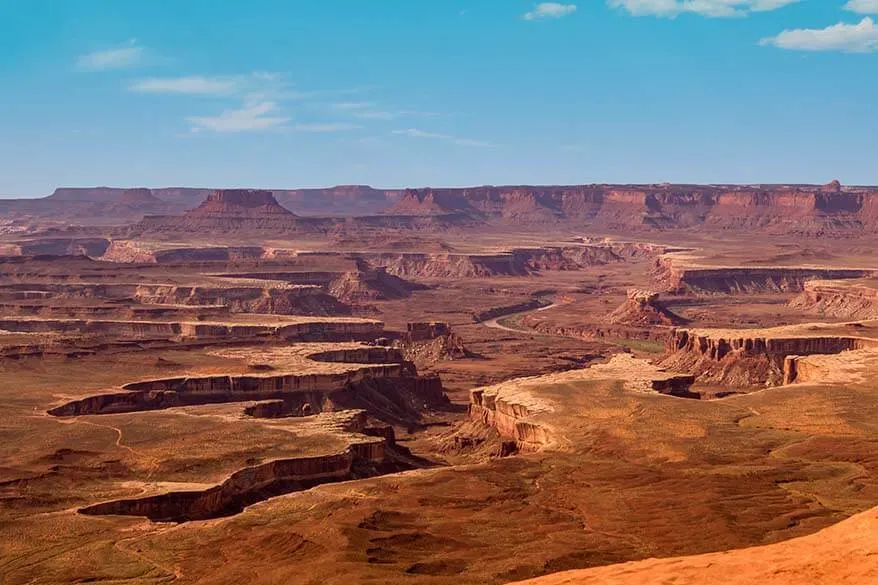 Check out the Grand View Point
After visiting the Green River Overlook, head back to the main road, turn right, and drive all the way to Grand View Point. It's about 7.5 miles, 15 minutes drive between these two viewpoints.
Here, you'll find a big car parking area and bathroom facilities. A very short accessible path brings you to a stunning viewpoint. Seeing this view is a must and takes just a few minutes of your time.
Good to know: If you have some time to spare, you can also hike the Grand View Point Trail to Grand View Point Overlook. This hike follows the rim of the canyon and its trailhead can be found on the right side of the viewing platform. The entire trail is almost 1 mile each way and so you'd need about an hour for this hike. But you can also just walk a small part of it, admire the views, and turn back earlier. That's what we did.
TIP: If you still have extra time at Canyonlands, you could opt to hike to White Rim Overlook or drive the Upheaval Dome Road all the way to the end and check out the Whale Rock. However, with just a day at these two parks, you'll probably be running out of time as it is. So remember that often less is more. It's better to enjoy fewer stops thoroughly rather than have to run the entire day just to 'see it all'.
Alternative suggestion: If you have no time to drive to Dead Horse Point State Park for sunset (see below), simply stay at the Grand View Point. It's an excellent location to watch the sunset as well.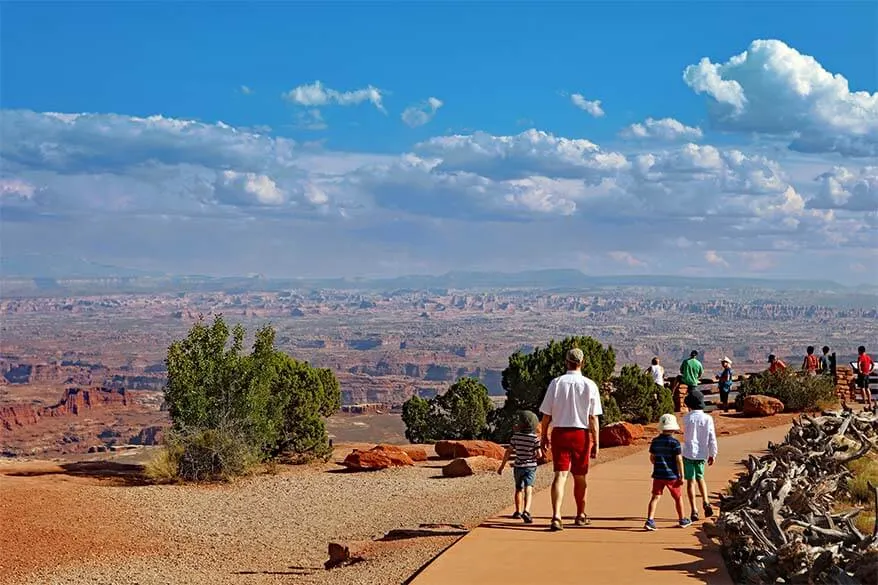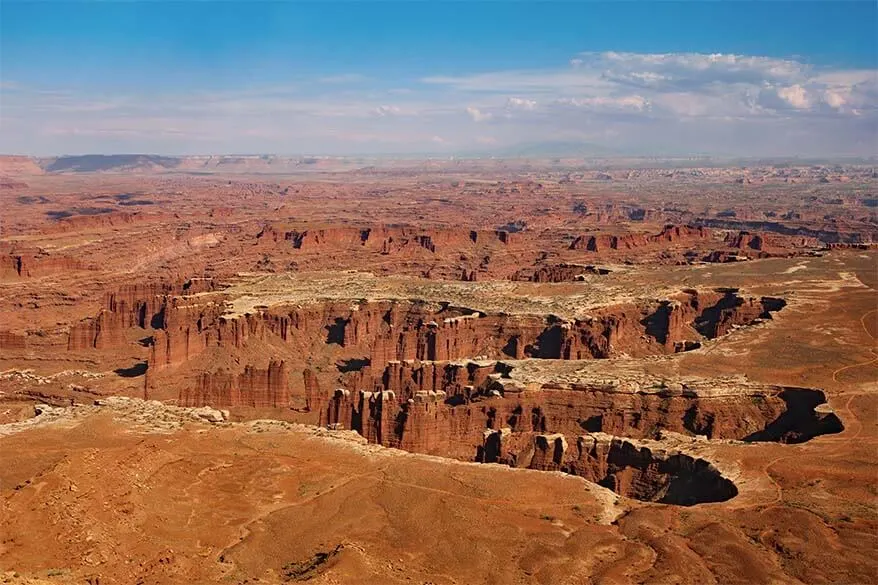 Watch Sunset at Dead Horse Point State Park
Dead Horse Point State Park is located just about 20 minutes drive from the entrance of Canyonlands NP. It's another really beautiful place that you could try to visit on the same day.
It's a small park, with just one main road leading to several grand viewpoints and it doesn't require much time to visit. Still, just driving to the park and getting to the viewpoints requires some time. And what's the point if you have no time left to actually enjoy it… So you should only attempt going there if you have at least one hour before the actual sunset.
Anyway, we did this and drove to Dead Horse Point State Park for sunset. There are several really nice viewpoints here and I recommend stopping at Meander Overlook and also at Dead Horse Point.
We stopped at Meander Overlook for just a few minutes and rushed to Dead Horse Point for sunset. It was really beautiful there. Stunning, actually! But Meander Overlook with its stunning view of the big bend of the Colorado River is just as impressive.
If you have the time, I recommend checking out both places. The scenery is incredible and Dead Horse Point will remind you of the Grand Canyon! Whereas Meander Overlook looks a bit like Horseshoe Bend in Arizona. The big difference that might help you decide where to go is that Dead Horse Point has a big parking area and accessible trails with amazing views, whereas Meander Overlook car parking is very small and you'll have to hike a little bit for the best views.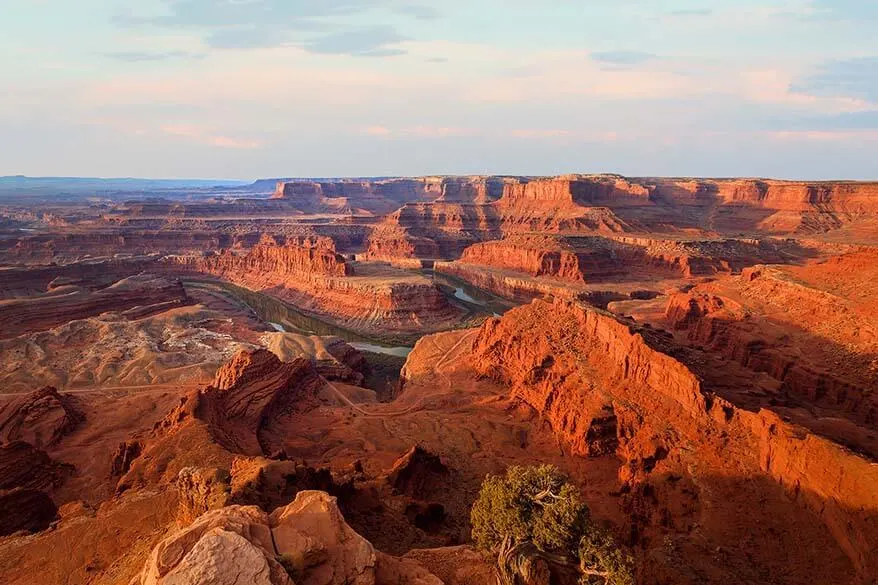 So, this is how your one day at Arches and Canyonlands plus Dead Horse Point State Park could look like. It's a packed day, but many of these stops don't require more than 5-15 minutes. So while it might look overwhelming on paper, it's actually quite straightforward when you get there.
Below, you can find some additional practical tips that will help you make the most of your visit. And if you think that this itinerary is too much for one day and you'd rather just visit one park, further below, you can find our observations on which park is better – Arches or Canyonlands. Read on!
Practical Tips
Reserve your entry to Arches National Park! If you are visiting Arches NP between April and October, you have to reserve timed entry tickets. Do this as soon as possible! More info here.
Start early and stay late! As you can see, this one-day Canyonlands and Arches itinerary is packed with some incredibly beautiful places, so you'll need enough time to enjoy them all. Be prepared for this to be a very long day.
Fill up your car in Moab. There are no petrol stations in the desert!
Get a National Parks Annual Pass if you are planning to visit more National Parks in the USA. It's valid for one year from the month of purchase and costs just 80 USD for the whole family. However, Dead Horse Point State Park is not included in this pass, so be prepared to pay an entrance fee if you go there. We found the 20 USD fee quite steep for a half an hour's stay in the park at sunset, but it was, of course, our choice to visit for such a short time.
Pack plenty of drinking water, especially if visiting in summer. At least one large reusable water bottle per person is a must. Otherwise, pack a few smaller ones instead.
Sun protection is a must when visiting Arches and Canyonlands in the summer months. Temperatures of over 100°F (38°C) are common in July and August.
Take some snacks and picnic if you are not planning to return to Moab for lunch. In any case, some snacks are a must for such a long active day. And remember, there is no food in Canyonlands!
Re-charge your batteries. If you are using your smartphone for photography, you'll want to recharge your phone in the car or along the way. We always carry a power bank and a few long fast-charging cables in our backpack. And we also have a car charger with multiple USB connections to charge all our electronic devices while driving. If you are using a camera, make sure to pack an extra battery as well. It's going to be a long day and you'll want to take pictures everywhere!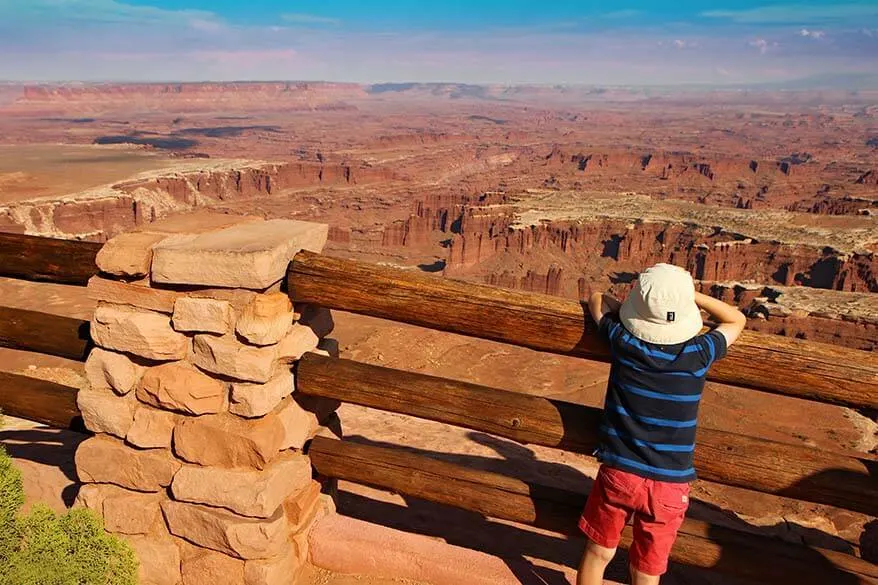 Canyonlands vs. Arches
Some of our readers asked us which national park to choose if you can only visit one – Arches or Canyonlands. As you can see, it's possible to visit both parks in a day. But if you don't even have a day and can visit just one park for a few hours, then I'd definitely pick Arches National Park.
The landscapes in Arches are simply stunning and you can easily see many beautiful places just by driving Arches Scenic Drive and hopping off from your car for short photo stops. Canyonlands National Park is very impressive as well, but Arches has a much bigger WOW factor.
LEARN MORE: Best Things to do in Arches National Park
FAQs
Here is a short overview with the most asked questions for visiting the two parks:
Can you do Canyonlands and Arches in one day?
Yes, as you can see from our itinerary above, it's possible to see the best of two parks – Canyonlands and Arches – in one day. It can be a bit trickier in winter when the days are short, but is definitely doable the rest of the year. If you plan well and pack your lunch to save time, you can even add a sunset stop at Dead Horse Point State Park to your itinerary.
Where to stay between Arches and Canyonlands?
There are no accommodations inside Arches or Canyonlands National Parks. The best place to stay for visiting both of these parks is Moab town. It's only 5 miles from Arches NP and about 30 miles/ 35 minutes drive from Island in the Sky district of Canyonlands NP.
Where can you eat in Arches and in Canyonlands?
There are no restaurants in Arches or in Canyonlands National Parks. And while you can drive to Moab for lunch, it's best to pack a picnic lunch and plenty of drinking water when visiting the two parks in one day. That way you have more flexibility and more time for sightseeing.
Which is better Canyonlands or Arches?
Canyonlands and Arches are very different and both parks are worth visiting. But if you have to choose just one – Canyonlands or Arches – we recommend Arches National Park. The landscapes are more impressive and you can easily see so many beautiful landmarks just by driving the Arches Scenic Drive and stopping at the best viewpoints.
Which part of Canyonlands is best?
Island in the Sky district is the easiest to visit and arguably the most beautiful part of Canyonlands National Park. You can see some amazing scenery here that can be compared to the Grand Canyon. The stunning Mesa Arch can also be found in this part of Canyonlands.
More travel inspiration and tips for the Moab area:
More travel inspiration & tips for Southwestern USA:
YOU MAY ALSO LIKE: Zion & Bryce Canyon Itinerary (1-3 days)
If you found this post useful, don't forget to bookmark it and share it with your friends. Are you on Pinterest? Pin these images!