Wondering where to stay in Moab / near Arches National Park? This guide to Moab hotels and lodging options will help you find the best accommodation for your stay. Find out!
If you have done some research for your visit to Arches National Park, then you probably already know that there are no hotels inside the park itself. Therefore the best place to stay for visiting Arches National Park is Moab in Utah.
But which Moab, UT hotels are best for you, and what are alternative lodging options near Arches National Park?
In order to help you find the best accommodation option for your trip to Arches National Park, I made this selection of different types of lodging in and near Moab.
Whether you are looking for the best price-quality hotel near Arches NP, budget accommodation in Moab, or a luxury resort for a family vacation in the Moab area, in this guide, you'll find the very best Moab lodging options for your trip, travel style, group size, and budget. Find out!
Note that this selection of Moab hotels and lodging near Arches National Park is made based on our personal experience in Arches, customer reviews on various websites, location, and facilities of accommodations, as well as the price. Our research should save you time and make your vacation planning easier.
TIP: If you have no time to read the entire article, here are our top picks: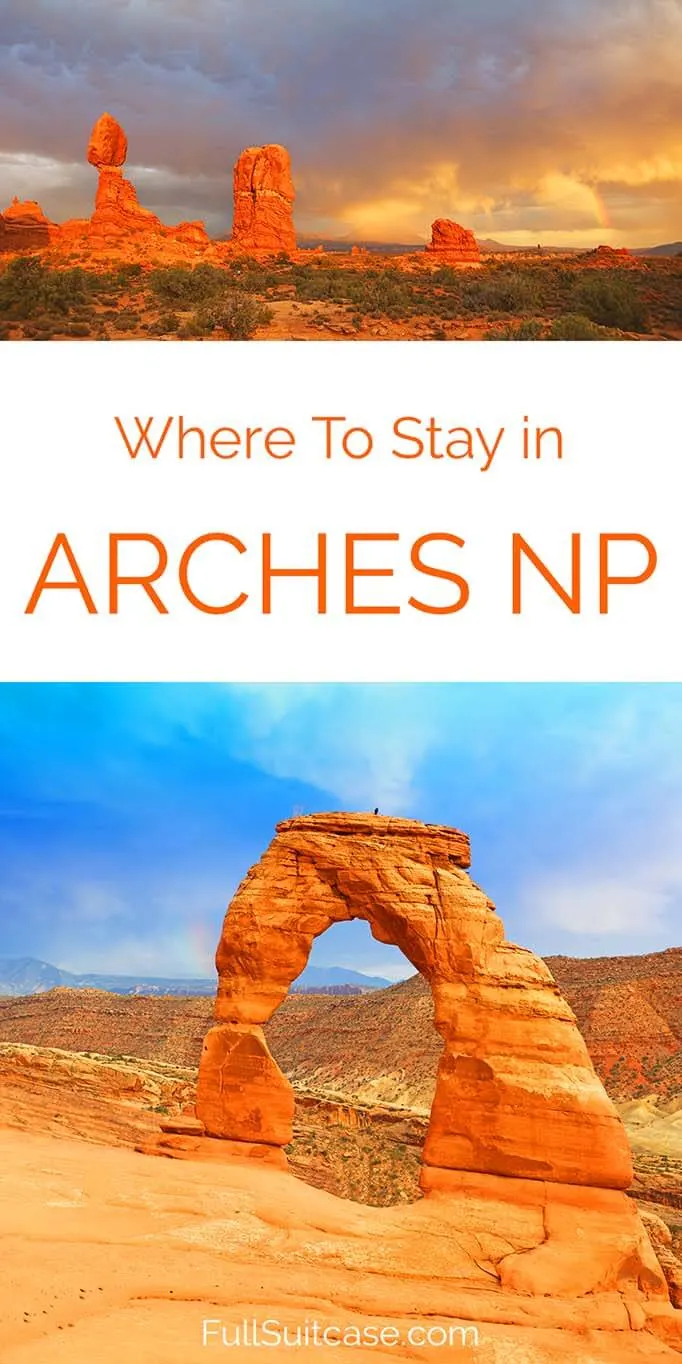 Complete guide to Moab hotels & lodging – OVERVIEW
Best Located Hotels for Exploring Arches National Park
When looking for where to stay in Moab, you should know that Moab is not a very big town. Yet the very best location for sightseeing is as close to the gate of Arches National Park as possible.
If you are visiting in summer when it's hot, you may want to go to the park in the morning and then again in the evening, and spend the warmest hours of the day in the swimming pool of your hotel. The closer you are to the park, the easier it is to quickly commute during the day.
Good to know: You can enter Arches National Park as many times as you want as the ticket is valid for several days.
TIP: If you are visiting several American national parks, consider purchasing an annual national parks pass instead of a single ticket. You can buy it at the entrance of any park and it's the best option for families, but also for everyone who visits multiple parks during the same year.
These are Moab hotels that are closest to the entrance of Arches National Park and have excellent customer reviews. These are by far the best Moab lodging options for those who are mainly interested in sightseeing and exploring Arches National Park.
Best Moab Hotels for Families
These Moab hotels have family rooms for up to 5-6 people (some even more), a swimming pool, and Booking.com customer rating of 8+. I listed them based on their location, starting with the ones that are closest to Arches NP.
If you don't mind staying a half an hour drive outside of town, you have a few other nice options:
Red Cliffs Lodge located 17 miles from Arches NP is mostly known for its beautiful location, good restaurant with amazing views, a winery, and also horse riding, fishing, and many other activities. Offering rooms for up to 6 people this is a great place for a longer family stay in Moab.
Sorrel River Ranch Resort & Spa This resort is located outside Moab (20 miles/ 30min from Arches Entrance Road) in a stunning setting along the Colorado River. It is a great choice for families looking for a longer and more relaxed vacation and not just staying in Moab in order to visit Arches NP. With accommodation options for big families of up to 12 people, big gardens, and lots of activities, Sorrel River Ranch is one of the best options for a longer family vacation near Moab.
Most Scenically Located Accommodations Near Moab
Most hotels in Moab town are located along the main street and offer no exciting views. For the best views, you have to be outside of town!
The places listed below are not as close to Arches National Park as Moab hotels. But if you are looking for a more unique experience and great views, check out the following places to stay near Arches National Park:
Moab Under Canvas located 8 miles (8min) from Arches NP is a campsite in a desert. If you like camping you can opt for a basic tent, but there are luxury tents with a shower and a lounge area as well. If you like glamping and want to experience the beauty of the desert at night, then this is the place to be in Moab area.
Moab Springs Ranch has one of the most beautiful locations in Moab town itself, just a stone's throw from Arches National Park. The ranch has several modern bungalows and beautiful gardens with a swimming pool and a hot tub.
Red Cliffs Lodge offers the best sunset views over the Colorado River. Even if you don't stay here, it might be worth it to reserve a table with a view for dinner. Located 17 miles (25 min) from the Entrance Gate of Arches National Park.
Sorrel River Ranch Resort & Spa offers stunning mountain and river views all around. This is also the most luxurious of all Moab accommodations. It is located a few miles further down the same road as Red Cliffs Lodge (20 miles (30 min) from Arches NP).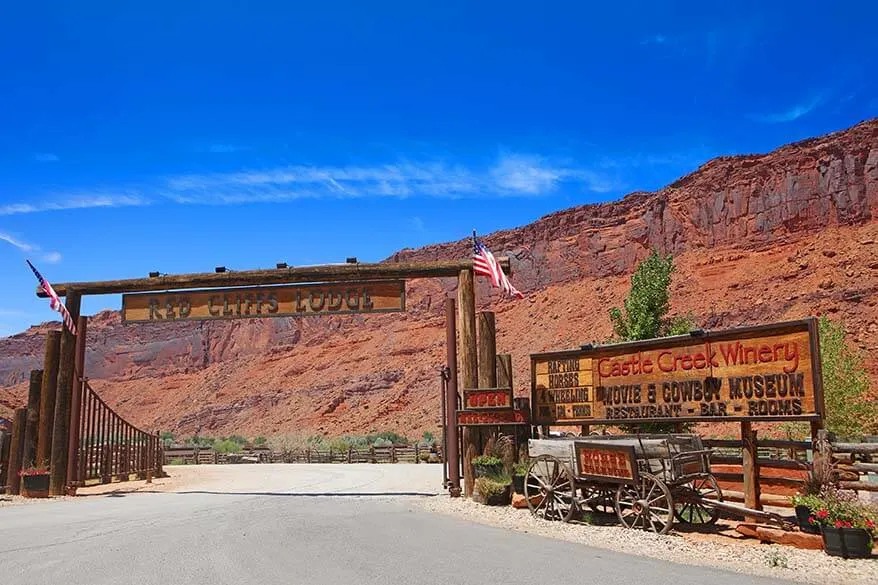 Best Value for Your Money Moab Hotels
If you are after the best price/ quality accommodation in Moab then check these hotels out. They are perfect for a short stay on a mid-range budget.
TIP: Using the map below, you can compare hotels and short-term rental accommodations in Moab. Simply insert your travel dates and group size, and you'll see the best deals for your stay. Check it out!
Best Budget Accommodation in Moab
I used the following criteria to choose the best budget lodging in Moab: low season price under 100 USD for 2 people including breakfast, private bathroom, free parking and free Wi-Fi. Most of these budget hotels in Moab also have a swimming pool. I sorted the accommodations based on customer reviews from high to low.
Please keep in mind that traveling in high season, 'budget' becomes a very relative term and all Moab accommodations are quite expensive.
Alternatively, check out private short-term rental accommodations in the area – some of them are quite a lot cheaper than the hotels. Just keep in mind that there might be extra fees and – if visiting in summer – you really should look for a place that has a pool!
TIP: If you want to visit Arches National Park on a budget, go in low season. Even the best hotels are very affordable in winter, especially in January and February.
Best Moab RV Resorts and Campgrounds
So this is our selection of the best Moab hotels and places to stay near Arches National Park based on different interests, group size, and budget.
TIP: Book your Moab hotel well in advance. Despite the city offering hundreds of accommodations in all price ranges, Moab hotels are often sold out, especially during school holidays and in the high season.
Arches National Park attracts many visitors the whole year round, so for the best choice and prices, it's best to book long upfront. It seems that January – February are the quietest months, so if you are looking to visit Arches on a budget, you might consider visiting in winter.
Where to Stay in Moab – Our Experience
We visited Arches National Park with kids during the summer holidays. Despite booking our trip months in advance, the choice of accommodation in Moab for a family of 5 was rather limited. We stayed at Aarchway Inn for 3 nights and particularly liked the location of the hotel allowing us to do a lot of sightseeing.
We visited Arches and Canyonlands National Parks (Mesa Arch Trail is a must!), and Dead Horse Point State Park, drove the scenic roads in the area, and also went rafting on the Colorado River near Moab… Here you can find our Moab itinerary suggestions based on our experience.
If you are planning to visit Canyonlands, Moab is the best town to stay for visiting the most popular Island in the Sky district and it's also ok for a day trip to the Needles. If, however, you are planning to explore deeper and get more off the beaten path, check out our guide to the best hotels near Canyonlands NP.
READ MORE: Best Things to Do in Moab
Due to limited time, we only stayed in the hotel to sleep and also to swim during the hottest hours of the day. But if we had more time in the Moab area, I would have probably opted for one of the hotels outside the town (see the scenically located hotels section above) and spend more time exploring the area deeper.
Moab Hotels FAQ
What are the best hotels near Arches National Park?
The best hotels near Arches National Park are: Fairfield Inn & Suites by Marriott, SpringHill Suites by Marriott, Aarchway Inn, and Holiday Inn Express Hotel & Suites. All these hotels are located in Moab, just about 3 miles from the entrance of Arches National Park.
What are the best cheap hotels in Moab?
The best cheap hotels in Moab are Expedition Lodge, Inca Inn Motel, and Quality Inn Moab Slickrock Area.

What are the best hotels with a pool in Moab?
Almost all Moab hotels have a swimming pool and if you are visiting Moab in the summer, a pool is really a must. Some of the best Moab hotels with a pool include the earlier mentioned Fairfield Inn & Suites by Marriot, Aarchway Inn, Moab Springs Ranch, and many others.
Which Moab hotels have the best views?
The best Moab hotels with the nicest views and scenic locations are Moab Springs Ranch, Sorrel River Ranch Resort & Spa, and Red Cliffs Lodge.
How long should you stay in Moab?
As an absolute minimum, we recommend staying 3 nights in Moab. This will give you 2 full days to explore the area. However, if you can, plan a few days extra – there's plenty to see and do in the area. Moab is also a great vacation destination, especially if you love outdoor activities. So depending on your interests, you can easily spend a week here as well.
READ ALSO: Moab, Utah – Travel Guide
More travel inspiration for Moab, Utah & Arizona:
If you found this post helpful, don't forget to bookmark it and share it with your friends. Are you on Pinterest? Pin this image!