Arches Scenic Drive is a road connecting all the main areas of Arches National Park in Utah (USA). It's an exceptionally picturesque drive that gives you easy access to some of the most beautiful scenery of the park. In fact, this road is so beautiful that it definitely deserves a mention among the most beautiful scenic drives in the world!
Yes, you can drive through Arches National Park and easily see some of the most spectacular scenery. That's what makes it one of the most popular National Parks in the USA.
The Scenic Arches Drive is a heavily-trafficked 22-mile paved road with many great viewpoints and spectacular stops along the way.
The longest stretch between Arches Visitor Center and the Devil's Garden area is 17.6 miles. In addition, there are two side roads of about 2.5 miles each. One leads from the main road to The Windows section and the other one to the Lower Delicate Arch Viewpoint.
You might be wondering which stops along the Arches Scenic Road are best and are worth your time the most.
If you have at least 4-5 hours in Arches National Park, do the entire Scenic Drive and stop at all the viewpoints! But if you have to choose just a few MOST SCENIC spots and viewpoints that don't require much walking, then this small selection should help you decide where to go. Take a look!
Good to know: We only include the most scenic viewpoints and best stops of the Arches Scenic Drive in this article. And we sort them by putting the nicest ones higher on the list. So if you are short on time, these are the places to see first!
At the bottom of this article, you can also find a map indicating all the best viewpoints and practical information for driving in Arches National Park. Bes sure to check it since there are now some restrictions if visiting Arches NP in the high season!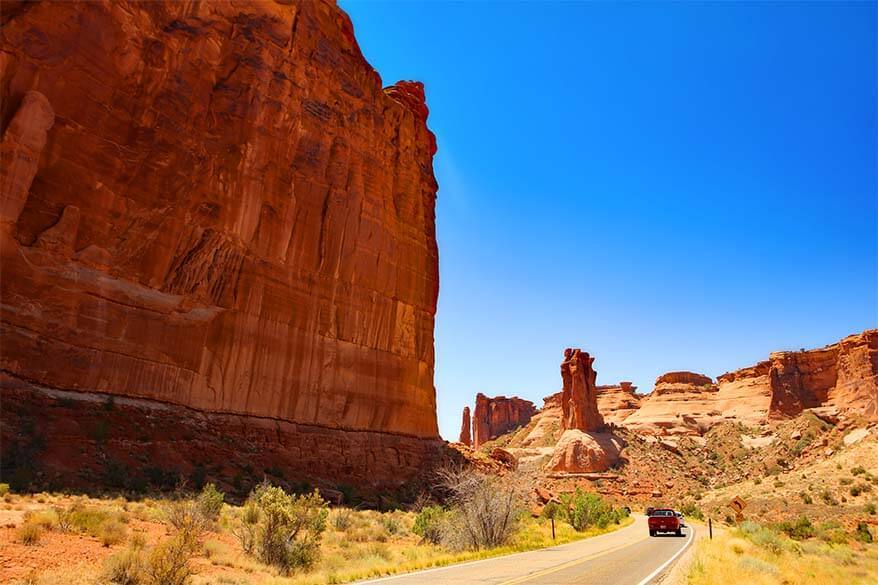 These are the best places to see and the best viewpoints of the Arches Scenic Drive:
1. The Windows
Probably the nicest area to visit along the Arches Scenic Drive is The Windows Section. There are several impressive arches here and they can easily be reached via accessible trails. Or you can hike just a bit more and visit all the arches on the 1-mile family-friendly loop, The Windows Trail.
If you do the entire loop in front of the Windows, you'll see the Turret Arch, the Windows arches that look like giant spectacles, Double Arch, and the sandstone formation called the Parade of Elephants. It's also possible to walk behind the Windows arches, but that's a more primitive trail that adds about 0.7 miles and 20 minutes to your walk.
Alternatively, you can just walk to the most impressive arches, Double Arch and/or the North Window (each about 0.3 miles from the car parking). As you'll see when you get to the parking area, the trails are very short and quite easily accessible. So this is a great stop for everyone and for every season.
Count 20-50 minutes for a stop here, depending on which arches you decide to see from close-by. This is truly the best area of Arches NP for those who don't want to hike.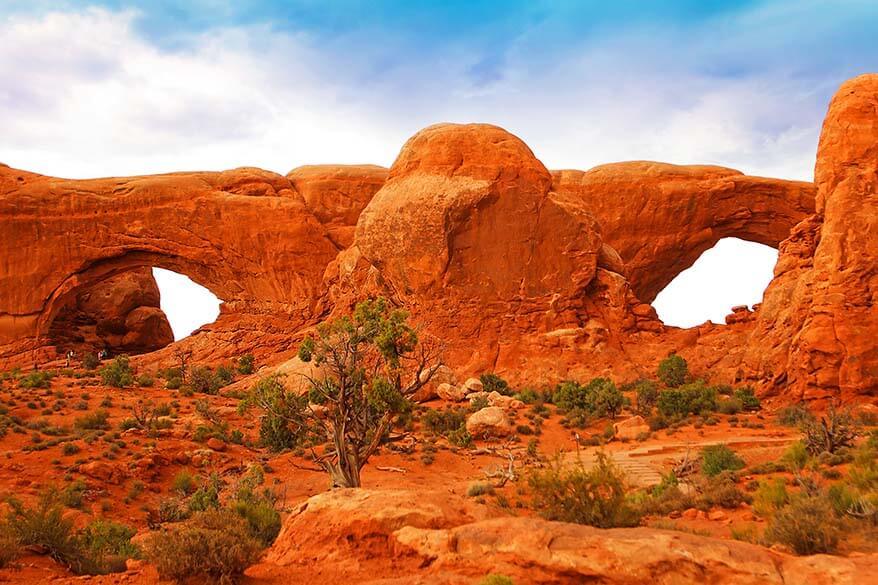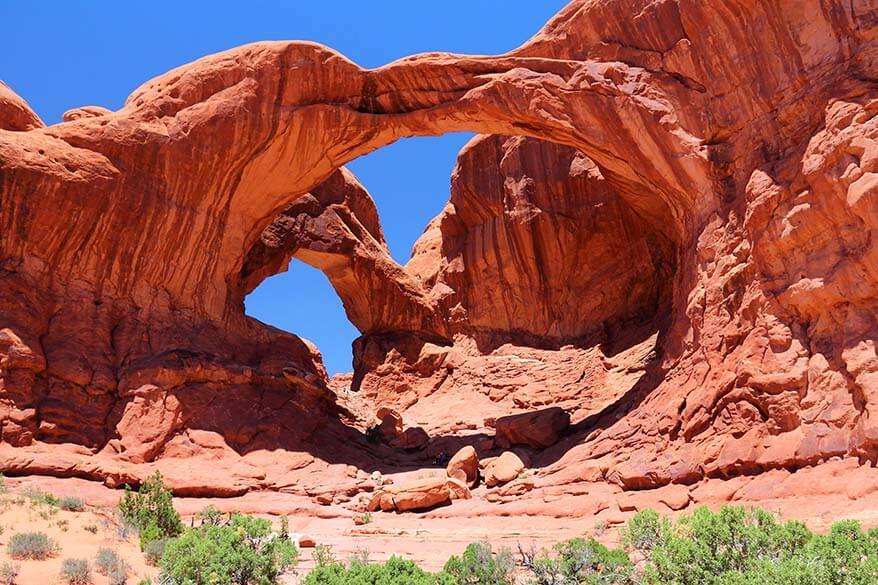 2. Delicate Arch Viewpoint
Delicate Arch is the most iconic arch of Arches National Park. The only way to get to the arch itself is by hiking the Delicate Arch trail and nothing can really substitute this. However, if you are short on time or find the 3.2 -mile hike too strenuous, you can still see this famous arch from a distance.
Lower Delicate Arch Viewpoint is just next to the Arches Scenic Drive and the Upper Delicate Arch Viewpoint is just 0.3 miles further.
The Lower Viewpoint is a very short accessible trail right next to the parking that everyone can do. Whereas the Upper Viewpoint requires some climbing. There is about 135ft (40m) elevation gain between the two viewpoints, but if you don't mind a short steep climb on the stairs, it's well worth doing them both.
Even viewed from the Upper Viewpoint, Delicate Arch is still far in the distance and looks tiny. You'll need binoculars and a good zoom lens if you want to get a nice picture from closer. Nevertheless, this area is beautiful and well worth a visit anyway and you can say that you saw the Delicate Arch!
Count 15-20 minutes for this stop.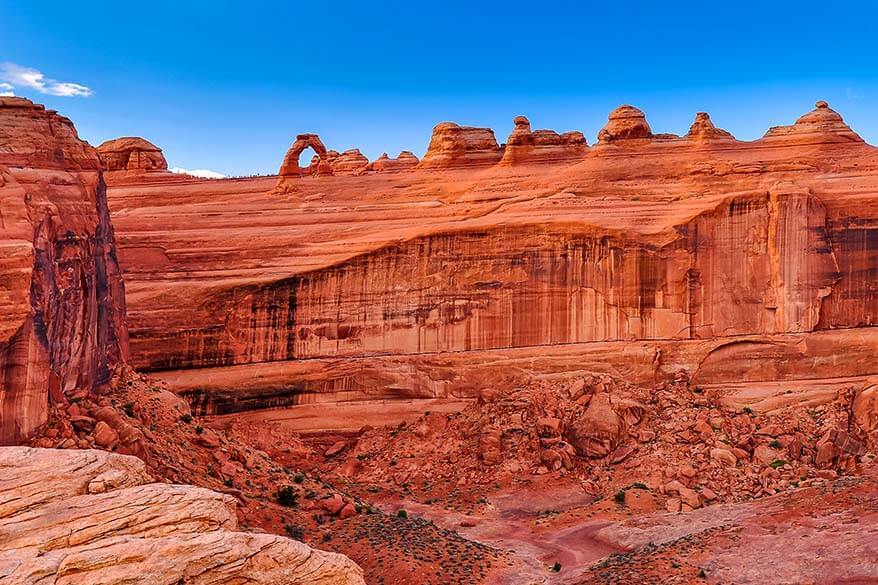 3. Balanced Rock
Balanced Rock is probably the most popular stop along the scenic drive in Arches. You can see this peculiar rock from the road or from the parking area, but you can also walk around it.
The easy and accessible Balanced Rock Trail loop is just around 0.3 miles. It takes about 10 minutes to walk all around it and it's something that everyone can easily do, thus its popularity.
Count 15 minutes for this stop.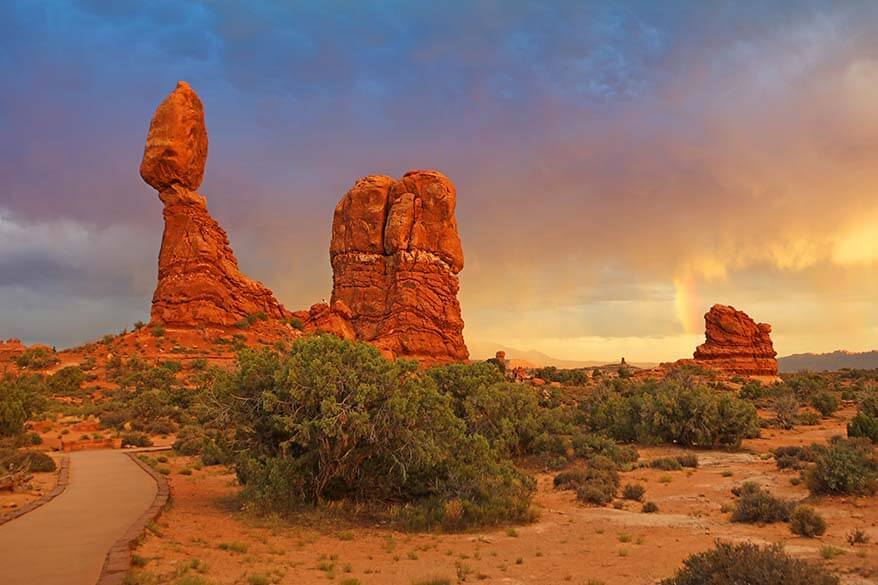 4. Park Avenue Viewpoint
Park Avenue Viewpoint is another extremely scenic stop along the Arches Scenic Drive. Sheer red rocks enclosing the valley could indeed be compared to a large avenue surrounded by huge buildings in the city.
There are no arches to see here, but the scenery is absolutely breathtaking. During the day the sun illuminates the rocks and gives them a bright orange color. Whereas if you come around sunset, they look dark red.
TIP: While most people simply stop for a quick photo stop and move on, you can also hike the 'avenue'. It is possible to hike from here to the Courthouse Towers (1 mile one way) that are a bit further down the main road and have a dedicated driver in your group pick you up there.
If you don't hike, count 5-15 minutes for this stop.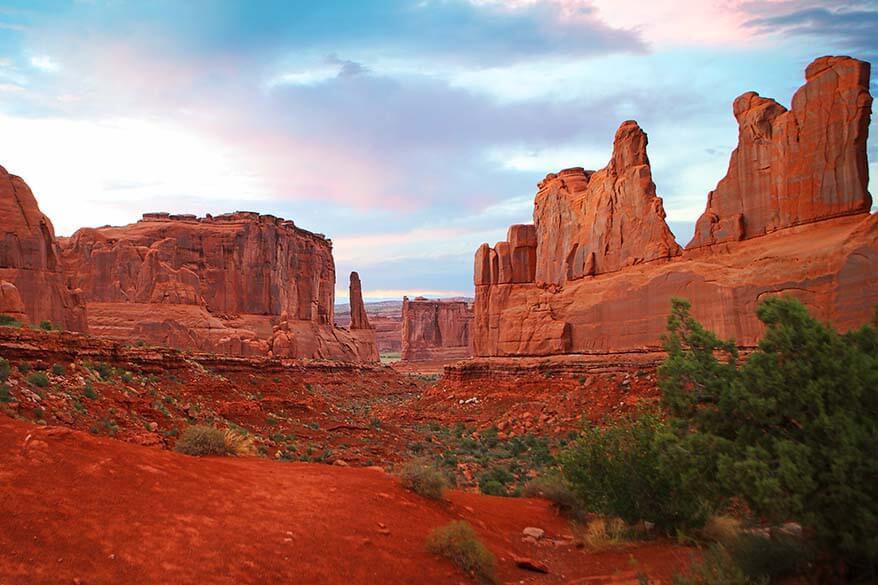 5. Courthouse Towers Viewpoint
Another great stop just next to the Arches Scenic Drive is the Courthouse Towers Viewpoint. The rock formations here are truly impressive and they each have their own unique names.
At the viewpoint right at the car parking, you can find an informational panel indicating the main features such as Three Gossips, Sheep Rock, Tower of Babel, and The Organ. Some of the towers you see here used to be natural arches that have fallen down.
Good to know: The views are actually better from the road here than from the viewpoint itself. However, you can't really stop on the road, so I still suggest checking out the viewpoint as well.
Count 5-10 minutes for this stop.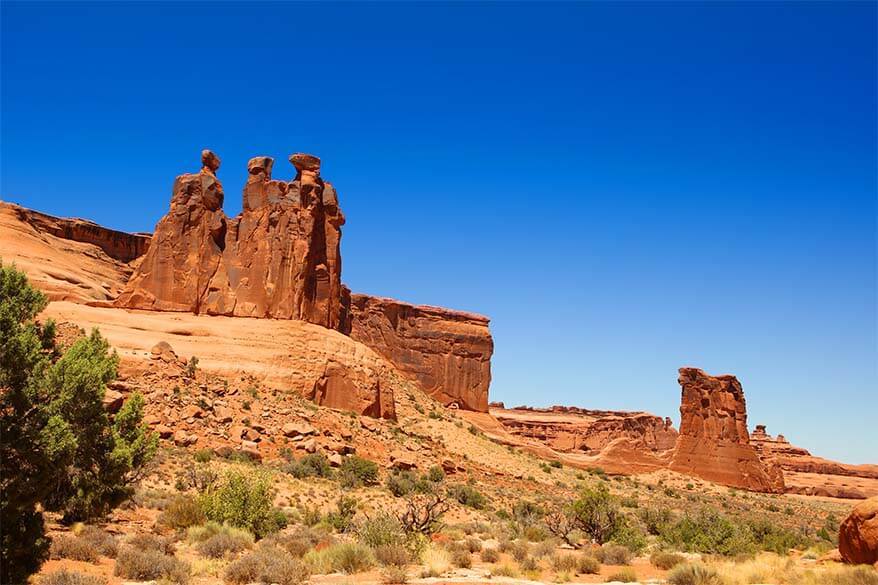 6. Fiery Furnace Viewpoint
The Fiery Furnace is a natural labyrinth between the impressive sandstone rock formations.
The narrow passages are not easy to navigate and it can get really dangerous if you get lost in here, especially in the summer heat. Therefore, this area can only be explored with a hiking permit or on a ranger-guided hike that has to be booked well in advance.
The good news is that you can easily catch a glimpse of this impressive place from the Fiery Furnace Viewpoint along the main scenic road. It's just a very quick stop and the views are absolutely worth it. It's especially beautiful at around sunset when the sandstone rocks color bright orange.
Count 5-10 minutes for this stop.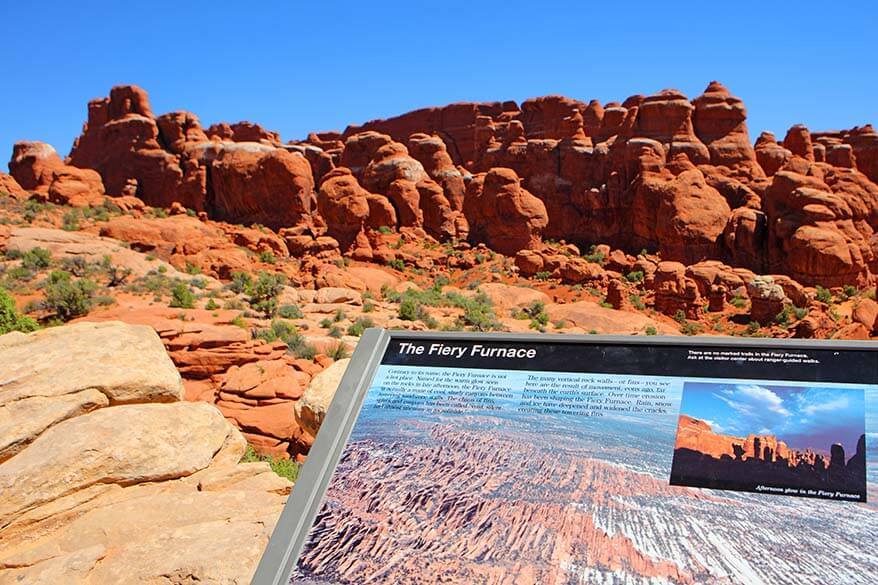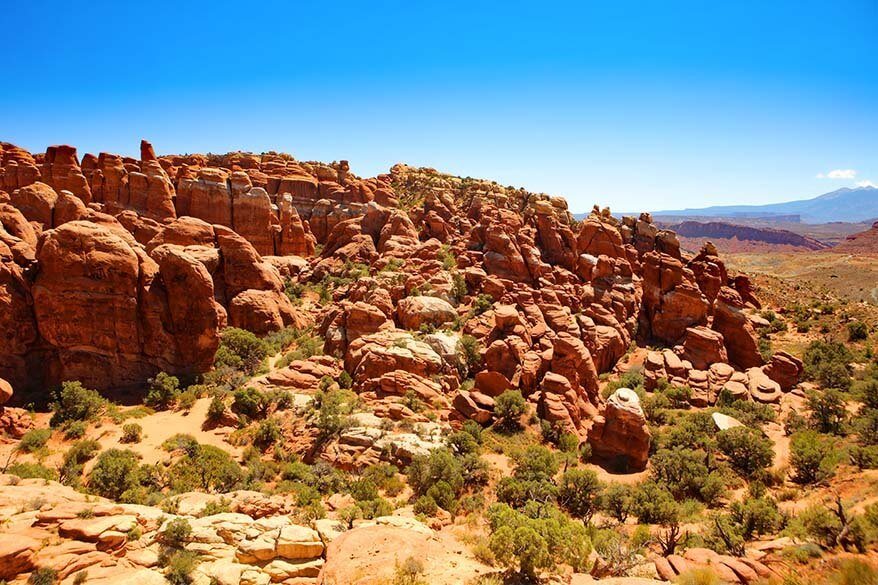 7. Sand Dune Arch
Sand Dune Arch is a real hidden gem of Arches. It cannot be seen from the main road, but it's a great quick stop to consider if you don't mind a short walk.
Sand Dune Arch Trailhead can be found just next to the main road and there's a small car parking here. It's just about 0.2 miles to reach the arch, but at the end, you'll be walking on sand, which makes it somewhat more challenging (but still very easy!). You'll definitely need to take off your shoes and empty the sand when you get back to the car.
This is one of the shortest, easiest hikes in the park and so don't miss it when touring around in Arches. It's also a wonderful place for children to play in the sand and is definitely not to be missed when visiting Arches with kids!
And because there's lots of shade at the arch, it's much cooler here. So if you are looking for a place to escape the summer heat, this is one of the best easily accessible arches to visit.
Count 20-30 minutes for this stop.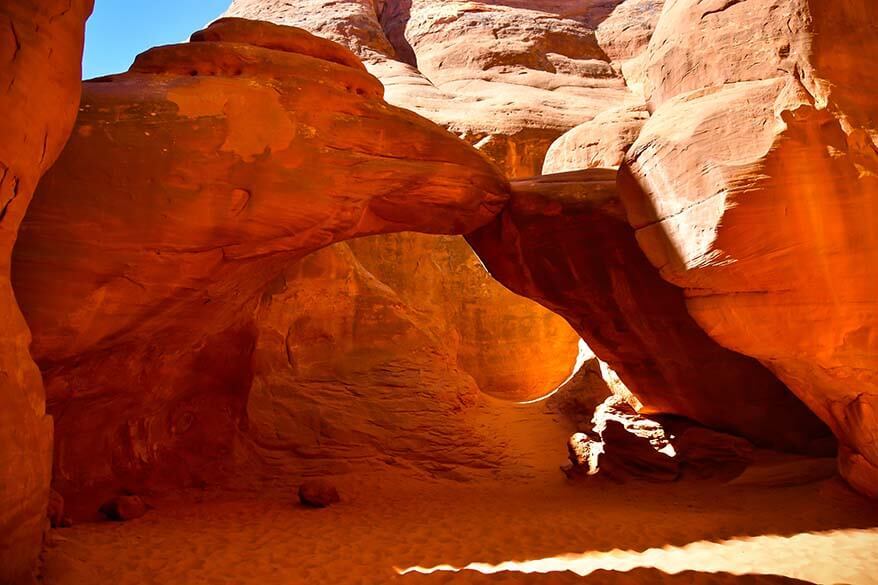 8. Wolfe Ranch & Ute Rock Art
Wolfe Ranch is a tiny wooden cabin just near the Delicate Arch Trailhead. This is where several generations of the Wolfe family lived at the end of the 19th – beginning of the 20th century. Just try to imagine how it must have been for a family of 6 to live in this tiny cabin and raise cattle here in the barren desert over 100 years ago!
In 1910, John Wolfe moved out and sold the cabin. It has changed owners several times and is now the property of the US government. It has been listed in the National Register of Historic Places in 1975.
Just nearby, you'll also find a Rock Art Panel of Ute petroglyphs depicting horses, riders, and bighorn sheep. It's believed to be carved between 1650 and 1850.
Good to know: If you only visit the Wolfe Ranch and see the rock drawings, this stop doesn't require more than 10-20 minutes at most. However, since this is also the trailhead of the above-mentioned popular Delicate Arch hike, car parking here is usually full. And since the hike takes 2-3 hours to complete, it usually remains full for longer periods of time. So if it's extremely busy and you are not planning to hike to the arch anyway, it's probably better to skip this stop or try again later.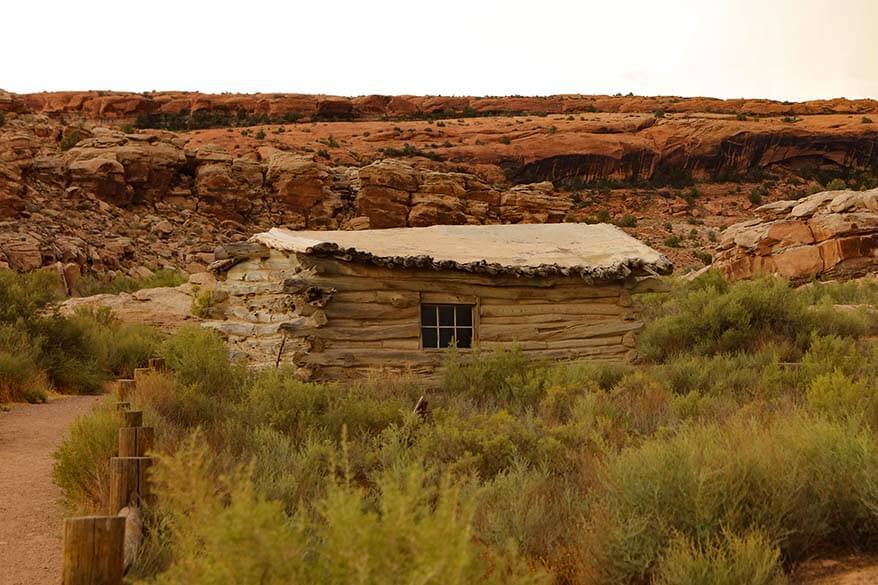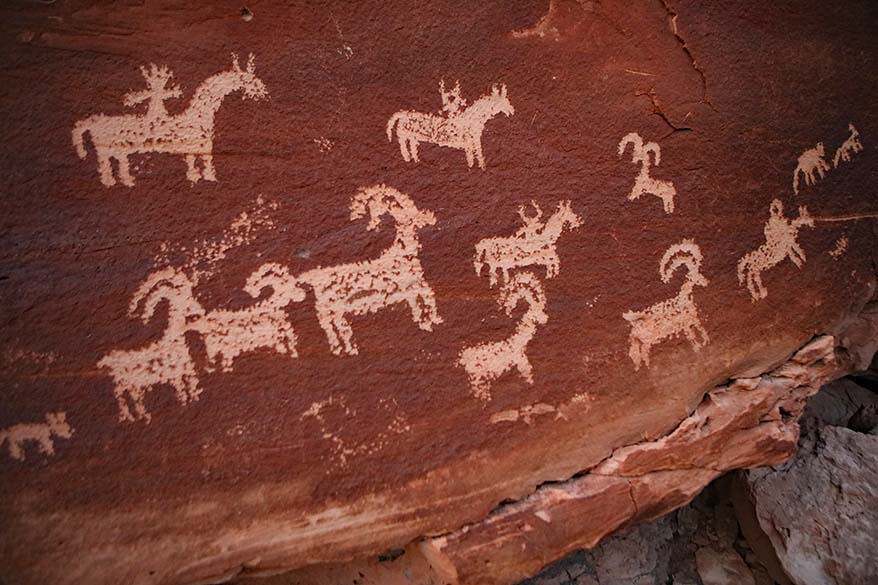 Map of the Best Viewpoints of Arches Scenic Drive
Below, you can see the map of the Arches Scenic Drive indicating all the best viewpoints and stops along the way.
We kept the numbers as in this article, so starting with the Windows section as #1 and ending with the Wolfe Ranch and the Ute Rock Art as last stop.
This numbering is just to help you choose where to go first if you have just very little time in Arches National Park. If you have plenty of time for all the stops, you should just do them in the most logical way to save driving time.
READ ALSO: Best Things to Do in Arches National Park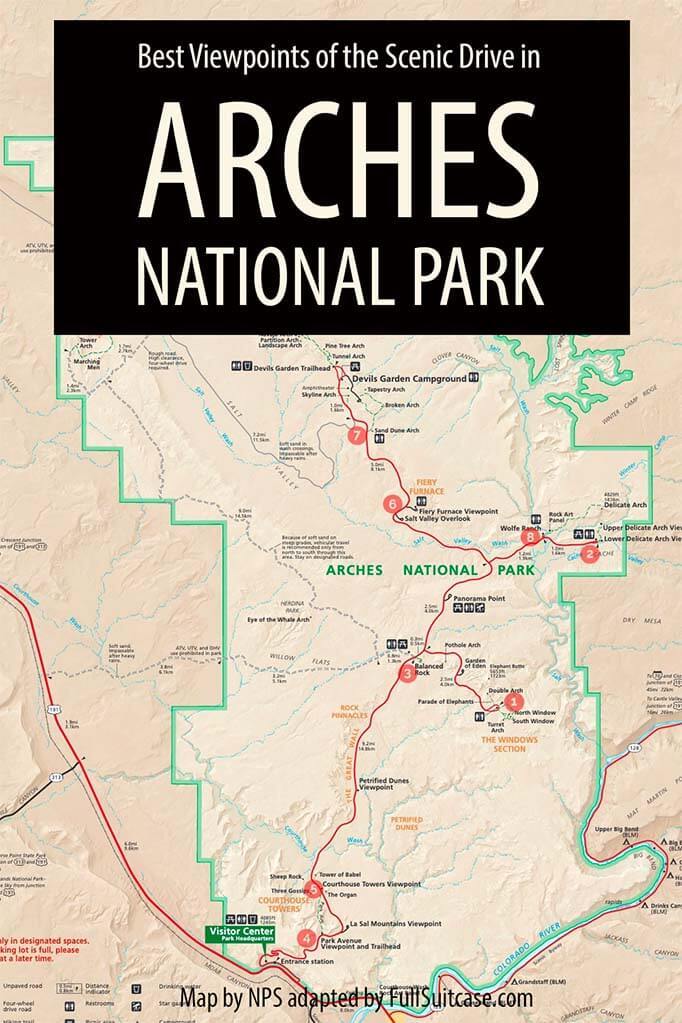 Practical Info & Tips
IMPORTANT! From April 3 until October 3, 2022, timed entry reservations will be required for visiting Arches National Park. Reservations open 3 months in advance. So be sure to check the official website and reserve your entry!
Arches Scenic Drive is open the whole year round. It might get closed for a few hours in case of exceptional snowfall in winter. Check the official website for up-to-date information and current travel conditions.
We visited Arches in the summer when it was really too hot to do any hiking during the day. So we did all the longer hikes early in the morning or late in the afternoon and explored the viewpoints along the Scenic Drive during the warmest hours of the day. Because most stops don't require much if any walking, this is a great way to see the park in any weather. Also in winter when some trails might be inaccessible for hiking, Arches Scenic Drive remains accessible and allows you to enjoy your visit to the park.
The scenic drive in Arches is about 22 miles one way, so about 45 miles in total. You should count at least 4-5 hours to drive the entire road and make short stops (5-30min each) at all the scenic viewpoints. If you are planning to hike in Arches, you'll need more time. If you are visiting in high season (March to October), it might take much longer due to the crowds.
Parking is limited at all viewpoints and especially at the most popular trailheads where people leave their cars for several hours at a time. In high season and on the weekends or public holidays during the rest of the year, parking areas at Devils Garden Trailhead and Delicate Arch Trailhead fill-up early in the morning. It's best to either visit early in the morning or come late in the afternoon.
There are no facilities like petrol stations or restaurants along this road. There are bathroom facilities and drinking water at several places in Arches NP.
Entrance fee. Arches NP fee for a private vehicle is 30 USD. However, if you are planning to visit several National Parks, it's better to get an annual America the Beautiful Pass. It is valid in all U.S. National Parks and federal recreation sites for one year from the month of purchase. If you visit more than two National Parks in the 12-month period, it's cheaper than getting passes for each park individually.
READ ALSO: Where to Stay Near Arches National Park
More tips for your trip to Arches NP and surroundings:
If you found this post useful, don't forget to bookmark it and share it with your friends. Are you on Pinterest? Pin these images!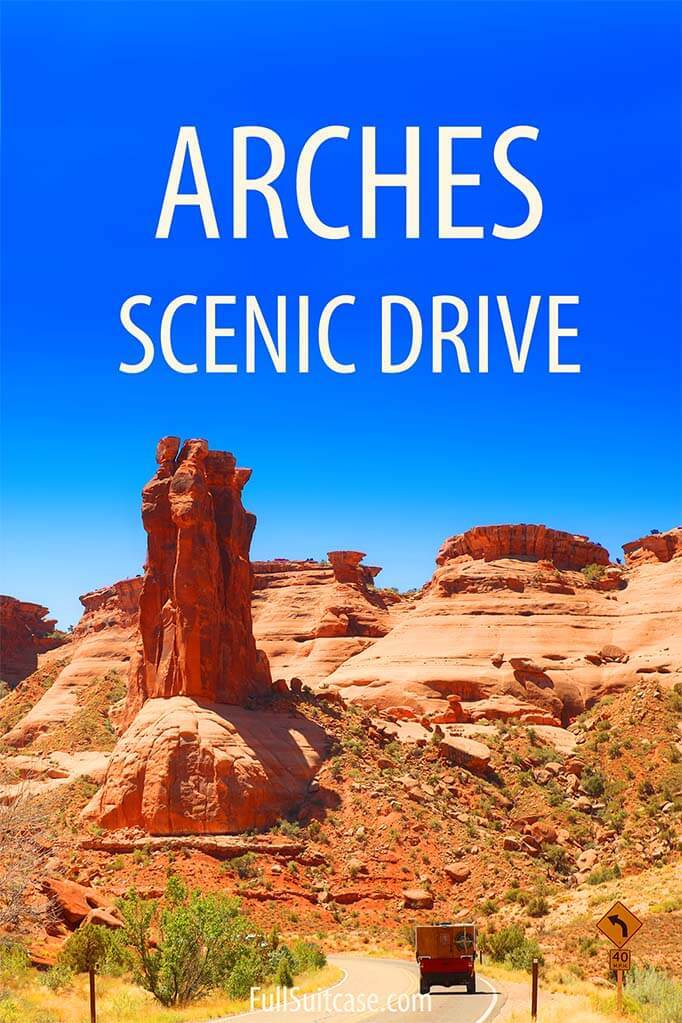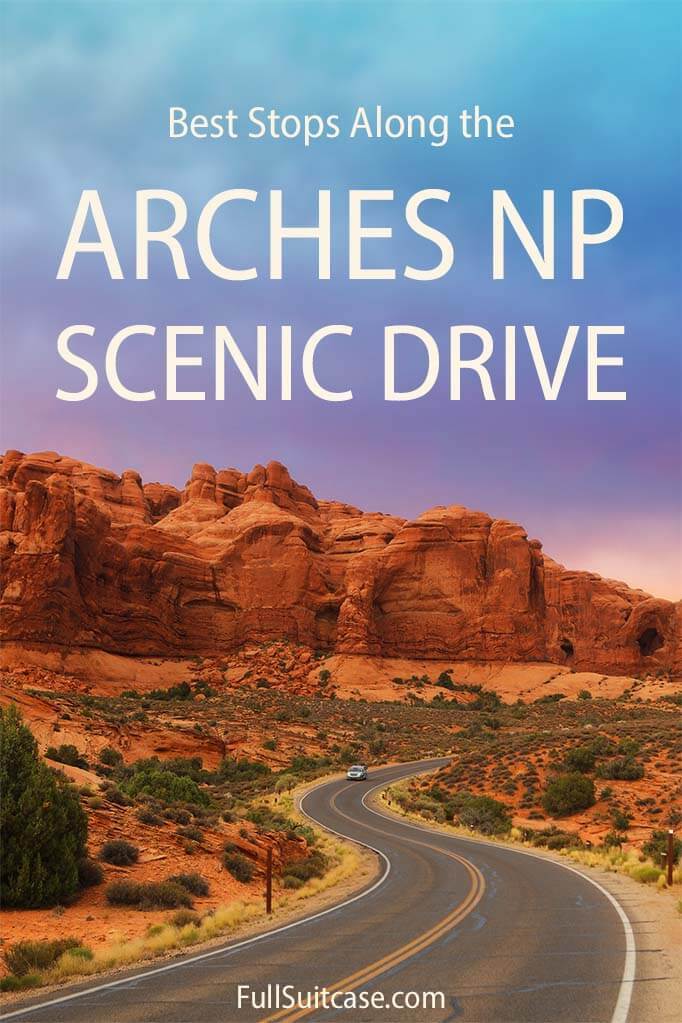 More travel guides for the southwestern USA:
Grand Canyon:
More of Arizona:
Zion & Bryce Canyon National Parks:
Las Vegas: