Summer is by far the best time of the year to enjoy everything that Yellowstone National Park has to offer. However, summer is also the most popular time in Yellowstone, with millions of people visiting America's Oldest National Park in this period…
If you are wondering what it's like to visit Yellowstone in July or in August or are looking for some useful tips on how to actually enjoy Yellowstone in summer, then read on!
In this article, you can learn what it's really like to visit Yellowstone in July or in August. In addition, we share our personal experience (we traveled at the end of July – beginning of August).
Furthermore, we included some practical tips and tricks that will help you avoid the crowds and make the most of your trip to Yellowstone in summer.
I hope that this article will show you that visiting Yellowstone in summer can be fun. I also hope that our tips will help you plan a dream trip and truly enjoy this stunning place, despite it being the busiest season. Find out!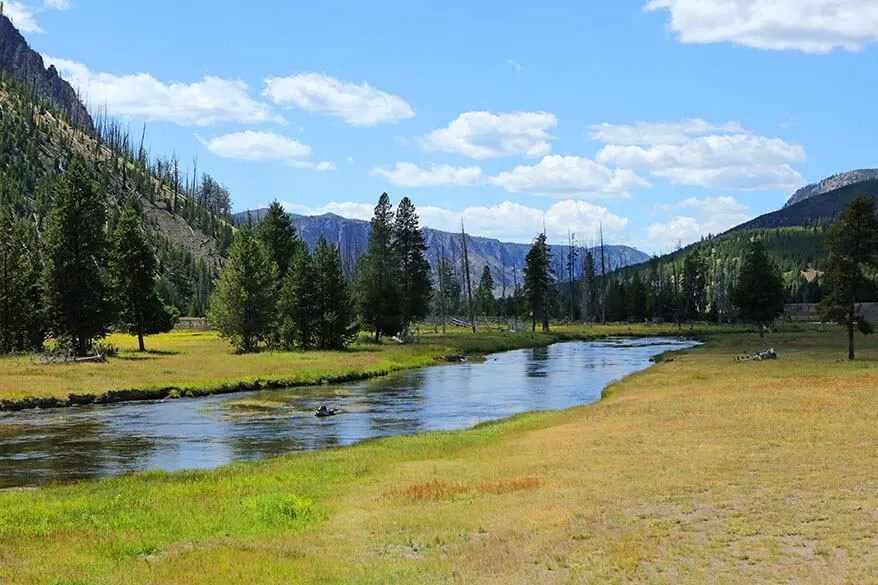 Why Visit Yellowstone in Summer
Summer, and particularly July and August, is a magical time to be in Yellowstone. There is plenty of wildlife, the snow has melted, and hiking trails are open.
Because all the park facilities and roads are open and all the natural attractions are accessible, summer is the season that allows you to explore Yellowstone National Park to the fullest.
TIP: If you want to know when is the best alternative time to visit and why, make sure to also check our guide for the when to visit Yellowstone. It contains detailed information and tips for every season.
Keep on reading here for practical information and top tips and tricks for visiting Yellowstone in summer!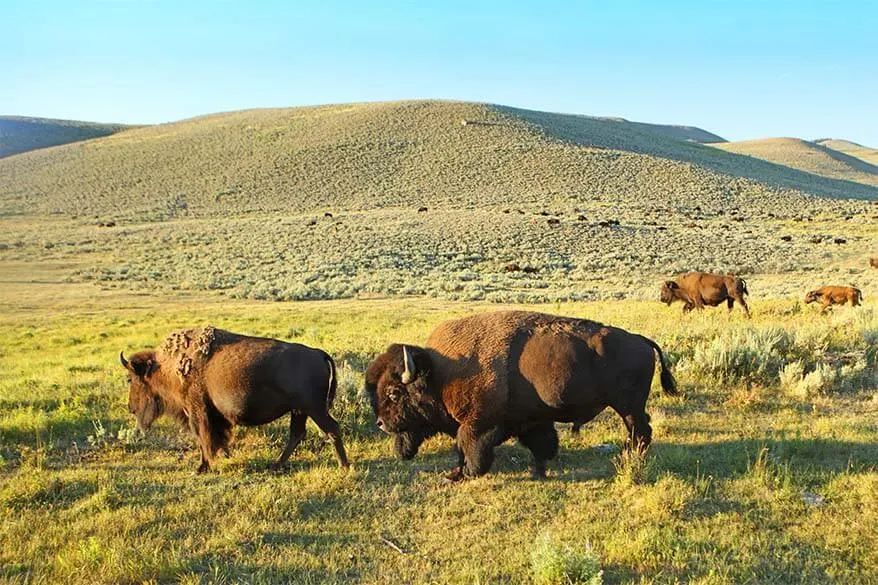 Disadvantages of Visiting Yellowstone in July or August
There are also some drawbacks if you decide to visit Yellowstone in peak season.
The main drawback is the crowds, but it's also more expensive to visit Yellowstone in July or August compared to the shoulder season. You'll also have to plan well in advance because accommodations inside the park and also hotels near Yellowstone get booked up months upfront.
That being said, it's possible to really enjoy Yellowstone in summer. Further below, you can find our top tips for avoiding the crowds and making the most of your trip, time, and budget. But first – some practical information and our personal experience. Read on!
READ ALSO: Where to Stay in Yellowstone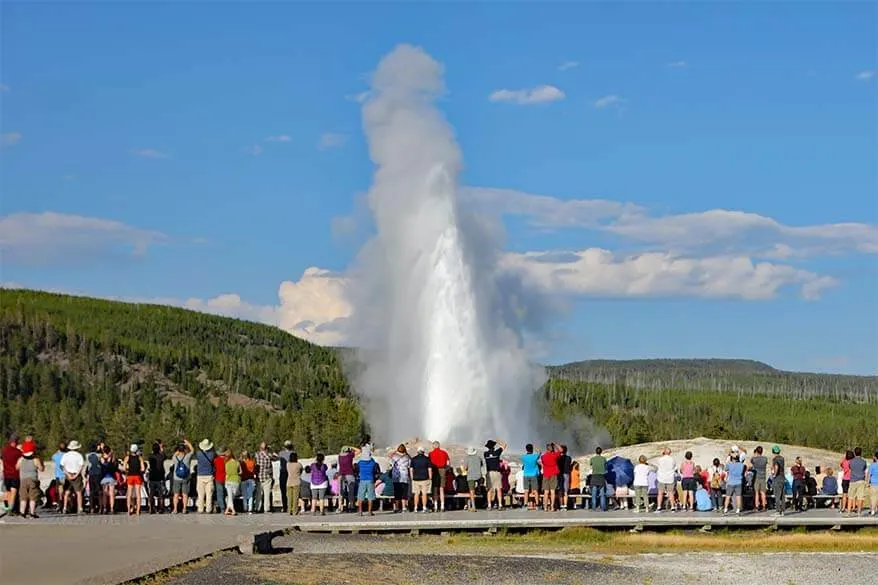 Summer Weather in Yellowstone
July and August are the warmest months in Yellowstone. While it can still freeze at higher elevations and can be cold at night, it's generally very warm during the day.
In July and at the beginning of August, you can expect daytime temperatures between 68-80 °F (20-27°C). However, it's best to be prepared for colder weather as well. Although it doesn't rain much, afternoon storms can come very quickly, so a rain jacket is a must! Luckily, these storms usually only last a couple of minutes.
In late August, temperatures generally decrease by 5-6 degrees. Daytime high temperatures can still be in the pleasant 70°F (20°C) range, whereas low temperatures can drop to around 40°F (5°C).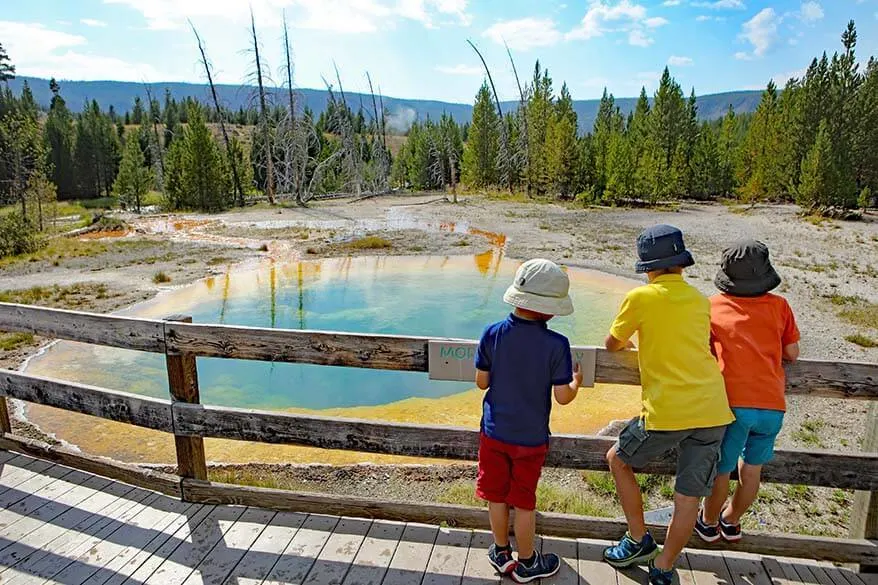 What to Do in Yellowstone in July and August
As already mentioned, these two summer months is the absolute best time of the year in Yellowstone, because everything is accessible and open.
July and August are the best months to explore all the best places in Yellowstone and see lots of wildlife. In addition, you can go hiking, swimming, fishing (permits required), kayaking, or exploring Yellowstone Lake by boat.
Camping is also available and all the campgrounds of Yellowstone are open in July and August.
Multi-day hikes and backpacking are also possible in Yellowstone in summer. However, some of these activities require permits and thus advance booking and preparation.
There are lots of other summer activities in Yellowstone and while some activities cannot be done in June or September, pretty much everything is available in the peak summer months of July and August.
READ MORE: Best Things to Do in Yellowstone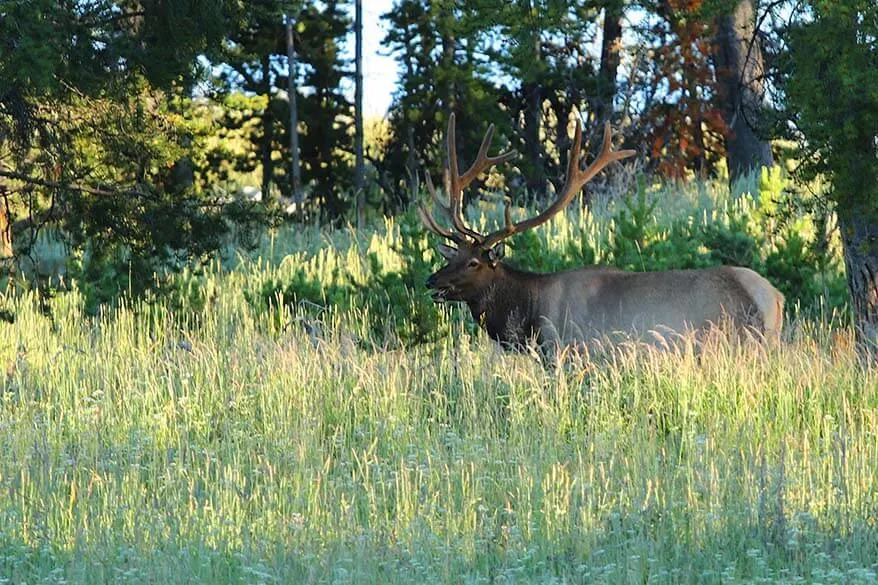 What It's Really Like to Visit Yellowstone in Peak Season
I have to admit that I was really worried about visiting Yellowstone in summer – there are so many stories all over the Internet where people are saying how crazy busy it is…
If you read some of these reports, you'd think that Yellowstone is so crowded that it can't be enjoyed. Some of them even go as far as to say that it's a terrible idea to visit Yellowstone in the summer.
However, just as most families with school-going kids, we could only visit Yellowstone during the kids' school holidays. We had a choice – visit Yellowstone in summer or not visit at all. So summer it was! Below, you can read about our experience visiting Yellowstone in July/ August.
Our Experience: Yellowstone at the end of July – beginning of August
We booked our Yellowstone accommodation over a year in advance and chose our travel dates based on the lodging availability. Ironically, that meant that we traveled to Yellowstone in the absolute peak season – at the end of July – beginning of August.
And you know what? We absolutely loved it!
Yes, it was busy at some places, and yes, we stood in bison jams a few times and it took us around 40 minutes to cross the Hayden Valley once… But we made the best of it and took our time to observe the incredible wildlife and take a gazillion pictures of bison. Also, more often than not, the roads were very quiet with hardly any traffic around.
Take a look at the two pictures below and you'll understand that it's possible to prove anything you want if you just choose to show one side of the story instead of the whole picture…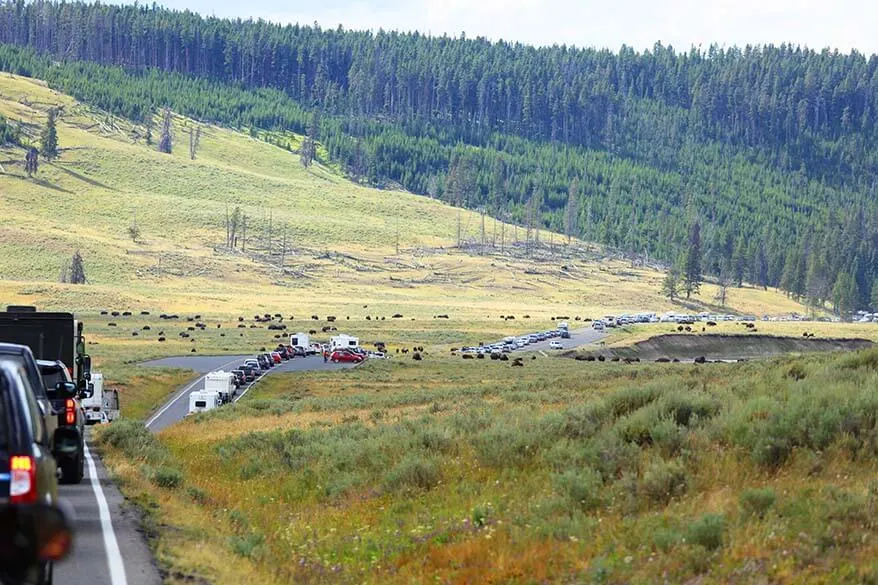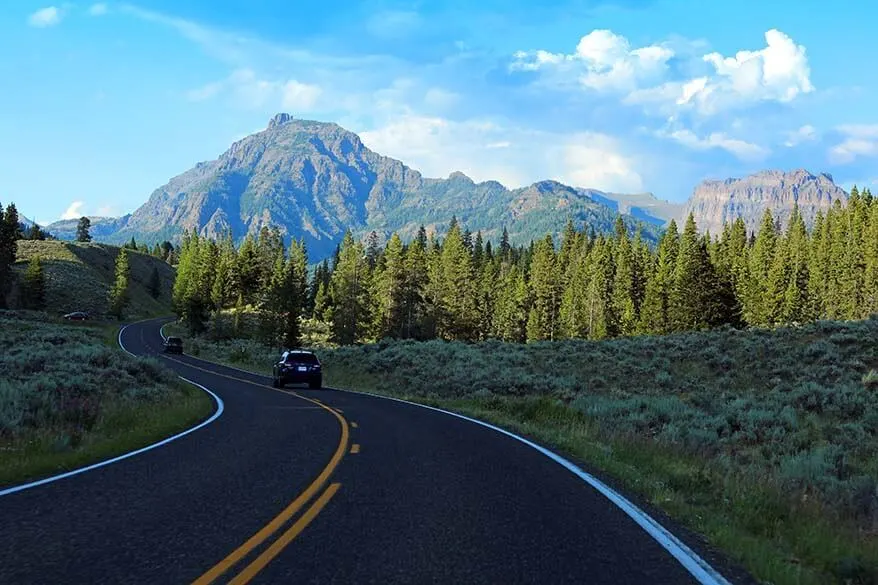 And yes, it was very busy at the Old Faithful and at the Grand Prismatic Spring, as well as at several other most popular areas of the park.
Once, we had to wait for a parking spot at the Grand Prismatic for about 20 minutes. But I also have to add that we didn't experience any other delays anywhere else in Yellowstone.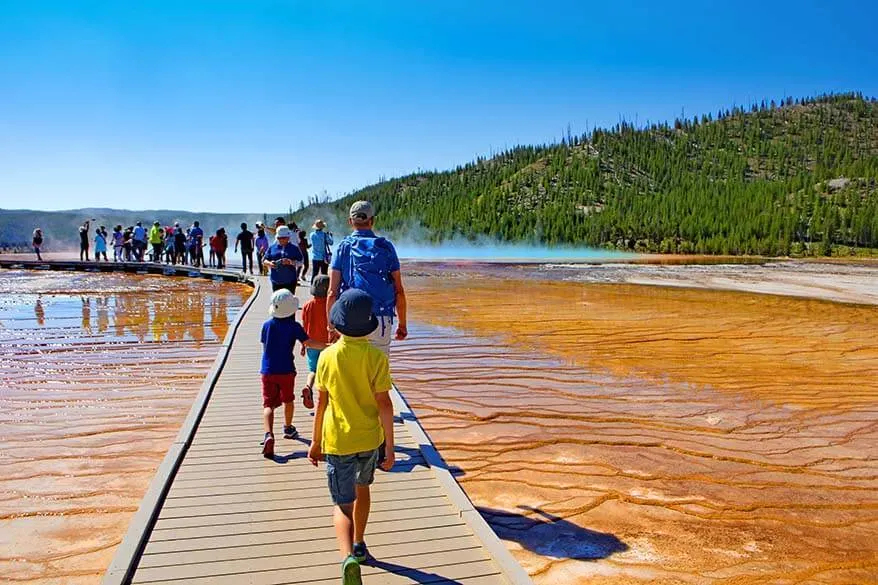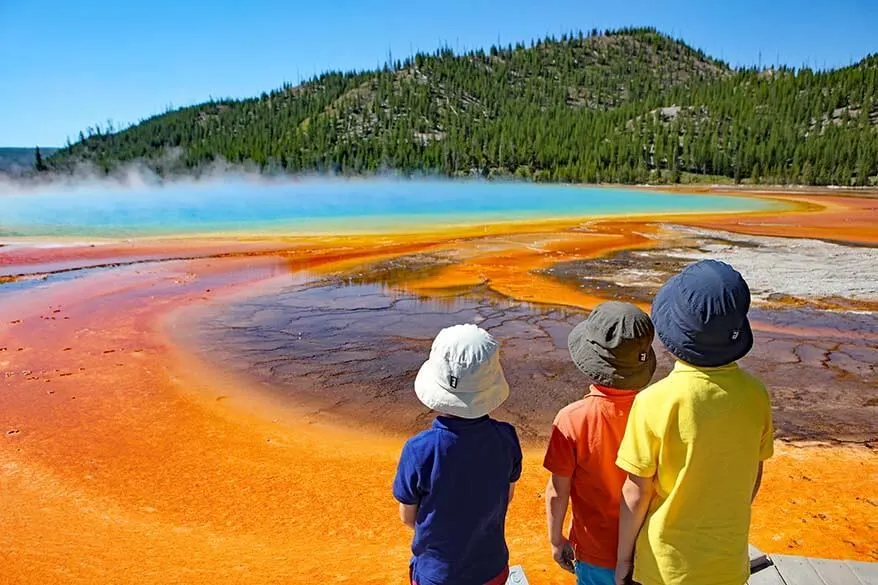 And the park was simply incredible in summer – everything was so green, geothermal features were as colorful as they ever get (the colors really pop when it's sunny), the weather was fabulous and we could play in the water and even go swimming.
We hiked a lot, we had picnics at the most beautiful places, and we saw so much wildlife… Despite it being the peak season, we managed to make the absolute best of our trip, truly enjoy it, and discover so many amazing places without any crowds whatsoever.
How did we do that? By preparing in advance, planning our days well, and looking for some lesser-known places to explore during the busiest times of the day. But also by keeping an open mind and making the best of the situation (such as taking lots of bison pictures when stuck in a traffic jam).
If you don't prepare well and have limited time in Yellowstone and still try to see it 'all', you might indeed get very frustrated with the crowds at the main landmarks or longer than foreseen driving times. So don't make this mistake!
Below, you can find our experience-based tips that will help you make the most of your trip to Yellowstone in August or in July. Take a look!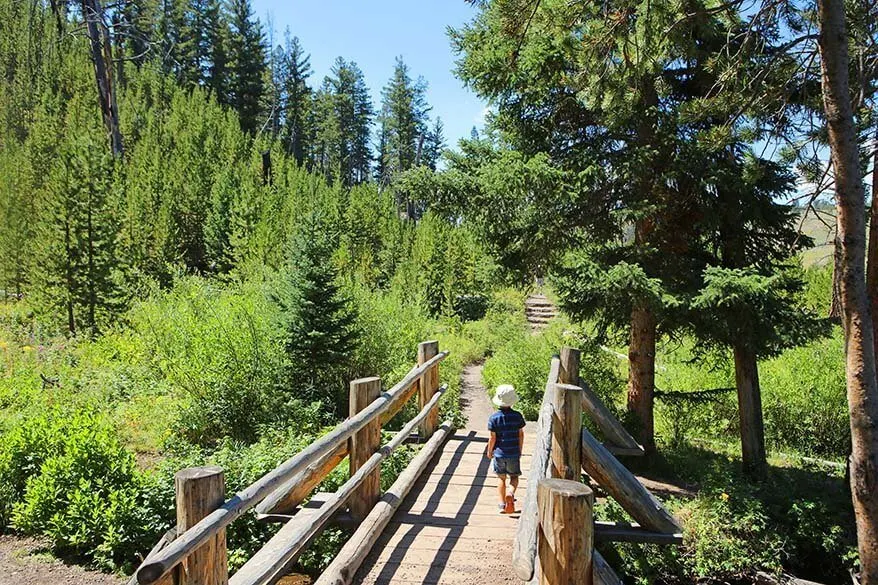 9 Tips for Summer Trip & Avoiding the Crowds
Yellowstone is a busy place in the summer. Over 2,5 mln of people visit Yellowstone in the summer months (June-August), with July being an absolute peak season. However, even during these busy times, it's possible to avoid the crowds in Yellowstone and enjoy your vacation.
Below are some tips and tricks for visiting Yellowstone in summer:
1. Book in Advance
My top tip for visiting Yellowstone in summer is to book your stay as long in advance as possible. Yellowstone accommodations for July and August get fully booked a year upfront. Furthermore, the best price-quality accommodations outside the park get booked up many months in advance.
This will not only ensure that you have a well-located place to stay, but will also save you lots of money.
Some Yellowstone campgrounds are on a first come first served basis and in summer, they fill up early in the morning. Some other campgrounds can be booked in advance and I highly recommend that you do that. The chances of finding a camping spot upon arrival in July or in August are minimal, so don't count on it and make sure you have an alternative. Here you can find more info about Yellowstone campgrounds.
READ MORE: Where to Stay In and Near Yellowstone & Best Hotels Near Yellowstone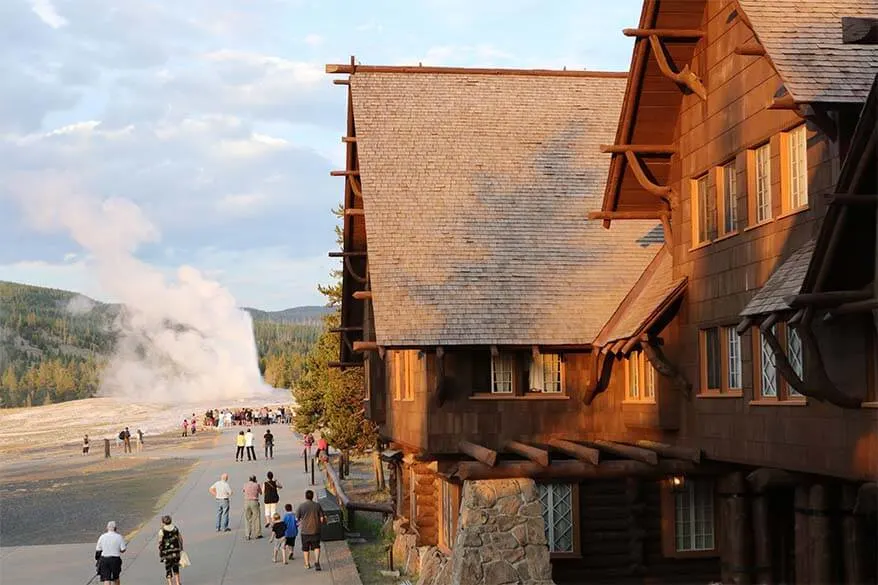 2. Book a Longer Stay
The best way to truly enjoy Yellowstone is by taking your time and getting off the beaten path. For that, you need more time. Yellowstone is a big park and I advise at least 3 days to cover the main attractions.
If you can, plan to stay longer (4-5 days or more). That way you can take your time to get off the beaten path a bit, avoid the crowds, and experience Yellowstone deeper.
If you just come to Yellowstone for a day or two days, you can still enjoy it as well. But don't try to see everything in that short time or you'll end up spending all your time driving and queuing for a parking spot. Take it easy, pick just a few highlights to visit each day and remember that often less is more! Which brings us to our next point – the itinerary.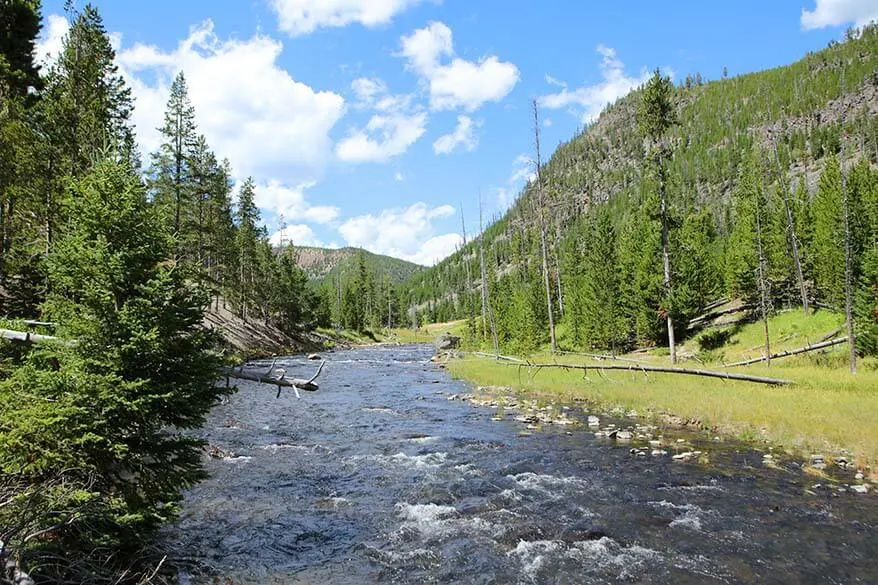 3. Plan Your Itinerary Well
If you really want to make the absolute most of your time in Yellowstone in summer, it's essential to do at least some planning. Ideally, you plan to visit the most popular landmarks first thing in the morning, before tour buses and day tourists arrive.
As it gets busier in the park, you can then spend your time driving bigger distances to reach the other popular spots at around lunchtime. Have a picnic and then set to explore as everyone else starts to leave for lunch.
In the afternoon, go hiking or visit lesser-known places where most tourists don't go. There are plenty of such places in Yellowstone, and that's why it's important to do some preparation in advance.
TIP: While it's very useful to have a rough plan of your day, make sure that your itinerary isn't packed. It's important to leave some time for unexpected discoveries, wildlife encounters, bison jams on the road, and simply to enjoy the amazing scenery around you.
READ MORE:
Yellowstone Itinerary
Yellowstone – Grand Teton Itinerary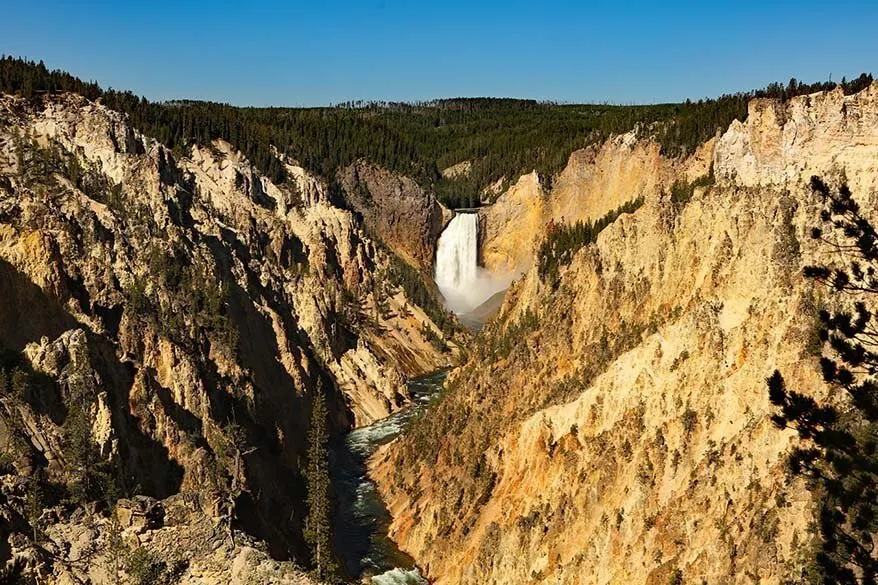 4. Start Your Day Early
My best tip for visiting the most popular Yellowstone attractions is to go as early in the morning as possible. Most tour groups and tourists start to arrive around 10 AM and even the busiest landmarks are rather quiet before that time.
The busiest hours at the park gates are between 9 AM and 11 AM. The busiest hours at the main attractions are between 10 AM and 3 PM. I recommend visiting the main landmarks before 10 AM or after 4 PM.
For example, we visited the most popular viewpoints of the Yellowstone Canyon at around 8.30 – 10.30 AM and there were very few people around. We met maybe just a handful of other people when hiking Uncle Tom's Trail and also the famous Artist Point was deserted. Whereas, if you come here during the day in summer, you'll have difficulty to even find a parking spot…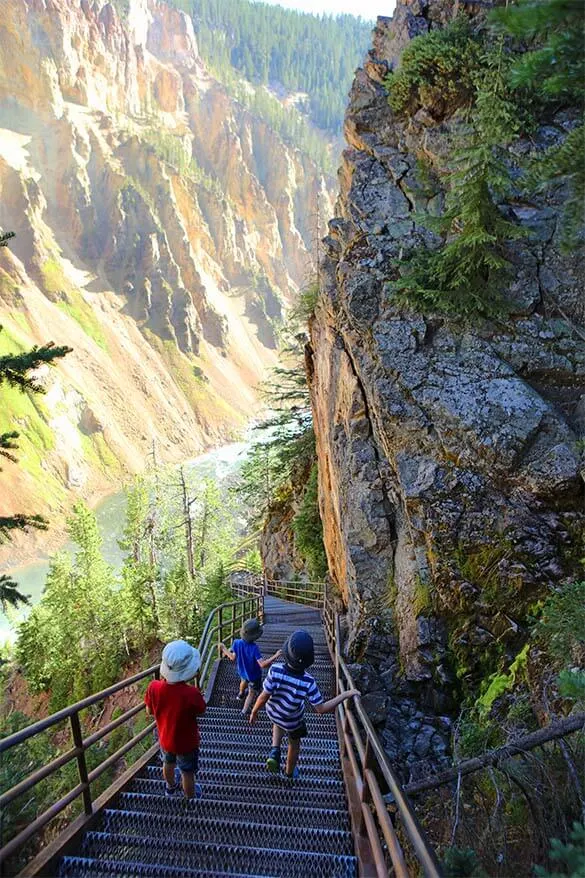 5. Stay Late in the Evening
The days are long and it doesn't get dark until around 8-9 PM in summer in Yellowstone. So take advantage of that! Most tour groups start to leave at around 3-4 PM and the park is much quieter after that. While you won't be completely alone at the Old Faithful at 6 PM, it's incomparably quieter than at 2 PM.
I have to admit that we stayed later only once or twice and that's because our kids (age 5-7) were simply too tired after a long day of sightseeing. But if you are visiting Yellowstone with just adults or older children in your group, then definitely go and explore the park in the evening.
Sunset and dusk are also great times to see wildlife in Yellowstone. Another good reason to stay a bit longer!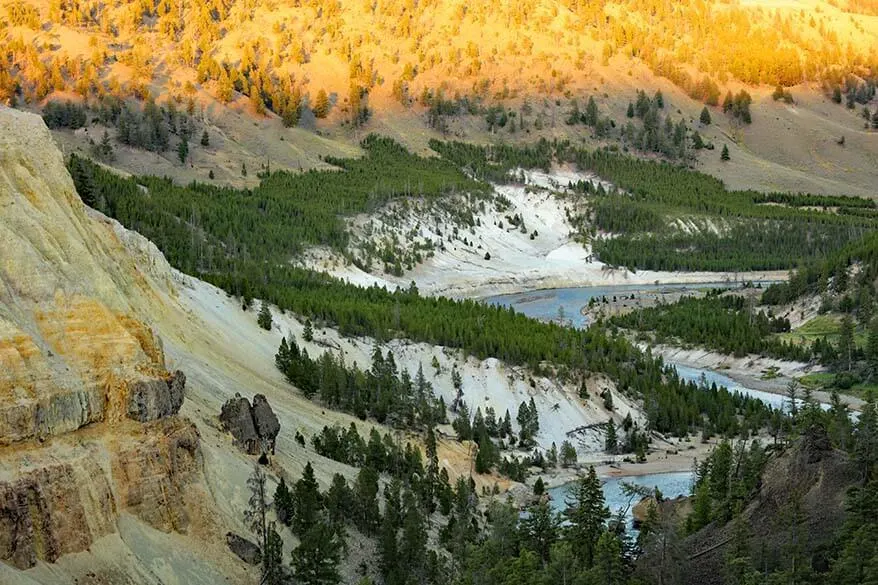 6. Go Hiking
The majority of Yellowstone visitors don't walk further than 10-20 minutes from their car. So it's really easy to escape the crowds in Yellowstone – go hiking. You don't have to do any extremely strenuous hiking, there are plenty of shorter easier hikes where you'll hardly see anyone around.
Here are some of the nicest short hikes in Yellowstone:
Upper Geyser Basin – at the Old Faithful.
Grand Prismatic Viewpoint – at the Fairy Falls car parking.
Storm Point Hike – North of Yellowstone Lake.
West Thumb Geyser Basin – West of Yellowstone Lake.
Mammoth Hot Springs Terraces – at Mammoth Springs.
Uncle Tom's Trail – at the Grand Canyon of Yellowstone.
Tower Fall – trailhead behind the Tower Fall general store.
Porcelain Basin – at Norris Geyser Basin.
Trout Lake Trail – East of Lamar Valley.
Wraith Falls – between Tower-Roosevelt and Mammoth Hot Springs.
Undine Falls – between Mammoth and Tower Junction (can also be seen from the road).
Ice Lake – between Norris and Canyon Village.
Harlequin Lake Trail – between Madison and West Entrance.
Black Sand and Biscuit Basin Trails – West of Old Faithful.
Mystic Falls Trail – back of the Biscuit Basin boardwalk.
Of course, there are also plenty of long hikes where you can get away from the crowds completely.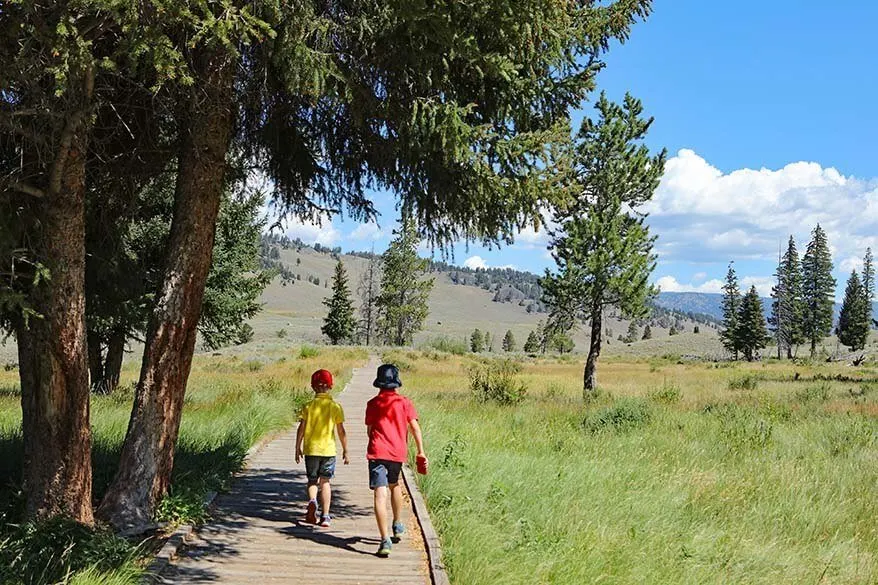 7. Visit Less Popular Places
Yellowstone Park is huge, yet everyone goes to the same few landmarks. Yet, there are so many other amazing places to explore that are often overlooked by the majority of visitors. These spots are ideal to visit during the busiest hours of the day when the most popular Yellowstone attractions are crowded.
Some of our favorite places in Yellowstone where we hardly met any other people were: Ice Lake, Artists Paintpots, Storm Point, Blacktail Plateau Drive, Wraith Falls, Undine Falls, scenic North East Entrance Road at the far NE end of the Lamar Valley, Lake Butte Overlook, Lewis Lake, Lewis Falls, and many more.
We never really planned to visit most of these places. But as we were driving around, we looked at the map for some ideas of places to see nearby and went to check it out. Most of the time, it was well worth a short detour. There was just one place that we visited that didn't impress us much and that was the Petrified Tree close to Tower/ Roosevelt Junction.
All the crowds in Yellowstone are concentrated around the few main areas and everyone who says that Yellowstone is crowded in summer, simply didn't take the time to explore the park deeper.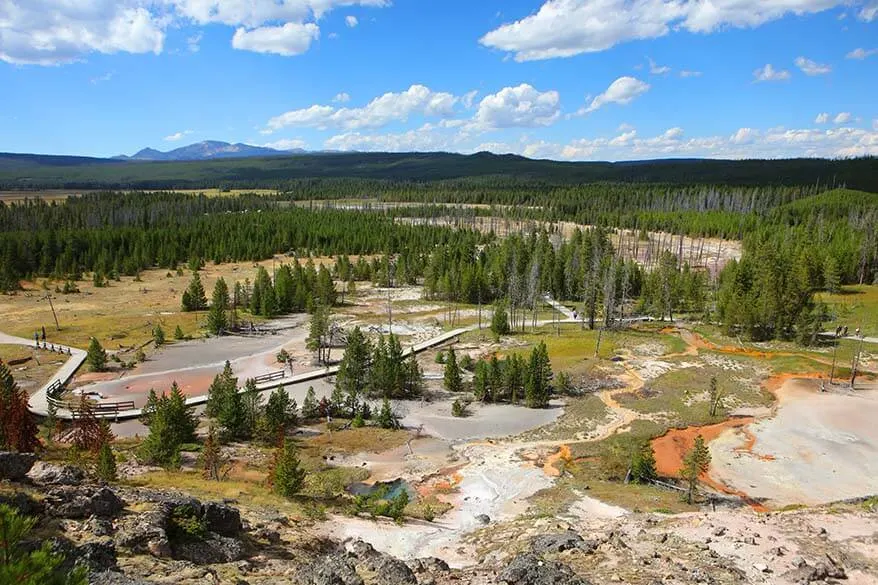 8. Pack a Picnic for Lunch
Yellowstone has lots of cafes and restaurants, but they are extremely busy. Furthermore, depending on where you are, it might take you a while even to get there. Not to mention that you also have to find a parking spot, find a suitable restaurant, wait for a free table, etc. Before you know it, you waste a couple of hours for lunch.
Instead, make sure to pack a picnic lunch! There are plenty of places where you can have a picnic in the park. Not only it's a great way to enjoy your day in Yellowstone, but it also allows you to visit some of the busiest attractions at lunchtime when most other visitors are queuing at the restaurants. Needless to say that this will save you a lot of money as well – dining out in Yellowstone is not cheap.
There was just one time when we didn't pack a picnic with us. That was the day when we visited Mammoth Hot Springs. It's not the busiest place in Yellowstone and so we thought that it would be ok to have lunch there. However, the place was absolutely packed. We wasted so much time that we could have spent sightseeing, not to mention that the kids got really tired and cranky having to wait so long… So take my word for it and pack a picnic. It will save you a lot of time and frustration!
Good to know: Some areas in Yellowstone are frequented by bears. If you are hiking in such a place, it's probably not the best idea to carry food with you, unless it's packed in such a way that bears wouldn't smell it. In that case, it's best to have a picnic in your car or drive to a safer picnic area.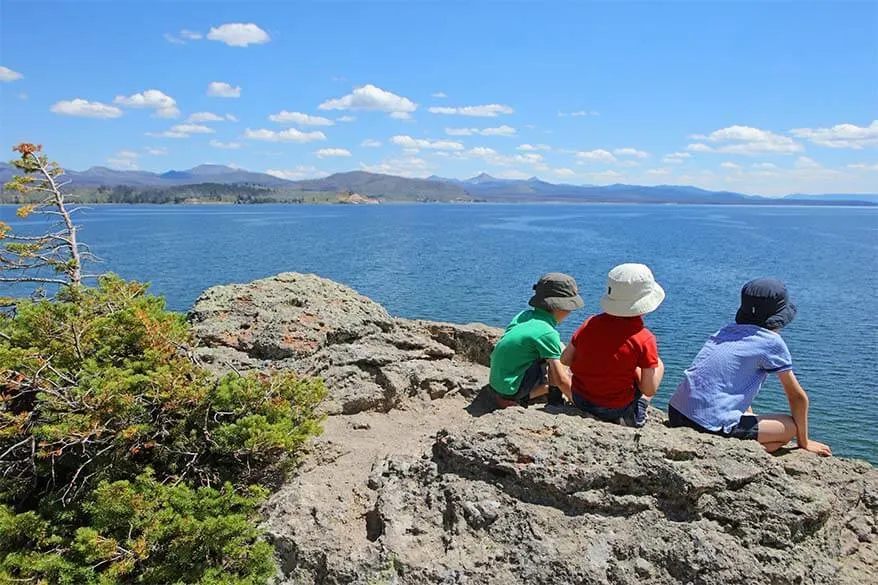 9. Go Swimming
There are several places where you can go swimming in Yellowstone – Firehole River Swimming Area and also the Boiling River.
While these places can get quite busy during the day (especially the Firehole River), there is hardly anyone around in the morning.
Going for a swim is a great way to make your Yellowstone summer vacation more special, especially when the weather is nice and warm.
Update: Due to the 2022 floods, both these areas are closed at the time of the last update. It's not even certain if they will reopen at all. For that, it's best to check the official website or simply ask park rangers if there are any swimming possibilities when you get to Yellowstone.
READ MORE: Boiling River in Yellowstone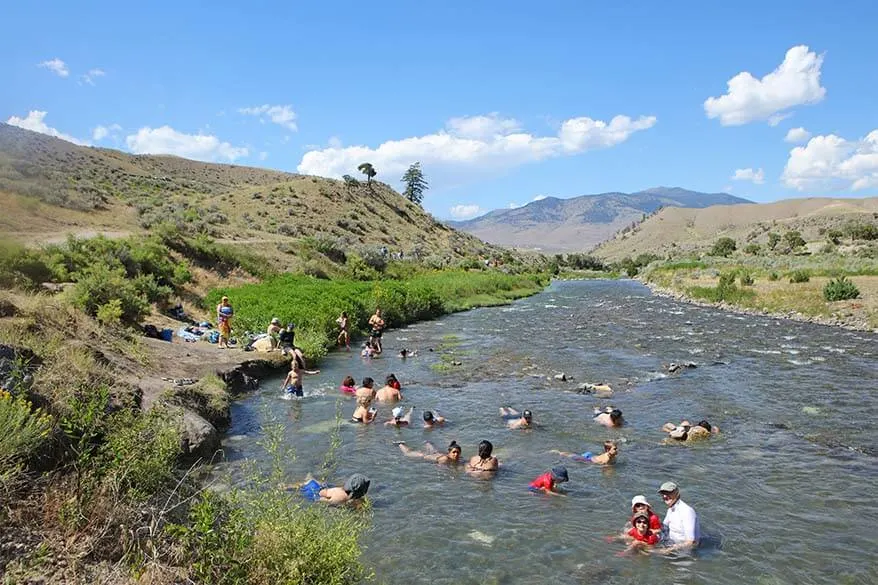 So, this is our guide to visiting Yellowstone in July and in August.
If you rather avoid the peak season and have the flexibility to do so, you may want to visit Yellowstone in the shoulder months. In that case, please also take a look at our guide for the best time to visit Yellowstone. It contains detailed information for visiting Yellowstone in every season. Check it out!
FAQ
Is July a good time to visit Yellowstone?
July is one of the best months to visit Yellowstone National Park. The weather is nice, all the roads and facilities are open, and you can explore the park to the fullest. However, it's also the busiest month in Yellowstone, so expect big crowds at the main attractions, and be sure to book your accommodations well in advance.
Is August a good time to visit Yellowstone?
Together with July, August is one of the best times to visit Yellowstone and experience everything that the park has to offer. If you come towards the end of August, it will be cooler for sightseeing and also a bit less busy than in the peak season.
How hot does it get in Yellowstone in summer?
Average summer daytime temperatures in Yellowstone National Park are in the low 70s (20-24°C). It can get as hot as 85°F (30°C) at the lower elevations in July – beginning of August, but it can also snow at the higher elevations. Afternoon storms are quite common in Yellowstone too, but they usually don't last long.
Is there snow in Yellowstone in summer?
Normally, you won't find any snow at the lower elevations in Yellowstone in summer. However, it's quite common to have some snow at the higher elevations. A few days before we visited, we saw white scenery and a snowman via the webcam of Mount Washburn. It was snowing at the end of July.
What should I wear in Yellowstone in summer?
Pack layers when visiting Yellowstone in summer. Most of the time, shorts, t-shirts, and sandals or light hiking shoes will be sufficient. However, you will also need a sweater in the evenings, and a light rain jacket is a must in case of afternoon storms. For more information, please check our Yellowstone packing list.
More tips for your trip to Yellowstone:
If you found this post helpful, don't forget to bookmark it and share it with your friends. Are you on Pinterest? Pin this image!