When we first visited Dubai, I wasn't really sure what to expect. It turned out to be a beautiful trip with plenty of variation to keep the whole family happy and entertained for 10 days.
Dubai has so much to offer for all types of tourists that it might be overwhelming to know what to see and do first, and especially if you are short on time. So in this post, we are highlighting the very best Dubai tours and guided day trips to help you get the most out of your stay in Dubai.
No matter if you are visiting for a week or just making a short stopover in Dubai, consider booking at least a few of these tours. It's the best way to see multiple facets of this extremely diverse city.
This is just a small hand-picked selection of the most popular Dubai tours and activities based on our personal experience, customer reviews, and price/quality ratio. Out of thousands of available tours in Dubai, we chose the very best ones. This should help you to save time and research and get the most out of your time in this fascinating city.
Good to know: We recommend GetYourGuide for booking all your guided tours in Dubai because they have excellent customer service and the best cancelation policy on the market (better than anything you get if booking through other websites or directly).
Most tours may also be available on Viator. They also have a good cancelation policy; in most cases, better than when booking directly. But given the choice, we personally always use GetYourGuide.

These are the best tours in Dubai:
1. Burj Khalifa
If you visit just one place in Dubai, make it Burj Khalifa. This huge tower rising high in the middle of the desert symbolizes all that Dubai has become in such a short time. There are several options for Burj Khalifa tickets, but it's a very popular attraction so make sure to book in advance.
And then you also have all kinds of combination tickets that can save you some money and time. Here are some of the best-rated Burj Khalifa combo tours:
TIP: Just next to Burj Khalifa are the famous dancing fountains of Dubai. A popular way to see the music and light fountain show is from the water, by taking a traditional boat tour on the lake.
2. Dubai Desert Tours
No visit to Dubai would be complete without a visit to the desert. Dune bashing in a 4WD is one of the most fun experiences you can have in Dubai, but there are so many ways to experience the desert…
From luxury private experiences to more touristy trips including camel rides, BBQ dinner under the stars, or a traditional dance performance… desert tours are a good way to experience a different side of Dubai.
Here are some of the most popular and best-rated Dubai desert tours, including the best Dubai desert safari deals: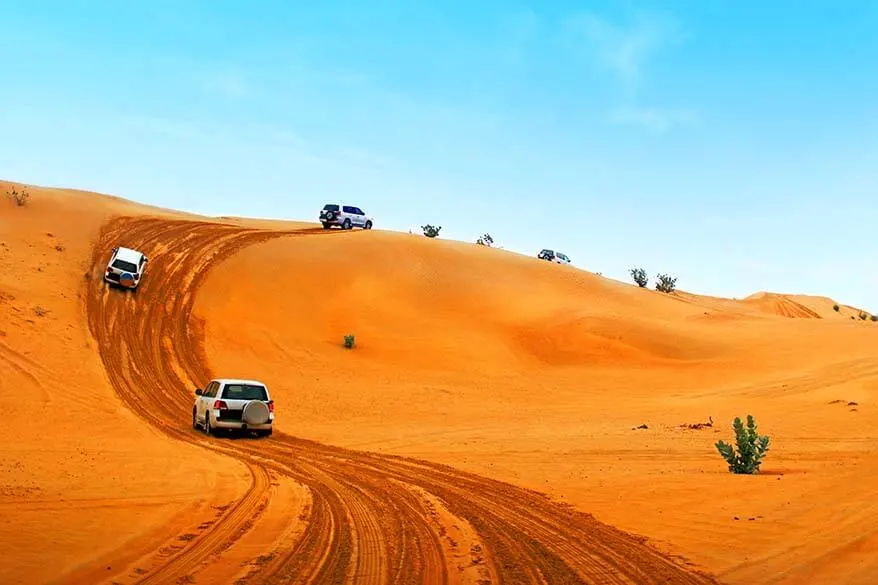 3. Dubai Water Parks
Dubai has two major water parks – the Aquaventure at Atlantis The Palm and Wild Wadi near Burj Al Arab and the Jumeirah Beach Hotel.
The price of the two parks is about the same and I really cannot say which one is better. We visited Aquaventure and loved it. If our kids had been taller, we would have definitely tried both parks (many water slides have 120 cm (a bit less than 4ft) height limit, but there are still really nice water play areas for the younger kids too).
Whatever you decide, make sure to book your tickets in advance as they are much cheaper online than at the entrance of the park…
TIP: It's worth noting that the entrance to Aquaventure is included for all hotel guests of Atlantis The Palm. If your family really likes waterparks it might be worthwhile looking into booking this hotel. In a less busy season and for families with up to 2 kids this might be a great option. Unfortunately, recently, they really hiked up the prices of the hotel. In any case, it's worth checking the availability and prices for Atlantis The Palm if you haven't booked a hotel yet.
TIP: Consider checking the prices for a family stay at the Jumeirah Beach Hotel as well. Guests of this hotel enjoy complimentary access to Wild Wadi Waterpark. The same is true for the guests of Burj Al Arab Hotel, however, this luxury hotel is in a totally different price category…
4. Dubai City Sightseeing Tours
While you can see most of Dubai's attractions individually, taking a city tour is a nice way to see all the main sights in a short time. We did a city tour one day at the beginning of our trip and it gave us a good overview of the city and the places that were potentially worth going back and exploring more.
There are several options for Dubai city tours, ranging from hop-on hop-off busses, guided city tours, and private tours… Some tours focus on the modern city, while some others bring you to the old town, or offer a combination of both…
Old Dubai is so very different than the modern parts most of the tourists visit. If you want to get a taste of more traditional Dubai, the way it was just a few decennia ago, don't miss it!
Here are some of the best Dubai city tours:
5. Dubai Marina Dinner Cruise
Dubai Marina area is one of our favorites in the city. There are several ways to explore it: on foot, by bicycle, by water bus, or by boat.
The most popular option is the Dubai Marina cruise with dinner.
There are many companies running these tours. And yes, they are oriented toward tourists, but it's a really nice experience. If you choose well, it may not cost that much more than just a regular dinner at the restaurant (check this post for more information about how much everything costs in Dubai).
Here are some of the best-rated Dubai Marina tours:
We took this dinner cruise and really enjoyed it. There are many companies offering dhow dinner cruises, but most have really poor ratings. We chose this dinner cruise because of the good reviews and excellent price/quality ratio. It's also one of the best options for families – kids under 6 travel free, and kids under 12 get a discount.
You can find similar dinner cruises on Dubai Creek as well. But we found that the Dubai Marina area is a much nicer and more spectacular place to be in the evening.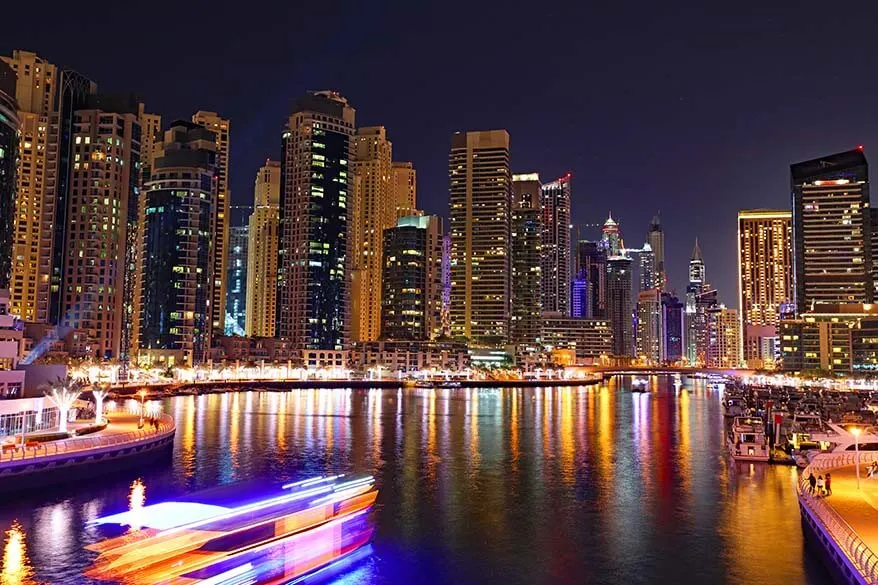 6. Dubai Sightseeing Boat Tours
Many sights of Dubai are best admired from the water. The best way to see the iconic sights like the Burj Al Arab, Atlantis Hotel, and the Palm Jumeirah, is by taking a boat.
Here are some of the best sightseeing boat tours in Dubai:
7. Camel Ride Tours
The above desert tours only include a very short ride on the camel. If you are looking for a longer camel ride in Dubai desert, consider one of these highly-rated options.
However, be sure to check what's included because longer camel tours are getting replaced by shorter rides.
8. Abu-Dhabi Day Trip from Dubai
With a driving distance of just an hour and a half, Abu-Dhabi is a very popular day trip from Dubai. Here are the best-rated and the most popular options:
9. Other Great Activities in Dubai
Dubai is a truly unique place with so much going on in the city. The tours I listed above are very popular and really worth doing in order to see the best of Dubai. But if you have more time (and money) and are looking for something more extraordinary and unique, then take a look at some of these great activities in Dubai.
So, these are the most popular types of tours and excursions that you can do in Dubai. It's really difficult to say which activity was our favorite as they are all so different. As a minimum, I recommend visiting the Burj Khalifa, taking a city tour that brings you to Old Dubai, taking a day trip to the Dubai desert, and at least one water park.
Have you been to Dubai? What were your favorite tours?
READ ALSO: Free & Cheap Things to Do in Dubai
More tips for your trip to Dubai:
If you found this post useful, don't forget to bookmark it and share it with your friends. Are you on Pinterest? Pin these images!