Wondering where to stay in Iceland? Looking for the best hotels or Iceland accommodation for your self-drive trip along the Ring Road?
This Iceland accommodation guide is a great resource for finding the best places to stay in Iceland and planning your own road trip. Find out!
So you bought a cheap ticket to Iceland for next month, worked out the best trip itinerary, and start planning your road trip… It won't take you too long to realize that you are not the only one – many affordable hotels in Iceland are fully booked months in advance. The ones that are available are either too expensive, not well located, really basic, or all of the above…
Cheap flights and free stop-overs between Europe and the US have turned Iceland into an extremely popular travel destination. The number of tourists has increased dramatically in the last few years. It took some time for the infrastructure to catch up, but the good news is that it is now much easier to find good price-quality accommodation in Iceland than ever before.
Still, I always advise people to book Iceland accommodation well in advance. It's the first and the most important of all my Iceland travel tips. As the number of hotels and guest houses increased all over Iceland, so did the number of tourists. For the best choice and somewhat affordable prices, you do have to book Iceland hotels months in advance, especially if traveling in the summer.
TIP: For more information on itineraries, please check our suggested itineraries for Iceland. This is our winter itinerary for Iceland and here is a very similar Iceland 4 days itinerary that covers pretty much the same places in spring or in summer.
If you have a week and are visiting in the warmer months, we recommend this Iceland itinerary for 7 days. if you want to do the entire Ring, please see this 10-day Iceland Ring Road itinerary.
READ ALSO: Best Places to Visit Iceland
Without further ado, below is our guide to the best places to stay during your self-drive trip in Iceland. Scroll down for all the info and tips!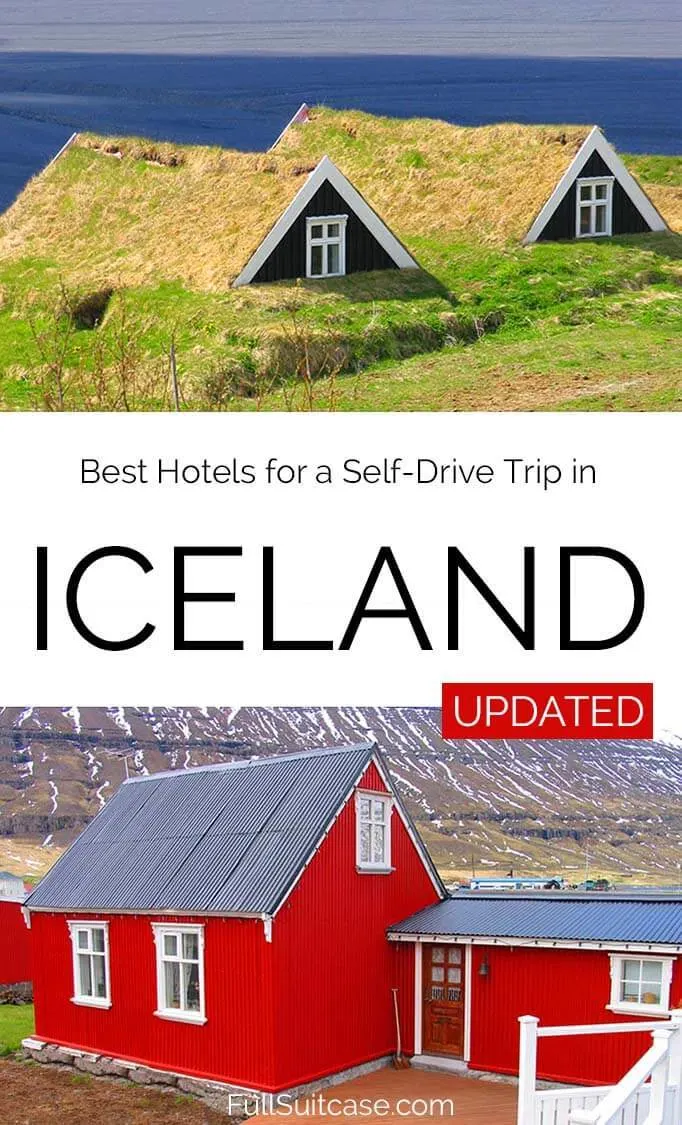 Where to Stay in Iceland
If you are looking for general information on where to stay in Iceland, it's really hard to give a simple answer. The best places to stay in Iceland are the ones that fit your itinerary the best.
Reykjavik is located close to Keflavik international airport and is a good starting point and also a good place to stay at the end of your trip. It's also a popular base for those visiting Iceland in winter and not willing to drive in winter conditions. In that case, you can base yourself in the capital city and book day tours from Reykjavik.
Good to know: The best way to visit Iceland is on a self-drive road trip. While it is possible to drive to some of the best-known landmarks from Reykjavik or from one of the towns of Southern Iceland, you will probably be driving at least 150-300 km (100-200 miles) one way every day and spending more time in the car than sightseeing. If you have more than 2 days in Iceland, don't limit your stay to Reykjavik only!
In order to help you find the best Iceland accommodation for your trip, I grouped the best hotels per region. In this guide, you can find hotel suggestions for all the most popular tourist destinations in Iceland. Take a look!
Best Places to Stay in Iceland – OVERVIEW
Reykjavik Accommodation
To most visitors, Reykjavik is the gateway to Iceland and they spend at least one day here upon arrival. Many others start AND end their Iceland road trip in the capital city. And because there's now so much to see and do in Reykjavik, it's actually a great choice.
You can easily spend 2-3 days in Reykjavik, and even more time in the darkest months, when staying in the city is safer than self-driving around Iceland in winter. Reykjavik is the best base for taking winter tours to some of the best natural sights of Iceland that are located somewhat close by.
Below, you can find our selection of some of the best accommodations in Reykjavik.
Best price-quality LUXURY hotels in Reykjavik:
Click on the link for more information!
Best price-quality MID-RANGE hotels in Reykjavik:
Best BUDGET hotels and apartments in Reykjavik:
Keep in mind that 'budget' often means +- 100 EUR per night for 2 people in high season.
Best cheap HOSTELS in central Reykjavik:
READ ALSO: Where to Stay in Reykjavik – complete guide to Reykjavik hotels (best location, budget, luxury, most popular choices, hotels for families, with free parking, and more. Check it out!
Compare hotels & short-term rentals in Reykjavik
Using the map below, you can compare hotels and self-catering accommodations in Reykjavik. Simply insert your travel dates and group size, and you'll see the best deals for your stay. This map can help you find the best-priced accommodation all over Iceland.
Best Reykjavik Hotels and Apartments for Big Families
Traveling with three children, we know what a challenge it can be to find good affordable accommodation for 5 or more people. Often, we are offered two rooms, and that increases family travel costs immensely. That's why we always use Booking.com to search for the best accommodation options for our family.
Usually, we stay at nice spacious apartments (at the hotels or privately owned) at a fraction of the cost of two separate hotel rooms. While it's not always possible to find such accommodation in rural Iceland, it's definitely possible in Reykjavik – see below.
I used the following criteria to select the best Reykjavik accommodation for big families :
Family rooms for 5 – 6 people available
Central location
Best price – quality ratio
Best price-quality LUXURY accommodation in Reykjavik for FAMILIES:
MID-RANGE accommodation in Reykjavik for FAMILIES:
BUDGET accommodation in Reykjavik for FAMILIES:
Hotel Orkin (somewhat further away from the main attractions, but still within walking distance).
201 Hotel. Far from the city center, but has very nice large family rooms at a somewhat lower price. So you get more value for your money, but you'll need a car.
READ ALSO: Best Things to Do in Reykjavik & One Day Reykjavik Itinerary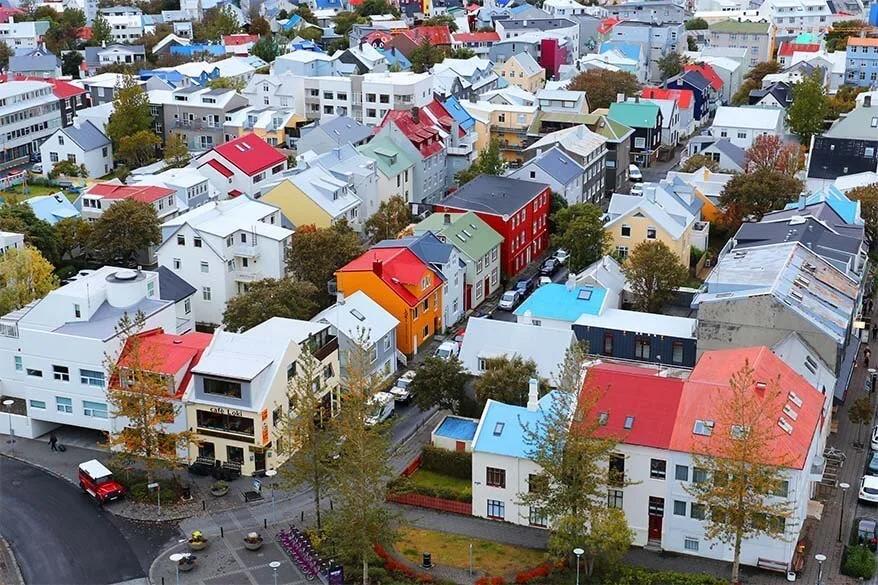 Where to Stay Along Iceland's Ring Road
To help you plan your trip to Iceland, I made a selection of some of the best Iceland accommodation options for a road trip around the whole island, following the Ring Road.
Keep in mind that it might be difficult to find one type of accommodation for the whole trip. I mean, if you are looking for luxury hotels only, it might be difficult or even impossible to find one in the area that is best for sightseeing. And it's also true for budget-conscious travelers – sometimes you might have to pay more as there is really no alternative lodging in the area.
Where to Stay When Visiting Iceland's Golden Circle
First of all, let me tell you that you can easily explore the Golden Circle as a day trip from Reykjavik. If, however, the Golden Triangle is just a part of your road trip, it might be better to continue your journey further Southwards rather than to drive back to Reykjavik.
Probably the best affordable places to stay for exploring Thingvellir, Gullfoss and Geysir are the little towns of Hveragerði and Selfoss.
Both towns have several accommodation options in different price categories, usually much cheaper than Reykjavik. What is also important, is that there are several dining options in the neighborhood. This can save you a lot of money as dining in hotels in the rural areas in Iceland can be very expensive.
There are also more and more privately owned self-catering accommodation options in Fludir area and nearby. Here you can see the map with accommodation options in the wide area around the Golden Circle.
TIP: If you are looking for more luxury and/or consider staying at one more central location and explore the Southern coast from there, Hotel Ranga can be a good option for a 2-3 night stay along Iceland's South Coast.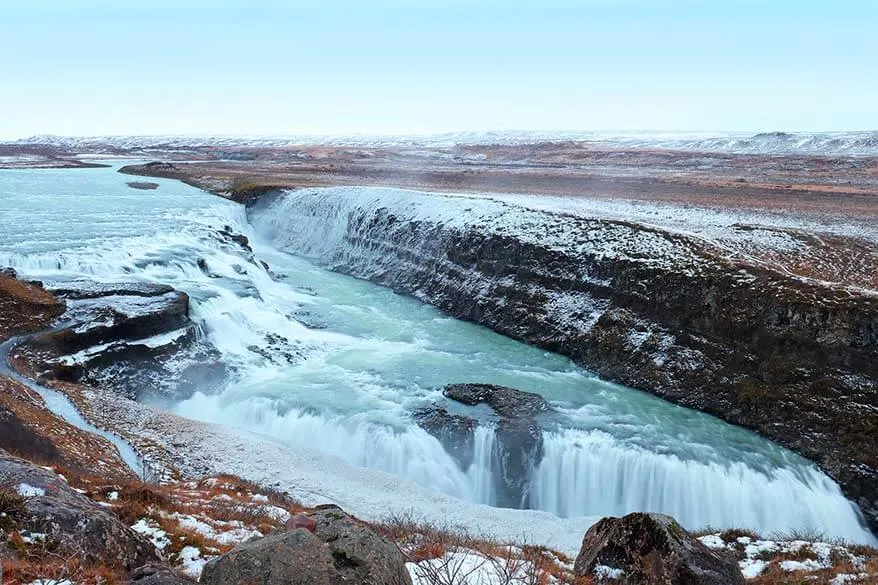 Best Hotels Near Vik or Kirkjubæjarklaustur
Vik area is probably the most popular place to stay along Iceland's South Coast. Often, accommodations in Vik are fully booked. But don't worry – if you have a car, you can just as well stay somewhere else along the South Coast and just visit Vik and the Reynisfjara beach and other popular attractions during the day.
On our last trip to Iceland in winter, we spent two nights in Kirkjubæjarklaustur. Magma Hotel is an excellent choice in the area, but a bit on the expensive side. Otherwise, Adventure Hotel Geirland is a popular choice.
On my recent Iceland's highlands trip in September we also spent one night in the superb new little hotel Glacier View Guesthouse in Hrifunes. Located just off the Ring Road, it offers a perfect location for exploring Iceland's South Coast. I loved staying here – the food was good, the rooms – modern and cozy, and the people very friendly. Recommended.
The nearby Hrifunes Guesthouse also has great reviews and looks like a great choice along the South Coast.
Some other great accommodation options in the area near Vik and Kirkjubæjarklaustur: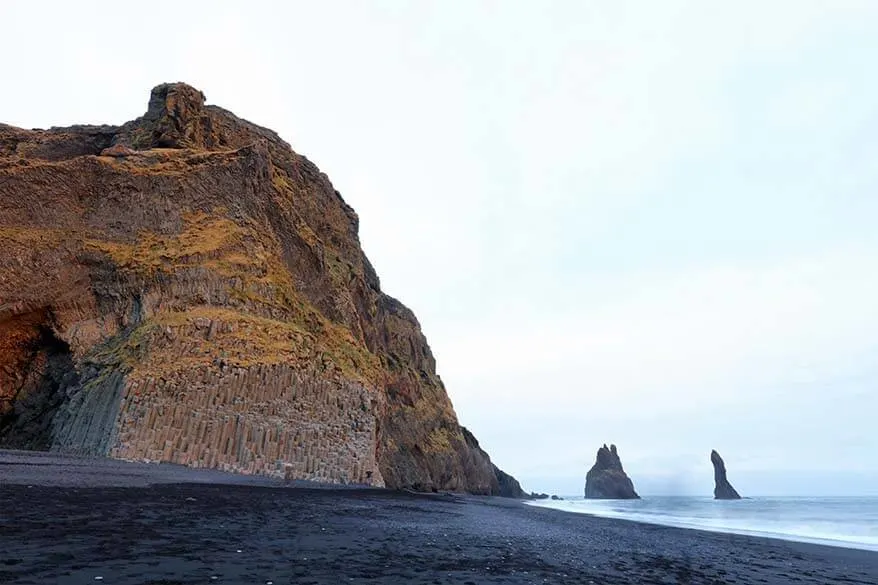 Where to stay for Jokulsarlon Glacier Lagoon and Skaftafell National Park
Accommodation options in these areas are really limited, so you should book well in advance or be prepared to drive a bit further. It's not uncommon to have to drive 40-50 miles to the nearest hotel in Iceland, so you can also stay in Vik or in Kirkjubæjarklaustur for exploring Skaftafell and Jokulsarlon.
However, it might be nice to stay somewhat closer to Skaftafell and Jokulsarlon, especially if you want to spend more time and explore the area more. There are lots of hiking trails in Skaftafell, you can go glacier hiking, visit several glacier lagoons and the surrounding coast, etc.
Best-located hotels in the Jokulsarlon and Skaftatell area:
If these hotels are full, the best option is probably to stay close to Höfn area, especially if you continue your trip further around the island. Check the recently opened Fosshotel Vatnajökull – it's a great new addition in the area.
If your trip stops at Jokulsarlon, however, a better option for you would be to stay longer in the area around Kirkjubæjarklaustur (see above) and commute from there. That way at least you don't have to pack your bags every day.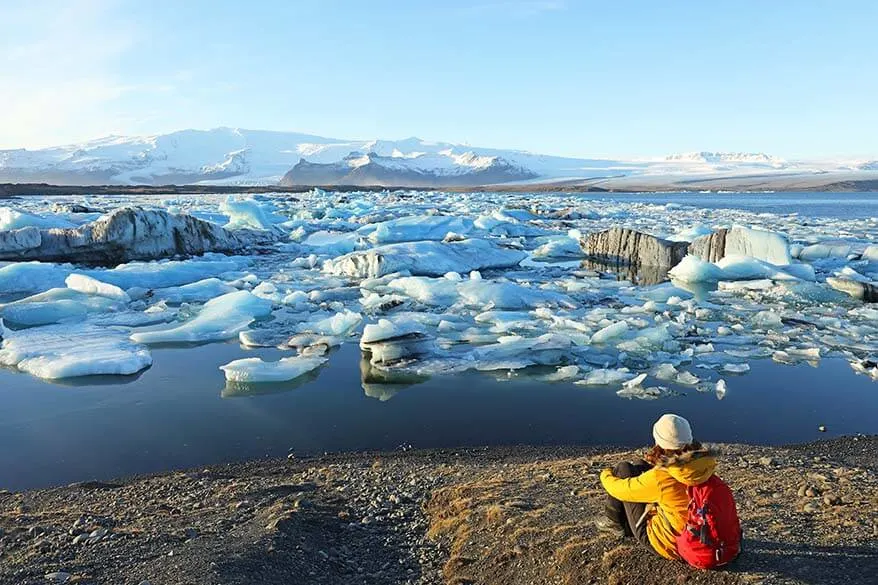 Best Places to Stay on the East Coast of Iceland – Egilsstadir or Seyðisfjörður
Egilsstadir is a small town in East Iceland and is probably the best place to stay when visiting Eastern Iceland.
Another nice place to stay is Seyðisfjörður, known for its stunning location and the colorful path leading to a church. There are just a couple of hotels and guesthouses there, most with excellent reviews. There are also several hostels and apartments.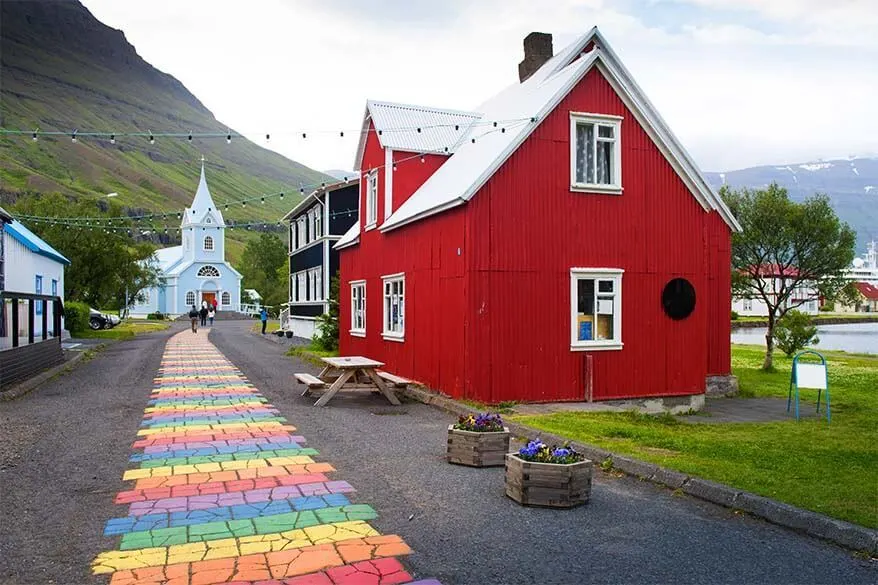 Hotels in Akureyri, Myvatn & Husavik
Akureyri is the biggest town in the Northern part of Iceland, but the area around Myvatn is the one that is worth exploring the most. For more info, check our guide to the best things to do in Myvatn.
The distances are not very big, so it's up to you where you decide to stay. In town, you have more facilities and more accommodation options, but it's a small town and I think you'll enjoy your stay more if you opt for the Myvatn area or a combination of both.
Husavik is also a very nice little town to stay in this area. It's also the best place to go whale watching in Iceland in the summer.
Best Myvatn hotels
Best Husavik hotels
Best Akureyri hotels and apartments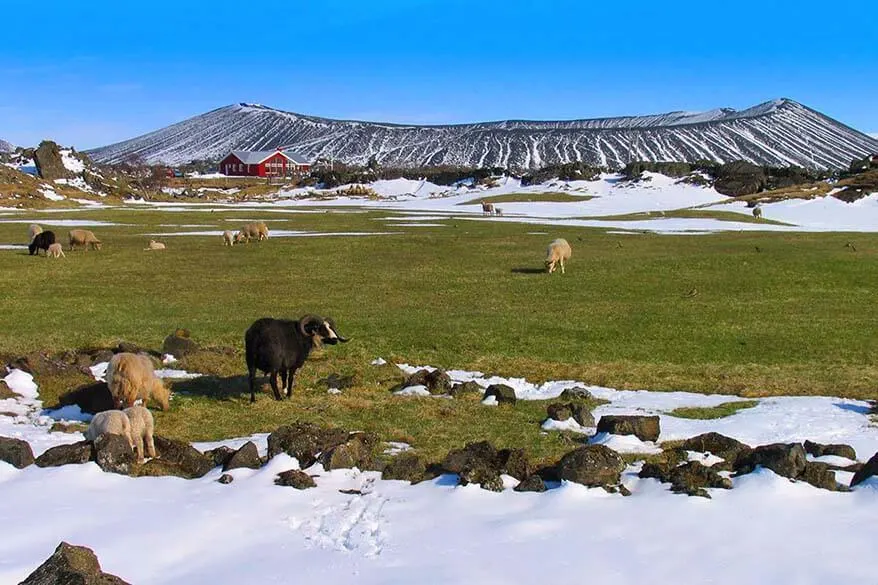 Best Places to Stay in Northern Iceland
Northern Iceland is very thinly populated and there aren't many accommodation options available. One of the best areas to stay at when exploring the Northern part of the island are the ones close to Skagafjördur or in Blönduós.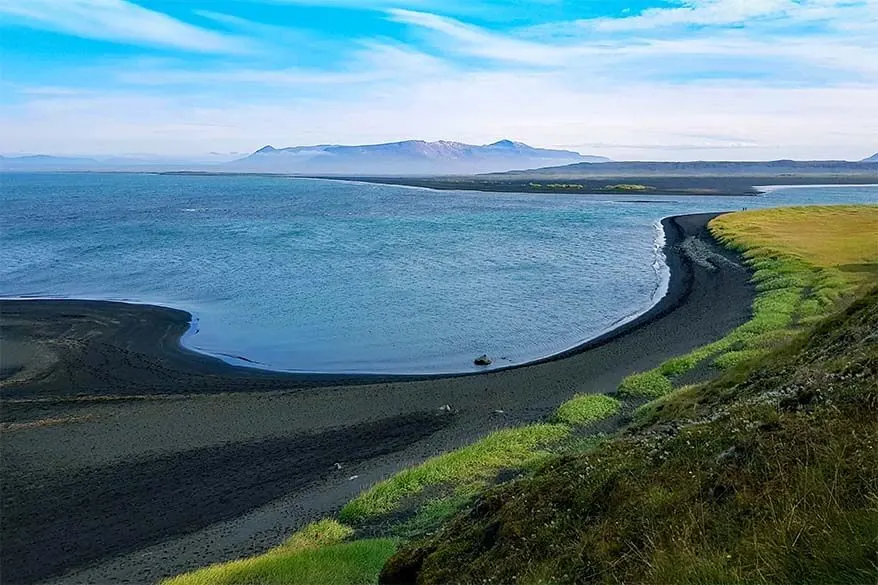 Westfjords Accommodation
Westfjords are huge and there are just a few somewhat bigger towns in this part of Iceland. Ísafjörður and Patreksfjörður are the best places to stay if you are looking for some more infrastructure. For the rest, the majority of accommodation on the Westfjords is privately owned and scattered all over the place.
On our recent trip to the Westfjords, we stayed at Móra guesthouse. We chose this place because of its great location not too far from the Westfjords ferry. It was also centrally located for visiting Dynjandi waterfall, Rauðasandur beach, and Látrabjarg cliffs.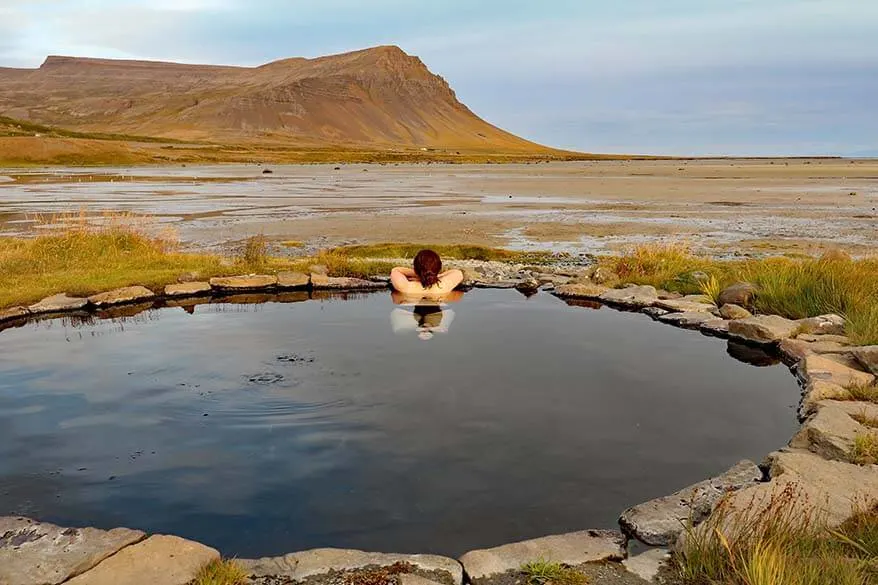 Best Places to Stay for Visiting Snæfellsnes Peninsula
Snaefellsnes Peninsula is often visited as a day trip from Reykjavik, but it's a region that is worth exploring a bit longer. In my opinion, two nights is about the minimum time you need here.
Here you can find more information about what to see and do in Snaefellsnes Peninsula.
And here are some of the nicest hotels on the Snaefellsnes Peninsula:
LEARN MORE: Best Snaefellsnes Hotels & Towns to Stay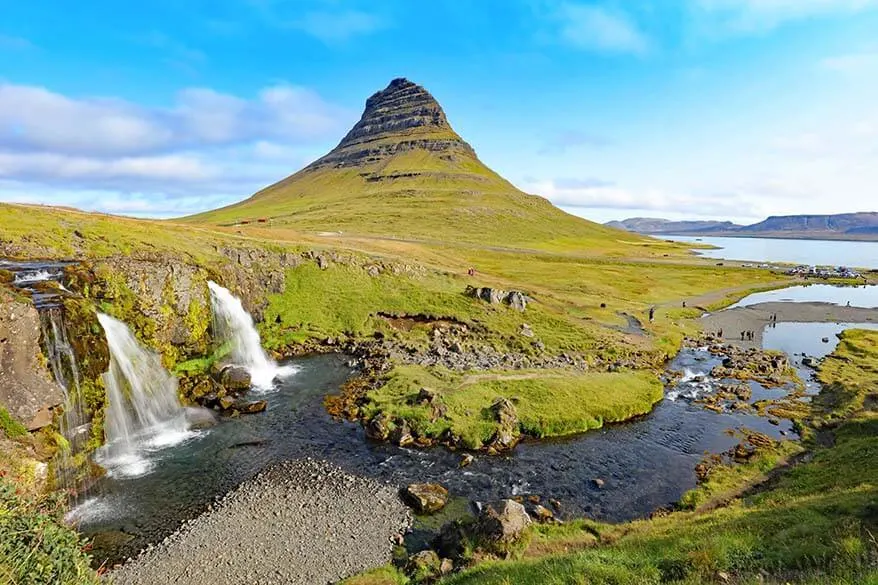 Why book your Iceland accommodation with Booking.com?
Booking.com is one of the world leaders in booking accommodation online and it's definitely the most used accommodation search- and booking website in Europe, including Iceland.
You can find all kinds of accommodation at Booking.com – not just hotels, but also private properties. In addition, Booking.com has the best price guarantee and free cancelation on most accommodations.
We use Booking.com for practically all our hotel bookings. Not just because it has so many properties worldwide and excellent prices, but also because it's so easy to use for everyone – from solo business travelers to big families like ours.
READ ALSO: How Expensive is Iceland (+ How To Save Money)
So, this is our guide to some of the best places to stay in Iceland. I hope it helps you find the best lodging options for your upcoming trip. Once again, book your Iceland accommodation as soon as you know your travel dates!
And because we receive so many questions in regards on where to stay in Iceland, below you can find some frequently asked questions and our answers to them.
Where to Stay in Iceland – FAQ
What is the best area to stay in Iceland?
Iceland is a big country and there is no one best area to stay from where you can see everything. If you are visiting in winter, then the best area to stay is Reykjavik, from where you can take day trips. If you pick just one base area to stay in for your summer trip, then the South Coast of Iceland, and in particular Vik or Kirkjubæjarklaustur is the best place to be.
Is it expensive to stay in Iceland?
Iceland isn't a cheap destination, but there are budget options too. A night at a nice 4* hotel in Reykjavik and other popular places in Iceland in high season will easily cost about 250-300 USD for 2 people. That same hotel will cost about 150-200 USD in winter. But it is also possible to find decent budget accommodation for about 60-100 USD for 2 people in Iceland in high season as well. The earlier you book, the more options you have.
How many days is enough in Iceland?
As a bare minimum, we recommend 4 days in Iceland – that will allow you to see Reykjavik and the highlights of the South Coast. If you are visiting Iceland in winter, we recommend staying for 5-7 days and touring the South Coast. In summer, when the days are endless, you can see a lot in one week as well. But if you want to drive the entire Ring Road and see the main places, then 10 days is really the minimum. If you want to see all the main highlights of Iceland, including the Westfjords, plan 14 days.
Where to stay in Iceland for Northern Lights?
Anywhere in Iceland can be a good place to see the Northern Lights, but no location or hotel can ever guarantee that. There is no hotel that's better for auroras than another, even if they claim that. If the conditions are right, you can see auroras anywhere. For that, simply try to stay outside of the city so that you have less light pollution. More info – complete guide and tips for Northern Lights in Iceland.
READ ALSO: Iceland Itinerary Suggestions
Some of our favorite lesser-known places in Iceland:
If you found this post useful, don't forget to bookmark it and share it with your friends who are planning a self-drive trip to Iceland. Are you on Pinterest? Pin this image.