The South Coast of Iceland is one of the most beautiful and most visited regions in Iceland. Together with Reykjavik, the Golden Circle, and the famous Blue Lagoon, the South Coast is one of the most popular tourist destinations in the country and an indispensable part of pretty much every Iceland itinerary, especially if this is your first time in Iceland.
Easily accessible via the Ring Road that encircles the entire island, Iceland's South Coast stretches for over 320 km (200 miles), approx. between Selfoss town and Jökulsárlón glacial lagoon. Some of the most beautiful places of Iceland are located along the southern coast and this area also offers some great attractions and fun outdoor activities such as glacier hiking or ice caving.
But with so much to see and do on the South Coast of Iceland, it can be hard to narrow down the best options and decide where to go, especially if you only have one or two days here….
In this article, we feature all the best things to do on Iceland's South Coast: the most beautiful natural sights, popular attractions, and the best activities that are worth your time the most. In addition, we also include some lesser-known places, the hidden gems of the Icelands' south coast. Even if you visit just a few of these places, it will make your trip so much more special! For each of the highlights mentioned in this article, we also include practical tips and information that will help you plan your trip. Find out!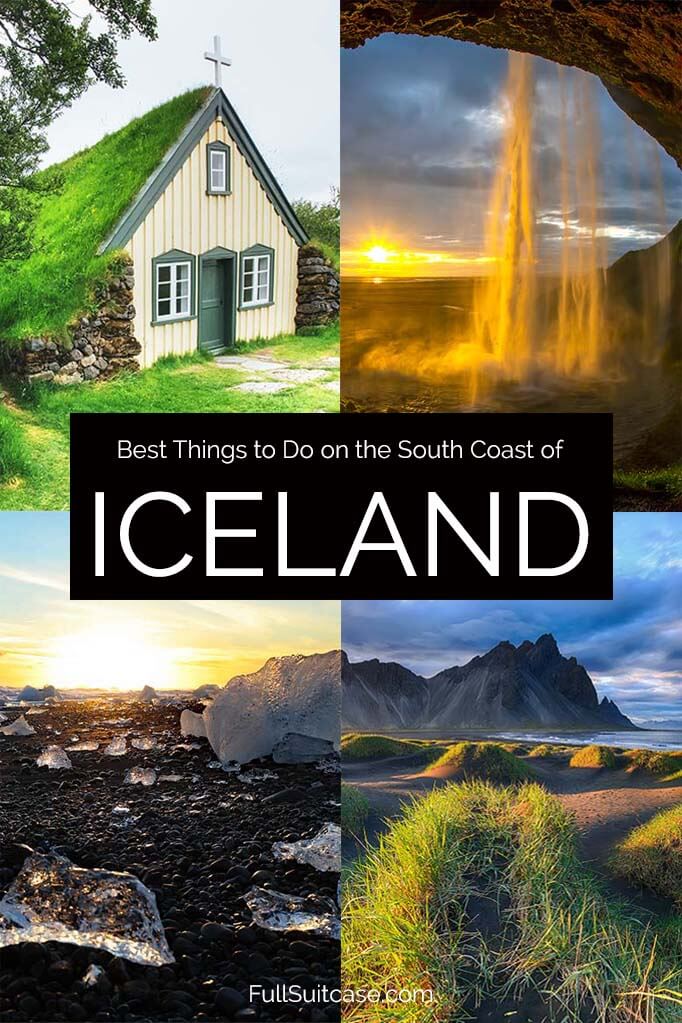 TIP: To make it easier to plan your self-drive South Coast tour, we also created a map indicating all the Iceland South Coast attractions mentioned in this article. You can save it to your phone and use it during the trip as well.
The must-see places are indicated with a purple star, the lesser-visited places that are also nice to see if you have more time are indicated in red. We also included some of the best activities (yellow). Remember that often, those lesser-known places and unique activities will make your trip much more memorable than just visiting the main highlights where everyone goes!
Take a look at the map below and scroll down for more info about each of the sights of this beautiful region!
How to Use This Map: Use your computer mouse (or fingers) to zoom in or out. Click on the icons to get more information about each place. Click the arrow on the left top corner for the index. Click the star next to the title of the map to add this map to your Google Maps account. To view the saved map on your smartphone or PC, open Google Maps, click the menu button, and go to 'Your Places'/'Maps'.
Good to know: If you want to tour the South Coast on your own, you'll be glad to know that this part of Iceland is quite easy to visit by regular car. Furthermore, the main South Coast attractions are usually well accessible in any season (although you should read this if you are planning on driving in Iceland in winter!). If you are driving, you may want to check this 4-day Iceland itinerary with tips on how to plan your visit to this part of Iceland.
Ideally, you plan at least two days for the highlights of the South Coast of Iceland. If you want to see and do everything on this list, you'll likely need at least 4-5 days. If you want to see the best of Iceland's South Coast in just one day, consider going with an organized tour and let them do all the driving while you enjoy the scenery.
TIP: If you want to visit the South Coast and Jokulsarlon Glacier Lagoon as a day trip from Reykjavik, you should know that it will be a very long drive (this is the most popular day tour). If visiting in winter, when the days are short and driving conditions unpredictable, you should really opt for a 2-day tour as one day will be much too short to enjoy it. For a self-drive winter trip, please see our Iceland winter itinerary.
Without further ado, here are the best places to see and best things to do on the South Coast of Iceland:
1. Seljalandsfoss
Seljalandsfoss waterfall is one of the first stops when touring the South Coast from Reykjavik. It's one of the most famous waterfalls in Iceland, best known for the fact that you can walk behind it. While the path is muddy and you will get wet (a bit), don't miss this experience. It's a short easy walk that only takes a few minutes, just be sure to wear good hiking shoes and a rain jacket to enjoy it!
Seljalandsfoss is an extremely popular South Coast attraction and all the tours stop here as well. So ideally, you visit here very early in the morning or late in the evening. On the other hand, most people move on quite quickly, so it's usually not overly busy.
Good to know: In winter, the path behind the waterfall is usually closed and you need stabilicers or crampons to even get closer to the falls. But if you are visiting Seljalandsfoss in a warmer season and the walk behind the falls is open, it's a must-do! Don't worry, it's just a short easy walk that will only take a few minutes. You may get wet, so make sure you are wearing a rain jacket!
Info: Seljalandsfoss waterfall can be visited at any time of the day, the whole year round. There is no fee to enter, but you have to pay for the car parking. There are bathroom facilities here and you can also get coffee and small snacks at the souvenir shop.
TIP: Just near Seljalandsfoss, there is another lesser-known waterfall, Gljúfrabúi, that's worth a visit as well. A short drive further, you can find yet another hidden gem – Nauthúsagil Waterfall. More info about these waterfalls further below – points #19 and #26.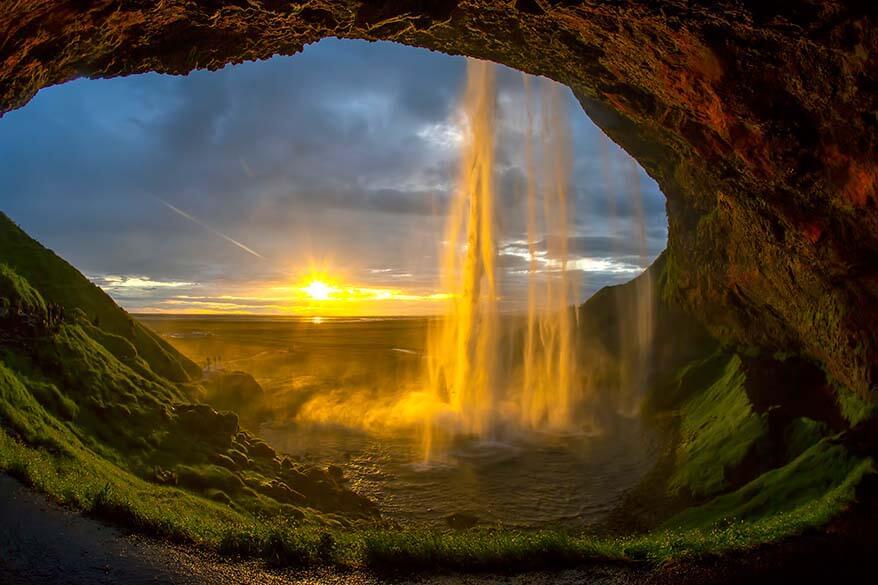 2. Skógafoss
Skógafoss waterfall is another must-see on Iceland's South Coast. This waterfall is very picturesque and is considered one of the most beautiful waterfalls of Iceland. Let's just say that if you'd ask someone to paint a waterfall, it would probably look like Skogafoss. It's truly picture-perfect. This is also one of the Game of the Thrones filming locations and also a backdrop for countless films and videos featuring Iceland.
With a drop of 60 meters (200 ft) Skogafoss is one of the tallest waterfalls in Iceland (Haifoss waterfall in the highlands is more than twice as high and there are a few others that are even higher). Either way, it's an impressive sight! And if you visit on a sunny day, you can often see a rainbow on the falls.
If you don't mind doing some steep stairs, take a staircase to the top of the waterfall. The views of the surroundings and the sight of the water tumbling down are well worth a short climb! At the top, you can also make a short hike for even more spectacular views. This is also where the (strenuous) hike Fimmvorduhals to Thorsmork in the highlands starts.
Info: There is no fee to visit the waterfall and parking is also free of charge. There is a campsite and a hotel here, as well as other facilities. The waterfall is just off the Ring Road and you can visit day and night and in all seasons.
TIP: Check out the nearby Skogar Museum – more info further below at #13.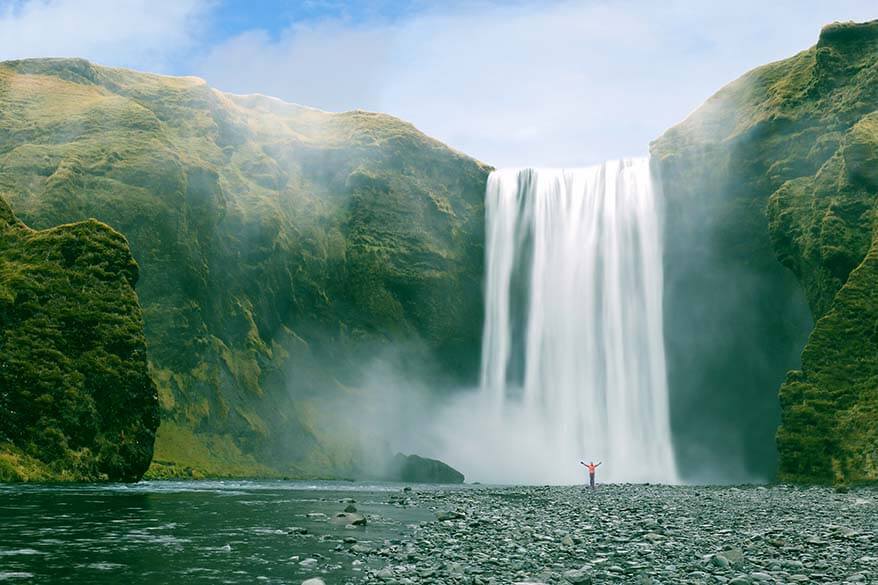 3. Jökulsárlón
Jokulsarlon Glacier Lagoon is probably the most unique place on Iceland's South Coast and one of my personal favorites. This glacial lake is filled with icebergs coming from the nearby glacier and the scenery here changes all the time. No matter how many times you've been here, Jokulsarlon surprises you time and again.
There are two ways to visit the glacier lagoon – on foot or by boat. The easiest way to admire the beautiful scenery here is by simply taking a walk along the eastern shore of the lagoon. You can see plenty of icebergs and often also seals swimming around them.
And if you want to get closer to the icebergs, you can also take a boat tour (May to mid-November only). You can choose between an amphibian boat tour (the cheapest and the shortest option) or a zodiac boat tour. If you are visiting in the summer (May – September), you may want to consider a kayaking tour between the icebergs instead. It's one of the most unique South Coast activities! No matter which boat tour you choose, you really should book it in advance!
Are Jokulsarlon boat tours worth it? The boats take you closer to the icebergs and the scenery around you is absolutely beautiful, so it is well worth it. If, however, you are visiting Iceland on a budget or don't have much time, you can also see some amazing scenery without going on a boat. It's not an absolute must.
Info: There is no fee to visit Jokulsarlon glacier lagoon itself, but boat tours aren't cheap. Facilities are limited here.
TIP: Since Jokulsarlon is one of the most popular places on the South Coast of Iceland, it's always very busy here during the day. For a more unique experience, stay at one of the hotels nearby, and come here late in the evening and/or early in the morning. You can also visit the nearby Fjallsarlon glacier lagoon that's much less known (see #20 below for more info).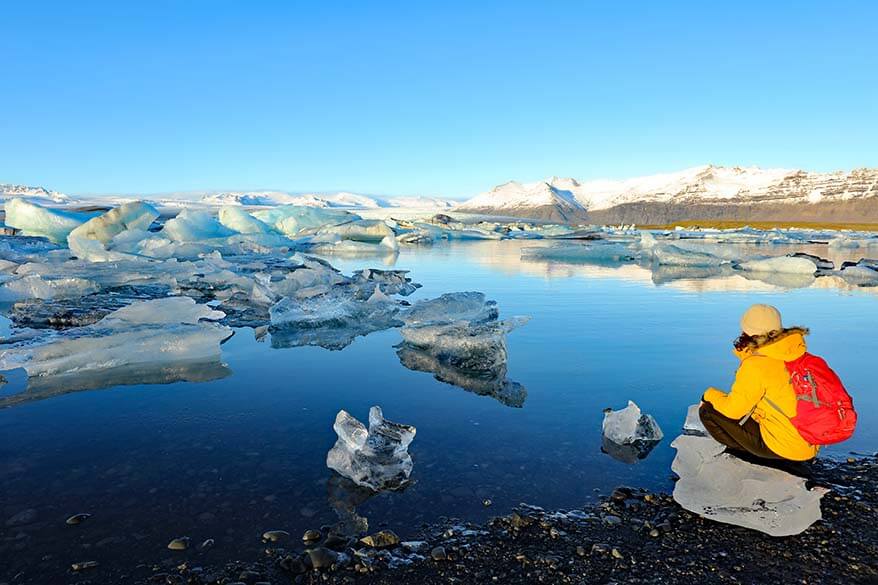 4. Diamond Beach
Jokulsarlon Beach or Diamond Beach, are in fact two beaches split by a bridge at the opposite side of the road from Jokulsarlon Glacier Lagoon. These names aren't really official names and many Icelanders never heard of the 'Diamond Beach', yet, all the tourists talk about it…. Diamond Beach probably got its name because of all the icebergs scattered all around on the black sand and sparkling in the sun like diamonds.
These two beaches are usually filled with icebergs that are coming from the Jokulsarlon Glacier Lagoon. In general, there are more and bigger icebergs here in winter than in summer, but you really never know how it will look like before you get there. Also, one beach can have much bigger icebergs than another. It all depends on the weather, the temperatures, and even on the direction of the wind. I suggest that you take a look from the bridge where the biggest chunks of ice are and go to that side.
Good to know: The best time to visit Diamond Beach is at sunset during the winter months. That's when there's lots of ice here and it's indeed sparkling like diamonds. But even in summer, it's well worth a trip! This is also a great place to see the Northern Lights in Iceland (+-September to April).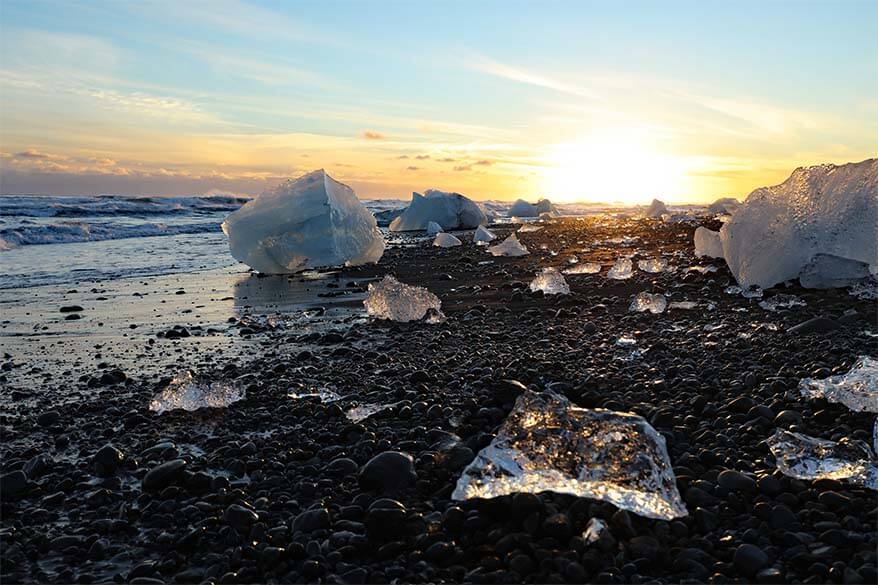 5. Reynisfjara – Vík Black Sand Beach
The black sand beach Reynisfjara near Vik town is another must-see place when visiting Iceland's South Coast! Some people also refer to this beach as Vik Beach or Reynisdrangar – it's all the same place. Reynisfjara is the beach itself, whereas Reynisdrangar refers to the rock formations that you see in the sea here.
Also, when you see Vik mentioned in any itinerary, they usually simply mean visiting this beach. While there are also some other things to do in Vik town, Reynisfjara beach is actually the main attraction here.
Famous for its black sand and beautiful rock formations, Reynisfjara is also home to some very impressive basalt columns. Be sure to check out the Hálsanefshellir Cave!
Good to know: Often included in various lists of the most beautiful beaches in the world, Reynisfjara is in no way a typical beach. In fact, the waves and the currents here are so strong that it can be dangerous just to walk too close to the water. It happens quite often that people are swept off their feet by a wave that suddenly comes further inland, and there have been some fatal accidents here as well. So bear this in mind and be sure to keep a safe distance from the water at all times!
Info: There are bathroom facilities here and a cafe at the car parking area. A visit to the beach and the parking are free of charge, but there is a small fee for the use of public bathrooms. The last time we were there, bathrooms inside a cafe (for clients) were free of charge.
TIP: Also Reynisdrangar View from the other side of the mountain (at the beach right in front of Vik town) is a very nice photo stop in this area. This is the view you see in the featured image at the very top of this article. I indicated this viewpoint on our map as well. There's one more nice place to see nearby – Dyrhólaey. You can read about it further below (see #15).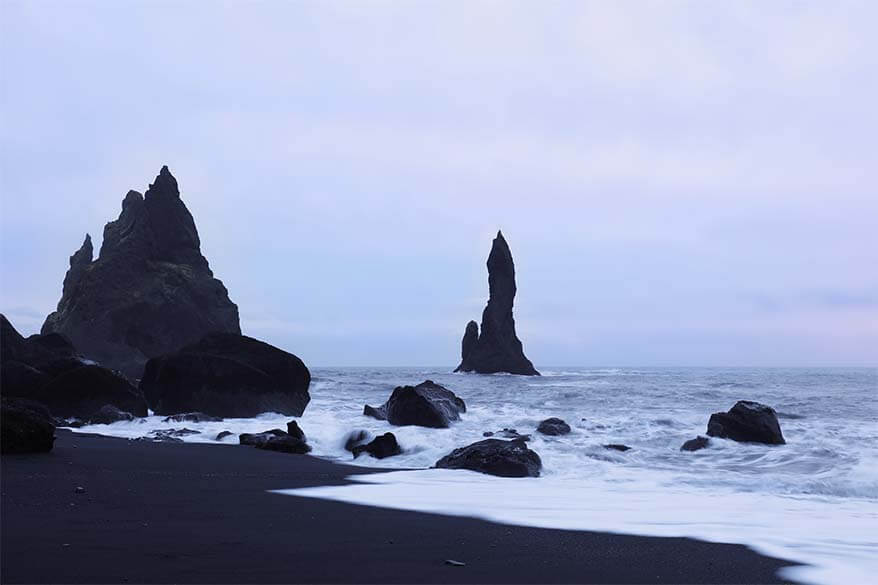 6. Skaftafell (Vatnajökull National Park)
Skaftafell is a nature reserve on the South Coast of Iceland. Now part of the bigger Vatnajökull National Park, it used to be called Skaftafell National Park in the past. If you are looking to do some hiking in southern Iceland, this is probably the best place for that.
There are quite a few hiking trails for all difficulty levels here, including a few shorter hikes that you can do even if you are just passing by and have an hour or two to spare. But there are also several longer hikes for those who want to get further off the beaten path and see more of the stunning scenery of South Iceland.
The easiest hike is that to the tongue of Skaftafellsjökull glacier, and takes about 1 hour in total. Keep in mind that you can't walk on the glacier. If you are interested in doing a glacier hike, there are several good places for that on the South Coast. More information about glacier hiking further below.
One of the most popular hikes is that to Svartifoss waterfall – see next point for more info. My personal favorite is the Sjónarnípa hike that passes Svartifoss waterfall and goes through some amazing scenery before opening up some amazing views of the glaciers, the coast, and the valley below. This hike is moderate and takes about 2-3 hours and it's absolutely worth it!
Info: Skaftafell has a visitor center where you can get all the information about available hikes and trail conditions. In principle, you can hike here the whole year, but be sure to check the weather and the trail information if traveling in winter. At the moment, there is a small day fee, which is 750ISK (about 6 USD) per car. There's also a campground here as well as a few places where you can get something to eat.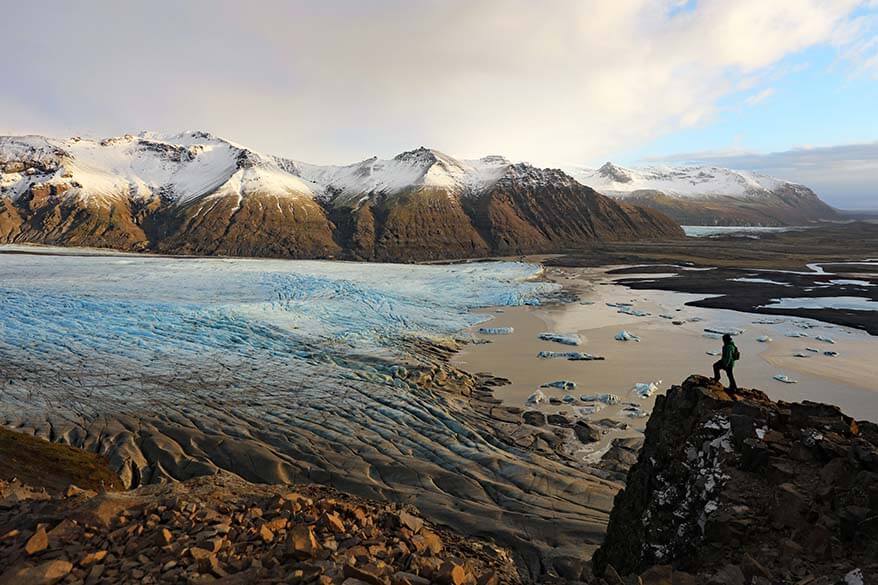 7. Svartifoss Waterfall
Svartifoss (aka the Black Waterfall) is also one of the highlights of Iceland's South Coast that is considered a must. It's located in the Skaftafell nature reserve (former Skaftafell National Park) and is the most popular place here.
The hike to Svartifoss isn't long (about 1.5 km – 1 mile one way), but it goes uphill. It's not a challenging climb and everyone including kids and the elderly should be able to do this. If you just walk to the waterfall and back, count about 1.5 hrs in total (+-45 minutes one way).
This is probably the most popular hike in Iceland, so it will be busy. If you want to avoid the crowds, visit very early in the morning or later in the evening.
TIP: Instead of going up and down the same way, you could opt for the longer circular hike Svartifoss – Sjónarsker – Sel. There is an old turf house at Sel which makes this hike a bit more special as well. This hike is about 5.5 km (3.4 miles) in total and will likely take you at least 2 hours.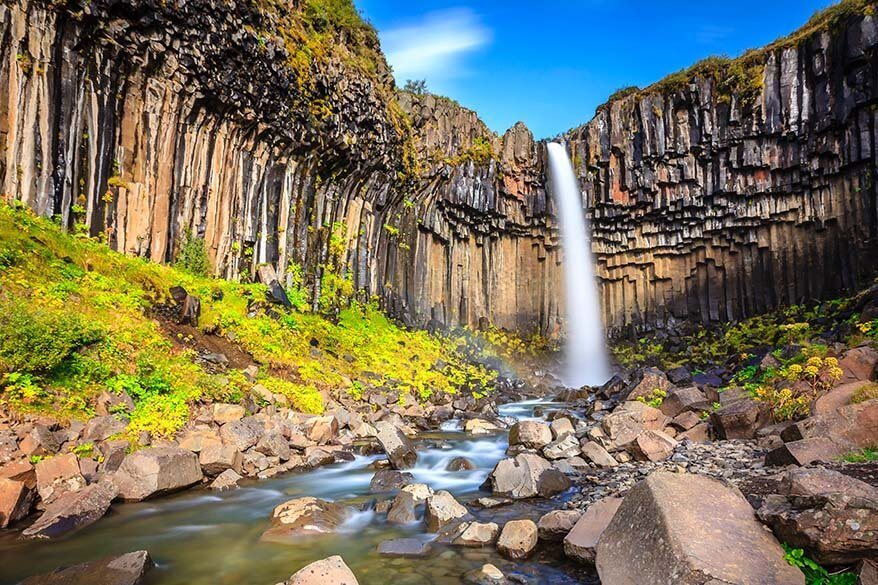 8. Fjaðrárgljúfur Canyon
Fjaðrárgljúfur Canyon is probably the most famous canyon of Iceland. When we first visited here some 15 years ago, even locals couldn't point us the way to get here. Nowadays, it's one of the most popular attractions of Iceland's south coast.
Fjadrargljufur is really suffering from its own popularity. At one point, some viewpoints and paths had to be closed due to the disrespectful behavior of tourists who just wouldn't stay on designated paths. Now there is a new viewing platform to give you a nice view and to prevent people from walking where it's not allowed. So please stay on the paths, be careful, and enjoy the amazing scenery!
Good to know: All the viewpoints and walking paths are at the top of the canyon. The best way to explore the area is by simply walking the path along the rim of the canyon. According to locals, it is possible to hike at the bottom of the canyon, but you'd probably have to start lower by the river and you'd have to walk in the water at some point. Not something I'd consider, even in summer… If you want to see the canyon from yet another viewpoint, walk to the bridge.
Info: There are two car parking areas, one of them accessible to regular cars (lower) and the other one for 4×4 only (higher). You can leave your car at one of these parking areas and take a walk along the canyon and back the same way. Unless you have someone drop you off at one parking and pick you up at another one, you'll have to do this hike twice anyway. However, most people don't even walk far, just visit the viewpoints close to the main car parking and move on.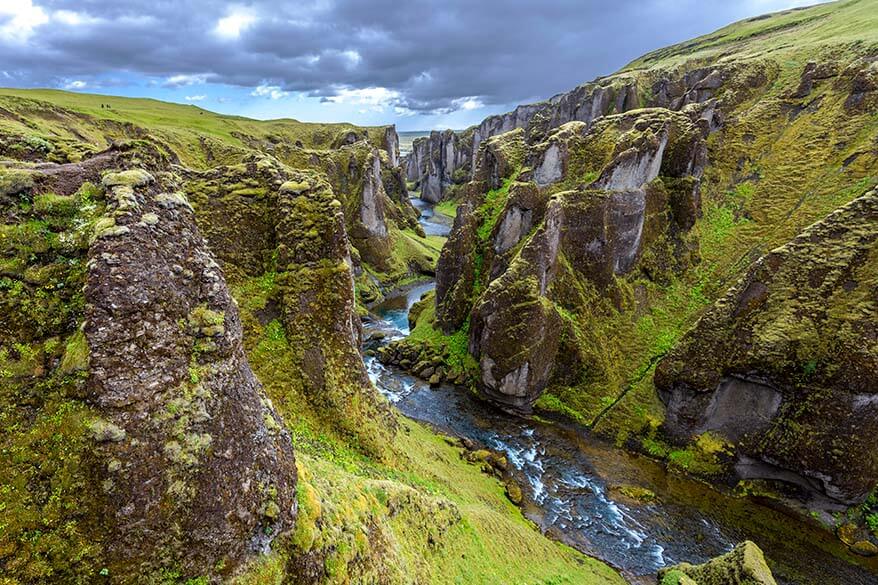 9. Heimaey Island (Westman Islands)
Heimaey Island (aka Vestmannaeyjar) is the only inhabited island of the Westman Islands, just off the southern coast of Iceland. It's a beautiful day trip destination in this part of the country. So if you have a day (or at least 5-6 hours) to spare, consider a short excursion to the Westman Islands.
Vestmannaeyjabær town was completely devastated by the lava flow from the Eldfell volcano in 1973. Today, the town is rebuilt, and you can learn all about its past in Eldheimar Museum. In town, you can also visit Sea Life Trust Beluga Whale Sanctuary, hike to Mount Eldfell, or take a boat tour around the island.
Heimaey Island is also home to one of the largest puffin colonies in Iceland. So if you are traveling in summer and want to see puffins, this is a great place to add to your itinerary!
Info: Heimaey Island can be reached by Vestmannaeyjar ferry from Landeyjahöfn. You can leave your car on the mainland and explore the island on foot or take this popular tour if you find a walk to the puffins too long. For more information on what to expect and how to get to the island, please see our detailed destination guide via the link below.
LEARN MORE: How to Visit Vestmannaeyjar – Heimaey Island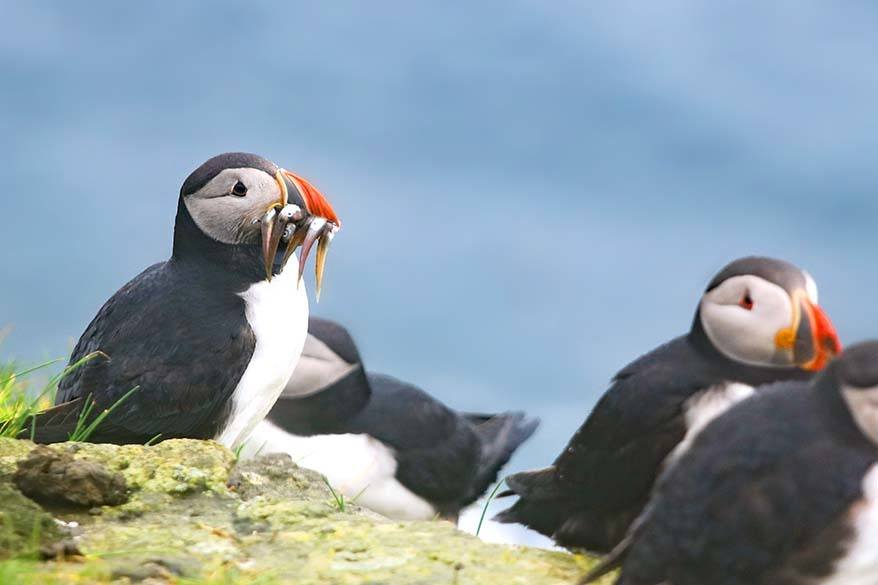 10. Glacier Hiking
Glacier hiking is one of the most popular things to do on the South Coast of Iceland. If people choose just one tour here, it's often a glacier hike. The reason for this is that glacier hiking isn't too strenuous and can also be done in all seasons.
There are several locations where you can go glacier hiking on the south coast. All the hikes go to one of the glacier tongues of the enormous Vatnajökull Glacier and they are all quite similar in terms of the scenery and prices. Since glaciers move and change, you never know exactly what kind of ice formations you'll get to see, so just go with an open mind and enjoy the scenery around you.
The most popular places to go glacier hiking in Iceland are Sólheimajökull Glacier (see also point #21 below) and Svínafellsjökull Glacier (at Skaftafell – see #6 as well). Here are some of the best glacier hiking tours at these locations:
Info: Glacier hiking is quite easy and pretty much everyone in regular physical condition can do it. The minimum age for most glacier hikes in Iceland is 8 years. We had people of over 70 in our group and they managed just fine. For more info, what to expect, what to wear, and where to go, please see our guide below.
LEARN MORE: Glacier Hiking in Iceland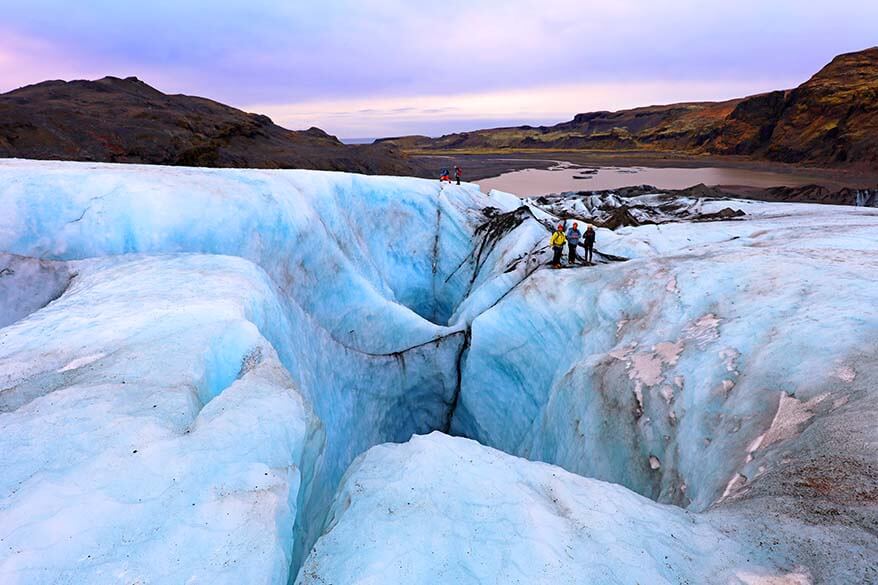 11. Ice Caves of Vatnajökull Glacier
Another highlight among Iceland's South Coast attractions are the natural ice caves inside Vatnajökull Glacier. If you ever wanted to walk inside a real glacier cave, this is your chance!
Please note that you cannot visit ice caves on your own. Most of them can only be reached by a super jeep and you'll have to go with a guided tour.
The most popular ice cave tours start near Jokulsarlon glacial lagoon or Skaftafell and run from the beginning of October to the end of March (some also in the beginning of April). Normally, the nicest ice caves of Vatnajokull are only accessible in winter. However, there is also one ice cave – Katla ice cave – that – if conditions allow – can be visited in every season. Below is an overview of some of the best natural ice cave tours in South Iceland: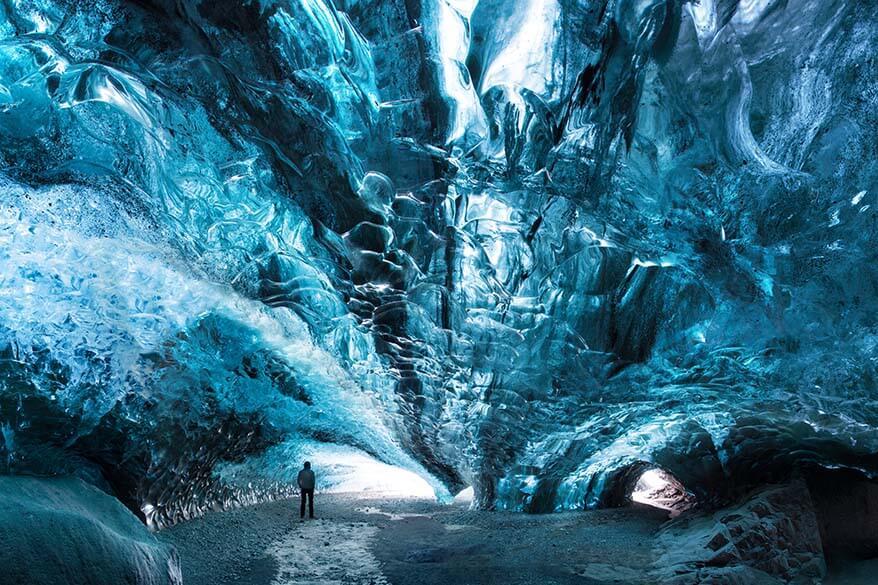 12. Icelandic Lava Show
One of the newest additions to the South Coast attractions is the Icelandic Lava Show in Vik. If you want to learn all about lava and actually see real molten lava in action (and maybe even poke it with a stick), don't miss this place!
This is a very special experience, unique to Iceland, and something you can't easily find anywhere else (unless you encounter an active volcano on your travels). It's indoors, accessible to everyone, and is a great place to visit with your whole family at any time of the year.
Furthermore, it's open every day, doesn't take much time to visit (the show takes 45 minutes), and is conveniently located in Vik where everyone visiting the South Coast passes anyway. So it's very easy to include the lava show in any South Coast itinerary.
Info: The center is open daily, from 11 AM and the last show is at 8 PM. If you want to be sure to visit, it's best to book your tickets in advance.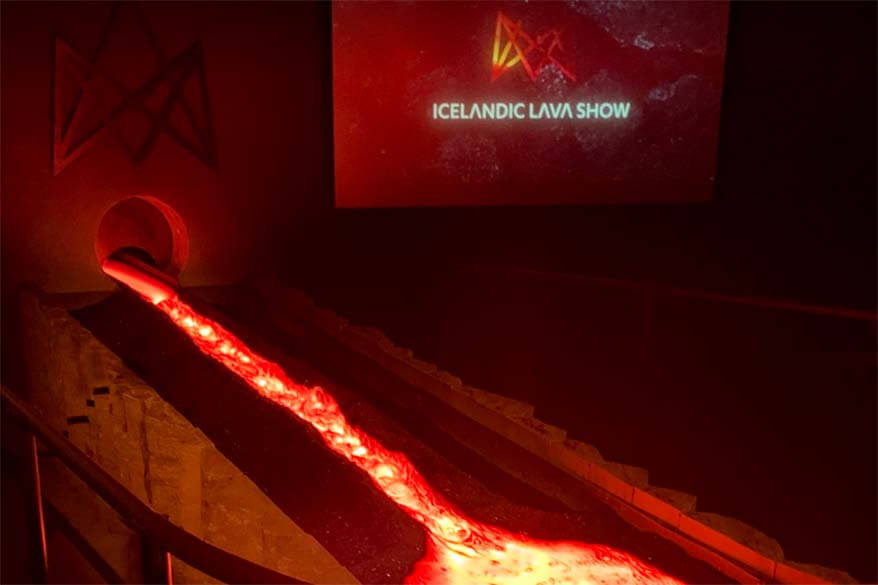 13. Skogar Museum
Skogar Museum is located less than 2km from Skogafoss waterfall. While the waterfall attracts big crowds, the museum is less known.
This site consists of 3 museums (folk museum, turf houses, and transport museum) and is a great place to get acquainted with the way people lived in Iceland in the past. My personal favorite part is the open-air museum where you can see typical Icelandic architecture and cute turf houses. In fact, this is the best place to see turf houses on the South Coast of Iceland. Don't miss it!
Info: Skogar Museum is open daily except December 24. In June, July, and August, it's open between 10 AM and 6 PM. From September to May – from 11 AM to 4 PM. For more info, please check their website.
TIP: There is a beautiful little-known waterfall near the museum – Kvernufoss. So if you are looking for even more waterfalls to visit in southern Iceland, you may want to check this one out. More info below.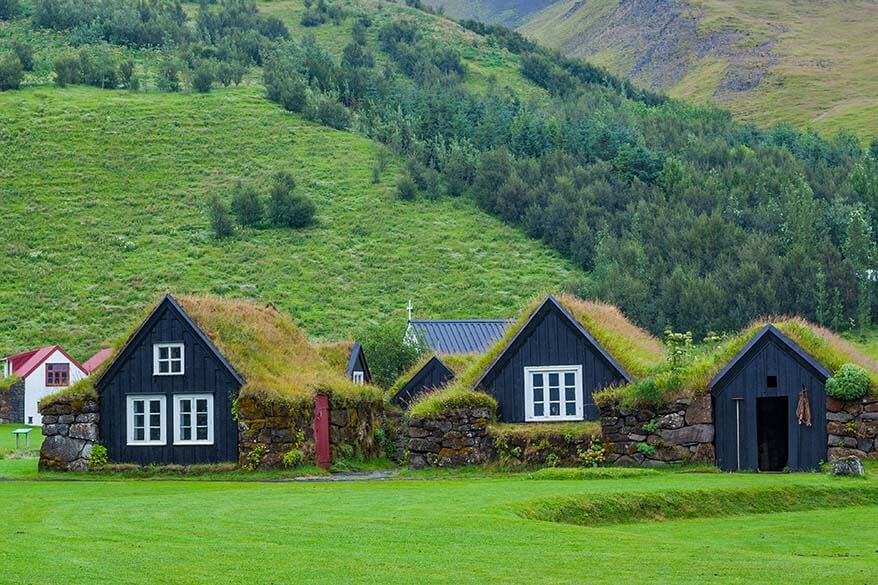 14. Kvernufoss Waterfall
Just a short walk from the parking at the Skogar Museum, you can find another hidden gem of the South Coast of Iceland, Kvernufoss Waterfall. Not many people know about this waterfall and because you need to take a bit of a walk in order to see it, it's usually very quiet here.
Kvernufoss also has a path where you can walk behind the waterfall, just as in Seljalandsfoss (minus the crowds)! Well worth it if you can spare some time.
Info: From the car parking, walk behind the museum and follow the fence until you get to the stairs over the fence. From there on, just follow the path. You'll likely need at least 30-45 minutes for a visit here.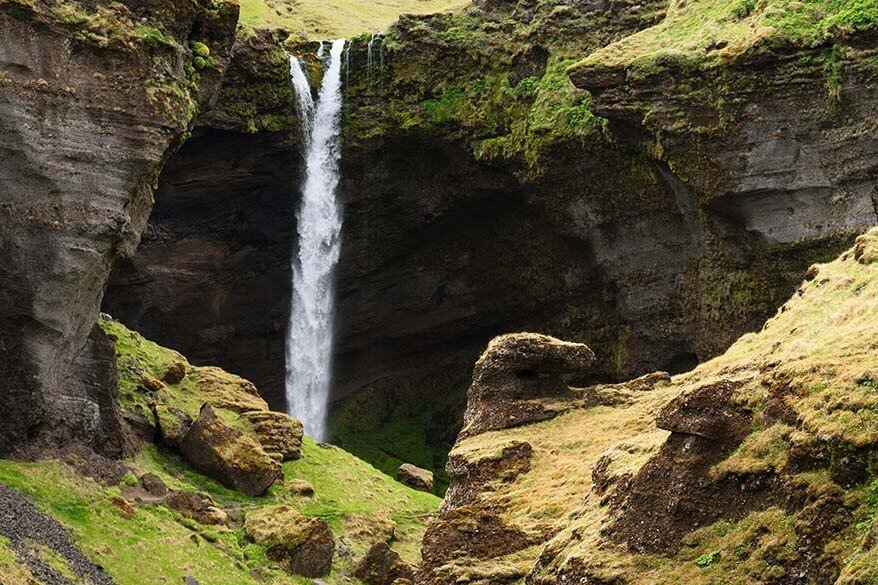 15. Dyrhólaey & Kirkjufjara
Dyrhólaey is a small nature reserve just near Vik and close to the famous Reynisfjara beach. It's a very popular stop along the south coast.
One of the main sights is the stunning coastline with a large volcanic rock with a big arch in the ocean. You can easily see it from Dyrhólaey Viewpoint. Dyrhólaey Lighthouse is also nice to see, but I wouldn't go out of the way for it. If you are lucky, you might be able to spot some puffins here in summer.
TIP: If you have some extra time, you could walk down to Kirkjufjara beach from here. It's a beautiful downhill hike, but if you leave you car on top, you'll have to get back up again, so keep that in mind. Or you can ask a designated driver in your group to pick you up at the bottom, which is by far the best way to do this.
Info: Dyrhólaey is a very nice photo stop and you don't need much time here (unless you go hiking). It's beautiful at sunset. Expect it to be very windy!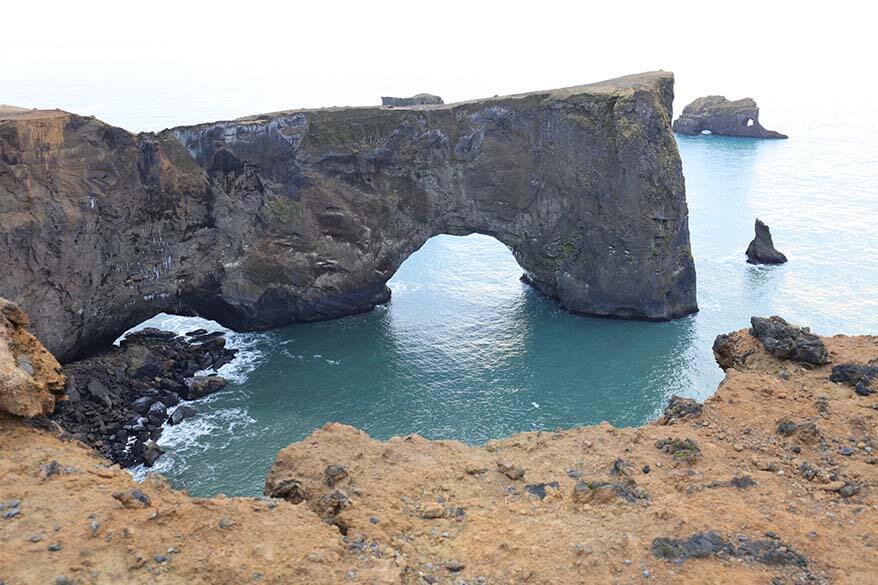 16. Stokksnes
Stokksnes is a small peninsula on the southeastern part of Iceland's coast. This is the most eastern point of all the south coast attractions mentioned in this article. It's about 1-hour extra drive eastwards from Jokulsarlon glacier lagoon. Most people touring the south coast don't get this far.
The main reason to come here is the stunning coastal scenery with Vestrahorn mountain as a backdrop. This is a very popular place for photographers and when the weather conditions are favorable, indeed, one of the most picturesque places you'll see in the region. Because it's further away from all the main tourist places, it's less visited than most other scenic locations in south Iceland.
There's also a model Viking village, but everyone comes here for the scenery.
Info: This place is located on private land and there is a fee to enter. At the moment of writing, it's about 900 ISK (7 USD) per person. There is also a small cafe at the car park.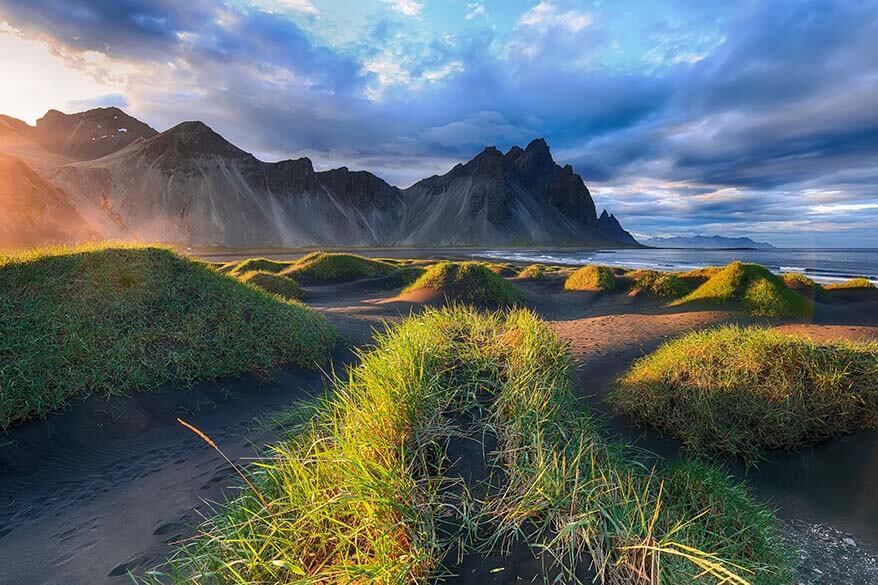 17. Ingólfshöfði Cape (Puffins)
Ingolfshofdi Cape is one of the hidden gems of Iceland's South Coast. Because it's only accessible with a tour, not many people know about it or visit this place. The scenery here is absolutely unique and this is also one of the best places to see puffins in southern Iceland.
You can only visit Ingolfshofdi Cape with this tour and take my word for it – it will be one of the most memorable things you did in Iceland! An open tractor-pulled cart takes you to the island of Ingólfshöfði where you walk over the most surreal black sand landscape and visit bird cliffs that are home to a big colony of puffins.
We did this tour many years ago on our very first visit to Iceland. And even after many other trips to various parts of Iceland and many incredible places and experiences, it remains one of the most special, most unique places we visited in Iceland.
So if you are planning a trip to Iceland's South Coast in summer, want to see puffins, and are looking for something unique to do, you may want to include Ingolfshofdi in your itinerary.
Info: The tour only runs between the end of May and mid-August (when puffins are around) and only a few days a week. So you have to book this tour in advance if you want to visit here. Wear good hiking boots, layers, and a wind- and waterproof jacket. Even in summer, you may need gloves, a buff, and a warm hat because there is usually a lot of wind.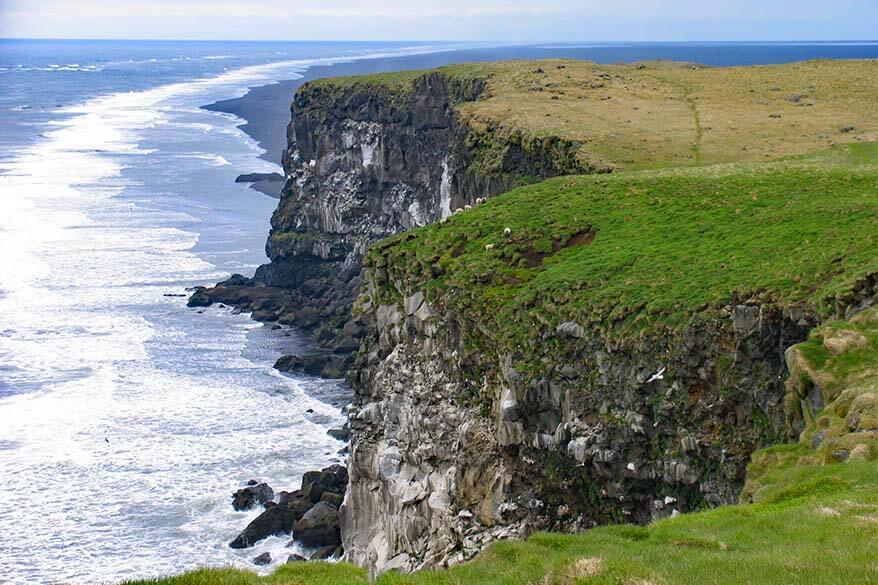 18. Hofskirkja
Hofskirkja is a small turf church in South-East Iceland, between Skaftafell and Jokulsarlon Glacier Lagoon. The church was originally built at the end of the 19th century and is the last turf church built in Iceland. It has been restored in the '50s and is one of the few remaining turf churches in the country (our other favorite is Grafarkirkja in Trollaskagi Peninsula in North Iceland).
The church is still functional, although I have never seen it open. Around it is a fenced area with a very interesting graveyard.
Info: This is just a quick photo stop, so you only need a few minutes for a visit here. Still, it's well worth a short detour when passing by. For years, Hofskirkja has been one of the must-do stops along the South Coast of Iceland!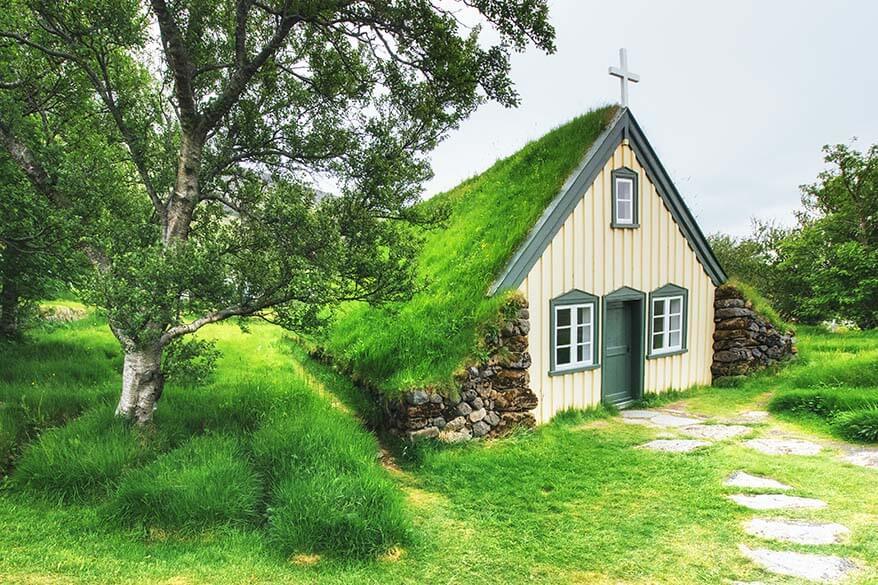 19. Fjallsárlón Glacier Lagoon
Fjallsarlon glacier lagoon is located just a short drive from the famous Jokulsarlon glacier lagoon but is much less known or visited. The scenery here is very impressive as well, but it's not nearly as busy as its famous neighbor. Fjallsarlon remains one of Iceland's secret gems of the south coast.
If you are visiting here in summer, you can opt for a boat ride between the icebergs. If you want to avoid the crowds at Jokulsarlon, this is a great way to explore this unique glacial scenery and get close to the ice. Because there's just one company operating boat tours here, it's incomparably quieter than at Jokulsarlon (and this zodiac boat tour is also longer and cheaper than the comparable tour at Jokulsaron).
Info: Boat tours on Fjallsarlon run daily between May and the end of October and take about 1.5 hours. You have to book in advance!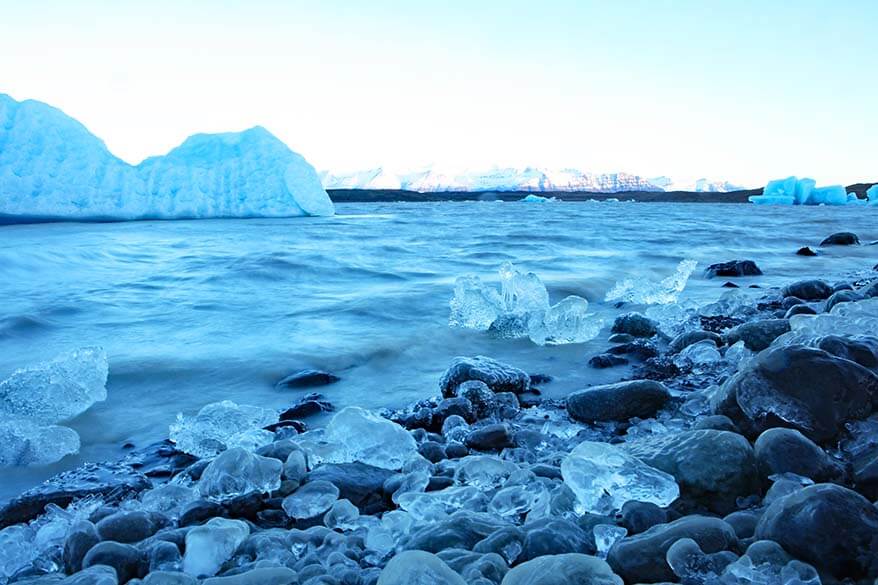 20. Eldhraun Lava Fields
There are lots of lava fields all over Iceland, but if you want to see a really nice one in southern Iceland, the Eldhraun lava field is probably one of the best places to be.
The lava here comes from a volcanic eruption from the end of the 18th century. It's covered with a beautiful green carpet of moss.
Located near the Ring Road between Vik and Kirkjubaejarklaustur, this is just a quick photo stop that doesn't require much time. There are several pull-offs where you can easily see this endless lava field.
Info: The vegetation here is fragile and there are also sharp rocks, cracks, etc. so do not walk in the lava field. At some places, however, there are visible paths and so if you absolutely want to take a walk, be sure to follow those paths.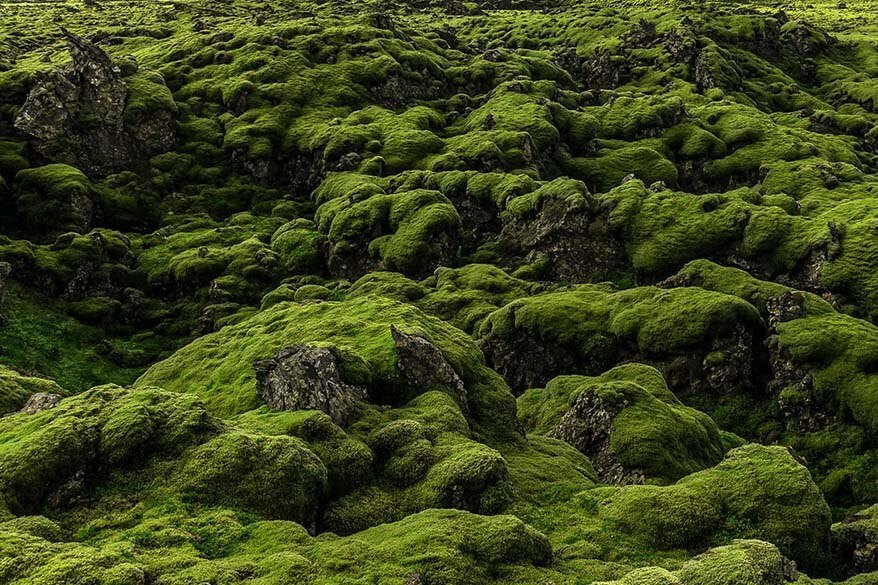 21. Sólheimajökull Glacier
If you want to get closer to one of the tongues of the Vatnajökull glacier, Solheimajokull is one of the best places to do that. Just a bit off the Ring Road, there is a car parking area and an easy path guiding you to the base of the glacier (about 15 minutes walk).
This is a popular place to go hiking on a glacier, but you cannot walk on the glacier on your own, only with a guide – see below. But even if you are not going on a tour, it's well worth seeing from close by. This is the place where we did a glacier hike during one of our trips to Iceland.
TIP: If you want to go hiking on a glacier, this popular tour starts at this location. If you are feeling a bit more adventurous, you can also opt for a glacier hike and ice climbing tour – see here. You have to book in advance!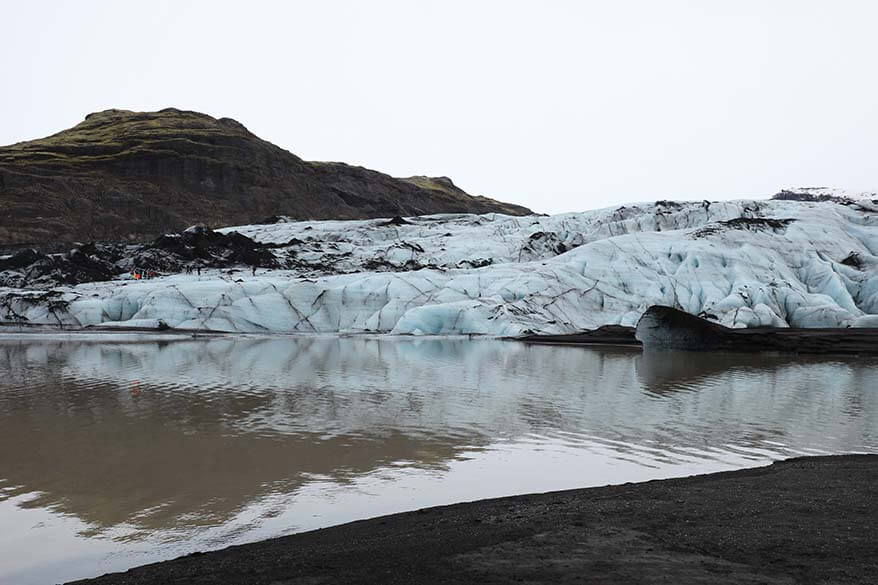 22. Svínafellsjökull Glacier
Svínafellsjökull is another glacier tongue of the Vatnajokull glacier. Located just near Skaftafell, it can be reached by a short bumpy road, just 2.5 km off the Ring Road. From the car parking, it's just a very short walk to the viewpoint where you can see the glacier.
If you are not planning to go hiking on ice and just want to see a glacier from close by, this is probably one of the best places where you can do it quite easily and without wasting much time.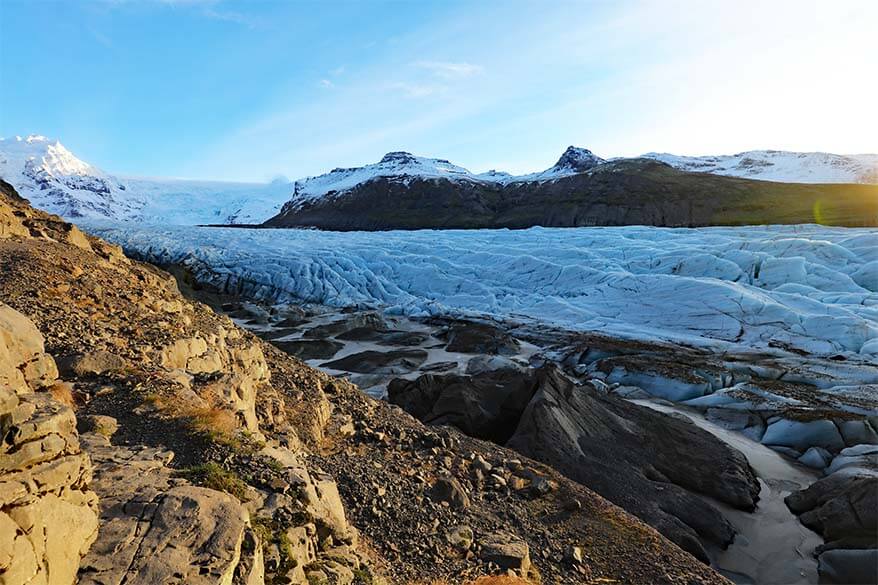 23. Gljúfrabúi Waterfall
Gljúfrabúi waterfall is located just 5 minutes walk from the famous Seljanadsfoss (see #1 above). But because it's somewhat hidden inside the gorge and isn't visible until you get to it, most of the tourists visiting Seljalandsfoss don't even know about it.
In the past, you could walk up closer to the waterfall, but the last time I visited, that path was closed. It is still possible to reach the waterfall by walking inside the gorge, but – depending on how high the water level is – your feet might get wet if you do this. Also, if you get too close to the falls, you're likely to get wet too. So ideally you wear very good waterproof hiking boots (rain boots would be ideal here) and a rain jacket if you decide to walk inside the gorge.
Info: It takes just a few minutes to visit Gljúfrabúi. Follow the path to the left from Seljalandsfoss and you'll see informational panels and an entrance to the narrow gorge on your right side. You don't have to go deep inside the gorge in order to see the waterfall – you can just peek inside. The picture below was taken from the entrance to the gorge.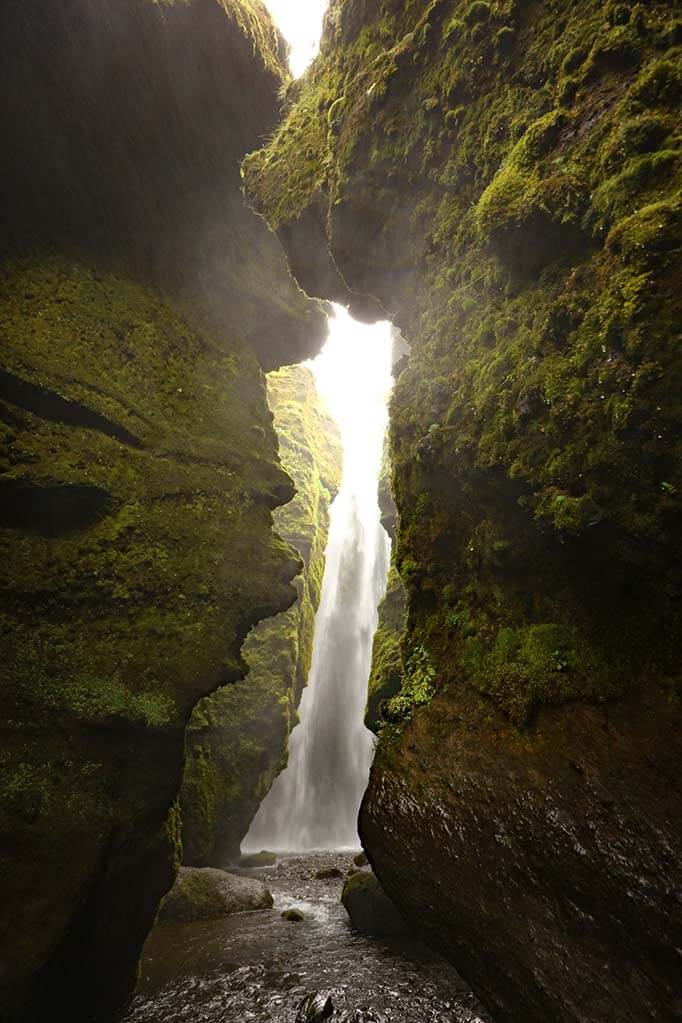 24. Sólheimasandur Plane Wreck
If you are looking to visit one of the most Instagrammable locations of Iceland South Coast, you may want to check out the abandoned DC plane wreck on the black beach Sólheimasandur. This US Navy airplane crashed here in 1973 (everyone survived) and has been laying on the beach ever since.
The scenery here is very special and the airplane wreck makes for a perfect prop for some dramatic and moody pictures. To tell you the truth, I don't really get the hype, but many people find it worthwhile to hike for over 2 hours in order to see it. The good news is that since recently, there are also easier ways to get to this old airplane – see info below.
Info: The plane wreck is about a 3.8 km (2.4 miles) walk from the parking (so about 7.5 km (5 miles) in total). You cannot drive to the airplane wreck and have to leave your car at a new car parking next to Ring Road (we indicated it on our map). The hike isn't hard, but it's often very windy and cold here, so do not underestimate it. It's not the best idea to hike here in winter, unless with someone who knows the area very well.
TIP: If you want to see this famous plane wreck the easy way, you can also get there and back with a shuttle from the car parking. That way, the whole tour only takes less than an hour and you don't have to walk far in the wind and the cold. Shuttles operate every day between 10 AM and 5 PM, every 35 minutes. If you don't book in advance, you might also be able to catch it on the spot (if it's not too busy). In that case, be sure to have a credit card as they don't take cash (see also our guide to costs and money matters in Iceland for more info)
Another alternative is to go on an ATV tour that starts on the other side of the road, at Mýrdalsjökull Base Camp. It's a 2-hour tour that not only brings you to the DC plane crash but is also a fun way to explore more of the area. You can also book this day tour from Reykjavik that – together with the main highlights of the South Coast – also includes this ATV tour.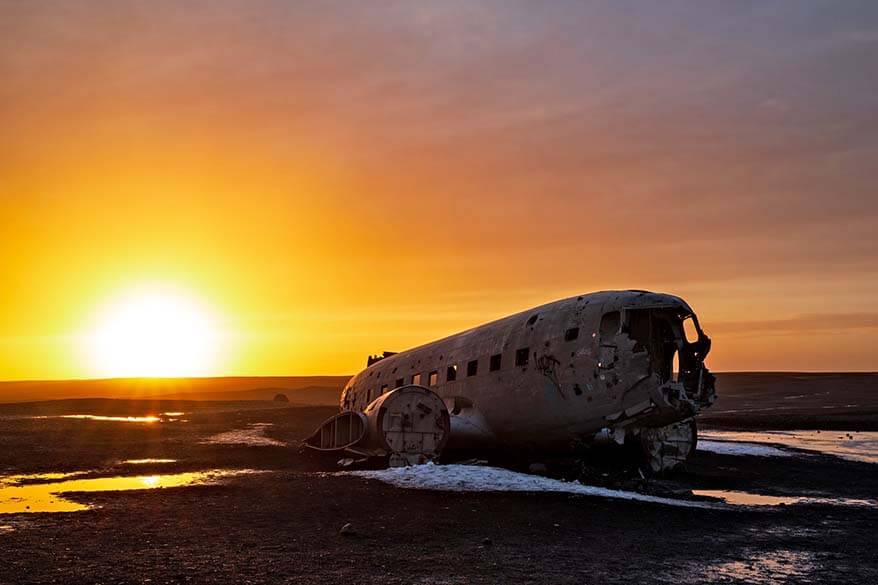 25. Hjörleifshöfði Cave
If you are looking for more lesser-known places to see on the South Coast of Iceland, you may want to check out Hjörleifshöfði Cave. It's a very special cave at the beach and once you are inside it, you have a nice 'framed' view of the ocean.
Some people find this place not worth it, while others say it's one of the nicest secret spots of the south coast and away from the crowds. You decide.
Info: Hjörleifshöfði Cave can be reached by car following a gravel 'road', about 2.5 km from the Ring Road. It's not a difficult drive in summer, but probably not the best idea to drive here in the snow.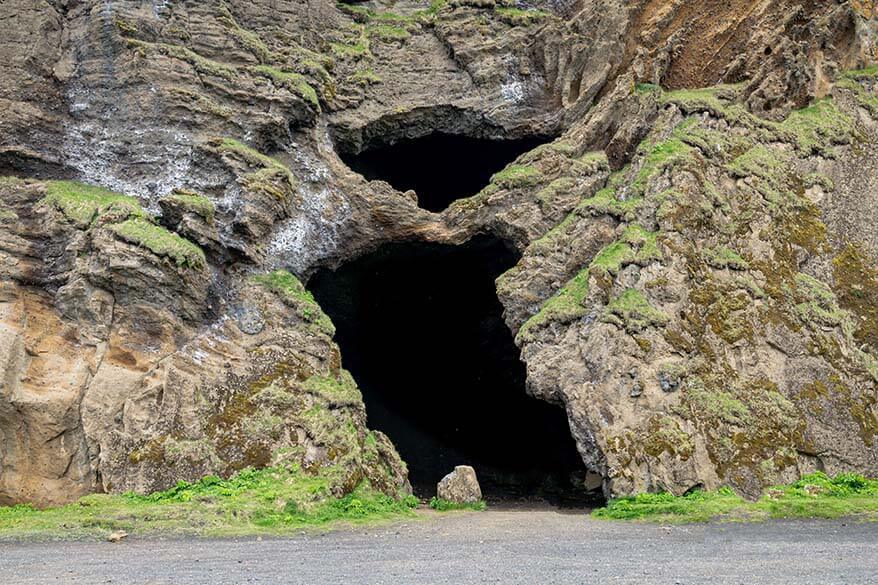 26. LAVACentre
LAVACentre in Hvolsvöllur is another recently opened tourist attraction on Iceland's south coast. This new state-of-the-art lava center is a great place to learn more about Iceland's volcanic history and how earthquakes and volcanoes continue to shape this unique country.
With special light effects and interactive displays, this is a great place for the whole family. They also show a film about volcanic eruptions and their impact on the environment. You can opt for the cinema ticket only, but we recommend the full experience. Don't miss their observation deck!
While still quite new, LAVA Centre is quickly gaining in popularity and many consider it a must-stop when touring Iceland's south coast. If you visit, it's probably best to come here at the beginning of your trip, so that you learn more about the origins of the scenery that you'll see when touring this area.
Info: LAVA Centre is located about halfway between Reykjavik and Vik, about 1.5 hours drive from Reyjavik and about 1 hour from Vik. Normally, it's open daily the whole year round. There is also a restaurant on-site and the food is very good. You can book your tickets in advance here.
27. Nauthúsagil Gorge & Waterfall
Nauthúsagil gorge (the Bull Shed Ravine) is a hidden gem not too far from the famous Seljalandsfoss waterfall. It may not look very special at first, but deep inside the gorge, you can find one of Iceland's most unique waterfalls, aka Nauthúsagil Waterfall.
The waterfall can only be reached by walking inside the gorge. It's not a long walk (10-15 minutes) and it's not difficult at all, however, you'll be walking up the stream over some slippery stones, so you risk getting your feet wet. There are also some chains for support and to help you stay dry at the most challenging parts. If you have good hiking boots, the walk is easier than it sounds and the waterfall is well worth the effort.
If you have more time, you can also climb the hill above the gorge for some nice views of the surroundings.
Info: Nauthúsagil gorge is located along road F249 that goes to Thorsmork Valley. It's just 10 km from the Ring Road and the gravel road up to here is in good condition. However, since it's a gravel 'F' road, in principle, you need a 4×4 vehicle that's allowed to drive on the F roads to drive here. Because of this, this waterfall remains one of the hidden gems so close to some of the most popular South Coast attractions.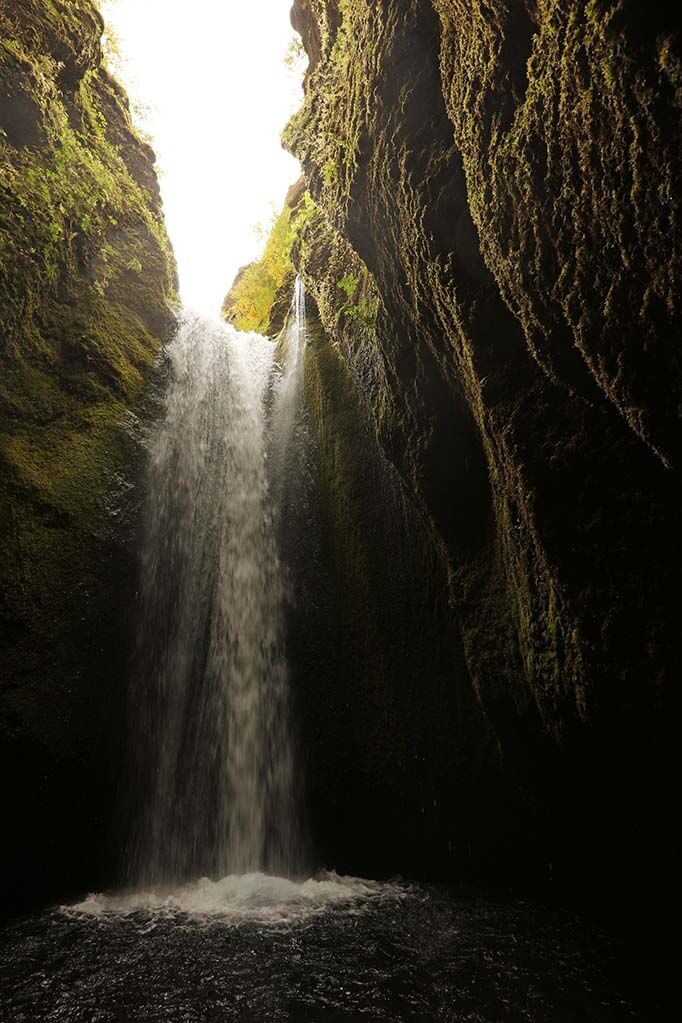 28. Horseback Riding
You'll have plenty of opportunities to see Icelandic horses when driving around Iceland and there are also many places where you can go horseback riding. Horse riding is so popular that there are many places where you can do this all across the country.
On the south coast, check out Solhestar horse riding tours. This place is a about 45 minutes drive from Reykjavik and their tours also include pick-up from the city, or you can also drive there yourself.
Alternatively, here you can find an overview of all available horse riding tours in south Iceland. There are tours for all levels, from family-friendly tours of just an hour to full-day tours, or even multi-day tours by horse.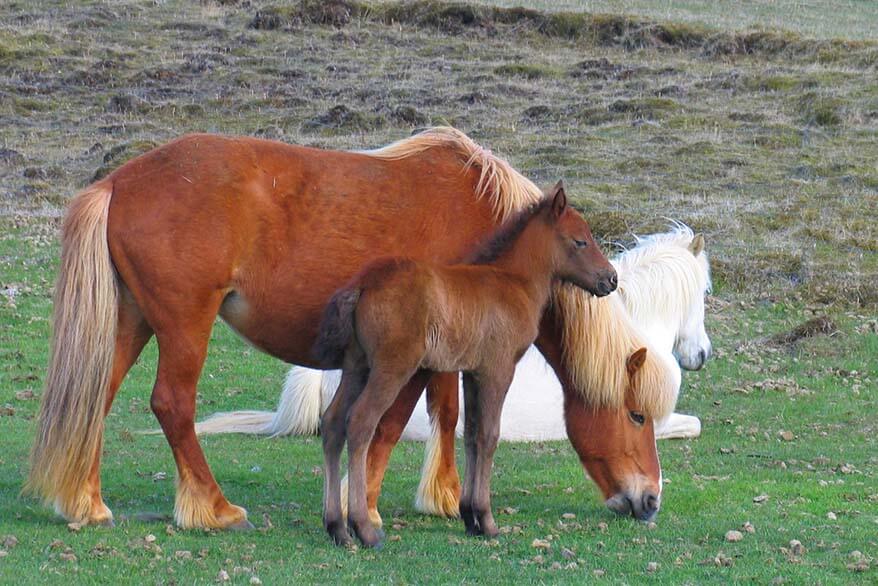 29. Hot Springs & Pools
Iceland's south coast is also famous for its geothermal pools and hot springs. There are countless locations in Iceland where you can experience this. Many hotels have hot tubs, every bigger town in Iceland has a swimming pool with saunas and hot tubs, and there are many bigger geothermal pools and also small natural hot springs all over the country.
There are no big touristy geothermal pools on the south coast of Iceland. (We are not counting the most popular of them all, the Blue Lagoon which is on Reykjanes Peninsula close to the airport, or the geothermal pools at the Golden Circle). However, there are lots of amazing local swimming pools in different towns all along the south coast. In addition, there are some nice natural hot springs if you are feeling more adventurous.
One of the nicest natural hot springs in south Iceland is Reykjadalur Hot Springs near Hveragerði town. Reykjadalur Thermal River is a natural hot spring in a warm river that you can reach by taking a hike from the Reykjadalur car parking area (indicated on our map). The hike is about 3.8 km (2.4 miles) and takes about 1 hour each way. You can visit here at any time of the day and in any season, however, you might need crampons to hike here in winter.
Take your swimwear and towels and also pack some snacks or a picnic lunch if planning to stay here longer. You can easily visit Reykjadalur on your own, but there is also a tour from Reykjavik if you don't have a car. Another nice option is to visit these hot springs on this horse-riding tour.
TIP: When choosing your South Coast accommodation, look for hotels that have hot tubs. Alternatively, choose towns that have good communal swimming pools (see this website for a complete overview). Local pools in Iceland offer amazing quality at a low price and since most of them are open late in the evening, it's a great way to relax at the end of the day after all the sightseeing.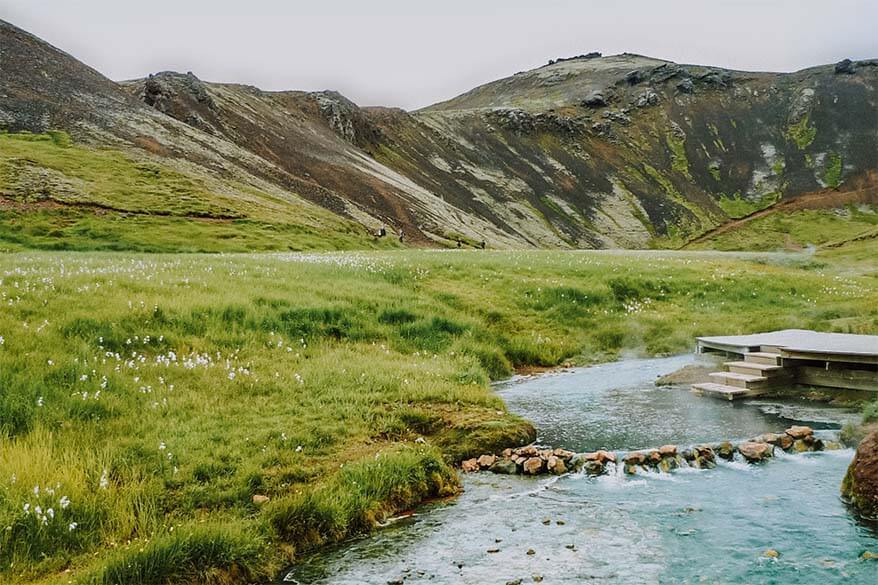 Iceland South Coast FAQ
How long does it take to drive the South Coast in Iceland?
The distance between Reykjavik and Jokulsarlon glacier Lagoon is about 380 km (236 miles). It takes 4.5 – 5 hours to drive the entire south coast without any stops. This driving time doesn't take into account potential delays due to bad weather in winter.
Is one day enough for the South Coast of Iceland?
With one day on the south coast, you can visit Seljalandsfoss and Skogafoss waterfalls, Vik black sand beach, and maybe even Jokulsarlon glacier lagoon and Fjadrargljufur Canyon. If you do this as a day trip from Reykjavik, it will take 14-16 hours. In that case, it's best to go with a tour. Definitely don't do this as a self-drive trip in winter!
How much time do you need for Iceland's South Coast?
While it's possible to see the main highlights in one day, you really should plan at least two days for Iceland's south coast. This will allow you to see the waterfalls, Vik beach, Jokulsarlon glacier lagoon, visit Skaftafell, and a few lesser-known places. In addition, you could do one extra activity such as glacier hiking, horse riding, or ice caving. If you want to explore the south coast deeper, plan 4-5 days here.
What's the best time to visit the South Coast of Iceland?
You can visit the South Coast of Iceland the whole year round and every season offers something unique. In summer, the days are long and the roads are good so you can see a lot in a short time. It's a good time for hiking, horseback riding, and seeing puffins. In winter, you can visit natural ice caves, see (partially) frozen waterfalls and bigger icebergs on Diamond Beach. If you stay at least one night on the south coast, you could even be lucky to see the Northern Lights.
Which coast is better: North or South Iceland?
Iceland's South Coast is better known and much more visited than the North Coast. This is mainly because it is closer to Reykjavik and better accessible the whole year. Furthermore, there is a lot to see and do without having to cover huge distances. However, you can't really compare these areas in terms of natural beauty. Both – South and North Iceland – have a lot to offer and so if you can, definitely visit both. North Coast is generally much quieter, especially if you get a bit off the beaten path.
Planning a trip to Iceland and not sure where to start? Check out these itineraries:
More destination guides all over Iceland:
More tips for your trip to Iceland:
READ ALSO: Iceland Travel Tips
If you found this post useful, don't forget to bookmark it and share it with your friends. Are you on Pinterest? Pin these images!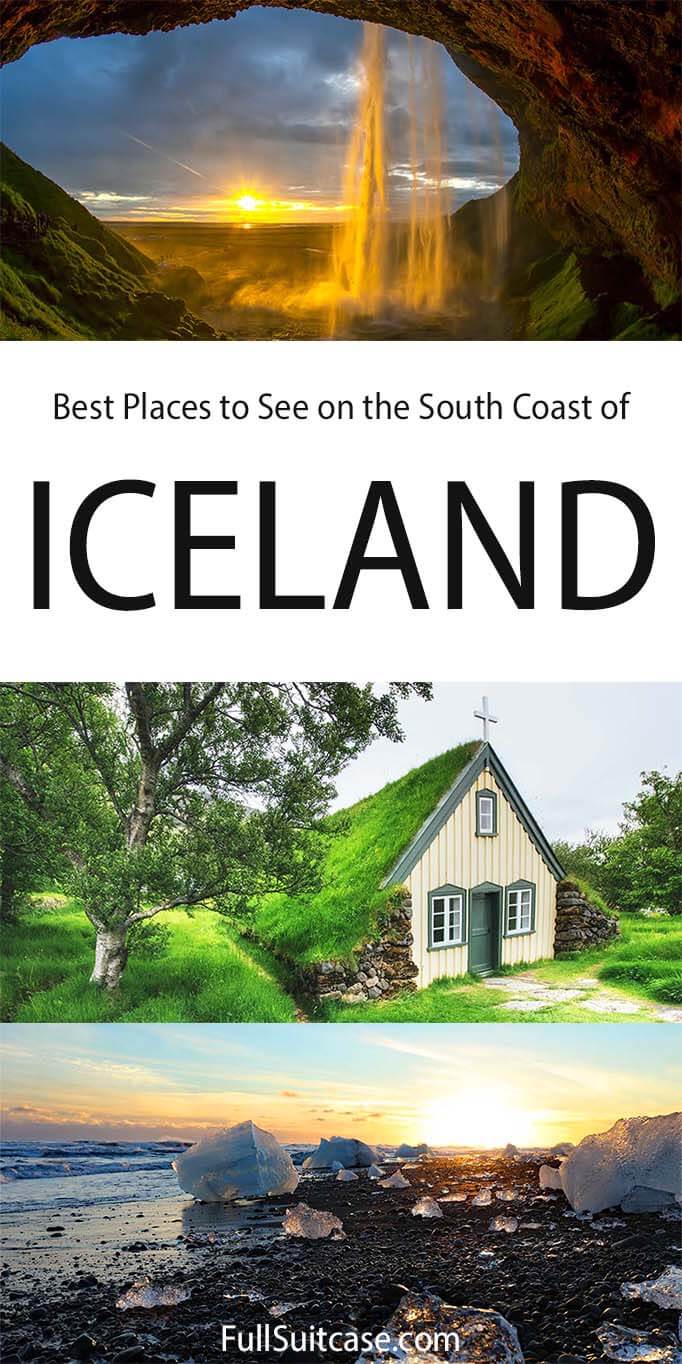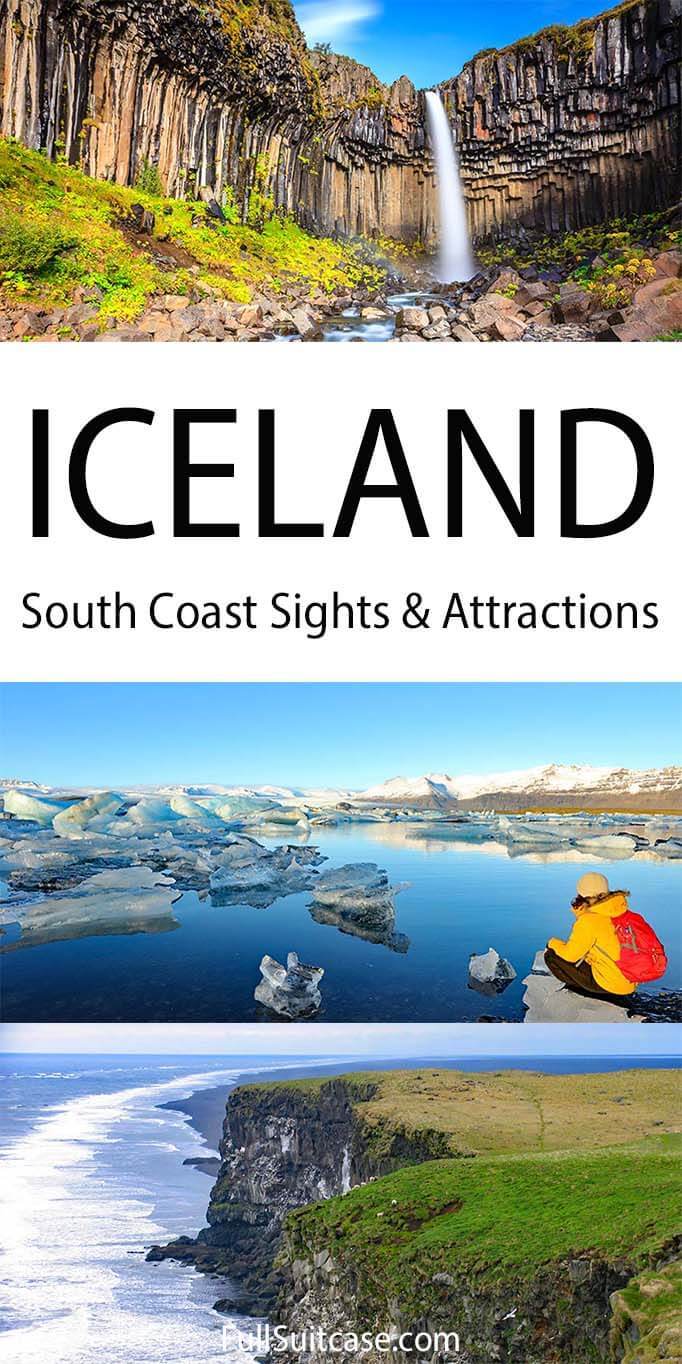 Images: personal collection and Depositphotos.com