Are you thinking of visiting Snæfellsnes Peninsula in Iceland and looking for the most complete guide to Snaefellsnes? This article is for you!
In this blog post, you can find a list of the most interesting places to visit and the best things to do in Snaefellsnes (so also in Snæfellsjökull National Park, which takes a big part of the Peninsula).
We also include a map and a sample one day itinerary that covers all the main attractions of Snaefellsnes that you can easily do on a self-drive tour.
If you don't feel like driving or if you are visiting in winter, you can also just take a Snaefellsnes Peninsula tour from Reykjavik. We share the best day tour suggestions in this post as well.
In addition, you can also find practical information about driving on Snæfellsnes, tips for a winter visit, best hotels, and also a short video of our day in Snaefellsnes, Iceland. Find out!
Complete guide to visiting Snaefellsnes Peninsula – OVERVIEW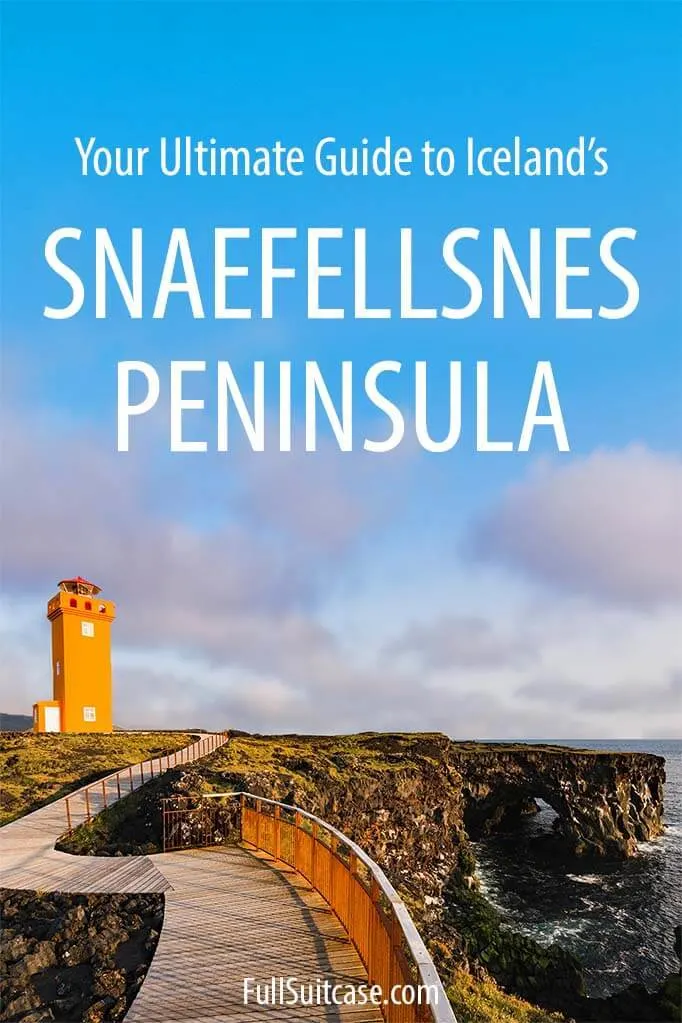 Is Snaefellsnes worth it?
With so many amazing places to see and things to do in Iceland, it's quite impossible to visit everything. So you may wonder if Snaefellsnes Peninsula is worth it?
Yes, Snaefellsnes Peninsula is definitely worth a visit. It's so diverse that one could argue that Snaefellsnes offers a selection of the best that Iceland has to offer in one place…
However, there are so many really nice places in Iceland that are worth a visit just as much or even more. So the more nuanced answer to whether Snaefellsnes Peninsula is worth a visit depends mostly on how much time you have in Iceland, in which season you are traveling, and whether it's your first trip to Iceland.
If you have just 3-4 days in Iceland and this is your first trip, then it's probably not worth trying to squeeze Snaefellsnes Peninsula into your itinerary. However, if you have at least one full day in addition to all the main landmarks around Reykjavik and South Iceland that we have covered in detail in our 4 day Iceland itinerary, then yes, it's absolutely worth visiting Snaefellsnes Peninsula as well. Also, because it's so close to the capital city.
And if you are driving the complete circle around Iceland, definitely stop here for at least a day as well!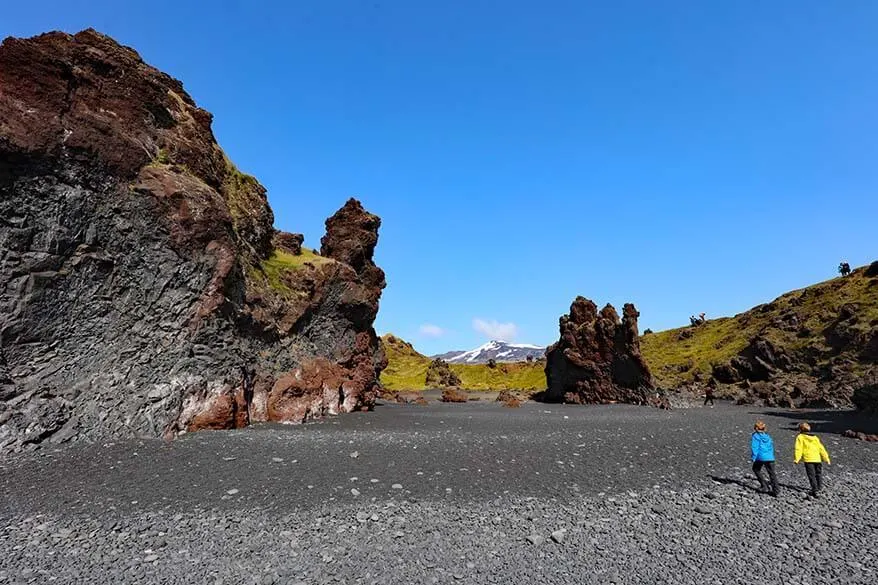 How much time do you need?
You can see the main highlights and get a good idea of what Snaefellsnes Peninsula is about in one day. If this is your first trip to Iceland and your vacation time is limited, then I'd say one day is enough for Snaefellsnes. You'll probably want to see so many other places in Iceland as well…
However, if you have more time and like to travel deeper, I would advise planning at least 2 or 3 days for Snaefellsnes Peninsula.
We spent one full day (two nights) on Snaefellsnes Peninsula. It was an amazing day and we saw a lot. But even with plenty of daylight and amazing weather, it was rushed. In the end, we ended up skipping quite a few places altogether. We also didn't have the time for any of the additional activities like whale watching, 'sushi boat', lava tunnel, and several others…
We loved Snaefellsnes so much that we were making plans to come back even before we left…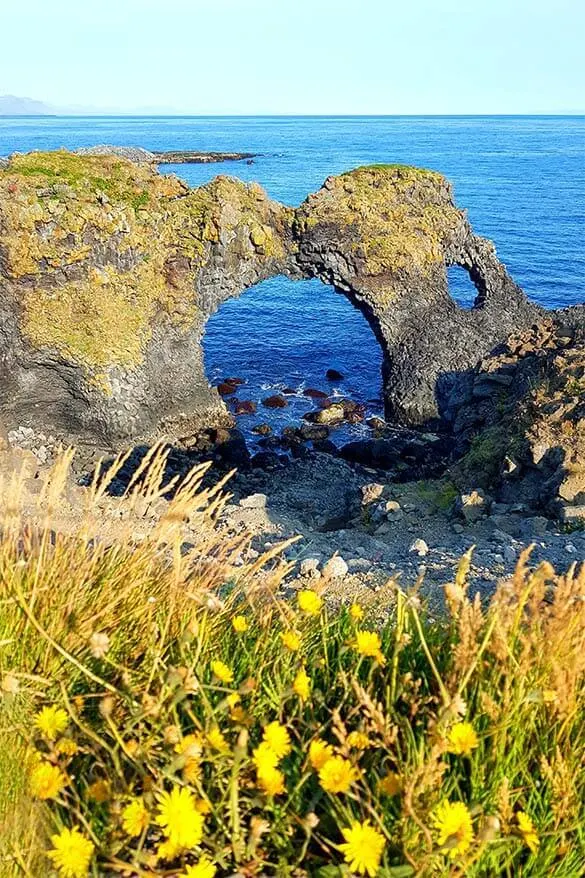 Best Things to Do in Snæfellsnes
There is so much to see and do in Snaefellsnes Peninsula that we decided to split this article in two and created a separate guide to the main attractions of the Snæfellsnes Peninsula.
Here is a short overview of the best places to see. You can find the complete guide and practical information for visiting them via the link below.
Some of the best things to do in Snæfellsnes Peninsula:
Kirkjufell Mountain and Kirkjufellsfoss Waterfall
Arnarstapi Cliffs
Dritvik Djúpalónssandur Beach
Skarðsvík Beach
Öndverðarnes Lighthouse
Svörtuloft Lighthouse
Rauðfeldsgjá Gorge
Saxholar Crater
Malarrif Lighthouse
Londrangar Viewpoint
Snæfellsjökull Glacier
Búðakirkja Chruch
Bjarnarfoss Waterfall
Stykkishólmur & Súgandisey Island Lighthouse
…
LEARN MORE: Best Things to Do in Snaefellsnes Peninsula
Below, you can also see a short video of some of the highlights of our visit to the Snaefellsnes Peninsula. It will give you an even better idea of what to expect!
Snaefellsnes Peninsula One Day Itinerary
There are many ways to visit Snaefellsnes Peninsula and the 1-day itinerary below is just a suggestion. It's based on the planning I made for our own trip.
It includes everything that we covered in a day plus a few additional suggestions for people who really want to get the most of their day tour in Snaefellsnes and have a bit more time than we did.
We traveled in August and had wonderful weather, dry roads, and plenty of daylight. But – we traveled with three kids, only started sightseeing at around 10.30 AM and were back in town for dinner at 7 PM. This might help you to get a better idea of what you can see and do in Snaefellsnes, depending on when you visit and how much time you have.
Take a look below!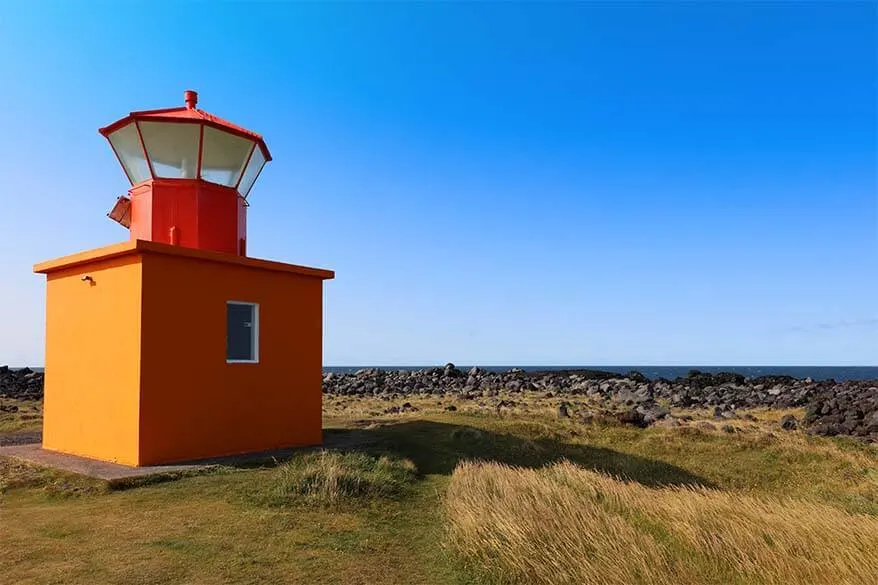 Here's how your 1-day self-drive tour in Snaefellsnes could look like:
Stykkishólmur – Súgandisey Island Lighthouse*
Bjarnarhöfn Shark Museum*
Berserkjahraun Lava Field*
Kirkjufell and Kirkjufellsfoss
Svödufoss
Ingjaldshólskirkja
Skarðsvík Beach
Öndverðarnes and Svörtuloft Lighthouses (+picnic lunch)
Saxholar Crater
Djúpalónssandur
Vatnshellir Cave (it was fully booked, so we couldn't visit)
Malariff Lighthouse (+playground) and Londrangar View Point
Arnarstapi Cliffs
Rauðfeldsgjá Gorge
Búðakirkja
Bjarnarfoss
We then took the gravel road #54 back to Grundarfjörður where we had dinner.
Ytri Tunga*
Kirkjufell at sunset
Back to accommodation in Grundarfjörður or Stykkisholmur.
*This itinerary is based on our experience, except for the places marked with an *. We didn't get to visit these places because we ran out of time and our kids were too tired, but you could easily add them to your Snaefellenes Peninsula itinerary if you have 10-11 hours of daylight.
Good to know: This sample one day itinerary starts from Stykkisholmur. However, it's a circular drive, so you can start anywhere. You can also choose to do it in the opposite direction.
TIP: We recommend exploring the Peninsula counterclockwise, starting at Kirkjufell, because most day tours arriving from Reykjavik do exactly the opposite. This is what we did, and I think that it helped us to avoid the crowds. It wasn't really busy anywhere except at Djúpalón Beach which is about halfway so most people seem to come here in the early afternoon, no matter in which direction they are touring the peninsula.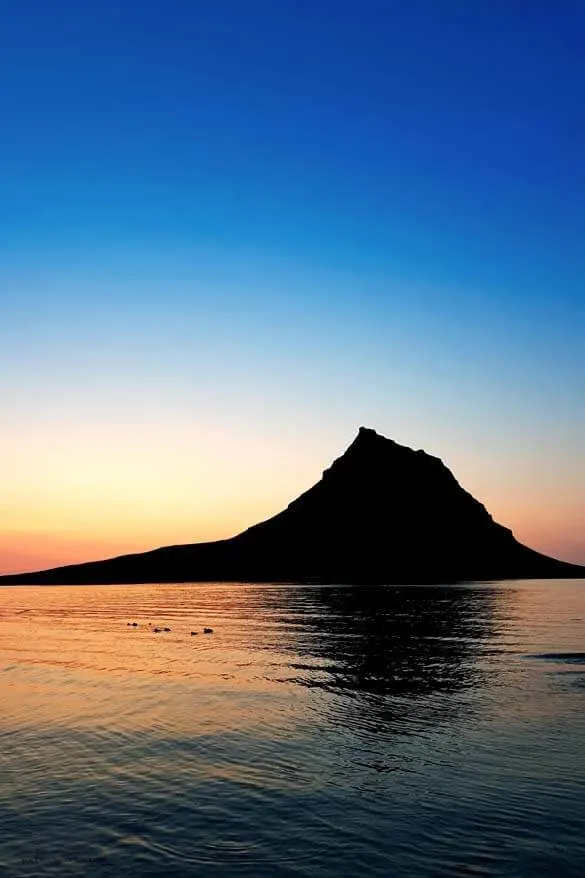 Map of the Best Places on Snaefellsnes Peninsula
In order to help you plan your trip, I created a map indicating all the places to visit on Snaefellsnes Peninsula. See below!
As you can see, everything is really close by and driving distances between the sights aren't big at all.
So even though the list of things to do in Snaefellsnes seems to be quite long, it is possible to see most of the highlights in just a day. But, as I already said before, if you want to have more time to explore these places, you really should plan a few days in Snaefellsnes.
How to use this map: Use your computer mouse (or fingers) to zoom in or out. Click on the icons to get more information about each place. Click the arrow on the top left corner for the index. Click the star next to the map's title to add it to your Google Maps account. To view the saved map on your smartphone or PC, open Google Maps, click the menu and go to 'Your Places'/'Maps'. If you want to print the map or see it in a bigger window, click on 'View larger map' in the top right corner.
Snaefellsnes Peninsula in Winter
Weather permitting, you can visit Snaefellsnes Peninsula in winter as well. However, keep an eye on the weather forecast and be very careful in case of strong winds.
In winter, when the days are short, so you won't be able to cover all the places mentioned in our 1-day itinerary above in just a day. So just pick the main highlights that are the easiest to access. Arnarstapi Cliffs, Kirkjufell and Kirkjufellsfoss, Djúpalónssandur, and probably Saxholar Crater are the main places that I recommend to see if visiting Snaefellsnes in winter.
Also the Malariff Lighthouse and Londrangar Viewpoint should be doable. You can also visit Vatnshellir Cave (even in the dark since it's under the ground anyway), Búðakirkja, and Bjarnarfoss. Stykkishólmur and Bjarnarhöfn Shark Museum (if open) are also easy to visit if you have the time.
Good to know: If you are visiting Snaefellsnes in winter, you should know that the weather and the road conditions are quite unpredictable in Iceland in general. But the weather and the roads on the Snaefellsnes Peninsula are even more challenging than for example the South Coast. So keep this in mind.
TIP: It might be wise to book a day tour from Reykjavik instead of driving in Snaefellsnes Peninsula in winter by yourself, especially if you aren't used to driving in tough winter conditions. Here you can read more about driving in Iceland in winter. Further below, you can find additional tour recommendations.
TIP: If you are driving to Snaefellsnes, I suggest staying for at least one night. This will allow you to see more at a slower pace. Furthermore, Snaefellsnes can be a good place to see auroras in Iceland. For that, see our hotel suggestions below and pick a hotel outside of tows, so there's no light pollution.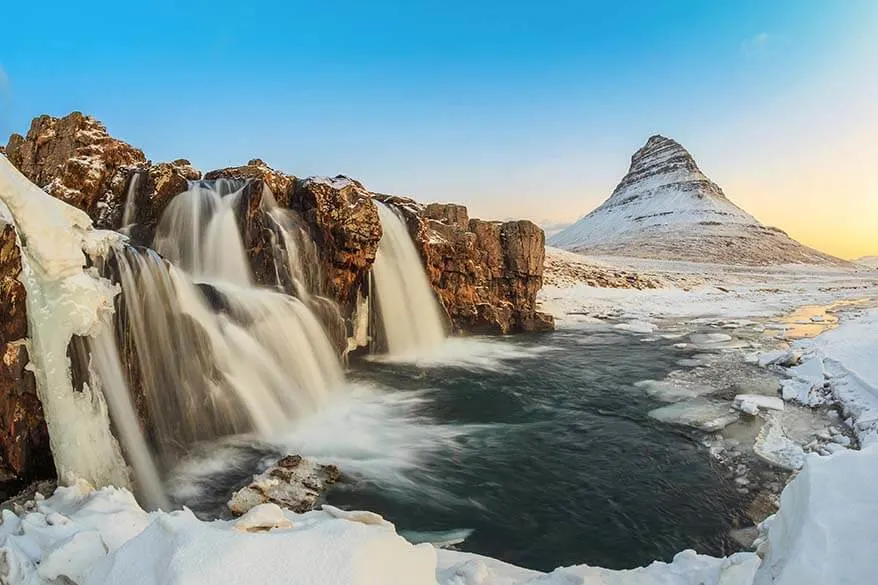 Where to Stay
There are quite some nice hotels, B&B's, and other accommodation options in Snaefellsnes. Since the highlights are located along the circular drive, it doesn't matter that much where you'll be staying, so pick a place that fits the rest of your trip itinerary best.
We stayed in Grundarfjörður on Snaefellsnes Peninsula for two nights. That was the only place we could find an apartment for 5 people that was close enough for our early morning ferry to the Westfjords.
Here are some of the nicest hotels in Snaefellsnes Peninsula:
LEARN MORE: Where to Stay: Best Snaefellsnes Hotels & Towns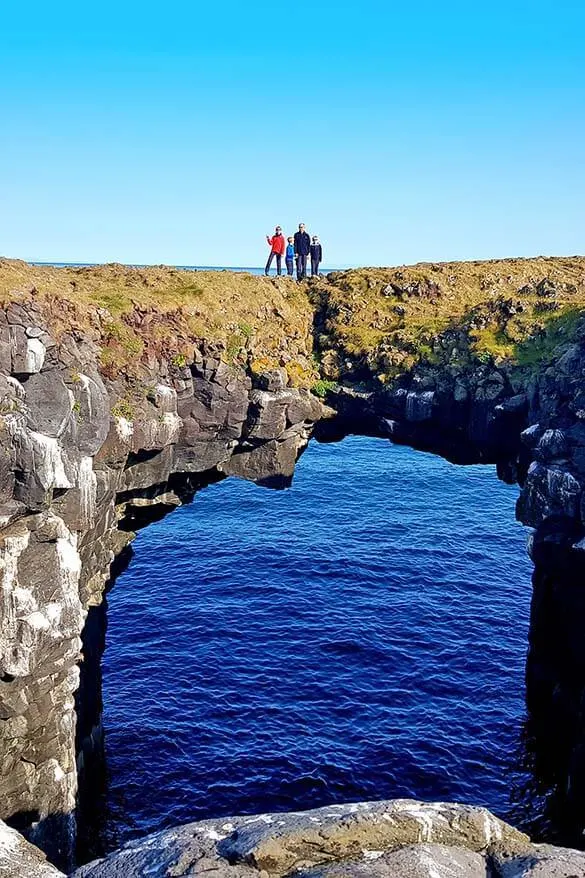 Practical Information
How are the roads in Snaefellsnes Peninsula?
The main roads #54, #56, and #574 in Snaefellsnes Peninsula are paved and are accessible the whole year-round. Part of the road 54 between Búðir and Ólafsvík is gravel. There were works going on there as we visited, so I assume it will be paved in the future, but for now, you may want to skip that part if you don't have a 4WD.
What is the biggest town in Snaefellsnes Peninsula?
The biggest town with the best facilities on Snaefellsnes Peninsula is Stykkishólmur. There are many hotels and restaurants here. It's also here that the car ferry to the Westfjords departs.
Can you visit Snaefellsnes Peninsula as a day trip from Reykjavik?
Yes, you can visit Snaefellsnes Peninsula from Reykjavik for just a day. However, it will be a long day, so leave early and prepare to stay late. We only recommend doing this in summer when the days are very long and the roads are in good condition. In winter, it's best to take a tour.
How long does it take to drive the Snaefellsnes Peninsula?
It takes 2 hours and 15 minutes to drive around the entire Snaefellsnes Peninsula. However, this does not include any stops and doesn't take into account weather conditions. Realistically, you will need at least 7-8 hours in order to see the best places in Snaefellsnes.
Can you get to Snaefellsnes Peninsula by public transport?
Yes, it is possible to get to Snaefellsnes Peninsula from Reykjavik by bus. You will need to change a bus in Borgarnes and it will take you at least 3,5-4 hours. However, even if you get there, you won't be able to easily explore Snaefellsnes Peninsula without a car.
Best Snaefellsnes Tours from Reykjavik
There are many companies offering Snaefellsnes Peninsula day tours from Reykjavik. You can find the best selection of those tours on the GetYourGuide website.
Price differences are usually due to different group sizes (big bus vs. minibus), and sometimes there are additional things included. For example, this tour includes a home-cooked local dinner. If you rather book a private tour, this is the cheapest tour I was able to find.
TIP: We book all our tours via GetYourGuide (and if not possible, then via Viator). We recommend it over booking directly with the companies. Most of the time, the rates are better, they sometimes have seasonal discounts, and they offer free cancelation up to 24 hours before the tour, which is practically never the case when booking directly.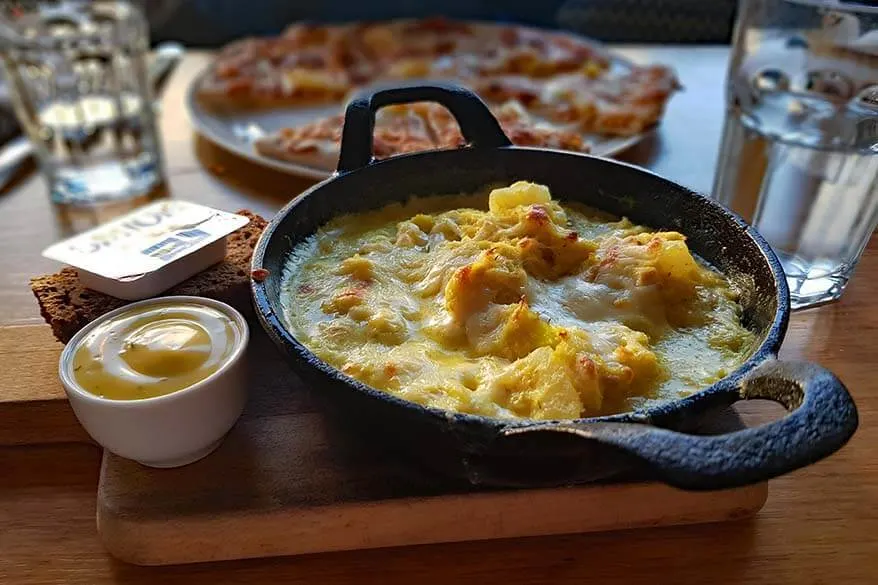 So, this is our guide to visiting the Snaefellsnes Peninsula and Snaefellsjokull National Park. I hope that you found it useful. If you have any questions, don't hesitate to leave a reply below.
READ ALSO: Best Places to See in Iceland
More tips for your trip to Iceland:
How to plan a trip:
If you found this post helpful, don't forget to bookmark it and share it with your friends. Are you on Pinterest? Pin this image!