Are you looking for a bus from Keflavik airport to Reykjavik city? Or maybe you are wondering how to get from Keflavik to Reykjavik? This article should answer all your questions!
First of all, congratulations on researching the best Reykjavik airport transportation options before your trip! This will save you lots of money.
I run a Facebook group for Iceland and Scandinavia travel and you would be surprised how often I see stories of people who just hop on a taxi at Keflavik airport without doing any prior research and are then presented with a 200+ EUR bill when they get to their Reykjavik accommodation… And no, the taxi drivers don't scam tourists in Iceland – these are the regular taxi prices from Keflavik airport to Reykjavik.
But what is the best affordable way to get to Reykjavik from Keflavik airport? Find out!
Good to know: Before we continue with the airport transfers, you should know that Keflavik airport is located really far from the city. It's a 50km (30miles) ride to town that in the best case takes at least 40-45 minutes.
TIP #1: If you are looking for the best price/ quality Reykjavik airport transfer and don't have the time to read about all the other options, then I'll save you time. Flybus transfer between KEF airport and Reykjavik hotels is one of the best price/quality transfer options from Keflavik airport to your hotel in Reykjavik.
TIP #2: If you are looking for an airport transfer to the Blue Lagoon and from the Blue Lagoon to Reykjavik, you can book your Blue Lagoon transfers here. and your Blue Lagoon tickets here.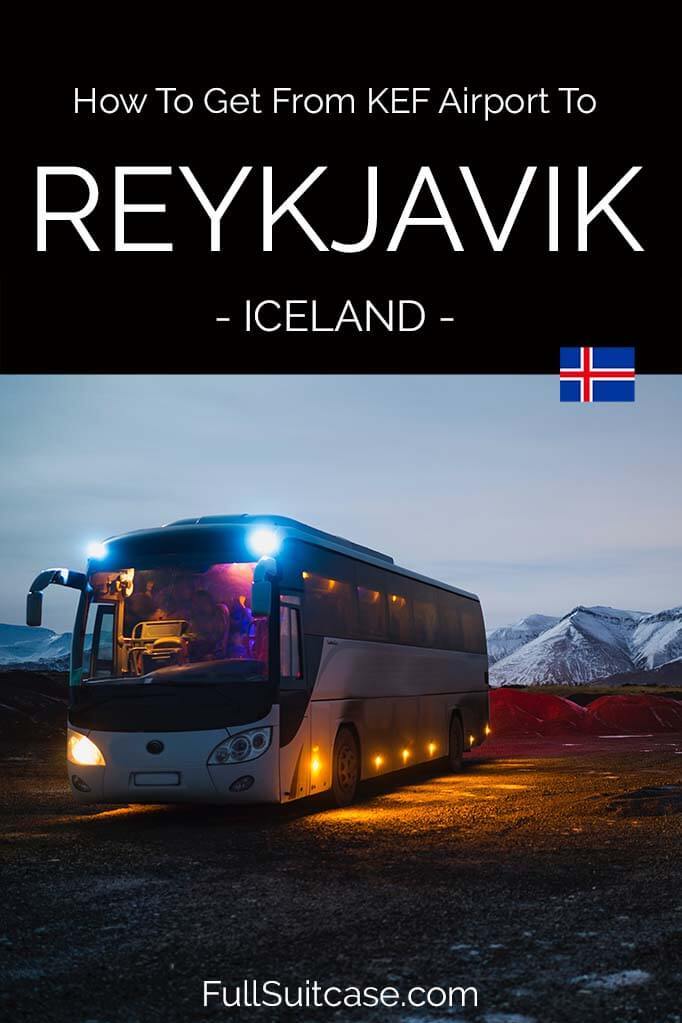 Reykjavik airport transfers – overview:
Bus and minibus transfers from KEF to Reykjavik city
I'll start with the best price/quality way to get from Keflavik airport to Reykjavik city – bus and minibus transfers.
There are several big companies offering bus transfers from Keflavik airport to Reykjavik. They are all priced quite similarly (19-24 EUR price range), have the same discounts for the children, and offer free Wi-Fi on the bus. However, they all differ in the schedule, baggage restrictions, and drop-off locations. See a short comparison below.
Flybus transfer between Keflavik airport & Reykjavik
Flybus has one of the best schedules for Reykjavik airport transfers. Flybus shuttles depart at the airport 35-40 minutes after the arrival of each flight. They adapt their schedule in case of flight delays, so there is always a bus waiting for you right outside the terminal building. Your ticket is valid on any bus, so if you miss a bus, you just take the next one. Furthermore, there is no luggage restriction (or at least not for the regular size luggage).
The company says that pre-booked tickets have a seat guaranteed, so it's wise to book in advance. But in any case, I'd head straight to the bus after you pick up your luggage as the buses can get quite crowded at times.
There is just one choice you have to make: a transfer to the BSI bus terminal in Reykjavik (+ 2 stops along the way – see below) or a drop-off at your hotel in the city center. The price difference is just a few euros, so unless your hotel is located close to the bus terminal, I'd definitely opt for the second option.
Below, you can read the explanation about these two options, and you can choose one of these options when you book your FlyBus tickets.
Option 1 – Flybus: Bus transfer between KEF airport and BSI bus terminal in Reykjavik. The trip will take approximately 45 minutes and on request, the bus will stop at Hotel Viking in Hafnarfjörður and at Aktu Taktu eatery in Garðabær.
Option 2 – Flybus+: Transfer between Keflavik airport & hotels. This option costs just a few Euro more and the first part of the trip is exactly the same – you take a bus to the BSI bus terminal. There you switch to another bus that offers drop-off at most hotels, hostels and guesthouses in Reykjavik. Note that there is a bus ban in Reykjavik downtown, so in case you are staying at one of the hotels in the bus-free area, the bus will drop you off at the nearest bus stop. Depending on where you are staying, the total duration of this airport transfer should be 1-1.5hrs.
You can book the exact same Flybus transfers from Reykjavik town back to the airport as well. In case you choose a hotel pick-up option, make sure you read the information on the voucher very clearly (or call them just to be safe). Depending on where you are staying, the bus might be waiting for you at the nearest bus stop rather than at the hotel itself.
Gray Line Airport Express
Gray Line Airport Express has a very similar shuttle service as the Flybus. There is one big difference, however – their Holtagarðar bus terminal is located quite far from the Reykjavik downtown area. So if you decide to go with GrayLine it's best to just book their airport bus transfer with hotel pick-up and drop off.
Also, when booking tickets with Gray Line you have to indicate the time of the bus even for the transfer from the airport, so I am not sure what happens if your flight is delayed. From what I read, you should be able to just hop on the next bus with the same ticket, but this isn't clearly stated anywhere.
Airport Direct
Airport Direct offers direct shuttle bus transfers from the airport to the hotels in Reykjavik. They use smaller busses and therefore don't have to waste time driving to a bus terminal first. So the total transfer times are in principle shorter than with Flybus or GrayLine (although again that will depend on where your hotel is located). These direct airport transfers are just a little bit more expensive than the other transfer options I described above and can be a good option if all goes well.
However, there are some disadvantages of using Airport Direct. First, at Airport Direct you have to buy a ticket for a specific time. So if your flight is delayed, your seat on the next bus is not guaranteed.
Second, they don't have buses in the evening – their buses run between 4.15 AM through 5.15 PM from the airport to town and 4 AM to 4 PM from Reykjavik to the airport. Furthermore, you are allowed a maximum of one big suitcase and one carry-on bag only. Extra fees apply for excess luggage.
Taxi and Uber ride from KEF airport to Reykjavik
As mentioned above, the distance between Keflavik airport and Reykjavik is quite big, therefore taking a taxi to/from Reykjavik airport is very expensive. Depending on where your hotel is, you can expect to pay anywhere between 200 and 250 EUR for a taxi ride from Reykjavik airport to the city center. Furthermore, you have no certainty about the price.
I read online that a taxi ride from Keflavik to Reykjavik should cost you between 150 and 180EUR, but I also saw many travelers sharing their experience on Facebook groups and they all paid at least 200EUR for a taxi to get to Reykjavik.
The biggest advantage of taking a taxi is, of course, flexibility. It is also one of the fastest ways to get to Reykjavik. However, you get the same benefits with a private transfer as well, and there at least you know what you pay (see below for more information).
At the moment, Uber is illegal in Iceland, so you cannot take an Uber from Keflavik airport to Reykjavik.
Private Reykjavik airport transfers
Private airport transfers in Reykjavik are the best option for those who are short on time and don't mind spending a bit more. A private driver will be waiting for you at the Keflavik airport, so you don't have to worry about flight delays or full busses. A big advantage compared to taking a taxi is that you know in advance exactly what you pay. From what I see the price of a private airport transfer is at least 30-40 EUR lower than that of a taxi.
A private transfer is a very expensive option if you are traveling on your own, but if you are with 3-4 people it's already much more affordable. You can also book a transfer by minibus for up to 8 people and in that case, it costs just a few Euros per person more than paying for 8x bus transfer described above.
Beware that there are many companies offering private transfers to and from Reykjavik airport, but many of them are even more expensive than a taxi. The private transfer I linked to above is the cheapest that I was able to find in Reykjavik.
Public transportation – bus to Reykjavik
The cheapest way to get from Keflavik airport to Reykjavik is by taking a public bus. Public Reykjavik airport bus no. 55 connects Keflavik airport to Reykjavik city.
The only advantage of taking a bus is that it's a bit cheaper than the other options. You'll save 7-10 EUR one-way, but there are several things to consider. The main disadvantages are the inflexible and limited schedule (especially on weekends and outside regular working hours), it takes much longer, and if you miss one bus you may have to wait a long time for the next one.
But if you are visiting Iceland on a budget and have plenty of time, then bus 55 is the cheapest way to get to Reykjavik from the airport. Here, you can find more information about the bus schedule and here, you can see their prices (at the moment of the latest update, 1960 ISK, which is about 13-15 EUR).
Rental car
If your visit to Iceland is longer than 2-3 days I strongly recommend renting a car. Public transportation in Iceland will not get you to the most beautiful locations; it's really not an option outside of Reykjavik. There are several bus companies that have regular routes in Iceland, but it's so much easier to explore Iceland on your own.
Renting a car directly at Keflavik airport will save you lots of trouble as you won't have to worry about airport transfers. If, however, you are staying in the city for longer than a day, it might be wiser to pick up your rental car in town (but don't count on cheaper rates compared to airport pick-up). Do your research!
We use and recommend a popular car rental search engine where you can find some of the best deals for Iceland car rental, RentalCars. Not only can you compare different providers and find the best deals for your travel dates, but you are also much better protected and have a much more flexible cancelation policy than you'd ever get when booking with small local companies directly.
We rent all our cars via this website when we travel, which is usually around 3-4 rentals per year, and we never had a bad experience. We also take insurance via them and recently, we had to make a claim, and it was handled on the same day, with money on our account a week later.
Blue Lagoon transfers
Many people choose to visit the Blue Lagoon immediately after arriving in Iceland or just before departure. Since the Blue Lagoon is located just 20 minutes drive from Keflavik airport, it's indeed quite easy to do. That is IF you have a car.
The earlier-mentioned self-drive transfer is a good option if you want to visit the Blue Lagoon on your way to/from the airport.
If you don't have a car, the best way to get to the Blue Lagoon from Keflavik airport is by taking a private transfer to the Blue Lagoon. There are also bus transfers to the Blue Lagoon from the city and back, but getting there from the airport by bus isn't easy at all.
Good to know: Please note that any of these transfers don't include Blue Lagoon admission tickets. You have to book them well in advance because the Blue Lagoon is usually completely sold out. Here you can book the regular Blue Lagoon tickets. If you are looking for the ultimate Blue Lagoon Retreat Spa experience (for 2), book this package instead.
So, this is our guide to Reykjavik airport transfers and the best ways to get from Keflavik airport to Reykjavik. Hope you found it useful!
TIP: If you are staying in Reykjavik and don't have a car, then you'll need to book tours in order to see the most beautiful places nearby. See our hand-picked selection of the best guided tours from Reykjavik and also best winter tours and day trips from Reykjavik.
READ ALSO: Our hand-picked selection of the very best half-day tours from Reykjavik
More tips for your trip to Iceland:
If you found this post useful, don't forget to bookmark it and share it with your friends. Are you on Pinterest? Pin this image!