No trip to Reykjavik would be complete without a visit to the stunning Perlan Museum. Also known as Perlan – Wonders of Iceland, this glass-domed building sitting atop Öskjuhlíð hill, the highest hill in the city, is actually much more than a museum. Perlan is an interactive and fun way to get to experience what Iceland is truly about.
Perlan is a great place to get acquainted with all the natural wonders of Iceland! From glaciers and volcanoes to wildlife and the Northern Lights – you'll find it all at Perlan in Reykjavik.
In this article, you can learn what to expect when visiting Perlan in Reykjavik and find some practical information and tips for your visit. There are so many reasons to include Perlan in your Iceland trip itinerary and here we listed just the main ones. Find out!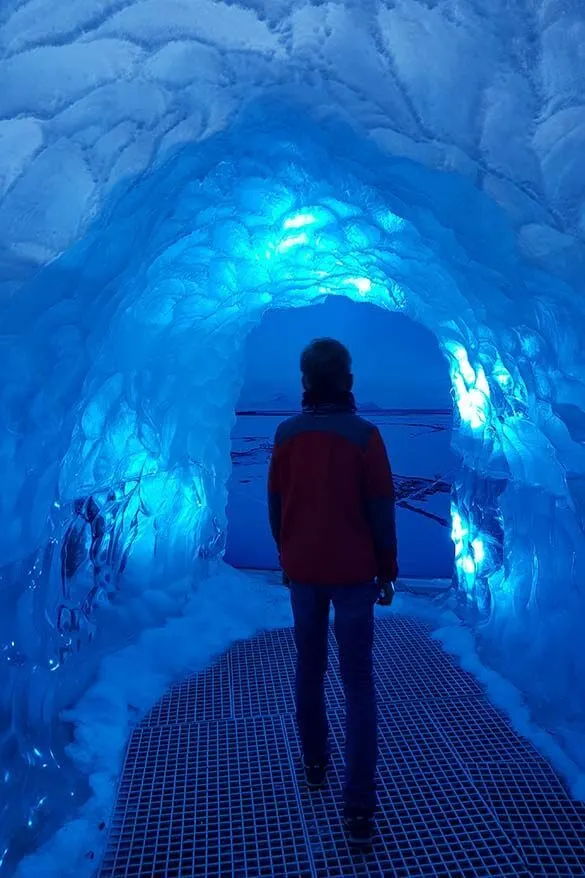 Is Perlan in Reykjavik Worth Visiting?
If you are wondering if Perlan is worth a visit, yes, it absolutely is. Recently upgraded, the Perlan museum quickly became one of the must-see places in Reykjavik. In my view, visiting the Perlan is now one of the very best things you can do in Reykjavik.
A visit to Perlan is also a great opportunity to enjoy the majestic views over Reykjavik and surroundings – whether from the viewing terrace with 360° views or from the restaurant. The building of the museum is also really special. It's built over six large water tanks, some of which still hold geothermic hot water that is used as heating in the winter.
Perlan truly has something for everyone, using state-of-the-art technology to create awesome, immersive exhibitions and allowing visitors to explore a unique wonderland of glaciers and volcanoes. The emphasis is on visitor participation, making this museum perfect for adults and children alike. I visited Perlan with my 10-year old son and we spent several hours there. He enjoyed it just as much as I did, if not more…
Below are some of the main reasons to visit Perlan in Reykjavik. Take a look!
READ ALSO: Reykjavik 1-day Itinerary (including Perlan)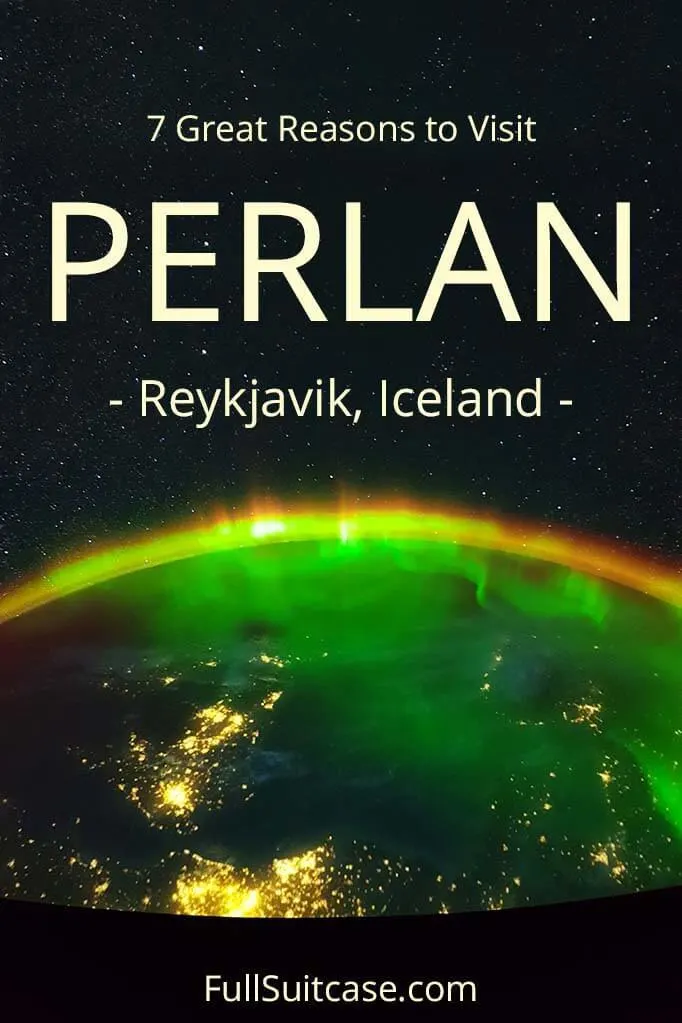 1. Experience the Whole of Iceland from One Location
If your time in Iceland is limited – or if you are traveling with young children or people with limited mobility – it may not be possible to experience everything that this incredible country has to offer. Even if you have more time in Iceland, you just can't see the Northern Lights in summer or find puffins in winter…
That's what makes the Perlan museum so special. It's almost a 'one-stop-shop' for experiencing all the natural wonders of Iceland!
As you'll see further in this article, at Perlan in Reykjavik you'll be able to view the Northern Lights, watch sea-birds nesting on a cliff, and even experience the frigid temperatures of a cave made of ice. On top of that, you can learn all about volcanoes and glaciers and see how it's all been changing and turning Iceland into the country that it is today…
All of that in one place, in any season, and in any weather conditions.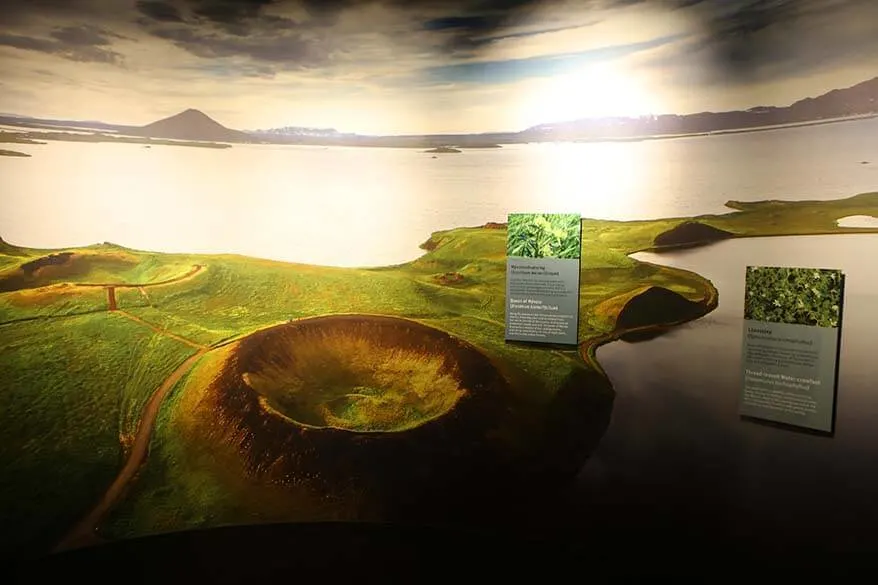 2. Walk Inside a Real Ice Cave
A visit to a real ice cave isn't something many of us get to do, even on a trip to Iceland! If you want to visit a natural ice cave in Iceland, I have some tips for you further below, but first – back to the Perlan museum and its very real ice tunnel.
Perlan's Ice Cave and Tunnel – the first of its kind in the world – is undoubtedly one of the main reasons to visit Perlan in Reykjavik! 350 tons of snow from Icelandic mountains were used to create this man-made marvel.
Perlan ice tunnel is 100 meters (330 ft) long and it truly feels like walking inside the glacier. We have visited ice tunnels inside the glacier in several places in Switzerland, including ice tunnels at Furka Pass, on Mount Titlis, and at Jungfraujoch… I can tell you that the ice tunnel in Perlan in Reykjavik is as impressive as any of the 'real' ones in the mountains.
Part of the stunning Wonders of Iceland exhibition, the cave takes about 10 to 15 minutes to walk through. The colors of the ice are stunning, with realistic little nooks and crevasses. They even used some volcanic ash to make it look as real as possible. Also, as you would expect from a REAL ice cave, the temperature is very low, at -15°C (5°F). But if you've forgotten your coat, you'll be pleased to know that there are warm jackets available to borrow!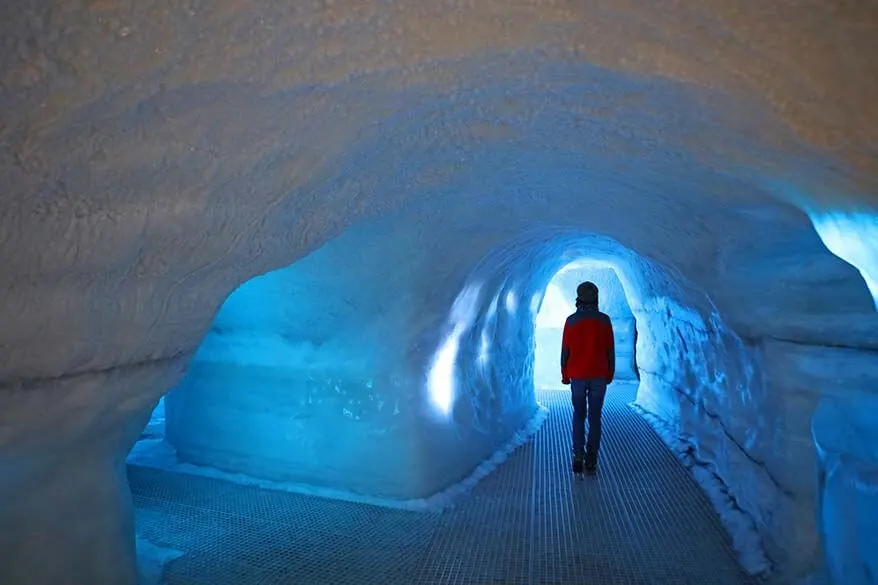 TIP: I do advise bringing your own jackets, scarves, gloves, and hats in order to truly enjoy this ice tunnel. Otherwise, you'll be so cold that you'll want to get out without having a proper chance to explore it.
We visited Perlan in summer and we only wore a sweater and a buff. We were freezing cold inside the ice tunnel. Should have borrowed one of those jackets!
Needless to say that the ice cave will be a big hit with children as well. You can touch the ice, listen to the sounds of a glacier, and take countless cool photos inside the bright blue ice castle. This is a very unique experience and at a fraction of the cost of visiting any other ice tunnel that we have ever been to. Not to be missed when in Reykjavik!
TIP: If you have the time and the budget, you can also visit real ice caves or glacier tunnels in Iceland. One of the most popular options is a visit to a man-made ice cave inside the Langjökull glacier with organized day tours from Reykjavik. Since this is not a natural ice tunnel, you can visit it the whole year round.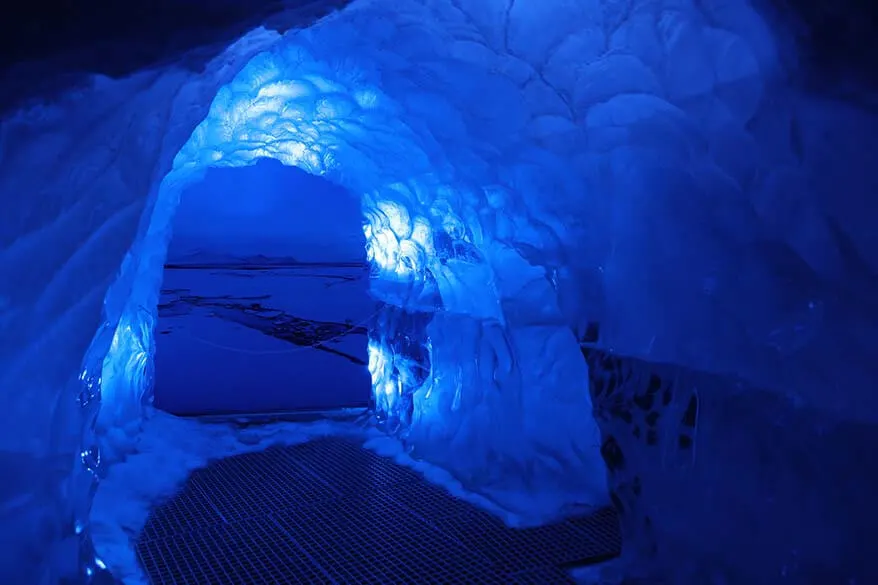 3. See the Northern Lights – Áróra
Áróra is a stunning 22-minute show that takes place inside the planetarium, which is housed inside one of Perlan's water tanks. It allows you to take a virtual tour of Iceland's winter landscape and aurora displays, all from the comfort of your (very comfortable!) seat.
This Northern Lights show was created with the collaboration of photographers, musicians, and writers. The result is a visual masterpiece that will captivate the whole family. Using world-class technology, the show provides an immersive experience that is not only beautiful but also explains the science behind this natural wonder.
Áróra show guarantees you a beautiful and unforgettable view of the Northern Lights. This is your chance to see Aurora Borealis in Iceland, no matter the season or the weather.
TIP: If you want to experience Áróra, make sure to book the Perlan museum ticket that includes the Arora show. It's a bit more expensive than the regular Perlan museum ticket, but it's totally worth a few extra euros. You'll have to pick your time slot for the show in advance, so you're guaranteed a seat. Booking the tickets upfront has more benefits – see the practical tips section below.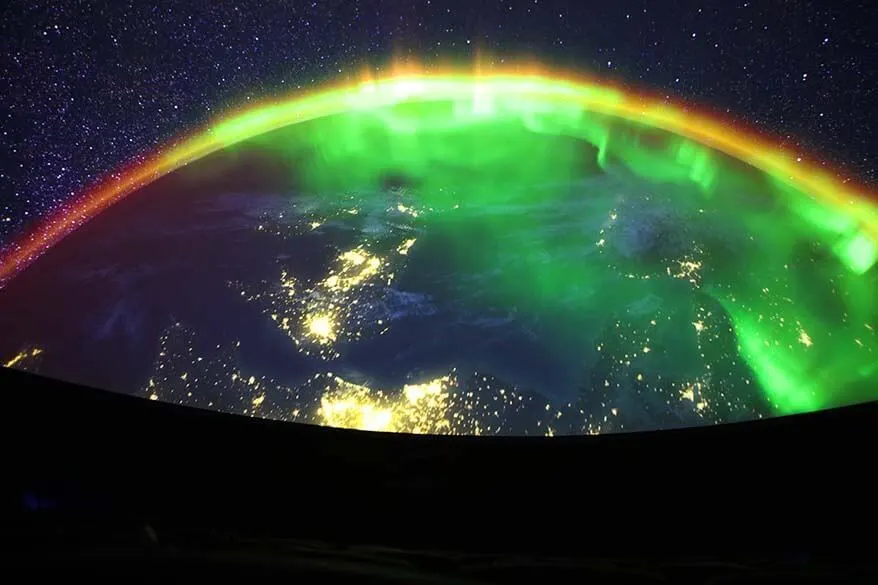 4. Get up Close to Puffins on the Bird Cliffs
Látrabjarg in the Westfjords of Iceland is the biggest sea-bird cliff in Europe and is considered by many to be one of the most spectacular in the world. However, Westfjords is usually not a place many first-time visitors include in their Iceland itinerary, and the birds are only there for a few months in summer…
So while it may not be possible to visit Látrabjarg during your trip to Iceland, it WILL be possible to enjoy some of its sights by visiting the realistic reconstruction of the bird cliffs at Perlan!
The model of the cliff rises an impressive 10 meters into the air. When you stand at the bottom and look up, it almost feels as if you're looking at the real thing! The rocks are covered with bird and plant specimens, including nesting puffins and other sea birds.
Make sure to check out the special binoculars standing by the bird cliffs at Perlan for an augmented reality (virtual) experience. It's as if you are looking at real birds flying around!
5. Learn about the Awesome Forces of Nature
The Glaciers exhibit is part of the Wonders of Iceland exhibition at Perlan. It gives you a fascinating insight into these natural phenomena. Through a series of interactive displays, you get to learn about all aspects of their creation – including the life forms that can be found on them and the effects they have on land.
This is a particularly interesting exhibit for adults and kids alike, as it provides a thought-provoking look at what will happen in the future when Iceland's glaciers disappear. I think that the glacier exhibit is one of the 'must' experiences in Perlan; it's very eye-opening.
In addition, there are some thrilling displays looking at geothermal energy and volcanoes, where you can truly experience their sights, sounds, and power. If you have more time and interest, you can also delve into case studies, the latest research and scientific findings, helping you learn more about plate tectonics and earthquakes.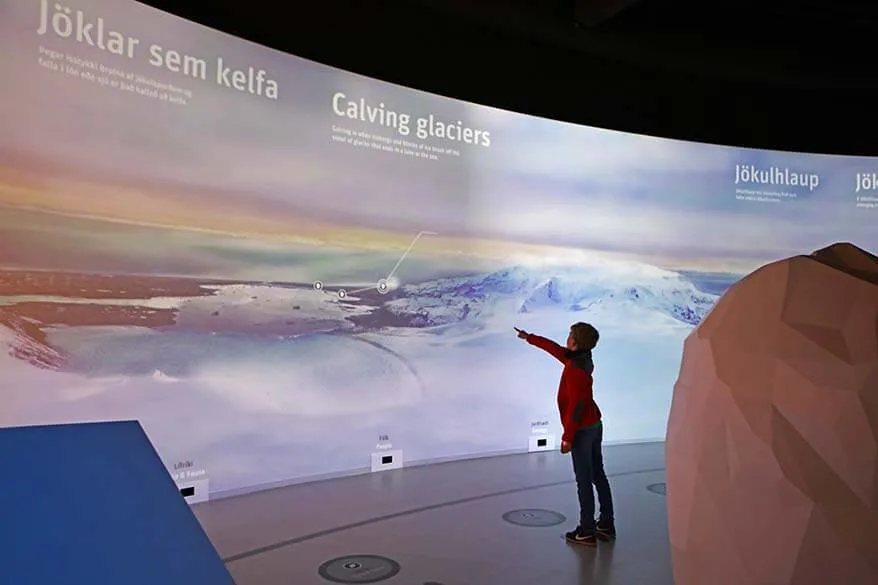 6. Get the Best View of Reykjavik City
The Observation Deck on Perlan's 4th floor completely encircles the dome of Perlan, providing an unbroken and breathtaking 360° view over the Reykjavik area. There are lots of informational signs indicating the names of points of interest on the horizon. You can see the landmarks of Reykjavik city, Mount Keilir – a cone-shaped volcanic mountain, and the Snæfellsjökull Glacier, to name just a few.
On a beautiful day, you can take magnificent photos of Reykjavik from the 360-degree Observation Deck. This is one of the best viewpoints in Reykjavik because you can also see the stunning landscapes of the surroundings.
Adults need a ticket to enter the Observation Deck, but it's included in all of the Perlan museum tickets.
Good to know: Inside Perlan, there is also a restaurant with huge glass windows and fantastic views. It's a great place to have lunch or dinner, or just get a cup of coffee with some cake.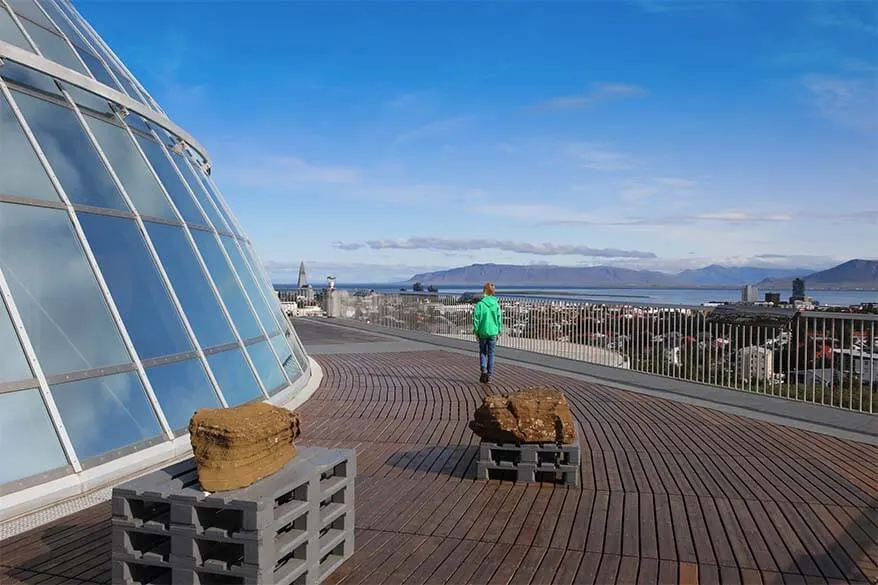 7. Enjoy Reykjavik All Year Round
As you might already know, Iceland is famous for its ever-changing weather and with the best will in the world, none of us enjoy sightseeing in the rain. Furthermore, if you are visiting Iceland in winter, you have very limited daylight (just 3-4 hours if you visit in December-January). So it's not always possible to enjoy Iceland to the fullest…
Perlan, however, allows you to enjoy the many cultural and geological aspects of Iceland all year round and in any weather.
Perlan Museum is a great place to visit in Reykjavik when it rains, when you want to escape the cold weather, or when you have endless dark hours to fill when visiting Reykjavik in winter.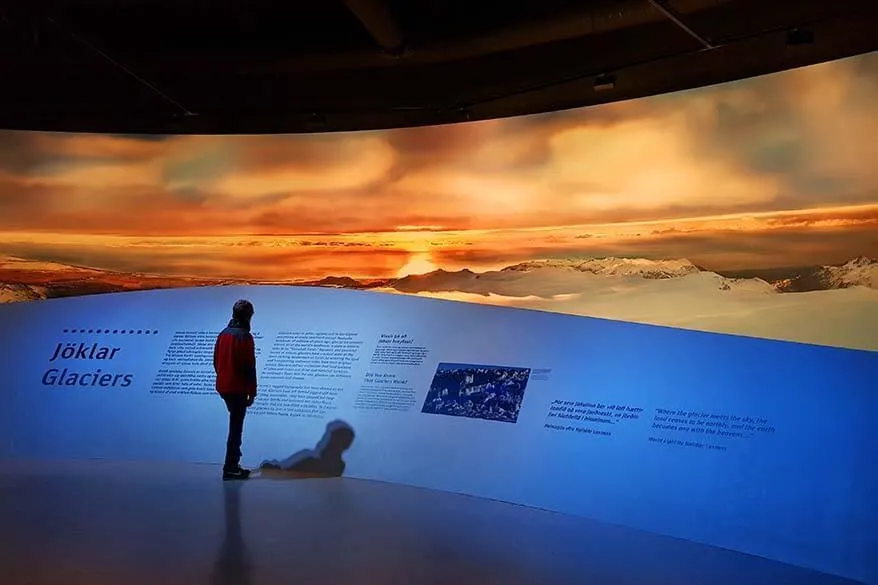 Practical Information for Visiting Perlan in Reykjavik
Opening times. Perlan Museum in Reykjavik is open daily from 9 am until 9 pm, with the last admissions one hour before the closing time. Hours might differ depending on the season or during public holidays, so be sure to double-check on their site.
Accessibility. Perlan is wheelchair-accessible.
How to get to Perlan. The museum is a 30 – 40 minutes walk from downtown Reykjavik, or a 5 to 10-minute drive (free parking available). There are also public buses running from the city, with line 18 stopping the closest. In the past, during daytime hours, you could also get to Perlan by a free shuttle bus from the Harpa music hall. However, now that the museum is better known and gets more than enough visitors, they seem to have discontinued this service. So you'll have to make your own way to Perlan.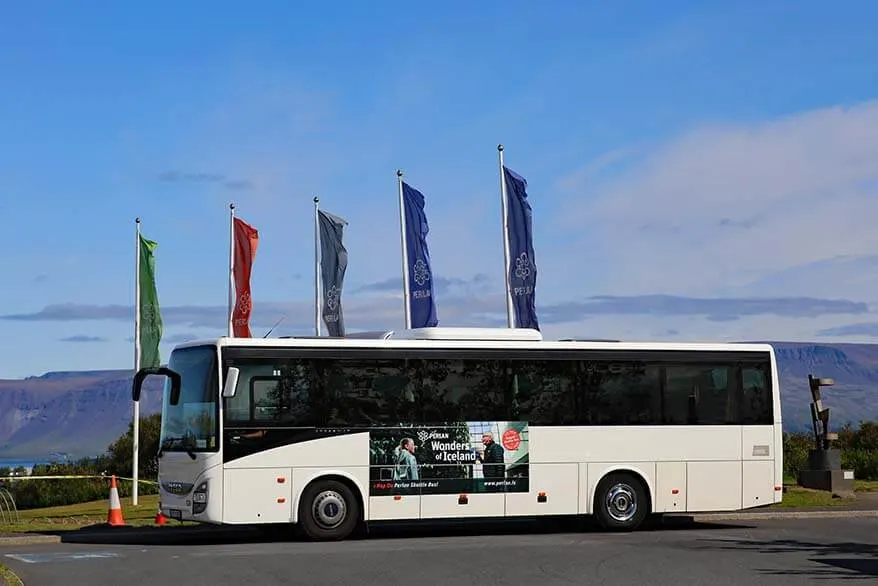 Book in advance. Perlan can get quite busy and if you want to see the Arora show, they recommend booking your tickets with a fixed time slot in advance. Furthermore, getting your tickets upfront means that you can use the free shuttle from town to Perlan. On the other hand, you can always visit the museum; it's only the Arora show that might be sold out… So it's up to you if you decide to book upfront or not.
Tickets. You can buy tickets for the Wonders of Iceland exhibition and the Áróra show separately, but it's best to just get a combination ticket that includes everything. I recommend getting your tickets via GetYourGuide (see the links below) because if your plans change, you can cancel them up to 24hrs in advance. This option doesn't seem to be available if you get tickets directly from the Perlan website. Here you can book the Perlan ticket that includes Arora show and Observation Deck.
Family tickets. There is a reduced rate for children (age from 6 to 17 years), but if you are visiting with two adults and one or two kids, you better get a family ticket. It's a great value because you only pay full price for the 2 adults and the children are technically free. This ticket is only available on their website or upon arrival, at the museum.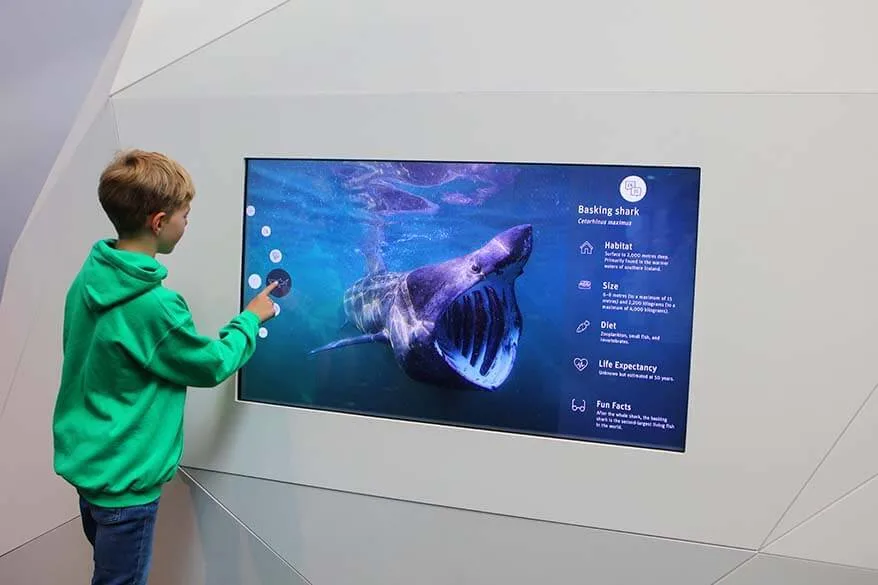 Kaffitár café and the Út í Bláinn Restaurant are housed under Perlan's beautiful glass dome. No matter where you sit, you will enjoy incredible views of your surroundings as you dine. Út í Bláinn is a lively, bistro-style restaurant serving European/Icelandic cuisine. If you want to have dinner here, it's a good idea to reserve a table at the restaurant online in advance.
Perlan Museum also has a gift shop selling unique Icelandic souvenirs. It's open from 9 am to 7 pm.
TIP: Don't miss the delightful little forest at the foot of Öskjuhlíð hill, on top of which Perlan sits. It's a little forest/park where you can take a short hike when the weather is nice.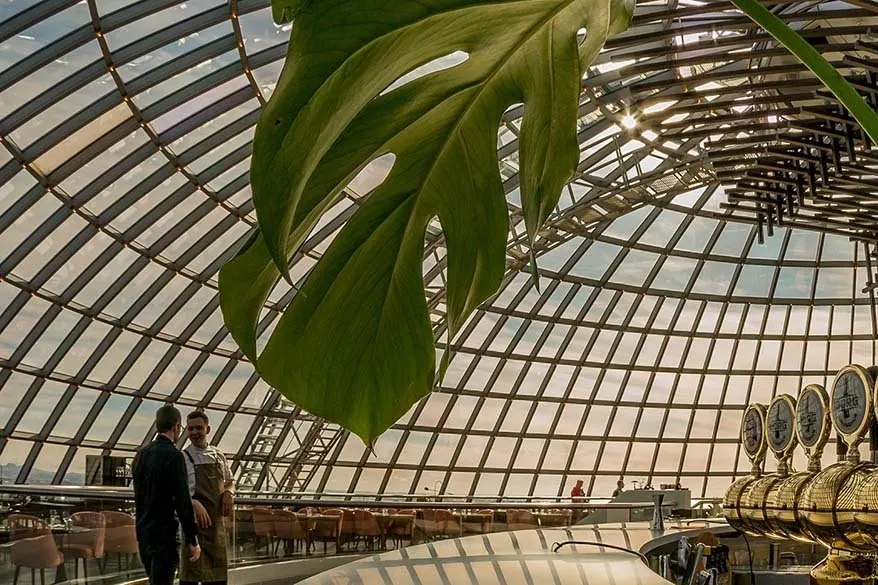 So, this is our guide to visiting Perlan in Reykjavik. I haven't met one single person that didn't enjoy visiting Perlan, so if you have 2-3 hours to spare in Reykjavik, don't miss it. It will be really worth your time!
TIP: If you have at least half a day extra, make sure to visit the Reykjanes Peninsula as well. It's a beautiful area close to Reykjavik and Keflavik airport, full of natural landmarks, and still only very few tourists.
READ ALSO: Where to Stay in Reykjavik
More tips for your trip to Reykjavik:
More tips for your trip to Iceland:
If you found this post helpful, don't forget to bookmark it and share it with your friends. Are you on Pinterest? Pin this image!