Visiting Iceland in winter and wondering what to expect? In this guide, we share some of our top tips and useful information that will help you prepare for your winter trip to Iceland. Because traveling well prepared is the only way to truly enjoy this Arctic winter wonderland.
You probably already know about all the most unique winter activities in Iceland. The images of icebergs sparkling on black-sand beaches, frozen waterfalls, and Northern Lights dancing in the sky have inspired millions of people to defy the cold and visit Iceland in the winter months.
Indeed, there are many reasons to plan a winter trip to Iceland! But in this guide, we want to focus on something else. Namely, the practical side of traveling to Iceland in the coldest and darkest months of the year.
Because there are some things that you really should know before your winter trip to Iceland. See our most important seasonal tips below!
Top 4 Winter Experiences in Iceland: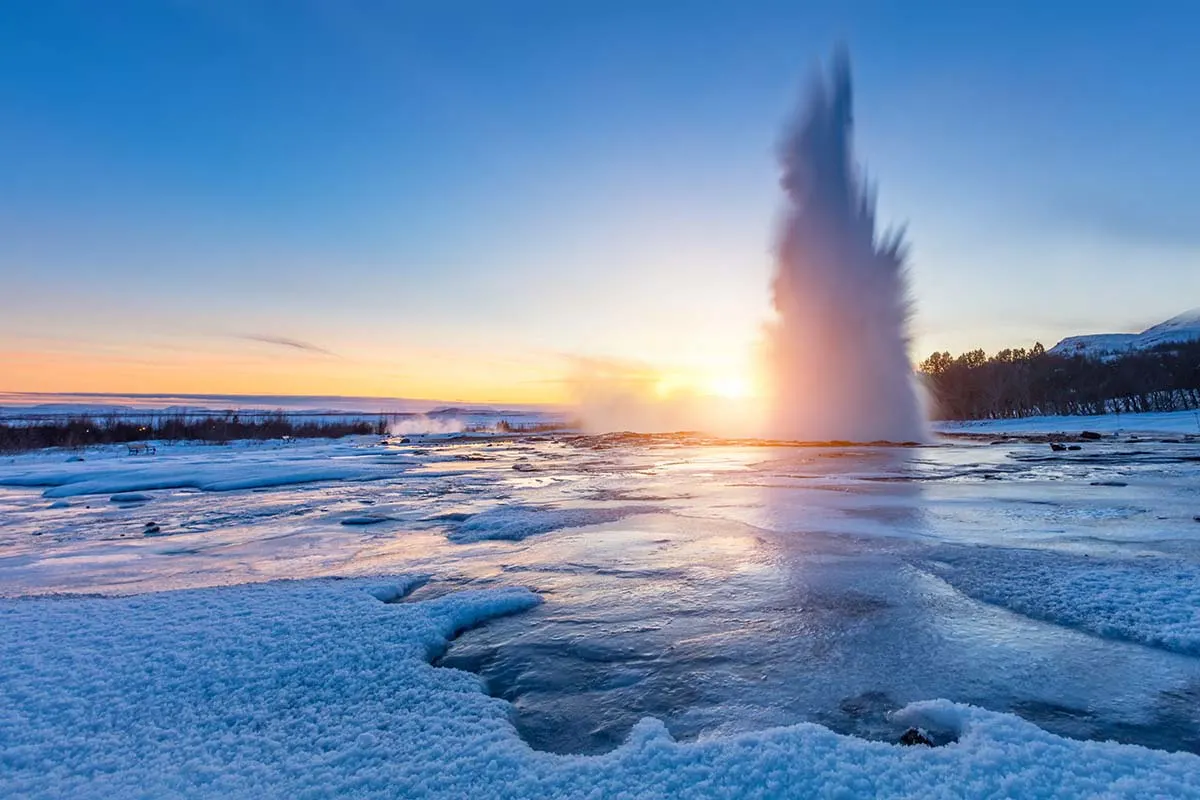 Good to know: When we refer to winter in Iceland, we mean the months between October and April. Of course, the chance for snowstorms or icy roads will be higher in January-February than at the beginning of October or at the end of March – beginning of April, but you can never predict the Icelandic weather and so these tips are just as relevant. And yes, even April can still be quite wintery, especially in the North of Iceland.
To give you an idea, the first time we visited, we had knee-deep snow in Northern Iceland at the very end of May – the beginning of June. But having snow this late in the spring is quite rare and unlikely these days.
Here are some of our top tips for visiting Iceland in winter:
1. Know how many hours of daylight you can expect
If you haven't booked your trip yet and still have to decide in which winter month to visit Iceland, there is one thing that you should consider above anything else. And that's the number of daylight hours. If you already have your flights booked, be sure that you know what to expect.
For example, there is hardly any daylight in December. If you are visiting Iceland around Christmas – New Year, prepare for long dark nights and very short days. You can expect some daylight/twilight for about 3-4 hours in December. You'll have about 4 hours of daylight in Reykjavik and Iceland's South Coast and just about 3 hours of daylight in the North of Iceland.
Whereas if you are visiting Iceland in March, you will have 11-13 hours of daylight, and even more in April. Needless to say, this will make a huge difference for your trip, things that you'll be able to do, and your overall itinerary.
In the table below, you can see the number of daylight hours in Reykjavik and Akureyri in winter.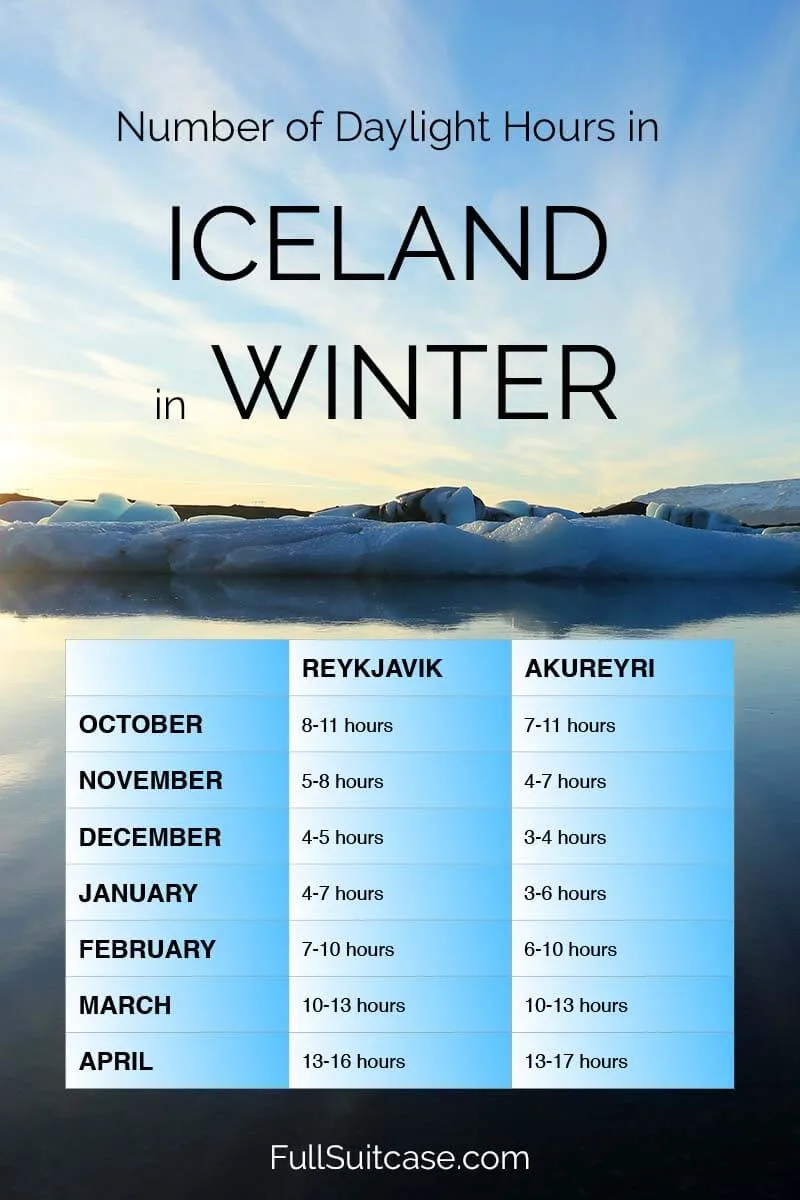 2. Prepare for the ever-changing weather
As already mentioned, Icelandic weather is unpredictable. But while in the summer it's just a difference between wearing a sweater or needing a rain jacket and maybe gloves, in the winter, it can mean that you go from sunshine and dry weather to a snowstorm in a matter of a few hours.
So when planning a winter trip to Iceland, be sure that you are prepared for all kinds of weather.
It can be dry and sunny or you may get stuck in a snowstorm, but most likely, you'll get a bit of everything. Most of the time, you can expect rain, lots of wind, and weather to change multiple times throughout the day.
Good to know: In general, winter temperatures in Iceland are quite mild. Average temperatures in Reykjavik between November and March are between -3 and 3 °C (26-27 F). But don't get fooled by these numbers or the mild weather forecast. The wind is often so strong that it feels much, much colder. Plus, it rains a lot.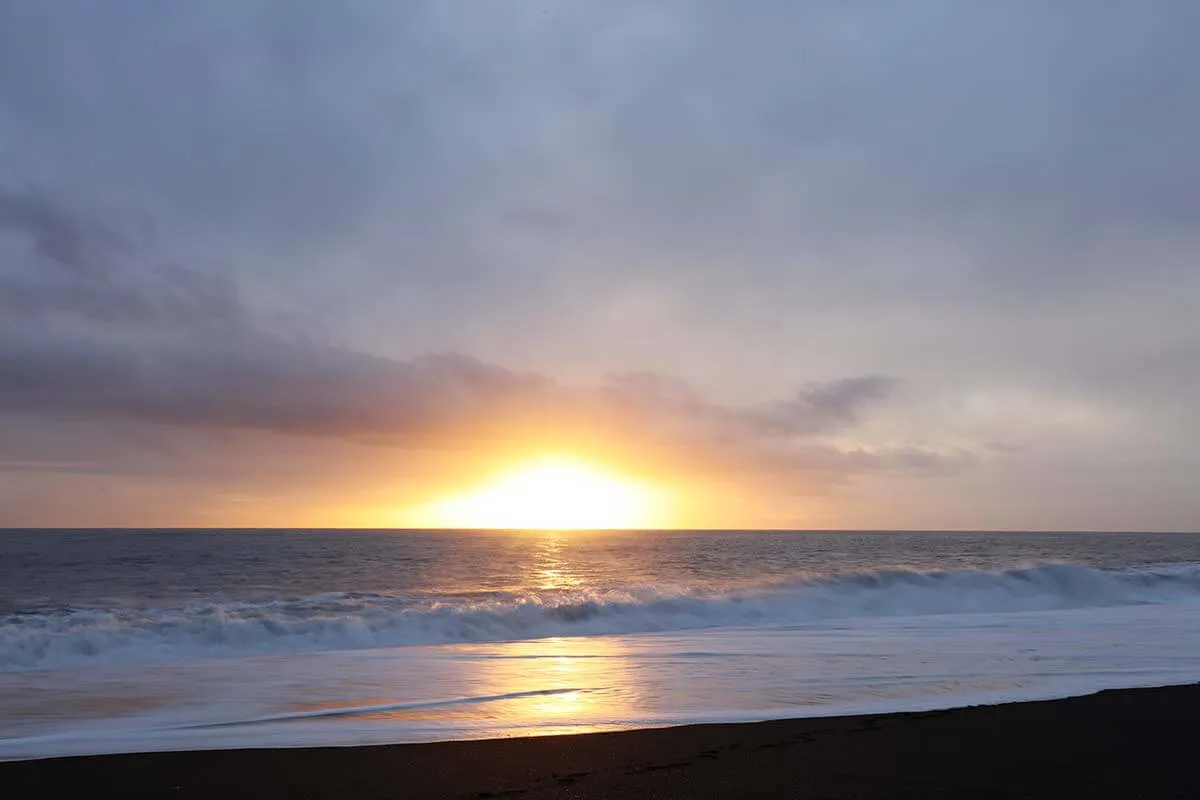 3. Dress warm
You probably already heard of the saying that there is no such thing as bad weather, only bad clothing. It's definitely true in Iceland, especially in the winter months.
So be sure that you pack some really – really – warm clothes and shoes. When dressing for Iceland in winter, remember three keywords: wool, layers, and waterproof.
I typically wear at least 3-5 layers, depending on the weather and activities that day. As a minimum, you need a warm base layer (ideally wool; e.g. merino underwear), a wool sweater, and a wind- and waterproof winter jacket.
It's important to keep your feet warm and dry too. Wool socks and good winter boots are a must!
TIP: Always take off your jacket and maybe even a sweater when you're in the car or indoors. Yes, it's a bit more effort, but you will feel warmer when you go outside again.
For more information and tips, see our detailed guide via the link below.
LEARN MORE: What to Wear in Iceland in Winter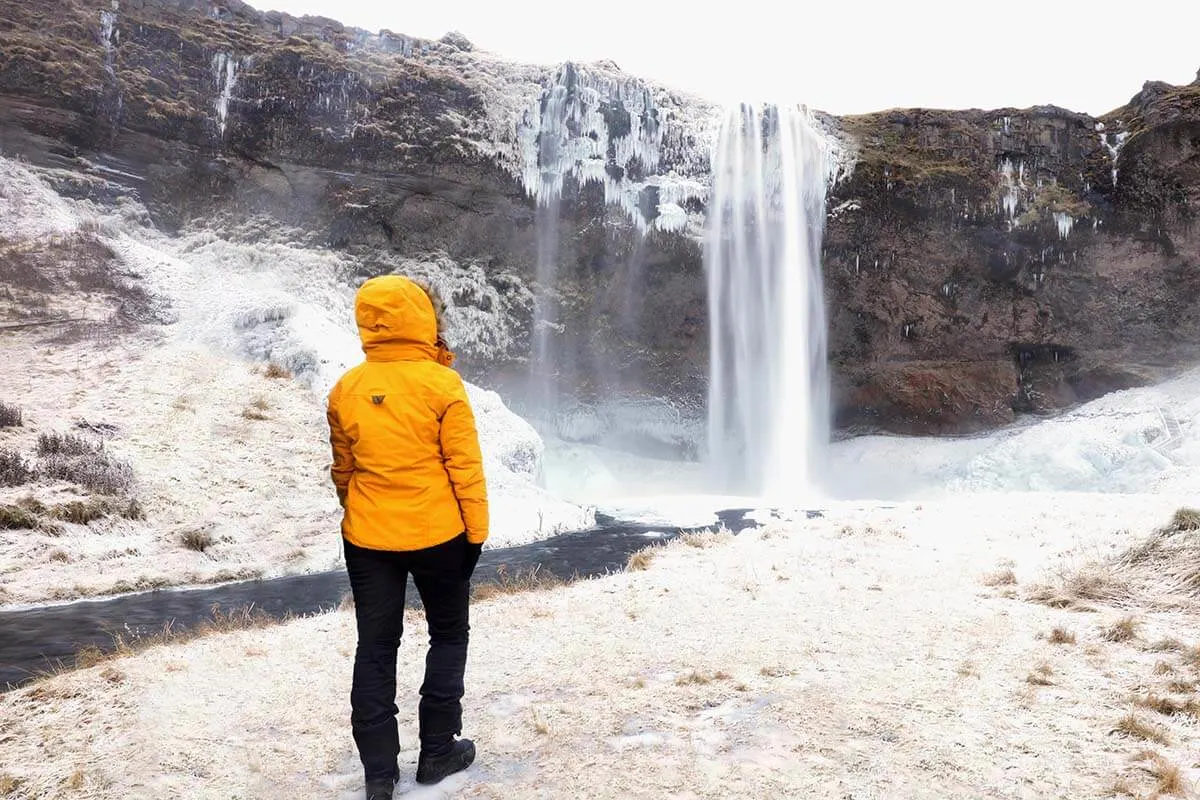 4. Think twice before driving in Iceland in winter
"I'm planning a road trip in Iceland in winter but have never driven in the snow before. Is it a good idea?"
You have no idea how often I get these and similar questions. And the answer is always "no". Don't do that, don't risk your life. Iceland can be really beautiful in winter, but it's also unpredictable and can be harsh. The chance of a snowstorm, icy roads, and complete whiteouts is very high.
Even people who are used to driving in winter conditions at home tell us they seriously underestimated what driving in Iceland in winter can be like.
Yes, you may get lucky and the roads will be dry and clear. But you can also get stuck in the snow in the dark with no one for miles around to ask for help. And yes, you can also slip off the road before you even realize it (it happened to us on an icy road at the beginning of June once!).
So do yourself a favor and don't rent a car unless you know what to expect and are prepared for it. There are amazing winter day trips from Reykjavik, and you can also opt for multi-day tours. They use vehicles that are adapted for Icelandic roads and winter conditions, and you'll also be traveling with a local driver/guide who has the experience and knows the area, the weather conditions, etc.
Also, if you drive, be sure that you take full insurance for your car! This is a must in Iceland in any season, but absolutely non-negotiable in winter. We always rent our cars through the RentalCars website and also take the full insurance option through them (it's much cheaper than with the local companies directly).
TIP: Via the link below, you can access a very detailed guide with first-hand testimonies and tips for driving in Iceland in winter. Check it out so that you can take an informed decision!
LEARN MORE: Driving in Iceland in Winter (What to Expect & Tips)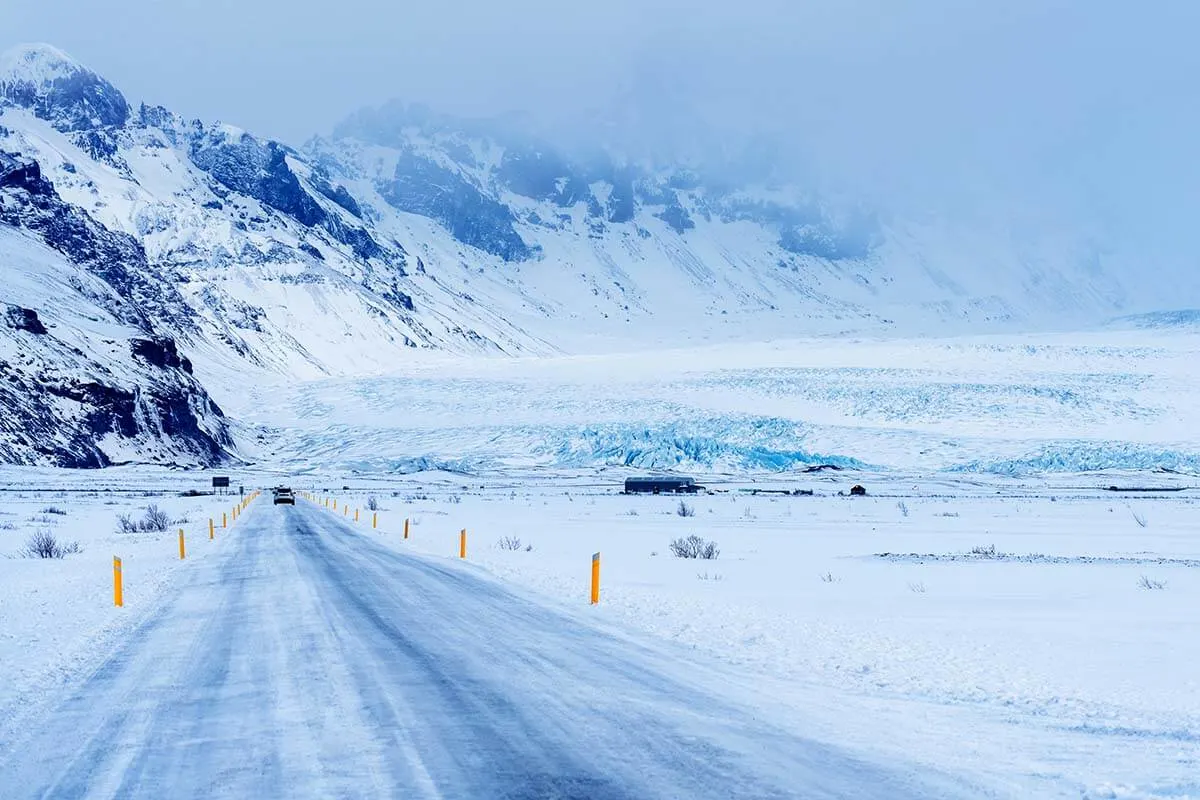 5. Stay flexible
While it's always very important to travel well-prepared and plan your trip in advance, it's equally important to be prepared for the unexpected. So while it's not always simple, remember that you have to be flexible when traveling to Iceland in winter.
It sometimes happens that the weather is so bad and the conditions are so dangerous that the Icelandic authorities issue a travel warning and ask everyone to stay indoors. This is not a moment to travel!
So even if you had another hotel booked or planned to visit a place that's at the top of your bucket list, you'll have to stay put and reschedule.
If you had any tours booked, most companies will reschedule and/or offer alternatives or give you a refund (we recommend booking all tours/tickets via GetYourGuide so that you keep maximum flexibility). It can be a bit trickier with hotels unless you booked a flexible rate with the possibility to cancel up to the day itself.
Luckily, this doesn't happen very often, and less in the south of Iceland than in the north. But you should be aware that there is such a possibility. If this happens, just make the best of the situation that you are in and always choose safety above anything else.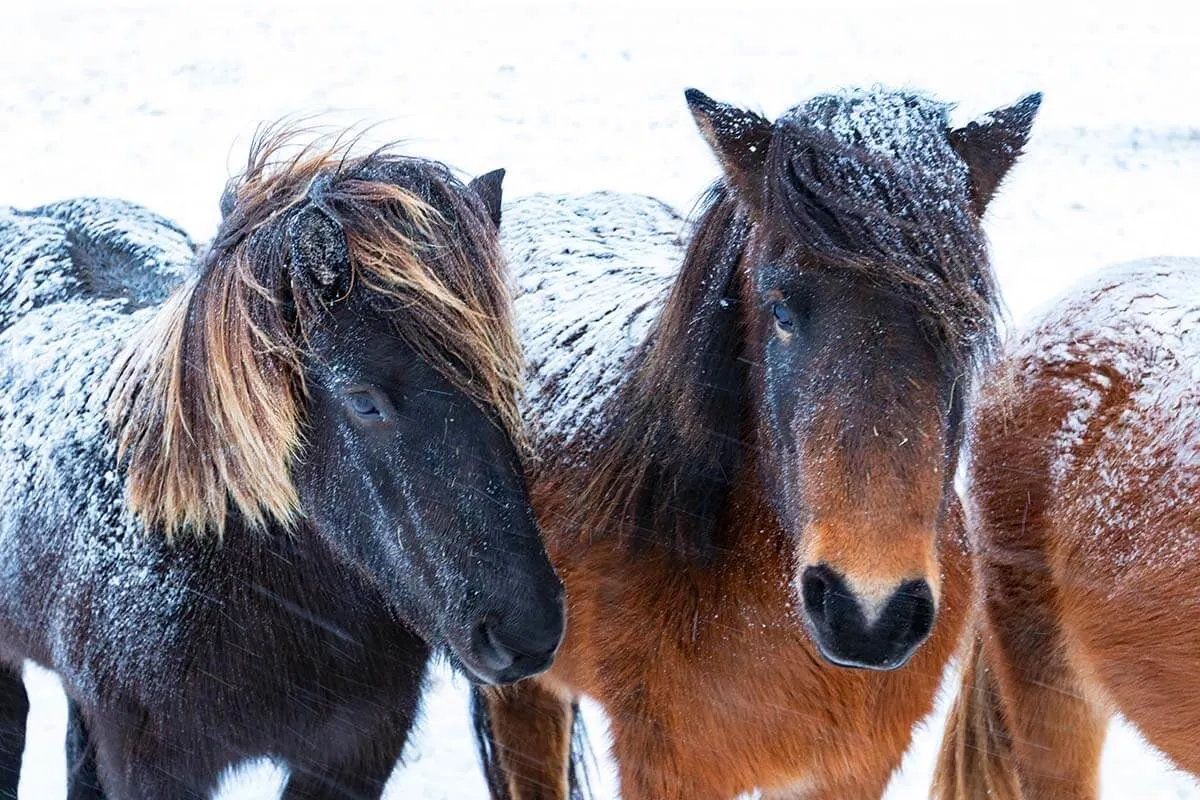 6. Focus on southern Iceland
If you are planning a self-drive road trip in Iceland in winter, I highly recommend that you focus on the southern part of the country rather than driving the entire Ring Road. This is especially the case if your time is limited and definitely if you have no winter driving experience!
Even in the summer, when the roads are open and the days are endless, we recommend at least 10 days for the entire Ring Road of Iceland (and even then, it will be rushed). In the winter, you have a much bigger chance for road closures in the east and in the north of the country. Plus, the days are so short that you'll hardly have any time to see anything.
So unless you have plenty of time, winter driving experience, and are very flexible, plan your itinerary around Reykjavik, Reykjanes Peninsula, the Golden Circle, and the south coast up to Jokulsarlon Glacier Lagoon, potentially Stokksnes Peninsula.
You could also visit Snaefellsnes Peninsula in the west, which is just about 1.5 hours drive from Reykjavik. Just beware that the weather here can be quite different than around Reykjavik or in the south.
If you are visiting Iceland towards the end of the winter – March – April, then the Ring Road should be more feasible because you have much longer days. Still, road closures can occur and you need to foresee more time.
TIP: If you absolutely want to do the entire Ring Road in winter, consider a multi-day guided tour. You can find quite a few good options here.
READ ALSO: Best Things to Do on Iceland's South Coast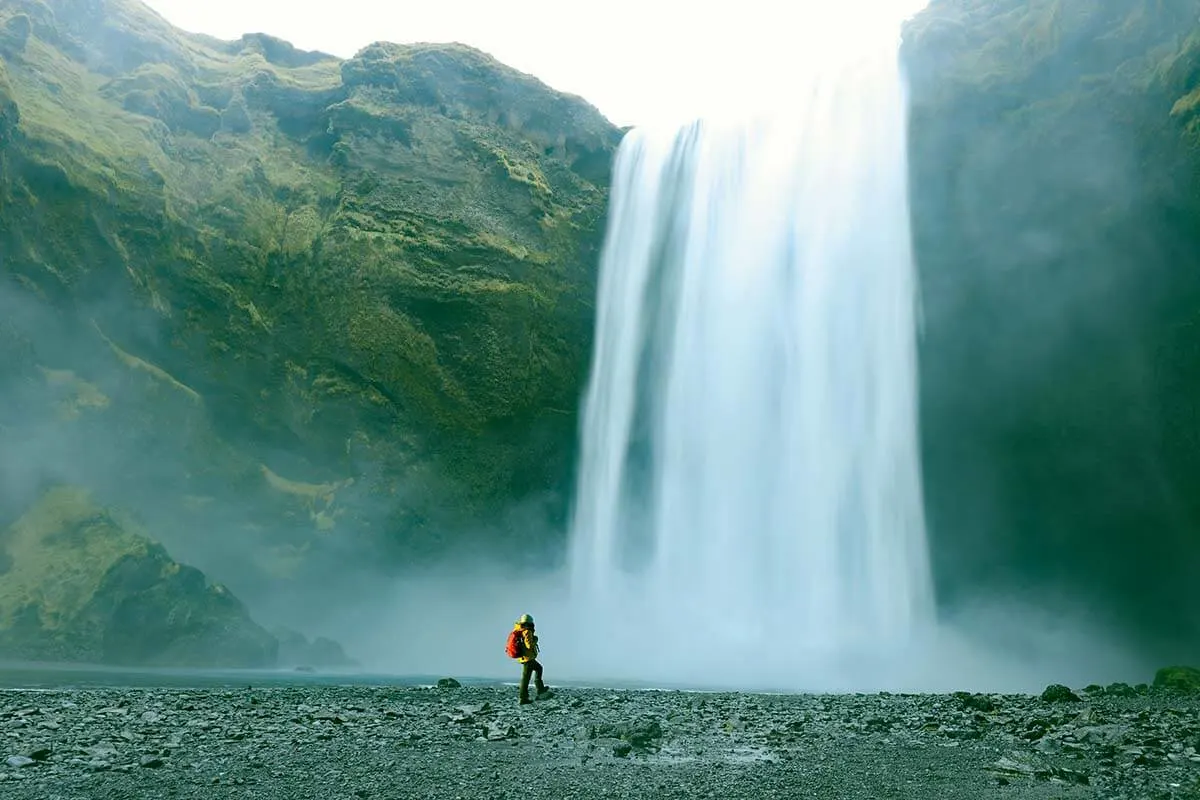 7. Start your days early
The best way to make the most of the short daylight hours in Iceland in winter is to plan really well and start your days early. Ideally, you leave before it even gets light so that you can maximize your sightseeing time at the main sights and attractions.
If you are taking organized tours, then you have nothing to worry about. They will take this into account and will adjust their starting times depending on the month/week/day when you travel.
If you are self-driving, plan your itinerary really well so that you can minimize the driving times/distances between the attractions and make the most of your days. This is especially important if visiting Iceland in November, December, or January when the days are the shortest.
TIP: Via the link below, you can find our recommended Iceland winter itinerary for one week. It's based on a trip that we did in mid-November when there were about 6 hours of daylight. It also includes some tips on how to adjust it based on when you travel.
LEARN MORE: Iceland Winter Itinerary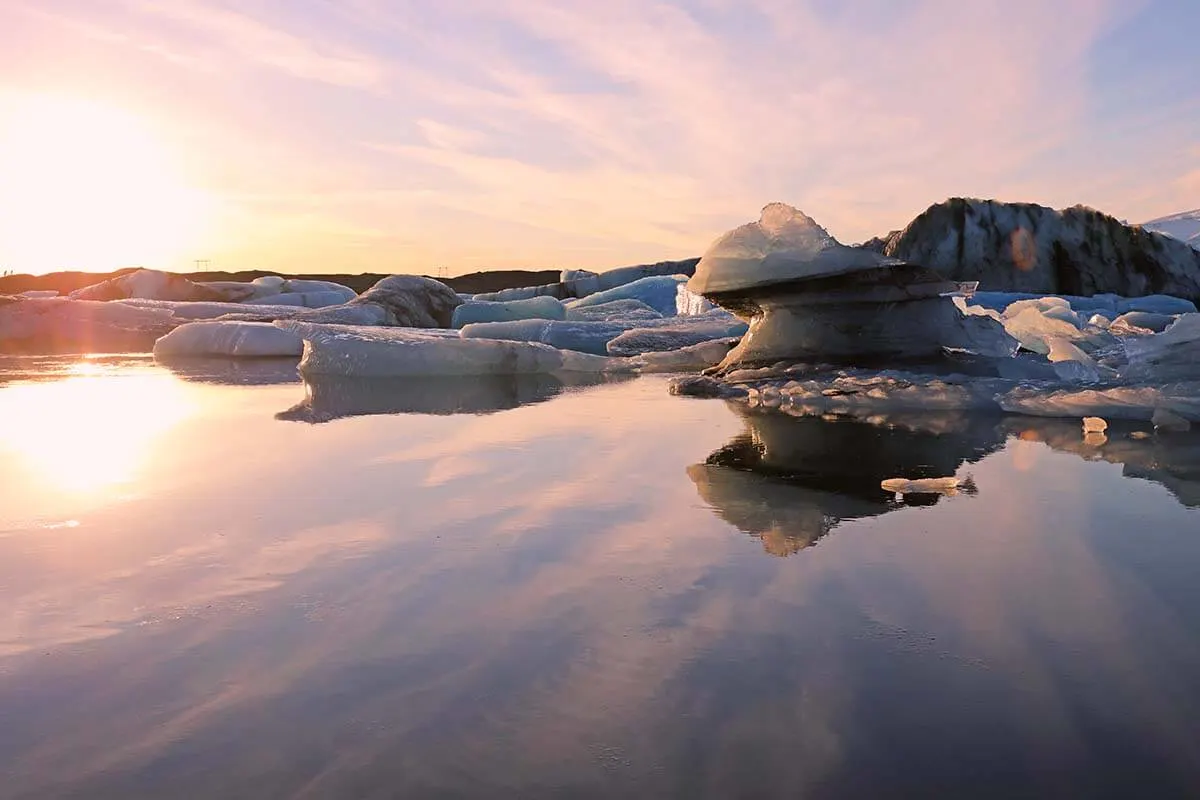 8. Make an effort to see the Northern Lights (but don't count on it)
For many people, the dream of seeing the Northern Lights is the main reason to plan a winter trip to Iceland. If that's you too, there are a few things that you should know.
First, you have a chance to see the Northern Lights from early September to mid-April. So you don't absolutely need to travel to Iceland in the deepest winter just for that. In fact, Iceland is amazing in September and it's incomparably easier to plan a trip than in the winter months.
Second, you can never count on seeing auroras. You may get lucky and see them every night during your trip, or you may not see them at all. It depends on aurora activity, but also on the weather and on the cloud coverage.
So do not plan your entire trip just for the Northern Lights! Be sure that you have plenty of other things on your itinerary so that your winter trip to Iceland is a success either way. And if you get to see the auroras, it will be just the cherry on the cake.
And finally, if you want to see the Northern Lights, you have to actually make an effort. Check the aurora forecast and maybe even install an app that alerts you if the chance to see them is high in your area. And if the chances are high indeed, go outside and wait for them (or book a tour if you are staying in the city).
I still can't believe how many people stayed in the hotel room on the night when we saw the most impressive aurora display ever. It was just 11 pm and most people were just back in the room after dinner, everyone was alerted, yet, hardly anyone came outside. And these were the same people who said it was their biggest dream to see the auroras… The chances of you seeing them from the comfort of your bed are quite low, and no, you may not get another chance. So bundle up and get out there!
Good to know: If you are staying in Reykjavik and plan on booking Northern Lights tours, do that at the beginning of your stay. Many companies offer a free second try if you don't get to see them, so it's best that you have a few days left to try again. Here you can find an overview of Northern Lights tours. Be sure to double-check their conditions before you book.
TIP: We have a very detailed guide about the Northern Lights where you can find all the information and answers to your questions. Check it out!
LEARN MORE: Northern Lights in Iceland – Complete Guide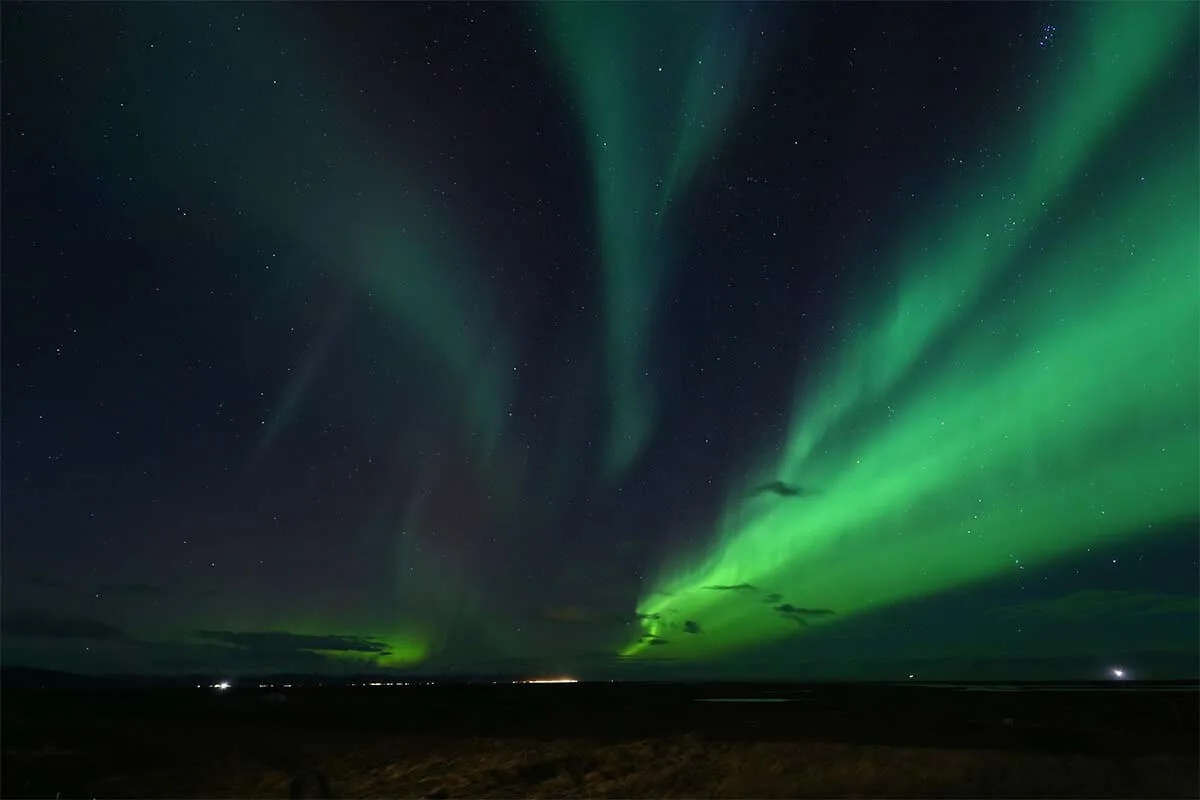 9. Pack thin (touchscreen) gloves
One thing I can tell you for sure – you'll want to take pictures everywhere you go in Iceland. Even in the summer, your fingers will often get cold in the rain and the wind. In the winter, your hands and fingers will be freezing!
So in addition to the warm waterproof gloves, be sure to also pack thinner gloves that you can wear underneath and also keep on while taking pictures. If you are taking pictures with your smartphone, you will want to take touchscreen gloves.
TIP: Warm waterproof mittens will be easier to combine with thin gloves. They are also much warmer than regular gloves. Plus, it's easier to use hand warmers if needed.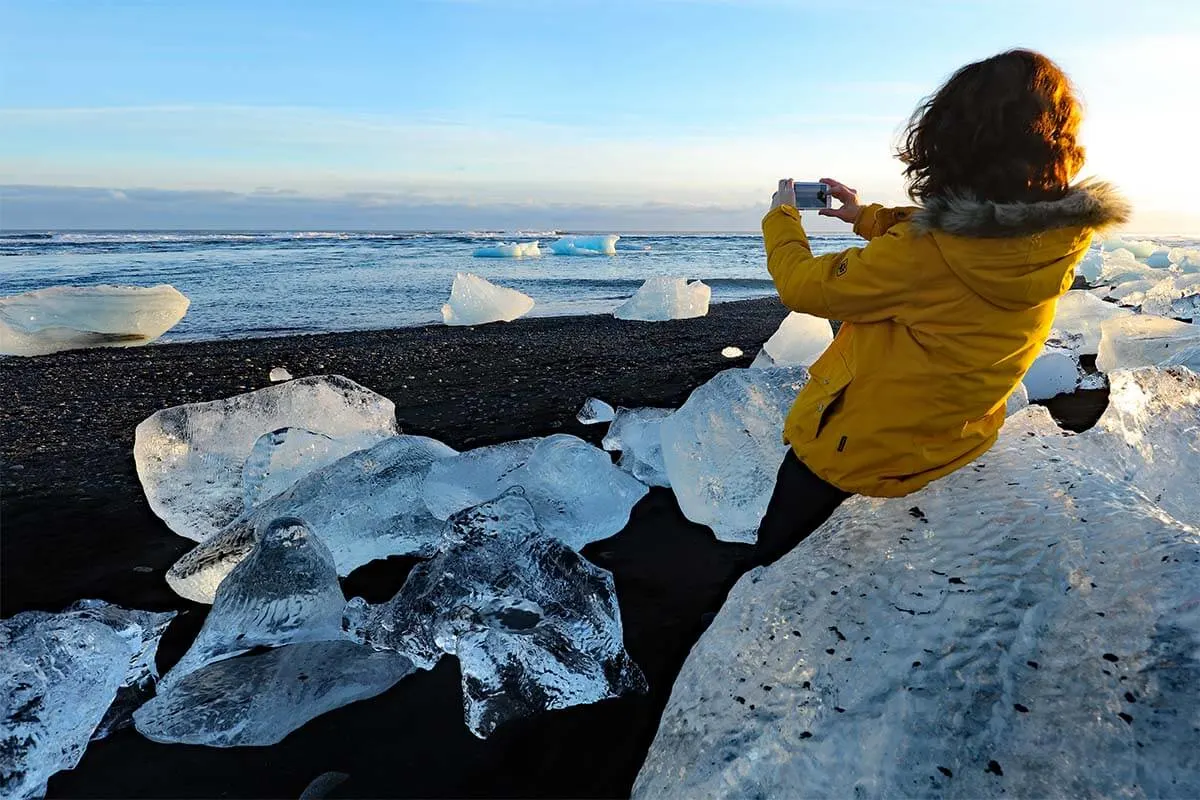 10. Visit geothermal pools
Soaking in the warm geothermal waters is one of the nicest things you can do in Iceland at any time of the year. But there's something magical about it when it's dark and cold outside!
Iceland is known for its abundance of amazing geothermal pools. From natural geothermal pools in nature and rather simple communal swimming pools which you can find in pretty much any bigger town or village to the more luxurious geothermal baths with spa facilities, the choices are endless!
So when planning your winter trip to Iceland, be sure to do some research and foresee some time to visit at least a few geothermal pools! Ideally, you visit them in the evening, when it's too dark for sightseeing anyway.
Here are just a few of the most popular options close to Reykjavik:
If you are planning a self-drive trip, remember to check if there is a communal pool in the village close to the hotel where you are staying (there are a few in Reykjavik too!). Most local pools cost less than $10 and are open late in the evening. They are heated and often have multiple pools and jacuzzis, plus saunas, steam baths, etc. It's a great way to end the day after sightseeing. We always try to do this when road-tripping in Iceland in any season. Also, many rural hotels in southern Iceland have hot tubs available.
Good to know: All local pools in Reykjavik city are free with Reykjavik City Card.
TIP: Don't forget your swimsuit and pack a quick-drying travel towel if you are visiting a few pools. Some places include towel rental in the ticket, but most of them charge for it (and Iceland isn't cheap!). Flip-flops can be useful too.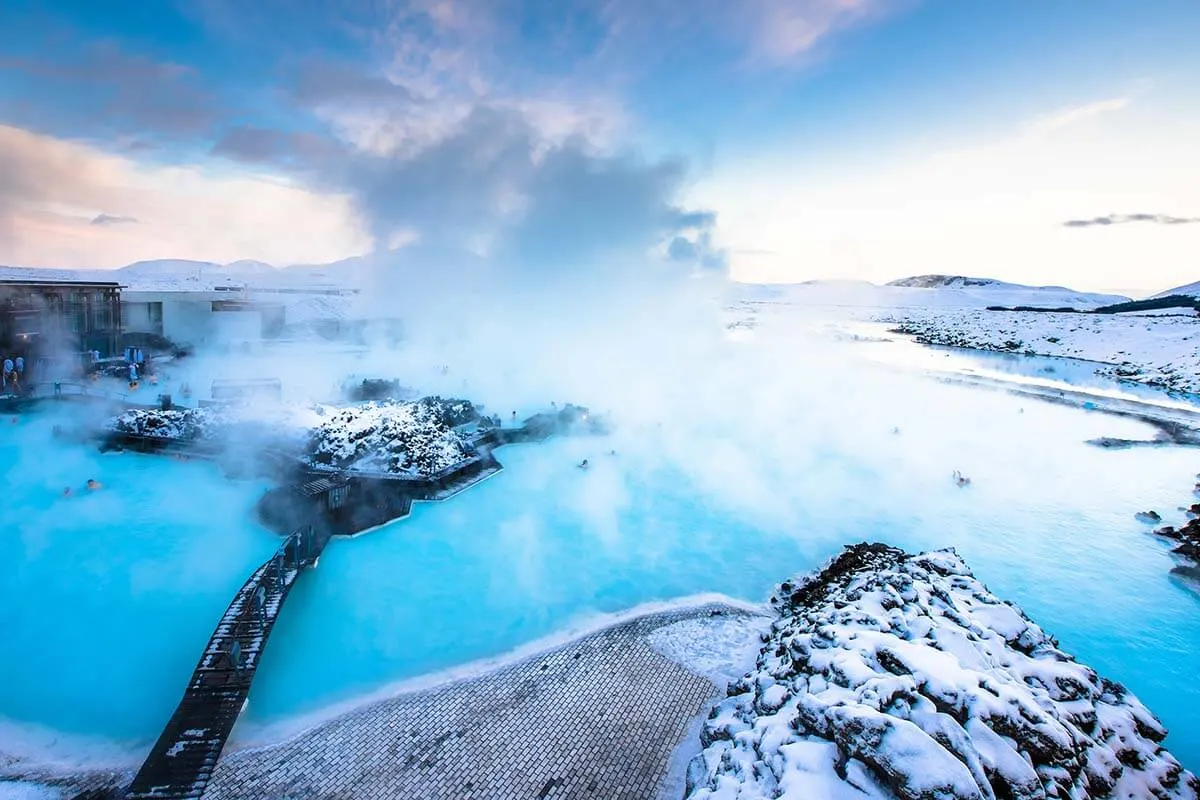 11. Choose your activities wisely
While you can see and do a lot in Iceland in winter, some activities will be more enjoyable than others. So when planning your itinerary, do some research and see what the best options are. But don't just focus on your interests and try to be more objective when choosing where to spend your time and money.
Remember that the fact that a specific activity is available doesn't necessarily mean that winter is the best time to do that. Unless your time and budget are unlimited, some options are simply better than others.
One of the best examples to illustrate this is whale-watching tours. Yes, there are whale-watching tours from Reykjavik in winter. And yes, there is a small chance that you will get to see whales. But winter is really not the best season for that and there are fewer whales around than in the summer. Not even to mention that it's freezing cold on the boat and the seas can get really rough.
So if you only have 4-5 hours of daylight in the cold weather and have to choose how to spend them, whale watching would be at the very bottom of my list.
During the day, go and see some of the nicest places in nature (waterfalls, black-sand beaches, glaciers, etc.). If you are looking for more action, consider glacier hiking, ice caves, or snowmobile tours. And when it's dark, visit museums, have long dinners, soak in the warm geothermal baths, and go hunting for the Northern Lights… There are so many possibilities!
TIP: Plan the activities that you absolutely don't want to miss at the beginning of your trip. That way, if the weather doesn't cooperate, you still have a chance to reschedule.
READ ALSO: Best Winter Tours from Reykjavik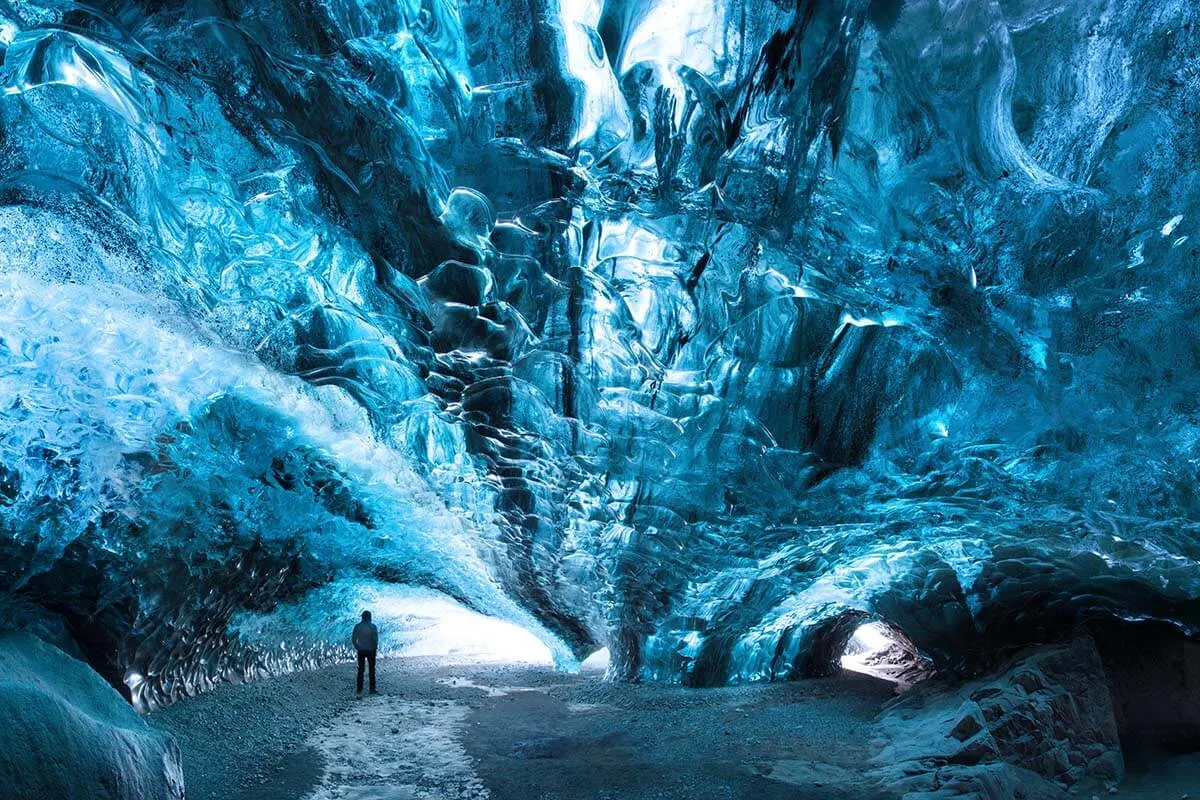 12. Pack snow traction cleats
We already mentioned the importance of warm clothing and sturdy warm winter boots. But there's one more thing that you should also consider packing for Iceland in winter – traction cleats.
Snow traction cleats, stabilicers, or ice cleats are not quite the same as crampons, but the purpose is the same – to protect you from slipping and falling on ice. Crampons are heavy and are more suitable for glacier hiking (don't worry, if you go on a tour, they will provide you with all the necessary equipment), whereas traction cleats can be very handy in the cities, on icy pavements, and when visiting waterfalls.
It's just a small item that you can easily carry in your pocket and wear when needed. And yes, you may not always need them, but they can save you a few broken bones (not to mention your vacation).
So if you are visiting Iceland in the coldest months (+- November to March), definitely consider getting a pair of stabilicers/snow traction cleats.
TIP: Be sure to try them at home and practice a bit so that you can put them on and take them off easily. Restaurants, shops, museums, etc. ask not to wear traction cleats indoors (they can ruin the floor).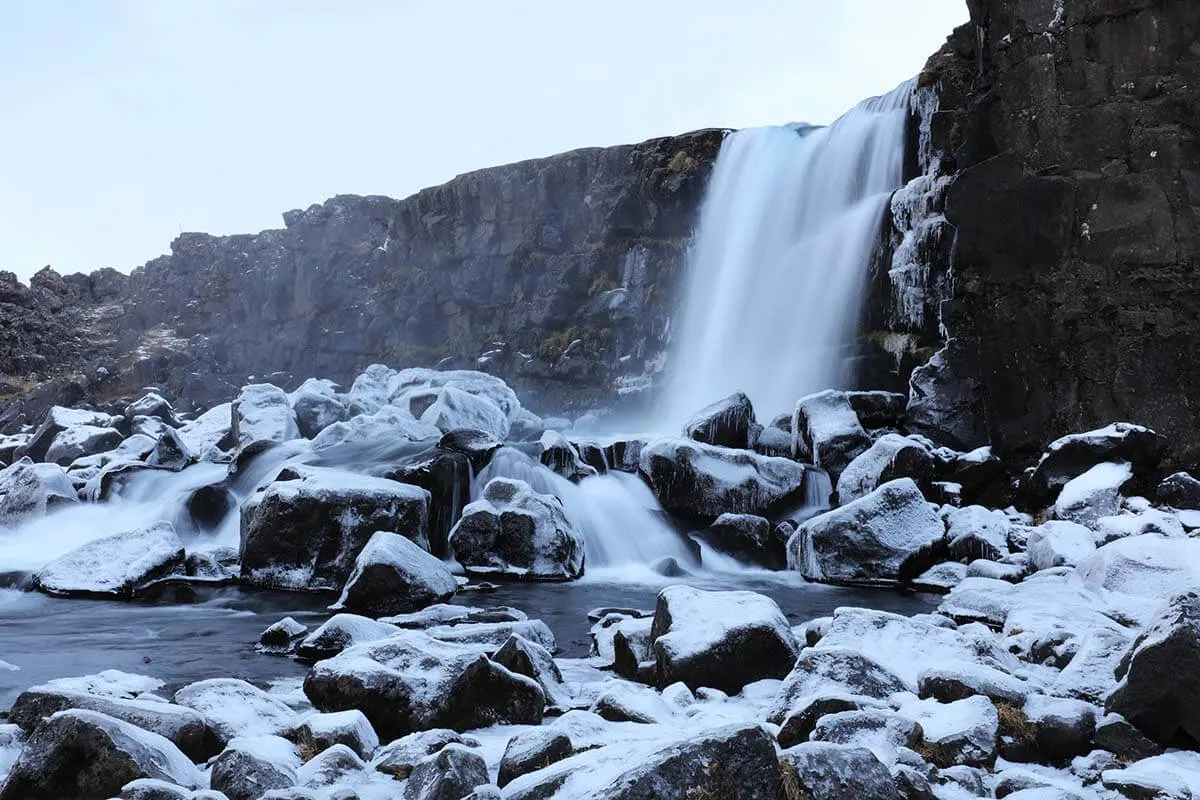 13. Keep your batteries charged
You probably already know that batteries drain fast when it's cold. So be sure that you always have a backup or a battery charger nearby.
If you are using a camera, pack two sets of spare batteries and carry them inside your jacket, close to your body. That way, they remain warm and will last longer.
For your smartphone or other devices, consider a portable charger (power bank). If you are self-driving, pack a multi-port USB car charger. And don't forget the right cables for each device!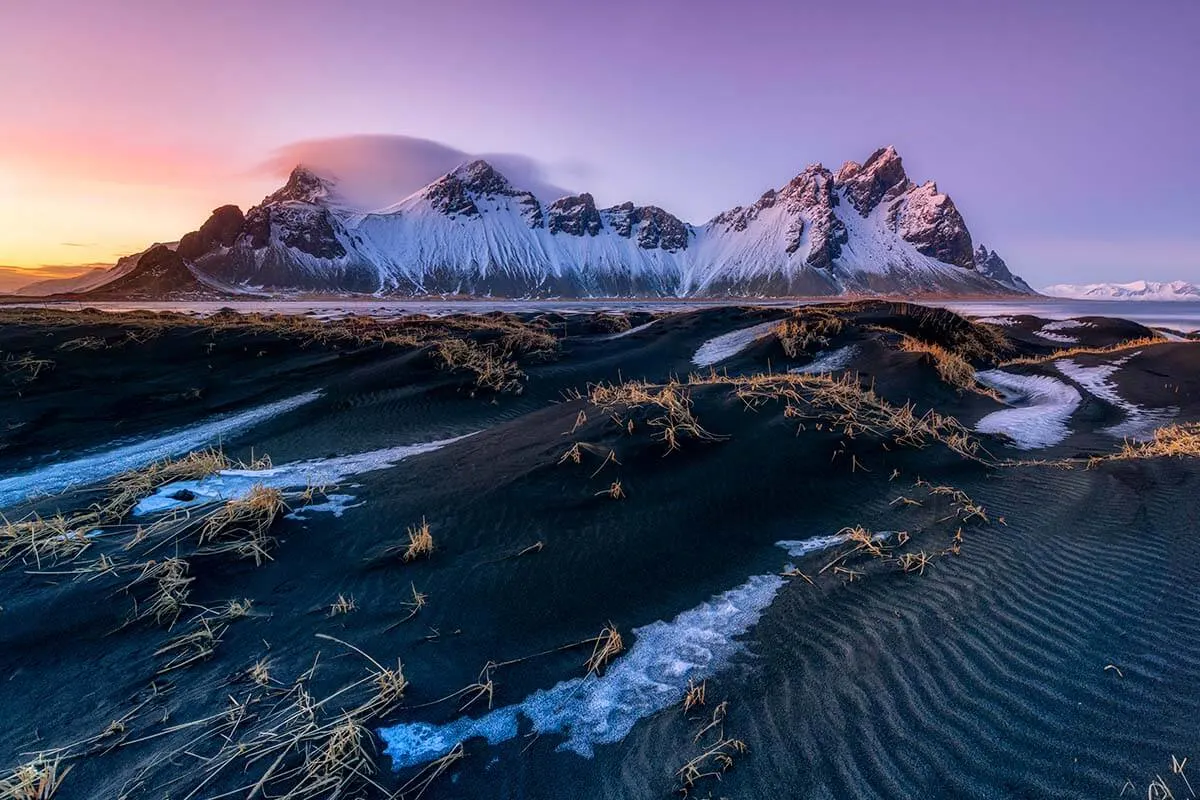 14. Stay informed
Since Icelanders are used to the ever-changing weather and know that there is always a chance for severe weather, they have a few websites where you can find up-to-date information and warnings (if any).
One of the most important websites/apps to keep an eye on is the website of the Meteorological Institute of Iceland (vedur.is). Here, you can find all the most important alerts, such as severe weather warnings, volcanic activity, etc. This is also the website we use to check the aurora forecast.
If you are driving, be sure to also check the safetravel.is website. Here, you can see the up-to-date status of the roads and weather alerts all over Iceland. Another useful website is road.is.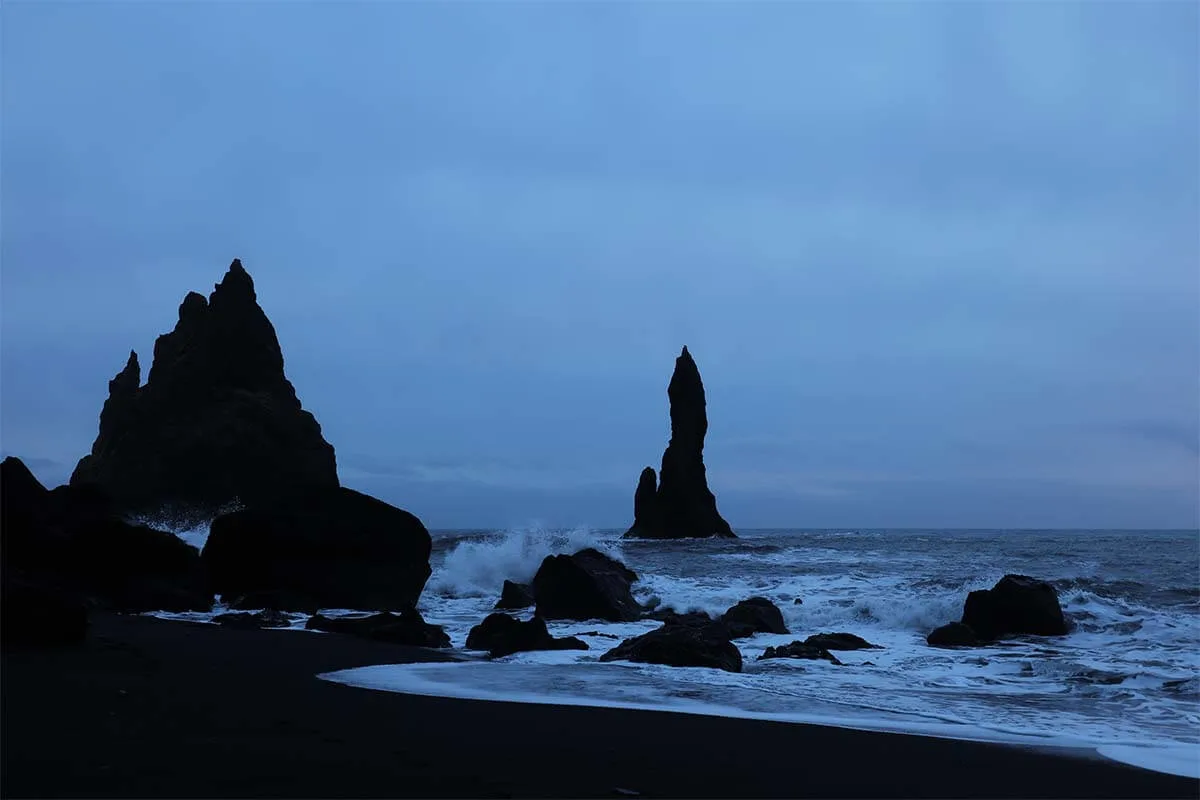 15. Protect your skin
The combination of cold weather and harsh wind means that your skin will be very dry. And while it might look like a minor nuisance, don't underestimate this when visiting Arctic areas in winter. Iceland is no exception. Cracked aching lips and an itchy body can ruin your vacation.
There are a few things that you should definitely take with you (and use daily): moisturizing lip balm, hand cream, and body lotion.
It doesn't matter that much which brand you use, anything will be better than nothing!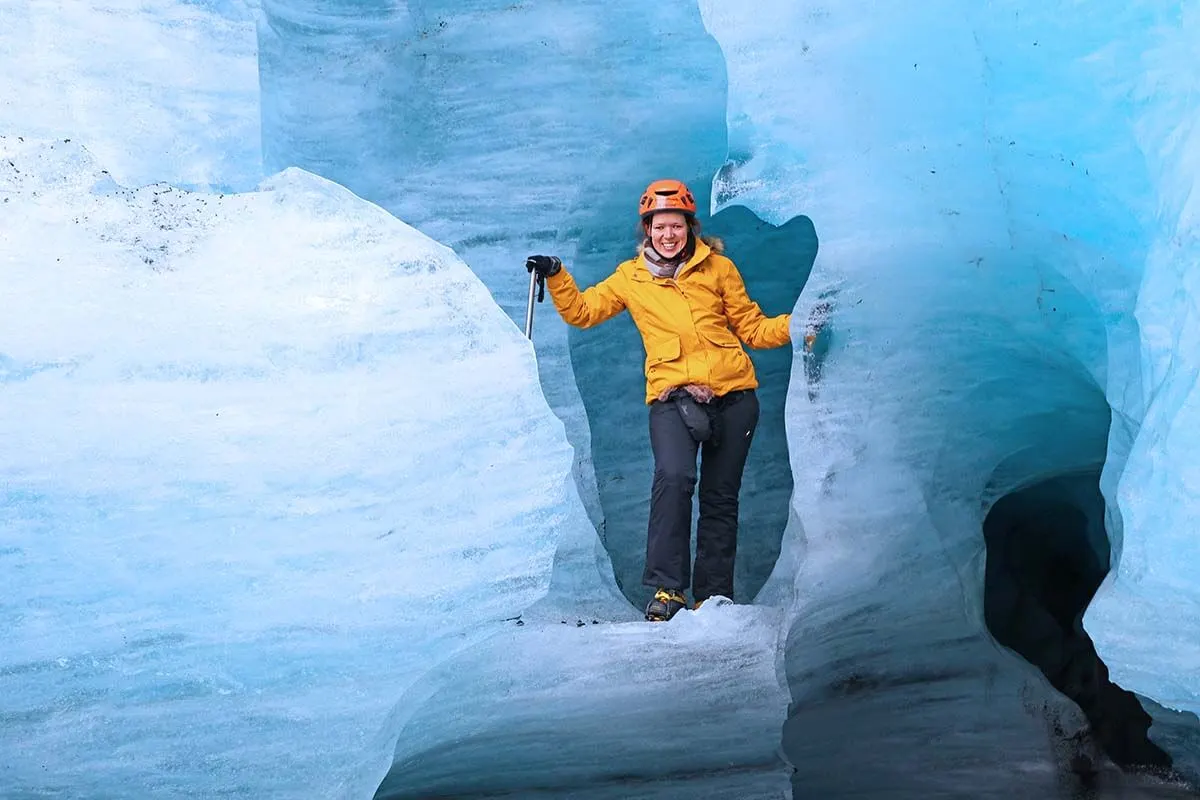 16. Pack some snacks and a thermos
There is not much that feels better than a cup of warm drink on a freezing cold day. And while there are now more and more cafes, restaurants, and facilities in Iceland than in the past, it's still not always possible to get a warm drink when you feel like it. Not even to mention that you will waste precious daylight time looking for such a place.
So pack a travel thermos for hot drinks and fill it up with coffee or tea at your accommodation in the morning. You'll be really glad to have it when sightseeing in nature! If you are staying in Reykjavik, you can find a café instead ;).
I also highly recommend packing some snacks and a picnic lunch when you are exploring outside of the city. Not having to look for a place for lunch will save you lots of time. And since the daylight hours in winter are so short, you really want to make the most out of your time!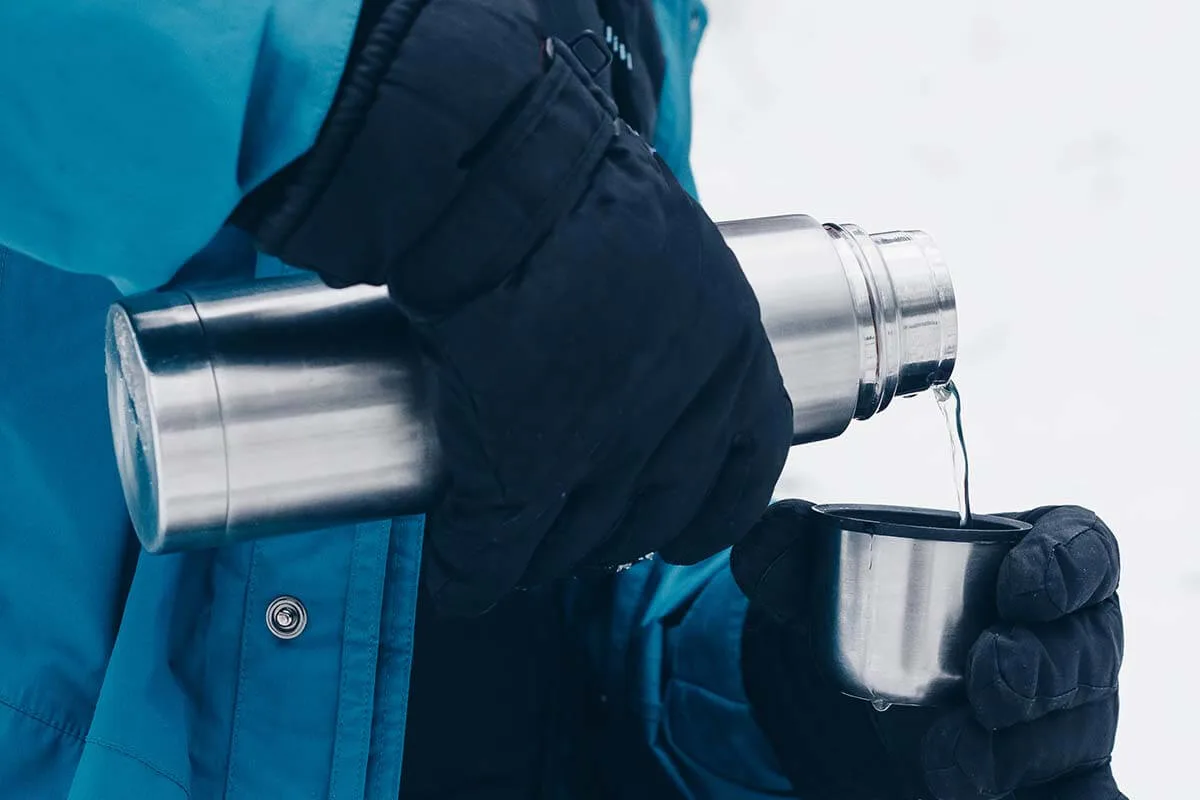 17. Spend some time in Reykjavik
If you are visiting Iceland in the warmer months, then Reyjavik should be just a short stop and nature destinations your main focus. However, if you are visiting Iceland in the winter, definitely plan to spend some more time in the city!
In fact, many people choose to make Reykjavik their home base when visiting Iceland in the darkest months. Most of the time, it's the best way to see a lot without having to drive. But many of our readers who rent a car in winter also stay in or just near Reykjavik. This gives you more flexibility to decide where to go and what to see each day, and you can easily adjust your travel plans based on the weather.
When the days are cold and really short, Reykjavik is definitely one of the best places to be in Iceland. There is a lot to see and do indoors, and you can also find a big variety of organized day tours to explore some of the nicest nature destinations nearby.
In addition, there are many more accommodation options in the city (see our guide on where to stay in Reykjavik for more info). Plus, you have a much bigger choice of restaurants. More choice usually means better prices too.
Good to know: Reykjavik has some really nice fireworks on New Year's eve.
LEARN MORE: Best Things to Do in Reykjavik & 1-Day Reykjavik Itinerary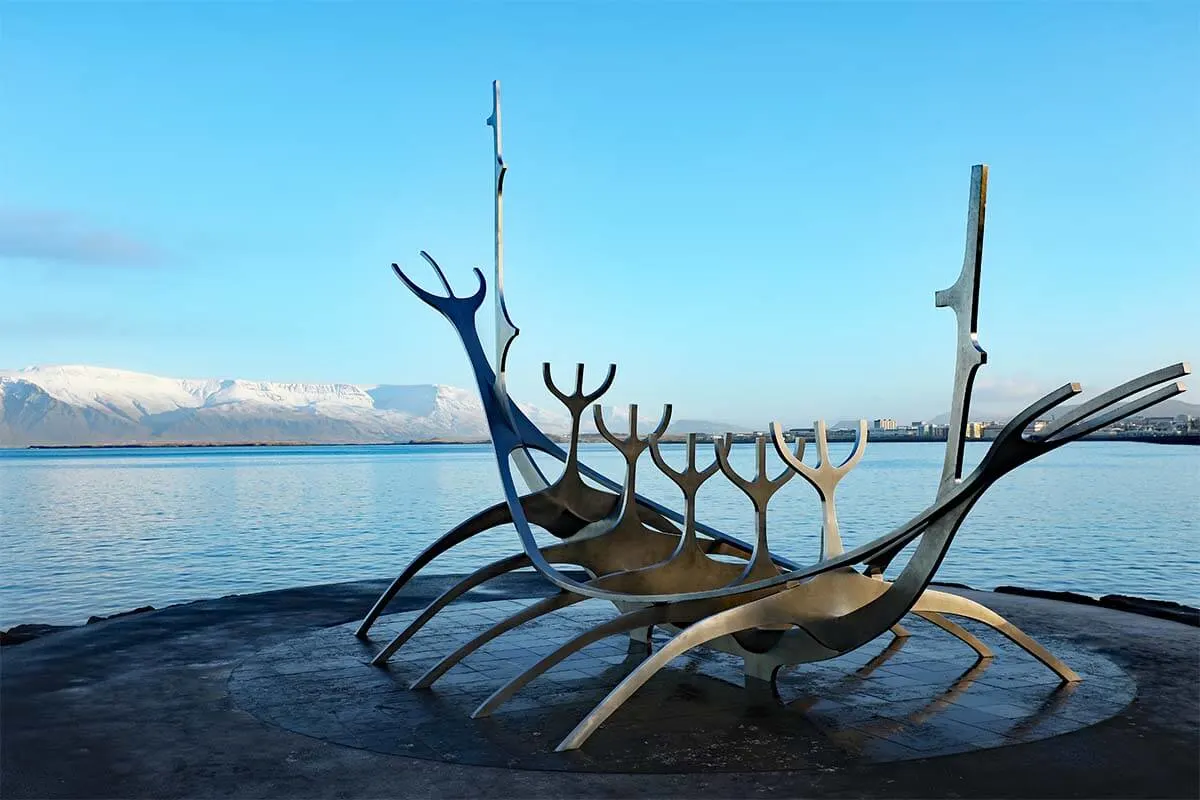 18. Make the best of it and enjoy Iceland in winter!
I hope that our tips and info haven't scared you off. Yes, Iceland is magical in winter, and it's absolutely worth a trip.
In all the years that I'm running this blog and also our Iceland & Scandinavia travel group on Facebook, I haven't heard from a single person who didn't enjoy visiting Iceland in the winter months.
But everyone will tell you the same – you have to travel well prepared, remain flexible, and you'll have a blast!
So prepare well, but remain flexible and stay safe. And once you are there, just make the best of the weather and the daylight that you get. It will be a trip to remember and I'm sure that you'll start planning another trip to Iceland before you even get home.
Have a great time in Iceland!
TIP: In addition to winter-specific travel info in this guide, we also have an article with general travel tips for visiting Iceland that you may want to know before your trip. Check it out via the link below!
READ ALSO: Iceland Travel Tips
More information and travel inspiration for visiting Iceland in winter:
If you found this post useful, don't forget to bookmark it and share it with your friends. Are you on Pinterest? Pin these images!