Thinking of visiting Villa del Balbianello on Lake Como (Italy) and wondering what to expect? Want to know if you absolutely need to book your tickets in advance or if the hike to the villa is difficult? Or is it actually worth the hassle? In this guide, we share our experience-based tips and useful information for your visit. Find out!
Villa del Balbianello in Lenno is one of the most beautiful places on Lake Como. Built at the site of an old cloister at end of the 18th century by Cardinal Durini, the villa had many different owners over the centuries. In time, it was turned into a prestigious vacation residence, with the most unique location on Lake Como.
Today, Villa Balbianello is in the hands of FAI (the National Trust of Italy). This historic villa as well as its gardens are open for visits to the public. Nowadays, Villa del Balbianello is one of the most popular tourist attractions on Lake Como attracting lots of visitors.
Villa Balbianello owes its popularity to its stunning location, which distinguishes it from all the other amazing villas on Lake Como. In addition, it was also used as a setting for several Hollywood films, which made it even more famous among international visitors. James Bond Casino Royale film was filmed here and also Star Wars Episode II: Attack of the Clones, as well as several lesser-known movies.
We recently visited Villa del Balbianello, and in this guide, we share some practical information and things you may want to know before you go. Find out!
Complete guide to visiting Villa del Balbianello– OVERVIEW
Location & Getting There
Villa del Balbianello is located on the Lavedo Peninsula next to the town of Lenno along the western shores of Lake Como in northern Italy. Because of its unique location on a hilly peninsula and being surrounded by the water on three sides, Villa del Balbianello requires a bit of extra effort to get to.
First, you should know that you are not allowed to drive all the way to Villa del Balbianello. You can drive to Lenno town, but unless you get there by 9-10 am, it's very difficult to find a parking spot.
There are two ways to get to the villa from Lenno: by boat, or on foot. You can also visit Villa del Balbianello with a guided tour (e.g. this tour from Varenna). In that case, your tour will likely bring you to the villa by boat.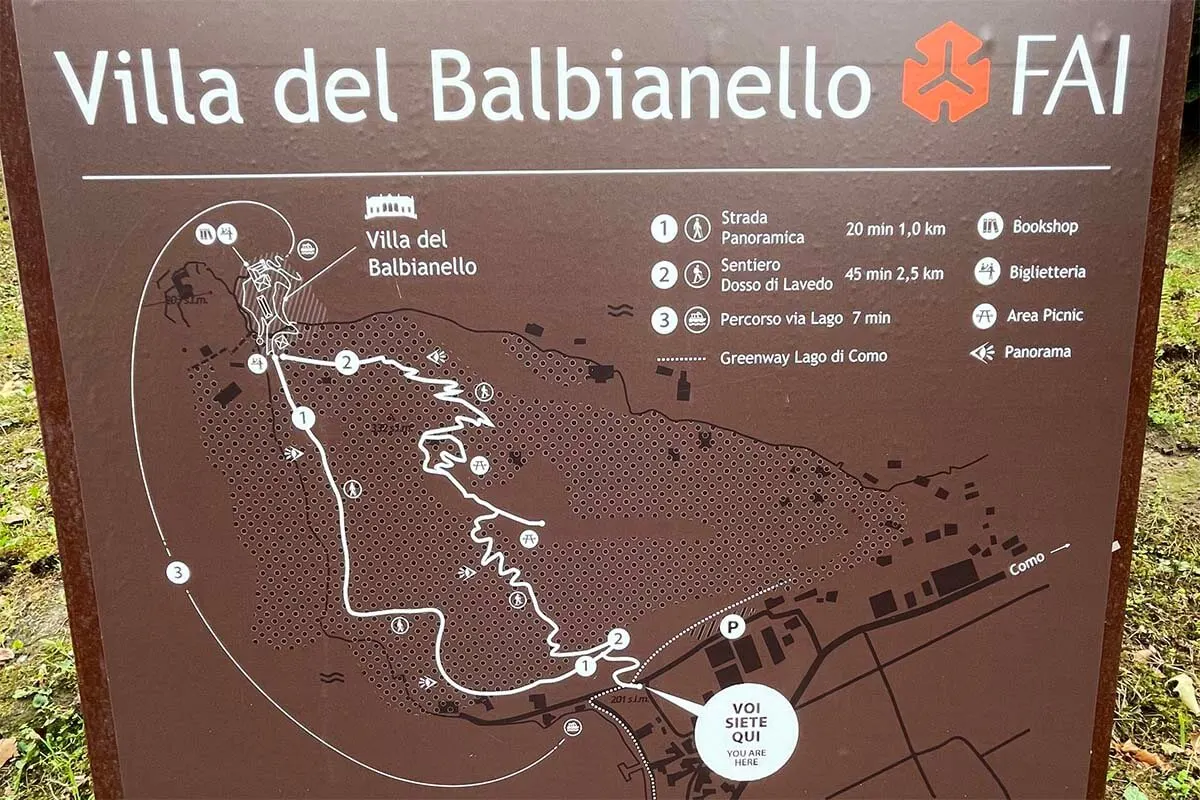 Here is how to get to Villa del Balbianello:
By boat
From the waterfront in Lenno town, you can take a small boat shuttle to the villa. These boats cannot be rebooked and operate on a first-come-first-served basis. There are boats approximately every 20 minutes and the boat ride takes less than 10 minutes.
At the moment of the last update, the boat shuttle to Villa Balbianello and back to Lenno cost 8 euros. Alternatively, you can just take the boat one way (there or back) for 6 euros.
This is a great way to arrive at Villa del Balbianello. You also get to see it from the water, which is the only way to actually appreciate the entire structure and its unique location.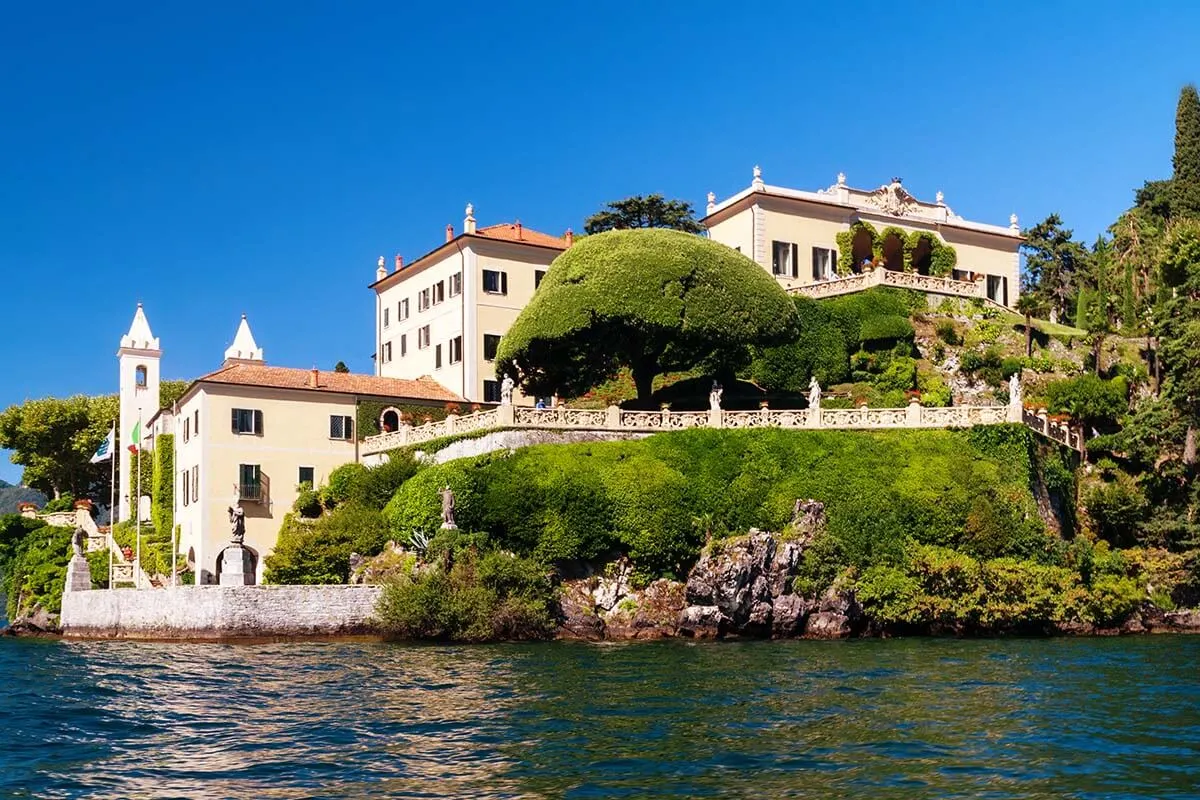 On foot
You can also easily reach Villa del Balbianello on foot. This is a good option for those who don't want to wait for the boat and also if the boats are not running due to the weather or it being a very low season.
There are two ways to get to Villa del Balbianello on foot:
The easiest way is about 1 km and takes about 20 minutes from Lenno town center. The official signs say that it takes 20 minutes from the moment you join the path, but it took us just about 12 minutes from there to the villa. This trail follows a road that is used for service cars and staff. It's a bit hilly, but really nothing to worry about. Everyone in a reasonable physical shape, including young kids can easily do this walk.
There is also another – hiking – path that goes to Villa del Balbianello through the forest. It is much steeper and longer. According to the signs, this trail is about 2.5 km and takes about 45 minutes. We didn't do that, so I cannot comment on how easy or difficult it is and the only people we saw doing this were wearing hiking shoes and carrying hiking poles.
Since the majority of visitors come here for the villa and not to hike, most just opt for the main easy trail.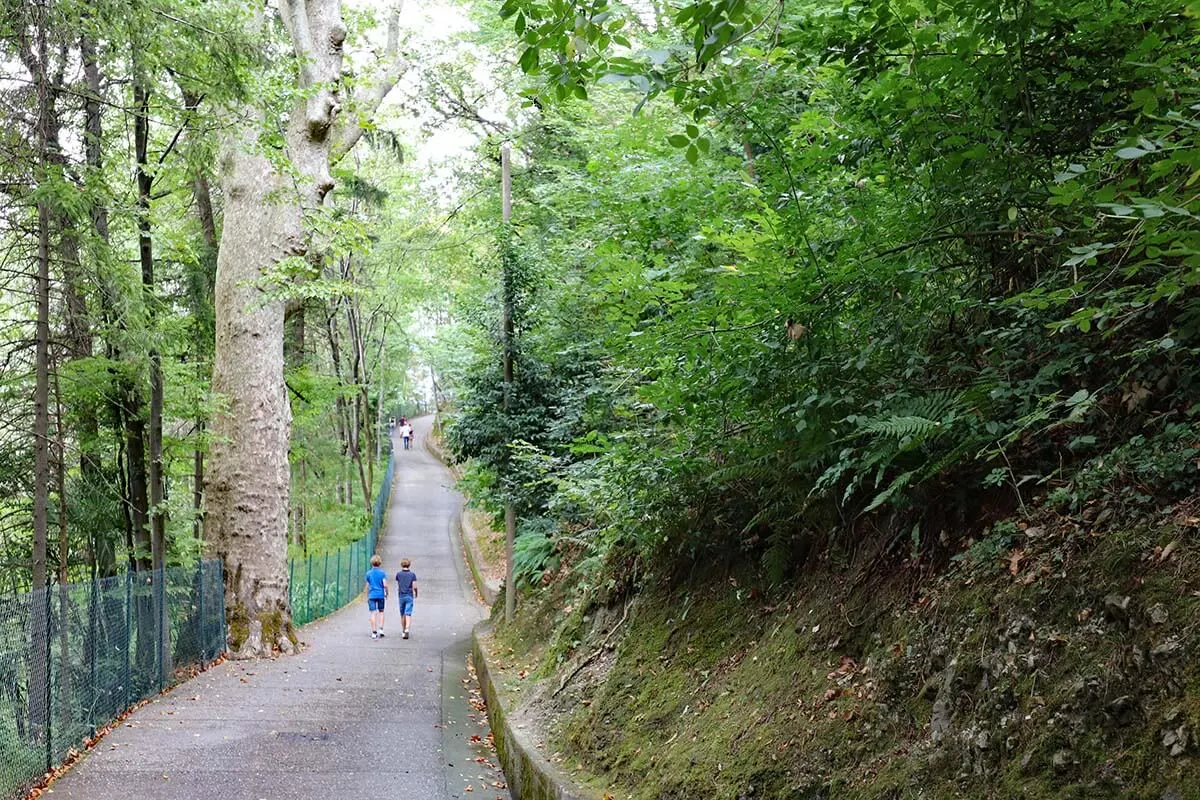 Scenic boat tours
As already said, one of the nicest ways to truly appreciate the unique location and setting of Villa Balbianello is by seeing it from the water.
However, even though you can see the villa from the shuttle boat, it's a covered (and likely crowded) little boat that goes too close to the shore to truly appreciate it.
It's also possible to see the villa from some routes of the passenger ferries on the lake. But – depending on where you are coming from – your ferry might not pass close enough.
So if you want to get closer to Villa del Balbianello and admire the beautiful shores and other villas along Lake Como, you may want to consider a scenic boat tour. Keep in mind that most of these tours only run in the summer season and do not actually stop at the villa. The main advantage of these tours is that you can see places that are inaccessible by car and enjoy the majestic scenery of Lake Como from another perspective.
There are several options; here are a few of the most popular boat tours:
Private boat tour from Bellagio. This boat tour passes the most beautiful shoreline of Lake Como, including Villa del Balbianello, Villa Melzi, and Villa Carlotta. It also sails alongside Comacina Island. You don't visit any of these places – just see them from the boat.
Walking and boating tour. This tour combines the best of both worlds – you get to explore some of the nicest towns and villas of Lake Como on foot, and also from the water. It starts in Varenna.
Organized day tours from Milan (best value). Most of these tours start with a visit to Como town, followed by a scenic boat cruise on the lake and all the way to Bellagio and Varenna. So you can admire the lakeshore and the villas like Villa del Balbianello from the boat.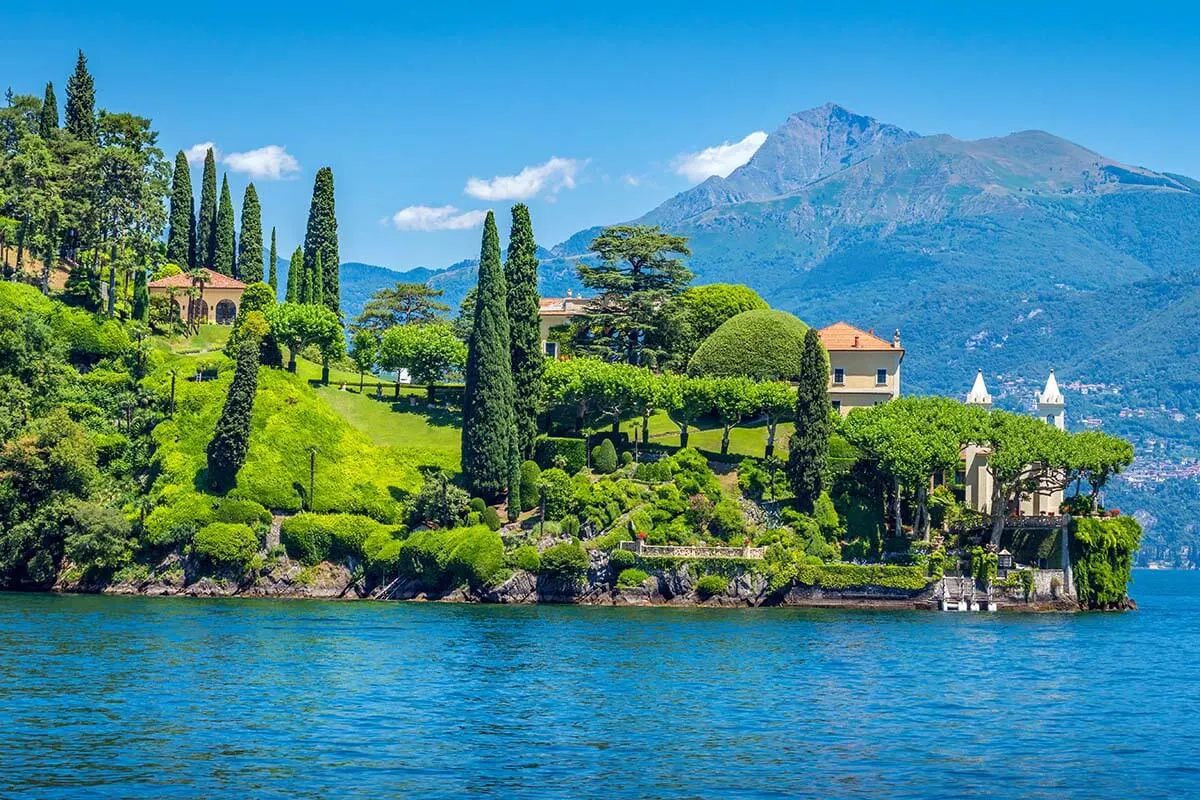 Villa del Balbianello Tickets
Villa del Balbianello is open to the public, but you will need a ticket to visit here. There are two options: visiting only the gardens or the gardens and the interior of the villa.
Most people will only see the gardens. And the reason for that is simple – the inside of the villa can only be visited with a guided tour. See below for more info.
Garden + villa guided tour
Unless you are traveling in a quiet season, the chances of finding a free spot for a guided villa tour upon arrival are practically non-existent. Well, not in the summer anyway.
To give you an idea, when we were planning a visit to Lake Como for the third week of August, all the tickets for the guided tours were already sold out a month in advance. You may get very lucky and find that there has been a cancelation on the day itself, but it's very unlikely that you will be right at the ticket desk at that exact moment when a spot frees up…
When I checked availability for September, on some days, it was possible to find some free spots about a week in advance. In November, there were plenty of tickets for the next day. So it really depends on the season when you visit.
TIP: If you absolutely want to visit the interior of the villa, be sure to check the official website and book your tickets upfront! If you are traveling in the summer, I would book them as soon as you know your travel dates.
On the other hand, you don't absolutely have to go inside – the gardens are worth a visit too! But also for the gardens, the official website tells you that "reservations are mandatory". But are they and what to do if you didn't reserve? See below!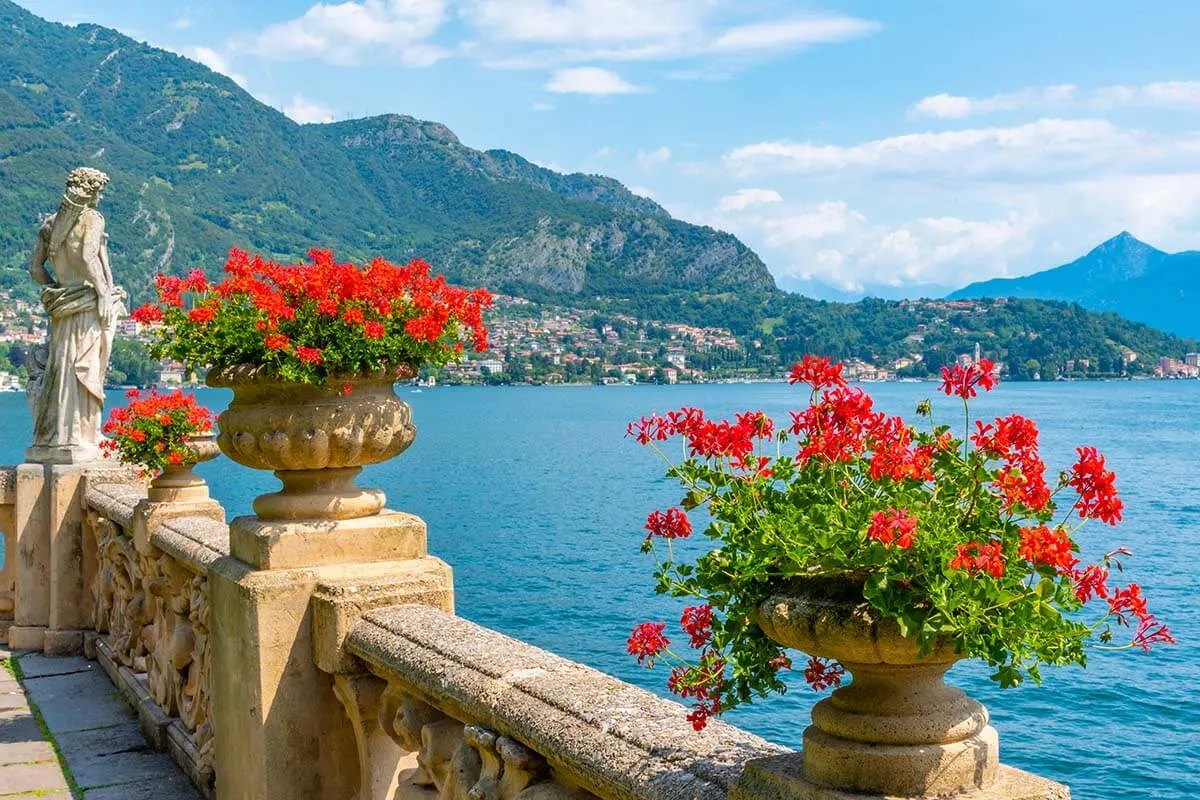 Only the garden
The majority of people visiting Villa del Balbianello only come here for the gardens. And yes, it's totally worth it! The gardens are really pretty and very well-kept, and the views are spectacular. In addition, you can visit the loggia, which is the most impressive part of the villa anyway.
While the official website of the villa encourages you to buy tickets for the gardens in advance, it's not really a must. The only difference is that you might have to spend quite some time in a queue at the entrance.
TIP: If you didn't reserve a ticket, opt for a shuttle boat in order to get to Villa del Balbianello (vs. walking). The gardens have two entrances and the one by the lake where the boat arrives is usually much quieter than the upper entrance. This could save you quite some time!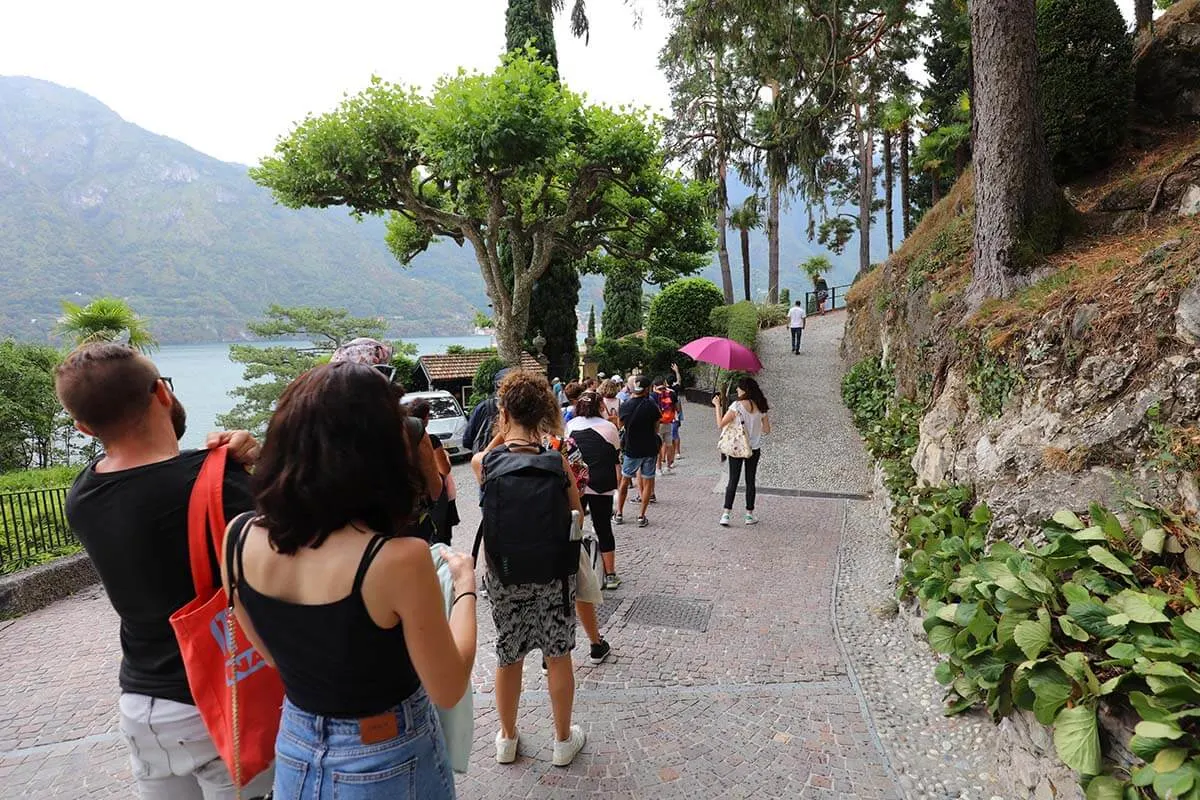 When is Villa del Balbianello open?
Unlike some other popular villas in Lake Como, Villa del Balbianello can be visited almost the entire year.
At the moment of writing, Villa del Balbianello is open from about mid-March to January, daily except on Mondays and Wednesdays. You can visit from 10 am to 6 pm, with the last entry 1 hour before the official closing time (so at 5 pm).
TIP: Be sure to double-check the official website for the up-to-date opening times, especially if you are visiting Lake Como during the low season.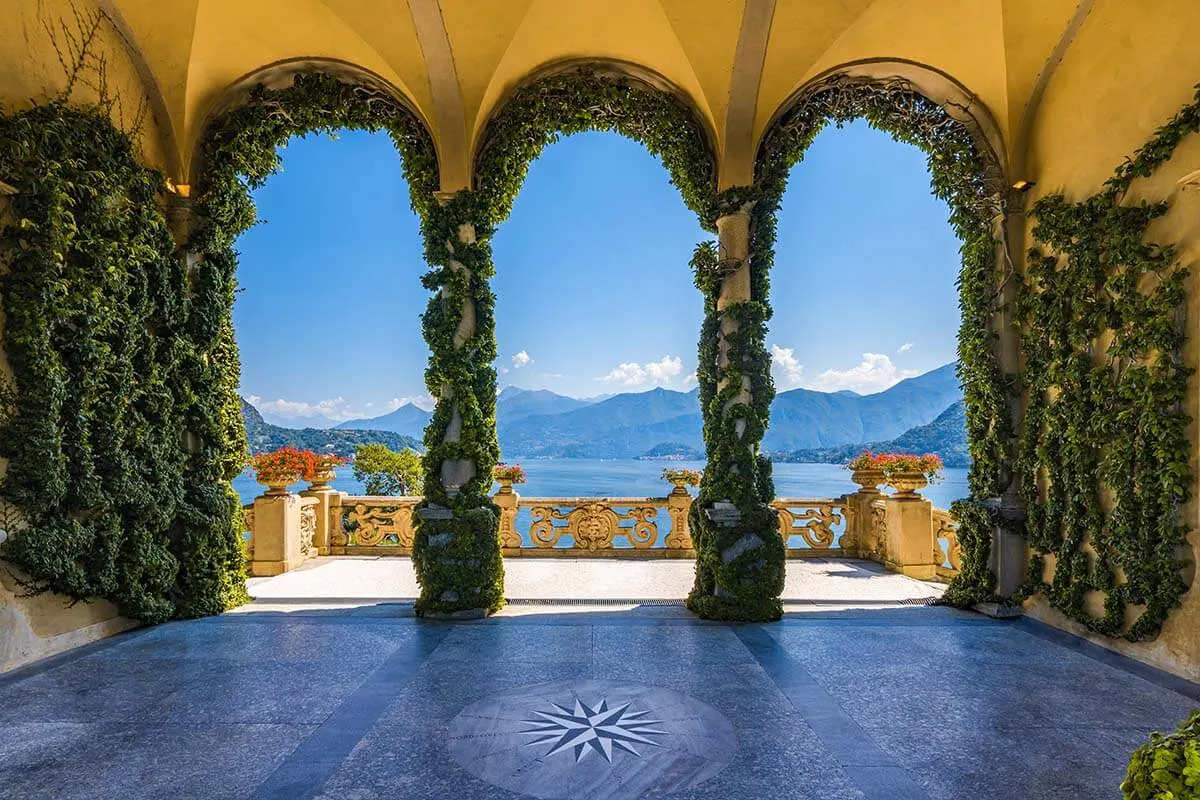 What to expect when visiting Villa del Balbianello
No matter which way you arrive at Villa del Balbianello, you will be impressed by its location and spectacular setting.
The Gardens
The terraced gardens have many sculptures and a big variety of plants. It's incredibly beautiful! In addition, you can enjoy the most breathtaking lake views all around you.
Take your time to walk around, soak up the atmosphere, and enjoy the scenery. Sometimes, it's so busy that it can be difficult to appreciate how special this place is, but there are also some hidden corners in the gardens where it's much quieter. Sit down on a bench and take some time to just be there, in a moment!
Good to know: With the garden-only ticket, you can visit all the buildings except for the villa itself. The most impressive of them all is the loggia offering stunning views. Through the windows here, you can see two beautiful rooms filled with books and period furniture, but you cannot enter inside.
The orangery at the upper entrance of the gardens can be visited inside. There's usually a movie playing here about adventurer and explorer Guido Monzino, who was the last owner of the villa. At the bottom, by the lake, there is a small chapel. It's now used as a gift shop.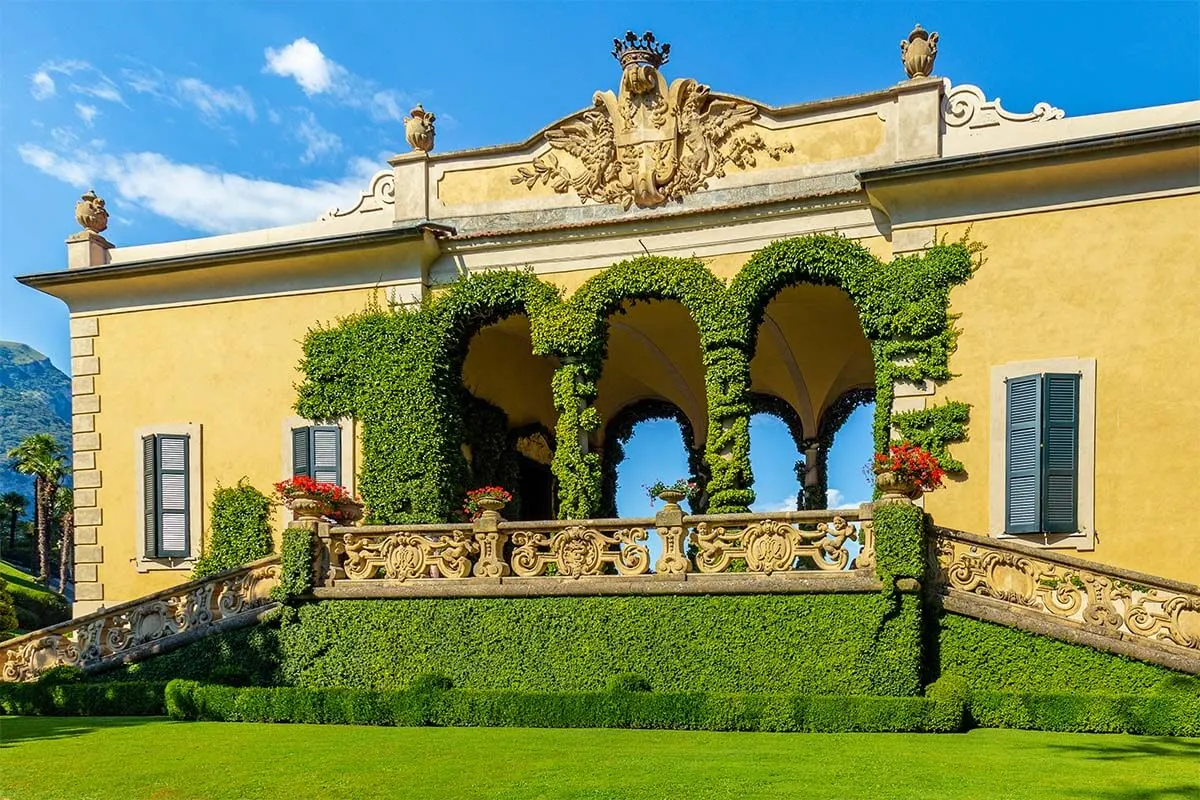 The Villa
If you manage to get the tickets for the guided tour, you can also visit the interior of Villa del Balbianello. It's filled with all kinds of artifacts from Guido Monzino's (the villa's last owner) travels all over the world.
Interesting to know: Count Monzino was a 20th-century explorer, best known as the leader of Italy's first expedition to Mount Everest. He was an avid climber who made over 20 climbing expeditions. He also traveled to the North Pole and you can see one of the sleighs from that trip inside the villa.
Monzino left no heirs and donated Villa del Balbianello to the National Trust of Italy, which runs it today.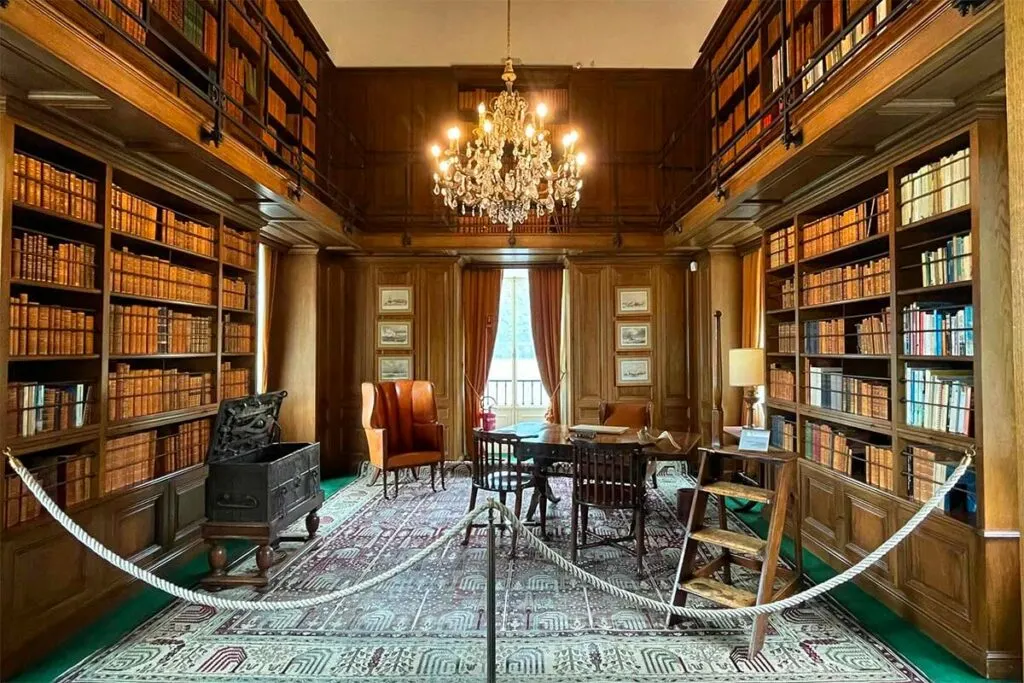 Visiting Villa Balbianello with Kids
Yes, you can visit Villa Balbianello with kids, but there are a few things to consider. A lot also depends on the ages of your children.
First, consider how you will get to the Villa – on foot or by shuttle boat. The walking path is rather flat and you could take a stroller with you, but there are a couple of stairs in the beginning before you even get to the path, unless you manage to find the entrance that is used by service cars (I think there's a gate there). Taking the shuttle boat can be fun, but the costs with a bigger family quickly add up (it depends on the age of your kids too).
Second, there are quite some stairs and steep walkways in the gardens. If you have a stroller, you could probably best leave it at the entrance – it would be easier.
And third, I think I'd skip the interior of the villa if you are visiting with toddlers and preschoolers. Even older kids could get bored during the guided tour and you'll probably spend more time trying to make sure that your kids don't touch or break anything rather than listening to the guide.
Good to know: Kids between 6 and 18 pay about half the price, and younger children are free of charge. They also have family tickets available.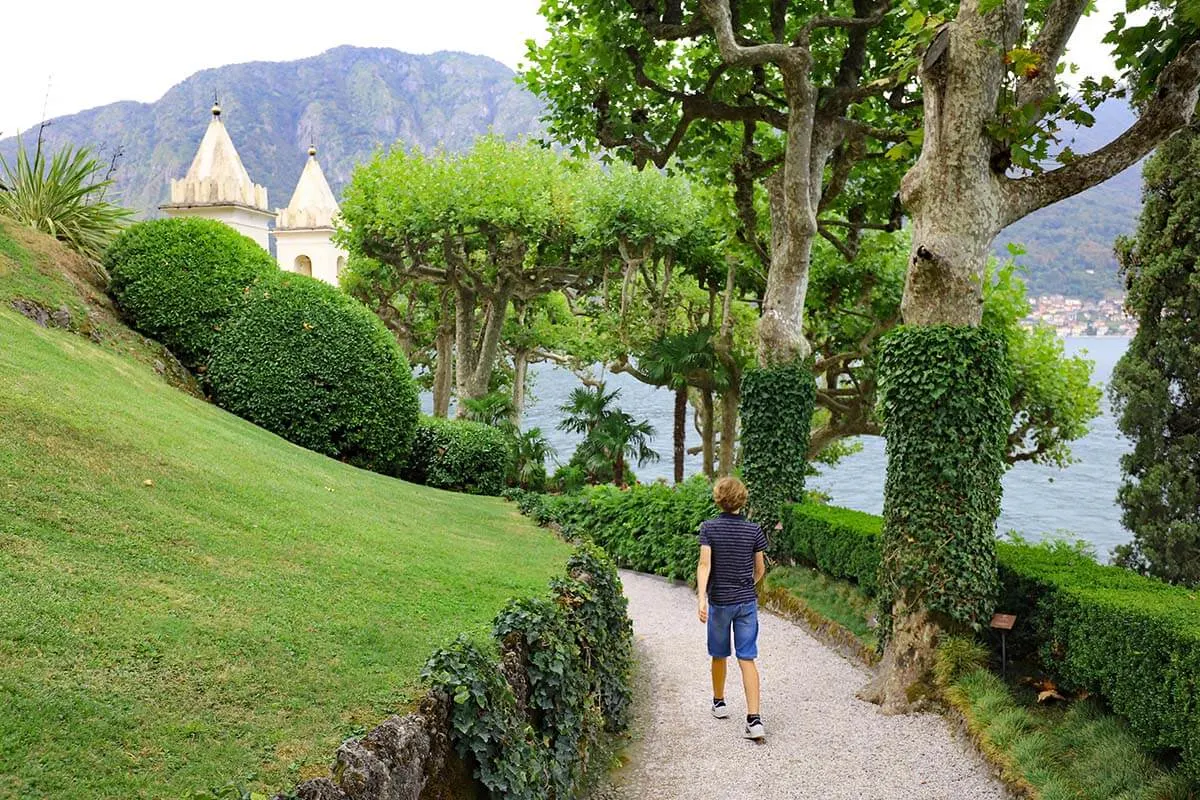 Tips for Visiting Villa del Balbianello
Here are some useful tips for your visit:
Book in advance! As already said, if you are traveling in the high season and want to see the interior of the villa, it's essential to book long in advance. But also for the gardens, booking in advance will help you skip the line (we waited for more than half an hour to get in).
Visit at the quieter hours of the day. If you can, plan your visit to Villa Balbianello either first thing in the morning when it opens or about an hour before the closing time.
Consider taking a shuttle boat or a boat tour. While the walk to Villa Balbianello isn't strenuous, it takes about 20 minutes to get there from Leno town. But the main reason to take a shuttle boat is that you get to see the villa from the water. Alternatively, visit the villa on your own and also take a scenic boat tour of Lake Como – it's the best way to appreciate the villa and its stunning location. The shuttle boat doesn't care for the best angles and it doesn't stop for scenic photos.
Wear comfortable shoes. Whether you are planning to walk to Villa Balbianello or take a shuttle boat, you'll want to wear comfortable shoes for visiting the gardens.
Bring some drinking water with you.
Spend some time in Lenno town. In addition to visiting Villa del Balbianello, be sure to check out Lenno as well. The center is tiny and it will not take much time. The main landmark to see here is the St. Stefano Church where you can also visit the underground crypt. It's free of charge (although donations are welcome, of course). Just next to the church, you can also see the Baptistery. If you have a bit more time, take a walk along the waterfront area. There are a couple of restaurants here where you can have lunch, some drinks, or gelato.
Don't come by car. Parking in Lenno is a nightmare and the tiny car parking area that is closest to Villa Balbianello fills up by the time the villa even opens. The best way to come to Lenno is by boat. In the high season, there are lots of ferries from all the towns in the area. In the low season, the car can be ok.
READ ALSO: Useful Info & Tips for Visiting Lake Como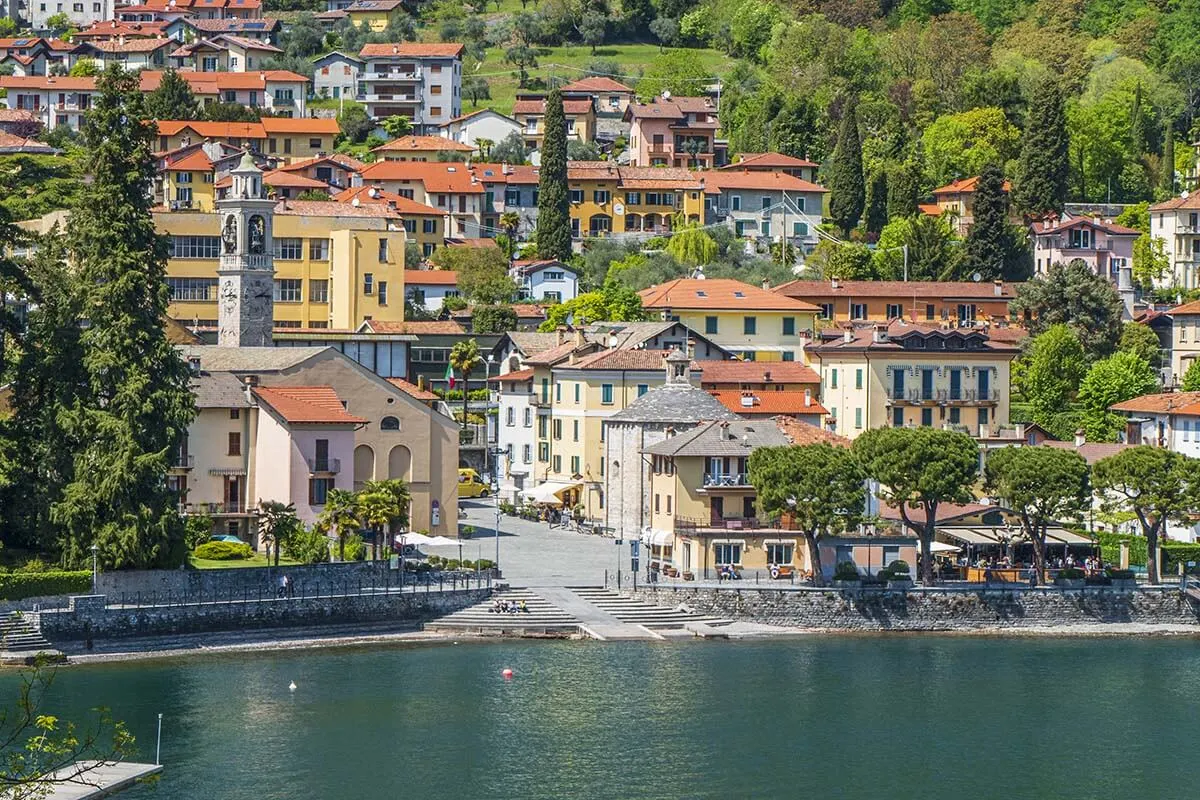 So, this is our guide to visiting Villa del Balbianello. I hope that it gives you a better idea of what to expect.
If you are looking for more information for your visit to the area, take a look at the overview of our Lake Como guides:
Have a great trip!
If you found this post helpful, don't forget to bookmark it and share it with your friends. Are you on Pinterest? Pin this image!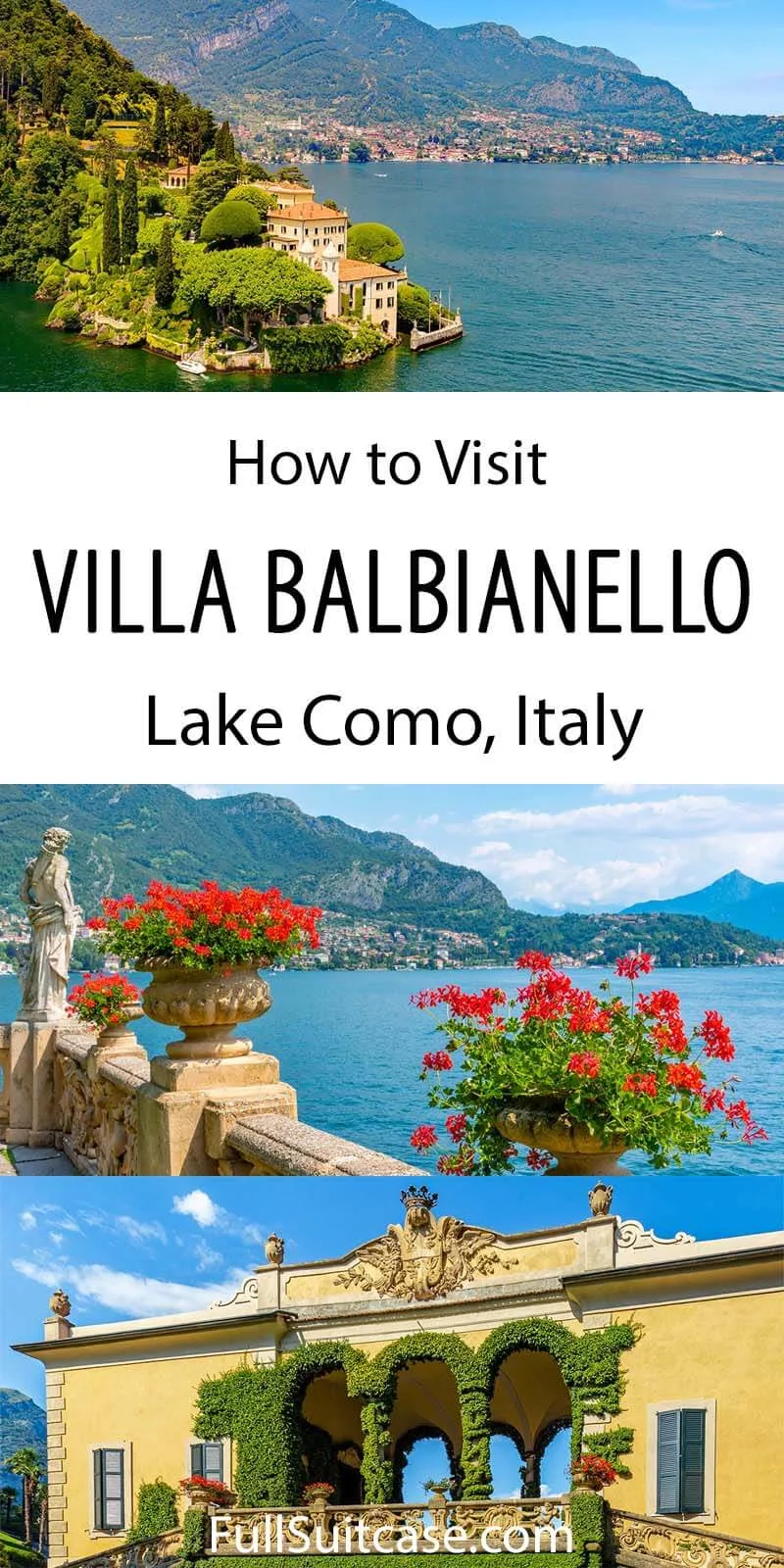 More travel inspiration for Northern Italy:
Milan:
Venice:
Florence:
Lakes and mountains:
Verona:
Bologna:
… for many more destinations, see our Italy travel guide.